The action once again prepares to get rolling in Europe's most entertaining football league. Need a little refresher as to where we left off before the international break? No worries. The full-color re-post of the latest tactics column over on Bulinews is right here.
One of these guys speaks a dialect only intelligible to your friendly mate, Vicey. Assistance in deciphering Streich's sagacious "Breisgauer Babble" is always available.
---
Bundesliga Tactical Banter: Round 11
---
"Witches Brew"
Straight from the "you can't make this stuff up department", we've all the craziness associated with Hoffenheim-Bochum. The 2-0 victory for the Westphalian hosts counted as a huge result for one of the league's promoted sides that many of us had tapped for immediate relegation after a genuinely awful start to the season. At the beginning of the campaign, it wasn't clear that Bochum could hope to win four games all season, let alone snatch four victories through 11 rounds. Truly something from the 1848ers.
How are Thomas Reis' men pulling it off? Well, the legend of "super-keeper" Manuel Riemann is certainly finished. That proved quite the comical scene on Saturday. The fans egged on their DFB-Pokal hero to take a spot kick. Oops. He missed. The fans got that one wrong. According to Hoffenheim trainer Sebastian Hoeneß, however, the fans did boil his team alive in "fiery witches cauldron". Oh yes. The good old "Hexenkessel". A European thing. It doesn't translate very well. Still, if any fan-base could claim proficiency of the dark art of sorcery, it might as well be the Bochumers.
One can credit Reis with some sort of magic for his substitutions in this match. Milos Pantovic and Soma Novothny combined within two minutes of their mutual introduction to score what proved the game-winning goal in the 66th. This writer confesses he didn't even heard of the latter actor despite being lower division proficient. Who the hell is Soma Novothny? Is he Jens' long lost nephew? Did he even play in the second division last year?
The other two Bochum subs who made a difference in this one are probably known to everyone. Most Bundesliga fans are familiar with Gerrit Holtmann. The former Mainz and Paderborn man can (on rare occasions) tear through defensive ranks like a Pacific typhoon when he's in the mood. Holtmann put together an excellent match when an injury forced him to slot into Reis' 4-1-4-1 early. Pantovic, a former Bayern prospect some will recognize, will surely get team-of-the-week honors after adding that beautiful goal from halfway at 90+7.
Good system. Good subs. Nice execution.
Perhaps something is "brewing" in Bochum.
"Magic Modeste Potion"
More craziness down in the cathedral city, where Bundesliga lovers were treated to a high-octane, four-goal thrill ride in front of a raucous "carnival ready" crowd in Köln. We can talk a little tactics as it did play a role in the 2-2 draw between die Geißböcke and visiting Union. Steffen Baumgart tried 4-2-3-1 split against Urs Fischer's usual 3-5-2 "double stack". Baumgart separated sixes Salih Özcan and Dejan Ljubicic to mixed effect. After the two sides quickly traded opening goals, the Rhein hosts rode a wave of creativity into first-half injury time.
Then Union bashed them back with a goal at 45+1 and two more huge chances at 45+2 and 45+3. The Effzeh then came blazing out of the gate after the restart before Union reimposed their will back on the home side for a good half hour. Fully against the run of play, Köln then forced an equalizer in four minutes from time and the two determined side swapped more insane chances to get the winner all the way up to the full-time whistle. An exceptional footballing display.
Of course, the big story emerging from this one has to be the fact that Anthony Modeste scored another brace. The "Renaissance Man" Lives! The 33-year-old French veteran has now scored 10 goals across all competitions this year. What a beautiful comeback story! Bundesliga diehards couldn't be happier. We never gave up on him. Never. Not after the failed Chinese sojourn. Not after the injury-riddled season and the loan back to St. Etienne.
We love him. The man with the "googles" celebration (co-opted by Ellen White of Man City W.F.C., by the way) is a warrior one cannot help but root for. The Bundesliga diehard who writes this column considered it newsworthy when he revealed he had gotten some dental work done this offseason. We've obviously got a better story now. Modeste treats those new teeth to a cauldron of magic potion every week. There's some true sorcery for everyone.
"Curse of the Clover"
More craziness over in Franconia, though it doesn't necessarily make for the most uplifting story. Poor forlorn SpVgg Greuther Fürth can't buy a piece of good news. Without so much as a center back to his name, Stefan Leitl cobbled together a back-four to face Frankfurt with Sebastian Griebeck, Hans Nunoo Sarpei, and Max Christensen all taking turns rotating into central defense in a 5-4-1. All three were, predictably, booked during the match as all three got beaten at some point.
The hosting Kleeblätter showed plenty of initiative against a superior Frankfurt side throughout much of the first half. The courageous forward play was commendable, even if it was obvious that they lacked the quality to score. Sebastian Rode finally put the SGE ahead in the 75th. Fürth thought they had secured their second point of the season when Cedric Itten chested in a Timothy Tillman corner at 90+2. Those who went to the Ronhof on Sunday evening had to reckon with another spoiled evening when Rafael Santos Borré snatched the winner at 90+4.
Frankfurt have now scored in second-half injury time for three consecutive matches on the trot. Last week's last second equalizer against Leipzig and the nearly last second winner against Olympiacos in the Europa League have made heroes out of Lucas Silva "Tuta" Melo, Jens Petter Hauge, and Rafael Santos Borré. It's been a great week for guys with long names. That's kind of cool. What's absolutely not cool is that Fürth are now officially off to the worst start in Bundesliga history. No team has ever done worse than one point through 11 rounds.
Yikes. Let's move on.
---
The Burning Questions: Round 11
---
What happened with Dortmund?
Of course, we have to get to this one first. Wouldn't everyone like to know? Marco Rose's return to his home-town of Leipzig produced the team's second straight loss and third away defeat in the last six weeks. The Schwarzgelben turned in a completely toothless performance. Though they were down only one goal in the final twenty minutes, it didn't appear as if the team stood any real chance of snatching an equalizer.
The body language mirrored that of some other recent losses in that the players simply didn't possess the will to compete.
Note that respect for Leipzig (an abundance of which is fully earned) will have to be deferred until  the next "Americans" column. Rest assured that praise for Jesse Marsch and Tyler Adams is coming. Patience on that front. In this column, we'll talk BVB tactics. A simple illustration tells all.
Lineup—Borussia Dortmund—Match 11 (5-3-2)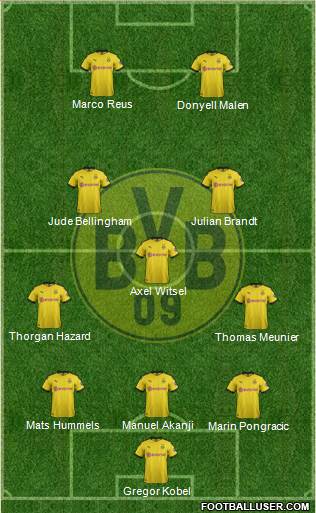 Injuries notwithstanding, it almost seems as if Rose made no effort to address the problems everyone knew he had. The BVB trainer threw some cheap plastic adhesive on his left-hand side and hoped for the best. The first-half saw the Westphalians generate precisely zilch. Leipzig found a way around this far too easily.
Targeting the left
You didn't need to be a "tactic's head" to see this one coming. RB trainer Marsch moved Yussuf Poulsen over to the Leipzig right to pit him against Thorgan Hazard. Through a simple rotative scheme, Christopher Nkunku and Dominik Szoboszlai also got their turns too. Nearly 70 percent of the Saxon charges went down Hazard's side.
One cannot emphasize enough how obvious this targeting would be. The columnist finds it difficult to believe that Felix Passlack looked that horrible in training. Placing the 23-year-old on the left is not without successful precedent. Reinier might have worked in the role as well. Anything other than this. Pure crap.
Non-existent link up play
You didn't need to be a "tactic's head" to see this one coming either. Hazard and Thomas Meunier would be stuck defending the pacey Leipzig wingers all night. This constituted the primary reason why Rose should have simply thrown suboptimal actors into the wide fourth-axes positions. A player working out of position can always at least be relied upon to stay put and guard a patch.
There being no real chance that the pseudo wingbacks could involve themselves in builds, the central midfield had no real options to cover the yawning gaps and reach the strikers. We waited for the first Dortmund scoring chance. We waited some more. Finally, in the 36th minute, Jude Bellingham tried a shot that got blocked by his own man, Donyell Malen. That was the first chance of the match. Also, the last of the half.
Adjustments?
Lineup—Borussia Dortmund—46th minute (4-4-2)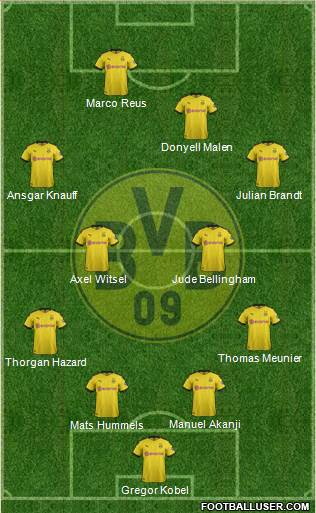 Ugh. In many respects, this was even worse. Meunier and Hazard stood effectively no chance of advancing out of the back here. Poulsen's finish over Hazard's desperate marking in the 68th perfectly exemplified the second-half. Once again, RB only needed to target that soft left. The strategy was about as simple as it gets. No real fight from Dortmund after the second goal.
Marco Reus managed to pull a fluky equalizer out of this. The manner in which Rose staggered his right slightly enabled Meunier to service the BVB captain seven minutes after the restart. Reus understandably couldn't have cared less about this aberration. Neither, for that matter, did the team. Nothing but dispirited sloppiness from the side going forward despite the fact that the scoreline gave them a chance.
Ramifications for the title race
Deep breaths now. It's not the end of the world. Bayern opening up a four-point gap at this stage of the season is hardly ideal. Dortmund limp through the rest of the "Hin-Runde". A very short-handed squad needs to get to the Christmas break without dropping anymore points. This proves problematic as the team must still face Bayern in round 14.
A seven-point-gap at the half-way point of the season also doesn't spell the end, but it's probably too large in the usual German footballing context. The good news, of course, is that Rose and staff are likely traversing the injury nadir now. They don't necessarily need Erling Haaland, Giovanni Reyna, and Mahmoud Dahoud all back to get back to serviceable performances.
A left-back will suffice. Raphaël Guerreiro, Marius Wolf, Nico Schulz, and Emré Can should be back after the international break. Bayern might take a couple of draws before the season's first half is over. Damage mitigation until Dortmund can get their young offensive guns back remains possible. No one should consider calling this race just yet.
How fares Kohfeldt's Wolfsburg?
Let's check in with Florian, if only because everyone deserves a fourteenth chance! The 39-year-old may have only coached one Bundesliga side prior to this one. An endless amount of "Hanseatic summit meetings" at his old club just made it feel like 13 separate appointments. So it goes in Germany's mercantile North.
All throughout three campaigns stretching from 2018 to 2021, the Bremen board constantly had to convene "Buddenbrooks Style" in order to debate whether Kohfeldt was the right man for the job. At least we won't have that problem in Wolfsburg, where Jörg Scmadtke just lights up another cigarette and asks Marcel Schäfer to play devil's advocate.
Where were we? Oh right.
Lineup—VfL Wolfsburg—Match 11 (3-4-3)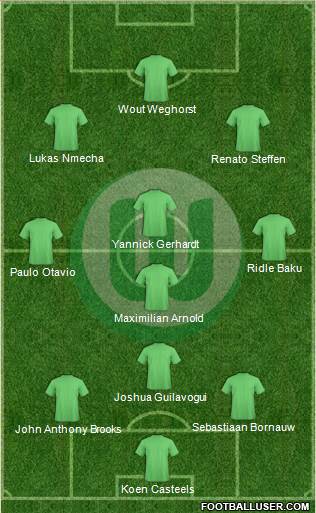 Some interesting things going on here. Renato Steffen switches over to the right-hand-side so that Kohfeldt can accommodate both rising star Lukas Nmecha and the potentially disaffected Wout Weghorst. Some might have seen a slight stagger for sixes Yannick Gerhardt and Maximilian Arnold. This writer actually thinks it was Ridle Baku and Paulo Otavio who were meant to slingshot-stagger on the flanks, if only subtly.
The Maxence Lacroix suspension was deftly handed by allowing former captain Joshua Guilavogui to run pivot. This worked well. One really has to hand it to the 31-year-old Frenchman for consistently performing well in a variety of roles this season. Guilavogui's fine comeback campaign has perhaps been a little overshadowed by the big story of his compatriot Anthony Modest re-birth over at 1. FC Köln.
In the writer's opinion, both Guilavogui and Modeste deserve consideration for the "comeback player of the year" title. Kohfeldt did well to keep his veteran on the pitch for the full 90 minutes. Whilst the rest of the team succumbed to doing just enough after Nmecha gave the team an early lead, Guilavogui still fought the trench battles that kept Augsburg from attaining the equalizer.
And is it solid football?
Not yet. One can nevertheless see what Kohfeldt is going for here. He wants to build a 3-4-3 base system with regular and predictable rotations for Bundesliga and Champions' League. The former Bremen gaffer is already miles ahead of the sometimes wacko outworld experiments we saw during Mark van Bommel's short tenure. There's much more straightforward logic inherent in these constellations.
As everyone noticed, the Autostädter took their foot off the gas pedal in the second half of this weekend's 1-0 victory over Augsburg. One could put it that way, or move with the metaphor a bit and say that they "ran out of gas". The personnel looked taxed. Kohfeldt rotated surprisingly little from the UCL fixture midweek. Only two changes. Sebastiaan Bornauw and Steffen replaced Lacroix and Aster Vranckx.
Mostly the same players in what looked like almost exactly the same constellation showed some creative fatigue. No big deal. One still needs to see Kohfeldt's Wolves put together a consistent performance over the course of 90 full minutes; something they haven't come close to doing yet. Then, and only then, can this chronicler begin to forget all of those long and terrible hours watching Kohfeldt's horrendous SV.
Did Gladbach just get their spine snapped?
It unfortunately looks so. The loss of Breel Embolo and Nico Elvedi cannot be strictly offset by the return of Ramy Bensebaini and Marcus Thuram. The former shall be off to the African Cup of Nations in a few weeks whilst the latter–even at 100 percent–works much better as a winger than a striker. Embolo's injury leaves Adi Hütter without a real lead-striker option. Alassane Plea himself isn't up to full speed and Lars Stindl prefers to operate in the pocket.
The mounting injuries in the defensive ranks hit Hütter precisely where it hurts. Elvedi, Louis Jordan Beyer, Stefan Lainer, and Tony Jantschke are all now sidelined. After giving some thought to what actually works best for the foals in terms of tactics, a lot seems to come down to there being a foundational back-three behind Joe Scally on the right. When the American phenom can work all the way up top as a rotating winger with Jonas Hofmann, success ensures. Scally as a straight fullback doesn't work so well.
We talked a bit last week about the tough remaining BMG Hin-Runde schedule. Köln, Freiburg, and Leipzig follow next week's "gimme" over SpVgg Greuther Fürth. Hütter looks set to have one of the backslide seasons he experienced whilst in charge of Frankfurt. One might even see this team dip down to 14th or 15th place by the Winterpause. Note that, here in this tucked-away corner of Nordrhein-Westfalen that shouldn't matter all that much. The BMG trainer should have ample time to work on his turnaround in peace.
At least the West Prussians have that going for them.
Are Leverkusen descending into chaos?
Unlikely. It can surely be difficult to see the daylight after the choppy performance against Hertha BSC. Neither team was particularly good of course, but the visiting Werkself lacked even the basics of rhythm during this weekend's encounter. It's rare to see a football team think twice about attacking when pressing into the danger area. Alas, Amine Adli and Paulinho often looked as if they were unsure if it was okay to find themselves in the attacking third. After just snapping a long winless skid, Germany's red company team were very lucky to escape with an almost accidental draw in Berlin.
The late loss of Florian Wirtz obviously made a huge difference. Already deprived of his two first-choice strikers (Lucas Alario and Patrik Schick), the last thing Gerardo Seoane needed was to lose his most creative attacker to boot. There's nevertheless hope for Bayer in that all members of their long injured list will remain in NRW throughout the international break. In a strange way, that also works to the advantage of a team with so many South American players.
Keeping Alario and Charles Aranguiz in Germany accords a pair of very important actors a much-needed chance to rest and regroup. Exequiel Palacios still have to report to La Albiceleste, but that's manageable. Word that Schick will decline a Czech call-up constitutes very good news. The big target man who likes to flex his biceps remains tied with Anthony Modeste for third place in the Bundesliga scoring race. Bayer are a wholly different team with him and Alario fully fit.
Some productive rehab time and a (relatively) soft schedule to conclude the "Hin-Runde" should enable this team to hang around the top seven places easily by Christmas. After that, we've some more rehab time and a sunny training camp somewhere on the Iberian Peninsula. Seoane gets some sun and they're back in business.
Does Bielefeld's win mean anything?
Er. No. Full stop. The East Westphalians continue to be terrible. Even against a joke of a Stuttgart side that lined up in some sort of 3-2-3-1-1 (which anyone watching could have been forgiven for thinking was a practical joke), the DSC still managed almost nothing offensively at the Mercedes Benz Arena on Saturday afternoon. Frank Kramer's Teutoburgs even fell into the shape of Pellegrino Matarazzo's latest conflagration, even though Sebastian Vasiliadis and Manuel Preitl didn't have to work terribly hard to maintain a 4-2-3-1.
A VfB squad with a shape like an "ß" pinned back Bielefeld during the first half. Masaya Okugawa's opening goal, on a borderline offside decision, came out of nowhere completely against the run of play. That was literally the only chance the NRW guests got until the Swabians completely fell apart near the 70th minute and Bielefeld spontaneously decided to start attacking with some structure. Andres Andrade, Amos Pieper, Fabian Klos, and Janni Serra all got some quality late efforts in after that.
Wow. The Württembergers of the "Benz Burgh" have completely forgotten how to play football. Stuttgart serve as doormats. All the empathy associated with the untimely injures to Sasa Kalajdzic, Silas, Mohamed Sankoh, and Enzo Milot just goes straight out the window. A writer can't hold back anymore. Even the brutal losses of Chris Führich, Omar Marmoush, Konstantinos Mavropanos, Marc Oliver Kempf, Erik Thommy, and Hamadi Al Ghaddioui in recent weeks fail to touch him. Matarazzo must do better.
The citizens of Stuttgart are actually paying money to watch this dross. No more excuses.
---
Weekly Tactical Focus: Eye of the Breisgau
---
Do forgive a columnist if he finds it appropriate to get romantic once again. It's "Schwarzwald Time" yet again. Time to get comfortable. Crank some baroque chamber music and dust off the Renaissance humanist literature. We're headed to Bavaria this weekend, but the mind's eye remains in Breisgau. The writer found himself a bit peeved that both German and American footballing media sources brushed aside the Freiburg phenomenon this weekend. Everyone wants to talk about second-placed Dortmund's loss and what it means for the title race.
Seriously. No love for the team currently occupying third-place? The performance thus far of the league's last undefeated team just gets swept under the rug? We simply trot out the old "Death, Taxes, and Freiburg Overachieving" cliché before calling it a day? No, "we" do not! Some members of the press corps may find the "team of too many umlauts"–Günter, Kübler, Höfler, Höler–to be too banal, but "we" here at Bulinews maintain no such bias. Everyone should know the difference between these four players. We'll ensure that you do before the end of this article.
The latest edition of Bayern-Freiburg proved to very nearly be a perfect football match. This fixture possessed it all. Relentlessly high mutual presses. Vehemently contested aerial duels. Indefatigable end-to-end action. Acrobatic saves. About the only thing missing in large part, ironically enough, was a consistent amount of tactical intrigue. Julian Nagelsmann and Christian Streich basically let their players loose in loosely aligned constructs. Everything else was left up to the actors on the pitch. Of course, we can still cover the match in the "focus" section. There's no shortage of things to discuss.
The Nagelsmann who switched formations as many as four times in a single match back at Leipzig is no more. At the very least, he's on hiatus. German football's young gun might have devised a compromise for himself whilst coaching from quarantine in his kitchen. What we've seen since the 34-year-old returned to live coaching on the sidelines appears to tend towards a very avant gardé set of modern football tactics at the outset, followed by minimal interference after kick-off.
Lineup—Bayern München—Match 11 (3-4-2-1)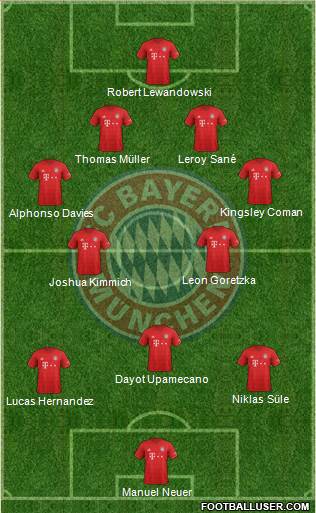 Here we have the new, ultra-modern Bayern. Take a moment to let this sink in. There are high presses and then there's this. Nagelsmann didn't even touch it. Only like-for-like subs on this day. It took some time for us to get here, but we've now officially arrived at the terminus of Hansi Flick's "self-coached" 4-2-3-1. After some tinkering, the new FCB trainer devised the "self-coached" variant that works best with his style.
Perhaps he had an epiphany whilst fiddling with the electric juicer during kitchen quarantine.
Built for transition
The primary function of this schematic should be obvious enough. Five actors straddle the halfway line looking for pickups. Whichever wingers appear in the best form work ahead of the Leon Goretzka-Joshua Kimmich midfield duo. The peak winger works ahead of them. Thomas Müller, being the one with the most spatial sense, keeps an eye on any forward presses from the three center-backs.
Müller drops back for a little extra protection if one of his colleagues goes forward. Otherwise, the German footballing legend roves around ready to receive the penultimate pass. One can also safely say that Alphonso Davies' days as a fullback are probably over. The Canadian speedster never was meant for the back-line, only being deputized there when Niklas Süle got hurt near the beginning of the 2019/20 campaign.
Naglesmann now has the "Bavarian Roadrunner" where he wants him.
Streich stands his ground
On change from the trainer of the "Schwarzwaldverein." One might presume that replacing young striker Kevin Schade with Manuel Gulde counted as a more defensive realignment. One would be wrong. Streich moved his wingers all the way up to form his own projectile-point-shaped attack. It was quite the gutsy call.
Lineup—SC Freiburg—Match 11 (3-4-3)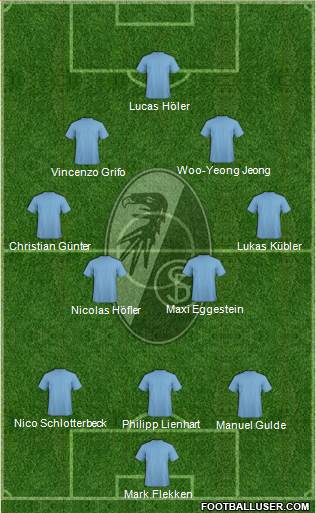 No slouch of a press either from the boys in powder blue. One anticipated this about as much as one anticipated the azure tricots. Incidentally, anyone wondering why Freiburg always have an odd third-color kit that no one excepted, it's because one of their players is red-green color blind. No official word on who this player is. Those in the mood for some sleuthing can start with the fact that the footballer in question has been with the club for three seasons.
Getting back to the tactics, Streich didn't mess with this much with this arrangement either. The Breisgauer trainer actually switches less often than any other head-coach in the Bundesliga. Occasionally, one will see him order a late-match re-format in the interest of protecting a lead. For the most part, however, the league's longest serving head-coach (by far) lets it ride with the initial idea he had in mind.
The late switch we witnessed in this match also featured a very clear idea behind it. Alas, there's a great deal of football to get through before getting there. Before heading with this absolute firecracker of a fixture, a brief section reflecting upon the club's incredible start to this season seems in order.
Secrets of the SCF success
In addition to having very competent management, the club operates under a very coherent footballing identity on the pitch. Streich's philosophy focuses primarily on defensive cohesion. Entering the match, Freiburg had only conceded seven goals (by far the fewest in the league) through ten rounds. Having let in a couple here, they'll still exit the round with the fewest.
Streich's ideology doesn't place much emphasis on the dazzle-dazzle. According to the stats department at German footballing magazine Kicker, the team has attempted fewer dribbles than any of its Bundesliga counterparts. Lucas Höler–whom we'll discuss in great depth below–is also the best defensive striker in the league. He's won more challenges in his own half than any other forward.
Kicker also reports that Freiburg draw more fouls than any other team and have the league's best set-piece success rate. An incredibly low 16 percent of opponent's shots find their way through to keeper Mark Flekken, whom Kicker also assigns the best composite grades of any net-minder in German football.
Flekken's excellence brings us full circle back to the topic of administrative competence. The Dutch veteran–yes, the same one who went viral for the water bottle incident during a Duisburg-Ingolstadt match a couple of years back–is the club's third #1 in the last three seasons. Alexander Schwolow and Florian Müller (sold by their clubs for a combined €12 million after the last two campaigns) were made to look pretty good in Streich's system.
Just about anyone looks good in Streich's system. Let's Go!
Match Flow: 1st to 25th minute
In something of a change of pace for this column, we've a long stretch of time to discuss right at the top. As it so happens, this phase served as an almost uninterrupted period of Freiburg dominance. The visiting Schwarzwälder indeed had the mighty German giants back on their heels in their own house. Wonderfully fearless football! Bayern kicked off the opening ball, yet it was Freiburg who produced the opening chance less than thirty seconds in.
Christian Günter tore up the left and put Vincenzo Grifo through. The Italian from Pforzheim then nutmegged Dayot Upamecano and would have had just the keeper to beat had Lucas Hernandez not recovered to clear over his own crossbar. Bayern got their first charge rolling in the 2nd via Goretzka and Davies. Not for the last time, it would be Höler coming away with the ball following some fine defensive work.
After a couple of long balls in Höler's direction didn't work, Sané flicked over to Kingsley Coman in the 3rd. The Frenchman saw a good effort blocked. Flekken made his first save on the ensuring corner, shutting down Süle with good post coverage. Freiburg tried the right on a pair of cycles in the 4th and 5th. Hernandez was able to stop Woo-Yeong Jeong, but only just.
Davies got a counter going after the latter attempt. Flekken stood tall again in the 6th for his second save. Despite the fact that the Bavarian hosts already had a couple of shots on target, the BaWü guests looked far stronger in possession. Süle and Müller tried to work a cycle after a throw in. Grifo chased them back confidently. The eventual work-in to Lewandowski ended with the Polish striker flicking to Davies on the turn.
Flekken saw the header coming all the way. The SCF keeper's third save in six minutes was by far the easiest. Flekken then quickly got his team going the other way. Höler held up the ball extremely well. After an interchange with Maximilian Eggestein, Höler got the ball back again and the three Bayern center halves barely managed to scamper the ball away during a scary moment in the 7th.
Jeong couldn't quite pull down a service in the box in the 8th. Bayern attempted to get a little too artsy on their next build and the Breisgauer had them caught on the break again. Some stray passes cancelled out a nice opportunity and Coman and Süle combined for the next Bayern chance in the 9th. This time Nico Schlotterbeck ensured that the ball wouldn't reach Flekken. Eggestein half cleared the consequent corner.
Süle got the ball into Flekken's again. Freiburg's looked to be a bit too ambitious again with a long throw aimed at Grifo in the 10th. Nothing developed from open play, but the SCF got a pair of corners out of a sustained spell in their opponent's half between the 10th and 12th. A Kimmich error the 12th did end up with Höler pulling just wide. The veteran striker unfortunately pulled the trigger when he had time to take another touch.
The next few Bayern waves weren't very good at all. Poor ideas out of the back and some poorly thought out crosses meant that the Bavarians couldn't get much going between the 12th and 14th. The BaWü guests looked much stronger. A nice workaround for Jeong in the 14th ended with Lukas Kübler sniping a shot in on target. Thank goodness for overhead tactical cams, where the Freiburg high-line shone through in all its splendor.
Streich's men earned a pair of free kicks amid a stoppage-laden spell between the 15th and 17th. There was still plenty of nice one-touch football from Freiburg on display during this interval. Grifo, Jeong, and Höler kept the pressure up from multiple angles. Süle and Hernandez had to be alert to stop back-to-back charges.
A Kimmich hand-ball gave the SCF yet another free-kick from a dangerous are in the 18th. Had the Breisgauer been playing any other team, they might have pocketed a pair of goals already. Julian Nagelsmann sides always being well drilled in this facet of the game, tough mark clearances were made to look easy. After Günter's service was cleared in the 18th, Freiburg were right back at it.
Absolutely lovely midfield duel wins from the guests during an especially strong spell between the 19th and 23rd. The first, and best, attack that materialized out of them featured some great combo work involving Jeong, Kübler, and Eggestein. The South Korean international got the ball back and the end and only just missed Höler on a cutback.
Günter and Davies collided in air on the next one and we got a brief injury timeout. Pretty much all stats in the match (save possession) were perfectly even. After Flekken stopped another easy shot from Sané in the 21st, all the traffic flowed back Freiburg's way. Günter and Eggestein got efforts off. The latter's range effort in the 24th was powerful, yet well wide.
Match Flow: 25th to 31st minute
Six minutes was all it took to get the match flipped. Eggestein's hopeful effort marked a turning point of sorts. One expected that Freiburg couldn't keep the pedal to the floor indefinitely. Fatigue would set in at some point. In this particular case, it took the form of the Davies vs. Kübler duel on the Bayern left. The Bavarian Roadrunner started get past his counterpart, dancing past his counterpart in the 25th, yet ultimately overrunning the ball. Kübler recovered in time to clear.
Bayern got another attack off immediately. This one would end in an uncharacteristically poor cross from Müller. The hosts nevertheless had their guests cracked on the next Freiburg advance. Höler again did good work holding the ball up in the 26th, but Goretzka finally got a strip in. Hernandez and Sané tore forward on a rapacious counter, ironically only halted by the fact that Höler ran back with them. Bayern then got three consecutive attacks off between the 26th and 28th.
Kimmich's magnificent full-bicycle finish in the 28th served as a sign of intent, even if it didn't trouble Flekken much. The FCB got better at spreading the ball out wide to Coman and Davies on the next two unanswered charges. With hosts now converging on Freiburg's shape from lateral positions, Streich's men were suddenly pinned back and pinpricked. A recycle-reset at the half hour mark allowed all the Bayern actors to focus on a direct path to the net.
Upamecano initiated the play with a vertical. Goretzka received central with a quick pass to Müller, then maneuvered himself around for the return. The German national team midfielder had acres of space to finish off an easy chance. If there was one Freiburg actor responsible for the marking fail, it was Nicolas Höfler. Yeouch. November simply isn't poor Höfler's month is it?
Match Flow: 31st minute to half-time
An immensely entertaining first half absolutely blew by. One can cover it in three sectional intervals, with the final one definitely breaking Bayern's way. The will to respond immediately was certainly inherent in Freiburg's play. Bayern nevertheless had their approach play fairly well handled in the first four minutes after the goal. Davies and Lewandowski ate up a pair of Jeong horizontals in the 31st and 32nd. Both resulted in counters. Flekken had to make another save on the latter.
Höler began to have more difficulty in midfield as everyone knew that the Breisgauer would be aiming for him central on an inverted pivot. After a bad loss from Höler in the 32nd and a 33rd-minute Freiburg counter that no one on the visiting team seemed interested in catching up to, Bayern nearly brought down the hammer off a corner in the 34th. One can count four full blocks of Bayern efforts during a four-alarm-fire in the Freiburg penalty area. Somehow, the ball wouldn't go in for the 2-0.
Kübler and Höler were a tick too slow on the next Freiburg attack in the 35th. After Davies required a treatment break, Müller, and Sané then miffed up their own advance in the 37th. Quality dipped on both sides, though Bayern retained virtually all of the possession through the 42nd. FCB attacks were well stymied by a compact Freiburg in the 39th and 40th. Flekken found himself very lucky to almost inadvertently deflect a Lewandowski chance in the 41st on what should have definitely been the 2-0.
The Breisgauer finally got their foot around the ball in the 42nd, but the possession spell lasted mere seconds. Davies only just missed Coman with a diagonal switch at the far post in the 43rd. Schlotterbeck had to be inch-perfect to stop the Frenchman one minute. Eggestein's 24th minute effort proved to be the final the chance for the guests as Bayern hung onto the ball through one minute of first-half injury time and match official Sascha Stegemann's half-time whistle.
Match Flow: 46th to 60th minute
Without changes we continued. Reinvigorated slightly by the break, Streich's men displayed some positive forward drive in the opening minutes. Schlotterbeck encountered some rough luck when Stegemann whistled him down for dubious reasons after a nice strip off Coman. Some paint-the-corner possession from Freiburg then failed to go anywhere for about two minutes.
Müller, via Coman and Lewandwoski, should have done better with a chance in the 48th. Höler nevertheless did very well defensively to tap it back to his keeper. The same trio combined again without finishing before Eggestein hit another drive wide by miles in the 49th. Ideas were again lacking on the next SCF advance before Höfler hit another ball not close to the target in the 50th.
Höfter at least put in some better defensive work on the next Bayern attack in the same minute, cutting out a Coman cross intended for Lewandowski. Jeong and Grifo tried to unleash a counter back the other way, but Upamecano had them covered. Bayern had this brief Freiburg flicker stamped out. Between the 52nd and 54th, they kept up the offensive and were sending and uninterrupted series of crosses into the box.
Höler couldn't clear one past Goretzka in the 52nd, but the FCB midfielder could only flash over the bar. Philipp Liehart, in what may have been the flat back-three anchor's first involvement of the entire game, had to shepherd a Müller cross back to Flekken in the same minute. Schlotterbeck and Höler then had to put in some heroic defending during a full-fledged Bayern onslaught that lasted two full minute.
Bayern had the uncontested upper hand before the second half was even ten minutes old. Sané topped off the proceedings with a wicked bending effort in the 54th that Flekken had to be at his very best to save. Scales weren't tipping, but rather sinking. Freiburg did try a couple of things. A Günter hook past Süle in the 55th. Lienhart couldn't play a clean ball to Jeong in the 57th. As a result, the South Korean shot over from a tough angle.
When Goretzka hit the post with a venomous close range effort in the 56th, Streich appeared a bit more animated on the touchline. Though he already had a sub he wanted to get on, matters became more urgent. The head-coach mildly obsessed with "alternate spaces" didn't even want to change his shape. He just needed a different mind on the pitch.
Streich still clapped as Höler tried to walk the ball in himself in the 59th and applauded Grifo's wide effort in the same minute. Kevin Schade checked in for Jeong as the digital stadium clock hit 60 minutes. Time to see what one of Germany's most intriguing youth prospects had in store for us.
Match Flow: 60th to 75th minute
Schade was involved almost immediately. An awful lot happened in the very first minute. After Coman powered a shot over in the 60th, Flekken jump started the Breisgauer back the other way. Schade and Höler came close to coordinating a chance with a nice exchange on the ensuing counter. Kübler ended up getting in the way. With too many SCF actors committed forward, Bayern then hit the guests back with their own counter.
Gulde and Schlotterbeck somehow put the brakes on it, with the latter deflecting a Kimmich effort out for a corner. Freiburg wouldn't get out of their own half between the 61st and 64th. Blocks and half clearances stopped the FCB machine until Leawandowski sent one onto the top of the net at the end of the barrage. With some time to set up, Freiburg eventually got it back to Schade on the right in the 64th, but the substitute too was short on ideas.
Sané was then back stinging Flekken's palms in the 65th. After Serge Gnabry checked in for Coman in the 66th, Sané made a total hash of a free kick from 30 meters out. The rather embarrassing direct finish seemed to affect the German international. Sané fluffed another finish when Davies cut back for him one minute later. Back deep into Freiburg territory, Goretzka then grazed the crossbar with his second shave of aluminum in the 68th.
There really seemed no way back into the match for the underdogs as wave after wave of FCB attack rolling over the blue-clad guests. Gnabry got his unleashed a shot in the 70th so full of top-spin that Flekken had trouble holding. Even three substitutions couldn't break the flow of this one. Nagelsmann sent Corentin Tolisso and Jamal Musiala on for Müller and Goretzka in the 71st. Streich replaced Eggestein with Janik Haberer in the 72nd.
These being like-for-likes, the teams barely registered the personnel changes. Davies broke through on the left in the 72nd with Kübler again miraculously finding a way to recover after getting toasted. Gnabry and Musiala took care of a breakthrough on the other side in the same minute, with Musiala ultimately seeing his shot repelled.
Höler and Schlotterbeck didn't have much of a choice but to get rough on respective Bayern attacks in the 73rd and 74th. They were getting absolutely torched by the fresh-legged Musiala and Gnabry. The execution seemed imminent. Davies had Tolisso through in the 74th, but the Frenchman was blocked. Höfler stopped Musiala in the 75th. The Freiburg midfielder's attempt to spring Schade on a quick counter only led to disaster.
Davies charged back the other way after Höfler's long ball was intercepted. The Roadrunner burned past Kübler again. This time there would be no recovery. Davies hit Sané in the box central. Sané, in turn, extended to the lurking Lewandowski, who wasn't going to miss so close to the goal line.
Game Over? The End?
Match Flow: 75th minute to full-time
Under normal circumstances, the answer would be yes. When Germany's record champions go up 2-0 at home, it's generally time for the hosts to pad the scoreline. Nagelsmann's wide-eyed grin seemed to suggest he expected as much. Two more like-for-like subs were prepped on the sidelines. One could see that Eric Maxim Choupo-Moting and Tanguy Nianzou were getting ready to milk some clock and get a little bit of practice in their preferred shape.
Over by the Freiburg dugout, the "master of alternative spaces" contemplated his next move. Streich watched intently as Höler and Schade just couldn't get organized on an approach in the 77th. He kept observing as the same pair couldn't make much of a beautiful switch to Kübler in the 78th. For his final piece of "Breisgau Baroque", Streich snapped into a decision.
Grifo deliberately took his time setting up a free kick in the 79th so that Streich could give last-minute instructions to Ermedin Demirovic and Kiliann Sildillia. One could infer that the overall objective would be to freshen up the right and center. Höler would remain on to give whatever strength he had left. Kübler and Gulde checked out for the two newcomers.
Lineup—SC Freiburg—81st minute  (3-4-3)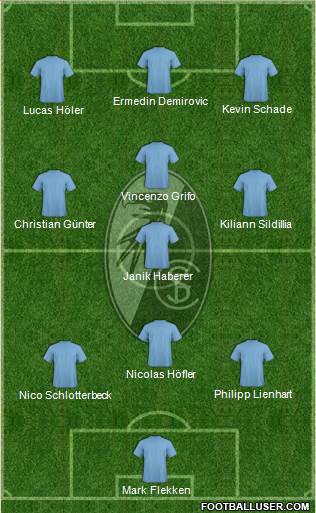 A very nice incarnation of a final press. It didn't get flowing right away. There were more foul stoppages and a careful set up of another Freiburg free kick between the 81st and 83rd. Nianzou and Choupo-Moting came on in the 84th. After that, there was another foul and free kick. Grifo took a quick one in the 85th, and Manuel Neuer was forced into a full sprawl save to stop Höfler's header.
Freiburg suddenly and unpredictably took control of the match. Less than three minutes later, they again forced Neuer down to the ground and another wonder-save. This time it was Höler again in the 88th off a Sildillia service. The young Sildillia–a very interesting French teenage prospect in the event that no one has heard of him–then came very close to setting up Demirovic in the 89th.
Tolisso had a nice goal knocked off for offside in the first minute of injury time. The check slowed things down for a couple of minutes. Freiburg then pulled their late goal back at 90+3. Grifo played in Haberer, who got a bit lucky when his first touch bounced off Nianzou directly into the path of his forward momentum. Freiburg's very late press for an equalizer featured Silldillia again, but not at actual attempt on target.
Gnabry got the last shot off at 90+5. Stegemann finally blew the full-time whistle at 90+7.
Whew. Some match! Non-stop, full-throttle football without so much as a single booking.
One could definitely find support for Nagelsmann's post-match statement that this was a "deserved win". The xG certainly bears that out. Flekken's expert goalkeeping kept out plenty of sure-fire Bayern tallies. The FCB pushed Freiburg well with an xG of 3.8 to 1.2. That metric conveys a lopsided match.
All fine and good, except for the fact that it truly wasn't. Bayern had more chances, but Freiburg were never really out of the match. Not for one second. Not even during one of the prolonged FCB attacking spells. Everyone–including and especially the team's lead striker–was back helping in any way they can.
The reader can decide for his/herself if the writer's proclivities towards Freiburg (and romanticism in general) are governing the conclusion here. Perhaps the temptation to find a romantic storyline is far too strong after nine straight Bayern titles. Perhaps Germans remain too damned romantic in general.
All a columnist can say to put a bow on this week's installment is to reiterate what SCF captain Christian Günter had to say afterwards. On yes. There will be a re-match. Do not be surprised at all if Freiburg are still contending for the title when Bayern visit Breisgau in April. This version of Freiburg is quite good and might get even better.
Such is the fearless prediction of this column.
Thanks so much for reading! You can occasionally catch Peter goofing off while watching the lower German football divisions on twitter, @ViceytheSS.
Twitter DMs are open for football conversations, corrections, and (if you truly insist) general abuse. 
All columns debut on Bulinews before appearing on Peter's website later in the week.