Time loses its essence in a post-corona world. Last Spring's upheaval may have disproportionately affected humanity, but virtually all seven billion of us experienced a simultaneous assault on our own internal metronome. The days ran together when the entire world shut down. An semi-ordered life governed by what day of the week it was suddenly wasn't. The instinctual rhythms of waking, working, sleeping no longer applied to the reality before us.
We've all recovered and adapted in our own ways. We learned to live without libraries, museums, movie theaters, concerts, and live sporting events. Studying and working from home became the new routine. A protective cloth mask now hangs from our car's rear view mirror; an essential part of the semi-evolved simian's new public uniform.
In light of all of this, a 289-day game between matches for Germany's Nationalmannschaft refutes any commentator's attempt the interject the interval with meaning. Trust me. I've tried. When first sitting down to compose this essay, I thought it prudent to mention that this constitutes the longest time that the team has gone without a match since World War II. An interesting factoid, but I fear it means almost nothing given the extenuating circumstances.
Such circumstances also render it difficult to read too much into the two 1-1 draws taking place over the first COVID Era international break. Jogi Löw's team still seek their first win in the UEFA nations league. Since the catastrophic 2018 World Cup, they've been unable to secure one single victory from six fixtures in the new competition. Again, I remain uncertain as to whether this means much. The squad still brims with talent.
It almost feels genuinely silly to read too much into the two games taking place this week. Löw didn't even call up six players who recently participated tin the delayed completion of the UEFA Club tournaments. Bayern stars Serge Gnabry, Joshua Kimmich, Leon Goretzka all received a deserved break from international duty, as did captain "sweeper keeper" Manuel Neuer. Likewise, starting fullbacks Marcel Halstenberg and Lukas Klostermann–both of RB Leipzig–also got the week off.
For reasons perhaps relating to a slow-eroding sense of pride after Germany blazed a path out of the world's COVID thicket this Spring, I'm prepared to accept this excuse. It might be the case that I find it too soon to be harshly judgmental. Maybe I'm still recovering from a torrid graded-write-up that I was forced to give my Jungs exactly one year ago today. A final conceivable justification for the analysis that follows relates to the fact that I'm just a simple man with some friendly inclinations who's glad to have international football back.
In any event, I'm prepared to declare myself satisfied with what others deem disconcerting. Many of the grades I've encountered seem a bit low. With all due respect accorded to breathtakingly brilliant analyses such as this one, allow me a humble German who insists on keeping track of tactics with the naked eye a chance to build a more optimistic case.
---
Match One– 1-1 draw vs. Spain
---
Löw certainly made no secret of his intentions to roll out a 3-4-3 in the presser taking place on the day before the match. It thus came as somewhat a surprise to see virtually every broadcast feed across the globe get the projected lineup wrong. One anticipated a back three. The only question that remained would be how it shook out:
Lineup—Deutschland—9/3/20—(3-4-3)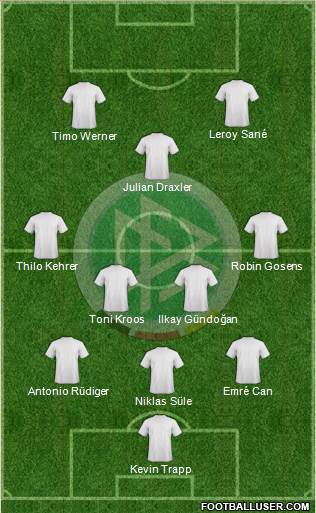 Insofar as it was possible for me to divine intent, Ilkay Gündogan worked as the emergency center back with Kroos, unsurprisingly, granted all the liberty in the world to direct traffic as he saw fit. Robin Gosens also didn't appear to operate under any specific set of instructions. Löw evidently considered it appropriate to allow him free reign in his long-awaited debut. One cannot truly find any fault with such logic.
Julian Draxler stood out as a player most assuredly tasked with specifics. In a week during which the Bundestrainer arguably overstepped his bounds by publicly intimating that the PSG midfielder should ask for a transfer, it seems also he also made the absolute wrong tactical call on the pitch. Draxler worked as in inflexible ten clearly charged with man-marking Sergio Busquets.
He found involvement in some of the early offensive pushes. At approximately the twenty minute mark, Spanish manager Luis Enrique figured out the ploy. Thiago Alcantara, Ferran Torres, and Jesus Navas began crowding the midfield. Swarming Draxler became the primary tactic; an easy enough defensive lock to pick. When in doubt, aim to disrupt an overloaded no-10.
The 26-year-old was able to cope for a time. Following a nifty 29th minute ball win, however, he dipped precipitously. Thiago Silva stepped forward to torch him on two occasions. Absent a couple of strong forward touches later in the match, it turned out to be a rather lousy day at the office for a player once thought to be the next national team captain. Draxler simply wasn't able to execute Löw's design for him in this one.
Draxler's performance remains the match's most prominent talking point. Here are some others:
Toni Kroos as the "midfield metronome"
The veteran midfielder, in my opinion, deserves every last bit of praise the country's press showered him with after the match. Difficult not to take those who had him graded average seriously. Apart from the glittering cross to hit Thilo Kehrer in the 11th, the anointed captain may not have supplied viewers with a definitive glittering moment, but damn he was good; a textbook example of an unheralded pivot runner.
Kroos took it upon himself to serve as the safety center back when his excellent field vision witnessed a play develop early on. This was on display in the 4th, 8th, 13th. Otherwise, he was pretty slick in possession and struck the ball well in all of his set-piece situations. Great control. Wonderful confident touches. Ninety-three percent passing. Great stuff.
After spending a great deal of the match capably controlling the short passing game out of the back, the captain slowly began to creep forward and managed to get his own shot off in the 71st. Much of the creativity in the final-third emanated from his sharp movements. In a week during which the tacit trust between Löw and his new talisman earned a fair deal of coverage, one can safely say that this arrangement works splendidly.
Assessment of the Replacement Wingbacks
I'll begin by saying that neither Gosens nor Kehrer really functioned as wingbacks, though they did coordinate their axial movements rather impressively. The back-three notably pressed very high on numerous occasions, yet Niklas Süle, Antonio Rüdiger and Emré Can kept it flat enough. This enabled Kehrer and Gosens space to cut in often. They spent less time wide than one might have expected from their positioning.
Everyone wants to discuss Gosens, myself included. When one takes out that lapse in judgement on Spain's last-minute equalizer, it was an exceptionally strong performance. His assist on Timo Werner's 51st minute goal qualified as sublime. Throughout the match, he exhibited a tenacious appetite to remain involved in the play. The debutant's energy appeared boundless. A fabulous "never say die" attitude shone through.
Kehrer looked a bit more fatigued, possibly because of Löw's decision not to afford him and PSG teammate Draxler the same courtesy he gave the Bayern players participating in the same UCL Final. Curious. The two French players, despite facing a significantly more grueling schedule, didn't get the week off. Unspoken Bundesliga bias on Löw's part? Of course. Nevertheless, I think Kehrer handled his defensive duties well.
Striking Axis Rotations
Criticism of Timo Werner and Leroy Sané emerges when one takes the second fixture into account. However, this article isn't quite there yet. Though some instances, to be documented below, in which the two strikers weren't at their best, I'll argue that the pair deserve some plaudits for the hustle and creativity they displayed against Spain. The same applies to their supporting ten. Even Draxler, in the opening twenty minutes at least, assisted in getting proper cycling going on the forward axis.
Sané and Werner switched fields often enough to keep the attack diverse. Communication and timing appeared very sharp, as evidenced by sequences in the 11th, 14th, 18th, and 29th. In the minutes leading up to Sané's substitution in the 62nd, the trio engineered two quality scoring chance. Draxler hit Werner, who was actually quite on side by the way, in stride with a beautiful forward ball in the 60th. Sané's blistering solo run and set up of Werner a minute later produced a decent shot that hit the side netting, yet didn't miss by much.
Of course, there were miscues. Sané's ball forward in the 20th left much to be desired. Werner's cutback for Draxler in the 29th was cringe-inducing. He later supplied a shockingly poor finish after a fine dribble in the 36th. Two minutes after that, Sané tried to get far too cutesy with an outside-boot shuffle for Werner when he had a clear path to the net himself. Sané's touch also failed him in a couple of crucial instances after the restart, demonstrating that he hasn't yet attained full-match focus following his injury layoff.
The Tactical Capitulation
Before getting to the grades, we'll have to address the tactical conflagration taking place between Matthias Ginter's substitution in the 62nd and the eventual defensive shell that the on-the-pitch players were able to form. Unfortunately, this counts as an unavoidable embarrassment. Confusion reigned for a full four minutes. Can, Gündogan, and Rüdiger, unsure of their assignments, visibly yelled toward the sidelines. Such miscommunication shouldn't happen at this level.
As if the sight of top-tier players wildly gesticulating at their coach wasn't a big enough eyesore, this is what they eventually settled into.
Lineup—Deutschland—66th Minute (4-5-1)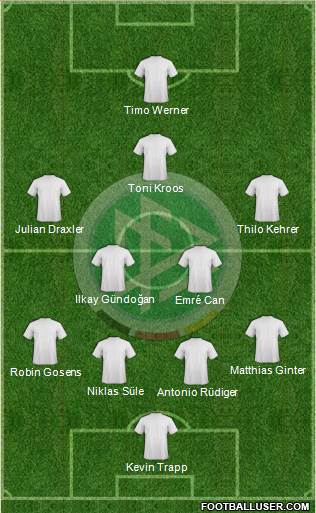 Far too conservative. Such a waste of talent. Forget about Gosen's error in judgement on the last-minute goal. The match was effectively lost with this. After Gosens and Kehrer spent much of the match moving in synchronized symmetrical tandem, they were split up for no good reason. Rüdiger had to complete a defensive switch he clearly didn't have the energy for. Draxler dipped fairly hard on his unnatural left.
Indeed. Not too many positive things to say about what we saw here, though I will say that Can and Süle benefitted somewhat from the arrangement. The Dortmund midfielder looked infinitely more comfortable pulled out the right-center-back role that saw him blow numerous early markings. Likewise, Bayern's returning anchor appeared much stronger when provided some extra support. Both Can and Süle were well on their way to "D-Level" grades before recovering under this constellation.
Suat Serdar and Robin Koch on far too late for grades, but I saw enough of Ginter to give an evaluation.
Grades—Deutschland—(9/3/20)
| | |
| --- | --- |
| Timo Werner | A |
| Toni Kroos | A |
| Leroy Sane | A- |
| Kevin Trapp | B+ |
| Robin Gosens | B |
| Antonio Rüdiger | B |
| Matthias Ginter | B |
| Thilo Kehrer | B- |
| Ilkay Gündogan | C+ |
| Niklas Süle | C |
| Emré Can | C- |
| Julian Draxler | C- |
In the final analysis, I don't truly think anyone–not even Draxler–merits a drop down to the D-level. His early work, on balance, keeps him a step above the basement. As noted above, Can had a positively atrocious first half. Neither he nor Süle capably adjusted to the flat back-three. When they did press forward, they looked slow and lumbering.
Can struck one as totally lost both when attempting to join the attack in the 32nd, then awkwardly tracking back in the 37th. He also totally blew a track back on Rodrigo Moreno in the final seconds of the first-half. His half-hearted attempt to catch up signified that his head was already in the locker room. That can't happen.
A fine header away in the 52nd and a good shot on target in the 66th rescues Can from "D-Level". Süle salvaged his grade with a solid sliding tackle in the 72nd a strong offensive header in the 78th. By my count, Ginter got fewer than ten touches in. I nevertheless think, once he got his duties sorted out, he served adequately as a defensive stabilizer. A good ball win in injury time didn't hurt his case either.
---
Match Two– 1-1 draw vs. Switzerland
---
Another game. Another story. Here, I'm prepared to be a bit more critical, though certainly not as critical as most. Mensch, is it ever a critical world out there. German pundits run out of patience. The problem stems from two long years of waiting; not to mention a slide of the once-mighty German Nationalmannschaft all the way down to 15th in the FIFA rankings. This isn't supposed to happen to our beloved World Champions. The results from this break will surely drop us down five or more spaces.
One way to glean a better understanding of this fixture is to examine the ebb-and-flow of the first-half a more chronological fashion. Vladimir Petkovic's own 3-4-3 partially abrogated the German constellation for much of the first half, but Löw's XI maintained the upper hand. Slowly, the Swiss began to build more effective counters. The slow push of the Swiss out of the back could be likened to a shy, yet fastidious youngster steadily gaining the courage to mount a challenge.
Petkovic's side, if one studies counters in the 12th, 24th, 28th, 35th, and 43rd, systematically broke through the inherent flaws of the initial tactical constellation. Beyond making two personnel changes, Löw employed some more subtle shifts. Regrettably, these weren't particularly advantageous ones. Here's how it looked to my eyes.
Lineup—Deutschland—9/6/20—(3-4-3)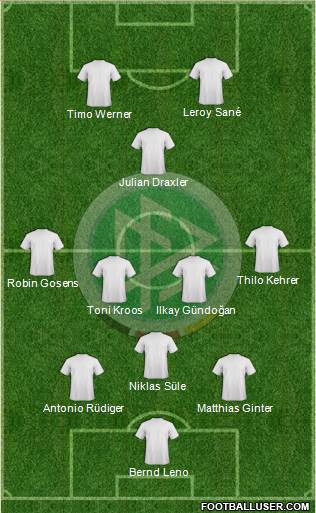 We've three alterations to discuss.
A New Sweeper Assignment for Süle
Others may have seen it differently. This I acknowledge. In this match we witnessed a more blatant attempt of the high-press so many wished to call attention to in the Spain fixture. While not denying that there were some instances in which it manifested in that match, I actually think Löw's plan there featured a more cautious approach. For many a tactics-hacker, recent focus on the Bayern press utilized by Hans Dieter Flick in the final rounds of the UCL may subconsciously influence the assessment.
It becomes quite apparent, especially on re-watches of this fixture, that Löw wished to try using a more forward-deployed defender to implement a higher press in this one. Süle filled this role; functioning almost as a "libero" both on and off the ball. The most blatant evidence off this approach can be confirmed by observing his positioning between the 27th and 32nd. The only true example of it succeeding came in a ball win and neat set-up of an attack in the 35th.
Within a minute of that well orchestrated sequence, one also observed the limitations of tasking a player like Süle with something like this. Though he and Rüdiger were able to get forward, yet could do little else other than pass the ball back-and-forth what felt like a dozen time. Werner, Sané, and Kroos were extremely late in stepping up to save the possession cycle. Süle's lack of decisive pace ultimately rendered such a pressing scheme ineffective. Löw would ditch it at the re-start.
Flipping the Wingbacks
Here we arrive at a strategy that Löw truly needs to answer for. Slotting Gosens and Kehrer back into their natural positions did almost no good. Neither one could summon up a fraction of the impulsive creative play requisite for flankers playing ahead of a back-three. Gosens, like Süle, would produce something admirable in the 35th-minute-sequence. The closely watched Atalanta debutante, apart from another offensive chance thirteen minutes prior, however, really couldn't produce anything of note.
With Kehrer winning the traditional "Anonymous Pitch Player one genuinely forgot was actually playing in this match" award, it's perfectly legitimate to question why Löw even attempted to build a back-three behind these actors. Such an intrepid constellation aims to construct a menacing attack structure around decidedly un-menacing players. Experiments are one thing. Deliberately building a 3-4-3 with defensive minded fullbacks as one's attacking wingers borders on the bizarre.
One has the sense that the long-time-national-team manager gleans ideas from his recent Bundesliga observations, then proceeds with the scarcely believable gall that he can emulate Dortmund's recent 3-4-3 despite not having neither Achraf Hakimi or Raphäel Guerreiro or maybe even one of Adi Hütter's Eintracht Frankfurt 3-5-2s absent Danny da Costa and Filip Kostic. Irrespective of where the inspiration from this tactic came, it makes little logical sense to employ it even when one doesn't see it working with Löw's first choice players.
Strict Man-to-Man Marking for Kroos
No discussion of this international break would be complete without mentioning this curious stratagem. Insofar as I could tell, at least one player received direction to tightly guard an opposing player from start to finish. Re-watches confirm that a looser execution of this existed for all ten outfielders in the opening sixty minutes of each match. For example, one can pick up Kehrer shadowing Thiago Silva in the first match. Rüdiger remained unnaturally close to Silvan Widmer in the second.
It's worth noting that the players clearly told to stick to this plan in both games were Julian Draxler (Sergio Busquets) against Spain and Toni Kroos (Granit Xhaka) against Switzerland. In the context of this fixture, Kroos' man-marking perpetually left him on Xhaka's heels. At first this produced no adverse affects. In point of fact, it even freed up Gündogan to be in the perfect position for the cutback on the 14th minute opening goal.
By the 28th minute, however, the captain showed signs of fatigue and strain. The assignment effectively took him out of the flow and opened up a third axial gap that die Nati were able to exploit in a late first-half bombardment. The Swiss bossed the German side around from the 36th minute until the time came to head into the tunnel. Despite some minor tinkering, the closing stages of the match would mirror the final minutes of the first half.
Halftime Adjustments generate a short flurry.
Julian Brandt relieved Sané prior to the re-start of the match. The BVB attacker immediately took up Draxler's place in the ten-spot while the PSG man moved up to pair with Werner. It also looked as if the so-called "wingbacks" moved back between the halfway line, Kroos and Gündogan slotted inward and forward to work as double-sixes, and Süle was inverted to end the "sweeper experiment"
I saw it thusly.
Lineup—Deutschland—52nd minute—(3-4-3)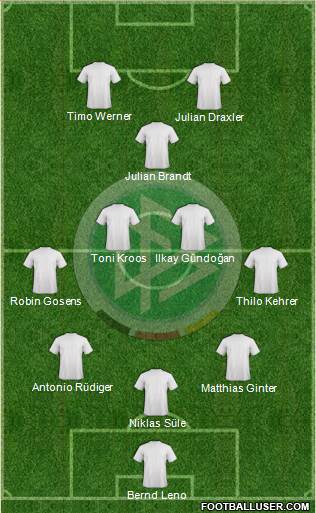 Brandt, displaying some shot-out-of-a-cannon enthusiasm, completed three brilliant touches within the first minute of play. A beautiful step-over set up Draxler for a chance in the 52nd. He chipped a gorgeous ball in a minute later, then expertly drew coverage to free up Ginter and Gündogan for a nice give-and-go one minute after that.
Kroos doubled up for a deft midfield ball win in the 56th and we even saw both Süle and Draxler confidently pull some slick trick work with their extra space. German confidence in possession didn't abruptly disappear after Widmer's equalizer in the 58th. Instead, it was more of a slow decline. Quality ball control preceded poor finishing from Werner in the 61st and Brandt in 65th. With those two chances wildly ailing wide, one could see the assurance slip.
Werner's poor through ball for Brandt in the 68th marked the moment when the Mannchaft began to lose faith in its ideas. Horrible lateral back-and-forth passes involving Ginter, Gündogan, Kroos, and Rüdiger in a spell between the 68th and 71st showed that they were crumbling. It was all Switzerland thereafter, with Löw's XI lucky to escape with the draw.
Two more like-for-like substitutions occurred down the stretch. Everyone gets grades this time.
Grades—Deutschland—(9/6/20)
| | |
| --- | --- |
| Julian Brandt | A |
| Matthias Ginter | A- |
| Bernd Leno | A- |
| Ilkay Gündogan | B+ |
| Leroy Sané | B |
| Toni Kroos | B |
| Antonio Rüdiger | B- |
| Thilo Kehrer | B- |
| Niklas Süle | B- |
| Roben Gosens | C+ |
| Emré Can | C- |
| Jonathan Tah | C- |
| Julian Draxler | D+ |
| Timo Werner | D |
Brandt faded significantly after his initial outburst.He even perpetrated two bad giveaways, one of which had its role in Widmer's goal. I'll nevertheless keep him at "A-Level" as he truly did bring out the best in all the players around him during that brief stretch. One can't ask much more of a halftime sub. Ginter and Leno maintain the highest level based on the fact that their work in the latter stages saved the draw.
Goal-scorer Gündogan, rightfully pissed after seeing his effort washed away, had some issues positionally in the second half. The overall performance remained strong enough. Rüdiger, Gosens, and Kehrer overcome their notable defensive lapses with some precise sliding tackles upping the grades. Neither Emré Can nor Jonathan Tah could maintain defensive discipline off the bench. Can in particular racked up the fouls on that left side. Nah nearly gave away a penalty in the 83rd.
Regarding the attackers, Sané's pace looked sharp, even if he still hasn't rediscovered his creative touch. Draxler's footwork on his 54th-minute chance was divine. Sadly, a torrent of wretchedly timed runs pull him down. Werner's timing exhibited similar problems. No real magic to report from Chelsea's new star forward this time, but he wasn't necessarily terrible. A fine solo dribble in the 61st showed he wasn't completely checked out.
The Current State of the Discussion
I must reiterate: This is only the Nations League. Interest within the Bundesrepublik remains tepid at best. Most of us with football-minded inclinations find ourselves more immersed in transfer talk, tipping potential DFB-Pokal Upsets, and getting prepped for an exciting upcoming season. There's also an understandable preoccupation with the fact that our clubs are making great progress in the quest to get fans back into the stadiums. That shall serve as our numero uno footballing story in the coming months.
Not entirely comfortable leveling criticism at a coach whom we hold in an even higher nostalgic regard than Chancellor Merkel, the bulk of the commentary derived from this international break focuses on the team's disregard for environmental standards in taking a private jet from Stuttgart to Basel in-between matches. Yes, I'm deathly serious. Even opinion writers I hold in the highest regard are lambasting the DFB for not taking the train or chartering a bus in the midst of a global pandemic. It's unbelievable. Honestly. We're they really supposed to pack 80 players and staff into a string of socially-distanced buses for a four-hour trip in an effort to reduce the carbon footprint by 0.0023%?
I'll argue that this outpouring of disapproving denunciations is actually indicative of something latent. Okay. It's obviously indicative of the fact that the couch-potato "call out culture" has grown infinitely worse in a pandemic-stricken world. That's obvious. Beyond that, it shows that the German footballing punditry feels ready to start questioning their beloved Jogi. They simply cannot find a justifiable football-related reason to do so yet. This is only the Nations League. Hence, the anti-jet-fuel tirades.
What people truly wish to talk about, and will likely feel ready to so come October, concerns Löw's stubborn insistence on building without veterans he deems ill conducive to his own tactical machinations. Two names tell the whole story: Thomas Müller and Mats Hummels. Why can't they come back? Because Jogi said so once upon a time. Will he change his mind? Not likely. Müller's incredible revival under Bayern manager Hansi Flick relates to the amount of creative Löw's one-time assistant has given him. There's almost zero chance Löw introduces a wild card into a team he feels he's earned the right to fully control.
The moves we beheld from Löw in this international round will leave some wondering if retaining a manager so convinced of his own abilities is the right fit heading into next Summer's Euros. An entitled trainer intent on building his own way doesn't make sense when a more "hands off" coach just led Bayern to the treble. Oh Yes. Expect Flick's name to begin popping up if the team doesn't begin stringing together victories before the New Year.
For now, such talk will be shelved indefinitely. The Jungs and their Jogi deserve something of a pass after the long layoff. No, it doesn't fall under the categorization of "inspired" football. We'll just call it "good enough for government work" and be done with it.