Well shit. That was a perfectly miserable end to one of the most wretched years most of us semi-evolved simians have ever experienced. So much for the normal trajectory toward optimistic support of the national team. Looks like another trend gets bucked in this year of endless shattered norms. Germans won't gravitating toward the side of the "Schwarz und Weiß" anytime soon. If anything, we stand grateful that we can completely forget about them for four full months.
Despite all of the yacking about a "historic defeat", one actually doesn't have to reach back a full century or more to locate parallels. The languid performances in the lead-up to the 2006 World Cup engendered similar emotions. Michael Owen's hat trick in the humiliating 1-5 home 2001 World Cup qualifier produced about as much anguish. Yes, we've been here before. Not so long ago either.
What does differentiate this particular time from the others is, to no one's surprise, rabid impatience. Germans weren't simply denied our treasured chance to waive our flags patriotically about last summer. COVID's postponement also robbed us of an almost certain chance to rid ourselves of a long uninspiring piece of dead weight. Semi-finals or no, Löw would have likely been three months gone by now.
I honestly believe that Germans could have accepted another underperformance from our lone source of national pride last Summer. After 2018, not to mention the 2019 flop of the women's team, we had grown attuned to the reality of fewer flag-waving fixtures. If it meant that Löw's long grip on the national team got batted away, many Germans could swallow another early knockout exit or perhaps even a second group-stage debacle.
"It served it's purpose," we would tell ourselves, "we now maintain permission to start anew."
Now we have to wait another year to attain that privilege. Ugh. We're stuck with him; stuck with the man who arrogantly proclaimed he alone could fix his own fuck-up. Two years on, those understandably skeptical of such a declaration must contend with droves of evidence to the contrary. With respect to the continued exclusion of a proven leader and undeniably on-fire player like Thomas Müller, Joachim Löw can only quip "We cannot reverse course now."
"We"? To paraphrase Jeffrey Lebowski, "who the fuck, 'we'"? The man who has clearly forgotten that he remains merely a custodian of the Bundesrepublik's great national treasure cannot hide his true feelings behind a badly propped-up pronoun. He knows he means "I". The true "we" know he means "I". Everybody and their senile mother knows he means "I". It's a matter of pride. If it cameth before a personal fall, that would be perfectly acceptable. Is it truly to much to ask that the whole country be dragged down too?
Such a fiery opinion may appear exaggerated. This writer, who took it upon himself to spend an entirely afternoon translating all of Germany's major post-mortem editorial pieces into English, assures you that it's rather muted. Compare and contrast. Please. You'll find that the country seethes with sentiments of burning betrayal whilst Jogi can barely be bothered to pluck a string on the fiddle.
The really tragedy here concerns the fact that Germans were fully prepared to, with modest reservations, get behind their Bundestrainer one final time. While the full cache of of his 2014-WM victory certainly found itself depleted, it was by no means empty. Calls for patience and understanding existed. Moreover, as this piece shall seek to demonstrate, the tide of public opinion was beginning to shift back into the manager's favor.
That's football for you. Fans always await the turnaround. They will passionately build up arguments in favor of the upswing, even if the results are less than convincing. That's what happened here. Löw inched back into favor, until losing it possibly forever. He came oh so close.
---
Match One: 1-0 Win vs. Czech Republic 
(Friendly)
---
What can one say about this match? After much pondering, the best this writer can do is categorically declare that it…er…"happened". Yes. Surely we can all get on the same page here. This game…er…"transpired". Let there be no doubt that it most definitely….um…."occurred".
A less humorous take on the fixture concerns the fact that an undeniable strain of positivity permeated our discursive behavior after the fixture. We were merely following the instinctual inclinations associated with this time of year. An internal conscience clock dictates that we must begin generating enthusiasm for our national team around mid November.
All proceeded according to plan. The time to set aside past transgressions arrived. The "good will" and "good spirit" beckoned. Most citizens of the Bundesrepublik took that cautious step in the supportive direction. We did our part.
Unbeknownst to us, a greater stride into euphoric territory would not be forthcoming. Like U.S. voters who expected their fellow countrymen to remain somewhat tethered to reality, we would soon learn to our horrible chagrin that the usual November norms no longer applied.
It's nevertheless worth revisiting how we felt, if only to provide a case study in how seasonal expectations shape human behavior.
Lineup—Deutschland—(5-2-3) (11/11/20)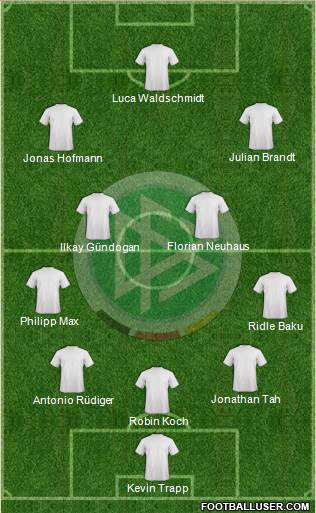 Did this work? Not terribly well. That didn't stop us from focusing on the positives. What were we thinking, then? I'll happily supply the snapshot.
Three overachievers surpass expectations
The shaky and stretched back-five could easily be forgiven. After all, Ridle Baku and Philipp Max counted as debutantes we all very much wanted to see. Baku turned in some promising work as a wingback who always cut central at the right times. Max added to our surprising surfeit of left-fullback options. Taken intriguing recent performances of Robin Gosens in account as well, we found ourselves brimming with confidence that the post Jonas Hector era would yield even better results.
Alas, neither one of those players serve in the overachieving trio the sub-header refers to. Rather, Florian Neuhaus, Robin Koch and Luca Waldschmidt are the players who earned the ovations. Gladbach six Neuhaus seamlessly adjusted to life without his club partner. A fan-favored former SC Freiburg striker returned from the Portuguese wilderness not only to score the game's only goal, but to look like a viable candidate in an overt nine role. Waldschmidt kept the pressure up for well over a full hour before fading.
Koch, the other former Freiburg player, faded late-on as well. He nevertheless exhibited his moments of genius as an inverted central pivot defender. Like a friendly Jovian planet in an amenably developed young solar system, he cleared the orbital zone of all the pesky debris that threatened the formation. Some very strong early clearances instilled significant hope.
Avenues to explain away
Truthfully, only substitutes Nadiem Amiri and Mahmoud Dahoud looked less than stellar. Julian Brandt tanked a bit too. In any event, the mind had little cognitive difficulty in summoning up the right excuses. Brandt's most recent role at Dortmund saw him granted more freedom from a base central position. Amiri answered an unexpected call to replace the injured Jonas Hofmann well enough. Dahoud came on at the half after the team already assumed a holding pattern.
The defensive errors of Jonathan Tah and Antonio Rüdiger didn't appear all that serious. So long as an alert Kevin Trapp stood his ground between the sticks, did it truly matter if some highly physically gifted players at the back switched off at the tail end of a friendly? Of course not. They belonged to the B-side anyway. Plenty of time for them to learn from their mistakes while warming the bench behind the likes of Matthias Ginter and Niklas Süle. Loads of time for our potential-laden Jungs.
Someone else who's momentary lapses we were willing to forgive? Oh yes. It's worth admitting.
"Let Löw rule"
We stood ready. I swear it. His convivial mood at the post-match press conference transferred over to us. Of course it did! We undertook all the neccessary preparations for the shift over to full support. Our Bundestrainer sent out all the right signals after the full-time whistle. He promised that he would "never play with such a back-five again", talked up his newcomers, and tacitly promised a coherent strategy for the capture of the side's UEFA Nations League Group.
Not that we cared all that much about the group. No one in Germany held any serious desire to watch the UNL playoffs. Draws or even losses against Spain and the Ukraine might have been tolerated. The desire to bolster Jogi stems more from the knowledge that we all know that he has nowhere else to go after his time with the DFB draws to a close.
There is no "what's next?" for the 60-year-old. Before being thrust into the limelight after Jürgen Klinsmann's 2006 resignation, Löw was actually a terrible club coach. He led six separate club teams in his pre-national team career; doing a pretty abysmal job in each instance. Stuttgart and Karlsruhe didn't want him. The Turkish league pitched him out twice. A couple of stints with Austria ended badly.
Small wonder Jogi couldn't relinquish the reins of power after the 2018 World Cup debacle. There remains nowhere else for him to go. No one wants a grim looking senior citizen who, having capitulated to his advancing years, gave up on attempts to suppress his choppy Breisgau accent or indeed dress like he planned to head anywhere but the laundromat.
Poor Jogi doesn't retain enough charisma to do much of anything in retirement. He's looking about as lively as the pope emeritus. "Dancing with the Stars" won't be calling. That's why, deep down, we really do wish to support him and hope to see him leave on a high note.
He very nearly reeled us in again. Constructive sentiments accompanied the grading on this day.
Grades—Deutschland—(11/11/20)
| | |
| --- | --- |
| Kevin Trapp | A |
| Florian Neuhaus | A |
| Ilkay Gündogan | A |
| Philipp Max | A- |
| Luca Waldschmidt | B+ |
| Robin Koch | B |
| Antonio Rüdiger | B |
| Ridle Baku | B- |
| Jonathan Tah | C+ |
| Julian Brandt | C |
| Nadiem Amiri | D |
| Mahmoud Dahoud | D |
Not much more to add here. Context for all of the marks lies in the content above. The only point left to be touched upon concerns the uncomfortable truth that, gulp, the best grades of this international break came in a meaningless friendly. Yikes. Who could have known that this would serve as the zenith?
We received a better result in the next fixture, but the cracks in the facade began to manifest too.
---
Match Two: 3-1 Win vs. the Ukraine 
(UEFA Nations League)
---
Before discussing this fixture at all, we must emphasize how tenuous its actual occurrence was. Right up until the final hours, kick-off remained highly uncertain. A victory against a corona-depleted Ukrainian side hardly served as a major victory. As we'll discuss below, warning signs abounded all over the pitch.
The citizens of the Bundesrepublik nevertheless carried plenty of positives out of the win. An "eyes wide shut" mentality seemed right and proper. Sure, there were glaring deficiencies. They could easily be forgiven. With three points secured and only one solitary match left to go before a break in action lasting until March, we were almost clear.
All Löw had to do was avoid a disaster. Note that the subsequent match now completely obliterates the constructive aspects of this one. Instead of highlighting them, the retroactive coloration of this game forces us to focus on the leaks in the ship's hull.
We've little choice. Every calamity has its origins. All fiascos come with foreshadowing. Off we go.
Lineup—Deutschland—(5-2-3) (11/14/20)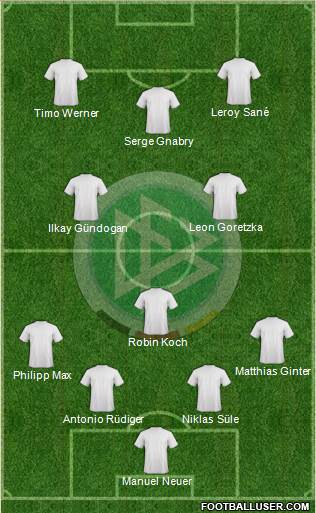 First, the main events. After ten minutes or so of solid play, the DFB-XI conceded a deeply concerning goal in the 11th minute. Marking of Roman Yaremchuk–in this case does by Robin Koch and Philipp Max–was shockingly half-assed. Four minutes later, Ukraine's Marlos had the rout on his boot, with only a poor underplay sparing us the humiliation.
After Andriy Shevchenko's yellow-clad visitors squandered another opportunity a full-strength side might have taken advantage of in the 21st, Leon Goretzka won a good midfield ball and immediately unleashed Leroy Sané for the lightning quick counter. The Bayern attacker brought down his teammate's service with a very slick touch. His finish was even slicker. Matters stood level in the 23rd.
The Nationalmannschaft scored on another counter in the 33rd. Again, an attack unfolded with such speed that one might have missed it with a simple blink. This time Goretzka timed his run perfectly to meet a Koch forward ball, executing a breathtaking pair of touches before setting up Timo Werner for the go-ahead goal.
Werner notched a brace with the game's final tally in the 64th. This time Ilkay Gündogan latched onto a forward ball from and kept his head up on a fantastic dribble before picking out Matthias Ginter on the opposite side. The Gladbach defender crossed beautifully for Werner, who was aided by a deflection this time.
All good? Not really. The DFB-Jungs looked very vulnerable down the stretch and, in a comical act of disorganization, couldn't even get substitute Florian Neuhaus on the pitch in the dying moments. Ginter's BMG teammate stood on the touchline for five full minutes whilst his teammates appeared oblivious that they needed to get the ball out into touch somehow.
This was not an especially good second act. Overall team form slipped from the friendly. Here's how:
The shape: A quasi broken promise
Löw assured the assembled media that he would not play with a back-five set again. In the strictest literal sense, he didn't. Koch's intended use was that of a defensive midfielder. Still, it wasn't executed so. Practically the only time Koch could be spotted occupying this midfield role was in the 14th, 25th, and 52nd.
Otherwise, there existed noticeable confusion as the 24-year-old was supposed to be. One particular eyesore revolved around horribly choreographed movements with Gündogan. It's not exactly easy to ascertain whether the Man City midfielder tried to run the ship himself or if Löw put designed a wholly incoherent midfield plan expecting those two players to implement cycle rotations out of the back.
As is often the case, the answer likely entails a mixture of both. Gündogan's zeal, however, didn't appear too problematic. It even led to the third goal. The same cannot be said of Löw's general midfield design, however, were something was clearly amiss.
Koch's push forward in the three timed examples elucidated above all resulted in profound defensive failures. Approximately four minutes after Werner's goal, the opposition began really slicing through the German gaps with ease. Waves of frightening attacks came between the 68th and when Marlos hit the post in the 75th.
Koch clearly worked in a back-five for the majority of the match, leaving Goretzka and the wildly roaming Gündogan responsible for acres of wide open space. This led to creative stagnation on the charge and appallingly bad collapse play in defensive. The post-match explanations offered by Löw were quite shaky. Deeper examination of the match revealed it the manager played with smoke and mirrors. Koch may have not had a defined role at all.
Rigidity of the front three
This was simply shocking. When one saw Serge Gnabry deployed central on the pre-match tactics boards, it obviously didn't register. Surely that was simply some young graphics engineering intern hazarding a guess. There would be rotations. All three forward deployed actors would mix it up and keep it unpredictable.
Except they didn't. One could scarcely believe what one saw develop. Gnabry worked a pocketed-nine role; absent the apparent responsibility for distribution. Virtually all attacks relied upon timed switches between Sané and Werner, who mostly remained stationed on their respective sides. When this didn't lead to offside calls, it rendered the assault embarrassingly ineffective.
Sané didn't even attempt to rotate with Werner until the 26th minute. The effort proved an isolated incident. Shevchenko's men all to easily shelled up in a 4-5-1 while Löw's XI made no overt attempts to lure them out of shape with cycle possession or flank rotations. The visitors barely had to budge to shut down entirely predictable sequences. Something like that cannot occur at this level.
Asymmetrical back builds
We arrive at the play of 27-year-old Philipp Max, who had only just earned his first cap in the Czech Republic friendly. The former Augsburg and current PSV Eindhoven fullback tried to tear forward as if he had years of national team experience under his belt. Commendable enough enthusiasm. Beginning in this match, however, he would begin to discover that certain things work until they don't.
Max charged forward from the onset, racking up an insurmountable amount of touches that his teammates wouldn't come close to matching. He was the most active player on the pitch and even had his moments. The set-piece delivery in the 5th was certainly top-notch. He produced another inviting ball less than a minute later.
Culpable in the Ukrainian goal, he appeared to run out of both gas and ideas around the 33rd. Moreover, his lateral axis partner seemed to be confused by his play. Ginter over-committed on several occasions, getting absolutely murdered on Ukrainian counters. At no point did it seem as if Max had his counterpart in his sights.
Much like the case with Gündogan, the matter is partly that of an overzealous player going rouge. That doesn't excuse the Bundestrainer for building an imbalanced system that allows for such behavior. It naturally follows that, with Max's rushes possibly contributing to the front three staying predictably stuck, Löw had the responsibility of making some adjustments.
"Falling out of Löw"
The changes never came. Even as the pseudo-system he loosely based his match upon ran itself into the ground, Löw didn't even get up from his seat to signal something to the pitch. The attacking trio didn't interchange. Max and Ginter continued to pull the shape apart. Battle after battle was lost in the midfield as Gortezka perambulated around lost in the second half.
Many report that they enjoy at least one facet of the "Geisterspiele". Namely, the audible shouts and yells of players on the pitch. An eerie silence descended over this match. I heard almost no German being spoken at all. Astounding it was. The players, perhaps taking a lead from their immobile manager, effectively ceased to communicate.
No German fan watching this match cared much to acknowledge this red flag; not yet anyway. In our minds, it was just a matter of getting through the motions.
"Get us through one more game, Jogi," we thought, "90 more minutes and we're done for a while".
Grades—Deutschland—(11/14/20)
| | |
| --- | --- |
| Manuel Neuer | A- |
| Leon Goretzka | B+ |
| Timo Werner | B+ |
| Leroy Sané | B |
| Ilkay Gündogan | B |
| Philipp Max | B- |
| Robin Koch | B- |
| Antonio Rüdiger | C+ |
| Matthias Ginter | C |
| Serge Gnabry | C- |
| Niklas Süle | D |
| Julian Brandt | D- |
Rest assured that no retrojected perspective affects the marks here. Grades are always assigned on the day of the match. It's only fair to evaluate when all the impressions remain fresh in the mind. Taking that into account, this is a far cry from the curve one would associate with a victory. One ordinarily doesn't win with two "D-level" players on the pitch.
Julian Brandt proved atrocious in 14 minutes of relief. Assuming Jogi had a thought-out plan for this match is being kind. When the 24-year Dortmunder came on to make only rearward touches, the whole sputtering offensive engine descended into a chaotic free-for-all.
On the day of the match, some grade inflation accompanying the markings of Serge Gnabry and Robin Koch. One took a little pity on them for being irrationally positioned. Gündogan and Goretzka earned points for their roles in the goals, but it must be stressed that they both had plenty of moments of confusion and disappeared for large stretches.
The returning Niklas Süle barely factored in at all apart from some appallingly slow trots, woefully bad duels, and a very clumsy challenge.
---
Match Three: 0-6 Loss vs. Spain 
(UEFA Nations League)
---
Best to keep the analysis of this one as close to a chronological line as possible. Every walloping has its turning point. At a certain juncture, those doing the pummeling obtain super-human confidence and, in the case of football at least, infinite space to exert their will. The beaten side gives up for the day. Sadly, those of us tasked with producing analysis can't quit watching.
Oh, how this writer wished he could have capitulated around the same time the Nationalmannschaft did on this day. For German football lovers, this was no mere shellacking. Every last concern manifesting in the previous encounter morphed into an atomic mushroom cloud here. It was akin to witnessing a series of sharp paper cuts about one's body turn into gaping flesh wounds in a matter of minutes.
No, it wasn't the Minierazo and shouldn't ever be confused with it. Löw's tactical plan still made about as much sense at David Silva's pre-match benediction.
Lineup—Deutschland—(4-2-1-3) (11/17/20)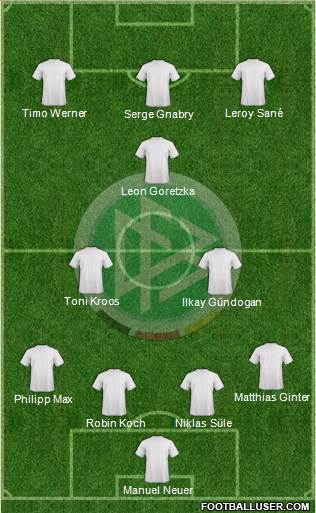 Let's undertake a thought experiment and climb inside Jogi's cranium for a second. What was the idea? Actually, nevermind. I've no desire to spend more time in that hollow space than necessary.
Seriously. One change? That's all he could think to employ on a ship listing badly to port? Toni Kroos for Antonio Rüdiger. That's all we got.
A top attacking axis that couldn't (or wouldn't) rotate got rendered more rigid with a strict horizontal deployment. Gnabry stayed central despite being totally ineffective. Kroos basically assumed Koch's muddled role from the previous fixture. The exact same fullback pairing received a green light to make the exact same mistakes.
Difficult as it may be to fathom, there is some football to discuss here. We beheld a legitimate contest until just after the half-hour mark.
When did it all go wrong?
All the way back to kick-off. Gnabry and Gündogan showed some initiative early. Sergio Ramos got the first shot on target in the 6th, but Neuer stood tall at the top of his game. Werner and Sané executed two good switches and the former laid off a nice chance for the latter in the 9th. Eleven minutes in, one could say that Germany remained the slightly better team.
Had they been a bit better coordinated, the Jungs might have been able to capitalize on a man advantage between the 9th and 12th. Fabian's early injury relegated him to the sidelines and Luis Enrique required a couple of minutes to get an emergency sub warmed up. Instead, Kroos dropped way too deep whilst Max and Gündogan started doing the lone vigilante garbage again. Such a wasted opportunity.
Decent triangulation drives in the 13th and 14th at least got Gnabry involved. Goretkza came close to locating another breakthrough touch in the 15th. The opening goal in the 17th came off a gorgeously delivered corner. Gnabry's man marking was a mite suspect, but one still had the impression that there wasn't much anyone could do about Alvaro Morata's finish. Deutschland trailed 0-1, yet were far from beaten.
Morata's second hit of the back of the net, disallowed for offside in the 23rd, still didn't trigger the alarm bells. The diagonal that sliced the German defensive ranks open wasn't pretty. Still, Morata's 154,589th goal from an offside position hardly constituted grounds for serious concern. Sané nearly broke through a double team in the 28th. German counters, admittedly coming after the Spaniards squandered several wide-open chances in front of goal, could still be described as adequately competitive.
Around the 33rd, the visiting Germans began to get really stretched and visibly exhausted by the chasing. Fernan Torres' first goal doubled the Spanish advantage. About five minutes before Rodrigo scored the third goal, also off a corner, in the 38th one had the sense that the wheels were coming off and a disaster was imminent.
Which loose spring triggered the cascade?
Not a happy subject to report upon. It was Philipp Max. Those with the stomach for in can check out the replay in detail. He tried too hard to be the hero. In the process, he pulled a deteriorating team past the event horizon. Already in the 15th minute, one can see Werner tracking back to bail him out of his neglected defensive duties.
It happened again in the 26th and 27th. Max thought it prudent to work the overlap…even when there was no carrying player to accord him an overlap which to work. Pretty pitiful sight. Again in the 31st, Max tore forward with reckless abandon. The whole German team got stretched out of what was a pretty piss poor shape to begin with.
Werner found himself completely removed from the offensive equation. Goretzka, Gündogan, and Kroos had no way to get involved. A dizzy and twisted Max left the protective scheme a complete mess in the 34th, 36th, and on the play that led to the fatal corner in the 38th. One needs to note that Max's slow reactions played the largest part in the second goal in the 33rd.
The complete midfield meltdown came in the 41st. By the time Fernan Torres cut into the box on the hunt at 45+1, no one was remotely interested in getting a tackle in. The chain reaction could not be stopped. Löw's XI internalized that they were beaten. In addition to that, they accepted that there was no way back in the form Löw had lined them up in.
The end.
One tenuous excuse
We'll afford Löw just one. Obviously, he had a death of options at fullback. Löw didn't have his preferred pair. Both Lukas Klostermann and Marcel Halstenberg sat this round out with injuries. With all the back-up options–Thilo Kehrer, Emré Can, Robin Gosens, and Joshua Kimmich–also unavailable, it makes some semblance of sense that the Bundestrainer had to go with Ginter and Max. For all the hype, Ridle Baku and Benjamin Henrichs probably weren't ready.
Those are some seriously depleted ranks. That reality gives Löw a bit of leeway; just not all that much. An inflexible formation that neuters three talented attackers is simply inexcusable. Again, we saw no attempts to fix this in the second half. The question of who runs the midfield must be answered pronto. Goretzka, Kroos, and Gündogan may have all been willing, but how in the hell could one expect them to step up when there was no plan amidst all that empty space?
All midfielders receive a failing grade irrespective of the sad truth that they had no real direction.
Grades—Deutschland—(11/17/20)
| | |
| --- | --- |
| Serge Gnabry | C+ |
| Timo Werner | C |
| Manuel Neuer | C- |
| Leroy Sané | C- |
| Robin Koch | D |
| Matthias Ginter | D |
| Niklas Süle | D- |
| Leon Goretzka | F |
| Ilkay Gündogan | F |
| Philipp Max | F |
| Jonathan Tah | F |
| Toni Kroos | F |
Yes, it was that bad. Werner and Gnabry did get a couple chances in towards the end. They deserve credit for keeping a flicker of fight in spite of the scoreline. Sané at least fought through Enrique's double team on enough occasion. Proper review of the six goals leaves Neuer at fault on only two of them. He still could have directed his defenders better, especially on set pieces.
Down 0-3, Löw made only one substitution at the half. This counts as another example of how he obstinately refused to try and rectify matters. Jonathan Tah relieved Niklas Süle….and played like absolute refuse on might add. He blew coverage on two of the three second half goals, demonstrating why he's no longer even in the starting lineup at Leverkusen. No other subs factored in.
The Current State of the Discussion
Oh man. Is there a discussion? I believe I speak for most of my countrymen when I say that we have no desire to talk about this team at all. It's a completely useless exercise. No matter what we say, we're stuck with Löw until after the Euros. Nothing will change that. One might as well try to convince one's crazy right-wing American cousin that there's such a thing as "arithmetic" and a reality beyond Trump's twitter feed. Nothing good can come from having a conversation on some topics.
For most Germans, the only piece of good news emerging from this international break has to be that there won't be anymore international breaks until March of next year. How lovely. We can just forget about all of this and watch the Bundesliga. We don't have to see Jogi or even think about them. Let's slam this book shut, bury it under more worthy ones on the nightstand, and possibly "inadvertently" knock it underneath the dresser so that it may totally forgotten until its time for Spring cleaning.
Let there be no doubt that we Germans will find some way of throwing our complete support behind Löw come Summer. We have to. One cannot root for the blessed Nationalmannchaft to fail. Mercifully, we don't have to begin thinking of a way to do so for another four months.
Exhale. How about that 2020/21 Bundesliga?