The boos rained down in Köln. Actually, wait a minute. Nevermind. No they didn't. Nary a soul sat in the RheinEnergieStadion bleachers. Any and all perceived hisses and hecklers stemmed from one's own psychosomatic imagination; not unlike the "phantom phone vibration" that pesters one's leg in the midst of a dream staff meeting.
Sigh. Blame COVID. Blame the dubious identity of the newly formed nations league. Take it further and blame Joachim Löw's back-woods mullet, grim wrinkled face, and sudden capitulation to the "Bob Bradley at Swansea City Turtleneck Wardrobe Collection" if you wish.
Irrespective of what one choses to blame, the negative attention the current version of Germany's beloved Nationalmannschaft garners more skepticism than just about any incarnation of the 14-year-long "Jogi Era". Whether its because people are idle, impatient, or just plain tired of listening to a man with a thick regional accent insist that his Midas touch must be respected, the "Sexy Jogi" Paeans are long gone.
No one spared the National team manager this week. The country's heroes waged a war-of-words with him in the press. Lothar Mattäus and Bastian Schweinsteiger took time out from…whatever it is they're doing these days…to level criticism. The Saturday night press conference in which Löw loudly responded with a four-minute rant featured grim echoes of America's recent dumpster fire of a Presidential Debate.
And this commentator? Well, I'll cop to being in a significantly less tolerant and forgiving mood than last time. After all, I stood among the legions of German football watchers who overtly pleaded with our coach to ditch this wretched three-at-back system.  Matthäus and Schweinsteiger raise a legitimate point. No one wants to watch such dross.
On the other hand, we did watch the dross. Why? Because the claim that Germans no longer tune in to watch the national team play remains largely hogwash. Hell, if there's one thing the pandemic has brought out in people across the globe, it's that the television set remains on; if only because the soft glow of radiation yields a feeling of warmth and intimacy otherwise unavailable in a hug-less, touch-less world.
Of course we'll watch. The Nations League serves as the primary reason why Germans flick on the tele more often when the Nationalelf play. Were we still operating under a mixture of meaningless friendlies and seriously unbalanced EM qualifying matches, Löw wouldn't be under this scrutiny in the first place.
He could trot out a 7-2-1 or 2-2-2-4 formation against San Marino, Liechtenstein, or the Faroe islands and no one would give the slightest of shits. The fixture wouldn't even register on anyone's radar. There wouldn't even be a tactical review the next morning in the paper.
Even the most hysterical of German football fanatics would take their poor neglected girlfriends out for a long-overdue date-night on the evening of the "Germany vs. Andorra" match. The Nations League ensures that all of the lovely supportive girls across the Fatherland are properly ignored by their undeserving football-devotee boyfriends. This is as it should be.
For better or worse, Löw remains at the helm through next Summer's delayed EM. Might as well get behind him for what shall surely be his "last hurrah". As we shall see, there exist plenty of jaw-droppingly torrid tactical ideas for us to call attention to. One thing the old Schwarzwalder deserves credit for, however, concerns the fact that he at least didn't make matters worse with zanier in-game adjustments.
In what I believe is a first for this writer, I didn't observe any on-the-fly alterations across 270 minutes of football. Löw stuck with his pre-game plan in all three fixtures. Again, this counts as an improvement over last time. Overall, we're on the right track; crawling in the proper direction if you will.
---
Match One: 3-3 Draw vs. Turkey 
(Friendly)
---
Naturally it's not entirely worth it to spend too much time on a friendly. A match often played at half-speed remains, at best, worth keeping half an eye on. Bills must be paid at some point. Why not sit down at the kitchen table and write out a few checks after the 132,678th substitution?
A match that generated plenty of goals nevertheless produced a few interesting talking points.
Lineup—Deutschland—(3-3-3-1) (10/7/20)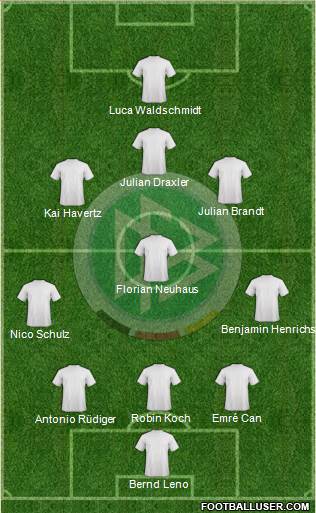 It remained largely this static from start to finish. Blanket protection with six players stationed behind the half-way line aimed to absorb pressure and connected counterattacks through Julian Brandt. The 24-year-old worked a slight stagger, rotating lightly with Kai Havertz and Julian Draxler on some tepid cycle plays.
Some decent upfield movement came early, with Draxler having a goal disallowed for offside in the 7th. For the most part, however, the chances came from the opposition. Emré Can got caught out of position quite a bit. The DFB XI finally got it together about forty minutes in.
Draxler and Havertz executed a nice switch in the lead up to the former's opening goal one minute into first half injury time. An inspired attacking spell preceded the earned tally. A Nico Schulz error enabled Turkey to equalize five minutes after the break. Havertz and Florian Neuhaus combined for a nice one-two in 58th. The latter put Deutschland back ahead.
Turkey's next equalizer certainly came courtesy of inattentive officiating. Efecan Karaca clearly shoulder checked Neuhaus in an illegal manner on his way to scoring a a 67th minute goal. Luca Walschmidt put the Nationalelf back ahead in the 81st. Düsseldorf's Kenan Karaman capitalized on more suspect defending to draw Turkey level again in the final minute of added time.
Löw's post-match remarks pretty much hit the nail on the head. Poor passing decisions on behalf of the German representatives led to all three opposition goals.
The Experimental Deployments
Here's one instance in which I'm prepared to come down firmly on Löw's side. There was absolutely nothing wrong with calling up Mahmoud Dahoud, Nadiem Amiri, Nico Schulz, and Benjamin Henrichs. Matthäus claims that players that don't start for their club team shouldn't feature in the national squad.
Gee. Has our beloved Lothar ever been known to make an error in judgement when it comes to personnel decisions? One would have to add two more rings to the front of an Audi in order to cover the amount of times he's exchanged nuptials!
Schulz and Henrichs deserved a trial in wingback roles since Löw isn't anywhere near figuring out what he wants to do there. Schulz in particular merits a look after last season's injury. He could conceivably reclaim his old form. Henrichs, back in the Bundesliga now, might be able to rekindle some of that 2017 magic.
Amiri and Dahoud may have been token selections, but why the hell not? Neither one stands far from a starting role at their club. Both a one crucial injury away from having to step up.
A solo-six?
Now I'm prepared to rip Jogi's a new one. What was the point of calling up both Neuhaus and Jonas Hofmann if not to pair them together in the midfield? Building a national team lineup isn't that complicated. As I've said a thousand times before, the key remains partnering club players intuitively familiar with one another on connectable axes and plains.
There's simply no excuse for not placing the Gladbach sixes together. What a missed opportunity to see if something quite beneficial could work as a long-term strategy. Dortmund teammates Dahoud and Brandt could have worked as a rotating eight. Even though they play for different clubs now, Robin Koch could have stepped forward to keep a vertical line with his old Freiburg colleague Waldschmidt.
Returning to the issue of Neuhaus operating alone on a six-straddle of the halfway line, one can argue that this left Schulz and Henrichs with too much ground to cover. Small wonder that both played poorly and made such rash passing decisions.
A smattering of potential useful lessons going forward
Difficult as it may be to concede, this back-three truthfully counted as the best one Löw has yet constructed. Koch looked a little unsettled in a flat-line deployment, but Can and Antonio Rüdiger played reasonably well. Such a constellation takes advantage of Can's recent mastery of the position in the BVB set-up. He can trip out wide and hustle up with surprising skill.
For reasons I personally spent a lot of time over the international break trying to figure out, the right-footed Antonio Rüdiger really kicks ass slanted left. Perhaps he's honed that part of his game carefully. Some of his better tackles in these three matches don't totally negate some of his dips, but it appears Löw has located something stable there.
Draxler turned in one of his best performances in ages. He can supply some slick play in the middle of the park provided those flanking behind him aren't stretched out too wide. Of course, that brings one back to the issue of building with a back-three and using prominent wingbacks to buttress the midfield. Finding a place for Draxler in the starting XI may be a moot point anyway.
Time for the grades. Saw enough of substitutes Hoffman and Jonathan Tah to mark them.
 Grades—Deutschland—(10/7/20)
| | |
| --- | --- |
| Bernd Leno | A |
| Emré Can | A |
| Kai Havertz | A |
| Julian Draxler | A- |
| Jonathan Tah | B+ |
| Jonas Hofmann | B |
| Florian Neuhaus | B |
| Luca Waldschmidt | B |
| Antonio Rüdiger | B- |
| Robin Koch | C+ |
| Julian Brandt | C |
| Benjamin Henrichs | C- |
| Nico Schulz | D |
Turns out that one can learn quite a bit from a friendly. Even if the lessons derived center around what doesn't work, they still count as lessons. Undertaking experiments remains part of a national team manager's job. No one would have questioned Löw's right to do this had he been playing against Luxembourg.
That about wraps it up for Schulz and Henrichs. Doubtful we'll see them again. So effing what? It was worth a shot. Let it go. Let's move on.
---
Match Two: 2-1 Win vs. Ukraine 
(UEFA Nations League)
---
We come to the Fatherland's historic first ever victory in the Nations League. Juchu! We Germans have been anxiously awaiting this honor since never. This made absolutely no one's day. More people probably watched the replay of one of the 2018 World Cup stage humiliations than watched this match.
A sometimes shitty "grind it out" victory comes nowhere close to washing the taste of defeat out of the teutonic palette. We'll have a look anyway.
Lineup—Deutschland—(5-2-3) (10/10/20)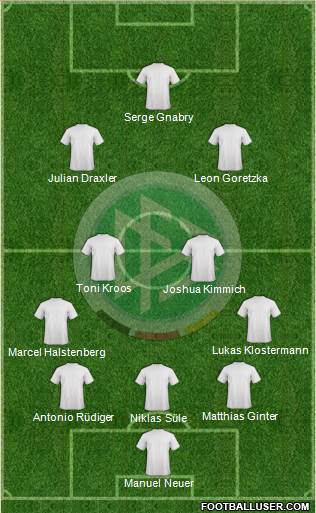 One can easily infer from the graphic that this absolutely did not make for the most exciting football. Löw settled into an still more protective blanket; one worthy of Linus van Pelt himself. Good God were the first twenty minutes of this match boring. When Niklas Süle wasn't trying to feed the midfielders straight up the gut, a very deep German back-five were leisurely passing the ball around "Simpsons style".
At times it even looked like Löw intended to play a back-six. Toni Kroos operated so deep that one had to strain to locate him. The so-called "midfield metronome" didn't get his first touch in until 10th. As it so happens, it was a nauseatingly loose giveaway in his own box that should have led to a Ukrainian goal.
Andriy Shevchenko's men began to move the ball around through the German midfield with ease around the 12th. It came as quite the surprise when all three German center-backs somehow managed to string together a goal-scoring sequence in the 20th. Joshua Kimmich swung a cross into the area. Süle cheekily one-touch back-kicked it to Rüdiger, who sensationally kept play alive by dribbling all the way to the touchline before cutting back for Matthias Ginter.
The remainder of the first half had its intrigue. Watching Rüdiger battle against Andrey Yarmolenko proved fun. Ukrainian keeper Heorhiy Bushchan made a few great saves, the most impressive of which denied Serge Gnabry the 2-0 in the 35th. Apart from those enjoyable scenes, one couldn't escape the sorrowful sight of watching Kroos really struggle to establish his game. The talisman got shut down fairly efficiently by the opposition.
The Ukrainian backstop made several more dazzling saves in the second half. Unfortunately for him, his COVID-enforced-deployment shall likely be remembered most for one silly error in the 49th. An epic howler on a header away gifted Leon Goretzka with Germany's second goal. The rest of Bushcan's play elicited some sympathy. He supplied some amazing acrobatics in the 51st, 56th, 57th, 82nd.
Fatigue and inexperience–this was a very depleted Ukraine side missing up to seven regulars because of the virus–prevented any realistic hopes of a comeback. A horrendously timed challenge on Süle's part allowed the yellow clad easterners a chance to pull one back via a spot-kick in the 76th. Otherwise, the UKR keeper heroics keep the DFB-XI from running away with the match.
Let's talk tactics.
Does this constellation look familiar?
Perhaps only to ultra national-team-nerds. One has to travel back nine full years to recall a time when Löw last made a seriously sustained attempt to play with a back three. During the 2012 European Championship qualifying cycle, The Bundestrainer placed Mats Hummels, Jerome Boateng, and Holger Badstuber on a flat back triplicate axis.
The arrangement even had a moniker; "Cool Runnings" if memory serves correctly. The basic premise had something to do with Boateng and Hummels taking turns with forward central carries. Their primary task revolved around giving the offensive a running start with such carries, with the ultimate goal being kicking it out to the wingbacks to get the attack rolling up the pitch like a downhill toboggan. Hence, the bobsled movie reference.
One can be forgiven for totally forgetting this approach as it proved every bit as ineffective as the Allies' attempt to win WWII by exploiting the "soft underbelly of Europe." Löw simply didn't have the wingbacks to make this work. He tried Dennis Aogo, Marcel Schmelzer, Christian Träsch and several other fullbacks/wingers the casual fan has likely never heard of. Bad memories here.
Ten outfielders hover around the half-way line
Apropos "bad memories" the absolute nadir in Jogi Löw's national team career remains the defeat to Italy in the 2012 European Championship semi-finals. Opinions differ as to how he screwed up this fixture so badly, but this writer shall never forget the nonsensical (sometimes outright cravenly) packing of the midfield with way too many different outfielders.
When Jogi would cover the country in glory two Summers later, many would actually disregard the appalling manner in which he threw the country's fourth European title away. I'll include myself in that category. A World Championship wipes the mind of past transgressions. It didn't even immediately dawn on me that he engaged in similarly bad tactics here. I figured he just took it easy on the sympathetically diminished Ukrainian corps.
Then I began to focus on the halfway line. Ugh. I invite you anyone reading with access to the tape to do the same, obviously only if one is prepared to relive the memories of a mocking Mario Balotelli on that darkest of all days. On so many instances, particularly on offensive charges, one can spot Draxler, Goretzka, and Serge Gnabry all behind the halfway line. Double Ugh. It's the worst AWS positioning graphic ever.
Elegance succumbs to clumsiness
What effective purpose does such a huddling method serve? To be strictly fair to Löw, there exists a certain latent elegance in how he drew this up. Ostensibly, the shape can reformat to a 3-4-1-2 or even a 3-4-2-1 quickly on the break. The common denominator in both options relies upon the wingbacks making quick decisions on the overlap.
Timo Werner's exclusion due to sickness also compelled Löw to concoct something like this. Any approach had to seek ways of getting Gnabry out wide on the flanks in spite of the fact that he no direct distributive support behind him. A solution centering on smothering central midfield counts as a graceful enough solution.
The strategy nevertheless requires some creatively on behalf on both tens. Goretzka and Draxler had their moments, yet were still devoid ideas for large stretches of the match. As we prepare to head into the marks, I'll emphasize that the tandem receive generally good grades for covering lots of ground on the pitch. Cautious and unimaginative touches still hampered proper implementation of the strategy.
Only the starting XI receive grades in this one.
Grades—Deutschland—(10/10/20)
| | |
| --- | --- |
| Matthias Ginter | A |
| Atonio Rüdiger | A |
| Leon Goretzka | A- |
| Lukas Klostermann | B+ |
| Joshua Kimmich | B |
| Manuel Neuer | B- |
| Julian Draxler | B- |
| Serge Gnabry | C+ |
| Marcel Halstenberg | C |
| Niklas Süle | D |
| Toni Kroos | D |
Gnabry and Draxler were perhaps the hardest to grade as the oscillated wildly between deft touches to ponderous executions. Lukas Klostermann worked the overlap reasonably well. The same could not be said about his counterpart on the left. Marcel Halstenberg barely showed any the awareness necessitated by his role.
With the wingbacks not truly functioning as they should, way too much pressure ended up on Kroos. The 30-year-old had a horrible match characterized mostly by confusion as to how he could involve himself. Süle naturally joins him at the basement following that ugly tackle.
Had the rest of the actors played with the same vim and vigor as Rüdiger in this match, Löw's plans might have delivered a more all-around satisfying result.
---
Match Two: 3-3 Draw vs. Switzerland 
(UEFA Nations League)
---
And onwards to the (semi) exciting six-goal shootout. The DFB-Elf deserve immense credit for coming back from behind in this one. A 0-2 deficit in the 26th minute left one momentarily fearing a much more disastrous outcome.
Whether he opted to listen to his critics or not, Löw finally gave everyone the back-four they had been screaming about.
Lineup—Deutschland—(4-2-3-1) (10/13/20)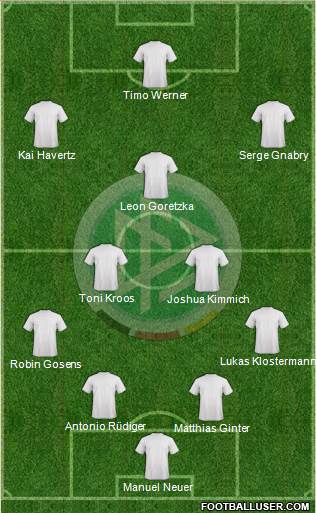 At long last. Many of us certainly had something different in mind. Werner's solo stationing up top was nowhere near the ideal placement for him in his comeback match. Goretzka's use as a ten defeated the purpose of moving Kimmich into the midfield. So long as Löw intended to revert to fullbacks for the first time since November 2019, he could have given Klostermann's teammate Halstenberg the start on the left-hand side.
The prevailing tenor of this construct remained one of awkward confusion throughout the opening half hour. Xherdan Shaqiri had his way with Rüdiger early on, leaving die Mannschaft's hitherto most impressive performer of the international interval flailing on several won duels. The particular beatdown that led a 5th minute corner also directly cultivated the opening goal. Remo Freuler's magnificent headed assist couldn't be stopped, but the set-piece shouldn't have been conceded in the first place.
German set-piece plays were egregiously poor. That it itself doesn't really bespeak a lack of preparation. Löw only presided over one abridged training session between this fixture and the one Saturday night in Kiev. Regardless, the German national team manager used too many of his better designs in the previous match. Not balancing one's prep standards counts as a rookie-level mistake.
Mario Gavronovic easily picked Kroos' pocket in the 26th, eventually feeding Haris Seferovic and then Freuer for the second Swiss goal. Kroos again looked abhorrent on the play. Germany's captain played his second consecutive lousy match, this time on the unfortunately timed occasion of his 100th international cap. Manuel Neuer also messed up fairly seriously on the goal, charging out to meet Seferovic far too slowly. I personally can't recall another time the mighty Neuer got dinked over so easily.
Werner would answer back within two minutes. The first German tally counted as something of an odd goal. Werner's shot wasn't especially powerful, making it difficult to ascertain if it was indeed a skilled technical finish or just a passive sling to check if Swiss keeper Yann Sommer had his head in the game. Given that it came from such a tough angle, one might as well accord Werner the credit.
Robin Gosens came the closest to scoring an equalizer before the halftime whistle with a marvelous effort off the outside of his boot from twenty meters out. The Swiss (and Gladbach) net-minder did extremely well to get fingertips to it. Kai Havertz would draw the team level ten minutes after the break with a lovely solo run and ice-veined nonchalant finish that made the implausibly hard look absurdly easy. The Chelsea man had also set up his teammate Werner brilliantly on the first goal.
Gavronovic pulled the Swiss ahead once more in the 56th. Total pandemonium in the German box on that tally. Someone needed to clear there. Gnabry brought the Jungs back four minutes later with a sumptuous back-heel in off of Werner's through-ball. The final half hour of the match, for those who haven't caught up yet, can easily be skipped.
So. We got what we wanted, yes? Now comes that exciting part of life in which we persist in complaining because what we genuinely desired turned out not to be what we wanted after all.
Trouble with flank attacker rotations
Kudos to Havertz on what may have been his best match ever in the famed white tricot. Kai's unique playing style truly renders him a player difficult to categorize. Who can one compare him to? That's a tough question. There's really not a parallel to a previous Nationelf player there. Perhaps I'm missing something or have been spoiled by the fact that, for example, Philipp Lahm and Joshua Kimmich might actually be the same player.
In any case, the 21-year-old new Chelsea superstud did just about everything right, save one fundamental. He and Gnabry needed to switch more often. One can witness their first uncouth attempt to do so in the 12th. They then stand pretty much on their respective flanks until after the Halstenberg substitution in the 57th.
Mixing it up remains so vitally important for flank-based attackers. Perhaps that pair can adjust to one another better…or Havertz can just work as a false-nine or shallowly pocketed ten. A general review of the approach used here leads one to the conclusion that Kai should probably have his own axis and space with which to work.
The long journey upfield 
Alright. As promised, we get to the self-contradicting part about why ditching the wingbacks sucked. Apart from the marvelous effort mentioned above, Gosens wasn't able to accomplish much wherever pouring forward. The best instance to observe can be found in the 21st, when he tries to square a ball into a penalty area full of eight Swiss defenders. One can watch Lukas Klostermann struggle with the same issue and the 35th and Halstenberg do little else beyond encounter this problem in his 33 minutes on the pitch.
Why is this so? Because Löw utilized a back-four. Perfect. We've managed to trap Jogi in a splendidly hypocritical "damned if you do, damned if you don't scenario." We can now proceed to write spirited opinion pieces lambasting Löw for being so stupid as to give us what we wanted. Damn him. How dare he listen to us when we clearly have no idea what we're talking about?
As a punishment for caving into the pressure, it looks as if we're going to have to start searching for optimistic signs amidst these performances. It's all your fault, Jogi. You brought this slightly more favorable bent towards your three-man-defensive chain on yourself.
Kroos stumbles again
He was just plain bad. One can't sugarcoat something like this. Our captain, our "Kroosartig", our "Kroosbuster"! A second "D-Level" match in succession. A horrible ball forward in the 25th. A straight-up giveaway that led to a goal less than one minute later. Remarkably bad timing on plays in the 42nd and 44th. Awful set-piece services all night long.
One wonders if the Real Madrid man will even find his way into the squad next Summer. The loyal Löw who stuck with players like Lukas Podolski even if they experienced a downtick in form no longer exists. That man died with the expulsion of Thomas Müller, Jerome Boateng, and Mats Hummels after the 2018 debacle.
The Löw we have know almost prides himself on expelling veterans from the time when he alone considers them past their peak. If the Leon Goretzka-Joshua Kimmich partnership continues to develop positively at Bayern this season, he may not even have much of a choice. Whether there shall be room for one of our old heroes becomes a legitimate query.
Grading time. One saw virtually nothing from Emré Can and Matthias Ginter in the final thirteen minutes. One honestly wishes one had seen less of Halstenberg in his 33 minutes of relief.
Grades—Deutschland—(10/13/20)
| | |
| --- | --- |
| Kai Havertz | A+ |
| Timo Werner | A+ |
| Serge Gnabry | A |
| Leon Goretzka | B |
| Matthias Ginter | B |
| Joshua Kimmich | B- |
| Robin Gosens | B- |
| Lukas Klostermann | C+ |
| Manuel Neuer | C |
| Toni Kroos | D+ |
| Marcel Halstenberg | D |
| Antonio Rüdiger | D |
About as varied a match as I've ever scored. We're truly running the gamut of grades here in match that maintained a rather odd feel to it. Rüdiger's dip isn't all that disconcerting. He was bound to have a lapse-laden match after putting in all of that hard work in the previous two fixtures. Gnabry and Havertz weren't as perfect as the top marks might suggest. Their goals still justify the grades.
The Current State of the Discussion
The craziest year on record may have thrown most people's internal chronometer out of whack for a bit. Some may have expected that 2020 would permanently dislodge a large population's cyclical tide of opinions. Here's an unexpected reality: The fucked up calendar didn't end up doing that kind of damage.
The opinions one sees in the footballing pundit-verse remain perfectly consistent with what one happened upon last year at this time. One can even take this a step further and label the current discourse "an average October for the German Nationalmannschaft". We're right where we're supposed to be; nervy about the team's prospects while generally shifting towards an attitude of general support for our Jungs.
Proud Talleyrand would be whipping out the quote at this point. Everyone assumes their places. The players rally round in October. The fans follow in November. The deferment of this Summer's Euros does increase the domestic footballing public's appetite for international action a bit. Its been over two years since a major tournament.
That, coupled with some of Löw's recent avoidable arrogance, does turn the heat up a tad; just not all that much. Most Germans will gladly purge the talking points of this international break out of their mind. I'll even boldly predict that ratings will increase for the final stage of the Nations League in November and that Löw will shut down the back-three debate by just rolling out a simple 4-2-3-1.
Most fans will come around to Gladbach trainer Marco Rose's assessment of Löw's squad selections. Germans will enthusiastically watch their team one last time before the year from hell closes out.
A new decade officially begins in 2021. With it comes the hope of some return to normalcy. German footballing punditry has already done so. Its a typical teutonic crawl in the same direction. At least one thing is normal for this time of year.