Football fans across the globe have every reason to expect an instant classic when FC Bayern München and Paris St. Germain contest the 2019/20 UEFA Champions League Final in Lisbon. While one can never truly be sure when it comes to football, a boring midfield slog seems highly unlikely. Hans Dieter Flick's ultra-attacking side are among the most prolific scorers in the history of the competition. They've managed an incredible 4.2 goals-per-game ratio.
Despite the fact that the COVID-19 Pandemic reduced Bayern's fixtures this year from 13 to 11, Flick's crew may still top the competition's all-time-goals record. They need only four more tallies to best the 45 scored by the 1999/00 Barcelona team. Peaking Bayern striker Robert Lewandowski needs only one goal to claim a distinction of his own. A 55th strike will see him past Gerd Müller for the record of the highest-scoring German Bundesliga player across all competitions in one calendar year.
The close attainability of such records constitute one reason expect that the FCB will come storming out of the gate on Sunday. Another relates to the fact that Flick remains largely a hands-off manager. His incredible success since taking over a side clearly over-managed by Niko Kovac last November owes much to the fact that he's trusted his players to devise their own system. A coach who for years served as an assistant to Joachim Löw on the national team gained valuable experience in bringing out the best in players without being too intrusive. There exists no Pep-Guardiola-like overthinking in the Bayern dressing room.
All of that being said, the UCL German representatives will still need to make some adjustments if they are to overcome a worthy opponent led by a very worthy German manager in the final fixture. The 3-0 win over Olympique Lyonnais in the semi-finals revealed, at least in the opening seventeen minutes, that Bayern's high press does leave them vulnerable to dangerous early counters. PSG Coach Thomas Tuchel will look to take advantage of some progressive defensive disorder emerging among center backs Jerome Boateng and David Alaba. He also has highly competent personnel to pit against specific FCB position players who haven't truly been tested in the last two rounds of the tournament.
Though these factors may lead to a more subdued opening, football lovers still have every reason to hope for an engrossing tit-for-tat goalfest. Players on the self-coached Bavarians, as evidenced by their public statements, certainly take the matter of a more balanced game seriously. They will use the high defensive line more sparingly in the beginning. Anticipation of Tuchel's tactics, however, demonstrate that the dam will eventually burst. A free-flowing game of fantastic football should eventually tilt Germany's way. Let's get set for some great fun!
---
FC Bayern München–"KISS, KISS, Bang, Bang"
---
Overthinking, overthinking, overthinking. Is there any chance that Hansi Flick will succumb to the same self-sabotaging "tinker tactics" that recently ended Manchester City's UCL run again? Zero. There might have been a slight chance that he employed one change to his starting XI had right fullback Benjamin Pavard been deemed fit. That is no longer the case. Even if it were, Pavard's participation would have only strengthened the squad. Such a change would have moved Joshua Kimmich into midfield and  back into his demonstrably strong partnership with Leon Goretzka.
I'll predict that we'll see the same XI and the same system. Here it is:
Lineup—FC Bayern München—8/19/20 (4-2-4)
Shifts between this arrangement and the one employed in the 8-2 destruction of Barça in the quarterfinals were barely noticeable. The only–very slight–differences I could detect revolved around deeper positions for the two midfielders and Thomas Müller. It also appeared as if Goretzka received instructions to stay a step ahead of axial colleague Thiago Alcantara. In any event, a few modified instructions didn't affect the players' freedom to built their own unique assaults.
Any attempt to repress the high line escaped my gaze. On the contrary, both David Alaba and Alphonso Davies pressed exceedingly high in the opening minutes. Both players, possessing more than enough pace to undertake the requisite recovery runs, were given free license to join the attack. Memphis Depay's run at goal in the 4th minute exposed the potential dangers in this approach, but the pair were otherwise solid.
A somewhat sluggish start notwithstanding, the Bavarians were able to pull off the arithmetically impossible feat of having seven players present in attack whilst simultaneously featuring seven solid actors in defense. The more stationary Jerome Boateng executed two terrific blocks when Maxwel Cornet found his way through on the left in the 13th. Karl Toko Ekambi's slick dribbling and subsequent strike on the post in 17th wasn't truly preventable. Davies and Alaba tracked backed effectively. One can find little fault with their positioning. They simply got out-tricked.
One minute later, it was Serge Gnabry's turn to show up six encroaching players in practical enough positions. There was no stopping the über-focused German national team star as he cut inside, ignored the defenders closing in on him, and unleashed that stunning pile-driver off his weaker foot. Wow. Amazing football. As virtually every observer of the Lyon match has noted by now, the French opposition never recovered from that devastating blow. They produced little of value for the duration of proceedings.
The cresting Gnabry poked home a rebound in the 33rd when a splayed Lewandowski couldn't bungle home over the line. He came within a whisker of scoring a hat trick several times in a marvelous performance reminiscent of that immaculate four-goal display against Tottenham in the group stages. Whether placed on the left or right flank, the unreal Gnabry seems hell bent on forever destroying the scouting reputation of former managers Arsene Wagner and Tony Pulis. One expects his scintillating form will continue. Thousands more articles like this one will appear before the day is out.
Gnabry's brace left the Bayern XI confident that they had most assuredly punched their ticket to the final. Accordingly, several players dipped in form thereafter. Müller and Alcantara seemed a bit removed from proceedings. Lewandowski inexplicably missed two tap-in chances before scoring the third goal. Ivan Perisic's recent form surge hit a block. The 31-year-old Croatian couldn't connect on his crosses. Niklas Süle, on for Boateng at the half, struggled to coordinate his movements with Alaba and repeatedly exhibited a heavy touch on the ball.
Such developments actually don't serve as encouraging signs for Tuchel heading into the final; at least not from this writer's perspective. Professional players routinely benefit from smaller lapses ahead of a big match. One cannot sensibly expect that Thiago, Müller, Lewandowski, and Perisic will experience two consecutive "off-nights". Boateng should be back on the ball and in control. Additionally, the calm and professional demeanor of the Bayern profis suggests that they were thinking of this fixture long before their 3-0 victory over Lyon. Some will dismiss the last argument as baseless speculation, but I find the pictures documenting the non-celebrations after Lewandowski's 88th minute tally to be quite telling.
Flick should posses the awareness that, on a psychological level, his players are perfectly positioned to have the game of their lives. Hence, it's impossible to foresee him straying too far from the KISS principle. No changes. One small adjustment can be prognosticated. Alaba will likely keep a horizontal level with Boateng until Flick feels confident that the PSG attack has either been adequately exhausted or out-scored beyond hope of a comeback. Sacrificing some offensive punch in the early stages looks to be a fair trade off. I don't expect this conservative play to last very long. Bayern will blow the opponents an early kiss before commencing with delivery of a loud bang.
---
Paris St. Germain–"The French Messiah"
---
The conclusion drawn in the previous section shouldn't lead one to believe that I consider PSG without any prospects. Tuchel does have some tactical tools at his disposal. The Paris club may not have looked as impressive in their own 3-0 win over Leipzig in the semis. That's largely because, to loosely translate a German idiom, a good horse only jumps as high as it needs to.
Tuchel's path to high-profile management wasn't considerably different from that of counterpart Julian Nagelsmann. Perhaps the sole person left in the world not intimidated by Nagelsmann's tactical prowess, the wiser German Wunderkind dispatched his junior with ease.
I saw it working thusly:
Lineup—PSG—8/18/20 (4-1-4-1)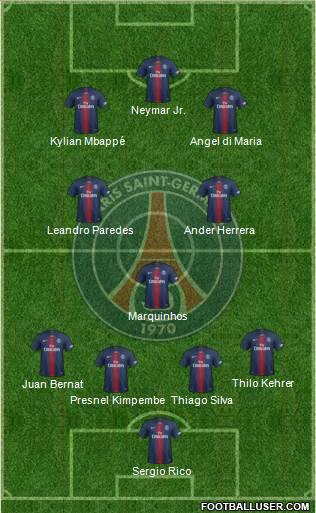 Tuchel showed excellent anticipation in acting on assuming that Nagelsmann would attempt to utilize his own 4-1-4-1. The Leipzig manager had little other choice but to stretch his second and fourth axes as wide as possible in order to shut down PSG's talent-laden wingers. Tuchel's approach prepared splendidly for this constellation in that its design deceptively ceded the lion's share of possession to RB while also ensuring that there would be no way through.
Seventy percent first-half possession translated to zilch for the Bundesliga side as Christopher Nkunku, Konrad Laimer, and Kevin Kampl repeatedly got canceled out by the fantastic Marquinhos. Thiago Silva and Leandro Paredes took turns playing the critical role of midfield anchor when the Brazilian himself was unavailable. Presnel Kimpembe led most of the back builds after turnovers were instigated. By my unofficial count, he recorded 86 touches and completed 70 successful passes in the first half. Leipzig's own pivot- runner, Dayot Upamecano, formally met his match in the 25-year-old Frenchmen.
Tuchel also earns plaudits for his deployment of Angel di Maria on an advanced attacking axis. Just as he did in the comeback victory over Borussia Dortmund back in March, Tuchel trusted the 32-year-old Argentine to work as a patrolling short striker in support of the sprinters. He did this job well and contributed some sparkle of his own. Di Maria's 44th minute tally to put PSG up 2-0 sealed the fate of the match in almost the same manner that Gnabry's second in the 33rd resolved matters in the other semi. Nagelsmann's halftime adjustments, Patrick Schick and Emil Forsberg for Dani Olmo and Nkunku, were desperation moves that only further weakened his confused team. The tactical battle won, PSG took their foot off the gas as well.
That fact leaves us with two teams who have adequately conserved enough energy to give us a memorable final showdown. Unlike Flick, Tuchel must build his constellation with utmost care. Knowing, as we all do, precisely what's coming the lineup shall be subject of heavy scrutiny by everyone. I'll throw one in.
After talking matters over with Tuchel and the players at an imaginary meeting at Marco Verrati's Restaurant, I'm prepared with my best effort:
Lineup—PSG—PROJECTED (5-3-2)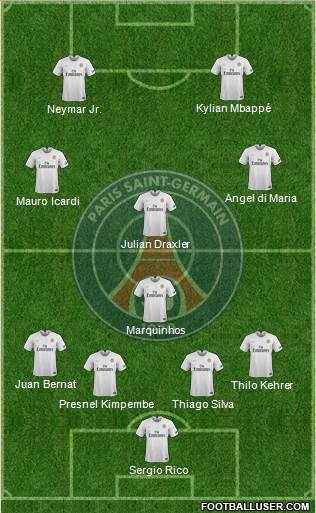 We'll have to employ two changes from the previous XI. Though he was absolutely first-rate, Leandro Paredes makes way for Mauro Icardi in midfield. Ander Herrera also takes a seat in favor of Julian Draxler. The latter switch, difficult as it may be to fathom, has nothing to do with inherent German bias. Instead, it aims to keep the effective di Maria on the right directly buttressing the player I believe to be absolutely crucial to the game. Kylian Mbappé stands as France's last best hope. More on that in a moment.
The back-four remains the same with Marquinhos, reluctantly, placed a little further back. PSG's pressing in the semis dazzled with its sharpness. This facet of their game forced Upamecano and his defensive partners into many errors. Should Tuchel wish to direct his club to use it against the German giants, I think it best to disguise the strategy. Let Draxler handle most of the midfield battles with Marquinhos closing ranks just ahead of the center halves. A higher press can be introduced once the Brazilian has a better feel for how Goretzka and Thiago are communicating.
Returning back to Mbappé, he's deliberately slanted right to match up with Alphoso Davies. After much deliberation, I think it the only way of combatting fire with fire. Enamored as we all are with the 19-year-old Canadian, there's a slightly more seasoned phenom that can out-run and out-gun him. It's not strictly necessary for there to be a goal-scorer named Mbappé or even Neymar on this particular day. The basic precept concerns overloading the frontal axis with as much turbo as possible. The Bayern defensive ranks must be thrown into early disarray. Davies and Alaba are due for an "off night", particularly if they have to make too many recovery runs.
Mbappé must establish command control early. The French Messiah, having already brought a world championship home, now has his best chance to earn another coveted piece of silverware for his country.
The Quick Tip for the 2020 UCL Final
Mensch. Have football fans ever waited entirely too long for this one. We're finally here. After a wait of nearly one full calendar year, consider what a tremendous letdown it would be for this to turn into a stinker. Thankfully, all signs point to the exact opposite. Having broached the 2018 World Cup Final briefly, I'll predict the exact same scoreline here: Bayern prevails 4-2 in a six-goal feast for the eyes.
In terms of goal scorers, Kimmich breaks through with the early opener. An Icardi equalizer levels matters before a Lewandowski brace opens it up. Neymar provides a little hope before substitute Correntin Tolisso puts it beyond all doubt. Much fun and excitement for all. Let's kickoff!