And so it came to pass that the world forever changed. For German football lovers, there remained plenty of action on offer during the week beginning Sunday, March 8th, 2020. It nevertheless proved nearly impossible to focus on the fixtures as humanity precipitously slid into a novel state of separation from which we are yet to fully emerge. A quick recap of events illustrates how insanely fast matters deteriorated.
On that particular Sunday, the 24th round of the 2019/20 German Bundesliga was played before packed stadiums of fearlessly unabashed protesting fans.On the following day, Borussia Mönchengladbach announced that a Wednesday makeup fixture against 1. FC Köln would serve as the first German top flight match to be played before closed doors in history. Six hosting clubs declared that the subsequent weekend's fixtures would be played before empty stands. Three Bundesliga hosting clubs, most famously FC Union Berlin, maintained that supporters could still be allowed in.
Three other teams–RB Leipzig, Eintracht Frankfurt, and VfL Wolfsburg–announced that their midweek European club cup fixtures would still feature fans. Only Leipzig, playing a second-leg Champions League tie against Tottenham Hotspur on Tuesday, could manage to implement this. Thursday's Europa League fixtures wouldn't escape the rapidly shifting tides. The VfL proclaimed a "Geisterpiel" ("ghost game") on Tuesday whilst the SGE had to drop its resistance a day later. The DFL held out against any suspension of the season until the last possible moment, cancelling its weekend fixtures hours before kickoff on a bleak Friday evening.
Irrespective of one's own personal interests, this turned out to be one hellish week. Living through it may be likened to watching a high-cresting wave morph into a towering tsunami while you stood in quicksand. Whether you happen to love football, music, museums or even the ballet, you had to reconcile yourself to the fact that very soon it would all be washed out. Working for a genuinely fun website at the time, I personally dropped a piece on German UEFA analysis to write a somber, if hopeful article on the "new normal".
As public spaces across the world shuttered, the German FA began planning an audacious plan to re-start its season. A thorough "Hygienekonzept" ("hygiene concept") enabled the Bundesliga to cut a path out of the COVID thicket. After Germany became the first country to both successfully re-start and conclude its domestic league season, other European leagues were able use similar models to accomplish the same feat. Insofar as European club football was concerned, there remained the unfinished business of finishing the 2019/20 UEFA Champions League and Europa League competitions. Neutral site tournaments were scheduled for August. It is to those that we shall now turn.
Four months have passed. Before getting the jam-packed days of elimination football, its worth devoting at least one column to that which we have lost. The forced lockdown literally threw everything off track. Three Bundesliga sides were among the first casualties, succumbing to the impending gloom in the hectic final days before humanity hit the collective pause button. Prior to the horrendous week that changed our world, German football clubs were producing their best European cup results in years. Accordingly, earlier 2020 versions of this column were wedded to joyful themes such as esoteric self-improvement books or the spiritually uplifting works of JS Bach.
What shall we link the football with this time? An apt enough choice seems that less-than-inspiriting device forced upon all of us in this most unhappy of years: television serials. How sad. It simply couldn't be helped. So many of us managed to avoid it during the initial weeks of nothingness. As the void dragged on however, one discovered that there was a finite amount of gardening, household chores, and grocery-store volunteerism to engage in. In the end we had to plop ourselves down in front of the boob-tube in the interest of preserving our sanity.
All is not lost, however. Television as a medium shouldn't elicit total condemnation. A German footballing zealot can still rejoice in the fact that three of his country's teams are advancing in this year's UEFA competitions. He can also disseminate glowing recommendations for three sports-related TV shows. On the other end of the spectrum, there's three mounds of absolute crap correlating with the three teams that were eliminated. The television rabbit-hole can plunge one into a treacherously dark place if one isn't careful. There remain some serious pitfalls to avoid.
---
Bayer 04 Leverkusen–"Eurofighter til I die"
---
3-1 win, 1-0 win vs. Glasgow Rangers
Why not begin with what should, for football fans anyway, constitute "must-see-TV"? If you haven't yet discovered the Netflix documentary "Sunderland 'til I die", you've missed out on some of the most compelling sports viewing in decades. Without wishing to spoil too much, I'll merely state that this serves as the best chronicle of the ups-and-downs of European football fandom ever produced. Don't be fooled by the marketing aspects associated with it. Watch both seasons immediately. Watch them twice.
The Sunderland A.F.C. doc truly is the genuine article. It matches up well with Germany's last best hope for its first Europa League title win since the famous "Eurofighter" Schalke 04 squad of 1996/97, back in the UEFA Cup days. The concluding rounds of the Europa League will even be held in Germany, with Leverkusen set to host Inter-Milan in Düsseldorf later today. Is there some hope for the Bundesrepublik's lone representative?
A lengthy segment on the Werkelf's 3-1 victory over Rangers in March had to be scrapped. That match is ancient history by now. All I can say is that I recall getting somewhat lachrymose listening to the Scottish fans unremittingly cheering and chanting even as the German guests controlled the entire match. The Ibrox crowd, facing the coming lockdown with indomitable spirit, were at the absolute pinnacle of their fan game on that day.
Here's what we saw in the long-delayed second-leg on Thursday:
Last EL Lineup—Bayer 04 Leverkusen—8/6/20—(4-3-3)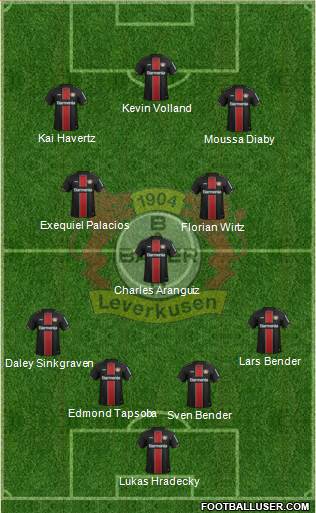 With Kevin Volland once again healthy, it looks as if the Kai Havertz false-9 experiment is definitely a thing of the past. Moussa Diaby did really well on the right, even before his electrifying tally. Nadiem Amiri's precautionary quarantine meant we finally got a good long look at prized January transfer Exequiel Palacios. I must admit he looked very impressive, particularly when sharing the same vertical lane as Edmond Tapsoba.
This constellation worked in what may be described as perfect Peter Bosz fashion. A dominant possession game failed to yield consistently engaging football, yet kept the outcome beyond much of a doubt for ninety plus minutes. A 3-5-2 with either Tapsoba, Sven Bender or Aleksandr Dragovic working as the pivot runner seems the most likely tactic against the weak-winged Inter. Fingers stand firmly crossed that a German representative will advance deeper into this competition.
---
FC Bayern München–"A guilty enough pleasure"
---
4-1 win vs. Chelsea FC
One obviously can't begin this section without noting the German football fan's special application of cognitive dissonance. As tired as I am of referencing it, the current Champions League field renders the topic unavoidable. Bayern enter the tournament in Lisbon as heavy favorites to capture this year's crown and, by extension, a historic treble. As irritated as most German football fans are with Bayern's eighth consecutive title and 20th overall DFB-Pokal win, we'll all be rooting for our representatives through the end of the month. When the new season kicks off on September 19th, we'll resume hating them with every fiber of our being.
Precisely how will German football enthusiasts enjoy watching Hans Dieter Flick's Bayern win the treble? We'll like it well enough to watch it, even if we'd rather focus on the negatives. A certain lockdown television serial fits this description. We'll give another nod to Netflix here with their fictional football period drama "The English Game". I liked it, even though I hated it. The writing, acting, and historical accuracy were all substandard. Still, it managed to stick with me. Difficult to put my finger on why exactly it kept me engaged, but the likely answer is that the–far too few–scenes of 19th century football were kind of an interesting treat.
At the end of the day, I've few qualms about making it recommended viewing. The same applies to the ever-intriguing German giants, who may very well bring home a trophy from Portugal.
Last CL Lineup—Bayern München—8/8/20—(4-3-3)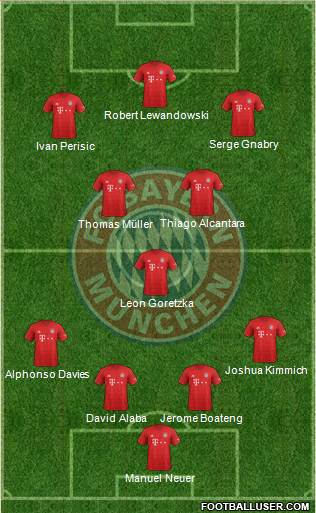 With little chance that Frank Lampard's men could overcome a 0-3 deficit, Hansi Flick did a bit of experimenting. The current version of the Bayern behemoth slants Thomas Müller behind Robert Lewandowski as a right-sided short striker. In this arrangement, Müller cycled with Ivan Perisic as the 8. The new midfield tandem of Joshua Kimmich and Leon Goretzka got broken up, ostensibly, so that Flick can continue to showcase Thiago Alcantara for a transfer.
David Alaba remains at centerback even though Niklas Süle appears fully fit. It shall prove madly interesting to see what Flick does with his suddenly overloaded defensive corps in the coming weeks. Alphonso Davies appears to have inadvertently found what might be his permanent home at left back. There's certainly no more room for him further up now that Leroy Sané is arriving. Alaba or possibly even the French center backs–Benjamin Pavard and Lucas Hernandez might be deployed as transfer fodder.
Every move will face heavy scrutiny. That simple fact will apply even if the Bavarians, as many are predicting, steamroll the competition to claim the triple. German fans will appreciate seeing it happen, whilst simultaneously keeping careful tabs on any promising weaknesses that might make the 2020/21 campaign more interesting.
---
RasenBallSport Leipzig–"An Amazon Hit"
---
3-0 win vs. Tottenham Hotspur
Switching over from Netflix to Amazon, the six-part documentary series "This is Football" is just damn spine-tingling good. It's impeccably shot, scored, and sourced. The producers essentially took the thesis many of us globally minded footballing proponents espouse and placed it on film for all eternity. Some of the unrelated episodes are better than others. I'd advise skipping episode four–another sycophantic tribute to the Icelandic national football team that absolutely no one needs–altogether. Otherwise, strap in for one epic ride that will leave you bursting with pride at being a football fan.
How epic a ride will Julian Nagelsmann's team have in store for us? Let's play the Timo Werner Puzzle.
Lineup CL—RB Leipzig—3/10/20—(4-3-3)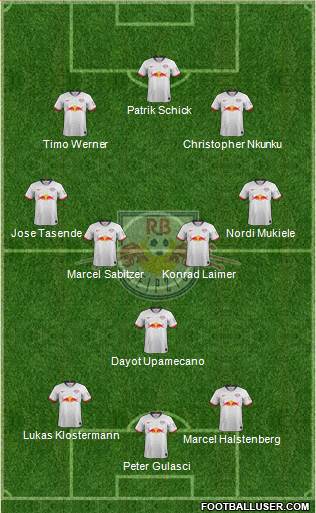 Hmmm. What shall we do about that departed missing link? There's certainly enough talent on the roster. The problem still gets somewhat compounded by the fact that Patrik Schick and Jose "Angelino" Tasende still haven't gotten their loan deals extended. Can they be relied upon to produce at the same level as when they had more invested in the club?
I'll act on the reasonable enough assumption that Nagelsmann needs to be able to functionally flip to his preferred 4-2-2-2 at a moment's notice. Hence, I'll augur a 3-5-2 with Ademola Lookman and Yussuf Poulsen up top. Dayot Upamecano runs pivot, flanked by Lukas Klostermann and Marcel Halstenberg in the same manner it works above. Marcel Sabitzer, Konrad Laimer, and Kevin Kampl keep a tight midfield on the third axis with Dani Olmo and Christopher Nkunku positioned slightly ahead.
Ah. Rampant sports-related speculation. What would this world be without football? Watch the Amazon series for a better answer to that question than I can furnish at the moment.
---
Borussia Dortmund–"An Amazon Miss"
---
0-2 loss vs. Paris St. Germain
Lucien Favre's men totally blew it. Despite entering the second-leg of their tie with PSG up 1-0, they were eliminated by former coach Thomas Tuchel before zero fans at the Parc-de-Prince during "disaster week". What better television serial to describe Dortmund's lackluster performance than the actual Amazon serial on the BVB. Take my advice and don't bother wasting your time with Amazon's "Inside Borussia Dortmund."
It's grade-A junk. Sorry, but a look inside a wealthy football club just isn't interesting. I once thought no docs-series could be as bad as 2018's "First Team: Juventus." Turns out I was wrong. It's aggravating to see something so fascinating as German football made so boring by a camera crew patrolling the locker room when they should be interviewing fans in the stands. One day, some heroes will produce a German version of "Sunderland Til' I Die." There remain so many captivating stories about German football to be told. This isn't one of them.
There was very little quality football from either side in the March encounter. Plenty of on-and-off pitch scuffles overshadowed the football. As unsportsmanlike match as this was, I still find myself pining for the days when we found ourselves occupied by stories such as whether Erling Haaland instigated the mockery of PSG players by proclaiming himself Parisian royalty on social media. Sigh. It was a simpler time.
---
Eintracht Frankfurt–"Worth taking personal"
---
0-3 loss, 0-1 vs. FC Basel
I believe it became obligatory over the Summer for all sports fans to watch the Netflix serial "The Last Dance". The critically acclaimed look into the six NBA Championships of the 1990s Chicago Bulls, in my personal opinion, actually genuinely sucked. I'll acknowledge this may not be the most popular of opinions. Perhaps I expected to much of it. It may also be the case that, seeing as how I'm old enough to have actually lived through this particular sports phenomenon, there really wasn't anything new for me to learn.
In any event, I thought it was complete garbage. If you happen to be one of the three sports fans left on the planet who hasn't watched it yet, allow me to summarize for you: Michael Jordan takes everything personal. That's literally all there is to the damn thing. How did Jordan become arguably the most successful basketballers in history? He took every perceived slight personal and used it to up his game. Yawn. So professional athletes are competitive, you say? The hell?!? It was definitely worth ten hours of my life to learn that.
I take this performance from Eintracht Frankfurt personal. Adi Hütter's men were capable of so much more. André Silva, Daichi Kamada, and Bas Dost all looked as if they had neglected their training in the weeks leading up to the second-leg on Friday. Sloppy ball control, ridiculously imprecise ball control, and a deflating late goal to boot. Ninety awful minutes from the SGE, combined with ten hours of MJ explaining that he does whatever it takes to win ball games, means I've nearly twelve precious hours of my highly finite life.
---
VfL Wolfsburg–"Lockdown's Worst Collective Mistake"
---
1-2 loss, 0-3 loss vs. FC Shakhtar Donetsk
Finally, we have a non-sports related program to cover. Both German and American friends are complicit alike in the abomination I wish to discuss here. How in the hell did the whole "Tiger King" sensation happen? I'll tell you how. It all began with a handful of voyeuristic flunkees watching the atrocity until it began trending on Netflix. The contagion then began spreading faster than the actual virus that so disrupted our lives. Soon, everyone on both sides of the Atlantic were discussing it. One eventually had to give in, lest one be left out of the conversation.
Ugh. Never again. Some conversations shouldn't be joined, even if means one is the last person alive excluded from the circle. The popularity of this show honestly made me ashamed to be a member of the human race. Its quite telling that our species' first reaction to an unprecedented phase of isolation was to find solace in a scopophiliac look at people with worse problems than us. After watching this series, I came close to thinking that the novel corona virus actually had a point. Maybe its time something aimed at our extinction. We almost don't deserve to exist.
The Wolfsburg performance wasn't anywhere near as disgusting as this program; at least not until Oliver Glasner's Wolves let in three goals…in second half injury time. Yes, that's correct. The fixture was scoreless until the Ukrainians tallied off a free kick in the 90th. Two more tallies followed at 90+1 and 90+3. Such a disappointment. The VfL had a fighting chance to advance on away goals until that last minute meltdown, yet they never really fought. Joel McCale himself couldn't have devised a worse capper….and those who made the terrible error of watching his ghastly follow-up to "Tiger King" know that says quite a lot.
Mercifully, meaningful international football returns in the form of two great competitions this week. It comes not a moment too soon. No more television, please. One more episode of "The Midsomer Murders" might have tipped this writer over the edge.