Excitement. Eager Anticipation. Delight. Joy. Pride. No German football enthusiast will deny these sensations as we head into UEFA Champions League semi-finals in Lisbon. As opinion pieces in the country's papers of record make clear, we're especially proud of the fact that three of the four managers helming teams in the semis are German. Never before in the history of the tournament have three-quarters of the trainers hailed from one country. This historic first feels a bit more comfortable than the one we were forced into some four months back.
Bayern's 8-2 dismantling of Barçelona sent all German football fans into convulsions, even those of us who congenitally rant and rave about how much we dislike the German giants. RasenBallSport Leipzig's optically pleasing 2-1 victory over Athletico impressed virtually all onlookers. The International press quickly labeled it a "German Symphony". Such words were effectively snatched out of this writer's mouth. I can think of no better way of describing Julian Nagelsmann's tactical masterclass.
Naturally, any German denying feelings of guilt whilst watching these largely lopsided affairs isn't being intellectually honest. It proved sad to observe that Lionel Messi can no longer carry an entire team at the age of 33. Watching the bloom fall off aging stars like Arturo Vidal, Frenkie de Jong, Luis Suarez, Jordi Alba, Marcus Llorente, and Diego Costa couldn't be described as great fun either. These players once supplied football lovers with illustrious moments of magic. Fading luster reminds one of the ephemeral nature of all life.
German execution bruised two genuinely likable clubs with admirable managers. The Azulgrana wasted little time parting company with Quique Setien after their historic drubbing. Diego Simeone presumably retains the right to remain on at "Athleti" for as long as he likes. Surely, however, he must grow tired of moving backward with an aging club. Though the administration won't touch him, he may wish to move on. Not exactly the most cheerful thought that advancement for the Bundesliga sides came at the cost of added turmoil for fans who already experienced a rough year.
Sure, it's great that our teams find themselves on the precipice of capturing Europe for the first time since 2013. Did they truly have to be so thorough? Perhaps my personal sentiments for fans the losing run deeper this year as they, along with everyone else, happen to be conspicuously absent in this most unusual of years. Triumph in front empty seats and artificial piped-in crowd noise shouldn't feel natural to anyone. Perhaps its just that deep, dark German soul rearing up again. If history has taught us nothing, is it not that we're not supposed to win?
In any event, I'm pleased to dissect these fixtures with the overall aim of extending an olive branch to the French sides awaiting our Bundesliga representatives in the semis. The prospect of exhaustively extinguishing Spanish hopes in one round, then comprehensively killing off French dreams in the next unsettles me. French football lovers still suffer after theirs became the highest profile league in all of Europe to cancel its season during the COVID pandemic.
My heart aches for my border brothers. I must at least attempt to lend them a hand. It is such that, with the most sincerest of amity, I offer some humble advice to the other half of the once fabled EU-Engine. Haven't been doing to great as of late have we, mes Amis? Never fear. A helpful German is here.
---
FC Bayern München–"Le pot de Terre contre le pot de fer" 
---
It's impossible to even begin thinking about the year 2020 without contemplating all that has been lost. Bayern endure as one of the few remaining entities to have lost nothing at all. The team hasn't suffered defeat since the 14th round of the 2019/20 Bundesliga back in December. Since hitting that nadir, Hansi Flick's men have steamrolled on undefeated through 28 fixtures. The only instance in which they dropped points at all occurred via a 0-0 draw against Leipzig round 21 of the league in February. Since then they've won nineteen straight.
No one can resist comparing this incarnation to Bayern's best historic squads. Seriously. No one. Not even Dortmund's Hans-Joachim Watzke. They stood as the favorites to claim this triple even before a Man City meltdown gave them their preferred opponents in Olympique Lyon. A loss to the team that sparked Franz Beckenbauer's famous motivating speech that–as legend has it–propelled Bayern to the 2000/01 Champion's league crown won't be tolerated. The Reds are expected to dispatch Les Gones as easily as they did in the 2010 semis.
Where to begin finding a Bayern weakness? Anti-climactically enough, the answer lies in the fact that their system isn't contingent on the opponent. Thomas Müller admitted as much in his post-match interview after the Barça demolition. Flick's plan shall not be altered. Everything has already been laid bare. Irrespective of whether Benjamin Pavard and Niklas Süle start at the back, we should see a very high defensive line. It makes little difference if Kingsley Coman occupies the left or not. Müller will still rotate as a pseudo-10.
Three potential personnel changes shouldn't alter this basic construct:
Lineup—FC Bayern München—(8/15/20) (4-2-4)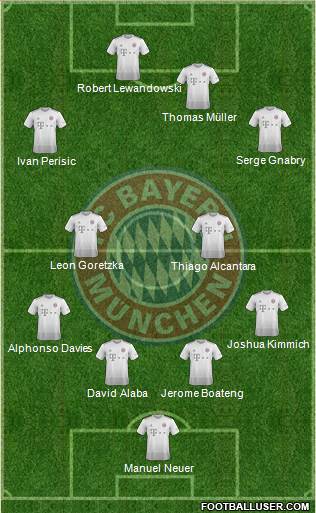 The Müller Renaissance owes much to the subtle staggering Flick directs him toward at different points in the match. This shifting first caught my eye during the Bundesliga's 19th round in January. One assumes such clever tricks had been in the works for a long time; possibly since Flick took over from Niko Kovac in November. The new coach clearly did well to immediately built in-roads with the player perhaps most alienated by the previous regime. A former national team hero now makes Jogi Löw look like a complete fool for declaring him persona non-grata over two years ago.
Focusing too much on containing Müller isn't necessarily advisable for Lyonnais manager Rudi Garcia. If the attempts to mark German Ilkay Gündogan, playing a similar short-striker role for Man City in Saturday's quarterfinal match, are any indication, it isn't the best use of his wide mid-field axis. Garcia will earn the ire of many a commentator for rolling out a 4-4-2 similar to what we saw from Barça in the blowout, but we shouldn't forget that it did come closer to working than the final scoreline might suggest.
Lineup—FC Barçelona—(8/15/20) (4-4-2)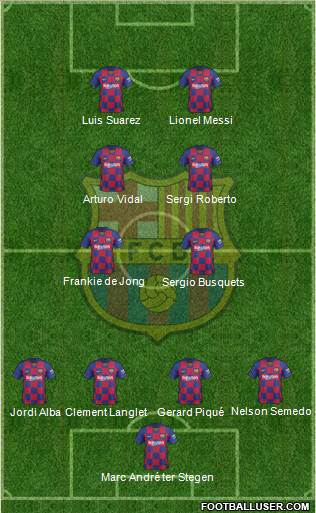 At times the early look resembled a 4-1-4-1 or even a 4-5-1 with Suarez alone up top. Amid all the shuffling, the one constant feature remained a fecklessly flat back four. Behind that languid quartet, German national team keeper Marc André ter Stegen would eventually throw the match away with one of the worst matches I've ever seen from such a top quality backstop. A match-plan heavily reliant on short-passes out of the back seemed a curious strategy against a team known for a swarming high press.
Müller's opening goal in the 4th minute wasn't directly related to anything tactical. We all simply beheld a sublime moment of focus as he acrobatically spun the straw that was Ivan Perisic's average cross from the left into pure gold. Difficult as it may be to fathom, the ensuing fifteen minutes belonged to the team forever cursed to be marred from this humiliation. Messi got his fare share of balls behind overcommitted defenders Alphonso Davies and David Alaba.
Joshua Kimmich completely switched off on the play that would directly lead to Alaba's own goal in the 7th. Alaba was beaten again on a awkward track-back two minutes later, forcing Neuer into a sprawling save on Luis Suarez. Sergio Busquets came within millimeters of putting the Blaugrana ahead on a subsequent offensive push. The Spanish National team legend latched onto breathtaking Messi delivery on to hit the post. Suarez might have managed to significantly alter the direction of this match in the 11th, had Alaba not made a very late recovery to dispossess him.
During the enthralling offensive ten-minute spell between the 12th and the 22nd, both sides generated their fair share of creative attacks. Messi probably engineered the best one in the 20th when he, again, torched an outclassed Alaba. In this particular case, the converted Austrian center back scuffed his marking while trying to keep an eye on a surging Nelson Semedo. Were we to stop the narrative at this point, there exists zero chance that the ultimate outcome could be presaged.
Instead, the hail of Bayern goals began raining down. Three short ter-Stegen passes resulted in turnovers that enabled the FCB to attack in unrelenting waves. Perisic took advantage of a Serge Gnabry pick-up in the 22nd. Gnabry himself tallied following a perfect Müller chip-in five minutes later and a completed Müller brace in the 31st put the game well beyond Barça's reach. Ter Stegen's horror show continued on unabated. The once adventurous Semedo found himself perpetually on the back foot whilst squaring off again Davies.
Inserting Antoine Griezmann into the ten-role at the half accomplished next to nothing. Even after Suarez pulled one back in the 57th, Seiten's midfield couldn't find a hopeful gear to operate in. They moved at half speed and ball-watched like a bunch of third-graders with only the post-match juice boxes to look forward to. With all due credit to Davies for his 60-second trick spell in the 62nd/63rd, no one even pretended to mark the trailing Kimmich. How in the hell substitute Phillipe Coutinho scored a late brace against the parent club he will return to soon is beyond me. The Brazilian's body language suggested he wasn't even trying to find the back of the net. They made it far too easy for him.
Building for Olympique Lyon
Beyond the fact short builds out of the back will only lead to disaster, what other constructive lessons can we glean from this? Not terribly many, but we're at least gifted with a useful starting point. To begin with, the unabashed way in which Bayern will press a high defensive line will surely lead them susceptible to any early goal. On a related note, fullbacks Kimmich and Davies won't even bother to assume defensive positioning; not when Flick accords them license to roam as far forward as they wish.
An initial deployment strategy should thus position the wingers as far back as the halfway line. Two defensive midfielders slot in behind whilst the fullbacks carefully occupy a space just ahead of the center halves. Such a constellation buttresses the wings and closes down the forward spaces Flick's men will attempt to make early use of by providing triplicate protection against the Kimmich/Davies threat. Repeated efforts to construct leave me with a formation that should leave everyone flummoxed.
Lineup—Olympique Lyonnais—PROJECTED (4-4-2)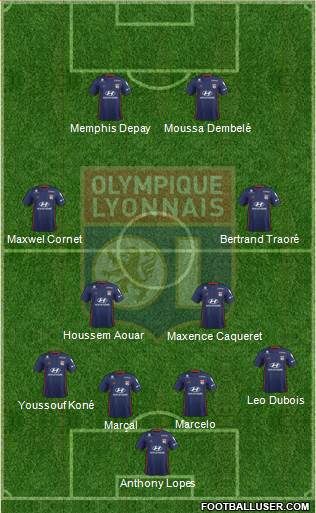 Will Garcia be so bold as to go with a 4-4-2 a scant few days after a similar arrangement proved cataclysmically fatal? It will take some serious stones for the French manager to soldier through with something like this long before the collective howling has ceased. In the humble opinion of this writer, he must find the courage to press on. The problem with the formation wasn't the numerical set-up at all, rather the flat nature of the back four and the keeper's distribution howlers.
Admittedly, I encounter trepidation when working with a set-up sans an overt plan to contain Müller. Multiple iterations lead me to the conclusion that it's not a plan worth pursing after all. Either the quarterfinal fixture's man-of-the match will have an off-night or not. The only workable solution appears to be clogging up the midfield with Thiago Mendes.
Somehow it doesn't seem necessary. Kimmich can be drawn back into midfield by any one of the six players with defensive duties. Boateng, Goretzka, Alaba, and Thiago Alcantara can also be pulled out of shape. With solid marking and a little creativity on the ball, Lyon can compel Bayern to clog up the midfield themselves.
Acting on, a rather large as it happens, assumption that both Moussa Dembelé or Bertrand Traoré can start, there's enough quality on the pitch to soak up the initial pressure, disorient the opponents, and potentially poach some tallies on the counter. As a closer look at the Barça match illustrates, there will be some chances before the giant establishes its rhythm.
The best way to face off against a mammoth opponent is to turn its greatest strength against it. A pocketed 4-4-2 looks the best manner in which to give this its best shot. Garcia doesn't even need to sling a rock. Maybe he can get Goliath to trip over his own feet.
---
RasenBallSport Leipzig–"Technique de la porte au nez" 
---
Julian Nagelsmann's first major match without Timo Werner showed that he's very much up to the challenge of solving a specific puzzle. Straining as hard as a person possessing but one set of eyes could, I didn't even see him fall back upon the familiar 4-2-2-2 even the urgency of the match almost demanded he revert to something tried and true. This was an entirely new system, clearly devised over long months of careful planning. Allow me to add my modest voice to the global chorus of praise for the innovative 3-3-3-1.
Lineup—RB Leipzig—(8/14/20) (3-3-3-1)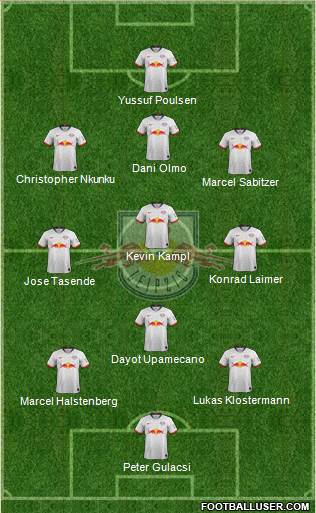 A naked-eye tactical purist almost feels himself unworthy of describing how this worked. There will be elements that I have missed. One way or another, some of the beautiful nuance shall elude what my eyes were able to discern and furiously scribbling pen were able to record. Axial shifts within this system occur so frequently and rapidly that it proves very difficult to keep up.
Nagelsmann's ultra-modern brand of football requires intense concentration. As I've professed many times before, one can hardly hope to follow the action itself if one wishes to accurately ascertain how the young manager's players are moving. To make matters as simple as possible, I'll first emphasize that Marcel Sabitzer and Konrad Laimer functioned as the primary movers. Anyone studying this match needs to focus on the Leipzig right.
Insofar as I could tell, the idea was to maintain the 3-3-3-1 shape when on the ball. As soon as an attack properly got going, however, one player would drop back behind Dayot Upamecano, who only ran a half pivot. Laimer would often slip back between Upamecano and Lukas Klostermann after he initiated a forward sequence. Sometimes Jose "Angelino" Tasende would fulfill this function.
One highly interesting aspect of this system concerned the manner in which Sabitzer and Kevin Kampl took turns driving the midfield. One expected the offensive-minded Dani Olmo to work more as a ten. In actuality, he spent what appeared to be an equal amount of time serving as a deeper rotating eight. A flexible 3-5 defensive back shift never nearly materialized. Off the ball, Nagelsmann's men aimed for a 4-2-3-1, with either Sabitzer or Kampl assuming Olmo's place on the second axis.
Athetico midfielder Yannick Carrasco, and later the subbed-on Joao Felix, were able to take advantage of this slightly on their team's left. Other than this minor flaw, execution stood mostly flawless. I maintain Olmo's placement in my own draw-up as RB didn't truthfully spend much time without the ball. Kampl and Sabitzer were frankly sensational in maintaining their hustle and clever ingenuity. Upamecano did an even more fantastic job locating them, gliding back to his position, then stepping forward again to intercept if their forward momentum faltered.
I personally counted 22 touches from six different players in the lead up to Sabitzer's perfectly weighted cross for Dani Olmo 50th minute opening goal. Immediately following that sumptuous team goal, the Leipzig XI quickly reverted to a 3-6-1 in the interest of soaking up their opponent's urgent attempts to equalize. Sabitzer fell back to the fourth axis, weaving his way forward on a couple of scintillating occasions.
Nagelsmann evidently had an on-the-fly adjustment for every eventuality, including the possibility that Simeone's men might draw the penalty they had been aiming for all night. Ten minutes after Renan Lodi got rightfully booked for a dive, substitute Felix did get a leg on the more worn out Klostermann to earn a try from the spot. The 71st minute equalizer was superbly taken. The German manager's response was similarly laudable.
Tyler Adams came on for Laimer in the 72nd. The real surprise came when it became apparent that the 21-year-old American would eventually move into Olmo's role. It took about ten minutes for white-clad XI to sort out this adjustment, but Adams looked comfortable and confident in possession long before Olmo himself was subbed off in the 83rd. Those of us long auguring that the versatile USMNT star would soon cash in on his monumentally impressive form burst with a mega-goal were finally affirmed. What a wicked strike! It looked headed in despite the helpful deflection that guided it to the mesh.
Lineup—Athletico Madrid—(8/14/20) (4-4-2)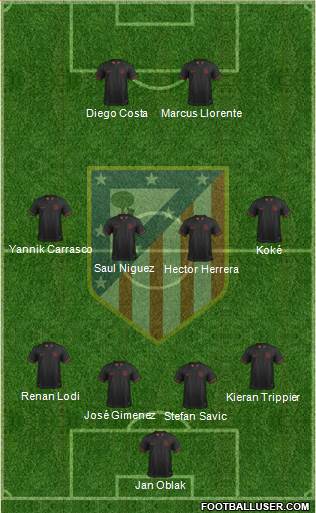 Did Diego Simeone have something of a plan to counter Nagelsmann's well-thought out formation? I cannot rightly say. It didn't look as if anything other than a simple 4-4-2 lay in force. Joao Felix's exclusion from the starting ranks baffled. Alvaro Morata might have paired better with Costa up front as well. Only deep respect for the eminently successful coach precludes me from insinuating that all of the fouling, diving, and time-wasting by his players weren't intentional directives. There's just no damn way I could ever consider him that kind of operator.
Building for Paris St. Germain 
The point raised in the above paragraph must be broach again on our journey forward. The only consistent tactic employed by the Spanish club throughout the quarterfinal fixture, sadly enough, entailed deliberate attempts to break the action with underhanded, whistle-inducing stoppages. Not every Atheti player engaged in this. Kieren Trippier, as usual, kept his class. Moreover, Felix and Carrasco never truly gave up.
I put the poor display down a select few, and re-emphasize that deliberate use of such strategies remain beyond Simeone. The same cannot be said of Thomas Tuchel. I wouldn't put it past him at all. He's been there before. One has the sense that he'd like to grind it out and win ugly against a former protegee. This would constitute quite the shame as he has the personnel to shut the door on die roten Bullen rather easily.
Lineup—PSG—PROJECTED (3-4-3)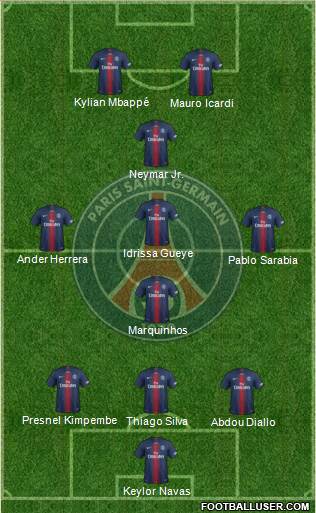 This is based in part on what we witnessed in the dying minutes of the Atalanta Bergamo match, in part on what worked so well against the BVB during lockdown week, and, in greater part, on what I believe to be the most effective way of shutting down the Leipzig midfield. A diamond is the only way to cover Upamecano, killing any attempts by Nagelsmann's multi-faceted players to rotate, and keep a close watch on the roving Angelino on the flanks.
If Tuchel can't shut the door on his spry opponents relatively quickly, their chances of pulling off this upset will increase with every minute the match progresses. Nagelsmann's plans, however intricate they shall be on this particular day, must be derailed before they settle. The potency of his team will improve as the evening wears on.