Borussia Dortmund fans might be felling a sense of what Yogi Berra quaintly termed "deja vu all over again after the 2021/22 German Bundesliga's second round. Football lovers naturally wouldn't have it any other way. With another fantastic round of German league football on tap, here's the re-post for those who may have missed last Sunday's hot-sheet of the tactical column.
---
Bundesliga Tactical Banter: Round Two
---
The "Butter Box"
So much for the uplifting tale of COVID-ridden Mainz. Bo Svensson trusted the exact same XI involved in last week's shock upset of Leipzig. This meant second consecutive starts for Niklas Tauer and Paul Nebel. The two teenagers were among the seven players completely toasted by former Mainz professional Gerrit Holtmann on that scintillating solo run. The VfL Bochum winger that the Pfälzer decided they had no real use for cut through the ranks of his former team like a hot knife through butter. Wait a second. Toast. Butter. How did we get back to where we were last week so quickly?
Oh well. One might as well ride on with the metaphor. In Round One, Svensson took a fresh slab of butter out of the freezer. It held firm. For some reason, he expected that it would do the same after placing it in the "butter box" and storing it in the fridge for a week. The slab had loosened. An intended 5-2-3 melted into a 3-4-2-1 before totally dissolving into a 3-2-2-2-1 puddle-like mess. Tauer and Nebel were both taken off as part of a triple substitution at half-time.
Introducing the more experienced Dominik Kohr, Jeremiah St. Juste, and Jean-Paul Boetius yielded absolutely nothing. Adam Szalai, and Kevin Stöger  eventually came on to join Boetius in a completely re-tooled three-striker set. Still nothing. The 1848ers never relinquished control during their first home game back in the top flight. Bochum looked a dominant bunch in their 2-0 victory over the Rheinhessen. Holtmann deserves most of the credit for setting the tone. The Mainz cast-off, who wouldn't have even started if Christopher Antwei-Adjei didn't get injured, showed his current side something and his former side up.
For Bo Svensson and die Nullfünfter, it's back to the larder to see what other spread options are available. The challenge for the Danish trainer ahead of next week's meeting with Fürth shall be to figure out that sweet spot between de-frosting and dissolving. Hmmm. Probably time to start thawing out Anderson Locoqui, Daniel Brosinki, and Anton Stach. It's surely too early to throw back-up keeper Finn Dahmen into the frying pan, but it couldn't hurt to take him out of the freezer with some extra training reps this week.
Vapid Roars from the "Mighty Mice"
There wasn't much cooking in Middle Franconia as Fürth and Bielefeld drew 1-1. Sigh. Bundesliga watchers feared matches like these. When the make-up of the top two footballing divisions began to sort themselves out late last spring, we knew we were in trouble Fürth vs. Bielefeld. Yes indeed! Welcome to the 2021/22 Bundesliga! Our 2. Bundesliga colleagues HSV, Werder, Rostock, Schalke, Düsseldorf, and Hannover. We get this. We get Fürth without Nürnberg along with rival-less Bochum, Bielefeld, and Augsburg. Lovely.
Greuther Fürth head coach Stefan Leitl did try to turn up the heat a bit by sliding Havard Nielsen behind a double-striker set of Branimir Hrgota and Dickson Abiama in what looked like a "power" 4-3-1-2. Not much power there. Both Kleeblätter forwards supplied us with some embarrassingly bad misses. Truly terrible play like that just doesn't belong in the Bundesliga. Die Arminnen managed to be a little more dangerous in their own "power" 4-3-1-2 anchored by Masaya Okugawa behind Fabian Klos and Bryan Lasme.
At the end of the day, one simply must say that neither one of these teams really demonstrated much quality. Big-league constellations. Bush-league teams. There were at least four 2. Bundesliga fixtures this weekend exhibiting a higher level of play. Thank goodness this battle of what Germans term the "Graue Maus" ("grey mouse") teams is over. We don't have to sit through the next version of this until late January; when horrendous whether won't make us feel so despondent about being stuck indoors.
A 68th minute sending off for Bielefeld's Alessandro Schöpf gifted Fürth a wonderful opportunity to snag their first-ever home win in the German top flight. Yes, you read that correctly. The 2012/13 Greuther Fürth side–widely regarded to possibly be the worst Bundesliga team ever–never won on home soil. Sigh. Double Sigh. This has the potential to be genuinely awful. A German has honestly never found himself so eager for the cold, dark winter to hit.
Fischer-Blinded
Moving onto much more interesting football, it proved somewhat difficult to focus on tactics amid the combined nine goals during Sunday's two enthralling fixtures. In the 15:30 kickoff, Urs Fischer's Eisern Union matched the efforts of Sebastian Hoeneß' Kraichgauer in a genuinely fun 2-2 draw in Sinsheim. Not often that the words "fun" and "Sinsheim" are coupled together, but German football lovers will take what they can get there.
This columnist never believed Fischer for a second when the Swiss trainer began to groan about the tight turnaround from Thursday's trip to Finland. If Sunday's result re-affirmed anything, it's that he can stick just about anyone he wants behind Max Kruse and Taiwo Awoniyi in that 3-5-2 double-stack. Genki Haraguchi. Marcus Ingvartsen. Andreas Voglsammer. Leven Öztunali. Cedric Teuchert. Presumably Keita Endo, Grischa Prömel, Kevin Behrens, Leon Dajaku, and Pawel Wszolek at some point too.
Much like last season, when five to six injuries to the lead striking corps couldn't sink this team, the Köpenickers are once again stacked in the attack. Perhaps they're a little deeper on the second supporting axis this year, but it's still just as well a tooled roster. Ostensibly, Fischer attempted to deploy the old trick of preemptively lowering expectations ahead of the league contest even though he knew full well he had the options. Nice bit of role-playing there.
Peaky-Blinded
One doesn't get to discuss the topic of "role-playing" without addressing Steffen Baumgart. There was actually quite a bit of tactical interest in Sunday's 17:30 kickoff. Julian Nagelsmann did re-reorganize into the back-three so many of us expected to see (though didn't expect to see this early) in Bayern's 3-2 win over Köln. He then brought Josip Stanisic on again in place of Tanguy Nianzou at the break in order to gin it up further. Jamal Musiala also took over Leroy Sané's place after the goalless opening 45. No sacred cows in Nagelsmann's world.
Of course, it proved even more difficult to focus on tactics when Steffen Baumgart is on the sidelines. A goalless first half doesn't matter when the "man with the Mutze" stands on the touchline pointing and shouting at things. Köln's gaffer isn't merely role-playing. He's "method acting". Bruno Ganz probably didn't invest as much time getting into character on set while filming "der Untergang". Forget the "Hennes Cam". Give us the "Steffen Cam". It may even be tough to differentiate between the man and the goat when it comes to the gruffness.
Another very encouraging week for the Geißböcke 4-1-3-2. Anthony Modeste, Jonas Hector, and Mark Uth got on the scoresheet again. Kingsley Ehizibue counts as another actor it's fun to watch re-discover some of old his spark under the new coaching regime. Together they very nearly pulled it off against the mighty FCB. Last week, the writer christened Baumgart's lucky piece of headgear the "golfing with grandpa cap". For your general information, the German press labelled it his "Peaky Blinders" hat.
Yeah. Okay. Defeat conceded. There's is better.
---
The Burning Questions: Round Two
---
Did Frankfurt improve?
Errm. In a manner of speaking, one supposes. There existed little possibility of them doing worse than last week. One can divine some faint echoes of progress in Oliver Glasner's new 4-4-2. What one certainly can't define is the type of progress this team needs to make in order to make another run at the Champions' League this year. They won't factor into the race like this:
Lineup—Eintracht Frankfurt—Match Two (4-4-2)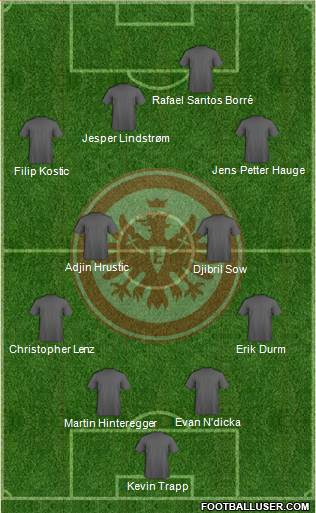 Five-to-one chance creation matters little when one doesn't score a goal. Furthermore, none of the SGE's efforts on target in the 0-0 draw with Augsburg really stuck in one's memory. It's generally not a good sign when one can't recall a genuinely solid goal-scoring opportunity after having just watched a match. The Eintracht ultras deserved better.
Que sera sera. C'est la vie. We can at least look at what Glasner was trying to accomplish.
Lindstrøm at short striker
This could be classified as a 4-2-3-1, but the manner in which new Danish acquisition Jesper Lindstrøm roves around Rafael Santos Borré appears to indicate that the 21-year-old fulfills more of a service forward role. Lindstrøm and Jens Petter Hauge actually made a better impression working as a pair of axially-chained wingers during the second-half of last week's contest.
Naturally, one can't place Lindstrøm on the left-wing permanently without displacing Kostic. A "Super Scandinavian" horizontal pairing on the second axis thus seems an impossibility for now. Something like this could work once the players involved get a better intuitive feel for each other. Even if Borré's finishing was very poor, there were some embers of a fire on display.
The search for a second six
This chronicler didn't happen to think that "old man" Makoto Hasebe's play last week necessarily warranted a benching. Apparently, Glasner thought so. Or perhaps he just figured giving natural winger Adjin Hrustic a run out alongside Djibril Sow was worth a shot. It could be argued that neither Hasebe nor Stefan Ilsanker would enter this one in the proper frame of mind following their critical errors on matchday one. They could conceivably return after some rest and reflection.
We're nevertheless running smack dab into the squad balance issue here. Virtually all the midfielders on the roster normally operate as wingers. The same could be said for the fullbacks selected here, who almost operated on a separate plane from the center halves. With captain Sebastian Rode out indefinitely, there literally aren't any other options for Glasner if he wants to run a 4-2-3-1/4-4-2 hybrid. Sporting director Markus Krösche needs to get on this immediately.
Late plays for the next XI
For whatever it's worth, we did see some very strong statements from substitutes Daichi Kamada and Ragnar Ache in the final stretch. As young and inexperienced as he is, Ache could possibly work alongside Borré until another seasoned target man can be procured. Adi Hütter may be gone, but the Glasner can still dust off the previous head coach's "double ten" set-up. Lindstrøm slides in to take Amin Younes' place besides Kamada. An interesting thought.
How did Leverkusen dominate?
It's not exactly fair to say that they did. What happened with Gladbach was, glibly stated, "the perfect storm" of a word that rhymes with "it". Incredible. Everything that possibly could go wrong for the foals did early on Saturday evening. Shortly thereafter, a new subset of "things that can possibly go wrong" was introduced just to spite anyone hoping for a competitive match. Wow.  Watching the Saturday "Top-Spiel" could be likened to watching a freight lorry run over your grandmother, then back up over your wife.
We'll start with Yann Sommer's howler in the 3rd minute. The veteran keeper almost never commits such errors. One could feel the collective spirit of the visitors collapse after their ordinarily rock-solid net-minder made a hash out of that rebound. Moving onto Joe Scally's meltdown on the BMG left, one should note that this constituted the biggest fear for the young American entering the match. As enamored as many of have been with Scally, the Bundesliga is not the MLS.
Players with the pace and skill of Moussa Diaby do not play in the absurdly inflated 27-team-field of USA professional "soccer". It was always a danger that Scally could get torched and rattled. Once Diaby effectively ate the teenager's lunch on Schick's goal in the 8th, one really saw no way back for a squad stumbling around shellshocked after a brutal one-two punch combo. Steely focus gave way to nerves and anxiety. One cannot stay organized when stress and tension reign. This in turn leads to injuries and mental lapses like that of Lars Stindl's weak penalty.
Three players succumbed to injury. Marcus Thuram fell in the 20th, Stefan Lainer in the 44th, and Mathias Ginter in the 62nd. When addressing the middle occurrence, head-coach Adi Hütter made a gross miscalculation of his own. Instead of introducing Tony Jantschke or Louis Jordan Beyer for his hurt right fullback, he moved Scally over to the right and subbed on Ramy Bensebaini for the left. A very bad move, possibly motivated by stress-clouded judgement.
Bensebaini proved far from ready for full action. Scally needed to come off at the half. Period. It makes little sense that Hütter didn't employ at least one halftime change. He may have burned two subs on injuries, but one does have the benefit of five these days. The cascade of stressful, almost freakish occurrences permeated the gaffer's personnel management in addition to the entire team. Ten minutes after the restart, Diaby all-too-easily bungled home off of Bensebaini after plowing through one of the most disorganized defensive units you're likely to see.
Leverkusen do retain the advantage of being one of the only German clubs to truly afford consistent activity on the transfer market this summer. In terms of the roster, die Werkself are irrefutably the most improved Bundesliga. As to whether this improvement on paper translates to a newfound dominance, the evidence here is hardly conclusive. We'll have to wait and see how they react in games they don't win in the opening ten minutes.
How long will Bobic keep Pal Dardai?
Yeah. We're back here again. Can't say it's unexpected. For, most German football watchers the incompatibly of Fredi Bobic and Pal Dardai was so blatantly obvious that we were predicting the first coaching change of the 2021/22 season before the 2020/21 campaign was even complete. Hertha's newly-installed sporting CEO understandably didn't want to rock the boat too soon. Fair enough. Bobic knew that Berlin's "alte dame" had already been through enough course corrections over the past few years. Charlottenburg's "Good Ship Hertha" never comes ashore because those steering it can't decide which horizon to aim for.
In his final months on the job, administrative Michael Preetz showed no awareness of which directions the sun rises and sets. Ante Covic. Jürgen Klinsmann. Alexander Nourri. Bruno Labbadia. Ah, hell with it. Let's just bring back Pal Dardai. Not a terrible idea. The Hungarian trainer's fearless penchant for criticizing high-priced prima donnas proved useful in whipping the capital city side into shape just enough to avoid relegation last season. It was needed. From the German football lover's perspective, it was even appreciated. Dardai's blunt matter-of-fact style enjoys its fair share of respect in the Bundesrepublik.
All of that notwithstanding, the capital city's perpetual underachievers are off to a disastrous start once again. It's about to get significantly worse after next week's visit to Bayern. Three losses to begin the campaign means Hertha will in all likelihood find themselves at the bottom of the table; the lone top-tier club without a point. Moreover, Dardai's call-outs begin to teeter toward the realm of incoherent babble. Is Matheus Cunha a player with passion for the club or a disinterested loafer deserving of public scorn?
One can obviously make the case that Cunha can be both. Another case to be made holds that terminating a coach like Dardai–who's passion for the club he's devoted so many years to always shines through–won't really accomplish anything. Alas, in the results-driven business that is football, changes come when they must come. If Dardai can't secure six points against Bochum and Fürth, he might not survive September. Not something those of us weary from the offseason coaching carousel are looking forward too, but all 18 clubs can't all be winners.
Can Leipzig be trusted?
To begin with, a writer isn't quite so certain he trusts Emil Forsberg's assessment of the atmosphere on Friday night. Not to proffer a conspiracy theory or anything, but the crowd noise on the German broadcast sounded suspiciously liked the piped-in "sitcom laugh track" brutally forced on everyone when football first came back from the pandemic. Perhaps the Leipzig supporters subconsciously took their cue from the old four-track, four-camera farce. Perhaps the chronicler merely remains bitter about a four-nil victory for the "MarketingKlub". Decide for yourself.
A couple of moments of sublime long-range skill from Dominik Szoboszlai–not to mention that insolently filthy back-heel from André Silva–certainly demonstrated how much raw talent lies on this team. We knew that. As Lothar put it, no other squad in the league approaches RB in terms of depth. As this writer bitterly lamented, the surplus of world-class players on Jesse Marsch's roster is so absurd it's frankly depressing.
Framed in yet a third semi-allegorical way, Julian Nagelsmann's Bayern XI can be likened to a $5,000 gold-plated Rolex watch. This is ultimately irrelevant. Nagelsmann may have the watch, but Marsch is the one who has the time. Leipzig resemble those twenty-eight-feature Tag Heuers used by Red Bull Racing. The team thoroughly demolished Stuttgart without Angelino, Konrad Laimer, Dani Olmo, Brian Brobbey, Kevin Kampl, and Marcel Sabitzer even in the starting lineup. Oops.
One must nevertheless emphasize that hammering out a clear footballing identity under their new head-coach will actually take time. The side we saw in action during this round's opener stepped up their game sprint-wise, whilst still looking a ways from where they need to be in terms of coordination. Possession play out of the back frequently looked disjointed and not altogether smooth. Defenders Mohamed Simakan and Josko Gvardiol had to rush forward far too often in order to kick-start the squad's break.
The two newly-acquired defenders deserve props for their courageous forward play. Fellow newcomers Silva and Szoboszlai were very kind to furnish us with a tantalizing taste of what we can expect from them down the line. In terms of it all fitting together into a coherent footballing philosophy that clicks and pops, the writer opines that Marsch remains about 4-6 weeks away. A draw or loss next week against Wolfsburg wouldn't surprise at all.
---
Weekly Tactical Focus: The Breisgauer "Streich" Back
---
Another year. Another electrifying start for Dortmund, followed by a listless and languid upset loss for the would-be title challengers in the second round. Wait a second. What? We just did the deja vu thing last week! Bundesliga lovers everywhere cry foul! Life itself deserves a yellow card. Time to petition the Kölner Keller. If the video review team examines the evidence closely, they'll surely agree that we must book existence for a clear and obvious case of "unsportsmanlike predictability".
As a matter of fact–jesting aside–we'll be making a different case in this week's "tactical focus" section. The BVB's 1-2 defeat to Freiburg has a very different feel to it than last season's 0-2 loss to Augsburg. There are a variety of different factors at play here; extenuating circumstances to consider in the case of both teams contesting Saturday's very entertaining fixture on the banks of the Dreisam.
Dortmund fans may relax a bit. You came up against a highly competent team. Their trainer also isn't the longest-serving head-coach in the Bundesliga for nothing. Christian Streich enjoys cult status among the German footballing public for good reason. We drew it up for Streich when his team defeated Dortmund 2-1 in last spring's "Rück-runde". Guess who–courtesy of the exact same scoreline–gets his turn again?
Lineup—SC Freiburg—Match Two (4-4-2)
One solitary change leads to a radical formation shift here. Center back Manuel Gulde was unavailable due to injury. Hungary's Roland Sallai took his place, with Jonathan Schmid and Christian Günter shifting down from wingback deployments to fullback ones. Additionally, Woo-Yeong Jeong moves up from the right flank to serve alongside Lucas Höler.
Straightforward enough tactics, but do note that Jeong did his fair share of moving about. The South Korean seemed to work a semi-regular rotative set up with Vincenzo Grifo, though it was difficult to tell with all four players on the top two axes dropping back so frequently. The Badener hosts had their defensive directives on this day.
Dortmund simplifies the assignment 
That's a comparatively brief tactical assessment for this column. We want to accord Streich and crew credit for executing their game plan, but Dortmund's shape is also immensely important to this week's analysis; perhaps more so than the Freiburg 4-4-2. Tuesday's DFL Super Cup didn't merely spread the BVB actors thin in a figurative sense. One could literally observe them getting pulled apart.
What was once a 4-3-3 in both the cup round and the first league round has since morphed into this:
Lineup—Borussia Dortmund—Match Two (5-3-2)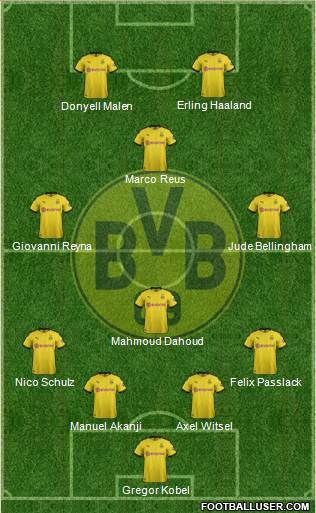 Yikes! It doesn't function quite as badly as it looks. All the space inherent in that stretched midfield diamond can be surprisingly quickly covered by the spry and energetic legs of pacey players like Jude Bellingham and Giovanni Reyna. It should be nevertheless noted that a disciplined defensive unit like that of Freiburg still has time to box them out of the flanks on the approach.
That translates to lots of runs collapsing central. We saw a lot of that here as both Reyna and Bellingham frequently got stymied "up the gut". Moreover, by the time they got there, Haaland and starting XI debutant Malen had no space left. Poor touches and finishing from both strikers also didn't help matters.
How does something like this happen?
It happens when players and coach are overtly concerned about weak defensive set-up. It's been kind of Marco Rose and staff to publicly praise Nico Schulz and express support for own-goal-scorer Felix Passlack in the press this week. One likes to see team leaders utilize the right words needed to buttress their squad. In terms of the ability of these two players to buttress their team on the pitch, however, they're sadly both out of their depth.
For whatever reason, Schulz is a far cry from the player who last started for the national team in the autumn of 2019. One can see that Passlack hasn't quite developed as the club would have hoped. He would have made more appearances under Lucien Favre and Edin Terzic last year if the staff thought the level was there. We might see the 23-year-old loaned out again before the window closes.
That brings us too Axel Witsel, who needs all the help he can get filling the injured Mats Hummels' very large boots. The Belgium international ordinarily serves a more forward-thinking midfielder. With the club higher ups evidently not willing to shell out extra money at the position, Mahmoud Dahoud has been steadily moving back to lock in at sweeper. It may be the case of Rose ordering him to do so, or the German international exercising some genuine concern for his back-line.
In any event, three wobbly defenders is how we get the stretch.
Match Flow: 1st to 6th minute
Dominance on behalf of the NRW-guests through the first five minutes proved totally immaterial. All it took was clumsy slip up from Passlack to allow the hosts to jump ahead. Reus, Bellingham, and Reyna all found their way into the box in the 2nd, 3rd, and 4th respectively. This uninterrupted barrage of Schwarzgelben surges didn't feature the neatest or cleanest touches, but it remained clear which side maintained the ability to penetrate.
Freiburg began to get some counters rolling. Two turnovers from Reyna on miscues toward Malen and Haaland in the gave Jeong and Höfler chances to break out in transition. Passlack messed up on clearing on ball that fell to him in the 5th and carelessly fouled Höfler whilst trying to catch the ball he lead-touched forward.
Grifo's monstrous hit counted as quite the bend from almost 20 meters out. It initially appeared to be the perfect piece of technically mastery. Watching the replay on the overhead tactical cam, however, one can see that BVB keeper Gregor Kobel didn't set up his wall properly. Aggravating. As if Dortmund didn't have enough problems with three back-ups in defense, now the new net-minder was screening himself.
Match Flow: 6th to 24th minute
To their credit, Rose's men didn't show any signs of being fazed by conceding the early goal. The guests brushed off a dead-ball tally and continued to dominate in open play. This more or less continued for the full eighteen-minute-spell right up until the first cooling break. What instances Freiburg did manage to find space in-behind were cooly handled by veteran anchor (and regular starter) Manuel Akanji.
The Swiss international handled Jeong excellently in the 8th and 17th. He also bailed out his more suspect colleagues in the 12th and 19th. In between these big stops, Reyna and Bellingham worked the ball forward with skill. The young Englishman sliced his way through the Freiburg ranks beautifully before miffing the finish in the 11th whilst the American tried to thread too fine a needle for Haaland after a brilliant dribble three minutes later.
A nice delicate roll from Reyna for Bellingham in the 16th got wasted when Malen couldn't keep himself onside at the end of the play. Passlack, who by this point had racked up several more errors at the back, also killed off a promising attack with a poor through ball a couple minutes after that. Frustration spilled over for Malen shortly thereafter with the Dutchman getting booked for a poor hook on Philipp Lienhart when the SC player picked off another imprecise pass.
A little bit of a lull ensured between the 19th and 23rd. Reyna and Bellingham found themselves drifting toward the Dortmund right having presumably sensed some space. Current German international Christian Günter and national team prospect Nico Schlotterbeck stood tall. Jonathan Schmid also read the shifts and slid over to help. Akanji had to bail out his team once again one minute before the cooling break when Witsel ball-watched a diagonal and Sallai found himself through on goal.
Match Flow: 24th to 36th minute
Another five-minute lull on the other side of the drinks break saw both teams have a bit of difficulty getting back up to match speed. Once things opened up, however, the action came thick and fast. A forward slip-though from Reyna towards Malen in the 39th gave all us watchers a fabulous glimpse of the Dutch youngster's potential on the break. Unfortunately, the new arrival's first touch was just a bit too heavy and Schlotterbeck caught up.
One minute later, Schlotterbeck was involved offensively after finding himself on the receiving end of another gorgeous Grifo set-piece delivery. Witsel's marking on the free-kick was wretched. Unfortunately, the Freiburg headed directly into the waiting arms of Kobel. Back in the Dortmund attacking half, Bellingham squandered his own chance after a lovely Reyna corner service. The English phenom seemed unprepared to take his chance and could only (almost incidentally) hit the post.
Jeong somehow missed a chance to double the advantage with a sky over wide-open net in the 33rd. The replay defied all logical explanation. It was definitely one of those instances were missing seemed infinitely harder than tapping in. The South Korean really put in some commendable work to try and atone for his mistake mere seconds later. This time Dahoud had to employ the tactical foul to haul him down. This same sequence actually repeated in the 36th. Jeong got fairly tackled this time.
Match Flow: 36th minute to half-time
The official word concerning Raphaël Guerreiro's introduction in the 38th held that Nico Schulz experienced "muscular issues". Nothing suggests that this untrue. One nevertheless maintains the right to wonder if Marco Rose had simply seen enough of his makeshift defense. One watched to see if the change at left-back would increase activity on Dortmund's neglected left-flank.
Streich's men certainly took advantage of the opportunity to try some attacks on their right. Reyna and Dahoud did well to drift over and shore up the ranks ahead of their newly introduced teammate. This led to Dahoud playing Reyna through on a counter in the 41st, but the teenager ultimately got felled on a delay cut in center. Trailer Witsel then finished miserably well over.
Sallai punched through once shortly before first-half injury time commenced. The added three minutes mostly gotten eaten up by a controversial foul on Reyna and the time needed to separate the hotheaded players before the suddenly fuming Gio could take the free kick. An appallingly bad service from the American concluded first-half proceedings.
Match Flow: 46th to 60th minute
No shortage of good action after the players emerged from the tunnel noticeably refreshed. Interestingly enough, many of the same patterns kept repeating themselves. Höler deftly drew the hapless Witsel and Passlack toward him during the first relevant offensive sequence in the 47th, with Sallai failing to find the finish. Reyna again sped forward on a fine individual run on the ensuing counter, but then bafflingly forgot about all his teammates and ran straight into the crowded SCF defensive ranks at the top center of the box.
Reyna finally found Haaland's boot in the 48th, but the star striker couldn't control the shot properly. After Reus took his turn at a very looking central run in the box that saw him easily dispossessed in the 50th, Haaland whiffed again on a chance one minute later. Guerreiro, Reus, and Malen showed some slightly more creative combos before Freiburg scored their second in the 52nd.
The tally that put the hosts up 2-0 was just a fine team goal. Yanik Keitel toed away from Bellingham. Höfler collected and played Jeong through wide. The South Korean finally atoned for the inexplicable miss earlier with a nice run and skillful whipped cutback for Höler. The SCF's lead striker then in-turned laid off back across for the wide-open Sallai, who finished with a flourish.
BVB enthusiasts may again take solace in the fact that their team did not rattle. This constitutes a huge difference from the often fragile side of last year. They calms poured numbers forward. Dahoud only just missed a nice link-up play with Guerreiro in the 56th. Haaland muscled his way onto the ball–not entirely legally in this writer's opinion– in the 57th and put Malen clear. Again, the unpracticed Dutchman took one touch too many.
Passlack did his best to push up the right flank. After one embarrassingly poor attempt at picking out a colleague he recover and sent in a sharp-looking low-cross intended for Bellingham in the 59th. This time the somewhat maligned fullback got lucky and Keitel inadvertently directed the ball into his own net.
Match Flow: 60th to 71st minute
The match kicked into an especially fun high gear that one honestly wished could have lasted longer. Plenty of end-to-end stuff. Schmid broke through in the 61st. This time Akanji didn't have enough focus left to execute a precision tackle. Dortmund's last defender standing got rightfully booked for a bad follow through. Kobel had to be alert to parry on the corner that ultimately ensued. Reyna and Bellingham kept up the press, moving a bit slower as even teenage legs begin to give way in as intense affair such as this one.
One could be a mite critical of Rose for not making an effort to get both youngsters off earlier. The American in particular looked completely gassed. He could barely hold the ball up on sequences in the 66th and 67th. Reus and Malen did a halfway decent job of picking up the slack with some good cycle combo's in what would be Reyna's final involvement in the match, Gio hit his friend Haaland for what would be the best chance at an equalizer. The Norwegian proved himself mortal after all with an awful finish that probably ended up in the 30th row.
Brandt came on in place of Reyna in the 69th whilst the fourth official prepped himself for Streich's triple substitution. Jeong, Sallai, and Höler made way for Ermedin Demirovic, Kevin Schade, and Janik Haberer. One didn't even have to wait for the formation to settle as cameras caught Streich signaling for precisely the constellation he wanted.
Match Flow: 71st minute to full-time
The great baroque Breisgau maestro signaled 5-3-2 with one hand. This was by no means a protective lockdown either. He introduced two new strikers in Demirovic and Schade. True, a huge gap separated the fresh-legged forwards from the rest of the team. It was still masterfully done.
Lineup—SC Freiburg—72nd minute (5-3-2)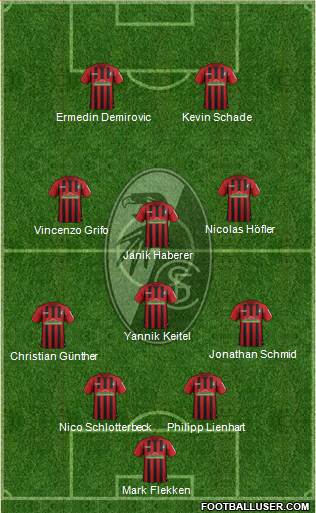 With some curiosity, one watched to see who the sweeper would be. Honestly, Haberer and Keitel could have both fit the bill. One really liked the way Streich ordered Grifo all the way back to a strict axial pair with Höfler and kept the back-four in place. There's a lot to be said about how long the SCF gaffer waited before re-organizing into this. This forced Rose to wait even longer as the BVB head-coach couldn't hope to accomplish much with his own changes other than flow interruption.
Rose gave it another another nine minutes. His on-pitch staff showed absolutely nothing other than fatigue. The team didn't get into the box once during this stretch. Freiburg even got Schade forward on a couple of occasions before Mats Hummels, Youssoufa Moukoko, and Emré Can all checked  on like-for-likes for Witsel, Malen, and Passlack in the 79th.
Haaland and Bellingham got some touches in around the box in the next four minutes, but nothing approaching anything dangerous. Streich continued to signal 5-3-2 from the sidelines, effectively emphasizing that everyone needed to move back and increase the separation from the two strikers. The Breisgauer trainer then spaced out two more subs (84th and 86th) to eat up a little more clock.
Haaland came close to meeting a corner in the 87th, but it just wasn't his day. Without a drinks break in the second half, this one just sputtered out over four minutes of second-half injury time. Hummels and Bellingham went to ground a bit easily toward the end. Match official Robert Schröder wasn't interested.
All told, this was just a good late-summer Saturday afternoon football fixture; perhaps the anthesis of what we saw in Augsburg in the same round last season. There will be some talk of the nearest title contenders dropping valuable points early on again. In this case, they lost a close enough match to true European contenders. That happens. Nothing to be ashamed about.
Taking into account the BVB players who did find their way back onto the pitch in this fixture (Hummels, Can, Guerreiro), this ramshackle version of die Schwarzgelben won't last too much longer. Thorgan Hazard, once healthy, shifts the entire dynamic of the offense and Malen will find his touch soon.
Nothing more to add really about an early upset that gave a great fan base something to cheer about in one of their last visits to an iconic home stadium. Sometimes it's all about kicking back and enjoying the show. The 2021/22 Bundesliga should prove quite an exceptional one. And it's only just getting started!
Thanks so much for reading! You can occasionally catch Peter goofing off while watching the lower German football divisions on twitter, @ViceytheSS.
Twitter DMs are open for football conversations, corrections, and (if you truly insist) general abuse. 
All columns debut on Bulinews before appearing on Peter's website later in the week.