Some sensation matchday three of the 2022/23 German Bundesliga campaign proved to be. One week after Borussia Dortmund staged their spectacular comeback, SV Werder Bremen made Bundesliga history with the latest come-from-behind victory ever in top flight German football.
"Super Ub" Oliver Burke entered the record books with his late 3-2 capper. Naturally, not every scene from the current campaign will remain fresh in the minds of German football lovers as we move forward. It's nevertheless safe to assume that Burke and the Hanseaten furnished us with something unforgettable.
Dreams occur in a prostrate state. This Scotsman had the privilege of getting back on his feet and discover that he was not, in fact, dreaming. Fantasies he had surely entertained became reality on this particular day. It all actually happened.
---
Bundesliga Tactical Banter: Round Three
---
The Stuttgarter Stumble
Pretty disappointing outing for the Swabians in front of their home-town fans in the BaWü capital. It very much looks to be the case that, in stark contrast to some sincerely expressed hopes, Pellegrino Matarazzo's use of Silas as a straight striker might not be such a brilliant idea after all. The VfB offensive engine quickly sputtered to a halt after the defensive ranks broke down early against visiting Freiburg. Supposed star performers Silas, Sasa Kalajdzic, and Borna Sosa clawed for a bare minimum offensive impart.
Lots of questionable in-game tactical adjustments from Stuttgart's American trainer, which will of course receive coverage in the next installment of the "Americans":column. Suffice to say here that a team with this much talent shouldn't be so anemic. Streich's Freiburg even allowed them to lord over the lion's share of possession in the second half. The fact that the had absolutely no idea what to do with it suggests the squad from the Germany's big Southern "Autostadt" could be in for a dip.
Another Wolfsburger Wobble
As we continue to track Niko Kovac's attempts to build a workable tactical system in Germany's big Northern "Autostadt", the news from Saturday's goalless draw with lowly Schalke still augurs poorly. The former Bayern and Frankfurt trainer really lives up to his reputation as a poor personnel manager whenever he possesses a surfeit of talent. Kovac initially lined his Wölfe up in a 4-2-3-1 with Mattias Svanberg operating as the ten ahead of sixes Maximilian Arnold and Joshua Guilavogui.
For whatever reason, Sebastian Bornauw was tagged as the right full-back opposite the totally cold Paulo Otavio. Kovac pulled Bornauw for Ridle Baku at the half when this produced next-to-nothing. He then tried Max Kruse and Maximilian Philipp in a weird 3-5-2 "double ten" set-up. Sigh. That produced a little more than next-to nothing. Baku, Kruse, and Otavio actually weren't terrible, but we've still a right fine mess on our hands with this winless club.
Bayern's irrelevant injuries
From a former FCB trainer to the current one. Niko Kovac actually had the gall to complain to the German press last week that he didn't get the type of solid support from the German giants that Nagelsmann enjoyed last year following his single-title haul. Kovac griped that he actually won the double (league and cup) in his first season (2018/19) on the job before being dismissed after just two league losses and a Pokal scare ten rounds into the 2019/20 campaign.
Do we really need to respond to how much better Nagelsmann is at managing talent? This week, the FCB trainer had to do without starters Jamal Musiala, Serge Gnabry, and Alphonso Davies. Nagelsmann responded with a more traditional 4-4-2 featuring Leroy Sané and Kingsley Coman as the wingers and Kovac's famously mismanaged Thomas Müller as the service striker behind Sadio Mané. The results? The columnist is more than content to allow the results to speak for themselves.
Someone please order Kovac a specially fitted bottle and some baby food.
Mainz steal three late
Rather difficult to fold Mainz's 2-1 win over Augsburg into this week's column as it counted as a difficult match to draw conclusions from. Enrico Maaßen's Fuggerstädter did enough to merit the draw with solid enough positional play and a great use of lateral builds. Ermedin Demirovic scored an excellent goal and, for the second consecutive week, keeper Rafal Gikiewicz was radiant in his play. The FCA net-minder more than deserved a draw after he saved a penalty and made several brilliant late stops.
Hmmm….why not take this opportunity to catch up on the number of missed penalties this weekend? Last week was definitely the "round of goalkeeping blunders". Now we're talking multiple failures from the spot. Jonas Hofmann couldn't covert for Gladbach on Friday. Simon Terodde missed twice for Schalke on Saturday. Aaron Martin got stonewalled by Gikiewicz in this one. The Spaniard did redeem himself with an assist on Jae-Sung Lee's winner at 90+3. A real shame for Gikiewicz.
We could say that Bo Svensson's undefeated Rheinhessen look to be off to a promising enough start. The Pfälzer are actually in the top four and did look very strong at times with the striking tandem of Jonathan Burkardt and Karim Onisiwo reunited. That being said, Mainz also looked pretty dead for long stretches of their weekend encounter in the Fuggerstadt. Not exactly a fair result that a winner emerged here. Maaßen's crew are outperforming (admittedly low) expectations.
---
The "Burning Questions": Round Three
---
Where is Glasner at in his new tactics?
A fairly pressing question entering the weekend for those of us moderately obsessed with how Eintracht shall look in the post Filip Kostic Era. This time around against Köln, the SGE trainer (as many of us expected) debuted his new back-four. Luca Pellegrini made his eagerly anticipated debut as part of five personnel changes from last week.
Ansgar Knauff, Daichi Kamada, Christopher Lenz, and Lucas Alario made way for Sebastian Rode, Raphael Santos Borré, Jesper Lindstrøm, and Pellegrini. Additionally, we got the sad news on Friday that Almamy Touré's injury is indeed serious enough to sideline him through the World Cup break. Kristijan Jakic thus had to fill in at right-back in order to complete the back-four.
Lineup—Eintracht Frankfurt—Match Three (4-2-3-1)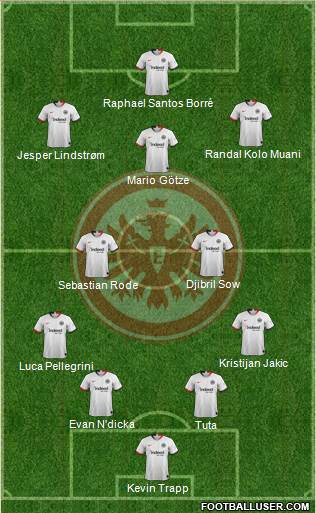 Interesting. Jakic and Pellegrini were actually surprisingly active early, though much of this had to do with the fact that Steffen Baumgart had his Geißböcke on full, centralized lock-down following Thursday's embarrassing Conference League defeat. There's also the matter that such a rigid 4-2-3-1 doesn't make the best use of Borré's ability to drop back and affect the play with deep hold-ups.
Below average outings for Götze, Lindstrøm, and Kolo Muani. Rode and Sow did okay directing the play, but the top attacking axes simply didn't display the requisite coordination. Frankfurt's loan goal came from a dead-ball situation converted by substitute Daichi Kamada. Poor Ansgar Knauff, also subbed on, laid the equalizer at Jan Thielmann's feet.
With nothing to show for this absent a set-piece goal–one which even took a deflection on the way in–it looks like it's back to the drawing board for Glasner and staff. On a positive note, the back-four and the double-six (as noted above) did look organized and supplied some creativity. Those parts of the constellation can remain in place for the time being.
Are Hertha slowly improving?
Good question. Familiar question. In all honesty, this question has been posed so many times in German footballing circles that it begins to feel as if it's a self-referential joke at this point. Literally every coaching regime that has passed through Charlottenburg over the past four years leads us here. We stretch and strain to divine subtle and modest signs of improvement. In practically every case, this proves nothing more than a mirage.
Call it a case of stubbornly banging his head against the wall if you must, but the columnist does feel as if Sandro Schwarz's basic plan gradually comes together. We'll give this team their first draw-up since the preview section. Back then, Schwarz utilized some "placeholder actors" in his visualized 4-1-4-1 schematic. Watching the Hertheraner turning in a pretty decent performance against Gladbach on Friday night, one could discern some legitimate upward trends.
Lineup—Hertha BSC—Match Three (4-1-4-1)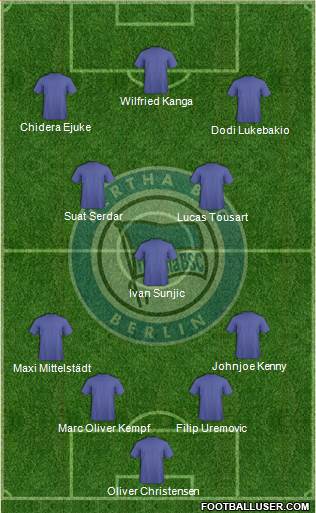 Full-time xG stats first:
xG Gladbach–2.9 , xG Hertha–1.3
Cleary a deserved win for the foals, though we have lots of positives to analyze from their capital city guests from all over the pitch. Halftime xG stats were virtually dead even at around 1.0, Just as they did last week against Frankfurt, Hertha played a very worthy first-half during which they kept their shape and hit the right attacking lanes. We can praise the whole formation, beginning up top.
The front-three
Left-winger Chidera Ejuke definitely qualified as the most exciting player on the pitch on either side. True to his namesake, the 24-year-old Nigerian knows how to "juke-and-jive". Truly amazing to behold what he can do to defenders with his fancy footwork, particularly when cutting inside. We've not heard the last of this targeted summer acquisition.
The same applies to former Swiss League star Wilfried Kanga, who got in some acrobatic and fascinating takes as well. Dodi Lukebakio–with some genuinely horrible finishes duly noted–made a consistent menace of himself. This selected front three exhibits enormous potential. One simply must assume that it will roar to life at some point.
The midfield triangle
With captain Marvin Plattenhardt out, Frenchman Lucas Tousart has been donning the skipper's armband for the last two fixtures. The writer declares himself impressed with the manner in which the 25-year-old leads by example on the pitch. The only real acquisition from the ill-fated Jürgen Klinsmann Era who kept up his enthusiasm about the club leans heavily into the duels and provides a creative spark.
The expectation many of us had concerning Suat Serdar playing up to his potential hasn't materialized yet, but could still come. Vladimir Darida might ultimately be better suited for the position. Ivan Sunjic as the midfield pincer has the feel of one final "placeholder player"; someone to define the role a bit until Schwarz gets his former protégée Jean-Paul Boëtius up to speed.
The defensive ranks
Here we have an area with loads of room for improvement. Contrary to the hopes of many German football fans, Jonjoe Kenny hadn't really produced a stellar match up until this point. He wasn't exactly dazzling on Friday night either. At least there Englishman held his own against the likes of Alassane Plea and Ramy Bensebaini, in addition to showing some sharp forward impetus for the first time.
Kenny is on the upswing. So too is Danish keeper Oliver Christensen. Not to suggest that the young net-minder didn't do some profoundly stupid stuff yet again. He did. A few strong saves and the held penalty may nevertheless give the 23-year-old some much needed confidence heading forward. Filip Uremovic's suspension may be a blessing in disguise. Marc Oliver Kempf could use a better partner.
Youngsters Marton Dardai, Julian Eitschberger, and Linusn Gechter might excel there.
The road ahead
With Dortmund, Augsburg, Leverkusen, and Mainz on the docket before we enter the international break, the biggest danger this club faces concerns panic. Schwarz should hold fast to this project just as sure as the club should stick with him. Stability is required even if the results don't yield the prettiest picture. Chances that this constellation can click actually appear rather high.
The whole "second offseason" novelty that hangs over this most unusual campaign should have the generally positive effect of clubs allowing their trainers more time to let their concepts crystallize. This obviously isn't always the wisest course-of-action, but one has the sense that this team can achieve desperately-needed stability under Schwarz's approach.
Improvement has been steady.
So too must be the hands that guide.
What "else" is wrong with Leverkusen?
The subject of "panic" dovetails nicely into the next team we wish to discuss. Note that we already gave Germany's red company team a pretty thorough diagnosis following their Pokal defeat. Additionally, we also have a nice piece up on this topic here at Bulinews from another writer. What transpired this weekend against Hoffenheim calls for a fresh update.
Down 0-2 at the half, Gerardo Seoane mistakenly pushed the "panic button".
Lineup—Bayer Leverkusen—46th minute (3-3-4)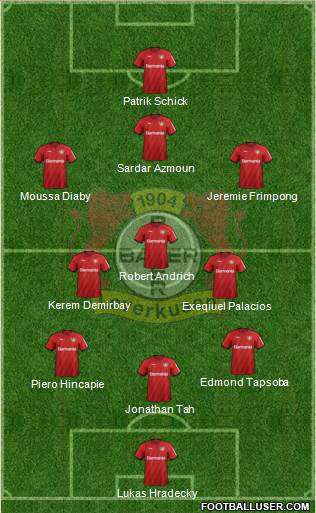 One can certainly make the case that the B04 trainer had to try something after his usual 4-2-3-1 managed nothing imaginative offensively in the first-half. Switching to a back-three and moving Jeremie Frimpong up to the attacking wing still constituted something far too radical. The fact that the squad wasn't drilled in this shape remained readily apparent.
Apart from the bizarre scene in which Sardar Azmoun cleared his own teammate's effort off the line, die Werkself continued to look awkward and choppy on the charge. Seoane then tried an even more desperate course-correction late on. After Paulinho and Mitchel Bakker relieved Robert Andrich and Edmond Tapsoba, he tried to revert to a back-four. Too much confusion and another Hoffenheim goal resulted.
Leverkusen's stumble out of the gate this year needn't generate all that much panic. After all, Patrik Schick maintains one of the highest individual xG totals out of any striker in the league. Behind him, selected ten Azmoun's "expected assist" totals are solid as well. There's been some bad luck up front along with total disarray at the back.
Offensively, matters should gel soon enough. Seoane encounters the real crisis in central defense, where Jonathan Tah and Odilon Kossounou have made endless errors and Edmond Tapsoba seems to have totally lost his aggressiveness on the ball. The notion of a back-three under these circumstances is, frankly, ludicrous.
There remains no easily solution in aid of the completely crushed back line, but one could at least start with a sweeper and rearward-deployed wingbacks. Seoane possesses the personnel to make this happen if he abandons the double six and parks Andrich ahead of a back-five central. The bleeding can be stanched without panic.
Any tactical problems with Leipzig this time?
Actually, yes. As strange as it feels to even type the words, Domenico Tedesco might have ceded too much respect to Urs Fischer and Union Berlin ahead of his visit to the Stadion An der Alten Försterei. The RB trainer dropped a tactical system that was working for him in favor of a direct mirror of Urs Fischer's 3-5-2 "double stack".
Even on a purely logical level this seemed an overreaction. Once one saw the configuration settle, one could immediately tell that things could easily go awry. Matching Union players extensively drilled in a familiar shape proved neither necessary nor advantageous.
Lineup—RB Leipzig—Match Three (3-5-2)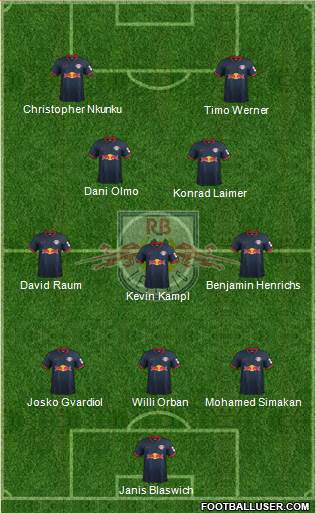 The two players whom one's eyes immediately settled upon were Dani Olmo and Konrad Laimer. The team-sheet didn't augur these specific tactics. Laimer could have worked together with Kevin Kampl in midfield. When it became apparent that Laimer was operating further afield then Kampl, concerns began to arise. The previous 3-4-3 stood a chance against Union. This didn't.
Olmo began proceedings ambitiously enough, yet quickly descended into a more uncomfortable tenor off the ball. The Spaniard was pushed out of his usual lane. Union seized upon the early lack of Leipzig rhythm to imbue the match with a disruptive stop/start flow. The Saxons were still okay in possession and there was some nice combo play out of the back.
As the half-hour mark approached however, the Köpenickers were rapidly becoming wise that far too many attacks were headed through Olmo's inside half-lane. Moreover, the back-three were slowly drifting too far away from each other and Kampl was having trouble both holding the ball and figuring out his distributive role.
All the telltale signs of getting blown apart on the counter were there. Union racked up a 2-0 halftime lead via tallies on two such quick strikes. All Fischer's men really had to do during the second 45 was remain compact and organized. The FCU gaffer clearly ordered everyone back in defense of the lead. An easy enough strategy to execute.
Before moving on, we'll wish to emphasize that Union's fourth consecutive league win over their (technical) regional rivals didn't result solely from Tedesco's tactical mismanagement. Union strikers Jordan Siebatcheu and Sheraldo Becker furnished breathtaking touches on both goals. Janik Haberer, Andras Schäfer, and (most especially) Rani Khedira did a phenomenal job of bossing the midfield.
There does remain this not-so-small matter of Tedesco getting his tactics absolutely wrong from the outset. Nothing to suggest that the RB trainer has lost control or that his job may soon be on the line. We'll still have to open that lingering question as to whether he is actually a top notch coach back up. Fairly big failure here.
---
Weekly Tactical Focus: "Justice is Served"
---
What a match we have to cover this week! When it came time to circle the fixture earmarked for this weekend's "tactical focus", several other offerings received consideration. Leipzig-Union happened to be one such match screaming for attention. Luckily, Dortmund-Bremen screamed louder. What we've seen thus far this season from Ole Werner's newly promoted Hanseaten thus far in this young campaign strongly suggests that Werder may be one of the league's big surprisings. As we were discussing last week, the SV commands respect.
Sometimes, the pre-weekend hunch proves correct. Other times, it doesn't. With some random help from blind Lady Luck, we hit the jackpot here. The historic Bremen comeback victory featured everything that both tactics-heads and those who watch football purely for the emotions and passions it stirs could possibly want. Note that those two types of football fandom aren't mutually exclusive. One can be both at the same time, or at the very least an emotional viewer on the weekend and a tactics-head once the analysis pieces come out on Monday morning.
xG proponents (this writer included) were also prepared to make a dour and largely cranky assessment of this match right up until Werder turned the tables late. Justice was ultimately served and we all got a chance to release our pent-up irrigation through our nostrils rather than in print. The full-time xG stats also convey a match that, despite its thrilling conclusion, wasn't always the most optically pleasing. Chances were at a premium here.
xG Bremen-1.4 , xG Dortmund–0.3
Both sides outperformed their foundational chance creation metrics. In truth, it wouldn't have been the greatest injustice if Dortmund had snagged the win or held on for the draw. Though no one will argue that the BVB played the better match, we remain a long way from any assessment linking Edin Terzic's Schwarzgelben to a serious downfall. That may seem an odd statement to make, but the analysis will bear it out.
Lineup—Borussia Dortmund—Match Three (4-2-3-1)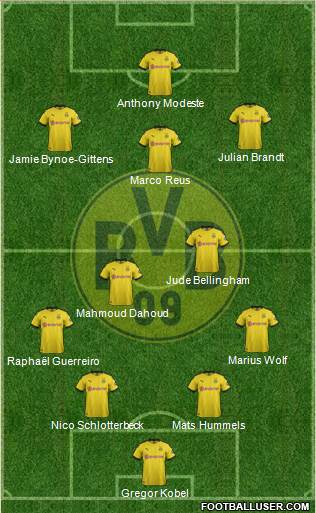 A couple of points to hit here.
On-the-fly changes to the starting XI
Neither Niklas Süle nor Karim Adeyemi featured in the opening lineup despite being passed fit late in the week. Terzic didn't feel it right to insert Süle into the XI immediately while Adeyemi, after reporting recurrent problems with his toe, didn't make the matchday squad at all. Donyell Malen also had to withdraw late because of muscular problems.
The XI in which all three substitutes who scored last week moved into the starting blocks may not have actually been part of Terzic's plan. As it turned out, all three of them had their fair share of problems in this match. Jamie Bynoe-Gittens' inexperience really shone through. Marius Wolf had some crucial defensive lapses late. Julian Brandt–his wonder-goal excepted–wasn't terribly sharp on the ball.
The major in-game adjustment
Terzic alluded to Mahmoud Dahoud's unexpected and unwelcome loss in his post-match presser. It should be stated that, as of last round, the BVB trainer devised a special role for Dahoud in the midfield. One could see against Freiburg that the young German international hung back to help the back-four with their notoriously fragile cycle-outs. This conformed perfectly with Terzic's focused mission to fix this recurrent issue.
Naturally, an added benefit of the midfield "split stagger" enabled Jude Bellingham to pivot around spontaneously on his own solo axis. Such a deployment brought out the best in the young English phenom. In the affair to be discussed, we witnessed how Bellingham could be pressured into making more mistakes with Emré Can as his chaining axial partner.
This ended up working much to the detriment of the NRW hosts.
Lineup—Werder Bremen—Match Three (4-2-2-2)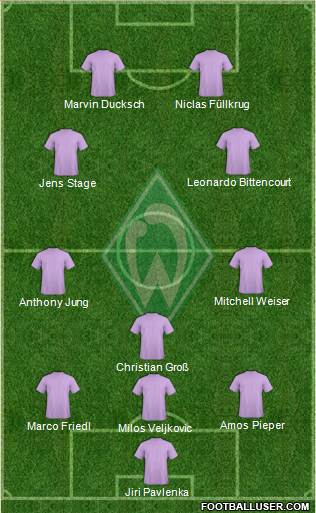 Moving onto the Hanseaten, the big change from last week saw Christian Groß return from injury to replace Ilia Gruev. Werner's tactics in the previous round placed Gruev ahead as a functional "solo six". Groß' return meant that the SVW trainer could put his "bolt-lock" sweeper back in place and run his preferred system. It happens to be a very good one too.
Small wonder that Dortmund had difficulty penetrating this centrally. The squad is well-designed for life in the top flight. Ahead of the mostly solid defense Anthony Jung and Mitchell Weiser typically do a fantastic job sparking counters. Leonardo Bittencourt and the (newly inserted) Dane Jens Stage rotate surprisingly well on the rush.
Marvin Ducksch and Niclas Füllkrug often intuitively tuck in around one another when the team approaches the penalty area. While both strikers made plenty of miscues here and, in terms of raw speed at least, aren't the most intimidating duo for first division football, they can surely manufacture enough goals to keep this team above the relegation pack.
This analysis won't skimp over the many issues Bremen still have. They were more than apparent in this affair. There's a bit of euphoric overachieving at every last position; a common phenomenon within newly promoted teams. These Northerners aren't superhuman by any means. Respect, and ultimately the win, were nevertheless earned.
Match Flow: 1st to 18th minute
We got an injury before we really got our first legitimate goal-scoring opportunity. The Westphalians hosts looked a little off from the start, flint with some danger out of the back in the first and appearing disjointed in their approach play over the next few minutes. Dahoud flashed an effort wide in the 2nd. Brandt and Bynoe-Gittens each sent bad passes stray in the 3rd. Multiple midfield turnovers from die Schwarzgelben in the 4th and 5th. A Raphaël Guerreiro diagonal for Reus in the 6th caught the captain offside.
The Hanseatic guest had managed a blocked shot in the 4th and also earned a corner in the 6th. Nothing much doing either way. A Bynoe-Gittens led counter off the corner petered out when the Englishman tried to do too much on his own. Bynoe-Gittens again looked shaky on BVB attack charges in the 7th and 8th. Wolf stood tall to shut down a SVW counter in the 9th. Bellingham attempted to carry out in the 10th. The sequence led to a free kick after Marco Friedl fouled Reus.
Ducksch proved equal to Reus' service with a fine defensive header away. After a BVB bow-arc cycle broke down, Bremen tried (and failed) to hit Füllkrug with a long ball in the 11th. A better BVB right-ward cycle on the right in the 12th led to nothing when Bellingham sent a poor pass in Brandt's direction. Bellingham nearly made up for it at the end of the minute with a great run. The Englishman furthered nicely for Reus, but Amos Pieper tackled strongly away.
Stoppages, throw ins, and rapid possession chances from the 12th to the 16th. Bittencourt fouled up the most promising Bremen rush in the 14th while Bynoe-Gittens ran straight into Weiser when the BVB had some space in the 15th. Dahoud was down on the turf by the 16th. A treatment break lasting a full two minutes gave Terzic a chance to sub Can into the game. Open play didn't resume until the 18th.
Match Flow: 18th to 40th minute
We arrive at the aforementioned tactical tweak that left Dortmund somewhat out of sorts. Despite his undeniable versatility, Terzic didn't want to risk continuing with the "split stagger" with Can in for Dahoud. In principle, he could have. It's nevertheless understandable that the BVB gaffer didn't want Can in a position he hadn't recently been practicing in. Furthermore, Can isn't the type built to run wide attacks out of the back.
Everyone with eyes on the tactical cam saw Bellingham and Can keep a line whilst the shape snapped into a more rigid 4-2-3-1. Without a midfielder hanging back, the Hanseaten quickly picked up on the fact that they could bypass the sixes with long switches. That's precisely what Werner's men did during this exceptionally strong, yet not exactly scintillating, phase.
Lineup—Borussia Dortmund—19th minute (4-2-3-1)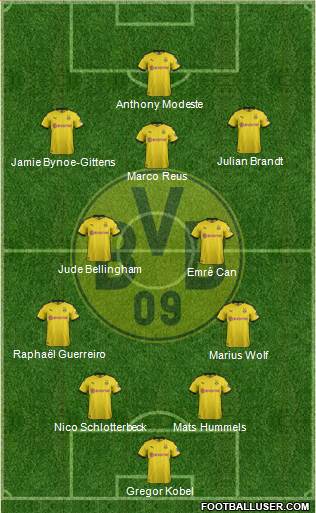 After Weiser once again put the brakes on Bynoe-Gittens in the 20th, Bremen began pushing their hosts back and pressing in the duels much more aggressively. The guests forced Wolf into a turnover in the 21st and Bellingham had to employ a tactical foul to stop the counter. Stage (with Can marking very poorly) met a fine Friedl free-kick service with a fine header just over the bar.
Neither team could manage much past the halfway line between the 22nd and 25th amid mostly uninterrupted possession changes. Of particular note, Can really struggled to work out distribution on midfield balls in his possession twice in the 23rd. Bremen kept hold of the ball through the 24th and 25th with some nice long switches between Stage, Bittencourt, Jung, and Weiser.
The final product was still lacking as attempted last services for Ducksch and Füllkrig were off the mark. Hummels and Schlotterbeck kept close tabs on the two attackers and also stopped an attempted Bittencourt incursion into the box. Dortmund tried to run a counter off a corner in the 26th. The sequence ended with a very poor cross from Brandt at the beginning of the 27th.
More SVW charges forward in the 28th and 29th. Füllkrug regrettably let his team down with an unnecessary elbow to Schlotterbeck on an approach of promise. Match official Florian Badstübner reached into his book to issue Füllkrig the first caution just shy of the half-hour-mark. Hummels and Schlotterbeck again had to stand tall against the next Werder waves.
To be fair, Schlotterbeck didn't have to be spectacular to stop Jung's wobbly cross in the 30th or beat a very slow Füllkrug to the ball in the 31st. The guests got another set-piece chance in the 32nd after Bynoe-Gittens pushed down Bittencourt. This time it would be newly acquired BVB striker Anthony Modeste literally rising to the occasion with two stalwart defensive headers away.
Can and Hummels put in some nice defensive work on the next Werder set-piece in the 33rd, a corner. Pieper once again put a stop to the ensuing BVB counter; one marred by more poor passing decisions from Bynoe-Gittens. Bittencourt then stripped Bynoe-Gittens and rushed back the other way. Ducksch's 34th minute close-range finish went straight at Kobel.
Schlotterbeck attempted to carry out in the 35th. Weiser was on hand to dispossess Reus and the guests railed off another nice counter. Jung took down a long switch nicely and sent a ball into the box that Ducksch deftly redirected for Füllkrug. Again, the finish wasn't particularly pretty. Füllkrug sent it well over.
Dortmund finally wrested control of the match back in the 36th. Wolf earned a corner that yielded nothing. Guerreiro chipped in to no one on the follow up. Bynoe Gittens tried a wild finish at the beginning of the 38th that posed no serious threat to Jiri Pavlenka's goal. Modeste tried to beat Pavlenka to a loose ball on the next BVB charge in the 39th.
Somewhat harshly, Badstübner opted to book the former Köln striker on what seemed like a fair contest for a loose ball. Modeste ended up cleating the Bremen net-minder squarely on the nose. Pavlenka required treatment and we got another two minute break in the action.
Match Flow: 40th minute to half-time
Shortly after play resumed in the 41st, Bremen were gifted another set-piece opportunity when Can was adjudged to have clipped Ducksch's heels just outside the penalty area. Badstübner reached for a card again on what seemed a questionable booking, even if Can was beaten. Ducksch made the most of it and fired in an excellent effort that Kobel had to save at full stretch in the 43rd.
More genuinely awful approach play from the BVB as the half drew to a close. Bynoe-Gittens found himself stripped twice in the 44th and 45th. The two injury timeouts meant that there would be three minutes added on. Ducksch (45+1) and Füllkrug (45+2) both failed to latch onto balls that they could have made something out of. Then, at the death, came Julian Brandt's scorcher.
Reus unblocked Brandt on the right with an excellent through ball. To his immense credit, Brandt fearlessly shuffled inward and pile-drove in a telegraphed effort from just outside the box right. It was an amazing individual run and an even more magnificent finish. It was also Dortmund's only real scoring chance of the game.
Half-time xG:
xG Bremen–0.68, xG Dormund–0.06
One had to forgo the rounding up in order to get anything.
Match Flow: 46th to 62nd minute
Without any personnel or tactical changes we continued. The balance-of-power between the two teams also remained about the same throughout this stretch as well. After an unremarkable start, Brandt fired a warning shot just wide in the 47th. It wouldn't have counted in any case as the goal-scorer was well offside. Two minutes of turnover city in midfield followed. Werder split the Dortmund defense in the 49th, but Ducksch was once again too slow to take advantage.
A halfway decent Dortmund counter saw Bynoe-Gittens at least connect with a pass in the same minute. Brandt unfortunately furnished a very low-quality ball in Modeste's direction at the end of the run. Werder pushed forward again to regain the upper hand. The right touches in the final third were still lacking. Stage cutback way too far for everyone in the 50th. Füllkrug finished wide after a nifty Ducksch leave in the 51st.
Bittencourt carried a dribble far too long on the next Bremen rush in the 52nd. Jung took down another fine switch in the 53rd. Bellingham still had little trouble clearing away Bittencourt's final cross. Jung opted to have a go himself in the 54th following what was another sharp looking Bremen charge. The one-time German youth international got his turn to bring one such attack to an anticlimactic conclusion.
We witnessed some more Bremen squandering in the 55th. Ducksch set-up Füllkrug almost perfectly from point-blank range. Füllkrug couldn't twist his posture around in time to handle the ball, however, and Schlotterbeck came crashing in from behind to tackle away. Hummels had to scramble out for a corner, which led to nothing.
Werner's men tried some slow roll attacks over the next three minutes. Milos Veljkovic actually pressed forward a bit to draw coverage and hit Jung and Stage with switches. The next major incursion came in the 59th after a fine series of bow-arc recycles. Füllkrug and Ducksch one-touched over to Jung, who appeared to have just the keeper to beat.
Schlotterbeck again rushed in for the rescue (seemingly from nowhere) and put out the fire. Ducksch would fire in another strong, if not particularly challenging effort, in on Kobel at the hour mark. An attempted quick-spark counter from Dortmund went nowhere when Brandt proved miles off a final link up with Modeste.
Jung ran another Bremen counter (stopped by Wolf) in the 61st before a break allowed both coaches to get some changes they had ready on the sidelines in. Werner had one new introduction he wished to introduce. Terzic went for a triple change. There would only be shape maneuvering on the BVB end.
Match Flow: 62nd to 77th minute
Romano Schmid (the initial intended starter for Stage's position) came on in relief of the Dane in a straight swap. Giovanni Reyna (hurrah), Thorgan Hazard, and Niklas Süle came on for Brandt, Bynoe-Gittens, and Hummels on what one assumed were like-for-likes. Terzic's actual shape turned out to be a tad more nuanced; a semi-obvious attempt to get Bellingham back up his own axis and Can back protecting the line.
Lineup—Borussia Dortmund—63rd minute (5-1-4)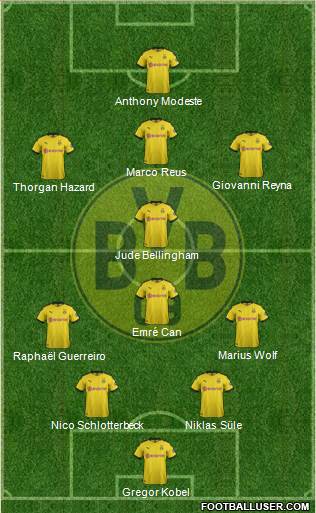 Süle was involved immediately with a nice defensive stop in the 63rd. All of the players got a chance to take a breather in the 64th when Bittencourt required treatment and Badstübner decided to fold in a cooling break. Action resumed in the 65th with a totally broken BVB attack. Reyna did much better one minute later. The American sliced through into the box on a lovely solo run. He then offloaded for Bellingham, who saw a good effort blocked.
The two sides traded pinpricks over the next two minutes. Reyna did well to cycle out deep in the 67th. After a 68th minute corner came to nothing, the American nearly linked up with Modeste, though the Frenchman was offside. A double change in the 69th saw Werner bring on Lee Buchanan and Niklas Schmidt for Jung and Bittencourt on like-for-likes. The hosting Westphalians were able to get a couple of forward drives off in the 71st and 72nd.
Can needed a couple of minutes of treatment between the 73rd and 75th. When play resumed, it was once again Reyna leading the charge in the 76th. Pieper cleared Reyna's chip ball away from danger, but Wolf was still able to earn a corner out of it. It would be off this set-piece that Guerreiro fired home the 2-0 from the second ranks in the 77th. The Portuguese struck a powerful central effort from 20 meters out. Pavlenka, screened by two of his own players, couldn't see it in time.
Match Flow: 77th to 89th minute
Now with some confidence underneath them, Dortmund were unlucky not to extend their lead. Terzic's men circulated the ball with much greater self-assured ease between the 78th and 80th. Hazard hit a laser from the at the end of this dominant spell that Pavlenka could only tip off the side of his bar. More subs in the 81st, with Youssoufa Moukoko and Oliver Burke relieving Modeste and Ducksch. Gruev also came on for Groß to give Werner's men their previous, more attack-minded posture.
Burke and Buchanan both got efforts ofd in the 83rd and 84th. The former didn't make the match register and Bremen's Scotsman was offside. Süle also shut down Füllkrug in the 84th. Amidst all this, Wolf received a caution for attempting to delay a Werder throw. Terzic's men were definitely playing for some time wasting, though Schlotterbeck's treatment break between the 86th and 88th did come after the German national team defender rolled up his ankle on an awkward landing. No ploy there.
As we entered the final minute of normal time, SVW substitute Buchanan supplied us all with a moment of pure magic. After three failed clearances, the newly-acquired Englishman burst through into the area and finished from a tight angle with the outside of his boot. One can fault the BVB for not getting the ball clear or even some slack marking. In the column's opinion, that finish bordered on the indefensible.
xG plot point calculations put Buchanan's tally odds at 10 percent.
Match Flow: 89th minute to full-time
Loads of end-to-end action in the final minutes of the historic Bremen comeback. Guerreiro immediately ran a counter back the other way in the 90th. A shuffle up to Moukoko was just a little late, allowing Pavlenka to come forward and prevent the 3-1. The next two BVB charges at 90+1 and 90+2 were forward thinking, if not a bit nervy and twitchy. Terzic's lads were a bit rattled. Reus got cautioned for time play after kicking a ball out.
To make matters just as insane as possible, it's worth noting that SVW captain Friedl went down at 90+2 and required a full minute of treatment. This is actually a scene worth checking out. The young Werder skipper really tried his level best to get up and hobble to the sidelines in order to keep his team in the game. Finally, he managed to get up and do so. Wolf gave the ball away almost as soon as play resumed.
The equalizer came on the ensuring counter. Nice interplay between Schmid and Schmidt eventually led to the encroaching Pieper picking up the ball and crossing into the box. Schmidt was at the end of the service after a sharp run up into the area. Can, who truly had one of the worst matches in his career after coming on for Dahoud, was horrendous on the marking. Schmidt headed home. 2-2 at 90+3.
Yes, the goal had to be VAR reviewed. That ate up practically all of 90+4. Badstübner would have been fully justified in letting this match run up to 90+10 or higher. The fact that Burke scored the winner almost as soon as play resumed at 90+5 might have influenced his decision to cap it before more craziness ensued.
Another BVB turnover. Weiser played a through ball to Burke past a deer-in-the-headlights Süle. Wolf couldn't catch up to the Scotsman. Kobel will be very disappointed in how he handled the simple finish. The BVB keeper backpedalled off balance and flapped in the wrong direction.
Hazard got one last punch through at 90+7. Badstübner blew the whistle before a throw could be taken. Fair enough. A fair result. Let's bookend with that full-time xG.
xG Bremen-1.4 , xG Dortmund–0.3
Those who only caught the highlights were fortunate enough to miss out on a lot of low level football from both sides. All the storylines associated with this dramatic late comeback definitely provide those of us who love the Bundesliga heart-and-soul with a fabulous advert for our brand. No one can take that away from us.
"Football as it's meant to be" couples oh so very nicely with the manner in which this one ended. Down 0-2 with one minute of normal time left? Doesn't matter if there's still time left. Captain writhing in pain on the deck at 90+3 with his side down 1-2? No worries. One never knows how much time is left on the ref's watch!
Somewhat to the writer's chagrin, it doesn't seem as if there are more general trends to divine here besides the sheer fabulousness of the finish. Terzic's BVB (particularly Schlotterbeck, Hummels, and even Süle at first) defended well until they started watching the clock instead of the ball.
The problems associated with the early tactical change hindered the attack, as did overall poor showings from non-regulars Brandt and Bynoe-Gittens. That's a problem that can conceivably fix itself once the injuries clear up. True, this team is full of youngsters who will have off days, but the squad isn't nearly as poorly balanced as in year's prior.
Insofar as the Werderaner are concerned, the author would love to say that pictures of Füllkrug, Ducksch, and even fan-favorite Oliver Burke will be gracing this column more over the course of the season. The fact remains that even if the two starters remain healthy (which they usually don't) this deep analysis is strewn with cases of both Ducksch and Füllkrug simply being too slow for this level.
Bremen definitely commands some more respect; respect for staying on this match until the result matched their work ethic; respect for all those gorgeous switches, intricate builds and plenty of well-taken/devised set-pieces. For now, do note that we're talking about "mid-table respect" in the current calculus.
Ideally, that assessment doesn't get too much in the way of a pulsating end of a football match in which "justice" was most assuredly served. Well done on that front, Hanseaten. We all hope that you've some more surprises in store this season.
Thanks so much for reading! You can occasionally catch Peter goofing off while watching non-Bundesliga football on twitter, @ViceytheSS.
Twitter DMs are open for football conversations, corrections, and (if you truly insist) general abuse. 
All columns debut on Bulinews before appearing on Peter's website later in the week.