Quite the eventful weekend in Germany's top flight! As if four consecutive days of highly intriguing football weren't enough, the DFL released its long awaited new revenue-sharing package on Monday. We've got all the on-and-off-pitch matters covered in this week's column. Those who missed out on the initial issue can, as always, catch up here.
---
League-wide Talking Points: Round Ten
---
The Berliner "Turning Point"
Football never conforms to one's expectations. Neither does Germany's capital city. Nothing goes according to plan in Berlin. The metropolis's "Szene" works the visitor, not the other way around. This writer will still go out on a limb and declare that round ten constitutes the beginning of a return to order in the Berliner footballing landscape. The many takeaways from Hertha's 3-1 victory in the cross-town derby indicate that Union's overachieving has come to an end and that "die alte Dame" will begin to climb the table.
First, the Max Kruse injury. Enormous loss. Urs Fischer, having had to contend with plenty of losses already, now really runs out of options. Though it hasn't officially been announced yet, it's likely that Robert Andrich will earn a suspension for his flagrant foul during the match. Another huge loss. The upcoming fixture list remains too unkind for Fischer to build a competitive XI out of what he has currently. Over in Charlottenburg, Bruno Labbadia has many more of the toughest clubs behind him. We discussed this last week.
It all makes perfect sense. Naturally, that doesn't necessarily mean anything in the world of Berlin football. Another very significant loss works to counteract the prediction. Labbadia must try and win against Borussia Mönchengladbach without Matheus Cunha. A fifth cumulative yellow card earns the Brazilian a suspension. Cunha may be even more vital to Hertha than Kruse is to Union. Hertha may have even lost the derby had their most creative player not decided to, unlike everyone else in the blue/white, decided to take an actual risk in the lead up to the 51st minute equalizer.
A relieved Krzysztof Piatek quickly claimed credit. He deserved to let off some steam after breaking out of his slump. All very well and good. Cunha remains the beating heart and soul of the team. One wonders how well they can hope to function without him.
Goretzka's need of a partner
The 3-3 draw between Bayern and Leipzig was simply great football; an enthralling piece of entertainment that kept one engaged from start to finish. Whenever one has the privilege of watching such a treat, it's never as much fun to take a step back and try to unpack the tactical implications. Alas, we must. Javi Martinez's early injury forced Hansi Flick to improvise. He jettisoned the "self-coached" 4-2-3-1 and brought on Jamal Musiala for what looked like a 4-1-2-3.
Winners emerge from this alteration. Pairing Musiala with Thomas Müller as rotating eights behind the main offensive axis works wonders. Müller himself endorsed the partnership with glowing reviews afterwards. The ad-hoc re-ordering did throw the flank rotations off a bit, but certainly not enough to stop Kingsley Coman from having a great match. Benjamin Pavard also took advantage of the extra activity to sneak in undetected on several occasions.
Where there are advantages, there are obviously players adversely affected. Leon Goretzka continued to look rather lost without Joshua Kimmich. Moving him into the defensive midfield holding position negates an important aspect of his game. It's also far too obvious for opponents when he tries to share the "libero" role with Niklas Süle. The pair remain far too immobile; a fact Leipzig were able to exploit.
A Matarazzo misfire
From a splendid football match to an absolute dud. Bayern's previous league adversaries followed up their encouraging performance against the German giants last week with a torrid show against Bremen. Two of the fixtures three goals, bathed in controversy, came in second half injury time. The only other tally crossed the line from the penalty spot. Otherwise, the affair served as a rather lame excuse for football.
For the first time this season, VfB trainer Pellegrino Matarazzo maintained a rigid formation. His players couldn't find a fluid way out of an inflexible 4-2-3-1. It seemed an odd choice facing as many midfield issues as the Hanseaten. The back-four also looked very vulnerable at times despite the fact that Kohfeldt lacked much of a pressing directive. Action on the wings was almost non-existent without cycling.
One divines a concrete issue for another one the league's overachieving upstarts. Namely, has the innovative trainer exhausted his reservoir of ideas? It might be the case that the 43-year-old simply saw no need to tinker against an opposing coach known for overthinking and being too intricate with his weekly designs. Matarazzo may have also wished to see how the new back-four would react if he retained his vote of confidence.
In any event, it's commonplace to see promoted teams run into this wall. A rut may be forthcoming.
Hoffenheim out of the "COVID coma"
Congratulations to Sebastian Hoeneß's Sinsheimers for ending their seven-game league winless run. A victory never seemed in doubt against the Fuggerstädter in the Monday night fixture. Even those who might prefer that Dietmar Hopp's 50+1 violation wasn't taking up valuable Bundesliga space must admit that that it's nice to see that all of the corona-stricken players have recovered.
What's more, league-watchers need a healthy Andrej Kramaric if the Bundesliga's Golden Cannon race is to remain interesting. Robert Lewandowski didn't tally this weekend. Neither Erling Haaland nor Lucas Alario find themselves in position to make up ground, however. Haaland may not return for another five rounds or more. Alario's knee problems could hamper him even when he returns to the pitch.
One can give props to the Kraichgauer for completely demolishing their Europa League group despite all of their COVID troubles. Kramaric also remains fun to watch and root for. Sadly, his excellent goal against Augsburg in the 75th got nullified. He wasn't offside by much. The close-range miss in the 26th nearly had him back in the race as well. Pity. At least he's retains the necessary mettle.
Ritsu Doan's broad shoulders
In this round's "battle of the bottom dwellers", Uwe Neuhaus' Bielefeld snapped a seven-game losing skid to capture a vital three points against Mainz. It seems a bit unfair, however, to credit the entire team with the win when it mostly came down to the performance of one single actor. Arminia's "quasi-ringer" took it upon himself to breathe life into a completely unwatchable match.
The 22-year-old Japanese international was a little lucky to be credited with an assist on Manuel Prietl's 21st minute goal. Alexander Hack's deflection of Prietl's shot had nothing to do with him. Football lovers are often loathe to admit that the assist stat routinely gets unfairly apportioned. Sometimes a player deserves it. In other contexts, not so much.
In any event, Doan deserves full credit for the elegant dribble around two defenders and an almost superhuman finish through Moussa Niakite that gave Bielefeld the 2-0 advantage in the 31st. Wow. He deserved perhaps two assist credits for that alone. Thanks to Doan, Bielefeld scored both their first and second goals of an opening 45 all season.
They essentially played more like one expected such a bad team to play thereafter. Doan remained the one exception on the flagging team. Brimming with confidence, he continued to take players on for the duration of his afternoon shift. At least he was fun to watch.
---
The Burning Questions: Round Ten
---
Are Freiburg finally up and running?
It would appear so. The extent to which Christian Streich criticized his team this season left one concerned that the long-tenured trainer had strayed into what we might unaffectionately term the "Löw Zone". As much as one likes to coaches hold the reins for extended periods of time, they can grow so obstinately convinced of themselves. Streich's sudden morph into a craggy doom-harbinger suggested that he crossed that Rubicon. One feared the players would never respond to an irascible grandpa.
To the great pleasure of those with sympathies toward the Bundesliga's small-town mainstays, the Breisguaer finally put together a complete match. Streich stuck with the exact same XI for the second consecutive week. The 3-4-2-1 performed very well in the 2-2 draw with Gladbach. The back-three, comprised of Philip Lienhart, Keven Schlotterbeck, and Manuel Gulde, were the real stars of the show. They convinced both with the ball and defending against it.
The oft-mentioned Baptiste Santamaria came through with a strong 90 minutes and even snagged an assist. Nicolas Höfler seems to have his confidence back. Streich got the substitutions spot on. Roland Sallai and Nils Petersen came on in the 74th to add precisely the late spark the Schwarzwälder needed. Marco Rose's team were very lucky to survive the late onslaught. Vincenzo Grifo hit the post in the 78th. Petersen didn't miss by much in the 84th. Fohlen keeper Yann Sommer somehow pulled off the triple save in the final minute of normal time.
All told, the much belated "Bravo Breisgauer" finally showed up. An ascent out of the relegation race should be possible soon.
How did Frankfurt hold Dortmund to a draw?
In a tactical sense, Adi Hütter accomplished it by matching Lucien Favre's 3-4-2-1 man-for-man. Hütter did an amazing job anticipating precisely the type of formation he would be up against. Sacrificing Bas Dost, he built a midfield box comprised of Djibril Sow, Sebastian Rode, Aymen Barkok, and Daichi Kamada. This quartet often condensed into a very tight square to render a full two axes of the pitch impassable. They were also very vicious on the counter, ceding 60 percent possession to the BVB, yet outshooting them 4-1 in the opening 20 minutes.
The more inventive Schwarzgelben would eventually find their way back into the match, but the discipline still held. Rode did his best against the likes of Jadon Sancho and Giovanni Reyna. The fact that he lost a few battles to the nimble youngsters isn't of the greatest significance. Overall, the man- marking kept a far more talented squad at bay. On a few occasions, they wisely allowed the Dortmund young-guns to flick and trick their way straight into enervating offside traps.
Stefan Ilsanker and Dominik Kohr came on to keep the box spry enough to hold off the BVB assault and wind down the clock. Hütter earns massive plaudits for stealing a point off of a superior opponent with a nice defensive set-up.
How did Köln hold off Wolfsburg?
Not so easily. In contrast to the example above, this one had much more to do with luck. Oliver Glasner's Wolves blew several key chances and completely ran out of gas in the final half hour. Wout Weghorst's post-match comments aptly summed up the manner in which his team just quit. Germany's green company team should have bested a highly disorganized cathedral city club.
For Köln trainer Markus Gisdol, the answers continue to elude. This week he built a 3-6-1 featuring 18-year-old Jan Thielmann deployed alone up top. The youngster did commemorate his first ever Bundesliga goal, though the tally had significantly more to do with a total VfL defensive meltdown. Köln's second goal, scored by Ondrej Duda, probably should have been disallowed by a foul in the lead up.
Overall, the Geißböcke didn't really look menacing at all in attack. On the rearward axes, Gisdol now relies upon new call-up Sava Arangel-Cestic as a defensive plug-in. The former Hoffenheim and Hamburger SV trainer has something of a knack for plastering over holes in his lineup with youth academy replacements. A consistent problem for him, and this was demonstrated again during last season's late decline, is that many of these stop-gap measures prove insufficient in the long term.
Absent a real eye-catching breakthrough talent, it remains difficult to see this team putting some distance between themselves and the bottom of the table.
---
Weekly Tactical Focus: Climb meets Crash
---
At this point in the season last year, Peter Bosz looked to be headed for another ignominious exit from German club football. His Bayer Leverkusen sat in 10th place. A series of uninspired performances in the first two months of the league, not to mention some truly flat appearances in the UCL, left most commentators convinced that his brand of high-possession, one-touch passing simply wouldn't work at this level.
It's all too easy to forget where Schalke were at that juncture. David Wagner's Königsblauen occupied sixth place. At the time, it appeared that the newly-appointed trainer stood a chance of leading them back into the Bundesliga's elite brackets. A flagrantly cautious summer 2019 transfer window already illustrated how cash-strapped the organization were. It nevertheless seemed possible that Wagner possessed the ability to spin gold out of the straw given to him.
The trends continued through the additional seven rounds before the winter break. Bosz pulled his team up to 6th place by Christmas. Wagner's Schalke still stood ahead of them in 5th. Die Knappen found themselves separated from the Champions League places only by goal-differential. Many pundits tapped them for a return to the top-four after the completion of the Rückrunde.
We've a ways to go yet this season. In point of fact, we won't even reach the mid-way point of the campaign until late January. Thanks to the unique nature of this year's calendar, clubs shall have the opportunity to procure targeted re-enforcements for their squads before the league is halfway through. In such a context, it almost doesn't matter that winless Schalke lie at the bottom of the table while unbeaten Leverkusen have clawed their way up to second.
There's a great deal of football left to be played. That reality notwithstanding, this weekend's snapshot nevertheless accords us a fine opportunity to check in with two teams on diametrically opposite trajectories. In doing so, we'll also take a deeper look at the two trainers steering these two ships. Reversals remain possible, hoped for even by football fans who crave stories of revival and resurgence. This week's tactical section dampens such hopes, but would absolutely love to be proven wrong.
The gaffer shepherding Germany's red company team into the ascendency deserves immense credit for keeping the course through a hectic schedule and several critical personnel problems. Bosz has been nothing short of brilliant. On the other side of this divide, Manuel Baum cannot seem to build upon the modest momentum blocks his team lays at his feet. Someone isn't learning.
Beginning with die Werkself:
Lineup—Bayer Leverkusen—Match Ten (4-1-4-1)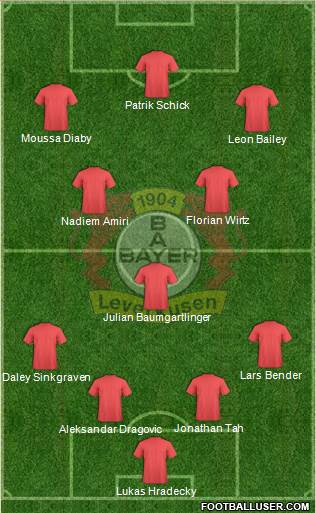 The "third-choice" center-back partnership
Very much worth noting. Jonathan Tah and Aleksandr Dragovic may even be the coach's fourth or fifth choice pair given that Bosz never got the left-footed center-back he remained so adamant about over the summer. Sven Bender and Edmond Tapsoba are Bosz's preferred options for his basic tactics template.
With both of them out, Bosz would likely hope to at least rely upon the services of Tin Jedvaj ahead of others. The center-half duo plays such a crucial role in Bosz's transition game. Without any sixes, he requires total dominance of a full section of the defensive midfield. We've already covered how control of this specific patch space must be exerted.
Despite injuries and the rigorous demands associated with his Europa League rotations, Bosz has ensured that a varied group of actors continue to make this work. Through all of the changes, it's clear his team has bought into his system enough to remain committed to its enactment.
How Baumgartlinger pulls the strings
On the topic of easy replaceability in this constellation, we might as well also note that Charles Aranguiz is the favored choice for deployment just ahead of the central defenders. We can also bring up the fact that Santiago Arias was supposed to be the starting right-back. Bosz saw no need to tinker when the two South Americans succumbed to injury.
The 32-year-old Austrian hasn't missed a beat working his semi-sweeper role. Bosz's one-two-touch passing directive ensures that virtually anyone can handle pocketed distribution in this critical space. Baumgartlinger's distributive role isn't even inherently obvious as he never holds the ball for more than a scant second or two.
The upfield sequences from this team remain so fast that one can literally blink through them. The main midfielder routinely wins balls, packs two or three players, and shuffles off quickly to one of his fullbacks. By that time, the ultra speedy wingers are already well on their way down the flanks and the two eights stand ready to draw in the opposing mids.
It all transpires so fast that one always has to engage in some serious re-winding to properly understand how each attacking series just unfolded. As one might correctly conjecture, this is not the case with Schalke. The Königsblauen are choppy enough to watch in real time.
Here's what Baum put forward on Sunday:
Lineup—FC Schalke 04—Match Ten (4-2-3-1)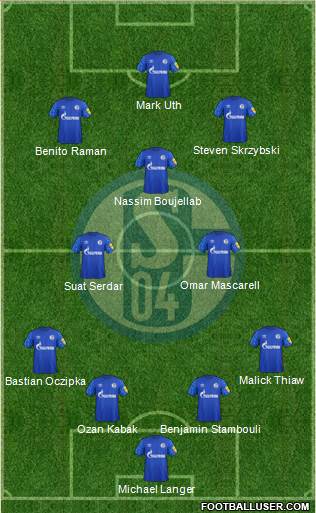 We'll credit Baum with mercifully sparing us the wretched 3-3-2-2 this time. Moreover, the structure exhibited enough coherence to yield better results on a different day. Before covering why it didn't in greater detail, we'll supply quick synopses of the plan and the execution.
The ostensible plan: Stacking the left and re-organizing the attack
Baum's strongest two defenders, playing together for the first time in several rounds, were Ozan Kabak and Bastian Oczipka. The Schalke coach likely encountered difficulty when it came time to identify a potential Leverkusen soft spot. Evidently, he concluded that his best bet would revolve around man-to-man coverage of the returning Lars Bender and still green Florian Wirtz.
Hence, Kabak moved over to the other side of central defense with Malick Thiaw ceding his more natural position to Oczipka. Mark Uth moved forward to work as the lead striker. Nassim Boujellab inherited Uth's place from last week. Thus far, Baum gleans the proper lessons from last week's encounter. It's not quite time to slam him just yet.
A quick disintegration: Struggles with space
Provided everyone understands their role and makes a reasonable effort to remain in their respective lanes, the team should conceivably be able to keep the match competitive. An immediate problem arises when the team gets pulled out of shape. It proved quite the sight to observe Baum wildly gesticulating to his team from the sidelines throughout the first half.
The trainer's hand movements said it all. As hackneyed as it may be to center a football column over the obvious issue of spatial capitulation, it was simply shocking to watch Baum repeatedly signal to his squad via the compression of his hands. Schalke's coach desperately implored his players to respect a cardinal rule of footballing 101: remain compact.
The mere fundamentals were beyond Schalke's grasp this time. So it went.
Match Flow: 1st to 10th minute
Once could instantly tell that the royal blues were playing with fire. On three separate Leverkusen forward sequences between the 2nd and 5th, the red rush poured into huge gaps between Schalke's midfield triangle and the back four. Bosz's wingers had zero difficulty easing right through the midfield, then appropriately slowing up to entice the defenders out of position. It shaped up to be a long evening.
Moussa Diaby already found his way past three challengers in the 5th to launch a ball for Patrik Schick. The Czech striker flicked on for Leon Bailey, who hit the side netting. Though there did exist some energy at the other end, one retained the sense that Baum's men were living dangerously indeed. Uth, Benito Raman, and Steven Skrzybski cobbled together a rush in the 6th; one ultimately hampered by tentative touches from all three players.
Raman charged forward again in the 7th. He still took too long to square for Uth. By the time he released the ball, Tah and Dragovic were caught up. Boujellab also had eyes for Uth in the 8th, but Dragovic read him easily the whole time. The Austrian intercepted all too easily.
Dragovic forced in the opening goal off a corner in the tenth. As the ball came in, he exerted complete physical dominance over his marker Thiaw. With the robust veteran all over his back, the 19-year-old stumbled and fell into a headed goal into his own net. Uth protested the physical battle and got booked for dissent.
An absolute nightmare start.
Match Flow: 10th to 32nd minute
Matters could have, and arguably should have, gotten a lot worst for the Gelsenkirchen hosts. Continued disorganization at the back led to reams of chances. Die Knappen owed much to some heroic saves from third-string keeper Michael Langer. The 35-year-old journeyman, famously returning for his first Bundesliga start in over 14 years, bailed his team out on numerous occasions. He contributed his first sprawling save on a Bailey effort in the 11th.
By all accounts, the scoreline might have gotten out of control during this stretch. Diaby's uncharacteristically imprecise cross wasted an opportunity in the 12th. One minute later, Wirtz didn't bother to focus on an effort despite being wide open. Diaby sent in an inch perfect cross for Schick in the 14th. The center-forward somehow missed a chance he would have been expected to bury 99 times out of 100.
Schick inexplicably missed again in the 17th. The stats flashed up on the screen. Leverkusen were outshooting Schalke 9-0. At least three of those chances constituted sure conversions. The deflated Königsblauen scrambled around like decapitated chickens. Langer had to come out and punch a corner back towards his own touchline when no one else stepped forward in the 18th.
Poor Langer got peppered by just about every Werkself player over the course of the next thirteen minutes. Having effectively nothing to lose against a side completely at sixes and sevens, all of Bosz's men found themselves keen to take pot shots from every direction and distance. Diaby, Tah, and Nadiem Amiri all botched easy attempts to increase the advantage.
Schick missed his chance at a theoretical hat trick in the 26th. Wirtz opted to challenge himself to a third defender after he had already blown past two in the 28th. Diaby made a similar error in the 31st after Tah had him through. It was just too easy for them. They traded sure goals for the chance to push themselves further. Such things occur when the opponent lies down for you.
Uth orchestrated a nice counter-attack in the 32nd, outclassing a couple of markers with some nifty footwork and cutting back perfectly for Boujellab. The Moroccan's fine finish got disallowed after Uth was correctly adjudged offside in the build up. The play still served the purpose of stanching the bleeding.
Match Flow: 32nd minute to half-time
At this juncture, Baum's sideline demeanor shifted noticeably. He abandoned the appeals for a more compact defensive set-up and instead tried to coax his squad into a 4-3-3. Boujellab and Suat Serdar took turns joining the attack with Omar Mascarell settling in behind to help things along as a ten. The change produced some better fight out of the blue press, yet the state of the shape remained largely aspirational.
Daley Sinkgraven was able to make a mockery out of it with a nutmeg in the 36th. Wirtz got past the advanced players easily in the 39th. Schalke got their chance to get back in the game once open play slowed down and a few set-piece situations emerged late in the half. The designs inherent on dead-ball plays in the 39th and 41st looked decent. Regrettably, Baum's men didn't really exhibit the vigor to contest the aerial duels properly.
Schick finally directed a quality effort on target in the 44th. Langer saved acrobatically. Diaby and Mascarell traded chances in first-half injury time. The latter was so far off the mark that it hardly makes sense to classify it as a chance at all.
Match Flow: 46th to 63rd minute
Baumgartlinger more or less ran the entire Werkself machine uncontested for the initial five minutes after the restart. Baum's men barely got a touch in as Leverkusen played keep-away. Amiri struck a beauty off a free-kick in the 50th. Langer supplied the acrobatics to keep it from finding the back of the net.
The red-clad squad's possession spell continued unabated through the 54th. At this point, one could easily discern that the dominant team remained content to keep matters fairly pedestrian. With there being no real way back into the match for Schalke, a second goal didn't seem worth investing much energy in.
Raman punched through twice in the 55th and 56th. Sinkgraven shut him down almost nonchalantly. Langer looked world-class saving another Diaby shot in the 58th. Schick missed his fourth easy opportunity in the 61st. Dragovic and Tah raked back a few pitiful attempts at forward momentum from the boys in blue.
Now we arrive at the point at which Baum made a curious move. Having encouraged his team to try a 4-3-3 on the ball for roughly a half-hour of game time, he elected to make it official by bringing on Matthew Hoppe in place of Boujellab.
Lineup—FC Schalke 04—65th minute (4-3-3)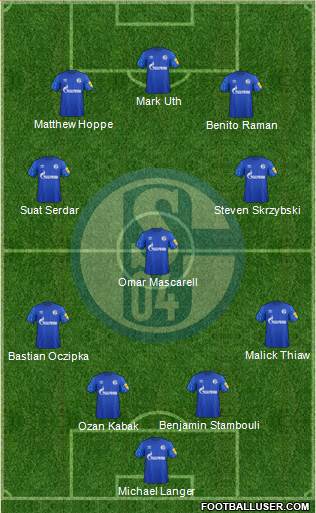 A full-throated press may have been warranted, but one can easily see how something like this can easily be shredded.
Match Flow: 63rd to 67th minute
We can justifiably slam Baum now. Within two minutes, Baumgartlinger exploited the newfound space to exert even more dominance. Leverkusen threw everything they had at the Schalke left. Much more importantly, the team knew precisely who to beat on set plays.
A couple of corners led to the second Leverkusen goal. On the first one, Bosz's men drew Hoppe out on a short play. The young American cleared, but keeper Lukas Hradecky quickly started the attack back the other way. The quick counter caught everyone out of position. Schick laid off for Baumgartliner at the end of it, and Langer had to again sensationally parry away for another corner.
This time Bailey knew precisely who to target. He noticed Hoppe was trying to pick up Baumgartlinger. The Jamaican went straight for the Austrian on the in swinger. Baumgartlinger beat Hoppe badly to convert the corner he had won with ease. The rookie had no clue how to use his upper body on the aerial contest.
Baum found himself down 0-2 courtesy of his poor decision to introduce an untested player.
Match Flow: 67th to 73rd minute
Blame apportionment gets a little trickier during this stretch of the match. Serdar won a penalty after beating Sinkgraven in the box in the 70th. The question of who takes the spot kick can be left up to the players, but remains absolutely within the purview of the coach to decide if he wishes too. Here we have an instance in which Baum should have insisted.
One would have expected Uth to take the penalty. The Königsblauen were gifted a lifeline back into this game. The task should have fallen to the team's emotional leader. If not him, then team captain Mascarell. Instead it was Skrzybski striding to the spot. Hradecky knocked away his weak effort, then saved the follow-up header from Raman to preserve the scoreline.
Again, it must be emphasized that–at the time of this article's writing at least–it's not clear where the blame falls. A more definitive point concerning the coaching disparity in this encounter does nevertheless emerge from Bosz's ensuing tactical shift
Lineup—Bayer Leverkusen—74th minute (5-1-4)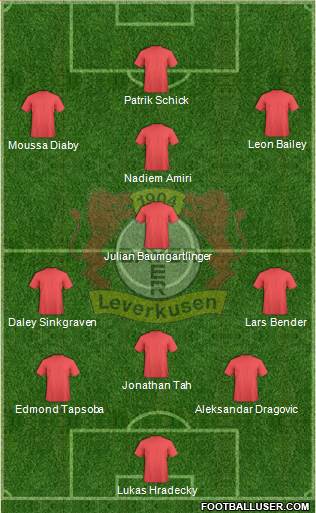 Extremely clever stuff from Bosz. We'll likely see this again when his team defends late leads. The reversion to a back-five provides wider defensive coverage while not sacrificing at all the ability of this team to play on the counter with pace. Interesting enough, he can also accomplish this re-format with minimal personnel changes. Edmond Tapsoba replaced Wirtz. That was all that was needed.
Match Flow: 73rd minute to full-time
Baum's scattered 4-3-3 stood no chance against this. Leverkusen were near perfect on both sides of the ball for the duration. Schick finally got his goal on a counterattack in the 78th. Diaby and substitute Karim Bellarabi pummeled the Schalke defensive ranks relentlessly between the 85th and 88th.
Whenever the hosts attempted to build something offensively, they were immediately smothered by the collapse of the back-five. Kabak and Serdar got squeezed out in the 82nd. Uth couldn't escape the pressure in the 87th. Textbook stuff from die Werkself. Nothing else to add.
As noted above, it remains a long season. Difficult as it may be to grasp at this particular moment, Baum's team has plenty of time left to turn this around. At present, there are six Bundesliga clubs who genuinely qualify for the bottom two guaranteed relegation slots. The Gelsenkircheners can even, taking the upcoming fixture list into account, still pull themselves out of the drop zone by Christmas. The club also retains sellable assets.
Schalke can obtain financial wiggle room for better players during the January window provided they sell off high-value ones. Amine Harit and Ozan Kabak are two examples. Perhaps the most important lesson Baum must internalize from this round concerns how unavoidable this sell-off now is. The Matthew Hoppe debacle demonstrates that he cannot dip into the youth ranks to find players adequately prepared for this level.
Insofar as Leverkusen is concerned, it doesn't seem a stretch to say that we've witnessed the evolution of a bonafide title contender. Rudi Völler may have been sincere when he straightforwardly sought to temper expectations. That doesn't mean he was correct. Consider for a moment how much more effective Bosz's system will be when he gets his preferred defenders back, or maybe even acquires a stock of more speedy wingers specifically tailored to thrive in his established tactical system during the transfer window.
It's certifiably impressive that Germany's red company team have been so successful in the face of nearly every adverse potentiality anticipated near the beginning of the campaign. One doesn't consider a bet against them a safe one.
---
Concluding Thoughts: Making sense of the "four pillars"
---
Monday, December 7th 2020. Plenty of Bundesliga lovers had this date circled on their calendars. One knew that today was to be a very important milestone. The DFL executive committee announced that they would issue their new television revenue redistribution formulas for the new broadcasting contract, scheduled to take effect beginning next season.
This has been quite the hotly contested issue, pitting fourteen reform-minded clubs against a newly assembled cohort of fifteen led by Bayern CEO Karl Heinz Rummenigge. Bundesliga fans may not be in the stadiums at the moment. The unyielding spirit of football's most protest-minded fan-base still made their voices heard. Banners calling for more equitable distribution lined many of the empty venues.
It's important to note that a straightforward answer as to which side won out does not exist. Reams of highly technical formulas and algorithms warrant further study. Furthermore, the DFL never had any intention of picking a specific side. As expected, the DFL's outline was meant to accomplish two objectives.
First, the committee needed to demonstrate solidarity and strength by showing it could approve the proposal unanimously. Secondly, the organization wanted the finished product to constitute an overture from which both camps could claim some victories. No one anticipated anything other than a construct fashioned as a compromise.
Will it work? We shall see. For now, we'll supply a layman's breakdown of the fundamental changes. Note that this represents something of an elementary introduction to the topic. Those interested can research further.
Redistribution Pillar #1–"Pooled Distribution" (53 percent, decreasing over time)
Here we have the biggest change. Under the previous arrangement, the DFL reserved only about 25 percent of revenue for equal distribution. That gets more than doubled (to 53 percent) for the 2021/22 season. After the first year of the deal, it slowly gets pared pared back to under 50 percent over the life of the four-year contract.
Of course, the redistribution is then further tiered. Bundesliga clubs get 75 percent of the pool with second division clubs entitled to 25 percent. Further redistribution is then determined by the finishing place in the table. The DFL uses a model to estimate that Bundesliga sides can expect an average of an extra €24.7 million while those in Bundesliga Two collect an average of €6.9 million more.
Redistribution Pillar #2–"Performance" (42 percent, increasing over time)
Here, the DFL combines two of its previous pillars, formerly known as "stock" and "competition". It translates to 42 percent of the revenue being distributed to clubs with the highest performance ratios over periods of one, five, and ten years periods. While the "pooled distribution" pillar slightly decreases over the life of the four-year-contract, this one increases up to 45 percent by 2024/25.
Here we have the DFL guaranteeing the likes of Dortmund, Bayern, Leipzig and Leverkusen the bulk of this section of funds. It does decrease their overall share slightly, but attempts to assure them of a large enough payout to purportedly keep them content. Another payout for them is included in the fourth pillar.
Redistribution Pillar #3–"Youth Development" (3 percent, increasing over time)
Though still a small amount, the DFB increases the incentive for clubs to groom players for the German national youth teams. Clubs with players selected for the U-sides get an added bonus. The number increases to four percent over the life of the contract.
Redistribution Pillar #4–"Club interest" (2 percent, increasing over time)
We come to what seems to be the crux of the compromise. Supposedly, a media analytics firm will conduct research to gauge interest in various clubs among the general population. It's difficult to interpret this as anything other than a reserved slice of revenue for global brands like Bayern and Dortmund.
The two clubs most recognizable to those outside the Bundesrepublik get a reserved share that increases to three percent by 2024/25.