Much of the larger feature section from this week revolves around the patented football trainer "why did I take this job?" face.
Such a look can even afflict the most perfectly-sculpted Spanish chin. While matters have since trended slightly upward for Xabi Alonso, the big winners from the 2022/23 German Bundesliga's tenth round once again proved to be "Germany's team."
 Can't get enough Kolo?
No worries. He'll be back soon enough.
---
Bundesliga Tactical Banter: Round Ten
---
More stirrings from the Rheinhessen
Not exactly a small thing we just witnessed from Bo Svensson's FSV Mainz 05. The lads from the Pfälzer capital marched into the Weserstadion and emerged with a thoroughly convincing clean-sheet win over one of the league's most effective offensive engines. Some signs of a Mainz awakening were duly noted in last week's column. It now appears as if a range of actors have bought into Svensson's new system and are beginning to click. Die Nullfünfter pulled off a dominant victory with many players operating in unnatural positions.
The new Mainzer 3-4-3 continues to thrive with Karim Onisiwo slanted back on a supporting flank position. Svensson's Danish compatriot Marcus Ingvartsen once again grabbed a goal spearheading the attack. Jae-Sung Lee also tallied from his left-wing slot. Anton Stach registered his second assist in as many matches since settling back in as a six. Dominik Kohr did a marvelous job deputizing as the anchor of the back-line Danny da Costa (also the supplier of an assist) made one forget that Silvan Widmer wasn't present.
Great matches from Kohr and da Costa (two Frankfurt jettisons eagerly snapped up by the Pfälzer) constitutes truly great news for this team. In general, Svensson has many of his thoughtfully procured pieces flying high at precisely the right moment. Current form could enable this team to rack tip ten or more points before the World Cup break and spend the turn-of-the-calendar-year in the European places. Two excellent goals and a determined defensive lock-out of Niclas Füllkrug/Marvin Ducksch in the latest round. Beautiful stuff.
No insignificant feat at all.
A slight WOB howl
Even-steven in the northern "Autostadt" as VfL Wolfsburg and Borussia Mönchengladbach drew 2-2. Niko Kovac's Wolfsburg has earned more than its fair share of ire in this column this year. Constantly shifting tactics have led to little other than a consistent delivery of horrendously ugly football. Even on the two occasions on which this incarnation of Germany's green company team have managed to grab a win, it's come though fleeting moments of magic buried underneath an avalanche of on-pitch eye sores.
We got that here too, but the team's was at least more persistent. Nearly all of the forward actors in Kovac's 4-1-4-1 got their looks in. Patrick Wimmer and Mattias Svanberg made a lot happen on the WOB right. Jakub Kaminski did a splendid job setting up Yannick Gerhardt's goal and came within centimeters of scoring himself with a strike off the post. While Lukas Nmecha struggled to make an impact in his return, Omar Marmoush came off the bench to truly dazzle. The Egyptian supplied a brilliant individual goal and narrowly missed on two other chances.
Despite the fact that the points were shared, the hosting "Wölfe" remained the vastly superior side down the stretch. The xG stats (1.74 to 0.9) demonstrate how much better Kovac's crew were on the day. Daniel Farke's Borussen barely managed to get out of their own half over the entirety of the second 45. With the team on a three-match-unbeaten run, we may finally have a little something brewing here. Kovac's simmering stew-pot threatens to produce something marginally edible.
For the first time in a long while, Wolfsburg leave something other than the taste of ashes on the palate.
The "Super Sunday" Top
"Super Sunday"? Sure, why not. Those of us subject to the English language broadcasts this weekend accepted the marketing ploy with a resigned shrug. Whatever helps our beloved Bundesliga. Coincidentally enough, the opening match of ahead of the two supposed "blockbusters" supplied the best entertainment. Five goals between Augsburg and Köln in what was an absolutely riveting contest over at the RheinEnergieStadion. Steffen Baumgart's Geißböcke are back in the saddle with their 3-2 victory over the Fuggerstädter.
One expected a certain amount of defensive chaos in the FCA ranks after all the suspensions incurred last week. Augsburg trainer Enrico Maaßen's solution – Frederik Winther and Robert Gumny as the center-halves – held up surprisingly well. Winther even put Florian Niederlechner though with a great ball on the opening goal. Apart from this tally and a clinical finish from Daniel Caligiuri, however, Köln predictably created the lion's share of offensive chances.
Some bad misses from brace scorer Steffen Tigges and the ever-fickle Ondrej Duda kept the scoreline much closer than it should have been. the little tip from Ermedin Demirovic in Tigges' direction on the game-winning-goal gave the cathedral city side the deserved result. One should say that even though Augsburg got outplayed and their remarkable four-game-unbeaten run came to an end, the consistent fight from the de-facto CBs conformed with expectations of what Bundesliga football should be on its best days.
The "Super Sunday" Flop
Union-Dortmund. Tsk, tsk, tsk. One had a bad feeling that this would prove a bad football match. When the team sheets were released and it became clear that BVB trainer Edin Terzic would attempt to mirror Urs Fischer's usual 3-5-2 with one of his own, expectations sunk. When the returning BVB keeper Gregor Kobel slipped on the back pass in the 8th and Janik Haberer snatched the lead, one experienced the sinking feeling that this one would soon be over. Janik Haberer's double twelve minutes later confirmed it. We were all but done.
Truth be told, there wasn't much that Terzic could do. An early lead played directly into the hands of how Fischer's brand of football works. Sit back and absorb the pressure. A team nervous about its finishing quality – as Dortmund perpetually are – would have great difficulty working out how to square off against the stalwart Union defense. Terzic switched to a 4-3-3 with Donyell Malen, Marco Reus, and Youssoufa Moukoko on the top axis in the second half. This took until the final ten minutes to wake up. We really were done early here.
---
The "Burning Questions": Round Ten
---
Why is nothing working at Schalke?
Here we go with this one. Highly likely that we'll get a Schalke draw-up next week too when it comes time to analyze the tactics of a new trainer. Rather odd to see Frank Kramer explicitly endorse a back-three at his Thursday presser, then not employ it during what was a crucial make-or-break match. Also kind of an odd coincidence that we were discussing a potential Kramer dismissal at this precise point last season. We were also discussing a Schalke implosion in round 10 two years ago. Some week for odd coincidences this has proven to be.
There happens to be nothing coincidental about Schalke's extremely poor run-of-play. Reflecting upon the team's fourth consecutive league loss begins and ends with a damning indictment of the head-coach. One can bemoan bad luck all one wishes. Two strikes off the goal frame during Friday night's 0-3 loss to Hoffenheim shouldn't mislead anyone. The close calls don't disguise the fact that die Knappen got murdered in the xG, 3.52 to 0.70. This was a fair result.
Lineup—FC Schalke 04—Match 10 (4-2-3-1)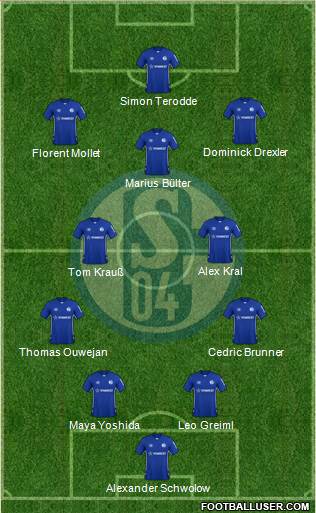 André Breitenreiter's 3-3-2-2 cut straight through this right from the outset. The Königsblauen hardly got a touch on the ball in during the opening ten minutes. Hoffenheim's press badgered and bullied them back en route to earning two corners before the 1st minute was even out! The scene ultimately leading to the first penalty awarded occurred in the 7th. Schalke abysmally failed to clear their lines thrice in the box. Total chaos in the area.
How the attack almost worked
After Robert Skov converted from the spot in the 11th, one did behold some instances during which Schalke were constructive on the ball. Much of this had to do with the fact that the TSG back-three of Kevin Vogt, Ozan Kabak, and Stanley Nsoki all turned in a subpar match. Turnovers out of the TSG back gifted the S04 midfield multiple chances to make some useful incursions. The Westphalians nevertheless couldn't capitalize until the half-hour-mark.
Florent Mollet (a questionable start if one's honest) hit the post in the 30th. Kraichgauer keeper Oliver Baumann had to be on his toes to stop Thomas Ouwejan's follow-up. Apart from this isolated incident, however, the attack didn't conjure up much. Had Kramer stuck with his two-striker-set (admittedly he had no way of knowing this, there would have been more bodies to pounce on the mistakes of the Sinsheimer rear guard. As it stood, there wasn't enough danger.
The problems in central midfield 
Watching this one on the tactical cam surely left many observers agog at how lousy both Tom Krauß and Alex Kral were in helping their team keep their shape. The sixes almost never synced up in their movements and couldn't keep central at all. As a result, Hoffenheim vacuumed up virtually every second ball in central midfield. Rolling waves of TSG counterattacks were sure to produce something at some point.
Christoph Baumgartner slashed through the space scored him on several occasions and should have scored. Shortly before the halftime whistle, S04 keeper Alexander Schwolow could not longer bail his side out. Baumann quick-started Georginio Rutter at 45+2. Munus Dabbur polished off the lighting-quick counter. Down 0-2 at the half, this one was effectively no contest anymore for this dreadful team.
A tactical shift came at the half.
Lineup—FC Schalke 04—46th minute (5-1-4)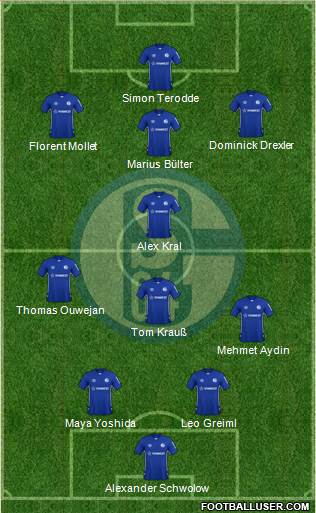 So typically "Frank Kramer" that it's not even funny. It asks a lot of second-tier caliber players battling confidence issues to execute something like this. Moreover, the huge gaps behind the wingers practically invited more Hoffenheim counters. Difficult to accord Kramer praise for taking a risk when the flagrant fullback stagger constituted such a bad idea.
How the attack almost worked (again) 
When Kral began winning a few direct duels shortly before the hour-mark, the Westphalians generated a little bit of danger. The second clap off the post (Ouwejan in the 56th) came off a set-piece. After the second successfully converted Hofffenheim penalty (59th) decided the game, Marius Bülter kept up an impressive work rate with some creative dribbles outside of the box. Jordan Larsson did okay off the bench.
More problems in central midfield 
The slight positives articulated above are still grossly overshadowed by how inadequate Kral and Krauß were in the second half. Leave it to Kramer to take two position players failing at their initial assignment and give them an even tougher one. Stacked on a vertical chain, the two youngsters made more mistakes, lost more balls, and kept the S04 approach play totally incoherent even after the TSG stepped off the gas.
What's needed here
The next trainer must immediately instill a 5-4-1/4-1-4-1 hybrid in order to stabilize the midfield. If, as is reported by some sources, Thomas Reis prepares to take the helm, the team shall at least have a coach well versed in this set-up in charge. Veteran Danny Latza can pincer-pin at the back in front of the back-four or Florian Flick and Tobias Mohr can work the double-six while Kral and Krauß move forward.
To be sure, there are no easy solutions. The horrible double-injury whammy that cut out Rodrigo Zalazar and Sepp van den Berg cut the guts out of this squad on both sides of the ball. The manner in which Kramer (true to form) tries to coax too much out of unripe youngsters with far too contemporary tactics remains frustrating as hell. He never was the right man for the job and will be out of it soon.
What's new in Württemberg?
Only the return of the patented VfB "split stagger"! Pellegrino Matarazzo may be gone, but some of the American trainer's tactical spirit remains behind. The columnist certainly carries some inherent bias, but he humbly requests readers spare a care for the departed coaching regime. The former head-coach had a rough time with injuries.
Silas and Borna Sosa were rarely concurrently fit. Sasa Kalajdzic's ACL tear didn't help matters much either. VfB interim gaffer Michael Wimmer put together something highly effective in the big 4-1 win over Bochum. Silas finally regained his swagger. The Swabians slashed through their opponent with top class.
Lineup—VfB Stuttgart—Match 10 (4-4-2)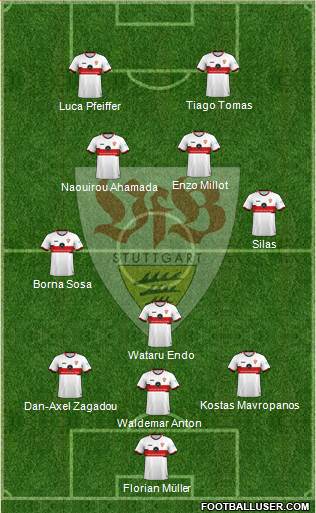 The first thing to mention concerns how incredibly crisp the passing proved. This set-up enabled the squad to get the ball upfield incredibly smoothy. Naouriou Ahamada and Enzo Millot supplied Silas with plenty of chances once the play advanced far. The Congolese talent was most unlucky not to get a hat trick. Sosa exhibited great confidence, particularly towards the end of the first-half. We've not seen that from the Croat in a while.
One may think that the sheer amount of space invites danger. In some senses it does. There were a few nervy moments. What's important to note here is that a player like Wataru "the rover" Endo can nearly always be relied upon to cover a lot of useful ground. Stationed as far back as he's been all season, the VfB skipper did a marvelous job of reading the game. He also rightfully claimed the decisive goal. Fabulous day from the captain
While this constellation did falter a bit for stretches, there seems a straightforward path to upgrading it. Ahamada's unfortunate injury placed Chris Führich in a position at which he should likely start. One of these young raw strikers (Luca Pfeiffer, Tiago Tomas, or Juan Jose Perea) can assume a service-striker role once Serhou Guirassy returns. A 4-4-2 with the Sosa/Silas split-stagger may be just the ticket. Keep an eye out for a rebound here.
Where are Hertha after their near comeback?
What a match! Just when we were all prepared to write the "Top-Spiel" off, Sandro Schwarz's Charlottenburgers nearly staged a sensational comeback against Marco Rose's Red Bulls. Another pulsating match to add to an absolutely rockin' weekend. We've not checked in with Hertha in greater detail for some time, largely because Schwarz is still running the same 4-1-4-1.
The Hertha gaffer rolled it out again versus Leipzig this weekend. Ivan Sunjic now runs the midfield pincer. Stevan Jovetic and Marco Richter have taken the place of the very talented, yet still scoreless, duo of Chidera Ejuke and Wilfried Kanga. This didn't produce much at all during the opening 45, so Schwarz switched to what one could pejoratively label his "f**k it" tactics.
Lineup—Hertha BSC—46th minute (4-4-2)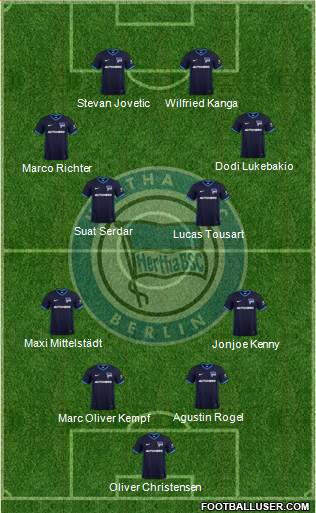 Hello. Why not? This produced more than enough to erase the 0-3 halftime deficit and nick a point off the Saxons. Many of us stand heartbroken that the Berliners couldn't get anything out of the match. Poor Kanga hit the post and just missed on a header. Ejuke, subbed on a like-for-like for Richter later, also had his maiden Bundesliga goal cleared off the line by Kevin Kampl. So close, yet both players can't get off the mark.
There's been more than a fair share of Dodi Lukebakio bashing in this space this season. The Belgian's poor finishing ability has continually cost this need chances to pick up more points over the course of the opening ten rounds. Even though Lukebakio saved his squad's skin with a superhuman defensive tackle on Christopher Nkunku late in this one, he still missed several crucial chances. He also selfishly didn't allow Kanga to take the 62nd minute penalty. The columnist grumbles again.
Taken in context, we have still another "would have/could have/should have" match from this team. They're markedly better than last year, yet far from the polished product they need to be in order to separate themselves from the relegation pack. More bad news with suspect keeping from Oliver Christiansen, an embarrassing half-time sub-off for captain Marvin Plattenhardt, and (for the thousandth time) the damned finishing from Lukebakio and the two new additions Kanga and Ejuke.
Meh. They're right where one would expect them to be given all of this. The awakening could easily come next week against Schalke. If not, perhaps it's time to pack away all the "potential" talk. In both football and in life, some potential goes completely uncultivated until it gets crushed under the mental weight of the endless failure to realize it. Dark, but true. Germans can't keep selling rainbows to Hertha fans. We just can't anymore.
How did Bayern destroy Freiburg?
Tactics-heads settled in for a match full of intrigue when the team sheets were released ahead of the capper of both "Super Sunday" and the round. SCF trainer Christian Streich rolled out an intrepid 4-4-2 spearheaded by both Kevin Schade and Michael Gregoritsch. Julian Nagelsmann countered by giving Eric Maxim Choupo-Moting his first start of the season atop what shaped up to be a 4-2-1-3 with Sadio Mané and Serge Gnabry flanking Choupo and Leroy Sané underpinning to the top axis.
As it turned out, tactics didn't end up playing a role in the 5-0 rout. The bit of fun slugfest football we got in the opening ten minutes set a certain tone for the affair. This would not be an encounter characterized by slight tactical pinpricks. The FCB ramrodded the opening goal in the 12th, something Schade, Gregoritsch, Vincenzo Grifo and Ritsu Doan couldn't do despite their best efforts in the early going. Bayern proceeded to dominate Choupo's doubling of the advantage just past the half-hour-mark didn't come as a surprise.
With more smash-mouth techniques, Nagelsmann's crew effectively had the game sewn up well before they finally extended their lead into insurmountable territory shortly after the restart. Ho-hum. Unlike the last time these two teams met for the first time last season, there aren't many positives regarding the Bundesliga title race to report on. This result just proves how an exceptionally strong version of the record champs can end up running roughshod when they grab an early lead. So much for the "footballing Wende". 
We'll have to defer that conversation for now.
---
Weekly Tactical Focus: The "€470 million train wreck"
---
Selecting which match to circle this week actually wasn't all that difficult. Frankfurt-Leverkusen counted as a match that league watchers couldn't resist. Two teams coming off cold showers in the Champions' League crossed paths. Oliver Glasner's Frankfurt desperately needed to shake off the strain of both last week's limp defeat to last-placed Bochum in the league and the de-classing by Tottenham in London on Monday. Xabi Alonso's Werkself took a hard punch in their UCL loss to Porto. It was certainly no exaggeration to say that Leverkusen teetered on the edge of a full-blown crisis.
Who would bounce back and claim some much-needed determinative drive? Well, we received a fairly clear-cut answer here. Alonso's Leverkusen remain a completely shattered entity. Eintracht completely had their way with a team depleted of self-confidence on every last level. It's genuinely rare to observe a team so throughly insecure on this level. Everyone on Germany's red company team succumbs to a collective shoulder slump. They play like bruised and battered relegation candidates. They occupy that place in the table as well. Xabi's crew are nothing short of a €470 million train wreck. Wow.
Straight to the figures here:
xG Frankfurt–4.8, xG Leverkusen–0.5
Guffaw. Was this match some sort of joke? Certainly one that Kerem Demirbay, Robert Andrich and anyone else wearing red didn't find particularly funny. Delving deep into this one illustrates just what a deplorable state die Werkself are in. Xabi has himself a real set of problems now. A total mental breakdown. Destitution, trauma, heartbreak, and inability to function all rolled into one. The analysis piece this week shall strive not to be cruelly voyeuristic when it comes to this footballing tire-fire. The high functionality of Frankfurt naturally plays a role too.
Lineup—Eintracht Frankfurt—Match 10 (5-4-1)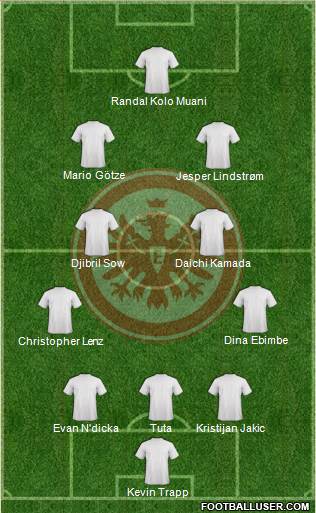 One could just as easily call this a 5-2-3; a generally unused classification that the writer himself has no problems using. Whatever classification one opts for, it's a pretty ingenious set-up. Saturday's constellation functioned as clamp-down 5-4-1 off the ball. This played a large role in shutting down the B04 attack, though the SGE's opponent certainly did more than an adequate job of tripping over their own feet.
'Some interesting surprises
Those of us keeping a close eye on the overhead immediately discerned some fascinating positioning once the shape crystallized. Kristijan Jakic settled into the back-three whilst Eric Junior Dina Ebimbe took on the right-wingback role. Both of these unforeseen moves ended up working out rather well. Of course, a lot of unorthodox stuff can end up working well when a healthy Mario Götze can get on the pitch with the current form he's in.
Xabi's ill-timed misfortune
One should emphasize that, when it comes to Bayer's new trainer, the chance to imprint his style on the squad hasn't even begun to materialize. The Spaniard has been in office for only ten days. He's had to contest three matches in that time. What few training sessions the new gaffer has overseen count for almost nothing. Set-piece playbook and formation drills? Forget it.
The former Bayern man has barely had the chance to move his tactics board into his new office, let alone start toying with the magnets on the panel. Sardar Azmoun's loss leaves him with less leeway in even trying something new. Callum Hudson-Odoi's unavailability on short notice really screwed with the 3-4-3 that possesses some potential and promise.
Lineup—Bayer Leverkusen—Match 10 (3-4-3)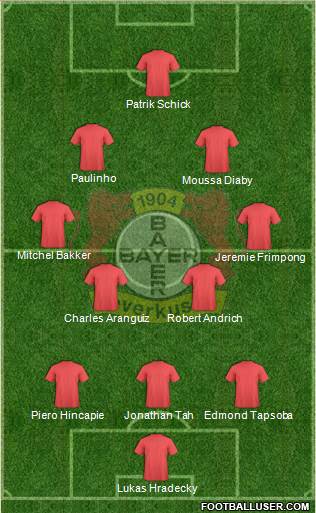 We've failures to discuss through and through here.
Paulinho's first start
It didn't last very long for the Brazilian whom has spent far too much time in the spotlight and far too few minutes on the pitch this season. After scoring a goal off the bench in his big comeback match last weekend, the 22-year-old couldn't make much of an impact with his 21 touches here. Xabi yanked him at the half for good reason. He didn't look anywhere near match fit after so much time away.
Schick's confidence struggles
Phrew. The big Czech simply can't get it going. It's been a terrible season for Leverkusen's big-target-man and he seems to be getting progressively worse with each passing match. Since he scored his last league tally (against Hertha in round six), the slide has been quite precipitous. Fewer than ten touches for Schick whilst this match remained competitive. He looked awful on the ball when involved.
The ever-sinking back-three
Alonso truly needs to consider dropping this terrible idea concocted by his predecessor. It never made much sense. Jonathan Tah has been in declining form for nearly two years. Edmond Tapsoba (once considered the Bundesliga's next big thing) cannot stop making mistakes. The same applies to Odilon Kossounou. Piero Hincapie, brave hard tackler that he is, always straddles the line on legal and fair challenges.
We unfortunately saw that from the Ecuadorian in this one again.
Match Flow: 1st to 20th minute
Loads of slips on an extra slick Frankfurt turf during what was an energetic, yet sometimes sloppy, opening phase of the game. Nothing more than some crazy midfield head-tennis during the opening minute. Eintracht allowed Leverkusen to have the ball during most of the 2nd. After a series of bow-arcs out of the back, SGE keeper Kevin Trapp had zero difficulty collecting a Paulinho through ball to no one at the end of the 2nd. Match official Frank Willenborg called a halt to proceedings in the 3rd to let some pyro smoke from the Frankfurt ultra camp clear.
Evan N'dicka played Jesper Lindstrøm through on the left in the 4th. Christopher Lenz joined the attack as well on the overlap. Tapsoba cleared Lenz's square and attempted to start a quick counter via Schick, but the Czech couldn't hold the ball up with a tentative touch. Frankfurt tried again in the 5th. Tah attempted to clear Lenz's cross this time. The clearance went only as far as Götze, who rifled a tracer bullet of a finish just past the left-post from about 20 meters out.
Respective forward charges led by Mitchel Bakker and Daichi Kamada were repelled in the 6th. Leverkusen cycled up their left in the 7th. Tapsoba stepped forward to send a service out to Jeremie Frimpong on the right. Tuta and N'dicka had some difficulty getting their lines cleared after Frimpong sent a chip into the box. Schick kept the play alive by sending two balls back in from an outside central position. Jakic eventually cleared in the 8th.
After a slower-roll build in the 9th, Kamada put Götze through and the German international forwarded for Randal Kolo Muani with a gorgeous dual-split pass. Hincapie rushed back to recover, preventing Muani from finishing with an absolutely beastly tackle. The play resulted in a corner in the 10th. Kamada went down against Charles Aranguiz in the area as Lenz supplied the 10th minute service. Willenborg wasn't interested in awarding a penalty.
The Hessian hosts were back on the rush before the minute was out. Götze helped a ball on for Lindstrøm on the left with a sublime touch. Andrich took the Dane out with a late challenge, for which he was booked. Kamada didn't do too badly with the 12th-minute set-piece service. B04 net-minder Hradecky handled the whip-in finish, yet nearly backpedalled across the goal line as he didn't fully see the swerve to it. Bayer couldn't get the counter rolling, however, and Frankfurt lorded over possession for the rest of the 12th and 13th.
The 13th SGE attack featured some more nice moves and touches from Götze. The Bayer press remained virtually non-existent. Lenz and Kamada eventually worked a ball over to Muani. Tah couldn't do much against the sovereign and secure French striker apart from separating a ball that went straight to Lindstrøm. The Dane didn't take enough time with his finish and Hradecky easily held. Evan N'dicka carefully tracked Frimpong as the Westphalian guests attempted to counter up the right in the 14th.
More possessional superiority from the SGE in the 15th and 16th. Kamada released Lindstrøm up the right at the end of the final rush. Tah and Hincapie closed ranks, yet couldn't clear. Kamada, Lindstrøm, and the upward pressing Tuta did very well to keep play alive outside the 18. Despite all the pretty passing, die Werkself markers were somehow ultimately able to get a foot in. This happened again with Lindstrøm and Muani outside the box in the 17th.
In some comical scenes that may have had something to do with Frankfurt's turf, Tapsoba, Aranguiz, and Paulinho all slipped on counter charges in the 18th. A bizarre coincidence perhaps or maybe a gross failure from the Leverkusen boot man. For whatever reason, the B04 studs simply weren't sticking. Bakker finally broke through in the 18th. A nifty back-heel from Diaby was wasted when Paulinho couldn't catch up against Tuta and the ball went out for a goal-kick.
At least we were seeing some signs of a Bayer revival. Götze danced past Tapsoba in the 19th, but Muani couldn't keep himself onside. Xabi's charges put together a quality build in the 20th. Frimpong got a chance to wheel away on the right. The Dutchman deked his way past three SGE markers and ran to the touchline. A fabulous cutback from Diaby led to a deflected shot and a corner. Nothing came of either, but some things were rousing for the guests.
Match Flow: 20th to 33rd minute
Eintracht's counter off the corner proved quite serviceable. Kamada hit Lindstrøm with a switch. Jakic and Djibril Sow came up to help. Tah kept close guard on Muani as the recipient of the final ball in the 21st. The German national team defender put the brakes on the Frenchman, yet could only clear as far as Sow. The onrushing Tuta took a layoff from Sow and sent in a cross deflected out by Hincapie for a corner. N'dicka missed the header on Kamada's 22nd-minute service. Götze got the ball back in before Charles Aranguiz cleared.
Both Paulinho and Schick proved too slow and plodding on the counter. Schick did manage to hold the ball up long enough for Frimpong to get upfield. By that time, however, Lenz had the track sorted out and Frimpong was halted. Aranguiz tried his way through central to no avail. Nothing came of Bayer's 23rd minute approach play. A decent bow-arc build led to Frimpong being reached in the 24th. Sow and Kamada stopped the B04 wingback's progress illegally and die Werkself received a free-kick.
Trapp easily snatched away the Aranguiz's 25th minute service intended for the obvious target Frimpong. The design may have been unimaginative, but Xabi's crew appeared to be getting stronger. With some notable gusto, Frimpong outran N'dicka to collect a throw in the 26th. Nothing much came of it, however, as Schick couldn't find the touch to furnish any danger. Lindstrøm and Muani were working their way back into the box in the 27th, with the latter taking a bit of a dive against Hincapie that Willenborg was right to wave away.
Lindstrøm and Muani did it again on the next SGE charge in the 28th after some nice work from Götze and Muani. This time Hradecky had to deny the Frenchman with a spread save. Kamada supplied a poor service on the 29th minute corner. Bayer built calmly and effectively in the 29th and 30th, unfortunately without getting near the box. Hincapie and Bakker cut out the next two Eintracht charges (stopping Lindstrøm and Ebimbe). Bakker led a counter and earned a corner in the 31st. Kamada had the slow moving Schick easily marked on the service.
The general feel that Leverkusen were improving found additional support in the 32nd and 33rd. A nice cycle out wide right in the first of these minutes saw Diaby nearly reach Bakker. Diaby sent through a fine vertical in the 33rd and, after collecting on the give-and-go, skirted past the SGE back-three and crossed over to Frimpong from the half-right. The B04 Dutch wingback was most unlucky to strike the crossbar. That's how close it came.
Match Flow: 33rd minute to half-time
The wild finish to this half still contained some instances during which Bayer looked capable of contesting the match. Tah actually looked very sharp winning a footrace with Lindstrøm in the 34th. Aranguiz did okay against Götze in the 35th. Willenborg was a bit harsh to award a free-kick. Tapsoba cleared Lenz's ensuing service and the B04 back-three did extremely well to hold Muani offside on N'dicka's second attempt to get the ball in.
Bakker and Aranguiz cycled up the Leverkusen left in the 36th. A cross intended for Schick and Diaby proved a bit too easy for Jakic. Kamada got rolled up on the counter attempt a we lost the 37th to a treatment break. Tapsoba was careless in giving the ball away in the 38th, but Götze couldn't sort his feet out. Bakker and Paulinho had trouble coordinating on a rush in the 38th. Tapsoba failed to accurately find Frimpong's feet one minute later.
Excellent defending from die Werkself in the 40th and 41st. Muani, Kamada, and Lindstrøm had difficulty navigating through the tight spaces and it took quite some time before Götze and Sow combined to thread a ball through for Muani. Eintracht's French striker, albeit with an unfocused finish unworthy of his fine solo run, forced a quick reaction save out of Hradecky. Ebimbe sent the rebound wide. Aranguiz would get booked for taking Ebimbe down in the 42nd. Lenz made a hash of the 43rd-minute free kick.
Lindstrøm, Kamada, and Tuta had to retreat back right in the 44th as the Bayer defense once again proved solid at closing down the spaces. A renewed B04 press forced a few midfield turnovers in the 44th and 45th, but this ended up meaning little. Diaby and Tapsoba couldn't end up holding onto the ball themselves. The ever superb Muani did break through at the end of normal time on the half-left. A mite too much playfulness on the finish enabled Tah to straddle over and tackle away.
Two B04 drives at 45+1 were too slow and uninventive. Frimpong showcased some nice solo running, yet didn't really have the support from his colleagues for a lethal ball. Paulinho, looking pretty leggy at this point, couldn't connect with anyone at 45+2. We were scheduled to get another minute of added time because of the pyro delay when the arguably decisive play of the match occurred. Tapsoba (booked fairly) took out Lindstrøm in the box at 45+3.
Hradecky saved Muani's initial spot-kick. Ebimbe again failed with the rebound. Alas, Willenborg and the VAR team had to follow the new DFB protocols on keeper's holding the line on penalties. In what's sure to serve as a fairly big talking point on Monday morning, the kick had to be retaken as Hradecky was off his line. Kamada stepped forward to convert on the second attempt. Frankfurt had their 1-0 lead at 45+5. Pretty nasty luck for Germany's red company team.
Half-time xG
xG Frankfurt–1.9, xG Leverkusen–0.4
Do note that a penalty counts for a 0.75 xG boost. Though few will argue that the 1-0 lead for the hosts wasn't deserved, we weren't at the level of a total mismatch yet. Muani's moves – a tad too complicated as they were at times – meant that the advantage held merit. Not as much as one might think, however. The gruesome stuff is yet to come.
Match Flow: 46th to 58th minute.
Xabi employed a double change at the half, taking off Paulinho and Aranguiz in favor of Kerem Demirbay and Nadiem Amiri. The 4-3-3 emerging from the personnel shift had some good ideas behind it. Diaby switched slants to make way for Amiri. Andrich dropped back to help out the back-line as a sweeper. Demirbay would be charged with running the play from a dead-central position.
Lineup—Bayer Leverkusen—46th minute (4-3-3)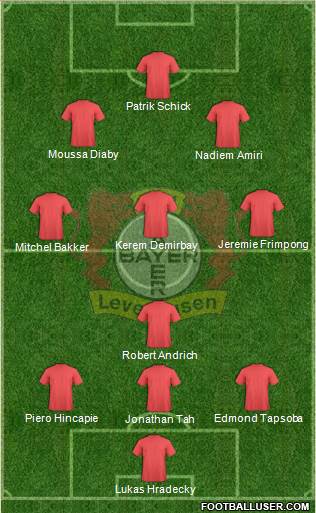 Nothing much doing in the opening two minutes of the second half. Glasner's men laid off the press initially in order to discern what these changes would bring. Tuta still came close to unlocking Lindstrøm with a quick vertical in the 48th. Demirbay ran a nice drive in the 48th that eventually got smothered out. Tapsoba and Frimpong cycled out well in the 49th before being forced to retreat.
Decent enough switches from Leverkusen in the 50th involving Hincapie, Demirbay, and Frimpong. Sadly for the NRW guests, it would all end in nothing more than another failed hold-up from the unconfident Schick. After traveling well around the box in the 51st, Diaby seemed totally disinterested in even trying to get Schick the ball. The B04 Frenchman ultimately lost the ball.
Ebimbe, Kamada, Götze, and Lenz completed a quick counter at the end of which Lenz beat a stumbling Frimpong. The Dutchman recovered in time to sweep away for a corner. Amiri took care of Muani after Lindstrøm tried to reach him off the 52nd-minute set-piece-play. Andrich found it too difficult to rail off a charge from his deep position in the 53rd.
The SGE recouped possession in the 54th and calmed matters down with bow-arcs. The next three Bayer charges in the 54th and 55th barely got past the halfway line. The Hessians gave absolutely noting away. Frimpong at least drew a foul in the 56th. With a sly quick-take, Demirbay drew his side level against an Eintracht side not quite set.
Demirbay's cutting service in from the half-right hit Hincapie perfectly in stride. The Ecuadorian headed home emphatically. Parity would nevertheless only be restored for the briefest of moments. We stood at 1-1 for all of two minutes. Even before the German Eagles wrested the lead back, the response proved swift and brutal.
Muani dribbled down to the touchline impressively through the tightest of angles as soon as we got going again in the 57th. The Frenchman hit an equally tough-angle cutback just a few centimeters beyond Götze's reach. After Andrich couldn't run much of a counter rush, Götze and Kamada worked the ball out to Lenz wide left.
Lenz spotted Muani crashing in at the far post. Hincapie's marking was well off. Some 120 seconds after the Ecuadorian headed home the equalizer, Eintracht's striker snapped an even better header in the back of the net. Frankfurt had the 2-1. Xabi visibly lost it on the sidelines, mouthing something in "Spanglish" that the columnist couldn't quite make out.
Uh-oh.
Match Flow: 58th to 68th minute
The "lid" in this match wasn't long in forthcoming as things quickly fell apart. Lenz and Ebimbe both cut through the frazzled defensive ranks on both sides in the 59th. Amiri had a real tough time putting out the fire that was another adventurous run from Lenz at the hour-mark. The SGE rush still wasn't quashed completely and Muani put Lindstrøm through with an incredible ball at the end of the 60th.
The Dane outpaced Hincapie and just barely missed with a whizzing effort far right. The bombardment continued. Seconds later, Götze sent Lenz in again and Embimbe met the SGE wingback's service perfectly. Hradecky somehow managed to save the effort even after it took a wicked deflection off of Bakker. Lindstrøm pile-drove a rebound that somehow got blocked.
No one in red could get a grip on the subsequent 61st-minute corner. N'dicka and Lenz sent in efforts off of Kamada's service. Tuta and Muani had chances to get the ball back in when Bayer couldn't clear. Hincapie eventually tried a desperate vertical for Bakker. Tuta tackled away. Mercifully for the totally out-of-sorts Werkself, foul stoppages and midfield possession changes slowed things down in the 63rd and 64th.
It ultimately didn't help. Hincapie turned the ball over to Lindstrøm in the 65th. The Dane earned an absolutely deserved goal with a pacey run that the Ecuadorian couldn't hope to catch up to and a positively sumptuous lob finish over the onrushing Hradecky. A 3-1 lead in the 65th threatened to put matters beyond all doubt.
The columnist still resisted declaring a "lid" as Bakker remained enterprising on the B04 left with some quality punch-throughs in the immediate aftermath. Bakker beat Ebimbe in the 66th before Tuta closed him down. He got through again in the 67th and stung Trapp's palms with a solid effort from the half-left-lane.
Tah, Frimpong, and Demirbay were in the process of getting a forward cycle going on the Bayer right in the 68th when Kamada stepped forward and set Muani loose. The clumsily back-tracking Hincapie appeared to make what was an amazing last-ditch recovery tackle. Replay evidence nevertheless showed that the challenge wasn't so clean after all.
Hincapie's second caution caution translated to a sending off. It mattered little if the resultant penalty would be converted. Die Werkself weren't coming back from two goals after being reduced to ten-men. This game most definitely and assuredly had its "lid". Game over in Frankfurt. One can maintain some understanding for Xabi's men for phoning it in the rest of the way.
Match Flow: 68th minute to full-time
Absolutely deplorable play from die Werkself down the stretch. Kamada finally converted the 4-1 from the spot after an extended delay in the 72nd. Muani had the 5-1 (and a hat-trick for himself) on his boot in the 76th. Hradecky had to give everything to stop it. SGE subs Lucas Alario and Rafael Santos Borré – still a quality back-ups duo in the writer's opinion – finally combined for the official back-breaker in the 86th.
Not really any more football to discuss in the final 22 minutes. With a couple of rare exceptions, Xabi's men didn't lean into the duels at all. Glasner's XI held the privilege of "Sunday in the Park" passing. Leverkusen were undone thanks to another horrible defensive performance. All in red should find themselves on "red alert".
To bookend:
xG Frankfurt–4.8, xG Leverkusen–0.5
The primary reasons for this disastrous drubbing are covered in the introductory paragraphs. What few positives there were (mostly small sparks from Frimpong and Diaby) receive coverage in the analysis. To this we may add the fact that this squad will have a vastly different makeup once Florian Wirtz returns from injury. The shorter-term absence of Sardar Azmoun and Callum Hudson-Odoi makes a big difference as well. Either one could have influenced this game.
If one cares to undertake a brief thought experiment, subtracting Wirtz, Azmoun, and Hudson-Odoi from the total squad worth leaves Leverkusen a mere "€357 million train-wreck". One can even go further with the hypothetical market-value games. Assume whatever demon has affected Schick's mind wipes his €50 million off the slate and were left with a "€307 million train-wreck". Not bad. There's you have an Europa League squad in with a lower mid-table underachieving season. Think Wolfsburg or Hoffenheim from recent years.
It seems fairly doubtful that Germany's red company team will truly end up factoring into the relegation race this season. They will get better players back, can always spend heavy during the expanded transfer window, and should have more than enough time to make up ground in the spring. Hanging tough with this Frankfurt side also isn't easy; not with Götze, Lindstrøm, Kamada, and especially Muani all in the form they're in.
Xabi may be an inexperienced trainer at this level, but won't have to work terribly hard to get the squad on an upward trajectory once returnees and form absentees start filing back in. The current roster suggests that some more offensive pop isn't far off. Defensively, Hradecky, Tapsoba, and Kossounou probably won't play this badly forever. Hincapie can presumably learn how to tame his game. Most Germans have lost faith in Tah at this point. A couple extra center-halves can be procured on the market.
Further predictions thus aren't all that dire. One rather sad prediction nevertheless comes out of this one. If Xabi can't get the team back to the European places, the end of the season should also serve as the terminus of his appointment. That's not a fun thing to envisage. As one can tell from all the hype invested in him, Germans would rather like for him to serve as mainstay in our league for years to come. We want more foreign trainers in the Bundesliga. Sigh. Not looking to be a good prospect at this point.
The Spaniard may presently be questioning why he even took this job at all.
Thanks so much for reading! You can occasionally catch Peter goofing off while watching non-Bundesliga football on twitter, @ViceytheSS.
Twitter DMs are open for football conversations, corrections, and (if you truly insist) general abuse. 
All columns debut on Bulinews before appearing on Peter's website as the season progresses.