Quite a great deal of football going on in the Bundesrepublik. Lots more great stuff in store this weekend. Back on a tight turnaround after the second round of the DFB-Pokal, there were plenty of twists and turns over the Halloween weekend in the Bundesliga. Your full-color re-post of the latest Bulinews hot-sheet contains all the thrills and chills.
Don't go averting that gaze. Not for a second. You might miss something crucial in the single blink of an eyelash.
Tuuutttaaa!
---
Bundesliga Tactical Banter: Round Ten
---
Shaky Bayern
Not to get everyone silently rooting for a different outcome too excited, but the mighty Bavarians showed considerable signs of weakness in their 5-2 victory over Union Berlin. True, the brimming enthusiasm for Bundesliga football after everyone in Germany awoke to the news of the historic cup defeat on Thursday morning was rightly tempered by a strong statement on behalf of the record champions this round. We still witnessed a nervy and mistake prone giant in action on Saturday. The score line deceives on many levels.
Dino Toppmöller's 4-1-4-1 stumbled about through unclean back-builds and numerous egregious midfield turnovers through the first quarter-of-an-hour. The handball penalty in the 15th and direct free-kick just outside the box in the 23rd enabled the shaky FCB to build a 2-0 lead through dead-ball situations. After Leroy Sané finally converted (he lacked the focus on two prior golden opportunities) for the 3-0 in the 35th, Union nearly fought their way back into the match.
Bayern right-back Josip Stanisic got badly beat on the Niko Gießelmann 1-3 pull-back. Sheraldo Becker had Union back 2-3 before half-time were it not for a goal disallowed on a tight offside position. Becker obliterated Stanisic again shortly after the restart. The Suriname striker then missed another close opportunity. So did striking partner Taiwo Awoniyi. Union could have retaken the lead before Kingsley Coman's brilliant finish restored the buffer. What a different game we nearly had!
Kevin Behrens' charge and cut-back–yes, everyone still needs to keep an eye on him–in the 65th demonstrated how the Bayern back-line still features plenty of gullible loose threads. A statement, yes. Still not an emphatic convincing victory at all. You can decide for yourself if a self-described "Bundesliga hawker" is merely peddling his wares via a soft sales pitch. You can also prepare for the real possibility that Freiburg upsets them next weekend. Then we really have something.
Shakier Dortmund
Some may find renewed hope of a title-race effectively canceled out by the fact that nearest challengers Borussia Dortmund once again didn't look good. This is undeniably true, but also possibly of lesser relevance. Before the Dortmund-Bayern dominance of the past 11 seasons, the Bundesliga used to be a showdown between Bayern and whatever much smaller market club simply had everything going right for them in that particular season. Freiburg fits the bill this time. We'll get to that in a second. Dortmund first.
BVB trainer Marco Rose didn't have much of a choice other than to state the obvious on Saturday. Steffen Baumgart's Köln were unequivocally the better team. The visiting Domstädter racked up a 19-7 shot advantage, lorded over nearly 60 percent possession, and (based on the xG) should have won by two goals. Dortmund keeper Gregor Kobel made two huge saves on Effzeh striker Anthony Modeste, who absolutely should have recored his third consecutive brace. Kobel's miraculous recovery when Ondrej Duda spotted him off his line also spared his team an early confidence-sapping blush.
The latest fixture constituted another tactical wobble for Rose as he tries in vain to build without preferred actors like Erling Haaland, Giovanni Reyna, Raphaël Guerreiro and Mahmoud Dahoud. A 3-4-1-2 with Marius Wolf on the left-wing and Jude Bellingham buried deep in midfield failed to get much going. For the second straight week, a columnist declares himself very impressed with Julian Brandt's (this time working as a ten) performance. The former German international enjoys a revival of sorts by recent standards. Given how low those standards have sunk, that's not saying much.
However many tricks Brandt can pull with the ball these days, Rose needs to find a way of getting Marco Reus back to the ten-position. He also needs to get Thorgan Hazard off the top attacking axis and back where he can make more meaningful moves. Axel Witsel needs a stable midfield partner more than ever and Marin Pongracic needs to take a seat altogether until he works out whatever's causing these crushingly persistent mental errors. In other words, Rose needs at least his "C-squad" back. A pity, but it doesn't look like this happens before Christmas.
Why Freiburg can contend
In honor of a most unfortunate COVID outbreak, we'll dispense with the "How lousy are Fürth?" question this week. For those keeping track, we've posed that rhetorical question in six of the nine tactical bulletins thus far this season. One time we even had something nice to say. For the record, the Middle Franconians remain a historically bad Bundesliga side. Sympathy notwithstanding, they're awful. One can't really draw too many lessons from Freiburg's 3-1 win over them at the Europa Park Stadion.
SpVgg defender Simon Asta proved to be a gracious guest. He was kind enough to score one of the most skillful own-goals one is likely to see in the 20th. Fürth keeper Marius Funk–the second-choice net-minder head-coach Stefan Leitl recently promoted to "shake things up" was then kind enough to bungle in a corner he completely botched the basic coverage on in the 39th. The Kleeblätter would really make for great dinner party guests. They set the table and wash the dishes for you.
Back to the Breisgauer, it was actually a mark of class that Christian Streich's SCF didn't ruthlessly destroy this most timid off feeble footballing creatures on Saturday. They wisely hung back and conserved some energy for the showdown against Bayern when the 2-0 lead all but rendered matters decided. Julian Nagelsmann and the FCB have cause for concern next week. The basic constellation can be foreseen. The actors operating within it, however, cannot. This makes for a tough set of prep drills on the training pitch.
The long-time Freiburg trainer still runs something of a simple 4-4-2 system most of the time. The versatility of players like Woo-Yeong Jeong, Lucas Höler, Roland Sallai, Kevin Schade, and even the newly test driven Kiliann Sildillia nevertheless makes it impossible to predict who will be pulled out of their fixed position to run central distribution. Anyone of these players can ply off to work as a ten, short-striker, or anchoring midfielder at any given time. Nagelsmann will have some difficulty setting up mimic situations as part of his weekly package.
We tapped Freiburg to contend for Europe at the beginning of the season based largely in part due to the fact that the wizened SCF trainer fields a team of confident veterans largely pleased with a long-term connection to the team and the area. Add to that mix no fewer than five intriguing talents selected for promotion from the youth team and you suddenly have a potent mix of eager actors who look forward to learning which unique tactical roles have been drawn up for them this week.
Yes, there shall be more Streich gushing this season. That's just the way it is.
---
The Burning Questions: Round Ten
---
Is Florian Kohfeldt a tactical wizard?
Er, no. Hell no. A thousand times no!! Blasphemy that question is!
Those of us hopelessly in love with this league received an early Halloween present this week when the news came down that the 39-year-old with the perpetually zombie-like eye-sockets would be returning to the Bundesliga sidelines. A fitting disclosure for the scary season. This writer–still traumatized by two full seasons of watching practically every Werder Bremen match for a deep-scout column–got quite the jolt.
More anxiety-ridden versions of John Carpenter's Michael Meyers themes accompanied the initial set of tactics.
The blackest eyes. The devil's eyes.
Lineup—VfL Wolfsburg—Match 10 (3-4-3)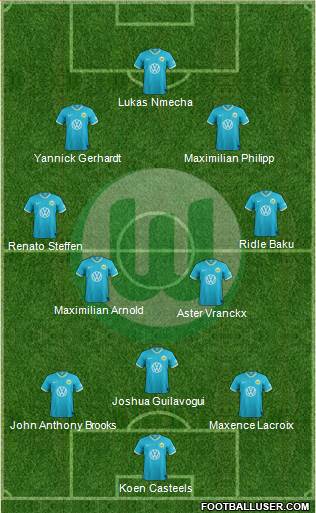 Aaah!! Nooooo! Make it stop!
This is about as Florian Kohfeldt a set of tactics as it gets. Five players stationed back behind the halfway line. A straight vertical passing scheme designed to play "Angst-hasen" ("fearful rabbit") football. The ghosts of Kevin Möhwald, Milos Veljkovic, Ömer Toprak, and Romano Schmid haunted this pitch. It very much served as an uncomfortable tour through one of those haunted houses with strict legal parameters for those with medical conditions.
After a genuinely terrible first half of "dark and stormy night" football, Kohfeldt did something even scarier. The trainer who made more halftime triple substitutions last season than any other Bundesliga head-coach made a double sub at the break. One could immediately see where it was going too as Paulo Otavio and Dodi Lukebakio strode onto the pitch in place of Maximilian Philipp and Renato Steffen.
One's worst nightmares were soon confirmed.
Lineup—VfL Wolfsburg—46th minute (5-3-2)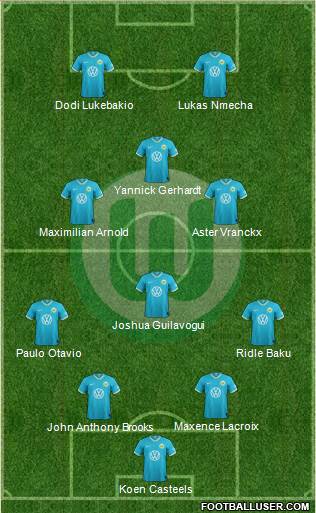 Ugh. A more defensively-minded reformat Yannick Gerhardt as the new Kevin Möhwald. This was a true horror show. It's a small miracle that the match didn't end 0-0. The slight adjustment worked in spite of itself. Gerardo Seoane's depleted Leverkusen side—also lined up in a mirror 3-4-3–were caught out by a pair of quick strikes.
The two Wolfsburg tallies, coming in quick succession, owed much to brave work from the two new players. There was also some luck involved on the balls Lukebakio and Otavio sent into the danger area. The German Wolves certainly didn't play especially attractive football against a Werkself side on the ropes after that.
Cause for concern
To label Wolfsburg a relegation candidate remains ludicrous. This Bundesliga field features far too many weak teams for that. A writer will nevertheless go with a hunch here and boldly predict that one of the league's most expensively rebuilt rosters will experience a flirtation with the bottom third of the table. Previous trainer Oliver Glasner got this club into the Champions' League through stable use of personnel and tactics during the strong form run during last year's "Rückrunde".
Kohfeldt doesn't speak that language. The young trainer tinkers shamelessly. His appointment surprises in that it doesn't constitute a return to a systems-based coach. If anything, Kohfeldt reminds one of Mark van Bommel in that regard. There will be confusing constellations, disaffected players, and possibly even eventually another trainer dismissal at this club if Jörg Schmadtke feels Kohfeldt can't keep up in the race for Europe. A three-trainer year never bodes well.
Naturally, one thing this writer never fears concerns admitting that he was wrong. Kohfeldt has never worked with a roster of this caliber before. He could lead Germany's green company team to a three-match league win streak after facing Augsburg and Bielefeld in the next two rounds. That alone won't be good enough to convince this columnist. Kohfeldt still needs to nick points of Dortmund, Köln, Mainz, and Bayern if he wants to keep the club within top-four striking distance by Christmas.
That's a tall order for a suspect coach.
Why are Bielefeld so shoddy?
Expectations for this team were low to begin with, but back-to-back defeats against Mainz in the cup and league really calls in question the coaching regime. Gaffer Frank Kramer delivered a verbal gaffe after the latest loss. Much more importantly than that, he embarrassed himself with his tactics. The DSC trainer's response to Bo Svensson's constellation?
Five personnel changes and a "copy-cat" approach.
Lineup—Arminia Bielefeld—Match Five (3-3-2-2)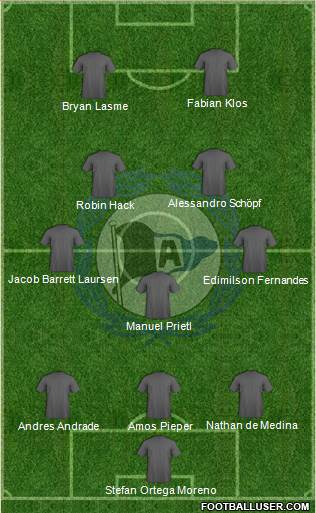 How on earth does something like this even happen at this level? A top-tier Bundesliga trainer merely took a look at his opponent's set-up and simply attempts to do the exact same thing!? This proved something of a loose mirror constellation weekend in German football. There remains a difference between a well-devised man-vs-man pitted duel and a full copy-and-paste, however.
The ill-fated mirror
Those familiar with the "magic of Bo Svensson's Mainz" recognized this cheap imitation immediately. It should be emphasized that Svensson made no changes to the XI that beat Bielefeld in the cup on Tuesday. Kramer introduced five new players, none of which were sensibly matched up against the Mainer trainer's own 3-3-2-2.
It would have made some sense if Mainz loanee Edimilson Fernandes matched up against Dominik Kohr in midfield. Alessandro Schöpf and Robin Hack as the buttressing forwards looks okay on paper, but no one was left to mark on-fire rover Jae-Sung Lee. This proved fatal almost immediately.
Pound-for-pound, the back-three wasn't built to match the Rheinhessen. For whatever reason, Kramer left Andres Andrade in the chain despite his poor Pokal outing and deprived the trio of any actual flexible help by yanking the much better Patrick Wimmer off the right-wing.
Botched adjustments
The Pfälzer XI, many of whom had gone the full 120 minutes on Tuesday, had no problems leisurely combining around the DSC. Mainz had everything under full cruise control, missing several chances to extend their 1-0 advantage during a flurry of chances between the 32nd and 41st. Instead of going up 4-0, the opening 45 ended 1-1 when Jacob Barrett Laursen equalized against a ridiculously one-sided run-of-play.
Kramer had to make adjustments. Finally introducing Wimmer for Nathan de Medina really didn't produce anything as the Austrian couldn't affect the play so far back on a straight swap. After Jonathan Burkhardt finally put the dominant team back ahead in the 69th, Kramer reacted with a shapeless quadruple change in 78th.
This columnist watched intently to see if there was any rhyme or reason to the shape. Nothing. Just a jumbled mess of desperation football. A cheap "Plan A". No "Plan B". Has it been mentioned recently that Kramer often resembles a lifeless "Graue Maus" ("lame underdog", colloquially) on the sidelines. Fitting for the current state of the DSC.
Respect for the 05er
Having devoted enough space to Frank Kramer's eulogy, we shouldn't forget to credit Bo Svensson's Mainz. The Nullfünfter are very much now a team on a tear. Winners in three on the trot, they're now even up to fifth place in the table. Not an easy opponent to take on right now. Hopefully, this hasn't been lost in the analysis as, just like last week, we devoted more space to an autopsy of the team they beat.
Germany U21 captain "Johnny" Burkardt really is coming into his own. The homegrown talent from nearby Darmstadt has scored five goals in his last four games. Bundestrainer Hansi Flick was on hand in the Palatinate last Friday night to see the 21-year-old snatch that beautiful brace against Augsburg. With just a bit more luck, the 21-year-old could have scored a brace or even a hat trick in both the Pokal fixture and this one.
Mainz's recent revival owes much to several players who are presently in immaculate form. The above-mentioned Jae-Sung Lee has been phenomenal, as has Burkardt's striking partner Karim Onisiwo. Svensson has also managed to pick the absolute right time to breathe life back into once disaffected Spanish full-back Aaron Martin. Without warning, the club's one-time most expensive transfer is playing like it ahead of Anderson Lucoqui.
Burkardt remains the name to bear in mind. Since we're approaching at that time in the season where the column makes more predictions, we'll definitely augur a call up to Germany's November national team squad. With World Cup qualification already secured, someone's getting an audition at the much-discussed number nine slot.
How did Augsburg turn the tide?
Stuttgart injuries didn't help. VfB trainer already had to field an XI without star defender Konstantinos Mavropanos after the Arsenal loanee withdrew with a late injury. Then Chris Führich had to be subbed off. Then Daniel Didavi. The fact that, as first-choice keeper Florian Müller continues to recover from his bout with COVID, back-up keeper Fabian Bredlow remained in goal. Three of Augsburg's goals came off of set-pieces. The young net-minder looked less than stellar on two of them.
Plenty of extenuating circumstances at play. That notwithstanding, congratulations to Fuggerstädter trainer Marcus Weinzierl on his 50th Bundesliga win for the FCA. It certainly proved a long time coming. The fact that captain Jeffrey Gouweleeuw and the two oft-injured strikers Alfred Finnbogason and Florian Niederlechner tallied in this one gives this slumping team a massively needed boost. The result also tightens up the relegation race; a massively needed boost for Bundesliga lovers of all stripes.
Can we confirm Gladbach lift-off yet?
Well. The league is not the cup. The big story of the weekend (Leipzig's bungling away of three points, covered below) almost occurred at Borussia Park on Sunday evening. We'll talk at great length about how profligate the German Red Bulls were in front of goal. The NRW foals experienced similar problems. Adi Hütter's men came out blazing in a neatly constructed 4-2-3-1 double stagger. Alassane Plea worked really on the left flank stagger, ahead of counterpart Jonas Hofmann.
Joe Scally and Alassane Plea combined for the opening goal in the 12th. Plea then supplied the assist of Hofmann's goal in the 40th. There were a significant amount of chances that should have been finished by Matthias Ginter and Lars Stindl. Opponents Bochum hit the crossbar thrice and left the hosting BMG trembling right up until the final moments that the 2-1 victory was confirmed. Overall, however, Hofmann and Rami Bensebaini had back luck in front of goal.
A deserved win. Still a tough schedule ahead for Hütter's crew. Top-seven by Christmas seems a stretch.
Are Hoffenheim poised to rise?
Insofar as anything related to the Sinsheimers can be interesting, this counts as an interesting question. Of the seven league fixtures remaining between now and Christmas, the mid-table Kraichgauer could easily experience a swing in either direction. Friday night's 2-0 win hardly proved indicative of anything. After the Robert Skov show wrapped, the TSG game flattened out quicker than an afternoon-nap-deprived Dietmar Hopp. Barely watchable stuff from the BaWü hosts thereafter.
Despite the powerful name recognition, Sebastian Hoeneß remains a candidate for the coaching hot seat in most German footballing circles. More than any other footballing figure in the Bundesliga, the 39-year-old got a full pass in light of all the COVID chaos last season. Hoffenheim were especially hard hit by cases; to the point that we all joked that the team earned herd immunity quicker than any other group in the country. Hence, Hoeneß got a mulligan.
This year's version of the team nevertheless remains woefully inconsistent. They've dropped points to Stuttgart, Bielefeld, and Mainz thus far in the "Hin-Runde". The double "light speed bump" of Fürth and Bochum await in the coming weeks, but so do Leipzig, Gladbach, Freiburg, and Leverkusen. Six-Nine points by the winter break, coupled with a three match losing streak headed in to the weeks off won't be nearly good enough.
A 50-50 chance. Top seven by Christmas or regime change.
---
Weekly Tactical Focus: A split-second twist
---
Ah yes. The "thrill of the unexpected". One can boil down one's love of sport to that singular emotion. Very little beats it in life. Looking back on the global pandemic that invaded all of our lives some 18 months ago, it's difficult to imagine how we did without in for two full months. Replayed matches and fixtures of which we already knew the outcome. In other words, torture. Even when the games went on in empty stadiums (another form of torture), at least there existed the possibility that something would surprise us. Millennia removed from the "bread and circuses" palliation of antiquity, we're still basically the same species.
This week's tactical focus selects a fixture that delivered a very specific form of the "thrill of the unexpected". Namely, the "completely torpedoed sporting narrative." Always a pleasure that one. Our column this week literally came within one single play of being another Oliver Glasner post mortem. Instead, we're leading with Jesse Marsch. The story was written. The points were woven into to the tale. Then, by virtue of one competent set-piece on the absolute final play of a lopsided game, the other coach finds himself under fire. Who shall recall Leipzig's dominance when, at the end of the day, the team only earned one point?
We'll make an effort. In many respects, this still is a Glasner column. Plenty of praise for the well designed dead ball situations that Leipzig's American trainer drilled his team on throughout the week below. The Saxon XI rode into Hessen with a vastly superior game plan. Plans of course count for little when the execution is so abysmally poor. Now we're suddenly at a turning point. Despite the fact that Marsch did a great deal right, the reliable praise and assurances that all will be well offered up in the "Americans" column by this writer begins to fade.
It starts to fade right here and right now.
Yes, we have to report on the xG here:
Leipzig–2.93, Frankfurt–0.61
Er. Hello? Begging your pardon. You can't do this. Matches must be closed out. Well-designed set pieces are but one aspect of a trainer's responsibility. A team must operate with urgency, particularly against a totally flaccid opponent as the current form of the SGE. Only one draw up for Marsch's Roten Bullen this week. For better or worse, the Wisconsin native let the squad run in a 3-4-3 throughout.
Lineup—RB Leipzig—Match 10 (3-4-3)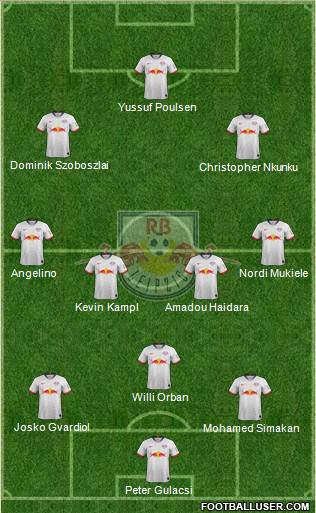 Certainly better implemented than last round's first-half disaster versus Fürth. Still, we'll discuss some problems.
Player rotations
A lot of personnel decisions were made here with the midweek "do-or-die" against PSG in mind. Emil Forsberg, André Silva, Tyler Adams, and Konrad Laimer are the obvious in-rotations for the Champions' League. One won't judge Marsch too harshly for these decisions. There's enough in here to prove that he took the league encounter seriously.
Yussuf Poulsen remains the more in-form striker. Furthermore, Silva absolutely didn't need to do with the added pressure of a whistle-heavy return to Deutsche Bank Park. Kevin Kampl and Amadou Haidara count as a serviceable enough midfield duo against the opponent. Forsberg's absence is the only really questionable decision.
The Swede was already rested in the Pokal. To that one might as well concede that the only remaining objective in the UCL concerns avoiding embarrassment. Advancement to the knockout stages is lost at this point. Getting the team into the top third in the league should take precedence.
The hesitance to change
Marsch waited until the 65th minute to employ two like-for-likes. On the one hand, it's not totally illogical that this appeared one of those fixtures in which the original XI should have been left to finish what they started. On the other hand, we will highlight some noticeable recurring issues that Marsch just turned a blind eye to.
To clearly state them for those not fond of the linear portion of this column, there were three main ones. First, the actors on the second and third axis made almost no attempt to rotate. Angelino, Szoboszlai, Mukiele, and Nkunku were rarely spotted off their assigned flanks. The resulting second problem then became that Poulsen got way too many central feeds that left him with little chance of holding the ball up.
This then led to the third major issue of Willi Orban never being able to really run any back builds from his pivot possession. Frankfurt kept dispossessing the Leipzig attack and then launching long verticals in the hopes of countering. Orban was thus busy, but not really offensively active. It didn't seem as if Marsch put a word in his players' ears about any of this.
The state of the SGE
Ready for some more scary stuff on Halloween weekend? Dr. Oliver "Frankenstein" Glasner is still stitching together a monster with sutures, spit, and glue. We've chronicled just about all of his different formations in this season's column. It very much remains a case of throwing stuff against the wall and hoping it sticks.
Lineup—Eintracht Frankfurt—Match 10 (3-4-3)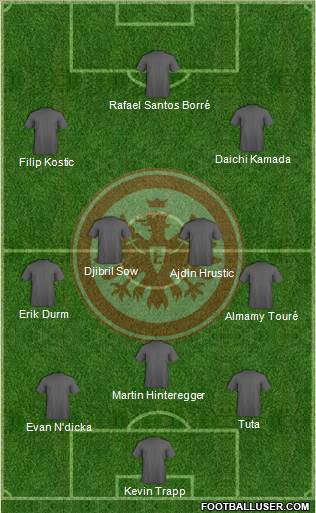 Injuries to Kristijan Jakic and Gonçalo Paciência forced a pair of changes from the 0-2 loss at Bochum. The SGE trainer utilized the opportunity to rebuild his left with Erik Durm and Evan N'dicka. Adjin Hrustic got another turn in midfield.
Just like last week, Lucas Silva "Tuta" Melo–who had previously not worked as well in the back-three as under Adi Hütter–also got the go over Makoto Hasebe. This, obviously, led to the the match's main talking point. 
Why the midfield doesn't work
Simply stated, it's because no double-six pairing has managed to gel yet. Djibril Sow and Jakic have sort of gotten there, but they've a ways to go in terms of mutually intuitive understanding. The injury to Christopher Lenz combined with form dips afflicting Timothy Chandler and Danny da Costa then rob Glasner of viable wingback options.
It was somewhat surprising to see him deploy a back-three in this case. As mentioned several times, this was a weekend for loose mirror constellations across the Bundesliga. The opponent's predicted lineup might have played a role. Or not. Glasner is really grasping at this point. Whatever he can cobble together is what you see.
Match Flow: 1st to 12th minute
A very cagey and slow start saw nothing of great consequence until Haidara had to stop Daichi Kamada with a foul in the 2nd. Filip Kostic (who else?) stepped forward to take and delivered a very poor ball miles away from everyone. The first RB offensive, one minute later, featured some nice combos. The final cutback for Poulsen ended up hitting the Danish striker's hand. Match official Daniel Schlager alertly whistled the attack down.
Martin Hinteregger's first long vertical in the 4th surprised no one. The Hessen hosts then tried some more patient builds over the next two minutes. Leipzig accorded the Eagles plenty of space, but the ball didn't leave the back-three. A small counter involving Nkunku and Szoboszlai was far too disorganized to produce much.
We got our first hint that refereeing controversies would come into play in the 7th. Kostic advanced down the left, easily beating Mohamed Simakan. The French defender then tugged on his jersey. Schlager perhaps thought Kostic went to ground just as easily as he skirted past the Leipzig player and ordered him up. Simakan took the ball back the other way. Eventually, RB earned a corner after an Angelino cross got cut out.
Back-to-back corners in the 8th and and 9th led too nothing, but the Saxons managed to create the first major chance in the 10th. SGE Keeper Kevin Trapp tried to spring a quick counter after claiming an Orban header. The cross-field throw nearly reached Kamada on the tight thread through. Kampl was on hand to stop and Leipzig then caught the hosts in transition.
Poulsen couldn't quite get a handle on a service following some nice work from Nkunku, Haidara, and Szoboszlai. There was a brief injury timeout as the Hungarian winger and a few others were slow to get up. It had gotten quite crowded in the box. The next SGE approach in the 12th ended with a useless Ajdin Hrustic diagonal.
Match Flow: 12th to 18th minute
Whereas Leipzig were content to let Frankfurt have a little space out of the back in the early going, suddenly it was Eintracht retreating once they felt some pressure from the guests. If one watches a series of RB charges between the 12th and 17th, it's frankly quite shocking how much space Marsch's men were given on the ball.
None of it really amounted to anything, however. Poulsen couldn't hold the ball up in the 13th. The Danish striker was then offside one minute later. Poulsen again got the ball in the 17th, but was marked too closely to execute the turn. Amid all of this, all we saw from the SGE was another vertical from Hinteregger in Rafael Santos Borré's direction. The Colombian striker got easily boxed out by Orban.
Haidara flashed over with a distance effort in the 18th. Kostic responded with his own "why not?" launch in the same minute. Though the Serbian attacker didn't hit the ball in the way he intended, that's what made it so unexpectedly dangerous. Peter Gulacsi had great difficulty tracking the floater, which ended up hitting the crossbar.
The close shave woke both teams up a bit and we had a very nice phase.
Match Flow: 18th to 35th minute
With a renewed appetite for the short-passing game, Eintracht worked a ball into the box for Borré central in the 19th. An exceedingly poor first-touch from the SGE striker sadly put an end to that sequence. Angelino picked off a great ball in the 20th and absolutely toasted Tuta before forwarding for Poulsen, who then hit Nkunku. Leipzig's Danish lead striker was offsides again.
Glasner's men got another attack rolling within a minute. After a bunch of frantic bounces in the penalty area, Hrustic saw a half-moon volley blocked and Kostic couldn't trouble Gulacsi with the rebound. Erik Durm–sporting a new England at the Euros bleached blonde look–tried to work in a diagonal on the next one in the 22nd. Poulsen, who's offensive game remained very off on the day, at least made a crucial defensive clearance.
The crowd of approximately 30,000 home fans showed their appreciation for their team's efforts with extra rounds of applause. This compelled the German Eagles forward. Kostic got off another snap shot in the 22nd. A good cycle out of the left in the 23rd nearly led to a perfect give-and-go between Kostic and Durm. Regrettably, the former German national team fullback simply didn't have the speed to complete the threat.
More hopeful long balls from Frankfurt followed over the next few minutes before the home side's momentum fizzled out. Leipzig were back at it in the 25th, but Hinteregger and the SGE defensive corps once again made sure that Poulsen couldn't hold the ball up. Frankfurt resorted to penalty appeals in the 26th on what was genuinely nothing other than good defensive work from Poulsen back in his own box.
After Hinteregger once again assured that Poulsen was locked down offensively in the 27th, Leipzig finally got the message and started to play rearward into their ranks in search of a new strategy. This lasted a rather long time. During an unbroken possession spell between the 28th and 30th, virtually everyone in the RB XI got a touch in as the team painted around the box. The hosts defended with compact discipline, waiting for their chance.
This actually made for some fantastic footballing scenes. The crowd amped up the decibel level whilst Leipzig cycled possession. Tension built upon as the match gained a "knife's edge" feel to it. After an N'dicka flick on for Kamada ended with no takers for the Japanese international's cross in the 31st, another long Leipzig possession wide-cycle kept the ball with the guests between the 32nd and 35th.
Haidara and Szoboszlai found their way through on their lanes, but the Tuta and Hinteregger stood tall.
Match Flow: 35th minute to half-time
Sadly, a controversial refereeing decision put an end to this intense spell. Josko Gvardiol went on a tear up the left in the 35th. The linesman then incorrectly judged that the Croatian had earned a corner even though replays confirmed that the RB actor had simply stumbled over his own feet. Marsch and company did well to call for a special draw up out of the playbook.
A very sharp whip-in from Szoboszlai hit intended target Orban precisely. The Hungarian international extended with an inch-perfect touch out to the far post. Poulsen arrived right on schedule to finish it off. It was quite the final touch. After watching the replay a dozen of times, it proved nigh on impossible to determine if Poulsen's strike took a slight deflection off N'dicka.
Even if it did, the Dane deserved full credit for the goal. For that matter, Leipzig's 1-0 lead felt deserved even if the corner was improperly awarded. Frankfurt had shown a bit of fight. The Hessen hosts were nevertheless severely lacking in legitimate offensive ideas. This continued to be the case for the duration of the half. The crowd fell silent and the SGE fell still.
Durm and Kostic got crowded out again on the left in the 37th. Szoboszlai didn't miss by much on the ensuing counter. This happened again in the 43rd and 44th. Leipzig managed two more soft efforts on target (both from well executed set pieces) in the 40th and 45th. Match official Schlager opted to forgo injury time when whistling for the half.
Half-time xG: Leipzig–1.57, Frankfurt–0.22
Match Flow: 46th to 58th minute
Without changes we continued. Understandably, neither trainer wanted to end up looking silly in such a close contest. Based on what transpired in the opening 45, however, it would have made sound logical sense for both of them to have their subs at the ready. From Marsch's perspective, he needed to be prepared to relieve Poulsen. The Dane had been triple swarmed when on the ball and had persistent difficulty holding and turning in possession.
Regarding what Glasner should have had his eye on, Kamada on the right simply wasn't working out. The highly talented attacker had been wildly imprecise on crosses and efforts. The same applied to Durm, though that could conceivably be remedied by switching him over to his natural right side and perhaps dropping Touré into a back-four.
The subs one expected thus included Silva four Poulsen on the Leipzig side. For the SGE, Jens Petter Hauge and Jesper Lindstrøm seemed the right choice for a double switch in for Borré and Kamada. We got none of this. Candidly, we didn't get anything resembling solid football for nearly ten minutes. After a wild first two minutes of wild back-and-forth, the same patterns repeated themselves.
Kostic and Durm got lost on an obvious left-ward cycle the 48th. They did it again in the 49th. Durm crossed to no one on the latter sequence. Hinteregger finally got a ball off the RB ranks and tried another desperate vertical launch in the 50th. Another well-designed corner from Leipzig in the 51st ultimately failed when Poulsen got triple-marked again.
Poulsen lost another central feed in the 52nd. He did get a creative flick on for Nkunku going a minute later, but the Eintracht defense gobbled it up. The Eintracht defense gobbled it up. Hinteregger then stopped Nkunku himself (somewhat controversially) on a follow-up. Watching Durm and Kostic try to work it through their side again in the 54th left one shaking one's head in disbelief.
Kostic appeared to be mired in disbelief himself. The Serb even stopped running on a live ball. A brief break in the action came when Hinteregger and Szboszlai collided in an epic aerial duel in the 56th. This enabled Glasner to at least get a double substitution off. Not the one one expected.
Match Flow: 58th to 65th minute
Hauge and Aymen Barkok checked in for Hrustic and Almamy Touré. A new 4-2-4 crystallized almost immediately.
Lineup—Eintracht Frankfurt—59th minute (4-2-4)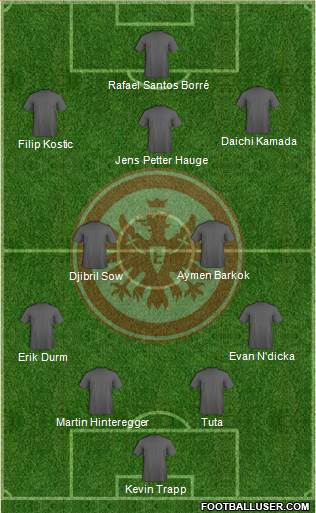 One can hand it to Glasner in this case. It was creative. Although the Frankfurt native, and Moroccan international, didn't end up settling on the wing, he proved more than capable of affecting the play from his midfield position on the the high press. Before Barkok got things rolling, however, Nkunku blew the first chance to put the game to bed by missing a wide open Szoboszlai at the hour-mark.
Barkok proceeded to wake the crowd back up with a spirited run up the right in the 61st. The new addition earned a corner and the fans rose to their feet. Regrettably, an offensive foul cancelled out what was one of Glasner's better designs. Barkok tried again with another midfield ball win and sprint in the 62nd. He had no one come forward with him. This also happened to Hauge in the 63rd.
Another SGE charge in the 64th ended with Borré hitting the deck after an elbow from Gvardiol. The Eintracht players and medical staff pressured Schlager to award a free-kick; so much so that one of the members of the Frankfurt medical team got booked for dissent. Marsch implemented his own double substitution (Silva and Konrad Laimer for Poulsen and Kampl) at the tail end of the injury time-out. Leipzig remained in the same 3-4-3.
Match Flow: 65th to 71st minute
Lots of pushing and shoving now as both sides lost patience with the lax refereeing. Borré earned a stern talking to after his own antics in the 66th. Keeper Trapp would also see yellow for taking a rushed free-kick three minutes later. Prior to the Schlager's next major intervention, Barkok worked another nice move, but lacked support, in the 68th. Trapp's booking came after he made a monster save on Nkunku in the 69th.
Barkok's midfield partner Sow committed to a very enterprising run in the 70th. It ended with the Swiss international smacking Orban directly in the face with a laser of a shot. We had another injury time out, during which Glasner got off his third substitution. This one heralded another formational shift.
Match Flow: 71st to 90th minute
Sam Lammers for Erik Durm meant we were definitely switching to a two-striker set. It had to wait for a couple of desperate pushes to materialize first. Everyone ran forward haphazardly. Hauge skied one over after a Kamada effort in the 72nd. Hauge himself would then botch a cross on the next charge.
Lineup—Eintracht Frankfurt—73rd minute (3-5-2)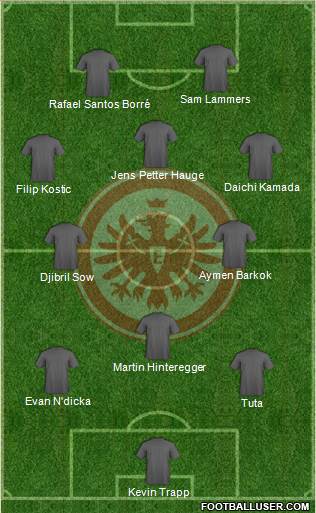 Here's (loosely) how Glasner attempted to go for broke. The coordination simply wasn't there among all the new actors. Leipzig took advantage of the extra space opened up at the back to unleash waves of rolling counterattacks between the 73rd and 76th. Wild stuff as these were stopped and the SGE attempted more broken and frenzied counters in retaliation.
Gvardiol finally got a ball off Hauge in the 77th. His team then proceeded to badly mismanage a three-to-one advantage on their press. Mukiele lost the ball on another attack in the 78th. Szoboszlai tripped over himself after Nkunku had him serviced almost perfectly in the 80th. Simakan couldn't get an easy cross off one minute later. A comedy of errors from Leipzig.
For Frankfurt, there existed almost no penetration. Barkok was already out of moves. Everything went through Kostic. This easily allowed the Saxon guests to pick the ball back up again. Two more subs in the 82nd/83rd. Ragnar Ache took over for Borré. Forsberg came on Szoboszlai shortly thereafter.
The star Swedish attacker somehow mis-hit the ball wide open chance in the 83rd. Nkunku then picked out a poor lane and was stopped by Barkok in the 84th. Barkok then tried again on the next few attacks. Hauge and Lammers were nevertheless all over the place. There existed no real hope of connecting with them.
To make matters perfectly ridiculous, Forsberg blasted a Silva cutback over from less than three meters out in the 89th. It seemed as if Leipzig were practically begging to have this match taken away from them. That still seemed impossible as late as the 90th, when Dani Olmo trotted on the pitch for Nkunku.
Match Flow: 90th minute to full-time
We're still not quite finished with blown Leipzig chances. Silva absolutely should have taken a shot on a chance at 90+1. Angelino and Silva then got their coordination all wrong on a subsequent play. We finally cross the halfway line at 90+2 when Ragnar Ache earned a corner after forcing Gulacsi into a tip over. It was the first Eintracht shot on goal of the entire second half.
Both Gvardiol and Gulacsi tried to milk the clock after the corner came to nothing. In one last refereeing decision that Schlager got absolutely right, he booked the Leipzig keeper for taking to long to set-up the free-kick. In a bit of poetic justice, Gulasci looked fairly flailing at the Kostic free-kick that Tuta headed in on the last play of the game at 90+4.
Wow. Perhaps we'll have a look at those xG stats again.
Leipzig–2.93, Frankfurt–0.61
That's being generous. Leipzig should have finished off three quality chances in the last ten minutes alone. Beloved as they may be, xG plot points don't come close to telling the full story here. They don't account for how many basic errors were committed in Leipzig's lead up play, for example.
After weeks of being generous with Marsch, we now arrive at crunch time. Ideally, the amount of detail in this review serves to highlight that the American trainer doesn't bear a huge burden of the blame here. That isn't entirely relevant in a results-driven business such as football.
On Wednesday, Leipzig's fourth consecutive loss in the Champions' League group stage seems a likely outcome. After that, it's Dortmund, Hoffenheim, Leverkusen, Union, and Gladbach in the league. Even though the club stands virtually no chance of advancing out of the UCL group, Marsch still has to play meaningless midweek matches against Brugges and Man City in European club competition.
This is brutal. The writer maintains, as he always has, that only a long winless streak (six-seven matches) can sink Marsch so early. It's actually possible, if not still a tad remote, now. Yikes. This late bungle has all the hallmarks of a turning-point match; a sharp downward one as it turns out.
Thanks so much for reading! You can occasionally catch Peter goofing off while watching the lower German football divisions on twitter, @ViceytheSS.
Twitter DMs are open for football conversations, corrections, and (if you truly insist) general abuse. 
All columns debut on Bulinews before appearing on Peter's website later in the week.