While there may have regrettably been no fans on hand to watch it live, round six of the 2020/21 Bundesliga still delivered plenty of great action and intrigue for those who watched. Anyone understandably caught up with other developments can catch the repost of this weekend's bulletin here.
---
League-Wide Talking Points: Round Six
---
Bayern: Business unfinished
Congratulations to German hero Thomas Müller on his 260th victory in a Bayern tricot. The result draws him with Oliver Kahn on the club all-time list. Teammate Manuel Neuer, on the other hand, missed out on his chance to tie an Oliver Kahn record when FC Köln scored a late goal. Neuer's 195 clean sheets remain just short of Kahn's record 196.
Yawn. Regarding Bayern, records are once again the sole subject of discussion Bundesliga fans can look forward to this season. The barely watchable dud against die Geißböcke is hardly indicative of a coming slump for the German giants. It was more a matter of neither team being in the mood to exert much effort.
Very little stands in the way of a ninth consecutive title. In the German footballing universe, as is frequently the case in this column, the more interesting stories lie below the fold.
Lessons derived from Nagelsmann vs. Rose
Gladbach-Leipzig couldn't fairly be described as a tactical chess match, even if Julian Nagelsmann vs. Marco Rose in the middle of a Champions League sprint might have held the promise of such. The Leipzig trainer rolled out a fairly stiff 4-4-2 diamond without explicit cycling. Rose responded with his usual 4-2-3-1. Young Lazar Samardzic debuted for RB with little fanfare.
Over the course of an unexciting first half, however, one did get a good sense of the challenges Nagelsmann faces in retooling a Timo Werner-less attack. Six rounds and three UCL fixtures in, the 33-year-old still wrestles with a system clearly designed to build attacks with short passes up the middle. Strikingly, it appears as if most of his talent still seems miles away from getting a good grip on it. An early season prediction that Leipzig are on the regression path stands.
The prize for the winning tactical edge, if one wishes to accord one in this match, goes to Rose for his halftime substitution. Taking off Nico Elvedi in favor of Oscar Wendt and moving Ramy Bensebaini into the center-back position played a role in Hannes Wolf's goal. Intentional or not, Bensebaini ended up supplying the through ball on the breakthrough from his new post.
Augsburg prevail without alterations
News that Augsburg's Florian Niederlechner would miss out on the Fuggerstädter's weekend encounter with bottom dwellers FSV Mainz offered some hope to a club off to a potentially irreversible catastrophic start. It turned out that Heiko Herrlich didn't even have to make the smallest adjustment to his 4-4-2 diamond box.
Moreover, he didn't even have to trot out Icelandic striker Alfred Finnbogason. Thirty-year old Bundesliga journeyman André Hahn stepped up to play center-forward for what may have been the first time since his first stint with the FCA in the 2013/14 campaign.
Herrlich runs a very miserly version of the diamond box that may not see any major alterations irrespective of which players go down over the course of the season. This club definitely shouldn't stray from mid-table.
Neuhaus curates an understatement
Of course, one shouldn't be too quick to draw conclusions from the Augsburg result as Mainz appear to be uncommonly wretched. In other bad team news, Bielefeld trainer Uwe Neuhaus admitted to the press this weekend that his attack is "a little thin".
Hmmm. Lukas Podolski couldn't have understated it better. Labelling the Arminia offense thin falsely insinuates that it exists at all. Forward impetus was nowhere to be found in the 0-2 Dortmund loss.
The only potential rescue path for this deplorable team remains the fact that the three clubs below them in the table, Köln, Schalke, and Mainz, may be in for historically cataclysmic seasons. Köln's loss pushes their league winless streak to 16. Schalke's draw extends them to 23 fixtures without a victory.
In an ordinary year, home supporters could help to propel these clubs to at least a few successes. Alas, it cannot be so in this unprecedented era of mass silence. None of the trio may be able to summon up the sense of self-worth to achieve any results soon in the cavernous empty catacombs of the COVID days.
Iron Army on the March
An absolutely thrilling conclusion to the sixth round on Monday evening as 1. FC Union Berlin defeated TSG 1899 Hoffenheim 3-1. The Max Kruse deal has worked out far better for Union than even the most sanguine of Germans could have hoped. Kruse's converted penalty at the hour mark incredibly leaves him a perfect 15 from 15 at the spot over a 13-year-long Bundesliga career.
Kruse has converted now converted penalties for six different Bundesliga clubs. Another summer acquisition, Taiwo Awoniyi performed well in his second start this season. Newly snagged center-back Robin Knoche did a fabulous job anchoring the defense. Two other new additions, Cedric Teuchert and  sudden super-sub Joel Pohjanpalo scored off the bench.
The Köpenick club earned top transfer marks for very good reasons. Urs Fischer's men should have no problem extending their league unbeaten run to six games against lowly Bielefeld this coming weekend. Furthermore, since this club remains the most likely one to get its fans back first, general overachieving should follow.
---
The Burning Questions: Round Six
---
Is it time for Adi Hütter to ditch the 3-5-2?
Wait a second. Anyone else overcome by a sense of deja vu? Didn't we just pose this question last week? Unfortunately, this round's inherently unsatisfactory 1-1 draw with SV Werder Bremen means that the query must be repeated. An extra question mark with an exclamation point tucked in between might even be appropriate. The issue becomes urgent.
Presented with an opportunity to out-fox an out-classed Bremen, the SGE trainer stuck to his guns and even gave a curious trial to an almost never-used player.
Lineup—Eintracht Frankfurt—61st minute (3-5-2)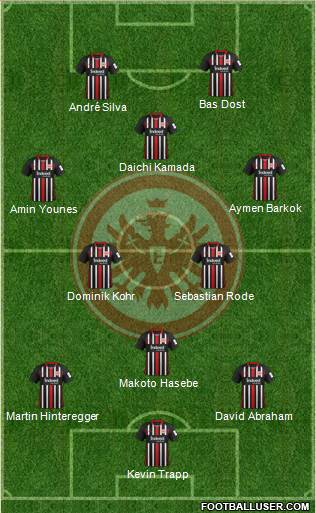 Look familiar? The construct remains mostly unchanged from those covered in rounds two and three. A slight organic evolution sees Daichi Kamada creep up the pitch somewhat to take a more active role as the ten. This took place independent of any Hütter-led structural changes.
One generally likes to see a coach stick with his system when the team maintains good form. A self-coached engine on the pitch cultivates better football. This obviously does not apply here as everything has grown stale.
We'll explore some other options for Hütter heading forward.
5-3-2 with wingbacks
The sideline leader of the German Eagles evidently retains enough faith in the flank-based capabilities of his back-up attackers that he routinely brings in Amin Younes or, as was the case last week, Timothy Chandler to serve as straight placeholders for the position Filip Kostic ordinarily occupies. He's tried many different options on the right flank too.
One has the sense that he isn't finished with this approach either. After surprising everyone this week with an audition on the right for Aymen Barkok, it's foreseeable that his next move will be to test drive prize acquisition Adjin Hrustic on one of the wings.
The predictability of this doesn't necessarily doom the SGE to another miscarried result against Stuttgart next weekend. Hütter could get clever about it and buttress his wingers with defensive backs in advanced positions. The recommendations from last week remain the same: Chandler on the right and Erik Durm on the left.
4-3-3 with Kamada as a false-nine
Why not? The 24-year-old Japanese international continues to uptick in form. Perhaps it's time for him to join the attacking axis properly. Such a move would likely necessitate taking Dost off and potentially replacing him with Younes on the right, but that could work if he and André Silva spend some time working out their spacing.
One could even move the right-footed Kamada up to Dost's position and let Hrustic take over as the ten. Makoto Hasebe then moves out of the defensive chain and works as an anchoring midfielder to better service his friend and countryman. Martin Hinteregger and David Abraham close ranks as the center-back pairing either Durm or Evan N'dicka taking over at left-back across from Almamy Touré.
A 3-6-1 spread
Hütter does possess a surfeit of sixes. Stefan Ilsanker, Dominik Kohr, Sebastian Rode and Hasebe can all start in a middle-of-park heavy constellation. As an added bonus, it may prove precisely the thing necessary to smother Pellegrino Matarazzo's roving Waturu Endo.
Dost starts as the lone target forward in this system; a role he's particularly well suited for. Whip in enough crosses and through balls to a presently energized player such as him and he's bound to find the back of the net at some point.
Has Christian Streich lost control?
Speaking of a coach needing to review his options, the good ship Schwarzwald finds itself listing badly on stormy seas. A five-match winless run is most unbecoming for this club at this stage of the season. Nicolas Höfler's total nightmare day makes him the first player in this young campaign to earn an unequivocal "F-Grade" (6,0 for Europeans).
Trainer Streich faces loads of problems. His team cannot keep a lead. In the attack, they can never seem to stay onside. Not one of the XI looked remotely sharp in the 2-4 loss to Leverkusen. The 3rd minute goal proved a total offensive anomaly and Nils Petersen didn't factor in at all after his tally off the bench.
We'll have a look at the latest topics and see if there are any potential fixes.
Lineup—SC Freiburg—Match Six (4-4-2)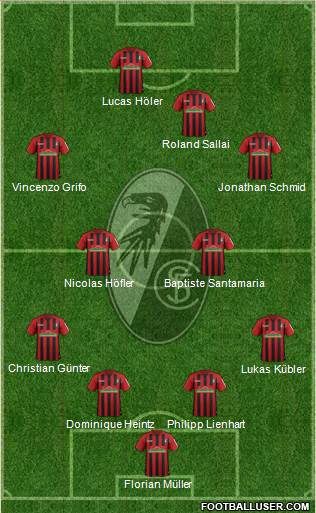 It was not a terrible idea to move Roland Sallai to the short-striker role. Something like that remained worth a shot. Moreover, if the team can hold that shape consistently, there exists a great potential for pickoffs and valuable counters.
Let's assume Streich opts to leave the shape unchanged in this week's preparation for Leipzig and suggest two personnel changes.
Woo-Yeong Jeong moves Jonathan Schmid back
Either one of the South Koreans are good candidates for a return to the starting XI. The 21-year-old showed some promise starting to the left of Sallai in the round one defeat of Stuttgart. Some of his better moves came when he swung out to the right flank behind the Hungarian, however. It seems prudent to perhaps see if there's some more potential there.
Scmid moves back to the right fullback position and Kübler, less than influential after his early assist, takes a seat.
Lino Tempelmann over Nicolas Höfler
As much as Freiburg's long-term defensive linchpin will want to immediately shake off his atrocious performance, Streich needs to try out different partners for Baptiste Santamaria and a quicker youngster deserves a shot.
Someone who's fundamental tools bring asymmetrical diversity to the six slots can shake things up. It's a risky deployment when one considers Leipzig's centralized focus, but there's enough time to groom the partnership properly over the course of the week's training session.
Overall, Streich's starting personnel require an overhaul that will take weeks to cement. Whenever a coach is faced with a rebuild of that scope, it's best not to change the shape in the short-term. The coming training packages must zero in on ensuring that everyone has their spatial arrangements sorted out.
Only discipline can give the Breisgauer hope of stymying a superior opponent next week. If they can keep the shape, they maintain hopes of controlling the match.
---
Weekly Tactical Focus: "Battle of the Dueling Classists"
---
It can be argued that today's football reveres a high-press above all else. Coaches receive the most praise for deploying either trapezoidal back-fours or triangulated back-threes with a defined central pivot runner. A defender who pushes into midfield to pick-off balls and initiate quick counter-attacks are all the rage.
It makes for exciting football. There can exist no doubt about that. Pacey upfield transitions sustain one's interest and satiate the eyes. That notwithstanding, a crucial component of football finds itself sacrificed in the process. What becomes of creative playmaking midfielders? They seem to be bypassed in such a process.
Without delving into the issue too deeply, one might as well note that the prevailing logic sometimes produces cringe-inducing consequences. Last week's column  offered some thoughts on the exile of Arsenal's Mesut Özil in the concluding segment. While the bulk of the reasoning surrounding his banishment relates to a string of public relations controversies, the general demise of the creatively-inclined midfielder plays a role too. Trainers simply don't construct match plans centered around them as they used to.
In the context of these trends, it often proves refreshing to observe a match in which two head-coaches deploy slightly staggered 4-2-3-1s reliant upon roving tens or rotating sixes. Those responsible for drawing upon the day's tactics let their players play. The approach gambles a bit on the performance of a specific "X-factor", keeping the rest of the outfielders set in a rigidly simple formation not subject to major in-game revisions.
Former VfL Wolfsburg coach Bruno Labbadia employed tactics like these when sporting director Jörg Schmadtke brought him in to reverse the flailing fortunes of Germany's green company team in 2018. He similarly brought "die alte Dame" back to basics when Germany's capital club hired him as the clubs fourth gaffer in one calendar year over last spring's corona break.
Labbadia faced the team that dispatched with him after the 2018/19 campaign when Schmadtke's club came to the Olympiastadion on Sunday. Despite being on a very poor run of league form, the 54-year-old stuck with the exact same XI from last week.
Lineup—Hertha BSC—Match Six (4-2-3-1)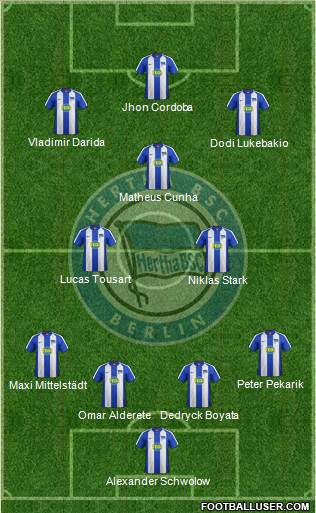 Nice and simple.
Is Matheus Cunha's default position central?
Not exactly. As is the case in previous constellations, he's openly invited to shift over to the preferred left-hand side. This approach seeks to shield him from some of the stranding issues that result from him attempting to do too much on his own. Rotative cycles with Vladimir Darida are, but the overall goal of folding into a 4-4-1-1 when off the ball manifests itself.
Labbadia devised a role for his most creative player that exhibited considerably less liberty in defense. The condensed set of instructions precluded his particular "X-factor" from getting overloaded on attacking sequences. Dropping any requirement that he might have to either keep a horizontal line with Darida or concern himself with anything that Dodi Lukebakio might be engaging in on the right flank relieved him of some mental stress.
Why has the midfield stagger been dropped?
It hasn't been entirely. Lucas Tousart's positional assignment remained a step ahead of Niklas Stark's, or at least it did in some instances. If this was part of a deliberate set-up isn't entirely clear. It could have been the case that one of the holding midfielders had more distributive duties than the other.
Inconsistent execution could have scrambled the match plan a tad. The 4-4-1-1 defensive reversion, however, strongly suggests that cases in which Tousart strode ahead were more than likely spontaneous.
Oliver Glasner with the mirror
There was much speculation pre-kickoff as to how the Wolves trainer would re-build his midfield. Joshua Guilavogui's absence alone meant that any one of his four defensive backs might be expected to move into the midfield. Ridle Baku and John Anthony Brooks stood as the most likely candidates. Renato Steffen might have shuffled rearward to play right back.
The release of the team sheets generated plenty of intrigue. Josip Brekalo returned to the squad after a COVID-induced staycation. He too could play fullback, moving Jerome Roussillon into midfield while Maximilian Philipp covered the right wing and Xaver Schlager took over at ten.
The erasure of innovative speculation sometimes feels like a let-down. This writer experienced no such sentiments when it became obvious that Glasner did not, in fact, have any complex plans in mind on this particular day.
It took less than a minute of pitch observation for his formation to settle.
Lineup—VfL Wolfsburg—Match Six (4-2-3-1)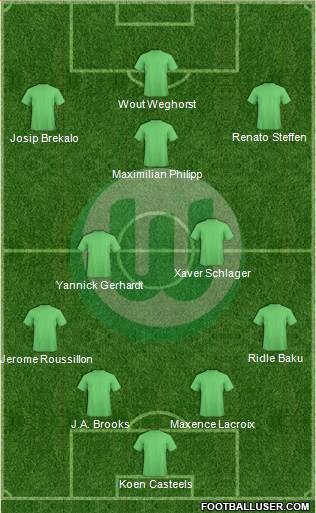 Here one saw the slight midfield stagger one anticipated from Hertha. Schlager worked that one subtle step ahead of Yannick Gerhardt to feed Phillip, who happened to definitely be the player Glasner saw as his "X-Factor". Apart from this nuance, it was a simple 4-2-3-1 mirror.
Could Brekalo manage the ambitious deployment?
Not initially. It took him at least ten minutes to get a meaningful touch in and another two to produce a sustained run. After shaking off the rust and getting himself acclimated, however, he proceeded to put together a very successful match. The layoff clearly didn't affect him all that significantly.
The 22-year-old Croatian prospect maintains a skill set similar to that of Werder's Milot Rashica. He's even more explosive at the position. The Croat surpasses the Kosovar in most of the technical categories. It proved absolutely the correct decision for Glasner to immediately turn him loose in this one.
Who served as the holding midfielder?
That's essentially the uncomplicated beauty of it. Occasionally one witnessed Schlager and Gerhardt taking turns, but for the vast majority of the match direct coverage of Guilavogui's territory wasn't necessary. Wider spacing accomplished this.
Both the fullback and center-back pairings operated a few meters further apart than they had in previous encounters. Since the players were confident enough to execute long lateral switches, the area of the pitch ordinarily occupied by the captain could be circumvented.
The German Wolves stretched themselves before their hosts could do so deliberately. For this reason above all others, the Berliners had to grow into the game relatively slowly.
Was the defensive posture different?
Yes. Glasner opted for a 4-1-4-1 off the ball. When mirrored tactics clash, the basic protective blueprint often works as a crucial factor in awarding one XI the upper hand. These two squads matched up more or less evenly and the game was finely balanced for long stretches.
Like the tactical aspect covered above, it wasn't un-crackable. Labbadia and his team needed to invest time and effort in breaking it down. This constitutes another match facet that a team must "grow into".
By the time the Hertheraner did get the hang of it, most of the fixture's minutes had ticked away.
Match Flow: 1st to 6th minute
It didn't take long for this one to get off the ground. A 3rd minute Philipp tally demonstrated which side carried more confidence into the game. Roussillon sliced through the Hertha midfield unmolested to link up with his lead striker, albeit in an offside position. Though the goal was correctly disallowed, one saw how disorganized Hertha were.
Any observer will concede that the bulk of concentration in the opening five minutes was expended on figuring out Wolfsburg's constellation. Naturally, that didn't prevent one from assessing that the undefeated team held the advantage.
In came one of the "X-factors" to totally disrupt this early ebb. Hertha's 21-year-old Brazilian superstar opened up the scoring in the 6th minute. At first glance, it appeared as if he accidentally directed a weak effort in while inadvertently slipping on a shot.
Closer review of the play reveals that, while the slip itself was most certainly unintentional, Cunha's persistent focus on the finish was genuinely amazing. The former Leipzig man kept his focus even as his legs left from under him. An impressively accurate hit put the hosts up 1-0 against the run of play.
Match Flow: 6th to 20th minute
Buoyed by the early goal, the Berliners were able to stroke the ball around nicely between the 9th and the 11th. Brekalo broke this spell with a nice solo run in the 12th and an even better carve-out outside the box central in the 14th. The Croat worked a nice give-and-go with Schlager one minute later and finally get his own effort off in the 17th.
At the other end, John Cordoba whiffed on a Dedrck Boyata cross in the 13th. It would be the first on many high profile misses from him on the night. Ridle Baku's 20th minute equalizer came on the heels of a wonderful charging forward run by John Anthony Brooks in the 18th.
The American center-half threw a wrench into Labbadia's man-marking with his own bit of creativity. A confused Hertha lost track of Baku, enabling Philipp to locate him in time and space with a sharp cutback two minutes later.
A sweetly sublime first touch from the recent Mainz transferee allowed him to set himself up nicely for a perfectly struck pile-driver. Baku leveled matters with a finish worthy of the man he's nicknamed after, Karl-Heinz Riedle.
Match Flow: 20th minute to half-time. 
The 4-1-4-1 accorded Wolfsburg the advantage for the duration of the initial 45. Germany's green company team did a much better job of upping the pressure and remaining more clever in possession. The opposing 4-4-1-1 struggled to reformat to a 4-2-3-1 in time, rendering it rather difficult to reach Cordoba on counters.
The differing defensive approaches also meant that the capital club got stuck in man-marking schemes too often. Cunha had to step back and bail out the defense on a couple of occasions. Tousart and Peter Pekarik were especially poor on the day.
A rather uninteresting period characterized by interruptions and wholly uninteresting set-piece plays bogged down the fixture between the 24th and 34th. Omar Alderete attempted to draw a penalty in the 35th in what was later revealed to be an act of semi-simulation. VAR replays confirmed that Weghorst withdrew his high boot and the spot kick was cancelled.
After another five minutes of somewhat sloppy football–Labbadia's men had real trouble holding possession during this time–Hertha began to string together a few decent counterattacks five minutes before the break. Signs of life emerged even if noteworthy chances didn't.
Match Flow: 46th to 53rd minute 
More fouls and interruptions led to a choppy start to the second half. Taking the game on his shoulder's Cunha began really varying his position with sprints left, right, and center. He got a weak free kick on target in the 50th and burst through only to sky over in the 51st.
An intersting development saw Cunha begin to dance around his "X-factor" counterpart Philipp, indicating that a tide shift would be imminent. The Brazilian played a small role in the counterattack that would shake this fixture out of its drudges.
Cunha's movement freed up Cordoba to work unmarked on the left. The Columbian international pulled off an excellent switch for the streaking Lukebakio, who then pulled down the ball deftly and stung the palms of WOB keeper Koen Casteels.
The Berliner phase of the match had begun.
Match Flow: 53rd to 67th minute
Both trainers seemed content to let their players settle affairs on the pitch. In what is a first for this column, neither side employed any major tactical changes to snatch the three points. It's often-times a pleasure to witness coaches just permit the players to play.
Labbadia introduced Matteo Guendouzi for Tousart in the 57th. The change did not strictly count as a like-for-like as, in giving the 21-year-old French prospect his club debut, the seasoned Bundesliga trainer threw a far more creative player into the fold. Guendouzi joined Cunha on the pitch to give blue and white two "X-factors" on the pitch.
An early assessment of the new acquisition yields many pluses. Guendouzi put in some great work. His original ideas truly livened up the match. The Frenchmen drew coverage on the right in the 59th in a perfect rotation with Lukebakio. The Belgian winger then swept past Maxence Lacroix elegantly and tore up the left flank before Brooks bailed his defensive partner out with a desperate recovery.
A pair of fine interceptions from Guendouzi in the 61st ensured that the hosts now finally possessed the confidence to unlock Wolfsburg's defensive bearing. Cunha followed up on both occasions with some scintillating work locating unique attack paths into the box.
Only an inch-perfect ground challenge from Brooks could stop a surging Guendouzi in the 63rd. Two fine work-ins for Cordoba failed in the 64th and 65th as Berlin's striker continued to lack his touch.
Match Flow: 67th to 86th minute
Glasner implemented his own straight swaps in the 66th, replacing Brekalo and Philipp with Joao Victor and Admir Mehmedi. In the Austrian trainer's case, he was taking off some of his more creative players. Unsurprisingly enough, this didn't produce any sustainable shift in the run of play.
Weghorst nearly got a header in on goal in the 71st, ultimately losing the aerial battle to Boyata. That's about all that the VfL fresh legs produced. Cunha picked off a Brooks pass in the 7nd and threaded in for a wide open Cordoba. Only a monster track-back recovery from Lacroix prevented the go-ahead goal.
More simple plug-ins from Labbadia in the 74th; Marvin Plattenhardt and Javairo Dilrosun for Mittelstädt and Lukebakio. All positions remained the same. Only Guendouzi and Cunha retained true creative license. It very nearly worked out.
Cunha hit an unreal upfield ball in the 79th with a rabona-touch. He located Darida on the right, forcing Rousillion into the tactical foul. After Casteels kept it level with a couple of solid saves, Cordoba totally blew his biggest chance of the night.
Plattenhardt had the Colombian all set up for an easy strike a mere 8 yards from the goal-line in the 81st. Cordoba went for the spectacular and missed with a diving header on what would be the last play of his horribly disappointing evening. Boyata screwed another close-range header three minutes later.
Match Flow: 86th minute to full-time
In a last ditch effort to try one tactical tweak, Glasner subbed on Felix Klaus for Rousillion and ordered everyone forward in a 3-4-3. It looked dangerous in the 87th, 89th, and immediately prior to Klaus' final effort at 90+2.
With an xG of 1.5 to Wolfsburg's 0.5, Labbadia & Co. can rightly feel dissatisfied with the draw. Cordoba's poor finishing meant that a fixture in which the Hertheraner labored so intensively to completely turn completely around didn't conclude with what should have been a just reward.
At the end of the day, one has to say that Labbadia's more hands-off approach was the correct course of action. Two creatively-minded midfielders, Cunha and Guendouzi, got a chance to build on their self belief. Germany's capital club achieved an appropriately named "Wende" ("turnaround") in this fixture and should be capable of further correcting their course with a win against Augsburg next weekend.
While neither side technically won the "Battle of the Dueling Classists" (Glasner did well to earn a point too), the Hertha coach oversaw the beginnings of a better stretch for his team by taking his hands off the wheel and letting his resourceful players steer.
---
Concluding Thoughts: "Of course not" and "Of course"
---
Many questions this week. We can even pack in two more for those who live large portions of their life traversing football discussion circles. Mercifully, this will be a short section as the two inquests that routinely pop up with irritating frequency have simple answers. The cases slam shut with a satisfying snap.
Will there soon be a European Club Super League?
Of course not. Stop this. Stop speculating on it. Stop reporting on it. Just stop. Nearly two decades of contemplating this every other news cycle is simply enough. The latest proposal, backed by JP Morgan Chase no less, has to be the most embarrassing attempt by a US financial entity to present an unworkable business model yet.
To assume that some five to ten elite European clubs would agree to serve as doormats in a league that features no promotion or relegation is about as sensible as assuming that fairies will drop bricks of solid gold in front of your doorstep in the night. The agreement of a sacked FC Barcelona President agreed to take part in it is such an irrelevant non-issue that it genuinely hurts to watch people take it seriously.
Stop it. Please stop it.
Will Marco Rose be the next BVB trainer?
Of course. This much is obvious. There hasn't been a more obvious pending appointment in Dortmund since Thomas Tuchel. Lucien Favre's contract will not be renewed and Rose stands next in line. Favre gets freedom to toy around with his two keepers and rotate personnel as he sees fit this year because he won't be replaced until the BVB have their man lined up.
Now that that has been settled, is there any chance we could stop talking about that as well? Its truly shapes up to be a long season if all of us German football lovers can't simply get on the same page with respect to this issue and focus on the football.
Twenty-four more rounds of Favre hypotheticals that all lead in the same direction will prove way too much. Let's all agree to stop. Please. The writer asks nicely.