Clubs move all about the table after the 2021/22 German Bundesliga's sixth round. The penultimate matchday before the next international break supplied plenty of talking points. As always, the hot-sheet over at Bulinews covers it all. With the benefit of a little extra time, here's the re-post ahead of another great weekend of action.
And I din't care what anyone says! Timmy Chandler belongs in the team-of-the-week for playing with this tight-wrap turban. All hail Timmy!
---
Bundesliga Tactical Banter: Round Six
---
A Farewell in Breisgau–Take Two
Okay. We really mean it this time. The Schwarzwaldverein has officially bid farewell to their Schwarzwald venue. After all the review pieces and nostalgia-based articles over the course of the week, Christian Streich's men sent off the quaint stadium on the Dreisam off in style. A dominant first half performance saw the SCF rush out to an insurmountable 3-0 lead against visiting Augsburg. Freiburg depart for their new digs on a record home-game winning streak.
Vincenzo Grifo's conversion from the spot makes it 999 competitive goals scored in the stadium. Why not? That's as good a number as any. It's not as if the fans had any less of a fantastic time. We move onwards to a new project. Namely, does the new 34,000 seat venue really have to be called the "Europa Park Stadium"? This could get a little redundant once Freiburg qualifies for the Europa League. It's already confusing enough to have two Europa Leagues. Now we'll get Europa Conference League at the Europa Park Stadium.
Those unfamiliar with Baden-Württemberg may not know that "Europa Park" is the local amusement/theme park; pure kitsch exemplified. It beats Euro-Disney, but that's really not saying much. The amount of history that took place Freiburg's football stadium sends chills down the spine. Europa Park conjures up bad memories of screaming, nausea, and a scary looking Mickey Mouse knockoff. Somehow the two concepts don't mesh together well yet.
The Flo Wirtz-Lukas Hradecky Beer Summit
As if this writing, we can perchance assume that Florian Wirtz and Leverkusen captain Lukas Hradecky went out for their discussed beer summit. Germany's hi-flying phenom certainly deserves it. Wirtz was once again sensational this weekend. In a game during which veterans such as Patrik Schick, Kerem Demirbay, and Karim Bellarabi couldn't finish their chances, the 18-year-old buried a tight-angle shot with absolute aplomb. Germans remain terribly excited about the youngest player ever to score ten Bundesliga goals.
Wirtz definitely earned his beer. For that matter, so did Werkself captain Hradecky. The Leverkusen kept a clean sheet against Mainz with some amazing saves. The double-stop on Dominik Kohr and Stefan Bell in the 11th/12th was almost superhuman. The quick-reflex close range palm-away on Marcus Ignvartsen in the 89th ensured that Bayer would take all three points, and with it second place in the table. Hradecky refused to take credit for the win, instead giving Wirtz all the credit in his post-match interview.
Well then. Hopefully it's all gone well. The eccentric Finnish keeper, in interviews in both English and German, repeatedly emphasizes the role of beer and sauna time in building a solid team spirit. This writer won't pretend to understand the magic wonders of the Russo-Nordic soul, but if it works it works. Leverkusen have the league's most colorful captain and its most exciting young player. Perhaps we'll have to re-think the contender status after all.
Tales of the Conference Contenders
Lest anyone protest that we forgot to include some actual tactics in the "tactical banter" this week, we'll take a look at the contrasting cases of VfB Stuttgart and 1. FC Union Berlin. Urs Fischer's Eisernen are playing in Europe this season. Pellegrino Matarazzo's Swabians could have taken that UECL slot. One reason they didn't was because the VfB trainer's base tactical set-up wasn't built to absorb injuries. When Matarazzo's attackers fell, so too did the fortunes of his team. Fischer didn't have that problem with the frequently-lauded 3-5-2 "double stack".
Fischer's XI had their fair share of problems against Bielefeld this weekend. Chief among them was Timo Baumgartl having to be stretchered off after a frightening head collision with Fabian Klos. Some weekend for plays like that in the Bundesliga. Much more on that below. In any event, Paul Jaeckel slotted into the back-three with no issues. Up top, Max Kruse, Taiwo Awoniyi and (in his first start) Andreas Voglsammer continued to generate chances.
The DSC really tested Jaeckel and defenders in the second half, but they mostly defended their patch ahead of Andreas Luthe well. When the attacking ranks began to falter, Fischer simply refreshed. Kevin Behrens, Sheraldo Becker, and Genki Haraguchi came on. All got efforts in on target. It was Becker, serviced by Kruse, who then crossed in for Behrens in the 88th. The substitute striker then finished beautifully from an acute angle. Much like last year, Union sport so many interchangeable actors for the top axes. They're built for success.
Moving down south to BaWü, Matarazzo and Mislintat can't buy a solution. The American trainer, after issuing a challenge to his team that didn't come anywhere close to being met, tried a back-four this time. Borna Sosa stayed all the way back as a fullback opposite Konstantinos Mavropanos. Wataru Endo worked a rigid six-set alongside Orel Mangala. Hamadi Al Ghaddioui returned to work as lead-striker. Omar Marmoush moved over to the left wing.
Nothing. Really. Nothing. Mateo Klimowicz looked horrible as the ten behind Al Ghaddioui. Both the lead striker and the ten were taken off at the half. Newcomers Chris Führich and Erik Thommy took over the wings. Marmoush moved back up to nine. Coulibaly took his turn at ten. Better still not much. Hosts Bochum, fresh off a 0-7 shellacking were still the better team in the second-half. Sosa's cross on the disallowed goal was okay, but it was still definitely a handball.
As serviceable a job as Mislintat and Matarazzo did this offseason, the personnel problems they encounter now were still foreseeable ones. While it's still not likely that the team will do much other than factor into the relegation race arithmetically this year, it's very hard to see them making a push for Europe; something they could have absolutely done with just a bit more prudence in terms of planning. For the second consecutive year, the VfB appear to let an great opportunity slip through their fingers.
---
The Burning Questions: Round Six
---
How did Dortmund lose again?
We might as well begin by emphasizing that there's certainly no need for BVB fans to press the panic button. The assurances from round two still hold. This is not last season. Marco Rose lost Marco Reus and Erling Haaland on short notice. Most of the week's training ground work had to be tossed. What we ultimately saw settle on the pitch didn't look like a "Plan D", "Plan E", or even "Plan F".
This was a full-blown emergency lockdown:
Lineup—Borussia Dortmund—Match Six (5-1-4)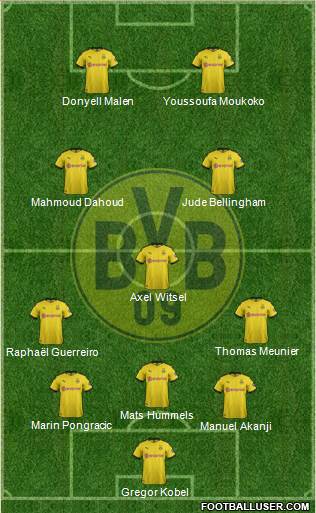 Raphaël Guerreiro and Thomas Meunier remained close to a back-three that, in turn, huddled together like three arctic explorers stranded in sub-zero temperatures. It proven nearly impossible to figure out which vertical lanes Mats Hummels, Marin Pongracic, and Manuel Akanji were supposed to be occupying. Perhaps the only instruction Rose gave them involved remaining as compact as possible.
Sometimes the graphic tells the full story. As the reader can easily infer from the spacial arrangements drawn above, back-builds would be long, prodding affairs. Youssoufa Moukoko and Donyell Malen could make all the sprints they wished. A surfeit of speed alerts meant nothing. No one could reach them.
The Schwarzgelben couldn't produce a xG decimal until well into the second-half. The attack truly was that pathetic; 0.0 until after the hour-mark. Gladbach's own back five–consisting of Nico Elvedi, Matthias Ginter, Tony Jantschke, Joe Scally, and Luca Netz–obviously spent the week practicing marking assignments on teammates mimicking Haaland and Reus. The quintet found themselves unexpected recipients of much easier assignments.
The loss spawns a few more sub-queries.
Should we be concerned about Moukoko and Malen?
Germans might harbor some slight concern for their Wunderkind. The 16-year-old needs a confidence boost after having not scored since his return from last spring's injury. Shots of the teenager looking sullen and disappointed with himself on the sidelines after being subbed off weren't pleasant to watch. As absurdly talented as Moukoko is, we tend to forget that the absurdly young are still learning to deal with emotions.
That being said, one really can't pin the blame for this result on the strikers. Moukoko garnered just 12 touches in 57 minutes; Malen just 30 in 82. The players behind them essentially took no risks. In an all seriousness, only Pongracic tried a carry out of the back in the first half. Jude Bellingham also had off night during which the ideas weren't flowing.
Were Rose's adjustments appropriate?
Appropriate for situation one might say, though still questionable. Matters weren't going to be easy once Dortmund got reduced to ten-men after Mahmoud Dahoud's Yellow-Red. After the side limped into the tunnel down 0-1, Rose brought on Thorgan Hazard in place of Pongracic for the second 45. One nevertheless observed a barely workable shape on the tactical cam.
Lineup—Borussia Dortmund—46 minute (4-2-3)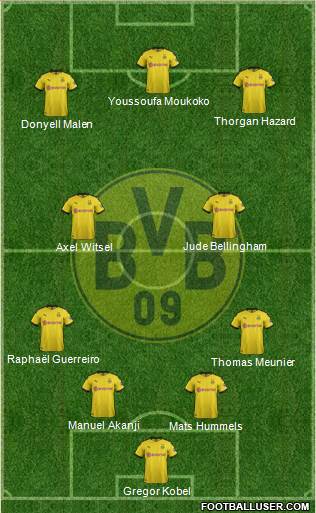 The fullbacks didn't move forward by much. Bellingham and Axel Witsel ended up turning the ball over repeatedly. Rolling BMG counter-attacks characterized the second half. Keeper Gregor Kobel had to bail his team out several times. Adi Hütter's foals also noticed that Witsel and Bellingham couldn't coordinate their axis. Hence, it proved easy for the Gladbach players to clock manage with cycles on the Dortmund left.
No further tactical changes from Rose. Ansgar Knauff relieved Moukoko in the 57th. It yielded nothing. A triple substitution in the 82nd had no rhyme or reason to it. Three seemingly random actors came on for a late push. At least this produced one chance. Hazard came close to equalizing with a header he couldn't have directed better with a split-second of extra time at 90+1.
Why shouldn't we be concerned?
Hazard's near miss is again relevant here. One should also bring up an early set piece goal in the 8th, disallowed due to Hummels starting a tad early before heading home. This match really could have swung either way. Neither team furnished especially good football. In the final analysis, the result was fair. The hosting NRW team edged out their guests creatively, but only just.
The late personnel losses don't totally give Rose a pass. Even at their lumbering and languid worst, however, this incarnation of the BVB still doesn't have the feel of one of Lucien Favre's back-back-back-forward-back bromide works. Note that this loss will have psychological effects on the squad as a whole. One never knows if such an impact will snowball. For now, we'll assume not.
Augsburg, Bielefeld, and Mainz are next. Easy enough to get back on track.
Is Leipzig's 6-0 rout a message?
Ha! It's a message that Hertha remain as big a chaotic mess as many of us have been claiming. This doesn't constitute a surprise at all. A false dawn was even presaged three rounds back. Pal Dardai's "soft-pillow" constellation could always hope to wipe their feet on the two worst teams in the league, Bochum and Fürth. This time it was their turn to serve as the doormat.
Lineup—Hertha BSC—Match Six (5-4-1)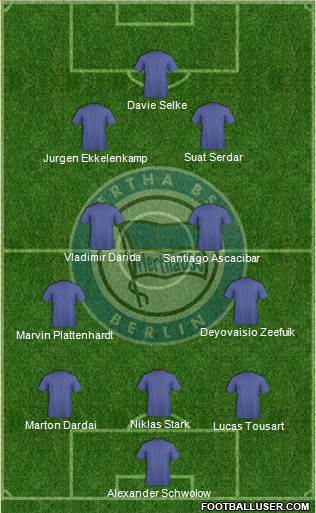 Seven outfielders stationed at or just behind the halfway line didn't stop the German Red Bulls from punching through the blue ranks as if they were a paper bag. One assumes that the idea here was to keep the final axis stable with a flat back-three that–with Lucas Tousart stationed all the way back–might be able to generate some vertical counter-pressure.
The triple-chain fell apart already in the 3rd minute. As soon as Alexander Schwolow came charging out of goal to claim a loose ball none of his supporting defenders seemed remotely interested in, one could tell it was going to be a long afternoon. A few laborious builds allowed Vladimir Darida to get tame pinprick shots in during the opening quarter of an hour. Then it was quickly over.
Yussuf Poulsen's spectacular leave on a ball headed in Christopher Nukunku's direction in the 16th allowed the Frenchman to score the opening goal. Nkunku returned the favor for Poulsen seven minutes later. Done and dusted To say that Leipzig could have scored more in the first half actually even counts as an understatement.
Emil Forsberg hit the post. Lukas Kostermann had a goal disallowed. Nkunku came close again twice on both sides of the half. Taking Marton Dardai's 3rd minute headed clearance off the line after Schwolow's misadventure in the 3rd into account, it could have been 11-0. Nkunku might have scored four. Forsberg should have bagged a brace.
Dardai brought on Dennis Jastrzembski (whom it's perfectly excusable not to have heard of) for Darida at the restart and tried to move Tousart up and Jurgen Ekkelenkamp out right for a 4-2-3-1. Bah. Even worse. More junk. One can hardly fault the players from essentially giving up five minutes in. They didn't buy into their coach's concept for good reason.
Now Dardai says he wants to place his "lab-rats" in a back-four-chain next time. Best of luck to the reluctant trainer with that. Surely the Berliners will have great fund scampering around the maze against Freiburg, Frankfurt, Gladbach, Hoffenheim, Leverkusen, and much better cross-town rivals Union Berlin over the next six rounds.
Sadly, this is a maze without any cheese in it anywhere. We may be in for plenty more of what we saw this past weekend. The mice might as well plop down and call it day. No objective. No effort. Time to hit up the wheel; maybe have a leisurely stroll.
Are Fürth still lousy?
Errm…we're going to go against the previously seeded grain here. For once, we have a different answer to this question. In point of fact, Stefan Leitl's Kleeblätter stood tall against the German giants for significant stretches in the Friday night fixture. Although the outcome never appeared in much doubt, the Middle Franconian hosts showed some signs of fight in front of their hometown fans. The self-congratulation, by and large, wasn't misplaced.
To say that Fürth are improving remains the faintest of praise. When one plays as wretched football as they have to open the campaign, it isn't exactly hard to locate the upward trajectory. The new 4-3-3 nevertheless kept the heavily favored Champions in a holding pattern for the first ten minutes. Leitl's men were somewhat harshly punished for their first mistake when Alphonso Davies caught them on the counter in the 10th. Joshua Kimmich then made them pay for not at least trying to challenge him in the 31st.
In between the two first-half goals, fullbacks Marco Meyerhöfer and Jethro Willems put together some good drives by powering past Davies and Benjamin Pavard on their respective flanks. Much later on and much more impressively, there was a sustained period of energy and ideas in the last 20 minutes. The squad as a whole demonstrated strong character by showing some bite despite falling behind 0-3. The late consolation goal featured a lovely cross/headed finish combo from Timothy Tillman and Cedric Itten.
It's a little something to build upon; an ever so slight flicker of life to cling to. While it's still absolutely inconceivable that this completely out of its depth roster has what it takes to avoid immediate relegation, perhaps these Bavarians can at least avoid total humiliation. There genuinely isn't a team in this field that Fürth can hope to count on a victory against. Not even Bochum in a few weeks' time. The 2012/13 SpVgg cobbled together four victories en route to its dead-last finish. Nine years later, this one still looks like they'll be lucky to get three.
Okay. So they're still lousy. Just wanted to make a positive point for a change.
Are Wolfsburg secretly bad?
This weekend's 1-3 defeat to Hoffenheim certainly gave one pause. The visiting Wolves truly appeared to have no fangs whatsoever for long stretches. Mark van Bommel's lineup selection indicated that he had his mind solely on keeping his wingers fresh for the Champions' League. Ridle Baku surprisingly started on the left opposite Dodi Lukebakio. While the German international did end up scoring a wonder-goal, he was gifted his only real chance thanks to a mistake from David Raum.
After Baku put them ahead in the 20th, the VfL really looked disjointed for the duration of the half. Passing looked far too sloppy for a UCL club. The ordinarily rock-solid defense tandem of John Anthony Brooks and Maxence Lacroix committed multiple errors. Brooks slipped clumsily on the second Hoffenheim goal, watching the ball find the back of the net from his backside. Lacroix nearly let in two more from Kramaric. The undisciplined foul that led to the late free kick, and the non-existent marking as Pavel Kaderabeck finished off the 3-1 was inexcusable.
Maximilian Arnold freely admitted after the match that his team were not Bayern München. Correct. The FCB doesn't take their eye of the ball irrespective of the league opponent might be. It's not as if the German giants would drop an early season match to Hoffenheim. Oh wait a second. Nevermind. It's still a long season. This was nevertheless a very bad performance. Apart from Baku's goal, there actually wasn't one single scoring chance that sticks in the mind.
---
Weekly Tactical Focus: All the Pain
---
We call football "the beautiful game". Images of acrobatic artistry define this sport more so than perhaps any other. Seven generations ago, the German "Turnvereine" moved out of the gymnastics hall and onto the pitch. German football was born. A certain sense of calisthenic elegance still survives in the version of football that Germans have grown accustomed to. We expect a level of baroque flair and skill worthy of a gymnast. Naturally, that isn't to suggest that other countries don't; merely that a rough and tough spectacle of crunch and clog isn't the norm.
And when it does come around? Somehow, it still manages to be beautiful. The intense corporal carnage that transpired between Frankfurt and Köln supplied a very different kind of beauty. This edge-of-one's seat affair could have been mistaken for a rugby or even American football match. Bodies flew and fell throughout. Two players had to exit the stage after gruesome head-collisions. Two more somehow managed to solider with bleeding gashes. Particularly during the first-half, one could barely comprehend just what taking place before one's eyes.
What? Really? Did that actually just happen?
Amid all of the blood and butchery, there was plenty of the game's more traditional beauty on display. Both teams amazingly maintained the level-of-play throughout all the extra injury time that had to be tacked on. There were eight minutes added to the opening 45 alone. When Rafael Santos Borré slid home a Filip Kostic cutback in six minutes into the "Nachholspielzeit" match official Martin Petersen deemed necessary, one felt the collective pressure lift across the 24,000 in attendance at the Deutsche Bank Park. Eintracht Frankfurt, with their backs fully pressed against the very last wall, were the reason why this fixture was both so brutal and so entertaining.
Eintracht's story thus far this season makes for quite the enrapturing tale. After the Pokal loss and thorough demolition on the Bundesliga's opening weekend exposed them for the identity-crisis-stricken club that they are, the SGE have stumbled and fumbled for something solid to latch onto. In many ways, the Filip Kostic affair exemplified this organization's off-season perfectly. The sporting CEO and sporting director both pulled up sticks. Citing the clear-out of the administrative offices, the head-coach soon followed suit. The lead-striker left. Numerous others wanted to.
Finally, the one player who seemed to truly care about last year's fumble away of the Champions' League spot was tapped to lead the team, then succumbed to injury. Kerplunk, New head-coach Oliver Glasner and new sporting director Markus Krösche are not incompetents by any stretch of the imaginations. In time, they will find a way to pick up the pieces. With so many shards laying around, however, time continues to pass. The manager, coaching staff, and squad have so many pieces to pick up that it's almost impossible to figure out the cleaning process. The task of putting things back together hasn't even begun.
Here's Glasner's latest attempt:
Lineup—Eintracht Frankfurt—Match Six (4-4-2)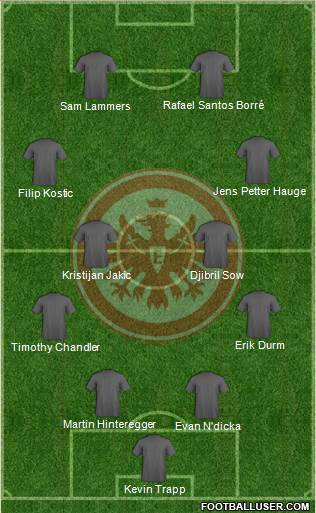 Apparently, reverting to a back-three simply wasn't an option for the SGE trainer. True to his word, the 47-year-old Austrian wants to get back to basics first. Even if it means dusting off Timothy Chandler, the former Wolfsburg head-coach wants that back-four in place. Glasner absolutely needs to keep the Djibril Sow-Kristijan Jakic axis together until they begin to gel. Sam Lammers and Borré must develop some chemistry, forced though it may be.
For the record–SGE
A (conjectured) search for stability aside, this 4-4-2 counts as yet another unique system. Let's review. After the first two competitive losses led to the jettisoning of the back-three, Glasner has tried a 4-4-2 with Jesper Lindstrøm at short-striker, a 4-2-3-1 with Kamada in the ten-spot and another 4-2-3-1 with Lammers thrown immediately into the fray. He then re-introduced Borré as winger for two fixtures.
Now the two are paired together for the first time. Okay. Fine. Both players have now opened up their goalscoring account for their new club. One could call this progress, though we're still missing a win. Glasner hasn't gotten one in eight tries, six of which featured very different constellations. nothing thrown at the wall has stuck thus far.
The state of Köln
Glasner's opponent, a newly installed trainer himself, did have the good fortune to inherit a better situation. That statement in itself seems weird when one considers how narrowly die Geißböcke avoided relegation last year. It's nevertheless true when one takes a look at his latest lineup.
Lineup—FC Köln—Match Six (4-4-2)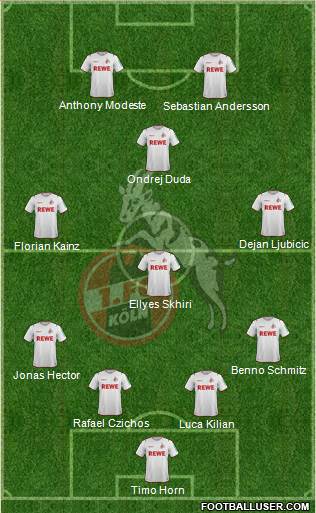 Another logically sound selection by the former SC Paderborn guru. As you can see, the midfield diamond is stretched to the maximum elastic limit. This is purposefully done in order to keep the possession on a central vertical plane and away from a potentially dangerous flanker like Kostic.
No, we will not be fitting in a joke about Baumgart's waistline girth here. Tempting, but no. Instead, we'll return to the point brought up above the graphic. The new Domstädter trainer inherited a much easier squad to assemble than Glasner.
For the Record–KOE
Consider for a moment the squad that previous head-coach Markus Gisdol had to work with last season. Neither Anthony Modeste nor Sebastian Andersson were healthy. Benno Schmitz also spent most of the year on injured reserve. Dejan Ljubicic–whom Horst Heldt somehow convinced to come to the cathedral city–hadn't arrived yet. Ondrej Duda and Ellyes Skhiri had bad years mostly playing out of position.
What a difference a year makes. Not only does Baumgart have a complete squad here, he also has the luxury of rotating on the basis of his opponent. Hometown boy Mark Uth–who the club should have never let go back to Schalke in the first place isn't in this lineup. Neither are Salih Özcan, Kingsley Ehizibue, Noah Katterbach, or Jan Thielmann.
None of these actors are hurt or in poor form. They just didn't fit the match plan. As difficult as it may be to fathom, there's suddenly a surplus of quality players on this team. We've touched upon the topic of Baumgart's rotations in previous columns. The main thing to keep in mind is that one can usually tell by the team sheet if Baumgart builds a side designed to either compete mostly compete in the air, go for straight speed, or strike a balance.
With Schmitz, Andersson, Ljubicic, and Luca Kilian starting, this is definitely the "aerial duel" squad. Man, was it ever. Welcome to the match that sometimes resembled a WWI dogfight. Here come the flyboys. Watch out for the zeppelins.
Match Flow: 1st to 9th minute
Köln's strength in the air became immediately apparent in the first few minutes. Borré earned a free kick after Rafael Czichos fouled him on a left-side breakthrough in the 1st. Czichos then powered away Kostic's service in the 2nd and cancelled out a Chandler diagonal in the 3rd. Borré got through again in the 3rd, only to be quickly smothered. Jonas Hector cleared then caught up to the counter. Unfortunately, Andersson made a hash out of the Kölner captain's incisive pass.
Too many captivating duels to enumerate took place between the 4th and 6th. One couldn't take one's eyes off all the midfield crushers for long enough to list all the names on paper. Two trench fights involving Kostic-Ljubicic and Borré-Skhiri were far the best. Just as one began to get enamored with the physicality of the match, Florian Kainz and Durm collided near the right touchline. The Effzeh winger didn't appear to intentionally drop an elbow into Durm's face. Both players were following the ball.
Accidental though it was, it constituted quite the nasty knock for Durm. The former German national team wingback required prolonged treatment. One watched with trepidation as the SGE medical staff ran him through the standard concussion protocols. After a tense two minutes during which Durm clearly had difficulty following the physicians fingers, play finally resumed.
Match Flow: 9th to 14th minute
Eintracht had to play down a man as it was immediately clear that Durm would be unable to continue. Hector very nearly engineered the opening goal in the 9th. The captain made a nice move in and delivered Modeste the ball with a cheeky back-heel. The Frenchman then crossed well for his Swedish striking partner. Andersson, who genuinely had a very poor match, wasn't quick enough to the ball to beat Frankfurt keeper Kevin Trapp.
Borré carved out space for a third time in 10th, on the right side for the first time. Czichos and Kilian closed ranks and put Schmitz through on the counter. Andersson again couldn't make much of the final ball directed at him, but Evan N'dicka and Martin Hinteregger couldn't adequately clear the ball after multiple attempts. Chandler stopped a Hector cross in the 12th, but couldn't still couldn't get the ball of the the Effzeh half.
As was the case a couple of weeks back, the SGE's failure to clear their lines ended up coming back to bite them. Köln kept after the ball following a throw in and a corner. During these sequences between the 12th and 14th, the SGE actually did well winning all the major aerial battles. They nevertheless just couldn't clear.
Schmitz took his time surveying potential colleagues for a long ball just outside the 18. He spotted his captain making a run up to the touch line. Hector took the telegraphed through and tapped back expertly for Skhiri. Great ball. Sublime mid-air set-up off the inside of Hector's boot. Clinical finish from the midfielder. 1-0 to the visiting Geißböcke.
Match Flow: 14th to 30th minute
The Hessen hosts didn't allow themselves to remain unsettled for long. Danny da Costa had come on for Durm in the 11th, meaning that the German Eagles were back to full strength. Chandler put Kostic forward in the 15th, but there were ultimately no takers for one of the Serbian's trademark crosses into the box. Lammers and Borré hadn't made it up yet.
Chandler tried again in the 16th. This time Lammers wasn't quite ready to receive the ball after the American's fine solo. Skhiri and Schmitz got the Domstädter rolling back the other way in the 17th before Chandler and Kostic counterpunched with another run up the left in the 18th. Amid this, Kostic also took another free kick. While it was definitely a quality delivery, Kainz rose to further exert his team's aerial dominance with a header away.
Kilian stopped Borré again on the left in the 19th. Hinteregger and N'dicka managed to squeeze Modeste out after initially letting him through in the 20th. Da Costa made his way through at the other end in the very same minute, only to be outboxed skillfully by Hector. Before another minute could elapse, the Kölner had another chance. Ljubicic only just missed Modeste with a cross in the 21st.
Wild end-to-end action surely meant that all the match trackers missed something. Kostic and da Costa mounted further charges down both flanks between the 22nd and 25th. That's what this writer has down anyway. There were far too many possession changes to keep track of. Both sides had neat looking approach play cut short during the back-and-forth.
The crosses from Kostic, da Costa (two from him), and Chandler ultimately reached no one. The SGE center simply wasn't set up for delivery properly. When Chandler caught Ljubicic from behind in the 25th and referee Martin Petersen reached to fish the match's first card out of his pocket, there was at least some relief among chroniclers when we observed that we'd get a break.
The booking probably didn't accord minute-by-minute writers sufficient time to catch up anyway, as the two sides immediately proceeded to swap long balls again in the 26th. Kainz cut into the area central and aimed for a streaking onside Modeste. The final rightward ball was simply too long. One had to wince as an in-crashing Hector was wide open on the left.
After a couple of recycles outside the area in the 27th and 28th, Jakic and Chandler were again able to dit da Costa open wide right. Again the central support wasn't there. Kostic earned a free kick as the half-hour approached. Kölner keeper Timo Horn has to rush out to punch the stinging effort. He actually ended up punching teammate Kilian, who immediately went down in a heap.
Match Flow: 30th to 38th minute
Fresh off a break we actually appreciated, no writer wanted to see this. The medical staff huddled over the former Mainz and Paderborn defender just ahead of the goal mouth. It took the Geißböcke three minutes to get the 22-year-old to the sidelines. Once they did, everyone watching noticed that Modeste was also absent from the pitch. The French striker, nostrils plucked up to stop a full-fledged nose-bleed, would have to wait to check in.
Play thus resumed with only nine men in white as the 32nd drew to a close. Once the two Köln players got back into the match, it didn't take long to see that something was miss. The Norwegian winger produced a lovely solo on the right side of the box. Hauge danced around Hector, Kainz, and Kilian on a single dribble. Skhiri finally got a foot in. One could see, however, that Kilian was swaying in his attempt to follow.
The still dazed Kilian took no chances, immediately sitting down on the grass and signaling for a sub. Jorge Meré entered for him with minimal delay. Play resumed in the 35th. Kostic punched through in the 36th. Lammers did a horribly poor job with the cut-back and Köln dodged a bullet courtesy of the Dutchman's weak first touch.
Ljubicic saw yellow for a dangerously high-booted challenge that ended up catching Sow in the 37th. One minute later, the real craziness ensued. Two separate collisions (Chandler-Schmitz and Modeste-Hinteregger) on the very same play in the in the 38th saw all four players hit the deck. Modeste saw the cotton balls knocked out of his nostrils, staining his white REWE jersey with blood. Chandler was bleeding profusely from the back of his head.
Schmitz had to be helped to the sidelines. For whatever it's worth, Hinteregger got up.
Match Flow: 38th minute to 45th minute
As we passed the 40-minute mark, one wondered how in the hell these players could be expected to continue. Perhaps aware that both coaches had already burned a sub due to injury. The Eintracht medical staff did a remarkable job wrapping Chandler's head in a tight four-layered turban. Modeste got a fresh shirt. Schmitz took a couple of sprints and shook it off. Play resumed already in the 42nd, with only Chandler not quite ready to join yet.
Hinteregger immediately put Borré through with an awesome long launch. The Colombian striker did well on his advance and earned a corner. Chandler rushed back in as they prepared to take the set-piece. A wobbly clearance from Modeste actually ended up bizarrely bouncing back to Chandler's boot. Naturally, the American was miles offside and the toss into the net didn't count.
The two sides continued to fight hard in search of a goal that would count. Czichos unfortunately ended up heading back a ball directly back into Skhiri's face in the 44th. We had another brief injury timeout before reaching the 45. The fourth official flashed four eight full minutes of injury time.
Match Flow: 45th minute to half-time
Andersson got the first chance of added time courtesy of a long throw from Schmitz at 45+1. Da Costa got the ball again in a dangerous area after some set-piece creativity at 45+2. Again, there were no takers in the center. Modeste and Ljubcic needed to make much more of SGE disorganization on rush at 45+3, but could only draw the free kick. Baumgart used on of his better designs at 45+4. Skhiri skewed the final effort.
Kostic and da Costa both got stonewalled on separate plays at 45+5. Jakic supplied both delivers, making nothing of the return balls sent his way. After Duda set up Andersson (who missed yet again) at 45+6, Hauge hit Kostic on the left with a gorgeous cross switch. The Serb opted to toy with his marker for a moment, giving Schmitz the impression that he would try to dribble past him.
Instead, after a feint, Kostic fired back a beautiful ground diagonal cutback. It's possible that Frankfurt's by far best player on the pitch spotted Borré rushing in totally unmarked. Maybe. Maybe not. In any event, the Colombian slid it home easily. The look on Oliver Glasner's face was priceless. Glasner exhaled as if he hadn't done so in years. The 24,000 in the stands made what can only be described as a massive collective exhaling sound.
Hauge actually came close with an effort that only just whizzed past the post at 45+8. The celebrations didn't end up taking that long as the Hesseners wanted more. The crowd had no choice to go for the full standing ovation when Petersen finally blew the whistle. Both of these teams deserved it.
Match Flow: 46th to 62nd minute
Two changes from Steffen Baumgart at the half saw the Kölner trainer switch out his "aerial prowess" template for the more speed-oriented one. Schmitz and Ljubicic made way for "speed demon" Kingsley Ehizibue and Jan Thielmann on the right-hand side.
Lineup—FC Köln—46th minute (4-1-3-2)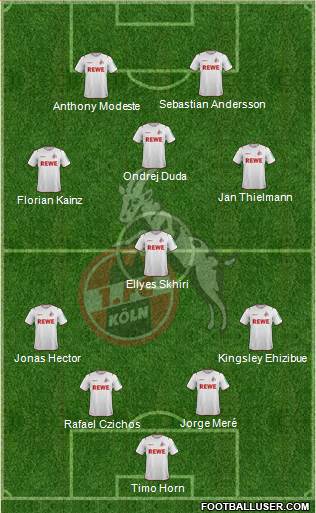 A formation shift was also apparent with both wingers and Duda moving up significantly. Regrettably for Ehizibue, Kostic stripped him of the ball during his first involvement in the 46th. The Serbian got off a hard shot to sting Horn's palms. The two teams, surely weary of more knocks, laid off one another for the first couple of minutes. This didn't last long as a foul in the 48th gave the guest a free kick.
Duda delivered well and a meakly marked Kainz got a header in. The heavy duels resumed with plenty of crunching tackles (all of them fair) taking place over the next two minutes. Hinteregger linked up well with Borré again in the 50th. The Colombian nevertheless made the wrong choice to cut inside and was dispossessed. Ehizibue skipped past Chandler in the 51st. N'dicka ended up heading a good cross away.
Kostic made immediate use of his extra space on the next counter. This time he found Lammers, who laid of for Borré. The Colombian's got his touch wrong again. After Andersson wasted another chance in the 53rd, following some good work from Hector and Kainz, we received another bizarre sequence. Modeste picked up a Trapp spill of a hard Duda ranged effort.
Fouled on the play, the French striker still managed to tip back to Kainz, who slotted into the empty net. After one was done sorting out if the goal counted because of correctly awarded advantage, the VAR team in the Kölner Keller buzzed match official Petersen about a potential offside. A lengthy review policy eventually cancelled out the 54th minute goal because Modeste's left shoulder blade was the tiniest of fractions ahead.
Good football was on display between the 56th minute and the hour mark. The hurtful challenges were mostly gone, but both sides continued to fight tenaciously for every last loose ball. Andersson shot well over again in the 58th. One minute later, Kostic won out after a hard duel with Ehizibue on the SGE left. The Köln sub then somehow recovered to force a throw in.
Hauge dazzled with some more dribbling brilliance after the subsequent throw. The Norwegian ended up trying to do just a tad too much, however, and the ball ended up going out into touch again. The stoppage enabled Glasner to get the double substitution he had been readying in Daichi Kamada and Jesper Lindstrøm replaced Lammers and Hauge.
Match Flow: 62nd to 85th minute
One could easily infer what this was supposed to bring. Kamada serves as the squad's go-to ten linchpin. A 4-2-4 press materialized almost immediately. As it turned out, the two subs even made an instantaneous impact.
Lineup—Eintracht Frankfurt—63rd minute (4-2-4)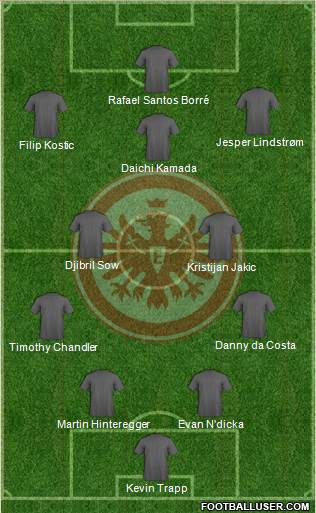 Lindstrøm set Kamada up with a deft chip into the box in the 63rd. The Japanese international's header missed by only a hair. After a series of midfield duels fought to a draw and several corners, Kainz got the next effort off in the 67th. Kamada, Kostic, and Jakic combined to penetrate well one minute later. Another corner ensued. This time Köln couldn't clear and Hinteregger got off a vicious snapshot in the 69th that Horn did very well to stop.
Several promising attacking waves from the Hessen hosts between the 70th and 72nd forced two more saves out of Horn. The aim on all of them appeared to be working the ball up to Borré central. Having come close to getting their target man in the right position several times, one almost had the sense the goal would be coming.
Baumgart cut off the flow by sending Louis Schaub on for Kainz in the 72nd. SGE builds were a little more cautious over the next three minutes. They still didn't let Köln see any of the ball. Finally, Baumgart's men wrested it back in the 75th and earned a corner on their side. Frankfurt were back the other way quickly and then took their own corner after Jakic saw Kostic through in the 76th.
All the set-pieces were gradually taking the air out of the match. Baumgart yelled at his crew to take their time setting up the next corner in the 78th. The hosts had the edge in terms of gas remaining in the tank. The Effzeh trainer pushed his hands down as if to encourage everyone to fully slow their roll.
With everyone back, the Domstädter defense finally stabilizing and chocked off Eintracht's momentum. Baumgart killed off some more time by bring on Uth for Duda in the 85th. Glasner countered (weirdly) with Stefan Ilsanker for Sow in the 85th.
Match Flow: 85th minute to full-time
At long last it settled down with neither team able to summon up the willpower to apply much pressure. This continued through four minutes of extra time, the only highlight of which was Baumgart himself getting booked for absent-mindedly breaking the line on the pitch in protest of a purported foul. The Geißböcke gaffer looked nervy down the stretch. His tactical shift at the half proved a bust and he simply wanted to close the game out at evens.
And so it ended.
A insanely hard-fought contest that fully deserved to end 1-1. In 7th place and off to their best start since the Europa League qualifying 2016/17 campaign, the cathedral city club stand as clear favorites to break into double digit campaign points next Friday against lowly Fürth. Even if Baumgart's tinkering didn't work out this time, one can see that the new head-coach has specific personnel templates that can carry this team rather far.
Eintracht, on the other hand, still seek their first win under Glasner. In eight competitive matches, die Adler have lost twice and only managed six draws. It might be possible for the SGE to shake off the hex at Antwerp on Thursday in the second Europa League group stage game. The bad news there is that defenders Durm and N'dicka have already been ruled out. The even worse news is that Bayern awaits in the league next weekend.
There was definitely some lionhearted spirit demonstrated out on the pitch this week. Whether it was Chandler fighting on with the turban, Kostic relentlessly making a nuisance out of himself, Hauge having the gall to show some flash, or Borré genuinely fighting hard until the very end, there's life in this wrecked club that lacks a system or even a process.
The played through all the pain. Unfortunately, there exists no such thing as Bayern ever taking a match lightly. There may be much more pain in store.
Thanks so much for reading! You can occasionally catch Peter goofing off while watching the lower German football divisions on twitter, @ViceytheSS.
Twitter DMs are open for football conversations, corrections, and (if you truly insist) general abuse. 
All columns debut on Bulinews before appearing on Peter's website later in the week.