Anyone up for some shots of dejected Bayern players?
After a decade of FCB dominance, Bundesliga diehards will take what they can get. Not to suggest that contemplating the final and ultimate demise of Thomas Müller is something we enjoy; particularly not after the disastrous World Cup. The sight of the German giants hanging their heads low still constitutes a rare pleasing occurrence.
As it turned out, we wouldn't get the privilege again in the current calendar year, unless one counts the soul-crushing WM of course.
This particular matchday belonged to the "Fighting Fuggerstädter". All throughout the September international break, we retained some hope of a change thanks to them. Well done, Bavarian Swabians!
---
Bundesliga Tactical Banter: Round Seven
---
"King of the Kool" Kamada
The international break comes at perhaps an inopportune time for streaking Eintracht Frankfurt. The Hessians showed zero hesitation in putting down a Stuttgart side embroiled in a little bit of administrative disarray on Saturday afternoon at the Mercedes Benz Arena. All three SGE goals came off set pieces. The wondrous Daichi Kamada was involved in every tally, netting a goal himself and registering two assists on the day as well. For the 26-year-old, the international break comes at the perfect time.
Kamada–along with Stuttgart actors Wataru Endo/Hiroki Ito, Union's Genki Haraguchi, and Freiburg's Ritsu Doan–are among six Bundesliga players recently called up to Hajime Moriyasu's Japanese national team. Schalke's Maya Yoshida will captain the Samurai Blue this time around. German fans interested in giving their upcoming World Cup group stage opponents a good scout can check out the Japanese national team in friendlies against the USA and Ecuador.
Frankfurt's hero of the day–a favorite of Bundesliga lovers for quite some time–remains the most important competent to keep tabs on. Oliver Glasner's SGE did struggle a bit in open play with the tactics a slew of injuries forced him into. Ansgar Knauff had to occupy the left-wingback slot opposite Kristijan Jakic. The makeshift 3-4-3 buckled frequently, allowing Stuttgart to get plenty of chances in on keeper Kevin Trapp. Thankfully, Kamada was there to compensate. We can all be grateful for Kamada, period.
"Mo" Mainzer Problems for Bo
Perhaps no team (apart from Bayern, of course) will be looking forward to the international break more than Bo Svensson's Rheinhessen. Not to suggest that either team played particularly well in Friday night's round seven curtain-raiser (xG Mainz–0.7, xG Hertha–0.7), but die Nullfünfter were extremely lucky too have salvaged a 1-1 draw against former coach Sandro Schwarz following a totally defensively rudderless and offensively harmless 90 minutes of football.
Somehow, despite totally anemic late push, Anthony Caci latched onto a loose ball and sent the equalizer into the net at 90+4. With striker Jonathan Burkardt out again, Svensson has real problems building a coherent attack outside of the "Johnny-si-wo" pairing. In all seriousness, it looked like the Mainzer trainer was running a 7-2-1 formation for much of the Hertha match. Karim Onisiwo–the very rare goal-scoring half of the striker partnership–had nothing but sad long balls to chase all night long.
Svensson can't seem to make it work. He tried pairing Marlon Mustapha with Onisiwo in a 3-5-2 during the second half. That produced nothing. When Mustapha got hurt, Oniswo swung in behind Marcus Ingvartsen in a 3-3-2-1-1. That too yielded little. With three wins and two draws in this young season, the FSV appear to be challenging for the European places with their table position. Misleading. Everyone on this squad is underachieving.
Buttressing attackers Angelo Fulgini and Delano Burgzorg exhibit particularly poor form. The latter was even suspended this week for disciplinary reasons. The two former Eintracht Frankfurt players (Danny da Costa and Aymen Barkok) proved total busts in their season debuts this week. Svensson had trouble building a back-line without the suspended Alexander Hack this week as he's understandably distrustful of the form of Maxim Leitsch and Niklas Tauer. Problems all up and through here.
Leverkusen underachieving continues
Gerardo Seoane's Werkself don't have the benefit of a flattering position in the table as we hit the pause button for the first time this season. This despite the fact that Germany's red company team delivered another strong offensive performance over the weekend. Leverkusen-Bremen, not unlike last week's 2-2 draw between Bayer and Hertha, had a lovely, fast-paced flair to it. Seoane's men generated plenty of chances again while ultimately only taking a single point from the proceedings.
Both teams finished with 19 efforts on target apiece. Luck wasn't necessarily on the side of the Westphalian hosts. Patrick Schick hit the outside of the net while Robert Andrich and Sardar Azmoun struck the bar. Granted, there were other bad misses from Jeremie Frimpong and Moussa Diaby that had nothing to do with luck. One nevertheless had the impression that the better team did not obtain what they deserved. Leverkusen ended up falling prey to the league's "comeback kings" when Bremen drew level late.
A 4-2-3-1 with Callum Hudson-Odoi functioning as the ten between Diaby and Frimpong functioned well. For the most part, things seem to be in order tactically. All that truly fails is the points. The trouble with this of course concerns the fact that Bayer must face a ravenous Bayern side with plenty to prove once league play resumes at the end of the month. Although the softer October schedule affords them chances to pick up more points, more confidence issues could result from another league loss.
Huge matchup in two weeks' time.
---
The "Burning Questions": Round Seven
---
How close was the Ruhr Derby?
Not all that close, honestly. Few of us league watchers expected the "Revierderby Return" to produce an "instant classic". The state of this historic neighborly duel hasn't been competitive for many years. Schalke have mostly looked like relegation candidates over the course of this young season. One witnessed next to nothing in this weekend's fixture to alter that opinion. Dortmund murdered Schalke in the xG, racking up 2.25 to their defeated opponent's 0.5
When it comes to assessing the state of the BVB, the writer will need to give this weekend's result a second look and a great deal of additional thought. Ordinarily we lead with a draw up in this section, but the columnist simply has to invest more time on the tactical cam here. When Dortmund skipper Marco Reus succumbed to injury, replacement Gio Reyna didn't mimic Reus' role as a straight ten. It proved impossible to tell if the American youngster was improvising or if a deliberate shift was at play.
Tactical analysis will have to be deferred until the next installment of the "Americans" column. Edin Terzic's crew seemed more organized and coordinated in the second half. That doesn't mean that the players were exactly on the same page, per se. The offensive actors occasionally poured forward in numbers together. At other times, purposeful restraint in the interest of an as of yet indiscernible system appeared at work. We'll let the dust settle a bit before getting to the bottom of this.
How close was the Baden Derby?
Pretty evenly matched. Despite the fact that the round's final fixture ended in a goalless draw again, Freiburg-Hoffenheim actually wasn't a bad watch at all. It had its moments. Before going further we should naturally emphasize that the use of the term "derby" in this context is being very generous. German football lovers maintain high hopes for this fixture, which does have a lovely "Plastic vs. Tradition" feel to it.
Regrettably, we didn't get the kind of excitement inherent in the last version of "Sinsheimer vs. Breisgauer". Christian Streich put forth an unchanged XI from the trip to Greece on Thursday. After an auspicious enough start, the Daniel-Kofi Kyereh anchored attack sputtered out and got sloppy. Streich might have done better to give Woo-Yeong Jeong the go at ten. At the very least, he should have brought the South Korean in at the break.
The draw means that, much to the columnists chagrin, we do have to give Hoffenheim their inaugural draw-up of the season. André Breitenreiter presides over a side that has maintained its place in the top-four through the introductory phase of the season. Just how good are they and can they stay there?
Lineup—TSG Hoffenheim—Match Seven (3-3-2-2)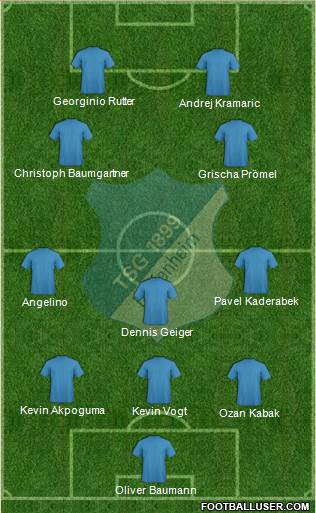 The Kraichgauer are a squad with some surprises inherent in them. Virtually none of us saw Dennis Geiger supplanting the recently loaned out Diadie Samassekou prior to the start of the season. The back-three has also held up surprisingly well with Ozan Kabak lifting up both Kevin Vogt and Kevin Akpoguma to newly resurgent heights.
The big surprise, not obvious in the above lineup card, has to be Robert Skov beating out Angelino for the left wingback role. The Spaniard only featured in today's XI because the Dane had to withdraw with injury. There's little choice but to reiterate the line about how the former Leipzig spark just doesn't look comfortable in what should be a familiar position.
Angelino did get a few passes through during a bright spell for the TSG shortly after the restart. We still await a solid full 90 minutes from him. The striker set consisting of Andrej Kramaric and Georginio Rutter has been okay, but still don't play anywhere near their potential. The real star of this team was and remains former Grischa Prömel.
Take the former Union man who rather strangely opted to return to Baden out of the equation and it's a pretty bang average squad. If we are to start talking about a return to Europe for this club, it begins and ends with him. Just like Kabak carries the back, Prömel shoulders too much of the burden up front. Balance isn't quite there yet.
How did Gladbach dominate Leipzig?
Saturday evening's "Top-Spiel" lived up to its billing, at least from the perspective of one side. The foals were absolutely marvelous from start to finish in their 3-0 defeat of the visiting German Red Bulls. After a scintillating start, no quarter was given. The Saxon guests did have a few moments during which they facilitating some danger, but nothing good enough to truly trouble a keeper in as fine a form as Yann Sommer.
It only took one personnel change for BMG trainer Daniel Farke to fashion a dominant constellation out of the one that couldn't find the decisive breakthrough last week against Freiburg. Center back Nico Elvedi's return freed up Christoph Kramer to move higher up the pitch. Kramer would end up taking advantage of his newly granted freedom to rove all over the pitch. Something special suddenly brews in Gladbach.
Lineup—Gladbach—Match Seven (5-4-1)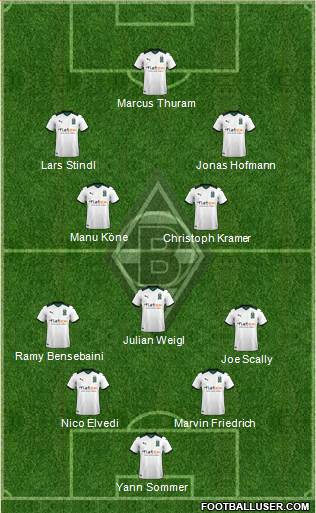 Essentially everyone played well in this well-designed approach. One doesn't even have to be a certified "tactics head" to see how the link-up play can thrive here. Quality exists on both flanks and lightning-quick counters can roll up the middle before the opponent knows what hit them. Should everyone return healthy from the international break, Farke has himself a gem of a lineup here.
An awesome new sweeper
Julian Weigl racked up nearly 60 touches putting out fires ahead of the back-line. The potential World Cup call-up also folded in behind Kramer and Manu Koné on the rushes with impressive lockstep. Neither Kramer nor Weigl sent any passes egregiously stray on the night. Hansi Flick definitely has something to think about following Weigl's triumphant showing in this one.
A seamless 4-2-4 reformat
The most important facet of Kramer's performance concerns the silky smooth manner in which the former international led his team on the ball. Kramer would press high immediately. Leipzig had no answers with Weigl and Koné tagging closely behind on the trail and Jonas Hofmann, Lars Stindl, and Marcus Thuram having acres of space to operate in just ahead.
This was truly a joy to watch. Thuram was sensationally clever on the ball in open play. The 25-year-old registered two assists (one off a dead ball) and could have had a couple more notes on the scoresheet after what was easily his best game in nearly three years. Phenomenal. The French star with with the royal pedigree finally wakes back up.
Rose's personnel mismanagement 
BMG gaffer Farke pout together a masterclass. Kramer was clearly well drilled to supplant the skills of the missing Florian Neuhaus and, thanks to Weigl's placement, one could barely tell that a defensive actor as crucial as Ko Itakura was missing at all. Simply incredible how the foals wouldn't give any Leipzig player an inch whenever RB had the ball. The attack, meanwhile, racked up an xG of 3.4.
All of that notwithstanding, one should probably question the tinkering of Farke's counterpart in this one. The RB trainer's 4-2-3-1, for no apparent reason, wasn't as tight on the second axis as it was last week. Christopher Nkunku and Dominik Szoboszlai suffered from coordination issues placed so far apart on the flanks. Resting the likes of Xaver Schlager and Timo Werner, who weren't half bad in the Champions' League midweek, also backfired.
As we've so often remarked this year, the task of piecing the Leipzig personnel puzzle together remains a thankless one. Whoever coaches this team must find a way of making use of the highly unbalanced roster acting sporting director Oliver Mintzlaff has built for him. After a strong debut last week, Rose has now failed to get it right on back-to-back occasions. Everyone should keep that in mind during the brief league hiatus as well.
What's up in Bochum?
Not too terribly much than what could be happening with Thomas Reis still at the helm if one chooses to be candid about it. The recently sacked VfL gaffer could have been left alone to gradually work his way back to the 4-1-4-1/5-4-1 variants he found success with last season. Alas, media pressure wouldn't allow for it.
That task now falls to interim trainer Heiko Butscher.
Lineup—VfL Bochum—Match Seven (4-1-4-1)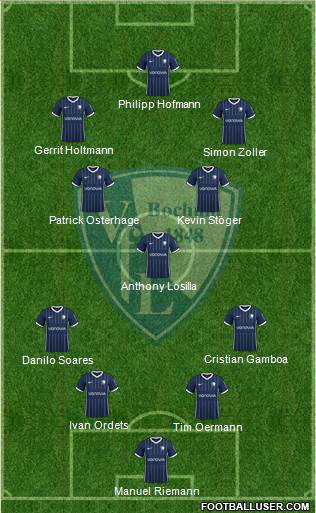 Ahem. This might not have necessarily been the moment to debut a new central defensive pairing. Ivan Ordets has shown he's not up to Bundesliga level just yet and Tim Oermann is….wait a minute….who the hell is Tim Oermann? After getting off to a decent start in open play (though still shaky on set-pieces) this pair began to predictably melt. Butscher had to make three defensive substitutions in the final moments to stanch the bleeding.
One can blame the attack for missing chances that might have allowed the 1848ers to extend their early 1-0 lead and thereby close the game out. Simon Zoller missed a sitter and Anthony Losilla needlessly slowed a few promising VfL counterattacks with superfluous touches. There was also some bad luck involved. Gerrit Holtmann hit the post and the still steadily improving Philipp Hofmann found himself on the wrong end of a controversial refereeing decision for the second consecutive week.
There remains plenty of sympathy for Bochum in German footballing circles. The way the team looked in pre-season truly had many of us thinking that they could at least hold their own during the early stages of the season. It wasn't that long ago at all that this column put forth the thesis that they could pull together and pick up some points. The Reis dismissal, while arguably unavoidable in light of all the very public fractures, makes it worse for this team. They may not find someone who wants this job until Christmas.
Overall, visiting Köln deserved the draw and quite possibly the win in this round's fixture. Another case in which Effzeh trainer Steffen Baumgart proved he can put together a serviceable XI, even amidst seven outfield rotations from the recent Conference League fixture. Baumgart had the right touch off the bench with the very effective Linton Maina, Sargis Adamyan, and Kingsley Schindler as well. Good for a team with a good coach. Very bad for a team with no coach. Poor, poor Bochum. We feel their pain.
Are Wolfsburg any better?
Defensively, they did okay against Union Berlin in the first of this Sunday's three fixtures. At least they were if one discounts the two inevitable moments during which Sheraldo Becker toasts his opponents in just about every FCU fixture. It's also not exactly easy work battling against Urs Fischer's organized defensive ranks. The fact that Niko Kovac's German Wolves got five efforts towards goal counts as a tiny victory.
On the other hand, the fact that Kovac rolled with a subpar XI again, then totally screwed up his late match tactics means that there's no real tangible victory to be had here. A rather encouraging performance from captain Maximilian Arnold in midfield quickly got rendered obsolete when the VfL skipper lost the ball on the decisive counterattack that allowed Union to score the decisive goal. Maxence Lacroix and Mattias Svanberg also played considerably worse than last week.
This double-striker set of Luca Waldschmidt and Lukas Nmecha continues to look like total junk. Kovac's late match solution? Omar Marmoush and the Nmecha brothers in a 4-3-3. Ineffective. Sigh. As we were remarking last week, there's no end in sight for the Kovac regime; at least not until the wholesale administrative housecleaning scheduled for the World Cup break. Too much investment in the wrong direction from too many figures means that there's way too much face to save.
Expect things to get worse.
---
Weekly Tactical Focus: Bayern's Slide Back
---
Time to delve into the 2022/23 Bundesliga's most unexpected twist. Though the signs of a significant Bayern downtick have been apparent for a couple of weeks, few of us anticipated that we'd be talking about a four-match winless streak for Julian Nagelsman's German giants at this juncture in the season. Alas, we are. The trends here are worrisome. Three goals from the last four league fixture. The first league game without scoring since February 2020. The longest league winless streak since the Giovanni Trappatoni days over two decades ago.
In fairness, the fearlessly courageous play of FC Augsburg should garner greater attention than Bayern's woes when discussing Saturday's result. It's genuinely amazing how Enrico Maaßen's Fuggerstädter stood toe-to-toe against their heavily-favored guests in practically every last duel. Having already beaten Nagelsmann's Bayern at home in the "Hin-runde" last year and having given the champs a good run run for their money during the second meeting during the back-half of the season, the FCA simply have the collective confidence to go all-in against the FCB.
One shouldn't forget that Nagelsmann himself is basically Augsburg native. As a player, he came up through the FCA youth ranks. After injuries forced him to end his playing career at the age of 20, it was Augsburg who launched his coaching career by giving him his first scouting gig under then FCA II head-coach Thomas Tuchel. There's always been some slight resentment for Nagelsmann in the Bavarian section of Swabia, especially after the Landsberg-am-Lech native admitted he never supported Augsburg as a child. Upon his appointment at Bayern, the now 35-year-old stressed he always liked Bayern better.
The Fuggerstädter are always down to make their native son's life difficult. Man, have they ever accomplished that this week. Nagelsmann already found himself in hot water after last week's draw when he lambasted his players and threatened benchings ahead of the midweek clash with FC Barcelona. A prickly press conference this week did him no favors. The record champions maintain a zero tolerance policy for coaches who have lost the locker room. While it's not quite time to start speculating whether Nagelsmann's first boss Tuchel is in line for his job, such talk isn't exactly far behind either.
In backing his head coach this weekend, FCB boss Oliver Kahn spoke of "the abundance of speed" on the team's "excellently built" roster. In Kahn's view, sporting director Hasan Salihamidzic has given Nagelsmann "everything he needs to succeed". Pretty much any Bundesliga fan will concur with this. The talent is there. No question. It remains the trainer's most urgent task to get more out of this assemblage. One player in player in particular needs to going ASAP. We've much to say about Sadio Mané this week.
Lineup—FC Augsburg—Match Seven (4-4-2)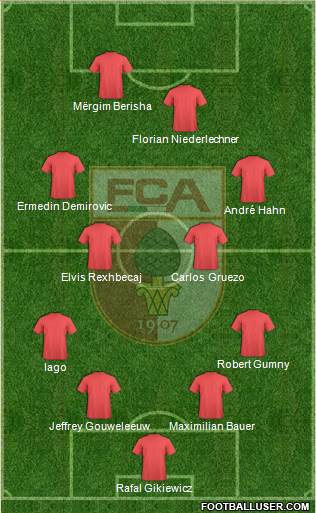 Enrico Maaßen presently runs a sneaky little system. It even appears as if the tactical pages of the Bundesrepublik's sporting publications haven't caught onto it yet. There are parts of it that the writer isn't prepared to make definite calls on yet as well. Elvis Rexhbecaj and Carlos Gruezo might run a slight split-stagger in midfield. Ermedin Demirovic's assignment on the left flank also isn't certain.
One thing we can say for certain is that Florian Niederlechner doesn't operate together up top with the newly-acquired Mërgim Berisha. The latter has his own solo axis while the former functions as a frequently deeper service striker. This counts as a surprisingly effective set off tactics from the rookie trainer. He has some things going for him here. In any event, the FCA proved capable of matching the favorites on the man-marks.
Lineup—FC Bayern München—Match Seven (4-2-2-2)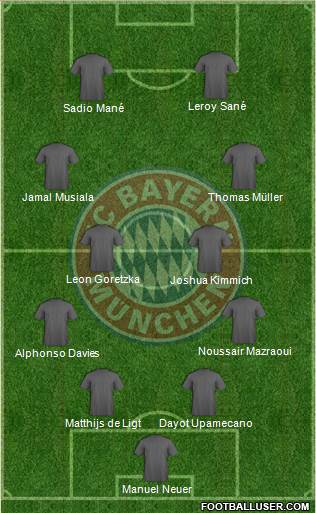 Nagelsmann is essentially trying to get back to basics in his early-season 4-4-2. Note that, for those with eyes on the tactical cam anyway, there does exist an inherent attempt to fix the attack problems plaguing the squad in recent weeks by deploying a much wider shaper. The FCB trainer is obviously fully aware that his team's lateral play is suffering and has taken steps to improve this.
The primary reason why it isn't working relates to the way in which Leroy Sané isn't keeping his position. It becomes more exceedingly difficult to place the German speedster as he frequently drops back in attempts to affect too much of the approach play himself. Mané himself also can't figure out where he needs to be. The Senegalese superstar also endeavors to do too much.
The now famous scene of Müller and Mané running into one another during the Champions' League fixture against Barça pretty much exemplifies where this team's wretched attacking gears are at this time. To this, one can add Nagelsmann's attempts to over-rotate and over-placate. Noussair Mazraoui was an enormous flop in this one and should have been yanked sooner.
Match Flow: 1st to 12th minute
An exciting start to the match from the perspective of those who enjoy epic physical duels. With both sides leaning heavily on the ball, precious little space would open up until after the initial phase. Sané and Müller both failed to reach Mané with through balls in the 1st. At the other end, André Hahn whiffed on a Robert Gumny cross in the 2nd. Niederlechner then found himself blocked by Matthijs de Ligt.
Bayern's play in the opening minutes actually looked alarmingly choppy. No one had really gotten clean touches in deep into the 3rd. A Musiala-Müller-Mané cycle at the end of the minute was all a bit haphazard. A Bayern free-kick in the 4th produced nothing. Iago, Rexhbecaj, and Niederlechner rattled off a nice counter before the FCA support striker ran into Musiala. Sané then got a decent ball through for Musiala in the 5th, but the teenager got his studs stuck in the turf.
Mostly midfield duels in the 6th and 7th. Müller couldn't locate the right touch after a cycle out left at the end of the 7th. Augsburg failed capitalize on both an Upamecano turnover and an Upamecano foul in the 8th. Rexhbecaj's ensuing free-kick was of poor quality. Bayern still couldn't find any quality back the other way. Sané failed on a ball hold up in the 8th. Mané lost the ball (and his shoe) in the 9th.
Kimmich, Musiala, and Musiala fell into the "paint the corner" trap outside the box in the 10th. Alphonso Davies could do nothing with ball that made its way to him. The Canadian's effort was blocked. Sané saw a cross blocked in the 11th. After Musiala, Kimmich, Davies and Mané danced around the box again, a Müller attempt to spring Mané came nowhere near the Senegalese attacker, who had started his run far too late.
Match Flow: 12th to 28th minute
We suddenly got some end-to-end action at the beginning of this phase. Space opened for Niederlechner on the half-right in the 12th. The German veteran didn't react quickly enough, however. Neuer was able to scoop up a poor finish and start a quick counter. Bayern located a bit of space themselves on the rush. After some intricate passing (that might have been a mite too intricate), Rafa Gikiewicz stepped forward to diffuse Mané's far too obvious move forward in the 13th.
The FCB failed with two successive slow-roll builds in the 14th and 15th. On the first charge, a Kimmich diagonal for Sané was simply no good. Davies attempted to reach Sané with an extravagant over-the-top ball in the 15th. It was undoubtedly a good idea and Sané's finish wasn't terrible either. The angle proved too tight, however, and the shot went well wide. Bayern wouldn't punch through again until the 17th. Gikiewicz made a solid save on Müller.
Passing triangles on respective sides fell apart in the 18th. Mazraoui, Sané, and Müller eventually got Kimmich into a useful position in the 19th. Kimmich again tried to reach Mané. Again, the Senegalese attacker started his run too late and the result was pretty embarrassing. Frustration boiled over for Mané less than a minute later. The slumping forward elbowed Maximilian Bauer in the face during an aerial duel in the 20th.
Match official Marco Fritz obviously thought it too early to intervene, instead letting Mané off with a warning and a watchful eye. Augsburg earned a corner in the 22nd. Bayern had the chance to break despite a fine service from Berisha. Mané nevertheless fouled it up with a horrible first-touch and the counter-chance was wasted. Nothing more than broken plays from the FCB in the 23rd. Augsburg earned another corner in the 23rd and Neuer was quickly called upon.
The 23rd-minute-design featured some razzle-dazzle. Niederlechner got his boot around the ball after two failed clearances and sent in a 24th-minute-laser. Neuer had no time to react with open palms and had to fist the powerful effort away. Augsburg were back causing problems on the Bayern left in the 25th. Gumny twice stripped Mané of the ball after a throw-in. There would be a free-kick awarded at the end of the minute.
Upamecano made a mistake on the Berisha service and the Fuggerstädter quickly set the Bayern penalty alight again. Berisha's cross just missed Maximilian Bauer. FCA captain Jeffrey Gouweleeuw toed the ball down before firing a finish off the turn over the bar. Bayern remained under pressure after Mané gave the ball away to Bauer in the 26th. Hahn sliced through the ranks. Mazraoui–on one of few positive plays of the match–hustled back to muscle to final ball away from Demirovic.
Bayern kept getting demolished in the midfield duels through the 27th and 28th. Gruezo twice prevented the FCB attack from stringing together any type of cogent offensive sequence. As impressive as these ball wins from the Ecuadorian were, Demirovic broke his team's flow with a cheap tackle on Mazraoui in the 28th. There would be a brief treatment break. It wouldn't be long until referee Fritz had to intervene.
Match Flow: 28th minute to half-time 
The affair slowed down a bit before the opening 45 came to an exciting conclusion. Mazraoui made his way to the sidelines quickly and play resumed in the 29th. Sané turned on the turbo and attempted to break through with a long run at the half-hour mark. Iago and Gouweleeuw still had enough time to spot the nimble German coming and closed ranks together. Iago ended the charge with a very deft tackle.
Clearly full of confidence, the hosting Bavarian Swabians continued to press mercilessly against their heavily favored guests. Bayern found absolutely no way through on both the left and right in the 31st. Much like Demirovic had done some minutes earlier however, Berisha showed just a touch too much adrenaline in one of his duels against Kimmich. Fritz brandished his first caution of the match by booking him.
A quick free-kick in the 32nd nearly saw Musiala through. Gumny stepped up for the vital interception. Bayern found their way back the FCA net before the minute was out after Fritz allowed advantage play following a foul on Goretzka. Müller again had Musiala set up. In a total wince-inducing moment, Mané was directly in the way of one of his teammates again. The German teenage phenom couldn't bring the ball down properly with Mané lurking in his vicinity.
Musiala certainly didn't have Mané to blame when he shot wide less than a minute later. Müller had Musiala released for the third time in three minutes in the 33rd. Some credit for rushing Musiala belongs to the covering FCA defender Bauer. Musiala, Sané, and Mané combined decently up the FCB left in the 34th. The masterful Iago was back on point to take care of Davies' eventual cross.
Augsburg ran a serviceable counter off the play in the 35th. Upamecano–in one of his rare solid moments of the match–shepherded the ball away from Iago after the Brazilian fullback ran the full length of the pitch. Some poor touches from Sané ended up running the next FCB charge in the 36th. Sané couldn't decide what to do with the ball, eventually laying back for Goretzka.
The German national team midfielder fired a horrible effort into the cheap rafter seats. Frustrated that he couldn't hold up the ball against the pressing Niederlechner in the 37th, Mané turned around and fouled his marker. This time referee Fritz did reach into the book to give Mané a long overdue yellow. One could have placed safe money on Mané getting subbed off at the break.
Augsburg got a big chance off the subsequent 38th-minute free-kick. Upamecano and Mazraoui (back on the pitch lumbering by this point)n couldn't clear. Demirovic played Iago through and the Brazilian sent in a sumptuous cross for Bauer. The German U21 international headed just over the bar. Neuer had to diffuse another FCA break in the 39th.
Müller shot over at the end of the counter sequence. Bayern tried to send Mané into the box at the end of their next charge in the 40th. This time it initially looked as if Bauer had tripped up the Senegalese international after Mané lobbed and tried to skirt past. Replays nevertheless showed that this was pure simulation. Mané was very lucky not to get a second yellow for diving.
Sané, Kimmich, Müller, and Davies all found themselves stymied on weak Bayern charges between the 41st and 43rd. The Canadian at least earned Bayern's first corner of the match at the end of the last sequence. Goretzka sent in another poor effort from the second ranks that was easily blocked. Rexhbecaj then put the brakes on Davies when the FCB fullback tried to break back in.
Müller lifted a ball over for Musiala in the 44th. Gikiewicz intervened to disrupt the German teenager's plans. Goretzka tried to crash in again, but Bauer was all over him. Bayern retained the ball through two plus minutes of first-half stoppage time, yet couldn't m muster up any more energy or ideas during the remaining rushes. We went into the tunnel goalless.
Half-time xG:
xG Augsburg–1.7, xG Bayern–1.5
Not good enough from the defending champs; not by any stretch of the imagination. Among his other gripes at the post-match presser, Nagelsmann would emphasize that his team should have won based on the full-time stats. Such was certainly not the case at the half-way mark. With robust tackling and fine-tuned awareness, the Bavarian Swabians were absolutely outplaying their regional rivals.
Changes at the half were expected. Nagelsmann would have been fully justified in taking Mané off. No excuses there. The FCB trainer could have spared Mané embarrassment rather easily by simply claiming that he didn't wish to risk anything after the attacker's first-half booking. Furthermore, Mazraoui was clearly injured and needed to be taken off. Nagelsmann had options in the form of both Josip Stanisic and the passed-fit Pavard.
Match Flow: 46th to 60th minute
Shockingly, we continued with neither a personnel change or even the most subtle tactical tweak. Mané immediately resumed looking lost, unable to reach a Müller switch in the 46th. Neuer tried to kick-start his team with a long-throw in the 47th. Goretzka thrust himself up the middle with a long dribble before locating Musiala via Sané.
Sané might have done better to have a go himself as Musiala found it too crowded to direct two consecutive headers on goal. Müller then found space too tight to finish on the turn. Augsburg nearly punished Bayern on the ensuing counter. Had de Ligt not been inch perfect on tackling away from Niederlechner, the opening goal would have come less than two minutes after the restart.
On a play that genuinely left one ready to bang one's head against the wall in the 48th, Mané miffed up the next Bayern charge with yet another pitifully poor touch. Inexplicable that Nagelsmann left him in the game. Kimmich's subpar service off the subsequent 49th-minute corner was rather calmly cleared.
The visitors spent the rest of of the minute trying to regroup with bow-arc spreads until Neuer attempted to launch them forward again with a long-throw at the end of the 50th. The FCB charge basically stopped right outside the penalty area. Loads of centralized touches from Mané, Sané, and Musiala. Crisp enough passing. Still no way through.
The "idea well" ran completely dry in the 51st and 52nd. A miscommunication between Sané and Musiala prematurely ended the second run. Sané turned a nifty footwork trick that sadly served no purpose in an actual game that required an actual goal. Müller could be seen giving his teammate a brief dressing down as play went back the other way.
Musiala hit a very poor switch nowhere near the vicinity of a still hobbling Mazraoui in the 53rd. A quick free-kick in the 54th did nothing for the record champs. Goretzka could only manage a tame effort directly at Gikiewicz. Mané's first shot on target in the 55th was similarly unimaginative. The FCA keeper didn't have to move to stop it.
Still we saw no subs being prepared on the FCB touchline. This was bordering on the insane. Mané and Mazraoui were tanking hard. The only plausible explanation for a lack of response from Naglesmann probably related to the fact that he didn't have a system shift ready or possibly couldn't decide on one. Onward we went with the same story.
Sané, Mané, Goretzka, and Müller did the paint-around-the-box thing again in the 56th. Kimmich's play through for Davies was a good two steps ahead of the Canadian. Not a single sign of width in Bayern's game as the hour-mark approached. Kimmich couldn't fashion anything on an advantage play in the 58th. Rexhbecaj toed away his slip pass for Musiala.
Gouweleeuw would receive a delayed booking for his cynical take-out of Mazraoui (whom we'll remark for what feels like the thousandth time needed to be taken off the pitch). The sight of his Moroccan fullback hitting the deck at least got Nagelsmann to settle on an idea. He called Serge Gnabry up from the bench and began to explain his thoughts on a tactical shift.
Before Nagelsmann could get Gnabry checked in, however, the ball was in the back of the Bayern net. Augsburg were awarded a free kick in the 59th. No way of telling if the sideline discussion proved an untimely distraction. In any case, Rexhbecaj launched a service from the halfway line to Iago, who was barely marked by Sané.
A quick slot over to Berisha from the Brazilian fullback led to an easy goal. One really had the feeling that it would prove exceptionally difficult for Bayern to fight their way back out of this one. Even if the lead was as slender as can be, the pressure must have been enormous.
Match Flow: 60th to 78th minute
Augsburg nearly caught the stunned Bayern napping again shortly after the 1-0. Luckily for Nagelsmann's crew, Berisha flashed over on the break and was probably offside anyway. Kimmich and Sané did manage to spring Müller in the 61st. Gikiewicz preserved the score-line with a vital save from point blank range.
The play resulted in a Bayern corner and a short-take design straight out of the closely guarded pages of the playbook did furnish some dangers. Mané whipped eventually whipped in a short-cross for Musiala in the 63rd, who's hair-trigger finish went past the wrong side of the post. In-between the efforts, Gnabry had checked in for Mazraoui.
Lineup—FC Bayern München—63rd minute (4-3-3)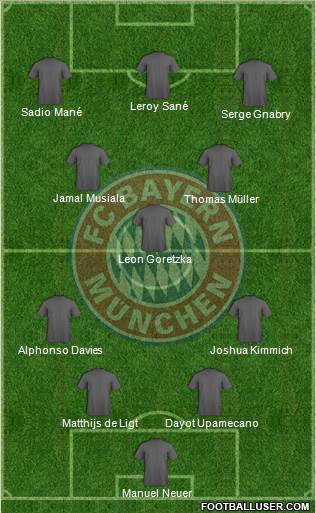 As soon as open play resumed, it fairly obvious what the ploy was. Kimmich immediately dropped back to the right-back position. Gnabry settled in up front. Musiala and Müller dropped back and moved closer together while Goretzka took up the midfield flight-director role. This had the feel of a two-part change to it, with Goretzka serving as a illustrative placeholder for either Marcel Sabitzer or Ryan Gravenberch.
We would eventually see this come to pass when Sabitzer relieved Goretzka in the 69th. The delay could be explained by Nagelsmann's desire not to radically alter the shape too soon. In the context of a match that required some urgency, however, it remained a somewhat curious call. Mané, still on the pitch for whatever reason, touched another ball out of bounds at the end of the 63rd.
After a weak Augsburg counter in the 64th, Gnabry and Mané tried on the right. Gouweleeuw had enough time to stay with Müller and take the final ball off his boot. Gikiewicz touched away a Goretz whip-in for Sané in the 65th. Hahn and Gruezo took care of the subsequent corner. Neuer ran up to the halfway line to feed the ball back to his team, but Gnabry couldn't find his way past Hahn.
De Ligt then again had to be inch perfect to stop Berisha on the counter. Bayern were forced to retreat on successive charges in the 66th and 67th. Gikiewicz opted to engage in his own impression of Neuer at the end of the 67th, stepping up to sweep away an Upamecano long-ball intended for Müller.
Maaßen killed off a large portion of the 68th by throwing the versatile Mads Pedersen on for Demirovic on a like-for-like. The minute concluded with a deplorably bad Mané cross for Upamecano. Gikiewicz stepped forward to punch away a Kimmich corner in the 69th. Just prior to this, Nagelsmann completed his shape reformat with Sabitzer for Goretzka.
Mané remained on the pitch. It came as no surprise to see the FCB continue to fail on the rush. Mané sent a through for Sané way too long in the 70th, then made the same mistake on what was (to be fair) some poor overlap work from Davies one minute later. Musiala made the most of a Sané ball loss and tried to play Gnabry through in the 72nd.
Gikiewicz disrupted the pass and Gouweleeuw cleared out for a corner. Kimmich couldn't find any takers on the 73rd-minute-service. Slow FCB bow-arcs in the 75th led nowhere. Maaßen had more than ample time to prepare his selected subs for the late-match protective re-format. Fredrik Jensen and Ruben Vargas came on for Niederlechner and Iago.
Lineup—FC Augsburg—76th minute (4-5-1)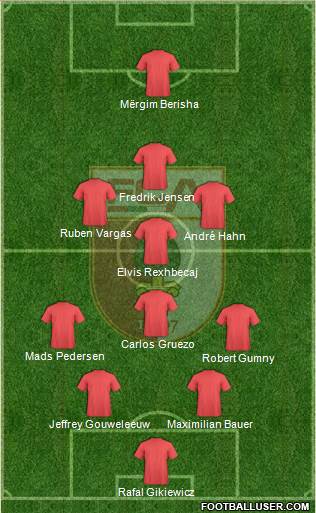 Pretty much no more hope for Bayern left after this. Some nice FCA combo play up the packed middle in the 76th nearly resulted in Augsburg doubling the advantage. A return ball from Berisha to Jensen was nevertheless too close to Neuer. The Bayern keeper tried to spark a counter, but Gikiewicz rushed out with nerves of steel to clear a ball ahead of Sané.
Kimmich sent in a horrible chip ball beyond everyone in the 77th. A switch for the forward-pushing Upamecano in the 78th was pretty desperate. So too was Nagelsmann's final tactical change. Eric Maxim Choupo-Moting and Stanisic took over for (finally) Mané and Musiala at the end of the 78th.
Match Flow: 78th minute to full-time
Odd to see that Nagelsmann brought on the closest player he had to a classic nine, yet didn't use him as such. Choupo's role–insofar as the columnist could tell, was to put the 4-2-2-2 back together. The FCB trainer attempted to reset the team in its original formation rather than install a lead-striker.
Lineup—FC Bayern München—79th minute (4-2-2-2)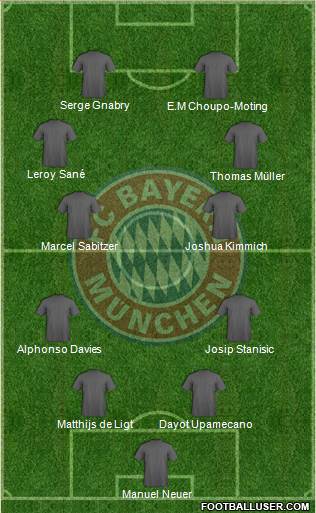 Needless to say, it didn't work. The match concluded in a dramatic fashion, with keeper Manuel Neuer all the way up the pitch working with the outfielders on two corners deep into injury time. Neuer headed over at 90+2 and forced Gikiewicz to make a magnificent save. In the lead up to this late drama, honestly very little was going on. Unsurprising considering how tight Augsburg had the box packed.
Gnabry came close to hitting Davies with a switch in the 82nd. Hahn was there to disturb it. Everyone was back helping to prevent Choupo from hitting Gnabry one minute after that. Davies had no way of working in a cross in the 85th. Berisha nearly got past four Bayern players on an 86th-minute FCA counter. One of those patented "Howitzers from Sabitzer" in the 89th might of padded the xG stats a bit, but Gikiewicz had it covered.
Speaking of which:
xG Bayern–2.9, xG Augsburg–1.9
Hard to feel sorry for Nagelsmann & company here. They maintain some cause for complaint, yet the tactical decisions of the head-coach don't fully justify his snark when it came time to comment on the match. Things are really getting serious now for the "boy-wonder" now. One can tell this based on the fact that he's pulled out his "glowering parka" to utilize whilst prowling the sidelines and is rocking an undeniable "stress beard".
Difficult as it may be for some outside observers to believe, there's not really a sense of Schadenfreude amongst Bundesliga diehards when it comes to Bayern's current problems. As starved as we are for a title race after a decade of Bayern dominance and three consecutive seasons during which the issue was settled long before the final matchday, few really wish to see Naglesmann fail. He is, after all, one of those homegrown coaches who is supposed to do us proud with higher profile appointments later in his career.
An eventual Nagelsmann sacking could, of course, still be something that most of us could quickly learn to accept. A much harder pill to swallow would be if Sadio Mané fails to find his form after taking a risk with the Bundesliga at this stage of his career. Mané's arrival created such fanfare this summer and we definitely want to see more footballers of this caliber hop over to the continent in general.
It cannot be emphasized enough that any potential Bayern coaching change remains pretty far down the line. It makes no difference that Tuchel is available as the recently released Chelsea man was effectively snubbed by the FCB during his 2017/18 job hunt. Moreover, it's doubtful that the former Mainz and Dortmund trainer wants to return to German football at all. Oliver Kahn's new stewardship isn't meant for impulse changes and the club should stick with Nagelsmann for some time to come, barring a disaster.
The search for a new target forward is already well underway and Bayern will take advantage of the long World Cup break to bring in at least one traditional number nine. In the meantime, Nagelsmann needs to find someway to bring Mané up to his full potential not just for his own career or the fortunes of his club, but for all of us who love the Bundesliga. Watching this particular footballer struggle brings no pleasure to any of us.
It must be set right.
Thanks so much for reading! You can occasionally catch Peter goofing off while watching non-Bundesliga football on twitter, @ViceytheSS.
Twitter DMs are open for football conversations, corrections, and (if you truly insist) general abuse. 
All columns debut on Bulinews before appearing on Peter's website as the season progresses.