At long last the 2021/22 German Bundesliga Saga continues. Forget where we left off? No worries. That's what the re-posts of the Bulinews hot-sheets are for. As is the case with that gripping book left neglected on your nightstand, it's best to review the previous chapter before diving into the next one.
Indeed, Chapter Seven proved quite the cracker. Everyone psyched and hyped for Chapter Eight? It remains well worth it to work out just where you were in the narrative before heading into exciting new territory.
---
Bundesliga Tactical Banter: Round Seven
---
The Bayern "Überraschungseier"
They say "if it bleeds, it leads", so we might as well unpack the Bayern surprises first. No typo. "Surprises", plural. When it comes to the German football giants, there are actually two of them. One doesn't see that every day. It's as rare as cracking open an egg to find two yolks. On some very rare occasions, German kids would open their KS chocolate eggs to find two choking hazards they weren't terribly interested in. It happens. Every so often, it happens.
The football match first. Sometimes Bayern lose. They lost four times in the league last season, including a 1-2 drop away at Frankfurt. It absolutely came as a surprise here. The listing SGE really had nothing going for them except Oliver Glasner's vague promises that his team would not be supplying the teutonic equivalent of "English Tea Time with the Tories." Frankfurt were still totally overmatched.
Eintracht Kevin Trapp made some amazing saves. Martin Hinteregger, as is sometimes the case with him, got forced into a better play after an awful mistake. Filip Kostic took advantage of all his chances. Serge Gnabry and Leroy Sané might have done a bit better with some of their opportunities. The post bailed the visiting Hessians out just before the half. It happens.
Now for the real surprise concerning Bayern. The new show about them ("Decoded" on DAZN) is actually eminently watchable. A writer swears he's not being paid to shill it. In point of fact, he recommends fast-forwarding through some parts. Perhaps the soft bigotry of lower expectations even influences the tip. Didn't we German football lovers already know all there is to know about Julian Nagelsmann's special training modules?
Er. Evidently not. It might get even more interesting when they get Ralf Rangnick talking about some of the other teams in the league.
Interesting things are afoot here.
Stay tuned.
Marsch does a Nagelsmann
Leipzig-Bochum being a fixture that featured both an American trainer on the sidelines and one in the starting XI, deeper analysis of the big league win for the German Red Bulls will be forthcoming in the next installment of the "Americans" column. It has to be re-watched. That's the self-imposed rule, anyway. As a chronicler prepares for a second viewing, he wholeheartedly recommends a first one for anyone who missed the Saturday "Top-Spiel". Amazing match. Even the highlight reel is sure to run ten minutes or more.
To those about to embark on the look-in, there are several interesting points to look out for. Note that the RB trainer correctly guessed that Bochum's Thomas Reis would go for experience on the third midfield axis in the form of both Robert Tesche and Anthony Losilla. Marsch probably factored in the cost-benefit analysis of himself deploying a back-three designed for deep builds when facing this. He knew that they would be pressed, but bet that his trio possessed enough speed to get out around around the 35 and 36-year-olds.
What proved truly cool about the first half concerned just how dangerous Leipzig were living coming out of their own half. It counted as truly risky living and a better team might of punished them. Naturally, all the elegant ways that Josko Gvardiol found their way out of jams was fun to watch, as were all of the RB's scoring chances. Yes, only the live viewing carried with it the pressure on the team and the tension in the stands. One won't get that, of course.
The writer actually counts three major formation shifts from Marsch over the course of the match. The 3-4-3 became a 4-3-3 and then eventually a 4-2-3-1. There may have been some missed. While the thrill of the unexpected doesn't come on a second viewing, one can always look forward to that. In any event, three full-fledged tactical shifts in a single match constitutes "Julian Nagelsmann" territory.
The new American trainer in Saxony isn't returning to a simple Rangnick/Hassenhüttl template at all. Oh no.
Interesting things are afoot.
Stay tuned here as well.
Tune out and look away
Comprehensive coverage stands as another self-imposed rule. Realistically, not everything can constitute "must-see-TV" on the Bundesliga beat. We have the cases of Augsburg and Bielefeld; two very bad teams that–when stacked up against the even worse squads in the league–look to stay up by virtue of the fact that they can get away with playing very bad football. For Marcus Weinzierl and die Fuggerstädter, a complete tactical overhaul rendered them just as harmless. Andi Zeqiri's goal was nothing more than a freak occurrence. They arguably should have lost 0-3 again.
Then there was Arminia Bielefeld's 0-4 loss to Leverkusen in the Sunday night capper. Die Werkself rolled into East Westphalia in absolute top form following Thursday's Europa League romp. It's understandable that B04 were the last team anyone on the DSC will have wanted to face this weekend. It looked as if Frank Kramer's XI quit after their equalizer was disallowed and Patrik Schick opened up the 2-0 lead in the 24th. At least the hometown fans, happy to be back in the stadium, didn't seem to mind that much.
---
The Burning Questions: Round Seven
---
How fares Steffen's Surprise?
Die Geißböcke of 1. FC Köln fare well indeed. Granted, last place SpVgg Greuther Fürth went toe-to-toe with them for longer than expected. The Effzeh still came back to flip the script in the second half with three unanswered goals in front of a sold-out crowd of Domstädter enthusiasts. Steffen Baumgart was still rightfully subdued afterwards. His team produced a horrible opening 45 (0.39 xG) and would have never gotten back into the game had die Kleeblätter not inexplicably stopped pressing around the half-hour-mark.
One probably shouldn't go so far as to label Baumgart a tactical wizard just yet. We covered some of ineffective changes he made against Frankfurt in last week's tactical focus. We also simplified a bit by saying that the Effzeh trainer had his "aerial prowess" selection and his "speed demon" XI. The reality of his selections remain, as most would expect, more complicated.
Combing back through old notes from the previous rounds, one sees that Baumgart actually oozes different ideas from the ears below his trademark cap. He's really tried a lot out this year. Mark Uth, Ondrej Duda, Dejan Ljubicic, Ellyes Skhiri, and Salih Özcan have all taken turns at ten in shapes with radically different centers of gravity all over the pitch. Uth has played almost everywhere on the top three axes. Ditto Ljubicic.
Baumgart may not have cracked some master tactical code yet. He's still experimenting much more than some of the other new coaches. What one can say is that, he's definitely always a "man with a plan". It's also fair to say that these plans may sometimes be too complicated.
Lineup—FC Köln—Match Seven (5-3-2)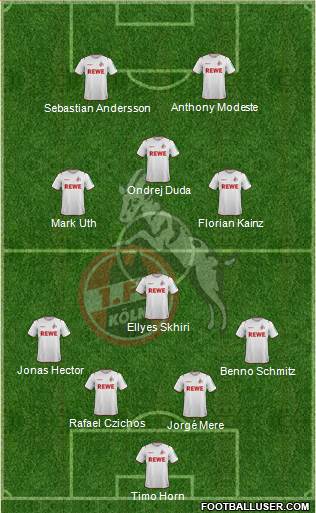 Not his most coherent set of tactics. Skhiri struggled a bit placed so far back. Kainz–in place of the ill Thielmann–didn't do so well on the opposite flank. Uth couldn't coordinate very effectively with Hector on the lane rushes and Sebastian Andersson didn't find that lost scoring touch initially flipped over to the other side.
Baumgart ultimately let it ride because he sensed Fürth were tiring out and, due to the lack of pressing, the players had more time on the ball and could grow into this system. Letting the XI work their way through the wrong shape worked against the worst team in the league. Baumgart's face in the post-match interview nevertheless told the real story.
It's getting a little late not to know what the basis for the best XI might look like.
Is there hope for Hertha?
In a league that features what increasingly looks like two hopeless "doormat teams" in Fürth and Bochum, there's hope for everyone. The trick for Hertha, Augsburg, and Bielefeld is to minimize their use as doormats as well. As we saw last week against Leipzig, Hertha can serve as a splendid easy mark upon which to build some confidence. Trainer Pal Dardai knows full well what ails his team. In addition to the poor marking in dead-ball situations, it's a matter of confidence.
Accordingly, he lined up six players behind the halfway line this week. There existed huge gaps in what could, without even sounding all that absurd, label a 6-0-2-0-2. The first half against Freiburg on Saturday proved atrocious. Lucas Tousart and Suat Serdar, when anyone managed to get them the ball, had acres to cover before they could reach either Davie Selke or Stevan Jovetic. One can't derive any positive news from the attack.
Serdar along with subs Maximilian Mittelstädt and Krzysztof Piatek combined well on the goal and there was one good chance involving Serdar and substitute Jurgen Ekkelenkamp shortly thereafter. That's really it. Two major chances in a 90-minute-game. Returning actors Steven Jovetic, Dedryck Boyata and Kevin-Prince Boateng essentially made no impact at all.
Insofar as improvement through clearing injuries is concerned, this is truly awful news. Boyata did put in some good defensive work, but got beaten on both Freiburg goals. Jovetic and the reintroduced Marco Richter got some distance efforts in. That's simply not good enough if no one's available to patrol for rebounds. Piatek opening his campaign account with a goal furnishes some hope. Not much.
With Frankfurt, Gladbach, and Hoffenheim ahead in October, we may not see this team get a league win this month. Perhaps the Charlottenburgers get a small lift by beating Preußen Münster in the Pokal. They could then maybe parlay momentum into three points against the Sinsheimers on Halloween weekend. There could be some light ahead at the end of a long tunnel.
Are Stuttgart up and running?
Hard to say. It was definitely an important moral victory for Pellegrino Matarazzo against his former club. The American trainer got his back-three back together, figured out a way to place captain Wataru Endo into a successful flex position once again, and even revived his trademark flanker "split stagger" to serviceable effect. Borna Sosa played better and Tanguy Coulibaly did well keeping Silas' position warm until the Congolese talent can get back on the pitch.
All of that being said, Andrej Kramaric missed two sitters before Stuttgart were able to open the scoring in the 18th. Ihlas Bebou also hit the crossbar and Hoffenheim were generally hampered by the unexpected loss of Christoph Baumgartner shortly before kickoff. The Swabians looked very disjointed in open play. Marc Oliver Kempf put them ahead with a simple finish off a corner. After that, both teams were pretty flat.
Stuttgart's two additional goals owed something to a terrible game from German national team defender David Raum. Not unlike last week, the 23-year-old committed some egregious defensive errors, which he then made up for with some eye-catching offensive play. Unlike last week, however, his potential assists weren't converted. Kramaric missed another monster chance in the 68th off a Raum set-up that could have swung this result.
Kudos to Kempf for his sensational three tally start to the season. The same applies to Konstantinos Mavropanos for his lovely solo effort on the second goal. Germany U21 talent Roberto Massimo earns plaudits too for his first ever Bundesliga goal. Some confidence may perchance carry over. One still doesn't like the look of the upcoming schedule. Gladbach, Union Berlin, and Köln. Yikes. Not a terribly good idea to bet on this still fragile team.
How much respect does Union deserve?
Quite a lot. Urs Fischer's Eisernen proved themselves capable on another tight turnaround. The oft-repeated talking point that this roster is well built with interchangeable attacking parts gets strengthened again after the Köpenickers prevailed in Mainz with six changes to the XI. True, it did take them some time to find their legs at the Bruchweg. Mainz were by far the better team and Fischer's men needed to do better against an emergency back-three of Silvan Widmer, Stefan Bell, and the unexpectedly hurled-in David Nemeth.
Nemeth, a totally green Bundesliga debutant forced in after an injury to Jeremiah St. Juste, even embarrassed the Union midfield with a pickoff in the lead-up to Marcus Ingvarstsen's opening goal. The visiting capital city club nevertheless gradually wore down their Pfälzer hosts. Fischer did everything right with his substitutions again. The introduction of Kevin Behrens for Genki Haraguchi in the 62nd moved Max Kruse into midfield, where he could affect the play via an assist on Awoniyi's first goal. The streaking Behrens then assisted on the former Mainz striker's second.
Protecting the lead down the stretch, it was none other than former Bochum and Augsburg reject Andreas Luthe. The 34-year-old everyone wanted Fischer to dump in favor of the more glamorous Loris Karius last season made no fewer than five quality saves in the final 15 minutes as the Rheinhessen pushed hard for the equalizer. The East Berliners remain a strong team top-to-bottom. Let no one tell you different. Even a slew of injuries may not stop them from qualifying for Europe again this year.
---
Weekly Tactical Focus: Smoke em;' out
---
When it comes time to map out the weekend, occasionally a fixture leaps off the page at you. Of all the solid offerings on the round seven 15:30 slate, Gladbach-Wolfsburg demanded an immediate circle. Overachiever vs. Underachiever generally yields a cracking match. This proved no exception. Two members of the coaching carousel–Mark van Bommel and Adi Hütter–have been tinkering and wrenching about thus far this season in an attempt to build their own unique systems.
In the case of the Wolfsburg gaffer, it almost feels as if the rookie trainer feels it necessitous to distance himself from the solid 4-2-3-1 of predecessor Oliver Glasner. Van Bommel's quest is one defined by the need to assert himself on a level he's never served on before. Hütter, facing a different set of problems, seeks a backbone for his new project. Just like his counterpart, the new BMG trainer wrestles with the ghosts of his forerunner's 4-2-3-1. In his case, however, the matter of change is actually exigent. Rose's constellation had long grown stale.
After the foals stumbled out of the gates and the wolves howled their way to an undefeated start through the first five rounds of the season, matters proceeded to settle into the trends we anticipated from the start. Wolfsburg finally lost last week at Hoffenheim whilst Gladbach eked out only their second win of the season at home against Dortmund. The pertinent questions were posed. Are Wolfsburg secretly bad? Are Gladbach on the cusp of a turnaround?
We would find out this weekend. And how! There's not better way to obtain the answers than via a top-notch football match. This one certainly delivered on all levels. It had early goals, later match tactical intrigue, and even a bold exclamation point at the end. As Hütter himself put it, the fixture gave football lovers all that they desired. BMG-WOB turned out to be precisely the right game to circle. One even found affirmation before a ball was even kicked.
The team sheets promised a grand tale. They also highlighted the differences in an experienced head-coach's understanding of space and how this can overcome a rookie trainer's less thorough understanding of squad rotations.
Lineup—Borussia Mönchengladbach—Match Seven (3-4-3)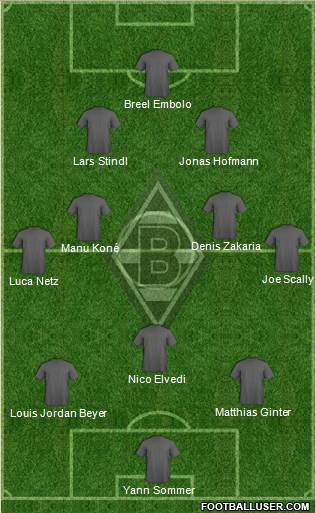 Only one change for Hütter from last week's narrow victory. Youngster Louis Jordan Beyer replaced veteran Tony Jantschke in defense. Noting this change, the first question that popped into one's head concerned how the back-line would settle. Despite the fact that only one personnel change was utilized, the complex manner in which Joe Scally and Jonas Hofmann have been used recently meant that there remained many permutations.
The logic behind the back-three
Focus fell on the final-axis trio first. Whereas (last time) Nico Elvedi worked an inverted pivot, the Swiss defender clearly demonstrated a more advanced position this time. Elvedi's lane looked drawn up to connect him with countryman Denis Zakaria. Joe Scally and Matthias Ginter bore the responsibility of folding back to defend the right side.
Knowing this, one could easily deduce that Beyer would lock in on the left. On the rare occasions that Rose called upon the 21-year-old, Beyer operated either central or right. Hütter effectively trusted the youngster with something of a novel role behind the even younger Luca Netz. Reasoning for this might have been the assumption that van Bommel's right wouldn't feature the Ridle Baku-Kevin Mbabu tandem.
This assumption wound up being correct.
The logic behind the front-three
An interesting development here. For the second successive fixture, Breel Embolo led the attack. The Swiss international, coming off injury, didn't function as a false-nine either. Embolo was up their alone up top, albeit buttressed by a pair of tight tens and on a synchronized advance/retreat schematic with Manu Kouadio Koné.
In an under-discussed shift right before everyone's eyes, Hütter has retooled his attack behind a new striker. Alassane Plea moved to the bench, on which he remained throughout all 90 minutes of last week's fixture. The 28-year-old wasn't even used as a sub. Odd. What's going on here?
If anyone care's to have a look at the Frenchman's starts from rounds two through five, one can see that it's (surprisingly enough) a matter of speed. The writer confesses he doesn't know if this stems from injury, age-related fitness problems, or even if Plea never was the quickest of strikers.
In any event, focus that might have been lacking prior now observes it. Plea has been lumbering and lagging. Embolo, Marcus Thuram, or even Lars Stindl likely stand before him on the depth chart. We may not see Plea for some time.
Van Bommel's curious choices
As noted above, some of Mark van Bommel's recent team sheets read like a haphazardly strung together movie sequel. We're missing actors for unclear reasons. There also seems to be re-casting when it would have indeed been easier to write a character off or simply pay the performer more money. When it comes to Wolfsburg, something appears to be amiss in the writers' room.
Two weeks removed from praising van Bommel for attempting to put his own stamp on the team, it's already time to reverse course and criticize him here. Jörg Scmadtke and Marcel Schäfer rebuilt the roster for Champions' League rotations. Van Bommel nevertheless isn't rotating.
Lineup—VfL Wolfsburg—Match Seven (4-2-3-1)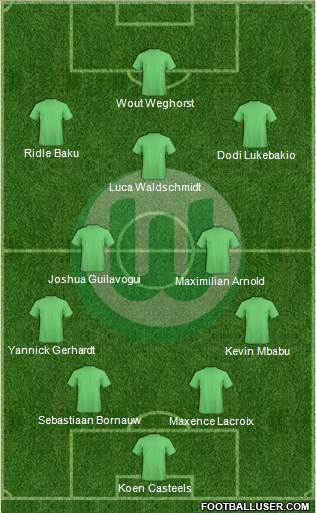 Only two changes from the midweek UCL tie. Luca Waldschmidt and Yannick Gerhardt returned to the XI to replace Renato Steffen and Jerome Roussillon. Though it is true that the Paulo Otavio injury and the complicated club relationship with Admir Mehmedi leave the squad somewhat understaffed on the left, the league-Europe rotations arguably should be simpler to implement.
Complications on the flanks
Ridle Baku fills in on his unnatural side for the third consecutive match. Why? The left-wing may not be Waldschmidt or Lukas Nmecha's natural position either, but they can both be deployed there. Mehmedi also does well in that slot. Steffen didn't necessarily have to be rotated out with the international break approaching.
There are other options. Waldschmidt and Weghorst can work together in a two-striker set. Waldschmidt can also work behind Weghorst as a short striker, possibly even behind both Weghorst and Daniel Ginczek in a 4-3-1-2. Maximilian Philipp's form dip did not logically merit the exclusion from the last two XIs either.
Putting some of the more radical proposals out of one's mind for the moment, van Bommel possesses the opportunity to keep it simple enough. Glasner stuck with the same 4-2-3-1 with the exact same personnel for seven consecutive matches last year. Van Bommel doesn't need to do that, but the rotations can still be straightforward.
Philipp plays his way through form ebbs as the ten. Waldschmidt, Nmecha, Lukebakio, Baku, Steffen, and (in the league) Mehmedi get plugged into the flanks. It need not be more complicated than that. Gerhardt, Roussillon, and Mbabu can form the fullback rotation that takes advantage of Baku's flexibility too.
Just get everyone into a groove and keep them there. Order, rhythm, and clear instructions. Not what we witnessed this weekend.
Match Flow: 1st to 7th minute
One could immediately see how issues on the flanks were going to cost the Lower Saxon hosts on this day. Hofmann and Scally skipped past Waldschmidt–who was ay far too out wide in the 2nd. A threatening sequence unfortunately ended in a misdirected header from Beyer. Waldschmidt swung out wide again on the next sequences, with it all to easy for Scally to read and intercept a switch for Baku. Maximilian Arnold did hit Weghorst a strong free kick in the 3rd,. Before anyone got a chance at the parried rebound, referee Frank Willenborg's linesman flagged Guilavogui for offside.
Center back Sebastiaan Bornauw thew van Bommel's selection of him into doubt one minute later. The Belgian–preferred to John Anthony Brooks alongside Maxence Lacroix–caught Embolo on the back heel just outside the penalty area in the 4th. Hofmann was then tasked with delivering a free kick from a very rare angle. The German national team player curved in average effort that Zakaria had a little trouble handling. It ultimately didn't matter as the Swiss international furthered the ball close to the goal line, where his countryman Embolo was lurking.
Embolo's insane bicycle kick finish almost seemed surreal. Nothing that gorgeous could count. Celebrations were postponed while the VAR team reviewed for a possible offside. Embolo's positioning was about as tight as it gets, but the goal was allowed to stand. Lukebakio was adjudged offside on the one WOB charge in-between the two Gladbach goals. There would be another extremely tight decision after Hofmann found the back of the net in the 7th.
One of the suppliers of the opening goal found himself directly parallel to the last Wolfsburg line when Embolo unlocked him on a run. To everyone's relief, this tally too was permitted to stand. It would have been a genuine pity to see it wiped away. Embolo shook off three VfL markers before locating Hofmann. Thankfully, all the 24-year-old's hard work received official recognition on the scoresheet. Two goals in a two-minute timeframe. 2-0 to the guests.
Match Flow: 7th to 25th minute
Plenty of great midfield duels followed the goal. After a bit of header table-tennis, Gladbach produced more advances. Gerhardt had to be persistent to hassle Scally off the ball in the 8th. A completely rattled Bornauw won a few direct ground challenges, yet looked visibly too timid to initiate any builds back the other way. Baku earned a booking in the 9th on what actually looked like a completely clean tackle on Koné. One of Hütter's new additions to the starting XI certainly knows how to sell fall.
Willenborg nevertheless didn't care too much for the German internationals reaction and the Mainz native drew a caution. Wolfsburg tried some chip-ins on their next few charges. A very well timed Scally header cancelled out Gerhardt in the 11th. The American then marked Gerhardt a bit loosely on the ensuing throw-in and the former Köln man got in a cross that just missed Weghorst. Gladbach scuttled away twice for two corners. Mbabu shot well over, not seeing a wide-open Baku, on the second one.
A series of turnovers came next in the rough battle for midfield supremacy. Bornauw recovered to dispossess Scally on the BMG right in the 12th. Koné got disposed on the attempted counter and the possession cycle repeated. Lacroix tried to launch in a vertical in the 13th. The Gladbach back-three cleaned up in front of Lukuebakio. The BMG right broke through again with well-executed give-and-go before the minute was out. Weghorst fouled Scally on the track back.
After Bornauw lost a boot in the 14th, there was a brief interruption. The next WOB attack went central for Weghorst, now occupying a suppressed position. The new Dutch national team striker held the ball up well and the BMG back-three clearly weren't prepared to deal with this tactic. Yann Sommer still had enough space to see. The visiting keeper handled his first effort in the 16th. More problems with flank coordination next as an Mbabu cross for Baku was off by miles.
Baku and Gerhardt finally managed to get something going on the left in the 19th. The cross at the end of the sequence had some quality to it, but the Gladbach back-three stepped up in time to close ranks and block Waldschmidt. Baku got stymied central on another try one minute later. Van Bommel's men then got their next chance in the 22nd with a focused breakdown of a Gladbach left rearward cycle. Baku eventually couldn't reach Lukebakio, however, with a pass that proved far too long.
Several fouls broke up flow between the 22nd and 25th. Koné, who some may recall was booked for diving last week by Deniz Aytekin, really does have a flair for the theatrical. If there's one negative to take from this impressive performance from the young foals, Koné's play-acting qualifies. A well-worked combo involving Lukebakio, Waldschmidt, and Weghorst in the 24th definitely deserves better than another poor cross from Mbabu. With a great deal of luck, the Lower Saxons were still able to get their goal on the next play.
It began with a piece of skill from Baku, who nutmegged Stindl on the left. Baku then blindly flicked toward goal. Ginter headed away, but only as far as Lukebakio. Propitious bounces off Lukebakio and Elvedi enabled the ball to land at Waldschmidt's feet. The former Freiburg man's reactions were quicker than that of Sommer's. Waldschmidt secured his first tally since returning to the Bundesliga with a crucial pull back for his team.
Match Flow: 25th minute to half-time
A immensely entertaining and engaging final 20 minutes to close out the half didn't really belong to either team. Actors on both sides tried out a number of interesting ploys. The period of time between the 26th and the half-hour mark featured a surfeit of corners and free kicks. Scally and Netz somehow managed to scramble away a nice Wolfsburg design in the 27th. A short Gladbach corner in the same minute centered around Koné supplying a diagonal. Zakaria only just missed the conversion.
Baku earned a corner at the other end in the 28th. Target Guilavogui couldn't shield the ball well enough to prevent a goal kick. Lacroix tore forward on a solo carry in the 29th. The play ended in an offensive foul. Loads more great midfield duels–Mbabu vs. Stindl in the air being the highlight–over the next two minutes. Koné eventually won a decisive one in the 31st and put Stindl through. The Gladbach captain then furthered for the ever active Embolo.
Mbabu flailed on a highly controversial, two-footed tackle. Subjectively speaking, it could have been interpreted either way. Willenborg decided that it wasn't enough for a penalty. Embolo still needed treatment after leaving his feet. Following a delay of a couple of minutes, the awarded corner came to nothing. A Hofmann free kick in the 34th also yielded nothing for the NRW guests. Wolfsburg, however, were able to get a strong counter off it. Koné stopped it with a heroic slide tackle to toe away from Waldschmidt.
Koné halted the next Wolfsburg advance with a strong tackle against Baku in the 35th. Baku reacquired the ball before Stindl stepped in to stop him. The BMG captain was booked for stepping on Baku's foot. Waldschmidt tried his hand at some theatrics in the 36th. Zakaria saw his forward momentum halted by the match official after a light tap with the back of the hand to Waldschmidt's face saw the WOB attacker collapse in a heap. Zakaria became the fourth player of the match to see yellow.
The series of fouls and stated grievances didn't end up hindering the match flow. By the 37th, we had more great open play action. Stindl and Embolo strung together a lightning fast counter and laid off for Hofmann. Gerhardt slid in with pinpoint precision to incredibly toe-away on a tackle with no margin for error. Some more midfield back-and-forth occurred before Embolo got the next chance in the 39th. Full of confidence, Hütter's lead striker worked through some very tight space and fired from a hard acute angle. Casteels had to come up with a special stretch parry to deny.
Wolfsburg tried again with another central hit for a deep lying Weghorst as we rolled into the 40th. Again, the Dutch striker held the ball up well. There simply weren't sufficient options ahead of him once he turned. Hofmann and Scally got Gladbach through on their right a few more times over the next three minutes. Bornauw–definitely back with his head in the match at this point–stood tall and initiated some decent WOB counters.
Stoppages and treatment timeouts demonstrated just how much these teams had invested as half-time approached. Hofmann did a sensational job clearing a thunderously struck Arnold free-kick cross in the 43rd. Embolo and Lukebakio traded break throughs in the 44th and 45th. Stindl one-touch tapped a vertical back into the path of Scally at 45+1. The young American fullback then out-steeled Lacroix one-on-one very stylishly and belted a beautiful shot to sting Casteels palm.
Scally's tomahawk proved a worthy coda to a first half that, sadly, had to draw to a close. One could tell, based on the number of time's the broadcast feed focused in on van Bommel starting at his miniature tactics-board kit, that the VfL trainer had an immediate shift in mind. Maybe personnel. Maybe shape. Perhaps both.
Match Flow: 46th to 56th minute
Two changes from the Lower Saxony gaffer. Gladbach were winning the xG battle by a 3:1 ratio. Van Bommel needed not merely more physically gifted defenders, but players who could provide some less slapdash offensive impetus as well. This chronicler wasn't surprised at all to see the trainer turn to Jerome Roussillon and John Anthony Brooks in relief of Gerhardt and Bornauw.
Good choices with a formational shift that made sense.
Lineup—VfL Wolfsburg—46th minute (4-2-4)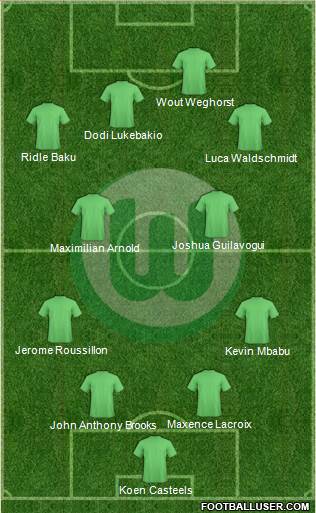 Lukebakio and Waldschmidt were already lurching toward the right. It made sense to simply assign the flank to one of them and move Lukebakio into a service role. Roussillon's upfield speed meant that, if they felt like, Baku and Waldschmidt could rotate as well. Brooks probably should have started the match, although that counts as the claim of a slightly biased source.
The reformat spread possession around well during the first three minutes. Brooks and Lacroix succeeded in cycling the ball around the back four. While it wasn't glamorous and likely seemed like an uneventful lull to most trackers, the center halves succeeded in doing what the initial XI couldn't accomplish at all in the opening 45; calming things down and establishing a presence.
Lukebakio finally found an opening in the 47th. Beyer swept away for a throw. Lacroix made a timed run to pick up the long throw and managed to flick on for Weghorst. The lead-striker nevertheless couldn't connect cleanly with the volley and the ball went wide. Fanning out a bit to their respective sides, Lacroix and Brooks ensured that their side would maintain possession.
In fact, the CBs might have gravitated too far to their touchlines. Neither one could execute crisp ground switches and the WOB attack had difficulty getting established again. More danger from Gladbach after the the Wolfsburg defense couldn't clear a corner in the 51st. Koné got a hard snapshot off at the tail end of it. Another powerful effort popped against Casteels' gloves.
Back to basics for the Wolfsburg back-four over the next three minutes. We saw more more spread distribution from them as the hosts retained the ball. The problems remained the same. Brooks and Lacroix were way to wide. The BMG kept intercepting their switches. Finally, the hosts managed to get Lukeabkio into the penalty on a lovely little give-and-go.
The on-loan Hertha attacker spurned a glorious 54th minute opportunity by failing to lift the ball over Sommer. After a miscommunication between Guilavogui and Arnold in the 55th, Zakaria touched himself into his side's danger area in the 55th only to be stopped by Brooks. Ginter got a header on target from the subsequent corner. The level of play was simply great from everyone.
Match Flow: 56th to 76th minute
We arrive at the absolutely critical point in this fixture. Hütter needed to locate an answer for this Wolfsburg back-four that threatened to wrest back control of this match. As soon as one saw Patrick Herrmann striding up to the fourth official, not became apparent what the Gladbach trainer had in mind. At least, that's what one assumed.
Through Brooks and Roussillon, Wolfsburg kept calm possession in their back ranks. Lukebakio and Baku were able to get forward a bit, but the ball mostly circulated around the defenders during an unbroken open play spell. At long last, after Scally dispossessed Baku in the 58th, Mbabu responded with a foul on the American teenager. The WOB fullback was booked and Herrmann checked in for Luca Netz.
Lineup—Borussia Mönchengladbach—59th minute (4-2-3-1)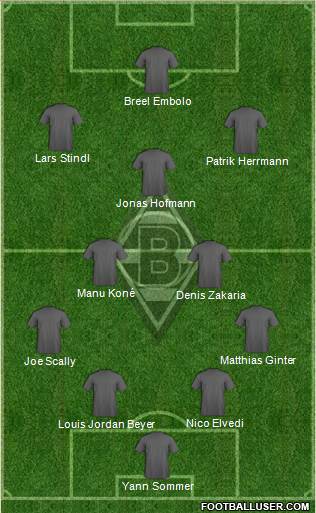 It honestly did look like it would settle this way. Scally dropped back and to the left. Ginter looked to hold a horizontal line with him. Herrmann, having done so well as a winger recently, had a clear frontal deployment. Part of this belongs to the realm of conjecture, however, what the writer thought he saw blipped in and out of existence in the blink of an eye.
Koné signaled that he was hurt. Hûtter had to ready someone on the fly. Weghorst didn't care for Koné's sit on the pitch and there actually was a brief scuffle. While Willenborg and the linesmen sorted it out, Kramer walked up to the halfway line to come in for Koné. When play finally resumed, this is what one saw on the overhead came.
Lineup—Borussia Mönchengladbach—61st minute (3-4-3)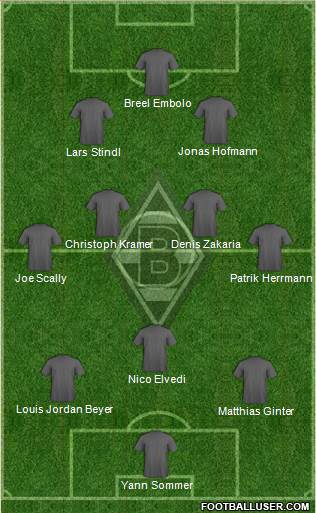 Perhaps the plan was always to remain in the back three. It could conceivably have been the case that the Kramer substitution was always planned. That's ultimately difficult to accept given that the Koné injury almost certainly wasn't. The hunch here is that Kramer was ultimately supposed to replace either Stindl or Hofmann and as the team completed the back-four reformat. It's a reasonable hypothesis, however unprovable it may be.
The theory is in part based on Hütter's post-match comments. Reading between the lines a bit, the head-coach seemed to express pride in the fact that his young players were prepared to implement one of his prepared re-structures, yet also prepared to snap back after a re-think. Some footballers wouldn't accept the "oh wait, nevermind" directive, especially when a match is balanced on a knife's edge. Cool stuff if there's some truth in it.
In any event, we'll depart the realm of conjecture and return to what actually happened. Mbabu did find his way past Scally in the 62nd and shuffled off to Arnold. The veteran midfielder tested Sommer with a sharp distance effort from well outside the 18. Hofmann got his own distance effort onto Casteels' gloves two minutes later.
Nmecha came on to work as the short striker in the 66th, replacing Lukebakio on a like-for-like. Brooks and Roussillon advanced in the 67th, but everyone in black was back helping. The deep seated BMG then unleashed Embolo on a counter. Lacroix had to employ the tactical foul on the Swiss (on this day anyway) superstar and was booked.
Stindl and crew took their time setting up the free-kick. The Gladbach captain finally struck in the 69th. Both his and Kramer's follow up effort hit Casteels' well thought-out wall. Brooks hit Nmecha in stride with a vertical in the 71st. A totally beaten Louis Jordan Beyer then employed a shove. He too was booked and now Wolfsburg got a free-kick in a dangerous area.
Van Bommel's men employed a nicely drawn-up short free kick. Weghorst stepped over a dummy roll, enabling Lacroix to set up Guilavogui. It might have beaten Sommer had the VWers former captain not been a tad too late on the finish. The Wolves continued knocking on the door. Hütter's 3-4-3 remained withdrawn enough to preclude any real chances during a four-minute lull.
Then came another opportunity for Embolo. Lacroix, in pursuit, couldn't catch up. The French central defender went all out for the full diving tackle. He came nowhere near the ball. Willenborg pointed to the spot. Penalty.
Match Flow: 76th to 85th minute
Some spell this was. Lacroix's second yellow naturally translated to a sending off. For Mark van Bommel, it was also naturally time to chuck the playbook away for the afternoon. Once Stindl converted, his Autostädter could play kick-and-rush and that was about it. The only problem proved to be that Stindl didn't make it 3-1 from the spot. The fohlenelf captain finished so weakly that Casteels could comfortably hold the ball.
Van Bommel's prepared substitution of Daniel Ginczek and Maximilian Philipp for Baku and Guilavogui suddenly went from a random shot in the dark to something requiring a bit of strategy. As it turned out, some general incompetence on the part of match official Willenborg meant that we never got a chance to see a chance crystallize on the tactical cam.
The ref falsely awarded Gladbach a goal-kick in the 80th when Beyer touched the ball last. Weghorst protested and was booked. After a clock eating sub from Hütter (Plea for Stindl in the 81st), Willenborg then sent Roussillon off on a straight red for a foul on Hofmann in the 82nd. Just like the false booking on Baku in the 10th, however, there really wasn't anything wrong on what was a fabulous tackle.
This time the Kölner Keller radioed in to Willenborg and he revoked the red after a second look. Wolfsburg would have ten rather than nine players on the pitch for the final push. Some push it would be as everyone had a chance to get fresh air in their lungs during the three minute break.
Match Flow: 85th minute to full-time
Van Bommel opted to dispense with the idea of having a back line at all. In all seriousness, his one remaining center back (J.A. Brooks) went all the way forward to work as the central striker between Ginczek and Nmecha. Desperate football it was as whoever found themselves a little further back launched long balls into the box in the hopes of connecting with someone.
Brooks came the closest to hitting the right ball with his head. Mostly, and unsurprisingly, all that really materialized were endless Gladbach counters. Hofmann, Herrmann, Embolo and Plea all got their chances. As we entered injury time, Ginczek (90+1) and Waldschmidt (90+2) forced Sommer into some touch saves.
In the end, USMNT starter Brooks came close again at 90+3. Sommer nevertheless ensured that a different American got to be the hero. The Swiss national team keeper spotted Joe Scally out on the wing with no-one behind him. The CFC New Yorker headed the ball directly into the path he wanted to take past the halfway line before running to collect and finish. Wow. What a play.
Game Over.
As a chronicler sat back to survey the post-match scenes, two images appeared rather telling. First, we had the Scally and the Gladbach players rushing over to celebrate with their traveling supporters in the stands. Thank goodness this godforsaken pandemic is over. How on earth did we even live through an entire season of ghost games? That's definitely one of those horrible experiences which one blacks-out and thus forgets how one stood it.
The second scene saw the camera focus in on Wolfsburg CEO Jörg Schmadtke looking over the pitch in his luxury box whilst taking long drags on his cigarette. This is actually more of a widespread habit among German footballing administrators than one might think. Fredi Bobic is another one who sometimes gets caught doing a Helmut Schmidt impression during a stressful match. Schmadtke dragged, puffed, and huffed.
A writer found an apt metaphor for this match.
Space. It's the easiest football cliché to fall back upon when attempting to describe an encounter. In this case, it happens to be a good one. Hütter understands it. His 3-4-3 really makes the most of it. Youngsters Scally, Netz, and even (to a lesser extent) Beyer demonstrate remarkable maturity for their age in knowing how to exploit it. That's because they have a great gaffer showing them the way. We can surely all agree on this.
This week's focus isn't really meant to slam van Bommel either. There's enough sense in his ideas and he clearly has some notion of how to bring out better value from his players with quality in game adjustments. When it came down to it, however, the fact that he doesn't have his attacking winger axis (with rotations) sorted out yet allowed the NRW opponents to get behind them all too easily.
Too many shifts on the flank positions create exploitable confusion. Perhaps this occurred to Schmadtke as he lit up another one. There's no shortage of wide-axis-talent on Germany's green company team. Until van Bommel can devise more stabile roles for them, however, it's just too easy to "smoke em' out" and take over the vacated space.
Thanks so much for reading! You can occasionally catch Peter goofing off while watching the lower German football divisions on twitter, @ViceytheSS.
Twitter DMs are open for football conversations, corrections, and (if you truly insist) general abuse. 
All columns debut on Bulinews before appearing on Peter's website later in the week.