The 2022/23 German Bundesliga got off to a rollicking start. The very first Bulinews "Tactics Talk" column of the new season covering league action had quite the surfeit of material torpor upon. From Bayern's bashing of Frankfurt on opening night through the exciting return fixtures of Schalke and Bremen, the tactical bulletin (as always) canvassed the entire league.
The round 's "tactical focus" feature proved quite the physically grueling (not to mention exhausting for both players and writers) affair. Dortmund-Leverkusen only produced one goal, but was still a joy to follow on the overhead cam; an apt tone-setting for another intriguing season of Bundesliga football.
Die Schwarzgelben managed to prevail at the end of the day, furnishing us with plenty of insights pertinent to the new season in the process. Off we go with another fabulous season of German football!
---
Bundesliga Tactical Banter: Round One
---
Breisgauer Liftoff
No real way of telling whether or not we can expect an epic battle between Freiburg and Dortmund next week. The 4-0 scoreline by which Christian Streich's Schwarzwaldverein dismantled Augsburg does seem to suggest it, though one should also note that it covers up how close the affair was initially. Christian Streich's big change from the Pokal fixture scrapped Woo-Yeong Jeong's use as a ten and started Roland Sallai into a short-striker role behind Michael Gregoritsch in a 4-4-2. Augsburg read this well and got the better of the chances in the opening quarter-of-an-hour.
The game could have gone either way during a flurry of late first-half chances on both sides. All the issues Freiburg had during the opening 45 were quickly forgotten when the SCF scored two set-piece-goals to hop out to a 2-0 lead in the 48th. Gregortisch opened his account for his new Bundeliga side. Vincenzo Grifo completed his first free-kick stunner of the new campaign. A little later, Ginter got back into the swing of things with a tally prepared for him by Gregoritsch. Ritsu Doan scored his second top quality goal in as many matches for the BaWü boys.
Pretty thorough evidence of a solid liftoff when one looks at it through the lens of the above paragraph. We'll discuss Dortmund in greater depth below. For now, apostles of one of Germany's greatest ever "cult trainers" can be very pleased with how Streich's plans are progressing. The recently selected "2022 German football Trainer-of-the-year" has a cohesive and coherent squad in place long before many of his counterparts have it figured out. This can easily translate to a rollicking start to the campaign. No reason to think about the inevitable "cool down" just yet.
West Prussian reticence
We'll want to say a few words about the boldest prediction of the preview section. This column took the stance that Borussia Mönchengladbach would be the big surprise addition to the relegation race this this year. Opinion remains fiercely divided in German footballing circles as to which one of the larger clubs will end up being the big flop. Some say Wolfsburg again. Others pick Leverkusen. A few ultra cynics from the Rhein-Main region believe Frankfurt will re-enter "moody diva" mode and regress.
No one specific argument really gained any traction this weekend. Everybody got some evidence that their view may be the right one. Having a look at Gladbach-Hoffenheim, this writer found picked up a few cues in support of his position. BMG trainer Daniel Farke got his basic tactics right in Lars Stindl's absence with a 4-2-3-1 featuring Manu Kouadio Koné in the double-six slot behind anchor Florian Neuhaus. The way in which the whole team opted to deal with a Sinsheimer squad reduced to ten-men early remained pretty timid
Hoffenheim actually took the lead six minutes after Stefan Posch was sent off in the 19th. The foals couldn't do much with the man-advantage and only got the equalizer via Ramy Bensebaini's spectacular overhead bicycle finish shortly before the break. In the second half, the strategy centered around letting Hoffenheim have the ball and bait them out and fish for counters. All very non-assertive. All too indicative of a shy and unsure team. All too, Alassane Plea's brilliance in the final phase notwithstanding, supportive of the thesis.
Pfälzer Maneuvering
Bochum-Mainz probably not being all that big of a draw, we'll report in on how FSV trainer Bo Svensson scored an interesting tactical victory over the 1848ers Saturday afternoon at the Vonovia Ruhrstadion. Svensson found his normal set of tactics shot to pieces after losing lead striker Jonathan Burkardt and captain Silvan Widmer just prior to the match. The response was to craft a 3-4-2-1 with Angelo Fulgini and Anton Stach supporting lone striker Karim Onisiwo from wide buttressing positions.
It turned out working very well against a determined Bochum side that peppered keeper Robin Zentner's goal with loads of chances. Mainz survived an incredible overall performance turned in against them by former player Kevin Stöger and several whirlwind attack phases, including six shots in six minutes just after the hour mark. Svensson reacted to his team's wilt by bringing on Leandro Barreiro and Delano Burgzorg and reformatting to a 4-4-2. A nice and intelligent little maneuver.
With some extra wind in their sails, the Rheinhessen wrested control of the match back and ultimately got the winning goal. Good team. Quality set-pieces. A brace for Karim Onisiwo? The columnist couldn't resist looking up the last time that actually happened. February 23rd, 2019! It's indeed been quite some time for the Nullfünfter's quiet Austrian. Some start to the season for this club.
The Kölner VAR carnival
The columnist doesn't necessarily wish to delve into all the VAR whammies Schalke got hit with in their eagerly anticipated return to the Bundesliga. Just about everyone who caught the round's capper in the cathedral city came away with the impression that the Königsblauen were hard done by. We didn't get a full football match and, more frustratingly, didn't get to gauge the real ability of Frank Kramer's 4-1-4-1 against Bundesliga level opposition.
As we move into the "Burning Questions" section, it seems apt to highlight that we'll be probing the Schalke matter hard this season. The two clubs who bounced back promptly from their 2020/21 relegations opted for divergently opposite strategies. Bremen built on what they had. Schalke wiped the slate clean and started anew in the 2. Liga, and again this offseason. Does an untried and untested Knappen squad have what it takes to maintain the class?
We're all dying to find out. Regrettably, we couldn't obtain much in the way of evidence one way or the other from the first match. Next Saturday's "Top-Spiel", in which Schalke play host to Gladbach, nevertheless looms large. We'll find out something about this team no one really knows anything about (because they've barely played together) in any case. In Köln on Sunday, Kramer's men were so preoccupied with damage mitigation that it proved near impossible to discover anything.
---
The "Burning Questions": Round One
---
What kind of system is Nagelsmann really running?
Ah. Pretty big scouting miss from the columnist here. Keeping a half-eye on last week's DFL Supercup victory, run the midst of some multi-taking, a more classical 4-4-2 was surmised. Closer inspection yields that the young trainer actually made an immediate pivot to his favorite contemporary set-up; the constellation he routinely fell back on during his days coaching TSG 1899 Hoffenheim and RB Leipzig. In plain sight, Nagelsmann returns to his old wheelhouse that us tactics-watchers have been tracking for years.

Lineup—Bayern München—Match One (4-2-2-2)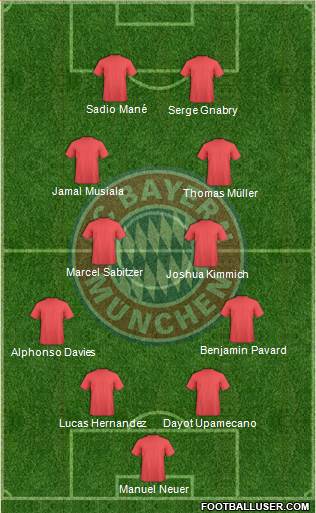 The 4-2-2-2 doesn't require such things as traditional wide wingers or strikers working far enough apart to occupy defined flanks. It's a brute-force smothering press that takes the opponent off the ball and stabs one centrally with short upfield passing permutations too diverse to anticipate. What wide threat does emerge comes from the pacy fullbacks, of which Nagelsmann has two near-perfect options.
Some of us didn't think that Nagelsmann would be so brazen as to turn to this so soon. After all, the last time he found himself tasked with replacing the reliable goal-production numbers of a true nine (Timo Werner's departure from Leipzig ahead of the 2020/21 campaign), the then 33-year-old head-coach spent a year devising unique "small-ball tactics" to eke manufactured goals out of his remaining actors.
The FCB gaffer needn't much around with such match-specific-plans now. Nagelsmann lords over the type of mega-talented roster that can furnish him precisely the sort of results he desires from his preferred system. Total domination over what many considered to be the most improved top-tier roster in the entire league ends up answering a great deal of the deeper questions concerning this season quite early.
We'll pose a subset of queries regardless.
Is this sustainable?
As we emphasized at the beginning of each preview section, the singularly odd nature of this particular season makes the art of predicting how the league table will look come May even more difficult. Injuries and form issues carrying over from the World Cup break, along with all the future moves coming in the prolonged "second transfer window" mean that we'll effectively be previewing a new season just before play resumes in January.
What Nagelsmann possesses now should definitely be considered unstoppable. Some may wonder aloud what happens if certain players sustain injury or encounter form dips, but this writer doesn't see much of a point. An absolute worst case scenario that plucks a player off each one of these axes doesn't change what Naglesmann has waiting in the wings. Nearly every position has a good understudy and the closeness with which players operate mean one actor off his game can be carried by the others.
Is there at least one positional weak-spot?
Potentially left-back. Alphonso Davies remains the one starter here without a synonymous plug-in. Lucas Hernandez, with loads of experience for both club and country, can swing out there to fill-in easily. It probably wouldn't even affect the flow-of-play all that much seeing as how Hernandez's pace–while not that of Davies–still poses a significant threat.
Nagelsmann could nevertheless succumb to overthinking should he lose his Canadian speedster. Reversion to a back-three or an ambitious test-drive of Noussair Mazraoui or Josip Stanisic on the left might cost him a quality half of football. Note that we're digging fairly deep for weaknesses when it comes to Bayern. Saying that they might have a subpar 45 minutes in a 90-minute-game isn't saying much.
When will Bayern lose a game?
A fun little hypothetical to round out this section. Nagelsmann will succumb to overthinking at some point. A fluky defeat shall come here and there over the course of the campaign. It still looks to be the case that–his semi-awkward transition year behind him–Nagelsmann's FCB will drop fewer league fixtures than last time. Five defeats in 2021/22. We'll predict three this year.
In all candor, the Bundesliga schedulers looking to supply a more competitive league did us no favors by according the record champions one of their softest opening slates ever. No real test for the Bavarians until after the international break. Leverkusen, Dortmund, Freiburg, and Hoffenheim await in succession come October. A 7-0-0 Bayern might drop or draw one of those. That's it.
Are Wolfsburg in trouble?
One would venture to answer in the affirmative after what we witnessed in the 2-2 draw against Werder Bremen on Saturday. The lingering problem with this team remains total mismanagement of a group of a roster packed with too many high-profile players. There existed some concern pre-season that Niko Kovac (who happened to do just that with his last Bundesliga squad) might not be the right man to bring order out of this chaos.
And…
Lineup—VfL Wolfsburg—Match One (4-2-3-1)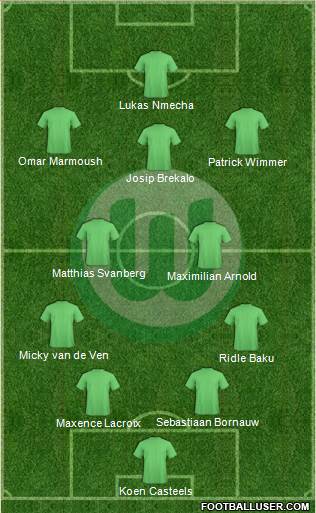 …it just doesn't make sense. Josip Brekalo as the ten? That experiment failed miserably and Kovac waited far too long to pull the plug. The entire left side found themselves pestered by Bremen right from the start. Omar Marmoush isn't drilled well in his defensive work and Micky van de Ven (despite having plenty of time to do so) isn't adjusting to his left-back role.
With the exception of some enterprising moves Patrick Wimmer, the VfL offensive engine couldn't get into gear for the entire first half. Truthfully, Bremen managed to look the more coherent attacking team throughout. Kovac's gradual introduction of more of his weapons (Jakub Kaminski, Jonas Wind, and Luca Waldschmidt) changed nothing.
In the end, only the wise-old-hands Max Kruse and Joshua Guilavogui proved impactful off the bench. Kovac should definitely turn to them–and probably Jerome Roussillon, Maximilian Phillip, and Renato Steffen as well–to lend this team some stability. It's once again a joyless slog watching this time. Guilavogui gave us a little bit of joy. That was all.
Should there be concern for Leipzig?
One could find some concern in that Domenico Tedesco's second crack at a 3-4-3 (a very different one from the Supercup) looked as if it was hastily and sloppily arranged. The RB trainer should have known that the formation he was facing in his trip to Stuttgart might ultimately find a way to take advantage of the huge pockets of space he accorded them behind his front three.
Lineup—RB Leipzig—Match One (3-4-3)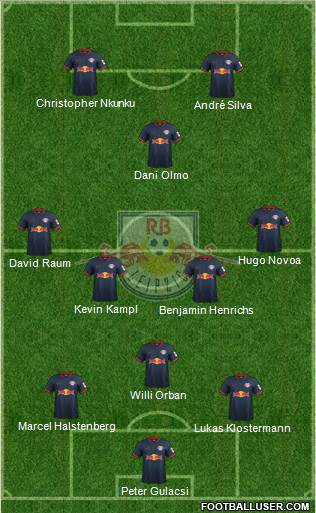 No real excuse for an attacking triangle featuring Christopher Nkunku, André Silva, and Dani Olmo not to be dominant throughout, even put this game to bed well before halftime came. The midfield axes, courtesy of novel personnel placements for Hugo Novoa Benjamin Henrichs and (to a lesser extent) David Raum, also constituted an exploitable soft underbelly. Watch the VfB grow into and eventually draw a game they had no real business competing in caught the observer off guard.
Having spent so much time during the second half of last season going back and forth on whether Tedesco is, in fact, a good tactician, the columnist isn't prepared to go tumbling down that rabbit hole again just yet. Note that the query will pop up again during this campaign. This constellation earns a thumbs down. Kostas Mavropanos and Josha Vagnoman could have even given Stuttgart the lead during their stronger spell towards the end of the first half.
Tedesco inherited an über-talented and underachieving squad from Jesse Marsch late last calendar year. He barely had to lift a finger to get them back up on par with their potential again. Tedesco waited far too long to lift a finger in this one, only bringing Dominik Szoboszlai on for Kevin Kampl and throwing a 4-3-3 forward at the hour mark. The possibility that we may be discussing this trainer's fouling up of a über-talented and underachieving squad at some point this season remains likely.
Why did the Berliner Derby take place so early?
More of a general complaint against the Bundesliga schedulers here. An early start to the season. Most all of us football lovers working on a tight turnaround after the women's Euro. Somehow, we all felt we deserved a little bit of time before these two clubs received a summit meeting. What transpired on Saturday afternoon at the Stadion An der Alten Försterei was basically a carbon copy of the last encounter between these teams at the Olympiastadion in April.
Union bashed the disorganized rabble that is Hertha. Was it truly too much to hope for a different storyline? Evidently, the answer to that question is "no". The answer to the question as to whether it's too much to ask Hertha sporting CEO Fredi Bobic to complete a transfer window that improves his roster by more than 0.01 percent is also "no". Man, are Hertha wretched. Nearly every bit as bad as last year.
That's honestly all that a writer keeping close tabs on this Saturday can say. Bobic's project continues to move forward at a snail's pace. One can say some positive things about Union, but that's also all too familiar thread as well. Nothing novel to report here. Thoughts on Jordan Siebatcheu are best deferred to the debut of this year's "Americans" column.
How can Oliver Glasner shore up his defense?
In dealing with the other half of Friday night's lopsided result, we'll need to note that there were some positives in Frankfurt's early play. Lead-striker Rafael Santos Borré did an admirable job of digging out and holding up balls on all sides of his top axis. Moreover, a couple of spurned chances from Jesper Lindstrøm and new defensive anchor Lucas Silva "Tuta" Melo might have influenced the result if they were taken. On the topic of "Tuta" we nevertheless have a new forward fulcrum for Glasner's back-three that simply isn't working.
Horrible match from the young Brazilian. The 23-year-old doesn't appear up to this task at all. Tuta's new role didn't even merit a mention in the preview section. League-watchers subconsciously edited the problem out. The fine job he has done since David Abraham's retirement 18 months ago and the declining relevance of Martin Hinteregger prior to his own retirement left us assuming that the transition would be seamless. Not the case.
We thus run into a problem with no easy solution. With Stefan Ilsanker gone, no one else can lead this back-three. Makoto Hasebe likely can't keep it up over the full 90 at his age. A back-four featuring Christopher Lenz, Hrvoje Smolcic, and Aurelio Buto might work in the long-term, but presently disrupts the type of football Oliver Glasner has worked so hard to calibrate. Constant re-jiggering left this team in shambles during the early stages of last season. There's already forced tinkering on the horizon should Filip Kostic and Evan N'dicka depart.
The writer really doesn't have an answer to this quandary. One thing league-watchers can most assuredly do is temper their expectations insofar as the SGE is concerned. One can forget about die Adler returning from Helsinki on Wednesday with some silverware from the UEFA Super Cup. Subsequent league matches against Hertha, Köln, and Bremen could yield nine points, yet might prove unspectacular in light of this squad's forecast "growing pains". Glasner has more to work on than originally anticipated.
---
Weekly Tactical Focus: Bet on Freiburg
---
Our first "tactical focus" section of the new season covers Dortmund's opener for the third consecutive year. Unlike in 2020 and in 2021, we don't exactly have a cracker of a match to discuss. The Bundesliga's bis Saturday evening "Top Spiel" proved something of a flop from a pure entertainment perspective. We received only one goal in the contest; one that happened to fall into the category of a "Dreckstor" or "Scheißtor" if one wishes to utilize the German vernacular. Those with their eyes on the overhead cam likely still enjoyed the fixtures tactical merit.
Not a great deal between the two sides in this one. Our first look at the Dortmund of the reinstated Edin Terzic delivers mixed results. On the one hand, this incarnation of die Schwarzgelben appear much more organized and (critically) very conscious about not making mistakes playing out of the back. Terzic earns plaudits for taking a scalpel to what was this team's main problem area last year. They committed a couple of errors when pinned back, but were otherwise impressively focused.
On the other hand, while we observed some flashes of quality from the attack, Terzic's philosophy of forward play remains far from fully formed. This is understandable since he's trying to transform the team from a "cycle out" offense to one built on more narrow verticals and tight triangles. Leverkusen literally find themselves striving for the same kind of transition; the primary reason why these teams canceled each other out this weekend.
A general (not to mention very early) judgement about Dortmund holds that Terzic has them on a positive path. Much later in the season, we might behold a consistently impressive product. At this point, however, the upswing looks to be a gradual one. It will take time. Many weeks at this clip. The advice on who to back in the Freiburg showdown on Friday thus finds its way into the title of the section. The section itself goes into greater detail.
Lineup—Borussia Dortmund—Match One (4-2-4)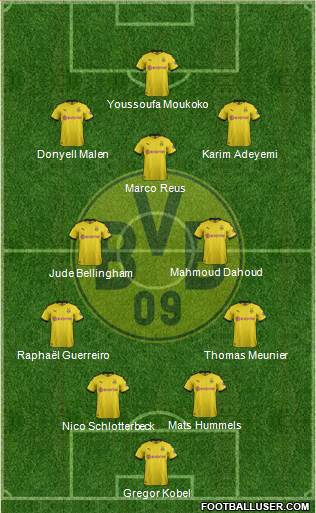 Only one enforced change from the Pokal round for Terzic. Niklas Süle's injury meant that Mats Hummels had to step in. At a bare minimum, the defensive ramifications of this swap necessitated a formation change. Sixes Judel Bellingham and Mahmoud Dahoud had extra defensive track-back work on their assignment sheets. Karim Adeyemi and Donyell Malen needed to play a more subdued role offensively.
The 4-2-4 that quickly emerged on the tactical cam probably resulted both from these adjustments and an attempt to mirror what would be the presumed Leverkusen formation. The BVB coaching staff definitely put their scouting work in this week, discovering in the process that die Werkself aren't "cycle-out" offensive team. Gerardo Seoane has his crew drilled on vertical approach play and tight inward triangles.
Lineup—Bayer Leverkusen—Match One (4-2-4)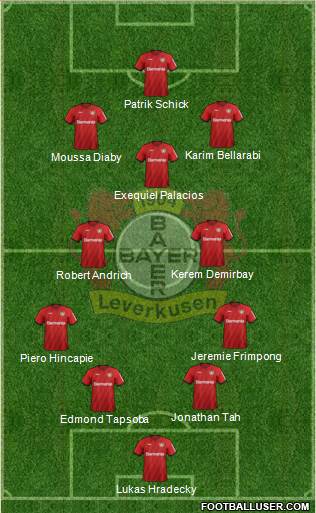 Five personnel changes from the Pokal round saw Seoane drop Odilon Kossounou, Mitchel Bakker, Charles Aranguiz, Adam Hlozek, and Sardar Azmoun. With the exception of Azmoun, these were all actors that played poorly in the domestic cup upset loss. Exequiel Palacios, Jonathan Tah, Kerem Demirbay, Karim Bellarabi, and Piero Hincapie all came on in basically the same 4-2-3-1 that was compressed into a 4-2-4.
Match Flow: 1st to 9th minute
In the first noteworthy bit of action, we witnessed Dortmund near give the ball ball away on a deep build out of the back-left. Seoane's men put Raphaël Guerreiro under immediate pressure in the hopes of exploiting what has been the BVB's Achilles Heel these past few seasons. After a wince-inducing initial wobble involving an errant pass, the hosts sought to calm things down by holding onto the ball and not take any major risks going forward.
Very little happened in the opening five minutes apart from a half-chance of a Bayer free-kick in a decent position. Tapsoba headed Demirbay's service wide in the 2nd. Dortmund got some very meek offensive charges going in the 4th without any real penetrative threat. Adeyemi asserted himself well on the right in the 6th. Thomas Meunier tagged along to partake in the give-and-go. Moukoko also made a nice move on the sequence before Hradecky snuffed out Bellingham.
Bellingham himself stepped up to win his first of many midfield 50-50s in the 7th. The BVB mostly maintained possession via a series of bow-arcs and full-recycles over the next two minutes until they rattled off the attack that would produce the opening goal. Malen punched through with a nice run. Tah couldn't clear the ball after Malen's progress was halted. Bellingham pounced and quickly dished to Moukoko. The young German phenom then cleverly twisted on the ball before playing across to Adeyemi.
The ball was left spinning on the goal-line after Hradecky got a piece of Adeyemi's effort. Hincapie and Tah both failed to pick up Marco Reus as he came rushing in to finish off the rebound. The BVB skipper poked home the 1-0 and Leverkusen were off to a nightmarish start. Just like in the Pokal, they conceded in the first minutes. Hincapie and Tah being two of Seoane's replacement defenders left one with the impression that the Bayer trainer had nothing but bad options at the back.
Match Flow: 9th to 23rd minute
Things settled down over the course of the next phase; one bookended by two treatment breaks. Robert Andrich had injured himself on the play leading up to the goal and things didn't really get rolling again until the 12th. Shortly after Hincapie flashed wide in the 13th, Andrich had to come off. Aranguiz entered on a straight like-for-like to work as Demirbay's partner. More attentive midfield ball wins enabled Dortmund to spring forth on visually creative attacks in the 14th and 15th. Then it was Adeyemi's turn to get treatment in the 16th.
Adeyemi recused himself from proceeding by following the medics to the sidelines. Leverkusen thus operated with a man advantage for a couple of minutes. A Palacios cross for Patrick Schick was deftly handled by Guerreiro in the 18th. Seconds later, Schlotterbeck shut Schick down on the ground. One final Leverkusen charge in the 19th got whistled down when Bellarabi started too soon to meet Demirbay's switch. Adeyemi re-entered the match at the end of the minute.
A couple of nice chances from at both ends in the 20th. Schick first couldn't find the target after Bellarabi and Palacios ran a promising counter. Reus then missed when Guerreiro adroitly sparked the BVB back the other way. Die Schwarzgelben threatened with some neat cycles on the right over the next couple of minutes. One could nevertheless note that the hobbling Adeyemi couldn't continue much longer. Thorgan Hazard replaced the young German gun in the 23rd, but not before Hincapie got one last cheap shot in on Adeyemi's legs.
Match Flow: 23rd to 37th minute
Turnover city and multiple fouls stoppages over the next five minutes as, having both lost players to injury, the two sides found themselves unable to really focus on the football. The encounter quickly lost its rhythm and didn't regain much of a flow for the duration of the opening 45. Some intriguing battles between Hazard and Hincapie in the 24th. Tah completed a quality long carry in the 25th, eventually allowing Frimpong to draw a free-kick.
Reus headed Demirbay's service away and Tah was booked for an offensive foul on the subsequent 27th corner. Meunier missed a chance for the 2-0 after Tah failed to clear a BVB corner one minute later. Amid more stoppages between the 29th and 31st, Leverkusen tried some ultra vertical attack sprints that went nowhere. Guerreiro ensured that a Dortmund free-kick in the 32nd went nowhere when he fired directly into Hradecky's arms.
Diaby would be the next one to a send a ball into a net-minder's waiting arms in the 34th. The Frenchman, barely having gotten a touch in prior to that, wasted some nice work by Demirbay with a poor cross for Schick. Gregor Kobel collected easily. Schlotterbeck cleared a Bellarabi cross a minute later and then intercepted a Diaby pass into the box off a promising B04 counter in the 36th. Diaby might have done better to have a go himself.
Match Flow: 37th minute to half-time
We at least got a few scant signs of life in the increasingly choppy match before it was time to head into the tunnel. Hradecky did well to cut out a Meunier cross on a Dortmund advantage play in the 38th. Hazard located some space in the 39th, ultimately miffing up a cross/shot. In the 41st, Schick was gifted an opportunity when as passing error on a Dortmund back build (imagine that!) left him alone in front of Kobel. Somehow, Dahoud managed to scramble back in time for the last ditch tackle.
Things loosened up a bit in the next two minutes, with Bellingham firing wide from distance in the 42nd and Hazard having to employ the tactical foul to stop Jeremie Frimpong on a B04 rush in the 43rd. Some very good work from Bellarabi in the 44th to hit in a sharp cross. Meunier proved equally as sharp on the clearance right in front of Kobel. Meunier cleared the subsequent corner strongly as well. The sides traded long balls and uneventful dead ball services through three minutes of stoppage time.
Half-time xG:
xG Dortmund–0.9, xG Leverkusen–0.5
Well. At least the result was fair.
Match Flow: 46th to 58th minute
No major tactical change from Seoane at the half despite the introduction of Adam Hlozek for Bellarabi. Die Werskelf remained in their narrow 4-2-4, not daring to swing Diaby too far out wide in any direction. This definitely counted as the right move, seeing as how the idea would be to keep the attack unpredictable with quick and spontaneous rotations. Pretty solid football from Germany's red company team in the 12 minutes after the restart.
Diaby blazed through shortly after we resumed, setting up Schick in the 46th. Hummels intervened before the Czech striker could really get a handle on the ball. A series of slow roll builds from Bayer between the 46th and 49th didn't lead anywhere, but did ensure that the team could build up confidence via uninterrupted possession. This did very nearly backfire when Dortmund railed off a nice counter in the 50th. Malen cutback for Hazard after running all the way to the touchline. Hradecky prevented the 2-0 with a monster save on Hazard.
Leverkusen were back on the charge with Frimpong and Diaby rolling a nice cycle on the right in the 51st. Frimpong then ran across the pitch to cancel out Malen on the ensuing counter. Diaby set up Schick brilliantly again in the 52nd, with Palacios turned in Kobel's spilled rebound for the supposed equalizer. The flow then got killed off while a VAR review confirmed that Palacios was offside and Schlotterbeck required a treatment break.
We didn't get rolling again until the 55th. The VAR review enabled Schlotterbeck to get his dislocated shoulder popped back into place in the Signal Iduna catacombs, meaning that die Schwarzgelben weren't shorthanded for long. The next significant action actually saw Hincapie get booked for a horrible challenge on Reus just outside the penalty area. When match official Dr. Felix Brych reached for the yellow card, most of us thought Hincapie was off.
It took a second to recall that the Ecuadorian did not, in fact, receive a booking for several deeply dirty challenges during the opening 45, most notably that cynical swipe on an already injured Adeyemi in the 23rd. The newly found cadence of the guest's attack found itself broken by the multiple goings-ons. We mostly saw broken and choppier approach play from Seoane's men over the next ten minutes.
Match Flow: 58th to 68th minute
Stop-start vertical vertical Bayer drives had a very frustrating vertical look to them during the next phase. To the BVB's credit, the players on the pitch kept things nice and compact defensives. Very solid tackling from Dahoud, Schlotterbeck, Hummels between the 59th and 61st. Guerreiro, Dahoud, Reus, Malen, and Moukoko were all involved in a solid cross-field and multi-directional Dortmund counter in the 62nd. A couple of chances for Schick that everyone is sure to recall came shortly thereafter.
Kobel had to spread himself perfectly to stop Schick from close range after a Diaby breakthrough in the 63rd. Dortmund punched back a couple of times in the minutes following. Tapsoba had to put the brakes on Moukoko in the 64th. Bellingham unfortunately skied a distance effort on the next rush in the 65th. Schlotterbeck and the offside flag then halted the next two Bayer waves in the 66th. Azmoun entered for Demirbay as the 66th drew to a close.
The Iranian made his presence felt without delay. A superb cross over to Schick from the right in the 68th absolutely deserved to end up in the back of the net. Kobel stuck out a leg reflexively, in the process making his second incredible save from point blank range inside of five minutes. Azmoun's entry obviously heralded a tactical shift Seoane, but those of us with eyes on the overhead would have to wait for matters to settle down in order to see it.
Match Flow: 68th to 85th minute
This appeared the apparent plan.
Lineup—Bayer Leverkusen—67th minute (4-2-3-1)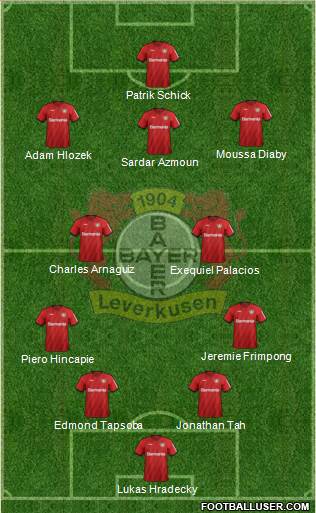 Hlozek slid over to the left while Diaby operated firmly on the right. Palacios ceded the ten-slot to Azmoun, dropping back to pair with Aranguiz in a little Latin American double-six action. Most importantly, the 4-2-4 widened out into a true 4-2-3-1 again. Seoane might have had this in mind all along.
Terzic was in the process of altering his shape as well. Brandt relieved Moukoko in the 69th, lending one the impression that (while Malen was now operating as the lead striker in the same 4-2-4) an eventual defensive shell up was coming. If his team couldn't get the second goal shortly, their trainer prepared to batten down the hatches.
A couple of promising Dortmund attacking waves between the 69th and 71st fizzled out when Guerreiro firstly wasn't ready to receive a cross-field square ball from Hazard, then got dispossessed by Diaby shortly thereafter. The Portuguese left-back did show some better class defensively, shutting down Frimpong in the 72nd.
Scuffles, booking, and stoppages between the 74th and 78th. Tensions ran high. Another goal seemed increasingly less likely. The only thing worth mentioning was a gorgeous slide tackle from Schlotterbeck on Diaby in the 77th. Two Leverkusen like-for-likes (Bakker and Nadiem Amiri on for Hincapie and Palacious) ate up the 78th and 79th.
Schlotterbeck inadvertently turned the ball into his own net in the 80th. This time a VAR review wasn't needed to chalk off the tally as Azmoun clearly stood in an offside position. Brandt couldn't do much attempting to lead a counter in the 81st. The former Leverkusen man himself then messed up a Hummels-led counter one minute later by starting ahead of the Bayer defensive line.
Terzic had clearly seen enough and spent the entire 83rd explaining to subs Emré Can and Marius Wolf how he wanted them to shut the game down. The duo entered for Malen and Guerreiro in the 84th. A five-back shift it appeared to be. A five-back shift it was.
Lineup—Borussia Dortmund—85th minute (5-2-3)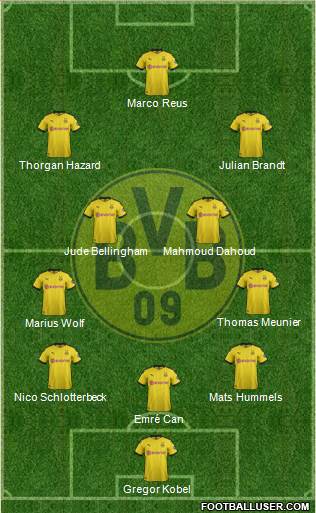 Reus would remain available up top central in the event that a counter could be sprung. Such a scenario wasn't totally out of the question given how well Bellingham and Dahoud had done in their midfield duels. Wolf and Meunier could always hit the overlap lanes at a moment's notice. Mostly, however, one could see that Terzic wanted these three points bagged at all costs.
Match Flow: 85th minute to full-time
Wolf's stinging distance effort in the 85th (which almost defied the laws of physics in remaining out) served as the last worthwhile chance of the game. Nothing much else happened as the BVB back-ranks stood tall against every Leverkusen rush. The Bayer attacks had a deflated nature to them by this point and weren't particularly dangerous anyway. Wolf ran the best Dortmund counter in the 89th, but couldn't get his feet sorted out.
There was the slapstick associated with Lukas Hradecky's odd sending off as the match entered injury time. Since Seoane had already used five subs, we got the pleasure of seeing Tapsoba dress up as a goalkeeper. Nice little bit of pre-carnival pageantry from the Burkinabé there. To a certain extent, it upstaged the rest of the match's general entertainment value. That has to be said, regrettably.
Full-time xG:
xG Dortmund 1.9 , xG Leverkusen 1.5
Phrew. The columnist isn't even sure he buys what the data analysts produced here. Did they have their plot-points configured correctly? It seemed as if the teams were basically even in terms of chance creation, maybe even that die Werkself maintained a slight advantage based on their strong start to the second half. Might be the case that the late Wolf effort and the position of Reus' free kick post-Hradecky-red nudged Dortmund up a bit.
Regarding the conclusions we can draw about Leverkusen, it's readily apparent that Seoane has much work to do in figuring out his best XI. The basic offensive system works fine and should improve a pace. Pretty much all of the defensive actors available are off to a terrible start. Stabilizing the final axis takes priority now. One nevertheless wouldn't label it a crisis just yet. Loads of time in this very long season to rectify matters.
And as for Dortmund? Defending isn't really their problem. Schlotterbeck's excellent debut, along with above average performances from Guerreiro and Meunier on both sides of the ball, gives one confidence that the squad is properly stacked and trained in this respect. The attack needs to forge some sort of identity. It could end up being a rather long time before this happens, however. It would be very surprising to see them wake up in time for Freiburg by next Friday night.
Hence, the title of this section dispenses some friendly gambling advice.
Thanks so much for reading! You can occasionally catch Peter goofing off while watching non-Bundesliga football on twitter, @ViceytheSS.
Twitter DMs are open for football conversations, corrections, and (if you truly insist) general abuse. 
All columns debut on Bulinews before appearing on Peter's website later in the week.