The football comes thick and fast as the "holiday blitz phase" begins in earnest. Need a little help catching up? Here's the re-post of last weekend's recap.
---
League-Wide Talking Points: Round Nine
---
Getting ahead of the Dortmund chatter
It's coming. Of course it is. Come Monday morning, German footballing circles shall collectively lament another BVB loss against a soft side. The best contenders for the title have dropped another one! The title race is off again! It's all Lucien Favre's fault! This team of elite players can never seem to find championship-level consistency! So it goes. On and on. Such a loss puts even the Bayern fans in a foul mood. They crave competition as much as anyone else.
Even Favre apologists, a group to which this writer unabashedly belongs, will have trouble wriggling themselves out of this one. The Dortmund trainer clearly made his fair share of mistakes: Starting Felix Passlack at left-back, trying to make Julian Brandt and Marco Reus share ten-duties, and moving Emré Can into a midfield role he appeared unprepared for.
All of that notwithstanding, Erling Haaland, Giovanni Reyna, and Youssoufa Moukoko all came close to leveling at the end. Favre basically had the right idea to bring on the young guns later. Additionally, one must admit the two mirror-image Köln goals couldn't truly be anticipated. A pair of corners in which Marius Wolf almost blindly found Ellyes Skhiri? No match-plan can rightly be expected to take such an occurrence into account.
Alas, that won't satisfy those who were riding high after the BVB made up some ground last weekend. Now they've erased their two steps forward with three steps back. The Bundesliga Cassandras shall be out in full force this week.
Finally time for Fabian Klos
Leipzig's 2-1 win over Bielefeld remains unlikely to excite many. Julian Nagelsmann's men barely bested a side so bad that they managed a 0.0 xG in their fifth consecutive Bundesliga defeat last weekend. Germany's Red Bulls even looked limp and very unorganized against Uwe Neuhaus' rabble. Dayot Upamecano had yet another poor match and Alexander Sørloth again failed to open his RB account; this time missing from the spot.
Apart from two moments of magic, the Bundesliga's new second-place team by no means looked like a title contender. As we've noted in this space numerous times before, Bielefeld serve as a classic example of a promoted doormat club that cannot hope to compete at this level. The attacking weapons simply aren't there. Neuhaus only possesses Bundesliga Two caliber strikers, and a talented loanee in Ritsu Doan that he still has found a systematic place for.
Naturally, one should still congratulate Fabian Klos on his first top flight goal. The 32-year-old DSC captain, who joined the club at their 2011 nadir in the third division, has found the back of the net 154 times in the lower divisions and Pokal. One always roots for the oxymoronic "veteran rookie" to bag that first goal on the grand stage. In terms of how many more we can expect from him this season, an optimistic guess would say no more than three.
Freiburg-Augsburg revolves around Caligiuri
An interesting move from FCA head coach Heiko Herrlich in the 1-1 draw with Freiburg, saw him dump Robert Gumny at the half and move one of his most productive players back to the rearward flank. It's been quite some time since Daniel Caligiuri played that far back. Interestingly enough, he was initially groomed at that position during his days at the Freiburg youth academy. Freiburg trainer Christian Streich, who coached him both at youth level and in his budding days as a professional, confessed to the press this week that not actively seeking to bring him back this summer was one of his biggest mistakes.
Herrlich's ploy breathed life into what was shaping up to be a monumentally boring match. Unfortunately, the 32-year-old experienced a defensive lapse that led to Freiburg's opening goal. Working from unfamiliar nightlines, he badly misjudged a Nicolas Höfler cross. His fellow Italo-German Vincenzo Grifo picked up the glory to give the visiting Breisgauer the lead in the 64th.
Streich's men still couldn't escape with all three points however, after their own defensive negligence on a cross. No one picked up Ruben Vargas when Marco Richter (Caligiuri's replacement on the wing) crossed for him in the 80th and Jonathan Schmid could only deflect in on an awkward track back. More grave errors rob Streich & Co. of points. The Badeners are off to their worst start in three years.
Perhaps Streich could compel the Fuggerstädter to part company with Caligiuri over the January window. Herrlich essentially got him for nothing in June on a free. This could be a move that benefits both sides.
"Carnival Energy"
Perhaps it's the new carnival jerseys that have FSV Mainz suddenly looking like a lively club. German fans could barely stand to watch the Rheinhessen roll out their festive tricots in year during which there shall be no carnival. Köln had the decency to forgo the fete shirts this year. Whatever the reason being their recent revival, Jan Moritz-Lichte has them looking tenacious in, of all things, a 3-4-3.
Jean-Paul Boetius and Robin Quaison directly buttress Jean Philippe Mateta. All three got quality chances in against Hoffenheim in the opening 13 minutes. The trio combined brilliantly in the 33rd minute opening goal. It's very much a counterattacking rather than a possession-based one. Sebastian Hoeneß's Kraichgauer were able to shut it out long before equalizing.
The Nullfünfter still had enough spunk left to make the final 15 minutes interesting. Mateta saw the go-ahead goal denied by the post and substitutes Karim Onisiwo and Jonthan Burkhardt looked exceptional down the stretch. A bookended performance remains hardly something to get excited about. It does appear as if the Pfälzer might threaten to put some distance between themselves and the drop.
On a three-match unbeaten streak, Bielefeld and Köln come next.
---
The Burning Questions: Round Nine
---
What is going on at Hertha?
Not nearly enough as this Sunday's meek 0-0 draw with Leverkusen might suggest. Bruno Labbadia trusted the exact same XI that fell to Dortmund last week. He didn't tinker with the 4-4-2 either, though that wasn't necessarily the worst strategy against Peter Bosz's centralized 4-1-4-1 possession scheme. One still didn't see many bright spots in the "alte Dame" ranks. What chances they did get fell into the category of wild flings at the goal for their own sake.
Dodi Lukebakio was miles off target on a couple of harmless shots. Omar Alderete slung a useless hopeful effort over. That was literally the extent of what Labbadia's corp had to offer against a Werkself side featuring four of the five attackers that played in the Europa league fixture on Thursday. Krzysztof Piatek remained quiet throughout. Matheus Cunha couldn't generate anything.
Eight points and thirteenth place after nine rounds is certainly not where many envisioned the capital club at the beginning of this season. It's still far too early to draw any morose conclusions. Labbadia now has Leverkusen, Leipzig, Bayern, and Dortmund behind him on the schedule. That's the good news. The bad news? A very tough match against high-flying cross-town FC Union Berlin and Borussia Mönchengladbach still await before a long string of softer opponents.
At present, one can still explain Hertha underachieving away with the schedule. Two more losses successive losses are a possibility. Explaining gets a mite more difficult there.
Are Bayern continuing to exhibit cracks?
Much more so than this weekend's scoreline might suggest. Stuttgart stood toe-to-toe with the German record champions right up until the end. Pellegrino Matarazzo's staggered 4-3-3 knocked Hansi Flick's 4-2-3-1 about with some dizzying jabs and straights. Had Philip Förster, the new addition to the Stuttgart XI, been able to shake off the rust and find his scoring touch sooner, the Swabians might have built up a much larger early lead.
For the second consecutive league match, neither Thomas Müller nor Leon Goretzka could manage to make themselves relevant. Manuel Neuer had his shaky moments as well. A rash and frantic foul on Neuer from Tanguy Coulibaly cancelled out what would have been a game-changing goal. Neuer badly butchered a back pass on the play. The keeper's recent body language and decision making heralds something of a dip. Something's off with his confidence.
We've also injuries to discuss. Both Jerome Boateng and Javi Martinez had to leave the pitch after knocks left them unable to play. Corentin Tolisso and Lucas Hernandez reportedly re-aggravated their recent sprains and scratches. There will be major shifts; potentially even some more misguided attempts by Flick to try his hand at tactics. At some point in this pre-Christmas hectic football calendar, the giants will take a fall. The Leipzig match next week looms large.
Were any of the goal-heavy matches the result of tactical failures?
Insofar as Frankfurt-Union Berlin is concerned, not really. That slugfest more closely resembled an improvised power-for-power shootout. Of some interest, Adi Hütter lined the SGE back up in a 3-5-2. Die Adler looked pretty sharp. Urs Fischer continued to use Max Kruse as a short-striker behind Taiwo Awoniyi in a 4-4-2, to more impressive effect one might add. It really becomes difficult to envision an opponent wrenching that well-oiled machine.
One did witness something rather curious from Florian Kohfeldt in the opening stages of the Wolfsburg-Bremen Friday night eight-goal-melee. The Hanseaten trainer apparently opted to try a spontaneous shake-up in the opening 28 minutes or so of the match.
Lineup—SV Werder Bremen—Match Nine (3-4-3)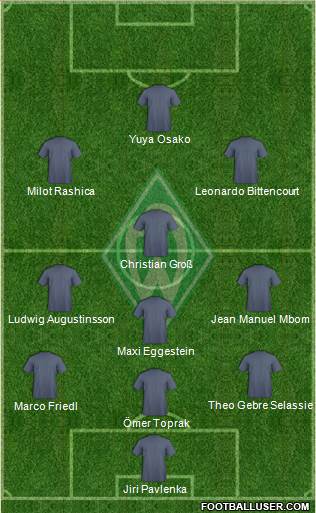 This was genuinely weird, especially when juxtaposed against the basic template Kohfeldt has been using. Nearly everyone played out of position. Christian Groß moved all the way up to the holding midfielder role while Maxilian Eggestein bolted down just ahead of the defense. Jean Manuel Mbom got a trial at wingback and Theodor Gebre Selassie served as a straight central defender working on the fifth axis.
It's unclear what Kohfeldt wished to accomplish with this. Perhaps he simply felt compelled to shake things up after Werder and Wolfsburg entered the match having drawn 1-1 in their previous five encounters. In any event, it didn't serve much of a purpose other than totally exhausting Mbom. The central midfielder does play on the wing sometimes. Here, he couldn't figure out the rotation scheme on the right.
In a bizarre turn of events, Mbom kept perambulating about in ringlets even though Bremen were back deep defending most of the time. The 20-year-old found himself drenched in sweat despite the fact that a great deal of the match revolved around tentative and slow VfL buildups. Kohfeldt called a halt to the experiment shortly after the Wolves scored their second goal, bringing on Kevin Möhwald to pair in midfield with Eggestein and tried to move everyone back to their regular position.
If the intent was to avoid another 1-1 draw, it certainly worked. Zonal marking fell apart on Ridle Baku's tally in the 22nd and no one knew where they were supposed to be on the set-piece conversion three minutes later. Selassie was still on the back line, screening Jiri Pavlenka in point of fact, on Wout Weghorst's 37th minute strike. Confusion reigned for some time even after the Möhwald substitution.
Kudos to Kohfeldt for trying something different. To label it a "tactical failure" would be harsh. It may have been slightly insane, but at least it was entertaining.
---
Weekly Tactical Focus: A Schalke Autopsy
---
One particularly glaring question left this week. Whenever we arrive at the point in a season in which there remains but one winless team left, the mind tends to gravitate toward one question in particular. Namely, is there hope for the one squad completely devoid of confidence? The desire to examine the worst of them all actually doesn't stem from some perverse fascination with watching others destruct. On the contrary, football fans need to observe hope emanating from all levels of the table.
Surprisingly enough, one can find some hope for Schalke. The "Königsblauen" demonstrated a flicker of fight this weekend. While it didn't prove anywhere near sustained enough, it constituted considerable improvement over last week's inexcusably pathetic display. All of the inner turmoil hemorrhaging this club may, of course, still prove too much. We will discuss some useful tactical lessons in a moment. Before doing so, it's worth acknowledging that we may simply be giving dermatology tips to a patient with a rupturing appendix.
The personnel crisis metastasizes. The type of circumstances that led to the losses of Vedad Ibisevic, Amine Harit, and Nabil Bentaleb might very well lead to further schisms and gaping fault lines. No trainer presiding over a club at rock bottom morale maintains enough cache to divide the locker room in such a fashion. Moreover, the injuries really begin to mount up now. Salif Sané, Ahmed Kutuçu, Rabbi Matondo, and Goçalo Paciencia were all lost indefinitely this week.
It is such that we must proceed on what could be a very unsteady assumption. Assuming Manuel Baum keeps his job through Christmas, he may have happened upon his best workable bet.
Lineup—FC Schalke 04—Match Nine (4-2-1-3)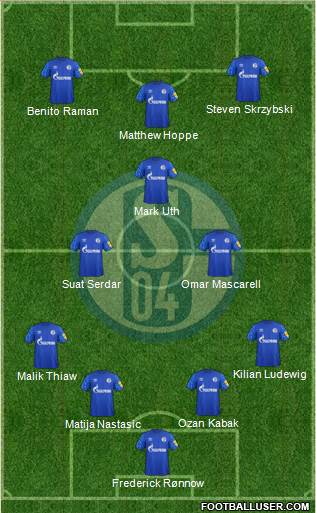 While the 5-4-1 Baum used against Mainz certainly yielded better results, there's some amiable intent built into this constellation.
Conceding the central attack
The team has no striker. Period. Any attempt to feign a legitimate assault would be futile. Hence, it's nice to witness Baum at least begin to get his team accustomed to working with a false-nine. Mark Uth appears best suited to directly butters this player from an attacking midfield position. The veteran possesses soft enough trained eyes to pick out colleagues on the flanks once he and some regular wingers synchronize their timing. With time, it can work.
Naturally, Baum will eventually need to find a better option for this role than new call-ups Luca Schuler and Matthew Hoppe. Prior to this weekend, virtually no one had heard of either. A writer responsible for tracking US internationals in the German top-flight confesses that the 19-year-old Hoppe wasn't even on his bottom rung scouting radar. Though unrecognized names do indeed burst onto the scene in each and every football season, the state of Hoppe's observable skill set strongly suggests that he's not sitting on the precipice of an sensational breakthrough.
This was an emergency deployment. Hoppe has barely had time to get his feet planted with the Schalke youth side this season. Schuler is similarly new, albeit serviceably prolific on the scoring front. Either one could conceivably work as a faux-nine with enough early luck. Either Paciencia or Kutuçu remain better choices.
According the fullbacks a chance
Speaking of youngsters thrown prematurely into the fray, one should emphasize that Malick Thiaw and Kilian are but 19-and-20-years of age, respectively. Previous trainer David Wagner still leaves behind the enduring legacy of failing to work with the board to acquire a proper right back prior to the start of the season. Moving Sebastian Rudy into the position even managed to alienate the squad's most talented midfielder into a forced exit.
Ludewig's play thus far has been fairly poor, with two notable caveats. When Baum actually used him as a widely deployed fullback, as he did for stretches in the fourth and seventh rounds, the youngster can rely upon his muscle memory to play his natural position. Thiaw remains more of a placeholder for Bastian Oczipka at left-back, but surprised a little bit in this match when horizontally paired with a young and fast counterpart.
Baum has utilized plenty of zany defensive constellations this season asked far too much of a pair of kids who should be accorded the opportunity to grow comfortable with their positions. Particularly when it comes to young fullbacks in football, the growing pains associated regular deployments can far outweigh the irreplaceable loss of confidence that results from too much shifting.
The strongest midfield triad
So much can be possible in football when one has three players that can get the midfield triangles right. The trio trotted out in this fixture is about as close as Baum can hope to get in terms of a formidable force in the middle of the park. The Schalke trainer needs captain Omar Mascarell firmly out of the defense and focused on building charges. He also needs Uth back one full axis to work distribution like a true "Anhängende Spitze".
Two needs are securely within the coach's realm of influence. A third need, not so much. With fingers crossed and few silent prayers said, Baum truly needs Suat Serdar to stay healthy. The 23-year-old's availability over the course of this campaign will have a ridiculous amount of influence on the relegation race.
Marco Rose and the Foals: A brief look at the opposition
Marco Rose's tactics have not shifted terribly much since we examined them more closely in the first and fifth rounds. We'll take a look nonetheless.
Lineup—Borussia Mönchengladbach—Match Nine (4-2-3-1)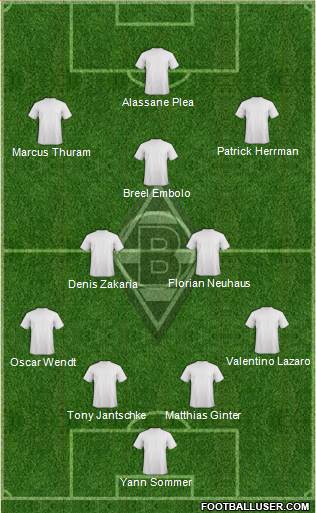 Whichever way one wishes to cleave up the axes, Gladbach always use double-sixes. It is true that the system converted to a 3-4-3 in possession much more frequently earlier in the season. Rose's league play has become much more rigid and conservative. This is a natural consequence of the fact that he has prioritized overachieving in the Champions League to his domestic fixtures.
One definitely can't fault Rose for this. His league constellations are also always chock full of solid ideas. Rose and Max Eberl systematically built this squad for European rotation, with a virtual Doppelgänger at practically every position. When, for whatever reason, the carefully calibrated replacement can't be slotted in, Rose always makes the right move. Valentino Lazaro in for Stefan Lainer is this week's example.
Everything just makes logical sense at this club. Okay. Perhaps one caveat. Hannes Wolf still doesn't compute fully. They've nevertheless found a way to bring out the best in him too.
Match Flow: 1st to 15th minute
It took approximately four minutes for the Schalke formation to settle. What initially looked like a 4-4-2 eventually settled into a stronger-spined 4-2-1-3. Die Knappen won some significant duels in this shape. Benito Raman won an excellent ball in the 4th and, taking Serdar with him on a quick counter, eventually found Uth for a decent effort on target. Uth narrowly missed a return to Raman after beating Florian Neuhaus and Breel Embolo two minutes later.
Good possession spells in the 7th and and 8th saw the royal blues disappointingly retreat when the ideas ran dry, but one divined a general drive toward forward impetus within the team. Hoppe and Uth applied noteworthy pressure in the 9th and 10th, finding nothing at the end of promising runs when their teammates didn't join.
Ludewig showed a little sparkle with a nice piece of defending on Marcus Thuram in the 11th. Uth, Raman and Steven Skrzybski all got decent looks in on a string of laudable attacks between the 12th and 15th.
Match Flow: 15th to 20th minute
A furious five minutes brought the first two goals. Schalke undeniably held the upper hand through the first quarter of an hour. Gladbach stung them on the counter, however, and a complete collapse appeared imminent. After Denis Zakaria tackled away strongly in the 15th, Embolo rattled of a hard shot that keeper Frederick Rønnow had no chance of controlling.
The rebound fell to none other than the on-fire Florian Neuhaus. He snapped a serviceable enough laser toward the empty net. Regrettably, the poor forlorn visitors looked grossly incompetent as the effort crossed the line. A full five Schalke players were in position to block the incoming ball. It proved absolute slapstick as no members of the quintet could figure out how to twist their body in front of it.
Such an absurd comedic farce might have sunk the bottom dwellers. To their immense credit, they did not permit the sham to knock the wind out of them. Skrzybski was back charging the other way within three minutes. Hoppe turned out to be too green to anticipate the ball properly. The sequence still worked well as an earnest counterpunch.
Rose's men got a bit sloppy in the face of a genuine Schalke press. Uth took advantage of a pressured Thuram to intercept a poor pass in the 20th. The Kölner native did extremely well not only to read Thuram perfectly, but also spot Raman going on a quick sprint. The service was immaculate. The first-time finish was positively gorgeous.
Raman banged home his first Bundesliga goal in nearly a year to level the score at 1-1.
Match Flow: 20th to 35th minute
With steely resolve, a buoyant group of blue-clad men genuinely sought to steal the match. Skrzybski got forward again in the 23rd and 25th, stopped only by a timely intervention from Oscar Wendt on the latter play. Uth got around his markers in the 26th and earned a free-kick. The team's most passionately vocal combatant then took the set-piece himself. He awed all onlookers with a spectacular technical bend around the wall that hit the outside of the post.
Raman neatly serviced Hoppe in the 29th, but the rookie couldn't quite wrap his boot around the ball. Uth nearly had a chance on target again at the half hour mark, unluckily losing his footing on the slick pitch as he attempted a dangerous shot. Thiaw and Ludewig put in some of their best work between the 28th and 33rd, winning some good good challenges to spark counters.
Unfortunately, it was Ludewig who put an end to Schalke's very strong stretch. An incredibly stupid shirt pull on Thuram in the 34th awarded the foals a free kick. Rose's XI never relinquished control after the dead ball situation. A precise midfield combo split the defense. Neuhaus found Wendt wide open on the left and the Swedish veteran finished with a simple tap in.
Match Flow: 35th minute to half-time
The second Gladbach goal did effectively sink the visitors. They scrapped, struggled, and scrambled in a desperate attempt to get into the cabin and regroup. Emobolo hit the crossbar in the 41st. Alassane Plea scorched through an empty midfield to nearly score solo in the 41st. Thuram should have taken the shot himself in the 43rd. A Patrick Herrmann not quite in position couldn't finish the layoff.
Matija Nastasic barely recovered to stop Thuram in the 44th. Embolo barely missed a header off a gem of a Wendt free-kick in the 45th. Mercifully, the referee blew the half-time whistle to put an end to the bombardment. Baum's frazzled side were extremely lucky to remain down by only a single goal.
Match Flow: 46th to 55th minute
The first four minutes of the second half were defined by two ugly tactical fouls. Thuram egregiously pulled Ludewig down by the nape of his collar seconds after the restart. At the other end, Thiaw showed tyro desperation after the foals deftly played themselves out of a corner. He took out Embolo harshly. Both players were rightfully booked.
As was the case after Ludewig's foul in the opening 45, Gladbach took full advantage of the momentum accorded them by the dead ball situation. In this case, they scored directly off the free kick. Schalke did everything wrong on the play. Not only single player rose to challenge Matthias Ginter as the ball curled in. The German national team defender headed to an unmarked Plea. Rønnow weakly parried the striker's shot directly to Thuram. The finish counted as a total "gimme putt".
The foals are actually one of the Bundesliga's best teams on set pieces. Truthfully, this wasn't one of their more artfully designed ones. The Königsblauen checked out on every last way-station. Game over. With everything being lost, Baum clearly reverted his preferred–not to mention highly controversial–default tactical system.
Lineup—FC Schalke 04—55th minute (3-3-2-2)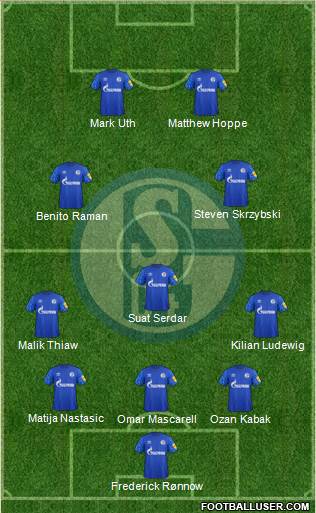 Ugh. Sufficiently disparaging words elude football writers whenever this pattern emerges. It's awful. For reasons unknown, the 41-year-old trainer keeps trying to make it work. One theory pits it as a sort of variant of the 3-6-1 he used to engineer those seemingly endless drab draws during his time at Augsburg. Even that fails to make much sense, however, when one takes note of how he routinely buries offensive-minded actors in the back-three.
One can scarcely believe the fact that Baum keeps using it even when it has produced nothing but torrid play. Six players stationed behind the halfway line are essentially given license to cease challenging for the ball. The presence of five other players with dubious defensive assignments renders each individual actor lazy. The constant personnel shifting confuses them even more. No one single player has served as the central primary defender twice. Small wonder so many simply throw up their hands and give up.
Match Flow: 55th minute to full-time
There remains little else to report on as "giving up" was simply the last best option Schalke had on this day. Uth continued to play with some sprite until about the 64th. He kept running while the others resorted to trotting. Ozan Kabak switched off completely and lost a duel with Plea in the 62nd. Rønnow saved what should have been 4-1 with his face.
Thuram somehow managed to mangle a three vs. one breakaway in the 64th. Rønnow amazingly finger-tipped over a stunning Neuhaus strike in the 66th. Embolo dances his way into the box two minutes later, forcing the Danish keeper into another acrobatic save. After Gladbach blew four monster chances to put the game to bed, a complete lull in which nothing other than substitutions occurred set in between the 69th and 79th.
Substitute Hannes Wolf finally added the fourth goal in the 80th. The run-of-play illustrated just how completely useless Baum's two rows of three happen to be. Plea beat all six of them by himself, catching the final three completely flatfooted. The abominable Blues managed nothing more of note. They didn't rack up a single xG decimal in the second half.
This section began by stating that there does, in fact, exist some hope for Schalke. This statement holds true if Baum makes the correct decisions in the coming weeks. The winless trainer stands at the turning point. He can either build on some promising blocks, or stubbornly stick to this woeful 3-3-2-2.
In Mark Uth, Baum has a competent and motivated professional who can pull the strings in midfield. A properly refined false-nine system gives Uth wide options to service. The young fullbacks made, and may continue to make, silly mistakes. Even so, they show promise if they are permitted to simply play their positions.
After a potentially exhausted Leverkusen, the upcoming fixture list gifts the coach his last best opportunity to snap this historic winless streak and build some momentum. Augsburg, Freiburg, Bielefeld, and SSV Ulm in the Pokal. There's four potential wins there. It cannot be emphasized enough, for tactics-watchers in any case, that the crux of the matter remains the formation.
No plausible explanation for its continuance exists. The man who's German last name translates to "tree" has, humorously enough, built one of the most ineffective tree-shaped formations ever to grace a Bundesliga pitch. Either it goes, or Schalke pass the relegation "event-horizon". At least two wins are needed from the next four league matches. Otherwise, it's curtains.
---
Concluding Thoughts: Two "Must watch" Docs
---
Football lovers who also happen to appreciate an engaging documentary film know that the two art forms don't necessarily mesh well. The footballing documentary scene suffers from over-saturation and plenty of mis-hits. It appears likely to get worse too. Even a highly compelling doc, e.g. "Sunderland til' I die" will have the unintended effect of spawning dozens of barely watchable clones. Licensed documentaries are now even built in to the purchase clauses of most clubs. This writer isn't looking forward to the forthcoming Wrexham AFC one.
The stupendously boring snooze fest that was Amazon's "Inside Borussia Dortmund" leaves Bundesliga lovers still awaiting an watchable doc about German football. Netflix's "First Team Juventus" along with their spate FC Barça serials somehow managed to make the most fascinating teams in the world seem dull. To those one might add all of the 30-for-30 overhypes and, thanks to the fact that half the team are actually documentary filmmakers, what feels like 3,472 self-serving films about the Icelandic national football team.
Enough grousing. It's all a matter of subjective taste anyway and all football fans can agree that there's plenty of quality docs too. The global bereavement period for Diego Armando Maradona affords us the opportunity to touch upon two worthwhile ones. Most all football fanatics are already familiar with the first. Asif Kapadia's 2019 aptly titled "Diego Maradona" came out one year ago this month and instantly became an acclaimed classic. Many also discovered its high re-watch value this week too. The film takes a comprehensive look at both the player and man, but it's real joy lies in its fantastic assembly of rare playing footage from the Napoli and even Boca days.
A lesser known one chronicles the year Maradona spent coaching Dorados de Sinaloa in Culicán. Entitled "Maradona in Mexico", it films his year helming second-division club during the 2018/19 apertura and clausura. One doesn't wish to spoil anything for those who haven't happened upon the gem yet. Suffice to say that it works as a proper send-off for a footballer deserving of one. For far too many, the final memories of this legend will revolve around the hijinks he pulled during the 2018 World Cup.
For those interested, there is a better ending out there. Smiles and success bring the proper closure to the life of one of the game's greats.