Ahem. Could Bundesliga diehards seriously have hoped for better images out of matchday nine?
Few will have complaints at watching Anthony Modeste, Youssoufa Moukoko, and Nico Schlotterbeck emerging as true heroes in Dortmund's first non-loss against Bayern in over three years.
A fantastic day for a German (yes, Modeste belongs to us at this point) trio and German football in general. Anyone not entertained and enthralled by what remains the most recent edition of FCB-BVB can't truly call themselves a football lover. Will there be another competitive fixture in the spring?
Damned if this wretched World Cup break and entirely too long and egregiously speculative transfer window won't keep us impatiently playing the guessing game. Eventually, we'll have the privilege of returning to "football as it's meant to be".
Give us back our Bundesliga, dammit!
---
Bundesliga Tactical Banter: Round Nine
---
The Rise of the Hanseaten
We'll begin with a team for whom praises were being sung for as far back as round two. Ole Werner's SV Werder Bremen remain in the same basic tactical constellation that suggested they might be poised for a successful campaign. The one discernible weak point – namely, that the direct buttressing attackers beneath Niclas Füllkrug and Marvin Ducksch might not be strong enough to support the dual-striker-set – turned out not to be an issue at all. For the second consecutive week, it's worked well with Romano Schmid on his unnatural side and the hitherto scarcely known Ilia Gruev starting.
The Green-Whites of the Hanseatic city state catapulted themselves into the top four on Friday night with their fourth win of the season. German football lovers were ecstatic to watch them beat back non-50+1 European candidates Hoffenheim at home and enhance the enchantment of Niclas Füllkrug's storybook late-career rise. We essentially got everything we wanted despite the fact that the game was largely even and could have broken either way. Bremen had their defensive issues against the TSG and Mitchell Weiser's late fall in the box had some embellishment to it.
The xG was roughly even. Dennis Geiger did a noticeably better job pulling the strings in midfield than counterpart Christian Groß. No matter. At the end of the day, only the results count. Werner's Werder could easily snatch three to four wins from their remaining six fixtures before the World Cup break. The team could enter the new calendar year in the European places. The natural progression of Werner's 3-3-4 to a more compact 3-3-2-2 lends a certain pleasing stability to this team's identity.
As always, no small amount of luck will be needed. One nevertheless shouldn't be surprised to see them hang tight with the elite pack for a little while longer. Even if the Goddess of Good Fortune ends up shining her light away from them, the belief this team possesses late in matches (seven goals in the final ten minutes of league fixtures now) means that the players shall continue to maintain faith right up until the end of every last encounter. No sense in giving up on this team irrespective of what the scoreline says.
Downfall of the Knappen
From the promoted team that inspired in the initial stages of the season to the one that inspired feelings of pessimism and dread, it's time to talk Schalke. The inverse manner in which Rouven Schröder and Frank Baumann opted to field a team capable of competing in the top flight made for an interesting case study at the beginning of the season. While there remains plenty of football to be played before one can start thinking about where to publish empirically proven results, it begins to look increasingly unlikely that Frank Kramer can orchestrate a turnaround in Gelsenkirchen.
Virtually all football fans across the Bundesrepublik find themselves in the grips of "Xabi Mania". Congratulations to Leverkusen's new head-coach on his first Bundesliga victory. That being said, Xabi's Werkself didn't have to work terribly hard to roll over the hapless Royal Blues. Schalke's transitional game, already the biggest inclement mess many of us have seen at this level, continued to stall with endless stray passes and turnovers this week. Kramer replaced both of his fullbacks (Tobias Mohr and Cedric Brunner for Thomas Ouwejan and Henning Matriciani) in order to get it into gear this week.
This shake-up only made things worse. Die Knappen couldn't put together anything resembling a counter all afternoon. They couldn't produce a single scoring opportunity in the whole match. Mohr had to be yanked at the half after Jeremie Frimpong repeatedly made a mockery out of him. Bayer's Dutch wingback then proceeded to do precisely the same thing to Ouwejan in the second 45. Ugh. Ghastly ugly football from just about everyone on the back-line on every last build. Sixes Tom Krauß and Florian Flick contested midfield duels like skittish house-cats.
About the only positive thing one can draw from this latest debacle concerns the fact that we still haven't had the chance to truly assess if the highly touted striking tandem of Simon Terodde and Sebastian Polter might catch fire and some point. The pair showed some potential last week. Kramer couldn't afford to give them time on this matchday after no one could get either attacker a ball in the opening 45. The S04 trainer yanked Polter at the half when it became apparent this "Battle of the 04s" was, in fact, no contest at all. Those two aren't far off the potential of Füllkrug and Ducksch. Unfortunately, they have no support.
Checking in on the Castroper
Huge surprise over in the "Herbert Grönemeyer" temple as Bochum earned their first win of the season by knocking off Frankfurt 3-0. This was certainly an intriguing sight to behold. Of course, one must emphasize that the final score was in no way reflective of the match itself. Both sides had great difficulty generating chances throughout. Neither team broke the 1.0 xG threshold. Overall, Oliver Glasner's SGE looked the slightly more worthy side. Eintracht remained technically better throughout. A 4-4-2 that compensated for the suspension of Randal Kolo Muani with Lucas Alario and Rafael Santos Borré together up top functioned well enough in the first half.
One can still accord Bochum credit for their consistent defensive prowess. We're already noted in this column that the 1848ers of the Ruhrpott maintain many underrated qualities in that regard. Attacking wise, the VfL don't have a bad crew. The likes of Gerrit Holtmann, Simon Zoller, Takuma Asano, Christopher Antwi-Adjei, and the newly-acquired Philipp Hofmann remain capable of netting this team some goals. Direct attack bolsterers Kevin Stöger, Philipp Förster, and Patrick Osterhage can feed the rush serviceably. Hofmann and Förster will be carrying most beneficial confidence after scoring in this one.
New trainer Thomas Letsch thankfully ditched that godawful mess of a 3-5-2 he tried to roll out against Leipzig last week and simply went back to the 4-1-4-1 that predecessor Thomas Reis and the interim trainer that followed him had found success with. That's honestly all that was really needed to bring the best back out of captain Anthony Losilla as well defensive-minded fullbacks Danilo Soares and Cristian Gamboa. No systemic change was ever really required. This effective constellation closed ranks on Frankfurt easily this weekend. It can similarly frustrate Stuttgart, Union, Gladbach, Augsburg, Gladbach and even Dortmund in the coming weeks. "El capitano" has it right. This team can compete.
The storm clouds clear on the Castropher Straße.
The unholy mess in the Fuggerstadt
Who says nothing ever happens in the sleepy Bavarian section of Swabia? Augsburg and Wolfsburg decided to favor us with a full-fledged "Melee at the Mewe Arena" on Saturday afternoon. Seven yellow cards in three minutes from referee Daniel Siebert after a bunch of footballers suddenly decided that they were contesting an ice hockey match. Insane stuff. One half expected a Zamboni and some T-shirt cannons to come out at halftime. Maybe some of those classic organ solos as well.
Insofar as the actual football is concerned, it's fairly impressive that Enrico Maaßen's FCA performed so well after losing Mërgim Berisha to suspension and both talismanic keeper Rafal Gikiewicz and last week's attacking hero André Hahn to injuries. Back-up net-minder Tomas Koubek made some vital saves. Despite the knowledge that they would both be suspended for the next match following their roles in the ruckus, center backs Jefferey Gouweleeuw and Maximilian Bauer still kept the defense disciplined. Equally as impressive.
The suspension of both center backs probably constitutes the end-of-the-line for Maaßen's overachievers. A four-match unbeaten run. Ten points from four games means that the perennial relegation candidates are ahead of the curve and should come crashing back down to earth soon. Nice while it lasted. Niko Kovac's Wölfe are also on the upward trend with seven points from the last three, but remain a very bad team.
German football watchers were pleased to watch Ridle Baku finally sneak in a nice assist and also fondly admire Joshua Guilavogui as he came on late to marshal the defensive midfield. Two feel good stories for us. Kovac's version of Germany's green company team still supplies an overabundance of "feel bad" football. More endless miscues out of the back in the approach play. Following a brief respite last week, they're no fun anymore.
The tired one and two
The Bundesliga's sensational league leaders and surprise second place club remain in place for now. FC Union Berlin solidified their place at the top with a 1-0 win over VfB Stuttgart in the round's capper. A little earlier, SC Freiburg snatched a point away at Hertha in a 2-2 draw at the Olympiastadion. Hence, the uplifting tale of the 2022/23 German Bundesliga continues. Two of our favorite tractional rags-to-riches stories are right up top. For how long remains a matter of debate. Both of these Europa League sides show signs of wear-and-teat that will only get worse.
Urs Fischer's Union had a deer-in-the headlights look about them for long stretches during what was there third away game in seven days at the Mercedes Benz Arena. Die Eisernen obviously recalled how to sit deep, but couldn't seem to remember how to run the counter out of the pocket. Rani Khedira sent nearly a dozen passes stray. Sheraldo Becker had enough gas in the tank to do some running, but it habitually seemed like his brain couldn't catch up with his feet.
Thanks largely to typically horrible VfB finishing and a few unlucky hits off the post, a Paul Jaeckel goal off a simple corner proved sufficient. Freiburg, in a certain sense, befitted from typically horrible Hertha finishing as well. Dodi Lukebakio continues to demonstrate that he needs to miss three clear cut chances before actually netting one. In this particular case, Lukebakio converted from the spot. Chidera Ejuke missed more gilt-edged chances and the reinserted Stevan Jovertic (for the snakebit Wilfried Kanga) couldn't score either.
A team more confident that Hertha could have taken better advantage of the midfield malaise shown by the Breisgauer It took Suat Serdar over twenty minutes to get the idea of splitting through the slow-to-react six setup of Maximilian Eggestein and Nicolas Höfler. A keeper less green than Oliver Christensen certainly wouldn't have committed the howler that allowed Kevin Schade to equalize. With literally no time off between now and the international break, it might be the case the FCU and SCF are poised for slides.
---
The "Burning Questions": Round Nine
---
Can we start expecting something from Mainz?
Rather interesting to observe what's been going on in the Pfälzer capital as we check in with the Rheinhessen. Bo Svensson's Nullfünfter receive their first column draw-up of the new campaign. Many of us expected that Svensson would stick with an established set of tactics this year (as is his way) when assessing the team during pre-season. This proved not to be the case.
Much of this has to do with persistent absentee problems for lead-striker Jonathan Burkardt. When Burkardt unfortunately found himself unavailable on short notice this week, the FSV trainer rolled out an ad-hoc 3-4-3 that had some ambition to it. Results against talented Leipzig side weren't that bad at all. 
Lineup—FSV Mainz 05—Match Nine (3-4-3)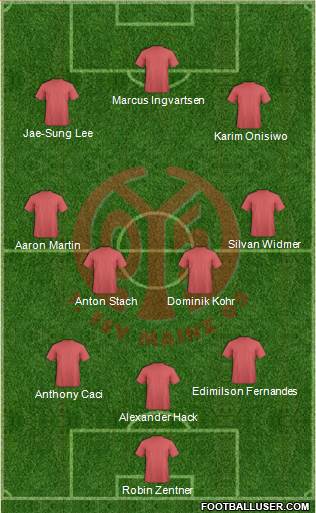 Quite the surprise to see Karim Onisiwo repositioned on a clear flank slant. The columnist honestly can't remember ever seeing the Austrian center-forward out so wide. Anton Stach also moved back to his natural midfield position after an early season spent almost exclusively up higher in his new attacking role. Svensson had Stefan Bell and Maxim Leitsch available for the back-three, yet opted for Edimilson Fernandes instead.
It is true that the hosting Pfälzer allowed Leipzig to casually pass around them for most of the opening twenty minutes or so, but once Onisiwo and Marcus Ingvartsen woke up, that novel pairing wheeled off some fabulous combos. The Dane and the Austrian almost seemed as if they had been playing together for years. Stach opted to come up at the right time and set-up Ingvartsen for the deserved half-time lead.
Captain Silvan Widmer succumbed to injury at the half. Say what one will about Marco Rose's Leipzig being tired and uncoordinated, Fernandes and Danny da Costa consistently breaking up attacking rotations featuring Timo Werner, Christopher Nkunku, and Dominik Szoboszlai remains no small feat.
It counted as a highly disciplined defensive performance and a particularly successful experiment for Fernades in the back-line. An uneven schedule leading into the World Cup break may lead to several bumps in the road. If there is a head-coach to be trusted in plotting a smoother course, however, Svensson might just be the one.
Can Köln cope after their derby loss?
For all the talk of Steffen Baumgart over-rotating his players during these tight turnaround weeks, he may end up looking like a genius for ensuring that so many different actors have logged meaningful playing time. Amid seven fresh rotations from Thursday's conference league defeat, the Effzeh gaffer at least loosely stuck to the 4-1-3-2 system he used both in the last Bundesliga round and the loss to Partizan Belgrade.
Lineup—FC Köln—Match Nine (4-1-3-2)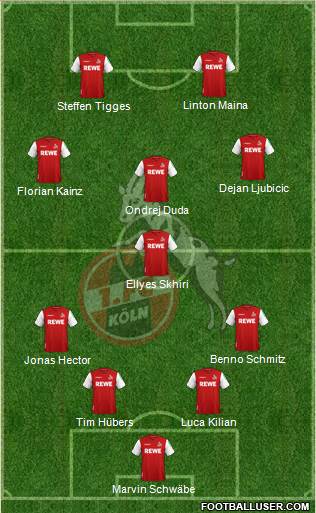 There's the latest system, not quite as nuanced as last week. In any event, the problems are legion. Those that didn't catch often pretty, yet frequently also gruesome, seven-goal affair against Gladbach, the highly influential Dejan Ljubicic may be lost for a month or more after incurring injury. On the opposite flank, Florian Kainz (one of the few players not to be rotated in and out) committed an egregious error on the second yellow that essentially cost his team the game.
Ondrej Duda seems to have quickly fallen back into his regular pattern of indecisiveness in distribution. The urgent matter of a ten for this team crops up again and it remains uncertain when Mark Uth can get fit enough to go a full 90 again. Steffen Tigges and Linton Maina eradicated a lot of their pluses in terms of coordination last week with a sloppy set of synchronized movements. Maina worked better as a service striker.
The constant shifting of three defenders as part of the rotation starts to really hurt this squad. Baumgart may have gone a tad too far in swapping out both fullbacks and putting Niklas Soldo on a regular swap. Even in a five-back-set shorthanded during the second half, die Geißböcke had real problems mitigating the damage. A little more finishing polish from Marcus Thuram and this could have been an even larger rout.
Phew. Tough to say. Solutions here could be very difficult to come by.
---
Weekly Tactical Focus: "Die Fußball Wende"
---
Ahem. Are you not entertained?!?
Wow. The Bundesliga truly delivered this weekend in the latest installment of Bayern-Dortmund. Note that Germans don't do the whole "Der Klassiker" thing. The columnist sees fit to remind everyone of that every time this fixture comes up. Others remain welcome to utilize the label should they wish, but our "Klassikers" involved the fierce rivalries between Bayern, Gladbach, and Köln back in the 1970s. The attempt to slap this Spanish-transposed marketing-stamp on this match grates in the same way that Oliver Bierhoff's idiotic "die Mannschaft" brand got on our last good nerves.
Those likely to find themselves engaging in conversations with German football fans deserve to be properly informed. To be clear then: This game is simply known as Bayern-Dortmund. Likewise, the proper classification for the German national team has and always shall be "die Nationalmannschaft". Alles klar? Good. With that out of the way, we can begin to discuss what is, after all, a historic result. The last time we checked in with Bayern-Dortmund, Julian Nagelsmann's FCB sealed a decade of dominance with their eighth consecutive victory over their nearest financially viable rivals.
And now? Well.
ARE YOU NOT ENTERTAINED?
We have a draw that, from the perspective of the BVB at least, must feel like a win. For the first time since Dortmund took the 2019/20 Super Cup, they've managed not to be defeated by the mighty FCB. As we shall examine in greater depth below, Bayern's almost lackadaisical failure to put the match to bed left Nagelsmann's crew deserving of the dropped points here. We behold a version of the record champions that – for the first time in as long as many of us can recall – lacks the lethal, clinical, and reliable edge necessary to easily grab the title.
Much history was made Saturday night at Signal Iduna. Dortmund hasn't taken points off Bayern in the league since 2018. The BVB haven't come back from a 0-2 deficit against the Bavarians since the 1989/90 campaign. Youssoufa Moukoko, who played an overall splendid match, became the youngest player ever to score in this matchup. The future suddenly looks bright. Change hangs in the air. A certifiable hex has been broken. A 100 lbs. monkey hops off Dortmund's back. We've turned a corner, alright. What a match!
Lineup—FC Bayern München—Match Nine (4-1-3-2)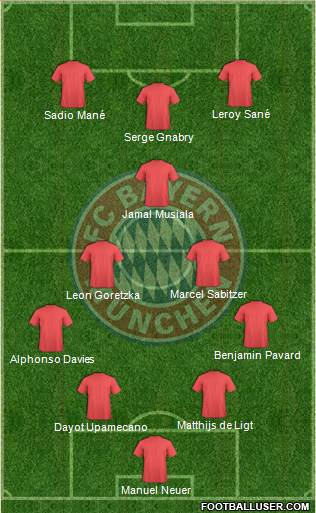 In stark contrast to the last meeting between these two sides, we witnessed almost constant tactical maneuvering on the pitch. Nagelsmann and Terzic engaged in quite the battle of wits here. There are many draw-ups to get through in this week's section. The opening hand of both trainers goes a long way toward explaining why the first-half maintained a very tense and tight feel to it. Interestingly and significantly, Terzic and Nagelsmann showed a great deal of respect for one another.
Nagelsmann's "back-six"
One would be fully justified in calling this a 6-1-3. Leon Goretzka and Marcel Sabitzer occupied positions so deep they might as well have been members of the defensive corps. Those of us keeping close tabs on the overhead could scarcely believe our eyes. Bayern deliberately sitting deep and playing for the counter? Insane, yet true. This actually happened.
The "link-up" gem
To be fair, this strategy didn't exactly count as a form of capitulation from Nagelsmann. Rather, the FCB trainer trusted that young phenom Jamal Musiala could handle counters, distribution, and essentially any and everything thrown at him. This constituted a novel and very bright idea that worked in its own way. Serge Gnabry as a false-nine may have been less canny, but was still worth a shot.
Terzic shells up
We checked in on Terzic's tactics with a draw-up in last week's column. The BVB trainer retained the 4-1-4-1 during the midweek Champions' League win over Sevilla and the initial release of the team sheet on Saturday evening suggested he might do the same here. Once the formation crystallized, Emré Can's proximity to the back line and the space between Moukoko's axis and the supporting attackers revealed something different.
Lineup—Borussia Dortmund—Match Nine (5-4-1)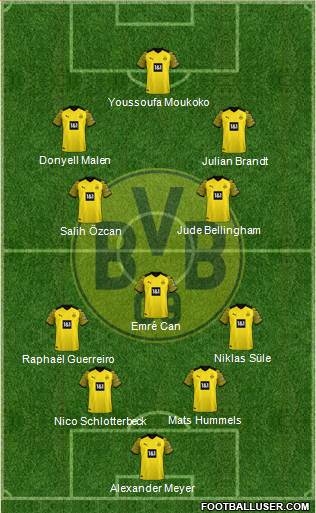 To reiterate the point raised above, both coaches harbored enormous respect for one another. One could almost sense that all the players involved were instructed to accord their opponents maximum respect as well. Apart from some innovative attack builds emanating out of the Bayern back-line in the opening 45, there remained little trickery afoot when it came to the rushes.
The columnist, naturally not having any proof of this beyond his own intuition, suspects that Terzic and Nagelsmann told their lads to approach this contest in the most old-fashioned of ways. Space was not to be looked for, but fought for. Probing work in the midfield and tactical discipline stood as the top priority. Courage and innovation could come only after a clear statement was made in the midfield trenches.
With that in mind, some observers may not have been the biggest fans of the opening twenty some odd minutes. Our first passage spans a long length of time. It took a while for this one to wake up. Only the football purists appreciated what the affair offered for much of the opening 45.
Match Flow: 1st to 21st minute
Heavy duels through the first two minutes didn't go unnoticed by match official Deniz Aytekin reach into his book almost immediately. Sabitzer was the first to earn a yellow for a hard tackle on Donyell Malen in the 2nd. Prior to that, no actor on either side had more than a couple of seconds on the ball during a very intense start. Sabitzer's foul gave a Julian Brandt a free kick in a promising position in the 3rd. After a poor service, Guerreiro sent and effort well wide and over.
De Ligt, Upamecano, and Sabitzer struggled mightily to play out deep against a high press in the 4th. Musiala eventually came deep to try and help, but couldn't only turn the ball over. Sané rushed back to recover defensively and play back to Neuer. At the other end, Süle (in the right back role for the first time for his new club) tried to rush out in the 5th. Mané stripped the ball off him skillfully. Süle was spared blushes by an offside call.
Two more BVB right-ward cycles in the same minute were disrupted. Moukoko dropped deep to hold the ball up, barely managing to fend off two markers. The 17-year-old attempted a desperate blind cross for Brandt off the spin that went nowhere near its intended target. Süle tried to carry out on the right again in the 6th. The former Bayern man found himself stymied again. Hummels did a much better job rebuilding the approach. Schlotterbeck stepped forward alongside his defensive partner, ultimately firing off a vertical with way too much heat.
Süle put the brakes on Mané with a clean tackle in the 7th. Bellingham ran a halfway decent BVB counter off the play. Brandt regrettably got a bit too frenzied with the final ball for Malen. Dortmund were able to calmly recycle and bow-arc build through all of the 8th and most of the 9th. Brandt had a chance to cut through after picking a ball off Davies in the 9th. The Canadian international recovered in time to stop the German.
De Ligt went far too hard into Bellingham on a BVB counter in the 10th. Aytekin allowed advantage play. Malen carved out some space for himself. Somehow, Pavard tracked back to recover and straddle the ball away. Malen nearly got another chance at the end of the minute. Emré Can missed his streaking attacker with a poor pass. Aytekin didn't have a chance to give de Ligt his delayed booking until the 11th.
Dortmund worked a left-ward cycle in the 12th. Can came along on the trail and lost the ball. Mané received a nice switch on the left and proceeded to scamper past Süle. The Senegalese international spotted Goretzka creeping in and cut back for the German midfielder. Goretzka's final chip in the box ended up being pretty poor and Mané might have done better to keep the ball himself.
More Dortmund bow-arcs and a couple of stalled left-ward cycles in the 13th. Hummels sent a curious ball to no one at the end of the final sequence. A few midfield tussles ended with Bellingham sliding in with a crunching tackle on Musiala. Aytekin placed Bellingham in the book for a challenge that, while damn hard, appeared to be completely fair.
Süle fared better defensively against Mané in the 15th, though Bayern's still adjusting new attacking addition didn't exactly supply the most elegant footwork. A very feeble Davies throw-in and an equally silly attempt from Sabitzer to reach Gnabry in the 16th left one with the feeling that Bayern might generally be missing quality on this day. The next FCB charge then immediately disproved this.
Upamecano – in impeccable form as of late – outran Malen on the Dortmund on the left and sparked a nice counter. Musiala charged past three on the break very much in the manner Nagelsmann intended him to. Fabulous dribbling from the youngster. Musiala dished off for Mané while Davies crept in on the overlap. Bellingham closed down the Canadian, but Bayern at least got a corner out of it.
Sabitzer sent the 18th minute service directly into Alexander Meyer's arms and the BVB keeper attempted to spark his own counter. Moukoko again couldn't manage to make much out of a deep ball hold-up. Bayern got the ball back quickly, next threatening in the 19th. Goretzka hit Sané on the right side of the area with a gorgeous switch.
Sané didn't seem to have the confidence to run in and opted for an inferior chip-in instead. Upamecano, Sabitzer, and Sabitzer completed an aesthetically pleasing triangle out of the back central in the 20th. Salih Özcan stepped forward to interrupt and play Bellingham through. Pavard dispossessed the Englishman with what looked to be the second fair challenge that Aytekin considered illegal.
The ref awarded Dortmund a free-kick on the half-left within striking distance. Guerreiro's service was easily cleared, but the BVB would get another chance before the minute concluded after Özcan shut down Sané on the counter. Brandt quickly reached Malen in space. The Dutchman fired the first real effort on goal of the match off of de Ligt and out of bounds.
At long last we had some signs of life.
Match Flow: 21st to 33rd minute
Malen whipped in a service off the ensuing 22nd minute corner that was not without danger. Schlotterbeck simply couldn't get a handle on it. . Aytekin gave Goretzka a stern talking to for a a pretty flagrant foul on Süle during the play. Sané picked up with pace on the next FCB charge. Hummels kept his mark and forced his DFB colleague into a poor pass for Davies that Schlotterbeck had no problems intercepting. Upamecano made it too difficult for Mané with an unworkable out swinger in the 23rd.
Musiala had some space with which to dribble in the 24th. Terzic's shape nevertheless prevented him from doing anything beyond a long horizontal run and play back to Neuer. Several misplaced passes on the next FCB build left Dortmund in the mood to pounce. Brandt picked up a lose ball and sent a very sharp cross directly in front of Neuer. Upamecano nearly made a hash out of it with Moukoko and Malen lurking. The Frenchman regrouped in time to shield the ball away from both. We had just our second slight hint of danger in the 25th.
Textbook "paint the corner" possession from Bayern on the next attack. Gnabry, Sané, Musiala. Pavard, Davies, Mané. The FCB actors connected with an endless series of passes on the outside of the box whilst no one could figure out a way into it. Another BVB counter in the 26th with another Moukoko deep hold in the 26th. The German youth international proved no match for Davies without support. After the failure of their most recent charge, Bayern effectively gave up on the press through the 27th and 28th.
The Westphalian hosts took their time with slow-roll builds through those two minutes. Dortmund honestly appeared sheepish about crossing the halfway line. When they did, the top two axes actors were far too disorganized to even begin nibbling around the box. A re-applied Bayern press in the 29th allowed Sané to get forward and reach Davies. The Canadian's cross found no takers. A very sad BVB counter off the playing involving Moukoko and Brandt could have easily been confused for a joke.
Meyer went with a wide throw for Süle right at the half-hour-mark. Mané fouled the Dortmund makeshift fullback. A rapid fire free kick at least produced the first shot-on-goal of the match. Malen and Moukoko worked the ball to a trailing Guerreiro out on the left. The Portuguese fullback struck the ball powerfully, forcing Neuer into a quick-reaction close-range save. Neuer had to be alert to fist away Brandt's service off the ensuing 31st corner, giving the German national team keeper his first two defensive touches of the match.
Die Schwarzgelben had managed to make the most subtle of pinpricks. One still wouldn't have wagered safe money on them scoring anytime soon. Matters remained very tight, as exemplified by a Özcan getting swarmed on a carry-out in the 32nd. In what then looked like a horribly unlucky twist for the "Bridesmaid BVB", Bayern went ahead and opened the scoring on their very first chance of the game in the 33rd. Some nice skill shone through on the play.
Mané located Musiala on the right-edge of the area with a slick back-heel. With incredible poise and maturity, the teenage talent let a couple of defenders come to hum, protected the ball, and cut back for Goretzka. The German national team midfielder took an impressively intelligent touch before burying his finish into the bottom left corner. BVB keeper Meyer stood no chance as he was completely screened. It was business as usual with the record champions in the lead.
Match Flow: 33rd minute to half-time
One really began to feel that, for the "nth" time, it really wasn't the BVB's day based on what transpired the rest of the half. Quality cycles on both the Dortmund left and right in the 34th and 35th still couldn't get the hosts any closer to the box. Terzic's men did get off a flash-fire chance in the 36th. Moukoko won a duel outside central. Bellingham and Brandt then one-touched a ball to Malen free in front of Neuer. Malen kept up the rapid touch spirit with a rapid touch finish, however, and Neuer had an easy spread-block.
Bayern aimed to take the tempo out of proceedings a bit with slower bow-arcs in the 37th and 38th. Süle eventually cleaned up a half-hearted Musiala through only half-intended for Gnabry at the end of the final slow drive. A BVB counter in the 39th petered out central with Sané having plenty of time to come back and cover. Süle charged all the way up the half-right in the 40th only to meet his match in de Ligt. Can was then booked for fouling Gnabry on the FCB counter-charge.
Many observers longed for the turn towards the tunnel as Aytekin, who had already had a poor match, began losing control of the flow. Goretzka got nothing more than a second verbal warning after brushing Hummels in the back in the 41st. That constituted the second offense for which Goretzka could have been booked, although Hummels seemed to go to ground a tad easily. In any event, the tone grew far too rough.
After Schlotterbeck got stymied on a long carry in the 42nd, Bayern deliberately circled the ball in the back ranks in an effort to milk the clock. Given the context of the match at this point, they could be forgiven. No one watching wished anyone to get hurt. Regrettably, the tactic (predictably enough) only added to Dortmund's frustration. Bellingham's infamous boot to Davies' face came as we entered injury time. Aytekin showed us all mercy and got the players off the pitch before anything else happened.
Half-time xG:
xG Dortmund–0.4, xG Bayern–0.0
If one wishes to be absolutely precise about it, Bayern accrued a few decimal points. Some sites listed the strictly accurate figure of 0.05. Irrespective of whatever rounding practice one wishes to use, Dortmund found themselves at the wrong end of another hard turn of rotten luck. So goes the same old story.
Match Flow: 46th to 53rd minute
Even had he not lost Davies to a concussion, Nagelsmann clearly had wholesale tactical changes planned for the second half. Josip Stanisic came on for the injured Canadian as part of a triple substitution that also saw Kingsley Coman and Joshua Kimmich replace Gnabry and Sabitzer. Stanisic immediately settled in on the left. Within seconds one could see a "six-seven-eight step-stone" take shape in midfield. It also looked as if the two center-halves flipped slants.
Lineup—FC Bayern München—46th minute (4-3-3)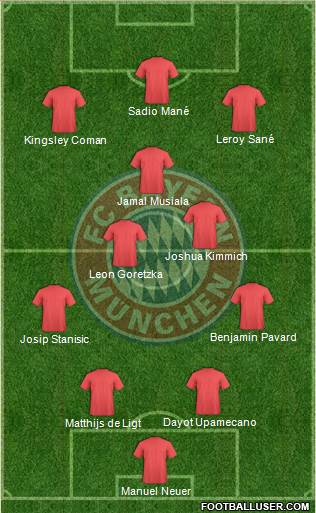 Bold and compelling. German football lovers surely brightened up in the knowledge that Hansi Flick was in the stands with an excellent view of the Kimmich-Goretzka-Musiala stagger. The trio can create a lot together in this set-up. Kimmich in particular showcased some excellent form in this one with excellent services for his forward colleagues.
Terzic, with concerns over Hummels' fitness levels after a bout with illness this week, took his "lucky charm" center back off in favor of Marius Wolf. Obviously, this didn't necessitate much change at the back as Süle could simply slide back in. One could definitely observe a shift in the attacking axis as Bellingham moved farther up and Özcan dropped back.
Lineup—Borussia Dortmund—46th minute (4-2-3-1)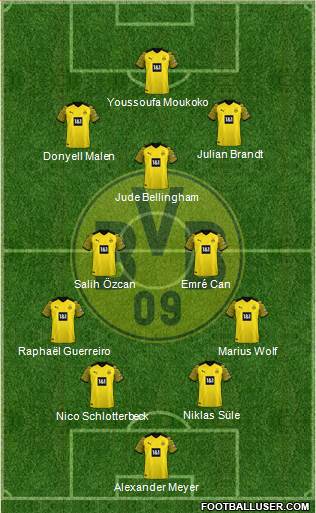 The chess match was on. Brandt broke through on the BVB right not long after kickoff in a clear attempt to test Stanisic. The Croatian held firm. Guerreiro, Bellingham, and Malen punched ahead in the same minute and Wolf showed no hesitation in letting a tomahawk rip from just outside the box. Neuer's palms got stung from the sizzle. Brandt took back-to-back corners in the 47th and 48th. Guerreiro signaled more intent with a hit over on the latter.
Pavard brought Bayern right back with a great run in the 49th. Kimmich folded in underneath to receive the ball and hit Goretzka with an exquisite through. Goretzka had eyes for Mané coming down the central channel and the Senegalese star attempted to meet Goretzka's cutback with an extravagant diving header. A great pity that Mané's header ended up going wide as it would have been one of the greatest goals of all time.
Dortmund cycled through on the right serviceably in the 50th. Guerreiro was in a good position to receive Wolf's switch. This time the omnipresent Kimmich was back standing guard defensively. Bayern took their time with builds in the 51st and 52nd. More intent to milk the clock could be divined. Kimmich still took his chance forward when he saw it. Another delectable through ball for Musiala set up the second FCB goal.
Musiala took both Upamecano and Sané with him. The confused BVB defensive ranks couldn't mark them all. Sané ultimately took the ball. After a few deft touches to get himself in range, he sent a laser in Meyer's direction. Dortmund's backup keeper could have done significantly better with hit, but the effort had an unpredictable dip to it.
2-0.
Match Flow: 53rd to 70th minute
Game Over? To be perfectly candid, there existed plenty of instances during which the columnist considered declaring a "lid". Bayern frequently strolled through proceedings whilst the hapless hosts encountered great difficulty generating anything threatening. Coman and Stanisic were leisurely cruising up the FCB left in the 54th. Dortmund were lucky that Schlotterbeck was on hand to stop Pavard after a perfect switch.
Brandt and Bellingham tried to lead up central on a quick counter. The resolute Kimmich was nevertheless back defending, preventing Bellingham then Moukoko from executing anything off the turn. Terzic snuck in a sub at the end of the 54th. Karim Adeyemi came on for Özcan, leaving no doubt that the BVB trainer wanted a double-striker-set.
Lineup—Borussia Dortmund—55th minute (4-1-3-2)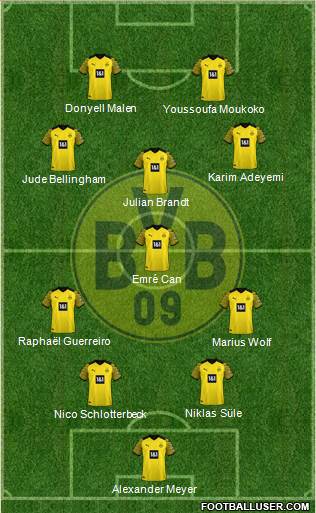 Oddly enough, Anthony Modeste was the one spotted warming up on the sidelines prior to Adeyemi's introduction. It served as a surprise not to see the Frenchman brought on. The most likely explanation for this concerns Terzic's desire to get the new constellation set before sending on his last-ditch target man. Thanks to some profligacy from Bayern, it actually worked.
Musiala, Goretzka, Sané, and Coman passed around about each other without any clear ideas outside the box in the 56th. Süle kept an eye on everything and eventually recovered the ball. A promising quick-start counter saw both Kimmich and Goretzka foul Moukoko. At long last, Goretzka earned his yellow card from Aytekin in the 57th.
The subsequent free-kick went nowhere. Upamecano and de Ligt shaved off the 58th with intentionally useless passes. The FCB still opted to press ahead in the 59th. Musiala and Kimmich did a bit of dancing. Kimmich struck still another utterly amazing through ball in Coman's direction. In this case, gorgeous diagonal didn't miss by much.
Adeyemi, unleashed by Brandt, railed off a blistering run up the right before the minute was out. Upamecano successfully defending Adeyemi's final attempted square and put Sané and Coman off to the races. Coman ended up striking a vicious effort at the beginning of the 60th that hit Wolf directly in the solar plexus.
We had to take a break before the resultant corner while Wolf desperately grasped for air. Kimmich proved himself mortal after all with 61st minute service driven in too tightly. Moukoko then pulled the handbrake on his own counter when he realized none of his teammates were joining him. Bayern wasted a glorious scoring opportunity in the 62nd.
After a classy attack build involving six separate actors, Kimmich played Pavard in with yet another sumptuous through-ball, that left Germans salivating for the start of the World Cup. The French fullback ran to the touchline and had Musiala perfectly set-up on the cutback. For whatever reason, Musiala went for the step-over leave even though no one was behind him. Clever and silly at the same time.
Once the ball went out into touch, Nagelsmann got Noussair Mazraoui on for de Ligt. Anyone could tell it wouldn't change the back-line much as Pavard would simply slide into his (believe it or not) natural center back role just as Süle had done for Dortmund earlier. As the FCB took their time with the next attack build, however, one could see a more straightforward shape start to align.
Lineup—FC Bayern München—63rd minute (4-3-3)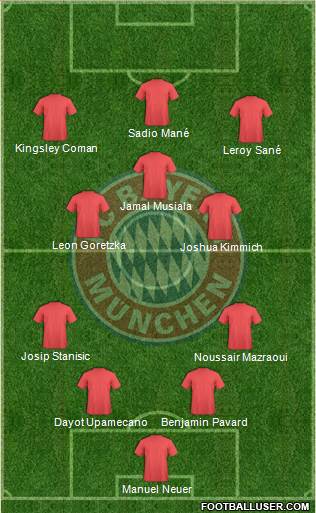 More conservative from Nagelsmann in protection of the lead. Perfectly fine as well. No one could fault the Bavarians for seeking to close it out with boxed coverage. On the other hand, one can definitely fault the record champions for not closing the game out in the 64th. The 3-0 lay on Musiala's boot.
Sané cut through on the half right. After some failed challenges, the ball bobbled around a bit before squirting back to Musiala. The teenage talent had two open colleagues either side of him, not to mention time to take a touch and come up with a better effort against Meyer. The point-blank-range effort went directly at the BVB net-minder.
Many of the Dortmund actors, either gassed or trying to reserve as much energy for the final push as possible, saw no need to try and interrupt the FCB back-line bow-arc in the 65th. Only Schlotterbeck seemed remotely interested in pressing high to break it up. The German national team defender eventually got a hold of the leather and tried Adeyemi up the right in the 66th. Bayern calmly handled it.
Moukoko managed to burst back into the box less than a minute later, stumbling over himself on a no-contact challenge from Upamecano. Another calm FCB charge in the 67th led to a Kimmich corner in the 68th. A nice design put Coman on the move. A very invigorated Schlotterbeck put in some nice work to stop it.
Pavard took care of the 69th minute counter involving Brandt and Adeyemi. Terzic sent his last ditch target man in the 70th. Modeste for Malen. Confirmation that the BVB trainer wanted Malen to serve as a placeholder until everyone got set. Very few watching might have thought it would make a difference. Luckily, a big surprise laid in wait.
Match Flow: 70th minute to 83rd minute
Within five minutes, Dortmund would pull themselves back into the game. Initially, it didn't seem as if they had much strength left to make something out of it. The BVB were gifted a chance to build something patiently after Mané was well offside in the 71st. An errant ball from Brandt and some clumsy tricks from Can in the 72nd inspired virtually zero confidence. Adeyemi turned on the jets on the next charge, yet still couldn't get past Stanisic.
Can couldn't meet Brandt's service cleanly on the consequential 73rd minute corner. Mané scorched through the entire Dortmund ranks on the counter. A cutback for Goretzka led to a swerving effort with some bite on it in the 74th. It ended up swerving past the near post. Another close call on the 3-0. Had it just traveled a few centimeters further to the right, we would have had the decisive 3-0. Instead, to the shock of everyone watching, we got the 1-2.
It all began with an intrepid forward carry from Schlotterbeck. The 22-year-old kept marshaling his team even after others quit. The Westphalians have him to thank for this momentous result. Schlotterbeck ran the approach and spotted Moukoko, who in turn put Modeste through on the half-left in the penalty area. Modeste did extremely well to out-deke Upamecano and went straight back to Moukoko with the return ball. A beautiful finish from the 17-year-old after a very elegant sequence meant it was game on in the 74th.
We actually had to wait until the 76th to get open play going again as Moukoko inadvertently ran into Manuel Neuer in the midst of the celebrations. While it remains doubtful that it was intentional, Aytekin felt the need to talk to the teenager anyway. Moukoko, forgivably enough, wanted to continue with his merriment afterwards. A critical play as soon as we resumed. After losing the ball, Coman took out his frustration on Bellingham. The first yellow for the Frenchman in the 77th.
Bayern woke up a bit with charges in the 78th and 79th. The totally possessed Schlotterbeck and Guerreiro were on hand to clear away. A corner resulted from the latter play, with Kimmich just failing to hit the onrushing Upamecano from the right. Süle cleared. Bayern went back into retreat mode. A chorus of boos rained down from the Signal Iduna stands as the FCB ran off the 80th and most of the 81st with backward bow arcs running through Neuer.
Süle finally won a ball in the 81st. The former Bayern man got past two FCB markers, but could not get past Kimmich. Nagelsmann burned the 82nd with a substitution, Mané taking his time to come off for Eric Maxim Choupo-Moting. What happened in the 83rd left most all of us certain that this was not to be Dortmund's day. Adeyemi wowed everyone by letting a Wolf through ball roll past him, then proceeding to tie the marking Stansic in knots.
Adyemi's service for Modeste was simply beyond perfect. The slumping acquisition only had to make tangential contact in order to beat Neuer from point-blank range. There remains no kind way to put it. Modeste whiffed embarrassingly. The Frenchman completely fluffed his lines. Neuer defused the ball and the columnist even declared a "lid" in his personal notes. There seemed no way that the BVB would get a better chance than that.
Match Flow: 83rd minute to full-time
Still, we weren't finished. Musiala and Kimmich ran the next FCB charge in the 84th. They seemed unconcerned with ultimately reaching Choupo, preferring to just dribble away precious seconds. Kimmich took care of Wolf's attempted counter pass and took some more time before locating Coman in the 85th. Coman was blocked. Mazraoui shot the rebound over.
Brandt and Wolf hustled back the other way, yet couldn't find their way into the 18 in the 86th. After a few recycles, Guerreiro desperately fired across the face of goal in the 87th. Nagelsmann's crew killed more time with a slow roll in the 88th. Terzic sacrificed the 89th by bringing on Thorgan Hazard for Moukoko. Harzard's first involvement was an overcooked vertical well beyond Modeste.
Adeyemi flicked the switch on the afterburners again in the 90th and it was on this play that Coman earned a deserved second yellow. With all that he got wrong on the afternoon, Aytekin at least got that decision right. Adeyemi actually earned a yellow for a tactical foul on Sané one minute later, strongly suggesting that this brief man advantage would matter at all. The 90+2 mark came and went.
Adeyemi at least kept his cool and dug out a corner against Upamecano following a race on the right that ended in a draw at 90+3. Dortmund would actually end up taking two corners through 90+4. Keeper Meyer was up for both of them. Despite the crowd of BVB bodies in the box at 90+3, no one had enough space to turn. Bellingham worked in a ball from the second ranks after the one at 90+4.
Neuer swept away Bellingham's cross like the world class ageless legend that he is. One final outrageous and surely hopeless long punt at 90+5 would have ended up coming to nothing had it not been for ice-veined composure from Schlotterbeck. The real hero of this game prevented the ball from going out into touch, then took four delicate touches before crossing across the face of goal.
This time the Frenchman would find the finish.
Aytekin blew the whistle seconds after the ensuing kickoff.
Pardon the writer's need to repeat himself.
ARE YOU NOT ENTERTAINED?
Incredible. Those interested in the xG this week may rest assured that it doesn't matter at all. Dortmund slightly bested Bayern 1.9 to 1.3. Who cares? It matters not. The fact that Dortmund didn't end up winning the match, similarly, matters not a whit. All that truly matters about this result – from a German footballing fan perspective – relates to the now viral video of Oliver Kahn losing his grip on the edge of his seat, only preventing his posterior from hitting the pavement by flailing his arms back towards the head-rest. That matters a lot.
Have we achieved a "footballing Wende"? It's no exaggeration to say that we have. This result snaps a three-year-run of Bayern beating Dortmund at every turn. The belief must now exist in the minds of this team; one that should undeniably grow stronger once more injuries continue to clear up. Of course, this happens to be the season of the eagerly anticipated, yet brutally annoying "World Cup Winter Break".
Damn. That throws a wrench into everything. No way of telling which internationals will incur injuries or suffer form crises in the upcoming tournament. Must we really wait until April 1st to watch these two sides duke it out again? We must indeed. The saga takes a hiatus. Further answers are deferred.
This column nevertheless considers it likely that we will look back on this draw as the moment that it finally turned back around.
Thanks so much for reading! You can occasionally catch Peter goofing off while watching non-Bundesliga football on twitter, @ViceytheSS.
Twitter DMs are open for football conversations, corrections, and (if you truly insist) general abuse. 
All columns debut on Bulinews before appearing on Peter's website as the season progresses.