The football rolls on the Bundesrepublik after a genuinely enthralling Pokal week. Good non-existent God, what fun! Turning one's focus back to the league, the storylines continue to develop in the 2021/22 campaign of Europe's best top footballing division. Those in need of refresher before delving into round ten can do so via the re-post of the latest Bulinews hot-sheet here.
Well. This guy's about the only piece of good news insofar as Leverkusen fans are concerned. At least you have the indefatigable Jeremie Frimpong on your side. Otherwise, it just hasn't been your week. Sorry.
---
Bundesliga Tactical Banter: Round Nine
---
Leipzig's reversal
There were surely more than a few frayed nerves at the Red Bull Arena at halftime on Saturday. The visiting Middle Franconians of SpVgg Greuther Fürth basically had their way with one of the league's highest value teams. Stefan Leitl's Kleeblätter were within a close shave of the woodwork and a disallowed goal of a 2-0 lead in the opening 25 minutes. By contrast, Jesse Marsch's 3-4-3 looked a complete disorganized rabble. The hosting German Red Bulls didn't even get a shot on target in the first half. A frustration foul from Nordi Mukiele finally enabled Fürth to score from the spot and take a 1-0 lead into the dressing room.
Leipzig's American trainer–whom we've been continually insisting will be just fine–then proceeded to make all the right moves at the half. Benjamin Henrich's lobbied for audition obviously had to be terminated. In taking off his right-winger, and midfield driver Kevin Kampl, Marsch replaced half of his midfield axis. On came Mohamed Simakan (for the back-four) and Yussuf Poulsen (for the two-striker set). The "Super Dane" equalized with his first touch of the game seconds after the restart. After Emil Forsberg put the home side ahead from the spot shortly thereafter, the new 4-4-2 ran away with the game.
Dominik Szoboszlai completed the 3-1 moments after his own introduction in the 65th. The Hungarian would later set up yet another substitute, young Hugo Novoa, for the fourth goal two minutes from time. The German press suddenly has to engage in an abrupt about-face with regard to trainer Marsch. Instead of (falsely) proffering a cheap narrative about his return to his rigid form of traditional football, ti's now time to reference the American's "golden touch". The man who made "all the right moves" could be confused for Tom Cruise. Of course, Germans still aren't reversing their position on Tom Cruise. No reversal there.
Gladbach's non-reversal
Heavily favored Borussia Mönchengladbach also headed into the tunnel down 0-1 at the half to hosting Hertha BSC. One kept waiting for the foals to turn the game around in the second 45. Waiting. Still waiting. Yawn. More waiting. Wait a second. Did the full time whistle just blow? Are Hertha really suddenly on a two-match win-streak. What happened to the Fohlenelf take off under Adi Hütter? A clear linear woodlands path just got obstructed by the crash of an uprooted Giant Sequoia. Damn that's a big tree blocking the way.
Hütter tried to employ his own double substitution at the half as a means of augmenting his own 3-4-3. Florian Neuhaus and Alassané Plea relieved Luca Netz and Lars Stindl. The latter then worked ahead of Breel Embolo in a weird sort of 3-3-2-1-1. The writer found himself confused a bit by whether Plea or Embolo was supposed to be the false-nine; further confused that one technically isn't supposed to have a false-nine without two wingers. Indeed, the second half of Gladbach-Hertha counted as godawful football. Both teams were slipshod and disorganized.
Hütter only ended up doing something sensible when he did bring one of his flank attacking threats Patrick Herrmann on far too late to make a difference. In the final analysis, it looks as the the BMG was playing the long game with these odd moves. For whom, you might ask? Why's it's only for FC Bayern München at home in the Pokal on Wednesday night! Ideally, everyone has their calendars circled for this one. If Hütter ousts Bayern at home in two days' time, no one will care (or indeed remember this loss).
Van Bommel exits
On the topic of what shall be remembered in a few days or months time, what can one make of the ill-fated tenure of trainer Mark van Bommel? Thirteen matches? That's it? Even if the team was descending into tactical chaos, it's still Wolfsburg. No one in the Lower Saxon Autostadt would have been seriously that upset if their team regressed slightly this season. One feels a bit for the 44-year-old. Though he certainly appeared way out of his depth at times, there was plenty of bad luck in bad run of form.
There was plenty of bad luck factoring into Saturday's 0-2 loss at home against Freiburg as well. Lukas Nmecha and Aster Vranckx played very well and missed some good opportunities. Philipp Lienhart's opening goal was only allowed to stand by the narrowest of margins; Kevin Mbabu's heel to be precise. Nmecha could have easily drawn the hosts level were it not for an unfortunate hit of the crossbar.
Hansi Flick travelled up to Wolfsburg after attending Mainz's Friday night match specifically to take a look at budding talent Nmecha. Van Bommel didn't do anything particularly radical in benching Wout Weghorst. The Dutchman made many head-scratching tactical decisions over the past few weeks. That wasn't one of them. Okay. Maybe the 4-1-2-3 rolled out this weekend was still one of them. Freiburg also deserved to win on balance.
An early assessment of this move leaves one thinking an early course-correction was probably for the best. Van Bommel was going a bit too crazy with all the shifting around of the workable system he inherited from Glasner. Bear in mind that someone like Schmadtke doesn't pull the plug like this unless he sees something he truly doesn't like philosophically. The administrator did hold onto Glasner despite a very public spat.
A sad farewell. Still a necessary one.
Matarazzo earns staying power
One generally doesn't like to see it when the Bundesliga loses foreign-language trainers. Yes, the Dutch still count in that regard even though the language is (with complete disregard for how vowels are supposed to work) somewhere approaching mutually intelligible. Communication remains a priority in this league and Germans do tend to root a bit for those who have the deck stacked against them. With van Bommel gone (and Luzern-native Gerardo Seoane them not technically counting) all that's left are the two Americans.
Two American trainers. A writer still can't get over that. Times changed so quickly in the German top flight. The league's first-ever US head-coach–a barrier broken last year–pulled of another nifty little masterstroke in the midst of the Stuttgart injury crisis. Pellegrino Matarazzo returned to the very avant-garde approach of having Borna Sosa work alone in a 4-1-2-3 without an axial partner. When sweeper Atakan Karazor got sent off, he kept it at a 3-1-2-3 in the hopes of nicking an equalizer.
It was gutsy and it worked, even if young Danish phenom Wahid Faghir's late goal came off a very random deflection. Daniel Didavi, subbed on by the New Jersey native to look for any possible openings behind the attack with 20 minutes left, keep looking right up until the full-time whistle. A lucky sucker punch. Not an entirely undeserved one. A team far from full strength continues to pick up important points in preparation for the day they get their attackers back.
---
The Burning Questions: Round Nine
---
How much of a mess are Augsburg?
Two wins out of twelve since the re-instatement of their most successful trainer ever certainly begs the candid question: Now what? Marcus Weinzierl has tried just about everything he can think of this season. We've seen midfield split-staggers, sweeper-centric 4-3-3s, 3-5-2 four-attacker stacks, pitch stretching 5-3-2s, and 3-4-3 top-axes huddles with at least three different players working the ten-spot.
There isn't a great deal of success to build upon. The round five 1-0 upset victory over Gladbach was flukish at best. Weinzierl has the tools, but only three players who have actually scored league goals this season. Florian Niederlechner, Andi Zeqiri, and Reece Oxford are the only contributors to the teams five tallies through nine rounds this year. Niederlechner has two despite perpetual injuries that appear to threaten to end his career.
Injury woes involving Niederlechner, Alfred Finnbogason, and (especially) Michael Gregoritsch leave Weizierl unable to build his preferred attack. Niklas Dorsch's recent problems mean that the FCA trainer can't keep his preferred midfield axis of Germany U21 teammates Dorsch and Arne Maier together. A third Germany U21 player–Felix Uduokhai is also missing at center back.
The squad still boasts enough talent for Weinzierl to build something workable. Here's his latest attempt:
Lineup—FC Augsburg—Match Nine (4-2-3-1)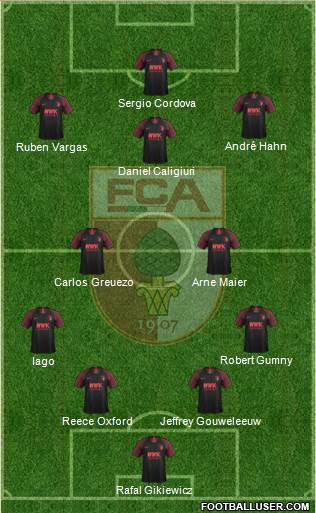 The idea on Friday night against Mainz wasn't terrible. If the shape held and the fullbacks/wingers put in their fair share of defensive work, Daniel Caligiuri could have conceivably gotten the jump on Bo Svensson's back-three amidst some midfield turnovers. Everything nevertheless crumbled fairly quickly in the 1-4 defeat. Weinzeirl now faces way more problems than he started with.
Confidence shattering occurrences 
On Mainz's first goal, Robert Gumny completely screwed up his touch on a Silvan Widmer cross headed for Karim Onisiwo. The 23-year-old Polish right-back could only bury his head in his hands after an atrocious error put his team behind 0-1 in the 10th. Ruben Vargas lost a rather embarrassing ball to Jean-Paul Boetius in the lead up to the second goal some five minutes later. Vargas too conveyed with his collapsing body-language that he felt as if his error was unforgivable.
Finally, in the 26th, no one could summon up the courage to challenge Onisiwo in the box. Everyone was simply shot to bits. This also allowed Jonathan Burkardt to sneak in at the far post and ultimately head home the Austrian international's cross. Four minutes shy of the half-hour-mark, the hosting Rheinhessen had already put the game beyond reach. Only keeper Rafal Gikiewicz prevented a 6-0 half-time scoreline with three monster saves.
Fumbling for something to build on
The Bavarian Swabians do square off against a beatable Pokal opponent midweek. Bochum can by bypassed, even at home at the Castroper. The task of the Fuggerstädter trainer at the half on Friday was to set his team up in such a manner that they wouldn't hemorrhage any more confidence. This he managed well.
Lineup—FC Augsburg—46th minute (3-4-3)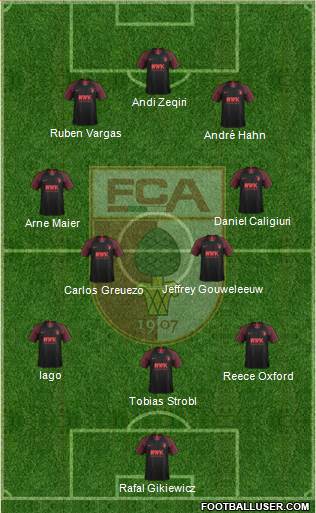 Tobias Strobl and Andi Zeqiri served as the new actors on respective sides of the ball. The crushed Gumny and barely involved Sergio Cordova exited. Granted, Bo Svensson's 3-5-2 (which is increasingly resembling Urs Fischer's 3-5-2 "double stack" over at Union) laid off quite a bit. Having Tobias Strobl anchor an inverted back-three nonetheless brought with it some stability. The former Hoffenheim and Gladbach professional did a very good job of running possession out of the back
Panic or peace-of-mind?
Depending on which one of the administrators one listens to, this autumn is either a time for call-to-action or composed self-assurance. This columnist will tend toward the latter as–for what feels like the thousandth mention–there are simply too many other bad teams in the Bundesliga this year to worry about relegation yet. Moreover, a switch in the coaching regime feels premature. We rather literally just had one.
An inverted pivot at the back led by veteran Strobl does show some promise, as does moving captain Jeffrey Gouweleeuw into midfield. A Maier-Dorsch midfield axis isn't something we've gotten a chance to fairly judge yet. The same applies to an attacking set-up in which former Schalke teammates Gregoritsch and Caligiuri directly buttress either Zeqiri or a healthy Niderlechner.
All told, it's also about time to begin guessing just how many points shall be necessary for survival in the Bundesliga this season. Based on the field, it starts to look as if the 15th-placed team might be able to make do with 30 or less. A six-win-team could avoid the relegation playoff. At present, one can fairly say that this year's FCA can manage that. A hard press of the panic button lies several weeks away.
How did Bayern win the chess match?
Hard to believe that a 4-0 match earns the classification "chess match". Bayern-Hoffenheim qualifies as it remained competitive right up until the final ten minutes. Plenty of intrigue entering this one after we learned that the scions of two of Germany's most famous footballing families would be pulling the tactical strings on the sidelines. Sebastian Hoeneß knew that, despite what others may assume, Dino Toppmöller would only have a chance to check in with the indisposed Julian Nagelsmann at the half.
It was such that the Kraichgauer trainer tried to pull a fast one on his former club. Hoffenheim debuted in a predicable 5-2-3 not unlike the one we saw last week. The unavailability of Pavel Kaderabek and Christoph Baumgartner necessitated some personnel shifts. Ihlas Behbou moved back to the right wing, where Jacob Bruun Larsen worked as his axially opposite partner. Andrej Kramaric occupied the nine-space very much adrift from everyone.
When last week's makeshift right-wingback Kevin Akpoguma had to be subbed off with a potential concussion early, however, one immediately got curious how Hoeneß would figure out a different like-for-like. The former FCB II trainer didn't go that route at all. Striker Georginio Rutter came on for the dazed defender.
Lineup—TSG Hoffenheim—27th minute (3-3-3-1)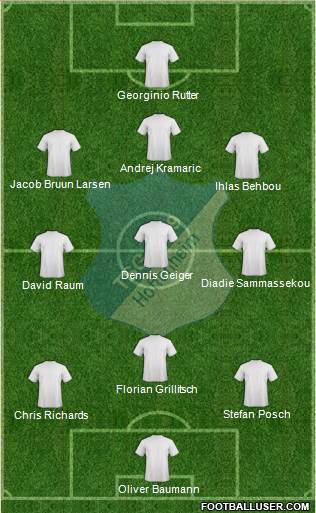 Three lines of three sought to cover as much of the pitch as possible. This constitutes something of a fledgling strategy against a team like Bayern, but that's all that one can essentially hope for when facing this absolutely on-fire version of the German giants. The sheer brute force with which the Bavarians pour forward will lead to defensive meltdowns one way or the other.
Bayern initially lined up in an intricate 4-5-1 rotating diamond. Deprived of midfield partner Leon Goertzka, Joshua Kimmich operated as the sweeper ahead of a flat back-three consisting of Frenchmen Dayot Upamecano, Lucas Hernandez, and Benjamin Pavard. If one were to pick out a single player who functioned as the ten, it would be Jamal Musiala. That remains a bit of a stretch as the teenager rotated heavily with Thomas Müller and Marcel Sabitzer.
In any event, Hoeneß' constellation held their own. Down 0-1 at this point, the two rearward spread axes did enough to break the FCB rotation mechanisms and stifle most of the attacks. A piece of breathtaking brilliance from Müller and an equally stunning distance finish from Robert Lewandowski allowed the hosts to double the advantage. Honestly, nothing could have been done about that.
The TSG trainer's tweak kept the flow on an even keel. Nagelsmann (via a check-in with Dino Toppmöller) would have to devise a response at the half. Niklas Süle for Hernandez appears on the surface to be a like-for-like. Most of us German football observers obviously knew better.
Lineup—Bayern München—46th minute (3-6-1)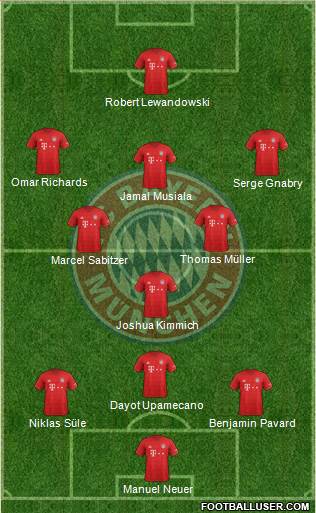 The subtle change here involved pivoting Upamecano forward so that Kimmich could get out of the sweeper role and join the rotation. Taking over to serve as semi-sweeper was none other than the "sweeper keeper" Manuel Neuer. This admittedly led to some shaky back builds in the first ten minutes after the restart. Neuer had a little trouble hitting his fan-outs in the revised position scheme. Moreover, once Hoeneß got Robert Skov and Sebastian Rudy on in the 67th, the guests generated a plethora of their own chances during a very strong spell that lasted nearly ten minutes.
With infinite collection and calm, however, Toppmöller executed Nagelsmann's plan for closing out the match. Carefully timed substitutions would both eat up clock and preclude Hoffenheim from locating any sort of sustained rhythm. Eric Maxim Choupo-Moting for Müller in the 65th. Kingsley Coman for Musiala in the 70th. Corentin Tolisso and Leroy Sané for Sabitzer and Serge Gnabry in the 75th. There seemed no real tactical plan for the new introductions. They could head forward in any way they wished while Lewandowski and emergency winger Omar Richards took it a little easier.
A good technician knows when to direct the team and (much more importantly) when it's time for them to coach themselves. One discerns a clear intent from Nagelsmann to manage the clock with circumscribed tactics for a set amount of time and then turn it over to the players. That moment came in the final quarter of an hour. Choupo-Moting was there to poach a failed clearance in the 823nd. An unchained Upamecano unlocked Coman with a great assist five minutes later.
It all seems so effortless and easily for the league leaders. Look a bit closer and you'll see that Nagelsmann and his staff put a lot of thought into their preparation. Last week it came down to a package of fast-break set-piece designed to be executed in the opening act against Leverkusen. This time an impromptu back-three with a built-in response mechanism had to be arranged hastily. The manner in which Upamecano's role shifted throughout the match proved particularly skillful. From a flat back-three anchor to a pivot runner and then to basically wherever he wanted, this may have been one of the best uses of the offseason's key acquisition yet.
Can Haaland-less Dortmund keep pace?
A very important question here as the perhaps the main force behind a Bundesliga title challenge might be out for another month or more. Marco Rose must also contend with multiple other long-term injury issues. Giovanni Reyna remains on the sidelines. Dan-Axel Zagadou will likely be out through the end of the calendar year. The absolute last thing Rose needed was the loss of his wide wingbacks Nico Schulz and Thomas Meunier on short notice.
The BVB gaffer had to put something inventive together this weekend. What we got was something all over the map.
Lineup—Borussia Dortmund—Match Nine (5-4-1)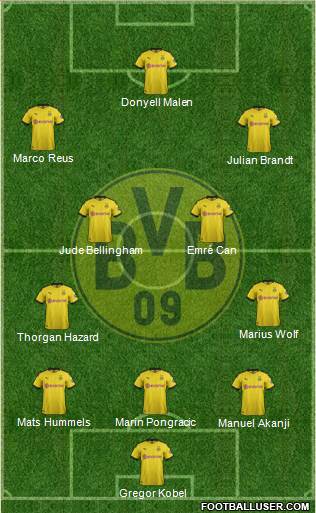 This is about as far back as one is ever likely to see Thorgan Hazard play and about as far forward as Emré Can has worked in years. A side-swipe viewing of the minute-by-minute ticker during the simultaneous kickoffs led one to the conclusion that the 3-1 victory over Armenia Bielefeld counted as an easy three points. In actuality it was anything but.
Losing the thread
Following a double chance for Malen in the 8th, hosts Bielefeld actually controlled most of the match via a disproportionate amount of high midfield ball wins. Hazard and Marius Wolf lost duel after duel. Marin Pongracic delivered a particularly shaky performance. Any team with superior quality to Bielefeld would have punished the on-loan center halve for two very bad mistakes in the opening half-hour.
The combination of an awarded penalty and one of Mats Hummel's most cracking goals ever masked the BVBs bumbling and stumbling opening 45. Passing, duel rates, possession, and significantly less distance covered naturally still showed up in the overall match stats and the xG as well. This didn't look anywhere close to a 3-1 victory.
Quality triumphs
The DSC blew several more chances after the restart. The debuting Guilherme Ramos and the on-the-comeback-trail lead striker Fabian Klos couldn't finish their opportunities cleanly enough. Alessandro Schöpf and Patrick Wimmer also demonstrated that–no matter how hyped their summer signings were–neither one of the Austrians are properly on the level.
On the other side, we witnessed Jude Bellingham do his Jude Bellingham thing. What an amazing goal from the young English phenom! The super-slick Birmingham youngster slalomed past four Arminia players on his way to Dortmund's third goal. Hard to label this an unfair result when the quality gap ultimately shone through.
Is it enough?
Everyone has to pitch in for die Schwarzgelben, who are at present only one point off the seemingly invincible league leaders. Rose's crew absolutely cannot lose the thread in the first-half against upcoming league opponents Köln and Leipzig. Massive headaches now for the BVB trainer as–between the Pokal and the Champions' League–the rotation engine most keep purring through four fixtures in two weeks before the international break.
We'll find out soon enough how well Rose can manage. It probably wouldn't be the worst idea to prioritize the league XI at this time. Pokal opponents FC Ingolstadt are unlikely to pose much of a challenge and the UCL re-match against Ajax on home soil counts as more of a psychological challenge than a footballing one. Bayern can't be allowed to open a seven-point gap this early.
Whew. Take a depth breath in any case as it's about to get tense.
Will Oliver Glasner get fired next?
It's getting there. Now would be the right week to do it to. Just like Wolfsburg, Eintracht Frankfurt don't have a midweek Pokal match to worry about. The former Wolfsburg trainer finds himself so short of options that he deployed the exact same XI from Thursday's match a scant three days later. Just like van Bommel, Glasner has been alienating a popular player. Even with justification, things like this tend to divide the locker room. Now that the first member of the coaching carousel has been yanked, others are free to follow.
The tired XI brought out to presumably beat up on an underestimated Bochum side looked…well…predictably tired. The defense completely fell asleep on the opening goal. It counted as a very questionable decision to allow Gonçalo Paciencia to take three spot kicks in a row. A golden chance to erase the false start was wasted. Glasner's half-time adjustment–Sebastian Rode for Kristijian Jakic–paid dividends. Sam Lammers–on for the later injured Paciencia–got a little better in the second half too once the SGE head-coach ordered Daichi Kamada a little further back.
All of that notwithstanding, one simply must score a goal against Bochum. To flirt with the relegation zone nine rounds into a campaign won't do at all. A loss against Leipzig next round remains possible. Anything other than a win against Fürth in the round after that should just about seal it. Markus Krösche won't pull the plug. He won't have to. Others will tell him to.
---
Weekly Tactical Focus: The Spirit of Fasching
---
Well. Despite having to explain away the very notion of it last week, the columnist opted to chance it once again this round with a Sunday fixture. All of the buzz surrounding Köln-Leverksuen proved too much. Fans of both these teams expected a response after their respective blowout losses last week. The fact that hosting Köln opened up the RheinEnergieStadion to full capacity meant that there would be plenty of traveling supporters from the company town just down the road present as well.
How would players on both sides react not only to their recent form swoon, but also the pressure of playing in front of nearly 50,000 prying eyes? We shouldn't overlook the new X-factor of fans. Not suggest that players don't possess the carefully cultivated skill of tuning out the crowd and focusing on the yells and shouts on the pitch. The fact remains that this skill has surely atrophied somewhat over the last 18 months. It's un deniable that the ultras can lift their team up. Conversely, whistles and jeers can adversely also affect players.
Here, the return of Florian Wirtz to his youth academy club would be of enormous relevance. One mustn't forget that 18-year-old Wunderkind came of age in the "Geisterspiel Era". Snatched up by Leverkusen in the January 2020 transfer window, the then 17-year-old wasn't smashing records and dazzling television audiences until it was time to play in empty stadiums. We herald the talents of quite a few players who broke through during this unprecedented time in human history. It's worth noting that a vitally important part of their mettle has not been tested yet.
In the case of Wirtz's first return to Köln with fans present in the stadium, we knew that the youngster would take some heat every time he touched the ball. It did seem to affect him somewhat. After a strong start, his performance undoubtably fizzled out somewhat. Wirtz's game is one story of the match. Of course, there were many others in this cracking four-goal-affair. We weren't let down this week. Both teams supplied the goods. Both trainers delivered some interesting tactics.
Perhaps most importantly, die Geißböcke fought back to draw their regional rivals after going 0-2 down in front of the hometown crowd. Call a chronicler a football romantic if you must, but he contends that the manner in which the crowd refused to give up on their team played some role in the team not giving up on themselves. What a football match in the cathedral city! The "Faschingslieder" ("carnival songs") carried the Effzeh back. That's a writer's story and he's sticking to it!
Lineup—FC Köln—Match Nine (4-1-3-2)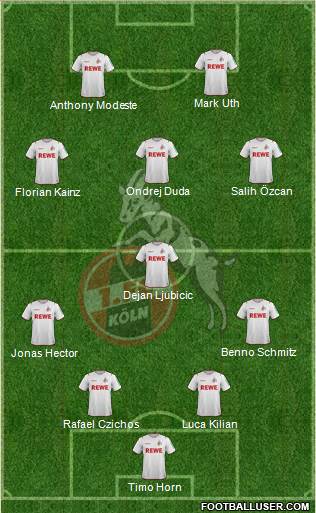 For Steffen Baumgart, it's back to a 4-1-3-2. Back to basics if you will. This is how the club's newly minted cult trainer opted to start the season. After some over-steering in far too many different directions, he's got the lads back to something that works. It worked reasonably well in this game thanks in large part to the reality that Dejan Ljubicic has clearly been groomed to assume the role that Ellyes Skhiri unfortunately has had to vacate for a while.
Perhaps the Tunisian linchpin won't be too sorely missed as a lot works here.
The retooled defense
Something obviously had to be done with the center halve pairing as Jorge Meré and Rafael Czichos got pulled apart far too easily in last week's loss. It ultimately wasn't surprising to see Baumgart opt for his old Paderborn project Luca Kilian over the former. Benno Schmitz's stay at the right fullback position surprised somewhat.
Kingsley Ehizibue, despite a subpar job last week in place of captain Jonas Hector last round, would appear to be the more natural selection on his natural side against a team such a terror on the flanks as speedy Leverkusen. Baumgart certainly made the right choice. Plainly, Hector's return meant everything to the team.
A flat mid-field axis
Difficult to tell if this constituted some sort of tactical ploy against a specific opponent or whether Baumgart just wanted to keep it as simple as possible. One could make the case that at least three players had to be parked horizontally in order to keep an eye on Wirtz. It's equally plausible that, for the Kölner trainer, the focus remained on his own team's builds.
As we shall see, the forward efforts of the hosts displayed a lot of premeditated thought and effort. Gerardo Seone's team, lined up in basically the same 4-2-3-1 as last week, didn't really appeared to be geared toward anything specific other than playing better to the team's innate counterattacking strength.
Lineup—Bayer Leverkusen—Match Nine (4-2-3-1)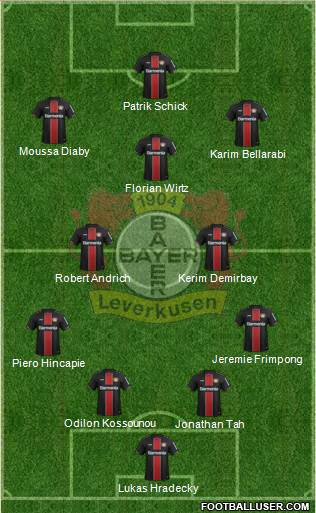 The failure of the double-six pairing from last week being such a hot topic of discussion in German footballing circles, Seoane left Robert Andrich and Kerem Demirbay as the midfield starters even though both went the full 90 minutes in the Europa League on Thursday. This shows just how desperate the B04 trainer is at the moment for midfield actors that fight, scrap, and compete.
When one looks at some of Leverkusen's problems (and we'll have ourselves a look at several), the central issue the team faces may be a surfeit of finesse-minded players. This actually all that different from times over the past twenty years or so when the club completed summer transfer windows similar to the one this offseason.
Germany's red company team is notorious for overloading on the "tricks and flicks" talent while procuring far too little of the bruisers and brawlers it needs to win midfield duels. To their credit, the administrative team has learned from this. Hence, the late push to ply Robert Andrich away from Union Berlin late in the window. That does keep them competitive in that specific space.
Alas, lest we end up re-litigating nearly two decades of Rudi Völler's stewardship, it's time to delve into the action of this one.
Match Flow: 1st to 12th minute
A furious start to this one surely left plenty of minute-by-minute writers scrambling to catch up. Wirtz had already danced his way through twice in the opening two minutes. Amid numerous possession changes, the teenager's elegant shone through. When Köln did get ahold of the ball deep in their own half, they were quickly attacked by a venomous press. Our first stoppage came in the 3rd after Andrich and Salih Özcan collided on an aerial duel.
More brilliance from Wirtz led the way forward for Leverkusen in the 4th. The Kölner fans barely had time to whistle him down as the young phenom's quick cuts on the ball only lasted mere seconds. The 18-year-old was nevertheless just a bit too long with a forward roll for Patrik Schick in the 4th. Keeper Timo Horn rushed out to beat the Czech striker to it.
We got our first look at a Kölner charge near the end of the 4th. The would be absolutely no way through for Schmitz on the right, however. Jeremie Frimpong easily boxed the white-clad defender out. Seconds later, Moussa Diaby picked off a poor Anthony Modeste cross-field pass and turned on the jets before eventually offloading for Schick on his left. This time the Czech striker managed a ground effort on target. It was still too weak to trouble Horn.
Back the other way, Özcan wasn't quick enough to keep a counter going on the Kölner right. Frimpong stymied him did, then got back into the box in time to clear the the next effort in from his opponents. While Leverkusen's overall performance as a team may have left something to be desired, no one watching this one would be left in any doubt that Frimpong turned in a beast of a match.
More Flo Wirtz stuff during the next significant Werkself press in the 7th. This time the teenager lost the ball, yet showed great awareness in immediately recapturing it again. The final cross regrettably didn't appear aimed at only in particular. Köln really started to buckle. Only a spectacular Kilian slide tackle in the 8th stopped another blistering counterattack. The ensuing corner came to nothing.
The visitors did better with a quick throw in a minute later, only just missing an advancing Wirtz on the last ball. Every chronicler got a much-needed chance to catch up during a lull between the 10th and 12th. The tenor of this one at least seemed clear. Köln wanted to build. Leverkusen looked to strip every ball and flick fast into transition.
Match Flow: 12th to 17th minute
We've certainly seen our fair share of this in the Bundesliga this year. Two goals in quick succession. Yes, it happens fairly often in a confidence-driven game such as football. In recent weeks, it appears to transpire even more disproportionately. Teams just aren't getting properly set after goals. Switch-offs after the midfield restart occur more frequently. A return to a very different stadium atmosphere could conceivably have something to do with this.
Baumgart's men again tried to work their way through on the right. Frimpong continued to have none of it. A quick upfield switch put Karim Bellarabi through on the Leverkusen right in the 14th. Ljubicic had to get it 100 percent correct to tackle away from Wirtz after Bellarabi sent him wide. Andrich then picked off a Modeste diagonal on the next play. The counterattack was on once again in the 15th.
Andrich launched a beautiful long-ball for Diaby. The Frenchman blazed through on the left in his trademark action. Schick timed his run well to receive the final ball and finished with calm precision into the bottom right corner. Almost perfect that quick-strike sequence. What happened next came even closer to perfect.
Wirtz's efforts were finally rewarded after Andrich fought like hell to keep the youngster's layoff for him in the box alive with a series of fierce touches. Despite being hassled by both Ljubicic and Czichos, the former Union man retained possession and had the wherewithal to locate Bellarabi creeping into the box unmarked on the right. The former German national team attacker finished with aplomb.
Two goals in two minutes left us at 2-0 in the 17th. One certainly would be hard pressed to bet against Leverkusen after both Schick and Bellarabi found the back of the net. A pair of streaky players were in the mood. Everything was set up for a collapse. It might have come were it not for the events of the next interval.
Match Flow: 17th to 27th minute
Some tussles and scuffles in the three minutes following the second goal. Hector and Odilon Kossounou got into it as tensions boiled over. More skirmishing between Jonathan Tah and the Effzeh captain ended with Köln being awarded a free-kick in a dangerous area just outside the box left in the 19th. When it came to Baumgart's set-pieces on this day, one must say the prep package lacked a bit.
Every Domstädter dead-ball situation revolved around Mark Uth and Florian Kainz engaging in some intricate feint-dance before it was revealed who would strike the ball. After the first such dance on the first big free-kick, a service landed miles away from Czichos. Wirtz got on the end of the ball in the 20th as Bayer charged back the other way.
By now, the phenom was running a bit short of breath and ideas. He lost a ball then recovered impressively just as he had done before, but was panting noticeably after the play concluded. The crowd also caught up with him long enough to contribute some heckles. Wirtz couldn't catch up with the counter in the 21st when a horrible ball loss from Czichos looked sure to gift the guests another goal.
With Wirtz out of the equation, the ball circulation went Bellarabi-Diaby-Schick and the back to Bellarabi. It was a beautifully executed little sequence, though perhaps a little too intricate at the end. Bellarabi tried to set up Demirbay, who shot wide. Hector then got hassled off the ball in the 22nd. A quick switch to the racing Frimpong (just amazing) then led to Bellarabi getting another chance in the 23rd.
Kilian somehow came up big with the emergency stop. Matters got even more dire for Köln in the 25th. Tah did extremely well to win a loose ball and initiated a counter himself. After a quick upfield pass to Wirtz, Frimpong was again blazing through with the ball. Tah come all the way up to finish the final cut-back himself, as did three others. Frimpong opted to forgo the 4 vs. 1 and shot himself.
The Dutchman's thunderous strike ended up caroming off the crossbar in what was a crucial moment for this match.
Match Flow: 27th to 36th minute
Köln tried cycling out wide left to Hector. Tah, Frimpong, and Kossounou were all back helping to close down the next two charges from the home team. Having survived the onslaught, Baumgart's XI were improbably beginning to build a little momentum for themselves. Özcan's effort in the 27th was well wide of the mark, as was Modeste's header of a cross in the 28th. The two attempts still gave die Geißböcke some wind in their sails.
Ljubicic created his own counter following an excellent tackle in the 29th. Bellarabi came up limping afterwards. B04 keeper Lukas Hradecky had to be alert a much better free-kick service at the half hour mark. This time Kainz took the striker after another elaborate dance with Uth. Bayer's keeper cancelled out a Hector diagonal in the 31st.
After a crazy set of duels that saw easily a dozen midfield possession changes in two minutes, Hector tried again from distance in the 33rd. This time only the fingertips of a full-stretch Hradecky deflected the ball out for a corner. Nothing came of it. Leverkusen charged back with a 3 vs. 2 in the 34th. Now one could see that they were really running short on ideas.
Neither Schick nor Wirtz really knew what to do with the ball on that counter. Köln mounted another rush back the other way and were furious when match official Felix Zwayer whistled down the approach because Bellarabi hit the turf again behind the play. Uth received a yellow card for protest. In fairness, Bellarabi was genuinely hurt and had to come off. Amine Adli checked in to take over on the Leverkusen right wing.
Match Flow: 36th minute to half-time
Without any tangible success, Köln continued to try for the duration of the opening half. The red company team boxed out a Ljubicic instigated give-and-go in the 37th. Uth found himself the unexpected recipient of a ball close inside the box in the 38th. A heavy first touch left Kossounou with enough time to recover with some nevertheless fine technique.
While the hosts' approach play stood much improved, the set-piece opportunities simply didn't come together. Hradecky easily collected the corner Kossounou conceded in the 39th. Kainz skied over in the 41st. Hector misdirected a header off a free kick in the 44th. After Uth won a great ball on the touchline in at 45+3, Tah didn't hesitate to punch out for a final corner to end the half. It too came to nothing.
Amid all this, weariness began to really manifest itself on the Leverkusen counters. Many players who had put in multiple shifts for club and country over the past few weeks suddenly had lead in their legs. Schick, Diaby, and Wirtz had trouble with the basic task of holding the ball up on the return waves.
Even though Bayer entered the locker room with a 2-0 lead, one had the sense that the cathedral city hosts were very much still in this one. Impulse even felt it as if it was slowly shifting in their direction.
Match Flow: 46th to 57th minute
One change from Seoane at the break saw Mitchell Bakker come on to relieve Piero Hincapie, who somehow seemed to be missing among all that action on the Kölner right. Two substitutions in, the 4-2-3-1 shape remained the same. Nothing much doing through the first four minutes of the second half, which featured a lot of broken plays.
Hector sent a through ball forward to no one in the 47th. Köln kept trying to cycle out from Hector's side, but were pressured pretty hard by the seemingly omnipresent forces of Andrich and Frimpong. A Demirbay free kick landed directly in Horn's arms in the 48th. Wirtz started way too early and got caught well offside on a halfhearted counter in the 49th.
The teenager's facial expressions were a bit downcast as the crowd offered him some mocking applause. Another poorly drawn up corner in the 50th ended with Kainz screwing an Uth service wide. One could see the Bayer breakaway ability faltering again in the 51st when Andrich took way too long to shuffle off for Diaby.
Neither side had the notions to find a way through during another prolonged period of midfield stalemate. Tah easily cleared a ball sent in the box in the 53rd. Wirtz simply didn't have the stamina left to carry through on the attempted counter. A more defensive approach to Köln's approach play meant the next attempted counter wouldn't come for another four minutes. Schick's chip lob for Wirtz in the 57th was easy prey for Czichos.
Match Flow: 57th to 63rd minute
Easily the worst stretch of the match came between the 57th and the hour mark. The hosts continued to make a hash out of a series of corners. Modeste was miles offside on the only rush from open play in the 59th. Kainz then proceeded to totally miff up a breakaway in the 60th, completely missing a wide open Hector on his left overlap. Wirtz could barely lift the ball off the grass on a tame 62nd minute effort straight at horn.
Watching all of this, one really started to wonder when the changes were going to come. Baumgart engaged in plenty of his usual grumbling and whistling, yet readied no subs. We were past 60 minutes with the original XI on the field. Perhaps the Effzeh trainer thought it best to allow the actors who showed some initiative to un-dig their own hole remain on to keep doing so.
Perhaps he was quite right. Ljubicic launched a laser from 20 meters out at the end of the 62nd. One minute after that, the Geißböcke crafted a beautiful team goal. After some nice work from Uth and Kainz, Tah couldn't quite judge a Hector cross for Modeste properly. The Frenchman furnished a focuses finish after a series of touches that, against the sloppiness the game seemed to be degenerating in, were of full HD quality.
Match Flow: 63rd to 78th minute
Not long after the goal, the Kölner crowd were back whistling down another player. Unlike the cases with Wirtz and even Bellarabi, this one was fully justified. Diaby was correctly booked for time wasting in the 65th. A most unpleasant piece of cheat it was. Schmitz and Kainz worked in a nice chance in the 67th once the business was all sorted out. One could see where the Werkself were in relation to things as they began to clear desperately.
Kossounou took down Kainz strongly in the 69th and, after some more scuffles, Hradecky had to rush out to claim the end result of another Uth-Kainz set-piece dance. Still there were no changes. Baumgart stood satisfied that his team were penetrating the box with sufficient vigor. Uth headed just over in the 71st.
Three weak counters between the 72nd and 75th showed just how anemic Leverkusen had become. Frimpong had all the fuel in the world, but Wirtz was always lagging and Schick looked like he was moving through syrup. Diaby should have, candidly, gotten his second yellow card for time-wasting in the 72nd. Bayer were extremely lucky Köln couldn't make more of another free kick in the 74th.
Finally, when Diaby mishandled a Frimpong pass on another broken counter in the 76th, Seoane made sure that his players were with the fourth official ready to check in. Exequiel Palacios and Edmond Tapsoba replaced Wirtz and Diaby in the 77th. Baumgart also made his first change. Sebastian Andersson relieved Ondrej Duda.
Match Flow: 78th to 82nd minute
It all came down to this late maneuvering. As one can correctly surmise from the critical reviews of Baumgart's set-pieces, he wasn't necessarily a genius on this day. What he did do well was leave a constellation working through itself in place. There was also the following mistake from Seoane.
Lineup—Bayer Leverkusen—78th minute (5-3-2)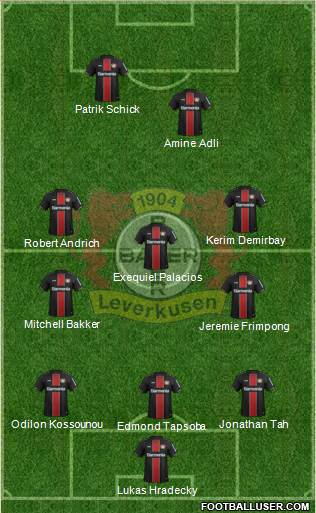 The exact same re-format of the back-three that we saw last week. Three central defenders. It's not merely a way of tightening up the back, but also a slow reintroduction of one-time "glory kid" Edmond Tapsoba. The Burkinabé, who Germans have so enjoyed watching, is coming off a long injury layoff. Sadly for most of us who really like this player, he had an absolute nightmare of a short relief appearance.
Tapsoba lost sight of a cross headed for Modeste immediately in the 78th. The Frenchman couldn't quite sort out his touch on this opportunity, but would soon get another. First, however, Baumgart completed a double substitution in the 79th. Kingsley Schindler and Jan Thielmann entered on in place of Schmitz and Kainz.
Baumgart's final push looked as follows:
Lineup—FC Köln—80th minute (5-1-4)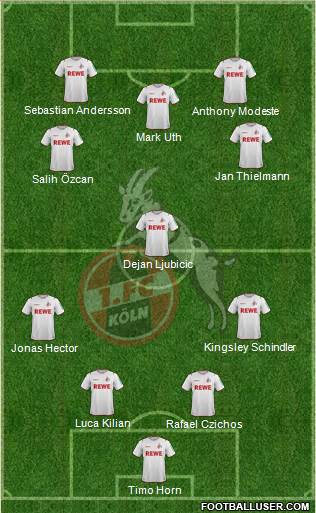 A solid enough four-man press to conduct the search for a late equalizer. There was some initial profligacy in front of goal involving Uth and Özcan. Frimpong (again, simply amazing how he kept going) also ran another counter. The equalizer would come from Modeste two minutes after the restart.
Tapsoba got bested badly in an aerial duel with Andersson. The subbed-on Swede won the subbed-on battle and extended back for Modeste. We Bundesliga lovers got to see the Frenchman do the "goggles celebration" as he in turn bested Kossounou to make it 2-2.
Match Flow: 82nd minute to full-time
A fine finish it was not. That's okay. The teams could be excused for not wishing to take any more risks after this wild ride. An long injury timeout involving Schick took up some time. Zwayer awarded the teams three minutes of injury time in the event either side wanted to push for the win. Apart from Frimpong, no one on Bayer's side was interested. Baumgart seemed content with the draw too, burning the clock with another sub at 90+2.
Hopefully, as many observers as possible got a chance to check out this awesome Bundesliga offering. There are plenty of lessons to be derived from it. First, Seoane's grip on this latest incarnation of Bayer is most assuredly slipping. Presiding over a team–for all its built-in rotation mechanisms–is always built for endless counters is going to invariably run into the problems of faltering creativity during the busier times of the season.
Next, too much pressure currently rests on Flo Wirtz's shoulders. Previous coach Peter Bosz did well to give the young phenom a recharge every so often. Even if this may have in some respects ended up costing him his job, the Dutchman knew that he would only end up overtaxing a teenager if he had to work a roving ten-role all of the time.
We've also learned a bit about what sort of coach Baumgart is and isn't. The dead-ball plays here weren't very strong. On the other hand, the decision to leave the XI on was spot on.  All of this being said, do excuse a writer if he insists upon ending on a romantic note. Could Köln have come from behind like that in an empty stadium? Columnist says no. Full stop. Period.
Keep watching Köln (or Mainz) at home if you'd like to learn more "Faschingslieder" (Carnival songs). There's plenty more of those coming. There's even going to be carnival this year!
Thanks so much for reading! You can occasionally catch Peter goofing off while watching the lower German football divisions on twitter, @ViceytheSS.
Twitter DMs are open for football conversations, corrections, and (if you truly insist) general abuse. 
All columns debut on Bulinews before appearing on Peter's website later in the week.