The football rolls on in the Bundesrepublik, even if the current state of the COVID crisis leads to somber news on the fan front. Happen to miss this Sunday's recap of the round four action? No worries. We'll re-post here.
The German Bundesliga's fourth round supplied one major upset, along with a surfeit of smaller stories.
---
League-wide Talking Points: Round Four
---
Bayern: Will there ever be a draw-up?
Will Bayern's tactics ever warrant closer inspection? A somewhat sardonically posed question is obviously meant to be rhetorical. The German giants continue to proceed without what one may define as "football tactics". Hans Dieter Flick simply isn't that type of coach. He remains contend to let his talent coach themselves.
Can recall a time when, after the first weeks last November when Flick took over for Niko Kovac of course, the FCB lined up in something other than a 4-2-3-1? The plan never finds alteration over the course of a match. It has no need to. Sebastian Hoeneß discovered a way to, with a great deal of luck on his side, to take advantage of the early press. Otherwise, cracks in the facade barely exist.
Another week, another two victories, and another two sets of rigidly identical 4-2-3-1. Now that his defensive corps are largely back at full strength, Flick can even slowly work his way back to putting the likes of Alphonso Davies and David Alaba back in their natural positions.
Rønnow bails out Schalke
Thanks in large part to three terrific saves from recently procured keeper Frederick Rønnow, Manuel Baum's Königsblauen were able to secure their first point of the young season. Regrettably, die Knappen still largely played like a second tier side. A hard fought draw against 1. FC Union Berlin hardly counts as a catalyst for further progress.
The winless streak continues. Going back all the way to January 17th, 2020, (the 18th round of the 2019/20 Bundesliga) it's now been 21 league fixtures without a victory. Gelsenkirchen diehards will surely wish to avert their eyes from next weekend's Revierderby. A miracle isn't forthcoming soon.
Baum's 4-1-4-1 looked fairly unconvincing. With no better options than Can Bozdogan and Nabil Bentaleb to buttress the lone striker, the new coach just doesn't have the pieces to begin putting something together. Building team morale within this shattered collection of scattered talent that have so little invested in the club at all borders on the impossible.
Some hope for the Cathedral City
From one club that earned its first point of the campaign to the another one. Markus Gisdols 1. FC Köln came back to draw Eintracht Frankfurt 1-1. Die Geißböcke find themselves mired in their own miserable winless streak, though Schalke's catastrophic meltdown means theirs receives significantly less attention.
Köln last won a league fixture on March 6th 2020 (the 25th round of the 2019/20 Bundesliga). They lost a midweek make-up match against Gladbach a few days later in what would be the final Bundesliga match before global lockdown. As a result, Gisdol's league-winless-streak stretches to 14 games. They have not won since the corona-break.
This weekend's draw wasn't especially credible. Ondrej Duda's 52nd minute equalizer came on the Kölner's first legitimate offensive chance of the entire match. Of enormous importance, however, the defensive line finally looked stable and ordered. Jannes Horn, Sebastiaan Bornauw, Rafael Czichos, and Kingsley Ehizibue communicated well to keep it tight.
The goal also managed to inspire the offense to show some its first life since the first round. Germany's billy goats might conceivably snap the streak against Stuttgart next week.
Gladbach back in gear
This round should mark the turning point for Marco Rose's foals. Even though the result (a 1-1 draw with Wolfsburg) left quite a bit to be desired, it did appear as if all of the crucial actors bitten by the early season injury bug were once again fit for the first time this campaign. Marcus Thuram got in some nice efforts. Breel Embolo bravely went for a bicycle kick.
Rose himself finally appears to have ditched the idea of using Hannes Wolf on the wing. Jonas Hofmann did a fantastic job on the right side. Hofmann's fellow recent national team call-up, Florian Neuhaus, also carried over some new confidence from the international break.
The team could really kick-start a sustained hot streak if they manage to perform well against Inter in the UCL this Wednesday. The upcoming league schedule shakes out very favorably for them. At present, one should expect a return of the "fantastische Fohlen" talk soon.
The pliant Lucien Favre
Carping about Lucien Favre's obstinate tactics usually dominates this particular phase of a Bundesliga campaign. This year the Dortmund trainer actually bucked the early season trend to manage his team both effectively and flexibly. Dealing with Manuel Akanji's absence, Favre shifted Emré Can over to the left of his 3-4-3 and started Lukasz Piszczek at right center-half.
When Piszczek succumbed to injury in the 21st, he brought on Thomas Delaney, dropped both Felix Passlack and Thomas Menuier back, and ran a decent makeshift 4-2-1-3. While Julian Brandt didn't so great in his center-forward audition, it was absolutely worth it to rest Erling Haaland ahead of the packed UCL schedule.
The later tactical adjustments cleverly set up the winning goal in the 1-0 defeat of Hoffenheim. Favre evidently isn't the system stickler so many make him out to be.
---
The Burning Questions: Round Four
---
How does the Klaassen-less Bremen midfield look?
Not especially coherent. Bremen trainer Florian Kohfeldt's basic plan took nearly a quarter of an hour to settle. Even then, it wasn't the most cogent of shapes. Leonardo Bittencourt and Kevin Mbom looked to hang back a bit in support of the now partner-less Maximilian Eggestein.
The goal seemed to be a narrow 4-3-3, but the Hanseaten spent most of the match aspiring toward this shape more than keeping it. Two not uncontroversial refereeing decisions saw opponents Freiburg have their second goal disallowed and the Bremen getting awarded a penalty all with the span of three minutes.
A consequence of moving two attacking midfielders back to shore up the midfield a generally slow crawl upfield on Bremen's own charges. Kohfeldt's men generated their chances, but Freiburg almost always had enough time to rush back and defend. The early verdict on the first solution must be an unequivocal "thumbs down".
Can Leverkusen keep their heads above water?
It's getting quite serious for Peter Bosz. The Santiago Arias injury may not make such a huge difference after all. Lars Bender played another reasonably competent match stationed a few yards away from his twin brother Sven. Bosz can also flatten out the back-four a bit by positioning Charles Aranguiz further back.
Injuries to Florian Wirtz and Patrik Schick remain very disconcerting. Die Werkself played a torrid and turgid match against Mainz over the weekend. The Bosz XI could consider themselves lucky to have escaped with a narrow 1-0 victory against the league's bottom dwellers. But for a well-executed set-pieces, they barely came near the goal at all.
A double-six set-up of Nadiem Amiri and Kerem Demirbay simply isn't good enough to a speedy winger like Moussa Diaby and Leon Bailey didn't work out very well on the right. Bosz understandably had to bench Karim Bellarabi after one of his deplorably stupid fouls, the the 30-year-old still maintains a better skill set for the right flank.
Lucas Alario cannot hope to replace Schick's potential as a large target. It also remains well past time to either use Julian Baumgartlinger or Exequiel Palacios in midfield alongside Aranguiz. Bosz enters the blitz phase of cross-continental Europa League travel dates with critical questions unanswered and at least one nightmare scenario confirmed.
---
Weekly Tactical Focus: Labbadia's Wayward Pass
---
Hertha BSC trainer Bruno Labbadia sought entrance to an elite class on Saturday. The 54-year-old former footballing star already won well over 100 fixtures in his long and storied career as a player. Had he secured all three points against Stuttgart, he would have qualified for the ranks of those who had reached this milestone both as a player and coach. Jump Heynckes, Felix Magath, Friedhelm Funkel, Winifried Schäfer, Jürgen Röber, and Thomas Schaaf remain the only other six German footballing legends to have accomplished that feat.
Sadly, Labbadia came up short. The cloying reason why not had much to do with poor tactics. When Germany's great footballing journeyman took over at die alte Dame during last spring's corona-lockdown, few had any doubts that he would be the one to get the larger capital club back on track. For the most part, doubts don't truly surface yet. This writer still maintains that Labbadia possesses the correct tools to engage in properly straightforward solutions.
Saturday's strategies nevertheless raised some eyebrows; justifiably so. One must remember that Bruno the coach, at least at this point in his career, specializes in bringing fractured teams together to help them avoid relegation. After doing so with Stuttgart, Hamburger SV, and Wolfsburg, he pulled this off again with Hertha in the final nine fixtures of last season.
Is he the type of trainer who can also take a team from the brink all the way up to the European places? He certainly attained such a goal with Wolfsburg, but appears behind the curve here.
Lineup—Hertha BSC—Match Four (4-2-4)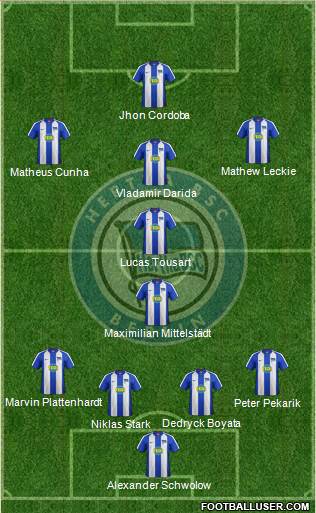 Placement of both Lucas Tousart and Maximilian Mittelstädt proved exceedingly difficult. One almost feels it generous to assume that Labbadia had a plan in place for either one of them. At times it looked as if Mittelstädt had a more clearly defined upfield distributive role. In other instances, he exhibited a wide, leftward stagger.
At still other times, he appeared completely lost. Hertha's attack builds were repeatedly characterized by half-baked ideas and stunningly sloppy passing.
The Leckie start
Sentimentalists experienced some pangs of analeptic nostalgia when they saw the 29-year-old Australian international's name of the lineup card for the first time since the first round of the 2019/20 campaign. Mathew Leckie has always been a fan favorite, even a cult hero of sorts for his days grinding it out in the lower leagues.
One must nevertheless candidly state that the former FSV Frankfurt and FC Ingolstadt 04 attacker passed his prime some five years ago. Why Labbadia selected him here when Dodi Lukebakio, Deyovaisio Zeefuik, Jessic Ngankam, and even Javairo Dilrosun stood available for the position remains a mystery.
The mere fact that the coach breathed new life into Vedad Ibisevic late last season may have left him overconfident about his "Midas Touch".
An absent back-left rotation
Given that both Marvin Plattenhardt and Mittelstädt are competent enough left backs, it would make sense that the pair could engage in some possession cycling or simply take turns covering the left. One witnessed none of this. In actuality, neither one worked to close to yawning midfield gap on either side.
Even when the Hertha center-backs were gifted time to sort out builds, they couldn't find many options on the wide axes behind the halfway line. So disorganized was Labbadia's shape that Niklas Stark and Dedryck Boyata frequently found themselves completely devoid of any forward options on carries.
Such poor execution makes one wonder how much effort Labbadia put into his prep for this opponent. It's almost seems as if the Hertha trainer didn't take time over the international break to craft a back-up plan if new signings Matteo Guendouzi and Omar Alderete weren't ready.
When his central midfield piece was ruled out, the trainer cobbled together some slapdash at the last minute.
Stranding the talisman
As noted many times before in these pages, a surging Matheus Cunha represents the current creative heartbeat of this Hertha side. Buoyed by his recent club form, not to mention his first call up to the Seleçao, the 21-year-old Brazilian midfield jewel wants to carry this team on his shoulders.
It remains highly advantageous to possess such a player. Naturally, an ultra-confident actor running on pure ecstatic adrenaline can cause a coach a few headaches as well. The classic quandary of how much leash a rapacious beast needs presents itself.
Labbadia didn't totally mismanage his most in-form player in this one. A left-wing deployment, logically enough, aimed to bring out Cunha's best improvisation on his preferred side. The personnel decisions already discussed, however, simply left Cunha without the proper support.
To make matters infinitely worse, opposing teams now have such an easy scout-read on die alte Dame: Frustrate Cunha and one will easily frustrate this team. Expect this approach to be employed constants in the coming weeks.
Matarazzo's latest mix: A return to the 4-5-1
Stuttgart trainer Pellegrino Matarazzo's knows how to construct an elegantly nuanced matchday scheme. Given that he hails from New Jersey, those interested can find a regular draw up in the Bulinews weekly feature on Americans in the Bundesliga.
On this particular match day, one observed a definite repeat of the tactics utilized in the second round. Matarazzo formulated another attack-minded 4-5-1 deliberately intended to confuse opponents with a wandering Wataru Endo:
Lineup—VFB Stuttgart—Match Four (4-5-1)
How it works
Generally speaking, Endo roves a bit until he can get a read on the competition's plan. Once he figures out the adversarial point of attack, he either settles above the center-backs in a Catenaccio bolt-lock or straddles between the midfield and defensive ranks as a sort of "zona mista" variant. Matarazzo may have lived in Germany for the better part of two decades, but his stratagems retain a distinctive Italian flair.
As it so happens, Endo didn't have a great deal of work to do in this one. Hertha had no real plan-of-attack beyond Cunha and Labbadia's weak fullbacks allowed the Badeners to absolutely crush the Berliners on the flanks. The Japanese international took up a defensive position, shadowed Vladimir Darida closely, and rarely saw much of the ball.
Straight arrow plug-ins
The Stuttgart trainer had his fair share of injury woes to deal with. Unlike Labbadia, he carried well-trained back-ups to replace the fallen first string. Atakan Karazor filled the role of slightly inverted pivot for much of last season. Waldemar Anton, who had to sit this match out, was specifically acquired as an analogous upgrade prior to this season. Both players have a similar playing style, making them easy to swap out.
Pascal Stenzel, another player whom the club attempted to find a congruent enhancement for in Konstantinos Mavropanos, is already familiar with the position and can thus fill in for the new arrival easily. Tanguy Coulibaly was the planned replacement for Borna Sosa anyway.
Taken together, Matarazzo's three changes from his previous lineup knew exactly how they would fit into the constellation.
Match Flow: 1st to 9th minute
The fixture got off to a cracking start. Not unexpectedly, Cunha attempted to dazzle his way through in the early going. Wonderful control of a live ball in the 3rd still led nowhere, as an ice-cold Leckie couldn't find the touch on the Brazilian's service. Leckie again mishandled a lovely cross in from Plattenhardt in the 4th.
After the early Hertha chances, the Swabians punched back via Coulibaly on the left. The 19-year-old Frenchmen blazed past Leckie and Peter Pekarik with little difficulty. Stuttgart's winger could only be stopped by his own tendency to employ to many slick dribbling tricks. Such was the case in the 5th and 6th.
Coulibaly eventually got out of his own way and torched Leckie to set up a Sasa Kalajdzic chance in the 8th. The Austrian striker hit the frame of the goal. Marc Oliver Kempf would open the scoring one minute later, heading in a perfectly delivered Daniel Didavi free-kick.
Match Flow: 9th to 21st minute
Labbadia's men scrambled to recover from the atrociously defended set-piece. Cunha did his level best to orchestrate something, but found himself stymied at every turn. Rattling Cunha proved too easy. Karazor unsettled him early with a hard chop while the rest of the team took turns dispossessing him.
Tackling the ball away from Cunha led to many counters. Matarazzo's XI, with great discipline, immediately took upon a 3-4-2-1 shape whenever upfield chances presented themselves. As noted above, Endo mostly served as a decoy to get Darida out of the way. Coulibaly supplied more exciting runs on both flanks.
Jittery Hertha put together some seriously cringe-worthy craven backwards passing sequences in the 14th, 16th, and 20th. An unnerved and embittered Cunha got booked for a late challenge in the 15th. Stuttgart nearly scored again off a wonderful set-piece design in the 17th.
By complete accident, Labbadia was gifted a chance to better his XI. Coulibaly, having utterly dominated Pekarik on both sides of the ball, forced the 33-year-old right back into an awkward landing. The pacey Deyovaisio Zeefuik came on as his replacement.
Match Flow: 21st minute to half-time
Zeefuik did a much better job containing the ferocious Coulibaly, though the French teenager still scorched past the Dutch sub in the 23rd and 30th. A eminently intriguing battle between the two developed. The best duels came in the 33rd, 35th, and 40th. The Frenchmen sometimes again served as his own worst enemy by trying to get too fancy with the tricks.
A more effective right-back couldn't save Labbadia's tactics. Mittelstädt remained center on charge after uninspired charge. Lucas Tousart looked very uncomfortable on a solo axis and committed multiple passing errors. The high-profile acquisition also furnished a very poor header off a corner in the 41st.
The capital city club managed to produce more chances in the attacking third over the duration of the initial 45. The final execution still remained woeful; amateurish even. Cunha did well to dig out a couple of crosses in the 25th and 26th, but his targets showed no anticipation in getting into position.
Darida couldn't decide whether to cross or shoot when he finally found space in the 31st. Jhon Cordoba displayed almost identical hesitance when he surprisingly found the ball at his feet one minute later. Darida would struggle to find the handle again in the 31st, 39th and 44th. Endo practically embarrassed the Bundesliga's famed record-runner in the 38th.
Match Flow: 46th to 65th minute
To the surprise of no one, Labbadia took off the frazzled Leckie at half-time. One might have still expected more than the lone substitution. The German trainer had four more subs at his disposal, yet made only one like-for-like change in a match that he was clearly getting crushed in.
Dodi Lukebakio assumed Leckie's position to literally no avail. When Cordoba won an aerial challenge to initiate an attacking sequence in the 51st, none of the beaten down home players could find their way into the box. Mittelstädt remained so discombobulated that he sent in a silly low cross when he had a plethora of other options in the 58th. He did it again in the 63rd.
Lukebakio located no takers after a super-charged run in the 62nd. Genuinely great work from Cunha ended up getting wasted in the 54th, 58th, 63rd, and 65th. At the other end, Zeefuik saved certain goals by shutting down the still lively Coulibaly in the 52nd and 59th. Stuttgart somehow spurned golden chances to go up 2-0 in the 47th and 56th.
An action-packed twenty minutes left one spellbound. On the sidelines, both coaches prepared to make their moves. With matters at a knife's edge, the tactical shifts would determine the outcome of a contest still close despite VfB's upper hand.
Matarazzo went first:
Lineup—VFB Stuttgart—65th minute (4-2-3-1)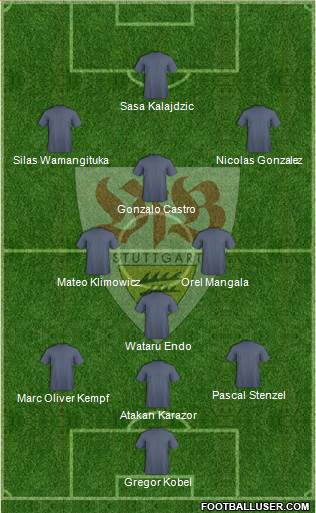 At first glance, it certainly looks like a conservative, ultra-Catenaccio-sytle bolt-down. It actually isn't. Two important shifts demonstrate that the American trainer, in reality, wished to take a risker approach.
First, he moved Silas Wamangituka–who had hitherto played a largely ineffective match–over to the left wing and counterintuitively placed the returning Nicolas Gonzalez on the right flank. This constituted a modest gamble.
More importantly, he pushed his 33-year-old captain up into the attack, trusting Bundesliga legend Gonzalo Castro to run the whole show.
Labbadia had trouble finding a stoppage to get his next sub on. He eventually countered with this:
Lineup—Hertha BSC—67th minute (5-2-3)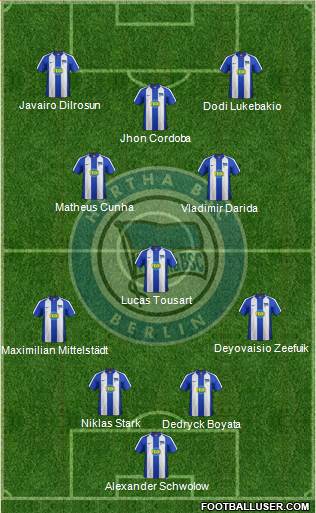 All very well and good, but it should have been implemented much, much sooner. The manner in which Mittelstädt had been performing central rendered it something of no-brainer to either sub him or Plattenhardt off at the half. Labbadia kept two left-backs on the pitch when he desperately needed to introduce another attacker.
Match Flow: 65th minute to full-time
Castro final doubled the Stuttgart advantage in the 68th with an effort that was all grit. He courageously won a midfield ball, then deftly stayed with it after his tackle sent it yards ahead. The distance hit that followed was an awe-inspiring work-of-art. Matarazzo's faith in his captain reaped immediate dividends.
Conversely, the Hertha players wrestled with precisely want Labbadia wanted out of his delayed tactical shift. The Hertha trainer would flummox his on-field personnel more in the 78th. Krzysztof Piatek and Eduard Löwen replaced Darida and Zeefuik. A balance of six natural attackers and only four defensive-minded outfielders, unsurprisingly, manifested itself as a conflagrated mess.
At no point down the stretch could Hertha keep anything resembling a recognizable shape. Forward moves resulted in huge spaces opening up for Stuttgart counters. By the 80th, the scoreline might have stood 3-0, or even 4-0.
The some 4,000 Berliners who came to watch their team play let the boos rain down as their team effectively gave up in the final ten minutes. Labored possession seemed aimed at killing off the game. Lukebakio and Dilrosun punched through on a couple of occasions, only to stand still and idea-less on the edge of the area.
A fixture this poorly coached cannot help but serve as an indictment of Labbadia. From start to finish, he practically made all of the wrong moves. The result serves as an awful dovetail with some of his curious comments this week about how the club botched its transfer window by letting too many aging veterans go.
The German footballing hero remains a icon despite a result like this and will get his 100th Bundesliga coaching victory soon. Moreover, Hertha should still be considered favorites for the European places if only by virtue of the fact that there aren't as many quality clubs to challenge them in the Bundesliga this year.
We have nevertheless learned something important this weekend. Labbadia can't up the game of his veterans by simple osmosis. The likes of Darida, Pekarik, and Plattenhardt require better tactical constructs to thrive. Someone in Leckie's form shouldn't warrant a start at all. It's bizarre.
Pellegrino Matarazzo frankly does a better job of guiding his more experienced players while selectively working in young talent. At least that was the case this round.
---
Concluding Thoughts: And the "Bizarro Bundesliga" award goes to…
---
Indeed. It's that time of year. The European club cup competitions kick off this very week. It came much later this season, but the specific odd weekend set of fixtures arrived nonetheless. This week constituted that weird week in which trainers must balance the need of their jet-lagged players returning from their first full round of international duty while at the same time rotating ahead of the debut midweek UCL and UEL fixtures.
This writer lovingly labels the quirky turnaround the "Bizarro Bundesliga". Every year at least one trainer takes it way too far. It's usually one known for always playing the UCL strategy exceedingly close to the vest. This year's winner of the totally invented prize for strangest weekend tactics happens to be the same as last year's.
Congratulations once again to the Bundesliga's "boy wonder" Julian Nagelsmann.
Lineup—RB Leipzig—Match Four (3-6-1)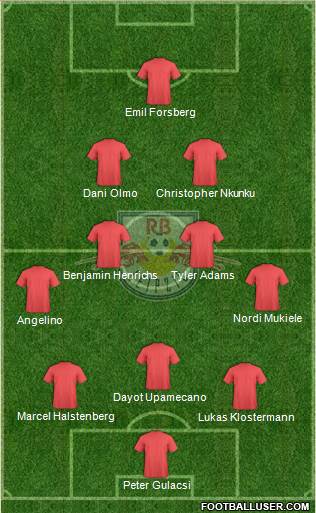 What? Constellations like these send one tumbling off the treadmill in disbelief. Really? Emil Forsberg alone up front in a pillowed 3-6-1? Benjamin Henrichs in attacking midfield role? Dani Olmo and Christopher Nkunku paired on a static axis? Matters got a little more sensible when Willi Orban came on for Lukas Klostermann after the restart and Henrichs dropped back, but it still took Nagelsmann 66 minutes to introduce a true striker.
In any event, this year's hectically re-organized schedule means that there shall be an unprecedented nine consecutive "English Weeks" (three matches in seven days) for the six Bundesliga teams between now and the abridged Winter Break. Customarily there is but one "Bizarro Bundesliga" prize awarded each season.
There may be several more to dole out this year.