Hmmm…what to make out Bayern Müchen's matchday four 1-1 draw with Borussia Mönchengladbach?
As you're free to read below, this chronicler saw no need to push the FCB panic button just yet, even if Julian Nagelsmann seemed prepared to prematurely do so. It seemed like a simple fluky blip. Excuses could all too easily be made. Yann Sommer could all too easily be praised.
It truly was a special evening for the BMG keeper. If one looks at the analysis closely, however, plenty of shortcomings in Bayern's game were apparent; more than enough to presage the four-match-winless streak that this result would kick off. Yikes. How quickly a team's fortunes can shift when attacks are reduced to "nibble-around-the-edge", "paint-the-corner" scraps and chips.
---
Bundesliga Tactical Banter: Round Four
---
The Freiburg "Slip-and-Slide"
There may not have been many takers for the Friday night Freiburg-Bochum fixture. The column is quite happy to get everyone up to speed. Those who skipped it missed out on a great match! In a comical, monsoon-like downpour at the Europa Park Stadion, the two sides traded four strikes off the post in the narrow 1-0 victory. Freiburg were once again a joy to watch, even when the pitch became so soaked as to render it almost unplayable. SCF talents like Ritsu Doan, Kiliann Sildillia, and the newly introduced Yannick Keitel shined anyway.
Freiburg couldn't grab the lead despite a brilliant fist-half. The 1-0 came in a totally ridiculous fashion. VfL keeper Manuel Riemann got caught trying to "de-pants" Roland Sallai. Vicenzo Grifo strode forward to take the spot-kick just after the restart. Riemann saved Grifo's initial shot and then saved the German-Italian's attempt to head home the rebound. Grifo bungled it home on the third effort. Sallai and Grifo somehow failed to extend the lead even as they racked up 11 shots between them.
Bochum's Philipp Hofmann and Gerit Holtmann both hit the post before we were through, as did Freiburg's Michael Gregoritsch and Nils Petersen. Craziness. At least Freiburg hung on in the deluge for the deserved 1-0 win. All was all. At least it was until Riemann decided to whine on his instagram page afterward that his penalty "sends the wrong message about our great sport". Er. What? A man tries to pull another man's shorts down and he's the victim? Whatever. Let's move on.
Goals rain down in Bremen
Oh what a match we had in the Hanseatic city state to cap this round off! We began with a "rainy night in Breisgau". We closed with the sky being split by a hail of marvelous tallies in an absolutely wonderful encounter between two of the Bundesliga's most intriguing teams. Frankfurt-Bremen was simply marvelous. We had Eintracht finally waking up. We had Bremen continuing to affirm the notion that they can command some respect. Most importantly, from the perspective German diehards in any event, we had Mario Götze scoring. Yeah. We definitely needed that.
From a tactical perspective, SGE trainer Oliver Glasner may have stumbled upon the solution to his current strategic fine-tuning. A 4-2-3-1 spearheaded by Randal Kolo Muani, backed by Götze at ten, and flanked by Daichi Kamada and Jesper Lindstrøm did just about everything right. Lindstrøm, Götze, and Kolo Muani supplied their moments of breathtaking brilliance. Kamada was so effective as to border on being omnipresent. It's almost as if the Japanese international had a teleporting device handy this afternoon.
The inchoate Eintracht back-four made it's fair share of mistakes, with Tuta and Evan N'dicka both contributing howlers. That shouldn't necessarily diminish from Bremen's performance. Ole Werner's men did surprisingly well even after losing one of their most in-form players as of late, Leonardo Bittencourt, to injury early. Substitutes Lee Buchanan, Niklas Schmidt, and Oliver Burke (who very nearly became the late-match hero for the third consecutive week at 90+6) also looked great.
What else could one possibly want?
It's the Bundesliga, where football exists "as it's meant to be".
"Football as it's not meant to be"
Okay. They can't all be winners, of course. No one really likes discussing a goalless draw. That's nevertheless what we must do with Stuttgart's 0-0 result against Köln over in the cathedral city. To be fair to this match, both sides did produce some quality chances on target during an affair that wasn't truly boring apart from some dead-spots during the first half. Köln keeper Marvin Schwäbe made some excellent saves to preserve the scoreline. His counterpart Florian Müller put some good work in too, though his defender Kostas Mavropanos seemed to be the more active Stuttgart net minder.
Sigh. After VfB striker Luca Pfeiffer got sent off in the 56th, everything descended into chaos. Stuttgart trainer Pellegrino Matarazzo would eventually get sent off on double yellows for arguing. Steffen Baumgart probably should have been sent off too for all his grousing and antics. Just a bunch of lousy sportsmanship amid all the fouls and stoppages on both sidelines. Not something one likes to see. Something one might like to see is Köln actually play better football with the man advantage. Why does this keep happening.
They did so against Schalke in round one, but actually seemed to look like the worse team when playing against a reduced side in Leipzig in round two and left much to be desired here. Instead of making himself the center-of-attention in the final 18 minutes with non-stop complaining, Baumgart might have directed his team to press more effectively for a lead within their grasp. The Köln gaffer can really grate at times. For Germans, he's long ceased to be one of our favorite "cult trainers". Freiburg's Streich is a gentleman. Baumgart is more of an oaf.
---
The "Burning Questions": Round Four
---
Can Modeste thrive in Dortmund?
A question on the minds of many, even if all the talk of the Frenchman not scoring in his first two games remained frustratingly hyperbolic. One already assumed that it would take a few fixtures until Dortmund's new acquisition finally opened his account. The primary reason why time was needed related to the fact that Terzic needed to get a new shape ironed out to accommodate the new arrival.
The more centralized 4-2-4 Terzic debuted the season with obviously wouldn't be conducive to player such as Modeste, who must be continually fed with crosses. A constellation without prominent wingers – such as that which we observed in round one – won't work. Getting the big BVB tanker pointed in a different direction naturally necessitated some time.
Lineup—Borussia Dortmund—Match Four (4-2-3-1)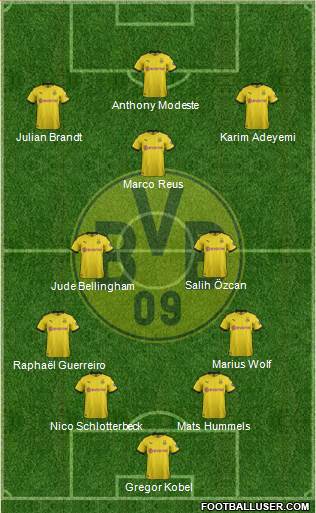 This definitely had a schizo-hyrbid look about it in the first half. Jude Bellingham and debutant Salih Özcan did an excellent job in midfield. Furthermore, the Westphalians were able to generate their fair share of chances. A deflected Marco Reus shot hit the crossbar in the 15th and Özcan also struck aluminum some five minutes later. Modeste got directed two shots toward goal before eventually breaking his duck.
One nevertheless can't rightly say that these chances truly reflected a functional and dangerous system. Dortmund racked up a paltry xG of just 0.9 during the opening 45. Modeste, in the process of applying an admirable press, sometimes perambulated about slightly lost off the ball. BVB approach play frequently had that cagey, unsure, and unsteady look about it too.
The right in-game adjustments
With a 1-0 lead at his back, Terzic at least felt comfortable separating Bellingham and Özcan after the restart. This allowed for more open, creative, and free-flowing offensive football on the part of the NRW guests at the Olympiastadion. Marco Reus could have easily doubled the advantage a couple of times shortly after the restart. Bellingham himself missed three chances between the 72nd and 76th.
One had to admire the manner in which Terzic managed his personnel down the stretch. With Jamie Bynoe-Gittens, Thomas Meunier, and Thorgan Hazard, the BVB trainer freshen up three of his four wide positions. He kept his commitment to the system and threw in extra actors to log some minutes in it. Coherence was thus maintained down the stretch whilst the team continued to play with confidence.
The future of the system
Of course, upcoming BVB opponents have something accessible and traditional to prepare for now. A set-up like this remains easy enough to mount a strategy against. One can double up the marking on Modeste, clog the middle with a diamond box, or simply keep faith that the likes of Raphaël Guerreiro and Marius Wolf will have difficulty advancing regularly and taking down switches.
The predictable Bellingham split means that more space will open up later in the match. A team with better finishing quality than Hertha can punish this. The next on-the-trot challengers – Hoffenheim, Copenhagen, Leipzig, and Man City – have answers to this. It might very well be the case that we'll witness die Schwarzgelben stumble into a four-match-winless run in the coming weeks.
Terzic needs to deepen the set-piece-playbook as much as possible in the next few training sessions. Modeste's goal actually came off a throw-in that featured a nifty give-and-go design between Özcan and Wolf. One has the sense that the 4-2-3-1 won't produce nearly enough goals from open play as will be required through the deeply challenging docket that awaits. That needs to be said.
A few words on Hertha
One doesn't wish to neglect Dortmund's opponents on this day. Last week, in all seriousness, we posed the question as to whether Hertha are actually gelling in their new system. Several specific points were raised. Believe it or not, returning to those points leads one to the answer that Sandro Schwarz's charges are, in fact, continuing along their upward trajectory. They demonstrated plenty of signs of improvement here.
Jonjoe Kenny turned in another stellar performance and even got an early chance on target. Dodi Lukebakio, decidedly shy on the trigger finger after last week, completed some nice rotations and runs. Chidera Ejuke showed more flashes of brilliance on solo dribbles, though the Nigerian did mess up Hertha's best chance of the first-half by totally screwing up a 3-vs.-1 breakaway in the 21st.
Overall, the front-three put in some impressive work. Stevan Jovetic and the eagerly anticipated returnee Marco Richter came off the bench to get their own looks in as well. Richter came agonizingly close to an equalizer 15 minutes from time. Berlin's "alte Dame" still have an unpolished feel about them, but the first three points of the campaign don't feel far away either.
We'll now check in on Schwarz's tactics. As predicted last week, the Hertha trainer dropped Ivan Sunjic and brought on Jean-Paul Boëtius. The shape remained a 4-1-4-1. The actual positioning of the players didn't materialize as expected, however. Lucas Tousart moved back to work as the midfield flight director behind Boëtius and Suat Serdar.
Lineup—Hertha BSC—Match Four (4-1-4-1)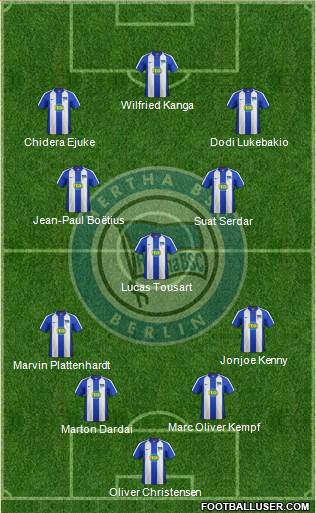 Not too terribly much negative to say here apart from the fact that Serdar, who just can't seem to get into gear, played a very poor match. The one-time German international turned the ball over way too many times whilst sending at least ten passes stray by the writer's count. There were also plenty of instances in which Lukebakio and Chidera either took too many touches or tried something too intricate in the box.
No matter, really. The capital city side could easily take six to nine points off their next four fixtures against Augsburg, Leverkusen, Mainz, and Hoffenheim. We'll tentatively (very tentatively) argue that the turnaround is on pace. Points-wise, it hasn't been a successful start. Optically, they seem to be on the right track.
On the topic of teams getting on track.
How did Leverkusen get on track?
Simply stated, by making a mockery out of last week's prediction that a back-three constituted a ludicrous idea that would never work. Werkself trainer Gerardo Seoane opted to mirror Mainz head-coach's Bo Svensson's perfectly predictable standard formation. Seoane did so by introducing Exequiel Palacios and Kerem Demirbay into the XI and giving them, what was for the two players, somewhat awkward positions.
Lineup—Bayer Leverkusen—Match Four (3-5-2)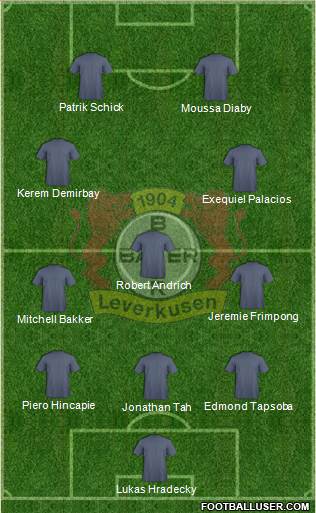 Incidentally, "awkward" may be the best way of describing how this worked. It proved neither a pretty sight nor a pretty win. One must emphasize that Leverkusen's three goals in the 3-0 victory all came during a brief spurt between the 30th and 41st. FSV forward Jonathan Burkardt initiated the scoring spree by turning the ball into his own net around the half-hour-mark. Palacios' ranged effort on the play was merely a random toss at goal.
Makeshift winger Jeremie Frimpong then got his first goal in the 39th when Moussa Diaby toasted Maxim Leitsch and Alexander Leitsch. Less than two minutes later, the rattled Leitsch made another mistake that enabled Frimpong to complete a scorer's brace. Bayer were extremely lucky that Mainz weren't awarded a penalty in the second half. Additionally, Aaron Martin and Karim Onisiwo spurned gilt-edged opportunities. Lady luck stood by their side.
What still isn't working
Quite a bit. Patrik Schick still hasn't scored a goal in the current league campaign. Seoane remains a long way off from devising the type of standard role that can bring the best out of his top target forward. The flat back-three committed far too many errors and the amount of downright dirty tactical fouls left one with the genuine sense that this squad didn't earn this victory in a wholly fair fashion.
Piero Hincapie and Mitchell Bakker were both sent off the pitch on double yellows. Frimpong rightly got booked for a very cheap dive in the box at the hour-mark. It turned out to be a rather dirty and desperate fight to the finish. Keeper Lukas Hradecky had to work hard to preserve the shutout after the defenders ahead of him let him down time and again.
What could work
Robert Andrich operating in a solo-six midfield slot akin to Dominik Kohr's role at Mainz (or Rani Khedira's assignment at 1. FC Union Berlin for that matter) shows some promise. The 5-4-1 that Seoane ultimately reverted to – when players weren't fouling, of course – did demonstrate a knack for closing down spaces on a few Mainz rushes. Something like that from the start could give Schick more chances.
All told, however, this writer doesn't care to take too many positives from this win. If anything, Germany's red company team seems mired in a deeper identity crisis than he cared to admit last week. Freiburg, Brugges, Hertha, Athletico, and Bremen await in December. Uh-oh. There could be several more potholes ahead. The wheels can still come off.
Were Union Berlin lucky in their rout?
Odd to hear virtually everyone involved with die Eisernen keep it modest following the 6-1 demolition of FC Schalke 04. Giving the match a watch nevertheless readily confirmed the words of manager Oliver Runhert, goal-scorer Janik Haberer, and head-coach Urs Fischer. The capital city guests were lucky in many respects during their trip to Gelsenkirchen. After FCU starting XI debutants Danilho Doekhi and Morten Thorsby polished off a corner in the 6th, Schalke were by far the better team in all respects for the duration of the opening 45.
Schalke would net a deserved equalizer via a Robin Knoche handball penalty in the 31st. Union then quickly restored the lead with a Sheraldo Becker deflected past Alexander Schwolow in the 36th. Janik Haberer smashed home the 3-1 with a distance effort he himself admitted had a very small chance of working at 45+3. S04 defender Maya Yoshida – who continues to look like a very cheap Ko Itakura knock-off – then deflected a ball directly into Becker's path for the 4-1 20 seconds after the restart. It was game-over from that point out.
Deriving lessons from this result isn't easy. As Union trainer Fischer himself put it, the score-line was far too high and the rout must be taken in context. The columnist would absolutely love to once again point out that the nature of Fischer's 3-5-2 "double stack" allows for plug-ins like Sven Michel and Kevin Behrens to shine, but the fact is that Schalke had long given up by the time Michel bagged his late brace. One could naturally chastise Schalke for giving up. That seems a mite harsh given the circumstances.
Perhaps we can return to a thread started back at the beginning of the season and revisited during the round two installment. Namely, how do the totally divergent approaches to building a team for the top flight by newly promoted teams Schalke and Bremen fare? Duh. Advantage Bremen. While bright during some stretches, Frank Kramer's Königsblauen remain a disjointed team with far too many new faces in play. Take the keeper situation as a parable. The decision to drop Martin Fraisl and bring in Schwolow yields another "Duh".
Huge bust there.
Schwolow was terrible once again.
Is it time to start discussing Hoffenheim yet?
Thankfully, not just yet. We'll be unable to avoid this over the course of the season. The third consecutive win for André Breitenreiter's Kraichgauer would seem an apt enough point to give this team their first draw up, but the fact is that the TSG's 1-0 over Augsburg qualified as one of the worst Bundesliga fixtures this author has had to watch in at least half a year. Breitenreiter does have a decent 3-5-2 heavy speed in place. Unlike in last week's 3-0 win over Leverkusen, however, there were no magnificent goals to behold.
The Sinsheimer attack remained woefully uncreative throughout, mostly just trying to reach Georginio Rutter and Andrej Kramaric with long over-the-top upfield balls. Rutter and Robert Skov put together some nice work on the quick counter leading up to Dennis Geiger's lone goal of the match in the 39th. Unfortunately, that was just about it until substitute Munus Dabbur began sending some shots Rafa Gikiewicz's way in second half injury time.
Hoffenheim have some solid defensive actors worth mentioning. For the second consecutive week, former Schalke man Ozan Kabak put in a very inspiring shift. Kabak is really off to ask incredible star this year. Kevin Akpoguma begins to take off as well. As pertains to the big "Cadillac Acquisition" Angelino…well…none of us Bundesliga watchers are entirely sure what's wrong with the Spaniard thus far. The former Leipzig man has been pretty bad on both sides of the ball for some reason.
Merely a few notes to hit on insofar as Hoffenheim are concerned then. That's certainly more to report on than Augsburg. Ugh. They were beneath awful this time. FCA trainer Enrico Maaßen had some novel personnel shifts to make. None of them worked. A 3-3-2-2 with Ricardo Pepi and Ermedin Demirovic tightly buttressed by Arne Maier and Fredrik Jensen proved a total bust. The ad-hoc back-three of Iago, Jefferey Gouweleeuw, and Maximilian Bauer was barely tested by the TSG attack. Hence, there's nothing more to discuss here.
What's the latest on Wolfsburg?
Oh, the columnist can barely bring himself to talk about it. Atrocious. Right from the start this season, the column declared that watching Niko Kovac's haphazard attempts to sort his tactics out counts as a horrendously joyless slog. This weekend's 0-2 loss to Leipzig proved no exception. Kovac began in a 4-2-3-1 with Max Kruse as the ten and Joshua Guilavogui as the sixes. Maximilian Philipp also started, counting as Kovac's sixth attempt to find a regular left-flanker.
That produced nothing. The two halftime changes (Omar Marmoush and Felix Nmecha for Guilavogui and Jukub Kaminski) brought some precious few bursts of interesting football. Honestly, on balance, the 4-4-2 re-format looked worse then the original incarnation. Kruse at ten didn't work. Philipp at ten didn't work. Brekalo at ten (again) didn't work. Marmoush on the right didn't work. Luca Waldschmidt on the left didn't work. Sigh. In summation, absolutely nothing works. 
It really is the same old story every week with this side. Kovac tries three to four novel realignments per game to no avail. Bundesliga watchers find themselves almost missing Florian Kohfeldt whenever scribbling down Kovac's latest failure. Let's go ahead and supply some xG stats from the latest affair to underscore the point. They'll have the simple effect of conveying the manner in which only one team came to play.
xG Leipzig–3.9, xG Wolfsburg–0.7
To this sad statement we'll add the fact that Paulo Otavio – as he's known to do – rekindled his love of filthy dirty tackling once again. There's something else that doesn't work. Time for Kovac to figure out a new left-back. More poor performances from Ridle Baku and Lukas Nmecha mean he needs a new right back and lead striker too. Can he just replace the entire XI at this point?
---
Weekly Tactical Focus: "Painting the corner"
---
An absolute thrill fest over at the Allianz on Saturday night! Despite the fact that some of the other offerings this weekend proved more tactically interesting, there wasn't much of a choice but to reserve the "tactical focus" section for Gladbach-Bayern. Note that the writer did have a couple of other matches in reserve if this one ended up being a blow-out. It very well could have been one.
This columnist doesn't do the whole "bogey team" concept. He essentially expected the thus far dominant FCB to continue their rollicking roll through the mostly inferior Bundesliga field of opposition. In one important respect, they did. We might as well get the full-time xG stats out up front here. In this case, they tell the true tale.
xG Bayern–3.2, xG Gladbach–0.8
Several talking points emerged from this one. BMG keeper Yann Sommer's historic 19-save-performance did feature a few easy grabs, but all the praise heaped on the Fohlenelf net-minder for all the tough stops he made remains fully deserved. He was incredible. Another topic for discussion concerns Julian Nagelsmann's grievances with match official Daniel Schlager. The coverage will confirm that he had some legitimate points.
Naturally, the big discussion in all the footballing circles across the Bundesrepublik will revolve around whether this draw renders Bayern mortal. More precisely, the question will center around around the supposed failure of the defending champions' new "attack by committee". It's only natural to ask whether the loss of a reliable target forward such as Robert Lewandowski will lead to more results like this. A fair enough question.
First and foremost, we've a great football match to cover. The storyline still centers around Sommer. Where we do actually see some cause for worry around Bayern relates to the number of ranged efforts the German giants sent Sommer's way late on. This is important. After all, there are several Bundesliga keepers who can get hot when a preponderance of distance shots start coming their way. Any keeper will tell you that it's easy to get into the groove when the sigh-lines fall into a set pattern.
Opening tactics first.
Lineup—Gladbach—Match Four (5-4-1)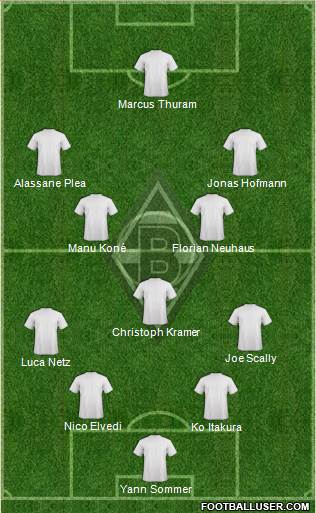 BMG trainer Daniel Farke employed his first major tactical shift of the young season. Up until this point, he had still been using the same 4-2-3-1 as in the first round. This new shape emerged without any major personnel changes. It's safe to assume that this was Farke's game-plan irrespective of Ramy Bensebaini's late scratch. Here we have the premeditated idea; a very sharp one as it turns out.
Dropping Christoph Kramer back to the role of gatekeeper constituted an intelligent plan to deal with the murderous Bayern charge. The columnist confesses he isn't entirely sure whether the 2014 World Cup winner was meant to function as a solo six or a sweeper. In any event, Manu Kouadio Koné and Florian Neuhaus performed very well ahead of Kramer as twin eights.
Farke put some nice original thought into this. The squad was well set up to absorb pressure and perhaps unleash some devastating counters. Nagelsmann didn't necessarily need to put too much thought into his selection. After switching from a 4-2-2-2 to a 4-2-2 last week against Bochum, the FCB trainer simply went with what he had.
Lineup—Bayern München—Match Four (4-4-2)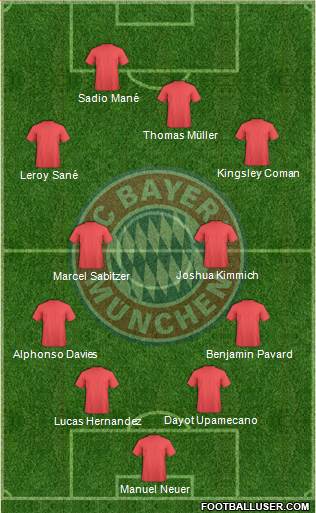 The record champions stand head-and-shoulders above the rest of the Bundesliga in almost any constellation if one wishes to be frank about it. Thomas Müller – the quintessential "Raum-deuter" ("space-interpreter") – as a short-feed service striker is positively devastating. Anyone and everyone knows that. Period. Full stop.
We might as well raise the point that the team currently has at least four other "space-interpreters" in this lineup alone. Leroy Sané, Alphonso Davies and both sixes Joshua Kimmich and Marcel Sabitzer effectively rove about wherever the hell they want to and few can hope to catch them. Off the bench, Jamal Musiala, Josip Stanisic, Serge Gnabry, and Ryan Gravenberch can basically do the same thing.
Yeah, this team had an embarrassment of riches when it comes to flexible players capable of throwing wrenches into the gears of even the best conceived defensive layouts. Where Gladbach succeeded in taming them to some extent here has a lot to do with forcing "paint the corner" possession outside the box.
Match Flow: 1st to 18th minute
Twenty seconds in and it already looked like a FCB blowout. Sadio Mané held a ball up with sublime skill, then proceeded to break through the Gladbach ranks and make an immediate nuisance out of himself. Itakura had to clear away for a corner. Dayot Upamecano latched onto Kimmich's service and forced Sommer into his first mega-save of the match before the 1st minute was out. That's how one sets the tone!
After the subsequent 2nd minute corner came to nothing, Gladbach tried to counter via Marcus Thuram and Neuhaus on the left. Davies quickly shut it down with blistering pace. Another counter involving Neuhaus in the 3rd went nowhere. FCB attacking waves in the 3rd and 4th were pretty damn quick, but the Gladbach players remained compact in the box to meet them.
Upamecano put the brakes on another counter involving Neuhaus in the 4th. Itakura tried to run a slower bow-arc on the next BMG charge; no easy task considering that Mané and Sané were lurking dangerously on a high press. The Gladbach defensive ranks managed to catch Mané offside when Sabitzer stripped a ball and tried to slip the Senegalese attacker through in the 6th.
Impressively enough, Gladbach were able to kept hold of the ball for a bit. Some of it nevertheless came on full retreats, as when Davies chased Joe Scally nearly all the way back to his own goal in the 7th. Bayern started working long switches. Davies couldn't control a switch from Upamecano at the end of the 7th. Mané again got caught offside in the 8th.
With ruthless efficiency, the Bavarian hosts kept winning all the midfield duels. Elvedi got his pocket picked in the 9th and the ball quickly cycles through five Bayern players before Müller's cross was blocked out for a corner. Kimmich just missed Upamecano on the 10th minute service. Scally lost the ball to Davies in the 11th, with Itakura having to bail the team out when the Canadian rushed toward goal.
Upamecano quashed another Gladbach counter in the 12th. Coman then quickly sent Kimmich back the other way, but the finish from the midfielder was too tame to trouble Sommer. Davies dispossessed Scally again in the 13th. This particular sequence ended in a tame effort from Müller. Sabitzer, Pavard, Coman, and Kimmich regrettably couldn't make much out of another Scally turnover one minute later.
As the quarter-of-an-hour mark approached, one had almost forgot the last time that Gladbach had a player move past the halfway line. Even Thuram hid back in the box. Koné and Luca Netz did well to cycle out left in the 15th, but a long link-up ball for Neuhaus proved pretty pathetic. Scally led the next cycle out right in the 16th. Koné regrettably came nowhere near to reaching Thuram upfield.
Coman, Kimmich, Davies, and Sabitzer combined with dizzying pace in the same minute. Netz initially got toasted, then failed to clear. Pavard picked up and crossed for Davies. Scally came to his team's rescue by rising high to head away from the Canadian and out for a corner. We had to wait until the 18th for Kimmich to take the set-piece after some activists attempted to chain themselves to the goal-posts.
Match Flow: 18th to 34th minute
As one watched the (presumably) environmental protesters try to work the zip lines around their necks, everyone following this one surely wondered where the last 18 minutes had gone. There literally hadn't been a chance to take a breath during this intense encounter. Everything proceeded at breakneck pace. This applied to the security staff dealing with the interrupters too. They were gone after 70 seconds or so.
The 18th minute corner was well taken. Scally kept up his fine work for his side by clearing away from Upamecano. The hosts earned another promising dead ball situation in the 19th. Kimmich bent in a beautiful service that just missed two targets in Müller and Sané. Scally again had to deal with Davies in the 20th. The American could only clear as far as Upamecano. A diagonal in for Mané only failed because Itakura had cleverly kept the FCB attacker offside.
Gladbach got caught by the high press when they couldn't cycle out deep right in the 21st. In something of a bizarre scene, Kramer actually tried to impede Müller with a clothesline arm to the next. The BMG midfielder got a booking for his action and Bayern got another free-kick. Elvedi was crucially able to meet another fine service from Kimmich and head away for another corner. Some fancy footwork from both Coman and Mané after the 22nd minute short take still came to nothing as Gladbach had eight actors to block in the box.
Sculpt, Italkura and, Koné were able to maintain possession for much of the 23rd through 25th, though Bayern generated a few more turnovers. Scally  precluded Mané from latching onto a great ball in the 23rd by deftly heading back to his keeper. After Müller picked up a ball in the 25th, Sabitzer fired in from the second row. A deflection slowed the shot down so that Sommer could collect easily. The foals actually arguably should have broken through on a quick free-kick in the same minute. Schlager (incorrectly) ruled that the ball was still rolling.
The controversial call necessitated conversations with players from both sides and we didn't get going again until the 27th. Gladbach held the ball for a bit. Bayern had it back by the 28th. At this point we began to see Bayern run out of ideas outside the box and succumb to some "paint the corner" possession. Note that the defending champs can absolutely get their game disrupted by this tactic. Coman, Sabitzer, Sané, Sabitzer, and Davies could find no way through in the 28th. Ditto Coman and Kimmich in the 29th.
Trying to ultimately work the ball into the box via diagonals, Sommer and Scally were able to get the better of services intended for Davies and Sané. Sommer cleared another corner in the 29th. Sané, Coman, and Müller treaded along the edge of the area again in the 30th. Müller ended up firing over. The foals were finally able to rattle off a counter in the 31st via Kramer, Plea, and Neuhaus. Davies rushed back to ensure that Neuer would only have to pick up.
Neuer quickly started his team back the other way. Sané and Mané eventually hit Davies. Thuram, not involved in the previous counter, actually ended up stopping the Canadian. Bayern were back painting corners in the 32nd with Hernandez, Pavard, Sabitzer, Sané, Davies, and Müller. Nearly everyone was getting touches on balls outside the box without anyone finding a way through. Itakura managed to spin around to block Davies when Bayern finally went for some penetration.
This led to another corner in the 33rd. Davies only missed Coman by a hair with a switch after the short-take. At long last, it appeared that the Bavarians had their thoroughly over-deserved goal in the 34th. After some excellent work from Coman and Kimmich on the right, the former fired in a cross that Müller fabulously directed towards Mané at the far post. The Senegalese international only had to tap into the empty net. An amazing team goal that felt worthy of the FCB efforts.
Match Flow: 34th minute to 43rd minute
The VAR team nevertheless radioed in some objections. Mané wasn't offside on the play, but Sané absolutely was. Referee Schlager had to decide whether the offside Mané had distracted two BMG markers and screened keeper Sommer. The match official ultimately decided that he had and the goal was scratched off. Bayern continued to try through Coman's side when play finally resumed in the 37th. Netz initially wrestled the ball away from the Frenchman, but Coman got it back.
Alassane Plea had to employ a tactical foul and was rightly booked. Sané went straight for goal on the ensuing 38th minute set-piece. Sommer fisted away strongly. One minute later, Müller played Mané through again and the Senegalese striker put the ball in the back of the net again. This time, Mané was clearly offside and there could be no question that the goal couldn't count. Müller came close to linking up with Sané in the 40th. Gladbach did manage another counter off this play. Upamecano had to stop Thuram with a foul.
Hofmann's 41st minute dead-ball service being about as bad as it gets meant that Bayern were immediately back on the charge again. Sommer very nearly gave the ball away to an onrushing Müller in the 42nd. The Gladbach keeper had to scamper the ball out in to touch. Müller won a very important aerial duel off the subsequent quick throw and Davies was able to get a vicious effort in on target off the half volley. After the ball went out into touch again, the sequence that turned the game on its head occurred.
A quick 43rd minute throw-in by Scally and a simple clearance by Kramer ended up being totally mishandled by Upamecano. Thuram happily accepted the gift and went straight towards Neuer unchallenged. With some remarkable verve and nerve, the Frenchman kept his cool as Upamecano, Pavard, and Hernandez closed in and nearly caught up with him. Thuram cooly slotted home. All players and observers sat shellshocked that Gladbach had grabbed the 1-0 lead.
Match Flow: 43rd minute to half-time
Courtesy of the VAR review, we did get a full three minutes of first-half injury time. Some more was tacked on after Kimmich inadvertently cleated Plea in the face in the box in the 44th. To their credit, the hosts were calm and collected on their next build up. Had the German national team midfielder not employed the high boot, they could have still snatched a late equalizer. Plea needed some brief treatment. He was back up running a BMG counter at 45+1. A rattled and beaten Upamecano had to foul him.
Sané found himself stopped by Koné on a rush at 45+2. Sabitzer tried to hit Davies with a switch in the same minute, but the ball was too long. Two more FCB attacks involving Sané at 45+3. There would be no way through or even a chance to paint around as Farke literally had all ten outfielders parked in the box. The first half came to a close with Bayern not necessarily having a runaway xG rate of 0.8. It remained above Gladbach's 0.5. The match had certainly defied the flow.
Match Flow: 46th to 60th minute
No personnel changes as we carried on. The Bayern ultras opted to show their support via a pyro display in the Südkurve and we needed to wait a couple minutes for the smoke to clear. Coman and Kimmich combined well in the 48th. Target-man Müller somehow found himself beaten aerially by the brave Sommer. Coman laid in an inch perfect cross for Müller at the far post. Sommer fearlessly dove forward to contest the duel and punched away.
Bayern were back painting around their box in the 49th. Scally had plenty of time to read a final ball for Davies. Similarly, in the 50th, Netz had enough time to stick with Pavard and prevent the Kimmich's ball from reaching the Frenchman. Still more painting around for Bayern in the 51st. Scally put the brakes on Davies again before Plea sat down on the turf. One of Farke's French attackers couldn't continue. To the consternation of many, it was actually Hannes Wolf who relieved Plea in the 52nd.
Wolf came in on a straight swap, winning his first challenge against Coman in the 53rd and then pressuring the active FCB winger back. The hosts were not especially threatening during this phase. Mané tried a run to the baseline late in the 53rd. Elvedi had no problem with the German's cutback. The Bayern attack passed around aimlessly in the 54th. Itakura remained with Sané in the box in the 55th, blocking an attempted finish off the turn. Coman couldn't reach Pavard on the ensuing 56th minute corner, with Itakura again on the coverage.
Sané, Müller, Kimmich, and Pavard couldn't do much with their possession in the 57th. Sommer collected and took his time setting up a kick. Here we encounter some of Nagelsmann's legitimate grievances about the officiating. Sommer clearly was playing for time and milking the clock. Davies and Pavard had no ideas at the end of attacking sequences in the 58th and 59th. Koné provided the stops.
Neuhaus drew an offensive foul at the hour mark and the foals would earn their first corner of the match in the same minute. Itakura rose high to meet Hofmann's service, heading an effort into the arms of Neuer. Difficult as it may be to fathom, this was first save of the match and Gladbach's first effort on target apart from the goal.
Match Flow: 60th to 68th minute
The fact that Gladbach had generated something roused the German giants from their sinking play. The FCB played forward with much more conviction. Mané showcased some nice dribbling back the other way in the 60th. Sommer came charging out to collect after Mané nutmegged Kramer. The first bit of sheer insanity involving Sommer came in the 61st. Müller set up Mané perfectly with a delectable cross. Sommer stopped Mané from point blank range, then got up an saved an equally powerful effort from Mané on the rebound.
Fouls and stoppages broke matters up in the 62nd and 63rd. Kimmich and Sabitzer both entered Schlage's book. Müller, Sané, and Pavard were back putting back quality play in the 64th. In an incredible scene that everyone should definitely check out, Sané really turned on the turbo to outrush Itakura on a Pavard through-ball at the end of the rush. Sommer ran out to close Sané down. In another one of Nagelsmann's perhaps legitimate grievances, it could be argued that a beaten Itakura fouled Sané on the play.
A foul obviously wouldn't have altered the sequence as Schlager would have simply played advantage. Nagelsmann's frustration stems from the fact that Itakura could have used a talking to. The Japanese defender received no admonishments and wasn't cautioned throughout the match. There can be no doubt that Itakura put in a monster match. And yet, there were some borderline decisions involving his coverage of Mané that didn't quite add up.
In any event, we move on. The subsequent 65th minute corner came to nothing. Koné and Thuram ran a 66th minute counter, with Neuhaus ultimately finishing over the bar. Coman, Pavard, and Davies ran some nice side-to-side work in the 67th, eventually drawing a foul from Netz. The 68th minute free-kick featured a cheeky design in which Kimmich played short to Sané. After a short dribble, Sané fired. Sommer again stood tall.
Match Flow: 68th to 83rd minute
Nagelsmann got a couple of subs checked in prior to the take of the dead ball. Gnabry and Musiala relieved Mané and Sabitzer. Few tactics-heads will have had much of a doubt that the FCB trainer wanted his 4-2-2-2 back. It didn't take long for the shape to crystalize on the tactical cam.
Lineup—Bayern München—69th minute (4-2-2-2)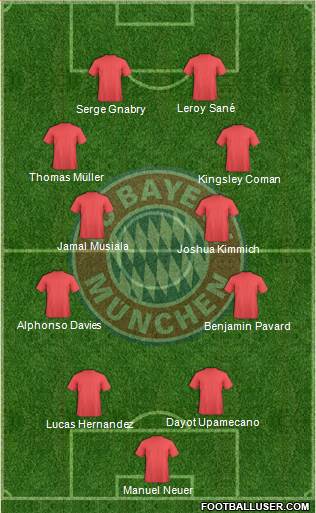 The first Bayern attack in this ran through Davies on the left in the 69th. Scally, having overcome his shaky start to proceedings, furnished the stop. An attempted cross Müller on the second effort then got won by Itakura and cleared away for a corner by Netz. Müller took the 70th minute set-piece short, with Kimmich's cross ultimately cleared away. Pavard and Musiala punched through in the 71st. Sommer took care of the final cutback.
The next bit of magic from the BMG keeper came in the very same minute. Sané quickly stripped Koné of the ball and furthered for Gnabry. Sommer parried a strong effort from the just-subbed-on German national team attacker, then remained cool enough to hold onto Müller's header on the follow up. Kimmich already had Davies slipped through less than a minute later. Sommer strode forward again to interfere with the Canadian's cross.
Sommer didn't have to intervene when Elvedi stopped Sané on a strong dribble in the box a few seconds after that. Wild stuff from both teams in the 73rd and 74th as multiple turnovers in the midfield led enough counters and counter-counters to leave one crosseyed. The next chance came from Pavard, who let fly with an absolute laser destined for the top corner in the 75th. Sommer. Unbelievable. The Gladbach net-minder scraped the ball away from its rightful home in the back of the net.
The Bavarians kept pouring it on. Sommer had to fish out another Kimmich cross in the 76th. Farke attempted to slow things down a bit by subbing on Marvin Friedrich for Neuhaus in the 77th. There would be no slow down. Before Friedrich could even get settled, Coman and Sané were through on the right again. A couple of back-to-back corners. Kimmich ended up striking the post with the second one. Coman then set up Musiala, who headed too central directly into Sommer's gloves.
More rough play between the 78th and 80th. Pavard hauled down Wolf. Sané got tripped up by Koné and proceeded to argue vociferously with Schlager that he deserved a free-kick. Sané was booked for dissent. So too was Naglesmann, who couldn't help harassing the linesman about the no-call. Bayern were losing patience, yet still remained atypically patient on the next three builds. After an 82nd minute charge ended with another tame effort from Musiala, Sané finally grabbed the equalizer.
Davies dribbled his way through on the left, ultimately cutting back for Musiala. The young German phenom showed immense class in one-touching to Sané, who spotting Sommer committing too early and rifled home into the unguarded bottom corner of the net. We at long last had our equalizer and were all set up for a great finish. Both coaches took advantage of the break in play, and some treatment time for Wolf, to get  some subs on.
Match Flow: 84th minute to full-time
Farke ensured that Tony Jantschke and Patrick Herrmann entered for Hofmann and Koné in the 84th. There still didn't appear to be any major change to Gladbach's tactics, apart from the fact that anyone and everyone was encouraged to spend as much time back as possible. Nagelsmann went for Matthijs de Ligt in place of Sané. Most football lovers naturally knew what that meant.
Lineup—Bayern München—86th minute (4-2-2-2)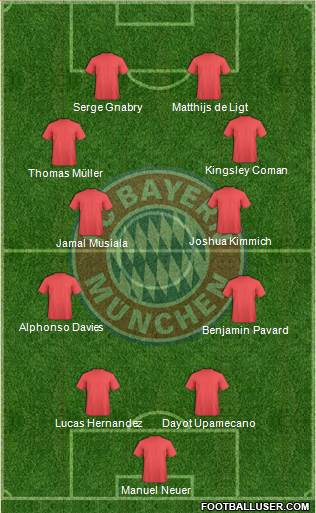 It remains common practice in football to send a strong central defender on to act as a striker late in some matches. Lewandowski's absence means that this point will be debated far more than it should. Center backs routinely work marvels in this whole and one could do a lot worse than the Dutch strongman in this regard. There shouldn't be any flak headed Nagelsmann's (or Hasan Salihamdzic's) way for the option this squad has late in matches. It is a good one.
De Ligt actually supplied the best finish of the rest of the match, testing Sommer with an excellent drive from 16 meters out at 90+1. Prior to that, Coman failed to reach de Ligt in the 86th, Davies stung an effort too low in the 87th, Pavard got caught offside in the 88th, and Gnabry  mishit a ball after a strong build in the 89th. Gladbach were getting some action going in the midst of this. Hermann flashed over following a strong Thuram hold up in the 86th and Wolf ran a great counter in the 90th.
Thuram and Herrmann played a nice one-two on the last Gladbach chance as the match entered injury time. It was a small miracle that Thuram had the energy left to curl in a shot on target at all. It might not have troubled Neuer in the end, but was still something of a feat. It was mostly back to painting around the box for Bayern after de Ligt's chance. Musiala finished well over at 90+4. There were some appeals for a handball on Itakura whilst the Japanese defender was marking de Ligt at 90+6.
Replays confirmed that Itakura did not handle the ball. Schlager blew the whistle at 90+8.
Ahem.
Back to full-time xG:
xG Bayern–3.2, xG Gladbach–0.8
It's a total misallocation that the German giants can easily chalk up to "one of those games". Returning to the central theme raised in the opening paragraphs, it occurs to the writer that some may not fully grasp what he means by "paint the corner" possession. This phrase, strewn about throughout the section, refers to instances during which a team may complete up to 8-10 passes just outside the area without finding a way into the box.
We saw a lot of that from Bayern this weekend, in large part because Farke "parked the bus". Most everyone comprehends that famous footballing phrase. "Painting the corner" is the direct offensive result of this defensive strategy. If one were to liken footballing artistry to those who dab on brush on canvas, picture an artisan illustrator delicately working around the center of a work, seemingly unsure of what he/she wants the final design to look like.
One can stymie Bayern in this way. Furthermore, as also noted in the opening paragraphs, a keeper can suddenly look like a genius when nothing more than ranged efforts are headed his way. This wasn't totally the case with Sommer. The Swiss national team keeper made plenty of stops from close range as well. The vast majority were still collects from range, meaning one can apply a little asterisk to the Bundesliga record he set if one wishes.
Can some other teams hope to frustrate Bayern in this way? Eh. The column will tend toward the negative there. It really takes a top-notch set of disciplined defenders, not to mention plenty of luck and a few officiating breaks to make it happen. Bayern's summit with Union Berlin (with whom they are tied for top spot in the table on points) intrigues slightly without generating too much hope. It doesn't look as if Fischer's back-three can do much against it.
There will be talk this week about whether this team is better or worse without Lewandowski.
Ignore it. They are clearly better.
We should get full confirmation of that soon enough.
Thanks so much for reading! You can occasionally catch Peter goofing off while watching non-Bundesliga football on twitter, @ViceytheSS.
Twitter DMs are open for football conversations, corrections, and (if you truly insist) general abuse. 
All columns debut on Bulinews before appearing on Peter's website later in the week.