The latest edition of the "Tactics Talk" column covers the German Bundesliga's first round back from the international break. The matchday "pocketed" in between the first qualifiers of the Autumn and the start of the European club competitions is often lovingly referred to as the "sweet shoulder" interval by the tactics-obsessed. Tons to talk about. As always, the full repost for those who missed Sunday's hot-sheet on Bulinews is right here.
---
Bundesliga Tactical Banter: Round Four
---
Bock auf die Geißböcke
Another eminently satisfying performance from the league's most pleasant surprise. Virtually everyone fancies Steffen Baumgart's Effzeh after they furnished us with another gem. This Köln team bears no resemblance to Markus Gisdol's bleating mess that went seven straight fixtures without scoring a goal during December and January of last year. Those billy goats baaed and maaed like castrated sheep. Baumgart's revamped version has horns and isn't afraid to stag and stab their opponents. Accordingly, we Germans have "Bock auf die Geißböcke" once again.
The German phrase "Bock auf etwas haben" ("to be interested/excited about something) has loose etymological roots in the act of horned mammals instinctually locking horns. Whilst watching Köln enthrall and entertain this weekend, the writer felt the imagery of the act come alive on the pitch. One can actually see that Baumgart builds his weekly lineup to function as an aerial beast. No Ellyes Skhiri this time. Jonas Hector moved back to the left fullback position. Dejan Ljubicic and Florian Kainz worked the flanks with Hector and Benno Schmitz constantly overlapping.
After some near misses, it worked. Anthony Modeste headed home a Schmitz cross in the 34th to put the Domstädter up 1-0 in Freiburg. Köln have tallied eight times this season. Seven of those goals have come from crosses. Four of those were headed finishes. The team is invariably built to compete in the air. Baumgart quite literally tells his goats to use their horns. Defensively, the squad often remains in matches thanks to solid net-minding by hometown keeper Timo Horn. How nice when everything comes together in a tight metaphor!
The team had every right to take pride in their 1-1 draw. Modeste's striking partner Sebastian Andersson wasn't far off from a headed finish of his own on a couple of occasions. The squad was somewhat unfairly reduced to ten-men when Florian Kainz was sent of on double yellows in the 74th. Freiburg's Kevin Schade initialed the scuffle which saw him earn his second booking. Rafael Czichos' own-goal in the 89th minute equalizer was just random dumb luck. One rather likes Köln's chances against Leipzig next week.
A writer advocates "backing the Geißböcke".
Gießelmann and Gikiewicz
Since we're on "G" words, we'll transition over to the 0-0 draw between Augsburg and Union over Köpenick. Most came to this match expecting big things from Union Berlin's big names Taiwo Awoniyi and Max Kruse. Instead, it ended up being left-wingback Niko Gießelmann who proved the early star of the show. The 29-year-old journeyman nearly scored twice in the opening twenty minutes, denied first by the post in the 11th and then by FCA keeper Rafal Gikiewicz shortly thereafter.
The former Hannover, Fortuna Düsseldorf, and Greuther Fürth fullback narrowly missed a chance to score in three consecutive Bundesliga rounds. Gießelmann has already tallied twice this year, making him Die Eisernen's second-leading goalscorer in the league. One can't help but have a profound appreciation for a team in which veteran castoffs finally find their home. We witnessed plenty more of that from Union in this one. Marvin Friedrich, Genki Haraguchi, and Levin Öztunali had a great game. That trio have played for a combined twelve different clubs, mostly 2. Liga ones.
Andreas Voglsammer–a striker deemed not good enough for Bielefeld–came of the bench and nearly stormed his way winner. Then we have 34-year-old Union goalkeeper Andreas Luthe, allowed to depart Augsburg on a free just prior to the start of last season. The quintessential journeyman made several heroic saves against his former club. He repaid the trust Urs Fischer placed in him big time. Everyone wanted to see Loris Karius between the sticks last season and many would prefer to watch Frederick Rønnow tend goal this year. Luthe proved himself with his paws yet again.
Gikiewicz made his monster saves too (with the help of the posts and the crossbar) in this consistently fun fixture that absolutely shouldn't have ended 0-0. On balance, it probably should have still been the Berlin journeyman who carried the day. Augsburg did get their chances in thanks to coach Marcus Weinzierl's crude mimic of Fischer's 3-5-2 double-stack. The Fuggerstädter trainer's midfield nevertheless lost too many direct duels. Another former Augsburg player, veteran Rani Khedira, outperformed Germany U21 prospect Niklas Dorsch.
"3-1 Gemütlich"
Might as well stay with the "G-words". This gives a nice, friendly "5G Concept" sure to please everyone in the Bundesrepublik at a time when families are cutting off internal ties depending on whether they support "3G" or "2G" COVID regulations. Tension-laden stuff in Germany. Forthcoming federal elections never help with the dinner table conversation either. In some good news, every team in the Bundesliga has now earned points. Two "gemütlich" ("comfortable") victories in Sunday's last matches went to two troubled clubs. Isn't that nice?
Pal Dardai's Hertha BSC train-wreck got out of last place with a 3-1 win over Bochum. Adi Hütter's underachieving foals of Gladbach also got their first win of the season by beating Arminia Bielefeld by the same scoreline. Hopefully, many citizens of the Bundesrepublik opted to watch these fixtures instead of arguing politics over the dinner table. Hertha found success in a completely ridiculous 3-6-1 compact that at least kept German international Suat Serdar the chance to blow off some steam with a first-half brace. The first tally came at the end of an excellent solo run.
Whereas Dardai at long last got his team with going with his own absurd constellation, Adi Hütter shocked us all by evidently bluffing us with assurances that he would not use Jonas Hofmann at right-back. Perhaps we should have known this would be the case. The BMG head-coach claimed he had no need at the position, but those of us paying attention know otherwise. As best one could tell, Hofmann Scally and even Lars Stindl shared responsibility for the right-back in a throughly weird looking shape that left one crosseyed. The best guess is a 3-3-2-2.
This enabled Bielefeld to give the foals quite the scare in the first half, generating the better chances in a match that stood level 1-1 after the opening 45. Once Hannes Wolf replaced Hoffmann for the restart, things gradually began to settle into a more comfortable 5-2-3 with defined wingbacks. Still, the NRW hosts couldn't breathe easy until Patrick Hermann checked in for left-wingback Luca Netz in the 58th, and Scally fell back into a traditional back-four. Hermann assisted on the next two Gladbach goals and nearly scored himself.
Whew. Finally the capacity home crowd could get "comfortable".
---
The Burning Questions: Round Four
---
Why did Dortmund concede so many goals?
Time to unpack the lessons from the round's wildest affair. One should perhaps begin by congratulating Julian Brandt on his attempt at the round's "wildest hair". Erling Haaland's two-year quest for the blonde man-bun is truly influencing his teammates. By the end of the season, Brandt's growth should place him in the same category as Haaland and Marius Wolf. Steffen Tigges likely mulls over the look as well by now. We could behold "the four horseman of the Nordic man-bun" attack come spring.
The romping seven-goal thrill-ride remains well worth everyone's time if they can fit a re-watch into the schedule. A second viewing reveals far much more than tactical nuance. For example, reviewing Odilon Kossounou's elbow to Marco Reus' face perfectly exemplifies what an intense affair this was. As the Dortmund captain himself admitted in his post-match interview, it probably wasn't intentional. Damned if it didn't look like a hurtful smack, though. The penalty that decided the match can be debated endlessly.
Apart from the penalty, all of the BVB goals count as must sees. This includes Jude Bellingham's disallowed one. The writer doesn't care to reveal which one features Bellingham catching a beer thrown at him from the stands and nonchalantly throwing a swig toward his mouth like the coolest of all cucumbers. That incident belongs to the realm of "self discovery". Happy hunting.
So now then. What happened to Dortmund's defense?
Lineup—Borussia Dortmund—Match Four (4-4-2)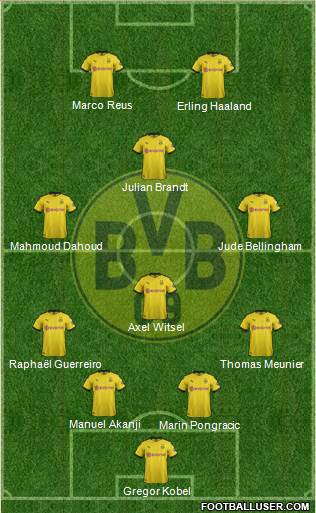 The same basic theme can produce so many different iterations. It not only on the match-specific instructions of the trainer, but also the manner in which actors feel the need to play around certain teammates. Here we have what Rose clearly intended to be a rotating midfield diamond. The personnel issues facing the squad meant that it got stuck.
1st Goal: Witsel crumbles
Axel Witsel may be out of his emergency center-halve deployment, but he still couldn't resist hanging back in support of the "cold start" center-halve pairing. The Belgian international's concern proved justified. Manuel Akanji and the new arrival Marin Pongracic clearly didn't have their spacing right in the opening minutes. Unfortunately, Witsel himself isn't at his best after the quick return from last spring's ACL tear.
A bad ball loss by Witsel in the 9th enabled Paulinho to play forward for Florian Wirtz. Although the young German phenom certainly deserves credit for the well-placed finish, Pongracic and Akanji were acres apart on the play. Leverkusen's 18-year-old trickster charged through a massive gap before taking his chance.
Mats Hummels cannot get back soon enough.
2nd Goal: Too many forward 
Witsel's Belgian teammate Thomas Meunier, also returning for injury, struggled to establish his own game whilst also covering in defense. This changed in the 37th, when the BVB fullback serviced Haaland perfectly with a sumptuous cross. The NRW guests began pouring forward in search of the lead. Arguably, they should have had it one minute later when Bellingham found the back of the net.
Dahoud, however, wasn't able to quite catch of with the play. Also out of his natural central deep position, the German international understandably encountered trouble when attempting to mark his wide flank counterpart Moussa Diaby. Bellingham's go ahead goal was correctly disallowed for a Dahoud foul on Diaby in the lead-up.
Both Dahoud and Meunier were overcommitted on the counterattack that enabled Wirtz to set up Patrik Schick at 45+1. There remains nothing wrong with aggressive play when sensing that a vital sequence could be near, but the positioning of both the players did leave their struggling back four overexposed on the play.
3rd Goal: Set-piece marking
Discipline broke down on the 55th minute corner that Diaby eventually converted. It speaks volumes about the BVB marking that the closest man to Diaby was Leverkusen's own Mitchell Bakker. A member of the Frenchman's own team proved the only real impediment to the third tally. These are, unfortunately, problems that plagued die Schwarzgelben under a previous regime.
General Prognosis: Positives outweigh
Not to cancel out this mini-assessment entirely with a simple shrug of the shoulders, but the score-line doesn't necessarily engender as much concern as one might expect. Meunier continued to strengthen over the course of the second half. The Dortmund right-back actually turned in as strong as a performance as he has in a long time.
Raphaël Guerreiro also got some skin in the game with his lovely free-kick curler. Perhaps more importantly, Brandt surely earned a huge confidence boost with his own long-overdue goal. The former German internationals back-heel first-touch in the 49th was absolutely magnificent. It evoked memories of Karim Benzema's goal for France in this summer's European Championship knockouts.
Amazing stuff from the former Leverkusen prodigy. Brandt supplied the goal of the weekend; possibly even the best overall tally of the young season. Problems in defense don't constitute the true worry for Dortmund fans. That part of the team improves, as does a broader range of offensive actors who can place-hold for the injured Gio Reyna.
A tough, tightly packed schedule means that there are no guarantees. A slide may be right around the corner. That notwithstanding, one could still consider them worthy adversaries for Bayern in this year's Bundesliga. When Hummels returns and Witsel gets a midfield partner, many problems shall solve themselves.
What was Hansi Flick doing in Sinsheim?
Good question. Honestly, what is anyone doing in Sinsheim? There exist 3,623 more attractive destinations within the Rhine-Neckar-Kreis alone. Nothing wrong with driving through Sinsheim on one's way to Heidelberg, but stopping doesn't make a great deal of sense. A football match at the Pre-Zero Arena has the feel of a corporate affair attended by a bunch of overpaid consultants in the stadium on free passes, mainly because that's precisely what it is. Better to go watch the women's team play over at the old Hoffenheim ground.
With that bit of quasi-comical catharsis complete, the columnist will now proceed to answer the question. The German national team coach wanted to have a look at some of his developmental prospect's from Stefan Kuntz's U21 squad. Namely: striker Jonathan Burkardt, midfielder Angelo Stiller, and fullback David Raum. Burkardt–the new team captain–started both U-21 European Championship qualification matches over the break. Stiller–Kuntz's new midfield metronome–did as well. Raum–after a solid Olympic campaign–got called up to the senior side this time and made his debut as a sub in the Armenia match.
Flick will not be pleased with what he saw from his recent debutant. Raum got bossed and beaten by Dominik Kohr and Leandro Barreiro all afternoon long. In a moment of frustration, the 23-year-old appeared to deliberately fire a ball straight into the bench of the visiting Mainzer. It nearly kicked off a melee. Raum did recover to make a few late offensive pushes, but was generally ineffective. By contrast, Burkardt made a very good impression. The scorer of a brace in the U21 6-0 win over San Marino, registered his fourth Bundesliga goal in the 2-0 victory.
Stiller also had a productive international break, scoring a goal and adding an assist in the side's 3-1 win over Latvia. Perhaps this was the reason Hoffenheim trainer Sebastian Hoeneß opted not to start him. Sebastian Rudy began the match alongside Dennis Geiger instead. This proved a fatal error. Without his strongest midfield six-setup in place, the 4-2-3-1 could not function. Andrej Kramaric constantly had to drop deep to collect. Hopeless long balls and broken passes ensured that the Sinsheimer offensive never got out of first gear for the full 90 minutes.
Hoeneß declared himself officially pissed after a languid display that couldn't even produce a shot on target. Well he should be. The attack looked completely amateurish. The family scion must nevertheless acknowledge his role in the in the failure, which also included a misplaced double-substitution at the half that replaced the entire right hand side. Stiller didn't even appear as a sub. FSV trainer Bo Svensson did much better with his adjustments. Another Germany U21 player–who sat out this break after participating in the European Championship and Olympics–supplied the newly-acquired Marcus Ingvartsen with an excellent assist after a beautiful team sequence on the second goal.
Congratulations to Anton Stach. Flick will have been pleased with what he saw there.
Are Fürth still lousy?
You bet. Completely. Infinitely. As anemic as Hoffenheim were this weekend, the Kleeblätter made die Kraichgauer look like world beaters. Head-coach Stefan Leitl test drove three of the new additions that sporting director Rachid Azzouzi procured for him near the transfer deadline. Jetro Willems, Sebastian Griesbeck, and Cedric Itten all started in the exact same tactical system he's been using since round two. Nothing. Nada. Horrible marking. Sloppy passing. A total inability to maintain the 4-3-1-2 shape.
If anyone wishes to get a sense of just how hopeless this team is, feel free to watch five players fail to clear a winnable ball in the sequence just prior to Lukas Nmecha's opening goal. That should suffice. Actually investing time studying an entire match's worth of complete disorganization is far too painful. Take it from someone who did. A VfL Wolfsburg squad with five second-stringers rotated in ahead of the Champions' League easily could have won this one 6-0.
A 1/16th chance from Branimir Hrgota and an ultimately useless attempt at a spectacular bicycle kick from substitute Dickson Abiama were all we got out of the totally overmatched Franconia Crew. Wolfsburg top the Bundesliga table after easily dispatching what still shapes up to be one of the top tier's historically worst sides ever. Manager Azzouzi earned above average marks for his work on the transfer market. His next personnel move should be finding a new coach.
What happened in Frankfurt?
Too much. Two teams in transition played on pins and needles over a nervy 90 minutes and an extended second-half injury time that never seemed to draw to a close. The pressure was on the SGE in front of a sold-out home-town crowd at Deutsche Bank Park. It showed. Having no other real options, Eintracht trainer Oliver Glasner threw new-loan-acquisition Sam Lammers atop his previous 4-2-3-1 and hoped for the best. It was very soon, but perhaps preferable to risking injury to Rafael Santos Borré barely 48 hours after his last match.
Lammers absolutely could not be expected to be in sync with the team he barely had a chance to train with. Link-up play was often broken, the Dutchman's finishing imprecise. Visiting Stuttgart, relying on their own new arrival Omar Marmoush amid their striker injury crisis, encountered similar difficulties. Pellegrino Matarazzo lost the substitution game when he brought on Orel Mangala (returning from injury) to face off against Filip Kostic (liable to do anything after his crazy week). The Serbian showed up the Belgian to score and give Frankfurt the lead with ten minutes remaining.
Then we watched Waldemar Anton get sent of on a straight red for a nasty tactical foul on Borré in the 82nd. Then we watched Kostic miss the awarded free kick in the 84th. After that, we watched shorthanded Stuttgart score an equalizer via Marmoush in the 88th. And then, in all seriousness, we watched Stuttgart keeper Florian Müller defect a Borré effort off the crossbar, then hit him in the small of the back, then come to a rest spinning on the goal line at 90+4
Er….what? An entire game's worth of insanity stuffed into the final quarter of hour. Perhaps Martin Hinteregger deserves to have the last word on the matter. Nuff said. Just take the point and be done with it. They can try for their first win of the season again next time. After this manic week, the team is likely looking forward to that barbecue Kostic is apparently buying for them.
---
Weekly Tactical Focus: Dagger to the Heart
---
Bundesliga lovers find themselves torn when it comes to Saturday night's decisive result. For the second consecutive week, the mighty Bavarian giants of FC Bayern München delivered a critical knock-out blow to their opponents well before the match was scheduled to conclude. This time they demolished what many considered to be their only legitimate challengers with a decisive strike in the 49th minute. We reached the "game-set-match" point astonishingly early in what was billed as the weekend's top match.
There would actually be three more goals after Jamal Musiala put the visiting Bavarians up 2-0 two minutes after the restart. Musiala's moment of magic nevertheless served as the death knell for Leipzig's hope of a comeback. No one anticipated that Jesse Marsch's men could overcome the creativity deficit in a riskier and more spacious gambit against Bayern's highly creative actors. Despite Konrad Laimer's own moment of magic, they indeed came nowhere close.
Is this good or bad news for the 2021/22 German Bundesliga? We German football lovers really can't decide. Julian Nagelsmann waltzed back into Leipzig and led his team, after an initial (yet tried) tense tactical struggle, efficiently slit the throat of the league's deepest team. It rapidly begins to look like a 10th, 11th, and 12th consecutive title for the FCB.
On the other hand, there can be no tears for the Red Bull GmbH. No one really wants a corporate, non-50+1 entity to break the streak. The fact that Bayern plucked Leipzig's coach, best defender, and team captain from them in the most recent transfer window at exorbitant rates elicited zero outrage. If Bayern remains intent on buying out the competition, the so-called "MarketingKlub" makes for an appropriate retail outlet.
Just like last week, we've something of a massacre to dissect here. The German Red Bulls honestly didn't hang tough for very long. Perhaps the fact that an exciting young German international wielded the dagger on the last stab, combined with the German need to support Bayern in the coming Champions' League, leave most of the football enthusiasts in the Bundesrepublik thinking that the news is largely good.
Lineup—Bayern München—Match Four (4-2-3-1)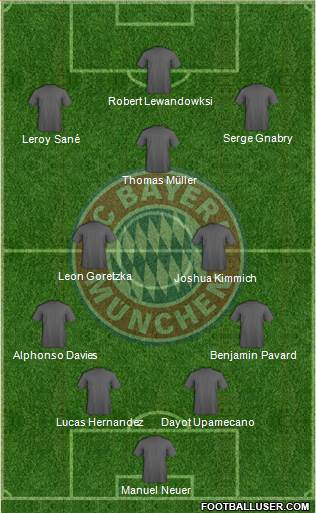 One should credit Nagelsmann with making the proper personnel calls in this case. Admittedly, Leroy Sané's immensely successful international break made the decision easy for the young trainer. The fact that Benjamin Pavard, Alphonso Davies, Lucas Hernandez, and Dayot Upamecano were all deemed fit also ensured that the 33-year-old didn't have to think terribly hard about how to build the back four.
These are the first-choice actors, with Hernandez and Niklas Süle rotating in and out interchangeably.
Is this the Hansi Flick self-coached 4-2-3-1?
Not exactly. When one focuses on the tactical cam, one can still see the coach's fingerprints. Davies and Sané are clearly instructed to work as many simultaneous runs as possible. Pavard then slides in to complete a flat back-three. The wingers rotate slightly less than organic switches might suggest and Thomas Müller lurches right surprisingly often.
It resembled at the very least a loose game-plan aimed at keeping RB pinned back with some prefabricated rushes. The charges took RB's problems with getting stuck in static positioning into account. We'll get to Nagelsmann's later-match tactical adjustments below. They also exhibited signs of sophistication.
The evolving Leipzig 4-2-3-1
One can see that Jesse Marsch's formation carries with it a great deal of potential. This is large part because it finally carries Spanish internationals Dani Olmo and Angelino. The double-set-up of Kevin Kampl and Konrad Laimer–something this author has actually been advocating for a couple of weeks–stands a good chance of proving effective against most any Bundesliga team except this one.
Lineup—RB Leipzig—Match Four (4-2-3-1)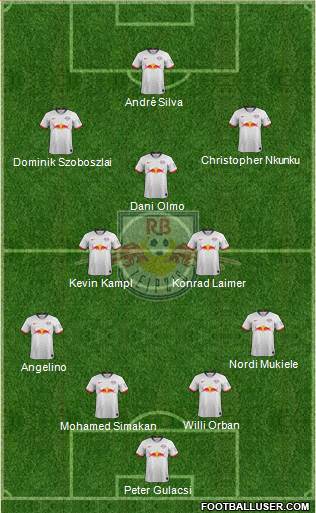 Tons of talent here; another reason one shouldn't be tempted to feel sorry for the depleted ranks of the Saxons. Mohamed Simakan made some errors in this one, but so did the man he replaced: Dayot Upamecano. Marsch may miss Sabitzer's versatility when constructing some lineups, but Dani Olmo can function as an immensely innovative and unpredictable sort of ten once he's back at full strength. In time, Angelino and Dominik Sboszlai can coordinate some deadly dual runs of their own.
The let evolve or not?
Marsch surely hasn't decided yet. If one counts Emil Forsberg as a potential center-forward–which Julian Nagelsmann certainly did–the American trainer has three more quality lead strikers on the bench in Forsberg, Brian Brobbey, and Yussuf Poulsen. André Silva could stand to benefit greatly from a quality partner like he had in Frankfurt. Furthermore, Szoboszlai and Amadou Haidara could potentially do better pushed a little further out wide.
Leipzig's gaffer also made some late-game-adjustments which make for an interesting study. We'll cover them down below as well just as soon as we get through what–from Marsch's perspective–was an evening he'd just as soon forget. He might choose to forget the 4-2-3-1 altogether after this display.
Match Flow: 1st to 9th minute
A little bit of street-fight football in the opening couple of minutes. Some nervy roughhousing eventually culminated in a tangle inside the Bayern box. After Upamecano muscled everyone off the ball, then lost it, a quick-fire cross from Szobszlai ended up hitting Müller directly in his outstretched arm. This would be the first of two controversial possible handball calls in the opening ten minutes that would end up defining the match.
Replays appeared to show Müller trying to pull his arm out of the way. The VAR officials in the Kölner Keller thus opted not to intervene. Müller got the first Bayern attack rolling in the 3rd, but he and Gnabry were unable to pull off the give-and-go. The physical see-saw continued for the next two minutes, with neither an advancing Angelino or Alphonso Davies able to break through on their respective sides.
The Saxon hosts tried a long-ball for Silva in the 5th, followed up by a more team-oriented cycle attack in the 6th. Olmo and Christopher Nkunku were nevertheless able to locate Angelino on the trail. Silva and Olmo then failed to link up properly with Nkunku one minute later. Goretzka orchestrated a quick counter in the 8th. Willi Orban was able to skillfully sweep out for a corner before Leandowski and Sané could catch up to a loose ball.
Lewandowski shot wide on the ensuing corner. Davies, Gnabry, and Sané were able to organize a dangerous press back immediately before the 9th minute struck. Angelino and Kampl appeared to do a decent job cleaning up defensively. Unbeknownst to most of us, however, the VAR officials did buzz match official Deniz Aytekin's watch to alert him of a possible handball involving Kampl.
Match Flow: 9th to 21st minute
Insofar as one should feel some empathy for the German Red Bulls, this was a borderline call at best. The RB man appeared to deliberately throw his shoulder forward in an attempt to control the ball. It hopped up just a tad quicker than the Slovene anticipated and struck his bicep. Aytekin took his time with the tough decision and Lewandowski didn't convert the penalty he finally awarded until the 11th.
The visiting Bavarians then piled on the pressure. Davies and Goretzka worked a ball nicely into the box in the 13th. Gnabry then found himself free for a go. Joshua Kimmich got his own effort off to cap a furious attacking spell that spanned mere seconds. Gnabry struck another one in the 14th after Sané picked off a ball in midfield. Gnabry blew past Szoboszlai for another great chance in the 16th.
Aytekin played advantage on the next FCB attack in the 16th. Gnabry and Davies danced past their markers with the greatest of ease before Orban eventually stopped with a fair tackle. All the RB could manage was another long ball for Silva in the 18th. Upamecano had plenty of time to position himself for an easy box-out-body win.
The two over-the-top telegraphs for Silva counted as the only times Leipzig got past the halfway line since the 2nd. It came as no surprise to see a 0.0 xG stat flash up on the screen. The sight of assistant coach Achim Beirlorzer whispering in Marsch's ear on the sideline gave one a bad feeling that things were about to get worse for the hosts.
Match Flow: 21st to 33rd minute
Kampl at least managed to get his team out of their own half and registered RB's first shot on goal in the 22nd. Neuer wasn't really troubled by the effort at the end of the run. Szoboszlai tried to kick start something with an unexpected bend back to Angelino in the 24th, but the Bayern back four saw the slow switch coming all the way. Nkunku had some time to dribble on the opposite flank, but was ultimately bumped off the ball by Hernandez and Pavard closing ranks.
Angelino and Nordi Mukiele tried to whip in diagonals on subsequent forward sequences. It actually proved embarrassing to see how easily Upamecano could defeat Olmo and Silva in the air. Olmo fired a frustration effort well wide in the 25th. Simakan fouled Lewandowski shortly thereafter, though it was something of a harsh decision. Kimmich's service on the subsequent 26th-minute free kick (like many of his corners on this eve) wasn't great. Sané still made the most of a collect and didn't miss by much.
Leipzig's play began to get noticeably more wild and desperate as they couldn't figure out ways through. Kimmich had no problem stopping Mukiele in the 28th, even after the Saxon fullback beat Davies. A couple of attempts to move Nkunku over to the left flank and release him were easily dealt with by Pavard. The Frenchman even felt comfortable charging up his flank on the counter after the second try.
Szobszlai and Kampl worked a ball in for Silva at the half-hour mark. Again, it was the hulking Upamecano bossing the Portuguese attacker out of a chance. The €42.5 million transfer put together by far his best match in a Bayern tricot against his former club. After some midfield to and fro between the 30th and 32nd, Sané played through Lewandowski for a promising chance.
The play counted as quite the weird one as the Polish super striker pumped the brakes after falsely assuming he had been ruled offside. All the whistles in the stands must have thrown him off. Serge Gnabry, crashing in for a lay-off, seemed to stutter step as well. This ended up being hugely significant as Gnabry ended up injuring himself on the play.
Match Flow: 33rd minute to half-time
More Bayern rushes threatened to slowly break the Saxons down. Davies had the 2-0 on his foot in the 33rd, yet failed when he tried to get too fancy. Angelino demonstrated that he didn't have his touch back quite yet with a shank in the 35th. Simakan somehow got away with a reckless tackle on Goretzka in the 35th that no one saw. After Lewandowski and Laimer traded quality chances in the 37th and 38th, things got even more physical.
One enjoyed observing a bit of fight from the hosts during this phase. Simakan came forward bit more and challenged Upamecano. Kampl and Lainer began standing toe-to-toe with Müller, Kimmich, and Goretzka in the midfield trench fights. The battles got so intense that one could see the actors ripping up large chunks of the pitch with their cleats. One hardly noticed amid all of this that Gnabry had been limping.
It must have been quite serious as Nagelsmann wasn't even prepared to chance allowing the national team winger from remaining on the pitch until the half. Leipzig pushed hard for equalizer during their brief man-advantage. With center back Orban sprinting all the way up front, Orban missed the most legitimate of several smaller chances with an un-pressured flash over in the 45th.
Musiala (a.k.a. the "man of the moment") checked in at 45+1. After a poor RB corner and some meaningless action in midfield, the whistle blew right on time at 45+2. One surely expected a more open game after the tense physical duels that marked the first half-time. What ended up transpiring after the restart proved to be quite extraordinary beyond what anyone could have anticipated.
Match Flow: 46th to 47th minute
No, that's not one of an overly verbose writer's regrettable typos. A one-minute stretch really did completely crack the stubborn skull of this match. We proceeded without personnel changes. Kampl, Laimer, and Simakan made an obvious attempt to regulate a slower tempo flow with a cycle bend pass sequence just after kick-off. Alphonso Davies wasn't terribly interested.
Pavard stepped up to intercept and found the "Bavarian Roadrunner" stepped up to intercept and went on one of his screeching tears down the left flank. Davies himself might have been a little surprised to find Musiala on his side, but didn't hesitate to chip any colleague in black a fine ball. Musiala's first touch was filthy dirty slick. His free-flowing finish was even better. It looked as if the youngster had rehearsed it the night before.
We'll cover one more passage before getting to the final stretch. In truth, this tally really appeared to be the back breaker. All of RB's hard work undone by a fearless 18-year-old with ice flowing through his veins. Many of the leggy and bruised Leipzig veterans looked as if they wanted to give up and stick straws in their hair.
Match Flow: 47th minute to 54th minute
Spurred on by his direct competitor, Sané refused to be shown up. The 25-year-speedster left all white shirts behind en route to a set up of Lewandowski in the 49th, who in turn toasted Angelino. The finish wasn't up to scratch, but the play certainly made the hustle disparity apparent. Goretzka flew past the Saxon ranks in the 51st, coming a little closer with the finish.
Olmo's slit through for André Silva on the counter afterwards wasn't bad, but RB's Portuguese attacker was well offside. There didn't appear to be any doubt that the goal would be disallowed on the negligent run. Davies and Sané were motoring lethally back the other way within a minute. Lewandowski should have finished it right there in the 53rd.
Bayern's superstar would atone for the uncharacteristic pair of missed chances right away. Lewandowski located Musiala just inside the penalty area in the 54th. Sané gets credit for the goal that shut the book at 3-0, even though the phenom set him up perfectly with a marvelous chip. Sané tapped in.
Game over.
Match Flow:  54th minute to full-time
There are most definitely a few more things worth mentioning. Konrad Laimer 58th minute hit that allowed the Saxons to pull one back was, as noted above, something truly special. Nkunku and later Leipzig substitute Youssef Poulsen put in some good work in spite of the fact that some of their teammates had thrown in the towel.
Musiala and Sané loosened up still more and turned plenty of tricks just for fun. Marcel Sabitzer made his Bayern debut and nearly scored on a vicious double chance in the 88th. No one in the Bundesrepublik tires of watching Eric-Maxim Choupo-Moting get a late goal. It seemed fitting that the recent returnee got to close it out 4-1 at 90+2.
For our purposes, it's the main tactical changes made by the two head-coaches that supply the most interesting info heading forward. Both trainers employed double subs in the 59th. Nagelsmann pulled Lewandowski and Goretzka for Choupo Moting and Sabitzer. Marsch yanked Angelino and Olmo for Forsberg and Josko Gvardiol.
How does Sabitzer get integrated into this Bayern team?
Lineup—Bayern München—60th minute (5-4-1)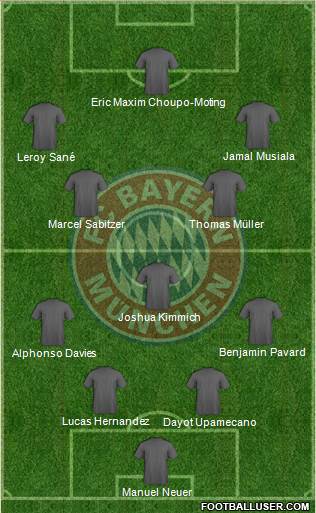 Here's a start. Axially chaining him with Thomas Müller a pair of suppressed tens works well as a defensive reformat. Of course, it's never the best idea to set either one of these players on a partnered axis. In this case, a counterintuitive strategy allows them to pounce on any rebounds spilling out from the area. It also keeps the former Leipzig captain in his comfortable "Howitzer from Sabitzer" range.
The major problem on this eve concerned Kimmich, who had trouble in the solo sweeper spot. To be fair, Kimmich was coming off an exhausting tour of duty with Hansi Flick's Nationalmannschaft. He was off largely because he was completely gassed. This "defensive lockdown" actually maintains a dangerous look.
In terms of what we saw from Marsch, Gvardiol for Angelino was merely a like-for-like. Forsberg's position was a little difficult to pin down. One could still surmise that Marsch wanted him working as a second target. It might have worked better if the American trainer had gotten Poulsen on in place of Silva sooner.
Lineup—RB Leipzig—60th minute (5-3-2)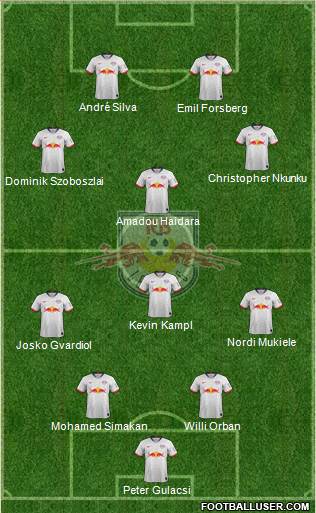 An organized press involving Nkunku, Szoboszlai, and Haidara did cause Bayern some problems. Kampl, who never seemed to run out of reserve fuel, could sneak in behind on occasion and make a few things happen. Gvardiol didn't have his precision game at all, however, and committed a few bad fouls after getting beaten. An organized three-man-press might be something we see in the future from Marsch, perhaps on a tighter axis.
We can debate the two controversial handball calls in the first ten minutes or perhaps even make the case that Silva's disallowed goal would have shifted the entire polemic. The fact remains the would-be challengers never looked as if they could remain competitive for a sustained period in this match. Bayern's deserved victory was perfectly reflected in the xG.
Three points from four fixtures doesn't kill off an RB title challenge and this stage in the season. It does, almost absurdly so, seem as if the team we all thought had the roster with the greatest depth will have trouble making use of it in the challenging UCL weeks ahead. Conversely, the talk of Bayern not having enough depth on the flanks to succeed in both the league and European club competitions seems absurd now.
As recently as a few days ago, German footballing circles bemoaned that there weren't enough wingers to rotate Gnabry and Sané out. Of course, no one forgot about Jamal Musiala. They just didn't expect him to catch fire this soon.
Thanks so much for reading! You can occasionally catch Peter goofing off while watching the lower German football divisions on twitter, @ViceytheSS.
Twitter DMs are open for football conversations, corrections, and (if you truly insist) general abuse. 
All columns debut on Bulinews before appearing on Peter's website later in the week.