Round Five of the current campaign delivered no shortage of pleasing results for the Bundesliga diehards who lend their support to the traditional clubs. Another Bayern draw. Wins for Freiburg and Bremen. And of course….
Eintracht Frankfurt making easy work of "Plastic pitchers" Leipzig with a 4-0 victory over the doomed Domenico Tedesco crew at Deutsche Bank Park.
Even if subsequent results would see Leipzig recover, German football lovers at least had the opportunity to salute their European heroes once again.
Sigh. One sincerely hopes that, in spite of the current goings on in the rumor mills, we'll receive more opportunities to salute Rafael Santos Borré on more future occasions as well.
---
Bundesliga Tactical Banter: Round Five
---
Secretly "not bad" Bochum
Why not get things started with a bold statement? Since declaring himself very impressed with the manner in which Bochum looked in camp, the writer hasn't really had a chance to address the league's current last-placed team. With zero points through five rounds, another early season meltdown against Bayern, and a coaching/managerial rift that Germany's Boulevard press is doing its best to exploit, few are giving the Ruhrpott's 1848ers much of a chance of remaining in the Bundesliga this year.
The thing of it is, they really don't seem as bad as their record might suggest. Offseason acquisitions such as Kevin Stöger, Philipp Förster, and Dominique Heintz don't have glitz and glamour about them, but these are solid Bundesliga-level players. Outside additions such as Saidy Janko and Jordan Osei-Tuta have had their moments. Jannes Horn should be able to contribute when healthy. Some may have given up on Philipp Hofmann already, but this columnist thinks he could still find his feet and work as part of a striker pairing with Simon Zoller.
Takuma Asano and Geritt Holtmann can (and indeed have done) some exciting things on the wings this season. With the exception of the Bayern match (recall that Bayern also demolished them early last season), there hasn't been a fixture thus far in which they've looked totally awful. This week was not exception. After holding their own against Hoffenheim, Mainz, and Freiburg, they nearly took out Bremen this weekend. Asano, Förster, and Stöger all got their looks in. Hofmann had two goals disallowed.
They simply succumbed the league's late-match scoring kings after some concentration lapses at the end. Bremen remain unreal in this respect. Who the hell knows what sort of magic potion Ole Werner has ready on the sidelines. His team seem to have an unwavering confidence that they can always net tallies in the last moment. Bremen's strength, incidentally, may be one reason why Bochum are still destined for relegation this year. The field is too strong. No more Bielefeld and Fürth for them to beat up on.
Openly "quite bad" Schalke
Ahem. Having written that last sentence, one could say that the league's other promoted team treads dangerously into "doormat territory". Five rounds in and we still haven't seen something resembling consistent Bundesliga level play from Rouven Schröder's grand experiment. The team that the current sporting director has radically rebuilt twice in as many years still struggles mightily with its identity. Head-coach Frank Kramer rotated in Jordan Larsson and Florian Flick in this week for his fifth novel formation. Results still aren't great.
Stuttgart-Schalke sadly degenerated into a choppy affair marred by bookings and stoppages. It was such that, much like in the S04's opening match against Köln and the crazy round four encounter against Union, deriving actionable lessons from the match proved difficult. Simon Terodde opening his seasonal account was certainly positive. So too were some nice ideas from Larsson, Tom Krauß, and Dominik Drexler in a strong first-half. Rodrigo Zalazar got a couple of nice pops in late.
Apart from Zalazar, however, the second 45 was pretty awful. Much of this had to do the Kramer's men lost their main attacking thrust with Thomas Ouwejan having to remain in the dressing room with calf problems. The Dutch fullback has been the only real steady bright spot for this team thus far. Marius Bülter has his three goals, but two of them came from the spot. Alexander Schwolow turned in an okay performance this week, but one has a bad feeling he'll be back to being error-prone again soon.
This squad needs to show more quickly.
Hertha finally deliver
Experienced Charlottenburg apologists breathed a sigh of relief as the team we've been bestowing tiny victories upon finally got their first win of the season. We had to sweat it out on Sunday afternoon at the WWK-Arena, of course. Sandro Schwarz's mostly untouched 4-1-4-1 (Ivan Sunjic came back in for Boëtius and Lucas Tousart moved up to pair horizontally with Suat Serdar) had its fair share of good luck during the first half. Filip Uremovic could have easily been sent off again and new Augsburg signing Mërgim Berisha hit the post.
Hertha's attack charges were surprisingly rough and ragged. With a couple of exceptions, we didn't really see Chidera Ejuke do his thing. Some wildly bad finishes from Dodi Lukebakio would have been welcome as most of the Berliner crew were frustratingly shy on the trigger all afternoon. Thankfully, Lukebakio did find the right finish off a beautiful Marvin Plattenhardt cross in the 57th and Marco Richter provided us all with a much-needed "cancer comeback" uplifter with his completing of a counter attack at 90+3.
A 2-0 win for "die alte Dame". We'll take it, even if a 0-0 draw for these two teams would have been perfectly fair result from these two teams as well. There's some potentially good news for Bochum. Hertha and Augsburg can easily factor into this year's relegation race alongside Schalke and Stuttgart as well. No Bielefeld and Fürth? No problem. The VfL Westphalians can pick up points elsewhere it seems.
Gladbach finally falter
Hmmm. What to make of the round's capper? Somehow, Mainz-Gladbach went into the dressing rooms deadlocked 0-0 despite the fact that Yann Sommer had to again bail his team out with some early heroics against some ferocious Rhenhessen attacks and Marcus Thuram missed what felt like 73 chances to open the scoring in the opening 45. This insane end-to-end encounter could have swung either way. the hosting foals could still be said to be the better team.
Then, eight minutes after the restart, came Ko Itakura's red card. Losing such an influential defensive cog might have doomed Daniel Farke's men to defeat anyway. The fact that Mainz scored on the very set-piece resulting from Itakura's infraction basically delivered the victory to the Pfälzer. Bo Svensson's men only had to hang back and manage from there on out; something the FSV trainer has his charges exceptionally well-trained to do.
Perhaps there are no significant lessons to be derived here, apart from the fact that the foals will be in deep trouble if Itakura gets slapped with a long match ban. Nico Elvedi and Stefan Lainer are hurt, leaving the pickings pretty slim at the back. Farke will have to earn his paycheck with some creative reordering against Freiburg next week. Sommer better be prepared for another big-league day on the shot-stopping front.
---
The "Burning Questions": Round Five
---
What happened with Bayern?
Oh boy. We'll certainly have to walk back a few statements from last week. The German giants suddenly look very mortal after drawing their second consecutive league match. Cameras caught Julian Nagelsmann querulously chewing his fingernails down for good reason. FC Union Berlin built upon their scout of last week to ultimately furnish the entire world with a workable template for frustrating Bayern.
Apparently, one can force the FCB into a circuitous loop of "paint around the corner" possession. One needn't even park a bus or two in the box. All it takes is a simple compression of space at the edge of the area. The more one forces Bayern into placing more pressure on themselves with distance efforts, the more a vicious circle of desperation ensues.
It's also worth noting that Nagelsmann bluffed up with his tactics.
Lineup—Bayern München—Match Five (4-2-3-1)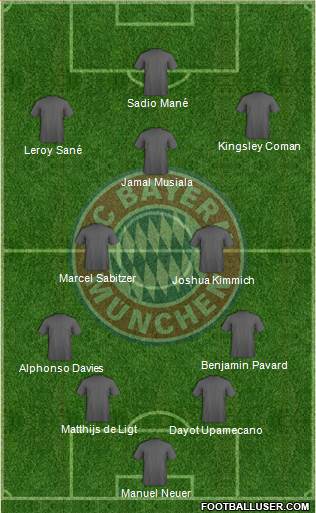 As absurdly talented a player as we all agree that Jamal Musiala is, we can also all surely agree that the youngster isn't at his best as a staid ten with a clear wide-distribution-focus. The 18-year-old routinely found himself out of ideas and space after being forced to take too many touches on the centralized rush. Wide shuffle outs to Leroy Sané and Kingsley Coman were too predictable, and thus brought him little joy.
Expect Thomas Müller's benching to keep serving as the main talking point on Monday morning. Musiala was actually able to interpret space creatively on several different occasions, but the teenager obviously couldn't do so in the same skilled manner as the "original Raumdeuter". That's another thought from last week that we must reconsider.
There are multiple "mini-Müllers" on this team. The 32-year old veteran's experienced eyes still need to be on the pitch. Despite some undeniable moments of magic (36th, 53rd, 58th), the young man tasked with finding his way around the Union block couldn't furnish enough. The team as a whole needs to shoulder blame for a lack of energy and vigor. Musiala vs. Müller remains the main point.
Specific credits to Union
Among other things, Nagelsmann famously said last week that Gladbach trainer Daniel Farke "parked two buses in the penalty" area during the previous 1-1 draw. Urs Fischer did no such thing. The Union trainer kept his usual 3-5-2 right where it was, instead working with some individual players on their man-mark assignments. There are few performances on the side of the hosts that deserve to be singled out.
The most significant shout-out goes to Union left-wingback Julian Ryerson. The Norwegian put in easily his best shift in Union colors, completely shutting down both Alphonso Davies and Benjamin Pavard on multiple forward carries. Defenders Robin Knoche and the newly debuted Danilho Doekhi also did a phenomenal job winning aerial duels in the box, effectively shutting down the FCB's set-piece prowess.
Kevin Behrens couldn't really replace Jordan Siebatcheu on short notice, but Andras Schäfer and Sheraldo Becker picked up their fair share of the weight to ensure that die Eisernen consistently looked dangerous on the counter. We'll have to mention FCU keeper Frederik Rønnow's crucial last-minute tip over as well. Had the Dane not pulled off a spectacular save at the death, the scoreline would not have been preserved.
Bayern's next few weeks
In this season's round one installment of "Tactics Talk", we engaged in a little thought experiment. When will Bayern actually lose their first league match this season? Back then, we augured that such a thing shouldn't be discussed until October. Now having the benefit of knowing the FCB's Champions' League opponents, we'll bump that up a bit. A demanding schedule beckons.
It might very well be the case that we see more league performances from Bayern during which creative will appears totally exhausted. After grueling affairs with Inter and Barça, losses against Stuttgart and Augsburg are not inconceivable. The many internationals on the roster might also have problems coping with Leverkusen after the late September international break.
A final talking point that from last week that we absolutely must scrub concerns the team's adjustment to not having a classic target forward during the nascent stages of the post-Lewandowski Era. It seems that, as clichéd as this trope may be, there is an real issue when the Bavarians can't get rolling early in a match. Keep a close watch here. Nagelsmann can easily miff up his tactics again.
How did Streich work through Leverkusen?
As per usual, the Breisgauer gaffer wasn't in much of a mood to accord himself any credit following Saturday's comeback win. We'll gladly give him some here. How very odd to hear a trainer act dismissive of his side's win based on the fact that they scored two set-piece goals when it was, in fact, he and his staff who drew up the dead-ball designs in the first place. How very Streich.
Freiburg-Leverkusen proved a mesmerizing affair for tactics heads, with both Streich and Gerardo Seoane making major in-game adjustments in attempt to out-maneuver one another. Seoane stuck with his 3-5-2 from last week. Streich, in correct anticipation of this, started Manuel Gulde in place of Ritsu Doan to form his own back-three.
Lineup—SC Freiburg—Match Five (3-4-3)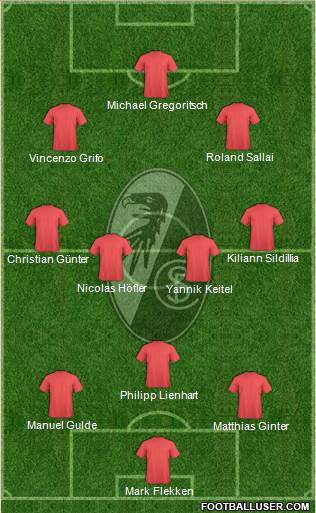 Roland Sally's early injury (Woo-Yeong Jeong came on in relief) threw this out of whack a bit. The visiting SCF were unable to create anything of note offensively during the opening 45, yet still appeared well drilled in this shape. Streich's Schwarzwälder weathered rolling waves of Bayer counterattacks hugging the ball tightly in their own half. It didn't really begin to creak until the end of the period.
Odilon Kossounou's fantastic solo run at the quarter-of-an-hour-mark, coupled with Gulde's mistake, meant that the team had to cope with a 0-1 deficit at the half. It honestly could have been much worse had this constellation not done its job so well. Thankfully for the new table toppers, Streich had a tried-and-true reserve set of tactics to turn to after the restart.
Lineup—SC Freiburg—46th minute (4-2-3-1)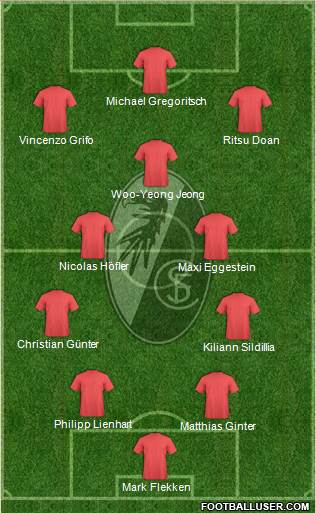 Back in the oft-utilized (and thereby well drilled) 4-2-3-1, Freiburg almost immediately snatched the lead back. It took less than two minutes for the attack to earn a corner. Matthias Ginter converted another exquisite Vincenzo Grifo service in the 48th  Jeong found himself in precisely the right position to capitalize on an Edmond Tapsoba blunder three minutes later and it was soon the mighty Michael Gregortisch polishing off the 2-1 with that uncanny aerial ability of his. 
Seoane waited far too long to re-format to his own back four. Callum Hudson-Odoi relieved Jonathan Tah as part of a triple change at the hour mark. Jeremie Frimong and Daley Sinkgraven moved back to fullback roles. Sardar Azmoun worked as the ten with Hudson-Odoi and Moussa Diaby flanking on the wings. This did produce a much-needed maiden Patrik Schick goal of the 2022./23 campaign in the 65th.
No matter as Freiburg grabbed the lead back off another fantastic set-piece in the 72nd. Ginter – himself employing his trademark aerial wizardry – extended a beautiful Christian Günter service towards Doan, who has proven one of the best finishers in the entire league this year Three Freiburg goals from three major chances. The xG stats obviously favored Leverkusen, but this victory felt fully earned.
Freiburg's next few weeks
We should see a lot of this switching between a 3-4-3 and a 4-2-3-1 from Streich over the course of the next few fixtures. These are his two primary systems and he deserves immense credit for knowing when to move between the two. One could dock the SCF trainer a bit for initially giving Yannik Keitel the go over the recovered Maximilian Eggestein this week. It did seem nevertheless worth a shot and Streich took the proper corrective action.
Overall, Streich has his Badeners well-poised for the crazy schedule ahead. A two-system-team in the right hands should cancel out the concern many have about this squad's current depth issues. Even if the Roland Sallai and Manuel Gulde injuries prove serious, Streich has quality back-up plug-ins in the form of Jeoong, Noah Weißhaupt, and Keven Schlotterbeck that he use for seamless transitions.
Consider for a moment how deep this team will be once injuries (Lucas Höler, Kevin Schade, Kimberly Ezekwen) clear up. In the meantime, it doesn't look as if any of these actors need to rush back. The head-coach has the system (s) well it hand. Looking at the next league opponents (Gladbach, Hoffenheim, Mainz, and Hertha) we could absolutely be talking about another sensational start to the season for this side come round ten.
They're very good.
No joke. No fluke.
How is Kovac still mismanaging Wolfsburg?
Sigh. There truly is no end in sight for this particular discussion thread. For the fifth consecutive week, the columnist must report that watching Niko Kovac's Wölfe remains a painful chore. The VfL have absolutely brought in the wrong trainer to run this squad. Kovac continues too run amok with barely comprehensible random crap that would have seen virtually any other head-coach dismissed as a totally unhinged and maniacal lunatic by now.
Alas, it cannot be so for Germany's green company team. Jörg Schmadtke – having made three bad coaching hires in a row – is in position to pull the trigger on another change so close to his expected departure from the club and professional sabbatical. Hence, we must all sit through this chaos. More hysterical madness from the worse coached team in the Bundesliga.
Here we go again….
Lineup—VfL Wolfsburg—Match Five (3-4-1-2)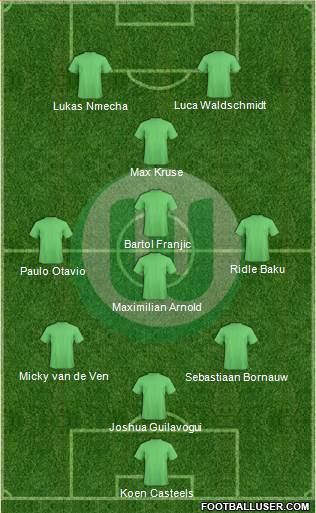 …and it still doesn't work.
Kovac's latest attempt to throw something workable together demonstrated no real relation to the semi-positive spurt he could have potentially built on from last week. When newly inserted starter Bartol Franjic sent Lukas Nmecha through for a lightning-quick goal 90 seconds in, there did exist some brief hope that the VfL trainer had adroitly set his team up in a 5-3-2 with Joshua Guilavogui working as a sweeper behind Franjic and Maximilian Arnold.
One the shape smelled, however, this proved nothing more than an illusion. Guilavogui sat back on an inverted pivot whilst Arnold awkwardly attempted to keep a tight vertical chain behind Franjic. The team played with some improvised gusto over the first ten minutes, yet rather quickly lost control of the match when falling back into this rigid structure. Opponents Köln began to combine around this elegantly. Dejan Ljubicic had the equalizer in the back of the net twenty minutes later.
A bit of bad luck for Wolfsburg shortly after the half-hour-mark when Paulo Otavio inadvertently directed a Jonas Hector cross into his own net. the 2-1 still felt deserved as it came at the end of a sustained spell of Kölner pressure. Then came the penalty deep into first half injury time. Luca Waldschmidt, who had no earthly business being in the starting XI to begin with, committed the infraction. Köln took a 3-1 lead into the tunnel.
Lineup—VfL Wolfsburg—46th minute (4-2-1-3)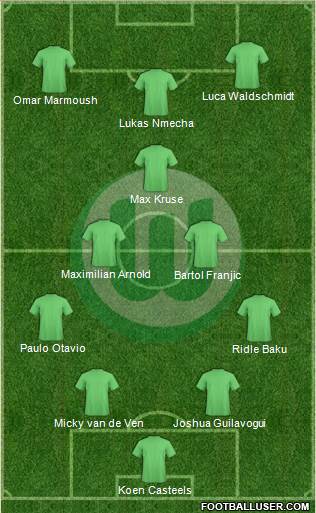 Omar Marmoush on for Sebastiaan Bornauw at the break so that Kovac could restructure in a back-four. In all candor, this might have been the stupidest in-game tactical adjustment of the entire season. It's almost as if the VfL trainer's eyes weren't working. Köln were dancing around WOB's midfield in a 4-1-3-2 press run deftly by Ellyes Skhiri.
How is it sensical to give this more space on the wings?
Lineup—FC Köln—Match Five (4-1-3-2)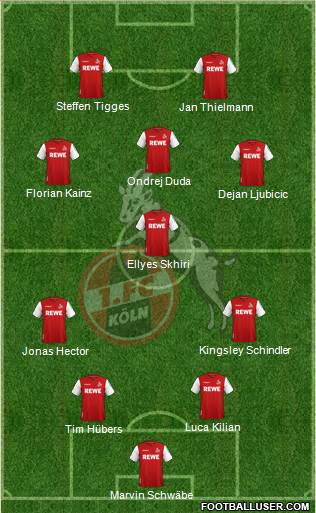 We shall never know what prompted Kovac to invite such a deliberate back-fire. The visiting Geißböcke punished their hosts ruthlessly up the flanks. Nmecha's pull-back goal game completely against the run-of-play. Florian Kainz and substitute Sargis Adamyan quickly restored the thoroughly deserved two-goal cushion and, after the full-time whistle, the Domstädter were left to reflect on how amazingly well Wolfsburg allowed them to play.
For the German Wolves, this sordid mess gets even worse. The squad finds itself in total disarray. Everyone on the pitch looked so dazed and disoriented during most of the second half that the hometown ultras lambasted their team of a full half hour. Thanks to the coach's crackbrained tinkering, there is no system in place. Those cobbled about every week no longer have the courage to fight for loose balls. All succumb to confusion and fright….with no end in sight.
What do all these narrow Dortmund victories mean?
Dortmund's third, slender 1-0 victory of the young season can be interpreted in many different ways. It does constitute a troubling development to behold that captain Marco Reus is the only squad member to net more than one league goal this season. Understandably enough, many are very concerned about this team's lack of reliable firepower up front. On Friday night against Hoffenehim, there were plenty of instances during which the BVB inexplicably pulled up on the approach.
This columnist nevertheless has a different take.
xG Dortmund–2.1, xG Hoffenheim–0.5
The full time xG also doesn't necessarily constitute the be-all-and-end-all of a squad's current form. That too remains open to interpretation. Having had a chance to give the Friday night curtain-raiser a close watch, the writer actually saw a lot to like in the performance of Terzic's men. One expected less from the fullbacks going forward with Raphaël Guerreiro out sick and Marius Wolf moving to the left. Wolf and Thomas Meunier vastly exceed the (admittedly low) expectations by keeping it industrious on both flanks.
Jamie Bynoe-Gittens began on the right, rebounding very well from his recent poor outing by engineering some nice chances. Bynoe-Gittens' opposite member Julian Brandt continues to tank pretty hard with wildly horrible finishes, but that's a problem likely to be soon rectified when some more of these injuries clear up. Perhaps the most important development as concerns Dortmund has to be the evolving double-six partnership of Jude Bellingham and Salih Özcan.
Recall that the Bellingham-Özcan axis remains in its infancy after it took the latter actor some time to shake off an injury. We witnessed some intriguing play from this duo last week and they showed signs of even more mature cooperation this time as well. Thanks to them, Dortmund actually played through the midfield quite tantalizing at times. Bellingham in particular was really switched on. The two of them managed to make the likes of Grischa Prömel, Christoph Baumgartner, Denis Geiger, Robert Skov, and Angelino look obsolete; no small feat.
The column will concede that the BVB teeter occasionally and one should absolutely not expect them to light up their UCL group. Tough times in the European fixtures lie ahead. When it comes to the league, however, upcoming matches against Leipzig, Schalke, and Köln could leave them with enough time to steadily find their groove before it comes time to face Bayern. Terzic's primary mission of cleaning up the sloppy play out of the back remains on course. Offensive pop remains a ways off, but that may not be so important.
---
Weekly Tactical Focus: The "Rhein-Main Awakening"
---
Some may bemoan the choice of the Bundesliga's broadcast board in selecting Frankfurt-Leipzig as the Saturday evening Top-Spiel when Union-Bayern also exhibited such great potential. The columnist himself wasn't so sure about where to make the circle when sifting through this weekend's offerings. SGE-RBL certainly didn't earn an inked ring around it. This one, along with others at practically every other time slot, got penciled-in marks around them instead.
In the final analysis, there were simply too many storylines here. The Saxons have never won away at Frankfurt.  Domenico Tedesco's Leipzig seemed to be finally hitting their stride a bit and rode into Hessen with back-to-back victories on the bounce. Oliver Glasner's Eintracht were still sorting themselves out, particularly on the defensive end of things. Elven goals conceded from the SGE through four rounds, including three at Bremen last week.
So much could happen during this vital showdown between two über-talented squads looking to make a statement. The matchup itself furnished nearly identical storylines to one of the author's favorite "tactical focus" pieces from last year. The turning point for Oliver Glasner's fledgling early coaching regime came in round ten, when Tuta pulled out that sensational last-gasp equalizer against Jesse Marsch's Leipzig at Deutsche Bank Park.
Would something similar happen here? Yes, as it turned out. This time, however, we wouldn't even get much of a competitive match. Die Adler of Germany's commercial and financial capital woke up just in time for their eagerly-awaited Champions' League campaign. In so doing, they demolished the German Champions' League representatives that German football lovers couldn't care less about. Indeed, Bundesliga diehards are quite happy with this result.
xG Frankfurt–3.8, xG Leipzig–0.3
Beautiful. There's an early "lid" to be declared on this week's match narrative, yet still so much that we can learn from this one. The season's first deep dive into Frankfurt alone yields lots that we get excited about in the coming weeks. The look at Leipzig, also satisfyingly enough, shows just how deep a hole Tedesco has dug himself into.
Lineup—Eintracht Frankfurt—Match Five (4-2-3-1)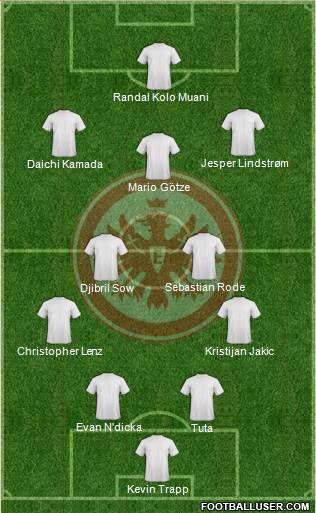 A few things here.
The new front-man 
A monstrous performance from the undisputed man-of-the-match, new lead striker Randal Kolo Muani, is sure to set every last German footballing circle alight. Thanks to two more assists in this one, the 23-year-old Frenchman now has six scorer points on the season. He's just a tick behind Sheraldo Becker (overachieving massively with his xG, xA stats) for the league lead. He should be up top alone soon.
It's not as if the highly touted offseason acquisition flew under anyone's radar when the season began. There were nevertheless few of us who expected him to so quickly displace fan-favorite and deep ball specialist Rafael Santos Borré so quickly. For the record, Muani isn't as strong working deep balls as the Colombian. That's about the only thing Borré does better than him. Muani is superior is every other respect.
Glasner did extremely well to reward Muani's potential-laden showing in the opening round loss against Bayern with immediate insertion into the starting XI. After some experimentation alongside Lucas Alario in a two-striker set and another shift behind Borré, Muani has been operating alone up front for two matchdays now. There he shall stay and there he shall thrive.
All we can talk about
After Mario Götze scored last week, Germans had to get that fact out at the beginning of every last football-related conversation.The 2014 World Cup hero had actually been struggling mightily in various buttressing attack positions Glasner had thought out for him until finally locating his groove as a ten last matchday.
He followed that up with another strong performance here, meaning we won't be capable of shutting up about him again. While Muani definitely took the "teleport artist" award away from Daichi Kamada this week, the Japanese international turned in another excellent shift with his rotations. Jesper Lindstrøm wasn't as strong weaving about behind, but the Dane simply had an off day.
We will get to Eric Junior Dina Embimbe below.
The state of the back
Since we find ourselves working our way down the lineup, it's worth noting that the new back-four continues to function well. One would honestly never guess that right-back isn't Kristijan Jakic's natural position. Christopher Lenz -filling in for Luca Pellegrini at the last moment – finally has his chance to play in his natural position and seems determined to make the most of it.
Tuta and Evan N'dicka have a solid understanding and are playing well together. From top to bottom, we have an SGE squad clicking at precisely the right time. Over at the RB end of things, confusion reigns in Tedesco's ranks. After going out on a limb earlier this season with the pairing of Dominik Szoboszlai and Benjamin Henrichs in the midfield, Tedesco can't seem to get Konrad Laimer and Kevin Kampl back working together as they should.
Lineup—RB Leipzig—Match Five (4-3-1-2)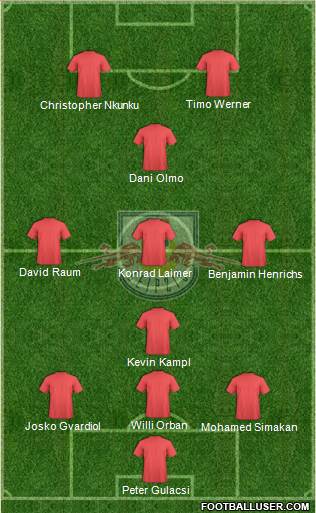 The latest attempt, which we saw during the latter stages of last week's win over Wolfsburg, has Kampl functioning as a straight "libero". Tedesco has also tried to split stagger the Slovene and the Austrian, with both of them running higher up. Other times Henrichs folds back into the midfield and the back three operates on revolving pivots.
It's all an entirely too complicated and overtly avant gardé solution to Tedesco's midfield "logjam". The gaffer has way too many players at this position and he's working hard to find a way to structure the middle-of-the-park in such a way to accommodate high-profile newcomers Timo Werner and David Raum. So far he's failed as neither one of them has taken off yet.
There are whispers that Tedesco is dissatisfied with the roster Oliver Mintzlaff has built for him. Irrespective of whether this is true, one has to say that Leipzig's chief executive (not a personnel expert by trade) actually has done a very poor job balancing this roster on a positional basis. This isn't exactly an easy puzzle to piece together.
As one begins to contemplate the end of the Tedesco regime and quite possibly a tough search for a new coach, one might do well to keep this in mind. The organization of this squad has suffered greatly since Markus Krösche departed for Frankfurt. Fitting enough that we're about to discuss how an entity Krösche fielded crushed the club that still hasn't replaced him.
Match Flow: 1st to 12th minute
Pretty intense start to proceedings over at the blessed Waldstadion. Both sides leaned heavily into the duels during the opening two minutes. A hard tackle from Kamada on Henrichs led to an early break in the action. Once up, Henrichs failed with a poor through ball for Laimer in the 2nd. SGE builds in the 3rd and 4th weren't of the highest quality. Glasner's men stood unsure of whether to spread the ball around and the Saxon guests easily broke up play.
Loads of turnovers between the 5th and 6th. Götze and Lindstrøm had problems getting a rightward cycle going in the 5th. Sebastian Rode saw a cross blocked in the same minute after Jakic pushed forward valiantly to keep the play alive. Olmo pulled up and waved for a stop in play in the 6th, after knocking knees with Djibril Sow. The home crowd wasn't kind to the Spaniard as he attempted to sit down on the pitch.
Responding to the heckles, Olmo headed to the sidelines with the RB medical staff and play resumed in the 7th. The Saxons attempted to heel Werner away. Lenz was back to sweep away. Christopher Nkunku tried to head over for Werner after Laimer picked the ball off Lenz and fired in a cross. The highly awkward box work from Nkunku ended up looking pretty silly with the ball coming nowhere near Werner.
Some disjointed stuff from the Hessen hosts in the 8th. Sow's diagonal reached no one. Muani's attempt to hold up a ball deep central only had the effect of reminding one that he wasn't Borré. Lindstrøm also got shut down too easily on the left by Henrichs. Leipzig were able to get a counter off another Muani ball loss in the 9th.
Eintracht snuffed out the counter and delivered their own swift rush back in the form of a Muani through-ball for Kamada. The Japanese international located the back of the net, though a clear offside quickly scrubbed off the 1-0. Olmo had only been back on the pitch for a few seconds before hit him hard with another tackle in the 10th.
After Olmo spent most of the 11th on the deck, Forsberg came on for the stricken Spaniard in the 12th.
Match Flow: 12th to 16th minute
It took some time to work it out, but those with eyes on the tactical cam could indeed confirm that Tedesco had employed a tactical tweak with the substitution. This didn't come as a huge surprise, given Olmo's importance as a separated ten in Leipzig's formation. Forsberg couldn't exactly function as a straight-arrow plug-in. What did baffle a bit was Tedesco's decision to immediately scrap his role for Kampl.
Lineup—RB Leipzig—12th minute (3-4-3)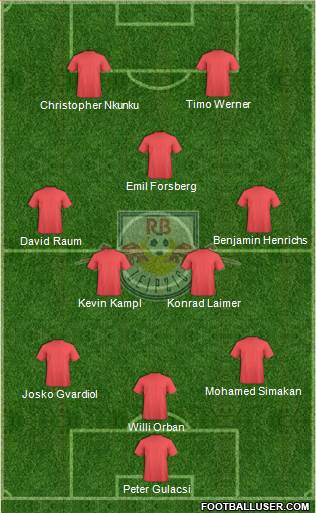 Why we had to undergo such a radical tactical change so early isn't exactly clear to the writer. Maybe Tedesco didn't have much faith in the "libero" concept from the beginning. The RB trainer also could have noticed that his team was getting pretty badly beat up in the midfield battles and, thus, ordered Laimer back for safety. Before any of this settled, there was a bit of danger in the Leipzig penalty area.
A slow RB build suddenly amounted to something when Forsberg picked up a loose ball in the 12th and forwarded for Werner. Kevin Trapp had to parry Werner's cross, then stop a follow-up effort from Nkunku. Kampl and Laimer ran the next RB charge from their deep positions in the 13th. The sequence ended with Gvardiol playing Raum through. Nkunku couldn't meet Raum's dig-out of a cut-back.
Henrichs then fired over. Gvardiol would draw a foul from Lindstrøm in the 14th. The free-kick produced nothing. Götze and Rode combined well in the 15th, with the latter aiming for Lindstrøm with a chip-in diagonal in the 15th. Gulacsi collected both that and a Lindstrøm free kick a few seconds later after Laimer fouled Rode.
Frnakfurt may not have been off to the most convincing start offensively, but a splendid team goal would soon follow. Sow penetrated the area beautifully with an incisive dribble. The Swiss midfielder then located Kamada, who immediately switched for Götze. The 2014 World Champion rifled in a cross quickly for Muani, who extended back to Kamada with a brilliant header.
Gulacsi stood no chance against Kamada's header. An absolutely gorgeous goal -with everyone operating out of their set positions – gave Frankfurt the 1-0 lead. This time Kamada's tally would count. One cannot understate how silky smooth and fast everyone involved improvised. There we had possibly the best scoring sequence of the season.
Match Flow: 16th to 22nd minute
Lindstrøm immediately showed himself in the mood for more when play resumed in the 17th. The Dane stripped Raum of the ball and raced in through the right. Muani trailed perfectly, but didn't handle the ultimate service very well. The Frenchman also went down too easily in the box looking for a penalty. Match official Dr. Felix Brych wasn't interested.
After some discussions and jostling Brych didn't quite care for on the ensuring corner in the 18th, we finally got back underway in the 19th. Lindstrøm's service bounced out back to Götze in the second ranks. Götze's finish went well wide. Leipzig looked pretty pathetic on their next rush in the 20th, with Henrichs retreating sheepishly.
Götze and Rode tried a few things in the 21st. They were gifted midfield possession courtesy of a series of bad Leipzig turnovers. Raum had to be alert to top Kamada on the most promising run at the end of the minute. Raum nevertheless couldn't couldn't clear and Rode was back in the box unmolested in the 22nd.
After a nice one-two with Muani, Rode easily out-deked Kampl and hooked in a shot that deflected of what can politely be described as Willi Orban's "undercarriage". The 2-0 had its fair share of luck attached to it, though it remained pretty unforgivable how lax Leipzig defended on the sequence. SGE skipper Rode had his first home goal for the Hessians in nearly two years.
Match Flow 22nd to 32nd minute
For all intents and purposes, Leipzig continued to tank. Tedesco's Saxons embarrassingly lost three consecutive aerial on duels on their next attempt to get the ball into the box in the 23rd. Nkunku's attempt for Werner on the third effort never left the German national team striker with much of a chance anyway. A lazy, wayward cross out into touch from Laimer in the 24th pretty much encapsulated how harmless they were.
The SGE responded with a nice combo involving Muani out left in the 25th. Sow ended up playing Lindstrøm in, but the Dane couldn't finish on the turn. Frustration began to boil over for Mohamed Simakan in the 26th, when he flagrantly pushed Kamada down in the penalty area. Brycxh showed restraint. The rattled Simakan nevertheless failed to clear twice off the ensuing throw.
Tuta didn't have too many problems shutting down Nkunku in the 27th. Götze, Lindstrøm, and Rode railed off a nice counter, ended only by Gvardiol under immense pressure at the other end. Gvardiol, Raum, Kampl, and Forsberg then pieced together a woefully awkward RB build in the 28th. Ideas were non-existent. So too was access. Rode, Götze, Muani, and Lindstrøm easily forced another counter.
A Lenz cross in for Muani in the 29th got scrubbed off the Frenchman's head by Gvardiol, the only Leipzig player to put in a halfway decent shift. Gvardiol again shut down Muani at the half-hour-mark. Götze first missed a thread in for Kamada, then sent another effort over off the subsequent 31st minute corner.
It was Rode's turn to pull up in the 32nd. The SGE captain showed no hesitation in pointing to the sidelines. Teammate Sow made the substitution signal with his hands as well. No need for Rode to chance anything with his side so firmly in control of the game. Rode's replacement strode onto the pitch to make his club debut.
Another new Eintracht acquisition from neighboring France whom we've been waiting all summer to take a look at got his run out. Indeed, this game was getting quite good from a German football lover's perspective. We may not be too sure how to refer to Eric Junior Dina Ebimbe yet, but we'll have to figure it out soon.
Match Flow: 32nd minute to half-time
Brych opted to brandish his first yellow of the match after another hard tackle from Sow, this time on Simakan in the 33rd. The challenge was pretty borderline. Raum got an excellent chance with a free-kick after the accumulator booking. The German national team left-back regrettably sent in a terrible service that sailed over everyone in the 34th. One felt slightly embarrassed for him.
After this sad little display, the German Red Bulls played like a team desperately hoping to head down the tunnel and regroup. Muani tip-toed around a totally disoriented Orban in the 35th and was a very unlucky not to win a corner against the totally beaten RB defender. Werner's attempt to drop back and influence in the 36th only led to him getting bumped off the ball with ease.
Lots of possession changes in the midfield throughout the 37th. Ebimbe immediately made his presence felt with two big ground wins. Kampl, Raum, Nkunku, and Forsberg (in all seriousness) actually found themselves cycling backwards in the 38th. Gvardiol at least stepped forward to try a long vertical for Simakan. Leipzig's French defender had no clue what to do with it.
Raum and Forsberg both managed to get past Lindstrøm in the 39th. Nothing of much worth awaited them after punching through on the left. Raum then embarrassed himself with a horrible throw-in in the 40th. Götze just missed a thread-through on the ensuing counter in the 41st. Ebimbe did much better playing Lenz in one minute later. Gulacsi remained on his toes and held the SGE left-back's effort.
Kampl – whom one could definitely tell was in for the hook at the break – ran straight into three SGE markers on the left in the 42nd. Eintracht earned a series of dead-ball placements between the 43rd and 44th. N'dicka and Jakic (why not, at this point?) had cracks at goal after a Lindstrøm free kick and corner. Götze and Ebimbe were just a bit too imprecise with their final through-balls in the 45th and at 45+1.
Tedesco's defeated troops had to suffer through three minutes of added time. Observers might have likened it to an execution. Nkunku turned the ball over with an lousy cross at 45+1. Werner got shamefully outpaced by Tuta on the next charge at 45+2. Eintracht got good counters off in-between these. Raum concluded the half with another poor corner service at 45+4. Orban sent the uninspired loft wide.
Match Flow: 46th to 59th minute 
Given that the Saxons couldn't manage so much as a decimal point in their xG column, the temptation to declare a "lid" on this match was definitely there. The scoreline could have been much higher after all those Eintracht counters. For all the praise one will hear about Götze tomorrow, let it be known that our darling did miss quite a few chances to drive a stake through Leipzig's heart with many misguided through-balls.
In any event, there was still much football to be played. One had to give Tedesco the chance to make his half-time tactical adjustment and see if it bore any fruit. The RB trainer at least showed the right initiative by subbing off the completely confused and ineffective Kampl for Szoboszlai. He also had the right idea in moving his most effective player, Josko Gvardiol, into a centralized sweeper position where he could make better use of his incisive verticals.
Lineup—RB Leipzig—46th minute (5-3-2)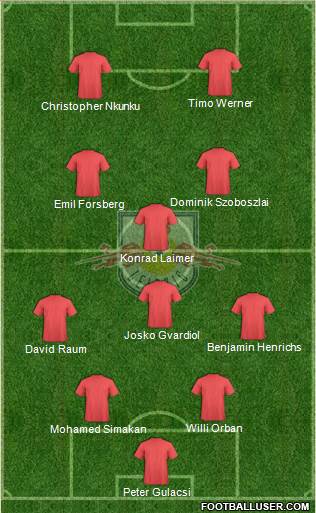 An okay idea. Naturally, it's really pushing a squad to ask them to digest this many re-formats over the course of a single match. To be fair to the losing side, there was a new sense of spirit in this that lasted for a little while before it petered out. One ended up declaring the "lid" later than expected. Tedesco's men competed better in the 50-50s and won a better share of loose balls in the midfield, even if the few chances we'll be covering here weren't terribly conspicuous.
Nkunku showed some early initiative, yet was no match for N'dicka in the 46th. After Eintracht held possession through the 47th, Raum and Forsberg executed a pair of cycles that went nowhere in the 48th. Szoboszlai earned a corner in the 49th. Trapp was ultimately called into action to punch away a cross for Werner off the set-piece. Tuta then clocked away a Fortsberg drive and the result was another corner. Nkunku made a waste of a ball that fell nicely to him by shooting over in the 50th.
Trapp easily collected a long ball meant for Werner moments later. The SGE keeper took the opportunity to slow the game down a bit and the hosts resumed with a slower build through the 51st. Muani got a header on target in the 52nd after some nice work from Guotze, Kamada, and Lenz. Raum and Nkunku worked the next RB rush in the 53rd. The former's cross in wasn't hard for Trapp to stop. Mostly fouls and stoppages after that through the 58th.
Leipzig's attack pattern was simply too easy to crack. Raum and Forsberg cycled out with Gvardiol unpinning beneath. Ebimbe made short work of this approach play, eating up midfield balls repeatedly as the pattern kept repeating. Sometimes the SGE press would back off and let Leipzig have the ball. Glasner's men did this full well knowing that the danger headed their way was steadily dissipating. Having let their guests tire out a bit, the German Eagles swooped in for the kill.
Match Flow: 59th to 67th minute
Ebimbe was the first to press forward and send a cross in as the 59th began. At the hour mark, Ebimbe (with the help of a couple fortuitous bounces) sent Götze through. The World Champion only narrowly failed against Gulacsi. A few seconds later Götze played in Lindstrøm, who had his head down and missed his other options. The hosts did at least get a free-kick out of it as Henrichs had hauled down the streaking Kamada.
A very nice design on the 61st-minute set-piece went awry after a poor final cross from Lindstrøm. One could still sense that the fatal goal was coming soon. Götze and Kolo Muani worked the ball into the area very well in the 63rd. Kamada received the final pass and was just barely blocked by Laimer. Gvardiol and Nkunku ended up turning the ball over on the next RB charge in the 64th. N'dicka easily cleared Raum's cross on the next one in the 65th. Orban probably should have been booked for pushing down Muani on the play.
Two failed Simakan clearances in the 66th gave Muani more of the ball to work with. The 3-0 would come off a corner Lindstrøm earned with a deflected shot in the same minute. Gulacsi made a stunning save on Götze's effort off the 67th minute set-piece. Tuta (barely onside) was on hand to turn in the rebound. A VAR review to check the tight lines confirmed that we had our "lid". Just like last year, Tuta basically had the last word.
Match Flow: 67th minute to full-time
There really isn't much more to discuss. Tedesco had been prepping a double change on the sidelines that very likely had no plan behind it. Amadou Haidara and Marcel Halstenberg came on for Simakan and Raum. The Saxons kept no shape for the duration of proceedings, trying a few more things despite basically having surrendered. Nkunku dribbled forward with some conviction twice (74th and 78th). No one was around to turn in a Frankfurt turnover right in front of the net in the 79th.
Rafael Santos Borré enthusiasts were pleased to see him get on the scoresheet with the covered penalty after Haidara tripped up the subbed on Ansgar Knauff in the area in the 83rd. The Colombian narrowly missed bagging a late brace for himself in the 88th, though he may have been offside. Brych mercifully blew the whistle right at the 90-minute-mark and the RB actors could get straight to the business of hanging their heads after this shellacking.
Full-time xG once more to bookend:
xG Frankfurt–3.8, xG Leipzig–0.3
Glasner gets the lead picture this week for the impressive way he's gotten this new look squad off the ground quickly this season. The trainer Jörg Schmadtke and Marcel Schäfer probably wish they still had in charge now has made some bold personnel calls and largely gotten everything right. We could have just as easily given Markus Krösche or Kolo Muani the column's photo this time too. Their time shall likely come before the campaign is out.
When it comes to the sider that basically got their posteriors handed to them this weekend, any dour depiction of Tedesco or Oliver Mintzlaff could have led this week's installment too. Perhaps the columnist feels it too early in the season to go negative. The relationship between these two club figures is headed straight for a hard crash into some sharp rocks, and Mintzlaff should probably shoulder more of the blame. That's not really up for debate.
Seriously. Eighteen months to hire a new sporting director? A somewhat hubris-fueled pick-up of all the major administrative duties in the interim? Constant overloading of the roster in certain areas to the point that literally almost every week we have to hear about a player wanting out after not getting enough minutes? Germans release a wide grin at the fact that a "big money" club has seemed to bought itself nothing but more problems.
Another reason to celebrate this SGE win.
Thanks so much for reading! You can occasionally catch Peter goofing off while watching non-Bundesliga football on twitter, @ViceytheSS.
Twitter DMs are open for football conversations, corrections, and (if you truly insist) general abuse. 
All columns debut on Bulinews before appearing on Peter's website later in the week.