Those who merely checked the scores last weekend might be tempted to think that the German Bundesliga tends towards the realm of the predictable. In some senses this is correct, but there always remains nuance. Closer inspection of the goings-on last weekend reveal much at work in the 2021/22 campaign. There's even more intrigue in the weekend set to kick-off this evening. As always, anyone who missed last Sunday's hot-sheet on Bulinews can always catch up here.
Okay. In addition to nuance, there was also this. Those of us who invest time in studying trends have to throw our hands in the air and the notebook against the wall at times too. Good Lord.
---
Bundesliga Tactical Banter: Round Five
---
"Saturday Night Live!"
Alright! A gorgeous autumn evening under the lights in Germany's gorgeous cathedral city! The Bundesliga's biggest surprise thus far (1. FC Köln) hosting what some are categorizing as the biggest early flop (RB Leipzig). All the prowling sideline passion of Steffen Baumgart versus Jesse Marsch's €500 million "super-roster". It's the plucky Billy Goats vs. the Energy Drink Empire. All of the drama and intrigue of the round's "Top-Spiel". With the 15:30s out of the way, it's all absolutely live! 
Actually. Wait. Nevermind. Check that. Köln vs. Leipzig mostly took place on tape. Five lengthy VAR reviews turned out to be the real story during Saturday's 1-1 draw. Köln's Anthony Modeste scored a brace within two minutes, only to have both goals initially taken away from him, then one given back. Mark Uth, Dominik Szoboszlai, and Emil Forsberg also had goals wiped by the video officials working not too far away in the Kölner Keller. The non-VAR scoreline would have been 3-3. Same result in any case.
Not too many lessons to take away from this one other than the fact that it was simply a great football match. Köln keeper Timo Horn robbed the visiting Saxons of some excellent opportunities to take all three points down the stretch. RB net-minder Peter Gulacsi made some heroic stops of his own. Effzeh attacking midfielder Ondrej Duda hit the post in the first half and somehow missed a completely open goal at the death. It was a thrilling contest from start to finish. Definitely worth a re-watch for those who have the time.
As for RB's continuing sluggish start under new trainer Jesse Marsch, a columnist can only reiterate the same point he's been making for weeks. The issue itself remains a non-starter. The American head-coach has nothing to worry about. The team comes around. The Wisconsin native lords over plenty of time. There exists no coaching controversy in Leipzig. No. None Whatsoever. Perish the very thought. A thousand times no. Marsch should have this über-talented squad near the top-four places by Christmas. No rush.
"The Football Apologists' Handbook"
Indeed. Time for us who live and breathe the beautiful game to dust off the old tome before discussing a pair of 0-0 draws. Christian Streich's SC Freiburg maintain an undefeated record after a visit to Mainz, yet really couldn't get anything going in a 3-4-3 that featured an even-axis triplicate attacking trident of Kevin Schade, Lucas Höler, and Roland Sallai. One expected a great deal more there. One expected at least one quality finish from either Bielefeld or Hoffenheim during a furious opening half-hour, yet no one located the requisite quality.
We'll thus have to cover talking points unrelated to goals. So be it. Bo Svensson's 3-5-2 survived the loss of captain Moussa Niakhaté. One barely noticed that the Frenchman wasn't in the back-three thanks to some stellar work from Alexander Hack and Stefan Bell. It's interesting to once again note that these two players played almost no role in the squad when Svensson arrived last January. The Danish head-coach's hand selected benched veterans to build his defense around continue to shine.
The hosting Pfälzer even got off the better chances in the affair despite being the more defensively-oriented team. In this case, keeper Mark Flekken and the goal post rendered Freiburg the ones lucky to escape with a draw. That label belongs to hosting Arminia in the second fixture. After the DSC missed three early opportunities in the first 13 minutes, it was practically all Hoffenheim afterwards. Sebastian Hoeneß appears to have had enough of building a midfield six-setup around a rotating cast of young talents.
Florian Grillitsch and Diadie Samassekou took command this time. The veteran pair supplied forwards Andrej Kramaric, Ihlas Bebou, Christoph Baumgartner, and Jacob Bruun Larsen with more than enough chances to put the match to bed early. The TSG trainer should ostensibly find himself pissed off once again. Die Kraichgauer continue to play nowhere near their potential. Lack of polished finishing led the Sinsheimers to drop still more points.
Glasner returns for a 4-2-3-1 off
The round's capper had plenty of pre-written storylines built into it. SGE head-coach returned to the club he left under something of a cloud this season. Struggling to build his own system en route to his first league win for his new club, Glasner had to go up against the same basic constellation he left in place for successor Mark van Bommel. The big difference, of course, is that this year VfL sporting CEO Jörg Schmadtke opted to splurge for the deep UCL rotation roster Glasner always wanted.
All well and good. Considering the fact that the Eagles of Germany's commercial capital were coming off a draining Thursday Europa League opener and that van Bommel only started implementing his regular rotations last week, one could foresee a low-scoring affair with lots of miscues. That's more or less what we got, though a more intense affair could have been possible if Wout Weghorst didn't hit the crossbar in the 12th. That would have shifted the dynamic a great deal.
Still nothing much doing at Eintracht, where Glasner has now settled on a 4-2-3-1 with Rafael Santos Borré moved back behind Sam Lammers as a second-axis winger. The midfield pairing of Kristijan Jakic and Djibril Sow is improving. Erik Durm has been doing okay as an emergency left-back. Of some interest in the tactics of the club that Glasner left, van Bommel actually is imprinting his own stamp on the 4-2-3-1.
In Sunday's late fixture, we saw Luca Waldschmidt work as a deep ten. The VfL trainer also dusted off Renato Steffen for a big match on the right wing and used the flexible Yannick Gerhardt behind him at fullback. While it hardly qualifies as an ingenious move, the full faith van Bommel showed in recently demoted captain Joshua Guilavogui to replace injured midfield linchpin Xaver Schlager has really paid dividends. The French veteran has been fantastic.
The Lower Saxons should have definitely captured all three points at home. The German Wolves were by far the better team and have cause to feel hard done by on that late disallowed. Though they are no longer top of the table, we can salute the rookie trainer for absolutely exceeding all of our expectations thus far. Contrary to what some may say, he is his own man at the helm of this team.
---
The Burning Questions: Round Five
---
The league's worst: Bochum or Fürth?
An ignominious title. Something of a tight contest for it between the two newly promoted sides, who will actually meet one another in the first game back from the October international break. Those of us who genuinely love the Bundesliga come out the real losers here. Our worst fears have been realized. The two promoted teams prove nothing more than doormats. Just when a new American broadcast deal was meant to showcase a source of national pride, the low-hanging fruit tags us with the dreaded "farmer's league" label after all.
The way in which the Bundesliga schedule is set up exacerbates matters. Hertha BSC–a.k.a the Bundesliga's "sick man"–got a chance to wipe their feet on both of them in back-to-back rounds. Six convincing points were the result. Now the German giants gets their turn. After completely squashing the 1848ers 7-0 in this round, it's Bayern vs. Fürth next Friday night. Ugh. Hardly a fixture worth playing.
Let's see if we can divine any positives out of this weekend's action.
Greuther Fürth: A new base-constellation
Beginning with Fürth, Stefan Letil's Franconians finally got a new shape. At long last, Leitl dropped his usual 4-3-1-2 in favor of a simpler 4-4-2. It gives a diehard American footballing enthusiast no pleasure to report this, but the SpVgg trainer dropped Julian Green as well following a notably poor performance.
Lineup—Greuther Fürth—Match Five (4-4-2)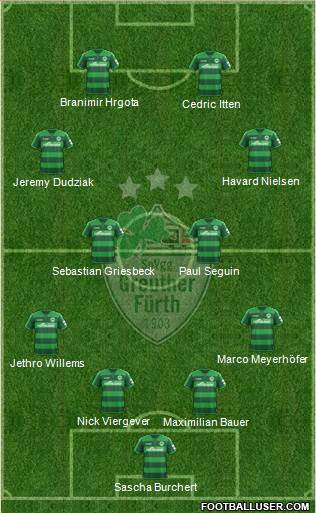 With a clear double-six set up and two wide winger deployments, the clear idea was to provide a better distribution model. The stretched rhombus we've been seeing in previous rounds simply had to be pitched. Note that Leitl continues to work at plugging in the reinforcements sporting director Rachid Azzouzi procured for him near the end of the transfer window.
Nick Viergever, Cedric Itten, Jethro Willems and Sebastian Griesbeck all retained their starting spaces from last week. Jeremey Dudziak, recently plucked from Hamburger SV, plays in place of Green. Taken together, we've five new team-members in the starting XI; all in a new tactical system that Leitl should have probably switched to weeks ago.
Willems is probably the player who's managed to make the most positive impact thus far. The physically gifted buccaneering full-back at least adds some dynamism when the team builds out of the back. Viergever improved slightly on his debut performance too, encouraging the rest of the defensive line to join him in support of the attacks. There's a bit of embryonic promise
Pal Dardai clogged up the Hertha midfield in a 3-3-2-2. Kevin Prince Boateng and Lucas Tousart took turns dropping back as anchoring sweepers. Though it proved hard to get past them, the front four Kleeblatt players simply didn't have the quality to out-concept a very weak back three of Marton Dardai, Niklas Stark, and Linus Gechter. That's not good enough for the Bundesliga. Not anywhere close.
On the topic of lack of quality, Branimir Hrgota spurned a golden chance to put the visiting Bavarians up 1-0 at 45+2. Entering the tunnel with the lead could have radically shifted the tenor of this match. The team captain did convert a penalty to eventually give his side the lead twelve minutes after the restart. The ramshackle defending on Jurgen Ekkelenkamp's set piece equalizer and the late own goal nevertheless rendered this a deserved loss.
Immediate two-match prognosis:  Zero points  
It's Bayern followed by Köln in the final two rounds before the next international break. To borrow a phrase from Douglas Adams, the poor Shamrocks don't stand a whelk's chance in a supernova. This team looks set to earn just one point from the first six rounds. Even Schalke were a notch better at that stage last year. The goal differential might balloon up to minus 18 or worse.
In time, some of the veteran leadership might be able to stabilize the team. The SpVgg certainly would have stood a better chance this weekend had Hertha striker Jessic Ngankam been fit enough to face his parent club. Such a hard luck injury. With the 20-year-old and other key acquisition Gideon Jung back for the "Rück-runde", there might be an outside chance that this team can pick up some points in the "Rück-runde" in 2022.
VfL Bochum: The Zoller Shock
As if the departure of Robert Zulj this summer wasn't enough to contend with, now the 1848ers have lost their other scorer of 15 goals from last year's promotion campaign. Veteran Robert Tesche netted eight tallies last year in the 2. Bundesliga against softer competition. Other than that, it's 4s, 3s, 2s, and 1s from the very erratic midfield crew, also against far weaker opponents.
The seemingly critical question of where the goals will come from actually feels like a secondary priority following this weekend's 0-7 stomping at the Allianz. First, there must be some way of stanching the bleeding. So much in football comes down to retaining the shape. This one crumbled after 17 minutes.
Lineup—VfL Bochum—Match Five (4-2-3-1)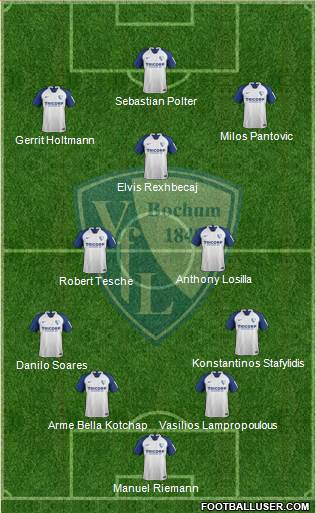 Not an untalented set of lads by any stretch of the imagination. There are some issues on the right. Both Konstantinos Stafylidis and Milos Pantovic are playing out of position whilst Thomas Reis awaits the return of Christian Gamboa and Takuma Asano. Leroy Sané and Alphonso Davies had no problems cutting right through this. They then quickly left the aging legs of veterans Robert Tesche and Anthony Losilla in the dust.
In truth, this only really held by a hair in the opening quarter of an hour of Saturday's fixture. Bayern's lack of precision served as the real reason why the floodgates weren't flung open earlier. Gerit Holtmann got off the team's only real effort near the target. The former Mainz man nevertheless showed none of the courage in taking players on we witnessed from him a couple rounds back. It was nothing more than a hopeful distance effort.
Elvis Rexhbecaj's miscommunication with the wall on Leroy Sané's opening set-piece goal seemed to infect everyone with cowardice and confusion. Danilo Soares, Armel Bella Kotchaps, and Vasilios Lampropoulous all seemed to perambulate about with no regard for their assigned positions. Tesche and Losilla stutter-stepped back and forth. The cascading effect of knock-on mistakes was then in full force.
Two-match prognosis: One point
Next week's match against a flailing Stuttgart could not be more pivotal. Pellegrino Matarazzo's men remain shorthanded, but will get Waldemar Anton back from suspension and will potentially get some of their marquee players back as injuries continue to clear up. Tanguy Coulibaly already looks as if he's relocating his groove. Chris Führich might be ready to contribute too.
Given the level of this humiliation, the 1848ers must respond by capturing at least a point. That is by no means a forgone conclusion as the Swabians are a great deal stronger than their current position in the table would suggest. After that, it's Leipzig. No. Forget it. Nothing expected there. Bochum can hang onto second-to-last place in the table with four points. That's a tiny moral victory and nothing more.
Are Hütter's Gladbach stabilizing?
It doesn't appear so. More tactical shuffling this week left everyone in the Fohlenhalf those few centimeters short of effective coordination. This time the Austrian trainer lined them up in a 4-2-3-1. American Joe Scally moved over to the left-back position to take over for Ramy Bensebaini. Luca Netz moved all the way up to the left-wing attacking slot. Last week's hero Patrick Herrmann began opposite Netz, buttressed by right-back Louis Jordan Beyer. A far cry from the functional 4-2-3-1 of the "Rose Rotation" days, this construct delivered yet another confused performance. Hütter needs to find some sort of base upon which to build.
With the exception of Herrmann (starting for the injured Jonas Hofmann) all the same actors were on the pitch. Results were inelegant as no one seemed totally comfortable in their new roles. All four members of the back-axis-chain pressed forward with intrepid runs, but seemed to run out of ideas when the penalty box came into sight. The visiting Rhinelanders could have fallen behind in the first half had match official Florian Badstübner not whistled a Ruben Vargas break down on a questionable foul. Daniel Caligiuri also hit the post shortly before it was time to head into the tunnel.
Hütter introduced Hannes Wolf for Netz in the second 45. Play improved a bit. Herrmann and Alassané Plea got a pair of looks in. One still couldn't say that the BMG's slight uptick in drive deserved a goal. An unfortunate random slip occurrence involving Nico Elvedi allowed hosts Augsburg to record their own goal. This mean that the final 1-0 scoreline, in a sense, was a bit unfair. There can't be much sympathy for Hütter's men missing out on a point, however. Overall, this team appears a long way from where it needs to be ahead of tough tests against Dortmund and Wolfsburg.
Are Leverkusen contenders?
So very difficult to tell. It occurs to the writer that there has not yet been a draw up for die Werkself in this season's edition of "Tactics Talk". By comparison, Peter Bosz's 4-1-4-1 earned multiple tactical breakdowns at the same stage in the column last year. Perhaps there is some inherent bias at work. The manner in which the team completely folded after the round 13 loss to Bayern last year left us all in less of a mood to pay attention to a team that never seems to mount a real challenge year after year. Many German football observers assume the "call me later" attitude to Bayer.
This weekend's 3-1 win at Stuttgart propels the country's red company team back up to the top. Gerardo Seoane's skillful use of the squad's depth in the Europa League win also tempts one to start paying closer attention yet again. More amazing stuff from Florian Wirtz this week. The teenage phenom supplied another sublimely slick assist on Patrik Schick's goal. After Seaone, playing with ten men, opted to lock down with an extra defensive substitution in the 50th, Wirtz said to hell with it and wowed us all with a spellbinding solo goal to increase the team's lead despite the man disadvantage.
All of this notwithstanding. Stuttgart remain a pretty poor measuring stick. Matarazzo's back-three continues to struggle. Hiroki Ito, in for the suspended Waldemar Anton, had a horrible match as the pivoting anchor. Ahead of him, captain Wataru Endo and utility midfielder Atakan Karazor got off to a nightmare start. The trio's defensive errors led to the first two Leverkusen goals inside of the first 19 minutes. The pullback goal eight minutes after Robert Andrich's sending off was more of a brute force effort. All of the attacking corps injuries continue to render the Swabians toothless up front, even when they have an extra man at their disposal.
We'll simply have to wait and see wait Seoane can make of his expensive, though not entirely well balanced, squad additions. Mainz, Bayern, and Wolfsburg all await in October. Six points from these three fixtures could lead to them carving out a space for themselves up top. Four points would still prove inconclusive. Two points and one can just forget it. Everyone wishes Rudi Völler a pleasant retirement gala and we all move on.
---
Weekly Tactical Focus: Stacked and Packed
---
It would be fair to say that several of the circled fixtures on this weekend's calendar failed to live up to their billing. It happens. While some of the league's casual observers may have been tempted to pack it in after seeing Bayern demolish Bochum and several other clubs fall flat on Saturday, Bundesliga lovers somehow just knew that there would be an instant classic among the Sunday offerings. Thanks Dortmund's talent and Urs Fischer's always intriguing tactics, Union's visit to Signal Iduna didn't disappoint.
Most of the criticism of the BVB's obligatory second round upset loss has faded into the background. Many of the fans stand satisfied. Even after the loss to Freiburg in round two, not too many of were overtly concerned. The 4-2 victory over Union caps a perfect week for die Schwarzgelben. The fightback against Leverkusen some eight days ago counted as top class. The victory over Beskitas midweek in the Champions' League was cool and clinical.
Dortmund entered this fixture on an incredible goal scoring run of 36 consecutive fixtures. While Union have actually upset Dortmund twice at the Stadium An der Alten Försterei since being promoted two years ago, the Westaphalians' home stadium always poses a problem for the spry Eisernen. The FCU suffered their worst league defeat (0-5) at Signal Iduna Park in January 2020. The NRW club also shut out the Berliners 2-0 last spring. As a nice little nascent rivalry burgeons, one had the feeling that the Köpenickers would throw a lot into scoring their first ever Bundesliga goal here.
All set for some intriguing tactical developments fresh off the Bundesliga pitch? Excellent as we've plenty to report upon from this wildly entertaining six-goal affair. First off, BVB enthusiasts have a few things to get excited about.
Lineup—Borussia Dortmund—Match Five (4-3-3)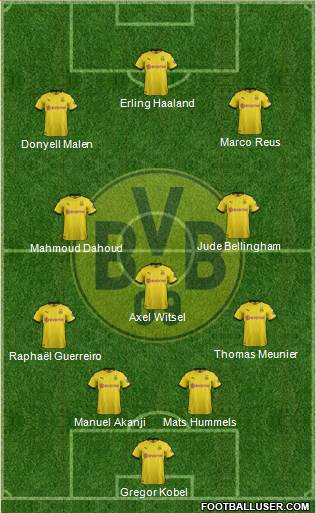 No Gio Reyna or Julian Brandt? No problem really. When the team sheet was released, one obviously couldn't tell if Marco Reus was to work beneath the two-striker-set of Donyell Malen and Erling Haaland. There did nevertheless exist a hunch that, seeing as how Mahmoud Dahoud ordinarily plays deep, we could see a 4-3-3.
The significance of the 4-3-3
Not to suggest that the two-striker-set has worked badly, but we've all been waiting to see when Marco Rose would at least try moving Donyell Malen out to Jadon Sancho's old wide position. The absence of Reyna and Brandt appears to have forced his hand here and it actually worked out well.
We've not seen this before on the competitive level. There have been a couple of formations properly classified as 4-3-3s, but not one with Malen out wide like this. With an equal amount of giddiness, one also observed that Axel Witsel could finally settle in pocket with a strong center halve (Mats Hummels) backing him.
Dahoud's forward positioning also plays to the German international's multiple strengths. He's more than just the long ball expert we love to revel in watching. As he demonstrated in this match, he can work some wonderfully timed combo cycles with the top attacking axis.
Deserved respect for Urs Fischer 
Very few expectations for the Köpenickers league-wise this season. As everyone knows, the Europa Leagues (yes, two of them this season) hand teams quite the grueling schedule. The Union lads and their Swiss trainer barely had time to put in a half-speed training session after catching the red-eye back from Prague on Thursday night.
We often talk about Urs Fischer's preferred 3-5-2 "double stack" in this column. It's a genuinely neat system that packs a powerful punch. Regrettably, working a tight turnaround in this fixture, the 55-year-old didn't have the personnel available to deploy it immediately. The FCU trainer had to work his way up to it.
Lineup—FC Union Berlin—Match Five (3-5-2)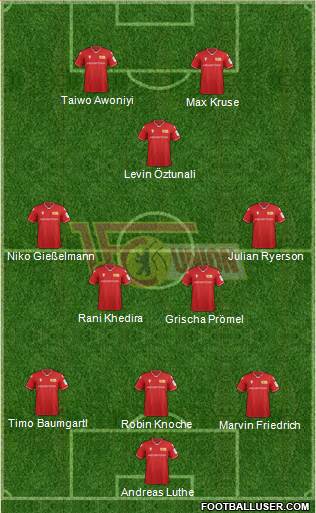 Four changes for the FCU trainer. Paul Jaeckel, Tymoteusz Puchacz, Genki Haraguchi, and Christopher Trimmel made way for Timo Baumgartl, Niko Gießelmann, Julian Ryerson, and Grischa Prömel. Dealing with new wingbacks, Fischer flattened out the back-three as a precaution and stationed a straight ten behind his striker.
We'll get to the stacking of the top two axes shortly. For now, it's time to dive into the action.
Match Flow: 1st to 10th minute
It appeared as if the Berlin visitors had their first goal at Signal Iduna already in the first minute. We were regrettably denied our rollicking start when Taiwo Awoniyi's netter was disallowed for offside. The first Dortmund attacking sequence in the 2nd featured a great combo out of Witsel's pocket position. The next three got a little choppy as the five rearward Union players stepped up in unison between the 3rd and 5th.
The fact back-three did its job. The NRW hosts were able to work the ball up to Malen on the left side in the 5th, but Marvin Friedrich had the cross covered. Hummels and Manuel Akanji got a few back builds rolling in the next couple of minutes. Witsel, at long last looking comfortable, slid back as they fanned out.
Reus was the next to punch through in the 7th. Again, the back-three stood tall to close ranks ahead of his though ball for Haaland. Gießelmann ran a counter back the other way, only to find no takers as most of his colleagues remained back. Dortmund's opening goal began with a great launched ball out of the back from Akanji.
The Swiss center back did his best Hummels impression with one of those "quarterback style" catapults for Raphaël Guerreiro. The Portuguese left-back then completed a lovely give-and-go with Dahoud, receiving a threaded return service in the tightest of spaces. A lovely volley might have taken a slight deflection off Friedrich. That ultimately didn't detract from a gorgeous strike.
Match Flow: 10th to 24th minute
Rose's crew might have done better to go straight for the jugular here as Union were visibly rattled. In the final analysis, it didn't really matter as they proceeded to dominate the next phase with calmly circulated ball possession. Between the 12th and 14th, the NRW hosts went for the keep away tactic with spread arcs across the width of the pitch. Jude Bellingham got stymied on a forward try early in the 15th.
Eventually, Friedrich lost patience with a Marco Reus retreat shield and bumped the BVB captain off the ball unfairly in same minute. Match official Sven Jablonski correctly issued a card. Reus supplied a solid service off the ensuing free kick. After some pinball, Haaland headed over. Union got some penetration on a quick counter. Kruse delivered his own decent ball on the corner that resulted. Kobel punched away.
In the 19th, it was Malen again back the other way on his spacious new flank. The Dutch youngster executed a nice cut in and tested FCU keeper Andreas Luthe from 25 meters out. Luthe had to be on hand to save the next chance seconds later. Malen was on hand to instigate another effort, this time setting up Haaland for a strike on target.
Fischer tried to will his men forward. The hosts nevertheless had the slower approach play covered. Rolling BVB counterattacks came thick and fast as the defensive corps easily absorbed the slower builds. Reus wasn't far off with a 21st minute free kick after Levin Öztunali hauled down Thomas Meunier. Eventually, Union got caught on one of these highly menacing counters.
Hummels initiated it with one of his trademark moves. The recently reinstated German national team defender stripped the ball off Awoniyi's foot. The ball found it's way to Dahoud in tons of space on the left. Dahoud then picked out Meunier on the right and the Belgian whipped in a ball perfectly strung for a Haaland headed finish.
Match Flow: 24th to 30th minute
Down 0-2, Union actually took advantage of more passive Dortmund play to put together some muster of their own. Reus did cut a path for himself into the box for an immediate follow-up in the 26th. Robin Knoche had to intervene at the last moment. Following that, the Berliners calming things down a bit with some slower builds between the 26th and 29th.
One liked the response. It had a mature feel to it. With more lateral possession spreads, the hosts got across their halfway line and earned a free kick. Kruse delivered well with–of all players–Haaland rising to clear in the 29th. Perhaps knowing that laying off against a dangerous opponent posed a risk, the Borussians then wrested control back.
Match Flow: 30th minute to half-time 
With some more "paint the corner" possession around the penalty area, Rose's men once again pinned their guests back. Knoche and Grischa Prömel had to be alert to clear the inward balls away in the 30th and 31st. Dahoud had eyes for Meunier again in the 33rd. Knoche had to dive to head away. By the 34th, Dortmund were once again playfully executing their keep away game with ease.
Following a string of clearances between the 34th and 36th, the guests finally found a gap following a twelve-touch pass sequence. Awonyi's finish was too hasty. Reus and Bellingham nearly caught the Berliners again on a dangerous counterattack. More of the same for the next four minutes. Berlin attack. BVB absorption. Quick lane drives up the other end.
Friedrich lost his cool again and fired a wild shank into the third row in the 40th. Gregor Kobel had no trouble with an over-the-top ball launched in his direction in the 43rd. Dahoud got a look in on goal with some slick dribbling in the 44th. Malen broke through again in the 45th. Ryerson's tackle away had to be inch-perfect.
Match Flow: 46th to 57th minute  
Few watching will have wanted the opening 45 to come to an end. One maintained the sense that, even if Dortmund were one tally away from game-set-match level, their spirited guests would not give up the fight no matter what. Everything remained set up for a fantastic finish. The two teams supplied us with one.
Reus brought the skill first with a sweet nutmeg of Knoche in the 47th. Luthe had to charge out and clear to prevent the captain from catching up. At the other end, Kobel had to step forward to close down Ryerson in the 48th. More great combination play involving Dahoud, Reus, Bellingham, and Malen in the 49th and 50th. Guerrerio barely missed the right instep touch on the former sequence.
Things got rough for a minute with both Hummels (on Awoniyi) and Geißelmann (on Bellingham) earning yellows in the 51st. Back up on his feet, Bellingham then went on a scintillating run and hit Reus in stride in the 52nd. The BVB captain then cut into the penalty area and aimed for Haaland. Friedrich had little chance of executing a proper mark and instead deflected the ball into his own net.
The stoppage in play after the 3-0 allowed Fischer to get the double substitution he had been preparing on the sidelines in. The plan was clear enough. Kevin Behrens and Cedric Teuchert would enter for Awoniyi and Öztunali and Awoniyi. As has often been the case, Kruse would then slide back in behind two fresh strikers.
Lineup—FC Union Berlin—56th minute (3-5-2)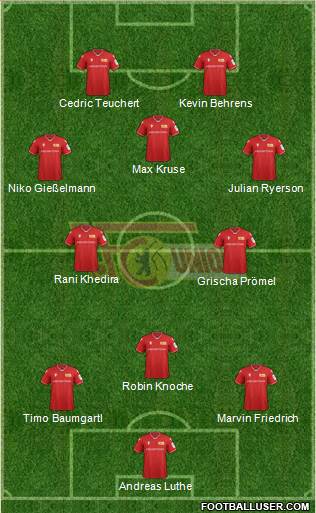 A strong play when trailing by two goals. Naturally, Fischer didn't plan to be behind by three when the reformat settled. As it turned out, we didn't get a chance to see it settled. Immediately after the double switch, Witsel took Behrens off his feet in the penalty area. After a VAR review, a spot kick was awarded.
Match Flow: 57th to 81st minute
Kruse duly converted in the 58th and suddenly Union had a lifeline. Fischer didn't hesitate to ready his next set of substitutions. This was truly a two-phase-plan. The FCU trainer wanted his double stack in place with a fresh set of close supporting strikers before the match was out. Hosts and guests traded a series of corner kicks between the 59th and 61st.
Kobel collected his with ease. Rose's BVB nearly scored off a very nice design on theirs. Dahoud and Bellingham played a one-two off a short corner before working to a wide open Reus, who in turn finished just over. Kobel came out to intervene again after Teuchert slipped past Witsel one minute later.
After a brief lull, Dahoud nearly saw himself clear in the 65th. Only a heavy touch precluded him from having a clear path to the net. While Reus protested for a penalty after a hard Baumgartl challenge in the 66th, Ryerson tore through on a right-sided counter. A quick combo involving Kruse and Teuchert saw Ryerson get the ball back, but the finish had just a tad too much power to it.
Union started to pour numbers forward and the BVB was forced to retreat. Hummels cleared a perilous Gießelmann cross in the 70th. Witsel only just got to a Kruse corner one minute later with Prömel lurking and ready to pull the trigger. Fischer's next sub saw Genki Haraguchi replace Rani Khedira in the 72nd. Rose responded with his first change, Marius Wolf for Malen in the 73rd.
A few fouls allowed matters to calm down a bit further between the 74th and 75th. The rejuvenated FCU ranks got off another counter in the 75th before Rose's men were able to re-establish the keep away game. Everyone took their time getting some fresh air into their lungs during Fischer's next double sub in the 77th.
This was intense stuff. Deep breaths were visible from all the actors as Kruse and Baumgartl strolled off the pitch. Genki Haraguchi and Andreas Voglsammer were the two attacking additions. At this point, it became straightforward that we'd see the so-called "double stack".
Lineup—FC Union Berlin—78th minute (3-5-2)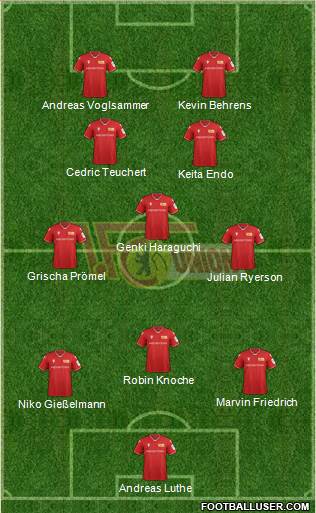 There it is. Just like last year, it's always a threat if Fischer doesn't use it from the start. Club sporting director Oliver Ruhnert has done a fantastic job of ensuring that the roster is stacked with strikers to make this work. It very nearly did this time. Rose clearly had ten of his original XI actors in full "milk the clock" mode.
Haraguchi, Endo, and Teuchert did a fantastic job earning a corner in the 80th. Gießelmann swung in a beauty. Voglsammer rose higher than the exhausted Meunier to head home. Unbelievable. Wonderful stuff. A one-goal game with nine minutes remaining.
Match Flow: 81st minute to full-time
We writers had our narrative. It was an all too easy and familiar one as well. Just as this chronicler was scribbling down something about Dortmund's passivity being punished by the gritty underdogs or something to that effect, Erling Haaland opted to deliver a grand "f*** you and your story" to all of us. Two minutes after Voglsammer pulled Union back within range, a play this columnist doesn't feel worthy of describing transpired.
Watch it for yourself. Watch it again and again. Hummels' long ball for the Norwegian super striker was good, but not the most precise. Haaland pulled it out of midair with those (some of us are now convinced) mechanically extendable legs of his and then volleyed it home with a damned rainbow arc. Damn. Wow. Hell with the story. That's football at its finest.
As if anything after that mattered, Reus actually hit the post three minutes later. Rose ran the clock down with the rest of the substitutions we wondered if he forgot that he was allowed to use. This BVB team has just dusted off two very worthy opponents in the last two rounds. That's much more than one can say for the defending champions, who took advantage of a Leipzig team in disarray and played…well…played Bochum.
Apart from the fact that this was just an incredible football match on so many levels, the short version of lessons to be learned regarding both teams bode well for two sides. As pertains to Dortmund, those who declare the title race on ice are categorically wrong. Regarding Union, maybe the assumption we all made about low league expectations is false as well. Fischer's Irons could finish top seven.
Thanks so much for reading! You can occasionally catch Peter goofing off while watching the lower German football divisions on twitter, @ViceytheSS.
Twitter DMs are open for football conversations, corrections, and (if you truly insist) general abuse. 
All columns debut on Bulinews before appearing on Peter's website later in the week.