Miss out on another comprehensive recap of last weekend's Bundesliga action? As a German would put it, "Keine Ursache". We've got you covered with the re-post. Some week. Stories galore!
---
League-Wide Talking Points: Round Eight
---
The best Golden Cannon race in years
It gets immensely interesting. Erling Haaland's four goals put him on 10 for the season, just one off Robert Lewandowski's league-leading 11. Three players lurk behind in third place with seven tallies. Some may forget that, in Dortmund's 5-2 drubbing of Hertha, the rapidly improving Matheus Cunha also netted a brace. He sits in fourth place with six strikes
Regarding the three players in third, Lucas Alario did not score in Leverkusen's win this weekend. He should get plenty of more opportunities as the lead-striker who has likely supplanted Patrik Schick. Mainz's Jean-Philippe Mateta, scorer of a hat trick in his team's 3-1 win over Freiburg, will rack up more goals as his team's only real threat. At long last, Hoffenheim's Andrej Kramaric returned to action this weekend after a COVID-enforced hiatus of five full rounds. A penalty allowed him to get back on the score sheet. A return to his earlier form isn't out of the question.
A prospector's "Iron Vein"
This writer's knowledge of geology certainly isn't what it once was. A vague recollection nevertheless surfaces. Something about iron-ore-seams in exposed subsections of rock leading the way to valuable mineral deposits. In any event, it seems an apt enough metaphor to describe the continued fantastic play of Germany's "Iron" FC Union Berlin.
Another impressive win over the weekend. Trainer Urs Fischer's injury problems cannot derail his amazingly deep transfer class. Taiwo Awoniyi stepped in and stepped up to officially open his club account with a fine goal. Robin Knoche and Sebastian Griesbeck continue to get stronger at the back. Max Kruse cannot be stopped at the moment. Even after seeing his record for converted penalties end, he still found the fortitude to turn in the game-winning goal.
The 2-1 victory over 1. FC Köln makes it three wins in a row for Eisern Union. They continue to outshine their capital city counterparts and stand a very good chance of beating them two weeks from now in the Berlin derby. Based on the upcoming schedule, this unexpected gold-strike club may still be in the European places come Christmas. Amazing.
Gladbach concedes late again
Trainer Marco Rose feels understandably gutted after ten-man Augsburg managed to equalize against his foals in the 88th minute. Factor in how his team have been deflated by late concessions in the Champions League and there are only so many ways one can explain persistent problems on the follow-through.
Gladbach's lone goal in the 1-1 draw actually came courtesy of an early fluke in the 5th minute. No top-tier side given 85 minutes to put the game beyond reach. Starting forward Breel Embolo only saw three quality chances over the entire duration. The Fuggerstädter lost Raphael Framberger in the 66th, meaning Rose's men even had almost a full half hour with an extra man.
The equalizer itself was pure defensive slapstick. Matthias Ginter and Stefan Lainer both failed to clear and Oscar Wendt dutifully supplied the deflection in. One wonders how many more somber post-match interviews the defenders can take.
The two "four-goal" clubs
Schalke 04 and Arminia Bielefeld confirmed their status as the most likely relegation candidates with two more respectively wretched performances. Both clubs have now (not counting own-goals) scored a total of four goals through eight rounds. Summoning up any hope for survival proves impossible when a side averages 0.5 goals per game.
Winless Schalke can hardly hope to scrape to safety with a (counting own goals) minus 19 goal differential. Hapless Arminia isn't much better at minus 12. Mainz's victory leave Schalke and Köln the only two winless teams with nearly one-fourth of the season gone. Die Geißböcke can, at the very least hope to survive the drop by virtue of a more competitive eight tallies and minus six deficit.
Hoffenheim snaps three-game skid
Stuttgart's Marc Oliver Kempf's last minute equalizer snatched the three points from Sebastian Hoeneß's Kraichgauer. Though the Sinsheimers put a halt their league losing streak, they still sit in 12th place on 8 points. This constitutes a surprising position for an über-talented team that got off to such a ferocious start.
Of course, the dive is directly related to manner in which COVID affected the club. No other Bundesliga team has had to deal with infections to the extent that Hoffenheim has. For obvious reason, this occurrence generates zero controversy in German footballing circles. Dietmar Hopp's club can shoulder some additional burdens.
While one definitely wishes neither him nor his players any ill-will, there exists no historic fan base to feel sympathy for.
---
The Burning Questions: Round Eight
---
Who is to blame for Hertha's Meltdown?
Peter Pekarik and Marvin Plattenhardt certainly had their fair share of defensive flops during the second-half deluge. Matteo Guendouzi and Niklas Stark were also culpable for essentially giving up on marking in the middle of the park. On the other hand, all four players did contribute rather high-level play during the first-half.
Little could stand in the way of the Erling Haaland show on the week he was selected for the Golden Boy award. Bruno Labbadia's men maintain cause to feel hard done by. The opening 45 minutes saw them legitimately look like a top four side for the first time this season. It was easily their best stretch of the campaign.
The only actor on the pitch who could be described as consistently bad would have to be center-back Omar Alderete. The Berliners remain truly lost without Jordan Torunarigha occupying that space. A better back-up in that position must be the top January transfer priority. Is it too early to speculate that die alte Dame might make a play to bring Jerome Boateng back to Berlin?
Is there a way back for Freiburg?
Christian Streich must find a way to infuse midfielder Baptiste Santamaria with some confidence. The crucial transfer had another nightmare day, getting badly beaten on a duel already in the 1st minute of the 1-3 loss to Mainz. Rattled and attempting to overcompensate, the Frenchmen then proceeded to lose five midfield balls in the next twenty minutes.
Naturally, Streich couldn't pull him and leave young Lino Tempelmann alone next to shaken Nicolas Höfler. Hence, the Breisgauer played the entire first half with some of the largest midfield chasms any football watcher is likely to have seen in years.
Santamaria truthfully hasn't turned in a convincing performance on any of the seven occasions he's suited up for his new club. When he did manage to flash some skill, in his round two and round three fixtures, amateurish mental errors pulled his overall level down.
The Schwarzwaldverein does get something of a respite before the short holiday break with back-to-back matches against Bielefeld and Schalke. This gives Streich two additional rounds to stabilize his midfield.
Can Flick's tactics sink Bayern?
The mere act of typing such a question feels silly. Hansi Flick certainly deserves the praise bestowed upon him for leading the FCB to a historic quintuple. One must emphasize that his accomplishments remain tied to a more "hands off approach". Flick's German giants operate almost exclusively in a "self-coached" 4-2-3-1.
Difficult as it may be to fathom, this weekend actually constituted the first time that we've actually seen the 55-year-old actually try his hand at tactics this season. In the full year that he's been in charge, Flick hasn't truly faced a creative challenge. The Joshua Kimmich injury, combined with Corentin Tolisso's absence, forced him to solve the first major personnel puzzle of his tenure.
Seeing as how he did not come up with an especially effective solution to the problem, we have ourselves an especially pertinent question for all those wondering whether we shall have a Bundesliga title race this year.
In Flick's defense, the 4-1-4-1 drawn up for the Bremen fixture only got approximately 15 minutes of run-time. Left-back Lucas Hernandez incurred injury early. Since it was too early to jettison his match-plan, Flick had to move Javi Martinez back to center-back and throw Leon Goretzka into Martinez's role.
That obviously makes a difference. What we witnessed was nevertheless simply not good enough.
Lineup—FC Bayern München—21st minute (4-1-4-1)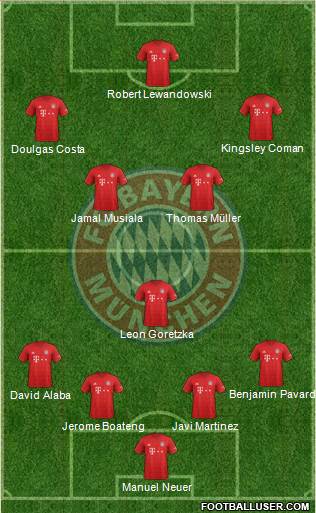 Goretzka's disagreeable ground
Followers of Germany's Nationalmannschaft received a wicked dose of deja vu when they saw Goretzka struggle mightily to play partnerless on such a deep axis. Mobility never was the former Schalke star's strong suit. Ball control, passing vision, an extremely powerful set of shooting legs, and physicality ability serve as his sharpest tools. The way in which he has prioritised his corporal development, particularly that of his upper body, suggest that he actively seeks to enhance these attributes above others.
Goretzka looked as hauntingly lost as in the 0-6 recent Nations League debacle. So much of his quality falls by the wayside whenever he's deployed so far behind. Christian Groß and Maximilian Eggestein routinely got the better of him with simple combos. In terms of distribution, the 25-year-old had a ways to go before he could reach Jamal Musiala or either of the flankers. It certainly didn't help that the forward trio were stonewalled by a wide seven-man blanket deployment easily capable of dominating the wide gaps of space inherent in the Bayern constellation.
As noted above, any trainer forced to contend with an early injury obtains some leeway. Turning a team's tactical plan around remains an harrowing task. It can be likened to turning around a large tanker in a tight water channel, and Bayern happens to be quite the stubbornly large barge. In this case, however, it should have been easy enough to send Alaba forward with the full license of a fullback or possibly even revert to a back-three. Smaller adjustments can always be made.
"Radio Müller" silenced
The affectionate moniker bestowed upon Thomas Müller stems from two of his acquired tendencies. First, it refers to the manner in which he deftly moves in and around the box, always either shouting for the ball or audibly directing his teammates to the open man. His other proclivity, also a penchant he's refined later in his career, relates to unceasing general cheerleader-type banter he uses to motivate his teammates. Most German football watchers now agree that, as aggravating as it may prove for opponents, it seems to have some sort of psychological effect on teams that don't feature that type of on-pitch leadership.
Not everyone rabidly consuming football in the era of spectator-less "ghost games" retain the privilege of turning off the obnoxious fake crowd noise that some broadcasters use. Those who do have become quite familiar with Müller's relentless jawboning. Only when he finds himself genuinely frustrated does he keep it more tight lipped.
Flick's formation had the effect of shutting Müller down and shutting him up in this particular encounter. Clearly instructed to choreograph movements on the same horizontal line of Musiala, he appeared hamstrung and dour. One could hear him shout for brief intervals, but he self-censored once it became apparent no one was truly listening to him.
Müller himself reserves post-match criticism for instances in which he feels his teammates weren't courageous enough. He has never possessed the sort of selfish personality to complain when his involvement in a game gets undercut. Accordingly, he adopted a supportive tone after this one. Other Bundesliga clubs still know precisely where to hit Flick's team in the Achilles heel. Flick himself can inadvertently engage in act of self-sabotage by pairing Müller with someone less experienced.
Before moving on, we'll have to address the offensive pile on of Flick's triple substitution in the 63rd. Much to everyone's shock, this influx of top-notch talent produced nothing. Here's why.
Lineup—FC Bayern München—65th minute (4-2-4)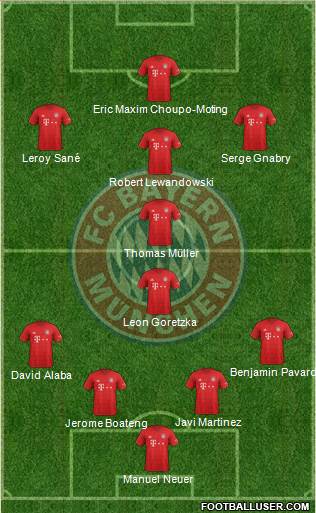 An interesting solution. Unfortunately, not a very practical one. Flick attempted to address the issues associated with both Müller's and Goretzka's dips by power-stacking the squad's vertical spine. Somehow he either failed to see, or, much more likely, opted not to take the more pressing dilemma seriously.
Bremen's seven-man midfield clog proved themselves capable of shifting into the yawning gaps between his fullbacks and wingers. Moreover, they strung several nice counters together when successfully snatching balls out of that space. One can argue that Bayern's coach proceeded with the reasonable assumption that his far more talented team, buoyed by plenty of fresh legs no less, could wriggle and trick their way past the trap.
Perhaps they could have on another day. Perhaps they will as early as the midweek Champions League fixture. No definitive answer to the question posed in this section can emerge from a single draw. One can confirm that Flick really isn't much of a tactician. Not exactly new news. It still matters.
Faced with his first major injury depletion in a specific area, he didn't really have a back-up plan in place. As the schedule now really begins to get ridiculous, and one mustn't forget that Bayern will have to play the Club World Cup in February, this is a very important thing to keep in mind.
---
Weekly Tactical Focus: A Staggered Six Scrimmage
---
Saturday evening's 1-1 draw between Leipzig and Frankfurt may have not been the most highlight-worthy fixture of the weekend. It nevertheless accords us the opportunity to check in with two of the Bundesliga's most intriguing trainers; both of whom presently fight a backslide and are grappling with new systems and new personnel.
The SGE's Adi Hütter emerges from a very disappointing international break. His team, having not won in the league since the third round, had been steadily deteriorating under his preferred 3-5-2 system. A genuinely awful performance in an exhibition match against Nürnberg counted as the last thing the Austrian head-coach needed.
So it came to pass that Hütter finally employed wholesale changes. In intelligent anticipation of what Julian Nagelsmann might put forward, he came up with an innovative 4-2-3-1 with staggered sixes.
Lineup—Eintracht Frankfurt—Match Eight (4-2-3-1)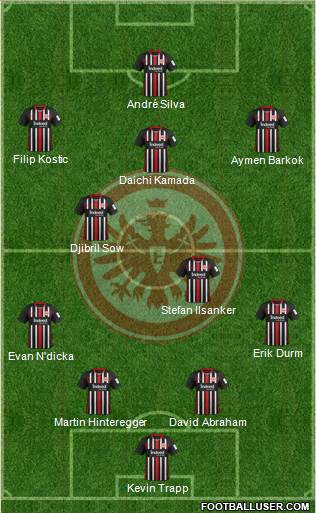 Loads of surprises here.
Bold gambits on the right-hand side
Among the five player changes Hütter employed, by far the most curious one had to be the dusting off of Erik Durm. The one-time German national team player had not been used yet this season. In point of fact, he made only six starts in the previous campaign; five of which came in the first half of the season.
Durm had long ceased to figure into Hütter's plans. On the rare occasions in which he was used, all deployments came in midfield. Heading into the weekend, one would have considered Durm perhaps Hütter's fourth choice at right-back. Almamy Touré, Danny da Costa, and even Timothy Chandler stood ahead of him on the depth chart.
Hütter inserted a cold option to buttress the streaking Aymen Barkok. To use Durm as the primary support mechanism of a player in great form, yet still not necessarily proven, constituted something of a shock.
A new midfield duo 
On the topic of players whom Hütter seemed to have pushed to the backburner, dipping Swiss international Djibril Sow hadn't earned a start yet this season either. Former Leipzig defensive midfielder Stefan Ilsanker found himself on a very poor run of form.
Sebastian Rode and Dominik Kohr were the sixes most will have forecasted. The pair complement one another well. If there was anything Hütter found itself in dire need of during the match in which he re-introduced Filip Kostic, it would be midfield stability.
The deployment presaged that the SGE trainer aimed to try something radical out.
Breaking up the striking tandem 
Again, one confronted a very curious decision. So much hard work had been invested in the development of chemistry between Bas Dost and André Silva. Two attackers with such radically different styles do no mesh overnight. Splitting them up isn't necessarily prudent given that it can always take time for them to rediscover their alignment.
Some, though certainly not all, of Hütter's moves made a little more sense when one took Nagelsmann's plans into account.
Lineup—RB Leipzig—Match Eight (4-2-3-1)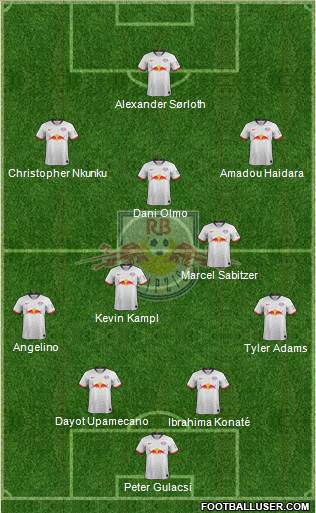 The Sørloth Audition 
Hütter could have easily anticipated that Nagelsmann didn't have much of a choice but to deploy his new target forward alone up front. With Hee-Chan Hwang out on extended COVID leave and the likes of Emil Forsberg and Yussuf Poulsen needed for the upcoming UCL fixture, the slightly overdue move was entirely foreseeable.
We'll get to the Norwegian's actual level-of-play in a moment. Suffice to say for now that the new acquisition remains very much behind the curve in terms of his integration into the side. He's an exploitable target when one can close ranks to two strong centerbacks. This may have played a role in Hütter's forgoing on Makoto Hasebe in favour of David Abraham and Martin Hinteregger sitting deep.
Kampl the driver 
The steadying role of Kevin Kampl on both sides of the ball has gone quite some way in ensuring Leipzig's success across all competitions this season. Since Marcel Sabitzer returned to the lineup, Nagelsmann has slowly moved him back to a flex position that enables him to compensate for Angelino's defensive deficiencies.
A staggered deployment for him appears the only way Leipzig's young coach can get flank-based attacks rolling absent his two regular starting fullbacks. Hütter correctly deduced that the game would be won or lost in his area of the pitch. While the SGE coach's personnel choices struck one as odd, the basic shape made sense.
Match Flow: 1st to 15th minute
Neither side looked particularly comfortable in their arranged set-ups early on. Tacticians might have appreciated the nuance on display, but aesthetically pleasing football was not to be found early on. Tyler Adams and Amadou Haidara botched an early positional interchange in the 3rd. By the 7th, Adams got pulled completely out of position, forcing Dayot Upamecano into a bad giveaway.
Transition play on the Leipzig right broke down repeatedly. Kostic, dealing with noticeable rust, found himself unable to take advantage. On the other flank, Durm got off to an atrocious start with some sloppy touches. Silva had to track very far to get involved with the play. Daichi Kamada didn't react particularly well to the striker breaching his territory.
Despite many obvious errors, RB rattled off six scoring chances in the opening quarter of an hour. Frankfurt managed only one. Leipzig's opportunities still fell well short of the execution standards one might expect from a top tier club. Dani Olmo missed a wide open Amadou Haidara in the 15th. Prior to that, Sørloth showed very poor awareness in failing to connect with Angelino crosses in the 4th and 13th.
Match Flow: 15th to 32nd minute
A nice series of back-and-forth attack sequences characterized the next quarter of an hour. Adams and Haidara finally figured out how to intuitively feel their respective movements in the 17th. After a couple of perfect triangle cycles, Nagelsmann's men were able to produce some solid charges. Three came in three minutes, with an Olmo header wide in the 20th constituting the best opportunity.
At the other end of the pitch, Kostic began to regain the touch on some of his trademark crosses. He also whipped in a very nice corner in the 22nd that Hinteregger should have done better with. The Hessen hosts put together a fabulous 20-touch-sequence in the 24th. The Saxon visitors then countered with a splendid 15-touch-team-possession spell in the 26th.
Another highly elegant Leipzig build in the in 28th should have produced a goal. Sørloth again wasn't in his center forward position. The striker couldn't catch up with a Christopher Nknunku forward ball. Kostic hustled back to tackle away.
After an ill-advised forward run from Adams in the 30th, Kostic and Kamada were finally able to work a good give-and-go on Frankfurt's best looking charge of the half.
Match Flow: 32nd minute to half-time
The German Red Bulls still looked the more likely to score. The chief culprit in their inability to find the back of the net remained Sørloth. Haidara punched through in the 33rd, but the center-forward couldn't get near enough to his cut-back. A similar occurrence involving the same two players happened again in the 39th. In the 41st, Sørloth just wasn't in the right area to receive Angelino's cross for the third time.
The tall Norwegian always invariably lurched out wide. The fact that he wished to challenge for balls on the defensive press remained commendable, but  he could never seem to adjust back to a center-forward's target position. Upamecano also played about as badly as he did in the PSG match. One sensed that his return from injury might have been rushed.
The 22-year-old Frenchmen seemed surprised to find the ball at his feet in the 35th and squandered a golden chance. He gave the ball away again in the 40th. Barkok scored the opening goal in the 43rd off an Evan N'dicka service. Upamecano inexplicably leaped nowhere near the ball as it came in. Both he and Angelino got caught in an egregious act of ball watching in the 44th.
Nagelsmann's triple substitution
Even the most casual observers could conclude that Upamecano and Sørloth needed to be replaced at the half. The 33-year-old RB trainer took off Olmo as well and reformatted for the comeback.
Lineup—RB Leipzig—46th minute (4-2-3-1)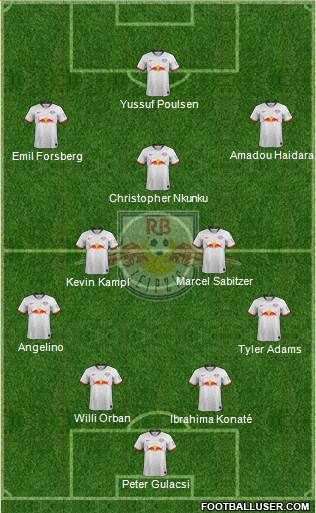 There was little choice but to forfeit the stagger. Hütter's mid-field set up had come out on top. Obviously, the positioning errors of Sørloth and Upamecano's errors affected the scoreline more than any other factor. The matter of Kampl and Angelino's positioning, however, called for a more disciplined approach.
Both players poured forward too often. One can hardly fault them for attempts to spark their team with upfield tears, but one of them needed to remain back in order for the system to work. As pretty as many of Leipzig's possession-passing-sequences were, the overall forward impulse yielded too much pedestrian play on the left.
Frankfurt took advantage of the predictability to defend in numbers. Hence, Kampl had to be paired directly with Marcel Sabitzer.
Match Flow: 46th to 58th minute
Kostic produced the first chance of the second half with a strike of the post in the 47th. Barkok wasted some good work with a poor cutback in the 50th. A more stationary position for Kampl enabled Adams to get forward, earning a corner in the 50th and digging out a nice touchline ball two minutes later.
Initially, Sow did a decent job smothering out the revised midfield. Some excellent pressure work on his behalf stopped Kampl cold in the 54th. He stonewalled Adams a minute later. The breakthrough would come, however, once Angelino turned on the jets again and found a target forward worthy of his cross.
Substitute Yussuf Poulsen demonstrated how a target forward should get into position. The 57th minute finish was even better than his 4th round wonder goal. Once the Danish attacker showed everyone up with a filthy slick strike of the outside of his boot, the entire tenor of the match changed.
Match Flow: 56th to 63rd minute
Die roten Bullen surged with confidence. Die Adler wobbled with doubt. Hütter had to forfeit his own stagger and he had to do so quickly. Dominik Kohr received the immediate signal to warm up and the hosts did all they could to ward off a series of charges that threatened to put Leipzig ahead.
The replacement midfielder finally came on for Kamada in the 63rd.
Lineup—Eintracht Franfurt—63rd minute (4-3-3)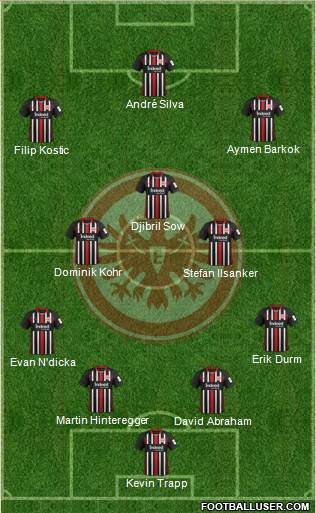 Match Flow: 64th minute to full-time
Once the plug was in place, Hütter essentially ensured a stalemate. Nagelsmann's XI slowly moved ahead in terms of possession, reaching a 60-40 split around the 70th. Neither side truly challenged the other in midfield thereafter, with both coaches evidently satisfied that they had at least shored up their staggers.
Nagelsmann brought on Justin Kluivert for Nkunku in the 72nd in a like-for-like swap. Hütter allowed Silva to keep chasing a tally until the 79th, when he brought on Dost. Aware that he was about to be taken off, the Portuguese international generated the last best chance of the match with a direct take on of Gulacsi in the 78th. The final twelve minutes were mind-bogglingly boring.
All told, the fixture constituted an interesting enough tactical chess match. Lessons derived nevertheless bode well for neither coach.
In twelve fixtures across all competitions, Julian Nagelsmann finds himself no closer to a consistent plan of attack. Sørloth's play may even imply that it's time to take him all the way back to square one on the training pitch. Poulsen can always supply some magic, but that's ultimately insufficient as the team must rotate over the course of nine upcoming fixtures in less than 30 days.
Hütter's squad selections hint at some basic evaluation issues. The SGE trainer reaches deep into his ranks when he has no apparent need to. One wonders why Adjin Hrustic hasn't at least been given a chance yet in his winger rotations and how he plans to replace captain David Abraham when there are so many underused players in his defensive corps.
Die Adler face a very rough stretch of matches before Christmas, potentially slipping four or five places in the table.
---
Concluding Thoughts: "A Nationalelf with character"
---
For some reason, the pain has not yet subsided. Five days removed from the torrid national embarrassment that left Germans with a seemingly infinite supply of grievances, the Bundesrepublik's football lovers still cannot turn the page. Ordinarily, the conversation would be over by now; at the very least it would be on an enforced hiatus.
The topic keeps cropping up in German footballing circles. Few appear capable of letting it be. The intention to do so most assuredly exists, yet new complaints and gripes keep popping up. The country's football lovers can't seem to resist behaving like a stubborn old grandfather who can't stop rumbling back with "and other thing.." after repeatedly admitting he longer wishes to discuss the issue and, indeed, probably lost the argument.
There are simply too many factors at play: Löw fatigue, fear of a disastrous Euros, compounded fear of a 2022 World Cup disaster that now comes too soon, the unbelievably bad tactics, the shameful way in which the players quit, Oliver Bierhoff's hubris, the famous trio's exclusion, general quarantine rage. One could literally go on for days.
After spending some time wondering if a broader source of discontentment might be isolated, this writer settled on the issue of how milquetoast the current incarnation of the Nationalmannschaft happens to be. Many Germans don't find any of the players particularly interesting. Storylines are missing.
Joshua Kimmich's quest to become the next Philipp Lahm is, by definition, an old story. Serge Gnabry's "stirring the pot" goal celebration is fun, but no one else routinely engages in silly antics. The team's best player, Timo Werner, possess exceptional skills, but is a fairly mundane personality. Cold and clinical. Yawn.
This team needs an interjection of more vibrant dispositions; not to mention a few storylines. In the spirit of pure irreverence, a writer cheerfully nominates three players who will absolutely not be playing for the national team in the near future. We'll just have some fun here.
Youssoufa Moukoko (Borussia Dortmund)
Yeah. Let's just do it. Why not? The "young phenom taking on the world story" never disappoints. The average age of the players on the pitch in the humiliating 0-6 defeat? Twenty-seven. That's ridiculous. Jogi Löw insists that Thomas Müller and Mats Hummels are past their prime, yet Toni Kroos and Ilkay Gündogan are allowed to play on despite clearly being past theirs.
Admittedly, it's always nice to see veterans like Jonas Hofmann, Philip Max and Robin Gosens get their first national team call-ups in their late 20s. The "late-bloomer" angle is always enjoyable. It also applies to players in their mid-twenties like Florian Neuhaus, Nadiem Amiri, Suat Serdar, Felix Uduokhai, Mahmoud Dahoud, and Robin Koch.
All well and good. It still isn't working. A national team coach can't reasonably be expected to build the core of a team with "feel good" call-ups. Since, it's now far to late for Löw to construct a system, he might as well go for broke with a 16-year-old.
Of course, this won't happen. The teenager has at least five strikers ahead of him, and Löw doesn't care if he has a system.
Max Kruse  (1. FC Union Berlin)
A "bad boy story". Every team needs one. Finding the right fit proves difficult, of course. Ideally, the team benefits from a player with a slightly rebellious and independent streak. No one wants the full tilt Kevin Prince Boateng. Think more Bastian Schweinsteiger (2006) or Jerome Boateng (2012).
Max Kruse fits the bill. Previous disciplinary problems with Löw. A recovering Nutella addict. No-limit Texas Hold em' Poker lover. Stern opposition to Germany's "blitzer" speeding cameras. An incident in Turkey not to be discussed.
If Löw could admit that he was wrong to drop Kruse out of his candidate pool in 2014, it would humanize the 60-year-old trainer somewhat.
Of course, this won't happen. Löw no longer feels the need to act human, or recognize a player in good form.
Rouwen Hennings  (Fortuna Düsseldorf)
Finally, an "improbable comeback story". The 33-year-old striker brings with him plenty of cult panache from playing for both of Germany's punk rock clubs. Once an absolute star with the Germany U21s, he never made the step up to the senior side.
Hennings actually finished fourth in the league in scoring last year, knocking home 15 goals for the relegated Flingeraner. He tallied four more times in the Pokal for a total of 19 goals across all competitions. He's done well thus far this year too.
If Löw could pluck a player out of the second division to serve as his primary "joker" off the bench, that would truly be something.
Of course, this won't happen. The current state of German football amounts to a whole lot of nothing. It's likely to stay that way.