More cheers and bows for "Germany's Team" on matchday eight of the 2022/23 German Bundesliga.
A thoroughly dominant performance from the Eagles of Geramny's commercial capital had just about everything, save a goal from the French standout who would soon introduce himself to a much wider audience during the World Cup.
Randal Kolo Muani would have to settle for a pair of assists and a sending off on double yellows on this day. The fact that the set-ups were, in fact, so absurdly smooth still ensured that his picture would lead the column.
Oops. Oh well. On the brighter side of things, only three weeks or so before we get to see this marvel back in action for the SGE!
---
Bundesliga Tactical Banter: Round Eight
---
The Bochumer Blackout
Yikes! Man, did those of us with a dark premonition of how matters would progress for lowly VfL Bochum ever see our worst fears confirmed this weekend. A coaching change forced by front-office politics rather than on-pitch affairs did the last-placed 1848ers absolutely no good. Thomas Letsch's new-look VfL never came close to getting into the game against RB Leipzig on Saturday. The hosting German Red Bulls immediately knocked Bochum flat on the canvas. If the encounter had been a boxing match, the Westphalian guests would have been ruled losers via TKO as soon as Timo Werner scored his first goal in the 15th.
Adding to the sense of long-term despair surrounding Bochum, freshly installed trainer Letsch made two major in-game tactical adjustments to zero avail. Workable solutions seem a ways off whilst total confusion reigns. Letsch began by lining up the team in a disjointed-looking 3-5-2 that had Patrick Osterhage working as a clamp ten behind a double striker set of Gerrit Holtmann and Simon Zoller. When this didn't work, he yanked Danilo Soares (serving at left-wingback) before the first half was out and tried to re-format into a 4-2-3-1.
Sigh. When this too didn't work, Letsch pulled the trigger on a triple change at the half. Philipp Hofmann, Christopher Antwi-Adjei, and Kevin Stöger (all three of whom probably should have started in the first place) came on to form what was nothing more than a sordid and  incomprehensible mess. The columnist thinks it was supposed to be a 4-3-3 with Holtmann and Antwi-Adjei up alongside Hofmann, but don't go quoting him. Whatever it was supposed to be completely crumbled mere minutes after the restart. The worst start imaginable for Letsch. His players have no reason to trust him as it's not clear what he wants.
Some interesting news from Leipzig in this battle of the two clubs who have already switched coaching regimes in the young season. Marco Rose tried out a 4-4-2 that pinned Werner back on the left-wing while Christopher Nkunku worked behind André Silva as a service striker. Marcel Halstenberg supported Werner from behind in place of the slumping David Raum. Some bold calls from the new RB trainer that worked wonders against an, admittedly, terrible team. We'll obviously have to wait for better opponents before beginning to draw conclusions insofar as the Saxons are concerned. Something of interest tactically in any event.
Mainz on the uptick
FSV Mainz 05 trainer Bo Svenssion can take a few positives from his side's 1-2 loss in their trip to Freiburg over the weekend. Although he wasn't quite ready to revive his normal striking partnership with Karim Onisiwo, the returning Jonathan Burkardt performed decently enough in a 3-6-1 behind his–under the best circumstances–axial colleague. New introductions to the XI Anthony Caci, Danny da Costa, and Anton Stach counted as rational and serviceable upgrades over Edimilson Fernandes, Jae-Sung Lee, and Angelo Fulgini; all of whom struggled against Hertha in the previous round.
The Nullfünfter were taken out of the game in a flash when Maximilian Eggestein and Ritsu Doan (with a nice leave) set up Michael Gregoritsch's opening goal in the 3rd minute. A slow, yet steady, crawl back into the match got cancelled out when Daniel-Kofi Kyereh tapped home the second after Gregoritsch's shot hit the crossbar in the 37th. Svensson's charges nevertheless came out prepared to play in the second-half. Burkardt registered an assist after capitalizing on an SCF defensive error and setting up Aaron Martin in the 52nd.
Unfortunately for the Rheinhessen, Burkardt's timing simply wasn't there yet. The Germany U21 squad captain could have done much better with a pair of efforts in the 64th and 65th. The equalizer was definitely within reach and would have come were it not for Burkardt's rust. The equalizer very nearly did come during a furious flurry of activity in front of Mark Flekken's goal in second half injury time. Aaron forced Flekken into a marvelous save off a free kick. Onisiwo hit the post. Silvan Widmer saw an effort cleared off the line. All of this transpired in the span of two minutes.
Burkardt's injury seems to have led Svensson to reconsider his basic tactics. The long-successful "Johnny-Si-Wo" attacking partnership may now be a permanent fixture of the past. The FSV gaffer appears to prefer a double-ten set-up behind Onisiwo now. Burkardt served in this capacity on a horizontal chain with Stach, who himself has found new life playing higher up the pitch than ever before in his career. Mainz's duel with Leipzig on the next matchday is definitely worth looking in on. The Pfälzer could possibly pull off an upset and ride a favorable schedule into the World Cup break.
Naturally, if that happens, Svensson might not be returning after the turn of the calendar year.
Augsburg riding high
Whoa, whoa, whoa. Wait a minute. What? Really? Yes, really. Somehow this is happening. It isn't supposed to work this way. Traditionally, the Bavarian Swabians are supposed to bumble along until Stefan Reuter fires the coach near the end of the season in a last ditch effort to avoid relegation. After breaking this pattern last year, the Fuggerstädter are suddenly thriving under the most unlikeliest of trainers. Enrico Maaßen may not know how to pick out a haircut yet, but the young-gun certainly knows how to pick a squad.
The FCA have captured their third straight league victory after Maaßen sent out the same XI for the third straight game. Unchanged from their Bayern upset, The two strikers acquired by the club in the offseason–Mërgim Berisha and Ermedin Demirovic–have been steadily improving over the past few weeks. Both were brilliant on tallies that enabled Augsburg to rush out to a 2-0 lead against Schalke. Demirovic, really operating well on that left wing slot, netted the two goals. André Hahn got credit for the assists. Berisha was still critically involved in both.
Maaßen remained calm even after Schalke clawed their way back into the match and leveled matters at 2-2. No personnel changes. No tactical shifts. The 38-year-old trusted the team he had fielded. Even after Berisha got sent off, he went with a simple like-for-like sub, replacing Florian Niederlechner with Fredrik Jensen. The trust invested paid off when Hahn headed home a Robert Gumny cross to give shorthanded Augsburg the win over Schalke. Incredible.
We shall see whether this can be sustained. The loss of Berisha next week will not make things easy for Maaßen next week. His team is nevertheless playing Wolfsburg (addressed below as still not looking terribly good) and after that have four beatable opponents before the World Cup break hits. There's even a re-match with Bayern in the Pokal in less than three weeks' time. Oh man. Could the FCB potentially be thrown out of the domestic cup in the second round for the third year running?
Stay tuned!
---
The "Burning Questions": Round Eight
---
What lessons come with Bayern's victory?
The record champions got the league campaign rolling again on Friday night with a good-old-fashioned steamrolling over floundering Bayer 04 Leverkusen. One needs to emphasize that the mighty Bavarians were playing a genuinely horrible team that can't seem to stop committing thoroughly embarrassing errors. Gerardo Seoane's Werkself currently lurch about like drunken Oktoberfest patrons. The hosting FCB were able to put their intoxicated opponents down fairly easily.
Julian Nagelsmann's tactics, surprisingly enough, weren't all that radically different from what we've been seeing recently. Though the constellation did contain some changes, Nagelsmann made only two personnel moves from last time. Marcel Sabitzer and Benjamin Pavard started over Leon Goretzka and Noussair Mazraoui. Importantly, the FCB trainer made no changes in attack. Equally as important, he kept the approach focus centralized.
Lineup—Bayern München—Match Eight (4-2-4)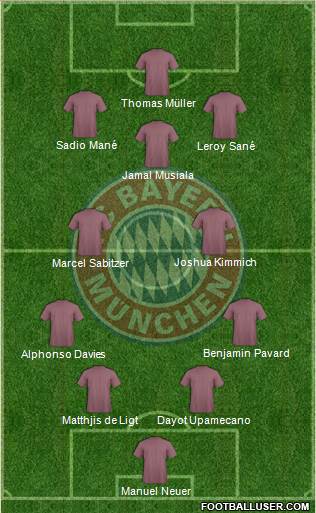 Stretching the  "drunken Oktoberfest" patron metaphor a little further, we can say that Nagelsmann's XI knocked out an adversary with poor peripheral vision and appallingly slow reflex skills. It's not clear at all that the quartet of bunched together attackers would have succeeded against an opponent competent enough to shut down the box with sober and rational defending. Think of Leverkusen as a hopelessly insecure entity that tries to compensate by getting loaded, which (of course) never works.
We'll go ahead and break down all four of Bayern's goals from this fixture as a means of underscoring this point. It was just all to easy for the maroon-clad (in honor of the "Wiesenzeit") defending champions. The full-time xG stats–Bayern, 2.4 to Leverkusen's 0.9–suggest a deserved victory, but all four tallies came courtesy of mistakes combined with blind luck. Each goal must be considered in turn in order to tell the full tale. Not the prettiest story when one takes a closer look.
Goal #1, Leroy Sané (3rd minute)
Musiala sliced right through the B04 defensive ranks unmolested shortly after kickoff. Struggling center-halves Jonathan Tah and Edmond Tapsoba were nowhere near a mark on anyone. Musiala squared in simply a pass for Sané through four totally out-of-sorts Leverkusen players and Sané fired on goal. The ball took a wicked deflection off Tapsoba that left keeper Lukas Hradecky with no chance.
Goal #2, Jamal Musiala (17th minute)
Musiala himself would get a tally when confidence-deprived Bayer couldn't handle a simple long vertical from Dayot Upamecano and a straightforward give-and-go between Musiala and Müller. Musiala fired in from the half-right. Again, the ball took a deflection; this time off Tah. Hradecky still had time to adjust to the redirect and needed to do significantly better with the finish. 2-0.
Goal #3, Sadio Mané (39th minute)
After a horrible turnover, Benjamin Pavard located Musiala on the break. Mané–who had hitherto had a pretty bad game up till that point–received Musiala's cross. The Senegalese attacker found himself challenged by no one and had plenty of time to maneuver himself into shooting position. An effort that Hradecky could of conceivably handled got deflected in underneath Robert Andrich's calf.
Ahem.
Half-time xG:
xG Bayern–0.7, xG Leverkusen–0.3
Wild stuff. Three goals, all of which owed much to deflections. Leverkusen's atrocious defending naturally can't be ignored. One still needs to let the above stats sink in a bit. Bayern weren't hitting the more promising xG plot-points. Even amidst all the blown coverage, the Bavarians could have found themselves without a tally or even behind on a different day.
Goal #4, Thomas Müller (84th minute)
This one will make the blooper reels for years to come. Poor Hradecky slipped whilst attempting to pass out of his own penalty area. The Bayer skipper turned the ball over to Müller in front of an empty net. One certainly felt for the B04 captain there, although the incident was emblematic of his play as of late. Seoane may wish to consider taking his armband. Andrich might benefit more from it.
The near-term look of Bayern's future tactics
Hradecky did make some solid saves during the second 45, stopping enough chances that propped Bayern's xG up a bit. Overall, Bayern played much looser and more creatively with their 3-0 lead secured. That's actually not a huge deal. Furthermore, two of the team's better performers–Kimmich and Müller–just tested positive for COVID. Nagelsmann is in line for a major re-think ahead of Tuesday's UCL clash.
Over the course of the match, one could tell that the young head-coach wanted to cajole his 4-2-3-1 into a much wider 4-2-4. Nagelsmann frequently made spatial gestures with his hands, strongly suggesting that Sané and Mané needed to flank out a bit and let Müller and Musiala handle the build-up play as more tightly-knit tens. The trainer is aware of his problems. That doesn't mean they are fixed.
We'll probably see a 4-2-4 against Viktoria Pilsen on Tuesday. Mathys Tel alongside Musiala could work and potentially allow Mané and Sané some practice at working father apart on the top axis. Nagelsmann would do extremely well to cultivate such a system in the time he has before the big ;matchup against Dortmund next weekend. The 4-2-4 needs to be in place.
Of course, when it comes to Dortmund…….
How did Dortmund stumble again?
Once more, here we go. Three losses eight rounds into a campaign. In all candor, it matters not who happens to be coaching this team or how many promising players they bring in each offseason. There simply isn't a personality that can adequately help this squad shake off the collective stress of being the chronic title challengers who never quite make the step up.
A pseudo-phycological diagnosis of this team may seem like a pretty shallow take, but it really is reflected in the body language of die Schwarzgelben whenever they play. Most recently, the strain on this squad seems to be compounded by the increasing desperation to re-tool the attack around the recently acquired "emergency striker" Anthony Modeste.
Players for whom crossing isn't their greatest quality continue to send endless balls in the Frenchman's direction. Still, they can't get the 34-year-old going. After netting a tally in the fourth round against Hertha, Modeste has now gone four matchdays without a goal. He has just one league tally to his name this season.
Trainer Edin Terzic can also furnish all the lofty talk concerning his team's inability to execute his plans that he wishes. That doesn't excuse the case that, on this particular day, his tactics proved quite poor. After an energetic (albeit sometimes a little too rough) first half, Steffen Baumgart's Köln figured out how to crack this.
Lineup—Borussia Dortmund—Match Eight (4-1-4-1)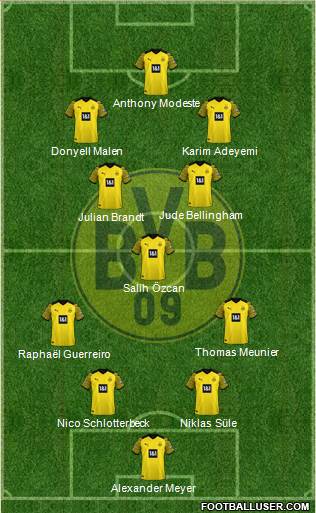 Much of the BVB approach play relied upon deep lane-cut runs from Karim Adeyemi and Jude Bellingham. Julian Brandt and Donyell Malen often slid in underneath (occasionally functioning as straight tens) to receive cutbacks. Modeste got easily crowded out in this approach. To use Modeste as a decoy would have made sense in there stood a chance that Köln would get suckered in to marking him.
Baumgart's lads weren't fooled. Modeste didn't draw much coverage. It's true that Effzeh keeper Marvin Schwäbe made several fantastic saves during the opening 45. The BVB were able to win the overall xG battle with 3.1 to Köln's 2.0. That full-time stat certainly came as a shock to those watching the second half of this one.
Baumgart's tactics were better thought-out. They didn't fully click until after the restart. Once they did, however, die Geißböcke could not be stopped. What spark we witnessed from Dortmund in the first-half got completely extinguished in a second 45 during which the hosts ran  circles around their guests. Terzic's crew could have easily lost this game 1-4 or 1-5.
Lineup—FC Köln—Match Eight (4-1-3-2)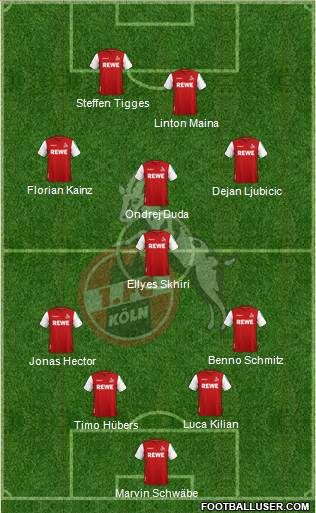 Ellyes Skhiri generally operates well on his own midfield solo axis. Florian Kainz and Dejan Ljubicic–both of whom really turned it on after the restart–can really wreak havoc from those subdued wing positions once they get their rotations synchronized. The choice to give the streaking Linton Maina a go as the service striker was an inspired one. He too had a great game, as did designated target forward Steffen Tigges.
A missing component for Köln in some of the less stellar results in recent weeks was definitely the lack of a strong actor in the ten-slot. In this sense, the team really misses the injured Mark Uth. Baumgart has tried all manner of things, including inserting captain Jonas Hector into the position. When the team sheet was initially released, the sight of Ondrej Duda didn't exactly inspire confidence. The Slovak has looked truly terrible in his three extended appearances this season. One expected almost zilch for him on this day.
Whatever Baumgart said to Duda to light a fire under his posterior ahead of the match nevertheless worked. The player he threw out of the squad not so long ago finally found is feet in this one. Duda delivered with a real sense of courageous aggressiveness in the duels when the team came back out. Despite the fact that he didn't get his name on the scoresheet, he deserves a great deal of credit for helping Köln reverse the flow of the match with his tone-setting.
A great game from virtually all the Köln starters. As Baumgart began sending straight-arrow plug-in subs to this constellation, virtually everyone who came in off the bench thrived as well. Florian Dietz and Sargis Adamyan got looks in. Denis Huseinbasic recorded an assist on Ljubicic's goal. Eric Martel forced a save out of BVB keeper Alex Meyer before the game was out.
In summation, Terzic's BVB got just flatly outplayed in the typical type of Dortmund game that many of us German football watchers are getting tired of labelling an "upset". The tactics weren't very sensible and handcuffed the main striker. Julian Brandt–another goal notwithstanding–continues to be frustratingly junkish.
The same basically applies to all those with forward responsibilities excepting Bellingham.
Don't bet on this team next week against Bayern.
Just don't do it.
Did Wolfsburg earn their win?
Errr…nope. The writer will concede one solitary point. For the first time ever, watching Niko Kovac's version of Germany's green company team was not (as this column is fond of saying) a "joyless slog". For the first time in a very, very long time (going back to Oliver Glasner perhaps) watching Wolfsburg was fun. Kovac rolled out an exciting 4-1-4-1 featuring Jakub Kaminski and the at-long-last returned Patrick Wimmer on the flanks behind Omar Marmoush.
Yannick Gerhardt and Mattias Svanberg supplied the buttressing support while Maximilian Arnold served as the primary midfield string-puller from his own solo axis. It worked very well. Wimmer, Gerhardt, and Svanberg recorded early chances. Marmoush and Arnold would record first half goals. Marmoush, Svanberg, and Gerhardt would all combine on the brilliant game-winning goal at 90+1. Fair play observed. A slight tip of the cap for the 3-2 win over Stuttgart.
The writer will now note that the game-winning goal was the only one of particular quality. Marmoush's strike, brave as it was against his former club, took a deflection on the way in. Arnold would not have scored were it not for a howler from Stuttgart keeper Florian Müller. The Wolfsburg defense melted down on several occasions, with Micky van de Ven looking especially poor. The WOB build-up play over the course of the entire second-half normal time was so broken and full of mistakes that the squad essentially still looked defective.
xG?
xG Stuttgart–2.35, xG Wolsburg–1.75
Yeah, they got a bit lucky.
Kovac's Wolfsburg still sucks.
What on earth happened in Bremen?
That happens to be something most of us Bundesliga watchers are still trying to sort out. The xG was close and there were several moments in the first half during which this 5-1 blowout could have gone in a different direction. Some lax marking by Manu Kouadio Koné enabled Romano Schmid to set up Niclas Füllkrug for the opening goal three minutes in. The hosting Hanseaten were able to pass completely around shellshocked Gladbach and Marvin Ducksch finished off a Schmid rebound less than five minutes later.
Ducksch had a little luck when squaring off against Marvin Friedrich just prior to setting up the third goal in the 13th. Even down 0-3, however, Gladbach still had their chances to get back into the match. Christoph Kramer, Joe Scally, and Lars Stindl all had quality chances stopped by Bremen keeper Jiri Pavlenka before the first half was out. Ramy Bensebaini's unfortunate own goal unfortunately meant that Bremen had a commanding 4-0 halftime lead.
We didn't have much of a football match after that. Gladbach played significantly better in the second 45, but that was mostly because Bremen had nothing to lose by allowing them to have the ball. Not long after Marcus Thuram pulled one back in the 63rd, the hosts snapped back into the match and grabbed their fifth goal of the evening. Lessons? Phrew. Just too many gut-punches too early.
That's about it….apart from the "Niclas Füllkrug for Germany" thing. More of us are hopping on that bandwagon after what we witnessed this weekend. There's a lesson for all denizens of the Bundesrepublik, most especially Bundestrainer Hansi Flick. Mind the "gap", Hansi. "Lücke für Deutschland!".
Anything interesting from Hoffenheim-Hertha?
Not really. The first Sunday fixture ended up being something of a dud. Sandro Schwarz's usual 4-1-4-1 held its own against a Sinsheimer side that André Breitenreiter opted to experiment a bit with. The TSG trainer started Munus Dabbur together with Christoph Baumgartner up top. In his big anniversary game, Andrej Kramaric slid back to the left-wing. Stanley Nsoki also got a look in the back-three over Kevin Akpoguma.
Blah, blah, blah. Kramaric scored. Hertha mostly failed to finish until an Angelino error allowed Chidera Ejuke to set up Dodi Lukebakio with a can't miss ball through the channel. After the two sides traded goals in the opening 45, the second half bordered on the unwatchable; not least because Lukebakio, Ejuke, and the still hapless Wilfried Kanga missed what few chances the hosting capital city side managed to create. Nothing much to see here. Best to move on.
---
Weekly Tactical Focus: Bring on the Spurs!
---
Settling in for a match between two teams Germans absolutely love to root for, there was admittedly some trepidation that Eintracht-Union might prove a dud. Two teams secure enough in their own identity at this point can frequently cancel one another out, after all. In the final analysis, a fascinating matchup between two teams with the best xG efficiency was simply too good to resist. This fixture between two of Germany's European heroes had to be the "tactical focus". It did not disappoint.
Anyone who missed out on FCU-SGE this weekend missed some of the highest grade moments of brilliance to take place on a German football pitch this season. Words describing some of the play witnessed from Eintracht attackers Randal Kolo Muani, Mario Götze, and Jesper Lindstrøm can in no way duo adequate justice to the display they put on. Frankfurt were also able to secure a comfortable 2-0 victory thanks in large part due to superb defensive organization by the timeless Makoto Hasebe.
Over the course of the week, both of these clubs shall belong to all of Germany. May they both do us proud. If there had to be a winner riding high after this league encounter, one supposes it might as well have been Frankfurt. The German Eagles of the Rhein-Main metropolis have a fairly big UCL date with Tottenham Hotspur in two days' time. Parlaying the form they showed on Saturday won't be easy of course, but Germans are permitted to dream of there being much more in store.
Lineup—Eintracht Frankfurt—Match Eight (3-4-3)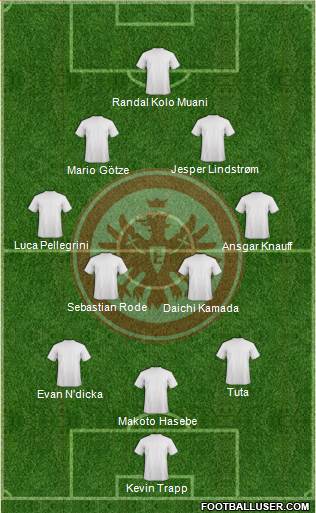 A well-built lineup from SGE trainer Oliver Glasner. Kristijan Jakic was unavailable due to hip problems. Glasner thus reverted to a back-three. Two important moves saw him fold Hasebe back on an inverted pivot in order to give him the best chance of coping with Union's potent attacking duo of Sheraldo Becker and Jordan.
Djibril Sow was also left on the bench. Daichi Kamada served alongside Sebastian Rode so as to provide the XI with a counterattacking outlet. Luca Pellegrini, whom we will have plenty to say about below, must have spent the entire international break drilling himself at the right wing-back position on the training pitch. Some match from him.
Lineup—Union Berlin—Match Eight (3-5-2)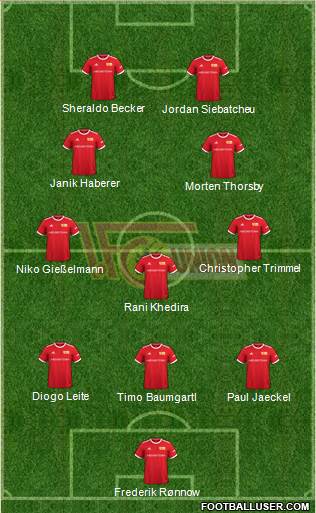 Urs Fischer's ordinarily reliable 3-5-2 "double stack" regrettably suffered from the absence of one pivotal player. As it so happens, it was that critical defensive actor that can easily run both an inverted and forward pivot in the back-three. Robin Knoche was absent from the XI. As of this writing, the columnist isn't exactly sure why. There weren't any reports of injury.
Without Knoche, Fischer had to run a flat back-three. While one doesn't wish to take anything away from some of the sensational skill we saw from SGE attackers in this one, the collective struggle of Timo Baumgartl, Paul Jaeckel, and Diogo Leite to keep this uncomfortable line did make things a bit easier for them.
The Union back-three didn't always know when the best time to synchronize was. Moreover, when they advanced as a unit on rushes, the SGE midfield saw the approach coming and often gobbled it up with ease. This truly was a very curious decision from Fischer. We need to know what happened with Knoche, under who's stewardship this might not have occurred.
Match Flow: 1st to 12th minute
Proceedings got off to a brisk and energetic start, though the opening three minutes were mostly characterized by both sides exchanging long verticals and diagonals. Signals of intent were certainly there. Niko Gießelmann broke through to the byline in the 2nd, but Lindstrøm booked him out. Trimmel tried to hit hit Jordan with a diagonal in the 3rd. N'dicka rose high to head away. N'dicka himself charged up in the 4th. Trimmel and Jaeckel had to work hard together to stop Muani after N'dicka hit his countryman with a nice vertical.
Hasebe got Pellegrini rolling on a solid counter in 5th before Trimmel, Khedira, and Jaeckel together closed ranks on the Italian. Matters were very intense with plenty of bodies flying on every potential breakthrough. There were far too many FCU tricots around Knauff in the 6th for the German youth international to take down Rode's diagonal. N'dicka charged forward again in the 7th. Union broke the eventual rightward cycle. Jordan held the ball up well and tried to dish over to Morten Thorsby, who unfortunately couldn't hold the ball.
Union kept possession through much of the 8th and 9th. One could really see how they were missing Knoche on the builds. A rightward cycle had to twice retreat in the 8th. A couple of hopeful forward diagonals in the 9th sailed over Jordan's shoulder. Götze executed a clever dribble through the midfield in the 10th, forcing a foul out of Baumgartl. After the ensuing free-kick produced nothing, Leite and Khedira put Jordan through on a counter. The American shielded the ball well, but still couldn't shake off Tuta.
Eintracht nevertheless couldn't get the ball clear and Jordan would get another chance in the 11th. Hasebe and Knauff couldn't get the ball out of there. Janik Haberer tried twice to get the ball in from the left and was blocked both times. Eventually, Thorsby got a cross in for Jordan. The American headed wide. This promising period of activity got quickly overshadowed by Muani's first moment of magic.
Frankfurt's French striker swerved his way past three Union markers. He then out-deked Baumgartl and Liote on his way to the goal-line. A brilliant cutback in Götze's direction was met with an equally brilliant finish. Germany's 2014 World Cup hero side-footed the ball in from about nine meters out. The Hessian hosts had their 1-0 lead in the 12th minute.
Match Flow: 12th to 28th minute
The guests tried to mount an immediate response. Trimmel hit Becker with a vertical and the Suriname international made his own daring run all the way to the touchline. A narrow angle cutback to Jordan again led to the American shooting just wide. A couple of more SGE charges in the 14th and 15th went deep, yet ended with N'dicka and Knauff getting stopped respectively before they could fashion anything dangerous out of them.
An absolutely gorgeous Frankfurt team passing sequence in the 16th saw the ball cycle through virtually the entire team's ranks. Muani eventually got his boot around the leather at the end of and came very close to out-tricking three FCU markers again from a centralized point. Eintracht remained on the front foot throughout the 17th and 18th. Hasebe did an excellent job running bow-arcs from his inverted pivot position. Kamada ran the best cycle on the left at the end of the 19th.
Jordan managed to intercept a Tuta pass and attempted to reach Becker on a quick-strike counter. Hasebe skillfully ensured that the Suriname striker was offside. FCU keeper Rønnow rushed out to claim the ball ahead of Muani on the next SGE charge in the 20th. After a quality cycle right in the 21st, Becker was through again. Pellegrini came crashing in to strip Becker of the leather with a crunching, yet absolutely fair tackle.
Becker still needed a brief treatment break. We were quickly rolling again in the 22nd. The "Randal Kolo Muani" show immediately resumed. The manner in which the budding superstar danced around Baumgartl and then Gießelmann was simply too beautiful for words. After nutmegging the latter, Muani cutback to Pellegrini this time. The Italian had time and space, yet couldn't make the most of it. Pellegrini rifled over.
After a midfield mash-up in the 23rd, Khedira's long ball sailed past both his targets in the 24th. Eintracht were back bossing possession before the minute was out. Lindstrøm opted to strut his stuff with a long dribble down the right in the 25th. More magic from Kolo Muani after the Dane dished out to him eventually saw the Frenchman work back for Pellegrini again. The Italian fired over again. Hasebe and his defensive team shut down the next FCU charge in the 26th easily.
Muani just went ahead with more absurdity in the 27th. A plethora of gorgeous tricks from the right half-space sadly ended with the Frenchman tripping over his own feet. Even his own brain couldn't keep up with what he was trying to do. Union's first real shot on target in the game came when Janik Haberer opted to repeat his miracle strike against Schalke in round four. The beautiful ranged effort in the 28th caught Kevin Trapp a bit by surprise, but the SGE keeper ultimately proved equal to it.
Match Flow: 28th to 42nd minute
Haberer's effort did mark a turning point of sorts as the match developed into a more equal trading of blows for a time. Eintracht had no difficulty dealing with the ensuing 29th minute corner resulting from Haberer's blast. The next SGE charge featured a delightful switch from Götze over to Tuta. After some more sharp passing, the ball worked its way back through Götze and Kamada. The Japanese international then unleashed Lindstrøm.
Lindstrøm made another nice move before flicking an effort toward the right-corner from the half-left. Rønnow did a splendid job holding the shot of his fellow Dane at the half-hour-mark. Before the 30th was out, Becker got slipped through on the counter. The FCU striker outmuscled N'dicka and picked out Jordan. N'dicka recovered in time to snuff out the danger. Union got a corner out of it. Götze cleared the 31st minute service deftly away.
N'dicka quickly unlocked Muani with an excellent vertical in the 32nd. The adrenaline fueled and very hungry Pellegrini rushed in to receive the ball on the left underlap. The Italian was blocked this time. A 33rd minute SGE corner came to nothing. Khedira and Haberer did a decent job with the next FCU rush in the 34th. They eventually worked the ball out to Jaeckel wide right. Trapp came out to collect the Union defender's cross.
Tuta attempted to whip in a ball to Muani at the end of Frankfurt's next attacking sequence in the 35th. Baumgartl was tightly marking Muani over the back and the two players needed a treatment break after both suffering an awkward landing. We resumed late in the 36th. Lindstrøm took the ball off Haberer and set (who else?) Muani free once again. Following a breaking first touch, the Frenchman saw his shot blocked.
On the rebound, it was (who else?) but the ravenous Pellegrini once again. The poor hard-luck Italian ended up hitting the crossbar this time. An Union slow-roll build ate up most of the 37th. Becker received the ball in the box at the beginning of the 38th, yet couldn't get around the ever-present N'dicka. Gießelmann rushed forward to try and lend some offensive support. Becker missed him. Hasebe then fired off a long ball for Muani that didn't miss by much.
Becker couldn't find anyone with a long-ball in the 39th. Götze had no problems locating Muani in the 40th. The fabulous Frenchman would have been through again were it not for an exceptional first time tackle from Jaeckel. Kolo Muani managed to get the ball back before the minute was out. Pellegrini, via Knauff and Lindstrøm, was eventually hauled down by Khedira. The 41st minute free-kick, an exquisite design as it was, yielded nothing.
What happened in the 42nd deserves its own paragraph. Jaeckel unfortunately didn't have much time to relish in his awesome tackle from two minutes prior. Lindstrøm made him look like a fool by taking the ball off him and charging down the left. Jaeckel tried to rush back and recover the ball from the Dane, but Lindstrøm only made him look like a fool again by dribbling around both him and Baumgartl.
Astonishing footwork from the Dane.
An even more astonishing finish.
2-0 to the hosts.
Match Flow: 42nd minute to half-time 
The only real matter of consequence between the Lindstrøm play that left all of us scraping our jaws off the floor was a booking issued to Muani for a flagrant elbow on Jaeckel shortly after play resumed in the 43rd. Match official Sascha Stegemann – who up until that point had only issued Becker a booking for launching the ball away in frustration in the 19th – opted to issue a caution to Muani. This would come back to haunt the "man-of-the-match".
Jaeckel required extended treatment and it came as something of a surprise not to see Stegemann tack on some additional time at the end of the half. The ref stuck with the single minute. Becker tried to break into the box at 45+1, but Tuta had him well at hand. The halftime xG stats saw Eintracht rack up 1.1 to Union's 0.2, with Haberer's chance being the only one of note. Fischer might have considered some changes at the half.
Match Flow: 46th to 68th minute
We nevertheless continued without changes. For whatever reason, Robin Knoche remained on the bench for both the restart and the duration of the match.Unsurprisingly (and quite understandably), neither side could really sustain the intensity of the opening 45 in the game's second half. That isn't to suggest that there wasn't quality football on display. The rest of the affair simply had more to offer for the defensive/tactical aficionados.
The SGE picked up right where they left off, looking very confident of the ball. Muani had his toe around the leather already in the 46th, but couldn't get back a triple-team Fischer clearly ordered. Pellegrini's service on the subsequent 47th minute corner was easily cleared away. Eintracht had Lindstrøm through again in the 48th. The Dane messed up his chance at a brace with a heavy touch. Jordan held the ball up well on an ensuing counter. Liete couldn't rush up for support in time.
Muani was charging forward again in the 49th. In what was fast becoming a pattern, Pellegrini trailed him and called for the ball. The Italian shot over again. Kamada –back defending rather deep on Glasner's orders–intercepted a Liete square in the 50th. The Japanese international then shook up Thorsby and rushed forward. Khedira had to foul. Union tried again to reach Jordan in the 51st. The American lost the aerial duel in the box, but the ball still fell to Becker.
Hasebe did a masterful job shutting Becker down, yet seemed to hurt himself on the play. Eintracht cleared the ball out the the back Union ranks and the FCU put another attack charge together. Becker was marching up the left when Stegemann blew the whistle. Hasebe was still down. Fischer argued furiously with the ref for stopping open play. Stegemann let the dissent slide. Hasebe required treatment through the 53rd.
Becker took the ball off a throw-in after we got going again in the 54th. An intended switch for Haberer got picked off by Pellegrini, who absolutely still wanted that goal he had been training so hard for. The Italian ignored two others who joined him on his leftward rush, then fired wide. Back the other way in the 55th, Jordan tapped down a diagonal for Thorsby in the box. The Norwegian then in turn fed Becker, who tried to reach Gießelmann via Haberer. The Union wingback (probably offside anyway) shot over.
The SGE stepped up a bit to exert more control with some playful cycles and bow arcs in the 56th and 57th. A good attacking sequence ended with Baumgartl taking out Muani with a hip check. Somehow, the FCU defender escaped a booking. After Andras Schäfer checked in for Thorsby in the 57th, Rode went into Stegemann's book for a tactical foul on Haberer. The ensuing 58th minute free-kick design proved interesting. Becker was still ultimately blocked. Trimmel tracked back to stop Muani on the counter.
Schäfer helped interject a little more fizz into Union's attack and the passing cycles on the right had some zip in the 60th. Penetration nevertheless didn't come and the SGE were back calming things down with their own playful combos in the 61st and 62nd. Lindstrøm broke through at the end of the 62nd. Baumgartl managed to block his square for Muani. Rønnow easily collected the ensuing corner.
Trimmel steered through a decent charge on the right in the 63rd. After several failed SGE clearances, Gießelmann got an effort in on Trapp. Frankfurt's net minder steered it away effortless for a 64th minute corner, which came to nothing. Glasner's men kept it cool in possession throughout the 65th.
Khedira eventually fouled Rode in frustration and received an accumulator booking after several earlier infractions. Both coaches got changes in off the sidelines in the 66th. Sven Michel and Paul Seguin replaced Haberer and Becker on like-for-likes. Glasner pulled Götze in favor of Sow. Presumably the plan was to move Kamada up to Götze's spot.
The subs had barely had a chance to acclimate before the game got turned on its head. Kolo Muani slid through on the half-left and started turning tricks again. The Frenchman tapped a ball ahead for himself in the box and, in the process of chasing it, stomped on Schäfer's foot. It honestly didn't look intentional at all. Stegemann felt like he couldn't ignore it, however, and sent Muani off on double-yellows.
Craziness. The best player on the pitch ejected.
Match Flow: 68th to 78th minute
With this event transpiring, one could feel the scramble for a tactical advantage erupting on both sidelines. As if the match itself hadn't already been a treat, tactics-heads now got an extra tasty little morsel to sample over the final 22 minutes. Glasner and Fischer both immediately turned to their assistants in order to see what could be done. The SGE trainer acted first, summoning Christopher Lenz and Eric Junior Dina Ebimbe to the sidelines.
Lindstrøm went on another mad tear once everything settled down and we got back to playing in the 70th. The Dane furnished some more dazzle dazzle with a dribble past three. Kamada tagged along to pick up behind and tried to play Pellegrini through. Shockingly enough, the Italian didn't shoot this time. He opted to cross instead. Rønnow read it all the way and came out to collect. Glasner got his two fresh legged players on for Rode and Pellegrini in the 71st.
Lineup—Eintracht Frankfurt—72nd minute (4-4-1)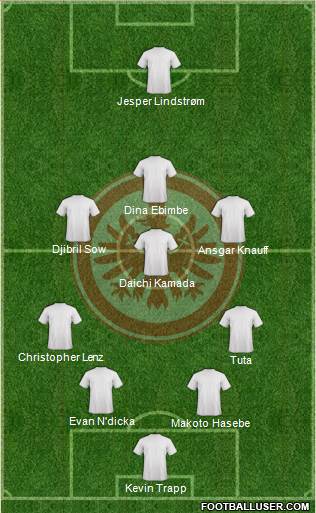 Smart. A classic shorthanded midfield diamond. This one had the extra facet of being rather dangerous, even with Lindstrøm operated so far afield. Union ran into immediate problems trying to plow through this. The back-four hung back to easily dispatch crosses from Leite and Trimmel in the 72nd, and 73rd. Michel quickly got booked for laying a shoulder into Ebimbe on a counter charge in the 74th.
Fischer's subs entered in the 75th and one could immediately tell something was up. Two strikers–Kevin Behrens and Tim Skarke–entered for Khedira and Baumgartl. To his credit, one supposes, the FCU trainer was preparing to go all out. What rapidly crystallized was certainly ambitious and did build up significant pressure.
Lineup—Union Berlin—76th minute (4-3-3)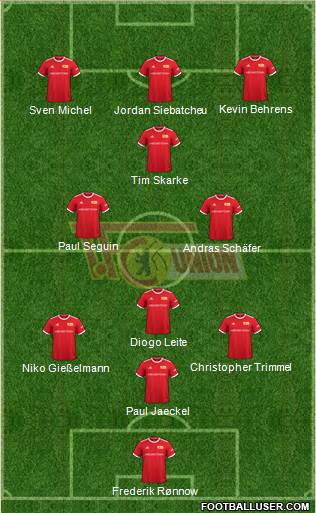 Wow. One typically doesn't see something like this until the end of the season. Jordan still served as the primary target initially. The American headed back to Trimmel in an advanced position in the 76th. Union's skipper had a whole host of options, but unfortunately got hassled off the ball by Tuta. The ball remained in-and-around the Frankfurt penalty area through the 78th, when Hasebe finally cleared.
Match Flow: 78th minute to full-time
Some decent chances for Union down the stretch. As SGE sporting director Markus Krösche was quick to point out, German national team keeper Kevin Trapp saved the result for his club with two amazing saves on Skarke in the 79th and on the last play of the game at 90+4. In addition to these instances, Skarke headed wide in the 82nd, Trimmel missed from distance in the 83rd, and Schäfer screwed a shot wrong in the 85th.
Union's defeat was more or less apparent about two minutes before we headed into injury time. Lenz, Sow, and the still-somehow-on-his feet Hasebe all turned in some fine defensive work in the final min utes. Ebimbe was more mixed, but did get some good clearances off. Also significant, Rafael Santos Borré entered for Lindstrøm in the 86th and helped his side eat up valuable clock with some nice ball holds. There's some relevance there after we cover the full-time xG:
xG Frankfurt–1.3, xG Union Berlin–1.1
Okay. A bit closer. One still shouldn't make the mistake of thinking that Frankfurt escaped with a lucky win here. Die Adler fully earned this one and appear well on their way to rattling off a positive streak not unlike the one they concluded the 2021/22 "Hin-Runde" with. Muani's red card means that he'll be suspended for the upcoming league fixture. So what? It is against Bochum after all.
The passion with which Borré played off the bench also inspires a great deal of confidence. Should Muani earn a longer-term suspension or even get hurt, the SGE still have a quality striker (albeit one with a different skill set) waiting in the wings. Upcoming league fixtures against Bochum, Leverkusen, Gladbach, Dortmund, Augsburg, Hoffenheim, and Mainz are all winnable.
Could this team actually make a run at the top of the table before we get to the World Cup break? Very possibly. How about topping their Champions' League group? Er…well…that's a great deal more unlikely. We might as well bring this section full circle and reiterate that "Germans are allowed to dream".
All the best to the SGE lads against Tottenham on Tuesday.
Though the writer will probably regret this hubris, bring on the Spurs!
Thanks so much for reading! You can occasionally catch Peter goofing off while watching non-Bundesliga football on twitter, @ViceytheSS.
Twitter DMs are open for football conversations, corrections, and (if you truly insist) general abuse. 
All columns debut on Bulinews before appearing on Peter's website as the season progresses.