Quite the weekend on tap in Germany's top footballing flight. Hoffenheim-Bayern, Köln-Leverkusen, Wolfsburg-Freiburg, Hertha-Gladbach, and Berlin-Stuttgart are among some of the best offerings. In 72 hours time, we'll have many questions answered by a table that looks quite different than the one we entered the weekend with. As always, you're cordially invited to catch up via a re-post of the Bulinews hot-sheet right here.
Okay. Maybe Leverkusen fans aren't so interested in catching up. That's understandable. Take comfort in the fact that it's still a very young season.
---
Bundesliga Tactical Banter: Round Eight
---
A "Top-Spiel" rescued by xG plot points
If you happened to miss out on the league's Saturday Evening Special between VfB Stuttgart and Borussia Mönchengladbach, you may take solace in the fact that you didn't exactly miss out on the most cracking affair. A pair of 3-4-3s (if that's what we can term Pellegrino Matarazzo's latest foreseeably weird assemblage) effectively cancelled one another out. Neither side came anywhere near to reaching 1.0 xG in the first half. Gladbach barely breached the barrier ahead of the full time whistle. Both sides were limited to ranged efforts in this game of few chances.
As it turned out, however, two of these ranged efforts found the back of the net. Konstantinos Mavropanos and Jonas Hofmann supplied us with two of the most positively gorgeous goals of the season in the 1-1 draw. The two players got blood rushing and the fists pumping with a pair of absolutely phenomenal "sniper shots". The visuals were certainly stunning enough, but these were also cases in which the goal-scoring probability from their positions really accentuated what special strikes they were.
Note that such stats come from the xG plot-point domains. Not all football lovers are converts to this yet. That's understandable. A sport based in improvisation and spontaneous ideas loses much of its lure when it comes time to look at pie charts. Furthermore, there always has been and always shall be useless data that generally conveys a whole lot of nothing. When it comes to the two goals of Stuttgart-Gladbach, the columnist holds that this particular form of data definitely conveys something; at the very least something that might begin persuading a potential convert or two.
Consider each case in turn. When–in the 15th minute–Mavropanos opted to take a chance at a cross-side hit into the far corner from 25 meters out, his probability of scoring from that position past three defenders and the keeper stood a 2 percent. When–in the 42nd–Hofmann went for the far corner himself from about 20 meters out slightly left-of center past three defenders and the keeper, his probability of scoring stood at 3 percent. A columnist can't speak for everyone, but he finds that damn cool.
Of course, one still doesn't need math to satisfy us "beggars for good football". All one really needs is a solid play-by-play announcer who knows how to call "sniper shots". Ahem. the proper way of handling a player who tries (and succeeds) from distance goes as follows: "Why not? INDEED! WHY NOT?!". Auf Deutsch: "Warum denn nicht? JA! WARUM DENN NICHT?"
Unquantifiable football in Breisgau
Shifting gears away from the world of plot-points, more traditional football fans may be pleased to know that another 1-1 draw from the round rendered the whole subject of xG completely irrelevant. Freiburg's 1-1 draw with visiting RB Leipzig in the first competitive fixture held in the new Europa Park Stadion served as a good-old fashioned subjective pub brawl. People will be arguing about what could of/might of/should of been in this one all week. Well, some of us will anyway. Some Germans have a life outside football.
Where to begin? Perhaps with the writer's slightly biased proclivities towards Freiburg. Those need to be gotten out of the way quickly. Having done so, we can talk about not one, but two potential penalties missed by match official Daniel Siebert. Mohamed Simakan clearly hauled down Lucas Höler in the 49th. Lukas Klostermann knocked down Christian Günter inside the box less than six minutes later. These served as two instances in which Siebert, who had already awarded a soft penalty to Leipzig in the first half, appeared to contradict himself.
Odd that in this age of VAR and the Bundesliga's "Kölner Keller" such things can still happen. If one factors in Woo-Yeong Jeong's extremely close shave in the 12th and the two strikes of the post (45th and 90th), this was a match that Freiburg could have theoretically won by as many as five goals. Note that there exists no statistical backing for this premise whatsoever. Freiburg-Leipzig accords one a chance to return to the footballing roots of an irascible bunch of old guys cursing the ref from the standing bleachers.
The forever handball controversy
Those who think that VAR in some way robbed the game of its great subjective man-in-the-pub debates can, of course, forever rely upon interpretation of the handball rule to spark controversy. This brings us to Dortmund-Mainz, which did turn on such a crucial decision. After a marvelous finish from Marco Reus put Dortmund ahead at home in the 3rd minute, a 4-1-4-1 spread with Emré Can and the returned Erling Haaland kind of fizzled out a bit until the NRW hosts put together a strong late push in the final minutes of the opening 45.
Since Bo Svensson's defense looked very strong in preserving the scoreline and the Pfälzer guests were able to generate some chances of their own, it remained very much anyone's game until a controversial handball penalty in the 52nd. The Nullfünfter had actually done a fantastic job of frustrating Haaland until the VAR review team alerted match official Daniel Schlager to a ball that bounced off Silvan Widmer's elbow whilst he marked Haaland in the box. It was a tight call. Trainer Svensson couldn't help but offer up sarcastic applause; an act for which he was booked.
Controversy or no, it's difficult to argue that Mainz actually had much of a chance against Haaland once one saw the spot-kick. The Norwegian freak-of-nature unleashed a cruise-missile-level power-strike straight down the center. As it turned out, keeper Robin Zentner guessed center-left. It honestly wouldn't have mattered if Zentner had stayed put. Haaland's hit would have probably punched through his body as if it were a paper bag. Lucky for Zentner than he guessed wrong. The Mainz net-minder wouldn't have a torso or internal organs otherwise.
In summation, one just doesn't win with Haaland back in the lineup after an extended absence. Reus, Julian Brandt, and even Thomas Meunier also played well. That's ultimately about as irrelevant as the question of whether it was a legitimate handball. Forget everything else. Erling Haaland has the power to shoot holes in human bodies. There's no debate about that.
---
The Burning Questions: Round Eight
---
What happened with Köln?
Well. Not to play the "told you so" card, but some of these warning signs had been apparent earlier. In point of fact, we were just discussing them last week. Once German Bundesliga watchers got past the novelty of Steffen Baumgart's "peaky blinders cap", "crab-walk-hunch", and everything else associated with his general "method acting" trope, the limitations of his actual tactical approach became visible.
Recall that we're still dealing with a team tapped for the relegation race at the start of the campaign. The unavailability of Ellyes Skhiri and Dejan Ljubcic certainly didn't help this week. Neither did the last-minute loss of captain Jonas Hector. Those factors notwithstanding, it begins to look as if Baumgart's various midfield diamonds are all overly-reliant on the wide lateral game.
The one constructed for Friday night's fixture against Hoffenheim proved no exception.
Lineup—FC Köln—Match Eight (4-4-2)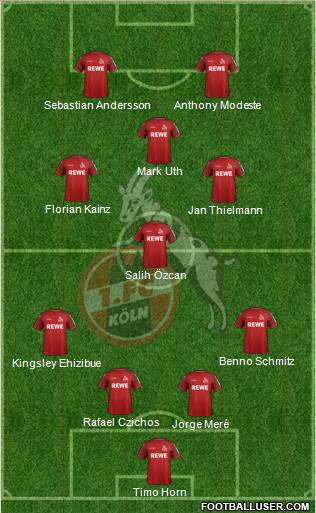 A couple of weeks ago in the long focus section, Baumgart received his plaudits for selecting a starting lineup either skewed towards speed or aerial prowess. Here he tried to have both by using Kingsley Ehizibue fill in for Hector on the left and pushing base-piece Salih Özcan upfield in his closely clustered diamond. Predictability proved a problem from the start. The in-game adjustments the Kölner gaffer tried to make pushed everything into incoherence again.
Ehizibue and Özcan
The squad's makeshift left-back encountered problems from the start. The first ten minutes were rife with examples of the 26-year-old failing to get his verticals right on an unnatural side. Both teams lost plenty of midfield balls during what was a fairly sloppy first half. Köln could not take advantage. With each broken attack approach on the disjointed left, the team lost both energy and confidence. Noah Katterbach, riding some confidence after his recent Germany U21 performances, should have been given the start.
In the case of Özcan seemed to suffer a bit from Baumgart's aforementioned sideline instructions. The Geißböcke gaffer kept pulling his young centralized actor over to give him an earful about playing out wide more often. Köln's trainer wanted the squad to impose their normal type of game; the one that places them near the top of the league in sprints, distance covered, crosses, and aerial wins. As a result, Özcan never located a comfortable groove in which he could operate centrally.
Neither Ehizibue nor Özcan could adequately service their colleagues as mere like-for-like plug ins. Morevover, Özcan had an impossible set of tasks to begin with. He had to regulate the builds with quick outswingers, mark as many as four TSG players at a time, and drop back into the sweeper role immediately whenever the fullbacks went forward. One could see on Ihlas Bebou's opening goal, that the composite assignment was just way too much for him.
Reacting far too late
To his immense credit, Baumgart didn't merely lambast his players after the match. He owned up to his role in the defeat during his post-match remarks. The cult trainer even put his finger on the specifics, saying that the coaching team should have reacted to Sebastian Hoeneß' flat back-three earlier. TSG's use of three players on a flat axis in the box easily broke up the Köln crossing game.
Deeply deployed wingbacks also kept the possession game firmly under the control of the Sinsheimers. It was so obvious that Hoeneß devised a perfect wide-bow positional scheme specifically designed to to stretch out and tire Kölner ranks. The Hoffenheim trainer accomplished this–as he did late last year–by moving Florian Grillitsch all the way back to the center halve role.
Lineup—TSG Hoffenheim—Match Eight (5-2-3)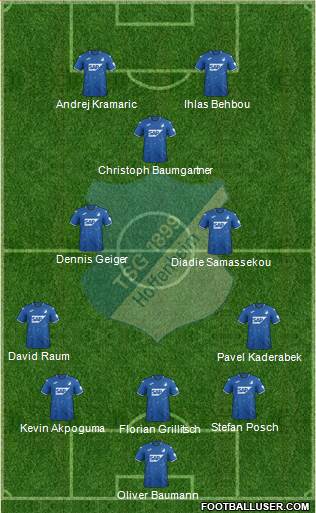 Three actors keeping a horizontal line in the box stop the crosses. The wide ball circulation of what one can fairly refer to as the back-five keeps the opponent rushing after the keep-away schematic. We should also credit Hoeneß with making his own excellent on-the-fly adjustment. When Pavel Kaderabeck succumbed to injury late in the first half, Chris Richards entered to work the lefthand slant of the back-three while Kevin Akpoguma swung out to the right-wingback post. It was seamless.
The "floodgate moment"
Baumgart maintained his reasons for not reacting soon enough. After an early scare from Kramaric, the BaWü hosts weren't exactly playing polished football either. There were multiple midfield turnovers from both teams during the first half. It stands to reason that the Effzeh trainer gambled that his team would get a few more chances of their own to punish the opponents with.
It ultimately didn't work out that way as no one applied pressure on a roving Behbou four minutes into the second 45. Less than 180 seconds after the Togolese international completed his brace, the shellshocked guests conceded another before their could get their bearings back. A blind stray pass from Rafael Czichos initiated the sequence that ended in Christoph Baumgartner securing the 3-0.
Baumgart clearly had a mirror re-format planned. We saw it six minutes after the goal put the game out of reach.
Lineup—FC Köln—57th minute (5-2-3)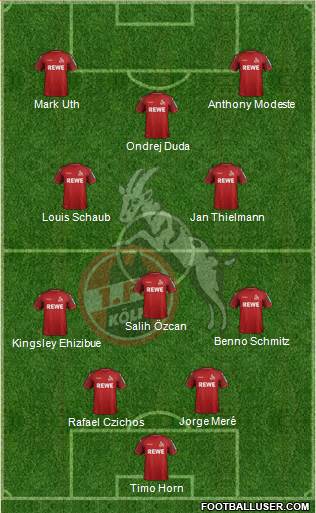 The primary purpose of throwing in this illustration is to highlight the fact that the Bundesrepublik's newest "cult trainer" actually doesn't have–as we've falsely assumed–a true back-up plan for all matches. Nothing about this felt natural. The forced nature of it led to two more goals. Mark Uth and Anthony Modeste clearly had no practice working that far apart. The triangle behind them didn't posses the muscle memory to complete a single cycle.
Moving forward
No easy set of opponents for the Domstädter in the weeks ahead. It begins with a cordial neighborly match up (that the media often falsely labels a derby) against Leverkusen next week. After Stuttgart in the Pokal, it's Dortmund, Union Berlin, and FSV Mainz before the "real derby" against fierce Westphalian foes Gladbach in round 13. To reiterate an important point from last week, Baumgart needs some kind of dependable backbone to his tactics at this juncture.
He doesn't have one. If it doesn't sound like a contradiction in terms, he's got a midfield diamond that shifts all over the place inside a game plan built on the wide crosses into the box. This could potentially lead to as little as two points from the next five fixtures. Not a disaster by any means. Definitely a quick cool off down into the lower regions of mid-table.
Can Mark van Bommel build an XI?
Whew. Suddenly a very relevant question. You can form your own opinion here. The rookie trainer is still fumbling with all the tools Jörg Schmadtke procured for him. In his first ever coaching assignment, van Bommel sits at the DIY Workbench in his garage unsure as to whether he should be hammering together a birdhouse or a spice-rack.
We had some words on this last week, giving some attention to how the VfL head-coach now begins to pull apart the 4-2-3-1 he inherited and then rearrange it. Things are beginning to progressively make less and and less sense. It almost reminds one of the time when, as a child, we disassembled our first household electronic device.
Sad times. The motives were admirable. We were simply interested in how the stereo system worked. Regrettably, we also had to learn that things happen to work because they are put together in a certain type of way. Randomly re-inserting the wires simply doesn't work.
Okay. Let's see here. Red Wire. Blue wire. Yellow wire.
Green wire?
Lineup—VfL Wolfsburg—Match Eight (5-2-3)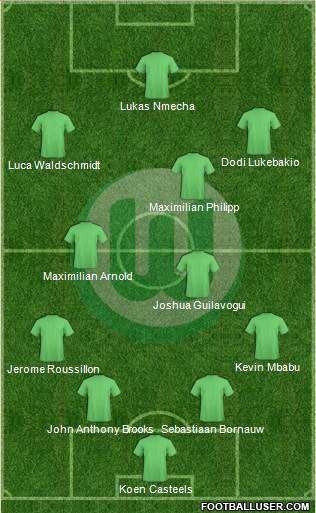 About the only thing that makes sense here involves having sixes Joshua Guilavogui and Maximilian Arnold work a split. The former club captain finds himself in the right place. Once one moves up to the forward axes, however, remain more suspect. Maximilian Philipp stood no real chance of operating as a true service striker positioned as far back as he was. The ridiculously hopeful ranged effort near the end of the first half served to illustrate this.
The search for someone to occupy the left flank continues. This time Ridle Baku was outright benched and Luca Waldschmidt moved over. Somehow one has the sense that a more straightforward solution stares van Bommel in the face. Jerome Roussillon or Yannick Gerhardt can work that high. If Renato Steffen isn't 100 percent, so too can Admir Mehmedi in league play. Given how thoroughly he's failed to live up to his billing, the writer sees no harm in trying Dodi Lukebakio out on that side. The Hertha winger was meant to augment this team's options. Instead, he's disrupted the whole constellation.
Naturally, the big news insofar as Wolfsburg is concerned is the new striker. We may all have to get used to the sight of Wout Weghorst starting games on the bench. Lukas Nmecha actually performed well up top. The young German international had a sure-goal cleared off the line early. He would also set up Lukebakio perfectly before the first half was out. True to form, Lukebakio made a complete hash out of a tap-in and hit the post. Again, the Hertha loanee disrupts but doesn't deliver. He hasn't scored in open play yet for his new club in seven starts across all competitions. Why is he even starting?
Once subbed on, Weghorst couldn't find the touch to finish off a double-chance in the 68th. Baku's timing remained slightly off. The German international missed a crucial defense header away on Union Berlin's second decisive goal by leaping too early. Both of these actors should be in the starting XI. It's not entirely logical why they must take a seat in favor of new arrivals who aren't performing. Baku hasn't done anything to lose his place to Lukebakio. Nmecha could still work alongside Weghorst in a more sensible 4-4-2.
Van Bommel honestly needs to figure out a way to re-assemble in time for the midweek UCL tie against RB Salzburg. The pressure of losing his job isn't quite there yet. To resurrect the metaphors, Schmadtke is neither looking in on the DIY shed nor coming home early to find his stereo system splayed about the floor. After three straight league losses and two UCL draws, it's still appropriate to question if van Bommel knows what he's doing.
How did Hertha prevail?
In one of the oddest ways possible. Pal Dardai is most assuredly done with talking about "axes". At this point, with temperatures dropping across the Bundesrepublik, he's quite literally got everyone huddling together for warmth. The unexpected victory away at Frankfurt this weekend keep most of the forward actors within the range of Krzysztof Piatek's breath bubble.
Lineup—Hertha BSC—Match Eight (4-1-4-1)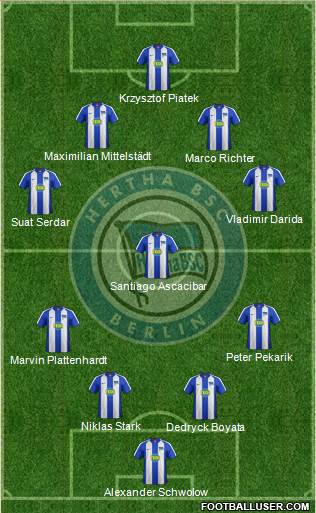 A couple of things to add to the match report. First, Marco Richter only got the slightest of headed touches on the opening 6th minute goal that set the tone of the proceedings. Piatek spurned two gilt-edged chances. It also bears repeating that Jurgen Ekkelenkamp's second came courtesy of a bad Isak Belfodil miss. There's still a long way to go until we even get the the scaffolding of an offensive engine here. Something reliably more threatening appears at least two to three rounds away.
Secondly, the strength (or rather weakness) of the opponent cannot be understated. Down on the Hessen banks of the Rhein, Oliver Glasner has real problems now with Frankfurt. The latest 3-5-2 featured top talented players in the attacking pocket. Jens Petter Hauge, Jesper Lindstrøm, and Sam Lammers nevertheless managed zilch in terms of chances during their time on the pitch. The penalty awarded late in the match probably shouldn't have been awarded at all.
Gonçalo Paciencia's shove of Niklas Stark in the lead-up, by the rulebook, should have rendered the play dead. A bad mistake from referee Deniz Aytekin, who finds himself once again embroiled in some controversy. The SGE didn't really produce a real scoring chance. Glibly stated, Eintracht are just horrible. Awful. Terrible. Most definitely in crisis now. There exist few lessons to be drawn from this matchup between two very bad teams.
Are Fürth back to being lousy again?
Apropros a "matchup between two very bad teams", the weekend saw the so-called "Keller-Duell" ("Basement Battle") that pitted the two worst sides in the current Bundesliga against one another take place. Promoted VfL Bochum vs. promoted SpVgg Greuther Fürth. Ugh. This "event" even got extended preview billing some three rounds back. There did exist some faint hope that at least one of the teams destined to go straight back down to the 2. Bundesliga would furnish us with a faint…..something. Anything really.
With an infinite sense of dread, one must report that this fixture proved everything that we desperately hoped it wouldn't be. Bochum's Sebastian Polter and Milos Pantovic combined for what passed for the match's first scoring chance at the half-hour-mark. The hosting Franconians opted to head forward with some courage between the 50th and 58th. Takuma Asano hit the side netting at one point. Captain Anthony Losilla finished off a Eduard Löwen free-kick ten minutes from time to give Bochum the 1-0 victory.
That's it. That's the story of the match. Nothing else happened. The rest of play hardly qualified as football in any sense of the word. Sigh. Twenty-six more rounds of this times two teams equals 52 matches and some 4,680 minutes of the worst football ever seen on this level. Double sigh. This question just won't go away. Neither will the answer. Can't we just promote FC St. Pauli now?
What can one say about Augsburg-Bielefeld?
Indeed. We somehow have to find a way to work the Sunday night 1-1 draw at the WWK Arena into this. It wouldn't be a comprehensive review if we didn't. As usual, the talking points surrounding these two wholly unentertaining teams remains the sad fact that–as bad as they are–Fürth and Bochum are much worse. Neither the Fuggerstädter nor the Teutoburgs have to try terribly hard to avoid relegation this season. That showed again in the Sunday night capper.
The league's two offensively worst teams (three goals apiece entering) remained the teams two worst offensive teams (four goals exiting). Blah. Arminia and the FCA are nothing more than background teams. Pleasant enough to have on whilst completing some other task. Painful to concentrate too hard on. It's a long season and a writer will surely have something to say about the state of these clubs eventually. He got around to it last year. For now, their respective preview sections still make for interesting reads.
What can one say? Well. One could point out that vertical striped kits are cool. For the second consecutive matchday, it was rather pleasant to have Bielefeld in their blue-and-black striped kit play another team in a striped kit. In round seven, the DSC squared off against Leverkusen in their red-and-black striped kit. This week it was Augsburg in their red-and-green striped kit. Nice aesthetics to have on in the background. There we are.
---
Weekly Tactical Focus: The Humiliation of "Proto-Bayern"
---
With the occasional exception, we don't ordinarily reserve the "tactical focus" section for a Sunday fixture in this column. If the reason for this isn't patently obvious, it should be this week. The aim of this portion of the column is to deliver an in-depth look at the most tactically intriguing matchup of the latest Bundesliga round. It might very well be the case that this comes on the final day of fixtures, but the fact that this remains a Sunday Night Feature means that it's typically not worth taking a chance with a hard deadline.
This week the decision was made to take that chance. There really wasn't much of a choice. For all the time invested in the "Burning Questions" section of this installment, the true question entering this weekend concerned what would transpire between the two teams deadlocked at the top of the table. Bayern and Leverkusen began this round deadlocked on 16 points. Though Bayern's loss in round seven wasn't indicative of much, the high-flying Werkself had a chance to deliver a profound early statement in this year's title race.
The storylines ahead of the battle all of us Bundesliga watchers had been eagerly looking forward to for two full weeks added even further intrigue. Peter Bosz's Leverkusen were real title contenders last year before losing to Bayern on a late defensive error in round 13. Germany's red company team never recovered from that deflating loss. Neither did the defender who committed that late error. Bayer's Jonathan Tah effectively ensured his permanent exclusion from the national team with that last in a long line of embarrassing errors.
This week, Tah declared that he wanted back into the DFB-XI. After the most active Summer transfer window of all the top tier German clubs, Gerardo Seoane's new-look Leverkusen certainly wanted to prove that they had been re-outfitted to run with the big boys. Everything was set up for an epic showdown. The excitement kept building over the full course of the international break. The riveting nature of the matchup carried on after the release of the team sheets. One could see that Seoane was prepared to go toe-to-toe with Bayern with his own 4-2-3-1.
No subtle tricks here. Pound-for-pound. Man-against-Man.
And what happened? Well, for lack of more eloquent phrasing, Germany's red company team essentially soiled themselves in front of nearly 30,000 of their hometown fans. Die Werkself went toe-to-toe with the mighty German giants and got knocked out faster than Sonny Liston in his re-match with Muhammad Ali. Ouch. This wasn't so much a fight as an execution. Good God what a sorry display this was.
Whenever covering a blowout, there's never a full 90 minutes of football to discuss. The dangerous physical nature of the sport means that players have to pull back on challenges after the result is decided. Players can't risk injury, particularly not amidst the packed modern calendar, when there's nothing at stake. Football ceases to be football when there's nothing to play for.
How much real football did we get in this one? A little more than 20 minutes in this writer's estimation. Seriously. That's how long it took for Julian Nagelsmann's Bayern to pull Seone's 4-2-3-1 mirror out of shape. On an individual level, the gap in quality was that stark.
Bayern's usual "self-coached" 4-2-3-1 first.
Lineup—Bayern München—Match Eight (4-2-3-1)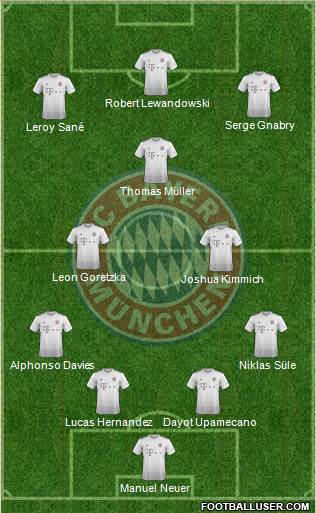 Nagelsmann engages in tinkering sometimes. We generally make a point of covering it whenever he does so. Nothing much to report on here. The spatial arrangements are exactly the same as the last time we checked in with a draw-up. Deploying Niklas Süle at right-back obviously isn't novel at this point.
One could also tell by the substitutions the FCB trainer was able to employ earlier than expected that he even had the playing time for most of his actors mapped out. Alphonso Davies would get a short day after traveling back from the international break. Leon Goretzka, Thomas Müller, and Robert Lewandowski were all in for early nights ahead of the Champions' League.
Marcel Sabitzer, Josip Stanisic, Omar Richards, and the returning Kinglsey Coman were all slated to log some relief minutes. As we'll discuss a bit more below, Nagelsmann also spent the week practicing some very effective set-piece designs with his pre-selected XI.
Moving on to the NRW hosts, here's what an embryonic version of Bayern's 4-2-3-1 looks like.
Lineup—Bayer Leverkusen—Match Eight (4-2-3-1)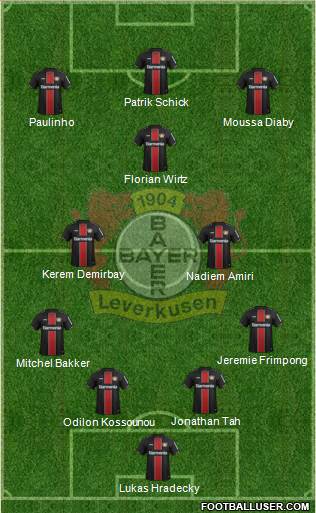 A huge amount of talent here. Teenage phenom Florian Wirtz doesn't have anywhere near the experience of a Thomas Müller, but he'll be directing a team in the same radically creative fashion within a few years. In terms of a list of the best straight target forwards playing in the Bundesliga, Patrik Schick is easily the third best behind Lewandowski and Haaland. Note that such a ranking comes with a huge gap before one gets to 3rd place.
What speed die Werkself lost this offseason after Leon Bailey left has been more than compensated for by the upgrades at fullback. Paulinho–though he doesn't coordinate in quite the same way as Bailey did–isn't exactly a slow-poke either. The same applies to Amine Adli or even Exequiel Palacios when he gets a shot on the wings. One way or another, there's sufficient speed on the wings.
With this lot, it's actually not very surprisingly that Seoane thought he had a fighting chance against the record champions. Before getting to the descriptive section, we'll touch upon which matchups went horribly wrong.
Tah vs. Upamecano/Süle/Davies
Damn. One has to feel for the poor former German national team defender here. He's not getting a call from Hansi Flick anytime soon after this performance. Shaky from the start, Tah could have done a better job picking up Dayot Upamecano on that first goal. That was the least egregious of his failings on the day, however.
The 25-year-old Hamburg native ball watched as Davies trotted across the box on the second goal. He arrived far to late to pressure Niklas Süle on a corner on the third tally. Along with the rest of the team, he didn't even attempt to challenge for balls that were within his reach on the fourth and fifth.
Wirtz vs. Goretzka/Kimmich
Plenty of forward impetus from Germany's teenage sensation. The problem was ultimately that he ran straight into the teeth of perhaps the most well rehearsed midfield tandem in all of world football. Leon Goretzka and Joshua Kimmich are practically siamese twins with telepathic powers at this point. As usual, they synchronized their movements with pristine precision in this one.
Wirtz got picked off by one or the other repeatedly. Sometimes Goretzka and Kimmich slyly slack marked him while Müller or Leroy Sané went in for the pounce. It didn't help that Wiortz had his head down on most carries. As wise beyond his years as the 17-year-old is, he kept making that basic mistake.
Demirbay/Amri vs. Goretzka/Kimmich
There's simply no comparison when it comes to caliber here. Kerem Demirbay and Nadiem Amiri–some may have forgotten–are actually former German national team call ups. They're simply not Kimmich and Goretzka In the writer's opinion, they actually constituted probably option in terms of a double-six set-up that Seoane had. Admittedly, this amateur tactician probably would have opted to station Karim Bellarabi with them in a 4-3-3.
The slower tandem of Charles Aranguiz and Julian Baumgarlingher could have potentially performed much worse. Naturally, it's difficult to conceive of it going much worse. And on that happy note, who's ready for a whole 22 minutes of competitive football? Alright.
Match Flow: 1st to 5th minute
As noted above, Tah got off to a shaky start on one of the game's first significant pieces of action. An unsteady back-pass got mishandled first by Tah, then B04 keeper Lukas Hradecky. In what was clearly one of Nagelsmann's clever set-piece directives, the Bavarians took a quick corner in the 1st. It proved a little too quick for match official Sven Jablonksi, but one could immediately see how the young FCB trainer planned to give his team a quick advantage in this one.
Tah headed away a pair of corners in the 2nd in a robust attempt to raise the level of his game to his recent rhetoric. He wouldn't be able to do so on the next excellently designed Bayern set-piece. After Amiri fouled Lewandowski, Sané feigned a take that Kimmich ultimately ended up sending wide right to an onrushing Upamecano. The French defender tapped over to the Polish superstar, who finished with a slick back-heel that looked all too easy. 1-0 to the defending champions.
Match Flow: 5th minute to 22nd minute
Wirtz earned his own corner shortly after the goal. Seoane's Wesphalians tried their own short take, but Serge Gnabry had it easily covered. Another corner came to nothing. The Bayern ranks would then make short work of a Demirbay free-kick in the 6th with an easy clearance. Amid the back-and-forth in midfield that ensued over the next two minutes, one noticed that Wirtz, Demirbay, and Mitchel Bakker had no time on the ball. The FCB press had them totally covered.
Tah tried a forward carry in the 9th. Goretzka, Kimmich, and Müller swarmed all over him to close ranks quickly. Nothing was allowed through the middle. Amiri tried to hit Paulinho with an over-the-top vertical in the 10th. The hopeful ball proved far too long. The Bavarian guests then proceeded to settle matters down a bit with a prolonged possession spell between the 10th and 12th. The Leverkusen ranks retreated with enough coordination to stop Davies and Lewandowksi on near breakthroughs.
Sané picked off a ball deftly in the 14th and did make it all the way through. Odilon Kossounou somehow recovered to stop him. After Demirbay and then Tah saw switches intercepted in the 15th and Paulinho got his pocket picked on an ill-advised run straight into traffic in the 16th, Müller just missed servicing Lewandowksi on a quick counter and Sané saw another shot blocked.
Bayern really started to pour on the pressure with a plethora of lightning quick combos between the 17th and 19th. The Leverkusen back-four was suddenly all over the place trying to get tackles in on the roving Müller and Gnabry. Sané again had a chance at close range that Demirbay only just managed to intercept in the 17th.
This wasn't just any ordinary assault. The entire Leverkusen shape was bucking and breaking. Hradecky barely managed to get in front of a Kimmich chip for Lewandowski in the 18th. Sané had all the time and space in the world to rifle off an effort from 20 meters out that hit the post in the 19th. Bayer simply didn't know where the next attacking wave would come from. Around the 20th, one could see that disaster was imminent.
The shape could no longer hold. Müller won another ball in the 21st and shuffled off to Davies for a shot on target. Goretzka got the next effort in less than a minute later. While the FCB midfielder's shot was fairly tame, the amount of space he had was frankly shocking. One had to scrape one's jaw off the floor as the Leverkusen shape looked like kid's league stuff on the overhead cam.
Even though we were still at 1-0, this was the moment one knew that something horrible was afoot. Amazing how amateurish die Werkself looked. We'll call the match here. Twenty two minutes of competitive football. That's all folks.
Match Flow: 22nd minute to half-time
The Bavarian guests patiently fell back for a spell to absorb a bit of desperate pressure from the hosts. A little spin move from Wirtz produced a ball aimed at Schick, but Davies had no problems clearing. A pair of corners from Seoane's crew looked about as disorganized as the team in general. Paulinho and Wirtz got stonewalled again in the 27th. Schick tried to draw a soft penalty with a little chicanery in the 28th.
Bayern finally got their second goal a minute later. The inevitable happened when Sané broke through again unchallenged and laid back for Davies. The Canadian international dribbled past four defenders on a horizontal path in the box where Lewandowski was waiting unmarked. All the super-striker needed to complete his brace was a heavier touch from Davies. Lewandowski finished off an almost inadvertent drop service with the outside of his boot.
The third goal came some four minutes later off another nifty set piece design. Kimmich swung in a corner for a wide open Süle, who then sent Tah spinning before firing in on target. Müller redirected the shot with his lower thigh. Insane. Bayern make the seemingly impossible look easy. The ravenous Bayern beast knows when it's time to the kill shot. Müller immediately put the disoriented team out of their misery with steal, rush, and cross to Gnabry seconds after the post-goal kickoff. Goretzka than waltzed in unchallenged to set up Gnabry for a second goal two minutes after that.
5-0 in the 37th minute. The End. Nagelsmann even subbed Davies off after the fifth goal in a semi-insulting "I'll go ahead and rest one of my players for the Champions' League" move. Thankfully, the rest of the team began to fall back into "mercy mode". After trying to get Sané a chance in the 42nd (the national team star missed on a first time volley), they fell back.
Match Flow: 46th minute to full-time
Nagelsmann pulled Goretzka for Sabitzer at the half. Seoane made one substitution for what would be nothing more than a cordial, non-physical Sunday kick about in the second half. Paulinho got the break and a celebrated defender made his long-awaited return from injury.
Lineup—Bayer Leverkusen—46th minute (5-4-1)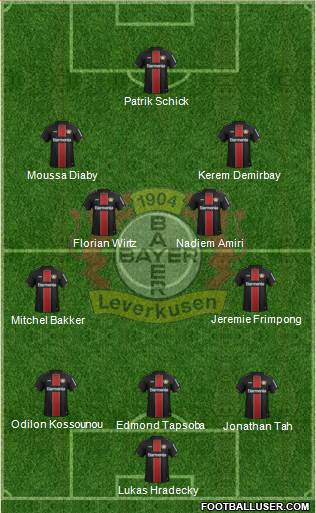 Very nice to see Edmond Tapsoba back on a Bundesliga pitch again. The Burkinabé truly is a special talent. Perhaps this team will find some defensively stability as the season progresses with the 22-year-old anchoring a back-three. Congratulations to Wirtz for exploiting a pocket of soft space between Josip Stanisic and Lucas Hernandez in the 55th to ultimately thread through an assist for Schick. At least they got a consolation goal.
Demirbay also did well as a makeshift winger, though Bayern were definitely in full mercy mode during the second half. This duration of this match was about as lackadaisical as the friendly passing Bayern engaged in with Hoffenheim after the Dietmar Hopp protests broke off the match in Sinsheim back in February 2020.
One thing can add in terms of a conclusion is that Leverkusen enthusiasts may take some solace in the fact that their inevitable humbling came earlier this season. Seoane knows something important. Namely, his inchoate version of a self-coached 4-2-3-1 doesn't come close to measuring up against that of the Champs. Germany's red company team are not title contenders. With their own unique identity (in time), they can at least focus on being top four material.
The other big takeaway has to be the set-piece designs Nagelsmann spent two weeks working the team through on the training pitch. They played such an important role in Bayern's early dominance. The total Leverkusen meltdown obviously turned what the "boy wonder" trainer expected to be a tight victory into a blowout, but one shouldn't let the end result disguise how well the 33-year-old had his team prepared for this one.
Seoane's preparation didn't compare. Perhaps that should be at the forefront of the Swiss gaffer's mind when the two teams meet again in the Rück-runde.
Thanks so much for reading! You can occasionally catch Peter goofing off while watching the lower German football divisions on twitter, @ViceytheSS.
Twitter DMs are open for football conversations, corrections, and (if you truly insist) general abuse. 
All columns debut on Bulinews before appearing on Peter's website later in the week.