It's the final edition of "Tactics Talk"! It's been an absolute blast posting all 34 of these columns over on Bulinews. Don't forget to keep tabs on the web's newest and best sources of English language Bundesliga content throughout the Summer. This writer shall continue to post daily after there.
For the time being, with the long-awaited Euros beckoning, most of the action will be moving over to the Blogspot for satirical coverage of this Summer's tourney. For anyone so grossly misfortunate to have missed out on the 2020/21 German Bundesliga's final round of action, here's the repost of the hot-sheet.
---
League-Wide Talking Points: Round 34
---
Two Ballon d'ors for "Lewan-Goal-Ski"
Indeed. We all received what we wanted at the last possible moment. When the fourth official flashed two minutes of injury time on the board near the tale end of Bayern's thorough dismantling of Augsburg, the record looked to be out of reach. Robert Lewandowski had missed seven solid scoring opportunities whilst his colleagues netted four goals. Even after Leroy Sané's stinger ricocheted off FCA Rafal Gikiewicz's gloves, it would take just the right amount of poise to three-touch it past the charging keeper. The Polish legend found the composure he had been missing all afternoon.
What an incredible testament to the 32-year-old's professionalism and class! He maintained his focus despite the myriad of set-backs. Gerd Müller's record got broken in the finest of styles. And now what? Excellent question. The blonde bomber's all-time record of 398 goals may not necessarily be out of reach. Lewandowski could conceivably catch in in four years time. As we see with the likes of Christiano Ronaldo and Zlatan Ibrahimovic, modern nutrition and conditioning practices can keep footballers on the level into their late 30s and early 40s.
Of course, this campaign counts as the second consecutive season that Lewandowski incurred significant injury. One mustn't forget that, were in not for the enforced COVID break last year, he would have missed nearly two months. He's also out of contract in two-year's-time, though that's a bridge far too well off in the distance to be concerned about crossing. We'll have to wait a while for the next bit of history. In the meantime, perhaps German football lovers can lobby France Football to give him last year's cancelled ballon d'Or retroactively. Seriously. Ronaldo and Lionel Messi, both of whom played full seasons, came nowhere close in the FIFA Best voting.
Running down the no-consequences
Over 34 editions of "Tactics Talk" this season here at Bulinews, we've actually only neglected one single solitary match in our weekly column. After what could be described as a vigorous effort, nothing relevant to mention could be found from Arminia Bielefeld's round 29 draw with FC Augsburg. A writer conceded defeat in the introductory sentences. It was not a failure arrived at absent struggle. With the 2021/22 UEFA Champions' League race decided last week, a pair of fixtures this week threatened to furnish zero talking points. As it so happened, Frankfurt and Dortmund at least put on a good show.
An Erling Haaland brace and another tally from the surging Marco Reus ensured that die Schwarzgelben ended their campaign on a high note with a 3-1 win over Leverkusen. While no one was allowed in the stadium, the local ultras hung banners in order to give the departing Lukasz Piszczek a fitting send-off. Lars Bender also snatched a farewell goal at the death The Bundesliga tradition of showcasing the next season's kits during the final match is always the most fun in Dortmund, where the upcoming outfits invariably look striking and ridiculous at the same time. Meaningless, but fun.
Eintracht prevailed over SC Freiburg by the same scoreline. Here, we got to see the Freiburg yellow jerseys. These make an appearance a rare appearance whenever die Breisgauer play an opponent with partially red or black tricots. There's an anonymous colorblind player in Christian Streich's ranks. Frankfurt remained undefeated as home (as if that matters in this Geisterspiel season) thanks to goals from the probably departing André Silva, the eminently likable Almamy Touré, and possible face-of-the-future Ragnar Ache. Everything about it was satisfying, except perhaps the fact that the injured Sebastian Rode didn't get a chance at redemption.
---
The "Spiegel Specials": Round 34
---
Mainz-Wolfsburg (0:2, 3:2)
Okay. Anyone who followed this column this year surely saw this one coming a mile away. One can't pass up an opportunity to comment again on what Bo Svensson has accomplished since taking over at the Rheinhessen. Thanks to this improbable victory, the Nullfünfter complete a 32-point-haul over the second half of the season. Only Bayern and Dortmund did better after late January. There's Bundesliga football in the Pfalz next year after the new Danish trainer rescued the first-ever top-tier club to climb back up from seven points at the halfway mark.
Svensson's carnival club blew the lead twice in this very engaging affair. Stefan Bell, the central defender dusted off by the new coach to anchor his back three, scored what proved to be the game-winning goal off a smartly-designed set-piece. Outgoing captain Danny Latza began the game on the bench, but got called into action when Leandro Barreiro succumbed to injury any the half-hour-mark. The six-year Mainz veteran performed very well in his final game. Jeremiah St. Juste tore up the flanks with breakneck pace as his form upswing continued.
Prognosis: The next uphill battle
Some players other than Latza who did their job in a return to what looked like a 3-3-4 included Phillipp Mwene, Dominik Kohr, and Danny Costa. Like Latza, this trio has almost certainly just bid adieu to the Pfälzer. Da Costa and Kohr are due back in Frankfurt after short-term loan deals. Mwene just declined to renew his contract. Stefan Bell may be next.
Administrative returnees Christian Heidel and Martin Schmidt hit the jackpot with their selection of former player and youth coach Svensson as trainer. Now they have to stem the tide of departures and rebuild the squad to compete next year. This actually isn't so easy, as most of the players out on loan remain away from the club on long-term deals.
In spite of this marvelous "Rück-runde", it's perfectly acceptable to treat Mainz as relegation candidates when next season begins. Keep a close eye on the restock effort. A new arduous challenge isn't very far away.
Bielefeld-Stuttgart (3:0, 2:0)
Die Arminnen secure safety on the final day of the season. Bundesliga football shall take place on the fringes of the Teutoburg Forest next year after the Bundesrepublik's quintessential "graue Maus" team blanked the club that came up with them last year twice. Take a moment to consider that. It's actually been a poor quality football year for this crew. Bielefeld have only scored 26 league goals. That's only one more than Schalke! The fact that they bogeyed  the Swabians saved them.
Few will have forecast this at the beginning of the year. It's very rare to see Arminia remain in the same league for two consecutive campaigns. Ritsu Doan and Fabian Klos, incidentally the two goal-scorers from the first leg, came through again for their club away at the Mercedes Benz Arena. The pair of tallies came just five minutes apart, with Doan and assister Andreas Voglsammer feeding off the energy from Klos' converted penalty in the 71st. Doan and Klos finished the campaign with five goals a piece.
Prognosis: The next relegation candidate
Yes, we're all legitimately happy for the Bielefelder. Their fans waited 11 long years for a return to the top flight, yet were barely able to go watch their club compete in it during this most cruel COVID season. One would be heartless not be happy for Klos; one of those old 2. Bundesliga veterans like Simon Terodde who never managed to break through in the top flight. Doan and countrymen Masaya Okugawa really gelled in the second half.
Stated sympathies aside, only someone seriously deranged to think that this team won't be fighting for their lives in the early stages of next season. While it's certainly true that, as we've been discussing for weeks, next year's Bundesliga might constitute the weakest field-of-18 ever, this poor small market club has no revenue with which to retool. Doan and Okugawa cannot be retained. Sergio Cordova and a host of others are headed back to their parent clubs soon too.
All told, it's still a monumental achievement. With the fans allowed back into the old Bielefelder Alm next year, we can all declare ourselves satisfied with this great escape. Well done, Bielefelder. It's one of the biggest upsets since the actual battle of the Teutoburg Forest.
Hoffenheim-Hertha (3:0, 2:1)
Not exactly the type of juxtaposed scoreline envisaged by this writer when the idea for the "Spiegel Specials" when it came time to think of a new segment for the "Rück Runde". In truth, the placement of this match here serves a different purpose. Namely, the future of Deutschland's "alte Dame" under incoming chief executive Fredi Bobic calls for another "prognosis" section. We'll discuss the fixture briefly first.
Hertha probably should have won as Vladimir Darida found himself unlucky to hit the post after the restart just moments after opening the scoring shortly before the half. Sargis Adamyan then equalized on the ensuing counter. Pal Dardai's Berliners, knowing that the match didn't really count for anything, invested most of their energy thereafter in executing a nice little multi-jersey tribute for the retiring Sami Khedira.
Prognosis: A new "Baustelle"
Those familiar with Fredi Bobic's administrative career at Stuttgart and Frankfurt know that the 49-year-old executive never shies away from his own individualized housecleaning. In this case, he has quite the task ahead of him. Buoyed by Lars Windhorst's hundreds of millions, this club bought players for the mere sake of doing so. Even those of us who felt optimistic about this team's prospects never felt that the actors acquired fit together well.
What will be Bobic's first act act as the new top exec? Before selling of a cadre of footballers he feels he can get good market value for, we've a bold prediction to make: trainer Dardai will be let go. It's a simple matter of explosively contradictory personalties. Dardai is an emotional old-school type. The Hungarian never refrains from lambasting his players or revealing his tactical ploys.
Bobic being one who prefers to play it close to the vest, it's easily foreseeable that he'll feel the need to install his own head-coach as part of the forthcoming overhaul. The new sporting director can't chance it with a team that may lose its investor if it finds itself involved in a third straight relegation race. Ups. We'll be looking at a very different club come autumn.
---
The Burning Questions: Round 34
---
Ah yes. Nothing quite like the final matchday of the season! Full disclosure: We're going to have a bit of fun with the tactic boards in this last post. This counts as one of the real treats of all the desperation football taking place across the simultaneous kickoffs. After all, these are the moments that football fans live for.
Anything resembling a stable footballing constellation goes out the window as the trainers order everyone forward. Over the course of the year, it's fairly common to see the keeper come all the way up to work as an aerial target on a corner, but nothing like what we see when the playbook hits the trash bin. Enjoy!
How did FC Union do it?
By going for broke of course. This writer is generally liberal when it comes to the way one can cleave the outfield numbers up. Some may say that a 6-3-1  a 5-2-3, or a 3-5-1-1 shouldn't technically exist. As those who have followed this column over the course of the year know, such declinations have been used in this space if it helps clarify a point.
While there are some limits (a 7-2-1 or 2-1-3-2-1 won't be used, for example) it should be considered fair game to use almost anything in describing a sport that, historically, featured 2-3-5s for its first six decades or so. One doesn't really see 2-3-5s these days, except during the the final matchday of the season.
Lineup—Union Berlin—84th minute (2-3-5)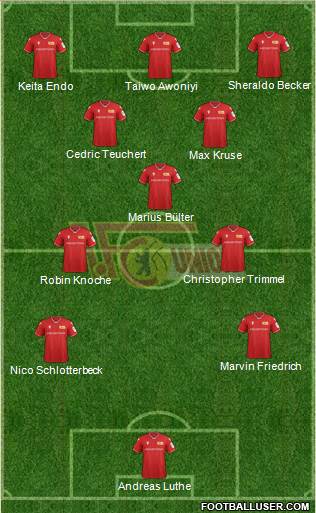 Oh yes. Everyone forward now. Bring the kitchen sink while you're at it. This is what football used to look like back when miners and factory workers were kicking medicine balls around a dirt lot. Julian Nagelsmann's three-striker-set nearly tore this apart. Urs Fischer was moving his men into this position before the final change and Andreas Luthe was left totally stranded in the 81st when Marcel Sabitzer, Yussuf Poulsen, and Lukas Klostermann got off a triple chance.
Christopher Nkunku had Alexander Sørloth set up for the winner before final two subs Sheraldo Becker and Marius Bülter could even get into position. Luthe had to make another save after another blitz counter sucker-punched this soft underbelly two minutes from time. Nkunku then narrowly missed the game-winning goal twice before Union scored. First, the Leipzig attacker got his cleats stuck in the pitch in the 90th. Then, he hit the post at 90+1.
Goodness! Becker out-danced Dayot Upamecano (something not exactly easy to do) after a throw in at 90+2 and Kruse's header-in off the new Suriname international's cross kissed the inside of the post from six meters out. That's how close this one was. Union made it to Europe via the top resin of their fingernails.
How close did Werder come?
They came close to equalizing down 0-1, but the late goals were almost accidental. We didn't see a 2-3-5 here. That would be far too exciting for the Hanseatic club now forced to contend with its first relegation in forty years. Thomas Schaaf actually picked up where he left off back in 2013. Tactics-watchers rubbed their eyes in disbelief as they saw Schaaf use his old 4-1-2-3 diamond rhombus.
Marco Rose might have anticipated this all too easily. Lars Stindl easily snuck in behind sweeper Maximilian Eggestein to score the opening goal three minutes in. Davie Selke then proved himself an absolutely unequivocal flop by missing a sitter in the 19th. Theodor Gebre Selassie missed a chance to heroically end his Bremen career with another bad miss four minutes after the restart.
Thus, the hosting Hanseaten had two chances to draw level before Gladbach opened the floodgates with three goals in 15 minutes. The two late pullback goals in the 2-4 loss came via this constellation:
Lineup—Werder Bremen—80th minute (4-3-3)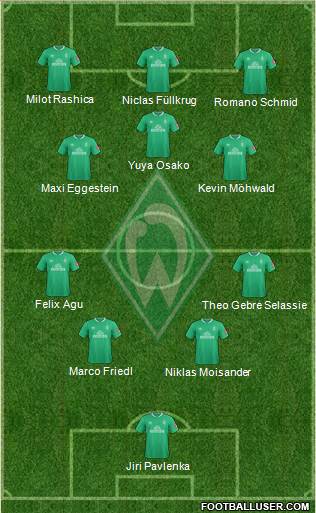 It's a pretty hopeless state-of-affairs when Romano Schmid serves as one's third striker. To the youngster's credit, he's played well this season and the locating of Füllkrug on the second goal was sharp. Twenty-seven-year-old veteran Kevin Möhwald, another actor who has had a non-relegation-worthy year, did well setting up the first.
In light of the poor tactics that sunk them at the start, it's tempting to aver that they should have at least let Kohfeldt finish the season. Since the front office made zero attempt to supply him with players to work with, they could have allowed him to own the historic relegation. The Schaaf gamble backfired. His last 4-2-3-1 might have held up better.
---
Weekly Tactical Focus: All the drama…
---
Simultaneous kickoffs don't leave football lovers with much wiggle room. All the matches can naturally be reviewed on tape later, but the observer only gets opportunity to experience all the live emotions in one fixture. With nine selections on this final Bundesliga day's slate, the choice was by no means easy. After some agonizing back-and-forth, this writer went with Schalke-Köln. Ultimately, the deciding factor proved the predicted relegation of Bremen and the inherently depressing connotations associated therewith.
Though one could argue that this statement would have been written irrespective of which match ended up being watched live, a writer believes he made the correct decision. This one had it all. A nervy, slow pace which served to increase the tension. An apparently decisive late disallowed goal that could have deterred Köln from executing its a given task. A late rally from the team that just needed one goal to fight another day. Finally, the gratifying feel of success following a seemingly endless slew of near misses.
Something else this match had was a frankly ridiculous "late-push" formation. Yes, sir. We're not quite finished covering the "desperation football" tactics of the season's final matchday graphically. One shall find more of that below. Both teams were complicit. First, we'll need to succinctly cover why the encounter got off to such a slow start.
Lineup—FC Köln—Match 34 (4-2-3-1)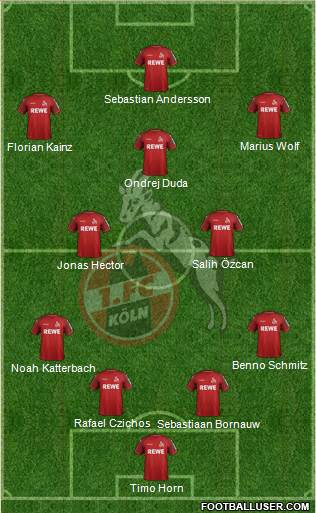 Yawn. Nothing especially surprising or special here. Funkel played it safe. The experienced trainer's greater concern lay in ensuring that his team refrained from committing an early fatal error. Thomas Schaaf might have considered this. Even against a clearly inferior opponent, one sometimes seeks to accord an assemblage of footballers a chance to slowly grow into their game.
Dimmitrios Grammozis went beyond playing it safe. It's unclear as to whether he had any real motivations apart from maybe ensuring his team didn't endure too much embarrassment on the final day. About the only thing of interest from Schalke's perspective involved Köln native Mark Uth becoming the lone player to take advantage of Peter Knäbel's offer to recuse himself from proceedings.
Lineup—FC Schalke 04—Match 34 (5-1-4)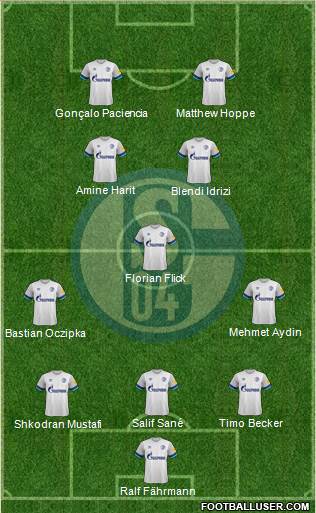 These "castle storm" formations carry with them the intent of absorbing pressure through the wingbacks, then unleashing highly centralized counters. It came as no surprise to see it used in this instance. Grammozis made the correct move. For that matter, so did Uth. Had the 29-year-old played a part in Köln's direct relegation, he would have never been welcome in his hometown again. He was right to sit this one out.
Match Flow: 1st to 22nd minute
Not much to speak of in the early going. A pair of Kölner charges resulted in nothing more than a Marius Wolf offside in the 1st and an easy roll out for a goal-kick in the 3rd. Blendi Idrizi impressed with some fancy footwork in the 4th and Florian Kainz worked in the first useful ground diagonal for Sebastian Andersson in the 6th. Duda made good use of space one minute later before the teams traded turnovers in midfield for three minutes.
Mehmet Aydin generated the next near chance in the 10th with a neat forward header for Matthew Hoppe. This Schalke attack, along with another in the 12th, came off the counter. The visiting Königsblauen nevertheless failed to look remotely dangerous on the upfield lanes the Geißböcke gifted them. After a foul-laden spell lasting another four minutes, Salih Özcan got the first Kölner shot on target in the 16th. It was a tame one from distance.
The cathedral city side's back-builds continued to look very tentative. An endless string of timid rearward passes ensured that the hosts maintained upwards of 65 percent possession, yet couldn't get past their halfway line. The first long ball in ages came in the 22nd. Shkodran Mustafi cut it out acres away from Andersson.
Match Flow: 22nd to 34th minute
As it turned out, the first meager attempt to speed up their collective movement out of the back heralded a very strong spell from Funkel's men. Suddenly, the Effzeh burst into life. Benno Schmitz came forward with the rush in the 23rd. As a result, Wolf was able to work a useful ball into his vertical fullback partner. A stinging effort tested Ralf Fährmann. Köln earned their first corner off the quick reaction save.
Ondrej Duda's service from the right was well met by captain Jonas Hector. The header back across the face of goal proved a bit too high for Wolf, however. More clever possession play from Hector kept it alive before Salif Sané cleared. After Schmitz stopped a promising Schalke counter in the 25th, Sané accidentally blocked a vicious effort from Duda in the 26th. Kainz lashed the rebound toward Fährmann for another shot on goal.
With newfound confidence, the Domstädter kept pouring forward. Hector and Wolf combined splendidly in the 27th. The pair eventually lost the ball following a bit too much trickery. Hector and Noah Katterbach had to be inch perfect on a double tackle to stop Hoppe on the ensuing counter. Something similar transpired two minutes later. Kainz and Duda lost out to Amine Harit. This time, Sebastiaan Bornauw rescued his side with a monster tackle.
Wolf blitzed up the right flank at the half hour mark, but couldn't find a very inspiring cross at the end of his run. The on-loan Dortmunder did much better a minute later, muscling his own way through into the box. Still, nothing came of it as die Knappen closed ranks. Hoppe was completely free on the next counter. Bornauw again spared his team blushes with a drag-foot deflection of a sure-fire effort that looked headed to the back of the net.
Bastian Oczipka ceded a free kick in a dangerous area in the 34th. A tight tussle led to a foul going Schalke's way, however, and the opportunity went wasted. This marked the end of the Rhinelander's more audacious twelve-minute-spell. Rafal Czichos seemed to sit on the ball during the final first-half stretch.
Match Flow: 34th minute to half-time
Hector and Idrizi had a small scuffle that ate up clock between the 34th and 37th. Grammozis' crew got a few cycles going on their own right and bled some clock down with a couple of corners before Kainz got stopped on a semi-breakthrough in the 41st. As noted above Czichos ran all the Kölner builds, or what passed for them, until the halftime whistle.
The only real threatening-losing charge came when Czichos located Kainz in the 43rd. After some decent dribbling, the S04 players wrested back control and executed three decent forward rushes. Match official Daniel Siebert opted to call a halt before one minute of injury time could be completed.
Match Flow: 46th to 58th minute
Without changes we continued. It remained anyone's game as the hour mark drew nearer. A lovely back heel from Wolf found Duda on the first play of the half, but the former Hertha man's forward for Andersson just missed the striker's stride. The Domstädter proceeded to put together some serviceable offensive combos in the next three minutes. They're weren't exactly clean or neat, but did show intent.
Kainz (49th) and Wolf (51st) ran the next advances. Oczipka and Hoppe did the defensive work on a pair of corners. Mustafi and Florian Flick ensured that Wolf took too heavy a touch on a breakthrough in the 53rd and the resulting finish just wasn't good enough. Back the other way, a few nice Schalke quick-cut passes ended in Harit hitting the side netting in the 55th.
Funkel was already wildly gesticulating from the sidelines to indicate that all of his players had more license to go forward. Czichos bailed his over-committed team out with a monster tackle in the 56th. Idrizi then hit the wrong side of the netting shortly thereafter. Jan Thielmann was ready to check in on the sidelines, but had to wait for a break in the action.
Match Flow: 58th to 70th minute
Thielmann replaced Kainz, moving Wolf over to the right flank. Both wingers proceeded to work their socks of as more Köln players pressed up the middle and took more risks. The Schalke defenders tackled tackled strongly and cleared a series of crosses until Wolf managed to skip past everyone in the 63rd. Schmitz finagled his way into some free space and got another hard low shot on target off.
Duda fought hard to get the ensuing rebound back in there, but Fährmann was able to steer away for a corner. The Schalke keeper then caught Duda's service easily. Thielmann took a few seconds too long on a dribble three minutes later. The Königsbaluen hung tight at the back to cancel out the waves of pressure. A 67th minute Hoppe counter had no real hopes as the American was stranded all alone.
One sensed that the nothing truly lacked in terms of the Effzeh will to get the ball forward. Some nervous strain was perhaps apparent as the passes weren't connecting. Özcan finally got his teammates the chance they needed with a brave central carry out of the back. Idrizi had to haul him down over the shoulder and die Geißböcke had a free kick. The resulting goal constituted a beautiful tally, fitting of a dramatic relegation rescue.
Match Flow: 70th to 79th minute
Hector curled in the dead-ball hit all the way to the far post, where Andersson calmly and patiently let it hop before raising his right boot to trike it in softly. The sensation everyone wanted had come. The faithful and dogged captain set up last summer's star attacking acquisition; the one whose persistent problems with injury had led to the team's troubles in the first place.
A storybook ending seemed unavoidable as all the players looked over to the right-side linesman and saw that his flag remained below his waist. Absent an offside call, the goal would stand. There also appeared no intervention from the Kölner Keller. Referee Siebert, prepared to let the match kickoff again, only felt the vibration on his watch at the last moment.
While Andersson appeared just onside, Özcan had impeded Sané as every broke just forward. This affected the play and, hence, the goal was scrubbed off. The Domstädter were remarkably able to shake this off immediately and Hector produced a beautiful double chance after Duda played him through in the 75th. Fährmann saved the first effort acrobatically. The Köln captain stayed with the rebound, but could only direct to the top of the net.
Following a couple of stoppages, it was Wolf again with a shimmering laser beam from 20 meters out in the 77th. Fährmann somehow saved it. Sané deflected another Wolf effort less than a minute later. Funkel introduced two more attacking midfielders for the final push. Max Meyer and Dominik Drexler came on for Özcan and Schmitz.
Match Flow: 79th to 86th minute
Heart palpitation time. Every last risk had to be taken now. Either heroism or humiliation awaited. Survival hung by the tiniest of threads. The new actors immediately took up their posts and we witnessed this.
Lineup—FC Köln—80th minute (3-4-3)
As promised, we weren't quite finished with the insane final day graphics. Crowd the box and hope for the best. Grammozis' Schalke, aiming for the moral victory of preserving the late draw, opted not to take advantage of what Funkel threw at them. Die Knappen went for the "pancake" line of defense.
Lineup—FC Schalke —81st minute (6-3-1)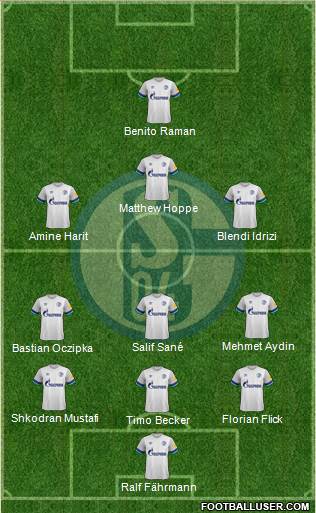 Ahem. Has it been it been emphasized that we're not quite done with the crazy final matchday graphics just yet? This was Catenaccio on crack. One could almost label in a 9-1 formation. The reorganization of Sané and Flick weirdly illustrated just how important hanging on was for this team in their final Bundesliga match. The most experienced player took up a flat pivot.
Mustafi disposed Drexler on the right in the 80th. After the Domstädter painted around the box for a while, Meyer forced Fährmann into another save with a sharp header in the 82nd. Hector nutmegged Oczipka nicely in the 83rd, but it would come to no avail as there were too many S04ers back helping. Köln kept throwing random crosses into the box. Schalke kept clearing.
We finally got our fairly tale ending in the 86th when the very same defender who prevented Schalke from scoring with two exquisite tackles in the first half found the back of the net for the first time this season. Bornauw was all the way up at the far post. The 22-year-old Belgian international emphatically headed a Thielmann cross home. The central defender, who had hitherto had an awful season, scored the winner out of nowhere.
Match flow: 86th minute to full time
We'll spare our readers one final graphic. It should nevertheless be noted that Grammozis did re-organize into ta 2-3-5 and his Knappen got multiple chances to equalize through five minutes of injury time. Bornauw's goal wasn't the end. Fährmann nearly capped a spectacular match by heading in off a corner at 90+2.
Nothing has been easy for Köln this season. Schalke pressed on until the final second. Harit was through at 90+5 before Meyer got a toe in and launched the last clearance. Even then, Siebert let the ball bounce a few times on the drenched turf before letting the whistle furnish die Geißböcke long-deferred relief.
The football matches supplying the best drama are spawned by a combination of high stakes and a cautious start that exudes tension; not unlike a plodding horror film that establishes the mood with pan-shots rather than jump scares. That's what made this perfect capper to the season so emotionally engaging.
Wonderful stuff. Imagine what club football would be without relegation. Actually, one doesn't need to imagine it. Some seriously out-of-touch sporting executives falsely assumed that we would be interested in such nonsense a few short weeks ago. As uncomfortable as "all the drama" is, no one who loves this sport could ever conceive of doing without it. This campaign ended perfectly.
Concluding Thoughts: The 2020/21 Season Highlights
And we're done! Time for some review. All 18 clubs got multiple draw-ups during the nearly seventy editions of our long-form columns this year on Bulinews. Which one served as your team's highlight? That's obviously a subjective question, but a writer will do his best to act as a guide. After sorting through reams of text this week, here are the picks.
Let's go down the final table! Each section contains a little prediction for next year as well.
FC Bayern München
So many to choose from, but we'll go with that most entertaining version of what non-Germans refer to as "Der Klassiker" last November. It cannot be emphasized enough that Flick's FCB were a self-coached team. There may be some pitfalls ahead for incoming tight-tactics-controller Nagelsmann next year.
RasenBallSport Leipzig
Again, there's no shortage of instances in which Naglesmann's tactics were covered. There being an American on this team, they were essentially draw-ups every week. This writer's personal favorite example was probably round 23, back when we had a real title race. One can probably expect a slight regression from this team next year, but Jesse Marsch won't be short of newly procured ammo from the RB system.
Borussia Dortmund 
Have to all the back to the beginning of the season for the most hopeful, but the early awakening one was good too. Of course, the best had to be when finally became apparent that the revival wasn't a false dawn. The prediction that Edin Terzic will have a new job by next November at the latest holds.
VfL Wolfsburg 
An easier choice here. It had to be the moment we retained some fleeting hope for die Wölfe in the title-race. There's no telling what's going to go on with this team next year under their new coach. Oliver Glasner and team officials promise an announcement early next week.
Eintracht Frankfurt 
Oh there were good times. So many good times. Arghh….the times were just too good. It looks to be a textbook rebuilding year for die Adler next season. One expects a regression along similar lines as the one we saw last campaign. One shouldn't expect another European qualification.
Bayer 04 Leverkusen
One of our other writers did a very good job with this. Not to rub salt in the wounds of Werkself fans, but Jonathan Tah's late error in round 13 was…well, that's what summed up the season. There were better times too. It took some time for us to stop paying close attention to this side. Germany's red company teem should actually bounce back next year.
It's highly unlikely that they'll have to deal with the same amount of injuries. A top four finish could potentially be within reach.
FC Union Berlin
The best looks at Urs Fischer's tactics came in round 17 and round 26. Given the club's proactive pace at getting their rebuild signings done early, another strong campaign is in sight. Another European qualification nevertheless remains unlikely. The grueling conference-league schedule will deplete them.
Borussia Mönchengladbach 
The coach worship has since been disavowed, so we'll take you back to round five. One feels so sorry for this club's fans. They're grievances remain legitimate. Before one feels too sorry for them, however, the coach they stole from Frankfurt should lead them to a successful season even after the player departures.
VfB Stuttgart
Speaking of going back early in the season, there was so much potential in Württemberg. Even after they dipped, they were still a fun team to cover. Endless discussions about the split-stagger never failed to entertain. Without Europe to worry about next year, a mid-table finish seems a solid prediction.
SC Freiburg 
Christian Streich got his day. What a day it was! This writer, being from Southwest Germany, has his biases. Regional favoritism means that he never picks Freiburg to get relegated at the beginning of the season, even as most others do. It should be noted that the Breisgauer are actually in real danger of getting relegated every year and the next one proves no exception.
TSG 1899 Hoffenheim
What could get a diehard Bundesliga enthusiast interested in Dietmar Hopp's Kraichgauer? Well, Chris Richards certainly helped. The Sinsheimers will play better next year; easily challenging for the Europa League places. Hopp has the money to retool.
FSV Mainz 05
Think we only got around to gushing over Bo Svennson late this year? Not the case. We were tracking his changes all the way from the beginning. As noted earlier in this particular piece, next year will still be very tough.
FC Augsburg 
Several discussions about about Augsburg this season, though the better one came early on when covering Heiko Herrlich's ultra-defensive diamond-box. Sigh. Neutral fans don't much like this club, but the scenes during the league's penultimate round again showed that they do have passionate support.
The prediction from the very beginning of this season seems fitting once again. Stable. Mid-table.
Hertha BSC
A writer counts himself among the many former Berlin residents that desperately wants to see this club succeed. Hence, there were many early season optimistic looks at how the team was slowly beginning to get better. There was even a paean shortly before the "Hin-Runde" concluded. We've some thoughts on this club's future above. Very hard to predict.
Armenia Bielefeld 
Yes, we drew it up for the team from the town that may or may not exist. Their Bundesliga existence beyond next season remains highly questionable.
FC Köln
There's effectively zero chance Markus Gisdol would have lasted as long as he did with tactics like the ones we saw. Goodness were they ever ugly. We can't even look ahead to next year yet as they've still a relegation playoff to win. Whoever the opponent turns out to be, prospects are good. One looks forward to seeing Steffen Baumgart back in the Bundesliga again.
SV Werder Bremen
Ugh. Too much Florian Kohfeldt this season. Every blasted week in the "Americans" column. Thank heavens it's over. May we never revisit these turgid days again.
FC Schalke 04
One can't escape the pain here. What the hell? We'll end on a high note. Hope to see die Königsblauen back in the top flight again soon!
Thanks to all those who have read some part of this column this season! You can now catch Peter at his new home on twitter. DMs open. @ViceytheSS
With the Euros just weeks away, there's also plenty of irreverent satirical fun in store this summer on the blog for those who care to join in! You can access it directlyor through Peter's website.