The latest, and penultimate version, of Tactics Talk is hefty one indeed. So much was decided on this second-to-last matchday of the season. Seeing as how everyone (including this writer) find themselves in a rush to get ready for the Euros on a tight turnaround, we'll re-post the latest round's hot sheet early this week.
You're invited to come along for another full breakdown of Bundesliga action!
---
League-wide Talking Points: Round 33
---
A Farewell in Breisgau
There was actually a football match in Germany's southwest corner amid all of the deserved ruckus raised about Robert Lewandowski tying the Gerd Müller record. Christian Streich's Freiburg came back twice against the mighty German giants. SC back-up keeper Mark Flekken actually single-handedly stopped Lewandowski from breaking the record with three amazing lightning-quick reaction saves down the stretch. The ever-energetic Vincenzo Grifo bagged two assists and captain Christian Günter led a spirited effort for the plucky underdogs.
In a rather sad development, the very likely final match in Freiburg's beloved Schwarzwaldstadion took place without any fans present. So much history and so many memories over nearly seven decades. Part of this charming venue's history includes that, through several naming rights changes, it was always sponsored by local solar energy companies and eventually the local tourism board. The stadium itself served as a laudable green-energy project of former head-coach Volker Finke.
The team definitely needed a more modern venue to meet current competition standards, but one really hopes that they'll delay opening the new ground until a few spectator matches are allowed next autumn. Instead of rushing the new (rather ugly looking) stadium into action, some special commemorations should planned. Fans, Finke, and a bunch of photovoltaic generators. Perhaps some dancers in sun-outfits too.
Local heroes seal the UCL race
As tempting as it may be to consider it a mite anticlimactic that the race for next year's UEFA Champions' League slots came to an end absent a drama-filled final day of the season, the storylines in both Sunday fixtures make for some heartwarming tales. A pair of local lads played the biggest roles in securing Europe for the BVB and VfL. Dortmund's own Marco Reus scored in his second consecutive match his team's advantage in the eventual 3-1 win over Mainz. Reus has actually been on absolute fire as of late. The squad's recent cup victory owes much to his two ultra-slick assists.
With the Euros just around the corner, one really wishes Reus' tour of national team duty wasn't so definitively over. He's scored five goals in his last seven fixtures, looking fit and confident in every last one of them. If only the 31-year-old could have avoided getting injured every fifteen seconds. Reus' former Schwarzgelben teammate Maximilian Philipp also had a rather tortured history with die Nationalelf. A few ill-timed injuries, some reported disciplinary issues, and form dips meant that he never even made the jump to the senior side.
It thus proved nice to see the Berlin native help current club VfL Wolfsburg clinch their UCL berth with a brace against Leipzig on Sunday. Two excellent distance efforts enabled the Autostädter to build a 2-0 lead over Leipzig; one that would prove enough on a day in which they only needed a draw to guarantee a top four finish. Philipp has also been on a hot streak of sorts with three goals in five matches. Okay, he's not exactly a native soon of Germany's green company team. Given the proximity of Wolfsburg to Berlin, however, he qualifies.
Scant points from two draws
Not to gloss over the two 1-1 draws taking place on Saturday, but talking points were few and far between in both the Leverkusen-Union and Bielefeld-Hoffenheim encounters. Easily the most salient aspect of the draw at the BayArena concern's Florian Wirtz's 26th-minute goal. The boy wonder has now beaten Jamal Musiala's recently set record as the youngest player to record six league tallies. Very little of interest transpired thereafter, although Joel Pohjanpalo's 74th minute equalizer is worth a look. It was a nice second effort off a fine Sheraldo Becker cross.
Andrej Kramaric made his own bit of history for Hoffenheim with a 6th minute strike in the Arminia fixture. For all of the problems the Croatian has had this year, he did eclipse Vedad Ibisevic's club record to the highest single-season Kraichgauer scorer. Kramaric's 19 goals in just 27 appearances remains impressive. The match, on the other hand, failed to impress after that. Andreas Voglsammer curled in a nice free kick before torrential rain flattened out the play. Kramaric did miss two notable opportunities in the final fifteen minutes.
---
The "Spiegel Specials": Round 33
---
Augsburg-Bremen (0:2, 2:0)
A perfect mirror exemplifies just how far Florian Kohfeldt's ramshackle bunch have fallen since this point in the "Hin-runde". The general consensus this year held, for quite some time, that the league's second-longest-serving head-coach had really managed to do more with less this year. Not long ago, it genuinely seemed impossible that the Hanseaten could get dragged back into the relegation race. Now they're in the thick of it. Unlike last year, one doesn't sense that they have the creative stamina left for a spirited final push on the league's last day.
Club sporting director Frank Baumann finally relieved Kohfeldt of his position early Sunday morning. As shake-up could no no longer be avoided. As is so often the case in football, the players were acutely aware that their gaffer's job was on the line and summoned up the drive to compete for him. After Ruben Vargas' red card gave the Hanseaten an early man-advantage, Josh Sargent and Leonardo Bittencourt came within inches of ensuring a different result.
Even after Christian Groß' sending off restored ten-man parity and Rani Khedira's 57th-minute tally put the West Bavarian hosts ahead, Werder's effort remained undeniably visible. In the final analysis, however, one has to concur with Bittencourt's assessment of the match. It was too little, too late. In the midfielder's own words, "it sucked". Too little firepower on the roster this season. The decision not to replace Davy Klaasen comes back to bite this club. A few more goals and perhaps three more points would have made the difference.
Prognosis: Down goes the city-state
It looks as if next year's 2. Bundesliga shall be even more intriguing than presaged just a week ago. The SV is headed down. That's the prediction. The great northern derby of Hamburg vs. Bremen gets two more editions in the 2021/22 term. With St. Pauli already in the league and Hansa Rostock looking as if they're heading up in that direction, we get actually get another rivalry of the city-states and a fun Hanseatic battle too. Wow. Next year's second tier glistens with possibilities.
Since we've broached the topic of the storyline-laden 2021/22 Bundesliga Two campaign, one might as well engage in the what has become an annual griping tradition. Augsburg secured their 11th straight season of top-flight Bundesliga football with the win. Sigh. It's not as if the Bavarian Swabians engender a sense of rage within the German footballing public. Quite the opposite. They merely represent everything that is boring about banking from the mundane and monotonous days of the Fugger family.
One can make the case that banking was a safer and more useful discipline back in those days; certainly preferable to the contemporary version of overpaid bozos who routinely tank the economy with their reckless over-leveraging. Perhaps a more accurate representation of Augsburg would be that of a green-visored accountant. They are the footballing equivalent of an office with no interesting books on the shelves.
Stuttgart-Gladbach (2:2, 2:1)
We devoted the tactical focus section to these two teams when they met in the reverse fixture. At that time, a reverence for the long-lost twins of Pellegrino Matarazzo and Marco Rose begat the fawning title of "postmodern football". Both head-coaches seemed to be operating at the cutting edge of football tactics. A rise to the top of the sporting crop appeared to proceed at as fast a clip as the hair disappeared from both men's rear scalp section. How wrong a writer can be. The BMG and VfB trainers proved big disappointments in the "Rück-runde". Neither recovered their sheen.
Saturday's affair featured three goals, yet frequently got bogged down in long passages of ennui. Rose's intended 4-2-3-1 never really came into shape as talented wingers Marcus Thuram and Jonas Hofmann spent most of their time behind the halfway line. Stuttgart again couldn't run their counters in an organized fashion, though they were significantly better at remaining organized in defense than last time. Christopher Kramer and Lars Stindl accorded a languorous match its lone highlight with a nice combo tally at the stroke of halftime.
Wataru Endo and Sasa Kalajdzic struck within five minutes of one another in the fixture's final twenty minutes to break another meekly drab spell. Unfortunately, those for whom Stuttgart has piqued some interest this year saw still more injuries rob Matarazzo's team of all its interesting players. Endo and Konstantinos Mavropanos, and Gonzalo Castro all sustained knocks. With Tanguy Coulibaly and Silas Wamangituka already out, next week's finale against Bielefeld doesn't make for recommended viewing. All signs point to a 0-0 snoozefest.
Prognosis: Updated coach worship
After the elation of the summer international tournaments fades, it shall once again become time to re-focus on the Bundesliga. One genuinely wonders if Marco Rose's Dortmund will be a team worth getting excited about. The BVB will almost certainly lose some players. They may be forced to sell Jadon Sancho. The incoming trainer and his in-place assistant, for all their qualities, suddenly seem more basic blueprint guys who will take their time allowing a diminished team to flourish in a bromidic system.
Insofar as Stuttgart is concerned, we've not really seen anything terribly innovative from Matarazzo since the very¨ early stages of the season. Even that may have been a mirage of sorts. The reappearance of a footballing squad in the top flight often tricks the mind into seeing intricate plans that may not exist. Novelty carries with it that connotation. It bends thought. Far from being European candidates next year, one might consider the Württemburgers early favorites for relegation. Matarazzo's over reliance on the flanks remains too easy a code to crack.
Finally, in accordance with our prediction from last week, the Europa league conference spot still belongs to FC Union Berlin. Rose won't leave this corner of NRW on a high note. The foals will probably be able to run up the score against Bremen without much difficulty, but Union should get the job done against a Leipzig side with nothing to play for. That's a pick far less counterintuitive when one takes momentum into account.
---
The Burning Question: Round 33
---
How did Dardai stabilize Hertha?
Singular once again this week. Neither Köln nor "die alte Dame" took many risks in Saturday's encounter. That's the simple answer. One can sink into conspiracy terrain if one wishes. Dardai and Friedhelm Funkel lined-up as if they operated under a gentlemen's agreement. A "Gijon Game" cannot explicitly be ruled out. It's far more probable that both teams were simply a combination of risk-averse and tired. Moreover, an identical set of tactics tell the tale.
Lineup—Hertha BSC—Match 33 (6-3-1)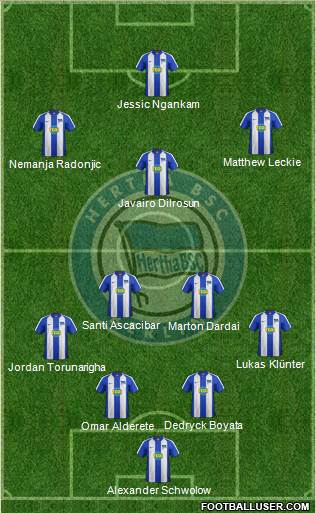 One rarely sees such a tight-clampdown "diamond box" at this level. Faced with an excessive slew of injuries, Dardai's potential selection captivated all football watchers across the Bundesrepublik. Here we see him play it as safe as humanly possible. Santiago Ascacibar and Marton Dardai remained tethered to the center backs on a strict vertical rope throughout.
When Jonas Michelbrink replaced Javairo Dilrosun in the 67th, the 19-year-old moved back alongside Ascacibar and fellow substitute Niklas Stark to form an even harder lateral lacokdown. It comically resembled a 7-2-1. Hertha aimed for no rhythm on this day. Stoppages and fouls on the final two outfield axes were the name of the game.
Funkel rolled out his own version of a 6-3-1. To accurately convey just how crowded matters got on a certain tread-tear section of the pitch, we'll supply another illustration. As rare as it may be to see a fifth axis "diamond box" in a top professional footballing flight, it's even more infrequent to observe it twice in one match.
Lineup—FC Köln—Match 33 (6-3-1)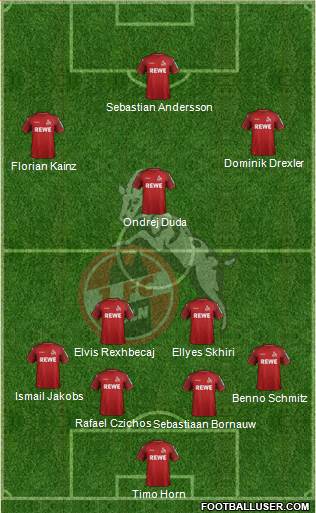 The only real difference between the two appeared a regular rotative set-up that saw Dominik Drexler, Ondrej Duda, and Florian Kainz move clockwise. This yielded a bit more offensive impetus for the Effzeh, though nothing really threatening of note until Jan Thielmann, Marius Wolf, and Jannes Horn freshened it up in the latter stages.
No "Gijon game" here. Both teams were trying. As one can plainly see, however, the huge gaps in both formations precluded the ball from finding escape routes past the halfway line. A certain tactical capitulation on behalf of the two gaffers rendered the result wholly predictable. It may have been a different story if a player on either team committed a major error.
---
Weekly Tactical Focus: Recalling how to play football
---
Good lord, what a football match! Such a pleasant breeze welcomed into a dark and stuffy room! One expected that, unburdened of the pressures of their disastrous campaign, Schalke would supply a free-wheeling and stylish game of football before the season was out. Relegated clubs almost always invariably produce one when results no longer matter and there remains nothing left to lose. Of monumental surprise here, the Königsblauen suddenly erupted for four goals against a team that had everything to play for. Frankfurt needed the win to keep their UCL hopes alive.
How on earth did this happen? As we shall see, it actually wasn't really a case of Eintracht taking their eyes off the prize. Adi Hütter's tactics receive a few minor points of criticism. That notwithstanding, the Westphalian hosts were about as weak defensively as their 85 total conceded goals would suggest. The SGE played both creatively and courageously until completely running out of gas about five minutes from time and losing their cool shortly thereafter. Just like in recent weeks, the Schalke lead never looked to hold for long.
Anyone who had the privilege of catching this encounter knows that it was far easier to enjoy than to explain. The nature of it defies a boxed-in descriptive account, as much as devastated Frankfurt fans might be desperate for one. Adler enthusiasts surely fumble for answers after seeing their dreams of Europe trashed by the most unlikeliest of opponents. It seems apt to point out at the beginning that we can furnish some, but not necessarily the most intellectually satisfying. There exists no specific set of originative agents which one can point to.
In essence, what transpired on this day was that Schalke–against all the odds–all of a sudden remembered how to play football. It came out of nowhere. Spurred on by some of the veterans who abruptly rediscovered their muscle memory, the less experienced players opted to give it a go. Also very much unexpectedly, the team beat back the set backs that had so often knocked the stuffing out of them at all the other stages of this campaign. Reliance was possibly the most important thing dragged out of the deepest recesses of the collective mind.
Lineup—FC Schalke 04—Match 33 (5-4-1)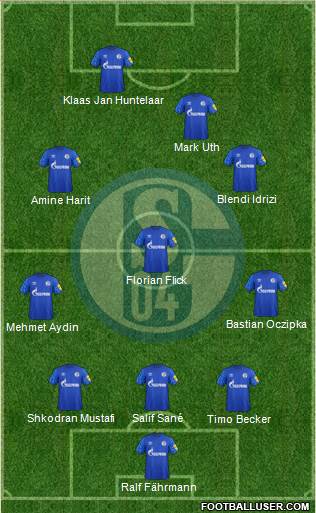 Not uncommon for a coach preparing for a lower league next year, S04 trainer Dimitrios Grammozis continues to develop his "farm team" for the subsequent term. The Knappenschiede prospects are all over the place here. Naturally, that begs a legitimate question.
Who are some of these guys?
Mehmet Aydin is a fullback whom Grammozis has been auditioning in a wingback role since the 27th round. Moving Bastian Oczipka over to the right counts as a new development. Blendi Idrizi demonstrated some zeal for chasing rebounds as a second runner in the midweek fixture. Hence, he received a buttressing assignment this time.
Most should be familiar with Timo Becker by now. He finally played a decent match thanks to a focused Shkodran Mustafi and a healthy Salif Sané. Florian Flick, not related to Hansi in the event anyone is curious, has served as the new anchoring defensive midfielder in recent weeks. The record 41st player to make an appearance for this club this year, Henning Matriciani, came on as a sub later.
Solid anticipation of Hütter's plan
It may seem as if this its merely a simple constellation designed to give a bunch of new players a clear set of triangles forward. In a sense it is, but one should accord Grammozis some credit for designing a construct built to compete with Frankfurt on the basic level the SGE likes to play. Oczipka is switched to help stem the tide of traffic that runs through Filip Kostic on the Frankfurt left.
Additionally, moving Harit out to the Schalke left addresses a foreseeable enough attempt by Hütter to augment his right flank via an upgrade over Erik Durm. While it may not have been obvious what form this personnel enhancement would take, it remained something that the SGE head-coach would need to address. Grammozis shifted his striker and best midfielder over.
Hütter's wide eye
Grammozis' own strategy lent itself to easy interpretations as well. Whenever Mark Uth is healthy, he works as a servicing short striker. Florian Flick, given quite the bit of ground to cover in midfield, could be pulled out of position if Hütter stretched his own constellation out focused on switch-field builds. Thus, we saw this:
Lineup—Eintracht Frankfurt—Match 33 (3-4-2-1)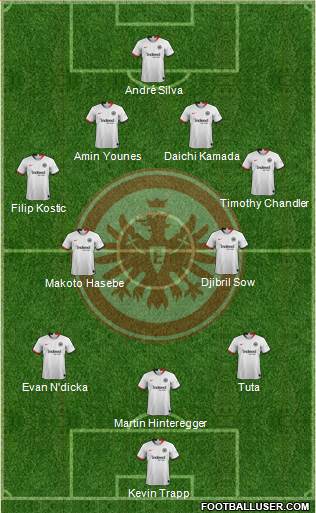 In practice, the bulk of the flank freight is to be shouldered Amin Younes and Daichi Kamada. Kostic and Timothy Chandler obtain instructions to focus on overlaps. André Silva's role remains fairly fluid. The Portuguese attacker serves neither as a target-man nor a poacher. He can roam most anywhere he wants.
Back to the "bloat trade off"
Returning to a concept we discussed a couple of rounds ago, stretching the wingers as far out as possible to the touchline includes its drawbacks. Flow gets interrupted by the number of throw-ins going out into touch. The sixes often can't commit to supplying back up. Squares predominate over more effective diagonals on charges that take too long to develop.
Hütter addressed this firstly by having all the actors work together in a more compressed pyramid. Although the writer confesses that he's not entirely certain that an inverted pivot for Martin Hinteregger constituted an actual Hütter directive, it did appear as if Lucas Silva "Tuta" Melo and Evan N'dicka deliberately crept up more often as part of a re-designed system aimed at generating more overlap options.
Match Flow: 1st to 15th minute
Frankfurt couldn't quite find their footing in the opening three minutes. Laterally spread possession remained crisp, but attacks ended in a pair of offside calls in the 3rd and 4th minutes. Schalke grappled with their own problems, looking very shaky on play out of the back. A miscommunication between Sané and Ralf Fährmann in the 5th somehow went unpunished. A similarly dangerous build one minute later found its way through the settling SGE ranks; all the way up to Uth and then Huntelaar for a shot into the side-netting.
Kamada, Silva, and Younes weren't pressing at all convincingly in the early going. The attacking trio stood lax on the ball whilst the Knappen defenders routinely passed back to their keeper in a manner that screamed for a pounce. Chandler finally got his foot around a lousy clearance in the 9th and recorded the fixture's first shot on target. Fährmann turned the blast away with some neat feat. In the very same minute, he had to stop a Sané own-goal at full stretch when the rattled defender tried to head a Kostic free kick back to him.
The Gelsenkircheners engineered a pair of promising assaults in the 11th. The latter featured a nifty back heel from Harit, but N'dicka was on hand for the away in both cases. Back the other way on a quick counter, Skhodran Mustafi did very well to close down an almost perfectly rolled Younes ball for Kostic. Hinteregger, N'dicka and Younes worked the next attacking sequence, but Becker intercepted for a counter.
Tuta clipped Harit's heels on the 13th minute counteroffensive. David Abraham's replacement had little cause for complaint as it was simply unintelligent play. Cameramen working the match actually caught Abraham himself in the stands shaking his head. Evidently the club had flown the recently retired team captain back across the pond from Argentina to serve as a good luck charm. Sadly, it failed to work.
After a lengthy VAR check to see if Huntelaar was offside, the Dutch striker banged home the rebound from the spot. Keeper Kevin Trapp saved the initial effort, but couldn't get back to his feet in time. Schalke had yet another lead that, after the events of the past few weeks, every observer fully expected them to blow.
Match Flow: 15th to 29th minute
The Eintracht response was fairly robust. A nicely choreographed passing sequence led to two blocked shots in the 17th. N'dcka and Kostic put together a lovely give-and-go two minutes later. Aydin intervened to put a halt to it. Mustafi executed a most impressive clearance on the ensuing free kick and the back-three stood tall together on the ensuing corner. Younes closed down Idrizi on the Schalke right in the 20th. Fährmann again had to be at his best to deny Kostic on the break back the other way.
The action proceeded at a very aesthetically pleasing pace. The teams rushed end-to-end with three more quality back-and-forths taking place between the 21st and 23rd. After Sané cleared a well-roped Chandler cross and Tuta could only stop Aydin via a tough tackle, Djibril Sow equalled Uth's marvelous work on the turn in the 24th with an even better dispossession. Idrizi toed away a full-steam-ahead Younes after a sumptuous first-touch before the 24th minute was out.
Trapp pulled off a monster save on a wide-open Huntelaar in the 25th. We couldn't even get to the next minute without another piece of dazzling play. Aydin took down a Kostic cross and sprinted downfield only to just miss a streaking Uth in the 26th. The "Knappenschmiede Kids" were really holding their own. Pressure from Idrizi forced Frankfurt back in the 27th and 28th. Just as one was starting to believe, however, the equalizer came. In this case one of the veterans let them down.
A magnificent curling cross from Younes may have worked as a distraction for Fährmann. The 32-year-old keeper still should have known better than to hesitate on whether to run out to claim it. Fährmann saw himself stranded in no-man's-land and a lurking Silva finished over him with a simple header. To the Portuguese striker's credit, it took some poised awareness to take advantage of the opportunity.
Match Flow: 29th minute to half-time
There, honestly, would be no lull in this total cracker of a match. The Westphalian hosts, surely haunted by the fact that everything appeared to be falling apart again, retreated back a bit. The defensive line of Sané, Becker, and Mustafi nevertheless did not break. Becker intervened with a precision tackle to cut out Kostic in the 31st after a nice forward slip through from Kamada. Aydin carried the ball out like a seasoned pro before Kostic caught back up with him.
Even Fährmann recovered decently, judging a Kostic long-switch cross intended for Chandler in the 33rd. The Königsblauen keeper held and immediately played out for Aydin, stopped only by a back shove from N'dicka. Becker and Mustafi cancelled out Sow and Tuta on a cycle in the 34th. Oczipka just edged out Chandler on aerial duel in the 35th. Schalke suddenly looked like pros on set-pieces, with Fährmann expertly stopping an N'dicka header in the 36th.
What passed for respite in this one took place between the 37th and 40th. Breakaways were nevertheless still occurring. Huntelaar nearly found his way through on one of them. Kamada was only just offside on another. Mustafi even got an effort in, albeit a well-wide one, in the 38th. Schalke continued to close ranks well on set-pieces, successfully defending three consecutive corners between the 39th and 41st.
They then let their guard down slightly on a free kick. Chandler wasn't far off finding the back of the net from Kamada's service. Kamada would set up Silva shortly thereafter. The SGE lead striker hit the side netting. Frankfurt kept working the wings serviceably. Kostic and Chandler got more chances in the 42nd and 43rd, respectively.
Uth only just failed to get some power on a great Huntelaar ball in the 44th. Fährmann had to step up to collect a well worked Frankfurt chance in the 45th. The Schalke net-minder then had to employ the most delicate of touches to touch a Kostic cross wide at 45+1. Silva shot wide one minute after that before official Sven Jablonski did what no one wanted and blew the halftime whistle.
The xG numbers flashed up during the break read Schalke 2.4, Eintracht 1.8. These were greeted with only briefest flicker of doubt concerning a possible mistake from the broadcast team. Perfectly believable. It had sincerely been that entertaining a first half.
Match Flow: 46th to 51st minute
One could hardly wait for matters to get started again. The xG stats concretely suggested that there had been more goals in it. Watching Chandler, Kostic, and Hasebe huddle together on the sideline gave one the impression that the Adler old-pros thought up some preconceived pick-plays to make the next one not far in coming. The safe money was on Frankfurt cracking it open.
Four of Schalke's five shots had come from Huntelaar and the veteran was about to lose his short-striker. Matthew Hoppe checked in for Mark Uth as the fixture's first substitution. Having seen the young American's form lately, another Schalke meltdown seemed just around the corner. The Californian gave early indications of a different day with a slick first touch in the 47th.
Hoppe's (pseudo) countryman got off the first chance of the half. Chandler came oh so close to burying another beautiful Kostic cross in the 49th. The SGE's Serbian sensation then forced Becker and Flick into some desperate defending on the next play one minute later. Becker and Flick managed to scamper the ball away, but the Hessian visitors took the lead on the ensuing corner.
N'dicka's header was spot on this time. Not a single player in royal blue stood a chance of stopping it. Sané had fought him to a draw in the air, yet the Frenchman simply proved too good. Eintracht took a 2-1 lead in the 51st. Buckets of rain began to pour down at the Veltins Arena. Everything looked to go according to script. Another S04 humiliation.
Match Flow: 51st to 64th minute
An insane 13-minute-stretch demolished the carefully calibrated expectations. Huntelaar unlocked Idrizi with a cheeky back-heel on what would prove the the club legend's final involvement of the afternoon; quite possibly his last involvement ever in a Schalke tricot. Idrizi rushed forward with unassailable confidence and took the finish with brilliant authority. In just his second game in the top flight, one of the "Knappenshmiede Kids" had drawn his side level one minute after they fell behind.
Hunteelar, troubled by a bum ankle, had to be subbed off before the goal celebrations died down. Gonçalo Paciencia shook the 37-year-old's hand as he left the pitch where he had enjoyed the most successful stint of his career. If it is indeed curtains for "the Hunter", he certainly crafted an artful goodbye. Huntelaar's replacement came within a few inches of hitting Hoppe in stride on a pleasing creative play in the 56th.
N'dicka elegantly swept past Hoppe in the 57th, but the American stayed with him and won the ball back. Becker and Flick put the brakes on Younes after some nice moves in the 58th. Chandler initiated a gorgeous cycle in the 59th. Had he not hesitated for a second in bursting forward, he would have been in perfect position for the return ball.
All told, one found oneself hard pressed to find real faults in Frankfurt's game. They definitely played like an XI in hot pursuit of the needed three points. Hütter's men couldn't do much about the superbly slick from Flick and Hoppe at the hour mark. The German youngster introduced the give-and-go and positioned himself perfectly for the return. The US-lad's service was millimeter perfect. The first-time finish was breathtaking.
With the game abruptly turned on its head by Schalke's 3-2 lead, Hütter pulled back on the substitutions he was readying. A double-change presumably involving Sebastian Rode and Ajdin Hrustic as midfield reinforcements got delayed. It wasn't readily apparent if the SGE gaffer had a tactical swap in mind. He probably planned to reinstall new sixes by taking off Sow and Hasebe.
In any event, the two fresh legs remained on the sidelines whilst their coach reconsidered. This might have led to some fluffed instructions on the pitch as Hoppe suddenly found himself running a 4-on-2 breakaway. Despite the fact that his three colleagues were keeping apace, the 20-year-old chose to take it himself. Mathew Hoppe rode once again with his team-leading sixth goal of the season.
Match Flow: 64th to 72nd minute
Hütter's double-change morphed into a quadruple shift. Not much could take place between the 64th and 68th as Hütter sent Steven Zuber and Luka Jovic on immediately after Hrustic and Rode. Kamada, Younes, N'dicka, and Sow all exited. Forget the "pen budget". This chronicler found himself pining for a full-time secretary! There's an unfortunate point to made for SGE enthusiasts once the players settled into rough positions.
Lineup—Eintracht Frankfurt—69th minute (3-4-2-1)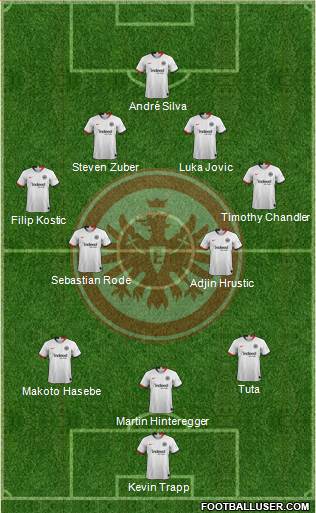 The problem here is that, while the basic formation held, player placements were questionable at best. The theory emerges that Eintracht's departing trainer did actually desire a tactical shift. His actors declined to implement it. According the likes of Zuber, Jovic, and Hrustic placements at all is being generous. Truthfully, they and most everyone else was all over the map in a slapdash attempt to wrest control of the game back.
Why does this postulation make sense? Because the pros had no real reason to play for the gaffer who so nonchalantly left them. It may be a hackneyed way to look at things, but that doesn't make it wrong. Things like this do get inside player heads. They are not immune to the simple fact that they're playing for something they want next year instead of someone who won't be there. Rode himself acknowledged as much in his post-match interview.
Readers can decide for themselves if this is an egregious act of armchair commentary. Returning to the events on the pitch, the SGE came agonizingly close to leveling matters. Newly subbed-on Matriciani cleared a fine Chandler ball in the 68th. Hoppe sliced a corner clearance wide and very nearly scored an own-goal in the 70th. Luckily, Fährmann came to his aid.
Fährmann regrettably made another mistake when he spilled a rebound on a Jovic effort in the 72nd. Silva slammed home a third effort to pull back a goal and make it 4-3. To be candid as possible about it, Frankfurt were unlucky not to have scored earlier. Schalke set-piece defending frayed on three successive corners between the 69th and 71st. On a different day, Hoppe would have probably scored the own-goal.
Match Flow: 72nd to 85th minute 
Such a passage has been delineated as a means of reminding SGE enthusiasts that their team really didn't quit. They kept on in search of the needed two goals right up until there was absolutely nothing left in the tank. Chandler kept bombing up the right flank, working in good crosses in the 74th and 75th. The Hessen-American was only marginally offside in the 76th.
Silva came close on a pair of chances in the 77th and 78th. He put in some really great work on the later after Jovic flicked on for him. Zuber had him set up some twenty seconds later. Zuber then shoot wide himself in the 80th. Jovic (81st), Chandler (82nd) and even Tuta (83rd) got their looks in during the next melee. Frankfurt finished with a whopping 4.2 xG!
Match Flow: 85th minute to full-time
The 85th minute seemed to mark the turning point when the Adler fighters lost their resolve. It just wasn't going in. Twenty two shots and 13 corners weren't good enough. When Silva won what would have been the squad's 14th corner at 90+4, match official Jablonski figured it wasn't worth giving it to them. He whistled for full-time, a few minutes after meting out yellow cards for Chandler and sub Ragnar Ache on frustration fouls.
David Abraham looked on solemnly from the stands as he processed the end of his club's European dreams. Before one could begin to feel too sorry for the retired captain, the broadcast feed swung over to a beaming Gerarld Asamoah on the Schalke bench. At least one footballing legend of the Bundesrepublik had a long-deserved nice day. Frankfurt can still commemorate a return to Europe next season in the UEL.
Grammozis never altered his 5-4-1; simply letting his lads play. They certainly did that this weekend. Four very good goals, the first two of which were almost all the work of the man they brought in to rescue their season. Absent too long with injury, Klaas Jan Huntelaar couldn't come close to doing that. At least he remembered how to play football in time to lend a hand to some youngsters in what will be the last Bundesliga match at the Veltin's Arena for quite some time.
---
Concluding Thoughts: Assessing Predictions–Part III
---
At long last it's time to take a look at some of the prognostications published here on Bulinews. We'll do so for the third time this season. After the 12th round, we assessed a table projection made during the very first edition of tactics talk. After the 13th round, we appraised the predictions made just after the transfer window closed. The last set of predictions appearing in one of our long-reads came at the close of our March column on the league-wide administrative scorecards.
How did we do? Considering that one of the greatest joy of following sport is being proven wrong, we'll start there. The pick of Leverkusen to finish in the top-four was predicated on the false assumption that Peter Bosz would find a way of getting it together once some of his injured players returned. As we would soon discover, he wouldn't even get the chance.
Another huge miss concerns Bremen. Even if the Hanseaten were playing grouse-inducing football, it seemed like their lousy play was at least stable. It gives a writer great pleasure to say that Gladbach and Stuttgart were underestimated whilst Union Berlin and Dortmund defied dour handicapping. Matters are always better when the unexpected occurs.
In that vein, some things sadly unfolded exactly how they were predicted. The top three and bottom two positions held while Frankfurt just missed out on the top European class and (aside from Bremen) there weren't major surprises in the relegation race. Alas, sometimes life isn't as surprising as one hoped.
Table Projection #3—(3/30/2021)
FC Bayern München
RasenBallSport Leipzig
VfL Wolfsburg
Bayer 04 Leverkusen


---

Eintracht Frankfurt
Borussia Dortmund


---

Borussia Mönchengladbach


---

VfB Stuttgart
SC Freiburg
FC Union Berlin
TSG 1899 Hoffenheim
FC Augsburg
SV Werder Bremen
Hertha BSC
FSV Mainz 05


---

Armenia Bielefeld


---

FC Köln
FC Schalke 04
Thanks to all those who have read some part of this column this season! You can now catch Peter at his new home on twitter. DMs open. @ViceytheSS
With the Euros just weeks away, there's also plenty of irreverent satirical fun in store this summer on the blog for those who care to join in! You can access it directly or through Peter's website.