As a very busy "Englischer Woche" draws to a close, German football enthusiasts couldn't have hoped for a more exciting race for the 2021/22 UEFA Champions' League slots. The 2020/21 German Bundesliga takes a much-deserved break this week.
Miss out on the comprehensive recap of the latest matchday? No Worries. We've all you need to catch and get set for an exciting stretch run right here!
---
League-wide talking points: Round 31
---
The "Pen Budget"
As a long and especially grueling campaign nears its conclusion, it seems an apt point to reflect upon all of the changes that football has undergone in the past year. The global pandemic upending our lives in ways no one could have foreseen has all of us semi-evolved simians pondering the big questions. No one escapes reflecting on the future state of our lives at this point. Everyone wonders. As the season and the COVID-Era nears their terminuses, we wonder which changes will prove temporary and which are permanent.
Obviously, this extends far beyond the football pitch. For example, some will be heading back to the actual physical office soon whilst others in different fields will now work from home for the rest of their careers. Similar perpetual changes apply to our beloved sport. Some things remain transitory. Fans will return to the grounds soon. Much of what is considered "normal" in football shall be reinstated. Something brought on by the pandemic that's here to stay? Likely the five-substitute allowance. One might as well get used to it.
Football had been leaning towards five subs for quite some time. Ever since expanding the number of subs permitted from one to three found widespread acceptance in the 1980s, the next expansion loomed on the horizon. As strong an opinion as many of had in the early days of this change, most of us–perhaps feeling equally as exhausted as the players–are now too tired to argue against it. It feels as if the footballers subject to this year's draining compressed schedule deserve it. As the number of matches invariably increases, it's only right to accord them some extra protection against needless injury.
Of course, everything comes at a cost. Those of us keeping scoresheets noticed that our pens have run dry of ink more frequently. Trips to the stationary aisle of the local store increase as one increasingly notices one is clicking a depleted writing instrument. More subs means a shorter life span for the poor pilot G2. Whenever a trainer readies the now normal "triple change" on the sidelines, it's time to spill some more fluid on the page. It also usually requires a re-draw of the formation. A rough back-of-the envelope calculation (which cost its own fair share of ink) leads this writer to the conclusion that the five-sub-allowance has cost him an extra $41.75, or €34.50, in pens.
Interesting factoid. When it comes to the actual footballing merit of the "triple-change", some examples from this weekend are illustrative. No Bundesliga coach has employed the "triple change" more than Werder Bremen's Florian Kohfeldt. He's made use of his extra subs nearly every week, often at the half. It's rarely done him any good. This week proved no exception. Kohfeldt brought on three new attackers in the 63rd minute of the loss to Union. Within five minutes, a Union side altered by only one injury-enforced sub scored their third goal as the totally disorganized Hanseaten again couldn't sort out what Kohfeldt wanted.
SC Freiburg's Christian Streich has employed the "triple-change" much more sparingly. The Breisgauer head-coach has actually never used it at the half. Trailing 0-1 to Hoffenheim on Saturday, he slowly prepared his team for the big personnel reshuffling, ordering a reformat from a 3-4-3 to a 4-4-2 between the 50th and 60th before pulling the trigger on a triple sub in the 68th. This truly rejuvenated the squad, leading to increased pressure and ultimately an equalizer from the penalty spot. Here we see what separates a thoughtful trainer from a desperate one. The change in shape must always come first and the radical use of the "triple change" must be used only a handful of times per season.
We'll talk a bit more about Bayern below, but it's worth noting that Hans Dieter Flick employed a very rare (for him) "triple change" in this weekend's loss to Mainz as well. It happened to be a fairly insipid one; a curiously careless nixing of his side's self-coaching 4-2-3-1 that threw Robert Lewandowski, Eric Maxim Choupo-Moting and Jamal Musiala atop a 4-3-3. Wingers Leroy Sané and Kingsley Coman were pulled at the half and Tanguy Nianzou was thrown into midfield. Thoughtless desperation. It never works. Perhaps the basics of a grander working theory develop. Or perhaps a writer finds himself bitter at throwing away eight afternoons at the movies this year in the cost of extra pens.
Swabia's new bottom
Stuttgart's fourth consecutive defeat was effectively sealed when Naouriou Ahamada earned a (VAR reviewed) straight red in the 14th minute against Leipzig on Sunday. There was simply no way that Pellegrino Matarazzo's men would be able to hold off Julian Nagelsmann's high-octane RB for a full 75 minutes. It still doesn't feel appropriate to pass around the sympathy cup for Matarazzo and company as it remained questionable that Ahamada should have been on the pitch at all. The 19-year-old Frenchman shouldn't have figured into the starting XI.
Ahamada's struggles against ten-man Bayern in the round 26 rout showed the need to take the youngster's squad integration more cautiously and carefully. Recent performances have only served to underpin this point. Injuries may leave the VfB trainer short of help on the flanks, but he's not that desperate for assistance in midfield. Even if the likes of Gonzalo Castro, Daniel Didavi, and Mateo Klimowicz are more comfortable on the higher-up axes, Wataru Endo can run defensive midfield by himself. He's proven that multiple times this season. Blame for this loss rests with the head-coach.
Bielefeld reinvent the bottom
Sunday proved a pretty disastrous day at the office for another one of the Bundesliga's promising young trainers, Arminia's Frank Kramer. How Kramer got it into his head to roll out a high-press 4-2-4 against a talent-laden team like Gladbach counts as a legitimate question. Perhaps the 48-year-old former German youth coach watched Wednesday's second-half meltdown against Hoffenheim one too many times. Marco Rose's foals were certainly more focused than they were in Sinsheim. They didn't exactly need to be that focused after going up 3-0 18 minutes in.
Misses from Marcus Thuram, Hannes Wolf, and Breel Embolo prevented the scoreline at the half from ballooning to 6-0. A comeback of the midweek proportions never seemed likely. Bielefeld simply don't possess that type of quality. One nevertheless watched enraptured, secretly hoping for another sensation. Above all, one hopes for more sarcastic quips from Stefan Lainer after the match. Alas, neither one was to be. Lainer surely found himself in a better mood after Thuram and Alassane Plea put the game to bed 5-0.
---
The "Spiegel Specials": Round 31
---
Mainz-Bayern (2:5, 2:1)
If we journey back to the first week in January, we'll find an instance in which die Nullfünfter jumped out to a 2-0 lead over the mighty FC Bayern München. It was interim trainer Jan Siewert's first and only match in charge before new head-coach Bo Svensson was installed. Goalscorers Jonathan Burardt and Robin Hack enabled the visiting Pfälzer to enter exit a snow-flurry enveloped Allianz Arena pitch and head into the tunnel up two goals. While  memories of a mini-blizzard at the Allianz (think PSG first-leg) may still be fresh in the mind, this particular match feels like it took place an eternity ago.
Hansi Flick's "Überclub", at that time still one trophy shy of their perfect six-title season, charged back to score five second-half goals. The German giants marched on unperturbed to a romp and stomp of a final scoreline. At the time, one joked that the only way to beat Bayern was to allow them to score first. Germany's Bavarian juggernaut had fallen behind in their eighth consecutive league fixture; none of which they ended up losing. In the dead of winter, the metaphor lingering on the surface of most people's mind was that of a hibernating bear. Best not to poke a sleeping colossus. Rousing a deadly predator from it's sleep merely makes it cranky.
And what happened here? Well, if one wishes to maintain the metaphor, the bear finds itself slightly preoccupied with just how much sleep it can reasonably hope to achieve during a short hibernation season. Ten of Bayerns starting XI–Jerome Boateng being the only exception–have national team duty to prepare for in less than a month. The title already being secured, the FCB actors accomplished virtually nothing with the ball throughout the full 90. Of their 15 efforts near the target, only two proved memorable. A rusty Robert Lewandowski missed one in the 15th. A very tired Robin Hack (on for normal starter Stefan Bell) gifted the Polish striker a meaningless consolation prize at 90+4.
Prognosis: Svensson's take it or leave it
Throughout the course of this "Rück-runde", we've been checking in with Bo Svensson's Mainz as much as possible. The last look in-depth came two weeks ago. This week's constellation actually looked like a proactive attempt to rest some of his first-choice players. Dominik Kohr did not run the midfield. As noted above, Stefan Bell rested his feet on the bench. A 3-4-1-2 featured virtually no defensive responsibilities for Danny da Costa and Philipp Mwene. This set of tactics bore the marks of a throwaway structure from a trainer with nothing to lose.
Few Bundesliga-watchers find themselves prepared to celebrate Mainz's great escape yet despite the excitement generated by the new Rheinhessen trainer's impressive haul of 27 points in 17 rounds. Although the club may yet make history as the first Bundesliga side ever to avoid relegation after garnering only 7 points at the halfway mark, a murderous final schedule still lies in their path. After the make-up against a well-rested Hertha, it's Eintracht, Dortmund, and Wolfsburg.
Whew. That's some stretch run. Small wonder Svensson opted to shield some of his favored actors for this one. Some wonder that they came out swinging. Da costa and Danny Latza hit the post inside on ten minutes. Robin Quaison also tested Manuel Neuer with a real rocket. The visiting carnival club could have gone up 4-0. With an unexpected boost of confidence, this team could indeed pull off the seemingly impossible. Naturally, Svennson must rethink his best XI.
The only draw-back of this massively helpful result involves some unforeseen luxury problems. The mere fact that we're discussing Mainz's "luxury problems" tells us something in its own right. The Pfälzer could, against all odds, actually pull this off. In a few years time, when Svensson is coaching Spurs at White Hart Lane, we might remember the second half of this campaign as the time a new "special one" was born.
Köln-Augsburg (0:1, 3:2)
Another team mired in the relegation struggle earns a vital victory. Like Mainz, one of the Bundesrepublik's other carnival clubs found themselves in complete disarray at this stage of the "Hin-runde". Marius Wolf didn't know quite what to say. The 25-year-old Dortmund loanee had just seen his side go three league fixtures without a goal. Ondrej Duda had to fill in at striker every week and couldn't produce. Trainer Markus Gisdol had no reliable defensive structure to piece together. No one could see where the goals would come from. As it turned out, there wouldn't be another goal for another three league matches.
Things have certainly changed. What a difference one single solitary striker can make. With Sebastian Andersson once again fit, new gaffer Friedhelm Funkel can move Duda back to a more natural position. Jonas Hector's valiant run of form means that the captain can now operate ahead of Ellyes Skhiri. Wolf suddenly has a useful axial partner in a recovered and healthy Florian Kainz. Although die Geißböcke continue to be plagued by injuries at the respective fullback positions, Benno Schmitz is back just in time to ensure that Funkel has a fourth option behind Noah Katterbach, Jannes Horn, and Kingsley Ehizibue.
The 4-1-4-1 deployed on Friday night in West Bavaria had a pleasant and fluid flow to it. Heiko Herrlich's Fuggerstädter hardly blew it apart during their pseudo comeback, either. A few chaotic minutes brought upon by the drastic personnel and formational changes certainly caused a wobble. The Domstädter nevertheless regrouped in time to settle into a stable defensive shape and get off a few creative counters of their own. Köln's second straight victory (and fourth consecutive strong match) leaves on most impressed.
Prognosis: Funkel's non-existent margin for error
In stark contrast to the other team discussed in this section, the Effzeh face perhaps the weakest remaining schedule of all the relegation-threatened teams. Freiburg, Hertha, and Schalke could easily translate to nine points. A total of 36 points for the campaign could, in turn, translate to safety in this year's field of many weak teams. Are we now willing to reconsider multiple forecasts labelling this team as the most likely candidate to land in the other automatic relegation spot?
In a word, no. The team must win-out to have any hopes of survival. This can be no means be treated as a forgone conclusion, especially not with the Jannes Horn injury once again throwing the defensive ranks into disarray. Even if Funkel manages to run the table in his final three matches, Augsburg, Bremen, Mainz, Hertha, and Bielefeld possess the privilege of messing up. Köln have no such cushion.
Much of the post-mortem discussion in the cathedral city will likely center around how long sporting director Horst Heldt keep Gisdol at the helm. The club's chief sporting executive drug his feet and flirted with Funkel for months before finally making his decision. Resultantly, one can fairly say that he waited too long to change course. It looks as if Heldt will take the fall for this as well.
Not making a firm decision often proves the worst decision. This is true both in football and in life. The Heldt-Gisdol-Funkel footballing love triangle surely reminded many of stressful relationships straddling a painfully pointy sharp fence. Ugh. Not good times. Just make a choice! The "it's complicated" relationship status might as well read "courting disaster."
---
The Burning Question: Round 31
---
Can Eintracht hang on?
We're going singular again this week. To answer the lone important question, we have undertake a closer examination of Adi Hütter's shifting tactics. Sadly, at least for those hoping to witness some novelty in Germany's next Champions' League field next year, die Adler looked to be hopelessly overmatched by die Werkself long before Leon Bailey opened the late goal-scoring bonanza en-route to Leverkusen's 3-1 victory on Saturday night. Over the course of the initial 70 scoreless minutes, Frankfurt just looked poorly put together.
Lineup—Eintracht Frankfurt—Match 31 (3-6-1)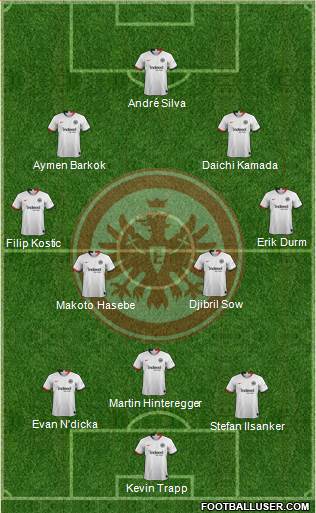 In this case, one can almost infer possession problems with from graphic itself. Take a moment to consider what the positioning of the players means for upfield builds. These dots don't connect easily. Everything takes too long. As soon as one figured out where the main stations were, it became obvious that unattractive football would commence.
Hinteregger's suppressed pivot
Hütter had to address Sebastian Rode's suspension somehow, ultimately opting to do so via the deployment of his anointed captain Makoto Hasebe. This in itself constituted the right move. It would appear that the SGE trainer remained a little concerned about how the Japanese veteran, who sometimes fills in at Martin Hintegger's pivot runner position, might adapt to having a having a midfield partner again. There's also the matter of Stefan Ilsanker, who had most recently been deputizing for Hinteregger, on the back-three.
These stand as the plausible explanations for a more tightly grouped together defensive trio that saw the Hinteregger work observably less far ahead than his line mates. Presumably, Hütter wanted balls played out of the back to reach the midfield axes quicker, possibly even giving keeper Kevin Trapp to bypass the line entirely. It turned out having the opposite effect. Hinteregger often didn't feel confident enough to forward for Hasebe so far away. Ilsanker similarly stuttered when surveying his options.
The bloat trade-off
What to do about the team's all too obvious reliance on Filip Kostic's crosses from the left flank? With Erik Durm encountering a precipitous form dip after his anomalous upswing, Hütter suddenly finds himself short of options. He tried giving veteran Timothy Chandler the start, but we all saw how that worked out. Aymen Barkok remains more comfortable on the left. Adjin Hrustic hasn't seen enough action. If the last few matches have shown us anything, it's that Daichi Kamada is needed in the center.
Another option is to drop Kostic and Durm much deeper and spread them out as far apart as the touchline will allow. This carries with it the potential that the third axis wingers can draw coverage, cut inside themselves, or work medium length diagonals to the players ahead. It also carries the risk of bloat, given that said wingers don't have real overlapping options coming up from behind them. Leverkusen's Hannes Wolf squeezed Kostic and Durm out with compressed 4-2-3-1 as the latter occurred.
Answering the question
It took us some time to get here, but we finally arrive at the promised prediction. The permutations of the remaining fixture list need to be put out of one's mind. Dortmund, now one point behind Frankfurt, do have the slightly more difficult path. This is immaterial as Freiburg or Mainz could conceivably beat Frankfurt and the BVB could easily run the table against Leipzig, Mainz, and Leverkusen.
Frankfurt can hope for European club football next season only if Hütter gleans the proper lessons from this woefully ponderous tactical set-up. Fitness permitting, we need to see the 3-4-2-1 with the double-ten set-up again. Amin Younes should be fully fit and prepared to resume his role after the coming break. Hütter has his necessary puzzle piece. It's simply a matter of plugging him back in.
Going back to basics, back to what works, should enable the SGE to control its destiny and finish one point ahead on the final day. Now we'll check in with the other two teams vying for the UCL in this fascinating race sure to go down to the wire.
---
Weekly Tactical Focus: The Marquee
---
Saturday, 15:30. Was there any other place to be than the Volkswagen Arena? Of course not. With the race for the top-four on the line, no Bundesliga lover encountered difficulty selecting their "first watch" among the simultaneous kickoffs. Everything else had to be put on hold for this one. Even tepid football enthusiasts weren't going to miss out on the chance to see if Edin Terzic's resurgent Dortmund could close the gap on Wolfsburg in a classic "six-pointer". Time stood still in the Bundesrepublik. All eyes were focused on the "Auto Stadt".
In the final phase of a brutally draining "Englischer Woche", we predictably didn't get a consistently high quality of football. Fatigue played a role, but so did Terzic's much more tempered match-plan as a priority focus on defending from Germany's green company team. After all was said and done, one had to say that the two sides more or less equaled one another. A few lucky breaks lead to the BVB winning the day. This impression was confirmed when the post-match xG graphic flashed up. Both teams accrued a number of 1.5.
An even-keel game notwithstanding, we've little choice but to note the talent gap. Better players suit up in black and yellow. Erling Haaland poached the first goal all by himself, capitalizing on a defensive error that still wouldn't have ended in a tally without his jaw-dropping acceleration. The very same obscene manner in which the Norwegian can reach top speed led to the second. While Mahmoud Dahoud certainly deserves credit for that excellent through ball, nothing would have come of it without Haaland's seemingly bionic legs. Not that it's news, but what a player.
There remain some matters of tactical interest to discuss as we begin our journey through a match of above average entertainment value. We'll begin with how Terzic lined up his Schwarzgelben.
Lineup—Borussia Dortmund—Match 31 (4-1-4-1)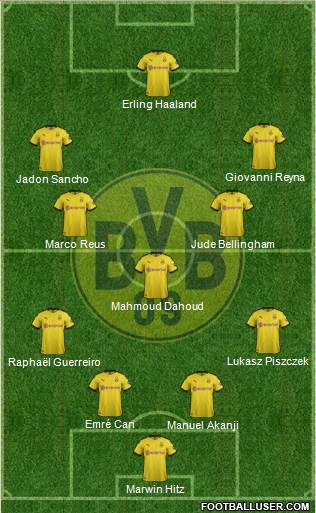 With Mats Hummels out on an accumulated yellow-card suspension and Jadon Sancho being deemed fit enough to earn his first start since February, we got a very different 4-1-4-1 from the one utilized on Wednesday.
A much more subdued press
The calculus seemed to be that Sancho needed a bit of extra protection. It thus looked as if Terzic moved his second-axis wingers back and tucked the third-axis central midfielders closely behind. It could have also been the case that he wanted a more pronounced midfield pocket to defend against the likes of Maximilian Philipp and Wout Weghorst.
Though it's impossible to know if Terzic thought that Haaland's hunger for goal and the Champions' League left him better suited to a higher deployment with greater separation from the support mechanisms, it seems reasonable. Haaland seemed to struggle in traffic on Wednesday, making nervy finishing errors with others around him.
Sometimes it's better to let the lead striker operate with a bit more headspace. Haaland certainly possesses the speed to close the type of gap that would ordinarily strand a different striker.
Center-back flips
Combing back through weeks and weeks of columns, a chronicler realizes he's neglected to mention something rather important as pertains to BVB tactics. Mat Hummels and Manuel Akanji have actually been flipping their center halve slants with some regularity in recent weeks. This remains one of those tactical quirks that some aren't convinced really have much bearing on the game.
Admittedly, a bit of personal skepticism might have been at play in the omission of the fact from this column. When the center backs flip, it's usually just a psychological play on their markers; ones that cool-headed opponents have no difficulty shaking off. It's perfectly acceptable to view the flip that took place in this match as irrelevant.
We'll make a note of it anyway as it did seem to have an effect on the sequence leading to the decisive goal. Note that others can contest this subjective observation.
Glasner and the invented wheel
The VfL trainer keeps both his formation and later match re-formats simple enough. Much like in the last column in which we gave Wolfsburg a draw-up, we begin with a 4-2-3-1 and end with a 4-4-2. Versatility of individual players, and not of the shape, give Glasner the options he needs.
Lineup—VfL Wolfsburg—Match 31 (4-2-3-1)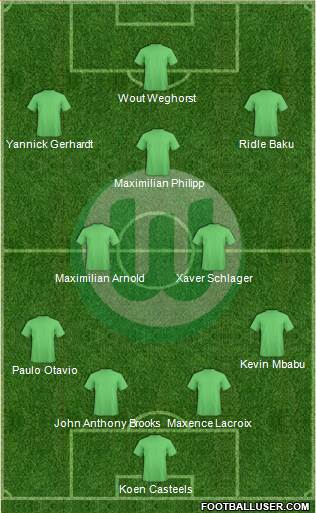 Maximilian Arnold's return meant that the Wolves would line up in an easily anticipated fashion. Matters get a little less predictable when one considers where the actors can move.
The list of switches
The wingers and fullbacks are completely interchangeable. Ridle Baku and Yannick Gerhardt can move back on their respective sides. Paulo Otavio can even cross over to the right wing if necessary. Maximilian Phillip can move out left and make room for Xaver Schlager in the ten spot whilst Arnold can even play striker in a pinch.
Off the bench, Glasner maintains Admir Mehmedi as an option for either flank. Josip Brekalo and (when healthy) Renato Steffen usually play on the left, but can work either side too. Jerome Roussillon almost always works left. Captain Joshua Guilavogui, one remarks with no small amount of sadness, doesn't seem to have an easy plug-in point in this system.
On this day, the VW gaffer did indeed try to call upon his potent 4-4-2 late-match constellation relatively early. As we shall see, he didn't get it done early enough.
Match Flow: 1st to 12th minute
Ponderous crops up as the proper word to describe the first few exchanges. The two squads bided their time as they felt one another out. It wasn't until the 3rd minute that Gio Reyna and Lukasz Piszczek executed the first halfway decent cycle in the 3rd. Reus followed up with his own nice nutmeg of Philipp one minute later. Kevin Mbabu fought Emré Can to a draw on the VfL left in the 5th.
John Anthony Brooks ventured forward on a penetrative carry in the 6th, racing place three in yellow before Jude Bellingham got a tackle in. The lowe Saxons got the first genuine chance of the afternoon in when Otavio fluffed his lines from a good position in the 8th. The Brazilian really should have done better with an effort that went wide.
Haaland pushed back Brooks in the 9th as the Westphalian guests hit back. The play ended in Reus attempting to pull back for Sancho. Philipp ran the counter back the other way after the pass was intercepted. On the first of what would be many WOB corners in the 11th, Brooks headed a Baku service wide. There was simply no separating these two sides until Baku made a mistake.
The Germany U21 star tried to pass back for Brooks with Haaland lurking. It counted as a pretty bad mental error. However, as noted above, Haaland's breakneck pace ensured that it would not go unpunished. The Norwegian wunderkind was off to the races. Maxence Lacroix tried to catch him, but could only help deflect his powerful effort in.
Match Flow: 12th minute to 29th minute
Several uninteresting lulls followed the opening goal. About the only noteworthy occurrence between the 13th and 19th involved Bellingham's first booking for a clumsy tackle on Philipp. Surprisingly poor quality reigned thereafter. Both Haaland and Wout Weghorst tried to service their teammates with wild inaccurate passes. The two teams traded counters between the 19th and 21st, with both defenses having little difficulty catching up.
Schlager, Baku, and Gerhardt got the better combination play off on the latter. The WOB left-winger's final effort nevertheless proved far too imprecise. We saw some much better triangulation on the BVB left in the 22nd with Reus, Dahoud, and Raphaël Guerreiro. They ultimately kicked the ball out to Reyna on the right before Otavio closed the American down.
Wolfsburg defending remained spot on. The hosts' attack still wasn't clicking. Neither a full lateral wide switch in the 24th nor another Brooks long carry amounted to anything. After Dortmund found themselves stymied on the left in the 26th, their own lateral spread eventually led to Piszczek by inches. Another complete dead-spot characterized by some bad forward ideas from Brooks commenced.
Match Flow: 29th minute to half-time
A little flicker in the 29th seemed to signal that the match would shake out of its stalemate. After a short injury timeout, Reyna broke forward and looked to be free. Otavio ultimately caught up to him to stop the breakway. Haaland, Reus, and Reyna pieced together a nice sequence two minutes later, with a trailing Dahoud nearly putting the BVB American through again on the follow up.
A rather disconcerting scene took place in the 33rd. Haaland rotated down to the bottom of the apex and Bellingham, seeing Reus dashing forward, attempted to unleash the Dortmund captain. This play only served to remind one that Marco Reus has grown old. The 31-year-old, long removed from the player we thought he would be before all the injuries, simply couldn't meet the well played ball.
Depressing stuff. More depressing stuff came from Philipp on a wasted use of space in the 34th and a flagrant pull down of Reyna by USMNT colleague Brooks in the 36th. Otavio flashed another effort wide on the next scoring opportunity in the 37th. Gerhardt hit the side netting a minute after that.
Sancho and Dahoud got sloppy on a charge in the 40th. Reus supplied more winces with an atrocious first touch in the 43rd. The popular German international did it again at 45+1. The first half ended with a whimper. Too much untidiness. Way too many stoppages and corners. Neither side topped 0.5 xG.
Match Flow: 46th to 56th minute
Matters improved a tad after the restart, though the real action continued to take place in the defensive ranks. The direct duel of Otavio vs. Piszczek, easily the most intriguing matchup of the first half, kept one's attention for the next ten minutes. WOB defenders Brooks and Lacroix factored in most every BVB rush. At this point, Dortmund's central defenders Can and Akanji appeared to flip in the purported game of mental warfare. With defending being such a factor in the story of this one, Terzic ostensibly tried the subtle trick to shake things up.
Weghorst found himself gifted the first opportunity of the half less than 60 seconds in. A careless giveaway accorded him a ball in plenty of space and his well-struck effort didn't miss by much over the crossbar. Dortmund continued to concede corners with two more coming in the next three minutes. To the squad's credit, they clearly put there time in on the training pitch practicing proper marking. The poor set-piece defending from earlier in the season had been shored up.
The next chance from open play fell to Haaland in the 50th. The BVB striker held the ball up very well and unleashed a venomous stinger that keeper Koen Casteels did well to parry. Reus tried again with runs in the 51st and 52nd. Brooks closed him down both times, executing a genuinely gorgeous slide tackle on the latter attempt. Akanji put in an magnificent header off the ensuing corner. Maxi Arnold cleared the marvelous effort off the line and Brooks eventually scuttled away.
All flow completely stopped again between the 53rd and 56th as Dortmund conceded and defended three more corners. One watched a complete dead-ball match, though Guerreiro and Piszczek deserve mentions for their good defending. Finally, Marwin Hitz held a pretty fierce rattle of a Schlager effort and we were back to open play.
Match Flow: 56th to 67th minute
Opposing defenders took their turns standing tall at the beginning of this interval. Lacroix did a really amazing job cutting out Reus in the 57th while Can put to rest a promising play involving Baku in the 58th. Of course, the match got turned on its head when Bellingham incurred his second yellow in the 59th. One felt a little sorry for the 17-year-old as there wasn't much malicious in in step on Mbabu's heel.
In any event, Terzic had to think fast as to how to reorganize his defensive ranks. Using Bellingham as a sweeper. Thomas Delaney checked in for Sancho to complete the tactical realignment.
Lineup—Borussia Dortmund—61st minute (5-1-3)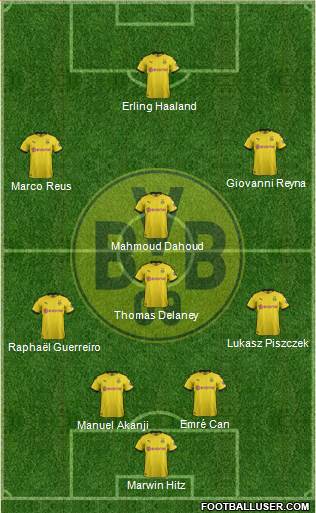 No question this was meant to preserve the lead. It did count as surprising to see the fullbacks push up a notch higher and for Can and Akanji to hold the flip. The lower Saxon hosts initially did create some pressure out of the man-advantage. Schlager saw a good effort blocked in the 62nd and Philipp forced a save out of Hitz in the 63rd. Piszczek had to bail out Reyna out in the 64th.
Glasner, unlike in some previous instances in recent weeks, had his selected subs for the 4-4-2 reformat ready to go early. One could make the case that they should have been up and ready to check in as soon as Bellingham was sent off, but that's likely too much of a nitpick. Bartosz Bialek and Josip Brekalo relieved Mbabu and Philipp in the 65th.
Lineup—VfL Wolfsburg—66th minute (4-4-2)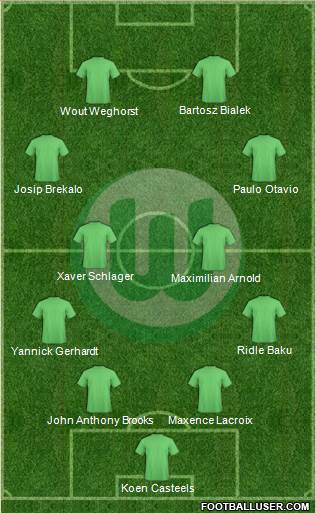 There's a bit to address here. A chronicler confesses that he didn't notice that Arnold and Schlager had switched until Otavio moved up and to the right and Gerhardt and Baku moved back. It could have been the case that Glasner ordered this earlier to offset the BVB center-halve switch. In any event, they did defensively occupy different slants afterwards.
The WOB were really diverse with respect to attacking lanes on the afternoon, balancing left, right, and the two central splits well. The right flank remained the preferred avenue, yet not by much. It would have been interesting to see if the fresh-legged Brekalo could have gotten a chance to run at Reyna and Piszczek. Unfortunately, we wouldn't get a chance to find out.
Match Flow: 67th minute to full-time
One one of the sequences sure to define this season, Mo Dahoud picked off a pass in his own danger area and spotted Haaland immediately breaking out of the starting blocks. Dahoud demonstrated outstanding field vision in noticing Haaland and hitting him in stride. The rest belongs to visual medium. Haaland's 25th league goal of the season left one scraping one's jaw off the floor. We're witnessing the early stages of one of the sport's greatest athletes.
There are occurrences in a football match that completely crush the opponent's spirit, and then there was this. Despite still having an extra man on the pitch with 22 minutes to go, it would be a small miracle to see die Wölfe rediscover the strength to carry on. Instead, it was mostly hat-trick hunting for Haaland down the stretch.  Brooks barely stopped the Norwegian in the 73rd while Arnold spared his team the blushes in the 80th. Otavio intervened at the last chance in the 83rd. Only Baku, who played rather poorly for the third consecutive match, still showed some fight against the grain in the 74th.
Haaland will emerge as the talking point of this match. Deservedly so, one might add. There does remain one last little kernel of thought to dispense. Namely, the Schwarzgelben did an extremely good job of spreading the ball around in Terzic's makeshift 5-1-3. Wolfsburg couldn't catch up in part because the BVB kept actively circulating possession for them to break the shape in the final phase of the game.
We've written it before in this column, but it bears repeating. Should Dortmund claw their way back into the UCL under Terzic's watch, there's effectively zero chance that the 38-year-old will be working as Marco Rose's assistant coach next season. The Dortmund native has proven that he has a keen eye in developing tactical solutions for this team. Keep that in mind during the exhilarating final stages of this race for the top-four.
---
Concluding Thoughts: The "Super League" coroner's report
---
There's not much more musing to add to Wednesday's autopsy of the brazenly obnoxious short-lived Super League. One week later, most of us still stand in shock that something like this was attempted. Three decades of threats suddenly came true in the middle of a pandemic that has kept generational football supporters away from their hallowed grounds for one harrowingly rough year.
Honestly, how did the clubs think that they could get away with this? It boggles the mind. One could attribute it to ignorant gall on behalf of out-of-touch footballing executives who knew nothing about why fans love the sport, but even that doesn't make sense. Florentino Perez and Andrea Angelli aren't exactly administrative novices. They thought this could work.
Things cohere somewhat better when one considers the next battle. Perez insists that the ESL is not dead; merely "on hold". All indications point to something like this being tried again, possibly very soon. A cohort of German fan alliances bring up an excellent point when they call attention to the fact that Europe's richer clubs will learn from how they made UEFA and the ECA out to be heroes. It's simply a matter of redefining the villain.
In any event, it does appear as if there can be some relaxation over the coming months. Vigilance can be placed on hold. Truthfully, no matter what Perez says, he and his would-be breakaway clubs face their weakest position in many years. Their project completely and utterly defeated in less than 48 hours, a transnational attempt of this nature doesn't look to be the next step.
In England, EPL clubs won't wish to get on board with Italian and Spanish footballing allies for some time to come. Instead, it's far more likely that they'll focus on creating a new top pyramid domestic division like they did in 1992. Something like that promises the Glazers-Kroenke-Fenway-Abramovich-Abu Dhabi-ENIC consortium better prospects for success.
In Germany, there's effectively no chance that the fan base would ever stand for a breakaway league. Say what one will about the hardline stance the ultras take on commercial enterprises, including that Bundesliga hosts four non 50+1 teams, but its a line that cannot be crossed.
In Italy, Spain, and France a sort of "Romance Language" spin-off league could be the next thing Angelli and Perez have in mind. Again, everyone can relax as it not coming for at least another year. Breathe. Exhale. Parts of footballing life will soon be back to normal.
Thanks to all those who have read some part of this column this season! You can now catch Peter at his new home on twitter. DMs open. @ViceytheSS