With the season's set of tactical column's all wrapped up on the host site, the full-color re-post journey continues over on the profile website. The big story in round 31 concerned Bayern's clinch of their tenth consecutive title. The German giants did so in a befitting enough style, vanquishing nearest rivals Borussia Dortmund in their ninth straight competitive victory against the would-be challengers.
Indeed. There are plenty of photos within this full-color re-post of the Bulinews hot-sheet that others may find difficult to stomach. For whatever it's worth, most of us Bundesliga diehards were content enough to watch Bayern celebrate in front of a live audience for the first time in over three years. Moreover, there do exist plenty of signs that a long-awaited changing-of-the-guard may be imminent.
We talk a great deal about the state of German football near the end of the "tactical focus" section of this column. The next beer shower may not be delivered via there hands of the Bavarian Mädels.
Certain pictures are also liable to be vintage collector's items rather soon. Every Era has its conclusion. All legends must seek out new challenges at some point.
All is ephemeral.
Nothing lasts forever.
---
Bundesliga Tactical Banter: Round 31
---
"Googles Brand Coffee"
Another big win for European football hunting Köln this weekend, but that story already gets obscured by a pair of disciplinary issues. First, we have the case of Ondrej Duda. The Slovak–not so long ago an important pillar of the team–has been suspended from the team and consigned to individual training sessions until the club can think of a fitting punishment for his grousing over his recently diminished role. Something like that doesn't fly in Steffen Baumgart's collective.
Duda isn't the only player Baumgart finds himself irritated this weekend. The Effzeh trainer didn't much care for Anthony Modeste pimping his self-produced brand of coffee during a goal celebration on Saturday. Such haughtiness also doesn't jive with the gruff "beast from the East", who possibly hasn't forgiven Modeste for swiping his flat cap during a post-equalizer victory lap in round 11. The DFB control committee will be opening an investigation into whether Modeste shall incur consequences.
Cast out the writer for voicing a potentially iconoclastic opinion on both of these matters, but they both smack of Baumgart taking himself just a bit too seriously. Where's the guy who showed up for training dressed like a unicorn? Perhaps that guy and the one who just wishes to make it all about him are one in the same. Duda made his contribution to this team. Köln would be nowhere near the European places this year if not for Modeste's 17 goals. Is there a need to antagonize these players?
Hate to say it, but the marketing of Steffen Baumgart begins to wear a little thin. Right around the time the club stuck a camera in his living room while he was forced to watch his team from COVID quarantine, some of us decided we'd had just about enough. The club markets his coach. Why can't its goal-scoring savior market some coffee? And don't get the columnist started on the DFB's investigation into Modeste. Ludicrous. Players market their haircuts to puff up the value of their instagram feeds. Modeste produced something one can actually consume.
A cup of "Googles Brand Coffee" actually sounds quite nice.
Would it be possible for Ellen White to come up with a tea line?
"Hoeneß Brand Bratwurst"
Looks as if Sebastian Hoeneß' days as Hoffenheim trainer are coming to an end. A draw against Frankfurt this weekend extends the TSG winless run to six straight league games. This incredibly talented squad find themselves even further away from the European places than last week. Insane to think that they won't make it for the second consecutive year. Patience wears thin for German football's only magnate owner.
Hoeneß received a mulligan after last year's total waste of a season, partly because of name recognition, but also because it was thought that the former FCB II trainer needed time to get his preferred actors in off his old Bayern ship and into place in his system. Very well. Time accorded. More time wasted. All the moving around of Munus Dabbur, Andrej Kramaric, Christoph Baumgartner, and Georginio Rutter has only made them all less productive.
Brodcast cameras covering Hoffenheim matches these days often pan to Dietmar Hopp looking good and pissed from his perch in the luxury box. An 81-year-old man doesn't wish to hear pleas for more time. Hopp runs out of time, and likely losing some more marbles as well. Hoeneß isn't figuring out how the sausage is made. "Uncle Uli" can probably help him with that. Might be the time head on over to the family Bratwurst factory after he gets the sack.
"The Best of the Wurst"
Ah yes. We'll carry an Uli Hoeneß pub over to segue into the next segment. This years two promoted clubs (SpVgg Greuther Fürth and VfL Bochum) had fairly lousy weekends. Bochum missed a fabulous opportunity to officially clinch class preservation at home against Augsburg. An absolute tactical flop from VfL trainer Thomas Reis in the loss. A 4-1-4-1 into a 5-1-1-3 into a…nevermind…who cares? It was horrible.
Terrible performance from the 1848ers. That being said, it wasn't nearly as bad for Bochum this weekend as it was for Fürth. The Kleeblätter became the first club to be officially relegated from the 2021/22 German Bundesliga with via a pretty humiliating home loss to Leverkusen. Man, was this one of the worst Bundesliga sides ever. Having to scout every last match for the "Americans" column left this columnist facing several existential crises.
Yep. One can safely say it now. They were even worse than the 2012/13 Fürth side that also lasted just one year in the top flight. Let the debate commence as to whether last year's Schalke or this year's Fürth were the worst of the modern era. Before doing that, however, try and spare a care for the tears of SpVgg sporting director Rachid Azzouzi. He's a good man and a competent administrator. This team was just in way over its head.
---
The "Spiegel Specials": Round 31
---
Wolfsburg-Mainz (0:3, 5:0)
Now, this is some mirror! Back in round 14, we were asking the question "How is Florian Kohfeldt fouling up Wolfsburg?" Now we….er…well, to be perfectly honest, it's not quite time to start praising a head-coach we've frequently lambasted in this space. Germany's green company team almost certainly avoided relegation with their 5-0 thumping of Mainz on Friday night.
Okay. That doesn't excuse the fact that it never should have been this close. Moreover, Kohfeldt clearly stumbled upon the perfect set of tactics by accident. He needed to move to a four-man-back-line at a minimum. We saw a back-five emerge organically.
Lineup—VfL Wolfsburg—Match 31 (5-2-3)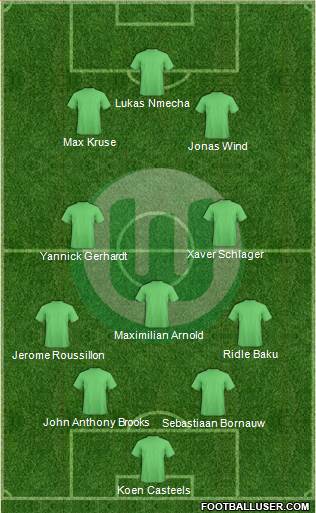 Actually highly unlikely that Kohfeldt intended to come up with something this brilliant. He probably wanted Maximilian Arnold to push higher up the pitch in one of his midfield holding schemes or perhaps have Xaver Schlager switch between keeping axial lines with Arnold and Yannick Gerhardt. Those of us still unable to let the horribly ugly football Bremen played for two full seasons go just have a hard time conceiving that something like this was intentional.
What we saw on Friday night brought the best out in both Arnold and Ridle Baku. That particular pair of German internationals were pushing into rightward pockets of space mercilessly from the start. Jerome Roussillon was no slouch either. Both flanking fullbacks played themselves into an attacking frenzy even before the hail of goals came. The triplicate striker set–as one can tell from the scoresheet–were phenomenal.
Prognosis: First in line for the axe
Strange to contemplate the fact that the club many of us thought had one of the more ambitious summer transfer windows had to further leverage itself in January in a desperate attempt to avoid relegation. "Drunken-sailor-level" spending was necessary to keep a Champions' League caliber roster away from the drop zone. Even for a non 50+1 club like die Wölfe, this is sure to have consequences.
This season has unquestionably been a failure. The next campaign will undeniably carry with it quite a bit of pressure. Depending on how one values the current group of players, we're looking at a roster worth between €225 and €300 million. One may think that non 50+1 clubs don't have to worry as much about salaries as others, but it's important to emphasize that the VfL gets far less in terms of gate receipts in its overall revenue stream.
Undertake a thought experiment with the columnist and journey forward to October of 2022. Who will be the first Bundesliga coach sacked in the next season? One has a prime candidate in Kohfeldt. He's never been the cleverest tactician. There shall be plenty of more opportunities to foul this up for the coach we all can't help but remain skeptical of. He's safe for now. So was Pal Dardai at this time last year.
Freiburg-Gladbach (6:0, 3:3)
Fascinating! Any way you slice it, this fixture appears good for six goals. Christ, what a cracker this one was! The hinges have barely been installed at SC Freiburg's new Europa Park Stadion and they were already being knocked off during this belter. Beautiful. Build the house and then bring it crashing down!
There's interesting tactics from both sides to analyze in this match. No real in-game shifts from either Adi Hütter or Christian Streich. The opening hands were nevertheless plenty intriguing. We'll begin with a set of good ideas from the BMG trainer. Something functional for a change in the ranks of the Fohlenelf:
Lineup—Gladbach—Match 31 (3-3-2-2)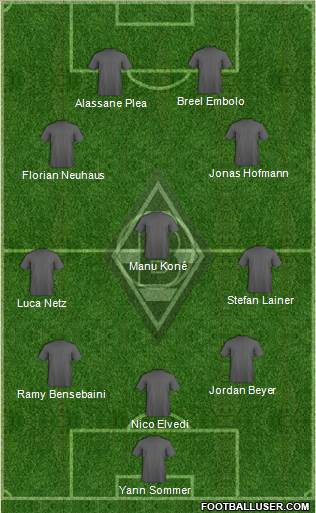 Where has something like this been all year? Given Manu Koné's ability to eat midfield traffic up, he's more than capable of running a midfield fulcrum all by himself on a solo axis. At times, especially early on, Jonas Hofmann and Florian Neuhaus pulled apart for a very effective "slingshot effect". Breel Embolo and Alassane Plea jointly applying thrust in the box counts as a concept we haven't seen nearly enough of during this campaign.
The inverted back-three did a decent job soaking up SCF pressure. Freiburg lorded over 70 percent possession during the first half without scoring. Stefan Lainer and Luca Netz were always back helping to close down Vincenzo Grifo and Roland Sallai. Everyone tended to their patch, straying only in coordinated cooperation as part of a well-thought out and organized plan.
As his team inched ever closer forward on the comeback trail, Streich kept his initial set of tactics in place. Even a double substitution at the half (Lucas Höler for Ermedin Demirovic and Noah Weißhaupt for Woo-Yeong Jeong) didn't alter the shape in which the team was operating. The constellation from the Pokal held.
Lineup—SC Freiburg—Match 31 (4-2-3-1)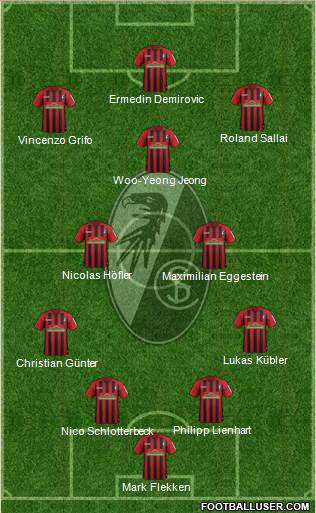 Stretch had the keen eye to spot that the natural progression of this shouldn't be altered. Captain Christian Günter was beginning to find his way past the inverted pivot trap. Nicolas Höfler and Maximilian Eggestein steadily discovered how they could use their numerical advantage against Koné. If all else failed, there was always the famous Freiburg set-pieces; statistically by far the best in the league.
After being awarded something of a give-back penalty call from match official Benjamin Brand four minutes after the restart, Günter took control of the team. It was the skipper who scored the equalizer. Philipp Lienhart headed home the 3-2 off a Günter corner service. Surprise, surprise. Set-pieces to the rescue again. Lars Stindl's equalizer in injury time obviously left everyone feeling gutted, but it was a fair-and-square result for both sides.
Prognosis: Thoughts on Hütter and Streich
We all wondered what in the hell Adi Hütter was thinking when he opted to make the switch from Frankfurt to Gladbach last spring. One assumes Hütter himself–watching Eintracht ascend to the ranks of German footballing heroes–likely re-thinks his decision on a regular basis these days. He had to know that a long and arduous rebuilding job awaited him at the West Prussian club. That's just what he's in for over the next few years. Oops.
It seems unlikely that Gladbach will part company with Hütter this summer. All the noise about sporting director Roland Virkus making an organizational reassessment after the season should be wholly disregarded. The club has the best available trainer it can hope to attract to the job already in place. It's actually Hütter who finds himself trapped in this sucker deal. Sorry, Adi. You wanted change. No changes coming for you for awhile.
Regarding Streich, there's a different bit of noise to be disregarded. Any and all talk about him making a jump to a bigger club remains nonsense. The "cult trainer" stays in Breisgsau. Period. How does the columnist know this? Because, as he pointed out way back at the beginning of the season, Streich speaks in a thick deep southern German dialect essentially incomprehensible to many Germans not familiar with the region.
One way or another (probably the Europa League) SC Freiburg look set to qualify for Europe. Streich will want to remain and savor the fruit of his labors. Additionally, he won't want to be running press conferences in Nordrhein-Westfalen where the local fans of the club can't understand what he's saying. Unless the SCF gaffer can find himself a reliable interpreter a-la Otto Rehhagel when coaching Greece, it's not a safe move.
Leipzig-Union Berlin (1:2, 1:2)
Hell, yes! One of those "mic check 1-2, 1-2 specials! German footballing enthusiasts welcome this result, particularly after we were cruelly robbed of our desired Freiburg-Union Pokal Final. A little late, good prevailed over evil. Union's 2-1 victory over Leipzig at the Red Bull Arena constituted a big victory for 50+1. The fan-owned club triumphed over the "no really, seriously, anyone can sit on the board" liars. Well done, Eisernen.
Despite the fact that these two sides literally just met, there wasn't a lot interesting going on tactically. Both teams predictably looked tired during a genuinely awful first half. Union roused themselves from their slumber near the end of the opening 45. After Yussuf Poulsen scored the opening goal seconds after the restart, the visiting Köpenickers couldn't get anything going offensively for much of the second half.
Few lessons to draw from this one, apart from the fact that hastily-acquired Max Kruse replacement Sven Michel is definitely now off-and-running. Scoreless in his first eight appearances for the club, the 31-year-old now has two tallies in the last three. He scored on his first touch of the ball (86th) and then outdid himself with a fabulous assist (89th) in the amazing comeback victory.
Prognosis: More fun at the "Oly"
Much like the case is with Freiburg, we're likely looking at "one way or the other" European qualification for 1. FC Union. Absurdly, both clubs technically remain in the hunt for the final two Champions' League places. That's not happening. Arithmetical possibilities be damned. It's just not happening. The teams themselves probably don't even want the embarrassment.
Europa or Conference league qualification for the FCU translates to more Köpenick fan invasions at Hertha's Olympiastadion. One can unleash an ear-to-ear grin at that news. And yes, we'll get the Berliner derby again next season as well. Those skimming for the Hertha update needn't skim any further. We arrive at that below.
---
The Burning Question: Round 31
---
What's the latest on "die alte Dame"?
Just as was the case in some of the later columns last season, there is but one "burning question" this week. Such is the case as the campaign winds down and many uncertainties resolve themselves. Inquiring minds from the country's capital want to know how the "February Promise" fares. Guess what? It fares pretty well.
Spurned on by some great support on Sunday evening, Hertha totally outclassed Stuttgart at the "Oly". Though the second goal in the 2-0 victory didn't come until deep into injury time, Davie Selke's 4th minute opener effectively went unchallenged for most of the match. Little question who was going to win this one. Some hard luck for Stuttgart trainer Pellegrino Matarazzo with an unwanted early tactical shift after Pascal Stenzel's injury.
Hertha still had the better overall plan.
True to his word, trainer Felix Magath rolled out the exact same 4-2-3-1 as last weekend. One enforced change saw Vladimir Darida replace the suspended Marco Richter on the right wing. Stable in this formation with Kevin-Prince Boateng pulling the strings from the ten-slot, the team clearly understood what they were meant to be doing on both sides of the ball.
Hertha harried the VfB on every last build up, closed ranks in the center with clockwork precision, and got the ball out wide to Marvin Plattenhardt as often as possible whenever a counter chance arose. As a result, Stuttgart hardly got any chances in until the very end of the match. Even then, the Charlottenburgers were strong in their practiced later-match tactical shift.
Lineup—Hertha BSC—64th minute (4-4-2)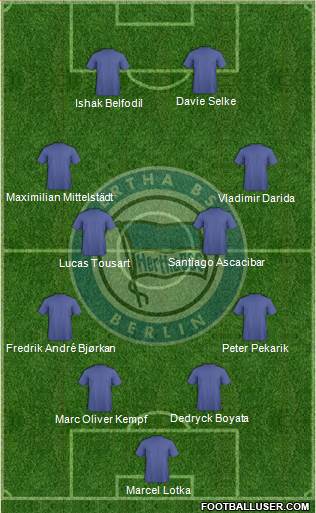 We found ourselves praising a late-match 3-4-3 last week. This 4-4-2 spread (note the gaps behind the two strikers) was a sharp little number as well. Magath actually moved them into a 5-3-2 late as a means of consolidating the narrow win. The added bonus of recently dropped striker Ishak Belfodil obviously wasn't foreseen, but sometimes things just break your way when playing smart.
They'll be fine, friends. Another win next weekend against Bielefeld seems very likely. Poor DSC keeper Stefan Ortega can look forward to a continued feeling of nauseousness. Believe it or not, Hertha could even secure class preservation with two rounds to go. That's some powerful promise.
---
Weekly Tactical Focus: The beginning of the beginning
---
Even if Bayern-Dortmund wasn't the most interesting fixture on a tactical level this round, we've little choice but to make it the focal point of this week's column. Though there were plenty of spontaneous shifts and rotations, neither head-coach employed any clearly discernible formational changes. A pair of 4-2-3-1s dueled it out over the course of 90 minutes. That's all. In the end, the squad with better quality emerged victorious. A simple enough narrative.
We nevertheless must take a moment to reflect upon what we're looking at in this snapshot in time. Bayern's tenth consecutive league title may seem like a total bore to some; perhaps even a stinging indictment of the Bundesliga in general. Upon closer inspection, however, the story brims with interesting morsels about where we are now and where we're headed. The future of German football happens to be rife with intriguing storylines.
We might as well plug the return of the fans first. Such stirring scenes at the Allianz on Saturday evening. The latest title clinch constitutes the first time in three seasons that we've seen Bayern capture the Meisterschale in front of a live audience. Say what one will about the historic six-trophy of the "Hansi Flick Bayern Era". No one was around to watch that team live.
The 18-month-long tenure of Flick shall forever be marred by the old "tree falling in the woods" logic. Julian Nagelsmann's Bayern Era–off to a wholly imperfect start in relative terms–will be longer, brighter, and much more fascinating from the perspective of both the football punditry and the common fan. From the very beginning of this campaign, we wondered how Nagelsmann's penchant for contemporary tactics would meshed with a self-coached squad.
Some eight months later, we have our answer. Nagelsmann's "transitional year" featured some bumps and bruises along the way. A few more can be expected next year. As the young trainer works his way through the final stages of the Robert Lewandowski-Thomas Müller-Manuel Neuer stage in the club's history, there may be a year or two during which the young trainer's tactical tinkering causes them to miss out on a few trophies.
"Nagelsmann football" shall undoubtably takes a few years to kick in. That's actually a very good thing from the perspective of German footballing fandom. Instead of making the leap to the EPL or a national-team-trainer job, Nagelsmann should stay put in Bavaria; free to build his own unique dynasty over the next four to five seasons. We'll all have the privilege of watching this unfold as the decade passes its halfway point.
So much of interest to look forward to. Truth be told, watching Nagelsmann figure out when the right time to employ tweaks and when he would have done much better to simply "let them play" has already proven interesting enough. With a title-clinch on the line in front of a raucous sold-out home crowd this weekend, the round's "Top-Spiel" definitely counted as a "let them play" day.
Lineup—Bayern München—Match 31 (4-2-3-1)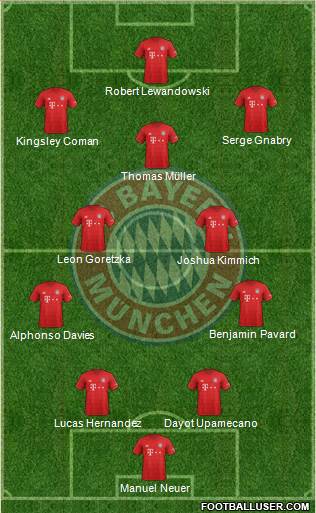 The right actors in a simple classic formation. Minimal interference from the FCB trainer. There not being much to discuss in terms of the workings of the constellation, we'll instead talk a little bit about individual performers and their role in the current Bayern set up.
Davies and Upamecano
Two very bright performances from a pair of actors with either scant or suspect involvement this season. Davies has had his issues with the dreaded post-COVID heart inflammation problem in the new calendar year. We didn't really get much of a chance to see how impactful the "Bavarian Roadrunner" can be as a winger-fullback hybrid.
Saturday at long last gave us a glimpse of the type of amazing play we will be seeing from the Canadian international in the "Nagelsmann Dynasty" years. The same applies to the physically gifted center-halve Bayern's current head-coach brought with him from Leipzig. After a campaign gone horribly askew, Dayot Upamecano delivered by far his best day in a Bayern tricot.
Sané and Musiala
A sense of deja vu set in this week as we once again all found ourselves debating Leroy Sané's latest form dip. The fault of a still underdeveloped player? Perhaps the gaffer hasn't been utilizing him properly? The columnist confesses that he's always considered this issue to be overblown. We're dealing with a player of such enormous potential that it's hard not to fall back into this talk.
Nagelsmann ultimately knows how to bring out the best in the 26-year-old winger. Part of the solution has always involved coaxing out Sané's competitive nature via strategic use of younger counterpart Jamal Musiala. These two will invariably succumb to their own individual "form potholes" over the next few seasons, yet shall likely continue to motivate one another through a friendly rivalry in the seasons to come.
Kudos to not only Nagelsmann for playing this right, but also the DFB for accomplishing the difficult pry of Musiala away from the England national team program last year. Odd to think that last autumn we were talking about how committed the teenage sensation felt to the country where he was mostly raised. At present, these two Bayern/German national team teammates are set to furnish us with a decade or more of top-notch football.
Lewandowski, Neuer, and Müller
Before moving on, there remain three large elephants in the room. The observed form drop of all three of these German footballing giants persists. We may witness all three of them continue to encounter issues under the Nagelsmann regime next year. The more the young trainer becomes comfortable in employing tactical experiments, the more these three will feel freedom under which they previously operated impeded and threatened.
Lewy still wants his Ballon d'or and might be tempted to move to Spain in order to get it. An ultra competitor like Müller won't retire until he's well past 40, even if that means that he must head into semi-retirement over in the MLS. Neuer may soon near a late-career stage not dissimilar to that of predecessor (and current FCB president) Oliver Kahn. Rather than fend off questions about being a tick off here or there, he might move to a quieter locale.
For this trio, both feet remain a considerable distance away from the door. One more season places one foot beyond the archway. For those doubting that Hasan Salihamidzic and Nagelsmann can work together in pursuit of constructing a new dynasty, bear in mind that even a huge global club like the FCB still had to deal with the financial constraints of the COVID Era. They are a 50+1 organization, after all.
With the "Revenue Tap" back on, much will change.
Dortmund's representative "gap" lineup
Bayern's nearest challengers haven't been able to escape harsh criticism this season. This despite an almost comically ridiculous raft of injuries. At no point in the campaign did BVB head-coach Marco enjoy the privilege of deploying what one assumes would be his preferred XI. In fairness, club management still deserves this criticism (as they have in years past) for not proactively putting together a deep enough roster.
Injuries notwithstanding, the immense quality gap between Bayern and Dortmund manifests itself clearly in the graphic below. Rose correctly deduced that Nagelsmann would opt for a 4-2-3-1 and, thus, attempted to mirror it. Matching up the two squads player-for-player tells one about all one needs to know.
This hardly ever stood a chance:
Lineup—Borussia Dortmund—Match 31 (4-2-3-1)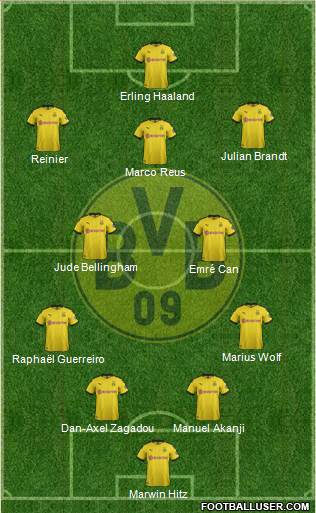 Yep. That about says it all. Julian Brandt and Marius Wolf could hardly be expected to compete against Davies and Kingsley Coman. Jude Bellingham (who played a fantastic game) and Emré Can can only hope to equal Joshua Kimmich and Leon Goretzka on a good day. A slight surprise to see Brazilian talent "Reinier" Jesus Carvalho get his first start of the season in such a big match. Not a surprise at all to see him make almost zero impact.
We have a match to cover. In many respects, the latest edition of Bayern-Dortmund proved closer than we thought it would be. On the other hand, the fixture never furnished the feeling that we might be in for a shock. The might Bavarians remained in control for so many prolonged phases. The final result seemed more than fair. Final xG, which we'll talk a bit about at the end, confirmed this.
Match Flow: 1st to 15th minute
A decent opening quarter-of-an-hour for the BVB regrettably yielded nothing tangible on the scoreboard. The Westphalian guests maintained possession throughout the the 1st via a pair of leftward cycles. A long switch for Raphaël Guerreiro had the effect of unleashing Bellingham. Davies straddled over to intercept. A Reinier pass for Erling Haaland in the same minute didn't hit the mark.
Davies again did a good job defensively closing down Brandt in the 3rd. After Dan-Axel Zagadou's long ball for Haaland failed, Manuel Akanji stopped Bayern's attempt to reach Coman on a quick counter. Quite a few midfield possession changes in the 4th. Lewandowski, located by a incredible aerial win from Upamecano, ultimately found his forward ball stymied. Davies rattled off a nice run off a Can turnover in the 5th. The Canadian was forced back.
Coman, Goretzka, Kimmich, and Pavard couldn't fashion a penetrative combo out of the back ranks. Still in the 5th, Brandt's attempt to spark a counter through Bellingham and Marco Reus met it's end in the form of Neuer rushing out off his line to beat an onrushing Haaland. Over at the other end, Goretzka broke into the box in the 6th to receive a final ball after a nice build from Upamecano, Davies, and Gnabry.
The run wasn't timed well enough for Goretzka to get a handle on a difficult ball from Gnabry. An equally good BVB build in the 7th concluded with Reus overcooking a pass for Haaland. Impressively, the Bavarians cycled their way out of pin-back pressure in the 8th. Coman couldn't reach Davies on the final service. Bellingham saw an effort blocked by Davies in the 9th after Haaland and Brandt engineered a centralized rush.
Brandt punched through on the right in the 10th. A focused Kimmich ensured that Brandt's cutback didn't end up on the boot of intended target Haaland. The ball never really left the midfield in the 11th, with Dortmund retaining a slight upper hand in the duels. The Westphalians nearly had a good opportunity on the left following a Gnabry stray pass in the 12th. Davies hustled back to close down Wolf.
Brandt prevented Davies from making a counter out of it. Nagelsmann's crew were still able to fashion a valuable build out of it, but Goretzka's eventual 13th minute attempted link-up with Coman went out for a goal-kick. Wolf, Haaland, and Reus combined well in the same minute. Upamecano shook off a pass-by on the play to execute a marvelous recovery tackle. Neuer tidied up and went straight for the counter with a long release.
Gnabry slowed up on the 14th minute charge in order to survey his options. Settling on a give-and-go with Goretzka, Guerreiro had to be alert to scurry the ball away from Gnabry for a corner. Our first major set-piece of the match yielded the first goal. We've been talking about how well-drilled Nagelsmann has this side drilled on set-pieces since the early stages of the season. Only Freiburg have been more effective from dead-ball situations.
By contrast, Dortmund appear to be just as bad in this regard as in seasons' past. No matter who trains them, focus often fails. That happened here again. Everyone got caught ball-watching whilst Goretzka calmly headed a 15th minute Kimmich service back in Gnabry's direction. With full focus, Gnabry left BVB back-up keeper Marwin Hitz without a chance against his gorgeous technical finish.
1-0 to the record champions.
Match Flow: 15th to 34th minute
Deflated Dortmund had more than their fair share of difficulty responding to this. The hosts effectively erased any memory of Dortmund's brisk and energetic start with a throughly dominant phase. An ill-advised horizontal from Reinier in the 16th showed just how shaken the guests were. Bellingham had to employ a tactical foul on the next Bayern charge in the 17th. Wolf then had to work extra hard to clear a couple of fine balls for Lewy in the box.
The BVB ran bow-arc cycles in the 17th and 18th in an effort to calm things down. Forward ideas didn't even begin to form in the minds of the BVB actors during these slow builds. Once the FCB wrested the ball back, the home side went straight for their opponent's area without hesitation. Gnabry's cross in the 19th narrowly missed Lewandowski's head.
Kimmich, Coman, and Davies kept the attack combo's neat sharp in the 20th, but ultimately weren't able to find their way into the box. Hitz swept away a limp undertaking away. Some elegant enough BVB combos on the right in the 21st. Davies broke the cycle again. Coman and Gnabry tried a quick counter. Hitz collected calmly. Bellingham burst in at the other end in the 22nd. Neuer was on top of his game to cut out the angle for the cross.
Another FCB incursion down Gnabry's side in the 23rd saw the German national team attacker aim for Coman with a diagonal. It didn't miss by much. A short break in the 24th whilst match official Daniel Siebert defused tensions resulting from an Emré Can foul on Davies. Somehow, Siebert managed to get all parties involved calmed down. Play resumed before the 24th was out.
Bellingham pressed up the middle in the 25th. Siebert made his first mistake of the match by ruling that Benjamin Pavard's challenge on the young Englishman was legal. Replays confirmed it was anything but. Nagelsmann looked slightly stupid protesting a play that broke his way on the sidelines. The stoppages had a spillover effect. Tempo ground to a halt in the 26th amid a series of throw-ins and goal kicks.
Bellingham and Guerreiro orchestrated the next chance in the 27th. Unfortunately, the latter's cut back for Haaland wasn't precise enough. Brandt rushed in late to no avail. The ball went out for a goal kick. Zagadou got his side rolling again with a spectacular aerial win off of Neuer's launch. Another chance involving Haaland emerged in the very same minute. The Norwegian couldn't strike the ball cleanly enough from about ten meters out.
Dortmund were awarded a free kick in the 28th after Davies fouled Brandt. Total disorganization from Rose's men on the ensuing set-piece. Haaland started offside prior to Brandt's 29th minute service. Less than 60 seconds later, it appeared as if Bayern had made a meal out of another BVB failure. Two wins from Upamecano eventually sprung Coman via Pavard, Müller, and Lewandowski.
A bad clearing action from Wolf placed the ball on the boot of the streaking Gnabry. The "Can-Can" rang out across the Allianz Arena in commemoration of Gnabry's brace. In this case, we didn't get the news that the VAR team in the Kölner Keller were reviewing the goal until well after the celebrations died down. After a couple of minutes, referee Siebert made the screen gesture and waived off the tally. We remained at 1-0.
Play resumed in the 32nd. Can did a good job of stepping up, fighting off a few markers before dishing off to Reus. A Reus-Reinier-Reus one-two on the left guided the ball to Bellingham. The Englishman's delicate chip into the box was a nifty little move. Regrettably, the ball never came near anyone and bounced out for a goal kick.
Siebert had to slow things down again in the final seconds of the 32nd when Müller attempted to take a free-kick quickly following a Can foul in central midfield. The match official once again calmed things down rapidly with consummate professionalism. We were rolling again before the 33rd was out. Dortmund forces Davies back on a pair of retreats. By the 34th, however, a defensive error meant that they conceded a goal that would count.
Zagadou played an uncontrolled clearance pass out under pressure. One simply cannot make mistakes like that against a team of Bayern's caliber! Bayern wasted no time in punishing their guests. Kimmich first-touched his interception to Müller, who in turn flicked on immediately to Lewandowski. World football's greatest current finisher knew just what to do with his limited time and space in on the right-side of the area.
Keeper Hitz was made to look like a fool in a situation that left him with little chance to begin with. All it took was a few nanoseconds in Lewy's vision to see precisely how he could nutmeg the onrushing net-minder. Through the legs with ease. Frankly sensational stuff from the Polish super striker. What more can one say?
Match Flow: 34th minute to half-time
Down 0-2 in hostile territory, it became a matter of just getting into the dressing rooms to regroup for die Schwarzgelben. Hernandez easily handled a Wolf stutter-step in the 35th. Gnabry cleared the subsequent throw-in. Bayern recycled possession calmly and confidently in the 36th and 37th. Everything was going according to plan for the hosts. The uninterrupted possession spell finally came to an end in the 38th when Lewy was ruled offside on a push.
Dortmund attempted to play courageously out of the back in the 39th. Gnabry read the play all the way, very nearly unlocking Lewy with a through ball. When Wolf tripped Kimmich at the end of the minute, referee Siebert continued his stellar performance and got all the heated tempers under control relatively quickly again.
It still took an extra minute to get the free-kick off as Siebert saw fit to book both Can and BVB trainer Rose for dissent. Goretzka headed Kimmich's 41st minute service well wide. A well won aerial duel from Brandt in the 42nd got wasted when Haaland opted to cut back for Reus instead of following through with his own run. Müller intercepted. Only a sprawling body block by Ankanji precluded Lewy from getting another chance on the counter.
Can and Akanji then proceeded to get smothered on their attempt to cycle out of the back in the 43rd. The BVB build-up began to buckle under the pressure. After a Brandt stray in the 44th, Lewandowksi got yet another chance. A worthy effort from about 17 meters out whizzed just wide of the right post. Stumbles and stoppages in the final minute and through injury time. Both Brandt and Wolf needed treatment.
Siebert decided not to tack on any additional time.
We concluded the opening 45 with the following xG stats:
xG Bayern–0.6, xG Dortmund–0.4
Two goals from the two big quality chances. That's how a Champion does it.
Match Flow: 48th to 52nd minute
From Rose's perspective, there certainly wasn't any sense in making any changes. The crew on the pitch could either come up with something special to reverse the flow or not. As it turned out, the outclassed Westphalians were gifted a way back into the match early. Referee Siebert–who had hitherto had essentially a flawless match apart from the one missed booking–factored in a little more than some of us would have liked during the second 45.
Some half-speed play during the opening minutes. Not much going on in the 46th. Reinier's long ball for Haaland in the 47th stood no chance of connecting. Bellingham was up doing his thing in the 48th, but Müller remained on point with a strong slide tackle away. In the first meaningful bit of action after the restart, Pavard knocked down Brandt on a 48th minute play that should have left Siebert reaching into his book.
Brandt got past two and into the box in the 49th. The cutback for Reus didn't reach the BVB skipper because Kimmich shamelessly took him out. Siebert did well to immediately point to the spot. One rarely sees something that reckless from Kimmich. Can strode forward to take the spot kick. More diplomatic action from Siebert was needed after actors from both sides commenced with the jawboning.
After some delays, Can converted in the 52nd.
Match Flow: 52nd to 70th minute
Spellbinding and action-packed, the next phase of the game proved a genuine treat to watch. Wonderful free-flowing football here. Coman, Müller, and Ganbry got us going with a nice combo up the FCB right in the 53rd. Coman headed the return ball just wide. Reinier's stab at an immediate counter didn't work, but Bayern quickly turned the ball back over.
Haaland held the ball up long enough to hit Reus on the left in the 54th. Neuer rushed out to close down the angle. Brandt's trail was–for the second time in the match–a tad too late to produce something consequential. Davies found no way through in the 55th. The BVB used the opportunity to spawn another sterling encounter involving Haaland.
This time the Norwegian awed and amazed with his hold-up against the physically intimidating Upamecano. Bayern's French defender hassled and harried Haaland about as much as one could reasonably expect anyone to. Haaland–by some means–outmuscled his marker. Reus was the target again. He would have leveled the score had Lucas Hernandez not come crashing in with one of the best slide tackles one will ever see.
Before anyone could bat an eyelash, Gnabry was through at the other end in the 56th. Müller set his teammate loose. The offside flag cancelled out what was a good effort from Gnabry and a solid deflection from the BVB defensive ranks. With some compelling passing cycles, Dortmund put Wolf through in the 57th. Pavard recovered just in time.
Siebert allowed advantage play on the next Bayern drive in the 58th. Zagadou fouled Müller only after the German footballing legend hit Lewandowski farther afield. Lewy ultimately dragged his shot wide. Keeping up the tit-for-tat, the Westphalians out-triangulated their hosts on the right in the 59th. Reiner located Bellingham, who swept past Pavard.
Siebert somehow missed the flagrant foul by the beaten Pavard on Bellingham in the box. A very lucky escape for the FCB as a second spot-kick absolutely should have been awarded. Bellingham certainly had cause to feel hard done by. He didn't have so much as a minute to complain, however, as Müller and Kimmich had Bayern through again as the 60th began; this after there was even a brief video review on the previous play.
The Bavarians found themselves shouting for their own penalty at the hour-mark. Müller's cutback for Gnabry was stopped by Guerreiro's arm on a body-sprawl block. Here, Siebert got it right on a play almost identical to the one that caused controversy in Freiburg earlier in the day. Again, there wasn't really time to protest. Müller and Coman led the next FCB charge in the 61st. Davies put Lewandowski through. Zagadou barely scuttled away.
Kimmich swung the ensuing 62nd minute corner in well. Hitz moved out to punch, in the process knocking down Hernandez. Some more appeals for a penalty; albeit not very strong ones as Hitz only had the ball in sight. While the French center halve required treatment, there was a brief break between the 62nd and 64th. Both coaches took the opportunity to conference with their players. Rose, in particular, spent time in Haaland's ear.
Whilst Rose went for the motivational talk, Nagelsmann completed his first substitution. Musiala entered for Gnabry on a straight swap. When play resumed in the 64th, the first two FCB passes went in Musiala's direction on the right wing. More sublime play from the hosts on a charge in the 65th. Coman played a forward diagonal on the ground. Musiala left it for Goretzka, who went over to Müller.
Müller furnished a beautifully delicate chip for Lewandowski. Bellingham cleared with a monster defensive header. After Wolf turned the ball over, Kimmich and Musiala ran a quick 66th minute counter. Müller ended up being just out of reach on the right. Kimmich tried to play it down the middle when Bayern got the ball back at the end of the minute. Upamecano needed treatment after a heavy 50-50 with Bellingham.
Rose took advantage of the break in the action to sent his first sub on. The much-discussed English phenom Jamie Bynoe-Gittens replaced Reinier in the 67th. Interesting. Most every German football lover has been salivating at the chance to give him a look. The next bit of offensive action still belonged to the Bavarians. Musiala, Müller, and Coman were tearing up the BVB left in the 68th.
Bellingham supplied us all with another breathtaking header away on that charge. The monumental piece of defending sent the ball out for a throw. Müller got a quick snapshot in off the throw. The blocked effort bounced back to Lewandowski. Hitz spread himself instinctively and delivered a massive close range save of Lewy's powerful effort. Insane stuff.
Match Flow: 70th to 83rd minute
We were certainly overdue for a lull after all of this. It came, beginning with a terrible switch from Bynoe-Gittens in the 70th after the young Englishman briefly dazzled with a nice run. Bayern slowed their roll on the next build in the 71st. Haaland tried to link up with Reus again on a counter in the 72nd. This time, neither BVB actor got their timing and touches right. Nothing noteworthy emerged.
Neuer calmly collected Wolf's cross from the right in the 72nd. Musiala got stonewalled after a far too obvious vertical from Pavard in the 73rd. Reus couldn't quite get his takedown sorted out in the 74th. It wouldn't have mattered as Haaland was pushing Upamecano illegally just ahead of him anyway. Musiala streaked up with a nice run right in the 75th. One English phenom stopped another as Bellingham cleared with a slide-tackle.
Bellingham required a brief treatment after the straddle. Bynoe-Gittens helped his teammate (any fellow Englishman) out with the good old "fair play stretch". Kimmich's ensuing 76th minute corner came to nothing after a strong Can clearance. The next two FCB approaches didn't look especially clean. Broken plays, half-baked ideas, and misplaced passes from the hosts through the end of the 77th.
Bayern still maintained possession through the end of of the 78th. Conservative bow-arcs kept the ball away from the barely-pressing Schwarzgelben. Another stoppage in the 79th to allow Can deal with a cramp. Coman had the right idea trying to locate Musiala in the 80th. Unfortunately, the DFB teen couldn't react in time to find the touch.
Two chances, both involving Haaland, saw the BVB come very close to finding the equalizer. In the 80th, Bynoe-Gittens put the Norwegian through. Haaland again fended Upamecano (spot on in his coverage) impressively and got the shot off. Neuer parried an effort that might have been going wide anyway. In the 81st, Brandt had Haaland step. Incredibly strong defending from Upamecano meant that Haaland couldn't strike cleanly.
A double substitution from Nagelsmann in the 82nd. Sabitzer and Sané relieved Müller and Coman. Sabitzer, who has been given a bit of an unfair wrap this season, made an immediate impact. On the first sequence after his introduction in the 83rd, the former RB Leipzig worked a rebound from a Musiala shot straight back to him after a failed Guerreiro clearance. Musiala had an easy finish on the decisive goal.
3-1 and that's (as they say) "all she wrote".
Match Flow: 83rd minute to full-time
Fitting that the future of Bayern sealed the club's 10th consecutive title. Nothing much more to report on insofar as the match is concerned. Bynoe-Gittens gave us a cheeky little play that was easy on the eyes in the 89th. Apart from that, it was all about the singing from the stands at the Allianz. The big German footballing anthem "Oh wie its es schön (sometimes sung "es ist so schön" or "du bist so schön") rang out.
The "beer shower" Bavarian Frauleins lined up on the touchline, wearing pandemic masks no less. The fixture had it's "lid" and the party had started. That's the end of it. A fully deserved win for the FCB; their ninth in succession over nearest rivals Borussia Dortmund. One doesn't really even want to discuss xG. One would much rather talk about "beer shower" Bavarian Frauleins.
Oh well. We'll keep up our own tradition.
xG Bayern–2.2, xG Dortmund–1.5
All in order. On with the party. Bring on the Frauleins.
Yesterday's party at the Allianz may have already concluded, but the party that is the "Julian Nagelsmann Era" at Bayern is just getting started. The extended introduction to this week's "tactical focus" section was made to speculate on how the next few years will look like. A intriguing new generation begins to bud. The players Nagelsmann brought with him from Leipzig (Upamecano and Sabitzer) round into form and find their role.
As emphasized in the introductory paragraphs, we'll see the FCB hit some speed bumps as the Nagelsmann Era transition process continues next season. This actually works to the advantage of Bundesliga enthusiasts as it will keep the young trainer in Munich for a few more seasons. No one will want to pluck this particular piece of fruit until it ripens fully. German football's "boy wonder" is staying put.
So many interesting storylines (and a more competitive Bundesliga) to look forward to next year as Nagelsmann keeps working to get it all sorted out. Where are we at now? It's known colloquially as "the beginning of the beginning". Indeed. One can throw two beginnings into a single sentence. Why not? After the never-ending sorrow that has been this pain-in-the-ass global pandemic, we could all use as many new beginnings as possible.
The Bundesliga shall over-deliver in this regard.
Stay tuned.
Thanks so much for reading!
You can occasionally catch Peter on twitter, @ViceytheSS.
Twitter DMs are open for football conversations, corrections, and (if you truly insist) general abuse. 
All columns debut on Bulinews before appearing on Peter's website later in the week.