With the season's set of tactical column's all wrapped up on the host site, the full-color re-post journey continues over on the profile website. Round 30 of the just completed campaign supplied Hertha apologists such as this one with the nearly perfect narrative. Indeed, we had it all figured out. All that was required of "die alte Dame" was some simple execution down the stretch.
Odd that so many voices can't seem to strike the right collective tone. Actually…maybe that's part of the problem. Too many cooks in this kitchen.
With even Vedad getting in on the act, it's no wonder everyone's perambulating about all confused. Ah well. More detail-oriented hindsight always produces 20/20 vision. Just ask Kirkegaard.
---
Bundesliga Tactical Banter: Round 30
---
Swabia's Boulevard of Broken Dreams
Sigh. Really? Again? Another write-up on the inability of Stuttgart to covert xG into goals? How many weeks in a row does this make? The columnist has completely lost account. There's nothing a writer dislikes more than repeating themselves. The worst-case scenario for anyone charged with writing about sports remains being proven correct by subject meant to delight via the thrill of the unexpected. Alas, here we again. The Swabians of the BaWü capital went and did it yet again.
Ugh. Much like block facades of the actual town of Stuttgart itself, this team simply can't shake its incurable case of the "uglies". Similar to the construction crews who work the Württemberger streets, they can never finish. This week we've nothing more than an all-too-familiar tale to tell. Tiago Tomas failed from close range. Chris Führich missed an empty net. Omar Marmoush could neither sort his feet out nor connect with either his axial partner or his lead-striker. This version of the "wild boys" is simply too young and inexperienced for this level. Period.
At this point, one might as well pre-write the "rue missed chances" headline before the match. That's the only real lesson one can draw from the drab 0-0 in Mainz. The lone difference this week concerns the fact that the Stuttgart story wasn't strictly about ineffectualness on the xG front. Having been forced to watch this broken, choppy, and boring midfield slog as part of this column's commitment to thoroughness, this writer isn't entirely sure what "chances" VfB actors are referring to. We've listed two and a few halves above. That's pretty much it, honestly. Not much else out of this sputtering engine.
Sinsheim's slide out of Europe
Fairly big story out of one of Germany's other Rhein-Neckar club this weekend. Sebastian Hoeneß' Kraichgauer could only manage a tame 0-0 draw against dead-last SpVgg Greuther Fürth over at the PreZero Arena. For those keeping track, six goals from Hoffenheim against Fürth in the reverse fixture. None from Hoeneß' crew when they absolutely needed them. Now winless in four and languishing in eighth place on 45 points, the European dream begins to slip away for the "Hopp-lites".
A particularly bad game for former Greuther Fürth star David Raum. The German national team sensation returned to Hoeneß' starting XI after serving suspension, but could not buy an accurate cross despite being very lively on the left. The TSG defensive ranks–having pitched Havard Nordtveit after his disastrous performance last week–were better organized with Kevin Vogt anchoring the back-three. Play out of the back nevertheless lacked sufficient bite early on. Fürth grew in confidence and kept organized more easily down the stretch.
Still plenty of time for Hoeneß' team to turn the tables, even if wins from Köln and Union didn't help. The remaining schedule–which pits the TSG against Freiburg, Frankfurt, and Leverkusen–isn't much of a help either. If Hoeneß fails to qualify for Europe for the second consecutive season with a roster of this caliber, one should seriously question the competence of his regime. Brought in to mold the team with his former FCB II players, Honeneß has done just that and still failed. One wonders how far his name can carry him.
Glasner finally rotates
Well. We all finally got what we wanted and then some. After the Camp Nou "white out", SGE trainer Oliver Glasner rested Raphael Santos Borré, Ansgar Knauff, and Daichi Kamada. The recently returned Sebastian Rode was also given the day off. So too was keeper Kevin Trapp on the spurious basis of a slight wrist sprain. Truly something to see Jens Grahl slated in goal when the team sheets were released. That's right! Jens Grahl. The former Hoffenheim and Stuttgart benchwarmer hadn't featured in the Bundesliga since 2016.
Having seen our long yearned for wish come true, suffice to say it's sometimes worth being careful what one wishes for. What took place in Köpenick was undeniably fun, just not what one could rightly classify as a top flight German football match. Union Berlin went ahead and got playful with the SGE also-rans. What Eintracht starters remained were totally exhausted. Die Eisernen got a little too playful to convert their chances into a 5-0 halftime lead like Dortmund did. They could have surely gotten there. This one wasn't close at all. Good on the FCU for the win, but also for showing mercy.
---
The "Spiegel Specials": Round 30
---
Freiburg-Bochum (1:2, 3:0)
A nice little turn of the tables from Christian Streich's Breigauer, who avenged the defeat of the "Hin-runde", beat Bochum (their previous Pokal opponent) in time to gain a little traction ahead of Tuesday's semi-finals clash with the HSV, and continued their overall strong start 2022. The Schwarzwaldverein has only lost thrice in 17 fixtures played in the new calendar year. Well done, "masters of the Baroque". We're all very pleased to hear this tune.
Streichs "Jungs" beat Bochum in some style. This victory came about as close to a top-to-bottom show of dominance as it gets. Working in the same 4-4-1-1 as last week, the two new personnel plug-ins (Nils Petersen and Woo-Yeong Jeong for Ermedin Demirovic and Lucas Höler) played the game of their lives. Though reserved in it's basic defensive shape off the ball, the formation once again proved deadly on the counter. Petersen, Jeong, Vincenzo Grifo, and brace-scorer Roland Sallai were all magnificent.
The Sport Club could have scored three or four more goals with the chances they created. The columnist isn't quite sure he saw Bochum win more than three or four midfield duels all afternoon. VfL trainer Thomas Reis was fully justified in being so pissed with his players that he inadvertently got himself sent off by an officiating team who mistakenly thought he was pissed with them.
Of course, that wasn't Reis' only stupid move of the day:
Lineup—VfL Bochum—46th minute (3-5-2)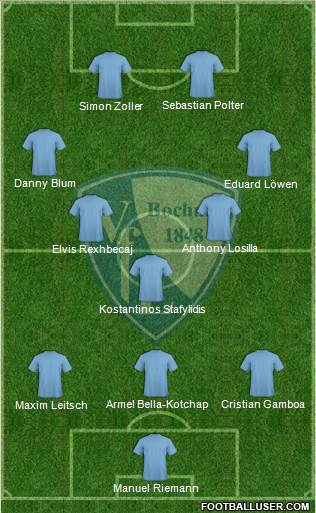 After beginning in a straightforward enough 4-2-3-1, Reis opted to shake his team into a higher gear. The particular type of 4-4-1-1 being utilized by Freiburg practically erased any potential of this being a risk-reward scenario. The pockets of space behind the top three axes constituted more of an open invitation for Grifo and Sallai to slip in behind. No real reward potential is inherent here.
It came as no surprise to see this quickly shredded. Moreover, the type of foul we witnessed from Konstantinos Stafylidis seemed an inevitable result of his anchoring defensive midfield (clearly above a chain-sweeper) assignment. Thomas Reis' "windshield wiper" gesture kind of reminds one of how spotty the coverage worked, provided one has some experience with a dashboard set worn down to the metal.
Prognosis: Definite "yes" on Europe
Snapping back to Freiburg, one really has to gush over the form that Streich's team find themselves in. Alert, awake, and ever present in every last duel. The current constellation throws any and all defensive conceptions of a 4-4-1-1 straight out the window. These footballers are plainly well-drilled on how to open up space. Tuesday's salacious showdown in the Pokal semi-final can't get here soon enough.
On 51 points in 5th place, they look to be shoe-ins for the 2022/23 Europa League. Hoffenheim's draw this weekend helps immensely. As an added bonus, we should all be able to watch them officially clinch against the Sinsheimers in two weeks' time. How nice. Most German football lovers could only be happier if the local kids were allowed back on the Breisgauer pitch for the Easter Egg roll again.
Wait. That happened this weekend, too?
Guess we just can't be happier at all.
Gladbach-Köln (1:4, 1:3)
Oddly enough, despite the lower scoreline, the great "Rhein-derby" wasn't anywhere near as competitive an affair as the fixture we chose to award the round 13 "tactical focus" section to. Sadly enough, this was expected. How far Gladbach have fallen is obvious enough for all with eyes to see. A double- up in the derby (something Köln haven't accomplished since the Christoph Daum days of the late 1980s) appeared a forgone conclusion. This version of the foals runs with a snapped leg.
Floran Kainz passed what one could describe as a "disinterested defense" to set up Anthony Modeste for the opening goal in the 5th minute. In front of a sell-out crowd at Borussia Park, Adi Hütter's BMG quickly lost their nerve. A cascade of turnovers in the next 15 minutes finally led to Köln punishing the home side's agitated sloppiness with the second goal in the 20th. A third goal, with a second assist from the free roaming Mark Uth, arrived in the 34th. Game over with just under 60 minutes to play.
The Gladbach fans who turned out in droves maintain every right to feel frustrated with their team for giving up. The crowd noise took a bit longer than the team to ebb into quiet submission. Shortly after the restart, however, all hope that the Westaphalian hosts could make their way back into the contest was undeniably lost. The defeated West Prussians merely went through the motions until Deniz Aytekin blew the full time whistle. We played injury time in this one only because of the meaningless late pull-back goal.
Prognosis: Still the "no" on Europe
As tempting as it may be to reverse last week's negative prognostication, the strength of the opponent (or rather lack thereof) must be taken into account here. Steffen Baumgart's Geißböcke played more aesthetically pleasing football than we've seen from them in a long time. They accomplished that almost in spite of themselves really thanks to the fact that Gladbach are presently so soft.
The rigid 4-2-3-1 was built with direct marks and a physical battle in mind. Baumgart could have hardly anticipated how much space Uth and Kainz would be accorded early. Matthias Ginter's injury also threw Hütter's already wilting tactical ranks into further disarray. Köln do have a conducive remaining schedule left in the hunt for the top-six.
An optically sound football match against a sounder team is still required.
---
The Burning Questions: Round 30
---
What happened in Dortmund?
Three goals in four minutes! That's the short answer anyway. A more nuanced (and pleasing) explanation allows to delve into some very exciting BVB tactics. Such a treat to have written that last sentence. We've had precious few chances to do so during the debut Rose/Maric campaign. In any event, have a look at this:
Lineup—Borussia Dortmund—Match 30 (3-4-2-1)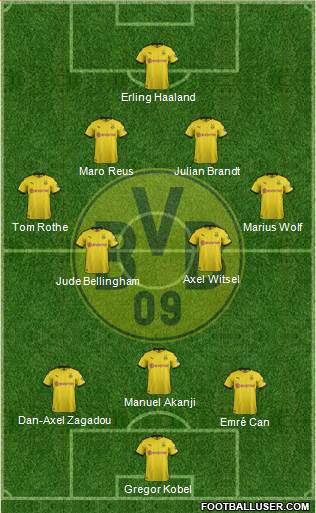 Why not? Too often during this roller-coaster season, Rose and staff simply fell back on cheap plug-in tactics. Results left us all constantly bemoaning how this possession-based team bow-arcs its way around without any real ideas going forward. Something like this carries with it some courage; a dive straight into the deep end despite another personnel crisis. Kudos to the coaching team for going for broke.
How it almost didn't work
It should be emphasized that we could be having a very different conversation now. The three-man back line wobbled early against Wolfsburg, particularly in the opening ten minutes. After all, Florian Kohfeldt's 3-4-3 has some pace about it. Lukas Nmecha punched through on a couple of occasions early on whilst Manuel Akanji struggled to sort his pivot out.
Even after Dortmund got their possession game established, youth academy insert Tom Rothe needed some time to adjust to the tempo of the rush. The 17-year-old overran his overlaps at first. Jude Bellingham stutter-stepped amidst synchronization problems with his axial partner and opposite winger Marius Wolf. The match could have absolutely swung the other way in the initial quarter of an hour.
Click and bang
What did impress despite some of the early stumbles concerned how highly committed the BVB XI were in smothering WOB counter attempts. Mistakes occurred. Turnovers transpired. At no real point, however, were the Lower Saxon guests able to get through the high midfield press. Bellingham and Axel Witsel proved absolutely essential in this regard. They let no one through.
Extra assistance from the sixes accorded the back-three not only time to get their pivots straight, but also the notion of making some enterprising runs themselves. Rothe's opening goal came off a corner in the 24th. Erling Haaland caught the disjointed VfL defensive ranks napping to set up Witsel with a piercing solo run two minutes later. More set-piece magic on the third goal (Reus to Witsel) two minutes after that.
The back-three pressed incredibly high in the aftermath of the goal flurry. Everyone wanted a piece of the action. Emré Can effectively put the game to bed in the 35th with a distance effort reminiscent of that stunning long-range strike he scored shortly after being brought back to the Bundesliga in the spring of 2020. We find ourselves once again heaping extra praise on Dortmund for just how brilliant they can be when buoyed by confidence.
Can something work against Bayern?
Of course, that's the real "burning question". Heading into the match that everyone (except Germans) refers to as "Der Klassiker", it remains too late for any semblance of a title race to be revived. It's still incumbent on Dortmund to make a bold statement against their perpetually superior rivals. Bayern's winning streak enters the realm of the ridiculous. Counting the two DFL Super Cup victories, the Bavarian giants have now won the last eight meetings between the two sides.
Dortmund haven't bested the FCB since the 2019 Super Cup. Die Schwarzgelben haven't beaten the record champions in the league since 2018. Rose and staff have no choice but to go for the jugular here. Coming off the Champions' League elimination, Julian Nagelsmann's side continue to grapple with identity issues. Key players like Thomas Müller, Joshua Kimmich, and (in comparison to what he's capable of) Robert Lewandowski currently experience form dips.
Out of the UCL and Pokal, the pressure actually lies with Nagelsmann to wrap up the league title against Dortmund next week. The young trainer's rookie season with the super club and the avant gardé tactics he's used to replace Hansi Flick's self-coached 4-2-3-1 suddenly find themselves under closer criticism. No question Bayern takes the title this year. Something shall still ring hollow about it if they can't clinch against Dortmund next week.
No, we haven't forgotten the question posed. The fact is that we simply can't answer it without delving into the latest from Bayern themselves. The 3-0 win over hapless Bielefeld could certainly fairly be described as "comfortable". In this context, "comfortable" and "cozy" don't go together. The FCB dodged some bullets.
Did Bayern get lucky?
A bit, yes. Lewandowski and Müller continued to look well below their best form. Bielefeld's Jacob Barrett Laursen turned the ball into his own net to give the table toppers an early advantage. Bielefeld fought back valiantly for the duration of the first half and came close to equalizing on a couple of occasions. Bayern's Tanguy Nianzou could have easily seen a straight red for his elbow thrown on Fabian Kunze at the start of first-half injury time.
Had Nianzou been sent off, the whole dynamic of the match might have shifted. Lucky escape for the FCB there. Apropos the "dynamic" of the match, no one shall ever know how the DSC could of performed if head coach Frank Kramer (for the second consecutive week no less) hadn't lost two players to injury in the opening 45. Despite the unwanted personnel changes, Arminia's second half wasn't bad either. The underdogs nearly found their way back.
And Nagelsmann's latest tactics?
Lineup—Bayern München—Match 30 (5-4-1)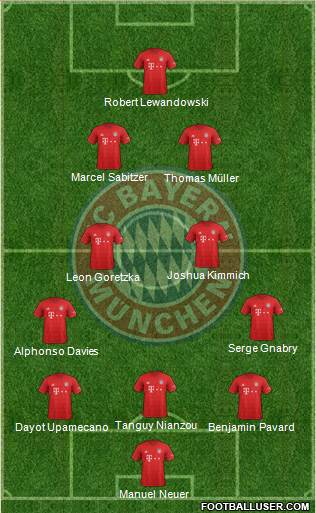 Ornately and creatively designed, yet far too cutesy. This maintained an awkward feel about it all afternoon. Alphonso Davies and Serge Gnabry definitely had the speed to operate from pocketed wingback roles. Asking them to go from zero to sixty so fast in a novel constellation still asked bit much. Many FCB approaches succumbed to clunkiness. Actors didn't possess the intuitive muscle memory to locate their colleagues.
We arrive at the only possible stumbling block to three more seasons of dominance under Nagelsmann. Namely, needless overthinking. Those of us who have been tracking the 34-year-old's career through the Hoffenheim and Leipzig stints know it all to well. Former Bayern trainer Pep Guardiola has nothing on Nagelsmann when it comes to this tendency.
Juxtaposing this constellation with Dortmund's draw-up above makes it look as if the BVB should even enter as slight favorites next week. Naturally, that's not the case. Everyone (columnist included) fully expects another Bayern win. There nevertheless exists this interesting contrast from this weekend. Rose went all in. Nagelsmann shelled up. Those two facts are indisputable.
Hmmmmm…
Are Leipzig the league's current best team?
Yes. Perhaps this hasn't been stated clearly enough in recent weeks. Perhaps that has something to do with the fact that Germans aren't fond of admitting it. We credit the Rückrunde's biggest risers often enough. Virtually everyone (from Lothar Matthäus to the humble columnist himself) saw the Leipzig turnaround coming. No one particularly wanted to see it coming, but a squad this ridiculously deep was sure to find its way out of its slump one way or another. They're too stacked.
This weekend's close call with Leverkusen does nothing to challenge that thesis. Domenico Tedesco rotated heavily. Willi Orban, Josko Gvardiol, and André Silva were the only three outfield holdovers from Thursday's Europa League victory at Bergamo. It speaks volumes about the depth of this team that Emil Forsberg, Dominik Szoboszlai, Yussuf Poulsen, Tyler Adams, Marcel Halstenberg, Nordi Mukiele, and Lukas Klostermann are the back up options. Yikes.
Gerardo Seoane's Werkself got their looks in during the first half. With so many new RB actors on the pitch, Tedesco's attack did prove error-prone at times. The team still held their own against a Moussa Diaby-Patrik Schick double-striker set. That's certainly something. When Christopher Nkunku entered at the half one could safely assume that the dry-run of the Saxon guests was over. An anomalous wonder that the opening goal wasn't scored off the initial pressure.
Eventually, Tedesco piled on with Konrad Laimer, Dani Olmo, and Angelino. These stars sometimes played at half speed, clearly keeping Wednesday's Pokal semi-final in mind. The game-winning goal nevertheless felt like more other than a forgone conclusion; a formality to invariably be reached with all the talent clustered on the pitch. It came during a late spurt. Many of us begrudgingly winced. The league's best team. Probably the Pokal winner and UEL finalist too.
---
Weekly Tactical Focus: The "February Promise" in action
---
Yes, indeed. It's that time of year. Time for a little "relegation race voyeurism". No sense in debating the point that what takes place at the bottom-of-the-table brings with it much more drama and intrigue than the goings-on up top. All the real-life turmoil of real-life communities and societies under fire. Unfairly cruel. Almost inhumanly tragic. Tears to be shed no matter what the outcome. Too bad. Football lovers wouldn't have it any other way. To think that, one year ago this month, out-of-touch footballing executives thought that they could sell us a non-relegation "Super League".
What a farce!
Anyways, the topic of farces segues us straight over to Hertha BSC's full-blown crisis. The relegation tangle between "die alte Dame" and the Fuggerstädter got the circle on many a German football enthusiast's fixture list heading into this weekend. In spite of the fact that we knew the quality of football wouldn't be the greatest, Augsburg-Hertha simply had to be the match for in-depth study. How would Hertha respond to the demoralizing derby defeat? Car crash or bootstrap pull up? Either way, one gets a story.
Those of us Germans accustomed to regularly consoling our Hertha supporting friends also have a promise to keep. Every February, we assure our capital city brethren that the team will manage to escape relegation. This column has never wavered from that position, even amongst all the bumbles and stumbles. The prediction that the Charlottenburgers shall wriggle their way out again holds. The writer doesn't deny feelings of vindication following this weekend's result.
The better team definitely won this time. We'll gladly explain why and how.
First, another farce.
xG Augsburg–2.6, xG Hertha–1.0
We've established that all metrics can lie sometimes.
Appropriate that we got an example of this one doing so this season.
Lineup—Hertha BSC—Match 30 (4-2-3-1)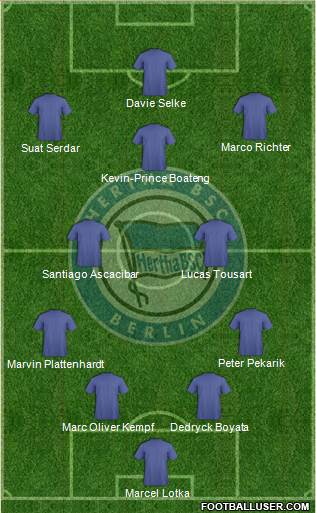 Five personnel changes from Hertha caretaker trainer Felix Magath after his flagrant tactical failure last week. One should be careful not to accord the gaffer too much credit for finally building something resembling what we've calling for since the break with Tayfun Korkut was finalized. The 68-year-old took the long, roundabout way to the team's true strengths.
It cost the club some time and ensured that the supporters had to sacrifice valuable fingernail growth. At long last, Suat Serdar and Marco Richter working the wings from the start. Sometimes the road to the obvious can't be located without unnecessary detours. That point can be rendered moot so long as one arrives just in the nick of time, which it appears Magath has done.
The leadership angle
Yes, yes. It's cliched. It will be beaten to death in the Monday punditry. Merely because something lends itself to a tired talking point doesn't mean it's not true. Kevin Prince Boateng's first start since October 2021–a resounding success–shall be trotted out like the easy loft that it is. The old gaffer called out for leadership on the pitch and elicited a response from certain actors on his squad. Blah, blah, blah.
Those of us who watched this one still must admit that this hackneyed expression proven true. The platitude was palpable. One could sense something very different in this team's collective spirit. It was by no means limited to Prince. Captain Dedryck Boyata turned in a magnificent performance. Marvin Plattenhardt and Peter Pekarik did a splendid job with the demanding tactical shift we'll discuss below. Even Lucas Tousart played well.
Some hard luck for Weinzierl
Again, we don't wish to accord Magath too much credit for his opening hand. Dropping Julian Eitschberger and Linus Gechter (who rather auspiciously caught a cold) doesn't exactly constitute a stroke of genius. These changes fall into the category of common sense. Magath does receive immense credit for his longer term match plan. We'll get to that.
Before doing so, we'll expend a little sympathy for FCA trainer Markus Weizierl. Injuries to Florian Niederlechner and Daniel Caligiuri left him without two of his preferred starters in attack. Danish winger Mads Pedersen also caught COVID just as he was entering blistering form. The Augsburg gaffer's 4-4-2 had been delivering favorable results in recent weeks.
A little less rhythm with some of these plug-ins.
Lineup—FC Augsburg—Match 30 (4-4-2)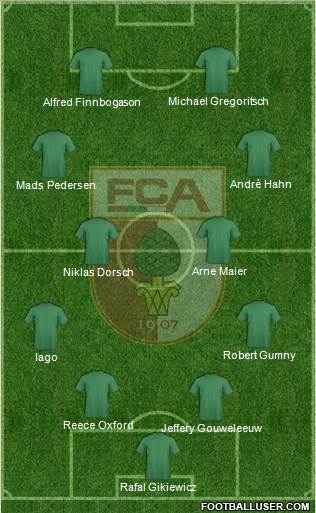 Icelandic striker Alfred Finnbogason made just his fourth start of the season. Weinzierl got Michael Gregoritsch back, but couldn't deploy him alongside Niederlechner. Ricardo Pepi's slow ascent up the learning curve kept the American on the bench. Pedersen returned far from full strength. André Hahn–as happens sometimes when the German striker is stationed on the wings–had a so-so match.
Often it just doesn't come together for Weinzierl in the way it should. The Fuggerstädter possess more than enough talent to distance themselves permanently from the relegation pack long before the campaign is through. The midfield pairing of Germany U21 internationals Niklas Dorsch and Arne Maier works extremely well on the better days. The back-four is both reliable defensively and capable of generating quick counters.
Many of the FCA actors performed above average on this day. Permanent distancing from the relegation pack nevertheless did not come as they ran up against a well-organized team with a better overall match plan. Weinzierl–and this is not a criticism per se–kept the team in the 4-4-2 shape throughout. Magath, as we shall explore below, pulled off the better tactical maneuver.
Match Flow: 1st to 16th minute
A very favorable start for the hosts. Plattenhardt, Serdar, and Selke ran the first rather meek Hertha attack in the opening seconds. The Fuggerstädter were already forcing fouls with their press by the 2nd. After a free-kick directed backwards, a controlled FCA build ended with a long ball sent in Iago's direction. Richter cleared. Tousart couldn't clear quite as well in the 3rd and the ball found its way to Gregoritsch via Pedersen. The Augsburg's striker missed the target by about a meter and a half wide right.
The Bavarian Swabians continued to play forward. Hahn crossed in for Pedersen in the 4th. The Dane rattled off the home team's second effort in the young match, which also sailed wide. The bombardment continues through the 5th, with Prince and Boyata desperately trying to head more crosses into the box clear. Augsburg attacked with decent tempo again in the 6th, but Plattenhardt was able to push the charge out in out into touch wide. After a couple of throw ins, the hosts were awarded a free kick in a dangerous position in the 7th. Pedersen's delivery was too high.
Plattenhardt got a counter rolling in the 7th. Serdar received the ball on the left and attempted a shot. The FCA defenders closed ranks and blocked. A nice full lateral possession cycle in the 8th from the hosts featured some neat and tidy turns from both Maier and Dorsch in the midfield. Boyata ultimately shepherded the final product (another long ball for Iago) out in the 9th. Selke won an aerial duel and then held the ball up on a centralized BSC charge in the 10th. Unfortunately for the visitors, no one joined him.
Hahn quickly sent his side the other way. Maier couldn't sort his feet out in time to take a shot. Boyata swept away, but Maier had the FCA back on the break in the 11th. The Hertha loanee showcased some sublime skill in shaking off Plattenhardt, then furthering for fullback Robert Gumny. The Pollack's cross in for Finnbogason was almost inch perfect. The rusty Icelandic striker didn't get a clean hit, however, and BSC keeper Marcel Lotka got an easy save.
A couple of long launch hits from Hertha in the 12th. Reece Oxford (who incidentally had a monster match) showed no quarter in his defensive aerial duels. The English center halve sent two balls immediately back. There was a brief treatment break for Maier in the 13th after the loanee landed awkwardly on his back challenging against Boateng in the air. Dorsch, Oxford, and captain Jeffery Gouweleeuw handled the next FCA possession bow-arc in the 13th. It ended in a poor Iago service into the box in the 14th.
Boyata swept away the next Augsburg attack in the 15th. A very nice piece of defending from the squad skipper. Serdar wasn't quite so elegant in dealing with Gumny on the FCA right in the 16th and a free kick was awarded. Maier supplied a gorgeous delivery. Gregoritsch cleverly flicked on with his head. There were sadly no takers and the ball trundled out of bounds. Dorsch and Santiago Asacibar found themselves down on the deck after clashing heads in the same minute.
Both were bleeding.
Match Flow: 16th to 21st minute
Just in case Bundesliga fans needed any reminder of gruesome the game can be, we got a tense few minutes while the respective pyhsios ran their cognition tests. Once one saw them unwrapping the turbans, however, we could at least take some comfort in the fact that both players would likely continue. The BSC medical staff got Ascacibar turbaned quicker. The Argentine joined his teammates on the field when play resumed in the 19th. Dorsch remained out.
Oxford turned away a Hertha free-kick in the 19th with another magnificent header. The guests were still in the mood to take advantage of their superior numbers and furnished a pair of quality attack builds in the 19th and 20th. Boyata ran the first one deftly, just missing Ascacibar in space. Some excellent ball work from Boateng in the 21st set Plattenhardt free up the left flank. Berlin's "set-piece mister" struck a beautiful cross for his opposite number Pekarik, who had balked past Iago. A diving finish from the BSC right-back still missed the mark.
Dorsch re-entered in the 21st to restore an even keel.
Match Flow: 21st minute to half-time
We settled into an unbreakable physical stalemate for the duration of the half. Lots of fouls and stoppages. A total of four bookings from match official Marco Fritz. The ref initially allowed advantage play after Iago fouled Richter late in the 21st. Boateng managed some paint-the-corner possession outside the box from it, but nothing of any real danger. Fritz first tried to calm things down by talking to Iago about his bookable offense. Pretty soon, he would have to start brandishing cards.
Finnbogason fouled Boateng in the 23rd. Plattenhardt sent in another beauty on the ensuing free kick. In a bit of slapstick, Maier stuck out a leg to clear the service, only to see ball bounce off his head and out for a corner. A corner service intended for Boyata didn't miss by much. FCA keeper Rafal Gikiewicz somehow collected. The fouls kept coming. Fritz kept his hands out of his book again in the 24th when Richter took out Gumny. When Dorsch caught Acacibar's shin in the 25th, tempers began to boil over on both sides.
There was a brief scuffle, unsurprisingly involving the notoriously hot-tempered types Boateng, Selke, and Oxford. After all the pushing, shoving, and chest-thumping settled down, Selke and Oxford were booked. Plattenhardt supplied another fine dead-ball delivery when the match resumed in the 26th. Oxford stood tall again. Yet another scuffle in the 27th following a shove down by Hahn on Marc Oliver Kempf in the FCA penalty area. More talkings-to. Kempf needed a brief treatment break.
Thankfully, open play was back by the 28th. Boateng headed forward before reaching Selke with a super slick back-heel. Selke decided to hit Serdar on a half-space wide left. The former German national team attacker cut in nicely. His final shot from just inside the penalty area was blocked out of bounds. Richter and Plattendhardt put in some good work to keep the play alive on the subsequent corner. The guests still couldn't manufacture another chance out of it.
Augsburg plucked a 29th minute counter instead. Fritz allowed advantage play on a rush ultimately stopped by Boyata. Once the sequence ended, Boateng received a delayed booking for his tactical foul on Dorsch at the beginning of the dash. Broken builds and more fouls from both sides between the 30th and 32nd. Not much going on during those two minutes other than throw-ins and two FCA offsides. A cleaner FCA approach in the 33rd met its match in the form of excellent tracking from Boyata and Kempf.
Boyata, who had hitherto had a great game, nevertheless panicked in the 34th with a haul-down of Pedersen after Finnbogason sliced through the BSC defensive ranks. The Hertha captain saw yellow. Gregoritsch nearly pulled off the spectacular with his free-kick service from 30 meters out. A dipping and swerving ball whizzed millimeters over the crossbar. The Austrian striker really applied a special spit-kick touch on that ball! Somewhat harsh to not see it go in.
Lotka, a mite shaken by what he just witnessed, took his time setting up the goal-kick. A 37th minute long launch nearly reached Selke in the form of a competent header on from Boateng. Hertha got off two adequate attacks in the 38th. Pekarik and Tousart unfortunately didn't hit their targets with crosses into the box. Gouweleeuw defended strongly on the first. Selke was a few steps too late on the second. Finnbogason earned his second offside flag on an attempted counter in the 39th.
Boyata halted an FCA approach with efficient coverage in the 40th. Kempf did the same in the 41st. Finnbogason failed to capitalize on a Richter turnover in the second instance. Hertha were awarded another free kick after a foul on Serdar in the 42nd. Richter got a shot off after Plattenhardt's service was improperly cleared. Oxford deflected out for a corner. Serdar collected the 43rd minute corner service, only to shoot wide.
Fritz added three minutes of injury time in accordance with the Ascacibar-Dorsch treatment break. Lotka easily collected an Augsburg free-kick in the 45th. Plattenhardt punched through at 45+1, but Oxford cut the BSC fullback's cross out. Pekarik got some penetration on the opposite side one minute later, missing both Boateng and Selke with an attempted square.
Pekarik tracked back in time to stop Finnbogason in the same minute. Hertha got off one more attack at 45+3. Richter shot wide this time. Fairly paltry xG stats from both sides after the opening 45. The Fuggerstädter topped the Charlottenburger by a few decimal points. Neither team topped 1.0 in the scoreless affair.
Match Flow: 46th to 56th minute
Without changes we continued. Even the two be-turbaned players Ascacibar and Dorsh remained on the pitch. No discernible formation shifts either. Both trainers seemed willing to bet on their side poking through the fray. Hertha definitely came out with a more adventurous feel about them. Tousart charged up the right and tried to send it a cross on the first play. After Dorsch blocked the early ball, Richter claimed and tried again. The second effort went out of bounds.
Boateng worked the team forward again in the 47th. Richter again got a chance from the right. Gikiewicz read it well enough to scuffle away. Boateng executed a fine ball win from the second ranks off the ensuing corner, yet couldn't do much with it other than gift Augsburg a throw. This action unintentionally resulted in the game's big highlight. The FCA botched the throw. Richter collected and turned a nifty give-and-go with Selke. Richter then spotted Serdar cutting in on his side.
A sublime back-heel finish gave Serdar his third goal of the season; the first tally for the former FC Schalke man since his round four brace back in September. Based on the team's determined tempo since coming out of the dressing room, one felt the 1-0 fully deserved. The capital city side kept up the pace and rode the momentum for a good long while after the 49th minute goal. Serdar himself fought off two markers when play resumed in the 51st. Gumny fouled the dogged attacker and was booked.
Plattenhardt swung in another inviting full switch free kick. Boateng out-dueled Iago and won a corner. The BSC de-facto leader regrettably slipped up after the ensuing service, enabling Augsburg to counter. Finnbogason demonstrated once again that he didn't have the touch at the end of the sequence. The Icelander got his cross in from the FCA right all wrong. Lotka claimed an easy ball that could have landed on the head of Finnbogason's lurking teammates.
Magath's men wasted a solid charge up their own right in the 53rd with an overcooked pass from Pekarik. The guests still prevented their opponents form building an attack comfortably out of the back. The FCA was forced to retreat twice in the 54th. Serdar eventually wrestled the ball away from the lilting Fuggerstädter and sent through Richter again on the right in the 55th. The former Augsburg attacker had a little more time than he thought when he swept his finish well over.
Gikiewicz started up the counter quickly. Finnbogason ran the surge again, this time reasonably well. Kempf recovered in time to knock the ball out from a corner. The set-piece produced another close chance involving Gregoritsch. The Austrian got off a skillful dipping header following some work from Maier and Hahn. Gregoritsch's effort struck the crossbar and rested on the top of the net.
Weinzierl had been preparing a double refresh. Ricardo Pepi and Ruben Vargas stood on the sidelines prepared to check in. The pair entered on strict like-for-likes in the 56th, replacing the wholly ineffective Finnbogason and the largely quiet Pedersen. A familiar late double swap for those who have been following the team in recent weeks.
Match Flow: 56th to 69th minute
Magath had some subs warming up as well. One feared a bit for his team after it took the old gaffer too long to get his reinforcements on last week. No Hertha players could be spotted moving in the direction of the fourth official, meaning that the original XI would have to hold off Weinzierl's fresh legged youngsters for at least 8-10 minutes. There was an early scare.
Gouweleeuw split the Hertha midfield with a sweet vertical to Dorsch, who in turn located Vargas with a quick over-the-top ball. Luckily for the visitors, the just-subbed-on winger's 57th header was a fraction off timing-wise. It went wide. The two sides traded a series of long balls in the 58th. Gouweleeuw tried a fairly hopeless diagonal for Pepi at the end of the minute.
Boyata and Pekarik, to their immense credit, sensed that more diagonals for the American striker were coming. The pair squeezed the Texan out on the next attempt in the 59th. Pepi hit Kempf with a cheap shot in retaliation. Pepi did better with a decent hold up on an FCA right cycle at the hour mark. He then hit Iago with a long switch. The Brazilian quickly tried to hit Vargas. He ended up hitting the Swiss attacker's hand instead.
The game slowed up considerably between the 61st and 64th. Two long hits from the Berliners were easily headed away by Oxford. Iago easily boxed out Selke in the 62nd. There was a brief treatment break between two FCA slow rolls out of the back in the 63rd. Iago couldn't take down a long switch in the 64th. Oxford ensured that the attempted Hertha counter went nowhere.
The hosts tried down Iago's flank again. Richter stopped the advance this time, albeit with an illegal challenge. The assister of the lone goal probably still did right to incur his fifth yellow card. Augsburg's rhythm buckled downward. The interruption didn't help matters. Hahn and Pepi still combined off the free kick, forcing Ascacibar to foul. Gregoritsch had no more tricks up his sleeve. His effort sailed well over.
Gouweleeuw was adjudged to have fouled Serdar just outside the 18 in the 67th. Plattenhardt got off a nice bender over the wall. Gregoritsch actually likely saved his team a goal with a very adroit rising headed deflection that redirected Plattenhardt's effort ever so slightly. A little excitement off the ensuing corner as Boateng nearly threaded through for three Hertha bodies in the box.
The Prince just missed on his last involvement of the game.
Match Flow: 69th minute to full-time
One doesn't find oneself saying this often, but the win was essentially secured with a pinpoint tactical re-format. Surgical intelligence from, yes, Felix Magath. The old man remains no fool. The Bundesliga trainer who won a title with the team he last coached in the league shouldn't be confused with a confused Christian Groß. Niklas Stark and young winger Anton Kade came on in place of Boateng and Richter.
Kade was clearly a like-for-like. The fact that Magath subbed his ten off in favor of a defender piqued one's interest. Magath could have had any number of ideas in mind. It proved a pleasure one this observer thought of confirmed. First, we had to wait until after another Plattenhardt free-kick. Both Stark (initial header) and Kade (second effort) were involved.
The shape settled rapidly once open play returned.
Lineup—Hertha BSC—71st minute (3-4-3)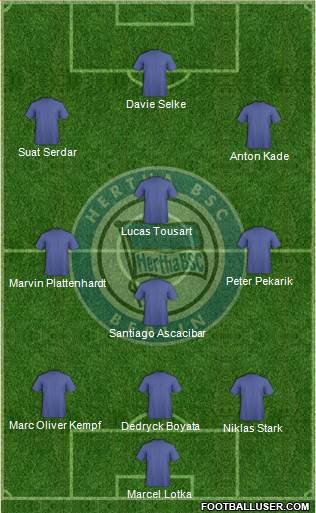 Both ballsy and smart and the same time. Genuinely quite brilliant. The new midfield diamond ahead of the flat back-three provides flexibility with respect to the attack and an extra layer of defense with a trained sweeper not far away from the final axial chain. It worked to near perfection. Augsburg were able to push their xG (at this point at 2.0) to 2.6, but never really looked dangerous.
Kempf took care of a Pepi rush in the 72nd after Iago picked Kade's pocket clean. The back-three then overcame a poor Lotka clearance to move forward as a unit and give Selke a chance on the counter. Two more like-for-likes from Weinzierl in the 73rd. Jan Moravek and Raphael Framberger came on for Maier and Gumny. This accomplished little apart from killing time and interrupting flow.
Vargas couldn't stay onside in the 74th. Framberger wasted a nice Pepi tap back in the 75th with a cross far too deep for Iago. Ascacibar made it back in time to win the ball of the Brazilian fullback. Boyata and Stark together dealt with Dorsch's poor whip in one minute later. The Hertha captain briefly needed treatment.
On what would be the final real Augsburg chance of the game, Pepi and Vargas worked a ball over to Iago in the 77th. The shot was close, but always pretty hopeful given the angle. Boyata–back on his feet–handled Iago again in the 79th. Pekarik took care of the next charge with a diving header clear in the 80th.
Gouweleeuw turned the ball over in the same minute and Tousart led a breakaway. The Frenchmen couldn't decide in time which colleague to opt for. Pepi fouled up his own chance in the 81st, delivering a low cross straight to Lotka after what had been an awesome win and run. The youngster remains too green. Pepi also lost out to Mittelstädt in the 82nd.
More great defensive work from Kempf and Ascaibar in the 83rd and 84th, respectively. The FCA had their own defensive star in the form of Oxford, who individually crushed a couple of counter chances during this phase. Weinzierl left one scratching one's head when he took Oxford off for Andi Zeqiri in the 84th. An offensive change, but no real discernible shape from the hosts down the stretch.
Iago, Dorsch, and Moravek all sent strays directly into the teeth of the Hertha defensive center between the 85th and 87th. Zeqiri couldn't keep himself onside in the 88th. Pekarik was back helping to clear a weak cross in the 89th. Lotka did a magnificent job tracking multiple headers before making a crucial save in the 90th.
Boyata got another chance to shine with a fine header away at 90+1. Multiple BSC actors stepped in to block efforts from Iago and Vargas at 90+2 and 90+3. Courtesy of some standard time-wasting practices (including a sub) during injury time, Hertha effectively milked the clock. Boyata headed the final FCA attempt to get into the box (with everyone including keeper Gikiewicz up at 90+4.
No need to throw the full-time xG up again. As noted at the beginning of this section, it definitely wasn't reflective of what we witnessed here. Augsburg trotted along the plot points. Gregoritsch pumped it up a bit with his work. No matter really. The better drilled, coached and (most importantly) adjusted team carried the day.
When writing on Hertha, we've often cited inherent "sparks" and such. Seasoned Bundesliga observers can recognize the quality within this team. It remains our contention that it's noticeably better than in some of the club's relegation scares in the past. So much has failed to come together because–for a whole confluence of reasons–three separate trainers went for baffling experiments instead of letting one system develop.
Are Hertha safe? We'll likely have the answer to that question in two weeks. The three-week showdown with direct relegation rivals has only just begun. Points need to be pulled off of both Stuttgart and Bielefeld in the weeks ahead. At least one fixture must be won outright.
Hertha enthusiasts generally don't trust their German footballing friends. This is for good reason. We were wrong in 2010, then again in 2012. The fact that we've been right a half a dozen times since then still engenders little confidence. Understood. Just note that we're reasserting the promise…again.
Thanks so much for reading!!
You can occasionally catch Peter on twitter, @ViceytheSS.
Twitter DMs are open for football conversations, corrections, and (if you truly insist) general abuse. 
All columns debut on Bulinews before appearing on Peter's website later in the week.