The football rolls on in the Bundesrepublik! As Europe's most exciting football league heads for an equally exciting finish, league watchers keep to the same hectic schedule as those on the pitch. Here's the re-post of last Sunday's matchday roundup.
---
League-wide Talking Points: Round 29
---
A "feel good" capper
Why not buck some recent trends and begin with an uplifting match this week? The five-goal cracker between Dortmund and Bremen served as a inspirational finish to round on many levels. It proved fun to watch BVB sleepwalkers Julian Brandt and Giovanni Reyna wake up in an extemporization-friendly wide 4-1-4-1 from Edin Terzic. Jude Bellingham and Marco Reus also maintained their form upswing even if they didn't get on the scoresheet. As congenitally difficult as Mats Hummels makes it to appreciate him sometimes, his sturdy header to finish it off was very much appreciated.
Even on the losing side, there existed plenty of positives. Many will have enjoyed watching Milot Rashica land a tally in his second successive match. It's been a rough injury-riddled season for the exceptionally gifted Kosovar. Nice to see him picking up speed again. The late Bremen rally, orchestrated mostly by 32-year-old "rookie" Christian Groß also conveyed a satisfying sense of fight-back despite the two-goal deficit. The Hanseaten by no means deserved better than the result, but at least they made a play for it. Both clubs earn gratitude for the Sunday entertainment.
A sinking feeling
What should have furnished another emotional boost surely engendered more mixed emotions amongst the German footballing public. FC Union Berlin's 2-1 win over Stuttgart provided some nice storylines, even if there were more lulls on the pitch than one would hope for in a three-goal fixture. Christopher Trimmel collected two memorable assists in the win and Union appear well on their way to European football next year. In even better news, the club ultras were able to safely congregate outside the ground in a police-sanctioned gathering.
The team got a chance to visit with their fans prior to the post-match interview round. It conjured up fond memories of the infamous Biergarten visit from last spring. Any story in which the team and its supporters have the opportunity to link up lifts the heart. Of course, one's thoughts couldn't turn to the country's capital without thinking about Hertha's perilous situation. This constitutes genuinely sickening news. Football lovers are too often miscast as types that treat players as minstrels for their amusement. Nothing could be further from the truth. We care deeply about players. No one wants to see this.
---
The "Spiegel Specials": Round 29
---
Freiburg-Schalke (2:0, 4:0)
It's twice as worse for the Königsblauen, who get doubled up on by Christian Streich's Breisgauer in a result that surprised no one. For the "nth" time this season, Schalke couldn't even manage something resembling a chance for an entire half of play. Starting striker Klaas Jan Huntelaar's splendid contribution to his team's efforts involved a flagrant elbow to Roland Sallai's face in the 22nd minute. The Hungarian converted the spot kick to put his side up 2-0, settling matters before we got to the half-hour mark.
Die Knappen continue to re-define the very notion of what a disastrous Bundesliga campaign can be. Benjamin Stambouli seemed to have his head on another planet during the lapse that led to Freiburg's opening goal. Suat Serdar lost a ball one's grandmother could have shielded in the lead-up to the SC's third and Sead Kolasinac played like a man busy pondering curtain selections for his new apartment. Everyone was terrible, save some late gumption from substitute Mark Uth.
Prognosis: Three long weeks
As promised, the topic of Hertha's quarantine will pop up more than once in this week's column. It's a horrible situation which German football fans couldn't stop pondering throughout this weekend. As pertains to Schalke, the match postponements bring with it the added effect of prolonging this club's misery. Even though relegation remains a certainty, the relief of arithmetical confirmation will have to wait still longer.
As historically bad as this club has been, one genuinely feels the players deserve at least one chance to play a more leisurely fixture before 80 percent of the team gets broken up. Regrettably, only the knowledge that it's well and truly over can bring this. It increasingly looks like they may not even get this until the final matchday.
Gladbach-Frankfurt (3:3, 4:0)
Matters could not have been more divergent than the reverse fixture. Interestingly enough, the main point of discussion after round 12 concerned whether Adi Hütter should be fired. Now he's the most expensive Bundesliga trainer in history! One certainly wouldn't have guessed it on Saturday. His Adler looked infinitely worse than they did during the early-season slump and the early-January personnel crisis. This despite the fact that Luka Jovic provided some nice layoffs from his short-striker position and Daichi Kamada played lively and creatively.
Hütter's denials that his impending move to Gladbach had anything to do with the team's overall languid performance aren't without merit. It's a lazy analogy. That notwithstanding, the players that looked the most off-kilter remained those who had the most reason to fear that they would fall down the depth chart after his departure. Erik Durm lobbed consistently unfocused crosses nowhere near anyone in the box. Stefan Ilsanker, "Tuta", and Djibril Sow frequently appeared so scared and tentative to advance the ball. Sebastian Rode barely got a touch in.
Prognosis: A very moody diva
The SGE face few challenges in their remaining fixtures. A slate featuring Augsburg, Leverkusen, Mainz, Schalke, and Freiburg should translate to at least ten points and the historic UCL qualification. Naturally, this seems an apt point to remind everyone that we are talking about Eintracht Frankfurt here. This club specializes in coming agonizingly close to attainable goals without reaching them.
Long-time fans of this club likely feel the sting of the 1989-1995 seasons right now. A late dip isn't so implausible when one considers that three draws and one more bad loss might count as a sizable enough slip for the Hesseners to lose their grip. Hütter's choices matter in that many of his installed players do have cause for concern for their future prospects once he leaves. Yikes. Pass the antacids.
---
The Burning Questions: Round 29
---
What is it that Leipzig lacks?
The answer to this one isn't so simple as a reliable striker anymore. Julian Nagelsmann has one in the finally comfortable and adjusted Alexander Sørloth. What the young trainer doesn't have, at least if one examines his opening hand in Friday's 0-0 draw with Hoffenheim, is the league in his sights anymore. "Englischer Woche" or no, this isn't the lineup someone should be using for a round 29 encounter.
Lineup—RB Leipzig—Match 29 (3-4-3)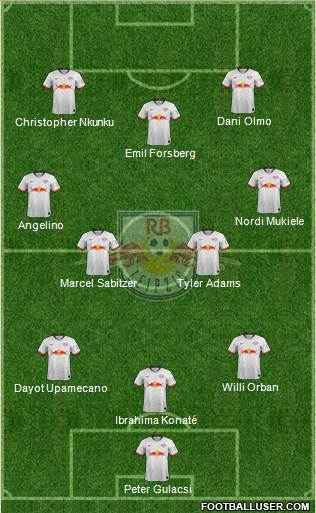 In the purpose of being as fair as possible, Nagelsman did ditch this at the half and then employed a third major tactical change before the final whistle. Some of this is covered in the match report written for this website immediately after the result. Given that the fixture featured two US internationals–Chris Richards and Tyler Admams–some more attention will be given to the shifts in the next edition of the "Americans" column.
Here, one has to note how unlikely it was that something like this would ever fall into rhythm. Christopher Nkunku is stationed on his weaker side and Dani Olmo, who has done such fantastic work as a ten recently, has to work triangles with the less aggressive wingback. An inverted pivot on the back line also doesn't make a great deal of sense against a Hoffenheim team that usually deploys at least two strikers.
One should never accuse Nagelsman of taking an opponent lightly. After all, we're discussing a trainer who essentially designs a different obstacle course for his players on the training pitch each week. The more likely scenario sees this as a constellation built specifically for a first-half sizing up. Knowing that he was facing an unpredictable Hoeneß who has been shifting tactics, the plan appears to be a forced stalemate until his opposite member's cards could be revealed.
These are also the moves of someone who knows that, as all of us do, that the title is out of sight. Even a recovering Yussuf Poulsen would have been in the XI if the were not the case. Additionally, Hee-Chan Hwang might have made an appearance late-on one it became a matter of keeping the slightest hopes for the Meisterschale alive.
Can Funkel light a spark?
The man who's name translates to some derivation of the German word for just such a thing has actually already created an off-field stir. What can one say? It was a bumbling gaffe that he brought upon himself. His relegation-threatened team certainly didn't need his thinly-veiled complaint about not having fast enough wingers of a certain pigmentation.
All in all, it's a true shame as die Geißböcke really played quite well for the second consecutive week. The 0-3 scoreline could hardly be more misleading. It actually was Moussa Diaby and Leon Bailey who struck at the right moment to overturn what should have been a different result. Funkel called it correctly until sticking the proverbial 67-year-old foot in his mouth.
Lineup—FC Köln—Match 29 (3-4-3)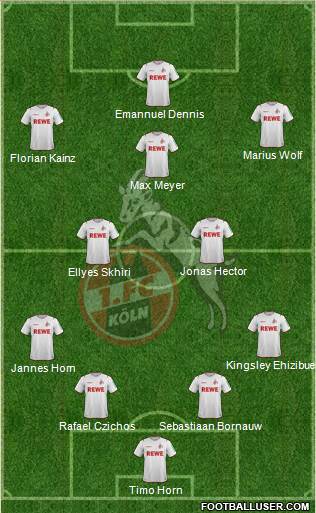 Really working well here, we had a constant flip engaged in by Jonas Hector and Ellyes Skhiri. Tempting as it was to declare them engaging in a stagger, it was really more the case that they rotated around one another like a classic pair of double-sixes. These happen to be two very talented veterans with a great ability to read the play. At times, they both remind one of Hertha's Vladimir Darida at his finest with respect to their break points. This is a tandem that won't quit. Finally reunited, they can help the club pick up points.
Working a little less well, Kingsley Ehizibue and Jannes Horn weren't able to replicate their performances from last week. It came as a big surprise to see the former in the lineup at all after he looked to suffer a concussion in the previous fixture. There also seemed no strategic reason for Horn over Noah Katterabach. Of course, Funkel may have been to worried about the losses of Sebastian Andersson and Ondrej Duda to risk moving Maris Wolf back into the defensive ranks.
As noted in the match report, the unlucky Domstädter hit the post thrice. As weak as the cathedral city side were on the flanks, they had the opportunities to negate the spellbinding work of Diaby and Bailey. Not many more opportunities are forthcoming Though it doesn't completely seem as if time and luck have run out for this crew (they still have Augsburg and Schalke on the schedule) it definitely looks as if six points won't be enough to escape relegation. These Rhinelanders remain the pick to finish 17th.
Funkel, who's name can also be translated as a derivation of the German word for "embers", doesn't have enough time to reignite the smoldering remains. One of the Bundesrepblik's more famous second-tier coaches is headed back for his familiar flight. There, he will find less focus on the occasional gaffe.
---
Weekly Tactical Focus: The future Bundestrainer
---
As distasteful as it may seem, this section must begin some short "as predicted" notes. A deliberate effort shall be made not to slip into a "we told you so". No one wishes to be obnoxious. The fact remains that the head-coaching carousel currently unfolding in German football could be foreseen as far back as September and certainly became common knowledge by early November. Marco Rose's departure Gladbach for Dortmund had long been a poorly kept secret. This weekend's bombshell announcement kick starts a separate, but not unrelated, domino effect.
As soon as Hansi Flick completed the treble with Bayern and began to express dissatisfaction with Hasan Salihamdzic's summer 2020 transfer class, it became apparent that he'd look to jump ship. By late January it seemed a virtual certainty. Flick sent out signals; not-so-subtle dog whistles that anyone could divine as signs that he stood unhappy in his position. When a coach speaks of his "contractual obligations" with such resigned body language, it counts as the easily interpretable equivalent of the layman's "I dunno, I just work here."
Few bought into Karl-Heinz Rummenigge's hubristic rhetorics. In point of fact, his statements were among some of the most foolish in the FCB executive's long and storied career. His arrogant assertions that "The DFB shouldn't dare plan with Hansi Flick" shocked many of us. Rummenigge may have grown accustomed to his words carrying gravitas, but few assumed that he could be so brash as to set himself up for a fall so easily. He couldn't possibly be so shallowly shortsighted. And yet, he was. Despite everything flowing in an obvious direction, the 65-year-old thought he could reverse the course of a river with his tongue.
Why is this worth a mention in the introduction to our tactics segment? Because we have more predictions. The Bayern administrators will not allow this defeat to stand. The pride of the German giants now absolutely necessitates a full-court front-office press to pry Julian Nagelsmann away from Leipzig. It must be done. There will be denials, ugly insinuations, and a exorbitant transfer fee to close the deal. In the end, it shall be done as it must be done. The German Red Bulls won't take kindly to the steal either. As a result, they'll very likely reach into their own lateral corporate ranks a pull Jesse Marsch from RB Salzburg.
A final prediction concerns Germany's next Bundestrainer. By now, it should be assumed that it will be Hans Dieter Flick. The 56-year-old can surely be believed when he says that there has been no contact with the DFB yet. Germany's FA will wisely bide their time, allowing the FCB head-coach to recover from the burnout afflicting him after 18 months in the country's highest-stress footballing position. After a few weeks, they'll rope their former long-time employee into an appointment in which he'll only experience such pressure every two years. It's an easy sell to someone who obviously wants the job.
Given that this next string of events appears so straightforward, it proves an apt time to accord Flick the "tactical focus" space. To be sure, there were fixtures of greater tactical interest this weekend. Moreover, everyone knows that Flick's historic success stems from his "hands-off style" that enables the players to effectively coach themselves. We've covered this so many times this season; most recently just a couple of short weeks ago. While it may seem as if nothing can be said about the Bayern 4-2-3-1, a novel point or two nevertheless deserves a mention in light of this weekend's big news.
Lineup—Bayern München—Match 29 (4-2-3-1)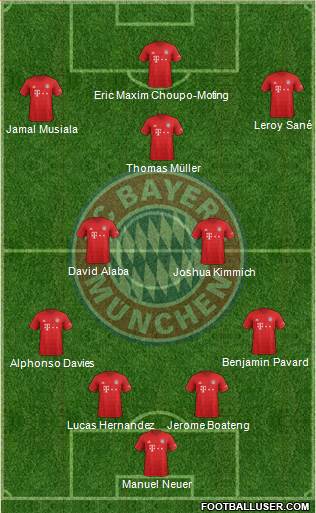 Indestructible depth in a simple system
No Robert Lewandowski, Kingsley Coman, Serge Gnabry, and Leon Goretzka? No problem. Joshua Kimmich remains versatile enough to work in tandem with just about anyone, just as sure as Thomas Müller can cut either way on a run toward the touchline and pull balls back to four or five potential trailing actors. Müller sealed the league with such a move two weeks ago. He also created numerous chances in both ill-fated PSG ties, where luck simply didn't swing Bayern's way.
The other point, again patently obvious while at the same time counting as a properly executed solution, concerns spreading the wingers out in the widest possible deployment. Of course. One needn't be a "shape-obsessed" football observer to realize that stretching the flanks gives pacey wingers the opportunity to cut inside fast and curl efforts with their favored foot. Duh. All Flick did dust off the old Arjen Robben playbook. Anyone who ever watched a match involving the Dutch legend sees parallels in how the wingers work under Flick's command.
Glasner's 4-2-3-1: Suddenly defensively vulnerable
Stretching from late January through the entire month of February, the most impressive streak of eight consecutive clean sheets (accomplished with seven identical starting XIs) stands as the reason Germany's green company team looks set for UCL qualification next year. One must take this in the context of the opponents faced, however. At the time, Bayer Leverkusen and Borussia Mönchengladbach were deemed worthy opponents.
With the inherent weaknesses of these two teams exposed, it longer appears as if die Wölfe boast the league's best defense. No other factor can account for the seven goals conceded in the last two games. As we'll discuss below, Maximilian Arnold's absence in this one did affect the constellation slightly.
Lineup—VfL Wolfsburg—Match 29 (4-2-3-1)
Two unsuccessful mimics
There are deviations from Glasner's normal matchday strategies. Yannick Gerhardt moves back to defensive midfield whilst Xaver Schlager shifts left. After a great deal of concentration, no noticeable stagger between the two fourth axis players could be observed. Schlager and Gerhardt worked a horizontal line spaced unusually far apart. The fullbacks rarely found room to work overlaps. Something seemed intentional about this.
It's thus reasonable to deduce an attempted mirror. Even with Arnold in the lineup, Maximilian Philipp might have gotten the nod in the ten-spot. He represented the better actor to shadow Müller. A wide fourth axis sought to match Bayern's high-pressing midfield and generate early turnovers. That remains the go-to strategy against Flick's Bayern, even if it guarantees nothing more than an ultimately ineffective early lead.
Defensive howlers
We're covering this particular fixture partly because of Flick, but also because it happened to be just plain fun. Before getting to the action unfolding on the pitch, one should note that the WOB came much closer than one might expect to making this work. Glasner's men won the xG battle 1.6 to 1.0. A steely resolve to keep trying creative charges deep into the match nearly saw them come back from a 1-3 deficit to steal a point.
Those who missed the match should know that the real difference on this day came down to poor performances in the VfL defensive ranks. Keeper Koen Casteels made two major errors. Maxence Lacroix remained on the level, but John Anthony Brooks, Paulo Otavio, and Kevin Mbabu committed too many mistakes.
Such talented players certainly deserve their chalk-off "off-day" mulligans. The point elucidated above nevertheless stands. One can't purport to have the league's best defensive unit if botches and ball-watching take place with such regularity against higher caliber opponents. For all its other issues, league watchers should probably consider Leipzig the Bundesliga's best unit at this juncture.
Match Flow: 1st to 15th minute
Individual battles proved the most interesting over the course of the initial four minutes. Surely noticing that a young Jamal Musiala and a less practiced Alphonso Davies constituted their best bet for offensive penetration, Mbabu and Ridle Baku attempted to work their way down the Bayern left. Both WOB players looked out of sync on initial heavy touches. Alaba slid over to cancel out their attempts at give-and-gos on the Wolfsburg right. Choupo-Moting recorded the first shot on-target in the 4th.
Baku spurned a gilt-edged chance less than a minute later. Philipp set the oft-lauded German international perfectly after a very poor midfield giveaway from Benjamin Pavard. Manuel Neuer still had to be on hand to make a strong save, but it marked the beginning of an uncharacteristically poor day from Baku. Glasner's midfield smother worked well enough to force Bayern in five throw-ins from their left touchline between the 6th and 11th. Bayern could only manage long balls in Müller's direction as a means of trying to open things up.
As we approached the quarter-of-an-hour mark, it indeed appears as if the hosting Lower Saxons had the answers. Schlager showed no signs of weakness on his new side. The midfielder stepped forward for great fulcrum tackles in the 13th and 14th. Moments after a failed run, however, Musiala razzled and dazzled out of nowhere. The 18-year-old executed a beautiful fleet-footed dribble on the second effort, beating Gerhardt, Mbab, and Lacroix before bulging the net behind a poorly positioned Casteels. Bayern nabbed the lead at the 15th-minute mark.
Match Flow: 15th to 24th minute
The green-clad VWers hastily strove to cobble together a response; perhaps a little too hastily as Bayern caught them offside on the next major press. Baku fluffed his touch again in the 17th. He clearly wasn't at his best. Flick's Bavarians eventually wrestled back control for a series of optically nice possession spells between the 20th and 23rd. The back-four took their time with full lateral passing spreads to calm things down and establish the tone.
By contrast, when Glasner's forces looked choppy marshaling their only attack back the other way during this stretch. Wout Weghorst found himself with the ball at the end of the drive, slanted right ahead of double marking from Alaba and Jerome Boateng. His smash, hopeful to say the least, was easily blocked. Alaba caught up with the ensuing counter and struck a medium pace effort towards goal that Casteels dropped straight onto Choupo-Moting's feet.
Bayern's second-string striker made no mistake with this gift. Bayern went up 2-0 in the 24th on two highly questionable plays from the VfL net-minder. This second will qualify for many an end-of-the-season blooper reel. Brooks looked just as bad allowing the shot through his flailing legs. One had the sense that the encounter might be decided rapidly.
Match Flow: 24th to 35th minute
It honestly took a significant amount of time for Wolfsburg to regain their composure. Brooks and Lacroix both looked rattled. The former couldn't focus on a back-build at all the 27th. Lacroix recovered in time to perform a vital tackle away from Sané in the 28th while Brooks could only clip the streaking Sané on this heel after the Bayern attacker blew past him a minute later. Gregg Berhalter's starting USMNT center back was very lucky not to get sent off on a straight red.
Sané continued to be the most active player on the Bavarian side. Paulo Otavio bumped him off the ball in the 30th, but the German international did well to win back and glide past him. A sparkling piece of individual flair from Sané concluded with a curled 31st-minute finish that counted as a wasted opportunity. Sané ran a 4-on-3 breakaway two minutes later, this time furnishing an even worse finish when he should have passed to a wide-open Choupo-Moting.
One could argue that Sané frittered away two chances to put the game to bed. This writer finds no fault with the 25-year-old having some conceivably selfish gos. There existed plenty of skill and desire on display; facets decidedly worth laying on the table given the fixture's scoreline. Weghorst pulled a goal back in the 35th out of nothing. Again it was Schlager with the quick midfield ball win. The Dutch striker's perfectly curled ground finish was inch-perfect. Neuer stood no chance.
Match Flow: 35th minute to half-time
The match's next goal similarly came from nothing. The two sides swapped broken plays for a couple of minutes as it seemed fairly certain that we wouldn't get another tally before the break. Then Pavard put Müller forward with a simple vertical in the 37th. Bayern's team talisman fired off a ferocious cross after making one his trademark scorching sprints toward the goal-line. It was definitely a fine top-spinning aerial cutback, but chances that someone could prove equal to it remained remote.
Unbeknownst to those of us caught watching Müller, Musiala had his eyes focused on it all the way. The teenage phenom broke back at precisely the right time, fading away with impeccable timing to direct the finish with just the right amount of pace. While it may not have been the most glorious headed goal of the season, the fact that an 18-year-old possesses that sort of know-how never ceases to amaze. Truly humbling stuff for any lifelong football lover.
Bayern did their part to turn the screws in the final seven minutes of the half. Sané kept trying; nearly punching clear through after a clever hold up in the 43rd. Wolfsburg played like a team desperate to get into the tunnel. The Wolves moved very slowly to set up a corner at 45+1, milking the clock to ensure it would be the last play of the half. Gerhardt ended up sending a beautiful bowing arc into the box. Brooks demonstrated again that he wasn't fully into the game with a mistimed finish just wide.
Match Flow: 46th to 60th minute
Brooks traveled some ways down the redemption path with some strong play after emerging from the tunnel. The American central defender initiated two attacks well in the 46th and 47th before beating Müller to the ball in a fierce race in the 48th. Schlager remained on top of his game with a great midfield win in the 49th, this time sending Brooks around Müller again. Flick's FCB knocked the tempo down a notch once they were able to regain possession roughly four minutes after the restart.
Unfortunately for J.A. Brooks fans, a botched clearance in the 51st nearly led to the fourth Bayern goal. Müller pounced and rifled off a venomous shot. Musiala had the hat-trick on his boot when he collected the rebound, but Lacroix was on hand to clear off the line. Baku and Mbabu tried to get their team started back the other way in the next three minutes. Lucas Hernandez took advantage of the fact that the two ordinarily potent partners couldn't get on the same page and shut them down.
On the sidelines, one could see that Glasner was prepared to get one of them off. Josip Brekalo quickly rushed to check in. Before he could do so, the trailing hosts actually put together a fabulous team goal. Schlager switched deftly for Otavio and Philipp made a very difficult finish look easy once the Brazilian fullback crossed in for him. Philipp laced a low hop off the turf in first-time from close range to pull the Wolves within one goal.
The personnel change took place before the celebrations died down. Off went Baku. It truly was a horrible day for the youngster Germans remain most excited about. Josip Brekalo came on in Baku's place. Otavio moved up and swapped flanks to take over on the right. The tired question of when and if Glasner would try for a late-match 4-4-2 re-format surely cropped up in more minds than this one.
We got our answer when the second substitution came at the hour-mark. Jerome Roussillon took over for Joao Victor. Glasner was merely moving a few pieces around whilst staying in the 4-2-3-1. Victor, working behind Brekalo on a stacked left, expended his last bit of energy on a solid tear during his final play on the pitch.
Match Flow: 60th to 78th minute
Surprisingly enough, it was Mr. "hands-off" Flick who reshuffled to a 4-4-2 first. Generally speaking, when the 4-2-3-1 reorders itself later on in a match, Flick isn't interfering. This time one definitely witnessed his hand. Two fresh-legged subs livened up Wolfsburg on the flanks. For the first time all game, Glasner's men began to look threatening on the overlap. Unmistakably, the FCB trainer ordered this.
Lineup—Bayern München—64th minute (4-4-2)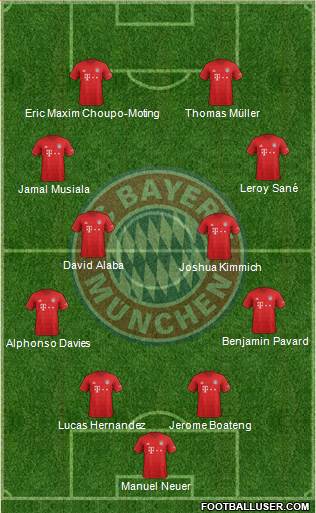 Two smartly curled balls in for Worst between the 60th and 64th put Bayern on the edge of a wobble. In terms of the attack, Brooks found it far too easy to clean up the upfield balls. The Bavarians needed another presence up front. Furthermore, the wingers needed to drop back and scoot in to defend better. Flick beat Glasner to the punch. This was very smart. He reformatted to what was coming before using any of his own subs.
In a total coincidence, camera panned to shots of Karl-Heinz Rummenigge and Hasan Salihamidzic looking uncomfortable in the bleachers at this point. They obviously looked uncomfortable as their head-coach gave them notice before the game. Life nevertheless remains full of such perfect incidentals. There could be no better moment to capture the faces of these two than the precise moment their departing gaffer made the game-winning tactical shift.
Weghorst and Philipp were forced back by this. Both actors put in some fine defensive work in the 66th as Bayern recaptured the forward impetus. Brooks got caught on a walkabout in the 68th and Casteels kept his team in the match only via a heroic acrobatic save on Davies. Brooks headed the ensuing corner clear, but once again got caught out on the Bayern push back in. He fouled Alaba badly, miraculous escaping a booking for the second time.
The Lower Saxons couldn't regain the upper hand for obvious reasons. Brekalo had difficulty breaking through on the left as the 4-4-2 provided layers of protection. A good run and switch by Roussillon led to nothing as Mbabu found himself completely out of gas. Coman replaced Musiala in the 73rd and a Bayern swell followed. Lacroix had to fight off three charges between the 75th and 77th.
Match Flow: 78th minute to full-time
Finally, in the 78th, Bartosz Bialek came on in the 78th and those of us hopelessly obsessed with the geometry of football got our long-awaited 4-4-2.
Lineup—VfL Wolfsburg—79th minute (4-4-2)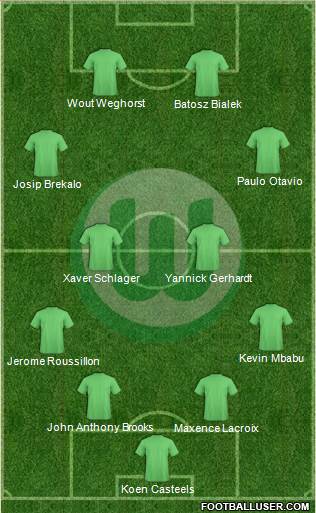 The best chance this produced came in the 84th when Roussillon tore through and failed to spot Bialek in a wide-open position to his right. The French fullback skied over instead. Weghorst saw a few half chances in the final twelve minutes of the match, though this final spurt was prone to a lot of time wasting and some, understandable, exhaustion on behalf of the players who contested this match.
The most telling moment of this last passage came at 90+2. Boateng appeared lion-hearted in pursuit of a second ball. When the departing defender put his body on the line and spilled himself on the deck, a still-pumped up Kimmich slapped him on the cheeks and (courtesy of some amateur lip-reading) commended him for showing such intractable spirit.
That seemed a fitting note to wrap up on as it illustrated what a good job Flick has done with this team. The 56-year-old is content to mostly let them coach themselves, only rarely inserting himself into proceedings tactically when he spots a simple incursion. Flick is a motivator more than a tactician. Bayern's tactics are nothing more than a carbon-copy of the middle years of the Jogi Löw era.
He backs veterans whom others have brushed aside, like Müller and Boateng, no matter what his bosses think of the matter. As a result, they play their hearts out for him. Perhaps most importantly, he's not afraid to speak the truth when it comes to how he measures his squad. Newcomers, no matter how expensive, must earn his trust.
With all of that in mind, one can look forward to the next era of the German national team. The predictions brought up at the beginning of this segment were solely meant to underscore the confidence we have in this one. Flick will take over the Nationalmannschaft. Good. There should be better days ahead under a better coach. That's a confident prediction as well.
One more group-stage elimination under Löw during this summer's Euros, assuming we get to play the Euros, and we should be back to where Löw was before he lost his way. It'll be nice to see Müller and Boateng back with the national team again.
---
Concluding Thoughts: "Nur nach Hause"
---
We arrive at the most uncomfortable Hertha situation to close things out. The closing anthem sung by every fan of the capital city club, or those just visiting the Olympiastadion from time to time, is known as "Nur nach Hause" (perhaps best translated as "Now we go home"). Somehow this last-call bar kick-out song ("Closing time" by semi-sonic would be the equivalent for American readers) gained traction at "die alte Dame" decades ago. They end every home match with it.
This German football lover couldn't get the bleeding song out of his head all weekend. A German Bundesliga club finds itself in full quarantine for 14 days. The entire team and staff have gone home, where they will stay for the next two weeks. "Nur nach Hause, nur nach Hause, nur nach Hause". It wouldn't stop. This is most unfortunate for the country that led the sporting path out of lockdown some 11 months ago. Now we're an awful example of what happens when one loses focus just short of the goal-line.
No matter how many vows and promises are made, there's an even harsher truth to be reckoned with. The timing of this leaves the conclusion of the season on a precarious tightrope. All it will take is one more large-scale contagion event to tip it over. If another team reports four or more positive cases, there should really be no more arguments. Some things remain more important that football. If the season or the Euros must be delayed further, then so be it.
Hopefully, the case serves to remind that we do face a multi-year public health challenge. It's certainly not as grave as it has been or could be. It nevertheless remains present. One doesn't get to pick and choose when one is "done" with something; not even when science has an answer for it. Things like a virus don't respond to our personal wishes to be "finished with it". The case of Rune Jarstein shows that we still play with something seriously vile. To play at all is a privilege. Privileges aren't to be toyed with.
Thanks so much for reading! As a reminder, you can now share your own views with Peter on his new twitter profile. @ViceytheSS