With the season's set of tactical column's all wrapped up on the host site, the full-color re-post journey continues over on the profile website. The first-ever version of the nascent version of the top-tier "Berliner Derby" to take place before full stands at the Olympiastion undisputedly went off a cliff. With all the fond things that we could recall from it, the Hertha youth being forced to lay their tricots before the ultras remains most likely to stick out in the mind.
Of course, one can always choose to remember what happened at the other end of the gorgeous Berlin Olympiastadion instead. Some lament that we might not be able to enjoy this majestic venue next year. Duh. Wrong. Even if Hertha gets relegated, Union will be playing Europa league fixtures there next year.
We won't be missing this at all!
---
Bundesliga Tactical Banter: Round 29
---
Thoughts on fans and players
We'll lead with Wolfsburg-Bielefeld as a means of getting to the weekend's larger point. First, we have to shift gears a bit here and praise VfL trainer Florian Kohfeldt for getting his tactics spot-on ahead of the critical relegation six-pointer against Bielefeld. Shockingly enough, Kohfeldt's personnel changes played a direct role in the monumentally important victory. Ridle Baku and Yannick Gerhardt on the flanks. Renato Steffen out of the squad entirely. All the right moves from the frequent recipient of this column's ire.
Wolfsburg-Bielefeld also featured another gruesome head-injury involving a DSC player. One week removed from the horribly depressing mid-air collision  that likely ended Fabian Klos' Bielefeld career, all of us had to hold our breath whilst Cedric Brunner was carted off. Checking up on Bielefeld's website and social media feeds likely occupied many German football lovers over the course of Saturday evening. This obviously being a big weekend to discuss the relationship between fans and players, we're getting to something of an understated point.
We'll discuss all the finer points of the Berliner derby in the "focus section" below. In this opening section, the question as to whether the Hertha ultras went too far in dressing down their players after the defeat must be addressed. Admittedly, the fact that the supporters used scare-tactics to intimidate young players such as Marcel Lotka, Marton Dardai, and Linus Gechter truly is disturbing. These hard-working young men did nothing to deserve a horrendous lifelong memory of fear and intimidation before the Ostkurve. It's totally sick when one thinks of it that way.
Hopefully, a very real aspect of footballing fandom doesn't get lost in all of the outrage. Namely, that the vast majority of club supporters in Germany care deeply about the players. One year ago, when writing the 2020/21 column for this very round, the writer offered up words on how Hertha being sent into quarantine essentially ruined every German football fanatic's weekend. The concluding editorial section was dedicated to all the Hertha players.
Some may label it lip service, but German football supporters do indeed keep the players (particularly the younger ones) in mind whenever their team suffers a demoralizing defeat. The frequent miscasting of fans who support their team unconditionally got turbocharged as everyone lambasted zealous ultras who got it in their head to demand they player's kow-tow before them. The columnist can assure the reader that most Hertha loyalists were mortified by the display, as were most Bundesliga enthusiasts.
The trouble is, as usual, that many of the German editorial pages are already getting it wrong. In chastising the Hertha fans (easy enough after they stormed the training pitch earlier this year), the footballing punditry of the Bundesrepublik wants to censure the fans for "wanting to act like they own the club." Er…excuse the columnist for pointing out that that's kind of precisely the problem. They do own a club; one that's been horribly administered by a succession of incompetent executives and a wealthy investor's fever dream.
Big city ambitions. Big city rage. A shame that it had to be taken out on the young ones who had nothing to do with any of it. It's a totally unfair burden for the likes of Lotka, Dardai, Gechter, and even Maximilian Mittelstädt to shoulder. Honestly, Bobic and Lars Windhorst should be the ones taking off the white collars. More on that in the concluding section. For now, we'll move on. Best wishes to Bielefeld's Cedric Brunner, whom we're all thinking of.
"Just enough" Gladbach
One wonders if this semi-catchy phrase has any chance of catching on. The foals have a tendency for phoning it in after the day's goal had been accomplished. This came back to bite them last week against Mainz, whereas there were no major consequences in this weekend's visit to lowly SpVgg Greuther Fürth. Perhaps it wouldn't have grated so much if the penalty that enabled Alassane Plea to seal the 2-0 lead wasn't such a horrible call. We got bad officiating, followed by lazy football.
Bundesliga devotees are very much in the mood to get interested in Gladbach again. In general, however, it seems like the quest of this club to find its post Marco Rose identity has dragged on too long. New BMG sporting director Roland Virkus is set to outline his vision for the future in an interview scheduled to appear in the Monday print edition of German footballing magazine Kicker. Those who hit the newsstands on Monday morning better not be in for promises that attackers like Plea, Marcus Thuram, and Breel Embolo are set to stay. Evidence on the pitch strongly suggests otherwise.
"Not enough" Leverkusen
Well. So much for Patrik Schick's re-introduction. A bland 0-0 draw on the Castropher Straße for Gerardo Seoane's Werkself. A presumably serviceable enough 4-2-3-1 got directly matched by a man-to-man construct draw up by Bochum trainer Thomas Reis. That isn't to suggest that Sunday's early kickoff was totally boring. On the contrary, defending aficionados got the chance to see a number of well-executed plays. A slight pity that the league as a whole missed out on a better advertisement.
Moussa Diaby's weird double contact slip from the spot almost constituted a poor advertisement for football in general. We have some strange rules for strange situations. While the draw does its bit for making the race for the top-four more interesting, Leverkusen continues its "Diaby-style slide" out of the sphere of German footballing interest. As is the case with Gladbach, we'd like to maintain more regular interest in Germany's red company team. They nevertheless tend to fade into the background with performances like this.
---
The "Spiegel Specials": Round 29
---
Bayern-Augsburg (1:2, 1:0)
A successful flip for Julian Nagelsmann's side against their Bavarian rivals. The razor-thin margin-of-victory naturally begs the question as to whether high-flying Augsburg played above their level or if it was more of a case of the German giants tripping over their own feet. Though there was some luck involved early-on, the answer tends toward the latter.
Not much of a prep package from Nagelsmann on this day.
Lineup—Bayern München—Match 29 (4-2-3-1)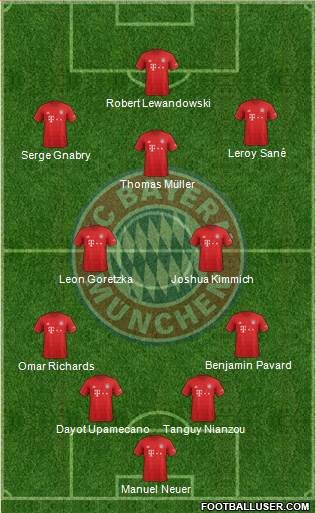 Generally laborious and clunky play from the FCB XI. The high-press proved functional enough, but there was still a noticeable lack of collective forward thrust on much of the charges. Some of the squad posture from the Villareal defeat carried over. Oftentimes, players simply didn't follow the lead of their colleagues when breakaway opportunities presented themselves.
We're suddenly dusting off some old talking points from earlier in the season again. Is Leroy Sané struggling with his confidence? Can Leon Goretzka and Joshua Kimmich rekindle their rhytmr after so much time apart? Is this defensive corps nothing more than a cheap imitation of the much better assemblage present in both the 2019/20 and 2020/21 campaigns?
We'll attempt to diagnose.
No staggering
This comparatively rigid 4-2-3-1 reminded one a bit of Hansi Flick's self-coached constellation. Had it been put forth by any coach other than Nagelsmann, we wouldn't be asking ourselves if it smacked of laziness. The high tactical standards accompanying the young trainer bring such a query with them. In most every other case, a "let them play" approach is lauded. When Nagelsmann employs it, however, the question pops up.
A little more nuance could have gone a long way. Uninventive strict axial chains enabled the opponent to easily stand compact. Niklas Dorsch and Arne Maier (the Germany U21 midfield duo) won far too many duels against senior team counterparts Goretzka and Kimmich. Benjamin Pavard and Omar Richards had trouble working over the wings on a stale press. Sané and Serge Gnabry barely rotated.
It's almost as if Nagelsmann–not wanting to tip his hand ahead of Villareal–instructed the players to save their better moves for the next fixture as well. One felt the tension amid the FCB ranks. Thoughts tended toward steps beyond the present. This was apparent in the individual moves too. Eyes glanced horizontal rather than forward on a great many touches.
Coordination problems at the back
To be expected. Dayot Upamecano's suspect season continues. The Frenchman unquestionably isn't the first choice of his old Leipzig trainer anymore. Tanguy Nianzou plays only when Lucas Hernandez isn't fit. What game Alphonso Davies retains at this point belongs in the Champions' League. The offense sputtered on builds out of the back. FCA wingers Daniel Caligiuri and Ruben Vargas snuck past the ranks early.
Nianzou–despite some robust recent performances–ended up being the weakest link this time. Central defensive partner Upamecano had to bail him out twice early following stray passes. In his fifth start of the campaign, Omar Richards left a lot to be desired. The youngster never really got much going on his side and frequently overcommitted himself on rushes of dubious quality.
Overall, pretty poor stuff from the back-ups.
Eventual improved ball circulation
Nagelsmann went for a straight like-for-like sub at the break. Musiala replaced Gnabry on the flank while Goretzka and Kimmich remained in their double-six partnership. This yielded immediate results. The squad on the whole also settled into a cleaner and faster rhythm. Play improved after the first change. Bayern were basically looking like their usual selves by the time Davies and Marcel Sabitzer entered for Richards and Goretzka in the 57th.
Play improved still more following that double change. Further enhancement accompanied Kingsley Coman's entry for Sané ten minutes later. By the time we entered the stretch run, the FCB's play reached the level Germans label "ganz okay". There appeared little doubt that the team would dig a goal out from somewhere. In the end, Nagelsmann's charges secured a deserved victory.
Prognosis: Yes on Europe
On-the-nose analysis from the club trainer in his post-match comments. The columnist couldn't have put it better himself. A redoubling of efforts is neither desired nor required. Approximately "60-70 percent" more effort shall suffice. German football lovers grossly disappointed with the performance of their representatives in the European club competitions this year needn't add another layer of concern ahead of the Villareal clash.
This team can get it done. Nagelsmann surely has some of his previous staggers up his sleeve ahead of Tuesday's match. He's also not the type of coach to shy away from benching either Sané or Goretzka should he feel as if recent form leaves either the suboptimal choice. Although it may be nothing more than a pre-conditioned hunch, this columnist even envisions an offensive explosion under the "Daoheim Flags" midweek.
Multiple performers stand overdue for a big game. Essential tactics and set-piece-designs remain couched in preparation for the prioritized showdown. Germany's lone UCL representatives roll on. We all then proceed to forget the discussions of the past week. Perhaps some early nerviness from the home side on Tuesday. That's all. Floodgates get swung open after twenty minutes.
Köln-Mainz (1:1, 3:2)
Definitely not the inelegant "Carnival City Carnage" we saw in round 12. That's one pleasant surprise. Another involves the re-awakening of the lumbering Kölner attack we've been grumbling about for weeks. In the interest of accuracy, however, one must concur with head-coach Steffen Baumgart's statement about the Geißböcke having Lady Luck on their side. Good of him to remain humble after this weird and wonderful match.
Though Bo Svensson's Pfälzer certainly lost focus after Baumgart's triple substitution in the 58th, it wasn't a tactical masterclass that secured this comeback victory. Skhiri's finish in the 60th required some skill, but it came off a likely blind redirection from Anthony Modeste. Mark Uth's assist on Dejan Ljubicic's equalizer only happened after his own ball loss freakishly got redirected back at him.
Loved the tenacity with which Luca Kilian attacked the rebound on the 82nd minute match-winner. Some luck involved. Karmically speaking, it remains even-steven for the loaned-out center back. Kilian found himself most unlucky in deflecting in Jonathan Burkardt's opening goal. One of Baumgart's favorite projects certainly deserved it.
Prognosis: No on Europe
One can always rely upon Baumgart to give it to the footballing public straight. After the win, his sober assessment that "good football looks different" fit perfectly. It's been oodles of fun watching the head-coach his players recently affectionately dubbed (and this is true) "peg-leg" bring some passion and identity back to the cathedral city club.
The gruff pirate's leadership likely still proves insufficient to lead this team to a top-six finish. Die Geißböcke remain a brute force side capable of the occasional brute force win. They accomplished that on Saturday, much to our delight. A lack of elegance in an already overachieving striking corps will nevertheless pull them back down over the final five rounds.
Really like the "peg-leg" nickname, by the way. This calls for some additional accessories. Baumgart needs an eye-patch, a jolly-roger hat, and a parrot to sit upon his shoulder. Once the look is completed, FC St. Pauli needs to fork over some cash to place him in charge of their team.
---
The Burning Questions: Round 29
---
Did Oliver Glasner finally rotate?
No, not really. Sorry, tactics fans. Nothing to see here. Daichi Kamada and Djibril Sow (initially) got the day off, but Sebastian Rode and Jens Petter Hauge simply served as straight-arrow plug-ins amid the same song and dance. The SGE trainer remains just that stubborn. Tight axial chains, interestingly mimicked by a pair of fans who disrupted proceedings early by chaining themselves to the goalposts. Not quite sure what they wanted yet, though environmental activism has been speculated.
Anyway, we'll all just have to deal with Glasner's decision in order to throw our full support behind the Adler ahead of their trip to the Camp Nou on Thursday. Glasner hath spoken. No major alterations to his squad before the big match. We might find ourselves praising him after Filip Kostic ended a long goal scoring drought. Sow and Kamada played well off the bench. Jesper Lindstrøm also upped his form. A lot of important pieces click into place.
Christian Streich still gets the draw up.
Lineup—SC Freiburg—Match 29 (4-4-1-1)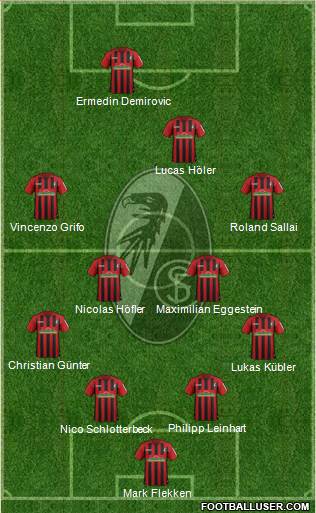 Clever. Obviously a little reserved and built for the counter. It still worked. Vincenzo Grifo and Roland Sallai really did well on the quick transitional charges. The former scored the opening goal off a very well executed counter in the 27th. Though it proved a mite frustrating to watch the Breisgauer sit so deep at times, the link-ups looked well drilled when they did get a chance.
Lucas Höler's rebirth as a service striker continues to yield overall solid results. When that fails, there's always German football's greatest ever "Super Sub" to turn to off the bench. Damned if Nils Petersen didn't deliver again this week. No matter how boring a Freiburg match can seem at times, the potential for a late stunner always exists.
Great news for the European prospects of the Swiss-border-straddlers.
How did Hoeneß handle his personnel shortage?
An intriguing question for the TSG 1899 Hoffenheim trainer entering the weekend. Unfortunately for Freiburg's northern neighbors, European prospects dim significantly after their third straight defeat. Pavel Kaderabek got the go on his unnatural side in order to plug the left. That's only the beginning of what's wrong with this constellation.
Lineup—TSG Hoffenheim—Match 29 (3-4-3)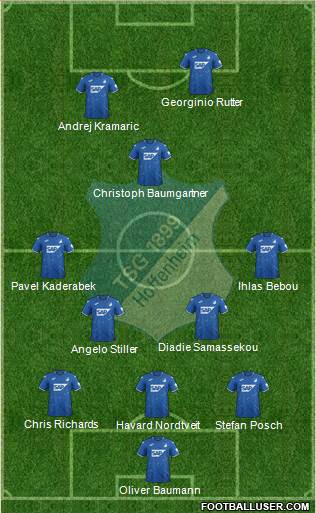 Ahem. When will football trainers learn that the type of "stepping-stone" attack patterns one sees at the top never work? The opponent can always sort out the stagger of the trio up front. Interventions come easily. That's precisely what transpired during the opening phase of Sunday's match away at Leipzig. Kevin Kampl and Konrad Laimer ate up the attackers before the ball could get to them.
A marking error from Kaderabek–clearly confused on his set-piece slants–allowed the Saxons to go ahead in the 5th minute. Sensing that the Sinsheimers had no real plan of attack, Leipzig could easily sit back and the ball run about the Kraichgauer ranks thereafter. Kaderabek was clearly rattled. Ihlas Behbou lay stationed far too deep to affect the play.
The compact nature of the five rearward players led only to confused builds. With a flukish deflection to help them, the German Red Bulls had capitalized on one of many counters by the 20th. More tactful retreats from Domenico Tedesco's RB allowed these Neckarstädter to make discombobulated fools out of themselves until Christopher Nkunku and Dominik Szoboszlai engineered the back-breaker goal in the 44th.
Hoffenheim now hold onto sixth place only by goal differential thanks to crucial catch up work from Köln and Union this round. Thirteen wins and eleven losses for the Hoeneß nephew in his sophomore season. The TSG trainer proves a wise-fool indeed. "Feast or famine" could come come back to haunt him in a tough concluding stretch that features Freiburg, Frankfurt, and Leverkusen.
Did Stuttgart really just do it again?
Oh yes. This young team's previously highlighted inability to finish continues to sting. As cliched as it is to lambast a team for its lack of precision in the final third, that's precisely what we're seeing from this loosely cemented collection of young cobblestones. A front three consisting of Tiago Tomas, Omar Marmoush, and Chris Führich may have brought with it a slight speed advantage on the counter. It nevertheless didn't bring with it enough experience to put the ball in the back of the net.
Hits off the crossbar (Pascal Stenzel and Borna Sosa) don't count. Complete wastes of free headers (Konstantinos Mavropanos) can't be tolerated at this level. Hesitant cuts that make a Dortmund defender such as Dan-Axel Zagadou appear a world-class marker (Marmoush, Führich, Tomas, and Roberto Massimo all failed against him) raise serious doubts about whether this team belongs in the league. The Swabians couldn't prevail against a depleted Dortmund side that lost three players (Gio Reyna, Axel Witsel, and Mats Hummels) to injury over the course of the game.
Not good enough.
How about some xG?
xG Stuttgart–1.8, xG Dortmund–1.7
Former Stuttgart keeper Gregor Kobel played some role in this. The backstop deemed worthy of a snap-up by the Bundesliga's second-wealthiest team turned in a highly influential performance against his former club. Upon deeper examination, however, even some of Kobel's stronger saves can be traced back to purely poor decision-making from VfB actors. Chances not ripe for the taking were not plucked, if the reader can pardon another unavoidable cliché.
With Mainz, Hertha, Wolfsburg, Bayern, and Köln left on the docket before the season closes, concern for this club should be greater than perhaps more than any of the other relegation candidates. A flawless first-touch in goal-scoring-situations isn't set to materialize out of thin air for these players. We might be discussing similar trends (and trotting out more clichés) in the weeks to come. Be prepared to encounter "the lack of a killer instinct in front of goal" and similar constructs.
---
Weekly Tactical Focus: Disaster and Dialogue
---
Lord, do we have some wacky tactics for you this week. Back when we were discussing the reverse fixture in an extended section in round 12, the central talking point revolved around how Urs Fischer's team (one of identity) easily trumped Pal Dardai's fumbling attempts to form a core out of the reduced options Fredi Bobic left him. Right. Five months, two trainers, and two derby losses later we're basically discussing the same thing. "Die alte Dame" serves as the ultimate "Talleyrand Club". The more things change, the more they ultimately stay the same.
Dardai, Tayfun Korkut, and now Felix Magath have all inexplicably turned away from what incipient promise this team offers at times. Again and again, the same pattern repeats. The simple solution of inserting the clear talents this squad has into the starting XI gets jettisoned. It's akin to watching a movie put together by a director obsessed with challenging the audience's expectations. Something workable can be pieced together. Instead, an unnecessarily large cast of characters is introduced. It being impossible to follow/care about all of them, we're left with a crap movie.
So many parallels between the round 12 fixture and this one. Three major tactical shifts from the Hertha gaffer. A brief spurt from the West Berlin side quickly overruled by the patient and comprehensible game-plan of the Köpenickers. Total systemic failure from the Charlottenburgers in addressing the rather obvious strengths of Fisher's 3-5-2 both up front and over the wing. Sigh. Even this column's favorite stat finds almost identical replication.
The final xG of that match?
xG Union–2.4, xG Hertha–0.3
The final xG of this match?
xG Union–2.3, xG Hertha–0.7
Hello. We're back in a familiar place.
As the look at Fischer's tactics demonstrates, familiarity can have positive connotations.
Lineup—Union Berlin—Match 29 (3-5-2)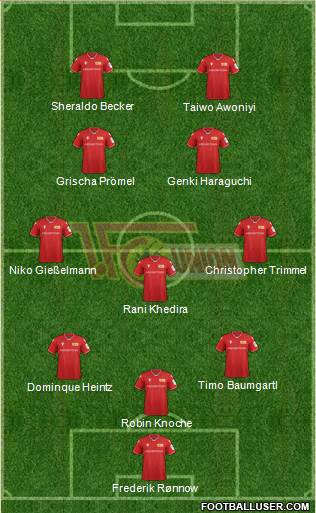 Look familiar? The only difference from the round 12 set-up concerns a slight defensive re-ordering. Robin Knoche drops down to an inverted pivot. Timo Baumgartl flips over to the side previously occupied by Marvin Friedrich. January acquisition Dominque Heintz takes over Baumgartl's side. The absence of Max Kruse finds steady compensation in the form of moving Sheraldo Becker up to the top axis and Grischa Prömel's second-axis left deployment.
One should note that Fischer's solutions to the two key actors lost in the January transfer window didn't meet with early success. The Union trainer deserves some credit for sticking with this plan through several rough transitional matches, but faith that it shall all fall together isn't fully justified yet; not after a two-match winning streak in any event. Union still have aways to go.
Take this 4-1 victory in the context of the opponent.
Lineup—Hertha BSC—Match 29 (5-4-1)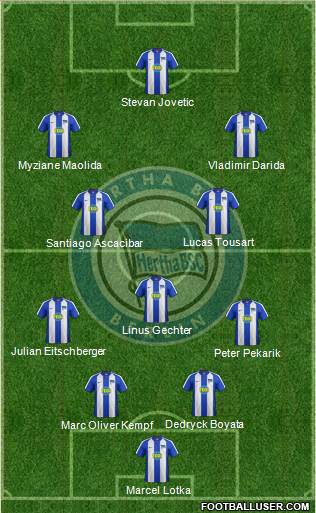 Oh boy. This looked like a losing lineup from the start. The loss unfolded in most German footballing minds as soon as the team sheets were released. Direct matchups screamed blowout. The basic foundation of the team wasn't built with any due consideration for what was coming. Ugh. What was Felix Magath thinking?
Selection criticisms 
It's just too damned easy. What the s**t are we doing here? Suat Serdar and Marco Richter aren't featured in the lineup even though Magath had to know that of the threat emanating from the Union wingbacks necessitated an analogous response. Pressure builds on Santiago Ascacibar and Lucas Tousart; clearly both takes with a deployment too far afield to influence the attack properly.
The answer to Niklas Stark's absence is so bad it hurts. Ascacibar could have easily been moved back to fill the sweeper role. In point of fact the Argentine has done well in that position previously. No excuses for not planning ahead for Marvin Plattenhardt's unavailability. None. Maximilian Mittelstädt should have started. Poor Julian Eitschberger predictably got his lunch eaten.
More on Eitschberger 
It came as no real surprise to see this team dominated early and often. One really can't summon the sympathy for Magath and staff when it comes to this selection. Fredrik André Bjørkan's unavailability may have left the coaching team feeling themselves out of options on the left, but using one of their wingers (Myziane Maolida, Jurgen Ekkelenkamp, or Dong-Jun Lee) as a fullback plug-in would have still constituted a more reasonable fix.
We have a match to discuss.
Hertha fans may wish to stop reading now.
Match Flow: 1st to 19th minute
Union recorded their first shot before one minute was even played. A pair of Hertha verticals proved way prey for the guests. Sheraldo Becker bombed up the left flank on an early counter. Hertha captain Dedryck Boyata had to deflect out for a corner. BSC keeper Marcel Lotka made the first of many solid stop on the ensuing 2nd minute corner. The young prospect kept his eyes on Prömel, ultimately gobbling up the former and future Hoffenheim attacker's tricycle kick with ease.
Boyata had to continue to work hard to clear a Taiwo Awoniyi square in the 2nd and a Niko Gießelmann throw in the 3rd. Becker and Awoniyi shredded the Hertha back line before the 3rd minute was out, forcing Lotka into another early save. The stop led to another Union corner. A 4th minute short play found its way back to Trimmel. The FCU captain swung in a beautiful cross to Baumgartl. Lotka did an amazing job to stop the headed finish. A Hertha counter attempt fizzled out via an overcooked pass for Peter Pekarik.
Lotka bravely strode forward to collect an Union over-the-top launch in the 5th. This time the hosts tried a more patient cycle build on the left. Trimmel and Baumgartl forced Eitschberger back. The BSC defensive ranks reached the right after a bow arc, but gave the ball straight back to Union with another misguided long-ball for Pekarik. After some midfield possession changes Heintz cleared a diagonal intended for lead striker Stevan Jovetic in the 6th. A second diagonal in the same minute saw Jovetic completely whiff on his shot.
A broken FCU build in the 7th ended with Genki Haraguchi sending a cross well out of bounds. Boyata stood tall to shut down the next Union approach in the 8th. At least the hosts were demonstrating some defensive prowess. The Herthaner looked a bit better themselves on attack charges in the 8th and 9th. The only idea coming at the end of decent uninterrupted possession cycles was nevertheless another diagonal toward Jovetic. Boyata's ball in the 9th didn't connect. Heintz cleared in front of Jovetic again in the 10th.
Prömel tried to play Awoniyi through in the 11th. Lotka sharply stepped up to intercept. The guests failed to take advantage of a Boyata turnover in the 12th, going long for the two strikers when there were better midfield link-up options. Awoniyi still helped Union maintain possession with a pair of deep-drop hold-ups in the 12th. Eventually, Knoche was able to hit Trimmel with a long rightward switch. The captain furthered for Haraguchi and the Köpenickers had their third corner of the match.
Khedira's initial take quickly led to another corner. Another dangerous dead-ball service in the 13th bounced around the box a bit when Boyata failed to clear. Lotka met Trimmel's powerful effort with an amazing sprawl-save. Perhaps overtopped with too much adrenaline after his monster stop, the 20-year-old net minder got off the ground and decided to knock Baumgartl down with an excited chest-bump. Match official Sven Jablonski immediately reached into his book to issue a caution to the young keeper.
Union were back on the charge in the 14th. Pekarik looked decidedly nervous as a long ball hit Awoniyi and the Nigerian broke into the box. A shaky clearance led to yet another corner in the 15th. Nothing to report from that one except for the fact the diminutive Ascacibar thought he'd try his hand and some of his own "chest-bumping" during the pre-service jostle. Lotka had to race forward to collect another distance vertical intended for Awoniyi in the 16th.
Lotka was once again called upon to deliver top-notch goalkeeping in the 17th when Becker torched all of his markers on the right and squared for Awoniyi. The FCU striker, admittedly a little short on space, took too much time to get handle on the ball. Lotka rushed out to dispossess. It was after this that Hertha put together their best sequence of the game thus far. Pleitschberger actually did well to help his side play out of a pin-back deep on the left.
The hosts eventually sent Jovetic through on a promising breakaway. The Montenegrin attempted to hit Darida with a cross. His Czech colleague nevertheless couldn't reach a set-up placed just beyond his reach. The next FCU build found itself interrupted by Jablonski's whistle. Jovetic was down on the turf. Horrible news for the hosts' supporters. The team's biggest goal-scoring threat injured once again.
Match Flow: 19th to 31st minute
Ishak Belfodil began warming up promptly. Jovetic remained interested in delaying proceedings until the Algerian was ready to come in. Jablonski rightly carded the Montenegrin for this cynical tactic. Magath also chastised his striker as soon as he left the pitch. The ploy did ensure that open play wouldn't resume until the 21st. Trimmel sent in a wayward cross to cap the next FCU approach. A series of stoppages between the 22nd and 23rd then killed off any potential flow.
Hertha tried to pull off another counter after Becker was stripped in the 23rd. The roll slowed until it became a search for Belfodil. In his first involvement in the match, Belfodil got easily dispossessed by Heintz in the 24th. Kempf cleared a ball intended for Becker in the 25th and we got another dead spell characterized by stoppages and throw-ins lasting through the 26th. It all culminated in an Union free-kick from a threatening position in the 26th. Becker saw a shot blocked. Haraguchi earned another corner on the second effort.
Trimmel's 27th-minute service from the flag left the Hertha ranks scrambling yet again. Thankfully, skipper Boyata eventually cleared. After the BSC ranks forced Gießelmann back in the 28th, Union produced some fantastic team football on the recycle. Trimmel snuck in behind the defense right center. The FCU captain murdered Eitschberger in a one-vs-one before picking out Becker. Lotka fearlessly let the ball roll so that he would be in a perfect position to parry Becker's screamer over the bar.
Lotka even managed an acrobatic clearance off the subsequent corner. Just as we were all prepared to accord the Polish youngster man-of-the-match honors, however, Lotka met his match. The Hertha gloveman stood powerless in preventing the opening goal. Becker punched through on the right again one minute after the half-hour mark. A sumptuously perfect cross headed in Haraguchi's direction and the Japanese international finished with an equally delightful diving header.
At long last the 1-0.
Match Flow: 31st minute to half-time
To their credit, the hosts made an effort to mount a response. It proved pretty weak. Belfodil couldn't wrap his foot around the ball on a cumbersome attempted break into box left in the 33rd. Eitschberger nearly lost the ball twice when the BSC second ranks tried to work it forward again. The debutant then endeavored to hit Linus Gechter with a wobbly duck-cross. Sad stuff. A nice Pekarik strip in the 34th yielded nothing apart from another Union attacking wave.
Awoniyi was caught in an offside position on that approach. Cameras caught the Nigerian grinning from ear to ear after the whistle. No reason for him to be frustrated with his side completely dismantling the opposition. Belfodil got caught offside next in the 35th. The Algerian's body language could not have been more divergent. Along with the rest of his teammates, Belfodil kept his chin firmly positioned down near his chest.
FCU keeper Fredrick Rønnow took his time setting up the free-kick in the 36th. Gießelmann, Heintz, and Becker took their time setting up a cycle. Just a leisurely stroll on a light-hearted day at the Olympiastadion. Hertha caught some luck when Jablonski awarded the hosts a free-kick on a suspect foul on Darida in the 37th. Darida's service did end up reaching Ascacibar. Rønnow received his first real action of the afternoon collecting a meek header.
The hosts generated a half chance one minute later. Pekarik, Tousart, and Maolida worked a good approach on the right. Maolida struck a return ball with his shin that whizzed just past the post. In truth, the wild flail produced a close shave almost by accident. Few would have bet on Maolida striking cleanly from his mid-air position. Hertha took some confidence from the play.
Eitschberger bested Trimmel after Pekarik hit him with a switch in the 39th. Tousart served as the final target of the youngster. A better delivery mattered not. The Frenchman got completely swarmed. Pekarik tracked over to snuff out an Awoniyi counter in the same minute. With some calm bow-arcs, the guests rounded the full lateral length of the pitch until they were ready to take another stab in the 42nd.
Union's impressive possession spell ultimately shook the markers off Becker. The Surimane sensation sent in another radiant cross into the box from the left-hand side. FCU skipper Trimmel missed a sitter with a misdirected header in front of an open goal. Pekarik saw a cross cut in the 43rd after Tousart did a decent job with a quick counter. Pekarik and Maolida tried to work a ball through for Tousart off a right-cycle in the 44th. That too was cut out.
Becker was up causing problems again in the box before the 44th was out. Effective coverage from Boyata left Becker with a weak-angle shot that Lotka could collect. A strong ball win from Ascacibar in the 45th gave Maolida another chance. The finish–hampered by a slip–ended up being awful. Jablonski apparently had no interest in tacking on extra time for Jovetic's antics.
The whistle blew before one minute of added time elapsed.
Half-time xG said it all:
xG Union–1.9, xG Hertha–0.4
Yup.
Match Flow: 46th to 49th minute
What to do about this? Hertha clearly needed a bold re-format. Not a single facet of the game-plan was working. Becker roamed freely about the left. Trimmel's high touch-count on the right further demonstrated how the Charlottenburgers were getting completely obliterated on both flanks. The plug needed to pulled on the Eitschberger experiment, yet a back-three remained totally out of the question.
With so many options off the table, a diamond back-four seemed the safest possible bet. The columnist fully expected it, though the personnel changes did briefly throw him for a loop. Mittelstädt and Marton Dardai came on for Eitschberger and Darida. A couple of permutations available there. By keeping an eye on Gechter, one could see it settle thusly:
Lineup—Hertha BSC—46th minute (4-4-2)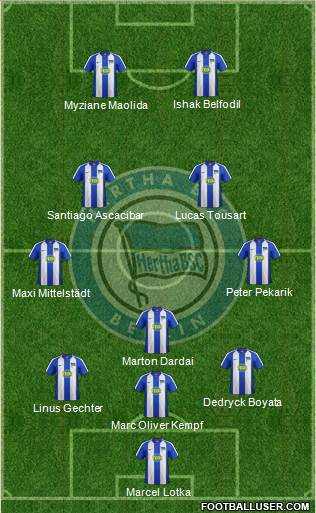 The most important aspect of this reshuffle involved the forward move of Pekarik and Mittelstädt into wingback roles. With some risk noted, it became a matter of fighting fire with fire at this stage. The Hertha duo were expected to stand toe-to-toe with Trimmel and Gießelmann. Undeniably courageous. Still something one might have appreciated more from the beginning. This came 45 minutes too late.
Maolida found a way through on the first meaningful rush in the 47th. Baumgartl cancelled the newly positioned French striker out. Following a botched Haraguchi thread for Becker in the 48th, Hertha had their equalizer. Tousart unlocked Belfodil out wide right with an excellent pass. The Algerian then whipped in a flat, yet cutting, cross for Maolida. Scurrying to catch up, Baumgartl ended up bungling the ball into his own net.
Match Flow: 49th to 53rd minute
The 1-1 retained a perception of being deserved. After all, Maolida probably would have finished directly behind Baumgartl. The tally also directly resulted from the tactical change. New life for the hosts. New assurance in possession accompanied it. A build involving Mittelstädt in the 50th had an admirable quality to it. Trimmel needed to be at his best to halt it.
Lotka got his first morale-boosting touch of the second half with an easy save on a blind knock-on into the box in the 51st. Hertha then received a fine opportunity to inflict further damage in the same minute. A foul near the touchline gave Mittelstädt another chance. Mittelstädt's service found the head of captain Boyata. Though the effort didn't trouble Rønnow much, Hertha had another shot on target underneath their belt.
The match could have turned on a very different dime. Regrettably (and perhaps even predictably), the newly-formed back-four lost their focus. An Union charge in the 52nd saw no one pick up Gießelmann overlapping Becker. The German footballing veteran had far too much time and space to carry the ball toward the touchline.
As the four players tasked with keeping a diamond shape in the box perambulated about, Gießelmann dug out an aerial cutback. Kempf didn't sort out the intended target until it was too late. Prömel rose high above the prized January acquisition to head home. Parity lasted no longer than four minutes. A restored 2-1 lead for the guests in the 53rd bore all the marks of a Hertha spine-snap.
Match Flow: 53rd to 74th minute
Far to early to declare a lid on this match. One could also argue that it remained far too early for Magath to consider executing his second major tactical shift. The columnist will argue otherwise. This actually would have constituted the perfect time to scrap the diamond back-four. Kempf and comrades would have certainly appreciated a clean slate. Just wipe it and get it over with.
Alas, Magath declined this chance. He surely had another re-format in mind, but didn't wish to tinker with his defense. Mittelstädt and Pekarik moved higher and Tousart dropped further back in anticipation of the future shape change. It took too long. Few tactics-heads will disagree. The time to double down on risks had arrived. At most, it should have taken ten minutes to execute.
Not a lot to report on offensively from Hertha during this interval. At no point did it look as if the Charlottenburg crew threw in the towel. After a two-minute-long spell during which Union retained possession, the hosts wrested it back in the 56th. Some decent work from Ascacibar, Belfodil, Mittestädt, and Tousart saw Maton Dardai get a long-effort in off a trail in the 56th. The volley sailed directly in Rønnow's arms.
Lotka was back at work one minute later saving a dangerous diagonal sent in by Trimmel. Boyata and Kempf responded with a strong cycle out in the 58th. Mittelstädt furthered for Ascacibar, who had nowhere to go amongst the red shirts. Rønnow collected a tame Mittelstädt free-kick in the 59th. Maolida exploited some space in the same minute. Robin Knoche eventually blocked Mittelstädt's cross after a relay through Ascacibar.
Mittelstädt's service off the ensuing corner wasn't half bad. Unfortunately, Kempf made a hash of his pass following the takedown. A Dardai switch for Pekarik at the hour mark ended with a promising slip square into Maolida. The Frenchman couldn't figure out a creative way into the box. To add insult two injury, Jablonski carded Kempf for a ghost foul on Awoniyi. Nothing went right for the hosts on this day.
Fischer's first substitution (61st) furnished a small surprise. Union's Swiss trainer felt comfortable enough with the slender lead to send Andras Schäfer on in place of Haraguchi. More experienced attackers Kevin Behrens, Andreas Voglsammer, and Sven Michel remained on the bench. More quality builds from Hertha in the 62nd and 63rd. Nothing led anywhere. Becker didn't bother to turn on the turbo on a 63rd minute counter.
Ascacibar and Belfodil worked a nice ground cycle in the 64th. An eventual pullback for Tousart resulted in an embarrassingly poor effort from the Frenchman. Perchance miffed at himself, Tousart hauled down Prömel on the next FCU charge in the 65th. Jablonski quickly booked him. Following a Lotka collect of Becker's dead-ball service, Belfodil tried to orchestrate something with a strong ball hold-up in the 66th.
By the time the ball made it back to Maolida, however, it was time to retreat. A bad defensive error from Trimmel in the 67th nearly gifted the hosts a golden chance to equalize. The FCU captain recovered in time to block Mittelstädt's shot. The Köpenick guests rattled off a counter after Mittelstädt's 68th minute corner service. Awoniyi tried to get too fancy with a shuffle out to Schäfer. The pass was to heavy, but Schäfer still earned a corner.
Despite the fact the Hertha remained within one goal of tying things home, hope began to slip away. The 69th minute set-piece would be Union's twelfth corner of the game. There remained no doubt as to who the better team was. Nothing came of the corner. Khedira easily repelled Belfodil at the end of the minute. All Union in the 71st and 72nd. The momentum from the guests only found interruption in a double switch from Fischer.
Julian Ryerson and Bastian Oczipka entered for Heintz and Gießelmann in the 72nd, giving us notepad scribblers something to work on. A formation change wasn't on the FCU gaffer's mind. Just some simple personnel reordering to freshen up positions in his 3-5-2. Well played.
Lineup—Union Berlin—73rd minute (3-5-2)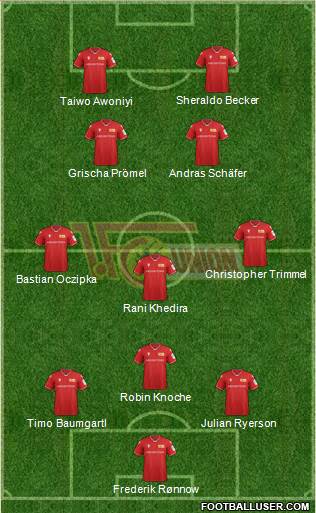 Not all that much point to throwing up this graphic other than to illustrate how well Fischer manages his personnel. Baumgartl switched back over for Ryerson, who ordinarily plays in Trimmel's position or higher. Oczipka took over for Gießelmann on a straight swap. Fischer also ordered the back-three pivot un-inverted. The strikers also flipped to make the attack a tad more unpredictable. Surgical and brilliant.
Magath had his two subs ready to check in as well at this point. Ekkelenkamp and Serdar (both of whom should have started) were finally prepared for their introduction. Too little. Too late. From his defensive position, Ryerson put in a monster effort to control a ball in his own box. The Norwegian played a perfect vertical to Schäfer, who in turn picked out Becker in stride.
The Suriname international tore down the right flank with blistering speed. Boyata attempted to match Becker stride for stride in order to make the angle more acute. This worked only to an extent. The shooting lane wasn't completely closed down. One downright mean and biting finish from Becker put a lid on this game.
Match Flow: 74th minute to full-time
For whatever it's worth, here's what Magath wished to try in order to level things up. Ascacibar and Maolida were the two making way for the attack-minded pair. As part of the general shellshock experienced by the team after the third Union goal, what one sees below furnished precisely zilch between the 75th and 79th.
Lineup—Hertha BSC—76th minute (4-3-3)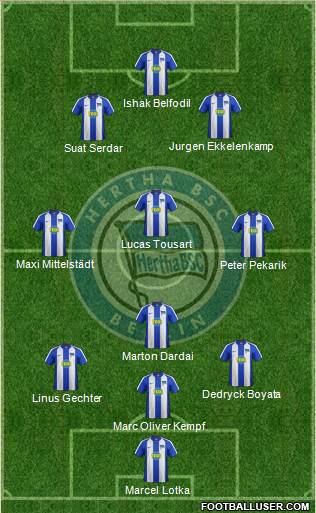 Too little. Too late. Zilch. A clever flick on from Mittelstädt (blocked by the much better Oczipka), a shot past Rønnow from Belfodil, and an Ekkelenkamp hit over the bar. All of this occurred in the 79th and it would be the last gasp we saw from the hosts. The sides traded long balls in the two minutes thereafter. Fischer really poured in on by introducing Michel and Voglsammer in the 82nd.
Seriously? That was the time to bring on the two relief strikers. Oh well. Why not? It paid off. Michel finally scored his first goal in the colors of his new club in the 85th. Baumgartl supplied the through. No one in blue and white supplied the marking. Union converted all three of their major scoring chances in the second half. As an added bonus, Max Kruse's eventual intended replacement finally broke his duck.
Jablonski showed mercy on the devastated hosts and forewent injury time. The Hertha players had to immediately report to the fan-block for their now famous perp walk-of-shame. Total tactical mismanagement from an aging coach. Let's add this season's personnel mismanagement from sporting CEO Fredi Bobic, who has almost done his deliberate best to get this squad relegated.
Does one really need to remind those mesmerized by Bobic's Frankfurt tenure that that the exec once ran Stuttgart into the ground? The writer doesn't think so, not anymore than he feels the need to bookend this segment with a re-post of the xG stats. This performance speaks volumes. A better way of bookending this column might be to return to the opening section.
Do the Hertha ultras have a right to be upset with everyone?
Absolutely.
It's not quite over for Hertha or those of us in German footballing circles who make the annual "February Promise". There remains a path open for this club even after such a demoralizing defeat. Augsburg, Stuttgart, and Bielefeld come next. Points can still be picked up from those fixtures. After that, as we've emphasized so many times in this column, the Mainz and Dortmund sides with little to play for at the tail end of the season present opportunities too.
A full-scale tactical butchering over the final five matches of the campaign isn't out of the question, especially not after what we witnessed here. One can still assume a bare minimum of competence from this staff against the far weaker/less interested opponents to come. This columnist still feels we'll get a couple editions of this (relatively new, don't forget) city derby next year. That's the sanguine prediction.
In the event that this augury proves wrong, the Hertha ultras should consider asking Bobic to take of his shirt. The club's lone remaining front office boss thankfully came up with better comments than his initial vow that he "still puts on his jersey with pride" (which he doesn't). Bobic made a finer point about the role of sports in relation to everything else going on in the world and even called for a more open dialogue with the fan-scene.
There's hope on that front too.
Thanks so much for reading!
You can occasionally catch Peter on twitter, @ViceytheSS.
Twitter DMs are open for football conversations, corrections, and (if you truly insist) general abuse. 
All columns debut on Bulinews before appearing on Peter's website later in the week.