Another fantastic weekend of Bundesliga football is already underway! With so much at stake, we should be in for a another cracker from all participants. In the event that anyone missed out on last week's excellent round of entertainment, the repost of last week's column is available below.
---
League-wide Talking Points: Round 28
---
Typical Teutonic luck
Alright. Might as well start with a barnstormer. The Black Forest vs. The Teutoburg Forest. It's SC Freiburg. It's DSC Arminia Bielefeld. Friday night under the lights! Bam! If anyone perhaps detects a hint of sarcasm, a writer will concede that this would have been a skim-worthy encounter had there not been much else going on. It turned out to be a quite watchable affair with very laudable performances from the DSC's Anderson Lucoqui and Masaya Okugawa. Baptiste Santamaria, deployed very far afield in a 3-3-2-2 spread, answered the call well until the unfortunate own-goal. The Frenchman didn't know too much about it.
One must regrettably question sporadically sainted SC trainer Christian Streich's tactics in this one. Deprived of Ermedin Demirovic and Lucas Höler (yellow card accumulated suspensions) as well as Nicolas Höfler, the Breisgauer head-coach built an odd-looking formation with right wingers Roland Sallai and Woo-Yeong Jeong working as the two strikers. As noted above, Santamaria worked very high up the pitch in direct support. While this overachieved during the first half, Streich arguably should ditched it much sooner. With Nils Petersen and a healthy Guus Til on the bench, he could have switched to a more coherent 3-4-3 at the half instead of waiting until the 69th.
From Bielefeld's perspective, it was a deserved enough win that puts them in a much better position as far as the relegation race is concerned. Of course, a team from the Teutoburg can't hope to achieve a great victory within soon suffering a crushing defeat. On Thursday, German footballing magazine Kicker published an approbative piece congratulating the club for being the only Bundesliga side to steer clear of any COVID infections amongst its players. Less than 24 hours later, active winger Sergio Cordova tested positive. This is so very Bielefeld. It yins. It yangs. Good news never lasts long on the Teutoburg fringes.
Revisiting the title race
In all honesty, this sub-header is misleading. We will not, in fact, be revisiting the title race. It remains the position of this column that the 2020/21 German Bundesliga Champion shall be FC Bayern München. This holds true in spite of the results from this weekend. Bayern's draw with Union and Leipzig's victory over Bremen don't constitute a radical shift in the calculus. We will, however, utilize the opportunity to take a look at some of the more interesting developments stemming from each side's respective fixtures.
In-between Champions' League legs, Hansi Flick fielded a rather interesting XI. Youngsters Tiago Dantas and Josip Stanisic got the nod. Additionally, Christopher Scott received 24 minutes of not wholly insignificant action off the bench. Intriguing stuff on hand as Flick tested out some of the FCB II youth prospects. Regrettably, that's where the intrigue ends. None of the trio played well. There's also less than great news concerning Wednesday's UCL tie. Kingsley Coman picked up an injury, Eric Maxim Choupo Moting looked awful, and poor Bouna Sarr reaffirmed that this team has no back-up right back.
Leipzig's convincing victory would appear to suggest that Julian Nagelsmann's RB could conceivably accomplish a late six-point takeover of the weak-looking league leaders. One must take it in context. The German Red Bulls were playing a Bremen side visibly depleted by a midweek Pokal fixture. The fact that they were playing Bremen at all speaks volumes about the result. The good news for Leipzig is that striker Alexander Sørloth continued his awakening with a fine brace. The Norwegian late bloomer has now scored four goals in his last four starts. If Thomas Müller were his teammate, he would surely earn the nickname "Alexander Scøre-a-løt".
Schalke and the "Montagsspiel"
Before moving on, we'll have to check in with the "worst of the worst". The Bundesliga beat isn't all glittering news. For starters, Schalke is still playing in it. The 1-0 victory over Augsburg proved about a mundane a watch as it gets. From the moment Suat Serdar scored the opening goal in the 4th minute, one could hazard an easy guess as to the final scoreline. The Königsblauen weren't going to try to score a second immediately. One knew what was coming. The match wouldn't wake up for another seventy minutes. Ugh. One almost wished that they had lost to finally make this relegation official.
Infinitely worse than Schalke this year, we have the dreaded top-tier "Monday night football matches". While it's pleasing to see them finally come to an end, even more so to see it fittingly draw to a close with an unwatchable 0-0 draw between Leverkusen and Hoffenheim, the fact that it happened on the same day as the Adi Hütter move leaves a sour taste in one's mouth. It was the Frankfurt ultras who drove the movement to stop this shameless commercial cash grab. On what should have been a day to commemorate their crowning achievement, not to mention a pulsating victory this weekend, they found out that they're losing their coach.
---
The "Spiegel Specials": Round 28
---
Hertha-Gladbach (1:1, 2:2)
Two draws now for two of this year's big disappointments. To begin with, one has to address some of the contested refereeing decisions in this match. Fohlen head-coach Marco Rose referenced two of them in his post-game remarks. He actually neglected to mention another one that Patrick Ittrich appeared to miss. Even in the post-VAR era, football remains a subjective game. It is such that a writer can only offer his personal opinion. We'll deal with all three incidents in turn.
Yann Sommer's 13th-minute red card looked fully justified. One can clearly see him catch Jhon Cordoba on the follow through of his tackle. Rose's other major grievance (72nd minute) appeared far-fetched. Lukas Klünter seemed to only seek to get up. The incident not explicitly broached by Rose, on the other hand, clearly constituted an oversight by Ittrich. Niklas Stark should have been whistled down for a penalty in the 9th.
With that covered, we'll move on to some issues concerning Hertha. No, we won't be discussing goalkeeping coach Zsolt Petry. There's nothing really to discuss there. He deserved to fired for that vile bigotry. Instead, there's a need to look at the arrangement that caused the Berliners to concede two goals despite being up a man.
Lineup—Hertha BSC—Match 28 (5-2-3)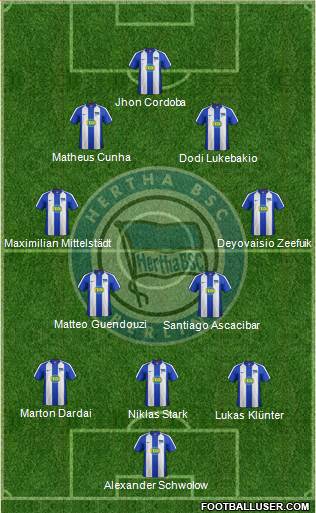 Pal Dardai's use of offensive-minded midfielders to augment a flat back-three often leads the line exposed. Moreover, his teenage son Marton encounters difficulty maintaining his positioning whenever his forward wingback makes a cut. One can see this most clearly on Alassane Plea's 27th-minute equalizer. The back-three advances haphazardly. All it takes is a Maximilian Mittelstädt mishandle for the entire Gladbach attack to get in behind them.
Marton Dardai hasn't been a total bust. He performed very well in the squad's 3-0 defeat of Leverkusen in the 26th round and was sorely missed last week when an uncomfortable looking back-four summarily failed to build any quality attacks in last week's woefully disappointing Berliner derby. It still comes as something of a surprise to see that trainer Pal has received zero questioning of this move in the German footballing press.
Ostensibly, this is because Hertha are so desperate for defensive help that one can hardly blame the newly reinstalled head-coach for trying out something. All the same, a team this stacked with midfield depth could move the likes of Sami Khedira or Vladimir Darida back into defense and allow the sixes to operate ahead of the halfway line. Dardai also has more than enough fullbacks to complete round out a back-four.
Prognosis: An unwanted re-think
Uh oh. We're in trouble. Those of us who have been adamantly insisting that there's no real possibility of Hertha being dragged into the relegation race this year suddenly have to do a double-take; just as we had to do twice ten years ago. Not good. Now our friends in Berlin really will never trust us again. It still looks as if "die alte Dame" can avoid the drop via a photo finish, but it gets pretty dicey when one reassess the remaining opponents.
Mainz, Schalke, Bielefeld, and Köln were once considered easy pickings. When one takes Hertha's current defensive problems into account, however, these matches become "toss ups". The 2020/21 Bundesliga relegation race pits the five teams involved in it in an accidental near round-robin before the season closes out. Yikes. Everyone in West Berlin needs to order an industrial strength supply of antacids.
Dortmund-Stuttgart (1:5, 3:2)
For the black-and-yellow-clad players who saw their entire season derailed by the round 11 embarrassment, revenge surely never tasted so sweet. Even neutrals will admit to throughly enjoying this match. Dortmund finally lived up to their potential and played the way we expected them to whilst tapping them as title contenders during the pre-season. It proved an absolute joy to watch the latent talent on this side spring to life.
The youngsters showed everyone what they're capable of. From Jude Bellingham's impeccable finish off the Giovanni Reyna cutback to Ansgar Knauff's breathtaking finish to restore the lead, we got a taste of what this squad could be if club management somehow miraculously finds a way of keeping them together. Given that the bosses probably won't, this may be one of our last chances to commend Erling Haaland for his marvelously unselfish step over.
The manner in which Haaland left the ball for his veteran captain on the BVB's second goal went against most every other piece of body language we've seen from the Norwegian in recent weeks. Such a treat. In point of fact, Haaland bucked the trend and behaved like a team player throughout most of the second half. Who knows when or if we'll see this again.
Lineup—Borussia Dortmund—Match 28 (4-3-3)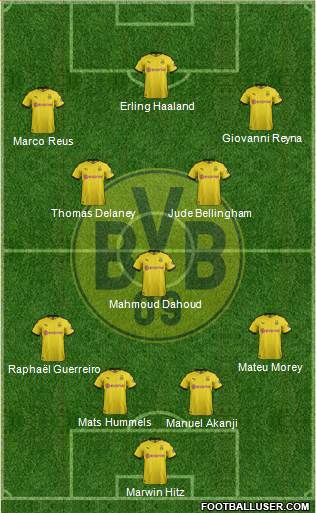 Something a little innovative from Edin Terzic here. Finally moving Gio Reyna back out to the wing might have been a no-brainer, but pairing Bellingham with Thomas Delaney that far up certainly wasn't expected. Here one can divine a logical attempt to solve some of the XI's recent problems. Delaney brings with him the potential for more creativity and more incisive passing precisely in the area of the pitch where the BVB kept running out of ideas.
Mahmoud Dahoud's range ability means both that he can operate alone, throw in efforts with rebound-heavy potential, and even work as a trailer himself. Terzic kept what turned out to be a highly effective 4-3-3 in place for the full 90 minutes. Some of the first-half play wasn't very inspired, but it still counted as an improvement. The only major issue stemming from this occurred when substitute Emré Can (on for Hummels) wandered out of position in the 77th.
Prognosis: No re-think
Such a shame. With a young star like Reyna easily having his best match of 2021; possibly his best since the reverse fixture against Stuttgart in early December, one is tempted to say (for the nth time) that this team stands on the precipice of a solid stretch. Such sentiments are bolstered by improved play from Bellingham and Dahoud, along with the exciting emergence of Knauff. It's quite possible that a winning streak beckons.
Sadly, it's just too late. Even should Dortmund win out, they've too much ground to make up in the race for the top four. No top four finish means no Champions' League football, which in turn presages a summer sell-off. Jadon Sancho will almost certainly be sold to offset financial losses and the bosses can't make Haaland stay if he doesn't wish to. We'll never know how good this crew might have been.
---
The Burning Question: Round 28
---
What are the main takeaways from Wolfsburg-Frankfurt?
We're going singular once again as this weekend's top-four showdown could warrant its own separate column. What a football match! The clash of the 2021/22 Champions' League aspirants left one spellbound. In a profoundly absurd development, a writer intent on composing a match report went through an entire pen during the note-taking process. Hopefully, most of the minute-by-minute writers avoided a seizure, aneurysm, or brain hemorrhage.
The obvious takeaway from this one is that those who missed it missed out on a strong candidate for the best fixture of the season. Midweek re-watches are recommended. A look at the extended highlights is insisted upon. A closer look at the Bundesliga is demanded as one has the feeling that the league will even find a way of topping this gem in the final six rounds. Apart from that, here are the more dispassionate takeaways.
Ridle Baku for Germany
We touched upon this last week, but it's well worth repeating. Jogi Löw attended this match in person and, hopefully, got a nice look at his future right-back. The tenor of a football match remains something usually determined early. We may not have beheld a seven-goal shootout had one of most electrifying up-and-coming national team players gotten us off to a cracking start with his brilliant 6th minute finish off the turn.
Baku returned the favor for his VfL set-up man Wout Weghorst with his own assist at the start of the second 45. Overall, the 23-year-old had a standout game slightly overshadowed by an even more magnificent match by former hot youth commodity Erik Durm. The current SGE winger's performance evoked pleasant memories whilst the current VfL winger gave one some semblance of hope that the national team's near-term prospects need not be so bleak.
What happened to Oliver Glasner's late match 4-4-2?
Something observed in the initial stages of the 2020/21 Rück-runde curiously disappeared. Wolfsburg head-coach Oliver Glasner used to have few qualms about deploying a two-striker set late in matches. Polish prospect Bartosz Bialek worked alongside Wout Weghorst in a neat little overhand right ostensibly designed to knock opponents out. One waited for that here when Bialek came on in the 66th minute, only to see the shape hold whilst the teenager held a place for Maximilian Philipp.
One assumes it was a matter of execution. Glasner has mostly restrained himself recently, introducing Bialek as a time-killing sub well beyond the 80th minute. Though it's perfectly understandable that a gaffer routinely plays a great trump card close to the vest sometimes, one wonders if this constellation should have been given a bit more match practice. Adi Hütter didn't care if the world saw his best knockout punch. This might have made a difference here.
Frankfurt's sad news
Apropos Adi Hütter, the news that broke while this column was being written probably killed off the radiant feeling Eintracht supporters had emerging from the weekend. Ouch. Could the parties involved be guilty of worse timing? Frankfurt, in the midst of a historic fight to qualify for their first-ever Champions' League place, now must reckon with the loss of their sporting director (Bruno Hübner), personnel architect (Fredi Bobic) and head-coach? This must be a joke.
Alas, next year shapes up to be a hard nosedive for the club ultras christen "the moody diva". The SGE's future still looks bright, but one cannot see the next generation being ready for the next campaign. Moreover, it's not even clear that Hütter can lead the team to the UCL place now. This could get ugly. If you happened to think the Gladbach ultras were unusually pissy about Marco Rose, wait to until you see the Bundesrepublik's rowdiest fan societies in action.
---
Weekly Tactical Focus: Cathedral City Carnage
---
So much great football in the Bundesliga this weekend. Amid it all, we're going to devote our weekly in-depth match segment to an unforgettable cracker with enormous ramifications for the relegation race. It must be so at this time of year. One the campaign concludes and the mind automatically proceeds to file certain moments away in the deeper recesses of one's subconscious, certain memories shall linger near the surface. There are moments that remain with you in the cursory depths; imprinted forever as the time one witnessed the raw emotions associated with European sport.
What was the true "moment of the weekend"? Definitely an exhausted Jonas Hector sitting catatonic and inconsolable behind the goal-line after the full time whistle blew. The 30-year-old Kölner captain, known to all of the Bundesrepublik as one of our national team heroes, couldn't quite process what had just happened. He played his heart out. Somehow, it wasn't enough. His couldn't carry his team even with every last ounce of his heart and soul. In all likelihood, they would be headed right back down again just two years after promotion. These are the moments.
Hector looked as if he simply wished to envelop himself in darkness and disappear. Hence, he chose to walk toward an inconspicuous spot beyond the lines of the pitch where he (falsely) assumed the cameras wouldn't be focused on him. Trainer Markus Gisdol, surely aware that this unfair result spelled the end of his tenure in charge in the cathedral city, tried to muster up enough strength to walk over and offer his captain some solace.
It didn't work. Gisdol's face said it all. This wasn't his team anymore. Given his poor track record with two other Bundesliga clubs, he might never have the privilege of leading another team again. The 51-year-old trainer, perhaps aware of the fact that every last camera in the stadium was most definitely focused on him, fought back his own tears. As soon as he noticed that Hector would remain non-responsive, he gave up and briskly walked toward the tunnel.
Whew! These are the moments of all moments. The agony of relegation in the European context renders this sport far more than just a game. It's a person's hometown, their heritage, a source of pride in where one comes from. During this all too brief and painfully unfair thing known as "life", chances are rare, results often cruel, and certain dark experiences never truly leave the mortal soul. Footballers and their coaches know this. They carry the emotions of entire communities on their shoulders. Sometimes the burden is just too heavy.
These two teams gave everything they had as they knew that everything was on the line. Every last centimeter was contested. So intense were the physical battles that players from both sides had to exit the match with head injuries following blindly fierce aerial duels. These two XIs forfeited their bodies with nary a second thought. They played for much more than themselves. They knew what was at stake.
The citizens of these respective "carnival cities" can look forward to parades and costumes once again next year. That shall transpire regardless of what happened on the pitch. The footballers involved in this one nevertheless knew that likely only one town could look forward to Bundesliga football. They would decide this. The responsibility lay with them.
Off we go with this monster match!
Lineup—FSV Mainz 05—Match 28 (3-3-2-2)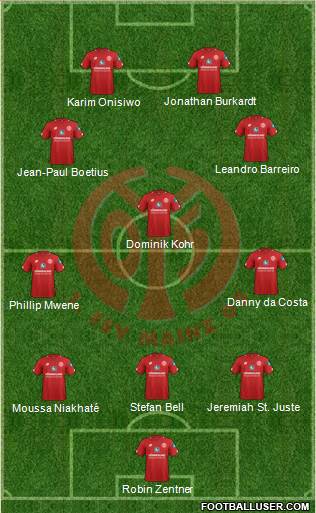 As much as possible, we've been checking in with the Mainzer evolution since Bo Svensson took over in January. It's frankly sensational what the Danish head-coach has accomplished with a team that had picked up a paltry seven points entering the halfway point of the season. The greatest statistical escape in Bundesliga history remains on thanks to the 41-year-old's keen eye in training and appropriate squad selection. He's rebuilt this flaccid mess even without his leading goal scorer!
Since our last look two rounds ago, there have been some organic changes.
Kohr stands alone
If one cares to compare and contrast the spatial arrangements, one can see that perhaps the best transfer of the January window now has his own axis. Dominik Kohr no longer keeps a level line with fellow former Frankfurt teammate Danny da Costa. His role remains less distributive and more focused on midfield ball wins; not wholly unlike that of Diadie Sammassekou at Hoffenheim. One difference, of course, is that he has more stable and versatile wingbacks stationed behind him.
Also note that, in a development related to the roles of the wingbacks, the second-axis support attackers pull inward a bit to work as direct buttressing pillars. Svensson tolerates this as he trusts the reliable horizontal partnership inherent within his flat back-three to kick out to the wingbacks rather than hit Leandro Barreiro and Jean-Paul Boetius with straight verticals. At least that's how this writer sees it. One always reserves the right to get it dead wrong. This brings us to the next point.
Personnel without popularity
Many might have found themselves critical of the team-sheet. Surely Robert Glatzel had solidified his starting place by now. Where was Robin Quaison's speed in this absolutely vital must-win match? Though it may have ran counter to the natural evolution of the XI, the insertion of veteran heads like Adam Szalai, Danny Latza, and Kevin Stöger would have been perfectly understandable. After all, this was a match sure to induce heart palpitations. Experienced nerves were needed.
Svensson kept his faith in 20-year-old Jonathan Burkhardt. He also stuck with youth on the rightward slant by retaining 21-year-old Leandro Barreiro. As we shall see, he refrained from employing even the slightest tactical tweak throughout a match in which his team were consistently out-performed. For those interested to know, Köln won the xG battle on this day by a factor of two. Expected goals went to die Geißböcke (3.0 to 1.5). Naturally, matches aren't determined by this metric any more than armchair squad selection counts for anything.
Gisdol's last stand: A glimpse at the possible
With all the bashing of Markus Gisdol for his conservative use of some of Horst Heldt's acquisitions, it's impossible not to have some sympathy for the man after this match. This round's encounter saw the return of two pivotal actors missing from the Kölner ranks this season. Striker Sebastian Andersson made his first starting appearance of the calendar year. Florian Kainz, who, like Andersson, had only 15 minutes of warm up time last week, worked his way into the XI for the first time all season.
As a result, we finally saw how this was all supposed to work:
Lineup—FC Köln—Match 28 (4-2-3-1)
What's this then? Something sensible from Markus Gisdol? To be fair to the recently fired trainer, he might have had the benefit of deploying something like this earlier if the injury bugs hadn't bitten so hard and deep. This constellation performed exceedingly well in the loss.
What might have been
Join a writer in a multi-layered hypothetical for a moment. Imagine that Kainz and Andersson had remained healthy. Last year, Köln scored more headed goals that any other squad in the league. FC Union Berlin's Sebastian Andersson tallied more times with his head than any other player in 2019/20. In principle, this was a match made in heaven. We could be speaking of Kainz/Andersson co-productions in the same hushed tones we use to describe those of Filip Kostic/André Silva or Borna Sosa/Sasa Kalajdzic.
There exist further hypotheticals. Ondrej Duda was brought in to play precisely the position one sees him occupying in the graphic above. Moreover, Marius Wolf was supposed to work as an attacking winger instead of repeatedly being forced to fill in at fullback. Ellyes Skhiri's play often screamed out for a steady partner like the oft-injured captain Hector. Kingsley Ehizibue or Noah Katterbach could have moved into midfield had Benno Schmitz or Sebastiaan Bornauw not kept getting hurt.
With those theoretical possibilities covered, let's get to what actually happened.
Match Flow: 1st to 11th minute 
Inside of the first 120 seconds, one could easily tell that Köln had something other than the usual in store for us. Bundesliga watchers had become so accustomed to the sight of Duda awkwardly covering the lead striker position that it took a minute to adjust to watching him back in his natural element. The Hertha purchase suddenly had loads of space in which to operate. Back in the ten spot, he organized three plays through the Mainzer press in the first five minutes.
Dominik Kohr eventually caught up to it and moved into tight man-marking of Duda by the 5th. This effectively neutralized some of the early Kölner spark and forced the Domstädter to seek options out wide. Shutting this down was none other than Kohr's friend from Frankfurt Danny da Costa. The FSV fullback stood tall against KOE leftward charges from Katterbach in the 6th and Kainz in the 7th.
Andersson made his presence felt with an excellent midfield win in the 9th. The returning center-forward shuffled out left and did his part with an excellent penetrative run forward. Unfortunately, his teammates slowed their roll with timid possession. The build took too long to reach their streaking target. At the other end, Kohr won the first of the day's many great aerial duels with a fearless leap over Hector in the box. No one was available to pick up.
The opening goal came out of nowhere. Poor organization following a throw-in on the Kölner left allowed the visiting Rheinhessen to strip the ball. Quick think touches from Burkardt, da Costa, and Phillip Mwene shepherded the ball over to Boetius. The Dutchman found himself perfectly set up for a finish into the his near left corner.
Match Flow: 13th to 23rd minute 
The rattled hosts experienced some initial difficulty coping. Luckily for Gisdol's men, Mainz couldn't make anything out of a very nice left touch-line cycle in the 13th. On the Kölner left, Kainz racked up plenty of touches. Da Costa stopped him again in the 14th. The hosts settled down a bit to maintain most of the possession between the 15th and 18th. Ideas for the attacking third were still a bit lacking.
Moussa Niakhaté stepped over to cut out a rightward vertical intended for Wolf in the 18th. Da Costa and Mwene did splendid cork on the ensuing counter. Perhaps having learned that verticals on the respective flanks weren't going to do the trick, Köln suddenly started aiming for their center forward. Incredibly, Andersson got three shots off between the 19th and 21st.
The Swedish striker's best effort–in the 20th– sailed millimeters wide after a gorgeous cross from Kainz and a filthy slick first touch. The hosts were suddenly waking up. Duda hit Andersson again up the middle in the 21st. The Swede looked downright amazing on all eight of his touches. Just when it appeared as if an equalizer was nigh, Duda was forced into a tactical foul to stop a counter in the 23rd.
Match Flow: 23rd to 33rd minute 
Duda's rightly incurred a booking for the infringement. The Slovakian talisman's fifth yellow of the season leaves him suspended for next week's derby against Leverkusen. While impossible to tell if this fact had some effect on his team, it did prove the case that the occurrence put an abrupt stop to the Kölner surge. The Geißböcke went back to unimaginative verticals down the flanks. Back builds slowed down again.
One exception to this came in the 26th. Kainz attempted a long switch to Ehizibue, but the Mainz back-three obstinately refused to be pulled out of shape. Ehizibue found some space after a collection in the 29th after Katterbach used Hector as an intermediary. Ultimately, a wicked strike from the 25-year-old was blocked. Hector chased down the rebound and tried to feed Katterbach. He too was blocked.
The first three minutes after the half-hour mark were characterized by injury timeouts as several players hit the turf. Jeremiah St. Juste needed brief treatment and Duda's appeals for a penalty also interrupted the flow. One could say that Köln were slowly working their way back into the ascendancy, yet unable to overcome the start/stop nature of proceedings.
Match Flow: 33rd minute to half-time 
Only a massive save from Timo Horn precluded the Pfälzer visitors from doubling their advantage in the 33rd. An expertly taken in swinging free-kick found Niakhaté unmarked. Horn sprawled to keep the effort out. Gisdol's XI stormed back the other way, barely missing Andersson on some well-balanced charges. Duda executed a marvelous turn in the 37th. The accompanying build nevertheless sputtered a bit too much behind him.
For all his impressive touches, Andersson whiffed badly on a fabulous service from Wold the 38th. A controversial handball penalty would come two minutes later, albeit one that felt semi-earned following some breathtaking work from Marius Wolf. The Dortmund loanee deftly took down a switch and cross-dribbled past three defenders deep into the opposite side of the box on a scintillating solo run that lasted four seconds.
The sequence ended up in resulting in another scorching diamond-cutter effort from Ehizibue. Mwene did his utmost to get his hand out of the way of it, but couldn't stop his palms from inadvertently opening in a move that betrayed guilt. Duda converted the consequent penalty after a lengthy VAR review. Forced as the call seemed, one intuitively felt that a 1-1 draw at the half accurately reflected this match.
The two teams generated chances during the long period of added time tacked on after the injury timeouts and VAR break. The game really opened up towards the end of the 44th. Horn preserved parity with another monster save on Barreiro at 45+1. Regrettably for Köln, the very active Ehizbue suffered a particularly nasty knock on an aerial duel with Burkardt at 45+2. Kohr and Duda traded clips at 45+4.
Match official Felix Brych just couldn't get these squads into the tunnel. Everyone seemed hell bent of stretching out the extra minutes with more unrelenting physical play. Finally, after nearly eight additional elapsed minutes, it was time to break off. Though the score remained tied, Köln retained a 1.8 to 0.7 xG advantage.
Match Flow: 46th to 53rd minute 
To the surprise of no one, Ehizibue could not continue. Gisdol nevertheless surprised by pulling the trigger on a double substitution. Katterbach exited the match alongside Ehizibue. Ismail Jabobs and Jannes Horn came on in their place. Tactically speaking, Wolf moved back to the right fullback position whilst Jakobs took his spot further afield. Svensson produced his own surprises by doing nothing.
Watching this one, one had the impression that the match slowly slipped out of Mainz's grasp. Burkardt and Karim Onisiwo weren't getting the same amount of chances as their counterparts. The Nullfünfter, at the very least, required an injection of pace up top. This feeling manifested itself more than a few times during the opening three minutes of the half as Onisiwo failed to get the right jump past the Kölner center backs on a pair of rushes.
In the 50th, it was Burkardt's turn to hit the deck after a brutal aerial duel. The Mainzer medical team immediately signaled for the stretcher. The German U21's eyes filled with tears as he writhed in pain in the box. In addition to taking a bad slap to the face, Burkardt had to deal with the anguish of knowing that he wouldn't be able to continue in his team's most important match of the season. His desire wouldn't count. The answer would be no.
Was this the time for Svensson to introduce Robin Quaison or Robert Glatzel?
Match Flow: 53rd to 69th minute 
No indeed. The Danish trainer nearly sent this writer into convulsions by bringing on Adam Szalai. Whether it was a spur-of-the-moment decision or a deliberate attempt to install leadership on the pitch, it seemed like the wrong decision. It continued to appear so in initial action. The 33-year-old used his body well on a fulcrum touch in the 55th, but just didn't have the speed to make more out of it. Wolf snuffed out another combo one minute later.
Wolf himself ran into some horrendous luck in the 58th. Duda hit him with a sensational cross and the Domstädter defender rapid fired a point blank effort that FSV keeper Robin Zentner finger tipped off on the post. The aluminum arbitrarily robbed Köln of their 2-1 lead. The Geißböcke would still see justice served three minutes later courtesy of a very well designed set-piece.
Hector and Duda took turns fauxing the take in the 61st. The moment of hesitancy induced by this move enabled Ellyes Skhiri to ghost in at the far post on what was surely a planned baiter. The Tunisian bungled home an exquisite hit from Hector. Köln kept up the pressure in the four minutes after the tally, producing some very poor finishing not worth mentioning. They nevertheless had control of the game.
Regrettably, Skhiri followed up his finish with a pretty bad foul up. Possibly pumped full of adrenaline, he lost track of Boetius on a 65th minute charge. Onisiwo went along with his teammate on the run forward, fanning out wide right to put himself in position for the easy finish. Frustration set in for Köln. Duda pushed his luck with a very poor challenge in the 67th. Gisdol had to get him off immediately lest he risk a longer suspension.
Match Flow: 69th minute to full-time 
The Geißböcke trainer had a tempestuous player to urgently get out of the match. More importantly, he had but one chance to employ a tactical tweak. Svensson wasn't changing. That much was clear. There not really being time for anything too fancy, the obvious goal remained to slot another striker up alongside Andersson. Elvis Rexhbecaj served as the choice to replace Duda.
Lineup—FC Köln—70th minute (5-1-4)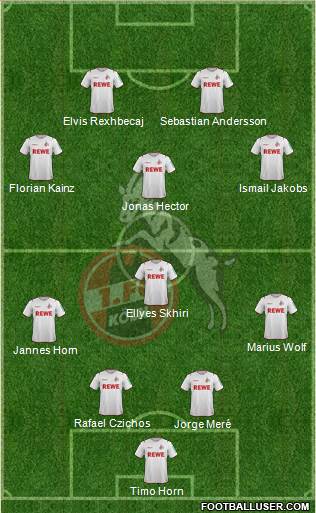 In terms of the players available, this probably constituted the best Gisdol could do fashioning a four-man top-heavy press. Emmanuel Dennis wasn't on the bench squad. Skhiri's ground coverage was still needed in spite of his mistake. The team needed Hector up front, meaning Max Meyer had no natural partner. Tolu Arokodare could be (and eventually was) introduced, but the shape change had to take place first.
The overall intensity of the match amped up further. Two more midair collisions stopped play between the 70th and 73rd. Once the action got rolling again, nerves got the better of Stefan Bell in the 74th and Andersson in the 75th. Both screwed solid chances wide. Given how quick the pulse rate of anyone watching this stood, one could hardly blame the players for losing their bearings.
Gisdol watched as his players completely the called for shape organization. Arokodare waited on the sideline. Andersson signaled in the 76th that he could wait no longer. After such a long injury layoff, his muscles had long since succumbed to cramps. As a result, it looked like Arokodare came on slightly prematurely; a mite before the team could get the tanker turned around in a tight channel.
Svensson applying some more brake-tapping with a double like-for-like in the 79th. Köln began looking dangerous again around the 82nd. Arokodare nearly pulled off the impossible with a finish from an extremely tight angle in the 84th. Random, desperate end-to-end action sent this wild affair into injury time on a knife's edge. Mainz swarmed the box in the 89th with Köln punching hard on the counter in the final minute of normal time.
And then it ended. Niakhaté put through Mwene with a lovely over the top ball at 90+1. The Pfälzer wingback then cut back sweetly for Barreiro. The Luxembourg man's finish from just outside the 18 central necessitated some focus. One could still fairly describe it as all-too-easy. Crestfallen Köln were beaten right there. Domstädter sub Bornauw couldn't even manage the strength to run up the pitch for his assigned role as an auxiliary striker.
Wow. No one had anything left after this. Even those watching were exhausted. All one could do was concur with Jonas Hector as the Kölner captain sat dejected and totally unplugged behind his keeper's goal-line. These are the moments. Hector ripped off his captain's armband in disgust. Gisdol bid him a perfunctory farewell. Life can prove one sharp instrument. Everyone takes a dagger to the heart at times.
---
Concluding Thoughts: An invitation
---
On a much more cheerful note, there's still plenty of great German football ahead during the final stretches of this campaign. As the season (and by extension this column) draws to a close, a writer must take a step back and sincerely thank all those who have taken some time to read some parts of "Tactics Talk" since the column debuted in late September.
One would like to think that reading the column has been as much fun as writing it, but that's simply not humanly possible. Thinking of (hopefully) fun and entertaining ways to explain German football to an English-language audience is the best gig in the world. It doesn't get any better in terms of work, at least not for a stateside German expat.
An opportunity to share still more Bundesliga arises via social media. If these posts in any way piqued your interest in football in the Bundesrepublik, there's so much more to delve into, including all the unrivaled German football journalism written in the dulcet language of the great poets and thinkers.
It's such that we're pleased to launch a new twitter profile. You can now follow Peter at @ViceytheSS. The twitter account aims to share deeper delves into the Bundesliga, but you can also reach out to Peter just to talk football or provide some important feedback as to how next year's incarnation of this column might be structured.
To all those that get some of their Bundesliga content from here, sincerest gratitude once thanks for checking in. A writer genuinely looks forward to many more years of purveying Europe's most entertaining footballing flight.