With the season's set of tactical column's all wrapped up on the host site, the full-color re-post journey continues over on the profile website. Pretty stern beat-back for the BVB in round 28 as Leipzig dismantled die Schwarzgelben in front of the first full capacity crowd to grace Signal Iduna in nearly two years. Yellow flags, streamers, and pyro-technic owned the stands. On the pitch, all one could see was red.
Konrad Laimer's "Day in the Sun" ensures that we'll be dealing with a full summer of transfer rumors. Most Bundesliga lovers not-so-secretly hope that Bayern pluck him for their bench. Just like last year, it's time to gut the Austrian team of its Austrian talent. A little strategic culling for us who support the traditional clubs? Please?
---
Bundesliga Tactical Banter: Round 28
---
The Weekend's "non-issue"
How desperate are some media outlets for a Bundesliga title race? Far too desperate we discovered after the hot-air puffed out following Freiburg's loss to Bayern. SCF trainer Christian Streich's tactics (and personnel changes) gave the overmatched Breisgauer a fighting chance for about as long as they could hold off the mighty German giants. The game in itself proved interesting. The result was nevertheless conclusive. The End. Close the book on another Bundesliga season.
But, wait. What if Freiburg opts to lodge a formal complaint about a substitution error that saw Bayern briefly play with twelve men? The points could be forfeited. All Freiburg needs to do is summon up the will to cheat their way through via a technicality. Surely this could happen! It's all back on thanks to a wholly insignificant touch from an FCB actor in a game already decided. Might this happen? Is there a chance?
No. Zero chance. The writer confesses he himself didn't have the stomach to touch the story when it broke. It was even a bit embarrassing that this made news in the German media. One could forgive some English language outfits for treating it like a real story. Naturally, Germany's main sporting tabloid had to pick it up as it gave them the perfect excuse to publish their 4,637th photo of Kathleen Krüger this year. That's just what Sport Bild does.
At the end of the day, even news that's not the most newsworthy must still be covered. For those acquainted with the Bundesliga, however, Freiburg endangering its "Fair Play" reputation on such a trivial point seemed less likely the country reversing its course on the Nord Stream pipeline. Honor stands at stake. As always, it's possible that the writer might be wrong about this. An actual complaint being filed would still come as a shock.
Real issues with Glasner
Moving on to a more legitimate grievance, the Eintracht Frankfurt trainer's stubborn refusal to rotate his squad begins to get on the nerves of German football writers. No, it's not simply a matter of us being sore about writing speculative articles ahead of each matchday only to learn that the same tired XI is starting in the same tired constellation each week. That's part of it perhaps. In general, however, German football lovers aren't enemies of consistency. Over-tinkerers annoy us more.
The problem we have here concerns the fact that the 0-0 draw with Fürth was simply an awful showing right in front of 50,000 paying customers at Deutsche Bank Park. For goodness sake, why couldn't Glasner give lead-striker Rafael Santos Borré a day off after he flew from the other side of the planet? For that matter, Jesper Lindstrøm, Ansgar Knauff, and Kristijan Jakic thoroughly deserved some rest after active stints out on international duty. The SGE really only got going when Jens Petter Hauge and Gonçalo Paciencia came on; two back-ups who could have started.
Maybe Glasner felt like he needed to remain steadfast amid all the talk of Fürth being a "warm up match" for Barça on Thursday.  Head-coaches rarely like conforming to the expectations of the armchair personnel analysts and sometimes refrain from making sensible moves just to prove that they retain their independent streak. We got some truly bad football in the country's commercial capital as a result of this. Glasner did have the sense to give his players both Sunday and Monday off from training after this enervated performance. He still could have handled it better from the start.
Real issues in Stuttgart
Many of us want to see the young core of the Swabian team succeed. Truly, we do. If the likes of Tiago Tomas, Alexis Tibidi, Chris Führich, Omar Marmoush can play above the ability level consistent with their age, it will make for a great story. Headline writers keep the "New VfB Stuttgart Wild Boys" line at the ready. This group can make an enormous statement by avoiding relegation and, in the process, revive that 2006/07 spirit so ingrained in the collective German footballing consciousness.
Unfortunately, we're once more talking about a match in which the team squandered a ridiculous amount of chances. With time rapidly running out, this issue simply isn't going away. Führich, Marmoush, and Tomas did it again at the Bielfelder Alm this Saturday. Kostas Mavropanos and Pascel Stenzel were also complicit in spurning glorious opportunities to capture valuable points in a fixture that unambiguously shouldn't have ended in a 1-1 draw.
These boys may be too wild, or, more precisely stated, too raw. With Dortmund, Mainz, and Bayern still on the schedule, opportunities to gain ground are vanishing fast. A team this young could also see their confidence completely crushed if a heavy defeat knocks them off the rails. We could see that happen in the six remaining uninterrupted weeks of the season. As the time comes to hone in on the real relegation candidates, matters look less rosy for both of the teams involved in this tie.
---
The "Spiegel Specials": Round 28
---
Hoffenheim-Bochum (0:2, 1:2)
How about the newly promoted 1848ers doing the double over Sebastian Hoeneß' much more valuable "Cadillac squad"? German football enthusiasts were naturally very happy to behold this surprise over the weekend. The recent antics of the Ruhrpott supporters immediately scrubbed from our memory, we took great pleasure in watching a traditional club knock off one of the more "plastic concoctions."
Tactically speaking, Hoeneß drew things up ambitiously enough. Thomas Reis' very defensively minded double-six set comprised of Konstantinos Stafylidis and captain Anthony Losilla dealt with more than their fair share of problems squaring off against one of Hoeneß' "spread constellations". The Kraichgauer circulated the ball extremely well in this shape:
Lineup—TSG Hoffenheim—Match 28 (3-4-3)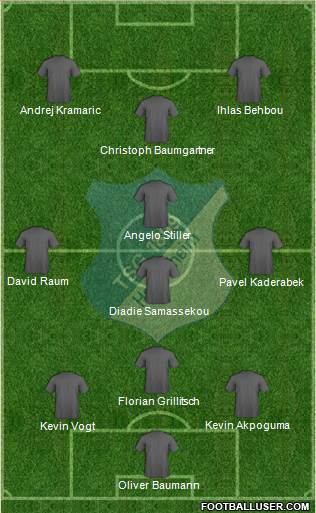 False-nine Christoph Baumgartner got his early looks in. Having undoubtably kept his eye on Raum's performances for the national team, Hoeneß accorded his star fullback as much forward license as possible in an advanced wingback role. This led to both Raum and Andrej Kramaric both firing off multiple efforts that tested VfL keeper Manuel Riemann.
Bochum's opening goal came against the run-of-play when Riemann was able to get a quick-fire counter rolling in the 28th. This risk was always implied, of course. Takuma Asano simply skirted in behind the overcommitted Pavel Kaderabek and Kevin Akpoguma. Hoeneß unquestionably overreacted when he pulled both Akpoguma and Kaberabek at the half.
Lineup—TSG Hoffenheim—46th minute (3-4-3)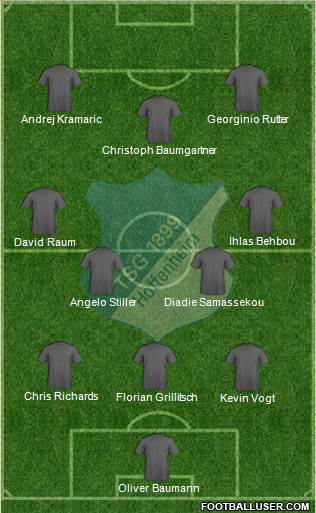 The introduction of Chris Richards and Georginio Rutter heralded a major tactical re-format. On paper, one can see that it's quite the potent one. In practice, it led to a short spurt after the restart. Retooling the right forced the NRW guests to shift resources over in an attempt to cope. Kramaric made the most of the additional space accorded him with two scoring chances and an assist on Raum's 54th minute equalizer.
The re-format nevertheless furnished no answers for Bochum's counter-lanes. Asano could have netted another tally in the 53rd had he not been slightly offside. The Japanese "Jaguar" did latch onto another Riemann launch to restore the lead in the 57th. The well-intentioned TSG shape couldn't hold after that sucker punch and the game remained wide-open (and wildly entertaining) down the stretch.
The spry underdogs still took all three points.
Prognosis: Top-six or better
Congratulations are first in order for the 27-year-old Japanese striker. Knowledge that the Bundesliga's Japanese internationals are now set to play the German national team in the World Cup Group Stage leaves us all brimming with excitement and enthusiasm every time we see a "Samurai Blue" national team player exhibit some form. We crave a challenge. It looks as if we'll get one. Yes, indeed!
Insofar as Hoffenheim's Champions' League prospects are concerned, it should be fairly obvious what Germans think of that. Death via the slow-boil of a "fiery witches" cauldron would elicit few complaints. A loss next week against Leipzig (a squad presently very much in the mood to pounce on defensive lapses) could see the top four ambitions take a serious hit.
A big challenge awaits next week in their visit to the German Red Bulls. Raum, Akpoguma, and Kevin Vogt will all be unavailable on accumulated yellow suspensions. One still doesn't see this team finishing the campaign with a limp. Midfielders Angelo Stiller and Diadie Samassekou turned in especially poor matches in both constructs. That doesn't look likely to repeat. Ihlas Behbou also had difficulty adjusting to the shifts. He'll do better.
After Leipzig, it's Fürth, Eintracht, and Freiburg. The Sinsheimers round out the season against a Leverkusen side with little to play for and a Gladbach team prone to a smashing on any given day. Although we once again find ourselves discussing a TSG losing streak, the latent potential of the team remained on display this weekend as well. Top-six in most any case. Top-four still a possibility.
Sorry, purists. German football gets the Rhein-Neckar representative next year.
Augsburg-Wolfsburg (0:1, 3:0)
Many thanks to the Fuggerstädter for turning the tables on Germany's green company team and giving us a "clean-sheet-mirror". A nice team effort from the Bavarian Swabians in this one, even if (after the early goal) Markus Weinzierl's squad committed far too many efforts during a choppy first half. The FCA played much better in the second 45 and scored two more absolutely deserved goals. The main talking point has to be the play of Mads Pedersen, who assisted on the early goal and scored his own to top things off.
Seriously. Where did this Danish late-bloomer come from? It's been a relatively quite three seasons (with a loan spell) since the now 25-year-old arrived from FC Nordsjælland in the summer of 2019. His club career didn't take off. His international career stalled. Apart from a memorable goal against Bayern in round 12 of the current campaign, he's been largely anonymous and in and out of the starting XI. The player sometimes referred to as "Mads Valentin" or "Mads Giering" pops up again to remind everyone what his chosen name is.
Anyways, those who know this column well are probably expecting the Florian Kohfeldt bashing to commence at this point. The trouble with the line that that the author very much likes to take concerns the fact that neither Kohfeldt nor assistant trainer Michael Frontzeck were available to run the team from the sidelines in this one. Kohfeldt was stuck at home in COVID quarantine while Frontzeck missed out on his second chance to coach this year with ill-timed surgery. Not exactly shocking that the Wolves didn't respond to an obscure Dutchman (Vincent Heilmann) in his mid-20s.
Prognosis: Bashing Kohfeldt despite it all
Ah. Hell with it. We're bloody well going to do it anyway. Just one personnel change for die Wölfe after last round's loss at Leverkusen. Renato Steffen replaced Jerome Roussillon in the exact same 3-4-3. This identical set of tactics ran into predictable problems immediately. Maximilian Arnold was left standing from the start; marooned in a position far too advanced for him. The VfL attack was once again disjointed. Set-piece organization proved laughably bad.
A little more luck on finishing for Lukas Nmecha and Jonas Wind might have seen the Lower Saxons insert themselves back into the match. That doesn't excuse how little this team generates offensively on a weekly basis. There are always invariably agonizingly long stretches of pure torpor despite all of the talent up front. Something is fundamentally wrong with this squad. One can tell based on their total inability to even get into promising finishing positions.
So very "Kohfeldt-esque". It's as bad as Bremen this time last year. Few of us would mind seeing Kohfeldt's career end with a second relegation. We'll take Torsten Lieberknecht back in the Bundesliga over Kohfeldt at this point. As an added bonus, we'll look forward to watching all the high-value-players Wolfsburg splurged on this year playing for better teams next season. Christ, what a shambolic mess this team is!
Gladbach-Mainz (1:1, 1:1)
Not much to say about this lower mid-table clash that played out more or less as expected. A decidedly boring offering to cap the round. Still recovering from a slight injury sustained over the international break, Jonathan Burkardt was unable to make it back in time to feature in the starting XI. Hence, we didn't get a chance to test the "Johnny-si-Lee" thesis formulated in the last column. Instead, Nullfünfter trainer Bo Svensson gave us an abhorrent looking 3-3-2-2 with strikers Karim Onsiwo and Marcus Ingvartsen operating an ocean apart. Ugh.
At least Svensson had the decency to throw Burkardt on at the half. Jae-Sung Lee–who didn't even start in the totally confused initial set-up–entered in the 68th. After a squalid opening hour plus, we at long last got to see "Johnny-si-Lee" in action in the final 20 minutes. Results were excellent. The Rheinhessen really woke up after the 73rd minute equalizer and came very close to taking all three points. Sometimes one has to wait (and wait) for quality football to emerge.
Prognosis: Still remiss
One still struggles to find much noteworthy to say about a pair of teams firmly entrenched in mid-table following their second draw of the season. Standard logic holds that clubs reaching the 40-point-threshold are safe from relegation. The problem with such logic is that it stems from those more accustomed to covering the English Premiership or other leagues with 20 or more teams.
Thirty-five points is generally good enough for the Bundesliga. Thanks to this draw, both clubs are there. Mainz have 35. Gladbach have 34. Some of the statements above notwithstanding, it'll take something pretty damned devastating for Wolfsburg not to claim an additional four points from their current perch at 31. The relegation race gets a little less interesting, even if no one would really care to see teams like Mainz or the BMG go.
---
The Burning Questions: Round 28
---
Are Hertha making progress?
Errrmm…..In a sense. We're seeing the previous defensively-minded shape morph into something more menacing. What was, last week, only a sporadic 4-1-4-1, held together foe longer stretches in the loss at Leverkusen. Naturally, that isn't to suggest that this set-up supplied us with either attractive or entertaining football.
Lineup—Hertha BSC—Match 28 (4-1-4-1)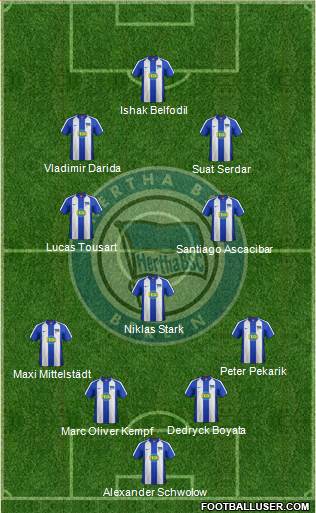 The 4-1-4-1 that crystallized on the tactical cam remained a noticeably narrow one. Head-coach Felix Magath clearly played it close to the vest ahead of next week's momentously important "Berliner derby". After losing to their cross-town rivals both in the league and the Pokal, "die alte Dame" get set to make a huge statement against a staggering and weakened Eisernen squad still reeling from Max Kruse's departure.
Hence, we didn't witness many risks here. The team kept the better ideas in reserve. Most attacks came via simple central passing triangles. Stevan Jovetic stayed on the bench. Magath even re-formatted into a ultra-protective 5-4-1 shell off the ball following Linus Gechter's introduction for Suat Serdar at the break. This weekend's contest bore all the hallmarks of a cautious XI simply going through the motions.
Our "February Promise" still holds. The thought of reneging on it didn't remain in force for terribly long, not even while watching this crew collapse into cowering defensive shapes down the stretch. While often sputtering, the overall performance of the team did appear on par with Bundesliga level football. Not necessarily a statement that long-suffering Hertha fans are interested in, but one that's true nonetheless.
The only real shame regarding this match concerned the fact that assistant trainer Mark Fotheringham had to take a back-seat to Magath after the latter's return. The circumstances begetting "Lord Fotheringham"'s brief tenure at the helm of a top-tier German club last round. Good times, good times. We all had a blast watching the plump Scotsman working the sidelines last matchday.
From speculating about which country estates the man with a name straight out of Downton Abbey had was responsible for to getting the chance to hear German broadcasters butcher his name throughout the telecast, everyone joined in on the delightful diversion. Ahem. How do Germans pronounce "Fotheringham"? With great difficulty. Such fun.
"Fah-zer-ing-Ham"?
"F-oh-Zah-ring-Hahm"?
Beautiful stuff.
Why are Köln so toothless?
Friday night's fixture at the Stadion An der Alten Försterei was, by all accounts, a pretty big dud. One can dress it up with all the footballing clichés one likes; i.e, "a hard-fought, scrappy performance from Union" or "an intense midfield battle". It nevertheless sucked. Urs Fischer's Eisernen racked up 2.2 xG in the slender 1-0 victory. Cool. The sloppiness in from of goal still proved an eyesore.
Regarding Köln's chance-creation-metrics, we've a rather concerning 0.4 xG to discuss. Steffen Baumgart's Geißböcke looked to have packed it in for the season. Fans may want the club to push for Europe, but the players on the pitch seem content to rest on their laurels after the relegation battle has been averted. Fair enough. It remains no fun to watch a team that look about as languid as Markus Gisdol's old bunch.
Say what one will about Baumgart's effervescent personality, six goals in the last eight fixtures simply isn't good enough. This squad has lost its way. In recent weeks, we've only been touching upon the Effzeh slide briefly. A more thorough examination of what's going on with the cathedral city side is thus long overdue.
Lineup—FC Köln—Match 28 (4-4-2)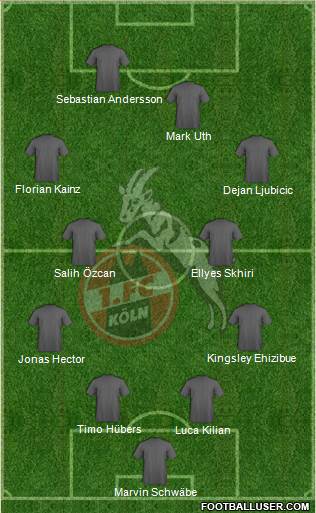 News that Anthony Modeste had to sit out the round obviously didn't favor Baumgart's match-plan. Whether or not Ondrej Duda's absence mattered remains debatable. There's so much more talent on this year's roster that such an absence shouldn't matter. Home-town hero Mark Uth in a service striker role should produce more. So too should the pacey Dejan Ljubicic on the slanted flank next to Uth.
Ehizibue's nightmare
In just his third start of the season, Kingsley Ehizibue single-handedly cancelled out the advantages the Domstädter could have enjoyed on the right. The Dutchman couldn't get his positioning sorted out and committed several bad fouls. Even as Union invited their guests to come at them during the latter stages of the first-half, the rattled Ehizibue offered little beyond unimaginative diagonals that left Sebastian Andersson hanging in the air.
Two failed adjustments
A change was clearly needed prior to the restart. Not having the preferred Benno Schmitz available to work the right fullback role meant that Baumgart needed to get creative. Germany U21 winger Jan Thielmann came on for Ehizibue to assume a role that, while not unfamiliar for him, did constitute a tough assignment.
The 1. FC Koen trainer also ordered a shape re-format.
Lineup—FC Köln—46th minute (4-2-3-1)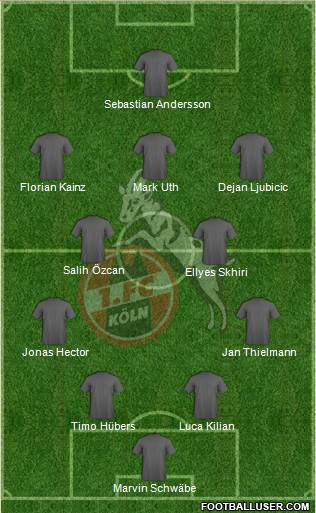 Snapping into a rigid 4-2-3-1 created its own problems. The synchronized movement of the second attacking axis gifted Union a predictable press to deal with offensively. Captain Jonas Hector also fell victim to confusion when Thielmann didn't keep a horizontal line with him. The mistake that ended up costing the NRW guests the game had much to do with the fact that Hector didn't have an organized back-line within his range of sight.
More meek attacks from die Geißböcke over the course of the rest of the game. Ehizibue may have been gone, but the innate tendency to try and force in tight diagonals for Andersson persisted. One witnessed a team completely devoid of ideas. One can accord Baumgart's charges some leeway as they were collectively worn out from the duels. In Baumgart's case, however, the excuse of physical exhaustion doesn't count.
Further tactical conflagrations 
The lack of creativity, to a large extent, needs to fall on the trainer here. Calling for a more static shape in a game during which one's side can't grab even the slightest of footholds runs afoul of "Footballing 101" basics. The CB losses in the January transfer window loom large here. Defensively, Baumgart has the team focused and coping well after the departure of Rafael Czichos.
A lingering problem concerns the fact that the Effzeh head-coach cannot form a back-three when his team needs to press for a late goal. He did try in this one, ordering Hector and Thielmann ahead of Timo Hübers, Luca Kilian, and Julian Chabot in the final twenty minutes. It produced nothing as Union absorbed the meek press right away.
Later still, we saw Uth, Andersson, and Tim Lemperle try and re-organize into a three-striker set. Results were, as one might expect, practically non-existent. Not enough quality in that trident to begin with. Something like that stands a poor chance of gelding over 90 minutes, let alone ten. Nothing much works for this team now. It begins at the back and infects the forward play.
What to expect next 
With Hübers out next week, Baumgart needs to seriously re-think his general directive that this team deliberately slow down its build with a short-passing game emanating out of the back. One reason to doubt that he'll be in much of a mood to re-think anything stems from the 40 points that this team has already accrued. They're safe from relegation and can allow other teams to pick points off of them without major consequence down the stretch.
It stands to reason that Köln won't be actively striving for Europe in the final six rounds. Recall that Baumgart is, at heart, a conservative coach. Captain Hector may still be plagued by traumatic flashbacks from last year's campaign. The organization itself suffers from the recent memories of qualifying for Europe during the 2016/17 season, then getting relegated the very next year.
In summation, it appears we have a squad prepared to embrace the role of a totally dead-weight lame duck. The relegation-threatened Bielefeld, Gladbach, Wolfsburg, Augsburg, and Stuttgart can all feel confident about nicking points off them in the coming weeks. Don't bet on Köln. They show no signs of betting on themselves.
---
Weekly Tactical Focus: Breaking Lines with Laimer
---
We've a very interesting tactical affair to discuss in this week's "focus section". Ever since the mini-indictment against RB trainer Domenico Tedesco was laid down in the last edition of "Tactics Talk", this writer has been dying to know if some of the less impressive aspects of Tedesco's coaching style would carry over after the international break. The re-match of what was one of the Hin-runde's best fixtures couldn't get here soon enough. After two long weeks, the wait is finally over. We have some answers, along with some newly intriguing questions.
Both Tedesco and Dortmund head-coach Marco Rose made shape adjustments before making their first personnel changes in Saturday evening's "Top-Spiel". We have to unequivocally credit Tedesco with making the better alteration here. Rose's changes were ineffective while the RB gaffer's moves were spot on. That being said, the German Red Bulls continued to look unprepared on set-pieces, benefitted from luck throughout the match, and certainly wouldn't have celebrated such a large-margin victory without a standout performance from Konrad Laimer.
We have one of those matches in which the xG wasn't really relevant.
xG Leipzig–1.1, xG Dortmund–0.9
Mats Hummels raised a valid point in his post-match analysis. To be absolutely fair, so did too did Tedesco. The expected-goals-ratio conceals a lot of promising late RB counterattacks that the team purposefully put the brakes on after the match was decided. The Dortmund defense got completely blown apart late. The Saxons often slowed their roll before they got a chance to take shots from xG plot-point positions. This one could have been much worse.
In essence, we're covering a pretty convincing victory here. All of the usual problems associated with Dortmund cropped up: Over-thinking on the attack, egregious defensive passing errors, horrendously bad blown marking assignments, and a total breakdown in discipline once the match reached a critical point. It's all in here. We'll even pile on Rose and staff for screwing up their tactics so amateurishly that they left the team with little chance.
It's all coming. Of course it is. Do note, however, that Tedesco doesn't exactly deserve a prize for his work on the day either. What he put forward on this day stood about a 50-50 chance of working. There were large swathes in the opening 45 during which it wasn't working at all. Some curious tactics from the former Schalke gaffer on this day.
Lineup—RB Leipzig—Match 28 (3-6-1)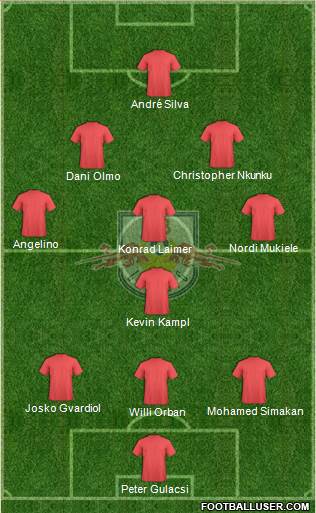 Interesting, yet undeniably very cautious. Christopher Nkunku and Dani Olmo occupied spaces not very conducive to either builds or counters. The hero of the day (Laimer) could have just as easily treated his assignment as an axial fix with Kevin Kampl. Between the flat back-three and the "pillow buttressing" wingbacks, this constellation featured no definitive "driver". It showed.
There were cases in which Laimer played far enough ahead for this to look more like an ambitious 3-3-2-2 system. For the most part, however, the intent of the design resembled this deep-sitting 3-6-1. A respectable enough opening hand from Tedesco; one that correctly anticipated how eager Dortmund would be to present the sold-out crowd of 81,365 with an early goal.
As pertains to the BVB tactics board, we got this:
Lineup—Borussia Dortmund—Match 28 (5-2-3)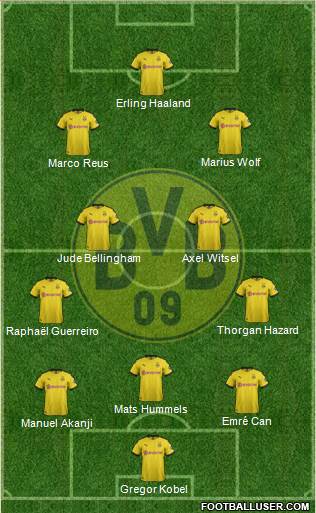 A sigh is fully justified. Rose, Maric, and the rest ceded the flanks by not deploying wingers and keeping the wingbacks pocketed. Such a structure lacked aggression. Furthermore, it practically invited die Schwarzgelben to wrench their own gears on attack builds and lie vulnerable in the event they made defensive mistakes (something one should now treat as a given with this team). Disappointing.
The pre-kickoff atmospherics couldn't have possibly been better. The columnist possesses no qualms about telling readers he found himself getting rather emotional. For the first time in 763 days, one of German football's greatest footballing cathedrals was fully packed for worship. Erling Haaland kept his word that he wouldn't miss out.  All was perfectly well in the German football world.
Off we went.
Match Flow: 1st to 7th minute
The first couple of minutes had to be played amid billowing clouds of yellow smoke. No complaints there. On the contrary, we'll thank the BVB ultras for their relatively tame pyro display. Not much either team could do in the initial poor visibility. Comically enough, the gesture nearly ended up sabotaging the home team. BVB keeper Gregor Kobel ended up tripping over his own feet in pursuit of a wide ball on the RB left in the 1st. Kobel quickly picked himself to recover.
Willi Orban had no difficulty clearing an Emré-Can-launched diagonal in the 2nd. A BVB cycle-right quickly got smothered by the guests. After Can and Hummels tried to rebuild at the back, Josko Gvardiol had no difficulty stopping Maris Wolf's advance in the 3rd. Bow-arcs, long launches, and a couple more rightward-cycles didn't work for Dortmund in the 4th and 5th. Leipzig gave the hosts no space. Peter Gulacsi easily collected a ball ahead on the onrushing Thorgan Hazard in the 5th. André Silva was well offside on the ensuing counter.
A Laimer foul gave Marco Reus a chance off a dead ball in the 6th. Gvardiol handled the BVB captain's service well. Dortmund were forced into retreat after the subsequent corner, but Hummels stepped forward to give his team a golden chance to take the lead. The team's "defensive quarterback" split the RB defensive with a lovely vertical for Reus. All alone with just the keeper to beat, Reus inexplicably tried to pull back for Haaland despite the fact that the Norwegian was ahead of him.
A chance for the 1-0 embarrassingly scuttled away.
Match Flow: 7th to 21st minute
A play which conjured up memories of the team's woefully overly-complex passing-game under previous trainer Lucien Favre left the hosts rattled a bit. Raphaël Guerreiro wasn't able to accomplish much beyond a useless horizontal run across midfield on the next charge. Guerreiro at least stayed on the right to see if he could do anything with a return ball. The Portuguese fullback's eventual cross was shepherded out by his original marker Nordi Mukiele for a goal kick.
Wolf won a decent midfield ball in the 9th, yet could only render unto Leipzig another goal kick with a poor service. After some head-tennis and non-threatening verticals/switches in the 10th, Wolf got stymied on the next attempted BVB breakthrough in the 11th. The un-inventive hosts tried to hit Wolf again with an over-the-top ball in the same minute and a third time in the 12th. Wolf got whistled down for a flagrant smack to Angelino's face on the second play.
Leipzig tried a left-ward cycle through in the 13th. Jude Bellingham was on hand to halt and the counter once again went in Wolf's direction. The Dortmund attacker's cross into the box was completely harmless, but an error by RB defender Mohamed Simakan resulted in a chance for Haaland. The French defender completely missed the header and Haaland collected. Dortmund's star striker did a very impressive job contorting his body for the quick shot. He still pulled the effort wide.
Hummels pushed high to carry his team forward again in the 14th. Guerreiro, still partial to those rightward lurches, saw two shots blocked. A failed Haaland ball hold-up in the 15th put Can under pressure. Nkunku, Kampl, and Angelino combined well before Hummels got a tackle in. Unfortunately, Bellingham wasn't able to break properly on what would have been a promising counter. After a couple of stalled charges, Dortmund finally put Bellingham through in the 16th. The Englishman saw a shot blocked too.
Laimer and Kampl attempted to get something going back the other way in the 17th. In a very rare occurrence, Nkunku wasn't fast enough on the trail. The position Tedesco placed the French striker in obviously had something to do with this. Kampl, Gvardiol, Orban, and Laimer kept the play alive with some excellent team passing. Gvardiol's final vertical for Silva was too far ahead of the RB lead-striker. Referee Marco Fritz allowed an advantage play after Simakan took out Reus in the 18th. The Dortmund actors were too bust protesting to make anything of it.
The next BVB charge featured some nice interplay. Reus and Guerreiro manufactured a neat give-and-go. Kampl had to step in with a tactical foul on Reus after his teammate slipped him through with a back-heel. Fritz keep the yellow card in his pocket when he just as easily could have booked Leipzig's Slovene. Guerreiro regrettably wasted the 19th minute free kick with a hit straight into the arms of Gulacsi.
The RB gloveman actually gave the ball straight back to Dortmund. The hosts got another chance. Can shook off Olmo. Hazard and Haaland then eventually released Reus on the right. All the red-clad bodies in the box ensured that the captain's cross was blocked. Shortly thereafter, an atrocious mistake from Can enabled the Saxon guests to take the 1-0 lead. Can carelessly lost the ball to Laimer. Silva and Nkunku played it perfectly in order to slip the onrushing Laimer on the Austrian's follow-up run.
A cheeky lob finish was all that was needed.
Laimer flicked over with aplomb for the opening goal.
Match Flow: 21st to 30th minute
A fabulous team goal gave the decidedly weaker attacking side the lead. One witnessed some desperation from the hosts as they tried to reestablish themselves in the aftermath. A rather sad Manuel Akanji vertical came straight back in the 22nd, as did a Hummels diagonal. Leipzig spit back the tame efforts like a vending machine fed folded back notes. By the 23rd, Dortmund had no options other than to play back to Kobel on bow-arcs. A fan-out to Can came to nothing after Haaland couldn't hold up the German's diagonal.
Kampl received Fritz's grace once more in the 24th. The Slovene came in very late on Axel Witsel. Match official Fritz declined to enforce the second bookable offense in just five minutes. As inclined as one might be to feel Dortmund hard done by, they still weren't generating much. An Akanji diagonal in the 25th failed. A free-kick in the 26th (after Simakan took Bellingham off his feet) yielded nothing other than another poor Guerreiro service.
Rose's men got cut open on a counter after the dead ball strike. A RB 4-vs-2 got bogged down, ending in a block of an Silva shot after imprecise play. Endless turnovers on a Dortmund charge in the 27th meant that Haaland was offside by heel when Bellingham finally got the ball to him. We had another brief injury timeout involving Witsel in the 28th. Angelino accidentally dug his studs into the Belgian midfielder's cheeks. Tempers flared on the sidelines.
At this point, one has to say the hosts were doing too much complaining. As a result, they remained prone to lapses in concentration. That's precisely what happen as soon as open-play resumed. Hummels didn't focus on a 30th minute clearance. His wayward ball deflected back to Laimer. Leipzig's Austrian midfielder scored a quick brace courtesy of a silly boot stick-out from Emré Can. The BVB defender's attempted stop was too prosaic.
2-0 to the guests.
Match Flow: 30th minute to half-time
It honestly seemed pretty unlikely that Rose's Westphalians could mount a response to this before it came time to head into the dressing rooms. The Saxon guests rode the confidence associated with the scoreline. Angelino batted away a Hazard advance in the 31st. A BVB cycle out left then got quickly cancelled. Gvardiol and Olmo quickly put Nknuku through on a 32nd minute counter. Dortmund were forced to foul. An actually interesting set-piece design from Tedesco's playbook only failed after a vital clearance from Guerreiro in the 33rd.
Hummels had to be on guard one minute later when RB put together a nice full lateral charge involving Kampl, Gvardiol, and Simakan. Leipzig's renewed interest in attacking didn't last long. Tedesco's crew were happy to sit deep and let the BVB come at them again by the 35th. Everyone in red was back to ensure than a Can through-ball went nowhere. Guerreiro, Reus, and Bellingham tried to work through on the left in the 36th. The hosts won a corner, which only served to spark a Leipzig counter involving Olmo. Reus had to foul hard to stop it.
RB generously gave the ball right back to their hosts and dropped deep to prepare for the next counter. It came in the 37th when Guerreiro was dispossessed easily following a Bellingham run forward. Nkunku spirited the ball away. Leipzig rather curiously wasted another breakaway chance in the 38th when Nkunku couldn't decide who to shuffle off to. Dortmund, with their slower spread attacks, did get a stylish combo rolling on the right in the 39th.
Haaland ultimately couldn't be reached thanks to a borderline tackle from Gvardiol. Dortmund had a case for a penalty, but it's no surprise that Fritz wasn't interested after all the jawboning he had to endure. This is what deservedly happens to a team that pesters the ref too much early. When the time comes for a legitimate call, the whiny team stands little chance of getting it. Zero sympathy for the BVB here.
Plenty of spunk from both teams as we headed toward the break. Actors from both sides were alert on the ball as the two opposing teams traded long balls and headers between the 40th and 42nd. Can and Hummels couldn't think of nothing else besides more diagonals for Haaland on the next major BVB approach. Hummels at least made it back to stop a Silva counter deftly in the 43rd. Angelino took his time setting up the subsequent corner.
We saw another nice Tedesco design off the 44th minute corner. Angelino took it short, but then hit a deep cross in for Mukiele on the return. It would have truly been something if the Frenchman's artistic and acrobatic attempt to strike the ball in midair with a first-time tricycle connected. It didn't. Can, Bellingham, and Haaland put in some decent work on a quick retaliation. The final target was Wolf, who's effort was easily blocked.
Guerreiro cross for Bellingham in the 45th proved way too high. Hazard earned a booking for dragging down Nkunku after Leipzig again threatened on the counter at 45+1. Dortmund really looked like a pro-am team when Kobel couldn't find anyone to play out to in the same minute. Whistles and jeers appropriately reigned down before Fritz blew the half-time whistle. The opening 45 ended with a whimper. Bellingham crossed very poorly at 45+2.
Match Flow: 46th to 54th minute
We arrive at the point in the match at which both trainers opted to re-format with existing personnel. One actually doesn't see this as often as one might expect in football. It's far more common to see substitutions accompany formational shifts. Re-ordering players carries with it a great deal of risk; one that came to bite Dortmund in this case. In this case, all the maneuvering left the columnist furiously scribbling in his notebook.
Very difficult to say if Tedesco had his own second-half shift in mind or the Leipzig re-format constituted a direct response to Rose's moves. The Saxons didn't really have much of a discernible shape at all in the opening minutes of the second 45. In any event, Dortmund's shape change was obvious from the very start.
We'll thus begin there.
Lineup—Borussia Dortmund—46th minute (4-3-3)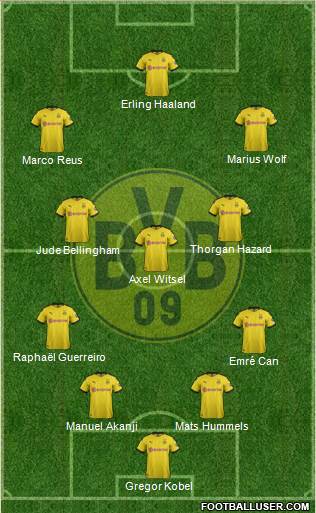 Here we have something almost surely tailor-made for the substitutions to come. Rose wished to reestablish a presence on the wings in time for Giovanni Reyna and Julian Brandt to assume the roles. Witsel's new position makes him a dead-ringer for eventual replacement for Mahmoud Dahoud. At some point, one fully expected the BVB trainer to sacrifice Thorgan Hazard for a second-striker; the easy plug-in of Donyell Malen in this case.
The idea is fine. One must still question Rose's decision to hold back on subs at the break. Why not introduce new actors immediately when trailing 0-2? One has five subs, after all. Anyone can immediately recognize that the best part of this reshuffle involves placing Jude Bellingham precisely in the position where the young phenom can maximize his impact. How might Bellingham have fared with Dahoud or Reyna next to him without delay?
Sadly, we'll never know the answer to that question.
The new 4-3-3 did pay out some early dividends. Two early bow-arcs in the 46th were much cleaner as the BVB confidently spread the ball from left to right in the back ranks. Bellingham and Hazard engineered a solid charge in the 47th. Simakan barely recovered in time to halt. A long ball for Reus in the 48th was promising. Orban boxed out to shepherd away.
Still in the 48th, Reus and Can were able to assert themselves on the right briefly. Guerreiro and Bellingham looked very good on a leftward combo in the very same minute. A through-ball for Wolf in the 49th might have worked, were it not the superhuman Konrad Laimer handling the coverage. The will to turn the game around was certainly apparent within the BVB ranks.
Hazard earned a corner in the 49th. Guerreiro supplied a much smoother swung in service that Gulacsi had to battle for. Bellingham showcased some nice moves in the 50th. Hummels was back ion the trail to send in a killer through that no one broke to meet. One didn't really mark the definitive change in Leipzig's shape until the Saxons marched forward in the 51st.
Lineup—RB Leipzig—51st minute (3-4-3)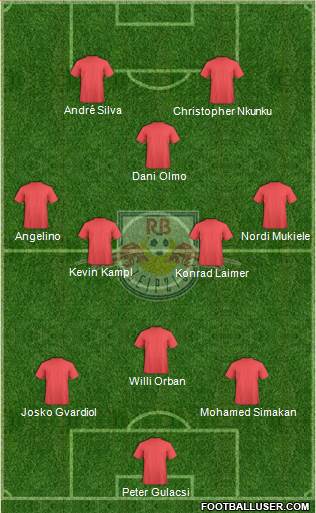 It clearly had more sense and structure to it. In point of fact, this was the shape that one expected them to line up in from the beginning. Nkunku and Olmo went to waste so far back. When Silva won a ball in the 51st and those two actors tagged along with him, one could unmistakably see that the squad operated in a different configuration.
Mukiele stumbled on the first RB charge of the second half. Angelino broke into the box on the next one in the 52nd, only stopped via a monster tackle from Can. Tedesco's set-piece playbook was clearly depleted on a pair of corners in the 52nd and 53rd. The ideas were fairly useless. Olmo flashed well over on the second take. Hummels out battled Kampl on the next RB rush.
Bellingham was through on a BVB counter in the 54th. It took both Kampl and Laimer to take him down with a double-team of illegal challenges. Fritz finally elected to give Kampl a caution. This probably counted as Dortmund's biggest chance to get back into the match. They had some momentum at their backs and a ref now fully prepared to lend them some spots.
Match Flow: 54th to 58th minute
A serviceable design from Rose's playbook got Bellingham and later Haaland forward in some space. What would have been a near-perfect ball for the trailing Reus nevertheless did not arrive. Bellingham went flying again after a poor challenge from Gvardiol toward the end of the 54th. After a treatment break for both players, Fritz deemed the contact incidental and did not award Dortmund a free kick just outside the area.
Play resumed in the 57th. The BVB build wasn't awful by any means. There simply wasn't any way through past the midfield RB axis. Laimer easily handled a somewhat desperate vertical from Akanji. Catching Dortmund napping on a quick throw in the same minute, the Saxons pressed forward for what would be the decisive play of the game.
Zero BVB marking to behold as the ball passed from Olmo to Laimer to Nkunku, then back to Olmo again on a centralized attack. Leipzig's Austrian "man-of-the-match" added an assist to this two-goal haul with a filthy-slick back-heel to Nkunku at the top of the 18. A first-time laser from the Frenchman bulged the back of the net.
3-0.
Game over?
Match Flow: 58th to 77th minute
Not quite. In the writer's mind, there was absolutely a "lid" on this match from this point on. Chances that Dortmund could overcome a three-goal-deficit in a fixture during which they had already expended more than their fair share of energy stood at nil. It wasn't happening. The affair was still worth staying with for a little while as interesting developments could still come to pass.
Rose had been readying a double change on the touchline. Dahoud and Malen were supposed to check in before the third goal was scored. The duo ended up relieved Wolf and Witsel in the 61st. It's worth reiterating that this change could have affected the match if executed earlier. Executed as it was, rolling RB counterattacks ended up pummeling the hosts into soft submission.
Mukiele was the first to take advantage of the extra space in the 62nd. Laimer followed with another counter after picking off Dahoud in the 63rd. Very much in line with Tedesco's words afterwards, both charges could have resulted in goals. Leipzig weren't nearly as lethal as they could have been counter-wise on this day. Just like in the first half, hesitation and brake-pumping got in their way.
BVB possession cycles in the 64th and 65th were strong, but there would be no cutting ideas at the end of them. Nkunku and Olmo rattled off another wicked counter in the 66th. There were more above-average BVB builds in the 67th and 68th. They came to nothing. The hosts ripped apart again by another vicious RB counter in the 69th.
Emil Forsberg had been introduced for Kampl seconds prior, meaning that this match was leaning towards a pretty hard tilt. Hummels had to bail his team out on back-to-back RB counters in the 70th and 71st. Silva blew the BVB midfield out of the water on the first. Forsberg required a perfect straddle from Hummels on the second. Silva found himself without any support at the end of still another counter in the 72nd.
With Dortmund getting mercilessly pummeled by these thunderous counters (two more in the 73rd and 74th), the "lid" on this match was screaming to be called. Since the German Red Bulls couldn't finish, however, there remained a slight chance that the improbable might be accomplished in the final 15 minutes. Reyna and Brandt entered for Hazard and Reus in the 74th. It seemed sensible to give them a couple of minutes.
Kersplatt. Forsberg leading the charge in the 75th. Silva dancing around Schwarzgelben markers in the 76th. Lukas Klostermann (subbed on alongside Forsberg in the 68th making an absolute mockery out of the Dortmund left with an interception and run in the 77th. Dominik Szoboszlai preparing to enter from the sideline.
Forget it. This one was over.
Match Flow: 77th minute to full-time
Two more goals and a host of Leipzig chances to discuss. Still noting terribly relevant to the match itself. Szoboszlai miffed up a double chance sitter in the 81st. Malen atoned for tripping over his own feet one minute prior to score an ugly goal in the 84th. Olmo responded with a positively gorgeous screamer to restore the three-goal cushion in the 86th. We finished 4-1 in favor of the Saxon guests.
Reviewing the xG:
xG Leipzig–1.1, xG Dortmund–0.9
Not really an accurate representation of what we saw from either side. Rose's men had a clear path to an almost certain goal in the 7th minute and were punished brutally via a pair of tallies that, while undoubtably the fault of defensive errors, did have an element of luck to them. As noted in the introductory paragraphs, the endless series of Leipzig counters didn't count toward the xG as (somehow) chances didn't materialize from them.
Tedesco earns an upgrade from his most recent assessment. The RB trainer's tactics were sharper, his set-piece playbook (marginally better). We'll still stop short of saying that this team is on a Sherman's march toward the Champions' League places. Consider how far they've yet to go in this insanely packed month of tough fixtures. "Madness Month" has only just begun and this team's fortunes can still turn on a dime.
We'll allow Rose and staff some leeway as well. True, this week's analysis is packed with evidence of faulty tactics and poor decisions. The temptation to dust off the old criticism (later adopted by Rose himself) of "Playstation Football" is there. That doesn't mean that it's strictly fair. Hummels' post-match point stands. This was a bad Dortmund performance, but definitely not one as bad as the final scoreline would suggest.
Fairly inconclusive evidence with regard to the two coaching staffs. A brilliant performance from a player it would have been very nice to see qualify for the World Cup swung this one. Two goals and one assist from the normally more defensive minded Konrad Laimer. Interesting to think that Laimer reminded one of another RB Austrian who shunned a defensive holding midfielder role; albeit much earlier in his career.
Laimer isn't exactly Marcel Sabitzer just yet, but at 24-years-of-age he still has some time.
Thanks so much for reading!
You can occasionally catch Peter on twitter, @ViceytheSS.
Twitter DMs are open for football conversations, corrections, and (if you truly insist) general abuse. 
All columns debut on Bulinews before appearing on Peter's website later in the week.