Crunch time in the Bundesrepublik! Insofar as the 2020/21 German Bundesliga was concerned, it all came down to one decisive match between Bayern and Leipzig last weekend. A tight, yet captivating, affair kept everyone on their edge of their seats until this year's champion was effectively decided. For those who missed out on the eminently entertaining do-or-die, and the hot-sheet that was published on Sunday, we're pleased to repost in this space.
---
League-wide talking points: Round 27
---
A disappointing derby
The round's much-feted capper, somewhat unsurprisingly, proved an anti-climactic bust. Perhaps buoyed by the nice fireworks display supplied prior to kick-off, the East German Köpenickers supplied about ten minutes of pulse-quickening footballing entertainment. That's about it. After that, a broken foul-laden match slowed to a crawl. Eventually, the West German Hertheraner got awarded a chance to equalize from the spot and Dodi Lukebakio took his chance. Neither side managed a shot on goal during the woeful second half.
Since the anachronistic topic of East vs. West has been broached, a writer should point out that the so-called "Berliner derby" remains very much a work-in-progress. Union's historic rivals were always the STASI-backed Berliner FC Dynamo. Since a reunification exhibition thirty years past, many supporters of these two clubs still maintain cordial relations. Ordinary Berliners often possess few qualms about backing both clubs. The sides only met for the first time in a competitive match in the second-tier some ten years ago.
Naturally, ultras on both sides have the potential to turn this into a fiercer, more rabid contest. More time is needed as this Sunday constituted only the fourth meeting between the clubs in the top flight. Obviously, ultras are needed as well. That would help enormously. The Bundesrepublik had little right to expect a cracking match amid a second year of sad Easter lockdowns.
Two additional duds
With the opening section of this column evolving into a space in which to cover some of the less noteworthy fixtures from the round, we'll briefly address both Köln-Wolfsburg and Stuttgart-Bremen. The Swabians and Hanseaten played a fairly untidy match in the Bundesliga's other Easter Sunday offering. A late Ludwig Augustinsson lifted hosting Stuttgart to a 1-0 victory over their poorly skilled guests at the Mercedes Benz Arena. This one wasn't recommend viewing either.
Bundesliga watchers kept a close eye on VfB's Tanguy Coulibaly–the assumed season-long replacement to Silas Wamangituka–on the Stuttgart right. The club's other promising prospect filled in serviceably, showing no major difficulties stepping into the split-flank stagger with Borna Sosa head-coach Pellegrino Matarazzo has allowed to develop over the season. The French teenager appears well on his way to making a good case for himself as the campaign draws to a close.
Wolfsburg midfielder Maximilian Arnold summed up his side's lackluster 1-0 win over visiting 1. FC Köln fairly well in his post-match comments. Neither team furnished especially inventive football. On the Kölner front, Markus Gisdol held the tradition of infuriating tactics-heads with another incoherent 4-2-3-1 spearheaded by Ondrej Duda. Marius Wolf switched back onto the wing from the back-line in what feels like the 4,000th offensive/defensive switch for him this year. Bad craziness.
An unexpected surprise
One match that looked like a washout on paper proved as much for most of the opening 45. Bo Svennson's FSV Mainz 05 and Frank Kramer's Arminia Bielefeld, jostling for the relegation playoff place, played it predictably cagey for a largely flat first half. Once Daniel Brosinki put the Nullfünfter ahead in the 56th, however, both teams opted to through caution to the wind. One could divine a real sense of passion from the players fighting for their professional lives.
The fun finish was augmented by a slew of fresh-legged subs from both trainers. Bielefeld's Andreas Voglsammer tied it up with a great second effort off a free-kick in the 75th, in the process commemorating his first Bundesliga goal after ten years of toil in the lower divisions. Subs Sergio Cordova, Fabian Klos (of Arminia) as well as Danny da Costa, and Danny Latza (of Mainz) then all pressed hard for the winner. Despite some good chances, the two sides split the difference at 1-1.
---
The "Spiegel Specials": Round 27
---
Augsburg-Hoffenheim (1:3, 2:1)
The tables have certainly turned in the first of our "mirror matches". A string of three straight Bundesliga defeats seriously calls into question the viability of Sebastian Hoeneß' 5-3-2. The construct continues to degenerate. German wingback Marco John and American center-back Chris Richards encountered more communication problems on the left-hand side. Florian Grillitsch, an unnatural selection to anchor the back line, goes rouge more frequently. As a result, misplaced passes and botched coverage leave this XI perpetually vulnerable.
The shape keeps getting pulled apart too easily. Midfield linchpin Diadie Samassekou no longer finds enough opportunity to involve himself in the offensive play. Sebastian Rudy and Christoph Baumgartner often have to track back to rescue a formation bending into an unsafe 3-5-2 or disjointed 3-1-2-2-2. Hoeneß used three halftime substitutions to get Grillitsch out of the back and attempt to install a back-four. This just looked awkward. Ryan Sessegnon and Robert Skov couldn't figure out a fullback partnership on the fly.
Prognosis: A Württemberger Wobble
Difficult as it may be to fathom, Hoffenheim sit just seven points above the relegation zone. One can rightly consider this absurd when taking the sheer amount of talent on the roster into account. It doesn't appear as if the Kraichgauer lie in any real danger of becoming a late entrant into the relegation race, but Hoeneß' relatively safe seat does give one pause. The 38-year-old retains to high a profile, not to mention name recognition, to warrant a sack.
Dietmar Hopp's organization invested far too much in reeling in Uli's nephew to pull the plug now. Problematically, Sebastian himself has invested far too much in his current system to build something more effective from scratch. A very tough line of fixtures (Leverkusen, Leipzig, Gladbach, and Freiburg) now loom. It's entirely possible that one of the bottom dwelling teams can make up significant ground on the them in the next month.
The Sinsheimers suddenly back into a very tight spot. Hoeneß needs to go bold with a new formation and four to five new starters. Otherwise, the tenure in which he took a UEL team down to the doldrums shall be remembered as one of the biggest Bundesliga bungles of the last few years.
Frankfurt-Dortmund (1:1, 2:1)
With so much having already been commentated upon regarding this pivotal fixture, it may seem as if there's nothing left to say. This writer has one more thing to add, beyond the usual carping about what a fatal error it was to fire Lucien Favre. If one re-watches the first-half of this weekend's clash, one can see that Adi Hütter's SGE accorded the Dortmunders more than ample space with which to work. Erik Durm and Lucas Silva "Tuta" Melo did a fairly subpar job of marking Marco Reus on the BVB left.
None of the black-and-yellow clad players appeared to be looking for their captain, however. This struck one as most peculiar, given that Reus' placement should have formed the cornerstone of the day's tactical plan. The captain had direct access to Raphaël Guerreiro behind him and link-up lanes galore to sweeper Thomas Delaney. The atrocious passing decisions alluded to in Mats Hummels' post-game remarks obviously encompassed many poor decisions, but this one stood out as the most repeated mistake.
Prognosis: UCL hopes finished
We arrive in hopelessly familiar territory. We've called it before. We called it four fixtures into the "Rück-runde". After predicting it virtually every week henceforth, we emphasized again it in the most recent column. In terms of the table, it's Europa League 2020/21 for the once reliable "Vize-meister". All the resulting financial and personnel turmoil follows as it's now barely arithmetically possible for this NRW-club to climb back up to fourth.
The worst-case-scenario comes true. There will be some suspense about it as Eintracht Frankfurt do face the slightly more challenging remaining set of fixtures. Don't buy in. There's also the highly remote possibility that Dortmund could stay alive in this years Champions League long enough to propagate the myth that they might win it. No one requires a reminder to discount this romantic fairy tale.
Whilst the Hoffenheim saga threatens to evolve into a Bundesliga staffing blunder of memorable proportion, this one has already arrived. The good news for BVB fans concerns the team's favorable prospects in this year's Pokal. There should be a pleasant aftertaste after the pain is processed.
---
The Burning Questions: Round 27
---
Will Schalke win another game?
Oh man. Is it over yet? When shall we be free of this torture? As evidenced by some fine play from Amine Harit, Sead Kolasinac, and the (finally!) available Klaas Jan Huntelaar this weekend, latent talent exists on the squad. The problem remains an incredibly fragile sense of collective confidence. No S04 can sustain any sort of rhythm for a prolonged period beneath the dark cloud that looms over this disastrous season. The Königsblauen are the footballing equivalent of a toddler; capable of bursting into tears or tantrum at any moment.
We'll give them a look regardless. Thanks to the international break, this round's fixture against Leverkusen constituted the first real opportunity Dimtrios Grammozis had to patiently research and build a match-plan. He and his staff came up with this:
Lineup—FC Schalke 04—Match 27 (5-3-2)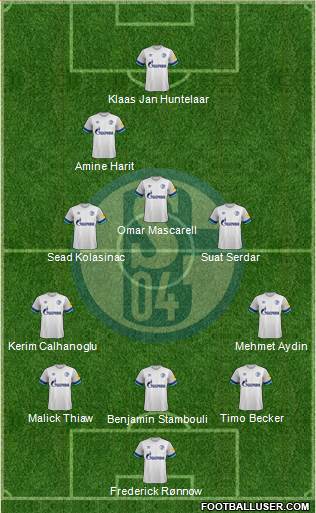 Rather serendipitously, Grammozis found himself ridded of the consistently awful William Furtado after the Wolfsburg loanee threw a fit at being subbed off last week. He could also shed underperforming Shkodran Mustafi on the basis of training data. Not knowing quite what to expect from new Werkself head-coach Hannes Wolf, Grammozis did an admirable enough job of correctly guessing that he needed a wide back-five with Kolasinac working a midfield pincer.
As one can easily surmise, this formation is built specifically for the counter. Harit's placement at short striker counted as a solid idea in this regard and did lead to some semi-lively retaliatory strikes. As one can just as easily surmise, it all fell apart just ahead of the flat back-three. Recognize the wingbacks? That's okay. No one else does either. Kerim Calhanoglu and Mehmet Aydin (making his Bundesliga debut) simply couldn't hold once Wolf's men established themselves on the flanks.
Die Knappen will need more than a proven center-forward and a serviceable pocket feeder if they are to salvage some pride before exiting the Bundesliga stage. What they'll truly need for something like this to work are clean bills of health for Hamza Mendyl and Kilian Ludewig. Though they have been disappointing in wide wingback roles this season, they're certainly better options than unready rookies. If Salif Sané and Matija Nastastic could themselves heal up and step in for Timo Becker and Malick Thiaw, all the better.
One doesn't see this happening even if these players become available. Grammozis has little to worry about insofar as is job is concerned, meaning that he'll continue backing the tyros as he prepares for the coming second-tier season. Schalke face four beatable top-tier opponents in the coming weeks, but it isn't clear if their trainer will actively try to field a winning XI with soon-to-depart actors. Thus, the answer to this particular question remains a fairly confident "no." Seven more weeks of torture. Yikes.
How did Gladbach get back on track?
Say what one will about Marco Rose's perceived act of treason, the man's head isn't totally at is new Dortmund offices yet. The 44-year-old trainer remained attentive enough to employ perhaps the savviest tactical adjustment of the weekend in his side's 2-1 comeback win over Freiburg. Having initially lined-up his foals in a standardly lax 4-2-3-1, Rose took action at the half in order to dig out a crucial victory.
Lineup—Borussia Mönchengladbach—46th minute (5-2-3)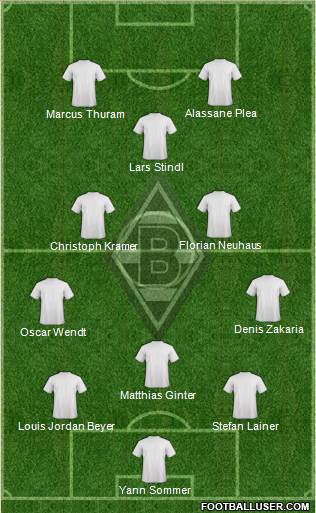 At times this looked a bit more like a 4-3-3 as substitute Denis Zakaria slid over to stand ahead of the defensive ranks. Other times, it functioned as a 3-5-2 press as Zakaria worked the wings opposite Oscar Wendt. The key, as one might easily surmise, was Zakaria. Rose identified difficulties along the Freiburg fourth axis, where Baptiste Santamaria, Yannick Keitel, and captain Christian Günter were having serious difficulties sorting their positioning out.
Christoph Kramer and Florian Neuhaus needed a bit more space. This was accomplished via the introduction of a genuine X-factor to scramble the wobbly Breisgauer midfield hinge. One really had to hand to Rose for allowing Matthias Ginter to run pivot as well. These nifty little tactical tricks underline why Rose was targeted by Dortmund as early as last season. Die Schwarzgelben should be in store for a much better season under their new gaffer.
---
Weekly Tactical Focus: "Small-balled" out
---
As we were just discussing in a recent comprehensive piece, this year's title challengers fall under the classification of what one might call a "small-ball" team. Through clever, match-specific tactical constructs, Julian Nagelsmann's ensured that a transitional version of RB Leipzig remained adept at manufacturing goals over the course of this campaign. It never seemed particularly likely the the Saxons could de-throne the German giants this season; not even after one factored in the recent Robert Lewandowski injury.
"Small ball vs.Big Ball" remains an easy enough concept to understand. A quick glance at the basic stats associated with the league table tells on all one needs to know. Before this weekend's ultra-hyped showdown kicked off, FC Bayern had scored 78 goals to Leipzig's 48. That constituted the pre-emptive end to the title race. Only so many goals can be "manufactured". Die roten Bullen never stood much of a chance.
And so it came to pass, one round earlier than last season, that the 2020/21 Bundesliga title race unofficially came to a close. Hansi Flick's record champions can expect to don their freshly printed Meisterschale T-shirts and hats after the conclusion of round 31; again one round earlier than they did in the 2019/20 campaign. It's a ninth consecutive title for the Bavarian behemoth. A familiar story winds down to a familiar conclusion
While few would have wished for this outcome at the beginning of the season, it basically serves as the best possible end result German football enthusiasts could have hoped for once matters began to take shape. As we remarked at the conclusion of the Hin-Runde back in January, the citizens of the Bundesrepublik aren't exactly ready for an "RB" Championship. The commercialized "MarketingKlub" can have its day after one of the historic ones.
It was still fun enough while it lasted. Saturday's "Topspiel" did not disappoint. We'll pay tribute to Nagelsmann's last attempt at squeezing the mighty Müncheners out with some novel and innovative tactics in the match that determined the Champion in this week's tactical focus. It seemed fitting that the FCB's 1-0 victory saw the favorites first forced into a tight contest of "small-ball" before the talent surplus settled the issue.
Taking a look at Flick's "tactics" first, we once more see what a non-tactical team looks like.
Lineup—FC Bayern München—Match 27 (4-2-3-1)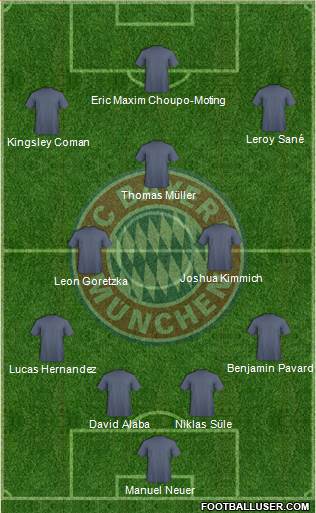 Preserving the "self-coached" artifice
Lewansowski's injury accorded Flick the opportunity to engage in some strategic tinkering. The 56-year-old politely declined to do so. Serge Gnabry could have started alone up front as he did in recent German national team fixtures. Jamal Musiala might have joined Thomas Müller in a double-ten set-up. Javi Martinez or Marc Roca may have worked a sweeper role in order to add a layer of defensive protection.
Nothing doing. Flick trusted the well-oiled machine that carried his squad to six trophies. Ostensibly, the FCB trainer knew that his opponents would try to build centrally with a short-passing game. Bayern's major weakness remains the driven high-press that leaves them vulnerable to turnovers in the middle of the pitch.
As obvious as it was that Nagelsmann's crew would seek to poach goals from a vacant pivot point between the center-halves, measures we're neither needed nor taken. The players themselves were charged with sorting that out themselves. Trust being a two-part exercise, Flick kept his hand out of the 4-2-3-1 despite some early difficulties.
Radio Müller's shaky start
Case in point, Thomas Müller's clumsy stumble out of the gate put the match at risk. The side's spiritual campaign recorded three wayward passes inside the first 13 minutes. Nagelsmann neutralized the talisman via a rotating false-nine set up which we'll discuss in greater detail below. Caught in a no-man's land of directional shifts on the third attacking axis, the ultimate team player had to resort to extricating himself from the proceedings in order to give his mates a better chance.
Müller disappeared from sight for large swathes of the first half. When one facet of the Leipzig game succeeded in forcing the Bayern defensive line to constantly play out of their own back-third, the conspicuously vocal Müller could not be heard. Under normal circumstances, he would either be calling for the ball or, at the very least, letting carrying defenders know how much time they had. Knowing that his game had been comprised, however, lead him too the wise decision to keep quiet.
Both Müller and Flick stood pat, allowing the game to develop under its own auspices.
The Leipzig goal factory
In stark contrast to the two "hands off" approaches covered above, Nagelsmann (as usual) entered with a meticulously crafted strategy. In this rare case, a basic illustration of the dressing room draw-up tells the full story. The plan for outmaneuvering the Leipzig trainer's heavily-favored opponents can be represented thusly:
Lineup—RB Leipzig—Match 27 (4-3-3)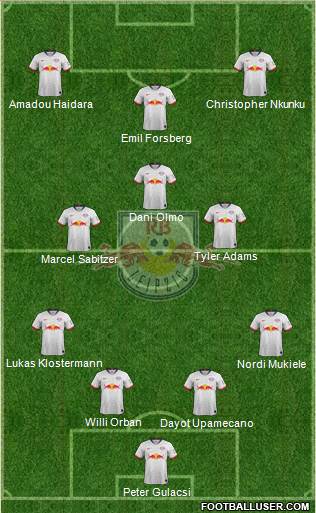 A "false-nine" push rotation
There are many inherent tactical ploys in these positions. Nagelsmann placed the versatile Amadou Haidara on his left flank as a decoy of sorts. The RB attacker with the best defensive set of tools didn't necessarily have to toe a horizontal line with his opposite winger. Instead, he and Lukas Klostermann were relied upon to compress Leroy Sané's space on the Bayern right. The tight grouping of midfielders were intended to patrol the above-mentioned exploitable centralized patch.
Naturally, the most obvious gambit designed to generate those crucial turnovers ahead of the FCB center-backs was the use of two false-nines. One can watch as Dani Olmo and Emil Forsberg took turns pushing forward to pressure Niklas Süle, David Alaba, and Manuel Neuer on back-builds. This had the effect of throwing Müller off and indeed nearly picking off crucial balls in dangerous situations. Flick's soon-to-be champions traversed their fair share of nervy moments thanks to this well-designed structure.
Two critical absences 
It's worth noting that Nagelsmann's original draw-up likely featured a pair of players who weren't able to participate. This had profound consequences for the original result. Had Marcel Halstenberg not engaged in that fateful game of backgammon with Jonas Hofmann whilst away on national team duty, Klostermann would have started on the right. Much more importantly, had Nagelsmann pulled Kevin Kampl off the pitch before he incurred that fifth yellow card, either he or Tyler Adams would have been available to play sweeper.
The loss of Kampl affected this match deeply. One could see that Leipzig missed their talismanic driver. The plan was solid, but somehow looked incomplete with Adams and Marcel Sabitzer unsure of how to handle their distributive roles in concert. Although we witnessed nice pieces of flair from both actors, one or two more intelligent passing decisions could have swung this match the other way. One's thoughts turned to Kampl's well-trained set of soft eyes on multiple occasions.
Match Flow: 1st to 13th minute
A humorous little sideshow took place even before the first ball was kicked. One of the linesman on Daniel Siebert's officiating team noticed that the goal net behind Manuel Neuer sported a gaping hole. The Bayern keeper magnanimously offered to fix it by tying it shut with an FCB scarf. After a debate lasting some five minutes as to whether this served as a suitable solution commenced, a stadium worker fixed the gap with a pair of zip ties. Some way this was to start the most crucial match of the season. It's worth a look for those who haven't seen it yet.
Adams and Sabitzer took to their assigned roles well in the opening four minutes, directing two attacks in which all the Bayern hands had to be on deck to stop forward progress. The first real offensive chance for the visiting Bavarians came in the 5th. Kingsley Coman overzealously stepped ahead offside. Pure trench warfare characterized the opening exchanges. On balance, however, one could say that Leipzig looked far more comfortable in possession.
Leon Goretzka and Joshua Kimmich shut down two promising builds in the 6th and 7th. Nagelsmann's XI succeeded in forcing the FCB defenders into errors. The limitations elf the false-nine push were apparent in the 8th, when Forsberg couldn't quite cover the ground to catch Lucas Hernandez in a pinch. Sané and Nkunku traded chances during this hard-fought initial phase until a pair of injury timeouts between the 10th and 13th broke the flow.
Match Flow: 13th to 33rd minute
Leipzig emerged from the interruptions stronger still. The Saxon hosts deserve considerable credit for establishing their game and pushing the German giants around well. Adams controlled well and dictated the distribution tempo keenly on sequences in the 13th and 14th. The American did let the ball slip away from him after a bad touch in the 15th, but Eric Maxim Choupo-Moting couldn't find the right prowess on the ensuing chance.
Nagelsmann's crew earned four corners in the opening quarter of an hour. Execution nevertheless proved a bit too sloppy on set-pieces to produce any real chances. The same could be said about the quality from open play. Fifty-seven percent possession didn't yield a surplus of chances. Finally, we saw some quality in the 18th. Forsberg and Christopher Nkunku combined slickly to force Süle into a tactical foul.
Sabitzer launched one of his howitzers off the free-kick, but it sailed well over. The Bayern back line continued to make mistakes as the RB rotating press pushed hard for the crucial mistake. Kimmich and Goretzka had to bail their rearward-deployed colleagues out in the 19th and 21st. With the FCB sixes often stepping back, Flick's defenders tried a few long balls over the top. Very nice hold-up play from Choupo-Moting led to a fine Bayern chance in the 23rd.
The Bavarians managed some meek counterpunching between the 23rd and 25th before the Saxons wrestled control back. Taking advantage of the fact that Müller pulled back to survey the field, Haidara and Nkunku crashed central to involve themselves in several attacks near the half-hour mark. In every instance, there was too much traffic for any of the RB actors to get a shot through on goal. Olmo tried some fancy footwork to no avail in the 32nd
No one could breach the tight physical marking. Klostermann vs. Sané and Kimmich vs. Sabitzer made for the most interesting individual battles. A rough 50-50 involving the latter duo compelled Siebert to blow his whistle and reach for the book. Kimmich, rather harshly, received a yellow card. A bit of arguing thereafter stalled the match and everyone got a breather.
Match Flow: 33rd to 38th minute
More rough-and-tough physical play dominated the five-minute-stretch in which the match would ultimately be decided. Goretzka muscled Olmo off the ball in the penalty box in the 34th. This time Siebert refrained from reaching for the whistle despite protests. Sabitzer would eventually see his name placed in the book retroactively for expressing dissent. The game's lone goal would come out of nowhere.
All it took was one correctly placed long ball. Kimmich fired off an absolute beauty in Müller's direction. With just his 11th touch of the game, the national team hero took down the measured service with a filthy slick touch and charged forward full steam ahead. Without so much as a glance back, Müller intuitively knew that Goretzka would be training. A perfect diagonal cutback found its way to Goretzka's foot for the first-time, net-bulging finish.
It was definitely a Meisterschale-winning-worthy goal.
Match Flow: 38th minute to half-time
A goal at this stage, predictably enough, had the effect of deflating the underdog hosts. Nagelsmann's crew went into damage control mode with an eye towards getting into the locker room to regroup. They very nearly failed in this task. Sané hit a gorgeous effort off the volley after a Kimmich corner in the 43rd. Peter Gulacsi had to be at his best on the full stretch-save. Choupo-Moting tested the RB keeper again off Kimmich's next corner mere seconds later.
Nagelsmann had little choice but to employ at least one change at the half. Even though his side arguably executed their game-plan well enough, they found themselves on the wrong end of a momentum shift and hadn't generated any real chances. Half-time xG stats, according to the American broadcasting team, placed the lagging team at a miserably meager 0.1. Only the smallest decimal separated the Saxons from nil.
Match Flow: 46th to 61st minute
The 32-year-old trainer had three natural strikers (Alexander Sørloth, Hee-Chan Hwang, and Yussuf Poulsen) available off the bench. At this juncture, one could make the case that he should have introduced one of them. Having considered the merits of this argument, however, this writer thinks it was simply too early to attempt a full systemic change. Perhaps Nagelsmann thought along similar lines.
Surging winger Justin Kluivert replaced Forsberg. Within a couple of minutes, one could see that the RB gaffer wasn't prepared to ditch the false-nine yet.
Lineup—RB Leipzig—46th minute (4-3-3)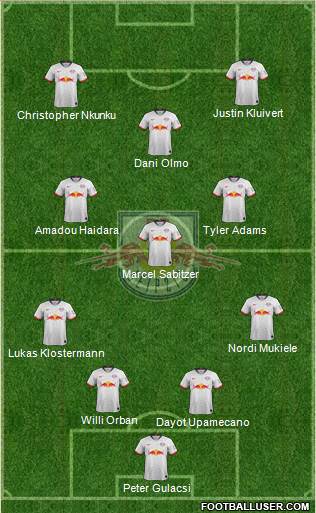 There were, of course, still radical shifts. Nkunku looked to have switched flanks. A reorganization in midfield saw Adams move further forward then we've seen all season. Sabitzer dropped back in a move faintly reminiscent of a Kampl-mimic. These changes brought the hosts frustratingly close to an equalizer. Nkunku got the best chance after a series of promising builds in the opening minutes. The Frenchman had Neuer caught flat-footed in the 48th, needing only to chip past the overcommitted Bayern keeper to make it 1-1.
Two minutes later, Adams and Sabitzer set Kluivert free after some magnificent combination work, but the Dutchman tarried a bit too long before attempting the finish. Adams threaded forward for Kluivert again in the 52nd. This time the substitute supplied Olmo with a world-class cutback. The Spaniard flubbed the finish and hit the side-netting on another subpar finish from a near-perfect position on the very next play. Within the first eight minutes of the second half, Leipzig had left four clear chances begging.
The Bayern defensive shape really began to fray from the 53rd onward. The sought-after defensive errors accorded the Saxons still more opportunities to pull themselves back into the match. Süle somehow found his way out of a jam in the 54th and Neuer was left completed exposed in the 55th. These were precisely the type of circumstances RB aimed for in their basic tactics, yet nothing came of them. Instead, ranged efforts popped up. In the 56th, Klostermann had a hellfire missile blocked.
Sabitzer topped his teammate three minutes later with tomahawk knuckle effort that only the likes of Manuel Neuer could have saved. The Austrian's swerving discharge was, frankly, one of the most beautiful shots one is ever likely to see. Alas, Neuer proved equal to it and the scoreline remained 1-0. Olmo had his own dipper deflected inside the same minute. At this point, Leipzig had out-chanced their opponent 8-0. One had the sense that such wastefulness would not go unpunished.
Match Flow: 61st to 75th minute
A visibly animated Nagelsmann tried to compel his team back into their outlined objectives from the sidelines. The team had gone astray from the game plan of working the centralized push. Here, we can direct our first piece of sharp criticism at the "small-ball" head-coach. Such interference wasn't needed. His XI were doing well enough lost in their own improvisations. Renewed short-pass up-the-middle builds led nowhere in the 61st, 63rd, and 65th.
The flow settled in for several prolonged lulls as Leipzig's midfield possession recycling slowed things down and undercut the offensive impetus. Goretzka and Kimmich had their ground covered. There would be no path forward straight into the box. The stretch between the 67th and 72nd featured almost nothing of note other than repeated FCB stymies of short-passing Leipzig builds.
Flick pulled the trigger on a double substitution first. Serge Gnabry and Jamal Musiala relieved Coman and Goretzka in the 72nd. No discernible tactical shift ensued as both changes were straightforward like-for-like. Müller and Musiala rotated in and out of the ten-spot a bit, but there was definitely no concerted effort to alter the 4-2-3-1.
Nagelsmann had his own double-swap at the ready. Poulsen and Sørloth came on for Haidara and Olmo in the 73rd. This had the making of a two-parter, with the newly introduced strikers given license to roam around freely until a third forward could be introduced. Unfortunately, an imminent injury to Poulsen would hinder this plan.
Match Flow: 75th minute to full-time
Gnabry and Musiala made an immediate impact. The former hit the latter with a fantastic pullback. Germany's newest teenage sensation then proceeded to strike a lovely floater that didn't miss the far top corner by much. On the other side, Poulsen stretched for a ball some 120 seconds into his deployment. The Danish attacker came up favoring his left hamstring. It looked serious. He hobbled as the RB sideline scrambled to think of a way of keeping him on without overstraining him.
Bayern exploited this piece of bad luck, taking full control of the match. Müller stung Gulacsi's palms in the 77th and Gnabry punched through in the 80th. In-between these chances, an impatient Sørloth recklessly fouled Benjamin Pavard on an aerial challenge. Flick finally made a tactical adjustment as he prepared to bolt down. Javi Martinez took Sané's place in the 81st. Musiala and Müller dropped back to join him on the fifth axis.
Nagelsmann got another substitution off one minute later. Shockingly, Poulsen remained on the pitch in spite of his limp. Hwang checked in for Adams and we presumably got a look at what was supposed to be the full-throttle effort to take the match back. The RB head-coach remained faithful to the false-nine until the very end.
Lineup—RB Leipzig—83rd minute (4-3-3)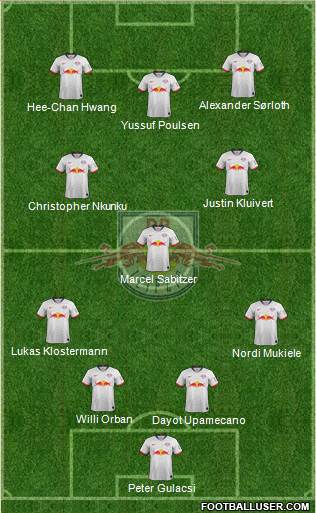 The only plausible explanation for leaving Poulsen on the pitch was that, as a false-nine, he wouldn't have been expected to do much other than draw coverage this late in the match. As it turns out, he couldn't even manage that. Bayern's on-pitch actors knew that he was hurt beyond repair. No one bought the bluff. Nagelsmann was forced to capitulate in the 88th and take his crippled player off.
In essence, the contest was pretty much over as soon it became apparent that the title-challengers had been effectively reduced to ten-men. Bayern closed matters down professionally in the final 15 minutes. As we look back at the decisive fixture that, for all intents and purposes, handed the Bavarians their ninth successive league title, the role of hard luck warrants a mention.
Random occurrences notwithstanding, this years also-rans just couldn't make up for the talent deficit. Quality matters more than anything else. Müller, Kimmich, and Gortezka encountered some problems against a "small ball" team, yet still only needed to be at their collective best on one single solitary play to decide the game.
In Leipzig's case, the team squandered eight such plays during the initial stages of the second half. "Small Ball" can't compete if there isn't a go-to-player who can finish with a flourish or a collection of individuals who understand each other instinctively after playing together every week in a looser tactical constellation.
This campaign unfolded as it should have; as most Germans begrudgingly will admit we wanted it to. As maddening as another Bayern title may seem, we can all concede that we weren't ready for an "RB championship". We were never ready for it. Anyone wondering why our "RB team" is entitled "RasenBallSport" instead of "Red Bull", it's because our league administrators wanted to at least superficially keep commercialization out of football.
Give us a few years. Maybe we'll warm to the idea. "Small ball" is fine, but not when it comes from a large multi-national conglomerate.
Concluding Thoughts: "A Nationalelf with character", take two
German football lovers all across the Bundesrepublik slid back into a rather harsh funk following Wednesday's shock defeat to North Macedonia. Dammit. Here we are again. The painful pangs of flashbacks to November's 0-6 defeat reverberated down our spines. Welcome back to the fiasco. Jogi Löw's stated intention to step down regrettably doesn't change the fact that he's still the one calling the shots. Dammit. And we had such high hopes.
In fairness, we should have expected this. A sinking feeling accompanied Löw's March squad selection. The Bundestrainer altered his plans for the future without altering his plans for our beloved Nationalmannschaft. Such an uninspiring set of picks. What's missing? Apart from Thomas Müller of course, we're once again dealing with a drab and characterless. It's insufficient to get excited about.
In the round eight closing commentary, this writer made an impassioned plea for more characters in the national XI. Since these appeals went unanswered, we might as well do it again. Last time Youssoufa Moukoko, Max Kruse, and Rouwen Hennings got the semi-pejorative endorsement. Here are three more names. This time, the thoughts tend towards more serious propositions.
Ridle Baku (VfL Wolfsburg)
Why on earth are we still fiddling about with Marcel Halstenberg, Lukas Klostermann, Philipp Max, and Robin Gosens when we have a perfectly awesome right fullback inexplicably relegated to the U21s? Right-back may not be Baku's preferred position, but he's an unquestionable firecracker working that overlap.
This team requires an energetic fullback more than anything else. Anyone trying to make the case that he needs more developmental deployments needs to remember the case of Philipp Lahm. The Mainz native who enthusiastically renamed himself after Karl-Heinz Riedle loves his country and should be allowed to bring that fervor and emotion to the senior side.
Kevin Volland (AS Monaco)
Recent comments from the one-time national team member, amplified somewhat by the sensationalist Bild-Zeitung, saw the "joker" who didn't quite make the 2014 cut display some swagger and sass. The 28-year-old lashed out at his former Bundesliga club and even gave German journalism a poke. We'll take some swagger and sass, especially off the bench. The most recent incarnation of the team lacked any threat for a stinger goal. It certainly beats Timo Werner's cold, yet not clinical, usage.
Nils Petersen (SC Freiburg)
As noted above, we're aiming for more believable call-ups this time. Löw not being prepared to risk calling players too far removed from the team back, Volland and Petersen appear our best hopes for justifiable recalls with respect to bench strikers. The Bundesliga's best ever "Super sub" deserves his chance to be the new Oliver Neuville on the national team. For eff's sake, where has he been? Is Löw really so out of touch that he doesn't follow his hometown club anymore?
Aargh. With that important piece of catharsis taken care, all that's left to do is wish everyone a happy Easter. A wish for some sort of motivational impetus involving Germany's prospects in the Euros appears so implausible that it's hardly worth making at all.