Ahead of another great weekend of Bundesliga action, today marks the day when we get completely caught up with all of the Bulinews Tactical column hot-sheets. The final round before the final international break of the season supplied plenty to talk about both on and off the pitch. Whew. What a roller coaster the 27th matchday was!
Not exactly a "smoke and fire" match this week in our "Tactical Focus" section. Christopher Nkunku and the rest of the RB Leipzig gang had to forgo their celebrations this week in a deep-dive section that serves as–from the column's standpoint–as an early indictment of Saxon trainer Domenico Tedesco. A highly anticipated Sunday fixture ended up being something of a dud. Oh Well. There's still plenty of other interesting matters to cover.
---
Bundesliga Tactical Banter: Round 27
---
Acting Civilized
Alright. The Elephant in the room first. A football match took this past Friday evening in Bochum. More precisely stated, 71 minutes of a football match took place. Yet another beer throwing incident involving Bochum supporters led to just the 8th abandoned match in Bundesliga history. Much like at the Millentor back in 2011, those of us who come in just a shade under worshipping German football are left to lament why it is that some of the garbage behavior from the 1970s and 80s is still taking place on our sacred terraces.
We'll try to handle the issue with some class. The current "call out" culture of the modern era can be just as worse as the habits of 40-50 years ago. All the online condemnations tend to be a bit unfair to the overwhelming majority of Bochum (and for that matter, Ruhrpott) fans who would never dream of undertaking such acts. That's to say nothing of the nearly 25,000 supporters who showed up in person only to have their evening completely ruined by the actions of a few.
Some may wonder why, contextually speaking, this touches such a nerve for German football fans. After all, isn't there a horrible land war raging in Europe now? Why are we so upset about one Bierbecher to the back of a linesman's head? First and foremost, because the Bochum fans ignored the warnings of their own club. Secondly, to our infinite frustration, this was supposed to be a weekend that showcased the best parts of German fandom. There's still plenty of that, now likely to be ignored by large swaths of the world that tuned in, then immediately tuned out.
Third and most importantly, is it truly to much to ask of a species emerging from a harrowing pandemic that we act civilized towards one another? Seriously. Among the very first things we do when given our congregative rights back is assault others. All the shouting and screaming about pandemic restrictions, only to prove that perhaps isolation was a better option for some people to remain in isolation. What happened in Bochum continues a sordid pattern. A few mess up. All go home.
A bike ride on the Rhein
Moving on to more pleasant matters, how nice it was of Leverkusen head-coach Gerardo Seoane to order everyone on his squad out for a bike ride after the Europa League elimination. Impossible to tell if it proved a pleasant company picnic or not. Insofar as results on the pitch were concerned, one has to say that the evidence stemming from Wolfsburg-Leverkusen was pretty inconclusive. Either side could have taken the points. This Sunday fixture had more twists and turns than a bike trail in the Gebirge much further south.
Lukas Nmecha returned to the WOB starting XI for the first time since his December injury. Sardar Azmoun earned his first Bundesliga start all alone atop a very interesting 4-2-3-1 that slotted Moussa Diaby in at ten. Unfortunately, both missed chances to be the center of the story by not converting opportunities in the first half. Max Kruse, after another great game, missed on his chance to grab headlines when his teammates couldn't turn his multiple quality services into assists. At the end of the day, Paulinho gave us something of a story with a very late brace.
Good enough. At least it didn't end goalless.
Still something of a shame as this match had so much more in it.
The Breisgauer Bore
Dammit. It happened again didn't it? Speaking of stories that go unwritten, Freiburg could only manage a goalless draw away at Fürth. Janick Haberer and Roland Sallai hit the post with efforts and Christian Streich's Champions' League contenders surely had their moments. For a good bit of the match, however, and especially the last 25 minutes, the Breisgauer didn't look like UCL contenders at all. It seems we just can't trust them to deliver enough consistency to rack up the requisite points.
Streich's post-match interview maintained some entertainment value in that it was classic Christian Streich. Even that proved something of a let-down in comparison with his antics from last week. Reviewing the Freiburg-Wolfsburg match as part of the scout for the "Americans" column, the writer discovered that the Bundesliga broadcast team is now employing a "Streich Cam" of sorts. This is actually real. Check it out when watching your next Freiburg match. There's deliberate slow-mo replays of Streich signaling to his team. Whenever they capture the most awkward facial expression, they pause the feed.
Sadly, Streich wasn't as animated this week.
---
The "Spiegel Specials": Round 27
---
Hertha-Hoffenheim (0:2, 3:0)
Almost a perfect mirror. Well done from the league's most thoroughly cursed team. When many least expected it, "die alte Dame" pulled out a thoroughly dominant performance against a top-four contender. The Charlottenburgers didn't merely win. In actuality, they never left it in much doubt. What we saw on the Olympiastadion pitch on Saturday afternoon didn't remotely resemble a relegation threatened team.
How did the new coaching regime do it?
Lineup—Hertha BSC—Match 27 (5-4-1)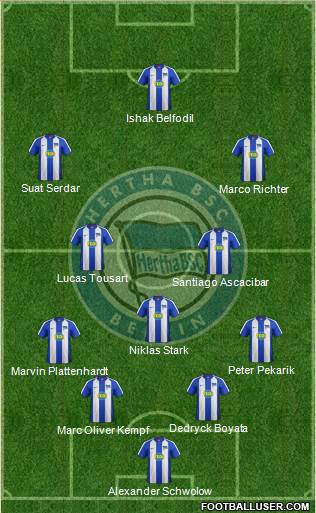 Simply put, by going back to basics. The means of stabilizing this squad were so straightforward that we could easily list what needed to be done personnel-wise last week. Naturally, the new set-up proved about as ultra defensive as it gets. The shape was designed to work as a 4-1-4-1 on the ball, but it rarely manifested itself as such. That ended up not mattering as the team scored thrice off dead ball situations.
The shape enabled Hertha to slowly build confidence with early back-build possession cycles and effective lateral switches. Once the lead had been attained, seven players attentively closing ranks in the defensive center preserved the scoreline. Niklas Stark, Santiago Ascacibar, and Lucas Tousart turned in about as good a game as we've seen from any of them all season.
Suat Serdar and Marco Richter ultimately did well on both sides of the ball pocketed back. They'll do even better next time in slightly more advanced roles. Assuming that Stevan Jovetic can make it back from injury soon, a more clinical finisher shall get a chance to polish off more precise services. Doubtless boosted by their involvement in the three goals this weekend, the defensive corps will play more competently too.
Prognosis: How we knew
Why do we German football watchers–sometimes against our better judgment–make the "February Promise" every year? It's mostly muscle memory at this point. the West Berlin capital city side literally finds itself embroiled in a relegation fight each season. With a couple of exceptions over the last decade plus (2009/10, 2011/12), they always find a way to wriggle their way out of the drop. We play the percentages.
Okay, to be fair, we also value our friends in Berlin. One might as well maintain cordial relations with the mates one plans on visiting twice a year. The least we can do is be supportive and consoling to those kind enough to let us stay in their apartment whenever we feel the urge to spend a few days in the "greatest city in the universe". There's a time for smack talk, and it's definitely not when one needs a bed for the weekend.
Beyond that, hard as it may be to believe, last-year's relegation scare was actually much more serious. Recall that the whole team got sent into COVID quarantine in mid-April. That won't happen this year as the 2022 COVID outbreak is already behind the club. On a tight make-up schedule and hammered by injuries, they somehow managed to get it done on the second-to-last fixture of the season. Pal Dardai blissfully smoked cigars after it was over.
The columnist isn't sure what the "safety celebrations" will look like this year. Perhaps Felix Magath toasts to success with an extra glass of Metamucil or Fredi Bobic selects some choice words about how Lars Windhorst was never needed in the first place. In any event, the prediction that they will avoid the drop holds. So too does the hunch that will get some eminently quotable stuff from the coaching or managerial team.
Stuttgart-Augsburg (1:4, 3:2)
Way to flip the script, Swabians! Speaking of teams pulling themselves up in this year's immensely exciting relegation race, Pellegrino Matarazzo's men could have hardly hope for a more emotionally charged victory upon which to build. The VfB trainer's basic 4-1-4-1 supplied some very convincing approach play during the first-half. The mid-field stagger of Chris Führich and captain Wataru Endo really comes together, as does the flank set of Omar Marmoush and Tiago Tomas behind Sasa Kalajdzic.
Just as he did last round, Matarazzo brought on Orel Mangala later in the game to flatten out all of his formational axes. This time, the American tactician opted to sacrifice Endo and keep Führich further back in a support role. Marmoush and Tomas remained at their stations while new Turkish international Atakan Karazor kept a tight triangle with Waldemar Anton and Konstantinos Mavropanos. This did leave opponents Augsburg with a bit more space through which to unleash counters, but the risk was worth it.
Lineup—VfB Stuttgart—64th minute (5-2-3)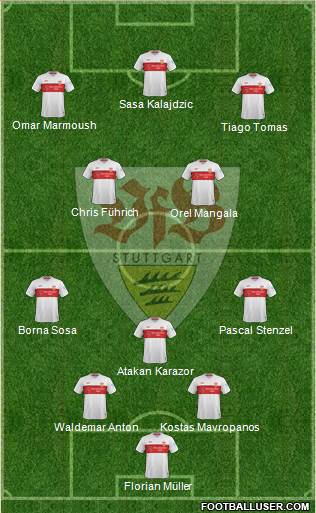 Führich continued to drive play deftly in this reformat. Borna Sosa and Pascal Stenzel synchronized effectively despite being in a novel partnership. A little later, Stenzel moved into Karazor's slot when Alexis Tibidi came on for him in the 74th and Sosa was given free reign. As loose as this looked at times, the Swabians always found creative ways of putting together dangerous charges. The end result felt fully deserved.
Prognosis: How little we know
If you happen to think this round threw a wrench into the relegation race, just wait until the Bundesliga returns from the international break! Matarazzo's Stuttgart squares off against the reeling Bielefeld in the first week of April. Never in our wildest dreams did most of us expect Stuttgart to be playing so well at this point; especially not after the round 23 stumbles were compounded by the news that a new injury would sideline "Silas" for the rest of the year.
We nevertheless can't be quite as generous with the relegation predictions here, however. This club's remaining schedule is nowhere near as favorable as that of Hertha. Frank Kramer's Bielefeld–the horrible recent form streak notwithstanding–have a bunch of budding talents quite capable of bouncing back. After the DSC Matarazzo's Stuttgart must face Dortmund, Mainz, and Wolfsburg before April is out.
Stuttgart conclude the season against Bayern and Köln. One should also point out that the opponents beaten on this day, FC Augsburg, didn't play poorly at all. Markus Weinzierl's Fuggerstädter scored two quality goals and might have even equalized had André Hahn not struck the crossbar late. With a game in hand and a much gentler path ahead, the FCA could easily secure their 11th consecutive season of top flight football with a strong finish.
Augsburg possess enough talent too.
What a finish this shapes up to be!
---
The Burning Questions: Round 27
---
What happened in Mainz?
Simply stated, excellent tidy tactics easily bested needlessly complex ones. Bo Svennson's Mainz maintained full control of the match well before it descended into historic absurdity. The M05 trainer delivered some of his trademark "magic". As anyone familiar with column knows, the Nullfünfter gaffer isn't exactly known as a tinker. Svensson generally sticks with his 3-3-2-2.
This week, many of us were surprised to see something different.
Lineup—FSV Mainz 05—Match 27 (3-4-3)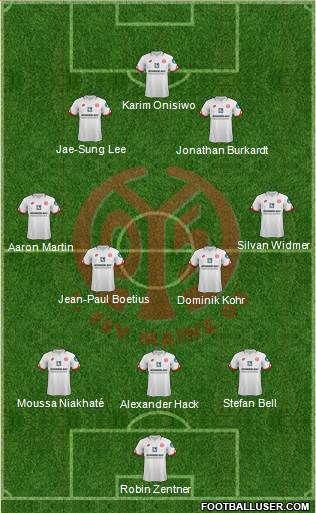 So sleek was this reformat that one barely noticed it. Jonathan Burkardt attacked with such tenacity in the early going that one assumed he had been slotted in alongside Karim Onisiwo. Only after a half-hour or so did it become apparent that Jean-Paul Boetius operated much farther back. One also began to notice that Jae-Sung Lee crashed the net from an axial position similar to that of Burkardt.
Neat. Svensson ditched "Johnny-si-wo" in favor one what we'll spontaneously term "Johnny-si-Lee". The triplicate threat up front got a little extra support in the form up the slightly advanced wingbacks. Dominik Kohr received some such-needed assistance in midfield. The back-three flattened out to lend the back-builds better coherence. Neat study all around.
Later subtle tweaks
Svensson got virtually everything right tactically on this day. Kohr returned to solo-six work when Leandro Barreiro entered for Lee in the 55th. "Johnny-si-wo" was briefly reunited in a 4-4-2. Burkardt effectively served as a placeholder for Marcus Ingvartsen, introduced in the 76th. The Rheinhessen gaffer came into this one with a full match plan. It likely would have served him well even if Bielefeld hadn't imploded late on.
Kramer's misfire
The "Bielefeld autopsy" reveals that Frank Kramer should consider according himself failing marks instead of just marking down the team. A straightforward 4-2-3-1 modeled on his tactics last week wasn't necessarily a bad opening hand. When things didn't work, the DSC trainer overcompensated drastically.
Two personnel changes at the half ushered in a system change that simply proved too much for this squad to handle. Fabian Klos and Manuel Prietl for Bryan Lasme and Sebastian Vasiliadis yielded this:
Lineup—Arminia Bielefeld—46th minute (4-2-3-1)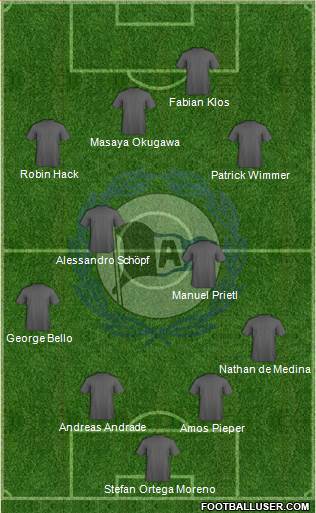 A triple "split-stagger" essentially served as an invitation for Mainz to tear this team apart. This was equally as idiotic as Bryan Lasme's new "breathe-right band-aid" nasal strip. Seriously, what's going on with that? Why are we harkening back to 1990s American football? No complaints here about Lasme being subbed off for Klos. He should get a yellow and a fine for that fashion choice.
Anyway, not to get too far off tangent, one could actually see what Kramer was going for here. Dropping wingers Robin Hack and Patrick Wimmer back suppressed the attack slightly, but this could be compensated for by giving George Bello a clear directive to operate further ahead and giving both Alessandro Schöpf and Masaya Okugawa new cut-in lanes.
It could have worked. The right counter. The right cross. Klos finishing with his aerial superiority as he's known to do. As it turned out, Prietl got completely overloaded and felt compelled to engage in reckless challenges. Bello and Nathan de Medina–having had no experience together–never got their syncs right, placing more pressure on the center backs. The offense had perhaps one tooth to begin with, and that got knocked out fairly rapidly.
Kramer was brought in last February to employ contemporary tactics. We've all taken our turns either praising sporting director Samir Arabi for doing so or declaring him somewhat short-sided in dumping Uwe Neuhaus. This writer eventually came around to the former case, but if this financially stretched club ends up getting relegated, one can likely kiss top tier football goodbye for a decade or more.
Even the notorious Bielefeld yo-yo won't swing back up so fast after all the leveraging associated with COVID, the coaching change, and this club's recent transfer budget. Immensely important next few weeks coming up here. The quintessential Bundesliga "Graue Maus" fights for one last chance in the kitchen.,
How are Bayern holding up?
Duh. Fairly obvious answer to this question. They're beasts. Small wonder so few of us have been in the mood to declare the title race back on. The Bavarians are simply too stacked. A pair of league draws? Sorry. We've been conditioned over the past decade to expect FCB rebounds. Even when– shortly after the Niko Kovac sacking in 2019–they concluded the Hin-runde in third place, few doubted that the title belonged to them.
A slightly less talented team won the title rather easily the year after that. A significantly more talented team looks to be the shoe-in this time. At no point in Saturday evening's "cruise control" win over 1. FC Union Berlin did it look as if they were even challenged. Have a look.
Lineup—FC Bayern München—Match 27 (4-2-3-1)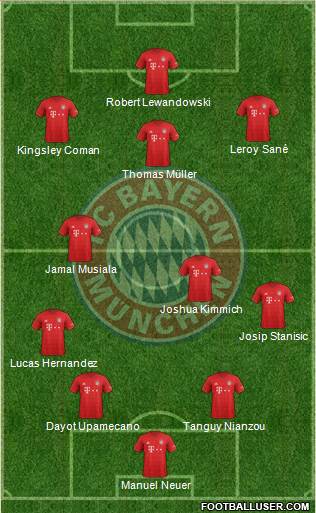 Now THIS is how we truly work some split-staggers. They happens to work quite well when one has the talent for the them! Josip Stanisic slid into the team after a long layoff and worked a split with Lucas Hernandez as if he had never left. Nagelsmann now feels comfortable giving Jamal Musiala full license to work ahead of Joshua Kimmich. As well he should. The teenage phenom has the speed to track back if need be.
Nothing much more to mention here really. It's all been said already. Perhaps we'll just congratulate Tanguy Nianzou (who also slid right into the team and settled in fine) on his first Bundesliga goal. Looks like our pre-season "Pick to Click" has finally arrived. They're all just too good. Nuff said here. This title race cannot be revived.
Were there positives to take from Dortmund?
Yes, plenty. For starters, Giovanni Reyna and Erling Haaland returning to the starting XI constitutes great news. After Maris Wolf gave his side the early lead over his loan club from last year, a defensive corps having to (yet again) undergo personnel adjustments did a very good job against a determined Geißböcke side. Manuel Akanji's return was planned. Raphaël Guerreiro's was not. They made it work yet again.
The transition game looked very sharp. Haaland narrowly missed the 2-0 twenty minutes in. Marco Rose's men showed just how pliable they can be defensively when Felix Passlack's injury (seriously, when will these injuries stop?) forced them to revert to a back-three in the second half. While the adjustment wasn't exactly seamless, major props to this crew for changing on the fly and mostly thriving. They held Köln well.
Haaland missed perhaps the best chance of the second half. Of course. One couldn't expect his timing to be spot-on just yet. Overall, even the most cynical observers must declare themselves impressed with how this team has matured defensively. They've shaken off personnel challenges not even the most cynical among us thought that they could.
"We" cynical Germans say the title race isn't back on.
Note that "we" cynical Germans can always be wrong.
---
Weekly Tactical Focus: A Tedesco Case Study
---
Well, well, well. What can one say? The decision was made this week to take a chance on a Sunday fixture without so much as a second thought. The result? For the first time in the nearly three-year-history of this column, we've a 0-0 draw to discuss. In the writer's defense, Eintracht-Leipzig was just too tempting to resist. How could one refuse? So many storylines headed into this crucial match for both teams.
Frankfurt coming off that marvelous late victory in the Europa League on Thursday. The best performing team of the season's second-half looking to continue their claw back up to the top-four. Christopher Nkunku in scintillating form. Dani Olmo, finally looking fully fit again, appearing poised to peak. André Silva against his old side. Eintracht sporting director Markus Krösche laying his new project bare in front of his old club.
Two Europa League quarterfinalists duking it out in what seemed to be the can't miss offering of the weekend! Surely this one had goals galore in it! Right? Wrong. Oh well. There remain some important lessons to be gleaned from this goalless affair. For tacticians, the match proved highly intriguing. Perhaps the most relevant lesson we learned in the focus section pertains to the purported strengths of RB trainer Domenico Tedesco.
The columnist confesses that he's still somewhat iffy when it comes to the subject of Tedesco's influence on the club. There are undoubtably areas in which the new head-coach has directly influenced the team. We shall cover those. On the whole, however, it should be emphasized that Tedesco inherited a team understandably underachieving after a massive offseason transition that saw them lose their head-coach, captain, and best defender.
An upswing was likely in the cards irrespective of Tedesco's presence. This begs the question, how much credit does the young trainer truly deserve for turning things around? Those of us who recall the 36-year-old's tenure at Schalke distinctly remember him committing tactical foul ups. This week accords us a chance to examine in greater depth if he's doing so at his latest appointment. We have an answer, which we're happy to tease.
First, we'll need to journey back to round ten of the current campaign. Eintracht-Leipzig served as the "tactical focus" feature of that column as well. On that fateful All Hallows Eve, we found ourselves discussing how Jesse Marsch's Leipzig racked up plenty of chances, yet couldn't seem to find the finishing touch. This ultimately came to define the ill-fated Marsch Era. Precision lacking. Chances wasted.
The xG of that match?
xG Leipzig–2.93, xG Frankfurt–0.61
A late Tuta goal ensured that the match finished in a 1-1 draw.
How about the xG of the match we're about to discuss?
xG Leipzig–1.31, xG Frankfurt–0.20
So many reasons that Die Roten Bullen should have bagged all three points.
We might as well begin with Glasner's tactics.
Lineup—Eintracht Frankfurt—Match 27 (3-4-3)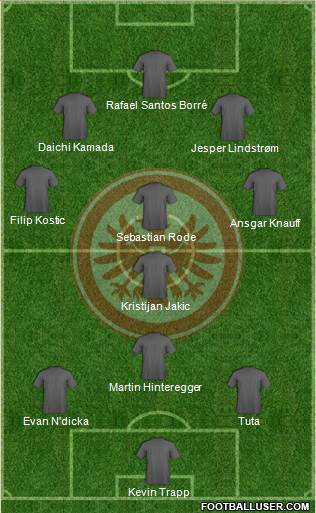 Incredible. Honestly, incredible. We all–including Tedesco himself–thought that Glasner would rotate. He surely needed to with the teams coming off a grueling pair of "English Weeks". It wasn't to be. Only captain Sebastian Rode replaced the suspended Djibril Sow in midfield. That counted as quite the shock.
As one can tell by juxtaposing this with the SGE trainer's tactics last week, there was a major tactical change. Rode operated ahead of Jakic, sometimes pushing all the way up alongside Jesper Lindstrøm and Rafael Santos Borré against the ball. The basic idea behind this change nevertheless wasn't terribly clever. The captain merely assumed the position to rotate with Borré on the Colombian's deep drops.
Tedesco and staff, having studied the tape on Borré, did a good job anticipating this. In terms of the one-vs-one battles, the Saxon hosts exerted almost total dominance. Frankfurt's attack produced next to nothing in this set-up. RB were well prepared in a compact shape. Everyone in black played a irrefutably lousy game; everyone save SGE keeper Kevin Trapp that is.
The Frankfurt net-minder earns man-of-the-match honors. A pity we've already used the picture of the German national team's new #2 already in the column this year. Another monster match from him. We all look forward to seeing Hansi Flick give him a deployment between the sticks next week.
Lineup—RB Leipzig—Match 27 (3-5-2)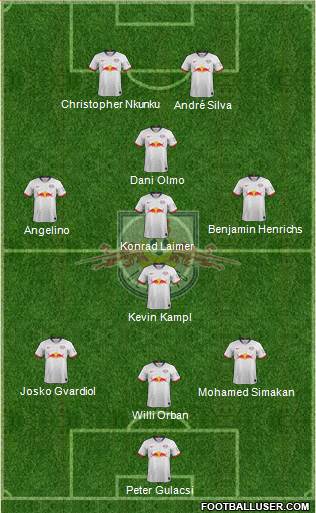 Against a tired an inventive Frankfurt, this really should have done better. That remains the case even if (as one can see by comparing the two opening constellations) it's not really a mystery why the match ended 0-0. Both head-coaches pulled apart their six partnerships, clogging the midfield with vertically-minded axial chains.
Tedesco clearly respected the ability of his opponent to remain compact at the back. Perhaps the young trainer went a little overboard in doing so, ultimately costing himself a win in the process. As promised above, we'll talk about about the tenure of the new head-coach; spelling out a few specifics about what's changed under him
What Tedesco deserves credit for
If there was one player who previous coach Marsch grossly mismanaged, it had to be German international Benjamin Henrichs. The American trainer foolishly let an excellent lateral partner for Angelino languish on the bench, then proceeded to stick his foot firmly in mouth by publicly proclaiming that he didn't know how to use him.
Henrichs' recent form surge sees him deservedly called back up to the German national team. Angelino's game has also improved as a direct result of his new colleague. Tedesco's well trained eye and informed pre-match prep game enables him to determine when to utilize either Henrichs or Nordi Mukiele at the position. He gets credit for that.
Tedesco's striker rotations exhibit similar class. He's rotated Yussuf Poulsen into the top axis intelligently and sensibly. Though it's something of a push, one could say that he's breathed a bit more life into Emil Forsberg as well. Marsch didn't use the Swede poorly at all, but did get him rolling with two more appropriate deployments in his first two matches in charge.
Forsberg's unfortunate injury luck derailed one of Tedesco's better projects.
….And what he doesn't
On the topic of injuries, Marsch was the one subject to bad luck when it came to Konrad Laimer and Dani Olmo. Tedesco inherited a team with some stars on the mend. Moreover, center-halves Mohamed Simakan and Josko Gvardiol barely had time to gel under the previous regime. André Silva stumbled out of the gate in his new surroundings. Dominik Szoboszlai worked in fits and starts for his new team.
Nkunku's form has been consistent under both coaches. To think where Tedesco would be without the new France international! In the case, the lifting of a single finger wasn't even necessary. It matters not precisely where the flying Frenchman is stationed. Nkunku can make it happen from anywhere on the pitch. If anything, Tedesco has misplaced him at times.
A lot of the talk about how Tedesco has stabilized the midfield remains overblown as (noted above) Konrad Laimer's return to full fitness gifted him Kevin Kampl's best natural partner. Moreover, the former Schalke gaffer has often misused or under-rotated talents Tyler Adams and Amadou Haidara. As we shall see in this match, he's also not above totally botching what should be an easier midfield job.
Match Flow: 1st to 19th minute
We had to wait three full minutes before on-pitch action could actually get going in this one. A pyrotechnic display from the visiting Eintracht Frankfurt contingent crowded the field with smoke. Players, coaches and even the refereeing staff remained all smiles during this brief delay. Smoke clears. We can live with that. It's not exactly as long enduring as a plastic beer cup to the back of our collective crania. That can smart throughout the entire weekend.
We got rolling in the 3rd. In something of a harbinger of what we were in store for over the course of the afternoon, the first meaningful action saw Martin Hinteregger try a long over-the-top launch for Borré. Orban had more than enough time to box the Colombian out. On their first build, Gvardiol, Kampl, and Lainer attempted to cycle out leftward. N'dicka forced them back. Orban tried his own long launch to no avail in the 4th.
Tuta tried to quick forward for Kamada. Nkunku skillfully stripped the ball of the Japanese international and glided away toward goal. Hinteregger put the brakes on him at the beginning of the 5th. The SGE defender–noticeably slow and shaky on the day– nevertheless found himself pressured off the ball quickly. Silva eventually got the ball, but not before Jakic had time to run him down.
Eintracht could do nothing with two full bow-arcs in the 6th. RB pressure kept forcing them back. In the 7th, Eintracht proved that they could apply pressure equally. A Kampl-led cycle on the left went nowhere and the hosts had to retreat. N'dicka easily cut a vertical out on the next attempted charge. Simakan tried to break through with a carry in the 8th, ultimately accomplishing nothing other than a very poor pass out of bounds.
The Frankfurt back-three seemed so unsure of what to do on their subsequent back-build. Not for the last time over the course of the afternoon, Hinteregger stopped dead in his tracks after taking a pair of steps forward in his pivot position. The Austrian eventually got the ball forward central through Jakic and Rode. A flick over from Rode to Knauff was creative, yet a pretty big stretch. The ball went out into touch for a throw.
Rode couldn't hold the ball up after Knauff's throw. Leipzig couldn't exactly clear the ball cleanly either. After a couple of failed attempts, the Germans finally got Dani Olmo rolling on a counter. The Spaniard played Nkunku left central with plenty of space and time. Nkunku unfortunately took too much time before lining up a shot. His rather tame effort did get deflected out for a corner. Orban headed Angelino's 10th minute service directly into Trapps's arms.
The visiting Hesseners got a modest counter in off the set-piece. Borré shuffled out to Kostic. Gulacsi read the cross all the way. Another highly uncertain bird from Eintracht in the 11th. Tuta's long launch sailed over everyone. Leipzig were forced back again on their next approach, but did manage to maintain possession. After a few recycles, Laimer attempted to play Silva through. Hinteregger tracked well and tried to spark a counter. The SGE wasted a very nice ball hold-up from Borré by turning the ball over.
Lindstrøm then wasted one of the best chances his side had to score in the 13th. The Dane was free in front of goal following a Kampl giveaway. For whatever reason, the former Brøndby man opted to cut-back for Borré despite the fact that his teammate was well behind on the trail. Simakan had no trouble intercepting. Jakic came out the better with an excellent ball win in after a bunch of midfield jostling in the 14th. Borré was regrettably offside on the play-in.
Both sides took humbling retreats in the 15th and 16th. No one had any risks on their mind. Even when Kostic had a 16th minute free-kick in a very similar position to the one that produced the crucial goal on Thursday night, the Serb immediately played back. Kostic would show serious signs of fatigue in addition to an overall meek nature with a downright awful diagonal in the 17th. Two more retreats from Leipzig on the left in the 18th. By the time they got a ball in for Silva, the unsorted Portuguese attacker was well offside.
Hinteregger again stopped dead in his tracks on a 19th minute build. No ideas. Finally, the Austrian located Borré on a deep drop. The Colombian couldn't do much with the ball eventually played to him other than draw a foul from Laimer. Match official Christian Dingert reached into his book to raise a caution to Hinteregger's ÖFB teammate. Borré required some treatment following Laimer's late challenge.
Match Flow: 19th to 36th minute
Borré's injury break took two minutes. The camera panned over to Glasner having a word in N'dicka's ear. One hoped the conversation had something to do with the highly ineffective Frankfurt builds. Judging by what happened over the next phase, not much got through to the SGE center-halve. Leipzig were able to exert offensive pressure for a sustained spell over the next quarter of an hour. Eintracht clearly came out of the break more disorganized.
Less than a minute after play resumed in the 21st, Kampl burst through on the left. After some pinballl, the Slovene got a delectable cross in for Silva. Trapp was well out of his net and Hinteregger had to clear the service off the line. Nkunku came crashing in to pounce on the rebound. Dingert ruled that the Frenchman stuck out a high boot in pursuit of the ball. The 22nd minute offensive foul killed the play.
More particularly bad approach play from Eintracht in the 23rd. Another unimaginative attempt to cycle through on a squeezed right. Another useless long over-the-top launch (from N'dicka this time) one the left. Pretty much nothing other than constant midfield possession changes in the 24th and 25th. Toward the the end of the second minute, Henrichs hit Kampl with a strong long lateral switch.
The Slovene found Silva out of reach with his ball into the box. Leipzig would do better on their next rush. When yet another Hinteregger vertical launch for Borré predictably didn't work, virtually all the RB actors swarmed the box in the 26th. Hinteregger and N'dicka managed some stops in the on Angelino and Nkuknu in the danger area, but couldn't clear. The ball fell to Simakan in the second ranks.
Simakan launched an absolute rocket from just outside the second ranks. Trapp somehow proved equal to it despite the fact that the SGE keeper was heavily screened. Trapp's flailing paw defected Simakan's effort off the crossbar. Within a minute, Leipzig were threatening again. Nkunku touched off a nice leftward cycle in the 27th. Regrettably, he wasn't able to control the return ball.
The two squads swapped more over-the-tops in the 28th. A serviceable Leipzig charge up the right in the 29th ended when Silva encountered his own trouble with a return ball. Another well choreographed rightward shuffle from the RB at the half-hour-mark. Simakan, Kampl, and Olmo drew the coverage to their side. Angelino didn't break properly on the ultimate intended switch.
Lindstrøm might have done better with a counter in the 31st. The Dane simply didn't have the legs left to separate himself from the pack. Gvardiol closed down the clearly tired SGE attacker. Rode, Jakic, and Knauff combined neatly to try and get it back in, but were ultimately rebuffed. Rode showed some frustration after the ball went out, fouling Simakan on the subsequent 32nd minute throw.
A couple of Eintracht builds in the 33rd and 34th met their match as soon as the black-clad players crossed the halfway line. Rode had another go at a flick over for Knauff at the end of the spell. Gvardiol handled easily. Rode and Borré then tried a fairly hopeless centralized attack in the 35th. Kampl stopped. A Lindstrøm shot into heavy traffic on the SGE's second effort was, unsurprisingly, blocked.
Match Flow: 36th minute to half-time
Partially uplifted by the fact that they could at least wrestle some possession back, Glasner's men lent in a little more heavily to the midfield duels. In the final phase of the half, the South German guests largely did a better job of neutralizing their hosts. Though Tedesco's crew would get some more chances off, the Saxons weren't the clearly superior team in these final minutes. This was probably the only period during which the two teams presented themselves as equals.
Total midfield neutralization in the 36th. Lindstrøm wriggled free and, after a nice give-and-go with Jakic, had a clear path to the net again. Just like earlier, the Dane made a questionable decision in cutting back for Borré. Instead of having a go himself, some rote muscle memory evidently told him to try and locate his trailing teammate. Borré was well behind the play this time. The Colombian, also tired, couldn't make up three full strides. The Saxons still played it safe and ushered out for a corner.
After the 38th minute set-piece led only to a Tuta effort into the side netting, the game effectively went to sleep for about three minutes. The "gentlemen's agreement" occasionally in place amongst weary footballers took hold. No one on either side made much of an effort during a collective breather. An anemic Leipzig attack in 39th, followed by a half-hearted SGE counter, followed by a series of throw-ins on the right during which players took their sweet time.
Henrichs finally took a chance on a run in the 41st. The German international certainly had the drop on Hinteregger. Simakan stepped forward when Hinteregger could only manage a short touch away on the recovery. A full switch to Gvardiol quickly found its way to Laimer via Olmo and Nkunku. Laimer fired a heat-seeking missile from about 20 meters out. Trapp couldn't reach it this time. The ball nevertheless caromed off the exact same spot on the crossbar as Simakan's 26th minute effort.
With the "gentleman's agreement" of the collective breather now out of force for the final push, RB tried to press again. Nkunku got stymied central twice in the 43rd, but kept at it. The Frenchman danced past two SGE markers on his third attempt to get through. Tuta was forced to foul. Leipzig were awarded a free-kick in a very dangerous area. The squad took their time setting it up. Angelino eventually feinted a shot and instead swung in a cross for Orban. A smart design from the training pitch. Execution was sadly lacking on both the service and final header.
We would get a full three minutes of injury time on the basis of the delayed start. One could have made the case that Borré's injury timeout merited at least five. In any event, both sides made good use of it. Frankfurt mounted a bright charge at 45+1. Borré and Lindstrøm worked a nice combo. Decision making (possibly fueled by exhaustion) once again came into play. A shuffle-out for Kostic was ill advised. Angelino and Gvardiol were in the perfect position to close ranks on the switch for Knauff.
The hosts railed off an excellent attack at 45+2 after Henrichs stole the ball. Olmo, Silva, and Angelino then quickly worked the ball to Nkunku. The ball landed in the back of the net. Celebrations were short-lived courtesy of the offside flag. Nkunku had overstepped by a least a yard. Laimer over-hit the final chance of half at 45+3 after some more quality team passing. Frankfurt finished the half with a paltry 0.1 xG. Shades of the round ten encounter filled the mind.
Match Flow: 46th to 60th minute
Hopes for a second-half more in line with the entertainment expectations of non-tactics-heads were slightly dampened by Glasner's halftime substitution. Rode–the one player not in the starting XI from Thursday's match–came off in favor of Ajdin Hrustic. Given that Rode had already been working an advanced position, this didn't even constitute a tactical change. The Australian midfielder was a straight like-for-like in the system.
It seemed inconceivable that Glasner found himself pleased with the manner in which this system performed in the opening 45. Leipzig had outshot die Adler 5-0. Apart from that very short spell at the end of the half, the opposing team remained better by a mile. One expected more of the same in the second half. It came seconds after kickoff. Laimer danced away from Kostic in the 46th. Olmo, after having his initial effort blocked, tested Trapp from range.
We witnessed Eintracht struggle mightily with their own builds in the 47th. Jakic retreated. Then Kamada. Then Kostic. A lethargic possession cycle went all the way back to Hinteregger in the 48th, who stopped dead in his tracks again. This car was running on three flat tires. Leipzig wasted no time accentuating the tone that they had set. Nkunku stripped the ball off the SGE as soon as it went forward. Olmo just missed on a final return ball to Silva. It led to a corner.
RB set pieces weren't especially dazzling on this day. There would be no further manifestations of the interesting design used near the end of the first half. A short-play in the 49th got crowded out. Laimer would eventually shoot way over. More stalling from Hinteregger once Frankfurt got the ball back. Hrustic demonstrated just what a non-factor he would be. Orban tackled away from him easily in the 50th. N'dicka was on hand to stop the ensuing Leipzig counter.
Hinteregger fouled Nkunku on the next RB rush. Again, the 51st-minute free-kick proved poor. Angelino played back to Nkunku. Kostic blocked. Kampl had nowhere to go on the crash in. The sequence definitely didn't have the look of anything practiced on the training ground. Olmo led the way for the hosts again in the 52nd. Angelino crept in behind to take the shuffle and got off an inviting cross for Nkunku.
It may not have been the easiest ball to handle, but Nkunku could have at least tried to hit it first-time. One bemoaned another missed opportunity. More significantly, one began to wonder just what it was that separated this team from Jesse Marsch's RB. Such thoughts became more intense when a foul on Henrichs in the 54th gifted the German Red Bulls another free-kick in a dangerous area.
Nothing doing. Tuta and Hinteregger read Nkunku's eyes wholly and effectively. Kostic and Kamada had no choice but to hit back to the stationary Hinteregger in the 55th. Jakic and Lindstrøm ultimately found a way to get the ball forward. By the time Knauff got within range of Gulacsi, Gvardiol had pushed the Dortmund loanee wide.
Nkunku got fouled yet again when the hosts pushed back the other way. Hrustic got his name entered into the book for the cynical challenge. Lindstrøm intercepted the next uninspired RB free-kick. During a possession spell that lasted through the 58th, the SGE really showed themselves completely out of ideas. Glasner's Adler fell back into the pattern of trying to reach Kostic, who saw two crosses blocked.
In a development that left everyone observing this game throwing their note-taking pens across the room, Tuta fouled Nkunku next in the 58th. After another totally incompetent Leipzig free-kick, Frankfurt thought it a good idea to play the ball out wide to Kostic again. Henrichs blocked the obvious cross.
This was really getting bad.
Match Flow: 60th to 72nd minute
The sight of Emil Forsberg checking into the match at the hour-mark provided us with some hope. The Swedish attack would replace Kevin Kampl, meaning we were definitely in for a tactical re-format. It honestly wasn't hard to foresee what this would be. Tedesco's ranks quickly reorganized.
Lineup—RB Leipzig—61st minute (3-5-2)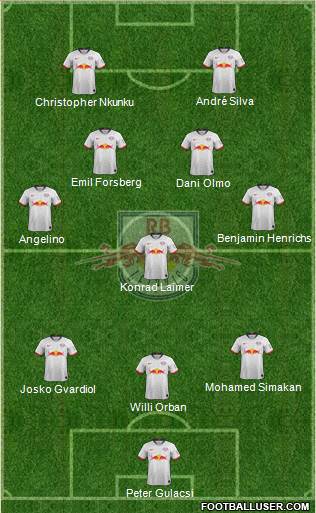 When something like this fails to work, one has to question whether the coach drilled it properly. The SGE were able to take some early advantage of the pocket behind Laimer and got some penetration on the right in the 61st. Angelino tracked back in time to clear the switch. A follow up from Lindstrøm (via Knauff and Borré) was way off.
Lindstrøm got through on the left in the 62nd. Simakan recovered, but a half clearance fell to the feet of Hrustic. The Australian rather humiliatingly whiffed on his shot. Olmo snatched up the ball and caught Laimer on the break for a potentially lethal counter. At first glance, it appeared as if Laimer had blown a perfect opportunity. Trapp's steady hand was so sly that one only caught it on the replay. Wow. What form the SGE keeper is in!
With all this talent on the pitch, we had to watch Leipzig make a total waste of the ensuing corner in the 63rd. Olmo and Nkunku were predictably swarmed. Silva then couldn't execute the turn in a box crowded with Eintracht players. Both an attempted Frankfurt immediate counter in the 64th and a slower, more methodical build in the 65th failed. Knauff really messed up on the latter opportunity, shooting when he needed to cross for Borré.
At least the game was opening up a bit. Matters began to slow down again in the 66th with Gulacsi unable to play past an exceptionally high Frankfurt press. Glasner sent on Jens Petter Hauge for the completely enervated Lindstrøm in the same minute as a means of keeping the tempo down with another interruption.
An Olmo-Silva-Nkunku combo on the right in the 67th tried to restore some energy. Tuta calmly waltzed over to box out. An attempted SGE leftward cycle involving Hauge in the same minute looked about as half-assed as a professional attack could manage to. Knauff didn't do much better one minute later. Angelino and Nkunku couldn't coordinate at all in the penalty area in the 69th. They practically tripped over one another's feet.
Eintracht held the ball for much of the time between the 69th and 71st, but were barely trying to move forward at all. Leipzig, in turn, appeared very meek off the ball. Their confidence sapped by some of their own sloppy play, Tedesco's men seemed unwilling to try much in the way of sparking further counters. Some nerviness on both sides began to settle in.
Both teams were losing belief. Nkunku, Olmo, and Silva tried to make it work central one last time toward the end of the 71st. They might as well have tried to ram a bicycle through a brick wall. It just wasn't happening for them; not in a constellation that didn't refresh the wide players. Forsberg crossed to no one from a clear offside position to make the hosts look even worse.
Match Flow: 72nd to 81st minute
If there was one player who could stop this match's inexorable slide into a goalless stalemate, it was Leipzig's "Super Dane" Yussuf Poulsen. It was with great pleasure that observers watched him stroll onto the pitch for Silva in the 72nd. A straight swap in the new formation. The first chance after the introduction went to Eintracht, however. Kamada had Hauge set up well with Gulacsi rushing out in the 73rd.
The Norwegian couldn't lift the ball over the RB keeper. Orban tidied up. Nothing much apart from further flow killing turnovers, throw-in trades, and fouls from the 74th through most of the 77th. This columnist was completely flummoxed when cameras caught Tedesco giving his team the "compact" signage from the sideline. What? This was precisely not what this team degenerating into full crap football mode needed to be doing.
Gulacsi rushed out to meet Hauge again in the 77th. A chip for Borré from the Norwegian never ended up materializing. After a Tuta passing error, Nkunku had another wonderful chance to put his side ahead in the 78th. Trapp ended up getting credited for another fine save on the Frenchman's effort from about 25 meters out. A fine save it was, but Nkunku absolutely didn't need to hit it that early.
Gulacsi–evidently settling into a bit of a pattern–rushed out again to meet Knauff when the SGE got the ball back in his direction. Hrustic, Hauge, and Kostic made a total hash out of an Olmo turnover in the 79th. The trio simply didn't have the timing. Glasner sent Christopher Lenz on for Knauff in the 80th, signaling a shift-around identical to the one he utilized last week.
The play that came to define the game took place in the 81st. After Hauge and Lenz totally failed on a charge, Poulsen was unleashed on the counter via a cutting through ball from Nkuknku. It seemed as if the Dane waited an eternity to get a shot off while painting around in the box from close range. In point of fact, Poulsen was simply robbed of a good shooting opportunity because Trapp never went down to the ground.
Simply sensational work from the SGE gloveman! Poulsen tried to work around him with a series of deft touches, always looking for the right opportunity to hoist the ball over him. Trapp denied him that in a remarkable feat of sustained concentration. There may not have been any goals in this match, but that particular play has every right to share the highlight reel with the rest of the tallies scored this round.
Match Flow: 81st minute to full-time
One had the sense that Leipzig stood very little chance of reviving their game after that sequence delivered the message of where they stood. Trapp's tall stand bore the mark of something totally deflating. This suspicion was confirmed as the match wore down without much further of note happening. We did get a reminder of how poorly drilled the Saxons were on set-pieces this week when Nkunku sent a very poor effort well over in the 83rd.
After that, the Saxons lumbered about taking way too long to spread the ball around for the next two minutes. Forsberg in particular looked very insecure on the ball. Dominik Szoboszlai and Amadou Haidara came on the 86th to no avail. It was far too late for them. Gvardiol, Henrichs, and Angelino were still on…and completely out of gas judging by their play in the lead-up to Glasner's clock-milking double substitution in the 89th.
All of the chances in injury time belonged to Frankfurt. Hauge and Glasner's newly subbed on pair of Stefan Islanker and Sam Lammers got some looks in. Poulsen and Nkuknu found no way through on counters. Orban went down in the penalty box after Ilsanker clearly pushed him on an Angelino free-kick at the (90+4) death. It could have been called. Given the way Leipzig squandered chances on this day, one found it hard to have sympathy.
Ahem. Full-time xG stats once more?
xG Leipzig–1.31, xG Frankfurt–0.20
We've come full circle in a sense. An underachieving, underperforming team. In this case, it's particularly glaring that Tedesco's RB couldn't put a completely exhausted Eintracht away. The Saxons–thanks to their UEL bye–had the extra rest. They also had the extra time. Inexcusable how their coach didn't use the time to put together a better set-piece playbook. As this week's analysis should plainly demonstrate, a great deal of the missed chances came from poor planning and execution on that front.
It's entirely acceptable to view Kevin Trapp as the most decisive factor in this match. In a very literal sense, he was. Yussuf Poulsen did everything right in probing for the proper chance in the 81st. Leipzig's experienced Danish attacker kept his eyes rightly fixed on the keeper, Trapp made sure that he had nothing but an erect upper torso to stare at. This might have been the best striker-keeper stare-down any of us have ever seen. Had Trapp not improbably won this poker hand, we'd be discussing a different result.
Don't forget that young Domenico Tedesco isn't Julian Nagelsmann, even if he's currently presiding over Nagelsmann's old appointment. Much as we all like him, he's still not the type of tactician who can necessarily lead this roster to the fourth Champions' League place. That's very much worth bearing in mind as this season begins to draw to a close. With the Europa League, Pokal, and a not-exactly-easy league schedule left in a very tight UCL race, we're about to truly find out what sort of head-coach Tedesco is.
He may fulfill three major objectives. He may fulfill none or some. We just have to wait and see.
Thanks so much for reading!
You can occasionally catch Peter on twitter, @ViceytheSS.
Twitter DMs are open for football conversations, corrections, and (if you truly insist) general abuse. 
All columns debut on Bulinews before appearing on Peter's website later in the week.