After what proved yet another disconcerting international break, it's time to get back to the Bundesliga. The Round 26 hot-sheet was delivered some time ago. Those in need of a quick refresher can find the re-post here.
---
League-wide Talking Points: Round 26
---
Getting around a "castle-storm"
Indeed, the dual passing records set by Willi Orban and Lukas Klostermann in Leipzig Friday night 1-0 victory over Arminia Bielefeld were most impressive. There may not have been a more statically skewing fixture in the Bundesliga this season. The visiting RB finished the match with 81 percent possession, completed nearly 900 passes to the DSC's 200, and five Saxon players surpassed the total number of team touches for the entire Arminia XI. It was insane.
The culprit in this case was Arminia trainer Frank Kramer's 4-2-2-2. The six outfielders ahead of the back four were initially lined up in vertical lockstep; reminiscent of some medieval army preparing to attack a draw-bridge with three waves of a battering ram. Eventually, Masaya Okugawa and Michel Vlap stopped attempting to storm the castle and drifted out towards the flanks. By that time, however, their guests had already staked out their claim to the wings and it was too late.
Wolfsburg inch back to normalcy
Oliver Glasner's green company team got regulars Maxence Lacroix and Xaver Schlager back after both had to sit out the previous round on accumulated yellow card suspensions. After experiencing a slight dip courtesy of various injury/disciplinary knocks to the 4-2-3-1 Glasner rolled out for six consecutive matches, the German Wolves 2-1 victory over Bremen gives them a two-game-winning streak and a fairly stable hold on third place in the table. They stand ahead of Frankfurt by four points.
Interestingly, Glasner continued to demonstrate a tendency (almost ironclad since the start of the season's second half) to only interfere minimally with his lineup week to week. Josip Brekalo and Admir Mehmedi retained their starting places. Rather than give Jerome Rousillion a go, Glasner even started Yannick Gerhardt at left back. The performance left much to be desired, with both VfL goals coming on flukish plays. Still, the trainer didn't touch the shape or send on personnel until the 74th minute.
Breisgauer catch the breaks
Augusburg's Heiko Herrlich also showed an aversion to any tinkering this weekend. The FCA trainer rolled out the exact same XI from last week's 3-1 upset victory over Gladbach. Freiburg's Christian Streich, on the other hand, made four bold changes and even fielded a reduced bench squad after releasing players like Chang-Soon Kwon and Lino Tempelman play the Saturday fixture for the reserves. Guus Til got his first Bundesliga start whilst Manuel Gulde and Lukas Kübler started in an entirely rebuilt back-four.
Sunday's late fixture to cap the round remained fairly evenly matched during the opening 45. After Christian Günter set up the opening goal in the 51st, Augsburg were even by far the better team. SC keeper Florian Müller preserved the scoreline as the Fuggerstädter generated virtually all the chances down the stretch. The south German hosts saw their advantage doubled off a blind header-on off an average free-kick delivery from Günter. Streich's many risks could have just as easily backfired. As it shook out, the Schwarzwälder are now within striking distance of Europe.
---
The "Spiegel Specials": Round 26
---
Dortmund-Köln (1:2, 2:2)
This very nearly proved an absolute disaster. One can even make the case that it did constitute an absolute disaster. The manner in which Erling Haaland ripped his tricot off and disappeared disgusted into the tunnel spells trouble. The budding superstar will have little interest in carrying this team next season without having a chance to play Champions' League football. A solid twenty minutes to start the match and a strong five minutes to finish isn't good enough at this level. Haaland knows that.
A series of amateurish mental errors on the part of the BVB made woeful FC Köln look like world beaters. The amount of midfield turnovers, most of them un-pressured, in the first half alone should have seen the Schwarzgelben behind by a two or three goal margin. One shouldn't forget that Markus Gisdol's Geißböcke remain a ramshackle squad without a lead striker, set fullbacks, or even remotely clear defined role for their captain. Add to this total bust performances from Giovanni Reyna, Julian Brandt, and Jude Bellingham and one can see that this team is horribly shaky.
The only promising sign of stability, a double-six set-up of Mahmoud Dahoud and Tomas Delaney, appears often too far behind Haaland to make a difference.
Prognosis: Europa League 2021/22
It's hardly a new prediction, but it bears repeating. This squad simply isn't balanced enough to best the likes of Frankfurt and Wolfsburg. The two direct competitors for the final two UCL spots are, naturally, riddled with problems of their own. A writer will nevertheless tip the VfL and SGE to top the BVB in two Bundesliga fixtures before the month of April is out. That should just about settle the issue.
Terzic's club face a pair of Champions' League fixtures next month that they would likely not have to contest at all. The two midweek fixtures against Man City, combined with a May 1st semi-final date in the Pokal, leave Dortmund with eight fixtures in a 27-day-span after the break. The return of Raphaël Guerreiro, provided he doesn't come back from the break re-injured or infected will help. So too shall Jadon Sancho's return.
Seeing as how neither one of these counts as a given, wagering on this crew isn't wise.
Gladbach-Schalke (4:1, 3:0)
As prognosticated in last week's column, Marco Rose's embattled foals had virtually no difficulty snapping their losing streak. Everything's easy against a team so pre-deflated that one need only brush up against them to inflict a fatal puncture-wound. How kind it was of Ralf Rangnick to give the failing institution known as Schalke 04 a well-timed kick in the teeth hours before kickoff. It remains difficult to credit the foals here, especially given how imprecise Marcus Thuram and Alassane Plea were in front of goal. The second and third goals came courtesy of opponent error.
Regrettably, we're left to pick apart another self-defeating implosion from the Königsblauen. In the reverse fixture, time was taken to put together a full "Schalke Autopsy". These days, Germany's Knappen play infinitely worse despite having procured much better players. Even those tasked with watching this team don't seem to paying attention. For instance, it took six rounds and two trainers for someone to realize that Wolfsburg loanee William Furtado is a total bust as a flanker; something that has long been apparent.
Kudos to Dimmitrios Grammozis for pulling the Brazlian early in the only sensible tactical decision one has seen from this club since December.
Prognosis: No options left
More experiments that didn't work out for die Knappen in Saturday evening's fixture now effectively leave Grammozis without any viable path forward. Moving Sead Kolasinac up to pair with Suat Serdar on the second axis produced only one half chance. Tinkering with the spacing of strikers Matthew Hoppe and Benito Raman only led to a preponderance of half-baked ideas. A much better Shkodran Mustafi still couldn't cary tyros Malick Thiaw and Timo Becker.
Poor Kerim Calhanoglu isn't ready to contribute at this level and Omar Mascarell has obviously already checked out mentally. The club's new trainer found himself so desperate to find someone willing to step forward that he even left Amine Harit out of his starting XI. Unsurprisingly, no one answered this obvious call to fill the void of semi-lively and creative play. Harit barely tried as a late sub. Finally, as if anyone cares at this point, Klaas Jan Huntelaar played the final 14 minutes.
Ahem. The "Hunter" can now score a few goals that won't matter at all. Nice of him to show up.
Leverkusen-Hertha (0:0, 0:3)
From Schalke's opponents this weekend to the team they face next round. Leverkusen find themselves in need of a punch-drunk foe after getting shredded early and often by the relegation-threatened West Berliners. A 3-0 victory for Pal Dardai's "alte Dame" surely gifted those of us who have continually insisted that Hertha will not be relegated this year a much-needed boost. The return of Matheus Cunha aptly illustrated how different this team looks with its talisman in tow.
Dardai utilized what looked like a 3-4-3. Jhon Cordoba spearheaded the attack alone whilst Cunha and Dodi Lukebakio improvised flank rotations behind him. Wingbacks Deyovaisio Zeefuik and Maximilian Mittelstädt remained stationary. All of this worked exceedingly well on all three tallies. Textbook clean and classic football. Lukebakio should have hand a fourth were it not for the Cordoba handball. Surprisingly, the back-three of Marton Dardai, Lukas Klünter, and Niklas Stark truly held their lines well.
All told, the full XI functioned like a well-engineered timepiece. Dardai kept his word to run a highly-focused week's worth of training.
Prognosis: Still not over for Leverkusen
Switching back over to Germany's red company team, a writer finds himself stubbornly sticking to the same talking point. As noted in the introductory sentence, die Werkself find themselves in the exact same position as Gladbach after last round's conclusion. The revitalizing royal blue tonic stands within their reach. A relatively easy finish, with only three top-third opponents in eight remaining fixtures, then affords the opportunity for a soft landing.
Most importantly, first-choice keeper Lukas Hradecky should be back fit by the time the international break is over. As emphasized multiple times in this space, the Finn may be the league's most underrated man between the sticks. Catastrophic errors from backups Niklas Lomb and Lennart Grill have played their roles in some of the recent disappointing results. Grill made another early error on the opening goal in this one, though he did recover to play strong late.
With some rest an a non-error prone backstop back in the XI, Bayer can still compete for the top four.
---
The Burning Questions: Round 26
---
How did Bayern pull it off?
Know that most of us league watchers are still rubbing our eyes in disbelief. The ten-man FCB utterly humiliated Stuttgart with four unanswered goals in the span of twenty minutes. Something about simple arithmetic went out the window on Saturday at the Allianz Arena. Germans use the verb "to decimate" in its classical Latin sense. The word literally means "to reduce by one tenth". When a football team loses an outfielder to a red card, they are "decimated".
How did a "decimated" team manage to dominate? Have a look at this 3-3-3.
Lineup—Bayern München—13th minute (3-3-3)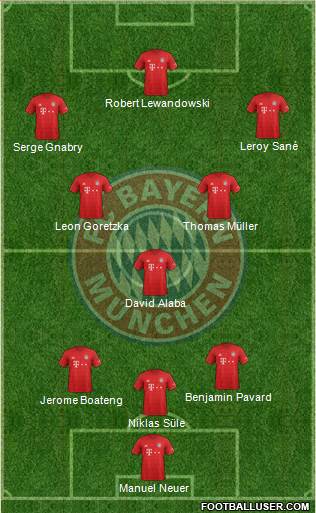 Quite the thing this was. It might have been better represented with David Alaba slanted slightly left. Actually, to be totally honest, it might be better if there were some way of conveying Alaba's position as omnipotent. It's unbelievable how much ground the Austrian covered. He basically covered every blade of grass on the pitch.
For many, it finally dawns that David Alaba is leaving the Bundesliga. Nary a thought was given to how much we'd miss him until this performance. Those with access to the tape can watch him hustle to the most advanced involvement in counters, then track all the way back to snuff out all the Stuttgart chances.
Lwandowski earned the hat trick. Serge Gnabry and Leroy Sané brought the sublime intuition. "Radio" Thomas Müller conducted the whole affair and get his assists. All of this notwithstanding, it is the opinion of this writer that Alaba's pure athleticism keep this "decimated" constellation from falling apart. The departing star did the work of three players to keep everything together.
Hansi Flick deserves some credit as well for (ostensibly) ordering Müller back a bit and bunching his back three together with the faith that Alaba could handle three separate axes. Flick remains a strong candidate to take over the German national team, no matter what Karl-Heinz Rummenigge has to say on the matter. In the world of football, absolutely no one in football really has a "binding contract" so to speak.
Those who wish to move remain free to move. There's always a way.
What does the Mainz result mean?
Good news for sympathizers of the Rheinhessen. After some slip ups, genuinely forgettable performances, and the shock announcement that captain Danny Latza preferred to commit to, of all clubs, Schalke after the season left one wondering if some of the early Rückrunde promise would prove a fleeting mirage. A very convincing 2-1 victory over Hoffenheim came at the perfect time. The Nullfünfter are finally off the relegation playoff place ahead of a restorative break.
It having been some time since we illustratively checked in with Bo Svensson's crew, we'll see how it's evolving in the Pfalz.
Lineup—FSV Mainz 05—Match 26 (3-3-2-2)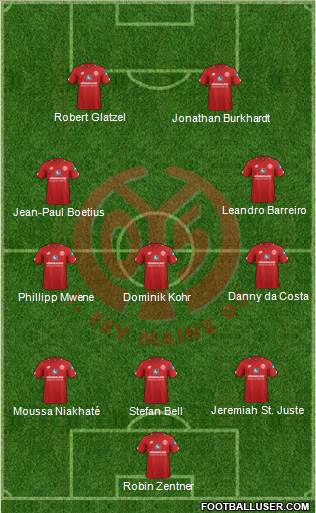 Who needs Latza? Robert Glatzel finally got his first Bundesliga start. Within his first two minutes, he had the game's opening goal; albeit thanks to a defensive blunder from TSG's Chris Richards. The importance of the two strictly horizontal axes one observes cannot be understated. Although the six actors involved were expected to advance or retreat together, nothing stopped them from trading positions according to their own individual reads of the game.
So it was that Jeremiah St. Juste turned it a beastly performance. The defender routinely swapped with Dominik Kohr and even Leandro Barreiro at times. When Danny da Costa exited injured in the 20th, St. Juste and replacement Daniel Brosinski took turns covering back right. The shape held exceptionally well over the course of 90 minutes during which Svensson's Mainzer maintained their aggressive posture. Solid set-piece draw-ups also yielded a goal.
Provided the team can maintain the type of discipline on display this round, one can see them potentially grabbing nine points against the Bielefeld, Köln, and Werder in the month of April. Take a brief moment to consider that this club only had seven points at the season's halfway point. They've tripled their total haul thus far in the Rück-runde on their way to what may be the Bundesliga's greatest statistical escape.
---
Weekly Tactical Focus: Off to the park!
---
In his fabulous book on the beautiful game, professor Laurent Dubois glibly remarked that football is, much to the chagrin of its proponents, often more boring than we'd care to admit. Even the most ardent of footballing advocates must concede this. We all must dust off our "football apologist handbook" at times, awkwardly explaining to the underwhelmed potential convert we've suckered into watching a match with us why it is that no one on the pitch feels compelled to do much of anything. Sometimes rationalizations require us to issue an apology to ourselves.
As is the case with any job, a string of subpar games can leave anyone charged with covering football complacent. One shuffles in for another ho-hum day at the office not expecting to be inspired or surprised on what looks to be another uneventful day. Then something like the round 26 set of 15:30 kickoffs happens. Incredible. Eighteen goals from a set of four simultaneous kickoffs! The heart lifts as the mind races to recall how to shift its way into fifth gear.
Many thanks to the two teams involved in delivering the crown jewel in a crowded coffer of glistening treasure. Frankfurt and Union Berlin, picking up right where they respectively left off in the reverse fixture, delivering full-throttle football for the full 90 minutes. What a contest in Germany's commercial capital! The two hours blew by so fast. One completely lost oneself through all the uninterrupted riveting action.
Afterwards, many a football fan experienced what may colloquially known as "the twitch". Leg muscles acting without any discernible signal from the brain compelled one to seek out the nearest park and and find an outdoor pickup game. One simply had to go kick a ball with some strangers following this level of football. Alas, pandemic times mean that fewer venture down to the park on a fine spring afternoon. Sad.
The solitary act of kicking a ball against the nearest flat wall is the best many of us can presently do. Even paying tribute to such splendid football in writing seems an insufficient homage. This type of football deserves to be honored with the feet rather than the hands. That time shall come. In the meantime, here's some well-earned appreciation:
Lineup—Eintracht Frankfurt—Match 26 (3-4-1-2)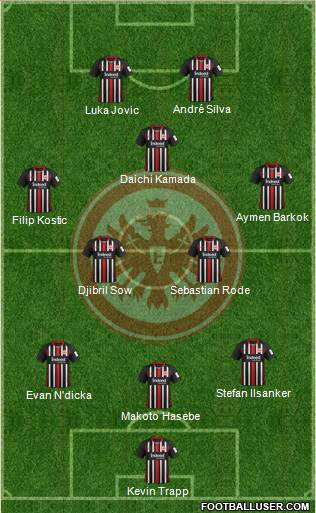 Adi Hütter again had some serious work to do in preparing this week's constellation. Newly recalled German international Amin Younes and newly ingratiated back-three mainstay Lucas Silva "Tuta" Melo both had to sit this one out on yellow card accumulation. The SGE lineup being the most intriguing subject of speculation over the course of the week, one has to credit the SGE trainer for concocting something highly practical here.
The lessons of a failed "triple six"
We'll take a step back first and reflect upon what we saw last week. Having had some time to think about it, it's possible to visualize that set-up more like a 4-2-4. Eintracht's unique use of Younes and Daichi Kamada as an unorthodox "double-ten" isn't the only odd formulation Hütter has come up with in recent weeks. Against Leipzig in the previous round, Kamada, Younes and Filip Kostic sometimes resembled an advanced "triple six."
Kamada certainly caught his share of flak for not being able to execute his defensive duties properly. While this was definitely the fault of the player in several concrete instances, his odd attacking assignment played a role as well. Responsibilities associated with carries on the right flank, combined with distributive burdens inherent to a "six" deployment noticeably hindered his ability to track back.
This worked wonderfully for a myriad of reasons, two of which earn a quick mention. First, a vertical axis pairing with friend and countryman Makoto Hasebe often keeps Kamada anchored well in his central spot. Moreover, placing a double striker set ahead of him ensured that, when he does roam, a minimum of three players have a chance to compensate for his observed movements by sliding into his position
A well-tailored inverted pivot
Hasebe's move back into the defensive ranks surprised no one. A perhaps overlooked facet of the shift concerns that often subtle positional deployment of the back-three. When Martin Hinteregger is healthy, the team always has an advanced center-half. Here, Hütter clearly instructed his central anchor to remain a step back. As a result, the duo flanking him had the opportunity to fan out and function as genuine fullbacks on some charges.
Just like last week, we've much praise to shower on Stefan Ilsanker. He turned in a fantastic performance again, this time in a radically different role. Counterpart Evan N'dicka supplied the more eye-catching athleticism with plenty of well-read scorching solo runs. Ilsanker nevertheless furnished his fair share of solid work too. Although the Austrian bears no physical resemblance to the injured Almamy Touré, he could have been mistaken for the Frenchman on a few occasions.
Prime six rotations
Before moving on, we'll also wish to commend Djibril Sow and Sebastian Rode for keeping the midfield axis cycle perpetually going. This is developing into an excellent partnership. Last week, the pair were stationed too far apart to properly vary the point of attack. Another reason one tends to, after review, label last week's arrangement more of a "triple six" relates to how confused these two appeared about their roles.
In this fixture, neither one kept a staid side. The shifting did find itself prone to clunky optics at times, but the pair's ground coverage played a significant role on both side's of the ball. Promising Union possession spells often got stymied past the halfway line thanks to their work. At the other end of the pitch, both had hands in the SGE's sensational "team goals".
The gracefully defeated
We've some stats to cover. Union outshot Eintracht 25-9. Urs Fischer's Eisernen out dueled their opponents, winning 52 percent of the total challenges. Of course, we'll have to mention the xG as well. No analytical piece stands complete without consideration of the footballs most relevant metric. Union bested Eintracht 2.6 to 1.7. A deceptive scoreline indeed.
Such figures simply must be broached. It's worth noting that anyone oblivious of the actual tally could have easily falsely assumed an inverted scoreline. The visiting Berliners truly played an aesthetically gorgeous game of football. Bearing that in mind, we'll respectfully proceed to examine Fischer's tactics.
Lineup—Union Berlin—Match 26 (3-5-2)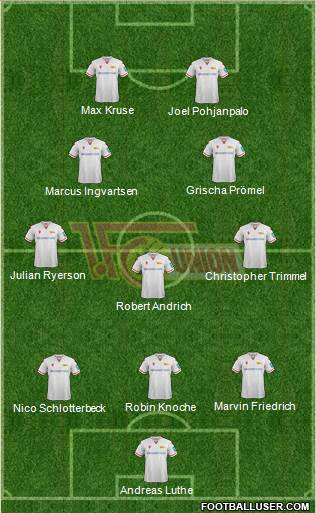 Haven't had the pleasure of drawing it up for Union Berlin since round 17. Note that we still looking at the same basic system, perhaps a bit more refined. Union tactics aren't the stuff of serious code-cracking. Do know that they are supremely effective. This is the reason why so many different strikers have racked up goals this year.
Despite seemingly endless injuries, Max Kruse, Taiwo Awoniyi, Joel Pohjanpalo, Sheraldo Becker and Cedric Teuchert have all managed to find the back of the net a respectable number of times. Petar Musa was meant to get his chance in this one, yet had to withdraw in favor of Pohjanpalo following a late injury.
A more advanced midfield axis
Robert Andrich, one of the deft purchases the club made ahead of their first season in the top flight, works as either a defensive midfielder or a centralized distributive anchor depending on the adversary. When we last checked in, his role was that of a watchful clearer just a shade above a sweeper's role. This week he moved up, bringing two wingers with him toward the halfway line.
Fischer has done an overall skillful job compensating for his squad's lack of natural wingers. Note that both captain Christopher Trimmel and Julian Ryerson are actually right fullbacks. Against certain Bundesliga teams, the Union trainer has found a way of using players like Trimmel, Ryerson, or the injured Niko Gießelmann and Christopher Lenz as selectively penetrative wingbacks. The system functions well as the result of another tweak.
Spread of buttressing attackers
The two supporting actors separate from one another; not unlike what we've been seeing in Sebastian Hoeneß's Hoffenheim constellation, though certainly not as extreme. The primary objective of something like this is to create uncertainly as to who will be working the overlap. Collapsing the two players on the second attacking axis brings with it the advantage of quicker centralized drives, while spreading them out gives one more crossing options.
Fischer aims for the latter in his recent match-plans and it came very close to working this weekend. One could say that Marcus Ingvartsen proved a weak link that the Union gaffer took just a bit too long to remove. The back-three, ordinarily excellent, also found themselves too preoccupied to furnish an orderly enough initiation of the drive's process. A couple of minor, not to mention hardly foreseeable, problems encumbered an otherwise laudable system.
Match Flow: 1st to 7th minute
We couldn't have gotten off to a more rollicking start. Union's set-piece play being so especially potent, the Köpenickers always invariably create some early danger. Robin Knoche rose to meet Trimmel's corner perfectly inside the 1st minute. Sow had to be alert to clear off the line. Before one could even begin to process what happened, the Hessians secured the 1-0. Sow charged up on a brilliant individual run, locating Kostic on the outside. The Serbian serviced André Silva with the perfect square.
Frankfurt spread the ball around confidently during a most impressive spell between the 3rd and 6th. Ilsanker looked especially sharp in his adjusted role, slicing through with a marvelous carry in the 5th and heading a powerful ball forward less than a minute later. The Union back-three flattened out a tad to calm things down, ultimately producing their own solid build in the 7th. We arrive at a controversy sure to make the discussion rounds come Monday.
Ryerson and Hasebe together hustled after a ball well beyond both of their reaches in the box. Union's Norwegian stuck out a high boot to contest. As it happened, his studs ended up digging deep into the Japanese international's thigh. Play continued and the ball ended up falling back to Max Kruse for the first time finish. On-pitch officials and the VAR team might have been too focused on a potential offside during their video review. In any event, the goal was allowed to stand despite the fact that Hasebe required lengthy treatment.
Match Flow: 7th to 20th minute
No one really wishing to touch what amounted to a tough subjective call, matters proceeded with two energetic squads deadlocked 1-1. Fischer's crew again looked competent on a corner in the 11th. Kevin Trapp cancelled out the menace with a flailing punch away. Four minutes later, it was Andeas Luthe's turn to stave off set-piece danger with a great save. In-between these two plays, a top-notch SGE short-passing incursion ended with N'dicka flashing wide in the 13th.
Eintracht found their way through via another nice cutting build up in the 16th. A filthy slick back-heel from Silva to Luka Jovic led to a lovely topspin effort that didn't miss by much. Ryerson punched through at the other end in the 18th. Grischa Prömel's first-time hit off of the Norwegian's cutback also sailed narrowly wide. The FCU put together another monster chance less than two minutes later.
Incredibly tenacious possession play from Marvin Friedrich resulted Andrich eventually winning Union's third corner. Trimmel, as he's often prone to do, supplied a sumptuous service. Friedrich sent in a forceful header that Pohjanpalo stuck a toe out towards for the last-second redirect. Keeper Trapp was totally beaten, but Sow somehow again managed to clear off the line.
Match Flow: 20th to 35th minute
Pohjanpalo had another shot-on-goal within a minute. Trapp sprawled to save a close-range header in the 21st. If there was anything resembling a lull in this match, it came between the 22nd and 29th. To suggest that things were calm, however, would be flat out incorrect. The SGE pressed forward dexterously. Union's defense, despite their fair share of later meltdowns, showcased why they are among the league's finest.
Trimmel, Friedrich, and Andrich did a magnificent job squeezing out N'dicka, Kamada, and Kostic on a Frankfurt leftward cycle in the 22nd. Friedrich cleared expertly with his head ins the 23rd while Andrich swept out another perilous ball in the 27th. Knoche stood tall against the same leftward trio mentioned above in the 29th. Trimmel alone negated first-rate from Sow and Jovic at the half-hour mark.
In a play for which no FCU player could claim credit, Silva wasted a beautiful over-the-top ball from Rode by tripping over his own feet in the 31st. More Union set-piece majesty came two minutes later. Nico Schlotterbeck latched onto a lustrous Kruse delivery and directed a superb diving header on target in the 33rd. Trapp proved equal to it and the scoreline remained 1-1.
Match Flow: 35th minute to half-time
All of the craziness began with an Andrich back-pass to his keeper. Luthe stumbled at an inopportune moment. The pass was a bit far away toward his far post. Unfortunately, the Köpenicker keeper panicked with his first stride and, as a result, got his plant foot's cleats stuck in the turf. A bizarre own-goal rolled into the Union net at the beginning of the 35th minute.
Fischer's men didn't appear particularly rattled by the freak occurrence. The visiting Berliners held their own in a series of feisty middle-of-the-park battles between the 35th. Frankfurt's next goal didn't result from the FCU defense switching off. Rather, Kostic and Silva opted to demonstrate sublime combined skill. In an almost comical scene, the pair passed back-and-forth in front of the goalmouth as if nothing was at stake.
Calm and collected, Kostic passed up a prime shooting opportunity in order to slide across for his teammate. Silva then forewent his own clear sight of goal to elegantly shuffle back for Kostic in a delicate "after you sir" manner. Finally, the Serbian finished for the 39th minute 3-1. Kruse attempted to answer immediately with a thunderbolt in the 40th. Unluckily, the goal-bound effort deflected off Pohjanpalo.
Some minute-by-minute writers might not have even gotten the chance to record Kruse's effort as Frankfurt were back up field mere seconds later with a twelve-touch team passing sequence. It all culminated in a brilliant flick from Jovic to Kamada. The Japanese international then laid off for Silva's second goal in the 41st. In the span of six minutes, we went from a 1-1 draw to a commanding 4-1 Eintracht lead.
Hasebe's thigh gash meant a minimum of three minutes of stoppage time. Union made it count by striking back on the absolute last play of the half. Following some great work from Friedrich and Pohjanpalo, Kruse completed his own brace with a breathtaking headed finish at 45+3. A whistle absolutely no one wanted to hear blow heralded a totally unwanted break.
Match Flow: 46th to 53rd minute
Without personnel changes we proceeded. This came as a surprise. As noted above, Ingvartsen remained the one FCU actor who didn't seem capable of making his presence known in this tit-for-tat slugfest. The Dane barely got a touch in during the opening 45. Scandinavian counterpart Ryerson gave him scant attention. Too many directional shifts saw him well out of passing range on the rush.
One should still probably give Urs Fischer the benefit of the doubt. A halftime talk, as opposed to a substitution, likely served as the better course of action. Both sides deliberately sought to calm things down at the restart. We witnessed more patient, strategic builds in the opening four minutes. The opponents initially traded long diagonals into the box, N'dicka trying to hit Aymen Barkok in the 47th and Kruse looking for Pohjanpalo in the 49th.
A few intriguing battles on the flanks characterized the next few minutes. Friedrich and Kostic fought to a draw in the 52nd whilst N'dicka couldn't find a way past Grischa Prömmel less than a minute later. Still more set-piece prowess nearly led Union back into the match. Trapp barely edged out Schlotterbeck after another well-executed corner.
Match Flow: 53rd to 62nd minute 
The match continued on an eminently watchable level with Frankfurt playing some attractive keep-away between the 53rd and 55th. Ilsanker saw a magnificent lay-off cleared by Friedrich in the 56th. Union contributed their own version of alluring keep-away via a sustained possession spell lasting from the 57th to the 59th. Ilsanaker sliced past his marker again at the hour mark. This time his layoff found Kamada, who in turn controlled splendidly before hitting the finish just wide.
In the very same minute, Kruse out-deked Hasebe and eventually set up Pohjanpalo for the sure-fire finish. The Finnish striker could only lament a day of "what ifs" as he just didn't get the right touch on the pinpoint pass. It would be the 26-year-old's last involvement on this day. Fischer had his double substitution lined up. Teuchert and Keita Endo replaced Pohjanpalo and the ineffective Ingvartsen in what was initially a like-for-like.
Match Flow: 62nd to 78th minute 
One sensed that Fischer ultimately had a re-format in mind, but we would have to wait for it. The fresh legs didn't immediately impact the play. Instead it was Kruse (in the 62nd) and Andrich (in the 64th) leading the charge with great lane runs during a most promising spell for Union. Kruse fired off another missile in the 66th only to see his shot blocked.
Ryerson crossed for Prömel very well in the 68th. The ball fell just of the supporting attacker's reach. Trimmel knocked the ball back into the box expertly. N'dicka bailed his under-pressure team out with a critical header away. On the very next attacking sequence, Trimmel crossed perfectly for Endo. The FCU substitute headed an agonizingly few millimeters wide.
In the context of this bombardment, Fischer held off on his third change for as long as he could. After the Iron offensive finally cooled off after the 69th, he sent on Sebastian Griesbeck for Prömel and the squad reorganized their shape.
Lineup—Union Berlin—71st minute (3-5-2)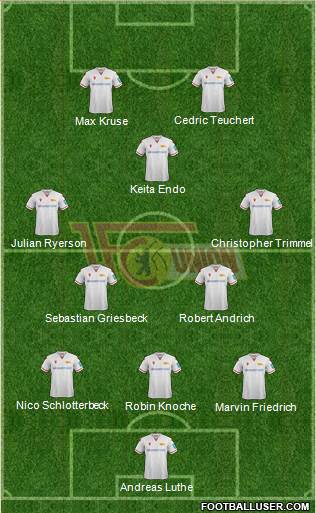 Cutting across (left to right) from the fourth axis to the first, three fresh players were meant to give the Köpenickers enough novel offensive impetus to keep the pressure on. It worked. Hasebe had to employ a tactical foul to stop his countryman Endo in the 72nd. Teuchert executed a turn perfectly in the 74th, nearly linking up with Endo on a square that fell just short of being good enough.
Everyone of the Berliners rushed forward on a full press in the 75th. Failed clearances from Kostic and N'dicka meant that the ball pin-balled around tantalizingly close to the right player's boot. Teuchert eventually earned a corner and saw his subsequent effort off the set-piece blocked in the 76th. Union were pushing like mad to keep the dream alive. One definitely felt for them as a goal would have been totally deserved.
To his credit, Adi Hütter let his visitors tire themselves out sufficiently before pulling the trigger on his own triple substitution. He likely knew that he would get only one chance to interrupt his opponent's momentum. He would have to choose the right time and the right personnel to kill this game off.
Match Flow: 78th minute to full-time 
Jovic, Barkok, and Silva made way for Steven Zuber, Ragnar Ache, and Timothy Chandler. In the light of the fact that both strikers had been pulled, the only two real possibilities were a 4-5-1 shell or a 3-5-2. Much to a humble football fan's satisfaction, the latter emerged.
Lineup—Eintracht Frankfurt—78th minute (3-5-2)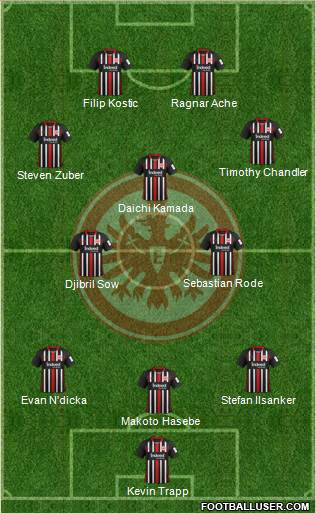 Very nice. A return to the 3-5-2. Perhaps a nifty little look at the future after Luka Jovic (and possibly André Silva) depart over the summer. Dropping his sixes back accorded Hütter the extra defensive protection he needed while a re-load of creative wingers ensured that the match wouldn't come to a drab conclusion. On a different day, this could be a offensive-minded shift designed to snatch late wins instead of closing out leads.
Union were nevertheless more than capable of taking advantage of three introduction of three underused actors. Ryerson saw another laser-effort blocked by Kamada in the 80th. N'dicka tackled away from Endo in the nick-of-time one minute later. Chandler barely caught up to a Schlotterbeck in-swinger one minute after that.
The spry visitors obstinately refused to give up. Kruse danced past three markers in the 84th before getting stopped. Ilsanker had to pull off the acrobatic clearance to get the ball away from a lurking Endo in the 85th. Only in the 87th did traffic begin to tilt back the other way. Chandler and Zuber demonstrated respective rust on advances in the 87th and 88th.
After Andrich hit the crossbar in 89th and Schlotterbeck shaved the woodwork at 90+1, Zuber and Chandler finally shook off the rust and combined to score Eintracht's 5th goal at 90+2. Even then, Fischer's men kept trying. Trapp had to sting his palms to stop an Andrich effort at 90+4. Whew! Must we really wait six to seven months to watch these two teams play one another again?
Football at its finest. One doesn't have a better way of putting it. No holds-barred action from the opening whistle to the last second of injury time. It's strongly recommended that those who didn't catch this instant classic check out the replay. Be advised, however, that one will be overcome by the rapacious urge to actually go play some football afterwards. Call one's friends first.
Make sure there's an arranged time at the park for a post-match kick-a-bout at the park.
---
Concluding Thoughts: In defense of the UECL
---
Seeing as how we spent last week offering an, albeit qualified, defense of the new Champions' League reforms, let's spend some time talking about European football's next unpopular initialism. Technically speaking, the fact that one can pronounce the first letters of the new UEFA Europa Conference League (UECL) might make the new competition an acronym as opposed to an initialism, but that's beside the point.
Few in German football look forward to participating in the third-tier of European club competition next autumn. Union's Max Kruse said he had never heard of it and wished "others" the best of luck playing in it. Freiburg's Vincenzo Grifo expressed a taste for "real European football" before dismissing the whole prospect. Gladbach's Max Eberl said he liked the idea. To be fair, he's had a rough past few weeks.
What does the new Conference League mean for German football? Unlike last week, this writer stands ready to defend the idea amidst German fans inside Bundesliga stadiums. He's latched onto the positives since the new initiate was first announced in September 2019. To frame the argument concisely, there are two major advantages to the new system.
The first is general. Mercifully, the Europa League will be reduced to a 32-team-field from its current 48. Most everyone can agree with that. From a German perspective, the new system of downward referrals ensures that any team eliminated from the UEL qualification playoffs (like Wolfsburg this year) or failing to qualify for the UEL knockouts out of the group will get a chance to keep playing European football in the new league.
Whether they can stomach the commercialization of it, German fans must admit that two to three extra Bundesliga clubs desperately need the revenue after this year's short-fall. Furthermore, the fanbases in the Bundesrepublik certainly deserve some extra European fixtures after being deprived of their clubs for a full year. Objections will persist, yet this has all the hallmarks of idea that will quickly find widespread appreciation.