Ahead of another great weekend of Bundesliga action, today marks the day when we get completely caught up with all of the Bulinews Tactical column hot-sheets. We learned a great deal in Round 26. Among the most important lessons, a huge home win for Eintracht Frankfurt enabled the SGE to send that all-important message to the top of the table that they wished to impart.
A simply excellent match at Deutsche Bank Park earned the "Tactical Focus" Section this week. There's naturally insights and observations from all over the league in our comprehensive coverage of another fabulous weekend on the German Bundesliga beat.
All the German footballing news that's fit to print finds it's place in another edition of the "Tactics Talk".
---
Bundesliga Tactical Banter: Round 26
---
Getting it completely wrong
Well. This columnist certainly isn't afraid to tackle a horrible prediction. The "gut-feeling" that SpVgg Greuther Fürth would give Leipzig a challenge is about as horrible as it gets. Oops. Yes, that was good and stupid. Fürth's strong home unbeaten run guided that false flag significantly. It really shouldn't have considering the Middle Franconians have about as much quality as soija-lawn-sod in Winter and Stefan Leitl has moronically settled upon a dangerously risky 4-1-5 set-up.
A bit of early luck served only to poke the Leipzig bear. Domenico Tedesco's world class 3-5-2 predictably tore Leitl's unconventional (and irrational) constellation apart. At least last week's prediction that Fürth would lose their next four matches is still on track. It really gets dark for das Kleeblatt now. Even their bright and shiny new keeper just got flogged with six goals. Andreas Linde surely wants to head back to Sweden and hibernate for six months following this beatdown.
Assessing the BVB win
It was good. Sure it was good. It might have been better against an Arminia side hit with a wave of COVID absences. That notwithstanding, it proved more than enough. The three points are in the bag. Had Donyell Malen not been so unlucky, the scoreline might have been higher. Marius Wolf also missed out on some fine opportunities to complete a brace. After some adjustment time, Giovanni Reyna and Erling Haaland showed a little spunk following their later introductions.
Good match. Good win. Great headline and write-up here on Bulinews. Is it good enough for the hardened cynical German football fans to declare the title race back on? Not yet. Give us to til Dortmund's Wednesday makeup match against Mainz at least. Even should die Schwarzgelben win, we'll probably remain pretty cautious about matters. After two seasons without a title race in the final seven rounds, skepticism reigns. There's also the matter of just how stacked with potential the German giants are this year despite another draw this round. We turn to that issue next.
---
The "Spiegel Specials": Round 26
---
Hoffenheim-Bayern (0:4, 1:1)
Back in round nine, we were discussing both a blowout and a "chess match". Though that may seem like a contradiction in terms, the in-game tactical adjustments by two of the league's young wizards actually counted as a fascinating study in the type of head-games associated with game theory. Sebastian Hoeneß suddenly threw his match plan out the window some 27 minutes in and went for broke. Nagelsmann took his time reading his counterpart and responded with a subtle tweak.
Such a thinking-man's affair that was! In the return fixture, Hoeneß entered proceedings with some more nuanced thoughts while Nagelsmann opted for sheer brute force. The TSG trainer surprisingly benched Ihlas Bebou after his firecracker performance last week. Kevin Akpoguma also took a seat following a serviceable outing. A 3-5-2 with Christoph Baumgartner working out of the ten slot held up a dual striker set of Georginio Rutter and the newly re-signed Andrej Kramaric.
Nagelsmann went ahead and rolled out the exact same XI that crushed Salzburg three days ago.
Lineup—FC Bayern München—Match 26 (3-4-3)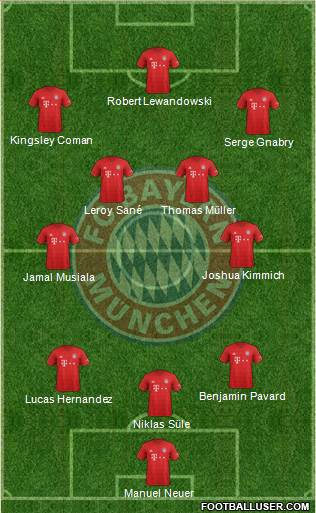 The former Hoffenheim trainer had no need to tinker with a winning formula. He also correctly anticipated that his opposite member would alternate between a high and low block in order to try and disrupt then FCB press. Foreseeing this wasn't hard as it does serve as a common tactic against Bayern. Through his latest tactical ploys (with perhaps some random dumb luck thrown in too), Nagelsmann already presided over the correct solution.
A tight back-three pivot
Niklas Süle's ability to read the game renders him an excellent candidate to run an inverted pivot. The deceptive speed that the big man possesses even means that such a tightly bunched bunched together back-three isn't strictly necessary. What keeping the three defenders close together does accomplish, however, involves ensuring that the trio can switch marks quickly.
Süle spent a great deal of time on the left helping out with underlap stops on Pavel Kaderabek and Stefan Posch. With a couple of notable exceptions, Lucas Hernandez slid underneath to halt the progress of ever-dangerous roving TSG fullback David Raum. Benjamin Pavard plays forward with purpose more so than any other defensive actor. The close-knit positioning makes certain that a body can always be in place to cover him.
Spreading the sixes
Whilst waiting for Leon Goretzka to return from injury, Nagelsmann has tried out a variety of arrangements in midfield. What we've seen in place since Wednesday is novel, risky, and effective as well. Joshua Kimmich and Jamal Musiala move up and play with a significantly wider gap in their axial partnership. One rarely witnessed the team linger in midfield for more than a split-second this weekend.
Whenever one these players wrapped their foot around the ball, they found immediate options either central or wide. If there was a disadvantage to this, Serge Gnabry, Thomas Müller, Leroy Sané, and Kingsley Coman frequently found themselves on the back foot whenever tasked with defensive duties. This occurred because offensive fan-outs left them out of position on the counter.
In the final analysis, the shortcomings inherent in this approach remained almost too minuscule to matter. The strength of the back-three and the return of the best keeper in World Football made it seem as if the German giants weren't taking any real risks at all. Manuel Neuer had to be at his best in order to preserve the scoreline, but it was Kraichgauer net-minder Oliver Baumann who truly kept the game from turning into a run-away.
Prognosis: No title race revival
It's just not happening. No way. Let it go. It's worth mentioning that Bayern that three goals from the Bavarians were disallowed on offside calls in the first half. Gnabry hit the post twice. Gnabry, Sané, Müller, and Lewandowski all forced Baumann into brilliant saves. A Musiala effort hit the side netting when Baumann inadvertently made a less-than-brilliant intervention. Defender Posch cleared a late sure-goal off the line.
Just like last week, Nagelsmann turned to Marcel Sabitzer and Eric Maxim Choupo-Moting off the bench. The duo put together a very worthy combo seven minutes from time; a beautiful chance that could have easily decided this one late. We're watching Bayern traverse something of a dip here, but it's by no means indicative of a decline in form. The remaining schedule might see the record champions conclude the current season undefeated.
A decade of dominance.
That's just the way it is.
Leverkusen-Köln (2:2, 0:1)
Right. Not quite the match that ended up serving as the centerpiece of the round nine tactics column. None of us really expected it to live up to that billing, certainly not with die Werkself coming off a draining Europa League leg and Köln grappling with their offensive identity in recent weeks. The fixture certainly lived up to its billing as a physical slog. In this case that turned out to be a bit depressing as no one wanted to see Jeremie Frimpong and Florian Wirtz carted off injured.
After some gallant early play from die Geißböcke, it seemed like both teams were rattled by the all-too-tense opening to the match. Finesse play was rarely seen at all. Only after Steffen Baumgart breathed new life into the game with the substitutions of Dejan Ljubicic and Kingsley Schindler did some more attractive play return. The hosts also got a nice late boost from the introduction of Sardar Azmoun and Charles Arnaguiz. The final 25 minutes were much more entertaining.
Prognosis: Limping to the finish
The sad truth concerning both of these sides is that they might fade into the background as the season draws to a close. B04 trainer Gerardo Seoane completely put his foot in his own mouth before the horribly tragic injury to Wirtz. Very few, if any, German football watchers thought that Germany's red company team was on the way to closing the gap with Bayern and Dortmund this year. One can pretty much scratch that off for good now after this loss.
As for Köln, one musn't forget that this win essentially completes the club's goal for the season. Thirty nine points assures the team that only avoided relegation last year through the playoffs that they're more-or-less out of this season's relegation race. Baumgart's Effzeh–who have still not scored more than one goal in a fixture since late January, could experience an offensive revival. Tough to envision, however, as they have no real motivation to.
---
The Burning Questions: Round 26
---
How awesome was Freiburg-Wolfsburg?
Too awesome for mere mortals to speak of. The five-goal thriller in Breisgau on Saturday easily qualifies as one of the best matches of the season. Christian Streich's SCF remain well-stocked personnel-wise and especially well drilled in set-pieces. Only Leverkusen have done better from dead-ball situations this year. Even Nagelsmann's Bayern–who have never been slouches when it comes to wonderfully designed free-kicks and corners–aren't as inventive as the team Stretch puts on the pitch each week.
We got a chance to see some genuine artistic beauty from Vincenzo Grifo early in this one. The German-Italian's seventh goal of the campaign (scored in the 7th minute no less) counted as pure poetry. One could tell that the league veteran put some time into practicing that curler during his training sessions. The actual tactics employed by Streich in his record-tying 104th Bundesliga win were also solid gold.
Losing three starters (Lukas Kübler, Maximilian Eggestein, and Philipp Lienhart) to injury/COVID ended up mattering not at all. The SCF gaffer's reorganization furnished seamlessly elegant football. In all honesty, one couldn't tell that anything was missing at all.
Lineup—SC Freiburg—Match 26 (4-4-2)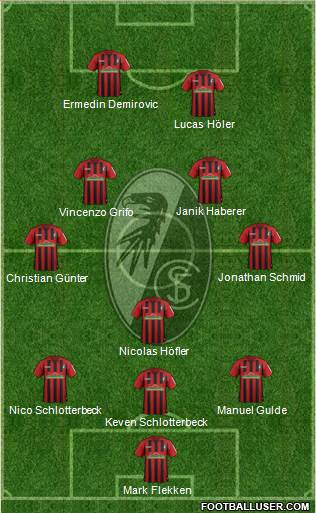 This worked remarkably well.
Manuel Gulde and Keven Schlotterbeck came in cold to deliver monster defensive performances. Upfield link-up play thrived as Janik Haberer–playing in one of the more advanced positions one shall ever see him in–did an excellent job coordinating rightward cycles with fellow new introduction Jonathan Schmid. Service striker Lucas Höler and bolt-sweeper Nicolas Höfler demonstrated full understanding of their altered roles.
Ahem. And now Florian Kohfeldt:
Lineup—VfL Wolfsburg—Match 26 (4-3-3)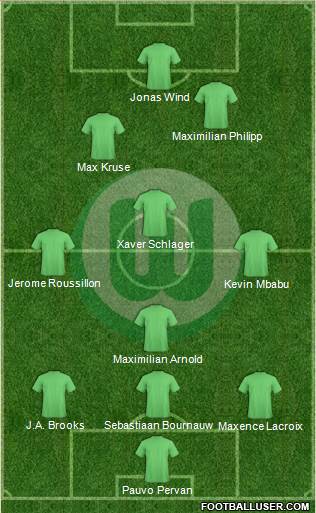 This proved remarkably stupid.
Kohfeldt might as well have drawn it up in crayon. Staggering one's top three offensive actors in such a way rarely works. It's far too obvious how the upfield link-up play is supposed to work when there are three independent axial planes above the halfway line. This approach screams "Schlage-Kruse-Philipp-Wind". That's the plan; far too easy of a code to crack.
The columnist didn't even see Max Kruse get a touch in until the game neared the half-hour mark. Schlager quickly got swarmed whenever he found himself in possession. The VfL accomplished nothing during the spell between Freiburg's opening goal and a late first-half barrage from the hosts. SCF skipper Cristian Günter came within a toenail of increasing his team's advantage during the uninterrupted onslaught.
A 3-0 lead at the break would have surely dusted this one off. Instead, Freiburg's comparatively slender lead allowed Wolfsburg to fight their way back into the match. We'll surely wish to accord credit to Kohfeldt's Autostädter for getting their act together and ultimately drawing level. It was nevertheless Freiburg (via Höler and Demirovic) who spurned the better chances during the second half.
As the VfL trainer began pouring the substitutes on, we got a reminder just how many attacking weapons Kohfeldt has at his disposal. Lukas Nmecha, Ridle Baku, Renato Steffen, Aster Vranckx, and Bartosz Bialek all entered the fray to no real avail. Kohfeldt began stacking attackers in a totally radom patter. At one point, the Lower Saxon offensive press attempted to run down the field in a 2-3-1-4.
Freiburg ate it all up without too much trouble. An in-tune trainer like Christian Streich can do far more with far less. The SCF gaffer didn't even bother to utilize his first substitutions until the 83rd minute. His 86th minute sub–Nils Petersen–immediately set up the game-winning goal in the 87th. Thankfully, this amazing match ended precisely as it was supposed to.
Thoughtfulness prevails over thoughtless spamming.
As it should be.
What will we remember about Tayfun Korkut?
Not terribly much. Upon hearing of his appointment at Berlin's Western capital city side this past November, most of us German football watchers had already forgotten the previous clubs that he had coached. We generally recalled his stints at Stuttgart and Hannover, but the brief spells during which he ran Leverkusen and Kaiserslautern didn't stick in our memory. The 47-year-old tends toward the coaching equivalent of freely displaced tumbleweed.
Now that it has been officially confirmed that he's tumbled out of another job, we might as well take a look at his final set of tactics. This may come in handy a few years from now when a struggling club signs him to a five-week-contract at the end of the season and we've all forgotten that he coached Hertha once upon a time. Tayfun Korkut? That name rings a bell. He was a trainer…or a troubadour…or something.
Lineup—Hertha BSC—Match 26 (4-3-3)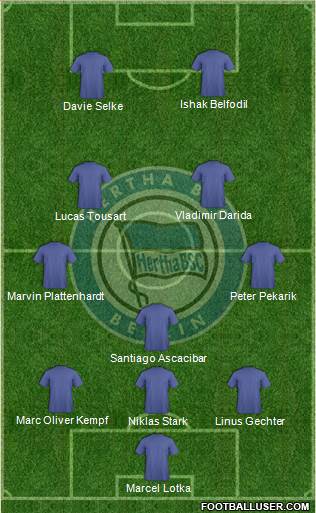 Ugh. At least it was clear what he was trying to achieve. Six personnel changes here from last week. The wide shape was specifically designed to slowly build ball possession and confidence. In principle, there's nothing wrong with such a concept when facing a team (Borussia Mönchengladbach) also short on self-belief. On paper at least it appeared that Korkut had all his spaces covered.
When it came time to see this in action, however, Gladbach shredded this all too easily. Taking advantage of the fact that Hertha were far too nervous and shy when it came contesting the midfield duels, the foals sliced through the ranks with cutting through balls throughout a completely dominant first half. The inappropriately mouthy Marc Oliver Kempf conceded one penalty after getting beat. He should have been whistled for two after another foul at 45+1.
After the break, Korku brought on Suat Serdar for Ascacibar and reverted to something a little more akin to what we saw last week. This did produce some positive initial results four all of nine minutes. Kempf got a decent effort in on Yann Sommer after Marvin Plattenhardt's corner at the tail end of the push. Some five minutes after that, Matthias Ginter headed in off a Gladbach corner for the 2-0 in the 59th. That just about did it.
Whew. Some week for "die alte Dame". Another termination in the front office. Fredi Bobic made to look like even more of an idiot than he did during his Stuttgart days with a humiliating reversal. Now we need to find someone interested in taking on probably the worst job in German football with just eight rounds left to go. Is this column prepared to renege on the "February Promise"?
Actually, no. As we were discussing last week, the capital city side will have the opportunity to pick up some points against direct relegation rivals down the campaign's stretch. Moreover, the final two matches will come against club reserve teams with little or nothing to play for. The mantra that "a new broom sweeps well" obviously doesn't apply to every coaching change. In this case there are nevertheless some straightforward solutions.
What to do with this lineup? Reinstate captain Dedryck Boyata immediately. The Belgian veteran should always start alongside Kempf. Suat Serdar and Marco Richter need to work as regulars as well. Richter on the right wing. Serdar in a short-striker role, ideally behind Stevan Jovetic if healthy. There also isn't any real reason why Jurgen Ekkelenkamp shouldn't have the left-wing starting slot locked down at this point either.
Lucas Tousart and Vladimir Darida show some promise as linked sixes. The fullback situation remains a complete mess, but that could be ameliorated by stationing wingers like Myziane Maolida or Dong Jun-Lee back there. Why not? It's worth a shot. Should that seem to radical, Peter Pekarik and Maximilian Mittelstädt haven't exactly been terrible this year.
Those two can still keep our hypothetical 4-4-2 functional enough to at least keep hold of the relegation playoff place. This year's 2. Bundesliga will supply the 16th-placed Bundesliga finisher with a test. On the other hand, one wouldn't really wish to bet safe money on any of them maintaining enough consistency to survive a two-legged playoff against a higher quality roster. Therein concludes the latest convoluted path to explaining how Hertha stays.
Was the Stuttgart-Union officiating lousy?
We'll have to concede that Timo Baumgartl had a point. Germans generally don't care for whining about the officiating. The writer wishes he had a solid explanation as to why this is do. There is commonly an inherent trust in qualified authority embedded in the teutonic soul. There's also the fact that many of us didn't grow up with as many self-officiated pick-up games that others did. Even during informal matches amongst friends, we sometimes take turns being the "Schiedsrichter". Accordingly, we know what a tough job it is.
In any event, veteran "Schiri" Robert Hartmann got in his own way a bit, making an already tough match tougher by not issuing cautions earlier. Baumgartl was also correct in pointing out that the match official wasn't even-handed when it came to assessing 50-50s. Even if some of decisions end up being wrong, a good ref should alternate when two teams are flying into the challenges blindly. Twenty five whistles against Union wasn't anywhere near fair in the context of this ultra physical match.
Of course, one should also point out that Hartmann missed some clear calls that should have gone Stuttgart's way. The most egregious came in the first-half, when Christopher Trimmel impeded Chris Führich's progress with a shirt pull on what was developing into a clear chance on goal. Referees get grades too in the German press too when the Monday editions roll out. One expects Hartmann will get a 5,5 at best; one mark above failing. It happens. At least it didn't lead to a disastrous result. Neither side can really have complaints about a draw when they didn't bring the quality.
---
Weekly Tactical Focus: Back in the Saddle
---
On this oddly scheduled Bundesliga weekend of four Saturday and Sunday fixtures, Eintracht-Bochum stood out as one to pique the interest of German football lovers. Hence, a Sunday match earned the ink of the circle heading into this round. A mid-table clash may not interest some, but we're dealing with two highly intriguing teams at very interesting points in their respective seasons. Ahead of this weekend's proceedings, only two points separated Oliver Glasner's SGE and Thomas Reis' VfL.
Thus far in our Rückrunde coverage here on Bulinews, Frankfurt have been the subject of only one "tactical focus" section. It felt long past time to check in with Eagles of the country's commercial capital, particularly in light of the fact that the squad has been tanking since concluding the first-half of the season on such a high note. Through eight rounds in calendar year 2022, the Hesseners had taken just ten points from league play. The SGE also hadn't won at home since the second half began.
Signs were emerging that Glasner's crew were preparing to break out of their slump. There had nevertheless been false-starts before when it came to this team. In point of fact, Bochum put the brakes on a two-match SGE winning streak at precisely this point in the Hin-runde. Back in October, Eintracht were riding high after a league and Europa League win. Reis' squad snatched the chance at three wins on the trot directly from underneath them. Keenly aware of this, Glasner cautioned against "running into a closed door twice".
A great deal rested on the line for the SGE here. The quest for Europe isn't completely out of sight yet, not least because the club could still win the Europa League. It does remain on some pretty heavy life support. Anything other than three points here would have still surely buried their chances of climbing up the table to those spaces. Facing a do-or-die in this respect, Glasner furnished us with some memorable quotes in his presser.
A bit of pressure always makes for fun. Add to that VfL Bochum's unequivocal status as the 2021/22 Bundesliga's "breath of fresh air" and we had a match  with fun written all over it. Though we ultimately got an affair that had plenty of dull spots and few real in-game tactical adjustments, the fixture surely delivered in this sense. It was fun. We learned a lot about Frankfurt's current form as well.
Lineup—Eintracht Frankfurt—Match 26 (3-4-3)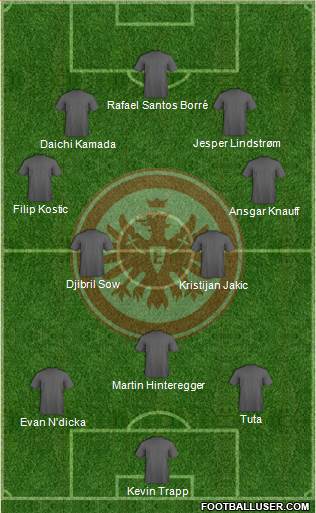 Anyone for some deja vu? How about a look back to where we were at round 26 last year? Whatever club he happens to be managing, Glasner doesn't want to tinker too much with his constellation. He's known to be a coach who places enormous emphasis on keeping a regular shape and regular personnel for regular drills on the training pitch. Hence, he kept the exact same XI in the exact same set up as last weekend and the midweek UEL tie.
Admittedly, there were times during this encounter when this seemed like the wrong move. The actors were clearly tired. They struggled with their creativity and committed an inordinate number of mistakes. Overall, however, one has to say that they collectively performed well above average. Glasner has a winning formula again. This could go places.
3-6-1 vs. 3-4-3
Following a slew of injuries and from dips, the SGE trainer finally has the players he trusts back in the positions he wants them. We've not seen Martin Hinteregger run a fulcrum pivot for some time. Djibril Sow and Kristijan Jakic are back comfortably paired back by the halfway line. Kostic has his new axial partner in the form of the finally up to speed Ansgar Knauff.
Daichi Kamada and Jesper Lindstrøm work behind Rafael Santos Borré again, though not quite in the way they did before. We label this a 3-4-3 (as opposed to a 3-6-1) now primarily because Borré frequently drops very deep now. This constitutes a very solid capitalization on one of the strongest points of the Colombian international's game. He's really great and drawing coverage to free up Kamada and Lindstrøm.
Regarding Kamada and Lindstrøm themselves, their evolution has really added to this squad's game. A very interesting factoid about the encounter we are about to discuss concerns the fact that close to 40 percent of the attacks ran through Lindstrøm on the right. Glasner has skillfully addressed the formerly one-dimensional nature of this team; the one through which everything ran through Kostic on the left.
Reis' effective mitigation
The deck was certainly stacked against the VfL Bochum trainer in this one. Three of the four regular members of his back-four remained unavailable. Reis' final team sheet contained all the expected plug-ins. Danny Blum unfortunately wasn't able to give it a go either. That was obviously less of an issue with Gerrit Holtmann available.
Lineup—VfL Bochum—Match 26 (4-1-4-1)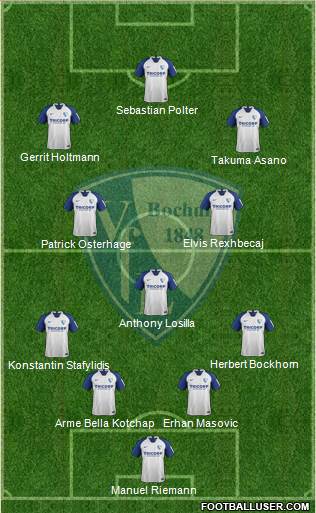 The three defensive replacements held their own. Erhan Masovic's own-goal overshadowed an generally suitable performance. Herbert Bockhorn–some clumsiness and roughhousing aside–kept most of his involvement positive. As the team's primary set-piece taker, Konstantinos Stafylidis didn't do too much wrong other than accidentally smack a young steward in the face with a ball he was trying to clear in the 56th.
Given that Stafylidis immediately apologized to the poor lass, one could say that he did almost nothing wrong on this day.
Match Flow: 1st to 19th minute
The two teams didn't need much time to settle. Before the 1st minute was out, Elvis Rexhbecaj had hit Sebastian Polter with a nice forward ball. The former FC Union Berlin striker saw his strike deflected. Lindstrøm tried to run a quick counter back the other way, but Jakic turned the ball over after the Dane's cutback. Knauff ran the next SGE attack up the right in the 2nd. Borré actually worked in a very inviting cross for Kamada at the end of the play. The Japanese tried a fancy first-time pluck out of midair. The attempt at the sensational went wide.
Loads of possession changes from the two excitable squads in the 3rd. Hinteregger, looking much more confident than in recent weeks, managed two blocks amid the fray. Takuma Asano tried to cut in on a promising play in the 4th. Hinteregger muscled him out. Back the other way with some pace, Knauff and Borré got the ball upfield for Lindstrøm. Armel Bella Kotchap recovered in time to clear for a corner. Tuta then headed Kostic's 5th minute service wide. Masovic was very tight on the coverage.
Patrick Osterhage found now way through on the VfL left in the 6th. The SGE tried to get Lindstrøm rolling again on their right with a quick through. The Dane ended up overrunning and ceding the ball with a heavy touch. Kostic got stymied on his first attempt through in the 7th. Lindstrøm and Knauff would eventually get the ball back to him after a bow arc, but Kostic had to retreat again in the 8th. Neither a launch free kick from Evan N'dicka nor a long through could reach Lindstrøm in the same minute.
Bochum were gifted surprisingly gifted a chance after their own sloppy build in the 9th. A passing error from Kevin Trapp gave them the ball in a dangerous area. Tuta made sure to shut Osterhage down again with sharp marking. Another attempted counter aimed at Lindstrøm went too quickly. A more patient build in the 10th produced better results. Sow, Jakic, and Kamada eventually worked the ball to Kostic. The Serb did a masterful job dusting off Bockhorn, yet couldn't find the right cutback.
A series of two corners came next. Jakic made a hash of the second one and for a moment it looked like Holtmann was clear on the counter in the 11th. Sow remained calm to separate the German-Pilipino from the ball. Lindstrøm, Knauff, Sow, and Kostic all put in some nice work on the next SGE charges as the home side passionately searched for the opening goal. A fine switch from Sow sprung Kostic again. The Serb once again got past Bockhorn and squared for Borré.
The Colombian unselfishly tapped back for Lindstrøm, who really didn't have the best angle. The Dane's 12th minute shot was inadvertently blocked by Holtmann's elbow. After a brief VAR check for handball, Marco Fritz indicated that the Hesseners would only get another corner. This time Kostic belted out an awesome 13th minute service to hit Kamada wide open on what was a unconventional variation from Glasner and staff. In contrast to the occurrence in the 2nd, Kamada probably should have hit it first time.
Instead, he took two touches and Osterhage blocked for another corner. The next one proved harmless. Osterhage attempted to punch through on the left again in the 14th. The former Dortmund and Bremen man managed to earn a throw in. Bochum kept the deep in ball in their opponent's half for a couple of minutes. Holtmann couldn't quite keep his feet on a march into the box in the 15th. Anthony Losilla then sent a half-clearance over the bar at the end of the minute.
The intensity of the match ramped up even higher as Bochum defined to hide. Some nice spread possession in the 16th gave their offense confidence. On a pair of good charges in the 16th and 17th, only Hinteregger could stop the 1848ers from penetrating the box. Knauff railed off a fine counter in the 17th, showing great awareness to reclaim the ball after Kostic's cross was blocked and trying to reach the Serb again. The second effort was regrettably too long.
One could sense that a goal was near as both sides traded punches in the 18th. Bochum reached Polter with a long ball in the 18th. Hinteregger was one again on point to stop and launch a counter. Lindstrøm tore up the right flank again, only halted by some truly clever defending from Bella Kotchap. Rexhbecaj and Asano were back running a counter the other way before the 18th minute finished. Hinteregger proved himself mortal with a foul on the latter.
The ensuing set-piece enabled the guests to take a 1-0 lead. Stafylidis whipped in lovely service. Polter, who did an equally lovely job staying one step ahead of Hinteregger, headed in neatly. After a quick offside check, the tally was confirmed. Although Eintracht certainly looked the better side in the opening stage, Bochum didn't exactly hide either. It was justified enough.
Match Flow: 19th to 40th minute
The Hessen hosts clearly had the stuffing knocked out of them after the opening goal. Rattled and unbalanced, Glasner's men couldn't recapture the spirit of their early spark. The hitherto fabulous pace of the game ebbed and flowed over the course of a rather choppy next 21 minutes. We got plenty of lulls and, most unfortunately, no shortage of straight garbage football. So it sadly sometimes goes when this column takes a chance on a Sunday match.
Bochum played some sly keep away between the 19th and 21st. The visiting Westphalians sought to take full advantage of their momentum swing with a series of bow-arcs and re-cycles. An Asano-Polter give-and-go was met well by N'dicka in the 21st. Knauff wasn't half bad handling the dribble on the attempted counter either. Borré put in some hard work deep in the 22nd, but ultimately lost the ball.
Reis' men then continued to deftly work the ball throughout their own ranks throughout the 23rd. Asano beat Hinteregger once the final approach reached its apex. An attempted through ball for Holtmann never stood much of a chance of making it through. Those two players would combine marvelously one minute later. A Hinteregger giveaway and some delightful combo play on the left sprung Holtmann, who then squared for Asano.
The VfL's Japanese international unleashed a powerful snap shot that Trapp emphatically saved with an outstretched palm. Tuta unlocked a counter with a clearance of a rebound Trapp couldn't help but spill. The SGE actually got off a pair of nice charges involving both Lindstrøm, Kostic, and Borré. Matters didn't calm down until the end of 25th, when match official Fritz was finally able to give Sow a delayed booking for a challenge on Polter during the 24th minute chance.
Throw ins, stoppages, and offsides between the 26th and 28th. Polter got flagged down in for Bochum while Borré was a step ahead for die Adler. Holtmann got into some space in the the 28th. Tuta kept up his exceptional game by standing tall. Tuta would prove even better in the 29th, stopping both Asano and Polter on advances in the box. Lindstrøm was off to the races again once Eintracht got the counter rolling at the end of the minute. Losilla was booked for impeding the Dane's progress.
Kostic uncharacteristically mucked up the free-kick Lindstrøm earned by sending his effort just outside the area directly into the wall at the half-hour mark. The Serb then sent a follow up effort well over the bar. Glasner hopped up and down on the sidelines understandably pissed. This sequence also appeared to take the home-town crowd out of the match. The chants fell silent for the first time.
Lindstrøm turned the ball over in the 31st. Polter, Rexhbecaj, and Holtmann weren't able to make the most of it with an imprecise combo. More miscues from the hosts in the 32nd. Kostic and Kamada wasted a wonderful switch from Sow by squandering the space accorded them. To be fair, Masovic's coverage was pretty good.
Naturally, the game descended into a lull. It had been trending that way for some time. Jakic and Asano were the only ones attempting to do something with forward carries between the 33rd and 35th. Everyone else was caught up in fatigue and errors. Neither approach led anywhere. The tempo dropped to a complete flatline with a series of seemingly endless throw-ins on the Bochum left between the 35th and 37th.
What little action came in open play remained totally uninspired. These two teams needed a breather and seemed to agree collectively to take one. Absolutely nothing of note took place until Lindstrøm attempted another run on the right in the 39th. The charge fizzled out well ahead of the Bochum box. N'dickam, Tuta, Knauff, and Hinteregger cycled the ball rather than try to play it forward.
Match Flow: 40th minute to half-time
It appeared as if the two opponents wanted nothing more than to get into the dressing rooms. With practically no warning, we snapped from flatline to an energy spike on something of a freak play in the 40th. Kamada threw a blind cross into the area and Bella-Kotchap narrowly missed scoring an own-goal for the second week in a row. The Germany U21 international's outstretched leg steered the ball just wide of the near post.
A poor Kostic service on the ensuing corner saw Bockhorn rush out on a quick run down the field. Knauff–who simply played a fantastic game–ran after the VfL defender and nipped the ball off his heel. Holtmann attempted to work a cross back in. There were no takers. Before the 41st minute was out, Kostic was through again at the other end of the pitch.
The Serb went down on a direct duel with Bockhorn. Referee Fritz correctly waved away calls for the penalty. Replays confirmed that it was actually Kostic who tugged at the VfL defender's jersey and forced his marker into the back of his own knee. The SGE promptly ate up Manuel Riemann's goal-kick and it was Kostic again in the 42nd. A square for Borré didn't work when the Colombian (in a rare case) failed to hold the ball up.
Another Jakic carry in the 43rd failed after the Croat picked out a poor final pass. Knauff nevertheless did well to keep the play alive. The sequence ended with a rather slick Borré back-heel that sadly wasn't aimed at anyone in particular. Masovic was hassling him. Something similar happened a minute later. A promising rightward cycle involving Lindstrøm found Borré. The Cafetero again cut back to to clear intended target.
Knauff was at least on hand again to force another corner out of it. Losilla easily headed down Lindstrøm's 44th minute service. Holtmann and Polter got off a decent counter. Kamada ultimately forced Polter out wide on the 45th minute rush. Frankfurt were awarded a free-kick at 45+1 when Osterhage stopped a Jakic advance with his hand. The Bochum midfielder was booked for his action.
Hinteregger forced Riemann into a tip over the bar with a headed latch-on to Kostic's service. Tuta's header off the subsequent corner proved much easier for Riemann to deal with. Before it was all over, Asano led a charge back the other way. Bochum's "Jaguar" appealed for Fritz to allow his team to take their own corner, which was earned.
Fritz declined. After initially indicating only one minute of first-half stoppage time, Fritz decided that 45+3 was enough. Eintracht certainly entered the tunnel with some wind back in their sails. The task ahead would involve somehow carrying that momentum over after the short break.
Match Flow: 46th to 52nd minute
…and did they ever manage this! Without any personnel changes we continued. Initial action from open play brought with it some much improved ball hold-ups from both Borré and Kamada. Knauff, Sow, and Lindstrøm worked a very nice cycle on the right in the 46th. The Dane sent in a vicious cross at the end of it that Riemann had to flail to fist away.
The ever reliable Knauff was back to try and throw the ball back in for Kamada. Stafylidis managed a solid clearance, but the SGE back ranks were on hand to ensure that the pressure remained on. Hinteregger came forward to revive the charge. Knauff and Lindstrøm put together a sweet one-two and the Dane crossed in again. Poor Masovic deflected the ball into his own net on a play not dissimilar to the 40th minute incident involving Bella-Kotchap.
1-1 in the 47th.
Frankfurt were calm, yet tenacious in their look-out for lanes over the next two builds. Several SGE actors broke forward on a full lateral recycle in the 49th, but the three defenders and keeper Trapp didn't want to throw it forward until they were certain that the right opportunity awaited. This almost proved fatal as Holtmann stripped a ball in the 50th. The VfL speedster ended up tripping over his own feet in the box.
N'dicka, Jakic, Sow, and Lindstrøm got a nifty combo completed in the 51st. Asano and Bockhorn–with some desperation–shepherded away. Borré engineering the next rush less than a minute later. The Colombian forwarded for Kostic, whose cross found no takers. The possessed and determined Knauff nevertheless strode forward to pounce on it and immediately unleash Lindstrøm.
The Dane charged into the area with blinding speed. A pass to the wide-open Kamada left Riemann with absolutely no chance. With his first tally since mid-January, Eintracht's Japanese maestro ensured that the game was turned on its head. With two goals in barely five minutes, the SGE had the lead.
Match Flow: 52nd to 72nd minute
Somehow the third goal didn't come. This wasn't for lack of effort on behalf of the hosts. On the contrary, Glasner's men played themselves into a feverish frenzy in the next phase. A Kamada through-ball in the 53rd didn't miss Borré by much. After a brief lull in the 54th, Hinteregger initiated a great attack in the 55th. Lindstrøm and Kamada then played the ball towards Kostic. Bockhorn had to be inch perfect to halt the Serb twice.
Jakic and Lindstrøm were blowing past Bella Kotchap with breakneck pace in the 56th. Stafylidis could only administer the aforementioned desperate clearance out for a corner; the one that regrettably smacked the young female Frankfurt steward directly in the face. Bochum were barely able to clear the pressure from the ensuing corner with successive header. Lindstrøm was prepared to march right back into the area. Only a twisted ankle stopped him.
A brief treatment break for Lindstrøm enabled Reis to take a little extra time talking to his intended substitutions. The Bochum gaffer was actually preparing to ready a triple-change and clearly wished to take his time. One-way traffic for Frankfurt reigned once more when play resumed in the 59th. Reis waited patiently while his team built a careful attack at the hour mark.
He even allowed his side a chance to take a harmless corner in the 60th before executing the changes. This may have had something to do with some sportsmanship for Lindstrøm, who was still running a tad rough upon his return to the pitch. Christopher Antwi-Adjei, Jürgen Locadia, and Milos Pantovic entered for Asano, Holtmann, and Osterhage.
The new shape crystallized almost immediately.
Lineup—VfL Bochum—61st minute (4-2-3-1)
A good idea to be sure. One could tell that there would be lots of flank rotations with Pantovic and Antwi-Adjei pulled as far inward as they were. We would eventually witness that in action. First, however, there was another lull after multiple possession changes and another short injury timeout for Losilla in the 62nd. Anwi-Adjei made his first cutting run in the 63rd. Tuta cleared the flat cross for a corner. Stafylidis saw a second effort blocked off the set-piece.
With some careful lateral bow-arcs, Bochum took their time trying to find a way back into the back across the halfway line. When Pantovic and Polter finally did so in the 64th, N'dicka had to nudge off the former in a borderline legal fashion. Hinteregger deflected a shot from the latter out for a corner. Another first-rate service from Stafylidis located Polter. The Bochum striker couldn't quite direct the header in a manner to trouble Trapp.
Kamada ran another blistering counter in the 65th. Bockhorn had no choice but drag down Kostic unfairly on this one. He was booked. Lindstrøm whipped in an absolute beauty of a 66th minute free-kick that Tuta unfortunately couldn't meet with the right header. The furious SGE worked a perfect diagonal into Borré on the next rush in the 67th.
The Colombian unlocked Lindstrøm. Bockhorn had no choice but to tackle illegally again. Fritz totally missed the call, presumably because he was hesitant to send the player off on double-yellows so soon. After Locadia and Stafylidis were stymied in the 68th, Polter missed Pantovic with a long ball later in the minute.
Knauff did another fantastic job up the right in the 69th. The German U21 international's final pass came in a little behind Borré. Masovic and Bockhorn were able to close ranks. Antwi-Adjei got up the left on a rapid counter. Stafylidis followed on the overlap. Tuta blocked the Greek's first cross. Trapp collected the second.
Sow, Jakic, and Knauff cycled out in the 70th. Kamada then sliced through everyone with a scintillating solo dribble. Bockhorn ultimately intercepted. Locadia got pestered off the ball on the next Bochum charge in the 71st. A Pantovic switch for Antwi-Adjei in the 72nd was well-intentioned, but ultimately off the mark.
Christopher Lenz had been waiting for a break in the action to check in on the touchline for a couple of minutes. When observers saw Lindstrøm's number flashed on the fourth official's board, it was fairly obvious that Glasner wished to switch to a more defensive-minded set-up. After a few minutes, it became apparent that the SGE trainer wasn't interested in altering his shape.
Kamada shifted over to take Lindstrøm's place. Kostic moved up to Kamada's spot. Lenz settled in at Kostic's position.
Match Flow: 72nd minute to full-time
The final 18 minutes of this fixture are actually rather difficult to describe. One anticipated that Eintracht would focus more on defense. Although the changes took some sting out of Bochum's efforts to find the equalizer, it didn't exactly shake out that way. Both teams maintained a pretty high tempo right up until the end. Some extra substitutions impeded the flow a little, but it didn't kill off the match like a late flood of new bodies usually does.
Before Reis could get Eduard Löwen on for Rexhbecaj on a straight-swap in the 77th, Kostic made an excellent run in the 73rd. Stafylidis also got a good free-kick service in after a foul from Borré. Hinteregger rose tall to clear. After a Losilla cross was cleared in the 74th, Jakic and Knauff got off another good counter. Kostic couldn't quite take down the eventual switch.
Kostic nearly latched onto another ball in the 75th. Bockhorn cleared. Hinteregger had to fight Polter off again in the 76th. Sow, Borré, and Kostic were back working a great leftward cycle seconds after Löwen was subbed on. N'dicka was all the way up playing for an attacking chance in the same minute. Hinteregger barely managed to intervene when Bockhorn sought to hit Locadia with a cross in the 79th.
Jens Petter Hauge's introduction for Kostic in the 80th felt sure to slow things down. Not the case. The Norwegian inserted himself into the match without hesistation and was involved in two well constructed Frankfurt attacks in the 81st. Bella-Kotchap and Polter ran a nifty link up for Locadia in the 82nd. The former Hoffenheim man was barely offside.
Knauff was still working his socks off, barely missing Borré with a ball in the 84th. Hauge led two consecutive SGE attacks rather well in the 85th and 86th. Even Glasner's deliberate attempt to milk some clock with a double substitution in the 87th didn't really slow things down. Both sides played pacey until Bochum very nearly equalized in the 90th.
SGE gloveman Kevin Trapp did his late-match hero thing yet again. The Eintracht net-minder reacted superbly to a Locadia laser from the second row. Trapp then clustered forward to stop Antwi-Adjei's thrust of the rebound from point-blank range. Wow. That at least did it. Nothing much other than fouls and treatment breaks during injury time, which Fritz allowed to run all the way up to 90+6.
And the full-time xG stats?
xG Frankfurt–2.5, xG Bochum–1.3
Fair enough. Beyond fair even. Were it not for that late double save from Trapp, the 1848ers would have been just over or under 1.0 flat. The result ended up being in line with what one expected, even though Bochum probably over-performed when one takes their many absences into account. Gritty and passionate displays like this one are the precise reason why the newly promoted side is this year's "breath of fresh air".
Regarding Frankfurt, one can rightly say that Glasner's men looked to have turned a corner in bucking the trend from the reverse fixture. While the German Eagles have probably dropped too many points already to qualify for Europe via the table, all of the standout performances from so many different members of this squad in this one strongly suggest that they'll be a fun team down the stretch.
The "moody diva" appears to be feeling upbeat and courageous again. Hopefully we can expect an emotionally charged aria before the curtain falls. Don't forget that the coda could end in the Europa League semi-finals. It did so just three years ago.
Thanks so much for reading!
You can occasionally catch Peter on twitter, @ViceytheSS.
Twitter DMs are open for football conversations, corrections, and (if you truly insist) general abuse. 
All columns debut on Bulinews before appearing on Peter's website later in the week.