We've passed the point at which the 2019/20 campaign reached its historic suspension. Thankfully for all of us, there won't be a major interruption to the football this time! With nine rounds left to go, we've got all of the major talking points covered for those who missed out on this week's hot sheet. Feel free to catch up as there's another awesome weekend of Bundesliga action dead ahead.
---
League-wide Talking Points: Round 25
---
Schalke's Zero Hour
Unbelievable. For the second successive week we'll have to start out with a team so cataclysmically atrocious that it appears the bottom will never be reached. As the old tabloid platitude goes, "if it bleeds, it leads". The Königsblauen are the equivalent of a human patient who has already hemorrhaged ten pints of blood, yet still somehow remains alive to suffer. A 0-5 loss to Wolfsburg serves as the latest embarrassment. It's entirely possible that there will be a full nine more disasters before this season concludes.
Obviously, we'll have to begin with Shkodran Mustafi's complete blackout in front of goal when he directed the ball into his own net in the 31st. One of the veteran players now confirmed to have initiated the revolt that ousted head-coach Christian Groß was far from finished making a complete fool out of himself. He proceeded to lapse constantly, losing the ball in his own box in the lead up to Ridle Baku's third goal in the 58th and went completely missing on the VfL's fourth and fifth goals down the stretch.
What currently transpires in Schalke isn't a mere humiliation for a single team. So many aspects bode ill for the state of football as a whole. The lesson seems to be that bringing in high-ego, past-their-prime players such as Mustafi, Sead Kolasinac, and Klaas Jan Huntelaar just exacerbates a debacle. Coaches in the modern game receive no time to implement anything. Financially overextended clubs can't stop digging themselves into deeper trenches. We'll stop there. We must. Some material has to be saved for the next nine times we cover this train wreck.
Addressing Gisdol and Streich
There was plenty of entertainment value in a pair of fixtures this weekend that many will have overlooked. Both very close matches also delivered come fairly straightforward tactical notes for those interested in the circumstances of the smaller clubs. FC Union Berlin's 2-1 victory over FC Köln leaves frequent target of tactical criticism Markus Gisdol vulnerable to a few analytical jabs whilst Mainz's 1-0 win over Freiburg sadly means that the much more beloved Christian Streich earns some upbraiding.
Beginning with Köln, Geißböcke gaffer Gisdol again rolled out a formation without a natural striker. There were some clever moves–such as staggering Max Meyer and using Jonas Hector as a ten–inherent in his formation, but he again buried Marius Wolf at fullback and put Ondrej Duda under too much pressure as the lone attacker. At this juncture, it's acceptable that the Kölner trainer isn't seeing what he needs to from Emannuel Dennis in training. The same does not apply to the likes of Tolu Arokodare, Dimitrios Limnios. Gisdol has had more than ample time to get what he needs from them in training.
Call a writer old-fashioned, but a coach is ostensibly supposed to sculpt players into the form that he requires. This is something Christian Streich succeeds at every season; what ultimately separates a leader with a penchant for problem solving from one that doles out the blame and keeps the excuses at the ready. Streich is, of course, by no means immune to the occasional tactical misstep. The Breisgauer lined up in a unseemly distended 6-3-1 that left opponents Mainz with huge gaps around abandoned midfielder Nicolas Höfler to exploit. Nullfünfter trainer Bo Svensson fairly subdued tone after the narrow victory might have had something to do with the fact that his team should have easily won 4-0 against that constellation.
Addressing Wirtz and John
The two coaches eliminated from the Europa League two plus weeks ago still benefit from the extra day of rest the Bundesliga schedulers cautiously assumed that their teams might need. That made little difference this Sunday as both Leverkusen and Hoffenheim lost their preemptively delayed fixtures. To be fair, one could say that the level of play from the two teams exceeded expectations. Bayer-Bielefeld and TSG-VfB were definitely better Sunday encounters than Bundesliga fans are accustomed to watching at this time of year.
As pertains to the final results, the writer divines a common thread involving two teenage phenoms who ordinarily suit up for the club. Watching Leverkusen rack up absurd amounts of possession, yet still struggle mightily with ideas in the final third, it became readily apparent that the 4-1-4-1 misses Florian Wirtz above all else. The formation can still overcome it's stale elements provided a creative playmaker works the base of the triangle below the striker. Nadiem Amiri and Kerem Demirbay can show flashes, but only the 17-year-old (when in form) consistently supplies the ideas.
Die Werkself played like a completely different team after Wirtz was introduced in the 65th. It came as a pleasant surprise to see him back at all so soon after the COVID diagnosis. He looked as fresh as ever after the short break. Another one of Germany's rising young stars missed out on Hoffenheim's starting XI for the same reason Wirtz needed to withdraw last December. Sebastian Hoeneß gave 18-year-old Marco John a rest in the midst of stressful school exams. One could argue that it cost the Kraichgauer the match as Silas Wamangituka had an absolute field day with replacements Ryan Sessegnon and Robert Skov.
Perhaps a breather will benefit John in the same way as it's evidently rejuvenated Wirtz. It genuinely feels as if very different results would be discussed had both of them been part of their team's initial plans. Wirtz's natural talent stands as the primary reason why, even despite the loss to Bielefeld, Leverkusen should finish the season strongly. The surprise John's defensive stability serves as one very important reason why the Sinsheimers aren't in the relegation race now. Best wishes to both teenagers for a successful conclusion to the footballing (and academic) calendar.
---
The "Spiegel Specials": Round 25
---
Augsburg-Gladbach (1:1, 3:1)
Not good times for the proud West Prussians. Just how "wasteful" were the foals on Friday evening? Time for a visit from our good friend: the xG stats. In the expected goals tally conveyed on the American broadcast, Gladbach pummeled the Fuggerstädter 3.7 to 1.4. The missed opportunities went beyond an inverse of the scoreline. Note that the BMG total gets bumped up pretty high by Lars Stindl's missed penalty; something xG calculations treat as a 0.75 goal-scoring-chance.
Phrew. This obviously constitutes horrible news for the club as a whole. As flummoxed as many of us Bundesliga watchers were to see Gladbach lose this match, most of us cannot recall a time when the BMG fan base felt so disconnected from their team. Even during the (relatively) recent years in which the club spent time in the second division, the rabid Westphalian supporters always confronted their team's woes with a healthy "na, und?" attitude.
The obvious question now is whether Marco Rose will yield to fan pressure and submit his resignation. Some even float the possibility that sporting director Max Eberl will prematurely terminate the future Borussia Dortmund head-coach's contract. As wildly unprofessional as it all seems, something must be done to quell the historically unparalleled ire of the ultras.
Prognosis: Rose finishes the season
Though this writer could most certainly be wrong about this, it's likely all a bunch of hot air. Eberl knows full well how he can best appease the supporters. If he scores a coup by reeling in a well-known name to helm the club, the FanProjekt should find themselves in a more forgiving mood. The sporting director's search for a new coach will also be severely damaged if potential candidates see him cut loose a contracted trainer for making an advantageous career move. It would be disastrous.
That being said, Eberl did himself absolutely no favors by releasing a combative letter this week. Furthermore, his subsequent statement that the aggressive posture of the fans "threatened his baby" counts as a fairly insipid claim. A football club belongs to a community. It is absolutely not a single individual's "baby". A string of seven winless fixtures on the trot may very well extend to eight when the foals face ManCity in the Champions' League midweek.
The good news is that the streak should end against Schalke next weekend. After that, the team can take advantage of a softer remaining schedule to win five or possibly six more matches. With a little luck, that might prove good enough for the Europa League playoff place. As long as Rose still has a–albeit pretty reduced–goal to reach, he can justify staying.
Bayern-Bremen (1:1, 3:1)
The second "Spiegel Special" features two entirely different teams who furnished the exact score-lines in their respective Hin-and-Rück-runde fixtures. To be perfectly candid, the inclusion is meant as something of a joke. Bayern kicked the living crap out of the completely overmatched Hanseaten in this one. Unlike in the match above, the xG stats (Bayern 2.4, Bremen 1.3) almost perfectly mirrored the actual score. This writer has a little less faith in whoever oversaw the stats this time. Robert Lewandowski found himself millimeters off on four second-half chances alone.
If one cares to take a glance at where we were back in round eight, it's worth taking note of how far Hans Dieter Flick has come in terms of finding his best team. Back in late November, he was still experimenting with many of his summer acquisitions. A few injuries and the need for heavy squad rotations during the international breaks/UCL group stages meant that Eric Maxim Choupo Moting, Douglas Costa, and even Bouna Sarr were still getting trials.
Flick garners much criticism for not necessarily giving the players Hasan Salihamidzic procured for him over the summer much of a chance. Taking the long view of the season, one can see that the Bavarian trainer just wasn't prepared to chance it with actors who might take time to mature into useful roles. Time was of the essence during a campaign in which six trophies were at stake. This brings us to supposed rift between the FCB's head coach and his sporting director. Given that Germany now needs a new Bundestrainer, this counts as huge news.
Prognosis: Flick-Salihamdzic at the crossroads
While it may seem as if we're shamelessly punting on the implicit question, football remains a results-driven business. Flick's well-publicized differences of opinion with the FCB management team will amount to nothing if the record-champions capture their ninth consecutive Meisterschale this spring. Flick's public admission of the schism, delivered with unabashed confidence, suggests he expects to win the league and, accordingly, expects the issue to die.
Coaches do not typically grow old on the Bayern throne. The club cycles through trainers predictably enough as the position itself demands attainment of the highest of standards every year. Hansi Flick obviously isn't oblivious to this and will plan his future appropriately. It still seems unlikely that this path will lead directly to the Bundestrainer position. That's a post featuring infinitely more scrutiny. Eighty million plus nit-pick and second guess one's every move in that job.
A feasible scenario sees the former German national team assistant retain his place on the Rekordmeister's sidelines until the club invariably hits a rough patch. This could take anywhere from one year to three. After that, Flick will want to avail himself of the privilege accorded all high-profile coaches and take a year off. The timing for a DFB swoop just doesn't seem right. The head-coach we discuss presently finds himself loaded down with caché at the beginning of a storied career. He'll opt for the Ralph Rangnick as opposed to the Erich Ribbeck path.
---
The Burning Question: Round 25
---
We'll go singular once again this week in order to reserve sufficient admonishment for Dortmund's Edin Terzic and Hertha's Pal Dardai. The two teams meeting up in the late Saturday flex-feature found themselves in high stakes races, be it Champions' League qualification or the fight to avoid the drop. One wouldn't have known this by watching a match in which neither side displayed much of a sense of urgency.
Why was the "Top-spiel" a dud?
Most disappointing. So horrendous. A total Saturday night flop. The curse of the football-hype-man often ensures that the match recommended to everyone turns out to be a complete bust. Apologies are in order. In every practical sense, Hertha-Dortmund was just terrible football. Even the most experienced footballing apologists can't explain their way out of this turgid display.
Hertha were pinned back in their own half throughout most of the proceedings. Dortmund's spread constellation ensured that the attack functioned like an over-inflated ballon capable of nothing more than weak spurts of wheezing associated with the rare removal of the regulating thumb. Ugh. Matches like these make one painfully aware of life's ephemeral nature.
We can learn a few things from it. At the very least, there exists an inherent recipe for bland, drab, and tasteless football.
Lineup—Hertha BSC—Match 25 (4-4-2)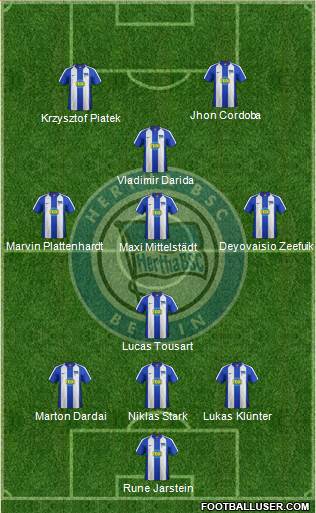 Small wonder the BVB couldn't find their way past this rigid lock. Catenaccio anyone? Hertha trainer Pal Dardai deserves some credit for the sense of discipline he installed in his defensive ranks. The Berliners caught Dortmund offside five times from open play and a further three on free-kicks. The BVB secured upwards of 80 percent possession in the first-half, yet couldn't come close to cracking this code.
One can count the total number of counters engineered by this constellation on a single hand. No appendages are required to keep track of the number of charges through the center-left. Dardai's men managed nothing in that particular attacking lane all evening long. Jhon Cordoba and Krzysztof Piatek never truly collected any forward passes that left them with much of a chance to outrun the BVB back-four. Such a waste.
Something like this would be more forgivable if Dardai brought with him a specific later-match strategy to push for the win. There remains no shame in debuting with such a "ride out the storm" construct designed to rope-a-dope an opponent into exhaustion before delivering some punches of one's own. Unfortunately, the shape didn't shift when Dodi Lukebakio, Javairo Dilrosun, and Matthew Leckie relieved Cordoba, Deyovaisio Zeefuik, and Marvin Plattenhardt.
Dardai's sincerely self-reflective post-match comments amount to a confession of sorts. He didn't draw up a plan-of-action to cover the entire match. One simply has to think out all the scenarios on this level. No excuses. A full week of training sessions should yield four or five tactical set-ups contingent on the circumstances. A more clinical team than Dortmund could have turned this into a full-fledged embarrassment.
Apropos Dortmund:
Lineup—Borussia Dortmund—Match 25 (4-3-3)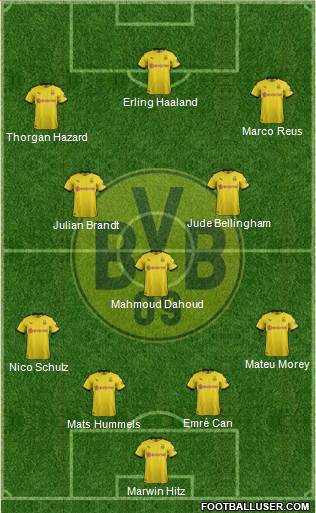 So much bloat. This rarely works. The amount of time it takes for vertical axis partners to catch up to a passing cycle renders most flank builds lost in the wash before they have any chance of making an incursion into the box. The best examples of how it all-too-easily breaks down can be found in the 7th, 27th, 30th, 32nd, 40th, 50th, 65th, and 69th. That's the shortlist. Those on a time crunch can honestly just tune into any random part of the match.
We'll want to address the performance of a few specific players before moving on. First, Marco Reus fans will be very disheartened to learn that the squad's captain shows no signs of breaking out of his pronounced form dip. The 31-year-old had another atrocious outing, punctuated by horrible misses in the 12th, 42nd, and 70th.
Julian Brandt certainly worked hard and did an admirable job trying to shake up the offense by frequently switching the point of attack, but his second goal of the season owed more to goalkeeping error than anything else. Jude Bellingham and Mahmoud Dahoud had their bright moments. The former even delivered a wicked shot on goal in the 34th. Mostly, however, the pair looked totally lost perambulating about in midfield.
In summation, positive takeaways for the BVB are few and far between here. Youssoufa Moukoko's late goal also came as a result of a bad positioning error on keeper Rune Jarstein's part. We may very well still be looking at a team that just doesn't posses the quality to secure Champions' League football next season.
---
Weekly Tactical Focus: Specialists to the rescue
---
The footballing disgrace that was Hertha-Dortmund ended up having some consequences for the timing of this column. It's exceedingly rare that a normal slate of Saturday fixtures fails to produce sufficient amounts of tactical intrigue. Alas, such was the case this week. Thankfully for all those looking to extol the virtues of German football, Adi Hütter and Julian Nagelsmann compensated with a fine gem every bit as compelling as their round eight encounter.
Leipzig-Frankfurt will have been circled on many a league-watcher's docket prior to the weekend. The fixture had enormous ramifications for both teams. Nagelsmann's German Red Bulls needed to keep pace in the title race whilst Hütter's German Eagles desperately needed points in their hunt for their first top-four finish since well before the inception of the Champions' League. Unlike Edin Terzic and Pal Dardai, this pair of opponents came prepared.
From the moment the team-sheets were released, observers could tell that the initial stratagems would be well-designed. Neither XI could be easily forecast. RB's young trainer rotated out five players from the midweek clash against Liverpool. In particular, the inclusion of Justin Kluivert, Alexander Sørloth, combined with the retention of Yussuf Poulsen left one guessing as how the attack would shape up. Nagelsmann had some interesting surprises in store.
Lineup—RB Leipzig—Match 25 (4-2-3-1)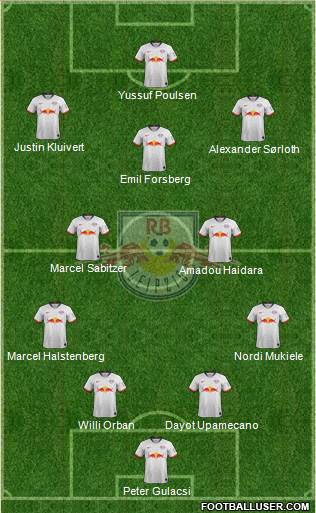 What emerged in the early going proved simple enough. That in itself wasn't unanticipated. A shortened training week left the 33-year-old without much of a chance to structure a midfield swagger or a point-pivot sweeper on the practice pitch. Certain aspects of the 4-2-3-1 nevertheless featured nifty ideas.
Sørloth on second axis
One conjectured that Nagelsmann would place his in-form Norwegian attacker on the top plane; possibly in the rightward lane ahead of Poulsen in a short-striker role like last week. After some time, it became apparent that Sørloth's role was that of an actual winger. This produced the practical effect of drawing significant amounts of coverage over to his side and freeing up Kluivert for what proved a fantastic game.
Sørloth's placement also saw Emil Forsberg, for the first time in quite awhile, scoot back into a position where he's better situated to watch the play develop. The Swede also turned in a great performance. Overall, the "Scandinavian Super Friends" trio may not be celebrating the result they had hoped for this weekend, but did prove that they can furnish delectable football from diverse positions.
Hütter gets to work
The Eintracht trainer surely faced his fair share of legwork this week. The losses of Erik Durm and Martin Hinteregger forced him to devise his own refined set of solutions. Given that his preferred 3-5-2 fared so poorly last week, some novel ideas were required of him. Hütter's team sheet also set in motion tons of permeative speculation.
Lineup—Eintracht Frankfurt—Match 25 (4-3-3)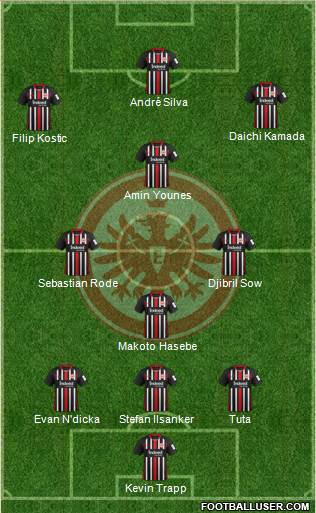 Not at all what was expected. This writer's first educated guess placed Tuta and Evan N'dicka in quasi-wingback roles with Makoto Hasebe fastening central defense. Nagelsmann too might have expected this, or at the very least presupposed that his counterpart wouldn't be quick to ditch a double-ten deployment. Many will have foreseen Djibril Sow keeping a pairing with Amin Younes.
Issues with Kamada on the right
While it's not unprecedented for the Japanese international to do excellent work on the right flank late in fixtures, we'll have to label this move an error. Kamada found himself totally overmatched by Kluivert in the most salient direct duel of the afternoon. One truly felt bad for the 24-year-old during the first half. His defensive duties precluded him from making the type of impact he's unquestionable capable of.
One should further note that Kostic's way forward also found itself impeded by Sørloth's placement, though the effect on the opposite flank was by no means as pronounced as it was in the above case. A monumental defensive effort put in by the back three spared the Hessian visitors blushes in this match.
Ilsanker saves the day
Kamada's compatriot Makoto Hasebe struggled as well on this day. The 37-year-old captain, whom many would have picked to serve as the defense anchor rather than the sweeper, was particular poor on clearances and cut-outs. Enter an RB Leipzig veteran of five seasons who rose to the occasion and contributed one of the best matches of his career.
As one can surely surmise, we'll be mentioning Stefan Ilsanker's name regularly in this analysis. Hasebe's positioning might have counted as Hütter's second (likely fatal) error had a 31-year-old Austrian product of the Red Bull system not stepped it up so marvelously. Midfielder Ilsanker makes a strong case for a permanent place in defense after this.
Match Flow: 1st to 15th minute
The visiting Hessians could have hardly gotten off to a worse start. It looked to be a long afternoon for Hütter and Co. The spatial arrangements clearly favored RB, with Kluivert and Sørloth lording over way too much operational room on their respective flanks. Marcel Sabitzer got the first shot in on target in the 4th at the end of a Sørloth cross. Less than a minute later, Poulsen only just missed a perfect Kluivert cutback.
As he tends to do sometimes early in matches, Marcel Halstenberg pressed high early. The German national team defender initiated a splendid attacking sequence in the 6th. Poulsen and Forsberg couldn't quite finish it off. Forsberg sent Kluivert through with a gorgeous through ball in the 7th. Kevin Trapp only kept it out via a spectacular save.
The SGE enjoyed their own fair share of possession. It simply wasn't anywhere near as clean and dangerous looking. Kamada executed a fine pickoff in the 11th and Kostic punched through in the 12th. Nothing resembling a chance came from these plays. At the other end, an exquisite piece of interplay between Forsberg and Poulsen in the 13th required only one last ball for a wide open Kluivert to be a sure goal. Forsberg unleashed a powerful shot on target after a deft quick-take free kick in the 14th.
The opening quarter of an hour was certainly action-packed. It took an Amin Younes booking (out next weekend for those keeping track) at the 15-minute-mark to calm things down and give everyone a breather. Though possession remained evenly split, the shot totals were damning. The Saxon hosts recorded four shots to the visiting SGE's none. Frankfurt also managed only one legitimate counter.
Match Flow: 15th to 33rd minute
Matters proceeded more or less along the same lines through the half-hour-mark. Leipzig produced optically sound possession and remained on the front foot. Nagelsmann's crew took the game to Frankfurt. The amount of opportunities and quality of ideas steadily declined, but did so slowly. Eintracht's eventual stabilization followed the same slow upward trajectory.
Kluivert continued to crush Kamada on the RB left, scorching past him in the 17th and forcing Tuta into a tactical foul in the 19th. A heavy first touch from Sørloth prevented the Norwegian from making the most of acres of space in the 20th. Forsberg obliterated Kostic and Sebastian Rode in the 21st, pulling Kamada all the way over to the other side for the last ditch stop.
After Sow failed to link up with Kostic in perfect stride with an over-amped pass in the 22nd, Halstenberg and Poulsen nearly punished his imprecision with a fantastic counter. Kluivert again had Kamada completely beaten in the 26th. Ilsanker got a defensive back-pass to Trapp in the nick of time. Dayot Upamecano, who had been carrying a thigh limp for approximately six minutes, finally signaled that he could not continue in the 27th.
Nagelsmann was able to get Lukas Klostermann on for his injured center-half relatively quickly. The substitution nevertheless slowed matters down considerably. After a Forsberg chance in the 28th, a definitive lull lasting five full minutes halted all meaningful action.
Match Flow: 33rd minute to half-time
A little more comfortable with the new actor inserted into the back-four, Leipzig began putting together more respectable back-builds. The Saxons looked to have the lead in their grasp in the 36th when Kluivert took down a dazzling long switch expertly and broke toward goal. A vital intervention from Ilsanker snuffed out the chance.
Having done a significantly better job of shoring up that flank in the intervening minutes, the sudden breach noticeably rattled Hütter's men. Halstenberg moved forward in the 38th and came within a whisker of finishing it off with a perfect link up. Ilsanker again had serve as the hero to stop Kluivert following another beautiful long ball. The Austrian bailed his team out a third time in the 43rd, cutting out a diagonal meant for Poulsen on the left.
The SGE got in a couple of looks during the final frantic phase of the opening 45. Execution remained shockingly poor. A wild whiff from Kamada in the 39th squandered the wonderful set-up work of Sow and Younes. Tuta and Younes overhit a pair of strikes before it was time to head into the dressing room.
Match Flow: 46th to 55th minute
Without any personnel or tactical changes we continued. Despite the fact that chances had been at a premium, one sensed that a tally would be forthcoming. It took less than 60 seconds for the opening goal to arrive. Deservedly brimming with confidence, Kluivert had a go from range. SGE keeper Trapp stood little to no chance against the Dutchman's hellfire missile and Forsberg calmly finished off the rebound.
At this point, the match stood ripe for the taking. The German Red Bulls now had the scoreline to match their general upper hand. Within three minutes, Sørloth, Forsberg, and Kluivert pieced together a counter worthy of doubling the advantage. Ilsanker kept his nerve to deflect out. Forsberg worked on a free-kick shortly thereafter. The Swede got a decent cross in for Poulsen on the second effort. The Dane headed just over.
A series of stoppages between the 52nd and 55th broke off the momentum a bit. Frankfurt earned their first two corners of the match in quick succession at the tail end of this time interval. Though nothing came of them, Hütter's Hessians clung onto whatever marginal victories they could to maintain their presence in an encounter where it threatened to slip away.
Match Flow: 55th to 62nd minute
Matters got much scarier for the German Eagles before they got better. Kamada stuck to Kluivert like glue, but that didn't stop Poulsen from tearing up the left after a nice interchange in the 57th. Another attractive attacking sequence less than a minute later saw Sørloth nearly walk the 2-0 into the box. In a somewhat comical development, Younes finally tested Peter Gulacsi with an indescribably weird effort in the 59th.
Whether or not Younes knew much about an attempt caroming off his legs is debatable. The mere fact that the RB keeper judged it seriously enough to make a full-stretch acrobatic palm-save should earn the Hungarian net minder considerable respect. Perhaps buoyed by this strange turn of events, Frankfurt began to look more promising in possession.
In what was easily their sharpest piece of football all afternoon, Rode hit André Silva with an incisive vertical in the 61st. The Portuguese striker spontaneously opted to make the most of what may have been his fourth or fifth touch of the game with a perfect square for Kamada. The Japanese international atoned for his earlier whiff with an excellent technical finish.
Match Flow: 62nd to 80th minute
The affair kicked into high gear. Both sides felt they had the winner in them after trading tallies. It blossomed into quite the entertaining watch. Football lovers also took pleasure in the fact that the two head-coach's didn't interfere with their XIs too much. For a long swath of time, Nagelsmann and Hütter appeared content to let the players decide it themselves. Always great to watch the trainers leave it alone when confidence is on the upswing.
Kluivert and Ilsanker clashed again in the 62nd when the former dug deep to produce a scintillating individual run. Tuta was forced into another tactical foul in the 65th. Leipzig worked no fewer than five grand balls into the box during a two-minute spell of unrelenting pressure after the ensuing free kick.
More wondrous stuff from Kluivert in the 67th yielded a pull back for trailing Halstenberg. The German defender came oh so close to servicing Poulsen for the tap in. Only the slightest of touches from Evan N'dicka threw the ball off course. Another Tuta foul in the 69th saw Leipzig execute another two-minute pressure spell of pinball box football.
Hütter had a pair of substitutes prepared just prior to the second mad dash. Luka Jovic and Aymen Barkok had to wait for the insanity inside the 18 to die down first, then watch Ilsanker and Kluivert battle to a draw again in the 71st. Jovic took over for Silva. Barkok replaced Younes, with Kamada ceding the right-wing and sliding back into his ten-slot.
The changes had no adverse effects on the general tempo. Kluivert resumed business as usual. Sow had to be on hand to toe away his first-rate service of Forsberg in the 73rd. Enrapturing end-to-end bustle endured until Nagelsmann completed his own double substitution in the 75th. One beheld the first major tactical gambit.
Lineup—RB Leipzig—77th minute (4-1-2-3)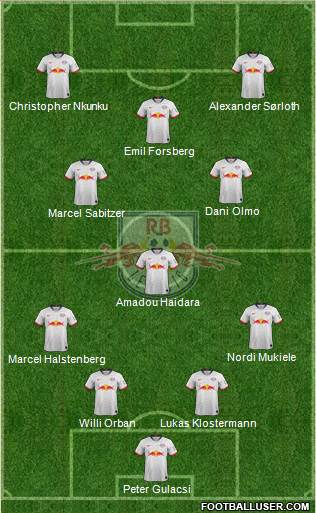 Christopher Nkunku predictably slotted in for the magnificent Kluivert on the left. The introduction of Dani Olmo for Poulsen, on the other hand, bespoke some top axis reshuffling. Sørloth quickly moved up and in a tad to render Forsberg the false-nine. Sabitzer held the horizontal line with Olmo to complete the shift.
Almost immediately, Forsrberg did extremely well to use his pocketing to pick out Sørloth. The Norwegian crossed over for Nkunku in the 78th. Trapp saved brilliantly. Meanwhile, Hütter had an injury to deal with. As soon as Kamada crossed the touchline to receive treatment, the SGE trainer readied Ragnar Ache to take his place.
Match Flow: 80th minute to full-time
Hütter reached back for a previously used proven strategy. A late-match 4-4-2 often makes one smile as it's a serviceable back-to-basics grounding that gives talented teams a fighting chance at the winner. Both Hütter and Wolfsburg's Oliver Glasner have successfully employed this method during the campaign.
Lineup—Eintracht Frankfurt—82nd minute (4-4-2)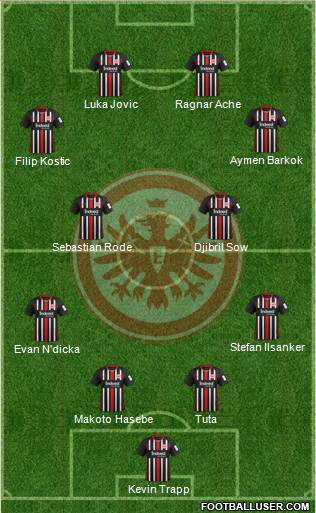 Even before this settled, Rode, Kostic, and Jovic took the opportunity to shred Leipzig's high press with an aseptically lovely chance in the 81st. Ache turned on the jets and got his own looks in after the constellation crystallized. Swinging the ultra effective Ilsanker out to the right-back role played it's own role in getting the team moving.
Nagelsmann not being one to let something like this go absent his own counter, there was one final hand played by the Leipzig gaffer. Tyler Adams and Hee-Chan Hwang came on for Forsberg and Haidara in the 85th.
Lineup—RB Leipzig—86th minute (4-2-4)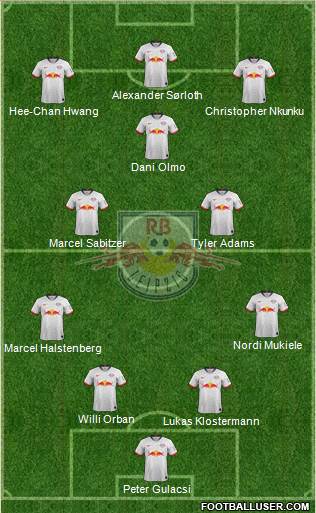 An extra review of the tape was utilized to confirm that this was, in fact, a clear-cut tactical directive. A head-coach will decide to issue no instructions far more often than not this late in a match. Upon review, one can definitely see Olmo move up, Sørloth move center, and Nkunku switch over to the right. Adams and Sabitzer deliberately looked to offload after crossing the halfway line.
All of the adjustments did not, as one might have hoped, lead to a particularly fantastic finish. That unfortunate fact must be conveyed first. Apart from a controversial duel between Nkunku and N'dicka on the Leipzig right in the 89th, this one limped over the line. This was certainly a shame as the final stages of this thriller deserved better than a 1-1 scoreline.
We'll still accord Nagelsmann and Hütter their due for furnishing a fixture that contained tactical intrigue from the release of the team sheets right up until the final whistle. All across the matchups this weekend, innovation was definitely lacking. Many thanks to the dueling "specialists" for washing the horrible taste of Hertha-Dortmund off the palette. Bravo to Stefan Ilsanker for being the difference maker who may have knocked his old coach right out of the title race.
---
Weekly Tactical Focus: A Classic German Fan Dichotomy
---
Finally! Something other than COVID to talk about! For those who might have popped in briefly to see if the overall situation in the Bundesrepublik has improved from last week, let's just say that it has and be done with it. In assistance of those skimming this section to quickly ascertain the topic, no,  won't be discussing Jogi Löw either. There isn't much more to say to about a Bundestrainer whom we're all firmly behind for his last hurrah. It shouldn't be too difficult to get behind the next coach either, considering he will have only a year to prepare for the next World Cup.
This week's topic playfully revisits German football fandom's cognitive dissonance, or lack thereof. Anyone who has ever listen to a Bundesliga fan spitefully curse Bayern München on a weekend, then hail the Bavarians as the saviors of the nation during the Champions' League midweek knows that we can quickly pivot from one stance to another. Speaking of the Champions' League, let's talk about the proposed UCL reforms that stand a strong chance of being adopted in 2024.
On an intellectual level, this writer can find little fault with them. A table format would certainly make the autumn round much more interesting. Moreover, expanding the field of participants and pairing teams with level-on opponents means that more German clubs can remain competitive. In a quasi-related sidenote, this writer supports the new UEFA Conference League for the same reasons. As shameless a cash grab as it may be, it means more Europe for more German teams. Who can refuse that?
Ahem. A stance has been taken in writing. The columnist nevertheless has no problem admitting that this stance would not hold in an actual Bundesliga stadium alongside Bundesliga fans. Why? Because the collective spirit of protest would overrule any and all intellectual rationalizations in a heartbeat. This is how the German footballing mind works. In-stadium banner protests remain the beating heart of the German footballing psyche.
We protest together often for the mere sake of protesting together. That's just how it is. Note that we'll be returning soon. Be sure to check us out.