A massive weekend for catching up with full-colors here on the profile website. We've no fewer than seven of the Bulinews hot-sheets to get through insofar as the tactics column is concerned. Our next stop takes us back to round 24; where we encounter a rather interesting assessment.
In Tayfun Korkut's third-to-last match in charge of "die alte Dame", did the capital city's embattled Charlottenburg side show something of a spark? This columnist happened to think so. At least that was the assessment at the end of this round's tactical focus. The prediction has been first proven deathly wrong, then partially right in the weeks since. The readers can make up their own minds.
Naturally, there's also plenty of Freiburg talk from the fixture selected to anchor this edition of the "Tactics Talk" column.
---
Bundesliga Tactical Banter: Round 24
---
Moments of Silence
Phrew. Pretty heavy weekend for the post-war pacifist Bundesrepublik. Pre-kickoff moments of silence across the country in protest of what threatens to be a thorny conflict on a crowded continent that has worked hard for some 70 years to evolve beyond territorial disputes. A hard weekend for all Germans; particularly EU proponents like this one. Regional integration was meant to avert war, not cause it. A tough weekend for football devotees as well. Most of us hope to live to see the day that our global game becomes that last remaining (safer) outlet for nationalism.
How many generations, or even centuries, it takes before that dream comes to pass remains to be seen. Weeks like this one remind one how far there is left to go. Readers invariably have strong opinions on the type of symbolism shown prior to the matches this weekend in Germany. Are such actions meaningful demonstrations of solidarity or just empty gestures that accomplish nothing? Something in-between perhaps? Individuals can decide for themselves. The acts merely merited a mention before we get to the football.
Fürth with some fight
The most tension-filled match on a top-tier football pitch this weekend took place in the Middle Franconia. SpVgg Greuther Fürth's 1-1 draw against visiting Köln leaves the Bundesliga's last-placed team on a six-game-home unbeaten run. With their fifth draw of the season Stefan Leitl's Kleeblätter also commemorated as moved up in the Bundesliga's "all-time" table with their result. As the club's second ever top flight season winds to a close, Fürth drew level on points with SSV Ulm 1846. A combined total of thirty five points in their two seasons now means that they're tied for 50th place.
To put that accomplishment into context, the team probably won't reach 49th place before this doomed campaign is out. The next club to overtake is (wait for it) Tennis Borussia Berlin with 49 points. Oh well. At least the match was fun. The Bavarians demonstrated great resiliency in surviving an early Köln onslaught and coming back from a goal down in the final half hour. The last ten minutes featured some pretty courageous defending as the tension rose in the SportPark Ronhof. The hosts kept their cool and gave the home fans something to be pleased about. Well done from the bottom dwellers.
Disinterest in Bochum
Probably the sleepiest affair took place in Sunday's opening fixture. Not to suggest that Leipzig's visit to VfL Bochum didn't contain its fair share of midfield duels. It did seem like neither side found itself in the mood to risk much beyond the halfway line. Bear in mind that both teams have a midweek DFB Pokal quarterfinal to look ahead to. Domenico Tedesco's RB, despite seven starting XI rotations following Thursday's Europa League away leg in Spain, still managed to look lagged in the legs.
Even match official Dr. Felix Brych appeared to have his mind on other things. The ref let quite a bit go during the first half. Several gallant tackles from the hosts might have been ruled fouls under different circumstances. Perhaps he was thinking ahead to the Pokal too. Anyways, Tedesco called in the cavalry (Dani Olmo, Christopher Nkunku, and André Silva) a couple minutes shy of the hour mark. This interjected some pace into the match, though not much more life. Nkunku finally scored the game-winning goal in the 81st and we were all denied much of a story. One supposes the newsworthy stuff will have to wait for midweek.
---
The "Spiegel Specials": Round 24
---
Frankfurt-Bayern (2:1, 0:1)
Entering this round there existed little doubt that Bayern would exact revenge for the highly flukish defeat at home in the reverse fixture. The Saturday night "Top-Spiel" in the Bundesrepublik's commercial capital still offered up plenty of intrigue as both Oliver Glasner and Julian Nagelsmann needed to employ tactical tweaks in order to give their respective teams the best possible chance.
In Glasner's case, something new was required in order to arrest a slide. The SGE have taken a paltry four points in the Rückrunde since the turn of the calendar year. Eintracht's results remain nowhere near in line with their talent level in 2022. The manner in which Glasner reorganized his XI counted as quite innovative.
Lineup—Eintracht Frankfurt—Match 24 (3-4-3)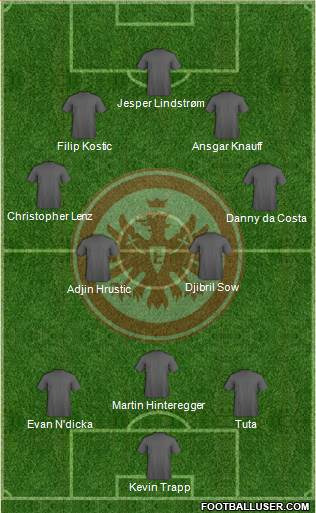 Interesting. After multiple failed attempts to find an axial partner for Filip Kostic (Timothy Chandler, Almamy Touré, and Danny da Costa have all been used), Glasner took the Serbian off the wings entirely. Dortmund loanee Ansgar Knauff also got his first start in the SGE colors. Adjin Hrustic replaced Kristijan Jakic alongside Djibril Sow at the six position. Martin Hinteregger worked a slight fulcrum pivot.
Of course, the big change saw Jesper Lindstrøm work alone as the lead striker. Glasner revealed in his pre-match interview that he felt Rafael Santos Borré demonstrated some signs of burn-out recently. The Dane, by contrast, has taken it upon himself to act more as a center forward in the latest encounters. Hence the opportunity to work the position in a literal sense.
The Verdict: Back to the drawing board
One can fairly say that Eintracht kept up well in the initial stages of the encounter. Lindstrøm certainly rose to the occasion in the initial 20 minutes. Kostic, buttressed by an effective enough Christopher Lenz on the left, also got some early looks in. For the most part, however, it was the FCB who looked far better throughout.
Hinteregger (who's struggles continue) had difficulty getting the team rolling on the counter. Furthermore, matters were far too quiet on Da Costa/Knauff's side. The midfield pairing began to seriously wilt after the restart, turning the ball over far to many times behind their own halfway line. Many potential breakaway opportunities were also missed as the sixes couldn't figure out how to advance in unison.
It seems that the best way forward may be to take a step back. Lindstrøm and Daichi Kamada working behind Borré on the second axis may be a concept that has grown somewhat stale, but it appears to be the only viable path forward. With a bit more experience for his new club, Knauff can get a go in the starting blocks opposite Kostic.
Jakic back in the XI. Hinteregger back on an inverted pivot.
Assuming everyone plays their part, it should click.
Bayern's visit from an old friend
What can possibly stand in the way of a tenth successive title for the mighty Bavarians this season? Honestly, only bad luck. In these never-ending pandemic times, poor fortune takes the form of COVID infections. Otherwise fit players must take a seat alongside the injured when afflicted with an asymptomatic infection.
When we learned earlier this week that Thomas Müller couldn't participate, the possibility that an already depleted FCB midfield might be in trouble arose. Already without Leon Goretzka and Corentin Tolisso, Nagelsmann would probably need to deploy a back-four for the third consecutive match. Given that this has caused problems in the first half of the last two fixtures, early trouble lay in the forecast.
Did it come to pass?
Lineup—Bayern München—Match 24 (4-1-4-1)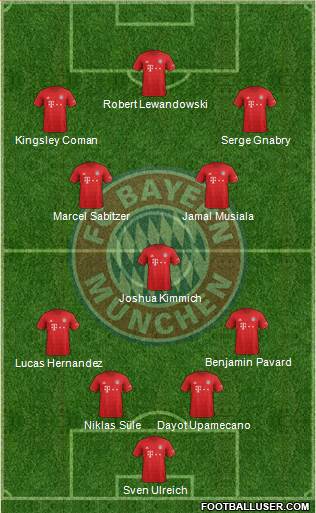 Not really. This worked very well. Joshua Kimmich–shaking off some of the problems he's been having as the lone midfield actor–put in a fantastic performance on both sides of the ball. Marcel Sabitzer genuinely did a good job operating from his position. Serge Gnabry, Jamal Musiala, and Robert Lewandowski all produced early opportunities that could have altered this match's low scoreline.
The Verdict: A complete squad
Time for a few words on this back-four first. The FCB completed their second clean-sheet of 2022 here, in large part because Niklas Süle and Dayot Upamecano turned in a peak-quality game. Additionally, both fullbacks pressed high and tracked back with clockwork precision. For all the talk of wobbly rear axes, all the players involved here proved that they can stand tall and remain consistently solid on the right day.
Then there's the bench. Musiala, Sabitzer, and even Coman or Gnabry can find themselves on it in normal times. On this particular occasion, Leroy Sané waited for his introduction. Not for the first time, the incredibly gifted speedster influenced the match within a few short minutes of his introduction. One can hold out little hope of beating this team when such potent weapons lie in reserve.
Prognosis: 2018/19 Redux
What we learned about both these sides in this encounter may not have been anything terribly novel. With ten rounds left, no predictions about either the title or the race for Europe change. Bayern take the Meisterschale. Frankfurt fans shouldn't expect a top-seven finish. If there is some good news for enthusiasts of the SGE, it concerns the fact that the team continues to make an admirable impression.
Whether it was Lindstrøm accelerating after every loose ball, Kostic maintaining his creative spark (sometimes overthinking matters) on the rush, or keeper Kevin Trapp heroically saving a Coman effort with his face, one can envision this group succeeding under the right circumstances. Despite the fact that the Europa League looks increasingly out of sight insofar as the table is concerned, the chance to qualify as the direct UEL champs remains.
Eintracht have performed very well in Europe during this campaign. Could we see this bunch make it all the way to the UEL semis just as they did under Adi Hütter four seasons ago? The columnist has a hunch. That isn't worth much, but the team still is. A one-tally scoreline notwithstanding, Eintracht-Bayern was pretty entertaining throughout. As ever this year, one really looks forward to watching the SGE play.
Gladbach-Wolfsburg (3:1, 2:2)
An interesting look back here. When we made the reverse fixture the round seven tactical focus, all the talk in German footballing circles centered around €7 million trainer Adi Hütter finally getting the foals up and running. We confirmed Gladbach liftoff on that chilly weekend back in October. It seemed a fair enough assessment. After all, the new BMG trainer had just beaten what we were convinced was one of the league's better teams.
Close to five months later, both of these clubs are the undisputed flops of the campaign. Neither side can be ruled out of the relegation race. One could certainly feel it too in this error-prone affair. While there were moments of assertiveness from both sides, the mental toll of stress repeatedly reared its ugly head. It never ceases to amaze when XIs brimming with talent play way below their level under the pressures of relegation.
Just take a look at Hütter's latest set-up:
Lineup—Gladbach—Match 24 (3-4-3)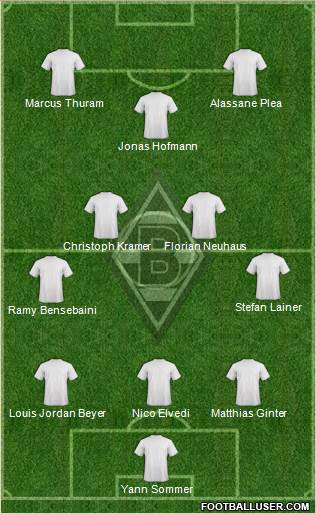 Look at the talent here! Granted, former national team players Christoph Kramer and Florian Neuhaus may not exactly be the same performers that they once were. One would still wager on them in a double six setup. Current German national team starters Jonas Hofmann and Matthias Ginter should be sufficient to carry this team on the charge and at the back.
Overall, this was a pretty decent idea from Hütter. Splitting two of his gifted French attackers with Hofmann as a false-nine accorded both of them a great opportunity to impact the match. Marcus Thuram actually came storming out of the gate with three scoring opportunities inside the first five minutes. Regrettably, a lapse from Ginter enabled Wolfsburg to go ahead in the 6th.
The opening goal had a sedating effect on the foals. The back-three (without Marvin Friedrich on short notice) fell into a cascade of mistakes. The second WOB goal (33rd) came courtesy of the fact that the flustered defensive could do no better than concede three consecutive corners. In front of 10,000 loyal, yet noticeably subdued hometown fans, the West Prussians once again dug themselves into a hole.
Prognosis: The 48-goal-hole
Nearly sixty percent possession did absolutely nothing for Gladbach in the opening half hour. Thuram and Plea eventually combined in the manner intended shortly before the break. The pull-back goal in the 42nd failed to translate into any momentum, however, as the NRW hosts continued to dig themselves into a deeper hole.
The struggles with carelessness came right back. Wolfsburg's Maximilian Philipp should have hit a wide open net for the 3-1 in first half stoppage time. Hütter ordered wingbacks Ramy Bensebaini and Stefan Lainer back in the opening stages of the second 45. While the directive did shore up the defense to a certain extent, it also completely undercut the attack.
We saw zilch from the BMG build until Ginter got a chance off in the 63rd. Gladbach arguably wouldn't have found a way back into the game without Maxence Lacroix's sending off in the 70th. Florian Kohfeldt's team shot themselves in the foot there and a 2-2 draw seemed a fair result; this despite Ginter's late disallowed goal. No way the Fohlenelf deserved all three points here.
Post-match comments from an exhausted Hofmann and a dispirited Hütter revolved around the obvious. Too many goals conceded. Only Hertha and Fürth have let in more tallies than Gladbach this year. No team has done worse than the paltry two clean sheets they've managed. As everyone knows, the best way out of a hole is first to stop digging.
With that metaphor in mind, why on earth is Hütter still deploying a back-three with prominent wingbacks? This is akin to thinking that one can simply "dig up". If the BMG trainer wishes to shovel some subtle stairs out of the dirt, perhaps he should begin ensuring that a back-five remains back. The attack can then wake up in its own time.
Hoffenheim-Stuttgart (1:3, 2:1)
Wow. The story off this one practically writes itself. The "Comeback Kids" cross the "Snake-Bit". For the second consecutive week, Sebastian Hoeneß' Kraichgauer achieved a remarkable 2-1 comeback win in the final minutes. Pellegrino Matarazzo's Stuttgart also find themselves in the grip of a repeating pattern. Another matchday. Another three points stolen from underneath them via the blowing of a late 1-0 lead.
We once asked the question as to whether Stuttgart were up and running. Now, with nothing but catastrophic results and an injury lists that obstinately refuses to be cooperative, one wonders if the VfB will ever accomplish a brisk walk or even a feeble crawl. It's just not coming together for the Württembergers. The first win of 2022 seems to be getting farther out of reach.
Talismanic winger "Silas" returned, only to suffer a fresh injury set-back within a couple of matches. Sasa Kalajdzic–after his own multiple injury setbacks–came back again this week, but now Chris Führich is hurt. Buccaneering fullback Borna Sosa simply cannot remain healthy. The Croatian had to sit this one out too. Orel Mangala joins Daniel Didavi on injured reserve once again.
All that can possibly go wrong seems to have done so for the Swabians.
What more can one say?
Prognosis: Career enders
We'll strain to find some positives from this weekend's fixture. Portuguese youngster Tiago Tomas played a decent game both in the lead striker position and off on the left wing in an impromptu set-up. Kalajdzic influences proceedings positively from the bench. Captain Wataru Endo covered a lot of ground amid a very convincing performance. The team as a whole definitely didn't stand back and park deep. They took their risks.
Some points may potentially lie ahead in the month of March. Gladbach, Union, and Augsburg. Direct relegation rivals. A win in any three of those fixtures counts for six points rather than three. Those watching Stuttgart matches over the next few weeks can expect to hear play-by-play announcers utilize the phrase "relegation six-pointer" no fewer than 2,378 times per 90 minutes.
If the Swabians can't attain three points from any one of the upcoming games, consider it well and truly over. A twelve-game-winless run and nine more points down constitutes "endgame". Forget about it after that. Sporting director Sven Mislintat heads to a data analytics firm. Matarazzo might opt to hop across the pond and complete his PhD. in applied mathematics.
For these two figures, it's time to try out different jobs if this cataclysm comes to pass. No one will wish to hear of their footballing philosophies for a good long while. Mensch! For those who can't resist peeking in on brutally painful tragedy, Stuttgart may be your Bundesliga team to watch next month.
---
The Burning Questions: Round 24
---
How did Union get back on track?
Slowly. Urs Fischer stuck with the 3-5-2 double stack, perhaps rotating a bit too much. Robin Knoche, Niko Gießelmann, Christopher Trimmel, Genki Haraguchi, and Andreas Voglsammer all came into the starting XI cold after beginning last week on the bench. The first half wasn't especially smooth as a result. Haraguchi's deflected shot enabled die Eisernen to claim a 1-0 lead in the 7th. Apart from that, Union's approach play remained somewhat plodding and tame.
At the very least, the Köpenickers got a restless monkey off their backs. The Japanese international's tally was indeed the first goal scored by the team since Max Kruse's departure. Unchanged at the break, Fischer's XI looked a bit more fluid. Progress was nevertheless incremental. Mainz made it particularly hard for the capital city hosts to establish any sort of rhythm. Sheraldo Becker's goal in the 56th came on the first chance of the second 45.
Dominik Rohr's sending off on double yellows at the hour mark sealed the victory. Bo Svensson's Pfälzer didn't put up much of a fight thereafter. Union can count themselves fortunate that they lifted another burden off their shoulders. Striker Taiwo Awoniyi added the third goal in the 75th. The Nigerian international–undeniably crucial to this squad's push for Europe–scored for the first time in early December. In general, the former Liverpool man turned in a good match; looking like his old self for the first time since returning from AFCON duty.
With Union now set to face FC St. Pauli on a tight turnaround in the DFB Pokal quarterfinals, the question now becomes how Fischer will manage the minutes of his players during a demanding and pressure-filled "English Woche". As important as the historic chance to play in a domestic cup final in front of their hometown fans at the Olympiastadion is, consider for a moment the amount of revenue the club can raise if it gets three or more fixtures at the larger Berlin venue as part of the Europa or Conference League next year.
Decisions, decisions. The smaller Berlin club is already stretched a bit thin with regard to its transfer balance. Sadly, these Ossies probably netted next to nothing from their Conference League fixtures this year. With no more than 10,000 supporters permitted into the Olympiastadion on Union UECL matchdays, the gate receipts amount to little more than chicken scratch. Hmmm…what an intriguing team sheet awaits us on Tuesday! To play for league position or not?
Any lingering B04 weaknesses?
After last week's surprising defeat away at Mainz, one found oneself curious if there might be further stumbles. Looks to be a negative on that front. There were a few shaky moments in the opening minutes of this weekend's 3-0 win over Bielefeld, but after having to intervene on an acrobatic Sebastian Vasiliadis scissor-kick, Bayer keeper Lukas Hradecky didn't have much to do for the duration of the afternoon. Germany's red company team–in a simple enough 4-2-3-1 anchored by Latin American's Exequiel Palacios and Charles Aranguiz–ensured that die Werkself mostly maintained one-way traffic.
The 2-0 in the 57th came courtesy of a super slick give-and-go orchestrated by Florian Wirtz and Moussa Diaby. The way in which those two can operate means that a Leverkusen sucker-punch can be delivered at any time. About the only criticism one can level against Gerado Seoane's men on this day concerns the fact that Wirtz did look a little out of sorts at times during the opening 45. Considering the fact that the 18-year-old prodigy revived his wizardry later, one might as well forgot about such criticism entirely.
To the disappointment of some Bundesliga watchers, it truly looks as if places one, two, and three in the 2021/22 table are all sewn up. Even without Patrik Schick, this team really didn't miss a beat. Lucas Alario and Paulinho played very well and Diaby is likely good for another 5-10 league goals before this campaign is out. The rotating fullback set has been on a good path all season. The likes of Piero Hincapie, Mitchell Bakker, and Jeremie Frimpong are only getting better. Timothy Fosu-Mensah is now back too. Third place. Not much stands in the way.
What are the latest BVB lessons?
Look. The writer will level with you. Practically all of us have given up at this point. There's just no point anymore. Whereas German football lovers will happily heap praise this team when they play up to their potential, the notion of trying to make sense of the Schwarzgelben Roller Coaster was abandoned long ago. That train has departed the station. It's substantially more fun to draw up tactics boards for next year. Süle, (probably) Karim Adeyemi, and (after all these injuries depress his market value) Erling Haaland.
We'll cover the 1-1 draw with Augsburg because we have to. Marco Rose parked Axel Witsel directly in front of Marin Pongracic, Mats Hummels, and Emré Can as a tight bolt-lock sweeper. Cool. Who really cares? It still didn't stop the back-line from making mistakes. Mahmoud Dahoud moved all the way up to a triplicate ten spot alongside Jude Bellingham and Julian Brandt. Yawn. Time for a nap. At least that's what one thinks when trying to watch this attack for 90 consecutive minutes.
Thorgan Hazard was above average again above average again. Donyell Malen spurned a few gilt-edged chances. Wonderful. An interesting story just doesn't exist anymore for a club eliminated from every competition but the league, in which they are practically guaranteed a second-place finish. Moving on, it's time to learn how to pronounce Augsburg winger Noah Sarenren Bazee's name properly. Correct the writer if he has the wrong Nigerian dialect, but shouldn't it be [Sah-RAh-zen Bah-Zeh]?
---
Weekly Tactical Focus: Korkut's New Mystery
---
Our focus section this week takes a look at two teams with very different objectives and outlooks. Freiburg-Hertha made for an apt choice to circle heading into this matchday. A small town team still fighting for the sensational clinch of the final Champions' League place. The "Big City Club" once again (an annual tradition of sorts) on the verge of disaster. With a lot of things more or less decided early in this season, German footballing eyes turn toward the more mysteriously unstable pockets of the table.
"Mysteriously unstable" may actually be the proper way to describe both of these clubs. Few will disagree with coupling Hertha to that description. In point of fact, many would feel comfortable dropping the adverbial clause "mysterious" from the description altogether. It's not exactly incomprehensible quantum physics why Hertha are a mess. The West Berlin capital city side are simply a sordid mess of random players acquired through the divergent philosophies of different personnel executives, most of which had nothing but half-baked ideas in the first place.
This writer (as he does most years) still finds the gross underperformance of the Charlottenburgers to be faintly enigmatical. Fredi Bobic's totally gutted roster should be good for more than 25 league goals. Every time on sits down to watch Hertha, the potential for a surprise victory exists. Provided Marco Richter, Suat Serdar, and most importantly Stevan Jovetic can remain healthy, there's sufficient upfield thrust to pepper the net. Myziane Maolida and Jurgen Ekkelenkamp can also interject pace off the bench.
The much-beloved Breisgauer–as we've been talking about in recent weeks–are actually performing well below their level. Some might disagree with that. The columnist nevertheless considers their inconsistent play a mystery in light of how effective he knows that Christian Streich's crew can be. We'll aim to illustrate that yet again this week. When the squad works consistently hard enough to win midfield balls back, they can be truly spectacular. The column maintains the opinion that Freiburg are still top-four material.
Streich has the right pieces in place.
Lineup—SC Freiburg—Match 24 (4-4-2)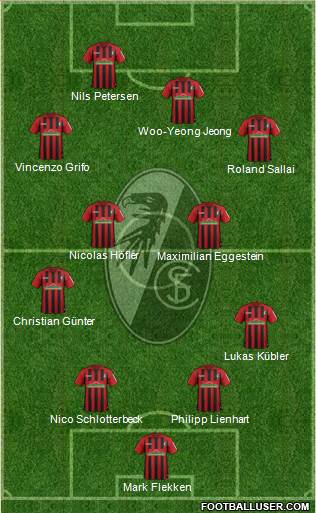 This sophisticated "double stagger" evolved over the course of the season as the SCF trainer figured out a way to get the best out of some of his especially talented performers. On some occasions, Streich separates midfielders Nicolas Höfler and Maximilian Eggestein, with the former working behind the latter. Other times, Vincenzo Grifo pulls inward to act as a pseudo second service striker alongside Woo-Yeong Jeong.
This week we got two staggers.
We'll discuss.
Günter's positioning
The German national team fullback has been operating ahead of the rest of the defenders for some weeks. This rather obvious ploy routinely stymies opponents as the solution is not necessarily so obvious. The way in which Höfler and Grifo fold back behind the captain often leaves him free to cherry pick after a possession change. One really looks forward to what Hansi Flick has in mind for Günter's next call-up.
A top-notch service striker
Streich has changed his lead attacker many times this season. Intelligently, he's had the good sense to keep Jeong plugged in. The 22-year-old South Korean international has played in all 24 league fixtures, starting in 19 instances. While there have been form dips, Jeong's work ethic always shines through. He's also had some bad luck. Streich backs him and it is a good choice.
Korkut's odd effort
Moving over to Hertha now, ten different German football tactics heads will likely give you ten different answers about what Tayfun Korkut's constellation was supposed to look like on Saturday afternoon. Was it a 4-4-2? A 4-3-3? The writer himself confesses he was a bit confused. It stretched and shifted a great deal on the overhead cam.
We'll settle on this:
Lineup—Hertha BSC—Match 24 (5-2-3)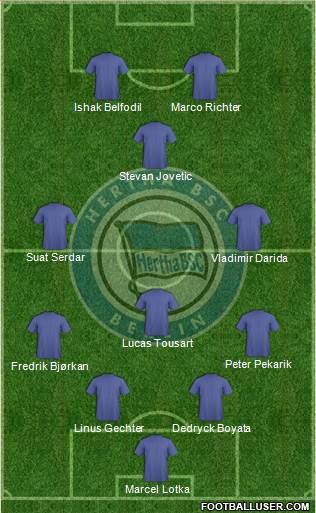 About the only thing one can say for certain is that Lucas Tousart was supposed to form the base of a midfield diamond. Damned if it didn't prove to be one of the looser, lurching ones some of us ever did see. Serdar, Jovetic, and Vladimir Darida frequently looked to be on rouge paths. Korkut gesticulated on the sidelines sometimes, but the gaffer of "die alte Dame" proved impossible to read.
Most trainers hold up fingers to signal basic axial placement or order in-ward/out-ward pushes with their hands. Korkut–after consulting with his assistants–made concentric circles or weird fist flashes. Even if some don't consider this team to be mystery, their trainer's ideas certainly are. Plenty of perplexing puzzles inherent in him.
Before delving into what was in spite of the disorder an entertaining football match with some great chances on both sides, we'll note that Hertha's squad depletion wasn't much of a factor here. Frederik André Bjørkan and Peter Pekarik played well, as did (the penalty notwithstanding) young center halve Linus Gechter and fifth-choice keeper Marcel Lotka.
Can't blame this loss on Marc-Oliver Kempf's suspension or the COVID quarantines. Bad execution mostly. In addition to that, a bit of bad luck. Yes, we'll be including the xG stats this week:
xG Freiburg–3.6, xG Hertha–2.6
Well. There's that. We'll get to that.
Match Flow: 1st to 12th minute
Hertha not being particularly aggressive on the ball in the opening minutes meant that the hosting Breisgauer were able to calmly set up builds around keeper Mark Flekken. The capital city guests weren't able to intervene until Günter was picked off on the charge in the 2nd. A counter nevertheless proved impossible as Darida had no time on the ball. After Serdar got a useful ball forward in the 3rd, Richter rattled off the first attempt of the match. His effort regrettably ricocheted off Darida and out for a goal kick.
Freiburg sought to to send in diagonals on their next approach. Neither a long switch by Günter nor a long launch right from Philipp Lienhart accomplished anything other than having the ball spit back into the defensive ranks. Jeong, Günter, Schlotterbeck, Grifo all painted around the box in possession throughout. There remained no way through, even after two full bow arc cycles. Günter saw a cross cut out. Jeong was forced to retreat. A quality leftward cycle in the 5th got repelled.
Streich's men persisted in producing optically good combo play. A cycle up to Eggestein in the 6th forced Jovetic into a foul. Grifo's service on the free-kick from about 25 meters out was superb. The Pforzheim native bent the ball around the wall. The Hertha fifth-choice keeper whom no one had heard of prior to this match had to touch the perfectly struck ball over the crossbar at full stretch. Some flying save that was from the 20-year-old Pole!
The ensuing 7th minute corner bounced back to Kübler, who fired over the bar. Bjørkan, after some false starts against Roland Sallai, got the Berliners upfield on the next charge. Jovetic couldn't meet a teasing ball in with the proper power. The Montenegrin headed past. Hertha retained the ball over the next two minutes, yet couldn't break free from Freiburg's pressure hassling.
The Breisgauer themselves couldn't make much out of their crush, turning the ball back over until Grifo punched through in the 9th. The German-Italian's cross for Jeong was well handled by returning BSC captain Dedryck Boyata. The Belgian skipper turned in a solid performance on the whole. Korkut's squad ran the next two attacks. Schlotterbeck marshaled away a ball intended for Jovetic in the 10th. A follow-up shot from Isak Belfodil didn't trouble Flekken.
Grifo and Jeong couldn't quite get on the same page during a quick rush in the 11th. Bjørkan stepped in, but the clearance bounced back to Jeong. A quick forward for Sallai caught Gechter by surprise. Irrespective of what Fredi Bobic has to say on the matter, match official Sven Jablonski was well within his rights to award the penalty. Minimal contact doesn't excuse how cynical the challenge was.
Grifo stepped up to convert from the spot in the 12th with a textbook penalty. Absolutely nothing Lotka could do to stop the high driven effort. The hosts had the start they needed in front of 25,000 fans at the Europa Park Stadion. Based on the hard work Streich's men collapsing on the ball, one could also call the 1-0 well deserved.
Match Flow: 12th to 26th minute
The match got stuck a bit during this passage, though it was still pretty exciting. Bjørkan went on a enterprising run when play resumed in the 13th. Grifo tracked him all the way and was able to intercept. Richter, in turn, dispossessed Grifo. Darida proved too far out of reach for the Germany U21 international. Freiburg tried to rustle up a charge in the 14th. Grifo and Kübler were forced to retreat in the 14th. Kübler once again got pushed back in the 15th.
A 15th minute counter from Hertha turned out to be embarrassingly bad. Everything fell apart after Boyata's initial ball. Serdar did a decent job stripping Kübler in the 16th. but was no match for Günter after dancing his way out of trouble. Streich's men remained well positioned on the back foot, combining well after both that play and another stop on Darida in the 17th. There still wasn't much of note offensively at the end of these plays.
Eggestein couldn't quite reach Nils Petersen with a deflected cross. The sequence did lead to a corner in the 18th. Schlotterbeck has the 2-0 on his boot. No one picked him up after a first class service from Günter. The opportunity nevertheless couldn't be converted as Schlotterbeck slipped before he could strike. The SCF were all over the next two Hertha charges, soaking up a Pekarik play-through in the 19th and a long vertical for Jovetic in the 20th.
Freiburg's combination play out of the back remained well executed and of supreme optical quality. Jeong and Sallai couldn't locate the proper finishes on the counters that resulted from the above mentioned attacks. Meanwhile, the disjointed attacks from the Berliners never even looked threatening. For some reason, Höfler felt compelled to step foul in the 22nd and was booked.
Eggestein easily headed away a subpar Jovetic service on the ensuing free-kick. Bjørkan opened some space on the follow up in the same minute. Gechter ultimately couldn't work a good cross in and Darida ended up sending an effort well wide. More great combo play from the BaWü hosts in the 23rd. A Kübler-Eggestein-Sallai cycle left went nowhere. Günter's nice dribbling in the 24th got wasted as there were too many BSC bodies in the way.
Jablonski reached into his book again shortly thereafter to caution Jovetic for a foul on Höfler at the end of the 24th. One had the bad feeling that, already without a chance on target since Grifo's penalty conversion, the match might descend into a lull. Fortunately, the Breisgauer got the adrenaline pumping quickly again.
Lienhart, Höfler, and Jeong got the ball forward for Sallai and the Hungarian delivered a sumptuous cross into the box. Petersen rather unselfishly headed down what was an artistic set-up for Grifo when he just as easily could have finished first-time. Grifo very nearly completed the spectacular sequence with a powerful finish of his own from close range. The ball caromed off the inside of the post.
Match Flow: 26th minute to half-time
Both teams continued to play an up-tempo game until matters flattened out shortly before the break. Streich's squad played out of the back again beautifully in there 27th with some lovely distribution managed by Flekken. The SCF keeper picked out Schotterbeck for a piercing charge up the left flank. At the other end, Flekken's opposite member Lotka proved equal to the final cross.
Bjørkan and Serdar couldn't do much with Lotka's quick throw out and Jeong narrowly failed to tee up Petersen on another quick chance. Darida, Tousart, and Richter managed to keep their cool on a cycle out and the capital city side had their own totally improbable chance on the other side of the pitch. Belfodil burrowed on the baseline despite being hassled by three Freiburg defenders in the 28th He remarkably dug out a cut back for Jovetic.
Kübler saved a sure-fire goal with his outstretched leg. Darida whipped in inviting services on two corners that immediately followed. Belfodil and Jovetic weren't far off the flick-ons and push ins that came their way. Hertha had generated a legitimate chance and sustained some time in their attacking third as the half-hour-mark cropped up.
It was also around this time that Korkut began ordering tactical switches. Difficult to say if Jovetic was ordered to take over Richter's position whilst Serdar inched forward to function as an actual winger. There were so many broken plays between the 30th and 32nd that it looked like nothing more than mass confusion.
In any event, Richter was forward again slanted right in the 32nd with absolutely no one else seeming to know where they were supposed to be. Boyata tired a forward carry in the 33rd; similarly without much help. Schlotterbeck easily intercepted the through ball. The Freiburg rebuild machine soon proved they could handle whatever it was Korkut was trying to implement.
Petersen battled Pekarik to a draw near the goal-line in the 33rd. Hertha twice failed to clear after the subsequent 34th minute corner. Jeong only just missed a golden opportunity on the first failed clearance. Eggestein let fly and put Lotka to work once again on the second.This resulted in another corner in the 35th. This time Hertha got the ball away. Freiburg simply took the ball and rebuilt calmly again.
Following three successive SCF attack waves, Hertha got their next chance to do something themselves in the 37th. It was frankly rather pathetic to watch Bjørkan, Darida, Tousart, and Pekarik first fail to sort their positioning out, then take forever to decide what to do with the ball. This problem plagued Pekarik in a direct one-vs-one duel with Flekken less than a minute later.
The veteran fullback needed only to chose an avenue past the onrushing Breisgauer net minder after Darida played him in. He didn't and Flekken received credit for a brilliant save on which he didn't even have to spread himself. Richter immediately tried to work the ball back into Pekarik. Three SCF actors marking intended target Belfodil easily cut the cross out.
Hertha then miffed up a counter chance in the 39th when Belfodil was ruled offside. The Algerian striker–who in no way kept an axial line with Jovetic–got caught off again in the 41st. Korkut continued to gesture. Perhaps the BSC trainer opted to scrap the whole idea and order everybody back. Pretty much all Freiburg for the duration of the half.
Lotka did well to collect a deflected Kübler cross in the 41st. A disciplined enough defensive corps ensured that Jeong had too little space the 42nd. Even a gorgeous pinpoint switch from Lienhart to Günter in the 43rd amounted to nothing with even blue shirts covering the middle of the pitch. Lotka punched away a Grifo cross skillfully in the 44th. Darida and Richter were just too deep to run a dangerous counter in the final minute.
Freiburg made short work of weak Hertha set-pieces during the lone minute of injury time. Grifo was back to take care of a Tousart short play for Pekarik. Richter sent a corner directly into the arms of Flekken. Halftime xG statistics were, surprisingly, practically dead even.
xG Freiburg–1.3, xG Hertha–1.2
Note that such metrics in way reflect how much smoother the Breisgauer were in building their attacks. Korkut's crew appeared on the precipice of making their own mark. Then came…honestly.,.what on earth was Korkut thinking during those final 15 minutes? If there are any inquiring minds left watching this team, they'd surely wish to know. This writer won't even attempt a draw up.
Match Flow: 46th to 56th minute
Without changes we continued. Neither team appeared much interested in maintaining the pace of the first half during the first ten minutes of the second. Hertha at least retained possession for the first couple of minutes. Grifo and Günter cooly forced Pekarik into a pair of retreats. Gechter did significantly better with a forward for Bjørkan in the 47th. A foul from Sallai awarded the Berliners a free-kick in a dangerous position.
Jovetic rather sadly made a complete hash of it. In one of the worst set-pieces of the season, the team's star striker couldn't even get a service on the left past a two-man wall. An undeserved 48th minute corner immediately thereafter proved useless. Schlotterbeck led the charge back the other way in the 49th. Lotka nearly masse a fatal error with a shaky rush out and clearance. Luckily for him, the misguided ball didn't find a Freiburg player.
Tousart and Serdar attempted a give-and-go toward the end of the 49th. Kübler read it and ate it up. Bjørkan ultimately had to haul his counterpart down and the hosts were awarded their own free kick in the 50th. Grifo sent the service wide of the far post after bending it just a bit too imprecisely past a four-man wall.
The Breisgauer began to get back into gear. Schlotterbeck and Günter led the team up in the 51st. Bjørkan's clearance of the latter's cross was poor, but the Norwegian did recover in time to block Sallai's second effort. There were some shouts for handball on the ensuing corner. Jablonski correctly waved off incidental contact by Tousart on a Petersen effort.
A laudable spell between the the 53rd and 55th saw Hertha circulate the ball a bit and seek to calm things down. Possession of the ball remained with the capital city side, excepting one SCF counter in the 54th at the end of which Sallai delivered a poor cross. Frustratingly, even slower builds couldn't stop Belfodil from getting caught offside again in the 54th. Might as well mention that Korkut's front axis remained a complete mess. No clear directive there.
Streich's men finally turned some stellar combo play into a chance in the 55th. Jeong got a chance to finish in space from 10 meters out off an Eggestein through. Gechter raced back to disrupt the South Korean's hit. In a development that made one wish to give up and stick straws in one's hair, Belfodil was whistled for offside again on the counter.
Match Flow: 56th to 64th minute
Korkut apparently had enough of his experiment. From this point forward, the Berliners realigned as they had at the start. It actually led to some favorable football too. Boyata and Serdar didn't have many moves to make in the 56th. They still maintained possession. Tousart eventually found an avenue through central and sent a nice searching ball in Richter's direction.
The BSC attacker rounded Günter masterfully before finishing too weakly to trouble Flekken. Tousart then intercepted a Schlottterbeck diagonal well. A deep sitting Belfodil, Serdar, and Richter took a bit too long coordinating the subsequent rush. Sallai helped the visitors out by sending another poor cross into the arms of Lotka in the 59th.
Bjørkan did well with the charge this time. So too did Belfodil with a quick-think tap back for Jovetic. Jeong intervened at the last moment. Darida tried to shove it back into the box, but was blocked. Kübler and Schlotterbeck were comfortably handled on an attack at the hour mark. Serdar punched through after the ball changed hands a few times. Eggestein had to stop with an unfair challenge.
The capital city guests were slowly but surely asserting themselves. Some nice work from Belfodil, Serdar, and Richter placed the ball back in Jovetic's direction in the 61st. Schlotterbeck rushed back to clear before it could get to the Montenegrin's boot. BSC captain Boyata did a good job directing the defense after Hertha absorbed the next wave of SCF pressure.
The result was another sweeping break in the 63rd at the tail end of which Richter stung Flekken's palms from ten meters out. Flekken again had to be alert to collect a Darida cross in the 64th as the Berliners kept the ball firmly entrenched in their opponents' half. As soon as the ball went out into touch, Streich was able to execute a double substitution.
Match Flow: 64th to 80th minute
Straight like-for-likes from the Freiburg gaffer saw Lucas Höler and Kevin Schade come on for Petersen and Sallai. This initially led to some increased pressure on the SCF right in the 65th and 66th. Günter smacked a cross off Pekarik on the second play, leading to another corner. Boyata defended Günter's service expertly. There was a brief injury timeout during the 68th and 69th when it became apparent that Gechter pulled a thigh muscle on the play.
Korkut had been planning one substitution. The newly acquired Dong-Jun Lee was all set to come on for Darida on the right wing. With a wince and a quick consultation among the coaching staff, 28-year-old Cimo Röcker was also sent on for his Bundesliga debut. The two new actors officially checked in at 70 minutes. No tactical change from the BSC trainer, who just went for the direct plugs.
Höler and Eggestein won a pair of important midfield balls. It was the former SV Werder Bremen man who screwed up an excellent chance to return the ball to Höler in the 71st. Eggestein didn't release the ball quickly enough, enabling Tousart to get a toe in. Kübler and Günter ran the next two Freiburg charges, ultimately finding no penetration. The SCF shape wilted a bit in the 72nd and 73rd.
A long ball for Höler in the 73rd was a mite too desperate.  Boyata deftly crossed over to put the brakes on Schade in the 74th following a Grifo vertical. Bjørkan was not so clean attempting to stop Höler near the end of the minute. Jablonski pulled out the caution card after the Norwegian tugged at the Freiburg striker's shirt. Boyata shepherded the quick-take free kick away from Schade.
Schade, along with Lienhart, had their own defending to do when Richter led the guests back the other way in the 76th. Eggestein had to get all the way down to block a Lee effort one minute later. Richter and Tousart got further efforts off in the 77th. These too were blocked. A short corner at the end of the minute nearly led to a chance. Jovetic was just a shade offside.
As Davie Selke and Jurgen Ekkelenkamp entered for Richter and Belfodil in the 78th, one had the impression that the surging team was getting a pair of potentially influential like-for-likes at precisely the right time. As noted above, the BaWü hosts were losing their structure. Streich's subs hadn't made much of an impact beyond stretching them out.
A nice combo involving Höler, Jeong, and Schade in the 79th didn't appear to be too much cause for concern. After all, Grifo looked like he had completely lost his scoring touch on the day after Schlotterbeck set up the final ball perfectly. One expected Hertha to roar back. Unfortunately, it proved the beginning of the end.
Match Flow: 80th minute to full-time
As the crowd kicked up to sing their beloved Breisgauer home, Streich pulled the trigger on another double change. The team's response was prompt. Noah Weißhaupt and Ermedin Demirovic replaced Jeong and Grifo. Nice to have club contributors like that available on late. Weißhaupt took over Günter's role whilst the SCF skipper moved up to take over for Grifo. Within a minute of his introduction, young Weißhaupt was able to make a decisive impact.
The Germany U20 international confidently sliced his way into the box before offloading to Günter. The captain's cross landed at the feet of its intended target Demirovic, who was too tied up to get the shot off. Somewhat fortuitously, Schade found himself directly behind the Bosnian and slammed home effortlessly. One could call it a lucky goal, but considering where all the like-for-likes were stationed, it was fair.
2-0 Freiburg in the 83rd.
Before the celebrations in the Europa Park Stadion stands had died down, Demirovic, Schade, and Höler were orchestrating the next attack. Although the Berliners were able to repel the 84th minute charge, a Weißhaupt cross took a bit of a propitious bounce past Bjørkan and into Höler's path. The initial strike hit the post, but Höler was able to bungle the rebound home just ahead of the line.
3-0 in the 85th and game over.
Full-time xG once more:
xG Freiburg–3.6, xG Hertha–2.6
Say what one will, there were plenty of moments during this one in which the Berliners stood toe-to-toe with a team much better put together than them. One can talk about how much cleaner the Freiburg passing game was, how much more consistently harder working the SCF actors were in recapturing the ball, and even how horribly sloppy Korkut's men were on set-pieces all afternoon.
What this writer wants to talk about concerns what in the hell Tayfun Korkut was doing during those final 15 minutes of the first half. The trainer of often short-lived tenures has never been known as an in-game tinkerer. In point of fact, he was appointed to a contract through the end of the season specifically to be a stabilizer.
What's going on here? Is it some sort of unwritten rule that "die alte Dame" must invariably bring out the worst instincts of every head-coach to ever prowl its sidelines? The bespectacled 47-year-old can't seem to see through those newly crafted reading glasses. A Streich XI happens to be the worst possible opponent to attempt a complex early in-game tactical shift against. The Breisgauer, always well prepared, feed on such free meals-on-wheels.
Having made that conclusion, there remains the matter of congratulating Streich for pulling the team back to within striking distance of the coveted top-four with two consecutive victories. Last week's prediction still holds. Much as we might all like them too, they likely won't finish there. Apropos predictions unaltered, our Hertha enthusiast brethren should know that our customary "February Promise" still holds.
Yes, you read that correctly. One detects a heartbeat from this side. As faint as it was, it doesn't have to pound ceaselessly to avoid the drop. We undoubtably witnessed something stupid from Korkut on this day. That's mysterious in its own right as he's not an unintelligent man. Ostensibly, he'll learn from this.
Thanks so much for reading!
You can occasionally catch Peter on twitter, @ViceytheSS.
Twitter DMs are open for football conversations, corrections, and (if you truly insist) general abuse. 
All columns debut on Bulinews before appearing on Peter's website later in the week.