Matters couldn't be busier in the Bundesrepublik as the 2020/21 campaign heads for a frenetic finish. Inside this week's re-post we've all the intrigue surrounding the goings on in Germany's top football flight for those who missed the Sunday column.
---
League-wide Talking Points: Round 23
---
Prelude to the Basement Battle
The inspiring story of a resurgent FSV Mainz 05 took a week off as Nullfünfter trainer Bo Svensson took no risks against Augsburg on a badly beat up home pitch. Kevin Stöger played from the beginning, working beside captain Danny Latzka in what looked like a bundled 3-3-2-2. This constituted something of curious choice considering that the condition of the pitch rendered short passing nearly impossible. It may have been the best he could cobble together with Dominik Kohr missing due to illness.
In any event, visiting Augsburg generated enough chances to win by far greater than the eventual slender 1-0 margin. Mainz keeper Robin Zentner presented Heiko Herrlich's FCA with the match's loan tally courtesy of a pass directly to Fuggerstädter striker Florian Niederlechner, who in turn laid off for André Hahn in the 25th. The Bavarians then proceeded to miss a number of easy opportunities that they should have converted. A flurry of them came between the 50th and 55th.
The critical win probably pulls the Bundesliga's "other" Bavarian side out of the relegation race for good while the Rheinhessen now must absolutely beat Schalke on Friday night. It shouldn't be that daunting of a task, but one would definitely like to see something more adventurous from Svensson. Robert Glatzel and Jonathan Burkhardt deserve consideration for the start.
Mixed emotions in Köpenick
German neutrals, obviously favoring historic traditional 1. FC Union Berlin over disliked Europa League embarrassment TSG 1899 Hoffenheim, got a chance to run the gamut of emotions early in Sunday's showdown at the Stadion an der Alten Försterei. A number of plays involving the preferred side's cult footballers ended up deciding the outcome in an encounter that packed plenty of initial pop before fading into the realm of a ho-hum stalemate.
Fan-favorite character Max Kruse finally returned to the Eisernen starting XI and scored an early penalty with a cheeky flick under the bar. Regrettably, big subject of fascination keeper Loris Karius then botched the handling of an Andrej Kramaric cross. In so doing, the squad's on-loan backup keeper ensured an unfortunate own-goal bounced off Union defender Nico Schlotterbeck, another German international domestics tend to root for. Oops. It remained 1-1 until the finish.
Karius actually had an overall shaky day and it won't come as a surprise to see his audition in net ended soon. Kruse managed little else during a meek second half during which practically nothing notable happened. Such a pity that Urs Fischer's cinderella project hasn't produced headline-worthy storylines in weeks.
VfL streak lives, BVB plays catch-up
Eintracht's loss (addressed below) certainly took some of the sting out of the race for the top four. The good news for those hoping a new team attains the UCL next year concerns the fact that VfL Wolfsburg extends their record of clean sheets to eight consecutive matches on the trot. Admittedly, there was a little luck at play in the 2-0 defeat of Hertha, but Oliver Glasner's men put together a serviceable performance worthy of retention of third place in the table.
The bad news is that Dortmund got a big confidence boost with a 3-0 victory over Bielefeld and now find themselves back within striking distance of the Champions League places. German fans aren't necessarily looking for the Schwarzgelben to fail at this point. On should point out a 2021/22 Bundesliga in which Erling Haaland and Jadon Sancho must be sold off would be considerably less entertaining. A general sense persists that the hubris of this clubs' administrators should have some consequences. Furthermore, the division among the squad ranks team that leads to backhanded compliments in the best case scenario grows tiring.
---
The "Spiegel Specials": Round 23
---
Bremen-Frankfurt (1:1, 2:1)
Sadly, one of the Bundesliga's hot commodities just couldn't keep the streak up this weekend. The soaring Adler saw their wings clipped by, of all things, of the league's most maddeningly boring offenses in the Friday night fixture. Many will have been disappointed to see the SGE's 11-match league unbeaten run come to a close. What happened? To begin with, the second half VAR interruptions rendered this one just plain weird. We've three cases to consider.
Bremen's go-ahead goal, scored by Josh Sargent in the 62nd, was allowed to stand despite the fact that replays confirmed that his shoulder was clearly offside. Six minutes thereafter, a perfectly good goal scored by Bremen's Romano Schmid got disallowed by the Kölner Keller when the assisting Sargent was false deemed offside. A review (correct decision) on Theodor Gebre Selassie's 47th minute equalizer makes for three delays all revolving around Bremen tallies.
Neither footballer nor writer wishes to use officiating as an excuse, but one wonders what psychological effect this trio of prolonged cutoffs had on the players on the pitch. Suddenly the unthinkable act of Bremen scoring took center stage and infected everyone's mind. Frankfurt seemed stuck amid all the delays. Once they were over with cross-meister Filip Kostic, goalscorer André Silva, and super-sub Luka Jovic all got their chances in during the final quarter of an hour. One feels as if some time got yanked from underneath the SGE's feet here.
Prognosis: Two fabulous weeks ahead
Departing from the refereeing excuse, many of the Frankfurt builds were too imaginative and cumbersome. Hütter's 3-4-2-1 played a little bit more like a 3-2-4-1 at times with Kostic and Erik Durm not quite sure how to adjust for Sebastian Rode's presence in midfield. The squad struggled in open play throughout the match. Silva's 9th minute opener came courtesy of assister Kostic caught the Hanseaten defenders switched off after a short corner. Die Adler rested a bit too much on their laurels after gaining the early lead. Tens Daichi Kamada and Amin Younes really disappointed.
One could argue that this wasn't a bad week for Eintracht to have an off match. Provided Hütter can keep the loss from having too significant a subconscious effect on his players, they can get back to executing their own game plan against upcoming opponents Stuttgart and Leipzig in the weeks ahead. We should behold some great football in the next two encounters. If the team truly wants to remain candidates for the top four finish, they can't afford to drop any more points. As for Bremen, meh. Milot Rashica may have found his stride a bit, but their next two fixtures (Köln and Bielefeld) still don't make for recommended viewing.
Stuttgart-Schalke (1:1, 5:1)
Oh boy. This one was like watching someone stomp on poor defenseless kittens all afternoon. Small wonder Schalke opted to sack literally everyone in the front office after this monstrosity. Unexpected as the complete administrative housekeeping might have been when Saturday dawned, one woke up to the news Sunday morning surprised that the club didn't fire the, the mascot, the gift shop workers, and all the janitors. The set-piece defending was so woeful that it felt like everyone involved with the club stood culpable for not pointing it out during training.
Everyone wishes Christian Groß a pleasant retirement. Swiss magazine Blick got a hold of the 66-year-old on Sunday and the now former Schalke trainer took his own shots at his organization's January transfer class. He didn't need to make those comments as everyone already knows that the sentimental selections of Sead Kolasinac and Shkodran Mustafi were never likely to provide the club more than a temporary boost. Klaas Jan Huntelaar's signing also turned out to be a lovely PR stunt and nothing more. It was so foreseeable that he would come carrying injuries.
In the opinion of this column, Groß can't shirk the responsibility for the biggest transfer flop of all: Wolfsburg fullback William Furtado. For some reason, the head-coach immediately used this right back as his right flanking attacker, then stuck with this arrangement after it initially proved useless for three more rounds. The position happened to be one at which Groß still maintained some depth despite the squad's long injury list. Alessandro Schöpf and Benito Raman could have brought much more to the role, yet went unused. William found himself completely murdered by the VfB's Borna Sosa on Saturday.
Prognosis: A second-tier trainer
With the latest rounds of administrative moves, the club has now officially resigned itself to life in Bundesliga Two next season. The official statement admits as much. The only objective left now is to get a jump start on the 2021/22 campaign in the hopes that the Königsblauen will have to spend only one year in the second division. Accordingly, one should expect them to appoint one of the second tier's better coaches soon. A name currently being floated is that of former East German footballing legend and current SC Paderborn 07 head-coach Steffen Baumgart.
This would actually be a solid choice and good move for club, coach, and fans. What's needed now in Gelsenkirchen is someone who will start building for promotion. The 49-year-old from Rostock pulled Paderborn from League Three in 2017 up to the Bundesliga last season. He's definitely someone who the supporters and players can get behind. Neutrals will also enjoy his hilarious sideline banter in the final days of the latest silent "Geisterspiel Era".
Freiburg-Leverksuen (2:4, 2:1)
Hats off to Christian Streich and Germany's Breisgauer for turning the tables on the Bundesliga's "sick man" and effectively guaranteeing another season of Bundesliga football in the southern tip of Baden-Württemberg. Streich got all of his rotations right yet again. The consistently lauded trainer always seems to know just when to use Jonathan Schmid as a right back and when to move him up to the wing. He also knows which teams to deploy Dominque Heintz as a center back and when to deploy Ermedin Demirovic up front.
Peter Bosz's Werkself, as has commonly been the case in recent weeks, dealt with more than their fair share of bad luck. The injuries to Timothy Fosu-Mensah and Jeremie Frimpong hindered their ability to keep the 4-1-4-1 stable and Florian Wirtz had an uncharacteristically disastrous match at precisely the wrong time. Lucas Alario and Patrik Schick also saw serviceable efforts deflected wide. The booking that will see Leon Bailey suspended next week was borderline.
On balance, however, one has to say that Freiburg earned all three points. The 2021 form of Germany's red company team bodes horribly for this team's chances down the stretch. Now winless in five matches on the bounce, Bayer have two league victories from the last rounds in addition to their humiliating DFB Pokal and Europa League exits.
Prognosis: Still looks like a typical Leverkusen year
Last week's prognosis doesn't change. Even the injuries shouldn't hinder the team from picking up points against Arminia, Hertha, Schalke, Hoffenheim, and Köln over the next six weeks. To put it candidly, they should probably even still be considered favorites against Gladbach next weekend. A smooth stretch ahead gifts Bosz the table units to pull them back into fourth. If anything, these team played better without the likes of Frimpong and Fosu-Mensah. They should be fine.
---
The Burning Question: Round 23
---
Do we have a title race?
Indeed, we're going singular for the second consecutive week. There can be no more pressing question in the mind of skeptical Bundesliga lovers after eight consecutive Bayern title campaigns. Naturally, we can't truthfully formulate an answer without taking the FCB's nearest challengers under detailed consideration. We'll get to Leipzig in the "tactical focus" section below. Here, as was the case last week, we have to examine the current state of the Bavarians.
Vulnerabilities at the back
A 5-1 smashing hardly seems appropriate subject matter for examining defensive weaknesses. Hansi Flick's high-press nevertheless remains, simultaneously, the team's greatest asset and vulnerability. Accordingly, every last defensive lapse is worth examining. Ellyes Skhiri's goal actually had next to nothing to do with the press. Jerome Boateng and David Alaba simply miscommunicated on a clearance.
The tally still sapped the confidence of the back line and Bayern looked weak for a prolonged period between the 49th and 82nd. Köln weren't exactly capable of making much of it, but the coverage was consistently bad. Left all on his own, Manuel Neuer came close to royally screwing up one of his "sweeper keeper" runs in the 75th. Dominik Drexler couldn't hit an empty net to make it a 2-3 scoreline.
Drexler's strike off the post could have altered the flow of this match dramatically. All those wishing to engage in a bit of prognosticating should keep the risks this team takes with its press into account.
Süle and Sané
After a fairly pronounced dip, Bayern's converted right-back rebounded this week to turn in a fairly solid match. While Niklas Süle and Leroy Sané continue to exhibit the occasional lapse on the defensive side of the ball, both actors seem to grow stronger each week as pertains to their creative control. Moreover, the two are developing a solid partnership on the right hand side.
If this duo can sustain the type of form they displayed in the opening 15 minutes of this weekend's fixture, the end of Bayern's right-back woes may be in sight. None would have predicted that Süle could prove capable of taking over the position on a more permanent basis when Flick first tried him there. It increasingly looks as if two vitally important players will benefit from it.
Bayern at their peak powers
Just like in the previous round, matters got really scary late:
Lineup—Bayern München—66th minute (4-2-3-1)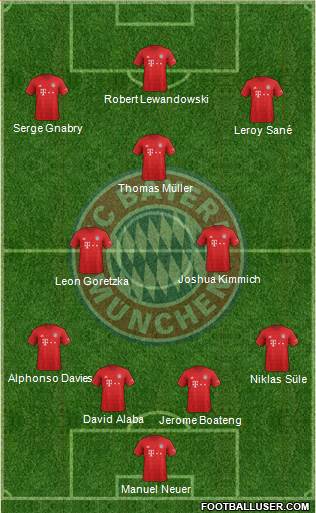 Look out. The gang's back together. This bears little resemblance to Flick's final 4-2-3-1 from last week. Joshua Kimmich and Leon Goertzka don't work a stagger. Alphonso Davies remains back. Jamal Musiala is back on the bench whilst "Radio Müller" reprises his role at the heart of the Bayern attack. The last point is obviously the one that casts doubt on any team's ability to catch the mighty FCB.
Taking nothing away from Gortezka's hat trick of assists, it was Thomas Müller who one this game. It took the national team legend all of 30 seconds on the pitch to affect the game via an assist of Robert Lewandowski's second goal. The man who under no circumstances was even supposed to play this weekend shook off infection and, with minimal training, resumed his hero thing.
Few can hope to knock off this team so long as Müller stays involved. The 31-year-old's commitment to football runs as deep as that of the Zlatan Ibrahimovics and Cristiano Ronaldos of the modern game. Accordingly, we can likely get used to discussing his play for the next eight to nine years. He'll retire at 43.
---
Weekly Tactical Focus: Scandinavian Super-friends
---
Wow. What a match! A football lovers sincere gratitude to every last actor involved; the players on the pitch, both coaching staffs, and even the Leipzig ground crew for ensuring that the late February pitch didn't feature even the smallest muddy patch. In the column covering the reverse fixture, a writer lamented that an intriguing tactical chess match between the two head coaches did not emerge. Both Julian Nagelsmann and Marco Rose mailed it in during a rather drab 1-0 Gladbach victory. Such was not the case this time.
Quite the "coach-off" between these two ambitious tacticians on this day. There were a ridiculous amount of in-game adjustments throughout this immensely engaging affair. While a Rose strategic alteration carried the day in early November, a series of outstanding Naglesmann restructures accorded RB the deserved comeback victory this time. To address the second part of the question posed above, we most certainly have a title race now. At long last the German Red Bulls look convincing thanks to some exciting moves from their young trainer.
The late Saturday fixture served as the quintessential "tale of two halves". One must also credit the footballers involved for sustaining the tempo for the full 90. Leipzig looked doomed after falling behind 0-2 during the opening 45. We'll cover what went wrong first.
Lineup—RB Leipzig—Match 23 (4-2-3-1)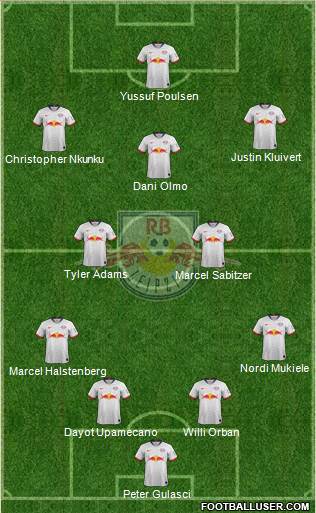 We'll label this a 4-2-3-1 as that appeared to be the ad-hoc arrangement attempted after Angelino's, ahem "supposed", late-injury. Problems with this late drawn-up matchplan were manifold. The Saxon hosts never took their foot off the gas pedal in the opening phase, but their inability to keep the hastily fashioned shape let them down.
Adams-Sabitzer midfield partnership
Very awkward to say the least. The American and the Austrian predictably played like a pair who had no direct experience deployed alongside one another. Neither one wished to assume the responsibility of the rearward six. The team's offensive thrust thusly resembled a 4-2-4 absent a reliable distribution pivot. Gladbach easily caught the two out on counters.
As laterally balanced as the Leipzig attack may have been, build ups were far from organized. One had the sense that a great deal of stamina went wasted on chaotic presses. Adams' muscle memory often saw him lurch right whilst Sabitzer neglected the under tuck. The time may come when this duo learn better coordination. It wasn't anywhere close to good enough on this day.
Dani Olmo's frenetic crowding
The Spanish attacker bore his share of responsibility for the 4-2-4 charges. Olmo too often tailgated his lead striker. Yussuf Poulsen saw his ten operate on his heels instead of at a useful distributive distance. Unable to slow his roll, the 22-year-old snuffed out a number of promising drives by turning the advance into a muddled cluster. This transpired on occasions too numerous to count.
Upamecano's first half
It was awful. We'll lead with that simple statement. The Frenchmen tracked very poorly, lacked the focus to time the vast majority of his tackles, and wandered lost into the axes above his assigned place, and, as a result, committed a number of tactical fouls. It hand been some time since the new Bayern signing shared a space with Willi Orban. Upamecano's instincts appeared to fail him when it came to working a pocketed, non-pivot position.
Rose put forth a more polished concept.
Lineup—Borussia Mönchengladbach—Match 23 (3-5-2)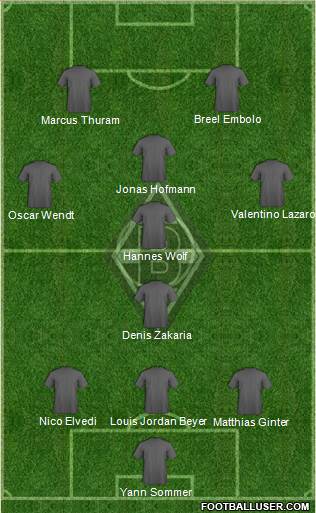 Dealing with his own injury (Stefan Lainer), Rose actually constructed something very clever. Louis Jordan Beyer made his first appearance of the season as the centrally deployed defender. The 20-year-old debutant found himself assisted by layers of extra support in the system built around him.
A very tight back-three with an advanced sweeper
The three defenders in the chain stuck closely together and only advanced as a unit. It actually proved rather difficult to ascertain which one occupied the middle slot. This was obviously by design; an inherent directive outlined to ensure that Beyer wouldn't get caught out. Problems would eventually arise when the youngster received individual marking. We shall see how that developed further on.
One might wonder how this constellation could find such success with such gaping spaces behind the wingers. The answer lies in a second tightly clustered trio; this one deployed vertically. Denis Zakaria did a fantastic job as the main sweeper, yet could rely upon Hannes Wolf and Jonas Hofmann to drift back and cover his ground should play coax him forward.
Wolf as the decoy
To be perfectly honest, this analytical stroke might be a tad generous. Wolf remains a player who always fits oddly into whatever shape this team lines up in. It's been this way since the beginning of the season. Assuming that the Austrian had some clearly articulated defensive responsibilities in this one, he did a fair job of executing them. In any event, he was rarely spotted past the half-way line. It stands to reason that the Gladbach trainer thought up a clearinghouse role for him instead.
Match Flow: 1st to 6th minute
The opening minutes were absolutely shot out of a cannon. The Saxon hosts got the better of the early back-and-forth with Marcel Halstenberg breaching the Gladbach lines in the 3rd. Yann Sommer cleared the ensuing corner with a dramatic punch. Sabitzer held the ball up well on a several advances whilst Tyler Adams had a bit of difficulty marking Breel Embolo and Marcus Thuram on breaks the other way. The American didn't count on there being two full strikers in the fohlen set-up.
Embolo got past everyone in the 5th and a flustered Upamecano got a bit too physical trying to stop the Swiss attacker near the touchline. What appeared to be a very soft penalty on the initial watch was later revealed to be a solid call when one reviewed the tape. RB keeper Peter Gulacsi guessed right, diving to his left to stop Hofmann's ground shot. Unfortunately, the net minder with the Bundesliga's most clean sheets bungled the hold and the ball found the back not the net.
Match Flow: 6th to 13th minute
Determined and not observably rattled after the opening goal, Leipzig kept it pacey in search of an equalizer. Halstenberg again punched through in the 8th and struck a fabulous effort that Matthias Ginter had to clear off the line. Sabitzer tried one of his trademark rhyming "howitzers" in the 10th, only to be blocked. Sommer looked as shaky as his goalkeeping counterpart in the 11th when he spilled a Willi Orban header onto the turf in the 11th.
Adams executed a smart forward collect just outside the danger area in the 12th. Finding too many options, many of which were offside, in front of him, the New Yorker eventually had a go himself. Sommer remained alert enough to stop the fine distance effort. Rose's men were under constant bombardment during this uninterrupted spell of pressure. Their better practiced preparation would nevertheless become apparent in the next phase.
Match Flow: 13th to 19th minute
The foals settled in for some effective spread possession. Leipzig's edge was efficiently blunted during some highly praiseworthy "keep-away" stints between the 13th and 16th. Competent "match-flow-braking" of this nature often goes unnoticed. The NRW-visitors truly deserve massive credit for taking their energetic hosts down a level with such practical cooling. A review of those three minutes is highly recommended for anyone who cares to appreciate the subtle art of the damping an intensely charged opponent. It worked perfectly.
In terms of their own attack, the foals had to get it wrong before getting it right. A pair of busted cycles in the 18th and 19th weren't necessarily very pretty. The team maintained their steely reserve and produced an exemplary team goal in the 19th. Zakaria surveyed a Leipzig wave perfectly, stepping up at the right moment too win a midfield ball. The sweeper then sent Valentino Lazaro through with an excellent vertical. Lazaro lofted the simplest of crosses to an unmarked Embolo. Unmarked, the Swiss attacker didn't need to rise to send a header toward goal. Thuram directed it in with his shoulder.
Match Flow: 19th to 38th minute
Having gotten off to a furious start with wild momentum swings, the fixture reposed into more of a repeating pattern. Contrary to what one might expect, the team falling behind by two goals continued to supply much of the action. Many will surely agree that Leipzig dominated the play for much of the next 25 minutes. The aforementioned issues with the shape still precluded Nagelsmann's crew from generating many legitimate scoring chances.
Adams and Christopher Nkunku failed to find the right services in the 22nd and 24th respectively. Olmo and Justin Kluivert committed the cardinal sin of going down too easily in the box in the 21st and 26th. These counted as spurned opportunities; one in which the players looked to the ref instead of eyeing the back of the net. Sommer punched clear another RB chance in the 27th. Ginter cut out the final through ball for Poulsen in the 28th.
The league's best defensive unit mostly kept Gladbach at bay, though Upamecano let Embolo slip past him on a couple of occasions. Olmo teed up Sabitzer for the next major scoring chance in the 32nd. The Austrian didn't get the timing of his trailing run right, however. Struggling to catch up with the cutback, he could only drill well over. Poulsen set up Olmo in space three minutes later.
Again, the Spaniard went to ground far too easily. Match official Manuel Gräfe ordered him up immediately. Despite all of the offensive prowess, the Saxons didn't seem too keen on earning their tallies on this day. There were far too many flops. Kluivert remained on his feet to challenge Sommer directly in the 37th. Gladbach's Swiss mastermind halted him with a breathtakingly timed crunching tackle away.
Match Flow: 38th to half-time
Shortly before it was time to head into the tunnel, the foals managed a few chances of their own. Upamecano won his first ground challenge of the match with a vital stop of Embolo in the 38th. Had the Frenchmen not finally found his bearings, it's quite possible he would have been subbed off at the half. Zakaria dazzled everyone with a scintillating solo run in the 39th. Nkunku had to time his challenge perfectly to stop Thuram after Zakaria supplied the out-swinger.
Hofmann put an opportunity to put the game to bed at 3-0 in the 40th. Frustration boiled over for the hosts at this point. Sabitzer earned a booking for a nasty elbow in the 41st. Upamecano would also see yellow for a tactical foul on Embolo two minutes later. In-between the two disciplinary stoppages, Sabitzer, Poulsen, and Olmo were made to look silly with a slow, plodding, and uninventive drive that allowed Gladbach to get seven players back into the box.
Fatigue finally manifested itself in the final five minutes of the opening act. Hofmann missed another shot at the 3-0. This time he couldn't be faulted. The German international blasted a beautiful spinning tomahawk at 45+4 that Willi Orban only stopped from bulging the back of the net with a crucial deflection. Presumably it was this final play that boosted Gladbach's snapshot xG to 1.2. Leipzig finished the half scoreless at 1.0. One could tell that this one was far from over.
Match Flow: 46th to 63rd minute
A new shape and at least one personnel change were required if Nagelsmann hoped to mount a comeback. It's worth re-emphasizing that the hosts had played the more consistently productive football. It came as a surprise to see the teams in a dead heat insofar as the xG was concerned. It certainly felt as if Leipzig created far more scoring probables than their opponents.
Another surprise came in the form of the RB trainer's single substitution. Sabitzer remained in the dressing room whilst Alexander Sørloth checked in from the sideline. That there would be a two-striker-set wasn't a mystery. The true question revolved around who, if anyone, would partner with Adams in midfield. Nagelsmann had something special in store for us.
Lineup—RB Leipzig—46th minute (4-2-2-2)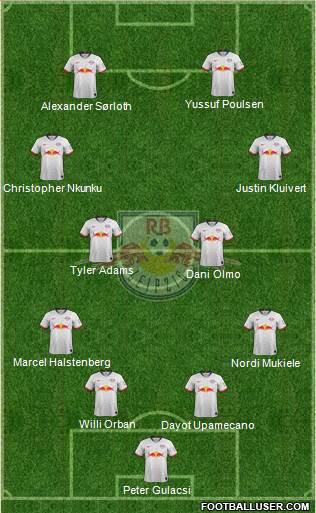 Look familiar? Nagelsmann dusted off his old 4-2-2-2 from last season. Of immense importance, Sørloth occupied Timo Werner's old spot. Olmo received clear instructions to play further behind and fasten himself to Adams. It also seemed as if Upamecano skirted right as well; a well-tailored piece of minute instruction aimed at snapping the central defender back into a bit of focus about his positioning.
It took a few minutes for everyone to adjust themselves to this radically different approach. Several attacks between the 46th and 50th habitually tried to bulldoze the center. Such was the case on Sørloth's disallowed goal in the 51st. The Norwegian hadn't quite gotten his wider role established when a ball ricochetted off his hand from close-range. Poulsen, on the other hand, occupied his rightward lane wonderfully.
The Dane got off a ferocious effort in off the turn in the 52nd. After a mutual lull lasting approximately four minutes, Adams located Sørloth on his leftward lane in 56th. The play ended up going nowhere, but they got it going again less than a minute later. Nkunku crashed in to receive Sørloth's cross from the left, perfectly squaring his body to finish cooly past Sommer. Leipzig had their opening goal.
Decent attacks between the 57th and 60th saw the two RB strikers receive passes in their proper lanes. Nkunku came closest latching onto the most promising vertical on an overlap play in the 60th. Adams nearly had Sørloth through again in the same minute. Gladbach forward remained limited to counters. Hofmann did poorly with one in the 52nd. Thuram had much better prospects in the 61st. Upamecano his countryman down with an inch-perfect intervention.
Suddenly clinging to a one-goal-lead, Rose had to respond. His initial plan was getting crushed. The 44-year-old trainer readied a triple substitution. Ramy Bensebaini, Christopher Kramer, and Florian Neuhaus replaced Thuram, Hofmann, and Nico Elvedi.
Lineup—Borussia Mönchengladbach—63rd minute (5-4-1)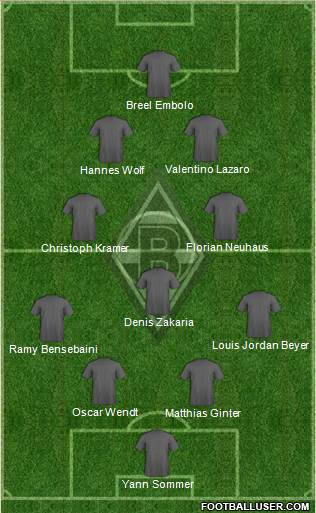 Rose shelled up in an effort to protect his lead. This proved quite the radical shift for the team to internalize. As often debated in football tactics circles, sometimes overly detailed instructions can truly throw a team off. One asks a lot of players surging with adrenaline when one orders a complicated cognitive switch. That isn't to suggest that this wasn't a brilliant idea in its own right. It just didn't work.
Match Flow: 63rd to 77th minute
Inserting a pair of cold sixes carries with it its own risks. As one can see in the illustration above, an inwardly focused triangle just ahead of Kramer and Neuhaus are meant to protect them. Furthermore, the sweeper stays locked in and the fullbacks remain back. Olmo and Adams nevertheless maneuvered their way past these protective protocols with ease.
Though the Leipzig midfielders sometimes ran short of options when confronting five men stationed inside the 18, they encountered little trouble when pitted against the fohlen midfield. RB's sixes were already warm and had played themselves into form. Die roten Bullen pushed their overall second-half possession statistics to nearly 70 percent around the 65th minute.
In the 66th, everyone advanced as a unit in a splendid group press. Poulsen's eventual finish had little to do with this nifty collective action. One could still say that the Dane's confidence in peeling off an effort from that distance reflected a complete 180-degree-shift in the team's body language. Nagelsmann's men felt increasingly confident and progress together with a palpable sense of steely determination.
After Poulsen supplied the shock-and-awe equalizer, the new 4-2-2-2 kicked into an even higher gear. With a completely changed demeanor, Upamecano even joined the forward charge on some assaults between the 67th and 71st. Olmo unleashed a scorcher in the 72nd and Kluivert's beautiful curled effort after Sommer's magnificent save didn't miss by much. The match continued to heat up into an unconditional cracker.
The Saxons poured the pressure on via all angles. Nagelsmann might have noticed that the attacking waves, while not exactly flagging, were descending into more easily defended traditional triangle-builds around the 73rd. Hence, it was time for a creative additional. As it so happens, the RB trainer had the trump card known as Emil Forsberg up his sleeve. The Swede came on for Kluivert in the 76th. What an introduction it was.
Match Flow: 77th minute to full-time
Before getting to any of the tactical ramifications, we'll note that Forsberg's first touch of the ball came on a free-kick. The 29-year-old sub strode up to take the set-piece with nary a glance at the wall or the corner. Despite barely surveying what lay before him, he struck one of the most gorgeous benders just over the wall one will ever see. Sommer somehow scrambled it away at the goalmouth. How in the world the Gladbach keeper stopped it remains beyond this writer.
Even before the new formation became apparent, it appeared as if the German Red Bulls would be invincible with Forsberg on the pitch. Once the constellation settled, it seemed inconceivable that the RB wouldn't find a way of winning the match. What ultimately emerged should strike fear into the heart of every other Bundesliga trainer with Leipzig left to face.
Lineup—RB Leipzig—77th minute (4-3-3)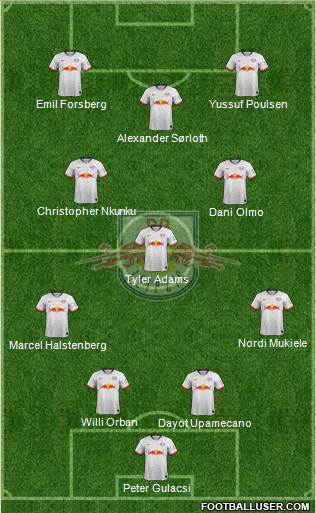 This is as brilliant as it is devastating. It shouldn't be long before journalists find a name for that brutal top attacking axis. This writer improvises the "Scandinavian Super Friends", though "Scandinavian Axis of Evil" also has a nice menacing ring to it. To review, we've got a Dane and a Swede working the wings while an absurdly tall Norwegian serves as the false-nine. Ironically, these Norse raiders play for a German team known as "the Saxons".
Nagelsmann's suddenly has an true means of delivering the knock-out blow late in the match. Something like this rivals what, until this weekend, had been Adi Hütter's sure-fire way to put an opponent on the canvas. Rose's own plan for this fixture's stretch run had long been formulated before the RB trainer put his forward. The final two Gladbach subs were already waiting on the sidelines not long after the Saxons equalizer. Rose reversed the protective arrangement and went for the win. Lars Stindl and Alassane Plea replaced Zakaria and the completely exhausted Oscar Wendt.
Lineup—Borussia Mönchengladbach—79th minute (3-4-3)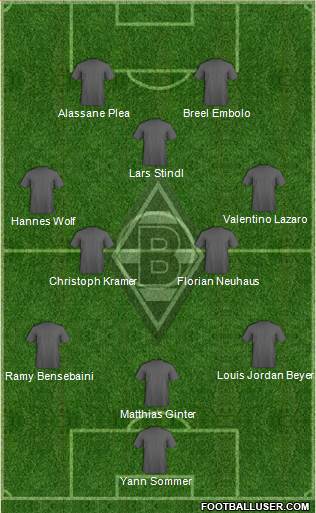 Well. If the previous shift qualified as something too mentally taxing, this one was destined to fail in the final phase of a high-energy match after which everyone was exhausted. Much like the other two formations used in this match, it's an adroit little draw-up. It reminds one of smart re-jigger one might use to beat a friend late in a video-game match.
Alas, reality is not the EA Sports FIFA Franchise. In theory, this works. In practice, a a back-three consisting of two players who already undertaken too many directional shifts in a grueling encounter proves a bad idea. The "Scandinavian Super Set" devoured this. Poulsen forced Sommer into another physics-defying save in the 83rd. Olmo should have slammed the winner home, but put the rebound over.
Poulsen barely missed a ball lofted to him at the far post in the 87th. Sørloth came within millimeters of the perfect strike in the 89th. Forsberg's first touch was just a bit to heavy at 90+2. Finally, at 90+3 Forsberg worked a ball to Nkunku and the Frenchman whipped back a quick cross that a crashing Sørloth finished with an immaculate header. Forsberg also had an additional goal disallowed at 90+6.
Whew. Wow. What a match. Thrilling right up to the finish. This week's single-match review section couldn't help but run long by even its own standards thanks to a perfect embodiment of what Germans call the "Topspiel". RB's young-gun trainer has so much more than three points in the pocket after this one. He also, for the first time this season, has a functional attack that clicks.
Even though the gap between Leipzig and Bayern (two points) remains the same as it was last weekend, it's only after this round that we can justifiably say that we have a title race this year.
---
Concluding thoughts: Schalke and the Bundesrepublik
---
In what has become a weekly check up on the COVID situation in the Bundesrepublik, a deliberate effort must be made to strike a more optimistic tone than last week. This must somehow be done in spite of the fact that every last statistical metric has worsened over the last seven days. The national number of new corona cases per 100,000 inhabitants rose to 64 from 60 last week. The average number of daily infections rises by roughly 1,000 to over 7,200.
German districts falling below the RKI stabilizer of 35 daily new infections falls from 67 to 40. The number of patients fighting in intensive care units remains steady. Immunizations barely budge. An estimated 4.63 percent of the German public has now been inoculated. That's not even one percent higher than the total from last Sunday. Contrasting these figures with those reported on last week, one can clearly see that the country is essentially faring worse with time.
Something like this means that domestic Bundesliga fans, much like Schalke, must raise the flag of surrender and start thinking of next year. The latest Geisterspiel Era will not draw to a close before this season is out. There may be a title race, but no one will be able to watch it live. Saddening though it may be to concede that one's country has collectively come up short, there's a certain liberation in at least knowing that a bad outcome is certain. One can accept the truth, dispense with the blame, and move on.
With all that in mind, we'll close the discussion of fans potentially returning for the time being. There still mathematically remains a way back for both Germany and Schalke, but it's just been a lousy year.