A massive weekend for catching up with full-colors here on the profile website. We've no fewer than seven of the Bulinews hot-sheets to get through insofar as the tactics column is concerned. Onward we march to a full-color look back at the goings on in the Bundesliga during round 23. Although it wasn't exactly a "title-race-revival" moment for Germany's Schwarzgelben, Dortmund enthusiasts got a chance to taste something pretty sweet on this matchday.
As subdued as he seemed about it at times, "captain fantastic" was out in force for the BVB. An astonishing two tallies and three assists in the "Battle of the Borussen." A pity that injury issues have prevented us from seeing the German footballing hero in action. Oh well. His historic performance can always live on in the re-post pages.
Bravo, "Captain fantastic"!
---
Bundesliga Tactical Banter: Round 23
---
Fassnacht Goal Festival
With the possible exception of round three, there may not have been a more brilliant Friday night curtain-raiser than what we witnessed between Mainz and Leverkusen on a colorful Fassnacht in the Pfalz. Before even getting to the action of the pitch, how about those costumed Mainzer supporters? The stunning 3-2 comeback victory from the hosting Rheinhessen may have served as the perfect advert for the Bundesliga, but seeing all those Alemannic Germans decked out in their carnival attire works as an invigorating advertisement for life in general. After nearly two full years of cold isolation, it returns!
Danke schön, Pfälzer!
Before the vibrant (if not still sadly reduced) home town crowd of 10,000, Bo Svensson's Nullfünfter went about their business well against German football's hottest side. Mainz midfielders Anton Stach and Dominik Kohr kept Alemannic prodigy Florian Wirtz at bay throughout much of the first half. When the teenage magician couldn't be contained by two midfield markers, M05 attackers Jae-Sung Lee and Jonathan Burkardt were back helping. It nevertheless took only one missed slide tackle from Stach and an unfortunate deflection off otherwise stalwart captain Moussa Niakhaté for Patrick Schick to give Leverkusen the lead in the 35th.
Something of a narrative began to take shape. The narrative of this electrifying affair simply stubbornly refused to adhere to anything during a wild second have. Spanish wingback Aaron Martin might have been the hero after he put Mainz in front with two set-piece goals in the span of three minutes between the 57th and 60th. The latter tally was disallowed, however. Just as we saw last week with Deniz Aytekin last week, a normally solid match official made a ball call thanks to VAR overreach. Benjamin Cortus falsely scrubbed off the 2-1 based on a Niakhaté offside despite the fact that the Mainzer captain wasn't interfering with the play.
Would bad officiating be the story of this one? Not quite. Lucas Alario–who had come on for the injured Schick at the half–put the guests back in front in the 74th. Perhaps that would be the story of this one. After a spirited display in the second 45, Mainz were deflated by Gerardo Seoane's depth at striker. It certainly seemed the Argentine's goal put a neat little bow on proceeding. Not to be. Seconds after the MEWE Arena P.A. announcer implored the spectators in attendance to throw everything behind their team, the home side responded. Jean-Paul Boetius equalized off a long throw in the 83rd. Marcus Ingvartsen snatched the winner in the 88th off an impassioned flurry in front of Lukas Hradecky's goal.
Wow. Not much else to say.
Danke schön, Pfälzer!
Wind from the Sails
Just about the only thing that wasn't perfect in the capital of the Palatinate on Friday night involved those crazy late Winter Pfälzer gusts of wind. Insane how crazy they can be at this time of year. It counted as a legitimate miracle that the two teams contesting the match put forth such a skill-filled show. This columnist never figured out how to strike a dead ball against a headwind. The spectacular FSV set-piece taker Aaron Martin managed it all night. Incredible stuff.
As the reader can likely surmise, there's a segue brewing here. Since Wolfsburg shocked us all by and Danish striker Jonas Wind on January transfer deadline weekend, German football writers have been looking for an excuse to work a play-on-words into some reportage on Germany's green company team. Wind finally got his debut goal for the WOB against Hoffenheim over the weekend. Some tally it was, too!
The 23-year-old Danish international initiated the play with an amazingly slick back-heel trick out to fellow club addition Max Kruse in midfield. The German striker found himself in loads of space central thanks to the crafty bit of skill. Maximilian Philipp sensed the play develop splendidly and and Wind followed to receive the cross and score his maiden Bundesliga goal with a sharp 36th minute finish.
Kruse and Wind piled on the chances for the duration of the first half. For a moment there, it looked as if there might truly be something to Florian Kohfeldt's (unchanged from last week) 3-4-3. Just for a moment. The offensive engine shut back down after the restart. Wind's fellow Dane Jacob Bruun Larsen eventually ensured that that the milestone wouldn't count as the game-winner. For that matter, few shall recall Wind's artistry after Bruun Larsen's  spectacular overhead kick.
Shortly after Bruun Larsen's equalizer, Kraichgauer stars David Raum and Andrej Kramaric ensured that Wolfsburg wouldn't win or even take a point from the match. Kohfeldt's crew went down 1-2 at home to the visiting Sinsheimers. Back to losing ways for Jörg Schmadtke's Lower Saxons after a two-match-winning-streak gave them a small cushion from the relegation pack. Yikes. Four tough weeks ahead. The danger of a €250 million disaster hasn't been averted yet.
Suttgarter Stumbles
Speaking of bad teams who simply can't help sliding backwards, our old pals the Württemberger Swabians are back doing what…well…what one generally expects Swabians from their particular locale to do: trip over their own feet at the last possible moment. Pellegrino Matarazzo's VfB were all set to snap a seven-match-winless-run until Konstantinos Mavropanos swiped VfL Bochum's Sebastian Polter's legs from underneath him in the box at 90+3. Last week's Bayern beaters are now on their own three-match-unbeaten streak thanks to their 1-1 draw.
Stuttgart are still in the automatic relegation dumps, three points off the relegation playoff place. Hmmm..how do we explain this one away? Not easily. A hard luck injury forcing Silas off in the 20th doesn't have much relevance. Omar Marmoush–definitely buoyed by his successful stint away with Egypt on AFCON duty–generated his fair share of pressure, yet missed too many chances. So too did Mavropanos himself, who can have little cause for complaint about the penalty call.
New Portuguese acquisition Tiago Tomas mostly went M.I.A. Squad captain Wataru Endo needed to do a better job both with his own finishing and direct feeds to the wingers. The team didn't score at home again, relying on an Armel Bella Kotchap own-goal to get on the scoresheet. Matarazzo's men stood tall defensively, but really lose some forward impetus with Borna Sosa relegated to a traditional fullback tole in a back-four. Hmmm…Hoffenheim, Gladbach, Union, and Augsburg. A tough four weeks ahead for this sputtering club too.
---
The "Spiegel Specials": Round 23
---
Bielefeld-Union (0:1, 1:0)
A perfect mirror! We might as well discuss both teams here. Urs Fischer's cooling Eisernen first. This definitely isn't the Union we were discussing back in round six. In point of fact, the Köpenickers haven't scored a goal since Max Kruse left the club. Everyone was expecting something of a transitional downshift after the talisman unexpectedly departed, but goalless losses to Augsburg, Dortmund and now Bielefeld raises alarm bells.
Lineup—Union Berlin—Match 23 (3-5-2)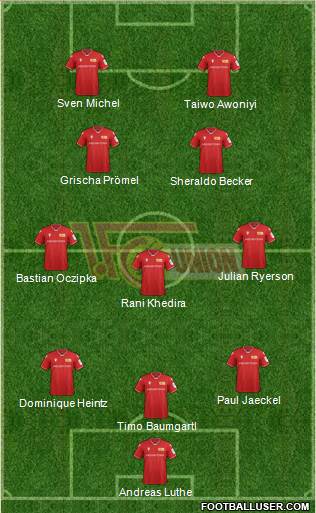 Thus far, the Union trainer's plan revolves around the respectable enough "if it a'int broke" maxim. We're still in the regular 3-5-2 "double stack", albeit with a few very slight positional modifications. One labels this straightforward plug-in approach as "respectable" in that Fischer does possess enough offensive weapons to ride along with his established tactics. It worked just fine during Kruse's prolonged injury absence last year.
Quite a bit was noticeably wrong with the day's tactics, however. Paul Jaeckel, stationed on the right side for the first time in an Eisernen tricot, seemed to have great difficulty with his defensive assignments. Julian Ryerson wasn't much better. On the left, an attack specifically designed to hit Sheraldo Becker on switches proved a tad too slow to really make it count.
It should be called into question whether Grischa Prömel, Bastian Oczipka, and Dominique Heintz cycle-outs should have been the plan for the day at all. That trio would foreseeably have their hands full with Bielefelder Austrian sensation Patrick Wimmer. The DSC winger danced around the markers on his flanks with ease. Finally, Wimmer managed to unlock Masaya Okugawa with the right pass on the opening goal in the 53rd.
Both Jaeckel and Oczipka looked awful on the play. It was only a matter of time before that inverted back-three buckled and broke. Four minutes after the Arminia goal, Fischer took advantage of an injury to Heintz to quickly switch to a back-four. The re-format was quick enough so as to give the impression that it was planned all along.
Lineup—Union Berlin—58th minute (4-2-1-3)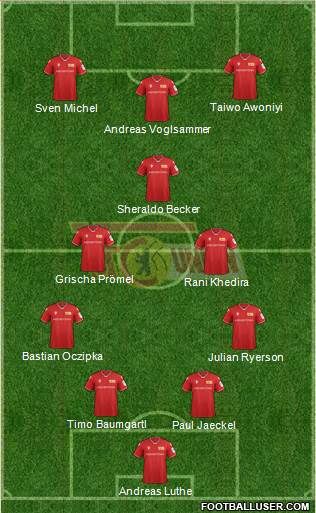 Presumably, the idea was to give ex-Bielefelder Andreas Voglsammer a go against his old team at some point. The veteran actually has turned in a lot of quality football during 22 league appearances this season. No shortage of weapons on the top axis and the back-four did a decent job of steadily pushing deeper into their opponent's territory. Awoniyi got off the best chance in the 66th, but DSC Stefan Ortega Moreno was quick witted in preventing the equalizer.
One had to like how this construct kept up the pressure down the stretch. Later substitutes Kevin Möhwald and Kevin Behrens even got their looks in during injury time. This roster certainly maintains the depth to still produce goals. New acquisition Sven Michel shall surely break through at some point. Awoniyi cannot slump forever either. This section's first-ever "mini-prognosis" continues to assert that European club football remains possible for the Köpenicker. Probably Conference League, but that counts all the same.
On to "the Teutoburgs"
Lineup—Arminia Bielefeld—Match 23 (4-2-3-1)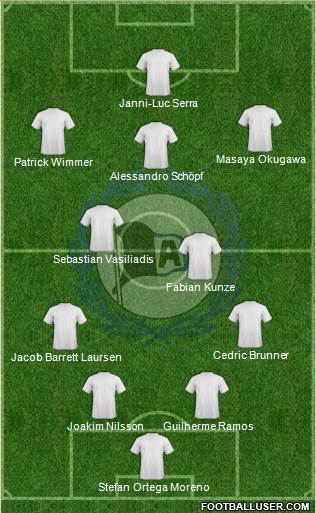 Very clever of Frank Kramer to stagger Fabian Kunze and Sebastian Vasiliadis in the manner he did. This yielded optically strong football throughout the first half. The DSC didn't exactly look the biggest scoring threat, yet always preserved a direct line to Wimmer. Once the East Westphalians attained the lead, Kramer barely had to oder a shuffle. Kunze simply slid underneath to play centralized sweeper. Like-for-like subs then freshened up the ranks.
Prognosis: Kramer's close shave
Intelligent personnel calls like the one made by head-coach Kramer on this day are precisely the reason why club sporting director Samir Arabi opted to dispense with previous trainer Uwe Neuhaus nearly a year ago. Veteran midfielder Gonzalo Castro and Germany U21 international Amos Pieper were benched despite playing well last week.
Two new actors (Kunze and Guilherme Ramos) connected better with the wingers on the training pitch this week. That, at least, is one plausible explanation. It could have also been a defensively minded shift. Although his attack doesn't always live up to its potential, Kramer knows how to rotate personnel at the back. No other Bundesliga team has kept as many clean sheets as Bielefeld over the past twelve months in the league.
A total of 15 games without conceding a goal. Thirty-nine points from 33 games. Of the seven top flight sides currently deemed to be in the relegation fight, Bielefeld (at minus seven) have by far the best goal differential. Hertha, Augsburg, Stuttgart, and Fürth come nowhere close. That could prove to be the difference once all 34 rounds are played.
It's going to be close shave. Despite the fact that Wimmer, Okugawa, and Fabian Klos have twelve goals among them, there's not much going on scoring-wise in the rest of this team. Janni-Luc Serra and Bryan Lasme are beginning to wake up. They must revive and rally quicker. Three points above the relegation playoff place isn't good enough.
A close shave indeed. Kramer knows all about that. The DSC gaffer has been tending to that somewhat irritating thin soul patch/flavor savor/Mugabe dirt on his chin since the Düsseldorf days nearly seven years ago. Honestly. Who sticks to a facial hair style for that long? Perhaps a man content to always keep it close. The Teutoburgs appear candidates to narrowly avoid the drop, just as Kramer narrowly tends to the hair beneath his lower lip.
Köln-Frankfurt (1:1, 1:0)
What. An. Absolute. Dud. From a reverse fixture that made one shout to the heavens about the glories of football to a Saturday evening "Top-Spiel" that sent one directly to sleep. Not much energy at the RheinEnergieStadion in Saturday's late kickoff. In stark contrast to what we saw in September, two potentially exciting teams were nothing more than milquetoast. Yawn.
Steffen Baumgart's Geißböcke–lining up in a 4-4-2–lorded over much of the possession, managing next to nothing anyway without lead striker Anthony Modeste. Even when the team's leading goalscorer came in off the bench, the attack remained disjointed. The Frenchman ended up scoring the game-winning goal six minutes from time. Prior to that, he was a non-factor.
And as for Frankfurt's tactics, it's difficult to see what Oliver Glasner was going for here:
Lineup—Eintracht Frankfurt—Match 23 (3-5-2)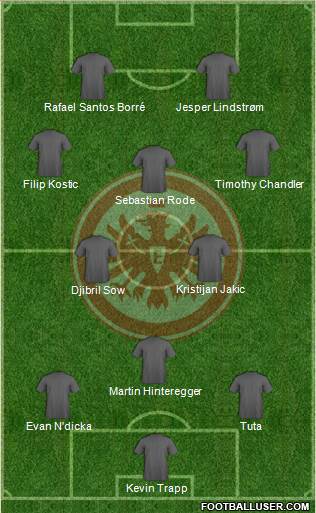 Some experimentation from the SGE trainer. Glasner opted to deploy captain Sebastian Rode about as far afield as we've seen the former Dortmund man in many years. At times Rode kept a pretty tight axial line with Filip Kostic and Timothy Chandler, suggesting that his role wasn't really that of a ten. Jesper Lindstrøm definitely moved up alongside Rafael Santos Borré in a two-striker set. This seemed poorly thought out.
The objective might well have been reducing the type of errors we saw from Lindstrøm last week by getting him up to a target role. If removing Daichi Kamada from the equation also served this purpose, it constituted a pretty drastic move. Glasner showed a great deal of faith in the out-of-form Martin Hinteregger–whom the Eintracht coach diagnosed as being in an overthinking funk over the course of the week–by letting the Austrian run an advanced pivot.
This all functioned very sloppily. Lindstrøm had another poor match. Borré appeared a bit crowded out. Timothy Chandler–back in the lineup after Danny da Costa got a run-out last week–never truly got on the same page with the returning Filip Kostic. Köln dominated possession in large part due to the obvious space one can see behind the top two axes in the graphic above. Shocking that it took Köln 84 minutes to fully exploit this gap. In hindsight, the result was not at all unexpected.
Prognosis: The damned moody diva
After the rollicking end to calendar year 2021, the German Eagles simply can't seem to take flight in 2022. Long-time SGE enthusiasts will naturally shrug off what shapes up to be a second consecutive year of a blown chance to qualify for the Champions' League as a way of life in the Bundesrepublik's commercial capital. So it goes in Hessen. The club didn't earn its famous nickname by accident.
With only four points from six rounds in the new calendar year, it becomes very difficult to see how Eintracht can even hope to make up ground in the UCL race now. Bayern can plunge the team into a certified crisis next week. At present, only one last European place remains available. After the next matchday, the SGE could find themselves nine points behind six other candidates vying for it.
Yeah. That about wraps up the European dream.
It ended with a whimper.
---
The Burning Questions: Round 23
---
Are Freiburg back on the European Course?
Christian Streich's Breisgauer certainly looked better than they did in their last two fixtures, for whatever that's worth. The SCF gaffer made a pair of bold lineup choices, giving "super-sub" Nils Petersen the go from the start over Lucas Höler. Streich also (perhaps arbitrarily) decided Saturday was the day to finally allow Jonathan Schmid back into the starting XI after six long months since his bout with lingering COVID symptoms. The formation looked to be a staggered 4-4-2 with Woo-Yeong Jeong working as a slanted service striker behind Petersen.
Talk about immediate results. Beautiful combo play out of the right enabled right flanker Roland Sallai to cross in for Petersen in the 4th. Jeong very nearly had the advantage doubled four minutes later. Those of us rooting for a unique Champions' League aspirant were very pleased to behold a squad playing with more confidence than witnessed in weeks. Before we could get too excited, however, Nico Schlotterbeck and Nicolas Höfler totally blew their markings and allowed Augsburg to score against the run of play. The latter just can't seem to avoid disastrous concentration lapses in defensive midfield.
Schlotterbeck ended up redeeming himself through a coincidence shortly thereafter. FCA keeper Rafal Gikiewicz's mistake gifted him the 2-1 in the 26th. One honestly thought that there would be more goals to come, but the Baden guests rather disappointingly pumped the brakes. Jeong, Petersen, and Höler (off the bench) later squandered opportunities to extend the lead deep into the second half. Substitute Ricardo Pepi nearly helped the Fuggerstädter snatch the equalizer at the death. This proved a narrow away win for Freiburg. At least they snapped a three-match away winless streak.
Phrew. With Hertha and Bochum ahead, the possibility of a nine-point run exists. Unfortunately, too much inconsistency has already led to too many points being dropped. One just can't trust this incarnation of the team. Those of us who saw a potential title run in Freiburg's undefeated start to the campaign through ten rounds must fully acknowledge how wrong we were. Third-place at the halfway point of the season also led the rosier prognostications astray. The columnist capitulates. A mid-table finish for a regrettably mid-table squad.
Were Bayern ever in any real danger?
One would have to say no. Though the fact that visiting Fürth shot out to a 1-0 halftime lead certainly quieted the crowd of 25,000 at the Allianz Arena, the final outcome of the Bavarian derby never really seemed in any doubt. The visiting Middle Franconians weren't even playing at an especially brisk pace during the opening half on Sunday. Captain Branimir Hrgota's free-kick goal came off a deflection. As a result, the SpVgg went ahead of the FCB despite a (in all seriousness) 0.1 halftime xG.
Just like last week, Julian Nagelsmann switched to a three-man back line at the break. Left fullback Omar Richards made way for Eric Maxim Choupo-Moting and Robert Lewandowski got a little company in a 3-5-2. Before one could even properly assess whether the tactical change made much of a difference, Bayern were able to restore parity with a typical FCB "brute force" Lewandowski goal in the 46th. A team with this depth of talent doesn't need to play purposefully heading forward. They just need to crowd the box.
After a random Thomas Müller effort deflected in off Sebastian Griesbeck to put the hosts ahead 2-1 in the 61st, Stefan Leitl's Kleeblätter were able to muster up a very brief response between the 64th and 71st Max Christiansen saw the potential equalizer carom off the post in the 67th and Hrgota headed just over less than a minute later. In-rushing defender Marco Meyerhöfer also hit the bar at the tail end of the spell. After that, it was pretty much just Bayern doing Bayern things. One could have forecast that to happen eventually even before kickoff.
How long were Hertha able to fight?
About an hour. Sunday counted as a day of high scorelines with some significant storylines buried underneath. Hertha head-coach Tayfun Korkut had to cope with a number of COVID-related absences, yet was still able to build a serviceable 4-3-3 anchored by Santiago Ascacibar on a centralized defensive midfield pivot. The Argentine was flanked by Lucas Tousart and Vladimir Darida. Working his own suppressed pivot on a vertical axis pairing with Ascacibar, it was Stevan Jovetic at false-nine. Isak Belfodil and Marco Richter flanked the Montenegrin.
This arrangement struggled against Domenico Tedesco's modified 3-4-3. Visiting Leipzig produced elven shots on target to Hertha's three in the opening 45. A 1-0 RB lead at the break still seemed somewhat askew as Richter and Jovetic were able to get their looks in too. Jovetic equalized shortly after the restart and arguably should have put his team in front with a pair of chances in the 50th and 54th. Once Marc Oliver Kempf received a straight red and  conceded the penalty in the 64th, there wasn't a single positive to behold from the Charlottenburgers as Leipzig ran up the score.
Not a lot of positives to take from a humiliating 1-6 defeat. Jovetic played well, but is injured yet again. With such a tough stretch ahead, some German footballing enthusiasts are definitely rethinking our customary "February Promise". Naturally, when discussing relegation, one must always take the number of other bad teams in the league into account. Even that calculus takes a hit. Augsburg and Bielefeld are unequivocally better than "die alte Dame". The relegation playoff place looks the most likely prediction at this point.
---
Weekly Tactical Focus: "Captain Fantastic"
---
For the first time in a little while, it seemed appropriate to take a chance on a Sunday match in this column. The return of European club football this week naturally meant that the most interesting action got shifted to the back end of the weekend. Bayern, Dortmund, and Leipzig were all slated for "capper day" fixtures. Seeing as how Dortmund trainer Marco Rose–something of a specialist in proffering "playstation football"–opted to chastise his squad for doing just that against Rangers on Thursday, the good old "Battle of the Borussen" was simply too tantalizing an offering to resist.
Rose faced his old struggling club at home. Such a built-in subplot nevertheless hardly interested most Bundesliga fans. Most of the fascination stemmed from what on earth Rose planned to do tactically with a team so beset by injuries and woefully unpredictable without star striker Erling Haaland when once again called upon (for the 4,175th time this season) to "show a reaction" after an embarrassing loss. Rose and the coaching staff would need to get creative again. Adi Hütter appears to have given up on creativity weeks ago. One honestly didn't expect too much from him.
As everything turned out, we got a great deal of what we expected here. Hütter rolled out an unchanged XI. The BVB took advantage of their soft opponent to bounce back from their Thursday defeat. A high score-line meant that–to the columnist's slight chagrin–we have a "tactical focus" match with a "lid" on it. If anything surprised, it was that it took Dortmund so long to put the game out of the reach of their fellow Westphalians. Not until the 4-0 in the 74th could one truly say that this match was over.
There were several reasons for the late decision. For starters, the fundamental match plan of Rose and staff ran into difficulties when starters Giovanni Reyna and Dan-Axel Zagadou had to exit proceedings in the first half with injuries. Even then, this was a very conservative opening hand:
Lineup—Borussia Dortmund—Match 23 (3-6-1)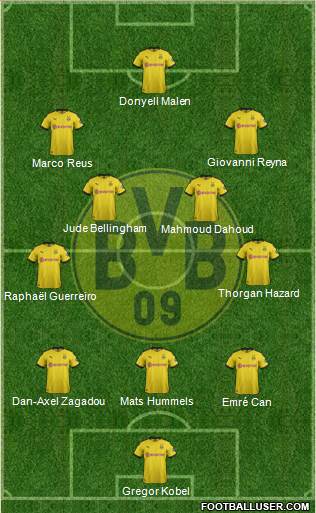 The team-sheet offered possibilities. Once it settled, however, the completely flat nature of the back-three and clogged midfield revealed that the BVB trainer found himself in little mood to take risks. That caused some consternation given the fact that it was obvious enough that Hütter would be debuting with this.
Lineup—Gladbach—Match 23 (3-4-3)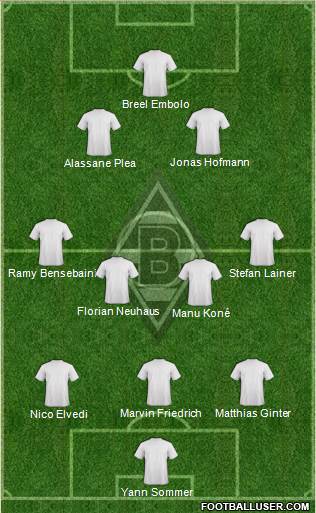 Apparently, the BMG gaffer remains wedded to wingbacks Ramy Bensebaini and Stefan Lainer. They are expected to duel hard out wide in one of the lone remaining forms of offensive impetus this squad has left. Ostensibly, the artistry of Jonas Hofmann must take care of the rest. The German national team makeshift fullback finds himself responsible for any and all creative play in that gap behind the top two axes.
To be fair to Hütter, complex rotative schemes simply aren't possible with a team lumbering along in search of some basic muscle memory. In actuality, the foals performed well in the construct. When their head-coach attempted to switch things up after the half, they eventually crumbled.
Match Flow: 1st to 20th minute
Amid the soppy and soggy conditions at Signal Iduna, we really don't have a particularly pretty football match to report upon. The two constellations collided ion a scrappy midfield stalemate. One certainly didn't envy match official Marco Fritz. Both of these teams were clumsy at best, practically begging the ref to intervene early. Those tasked with adjudicating football fixtures absolutely hate when proceedings start off in such a fashion. When the players make it apparent early that they have little interest in playing fair, a few early bookings can cause a ref to lose control from the outset.
Nothing more than fouls, throw-ins, and free-kicks in the opening three minutes. It wasn't until Florian Neuhaus  opted to try and play through the press in the 4th that either team managed to break into their opponents' third. Neuhaus located Plea, but The Frenchman's final pass into the box was easily intercepted by Hazard. Reus ran a halfway decent counter in the 5th, ultimately sending a through-ball for Malen. Marvin Friedrich did a good job defensively of pushing the Dutchman wide. Malen angled his effort well over.
After a bow-arc build-up, the BVB found their way through on the left in the 6th. A cross in from Guerreiro was inadequately cleared. The ball fell in the vicinity of Hazard and Gio Reyna. Essentially obstructing one another, it was pretty amazing that the American connected. Gio's half-volley shot did force Yann Sommer into a parry away for a corner. Hütter's defended the set-piece easily enough. An endless series of turnovers in midfield between the 6th and the 8th made both teams look totally incompetent. Reyna attained a little space on the right in the 8th. Neuhaus boxed the US boy out.
Between the 8th and 10th, Dortmund were permitted to build with some calm. Hütter's visiting side stood very deep and allowed the hosts too recycle two full bow arcs. There would be no way through, not even when Rose's squad spread the ball around. An uninterrupted passing sequence featuring Hazard, Dahoud, Reyna, Reus, and Bellingham in the 9th produced nothing. Flank penetration on both the left and right flank failed. Emré Can finally frustratingly fired a forward ball to no one in the 10th. The action broke with a goal kick.
In their own possession build, the three BMG center-halves were forced into a retreat in the 10th and 11th. Even when Fritz awarded the foals a free-kick at the tail end of the latter sequence, Nico Elvedi immediately played back to his keeper. One minute later, Fritz had to reach into the box. Zagadou missed a Sommer laugh for Stefan Lainer. In his effort to catch up, the BVB defender hauled the Austrian down. Once the 12th minute booking was confirmed, Hofmann sent in a good service on the 13th minute free-kick. Bensebaini regrettably headed over the bar.
Fritz brandished a yellow in Bensebaini's face in the 14th when, for lack of a better description, the Algerian clotheslined Hazard professional wrestling style. This was turning into quite the ugly match played in the swampy bog of the Signal Iduna pitch. Reyna tried to add some elegance with a couple of nice breakthrough moves in the 15th. Neuhaus once again dispossessed the young American cleanly. To Reyna's credit, he immediately got up to and executed his own flying challenge to tackle away from Koné.
More hard tackles, fouls and slogs for the next two minutes. Nothing much highlight worthy to note, though Hazard and Reyna at least showed showed some initiative forward. Ginter cleared a promising cross from the former. Gio unfortunately found himself whistled down for a suspect offensive foul in the 19th.
Match Flow: 20th to 32nd minute
No one could accuse the match of not being intense. It nevertheless felt as if neither side could get into any sort of a groove. Play was choppy. No actor could really get much of an opportunity to ponder a move whenever touching the ball. At long last, the pace quickened in the 20th. Reus unlocked Malen twith a very clever through at that point. After the BMG defensive trio squirmed the ball away from the BVB attacker, the guests got off a pacey counter stopped only by the fact that Embolo jumped the gun and was ruled offside.
Matters loosened up a bit with both teams making mistakes, Sommer charged up to clear in the ball in the 22nd, but a low hit landed with Guerreiro. The Portuguese directed a skillful arc shot at goal that didn't miss by much. One minute later, Koné took advantage of a BVB passing error out of the back. Keeper Gregor Kobel bailed Mahmoud Dahoud out by parrying an excellent shot out for a corner. The Dortmund net minder had to be very alert on the ensuing corner as well, again sparing his side blushes.
A quick hit response from the Schwarzgelben in the 24th ended when Reyna danced around three markers, but couldn't manage to get past the fourth in Ginter. The brief little spurt threatened to degenerate back into sloppy play with a couple of broken sequences between the 24th and 26th. The opening goal wasn't especially ornate, but did feature some notable skill.
Guerreiro ran the attack out of the back via a very nice give-and-go with Zagadou. The Portuguese wingback furthered for Malen, who showcased his quick release with a brilliant snapshot. Sommer was absolutely powerless against it and the ball fell back for a waiting Reus. Dortmund's "captain fantastic" made no mistake with the finish. 1-0 to the hosts.
The celebrations were short lived as it soon became apparent that Reyna was on the deck and needed immediate attention. The American teenager's pull of his tricot over his eyes told the full story. Anyone who follows the Bundesliga knew just what Gio was doing. The US boy wouldn't be deliberately masking his tears if he didn't know that his injury was serious. Those of us with an affinity for the young lad felt our hearts break a bit too.
Dortmund would be shorthanded for some minutes whilst Rose got a substitute warmed up. One fully expected a strong response from the foals, who were had up to that point more or less been on equal footing with their opponents. Bensebaini immediately attacked up the BMG left in the 29th, squaring for Embolo before Can cleared away.
Benesebaini and Embolo On the next Gladbach charge at the half-hour mark as well. Their give-and-go broke down when the return ball just missed out on being inch-perfect. Hazard caught up to clean up. Brandt officially checked in for the injured Reyna in the 30th. Dortmund's three center backs stepped forward cautiously and in unison on the next build in the 31st. There was very nearly fatal passing turnover as the yellows suddenly looked unsteady.
Surprisingly enough, after scrambling to retain the ball, the hosts manufactured another goal out of their possession in the 32nd. Malen and Reus showed some great intuitive understanding when the Dutchman received a ball at the center circle. Malen offloaded to his captain and immediately went on a scorching run.
Reus rolled a simply gorgeous through ball back to Malen, who then impressed doubly by outrunning Friedrich. Another quick release shot didn't leave Sommer with much of a chance. The BMG keeper could get a palm to it, but couldn't stop it from landing in the back of the net. Fantastic news for BVB enthusiasts as the team's "assist-meister" also struck his first Bundesliga tally since December.
2-0.
Match Flow: 32nd minute to half-time
Note that we're still dealing with a pair of teams who had played to a largely equal level. As efficient as Dortmund had been, the performance didn't have the feel of a 2-0 advantage to it. The BVB rode the momentum after the second goal on the next two charges. In the 33rd, Malen nearly played Brandt in with a delicate touch inside the box.
Reus was back leading the charge in the 34th. Malen tapped back for the captain deftly. Somehow, Gladbach wriggled the ball away. Bellingham was lurking as well on a promising rush that probably should have produced the third goal. After being much more liberal with the whistle (for fear of eventually having to card himself) went for another caution when Dahoud tripped up Embolo in the 35th.
The foals used the respite to take a little time organizing their fight back. Following some failed incursions, the BMG worked their way into the penalty area. A nice cutback for Neuhaus certainly deserved a goal, but Kobel stood equal to it. A suspected Zagadou handball on the next Gladbach wave in the 37th was initially waved off by Fritz. Some time was still taken off so that the ref could double check via VAR.
The two sides traded broken cycles in the 38th and 39th. Zagadou grabbed his thigh and immediately signaled that he needed to be subbed off in the 40th. Marin Pongracic would come on for the Frenchman in the 42nd. Before the change could be executed, Bellingham and Plea tried flick carries for their respective sides. Plea earned a corner after the second play.
No sooner had Pongracic come on than Reus needed a treatment break. The BVB captain had inadvertently been hit by Kobel in the back of the head whilst trying to clear the corner. It actually looked rather bad for the shaken German national team player. One wondered, ridiculous as it may be, whether or not Dortmund would need to burn three injury-related subs before the initial 45 was out.
Reus had to leave the pitch temporarily for further treatment. Fritz kept the right watch, according four minutes of first half injury time. Dortmund weren't interested in making much use of it, however. Slow bow arcs and passes back to Kobel killed off an uneventful seven minutes until the hosts could be properly sure of how many men were down.
Ahem. First half xG?
xG Dortmund–1.3, xG Gladbach–1.1
To emphasize, this was not a dominant performance. We'll have to note that a couple more times before we're through.
Match Flow: 46th to 62nd minute
Hütter's lone personnel change at the break was easy enough to read. Marcus Thuram for Marvin Friedrich augured a switch to a back-four. Sure enough, that's what we witnessed as soon as play resumed. It wasn't a bad idea at all. Consider the talent inherent in this constellation.
Lineup—Gladbach—46th minute (4-4-2)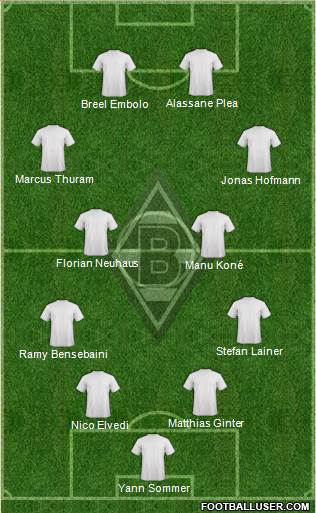 This initially paid off in the form of a prolonged period of possession. Both BMG rushes in the opening two minutes went down Bensebaini's side. The pesky Hazard and a surprisingly mobile Pongracic ensured that the attacks would be stopped. Reus and Malen found themselves similarly frustrated on the lone BVB counter in the 48th. Neuhaus and Koné stood together and stood tall.
After Reus hustled back to sweep away a centralized Gladbach charge in the 49th, Embolo couldn't get back onside in time to receive a Lainer diagonal once the BMG wingback recovered. Bensebaini fouled Hazard on Dortmund's swing back in the 50th. After a short injury timeout to treat Bensebaini, Guerreiro rattled off a marvelous free kick in the 51st. Sommer saved the ambitious crack at full stretch.
Back in the other direction, Embolo was caught offside again in the same minute. The now very spry and lively Koné couldn't find a way through in the 52nd. Gladbach would get another chance after a bad BVB turnover in the 53rd. Plea will have liked to have the opportunity back. The French striker totally wasted a 3 vs. 1 breakaway with a panicky ranged effort that Kobel had no problems seeing.
Rose's men did a fantastic job sweep switching across to Guerreiro in the 54th, but the rest of the Schwarzgelben traffic didn't follow for some reason. Bellingham tried to break back through following a nice recovery triangulation on the left. Ginter intercepted and kick started a counter down the field. Hofmann took the vertical down before Pongracic closed the space.
Koné tried again in the 56th. Three Dortmund actors converged on him. There was some discussion of a foul on Bellingham on the final tackle. Marco Fritz wasn't keen to intervene as early as he did in the initial 45. A BMG corner on the subsequent play in the 57th led to nothing. Neuhaus' promising cross in the 58th found no takers. Such a development made one wince as the team's shape should have directed at least for actors to the vicinity.
Hütter's BMG tried once again in the 59th with a nicely worked out swinger for Lainer. There were simply too many BVB bodies in the way. After some more meek attempts to get through, Dortmund woke up. Malen got another effort off in the 61st. Brandt attempted a thread pass in the 62nd. It was deflected into the arms of Sommer.
The next Gladbach attack in the 62nd seemed destined to produce nothing. Hofmann nevertheless refused to be defeated after one of his string passes was intercepted. Hansi Flick's makeshift left back pounced back on the ball and rifled off an exquisite snapshot that kissed the post. This would be the last meaningful chance for the foals to get back in the match.
Match Flow: 62nd to 74th minute
Koné found his way into the box again and ended up earning a corner in the 63rd. The set-piece produced nothing as Hofmann headed straight at Kobel. Now the BVB would wrest full control. Bellingham and Dahoud cycled out left well in the 64th, but couldn't help turning the ball over. After the foals themselves turned the ball over, Reus and Brandt were through on a breakaway that Neuhaus barely managed to stop with a precision tackle.
Dortmund again got the ball to Guerreiro in the 64th without shifting overall traffic in for a return. It wouldn't have mattered any way as the Portuguese wingback found himself a stride offside. Substitutes were crowding the sideline at this point. Both coaches had plenty of changes they wished to make. Before getting to that, we might as well note the xG once more:
xG Dortmund–1.4, xG Gladbach–1.1
That's how even it was up to this point. There's very little sense in broaching the topic again. The decisive turning point is just around the corner. Malen's last action of the game was to miss a rather poor Hazard cross from Hazard in the 66th. The Dutch striker then exited alongside Guerreiro and Hazard in the 67th. Youssoufa Moukoko, Nico Schulz, and Marius Wolf entered on like-for-likes. Hütter also got a change in, subbing on Joe Scally for Lainer.
All of this took a couple of minutes to execute on the touchline. Wolf immediately became the match's most active player. The oft-loaned-out winger/fullback just missed a connecting pass by a hair in the 69th. Seconds later, he thundered in a Reus through ball in underneath the crossbar for the 70th minute 3-0. A series of corners ensured that there was a consistent flurry in front of Yann Sommer's net between the 71st and 73rd.
Finally, the knockout blow. Reus fed Moukoko through a confused, disoriented, and totally exhausted set of BMG markers. Wolf, who had benefitted from a Reus leave on his goal just four minutes prior, opted to leave for Moukoko. The nail-in-the-coffin finish was easy enough for the young Germany U21 international.
Match Flow: 74th minute to full-time
One can hardly fault Gladbach for quitting after that backbreaker. It almost seemed more prudent to do so. Energy must conserved for greater fights ahead. The foals most certainly will need what little enthusiasm they can still muster when it comes time to focus on the next crucial three points. Such logic applies to all the outfielders.
Naturally, the keeper must still prevent further embarrassment. Yann Sommer did his best, stopping Brandt from attained the 5-0 in the 79th. Not much he could do against "captain fantastic" three minutes later. Nothing would deny Marco Reus from scoring his second goal to add to his three assists on the day when Mats Hummels set him up. Incredible performance from the BVB skipper.
Reus gets the picture this week, but a match official Marco Fritz deserves an honorable mention for keeping a match that was borderline uncontrollable clean. How Bensebaini finished the affair without incurring his second yellow is beyond the columnist. At the very least, the Algerian should have been sent off for the penalty that allowed Can to convert the 6-0 at 90+1.
Kudos to the ref for letting them play. Special congratulations to "captain fantastic" for once again carry his team in the darkest of times. If only Reus' amazing season this year had yielded more. With Reus in the form that he was way back at the beginning of the campaign, many of us were certain that would be a legitimate title race this year.
Alas, it simply wasn't to be. The pigeon soon-to-fly (Erling Haaland) couldn't remain healthy. At least Dortmund fans still have their ever loyal captain; who often speaks of his desire to finish his career in NRW. Next year they'll have Niklas Süle as well. There's always that.
Thanks so much for reading!
You can occasionally catch Peter on twitter, @ViceytheSS.
Twitter DMs are open for football conversations, corrections, and (if you truly insist) general abuse. 
All columns debut on Bulinews before appearing on Peter's website later in the week.