With the snow melted and February nearly out, it's time to gear up for a great 2020/21 Bundesliga "stretch run". There's another fine weekend of football on tap. Here's the re-post for those who didn't have a chance to catch last Sunday's comprehensive breakdown of the previous round.
---
League-Wide Talking Points: Round 22
---
The VfL Streaks
Who can resist a nice and clean streak narrative? Oliver Glasner's Wolfsburg record their seventh consecutive clean sheet on the trot. Friday's 3-0 win over Bielefeld also marks the sixth consecutive time the VfL trainer deployed the exact same starting XI. We know for certain that one series is officially over. Defender John Anthony Brooks caught his fifth caution of the season in this round's fixture, meaning that he'll have to sit out next weekend's match against Hertha on yellow-card accumulation.
Everything goes right presently for Germany's green company team. The loss of Brooks likely doesn't even place the defensive record in the slightest bit of jeopardy. Either Joshua Guilavogui or Marin Pongracic should prove capable of slotting in without difficulty. In point of fact, there's a surfeit of talent sitting on this side's bench should any of their clicking players falter. Jerome Roussillon can take over for one of the fullbacks. Maximilian Philipp is there for the midfield. Daniel Ginczek and Bartosz Bialek await their turn at striker.
One wonders if even Glasner stood cognizant of how far current starters like Renato Steffen and Yannick Gerhardt could carry this team. Those two made many a transfer "dead-weight-ledger" at the beginning of January. Gerhardt's renaissance turned out to be particularly stunning. The 26-year-ol barely featured before the campaign's 13th round. Now he's among the best tens in the league; almost a textbook example of a proper string-puller on the second attacking axis.
Dardai digs far too deep
One Bundesliga trainer who needs to crack a textbook on midfield management is Glasner's next opponent. Pal Dardai's "alte dame" didn't necessarily play as badly as the 0-3 scoreline against Leipzig might suggest, but the Hertha head-coach simply made it too easy for Julian Nagelsmann to slam the brakes on his 3-5-2. The final 40 minutes of the Sunday fixture weren't merely uneventful. From Hertha's perspective, it's questionable as to whether they can properly be described as "football". Too many changes. Bad stuff all around.
Placing Matheus Cunha behind a double striking set of Krzysztof Piatek and Dodi Lukebakio was smart. Buttressing them with a horizontal chain of Maximilian Mittelstädt, Sami Khedira, Lucas Tousart, and Matthew Leckie was just silly. Khedira scarcely had the chance to affect play amongst such a crowded field. A three-man back line featuring the coach's 19-year-old son was bound to fray eventually. Amadou Haidara and Nordi Mukiele took turns ripping it apart. Matteo Guendouzi surely feels pretty low after his catastrophic giveaway moments after being subbed on.
Dardai the elder still enjoys a grace period of extremely low expectations. All of these questionable moves will soon be forgotten as Hertha's reinstated trainer continues to wraps up the brutal February stretch. Chances are still strong that he pieces together something workable that will gain the necessary points to stay in the league. In next week's fixture the capital city gaffer might consider studying Gerhardt's use as a ten and seeing if he can emulate it with Guendouzi. The Frenchman deserves a more concrete role after what we saw this week.
Kohfeldt digs a hole
Standing next to Werder Bremen trainer Florian Kohfeldt, Dardai looks a tactical genius by comparison. The Hanseaten head-coach continues to supply frustratingly inept constellations. What's worse, he's surely losing some support amongst his players due to the fact that he invariably always makes overly complex adjustments at the half. The set-ups over the past few weeks share little in common other than they're stretched to a lateral breaking point. The young trainer tried what looked like a 6-2-2 against Hoffenheim.
After a first-half during which his team managed absolutely zilch offensively, Kohfeldt yanked Milos Veljkovic for Romano Schmid and switched to a four-man backline. This only had the effect of handicapping wingbacks Felix Agu and Theo Gebre Selassie, in addition to confusing Ömer Toprak to the point that the man who had served as one of the team's lone bright spots made his second serious defensive error of the game. The attack still couldn't furnish anything dangerous. It's nothing short of laughable that Werder's 38-year-old trainer was once linked with the likes of Dortmund and now Gladbach. How do such rumors get started?
Two "eke-outs"
The round spared Bundesliga lovers the humiliating indignity of the three goalless draws German football apologists had to explain last weekend. Instead, Stuttgart and 1. FC Union Berlin creeped past their opponents with a pair of slender and economical 1-0 victories. Union's trip to Breisgau served as the full tactical stalemate with Christian Streich's 4-4-2 cancelling out Urs Fischer's 3-4-3. The game-winning goal actually came courtesy of a marking error. Freiburg couldn't get set in time after a triple substitution in the 64th in time to stop Marcus Ingvartsen's cross for Grischa Prömmel.
Stuttgart's victory over Köln definitely seemed a bit more deserved, though Pellegrino Matarazzo's team continues to struggle with an over-reliance on Silas Wamangituka. Somehow, the likes of Tanguy Coulibaly, Orel Mangala, and Daniel Didavi no longer feel comfortable executing their own prowess anymore. Wataru Endo has been dipping as of late as well. It might be the case the Borna Sosa/Wamangituka symmetrical split has become too obvious for opponents. A drop in clever play remains acceptable in light of the injuries to Nicolas Gonzalez and Gonzalo Castro. Castro played serviceably in his return and both Sosa and Wamangituka made positive contributions to the result.
---
The "Spiegel Specials": Round 22
---
Mainz-Gladbach (2:3, 2:1)
Unquestionably a massive win for the Pfälzer. How far they have come under Bo Svensson since they were dismantled with methodical ease in the reverse fixture. Since Svensson moved captain up Danny Latza to anchor this novel 3-4-3, results have remained on the upward trajectory. The Nullfünfter find themselves on a three-match unbeaten run against teams from the upper regions of the table.
It's possible they will get better still. With players like Robert Glatzel, Kevin Stöger, and Jonathan Burkhardt knocking on the door of the starting XI, the Mainzer trainer possesses hungry upgrades waiting in the wings. Wins against Schalke, Augsburg, Bielefeld, and Hoffenheim in the next five weeks are attainable. There's enough low-hanging fruit for this team to pull themselves out of the relegation race.
Insofar as the foals are concerned, the first result of Marco Rose's meaningless incumbency phases bodes horribly for the BMG. Coaches and players can ordinarily be expected to behave professionally irrespective of the shifting sands beneath their feet. In Gladbach's case, however, the contractual situation of many of the team's key players means that several more crucial actors have their eye on the door now.
Denis Zakaria, Florian Neuhaus, Jonas Hofmann, Marcus Thuram, Hannes Wolf, and Alassane Plea probably look to exit.
Prognosis: Big news for two races
The unexpected Rheinhessen upswell livens up the relegation fight significantly. Bremen, Augsburg, Köln, Hertha and Bielefeld cannot be said to be clear of the woods. Two weeks ago Schalke and Mainz shared the sure destiny of misery. Now there should at least be a contest for the second automatic demotion spot.
Though some may find the prognostication premature, it might be time to scratch Gladbach from the Europa League fight. A brutal stretch of fixtures awaits. After ManCity midweek, it's Leipzig, Dortmund, and Leverkusen for Marco Rose's crew. He'll have to rotate despite the fact that it's recently gotten him in hot water. Good luck, sir.
Leverkusen-Augsburg (3:1, 1:1)
How far Germany's red company team has fallen. Difficult as it may be to fathom, we were discussing title prospects for Peter Bosz's Werkself shortly before Christmas. Since falling to Bayern in round 12, they've won only three of twelve fixtures. A trio of impressive league wins don't necessarily offset the bitter defeat to Rot-Weiß-Essen in the Pokal or Thursday's Europa League drawdown.
In a case of supreme irony, this club played much better with their roster reduced and their backs against the wall. A number of qualified reinforcements from a superb January transfer class have, as of yet, failed to turn the side's fortunes around. Bosz has shifted to a 4-1-2-3 in recent weeks to maximize the explosive power of wingers Moussa Diaby and Leon Bailey. Neither one looked good against the Fuggerstädter this weekend.
Watching the FCA-B04 fixture, one had the sense that Bosz's XI played almost a perfect inverse of their round five encounter. Very few ideas heading forward. Back-up keeper Niklas Lomb will deservedly get some flack for his howler, but the truth is that he bailed his team out on several occasions. A draw would not have been possible were it not for his more stellar saves. Herrlich's team also blew plenty of opportunities.
Prognosis: A typical Leverkusen year
If we take a step back and examine the performances of the new arrivals individually, it stands to reason that they remain well poised to eventually pull the club back into the top four. Demarai Gray assisted on the equalizer. The 24-year-old now has three scorer points through three Bundesliga fixtures to add to his bright showing in the Europa league. Timothy Fosu-Mensah and Jeremie Frimpong both did a decent enough job. They'll continue to improve.
In the final analysis, it shapes up to be what Germans often refer to as a "typical Leverkusen year". There's a period of great promise and inflated hopes for a title challenge. There's a maddening dip that spawns predictions that they'll miss out on the European places. Everything balances out in the end and they finish either fourth or fifth. The phases usually take place at different stages of the season, but it all heads to exactly the same conclusion. As Talleyrand would put it, the more things change, the more they ultimately stay the same.
Rudi Völler should consider hanging that saying up in his office.
---
The Burning Question: Round 22
---
Do we have a title race?
Note that, for the first time in the 22 editions of this column, we're going singular! There can be only one question this week. With twelve rounds remaining, is it possible for anyone to knock the German giants off their lofty perch? The SGE certainly delivered the result most Bundesliga enthusiasts craved this week. That notwithstanding, the blunt answer to this query remains negative.
Those seeking the short shrift deserve a summary. Adi Hütter's Adler beat a weakened Bayern side. Thomas Müller's absence leaves the FCB without their ever vocal air-traffic controller. Moreover, Hans Dieter Flick built his latest lineup with the eye on the midweek Champions League fixture. With the six trophies procured, the pressure of the Pokal off, and the team set to return to full-strength soon, one doesn't identify a serious weakness that will lead the squad towards a stumble.
The SGE-FCB match still yielded its fair share of great talking points. We'll accord them their due and even explore the possibility that these broad strokes may become more relevant in the coming weeks. Anyone who's curiosity does not extend beyond the straightforward response to the question posed may wish to skip ahead.
Bayern out-manned in midfield
Unsurprisingly, Hütter rolled out his regular 3-4-2-1 again. André Silva's injury mattered not. Many even predicted that plugging Luka Jovic into Silva's spot would count as an upgrade. While this actually didn't occur, the way in which the Hesseners were able to out-press the Bavarians in the midfield was entirely foreseeable. It's a simple matter of arithmetic. The Frankfurt formation features four midfielders while Bayern (in this case) fielded three rovers.
Makoto Hasebe, Amin Younes, Daichi Kamada, and Sebastian Rode retained the advantage over an Eric Maxim Choupo Moting engaging in a light Müller mimic, a Joshua Kimmich often scrambling to help out at the right fullback position, and a Marc Roca who still hasn't gotten the finer points of Bayern's pace down. Kamada's initial goal, amazing enough, came off a set of triangles after a throw in. Several more tallies could have resulted from SGE dominance on the second and third axis.
The FCB right-back situation
Since we broached the topic of the FCB's right fullback position, it is interesting to note that this remain's the team's Achille's Heel. Bouna Sarr likely won't get another start soon after his extremely weak performance last Monday. Benjamin Pavard, once his COVID-induced layoff comes to an end, still has much work to do in terms of his individual form. Kimmich doesn't want to play the position and Chris Richards is off in Sinsheim.
Niklas Süle had hitherto filled in well. There's been plenty of praise for him in this space. On Saturday we witnessed the limitations of Flick's creative stopgap measure. The German national team center back coordinated very poorly with Kimmich, blew several assignments, and, most importantly, found himself directly outclassed on Amin Younes' goal. Süle runs remarkably well for a big man, yet can't always match the agility of an inward breaking ten.
More great late-game adjustments from Hütter
Deprived of his go-to blueprint of setting up and knocking down opponents, the Eintracht gaffer still did a deft job of slowing down and suffocating the match with a series of spaced-out substitutions. The basic constellation held whilst he introduced Ragnar Ache for Jovic, Stefan Ilsanker for Rode, and Aymen Barkok for Younes. It proved a tactics-head's treat to watch him slowly introduce fresh-legs in precisely the right areas to shore up his shape and close down Bayern's attacking lanes.
Bayern at their peak powers
Flick also coached an above-average game. Leon Goretzka relieved Roca at the break, working as a forward eight on the charge and a track-back six off the ball. The steely national team midfielder also stepped back into his midfield partnership with Kimmich, after a three-round absence, as if they duo hadn't been separated at all. Kimmich often switched fields behind him to put in some marvelous work against Almamy Touré. Flick's late-match adjustments were top-notch.
Lineup—Bayern München—83rd minute (4-2-3-1)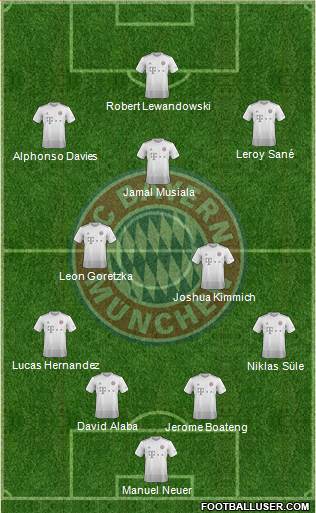 Matters might have turned out differently if we had seen this earlier from Hansi Flick. With Bayern on the comeback trail, the team had almost been screaming out for something like this since the 53rd minute. Leroy Sané was truly feeling it on that right-hand side. He needed a complement on the opposite flank. Alphonso Davies should have been moved up into the winger role much sooner.
The above graphic conveys how potential-laden even a fourth choice FCB can be given a bit more time. Imagine what shall be possible as Sané continues to find his stride, Jamal Musiala feels his way into the responsibilities of a ten, Davies gets more advanced action on the wing, and the Gortezka/Kimmich stagger becomes more natural.
Bayern are just too deep.
---
Weekly Tactical Focus: Demolition Derby
---
Schalke 0-4. Indeed. What may be the most overused gag in German footballing circles must be trotted out first. A cliched pun carries with it its own bitter aftertaste. In the context of the 98th meeting of the famous "Rivalen an der Ruhr", most German footballing enthusiasts experienced something even more sour on the palate. What may be the final Revierderby for some years took place before empty stands. Schalke-Dortmund gets set to go the way of Hamburg-Bremen, Mainz-Kaiserslautern, Nürnberg-Fürth, and Augsburg-1860.
Derbies come and go and teams slip and slide into the lower divisions. For Germans, the loss of one is equivalent to the disappearance of Arsenal-Tottenham multiplied by the dissolution of Newcastle-Sunderland. One might has well then take the unquantifiable sum and raise it by the power of ten. Irrespective of where the individual sympathies may lie, all will surely agree that the fact that spectators weren't allowed in to send it off renders it intolerably sad.
For the Königsblauen of Gelsenkirchen, surely there can be no way back from this. The arithmetical possibility remains far from impossible. The current state of this team's tactics, however, seem to guarantee nothing more than more darkness in the weeks ahead. While what looks to be the last edition of the Bundesrepublik's "mother of all derbies" may not have been the most tactically fascinating fixture of the weekend, an admittedly sentimental simply cannot help himself. When will there be another opportunity to draw it up for Schalke-Dortmund? The teutonic football Gods have no answers. Neither does Christian Groß.
Lineup—Borussia Dortmund—Match 22 (4-2-3-1)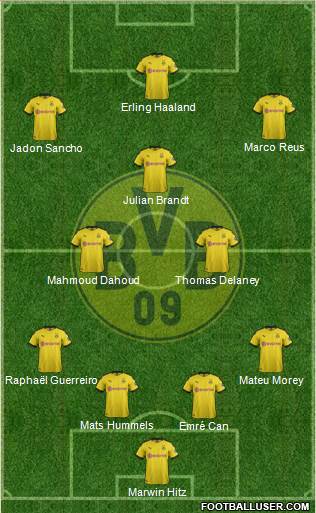 We'll begin with a basic human precept that my afford the "miners" a small sliver of hope. Everyone performs better when a particularly stressful burden gets lifted. The alleviation of pressure leads to improved short-term results. Such was the case for Edin Terzic and Borussia Dortmund this weekend after it was finally revealed that Marco Rose would take over at season's end.
Looking secure and comfortable in his "lame-duck" status, Terzic put together a solid matchplan and coached a lively game. Perhaps Groß's men can find a more carefree and loose manner of playing in the coming weeks now that no reasonable German football fan expects them to avoid relegation. Perhaps not. Let's return to what Terzic did right.
A rock solid double-six
It's taken some time for Terzic to get his men organized back into a stable 4-2-3-1. As we've discussed on numerous occasions, the caretaker trainer has been given little license for tactical tinkering by his managerial masters. A topic receiving possibly less attention than it should involves the injury to Axel Witsel. The interim gaffer got dealt a truly rough hand with the Belgium's fall. Rebuilding a suitable six-axis has been anything but easy.
Thomas Delaney, gifted a much-needed rest-cure from the Champions League this week for child-birth leave, reclaimed his recent exceptional form in this one. The Danish international contributed some monster defensive stops whilst maintaining an energetic box-to-box presence. Mahmoud Dahoud parlayed his excellent UCL match into a still better performance here. Needless to say, we'll be referencing this duo quite a bit this week.
A chance for Brandt
The team sheet left one certain that Reus occupy the ten-spot whilst Julian Brandt tried (again) to work the right wing. Accordingly, hopes for a robust offensive game from the Schwarzgelben faded on receipt of the team news. The slumping German international surprised. While this was certainly not the first central deployment for the 24-year-old this season, it remained by far his most effective.
For the first time since October, Brandt excelled in a pivoted middle role. The struggling German national team player hopped from flank to flank on the attacking sequences. Impressively, tears mostly appeared improvised. One should give Terzic some credit for ordering a few choreographed rotations this week. The bulk of the switches nevertheless came from player who, like their coach, felt a little less pressured. Brandt played a key role in the creative assaults.
Can adapts well
Of course, we'll have to mention how well Emré Can did back in the center back role. The 27-year-old talent rarely fails to answer the demands of positional flexibility. Can remains by far the best BVB signing of the past year. When Marco Rose arrives, there's little question that a heavy squad rebuilding phase must commence. Michael Zorc and Acki Watzke should strongly considered building around the Turkish big-man.
Some of Can's recent positional work has, admittedly, been less than stellar. He did a fair-to-middling job filling in for Delaney as the midfield fulcrum against Sevilla earlier in the week. Moreover, his day at right-back two weeks ago against Freiburg left something to be desired. In this fixture he appeared to learn from some of the missteps from his fullback deployment and directed Mateu Morey nicely on forward folds.
Can partnered with Hummels after Manuel Akanji succumbed to a late injury. In a curious coincidence, Schalke also lost a center half shortly before kickoff. Shkodran Mustafi pulled a muscle in warm ups, forcing Bastian Oczipka into the lineup at the last minute. As is invariably always the case with Schalke this year, every last piece of bad luck comes back to bite them.
Lineup—FC Schalke 04—Match 22 (4-1-4-1)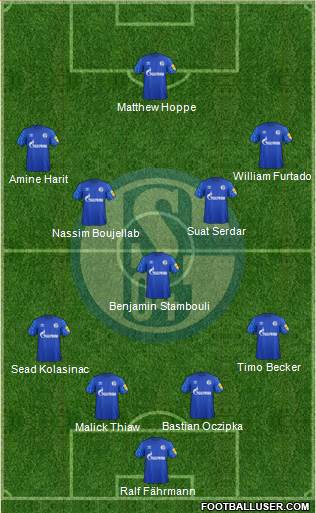 What was classified as a 5-4-1 in last week's column receives a 4-1-4-1 designation here. Before getting to how Oczipka's use ended up influencing the day, we'll take some time to discuss the changes. Groß had something in mind here; albeit something that wasn't especially likely to lead to victory.
Stambouli up to distribute
It may be considered something of a pity that the Schalke trainer didn't read last week's column as the recommendation to move Kolasinac into the midfield might have constituted a more promising option. Maybe Groß will find more time to peruse random literature in his soon-to-be permanent retirement. In this case, the one change to the XI (Nassim Boujellab in for Nabil Bentaleb) rendered the coach's tactics far too obvious.
One knew once the team news came in that Groß's only viable tweak would be to forfeit his sweeper and crowd the midfield. Last week's anemic offensive showing against 1. FC Union Berlin definitely called for something more drastic, but it would not be forthcoming. A conservative play to say the least. Disaster ensued when it, unsurprisingly, proved insufficient.
Hoppe abandoned
The lack of a true target forward often leads to de-facto lead striker Matthew Hoppe working a wide plane of separation from the supporting midfield axes. This in itself isn't a capitulatory idea as the young American can serve as an exemplary "scrap hunter". What should nevertheless be clear in the illustration above concerns the fact that this can get out of hand.
The four actors occupying the two axes behind Hoppe don't even resemble something worthy of a coherent assault. In addition to being miles behind him, they're so flatly axially chained that even a ponderous defense can catch up to them on the counter. Breakaways encounter difficulty developing under such circumstances. As it so happened, the spacial arrangement led to this manifest on several occasions.
Match Flow: 1st to 14th minute
It took approximately three minutes for both sides too settle down and get organized. Schalke's Timo Becker actually punched through on the first promising run in the 4th. Amine hart found his way through on a burst into the box less than a minute later. Delaney calmly dispossessed him with quick step back. Marco Reus saw the ball taken off his feet on his own run in the 5th and Erling Haaland could only earn a corner with a blocked shot in the 6th.
Dortmund's issues with set-pieces persisted. Jadon Sancho's poor delivery from the corner flag suggested that Terzic still hadn't drilled his team suitably in the training sessions. Sancho did launch a laser from open play in the 7th. Back-stop Ralf Fährmann couldn't grasp the hard shot, very nearly spilling the rebound onto Erling Haaland's feet. Reus squared nicely for Brandt in the 9th. The midfielder's woefully heavy touch meant it would come to nothing.
The midfield served as "turnover city" between the 10th and 13th. Dortmund looked slightly better in possession, yet were far from crisp with their passing. The visiting Schwarzgelben couldn't string anything together until Brandt sent Reus through on a slip pass in the 13th. Delaney stood tall gain with a strong tackle away.
Match Flow: 14th to 20th minute 
Despite the lack of tangible results, the manner in which Reus, Brandt, and Sancho kept trying to switch the point-of-attack remained laudable. Their rotations produced a varied set of sequences that accorded the squad some psychological benefits. Schalke retreated from the ball. The Königsblauen lost the possession battle on a 30-70 split. Frustration boiled over in the 14th when Hoppe got rightly carded for a silly late challenge. Die Knappen stood nowhere near functionality.
Even if it wasn't the most refined assault, the BVB found varied ways to push into their opponents' half. Morey infiltrated the edge of the area after a nice cycle in the 16th. His cross came just a tad to early to reach anyone. A perfect exemplification of how poor the Schalke counter operated then developed. William Furtado attempted to sprint away with the loose ball. Taking nothing away from Delaney's eventual stop, the Dane was able to recover and three-quarters pace.
A better team might have disrupted the fragile BVB passing triangles. Schwarzgelben efforts to establish their game appeared crude, fragile, and rudimentary. Dahoud and Morey couldn't execute the rightward give-and-go in the 17th. A Raphaël Guerreiro-Sancho-Brandt triangle in the 20th busted easily. William nearly pulled an effective counter out of the latter play. Can killed off the chance with a sophisticated defensive intervention.
Match Flow: 20th to 32nd minute 
BVB gear-wrenching was for the most part self-induced. S04 defensive work still deserves a bit of praise. The royal blues moved up in unison on the drives. Haaland was also well-marked. We shan't know if this discipline may have ultimately paid off as a game-altering injury intervened to effectually sink Schalke's ship. Under pressure from Haaland, Fährmann slipped on a 23rd minute clearance. The Königsblauen keeper strained an abdominal muscle on the play. Multiple treatment breaks would follow.
The breaks destroyed flow for the next nine minutes. Were we discussing any team other than Schalke, a series of events interrupting Dortmund's slow but steady rising confidence could have been taken advantage of. Die Knappen failed to make it count. Becker got off a good cross in the 27th, but Harit couldn't connect. Harit himself led a slow running 2-on-2 counter a minute later. Delaney again recovered in time to tackle and make a couple of crucial blocks. Again, he didn't have to work terribly hard to catch up to the play. Groß's midfielders had too far to run on the break.
Delaney shut down two more drives in the 29th and 30th. By this time, third-string keeper Michael Langer had limbered up and was ready to be subbed on. One felt palatable twinges of sympathy for team blue. Whatever can go wrong for this hard hit club shall go wrong during this abysmal season. In a darkly humorous side-note, broadcast cameras focused on the stands caught Klaas Jan Huntelaar and Mark Uth leaving their seats at this point. The squad's two wounded warriors couldn't bear to watch. The Dutchman even crumpled up his paper cup, threw it away in disgust, and stormed into the dressing room muttering unrepeatable words under his breath.
Match Flow: 32nd minute to half-time
One way or another, the insertion of a cold keeper at this point in match was bound to lead to something disastrous. Whether it would come of a positioning error, a mangled set-piece configuration, or one of the many snap pot-shots Terzic would encourage his men to throw at the newcomer, a meltdown was definitely in the mail. BVB offensive-play continued to display signs of sloppiness, but there was literally nothing that the relegation-threatened side could do. William and Harit sat far too deep to generate anything on the counter.
Haaland and Dahoud got their testing efforts off in the 36th and Langer held the ball well. Delaney cancelled out another Schalke retaliatory strike in the 38th with minimal effort. Groß's Knappen limped toward the half-time whistle, seeking to regroup and rebuild in the comfortable confines of the locker room. Unfortunately, three minutes before the intermission, the collapse came. Dahoud attracted enough attention in midfield to allow Morey to creep in unmolested.
The young Spaniard pressured Benjamin Stambouli on a dangerous solo carry a few short yards outside the box. Sancho had already halted the Frenchman's progress with a clip on the ball. Morey then stripped the ball off the distracted central midfielder and immediately laid off for Sancho. All alone in space, the English winger fired home absent a second's hesitation. Langer had no chance. Dortmund's rotative machine produced a slew of chances before the interval. A second goal would have nevertheless not been netted without some individual brilliance from Haaland.
A few feet of separation from Bastian Oczipka proved all that the Norwegian needed to complete one of the most sensational finishes of the season. Haaland latched onto a Sancho cross from the left in the 45th, smacking in with a first-time mid-air tricycle that everyone has ideally had the chance to enjoy by now. Sympathy circuits went into overdrive. A late stake to Schalke's heart surely put the game out of reach. Groß's XI could barely muster up the energy to keep their chins off their chests through three minutes of first-half injury-time.
Match Flow: 46th to 60th minute
Two personnel changes at the restart desperately sought to inject some life into the trailing team's heavy legs. Alessandro Schöpf and former captain Omar Mascarell came on to replace Boujellab and William. These swaps, a far cry from like-for-likes, left Groß's tactical intention unclear for a couple of minutes. After some scrutiny, one could see that he aimed for a simple mirror.
Lineup—FC Schalke 04—48th minute (4-2-3-1)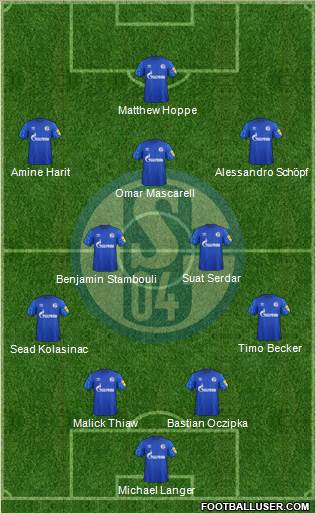 Stambouli gained a partner in Suat Serdar. The duo's task centered around shield-walling the hitherto impeccable pairing of Delaney and Dahoud. Masacarell, who at this juncture most can surely agree shouldn't have been prematurely stripped of his captaincy, inherited the keys to the offensive vehicle once more. Delaney, Dahoud, and Brandt made a mockery out of this with some leisurely keep-away play in the 48th.
Mascarell recorded two bad losses in the opening five minutes of the second-half. The near-defeated underdogs improved somewhat when they ceased letting the Spaniard pull the midfield strings and simply poured forward. Harit executed a nice move in the 50th with a monster tackle from Can proving the difference between his fine through ball and a waiting Serdar. Serdar would also hit the outside post in the 51st after a decent effort deflected off Delaney and Marwin Hitz.
Hoppe did his "scrap king" thing and managed to take a ball off Hummels in a dangerous area in the 53rd. The American regrettable slowed up before he could fashion an effort out of it. Stambouli tried to send Hoppe through in 54th, but his through was just out of the teenager's reach. There existed some notable fight in Schalke's play during this spell. Amid all of it, however, one could see how badly overmatched the side was on set-pieces. On two free kicks and a corner, the takers had no one to aim for.
A lovely back heel from Harit unleashed Kolasinac forward on a wide cut in the 56th. Shutting it down, as usual, it was Delaney. The man covered every blade of grass on this day; omnipresent to the point that he seemed capable of teleporting. Hummels and Can put in their own strong defensive work to stop advances in the 57th and 58th. Stambouli screwed matters up himself in the 59th with a weakly hit low cross.
Promising as the start to the second half may have been, the scoreline meant that it would only take one piece of brilliance from the BVB to break Schalke's back. Guerreiro supplied it at the hour mark. Slicing through the S04 ranks with ease, he spotted Reus near the touchline. A perfect one-two-touch give-and-go ended with the Portuguese talent finding the back of the net. Now it was truly over.
Match Flow: 60th minute to full-time
There were a few points of interest down what was a largely depressing stretch run. Not every Schalke actor gave up. Harit showed some good skill in a direct duel with Dortmund substitute Jude Bellingham in the 70th. Becker and Sead Kolasinac made the most of their more advanced positions to create a pretty play or two. Kolasinac and Serdar combined adroitly in the 74th.
Terzic spaced his substitutions on the gradual road to a three-step reformat. The shape finally became apparent roughly six minutes after Bellingham squared for Haaland and the Scandinavian phenom completed his brace with a 79th minute tap-in.
Lineup—Borussia Dortmund—85th minute (4-2-3-1)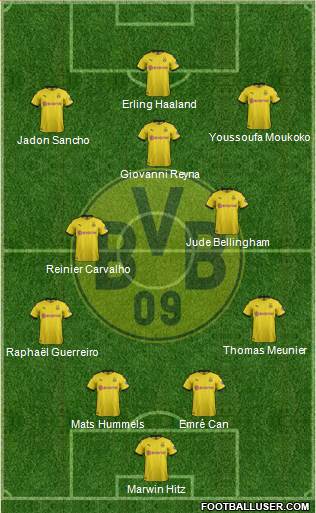 Not that it matters terribly much, but this was a well-thought-out restructure. Jude Bellingham's stagger takes one back to the halcyon days of round one when Lucien Favre awarded the 17-year-old his own operational axis. In this case, it was definitely more of a forward six role. All the same, this late constellation gave one pause. What might have been had the BVB bosses allowed Favre to build up his young guns with a little more patience. This could have been something.
So there we have it. The 98th Revierderby. When the 99th and 100th may commence is anyone's guess. No club boosters enjoyed the privilege of watching it live. Schalke's injured-reserve players couldn't even be bothered to watch it from the stands. Even match official Daniel Siebert opted to call it a day early. The ref initially indicated that there would be two minutes of added time. He evidently changed his mind and blew the full-time whistle one second before the clock hit 90.
There will be those who see a path forward for the Königsblauen after this. Likewise, some shall augur that the result will spur a turnaround for the BVB in their highly endangered quest for the top four. Neither outcome is probable. A mediocre team simply beat up a very bad one here. For whatever it's worth, both of these Ruhrpotters should pick up a few convincing wins before the campaign closes out. It definitely seems, however, as if their respective goals for this year remain out of reach.
One can't avoid ending on a sad note whilst bidding adieu to one of Germany's great footballing rivalries.
---
Concluding Thoughts: RKI setbacks
---
There's no escaping the depressing news in the Bundesrepublik this week. The weekly commentary space evolves into a sort of German "corona status" update in large part because a German football diehard can think of little else beyond getting back into the stands. In terms of the broader footballing discourse, little else merits much discussion. One can condemn Karl-Heinz Rummenigge's tone for the thousandth time, lash out at the Stuttgart board members for cowering, or express embarrassment regarding fan treatment of Jerome Boateng's tragedy on social media.
The less said about all of those topics the better. Let's talk the return of fans to the stadium. Here, the news is not good. At least it's not shallow hot-button media stuff. The number of German districts falling below the RKI stabilizer of 35 new COVID infections per 100,000 inhabitants over seven days rose, but only slightly. Sixty-six administrative areas are below the metric, up from 57 last week. Meanwhile, the national total actually rose to 60 infections per 100,000. Daily new infections stay stuck at a 6,000 average. Intensive care visits are barely coming down. The nation-wide inoculation rate is a, frankly pathetic, 3.79 percent.
What does all this mean? Nothing good for lovers of both German football and the republic itself. At this rate, spring seems a very long way off. Round 22 marks a grim milestone. The fifth matchday of the 2020/21 campaign being the final instance in which supporters were allowed into their hallowed Bundesliga grounds, it's now officially been half a season since any ordinary fans had the privilege of watching their teams live. Spring shall eventually come and the fans shall ultimately return. It's nevertheless possible that, for some, the habit of staying home instead has become ingrained or even preferable. Some ultras may no longer consider it worth it to make room in their lives for afternoons in patronage of the hometown institution. One honestly can't wait to be proven wrong about this.