A four-day weekend leaves us with loads of stories on the Bundesliga beat. From the Friday night kickoff to the Monday six-goal thriller, we've got it all covered for those who missed out on the initial post.
---
League-Wide Talking Points: Round 21
---
Nagelsmann defers until Tuesday
The Friday night fixture between Leipzig and Augsburg predictably proved a wretched game of football. Heiko Herrlich's Fuggerstädter racked up four first-half bookings; two of which could be considered accumulator cards. The outclassed Bavarians engaged in so many wince-inducing tactical fouls that, with better finishing, the Saxons might have heading into the dressing room up 4-0.
Heading into this one, it's long been clear that Julian Nagelsmann would be laser focused on his upcoming clash with Jürgen Klopp in the Champions League. The RB trainer took Dayot Upamecano, Marcel Sabitzer, and Tyler Adams out of the XI and fit together a 4-4-2 that kept Angelino pinned back in the defence. Understandably, this new set-up took quite some time to warm up. A toothless FCA still couldn't begin to exploit it.
Based on the rotations, a likely constellation for today's can't miss UCL matchup would appear to be a 3-4-3. Upamecano runs pivot behind Sabitzer and Kevin Kampl in midfield. Angelino moves up to pair with Adams on the wings. Insofar as the striking corps is concerned, it's interesting that Nagelsmann rested Alexander Sørloth and started Yussuf Poulsen on Friday. One expected the opposite.
Power to Wolfsburg
The round featured three goalless draws. Schalke-Union probably should of tilted towards the Berliners. Gladbach-Wolfsburg absolutely should have broken the way of Germany's green company team. Oliver Glasner's patented 4-2-3-1 packed as much punch as ever. The VfL trainer has now trusted the exact same XI for five consecutive matches. Trusted personnel came agonisingly close to delivering the victory here.
Wolfburg's on-pitch partnerships continue to burgeon splendidly. John Anthony Brooks and Maxence Lacroix spread out still further this time to drive the side's attack. Xaver Schlager and Maximilian Arnold have perfected their synchronisation. Austrian Schlager, 18 months into his stay in Germany, at long last looks to be comfortable enough to discharge his authoritative range efforts. Yannick Gerhardt and Ridle Baku also played well.
Frankfurt's victory (discussed in greater detail below) gives the SGE the edge in terms of which streaking Bundesliga squad enjoys the best form. Before we arrive at that aspect of the round, do allow a few twitches of the sympathy bones for the VW club. They most assuredly deserved to take all three points against the hapless foals.
Powerlessness of Bremen
The remaining 0-0 result of the round shouldn't elicit any murmurings in one's sympathy circuits at all. Neither team put forward an aggressive enough tactical plan to seek a win. There can be little praise for Christian Streich this week. Missing rearguard linchpin Keven Schlotterbeck, the Freiburg trainer rolled out a peculiar 3-3-3-1 that placed Baptiste Santamaria on the right-wing and locked Woo-Yeong Jeong into an inflexible support role.
Watching such weird rocket-ship shapes rarely proves a pleasurable experience. To Streich's credit, however, at least he put forward a shape. The same cannot be said for whatever Werder's Florian Kohfeldt attempted to achieve. Maximilian Eggestein, Romano Schmid, Milot Rashica, and Josh Sargent were ostensibly supposed to have some sort of role in the attack. They nevertheless perambulated about in semi-vertical stacking that made little sense.
The Hanseaten by far aren't the league's lowest lowest goal-scorers. If one takes into account that four of their tallies came from the perpetually injured Niclas Füllkrug and a further seven belong to players Kohfeldt has tended to bench (Davie Selke and Leonardo Bittencourt), one looks at 13 goals this season from the regular starters. Yikes. Such a total through 21 rounds portends more boring football ahead.
---
The "Spiegel Specials": Round 21
---
Dortmund-Hoffenheim (1:0, 2:2)
At some point in this section, we'll have to address the fact that there was an actual football match involving Dortmund that took place this weekend. All news surrounding this club understandably focuses on the long-awaited confirmation that Marco Rose will be taking the reins after this sordid season draws to a close. At last! Those of us who knew this move was coming since autumn finally find vindication. This was always going to happen. No real doubt existed amongst Bundesliga enthusiasts.
Some may have found it rash to treat Rose's move to the BVB as fact every week in this column should understand that it was evident in every one the administrative moves of the club this season; from the refusal to negotiate a contract extension with Lucien Favre, to his replacement with the obvious "placeholder" rookie Edin Terzic. Moreover, virtually every experienced German football journalist reported that Dortmund were wooing Rose this past summer. Some even insisted handshake agreements were in place.
Snapping back to this season, the weekend draw against Hoffenheim demonstrated just how far this club has fallen. Manuel Akanji, Mats Hummels, and Thomas Delaney committed couldn't hold the primary defensive triad together at all. Spacing at the back of the 4-1-4-1 was atrocious. So much of this team's troubles are pinned on the inconsistent play of talented, yet inexperienced youngsters like Giovanni Reyna, Jude Bellingham, Jadon Sancho, and Erling Haaland.
In truth, the veterans let the squad down more regularly. Captain Marco Reus began the latest encounter on the bench for good reason. Julian Brandt, if the 24-year-old may be considered a veteran, can't seem to find success in any position. He's evolved into the sort sort of passive player who tentatively expects the game to come to him. Were it not for some late Haaland heroics, the Schwarzgelben would have lost against the Kraichgauer this weekend.
Prognosis: Europa League 2021/22
Hopes for a top-four finish likely should be shelved at this juncture. With veteran leadership faltering and the team still showing excessively poor organisation on set-pieces, the dropping of more points seems a certainty. As ridiculous as it sounds, one wonders if this team can hold off Schalke in next weekend's Revierderby.
It says quite a lot when a team is so bad on corners and free-kicks that they don't match up well against Schalke. Terzic's team won't even have adequate time to prepare their set plays after the UCL match this week. A finish outside the top-four brings with it devastating consequences for a club that needs to hang onto its young talent.
This could get uglier still.
Bayern-Bielefeld (4:1, 3:3)
The insane shootout that capped the round wasn't entirely unforeseeable. Arminia entered the encounter buoyed by an extra week of rest and restoration while Bayern hobbled in with a Arabian peninsula hangover. Uwe Neuhaus welcomed back Manuel Prietl and Andreas Voglshammer. Hansi Flick had to do without Serge Gnabry, Jerome Boateng and Thomas Müller.
As tired as Germans may be of hearing of the FCB's nightmarish night on the Berlin tarmac, one could see that the German champions were dead tired in the first half. The conditions also made it easy for the underdogs to defend compactly after attaining the early lead.
Once the pitch was cleared at the half, the match played out more in line with the talent deficit. Eric Maxim Choupo-Moting surprised as a highly effective ten. Leroy Sané plowed through the DSC quicker than the field crew turned the surface from white to green at the break. The Bavarian roadrunner eventually exposed a sound-looking Bielefeld right for what it truly was.
Prognosis: Still no official title race
It proved a cool feature of this round that three victorious teams from the reverse fixture match day could only draw their opponents this time. Moreover, this result coupled with Leipzig's win narrows the gap between RB and the Bavarians to four points. If only these facts carried with them more significance.
Truthfully, we cannot declare the title race resurrected unless Frankfurt best Bayern next weekend. Even should this transpire, we still lack consistency from any of the would-be challengers. Eintracht and Wolfsburg simply have too much ground to make up and Leverkusen and Dortmund are practically finished.
All of that notwithstanding, what a showdown awaits next matchday!
Leverkusen-Mainz (1:0, 2:2)
How about those Pfälzer? The maddeningly improbable comeback certainly made more than a few weekends. For a full 89 minutes, it appeared as if Bo Svensson's unorthodox 3-4-3 couldn't yield a soft whimper. The Danish trainer stuck with the shape and employed straight arrow plug-ins. Suddenly, one beheld a full-throated yell.
Even before the fantastic finish, encouraging signs abounded. Moussa Niakhaté and Jeremiah St. Juste anchor a defensive line very well. Danny da Costa and Dominik Kohr, former Frankfurt teammates, continue to work out solid midfield diagonal switches. Many aspects of this team come together at the moment.
Regarding the question as to whether Robert Glatzel can perform on the elite level, it appears that the late confidence booster leads us toward the affirmative. Karim Onisiwo's recent form and Jonathan Burkardt's potential mean that this team might potentially have two or three serviceable attackers before getting Robin Quaison back.
Prognosis: Hold off on the hope
There may not be another club with as brutal a final stretch of the season as the Nullfünfter. Bayern, Frankfurt, Dortmund, and Wolfsburg must be faced in the last four weeks. Svensson and the gang must bank some serious point padding in order to avoid the drop. At present, the Rheinhessen remain four off the relegation playoff place.
That being said, the next four weeks constitute a fabulous opportunity to give Mainz a closer look. Should they be able to nick points off of Gladbach and Freiburg whilst earning all three against Schalke and Augsburg, the outlook would suddenly shift considerably.
Even without carnival, it will be a capricious ride for this crew.
---
The Burning Questions: Round 21
---
This week's "questions" segment dives into a pair of thought experiments. Two relegation-threatened teams might well consider fielding some of their Sunday beer-league club members at this point, it's time to engage in a bit of speculation.
What can Schalke try next?
Since we last drew up the Königsblauen 4-2-3-1, trainer Christian Christian Groß has dropped the habit of reverting to a back-three late in matches. He's also tried out most of his new acquisitions and dusted off the oft-suspended Nail Bentaleb. The shape currently resembled more of a 5-4-1.
Lineup—Schalke 04—Match 21 (5-4-1)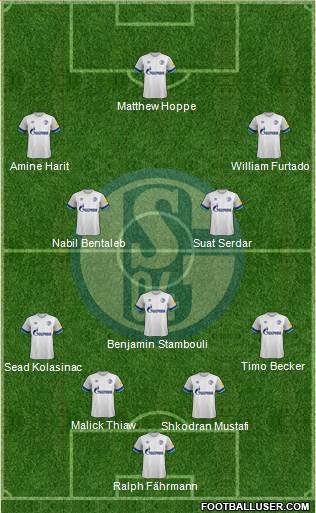 Shkodran Mustafi improved upon his debut performance. That's the sole piece of positive news to report. William Furtado proved a big flop on the right and the team couldn't put together one single dangerous attack in the 0-0 draw with Union. Play off of free-kicks and corners was somewhat improved, but that's nowhere near good enough.
Moving Kolasinac into midfield
This might seem a bit counterintuitive. The way January's prize transfer bombs up and down that left flank still has the potential to inspire this team in the way it initially did. The problem revolves around the fact that, absent a target striker, most of Kolasinac's incursions up the wings prove useless.
Die Knappen could seek to avail themselves of the depth the squad has at centralised positions. Matthew Hoppe isn't necessarily qualified to receive crosses. His demonstrated ability as a scrapper nevertheless render him a great candidate to hang back and launch second efforts off rebounds.
One could move Kolansinac over to a forward-thrust sweeper role and stack the central midfield with Amine Harit, Suat Serdar, Alessandro Schöpf, Suat Serdar, and Nassim Boujellab. Ceding the flanks and throwing as many centralised efforts forward might produce something.
What can Hertha try next?
Pal Dardai's 60th minute reorganisation generated some of the best play we've seen from "die alte Dame" in quite some time. The new trainer's 5-3-2 looked the very antithesis of Bruno Labbadia's disjointed 5-2-3. In the minutes immediately preceding Luca Netz's equaliser against Stuttgart, this constellation manufactured a string of attacks from nearly all angles.
Lineup—Hertha BSC—59th minute (5-3-2)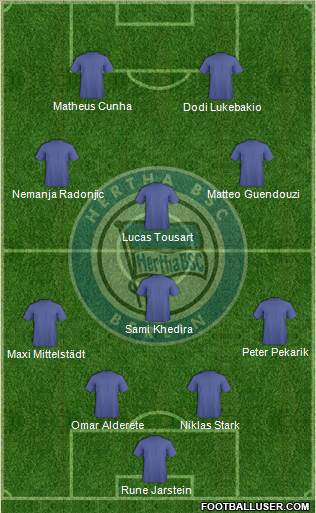 It's important to stress that we're providing a frozen snapshot of a two-part-change. Once these positions got established, Netz and Matthew Leckie came on to replace the fullbacks in the 79th minute.
Fixed flank positions
Nothing much worked prior to Khedira's introduction, yet it's probably best to keep the veteran on the bench and use him as a game-changer. This leaves the starting XI riddled with problems. The Santiago Ascacibar-Lucas Tousart partnership will take considerable time to begin to flourish and moving Matheus Cunha and Matteo Guendouzi around constantly only seemed to have the affect of unsettling them.
It's a pity that Nemanja Radonic might be sidelined with injury for a while as he's done fairly well on the wings in his initial action. It would also be great if John Cordoba could stay healthy with Cunha serving as a straight ten or even short striker behind him. In the absence of such options, perhaps Dardai should consider keeping Cunha and Lukebakio out wide for several matches in succession.
Both players possess the pace to consistently win their positional battles whilst also swapping sides when things begin to get stale. Dardai could keep them settled through the February stretch, priming them to succeed when the opponents get softer.
---
Weekly Tactical Focus: "Super Sunday"
---
This being a "Monday fixture" round, it seems apt to revisit a movement from the not-so-distant past. German fan societies once collectively expressed their profound disdain for "Monday Night Football" with a coordinated and sustained protest movement. The notion fo extending the traditional weekend match days into the workweek smacked of a shameless marketing-based cash grab. Worse still, the concept was nothing more than a direct import from the dreaded land of "über-commercialization". Nothing could be more offensive to the proud local ultra groups of the Bundesrepbulik.
A series of passionate and protest actions eventually compelled league administrators to do away with Monday fixtures after the conclusion of the 2020/21 campaign. The primary catalysts of this change were none other than the supporters of Bundesliga club Eintracht Frankfurt. Football lovers in the country's commercial capital put their foot down when it came to a foreign intrusion upon their turf. It was the Frankfurt fans who threw toilet paper rolls on the pitch, brought cardboard cutouts of comic-strip cat Garfield with a "We hate Mondays" speech bubble to the games, and organised fan-boycotts of Monday match days whenever their team played.
These demonstrations continued right up until the onset of the global pandemic. As we all know, the spread of the novel corona-virus then rendered these dissenting actions quaintly ironic. Toilet paper suddenly became the most valuable global commodity. Football fans yearned for any sort of action during the two months of lockdown. Whether a football match was played on a Monday seemed immaterial when everyone lived their daily lives in the endless void of "Blursday". The very notion of a fan-boycott of any sort when football enthusiasts find themselves desperate to return to their hallowed cathedrals of worship seems very much out of place.
This writer, along with millions of others from the Bundesrepublik, nevertheless still finds the Monday rounds irksome. Stretching a match day out over four days engenders unpleasant feelings of cheapened bloat. As necessary as spreading fixtures has become in the modern game, they induce an uncomfortable feeling of disconnect from the rich traditions of European club football. German fans are at their happiest when the final two rounds of the season arrive. All 18 clubs kick off simultaneously at 15:30 on a Saturday afternoon. That's the way it should be.
The ecstatic experiences of the campaign's conclusion stand in sight. Also glistening in the immediate future: an end to humanity's long isolated winter of discontent. In the meantime, we must locate positives where we can. The Sunday fixtures would ordinarily serve as background noise for the writer of a Sunday column. A Monday match accords one the opportunity to focus more intently on the two games being played separately from the pack of concurrent kickoffs. As it so happens, this Sunday's matches featured the two hottest teams in the Bundesliga.
For several weeks now, we've been tracking the red-hot form of both Frankfurt and Wolfsburg. Both teams are playing straight-up enthralling football at the moment. They should continue to astound and amaze on their way to top four finishes. As for which team is better, last week's piece gave the German Wolves the slight advantage on the basis of them being the more complete team. Settling in for a a cozy Sunday of football, German fans enjoyed the privilege of watching the league's two current best sides compete in separate fixtures. Which squad would earn the distinction of being the better one this time?
Both games yielded high-quality football. Wow. Results might have been different. The SGE and VfL racked up huge advantages in the xG metric. Of course, actual results matter more than hypothetical outcomes. A draw with Gladbach cost the country's Green company team their third-place spot whilst the Adler of Eintracht dismantled their opponents with impeccable class. Hence, Frankfurt gets the extra space of the "focus section" this week. Adi Hütter's men are now unquestionably the Bundesliga's most complete team. All that's missing from this side are its fans, whom one honestly can't wait to watch through stockpiles on toilet paper back on the pitch again.
Lineup—Eintracht Frankfurt—Match 21 (3-4-2-1)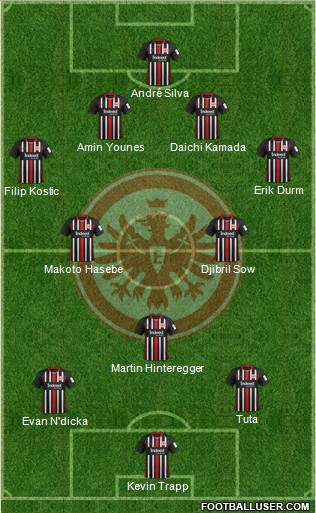 Having literally just checked in with Frankfurt two short weeks ago, there's not much new to report upon. The basic system holds. A couple of interesting organic developments are worth touching upon.
Evolution of the back-three
Some thought that David Abraham's retirement would lead to an awkward transition phase with respect to defensive leadership. Those familiar with Martin Hinteregger's personality knew that any such interval would be a short one. While Lucas Silva "Tuta" Melo still makes mental errors, the cooperation among these three rapidly advanced to top-tier status. This may or may not have something to do with the bonding helicopter rides Hinteregger has been taking his two protégées on.
If anything, the spacing among the trio has gotten even wider. This group feels comfortable giving each other berths. Reactions whenever one opts to press forward on a carry are immediate. Communicatively, they're capable of closing ranks very quickly. It's clear that they read the play on a shared wavelength. Perhaps most importantly, Tuta and Evan N'dicka feel comfortable switching flanks frequently. This proved immensely important in this one.
Sixes up, wingers back
The other barely noticeable shift concerns slightly more forward positioning for the midfield tandem. Filip Kostic still makes more runs than any other player, but does so from an observably deeper position. The fact that over 70 percent of the SGE attacks originate from the left stems from two major reasons. First and most obvious, the surging Serbian serves as the main target at this juncture. Adler players know who wants to take the match on his shoulders.
Another factor worth mentioning concerns Erik Durm's return as Kostic's wide axial partner. The 2014 World Champion fell off of virtually everyone's radar after his career stalled. The 28-year-old trained struggled to catch on as a regular in Germany and England mostly because he never truly developed as a defender who favoured a clear tendency. Credit trainer Hütter for helping him establish a clearer identity at this late stage of his career. Durm is a defensive-minded winger. This is another hugely relevant point.
The league's most confused team
Moving over to Markus Gisdol's Geißböcke now, we behold yet another tactical construct difficult to explain. Snapshot illustrations aim to clarify analyses such as these, yet there shall always be instances in which the tactics boards cannot help but look sloppy. Gisdol's strategies never fail to do so. Here's the latest:
Lineup—FC Köln—Match 21 (4-4-2)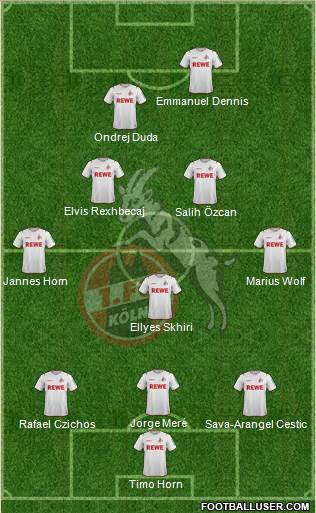 By no means a pretty constellation, but still a bit more coherent than what debuted against Gladbach last week. It's a transparent enough low-block spread complete with a centralised sweeper and short-striker. One can only theorise as to a couple of opponent specific tactics
Flat back-three with wingbacks
Marius Wolf's return to the starting XI gave the Effzeh head-coach a legitimate threat on the flanks. Unfortunately, Ismail Jakobs' injury subtracted one as well. The flattening out of the defensive ranks suggested that Gisdol wished to push through with a double wingback deployment even if he didn't have his desired personnel.
With this in mind, it's absolutely fair to question the use of Jannes Horn's. The 24-year-old's best performances thus far this year have come as part of a flat defensive-chain, not ahead of it. One also wonders why Gisdol thought it a good idea to pit a converted forward against Kostic.
Attempts to stabilise Duda
Ondrej Duda's license to roam seems to have been curtailed slightly for the purposes of this fixture. The Slovak, who has served in every last offensive position over the course of the season, settled into a free-reign role some weeks back. Here one saw him fold bak behind Emmanuel Dennis on the Kölner charges, perhaps in an effort to get the newly-acquired striker off the mark in the league.
Elvis Rexhbecaj and Salih Özcan also never drifted very far apart. The back three Domstädter axes spread whilst the top three kept it narrow for the counter. At least this appeared how it was supposed to work, in theory. Frankfurt confirmed themselves of capable of sowing confusion fairly early on.
Match Flow: 1st to 15th minute
Despite plenty of long volleys back-and-forth from both sides in the opening ten minutes, the cathedral city club put together a few offensive drives. The first came in the 2nd after a step-up from Ellyes Skhiri and a late trail from Duda. Rexhbecaj found himself free in the 4th, ultimately unable to skirt back for a squeezed-out Horn.
Frankfurt's first genuine attack, unsurprisingly, came courtesy of a Kostic run and cross on the left in the 9th. Two minutes later, Dennis hassled his way into a skilful win before being shut down by Hinteregger. Tuta stood tall to abrogate the positive effects of a long switch from Duda to Wolf one minute after that.
Duda again punched through in the 13th. A long-lofted ball for Rexhbecaj was a good idea, but the SGE defensive trio were all over the Kosovar by the time he received it. Another over-the-top lofter in the 14th reached Dennis, albeit in an offside position. Eintracht survived what passed for an early challenge.
Match Flow: 15th to 23rd minute
Hütter's hosting team took their time growing into the match. The squad spread the ball around well enough. Space on the rushes was nonetheless at a premium on the loaded left. Skhiri did just enough to close down Kostic whenever his teammates invariably kicked the ball out to him.
The SGE tried more advanced charges down the the center. Kostic remained the target. Jorge Meré stopped an Amin Younes shuffle out wide for him in the 17th. Meré then tackled away from Kostic directly to put an end to an especially scintillating run in the 18th.
A bit of quick thinking from Younes saw lead-striker André Silva clear for his first major breakaway in the 20th. Meré somehow recovered in time. One minute later, it was Kostic again blazing all the way to the touchline and supplying a nice pullback that somehow got lost amongst the bodies.
Timo Horn made his first major save of the afternoon when Silva serviced Daichi Kamada with a gorgeous cross. The Japanese international forced the Kölner keeper into a quick parry. Younes somehow couldn't wrap his foot around the rebound. Eintracht really began turning up the heat.
Match Flow: 23rd to 32nd minute
Largely uninterrupted bombardment ensued. One could fairly say that there existed only one true team on the football pitch. On the SGE's first right-ward attack, Tuta slipped ahead to set up Kamada in the 25th. Djibril Sow, abetted greatly by a wise decision to hold the ball a bit longer in some cases, directed a few useful chips at different targets in the 26th and 27th.
With a little more diverse ideas heading forward, it did not take long for Kostic to open up free of some markers again. Silva turned another one of the Serbian's beautiful crosses wide at the the end of the 27th. N'dicka collected a neat switch from one of his colleagues in the 28th, only barely missing Kamada with a near perfect vertical one-touch in the 28th.
Frankfurt's build-up-play remained crisp and attractive. Silva deftly laid off for Kamada at the hour mark and his supporting ten earned a corner with a ferocious first-time blast. Kostic bowed in the corner in for N'dicka. The Frenchmen headed over by a few inches.
Match Flow:  32nd minute to half-time
Djibril Sow picked up an accumulator yellow in the 32nd and matters proceeded to slow down a tad. The Hessen hosts continued to boss possession adroitly, cleating up large swathes of the pitch with patient distribution. Köln, when they did see the ball, managed zilch. A pair of attempts to locate Wolf streaking on the right in the 37th and 38th were very poor.
A genuinely delightful move by Kamada in the 39th was punctuated by a flawlessly weighted layoff that sadly found no takers. Guile and grace persisted as the SGE pushed for the opening goal. Inexplicably enough, it would not come before the break. Silva screwed still another Kostic cross just wide at 45+1.
Match Flow: 46th to 57th minute
With Frankfurt producing an xG of 1.5 to Köln's embarrassing 0.0 during the opening 45, the Geißböcke trainer surely had to try something. There was actually a tactical tweak from Gisdol at half-time. Jan Thielmann replaced Duda (who picked up a light injury). Gisdol used the opportunity to dispense with the short-striker experiments and switch the assigned flanks for Wolf and J. Horn.
Though this produced appreciably more lively play for approximately two minutes, it was not long before the Hessians wrested control back. N'dicka executed a wonderful midfield pick-up in the 49th and turned on the turbo with a fantastic break. The end result saw Kamada unleash another scorcher that was regrettably blocked. Younes stepped in force another turnover/turbo in the 51st.
Kostic, incredibly, had Silva set up with another cross in the 52nd. The Frankfurt striker got his header on target this time with T. Horn having to be spot on to make the save. It mattered not that one knew that everything would keep running through Kostic. The man was simply unstoppable.
Kostic powered through again the 53rd, cutting back for Silva once more. The Portuguese attacker even found the back of the net. Goal celebrations were cut short when the line-judge correctly called the tally back on the basis that the ball went over the touchline prior to the cross.
One sensed that Eintracht could avoid scoring for much longer. It made sense that Hütter would soon begin to explore the possibility of deploying the second-part of his one-two punch. When would Luka Jovic be introduced? Not for some time, it turned out. The goal came in the 57th.
The play putting the hosts up 1-0 owed everything to a sensational sequence of teamwork. The forgotten Erik Durm began it all by taking down a ball nicely on the right flank, then pulling back, dummying a switch, and firing off his own shot. Kamada, quite intentionally it appeared, redirected the hit directly into the path of an onside breaking Silva. The finish was sublime.
Match Flow: 57th to 70th minute
The outcome of the match could be considered in effectively zero doubt after the opening goal. Hütter's men continued to pile on, employing flicks and tricks just for the fun of it. Silva rounded three markers with a back dribble in the 59th. The Hessians pushed the xG disparity even higher, topping 2.0 to Köln's unaltered 0.0.
Jannes Horn furnished the visitors' first legitimate near target shot in the 62nd after Dennis dug out a cutback cross for him. the effort sailed well wide. A spot of creativity accorded Wolf a chance three minutes later. The Dortmund loanee's try was even further off the mark. Dennis blasted over the 67th. At the other end, Silva directed another header on target in the 66th.
Match Flow: 70th to 79th minute
Later-match tactical adjustments on this day were tangentially relevant in that they reinforce the divergent states of these two teams. Adi Hütter's Adler remain a team with a robust identity. One knows not only exactly how they'll line up from week to week, but also how their coach aims to deliver his knockout blow each time.
Lineup—Eintracht Frankfurt—72nd minute (4-4-2)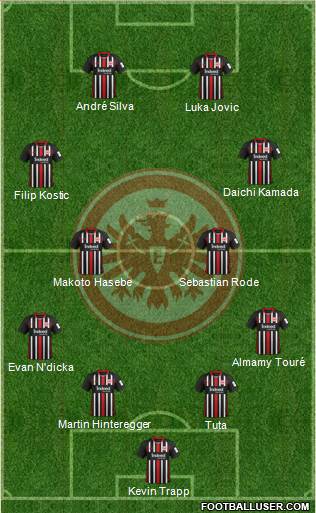 Note that this almost an identical 4-4-2 reformat as the one seen two weeks ago. Note also that the fact that, despite the fact that the nature of the K.O. blow remains obvious, any opponent will find themselves hard pressed to devise a way of blocking it. Such a modification lends the SGE an additional world-class striker, a midfield stability specialist, and two fullbacks capable of incinerating the flanks.
This week's opponents still fumble for any discernible sense of identity. As Hütter prepared his triple substitution, Gisdol readied his own double. Özcan and Dennis made way for playmaker Dominik Drexler and the hitherto underused Latvian-league loanee Tolu Arokodare. Rexhbecaj slid behind the strikers to work as a ten.
Lineup—FC Köln—73rd minute (4-4-2)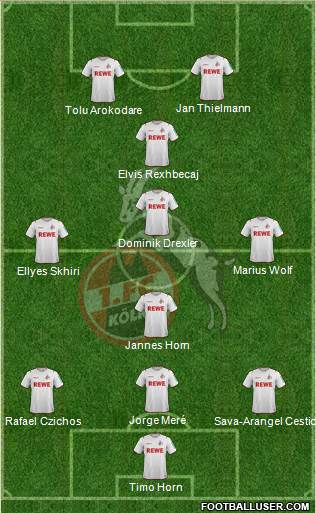 Believe it or not, this actually produced some bright play. Arokodare headed on to give Rafael Czichos a nice chance in the 74th, then danced through for his own nifty look less than a minute later. The Nigerian beat Hinteregger (no easy task) on a subsequent run and would have surely scored had Makoto Hasebe not come to the rescue.
Almamy Touré had to quiet down the peppy Kölner sub with a pair of hard fouls. It would be a brilliant Touré run, however, that eventually put the game beyond even the slightest doubt. Only a Jannes Horn slide tackle stopped the Frankfurt right-back in front of goal in the 79th. Kostic's ensuing free kick found the equally brilliant N'dicka for the 2-0 advantage.
Match Flow: 79th minute to full-time
In terms of the descriptive accounts of the game, one must report that the now seemingly invincible Filip Kostic was far from finished. Eintracht's "Super Serb" kept going. He nearly set up N'dicka for a brace in the 81st. He got another delivery in for Silva in the 84th. He teased Kölner sub Dimitrios Limnios with a filthy slick possession trick in the 88th. Fullbacks Touré and N'dicka were absolutely radiant down the stretch as well.
It apparently just doesn't get any better for the undisputed champions of "Super Sunday". The German Eagles are the footballing equivalent of a steamroller; one that stands a very good chance of knocking Bayern back down into a title race next weekend. Neutrals should root for the SGE for a confluence of reasons. While their ability to bring competition back to this campaign remains the top one, those who haven't had the chance to see this club's ultras in the stadium might also look forward to watching them at their zenith of appeasement.
We'll wrap up this segment with a wink and a nod to the club fans who contributed more than any other societies to the impending death of "Monday Night Football" in the Bundesrepublik. Your task was an important one. Your current team rewards it with deserved sensational football.
---
Concluding Thoughts: "Wir wollen rein!"
---
On the topic of fans, there's a need for a bit more editorialising before this closing this round out. Pressed about Thomas Müller's corona infection at a press conference, Hansi Flick actually lost it for a brief moment and called out Germany's politicians for their recent handling of the pandemic. Flick noted that citizens of the Bundesrepublik aren't being given a glimpse at "the light at the end of the tunnel."
Such frustrations are common amid a slow vaccine rollout and the announcement late last week that country-wide lockdown would be expanded for another month. In last week's commentary section, we touched upon the fact that thirty-two German districts had fallen below the RKI stabiliser that once allowed small number of fans into Bundesliga stadiums and some public events to proceed. That number is now fifty-seven. Nation-wide daily infections are also plunging; currently below 5,000.
There's clearly a light at the end of the tunnel, yet the citizenry isn't being given some concrete dates to look forward to. Why is this so? From a public policy perspective, it makes sense. The goal of slowing transmission cannot be abandoned simply because vaccines are available. Through the process of natural selection, the latest variants of the virus are more contagious. Rolling back restrictions too fast risks offsetting the benefits of inoculation. Furthermore, permitting the public to lose focus at this stage risks everything.
All of that being said, there's enough data out there to at least reveal some aspirational dates. When it comes to football fandom in the Bundesrepublik, the ability of supporters to comply with restrictions shouldn't be underestimated. In one of the final matches before Germany's second "Geisterpiel Era" commenced, socially distanced fans of 1. FC Union Berlin adhered to every last requirement. Forbidden from removing their masks even at their designated seat, they kept them on. Told not to sing, chant, or yell, they banged on pots and pans to cheer on their team.
German fans can do it. They can submit to rapid tests at the stadium entrance, sit miles away from their family and friends, refrain from consuming alcohol or concessions, and even strike improvised percussion instruments if one insists they keep their masked mouths closed. Flick has a point. The plans for easing out of lockdown must include actual exercises in trust between the politicians and their constituents. Extending a hard lockdown for another month was the wrong move. One has a right to expect better next month.