A massive weekend for catching up with full-colors here on the profile website. We've no fewer than seven of the Bulinews hot-sheets to get through insofar as the tactics column is concerned. If we travel back to round 21 of the current campaign, there's a chance to relive the immediate reversal of several trends that were taking shape at the point at which we left off.
There's also a chance, among many other things, to relive a five-goal thriller that took place between Stuttgart and Frankfurt.
Hopefully, none of us will have to relive those empty stands one sees in the background EVER AGAIN!
---
Bundesliga Tactical Banter: Round 21
---
The Dortmund Debacle
Wow. Freaking what? That's all one can say. The Schwarzgelben have gone and done it again. Not soon after many of us were prepared to finally let our skepticism drop and dole out the long-repressed praise, they went ahead and did it AGAIN! Argh. One cannot quit as they did on this level. Inexcusable. Unseemly and shameful. Younger players like Gio Reyna, Steffan Tigges, and Youssoufa Moukoko had to pick up the slackened spirts of a veteran crew who dropped their tools and walked off the job.
At this stage, it's difficult to know what precisely to make of Leverkusens 5-2 thrashing of the would-be title contenders. This columnist will have to let it settle and re-watch. Those of us tuning in Sunday expecting a football match at Signal Iduna Park didn't quite get that. The bizarre swapping of own-goals seemed removed from the general tenor of these two teams. The BVB practically invited counterattacks with amateurishly wide builds. Even after Gerardo Seoane pulled back tactically with a 4-1 lead, this same pattern persisted.
Uff. Against a team known for its lightning quick counter, Marco Rose had to come up with something better that the 4-1-4-1. To reiterate, processing what was just seen will take some time. For the time being, the columnist can't shake the metaphor of Rose running out into a thunderstorm holding a metal rod. Figuring out precisely what happened here will obviously yield more nuanced answers. We can declare the patient dead by lightning strike for now. Autopsy later.
The Gladbach Grind
There are already some positives popping up from Gladbach's 1-1 draw with Bielefeld in the hard fought battle of Prussian vs. Teutoburg. This one proved a good old-fashioned heavy clogging slugfest in midfield for the first twenty minutes; something one would expect from a pair of teams struggling at their current table position. One had to like how the BMG responded to falling behind early. Matthias Ginter and Ramy Bensebaini pushed forward to create chances.
Eventually, Plea finished strongly to secure the equalizer after a nice assist from Jonas Hofmann. Adi Hütter's 3-4-3 (run expertly by Hofmann as a sliding ten) generated plenty of chances in the early part of the second half and down the stretch. Fohlenelf keeper Yann Sommer was far more than just talk on Saturday. The team's gloveman and captain responded with a very stellar performance that featured many fine saves. This was, as Sommer put it, "a step in the right direction". With so much off-the-pitch noise behind them, better days could be within reach.
Freiburg lose the tailwind
We return to a more uncertain diagnosis when it comes to the Breisgauer. Some officiating controversy in the team's 0-1 loss to Köln doesn't obscure the fact that Christian Streich's men looked woefully insecure on the ball for much of the match. A very shaky match for German national team defender Nico Schlotterbeck, who's bad giveaway led to Köln's goal. The finishing quality in the second half was especially poor. Despite what some of the Kölner actors said afterward, the visiting Badeners probably didn't deserve a draw.
Oh well. This wasn't merely a slightly distressing weekend for Freiburg and Dortmund fans. German football lovers in general smart a bit that none of the teams in the top four race can carry momentum over. Dortmund's drive hit the Pokal pot hole and then veered. Freiburg, after rebounded from the 1-5 defeat away at Dortmund, couldn't parlay a two-match-winning streak into much. It increasingly appears as if none of the teams in the top four race are especially good. Ahead of a Spring during which we only get to watch on German Champions' League representative, this is most unwelcome news.
---
The "Spiegel Specials": Round 21
---
Mainz-Hoffenheim (2:0, 2:0)
Doubling it upon the Sinsheimers , it's Bo Svensson's Pfälzer! Stumbling rather often since the end of the last calendar year, the Rheinhessen can at least commemorate four straight home matches without conceding a goal. There were fans in the stands to help them mark the occasion as well. Definitely one of the weekend's "feel good" stories.
Even though most all the Mainzer personnel, coach and administrators included, were quick to note that the Kraichgauer were probably the slightly better team on the day, the M05 defensive still deserves a lot of credit for keeping the contest close within striking distance for the hosts. Would you believe it? We're discussing a fourth consecutive loss for Hoffenheim.
Hmmm..We knew that Sebastian Hoeneß had some personnel problems heading in. Let's see if anything's up.
Lineup—TSG Hoffenheim—Match 21 (4-2-3-1)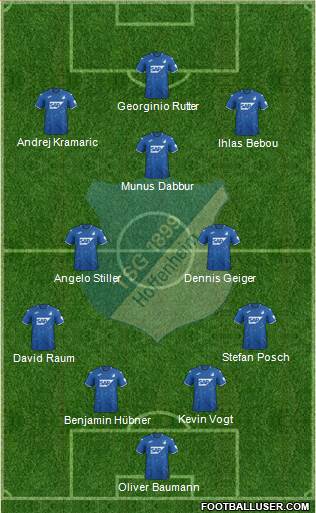 Rather odd to see Hoffenheim returning to a back four after all this time. Sort of like seeing someone undesirable unexpectedly naked. One should note that this constellation mostly delivered the goods performance-wise. The ever-sparkling Georginio Rutter hit the post with a header inside of four minutes. The league's best present false-nine/flexible ten Munus Dabbur also shook the aluminum with a header shortly after the restart.
Angelo Stiller and Dennis Geiger kept the midfield tidier than they counterparts, though there were undoubtably some moments of confusion. Andrej Kramaric and Ihlas Bebou did more than well on the flanks, both getting their chances in. The big flop proved Stefan Posch at fullback and miscues between then returning Benjamin Hübner and Kevin Vogt in the central defensive partnership.
Hoeneß eventually got them into a back-three again by dropping Bebou back in the second half. This maintained a certain level of awkwardness. Florian Grillitsch probably should have anchored the rearward chain from the start. We'd likely be discussing a different result then. Hoeneß probably regrets this.
Prognosis: Haters must abate
To disappoint those who don't want Dietmar Hopp's 50+1 violation to qualify for Europe, there's sadly too much talent on this team. Diadie Samassekou will be back next week. So too in all likelihood Chris Richards and Kevin Akpoguma. Justin Che should be ready quickly. The attack wasn't much of a problem here despite the scoreline and the defense is on the mend.
Hoeneß can easily retool the side in time to pick up points against Bielefeld, Wolfsburg, Stuttgart, and Köln. Expect to see the Sinsheimers back in the top four well before Easter. They've been pretty inconsistent to be sure, but so has the entire rest of the Bundesliga field apart from Bayern if one wishes to be brutally honest about matters.
Hertha-Bochum (3:1, 1:1)
Ha! Back when we were discussing the reverse fixture in September, we were also discussing a Suat Serdar brace! Now the former national team midfielder has been benched for Tayfun Korkut not being good enough to play….for Hertha. Oops. Maybe Schalke will take him back, or he can possibly follow Ahmed Kutuçu to….er….wherever it was that Kutuçu went off to. 
Anyways, who is good enough to play for die Alte Dame these days? Let's take a look at how Korkut lined up the Charlottenburger crew.
Lineup—Hertha BSC—Match 21 (4-4-2)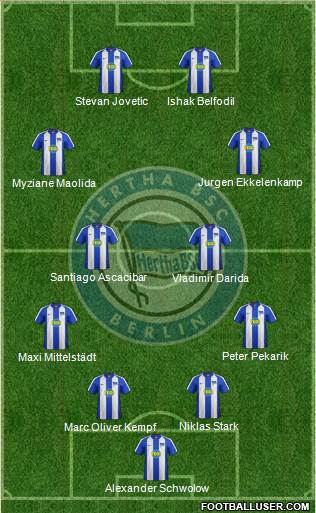 Certainly better than that back-eight we witnessed last round. It's something. It's coherent at a bare minimum. There are some valid criticisms of this selection, as voiced quite eloquently by another writer here at Bulinews Both Serdar and Marco Richter have been slumping as of late, but the notion that Santiago Ascacibar can somehow be a productive part of the six-axis should have been jettisoned over a year ago.
There were some positives. Shutting down Bochum's whirlwind winger Gerrit Holtmann on one of his better days is no easy task. The manner in which the team contested the 50-50s in midfield during the first half consistently impressed. Naturally, that may not mean much for Hertha enthusiasts as practically everything that happened duel-wise in the second half remained unspeakably bad.
Prognosis: "Microwaving with Bobic"
We'll engage in a thought experiment of sorts and see if we can't divine the ultimate intent of the most recent transfer window moves. Myziane Maolida remains the preferred left-winger, just as Marco Richter ostensibly constitutes the preference on the right. As nice as its been to see Isak Belfodil pocket a pair of long overdue goals, it should be clear than Stevan Jovetic working alone up top has to be the first choice. It looks like a 4-2-3-1.
Marc Oliver Kempf gets integrated immediately into central defense. André Bjørkan can't be far behind at the left-fullback position. If Vladimir Darida is the  intended ten, then Lucas Tousart returns next week to pair with Serdar at six. Jurgen Ekkelenkamp or even newcomer Dong-Jun Lee could be the eventual tens too, but seem more like late match jokers.
Give this a month or so to settle, with a projected four point pickup over the course of the next three matches (Fürth, Leipzig, and Freiburg) in February. Now we're cooking with low mid-table mediocrity! It shapes up to be a familiar cooking show for Hertha fans. Maybe more of a "microwave recipe" program that features tips like whipping up a meal of instant rice and butter. Say what one will, it gets the job done.
Bayern-Leipzig (4:1, 3:2)
What a fun match this was! Not much additional insight one can add to the highly recommended Top-Spiel other than the unbridled joy that, unlike in the reverse fixture, the revamped German Red Bulls proved capable of keeping this one competitive. A healthy Dani Olmo obviously made the biggest difference. Having Konrad Laimer back fully fit again helped out a great deal too.
As RB head-coach Domenico Tedesco put it afterwards, his team (winners of four straight in the lead-up to this encounter) shot themselves in the foot with not one, but two "own goals". Willi Orban's giveaway on Thomas Müller's opening goal in the 12th effectively counted as an egregious act of self-sabotage. Shame to see that from one of German football's most likable players.
On balance, one should still emphasize that Robert Lewandowski's many missed opportunities to put the game to bed late throws a bit of a wrench into Tedesco's assessment. A tad more finishing polish from the world's greatest striker could have seen the Bavarian giants run up the score. The revocation of Müller's second goal also counted as somewhat subjective. It felt like a more dominant performance than the scoreline suggests.
Prognosis: Confidence of a "wardrobe malfunction"
Julian Nagelsmann all but has his first title at the helm of the record champions all sewn up by now. He's feeling pretty confident about what we all considered to be an inevitability after he was appointed late last season. How does one arrive at this conclusion? In a loose segue, we'll say that Nagelsmann knows it's "all sewn up" by his choice of "threads".
Er…surely this columnist wasn't alone in noticing that the young-gun trainer was wearing what looked like an American Football high school varsity jacket on Saturday? Don't forget that the 34-year-old only recently gave up his "wardrobe showmanship". It happened last season after Leipzig suffered a brutal loss in the Champions' League group stages. Pressed about his dopey suit, Nagelsmann made more subdued wardrobe choices thereafter.
Well. Now we have the cheerleader-seducing "M-Pelt". Flowing parkas, pantsuit knickers, and rustic country checker flannels can't be far behind. Uh-oh. May the football Gods help us. Nagelsmann has the confidence to sport whatever he wants once again. Looking at how good his team is, one can't really argue with him either. The young coach believes that being a genuis enables him to dress as he pleases….and he happens to be right too.
---
The Burning Questions: Round 21
---
How did Union fare without Kruse?
Occasionally lacking imagination, but there's certainly no reason to press the panic button following the 0-2 loss to Augsburg. Recall that Urs Fischer and die Eisernen had to do without their cult-of-personality man for a six-week-stretch last Winter and still kept the iron ship afloat. As usual, there's plenty of hope in the Swiss trainer's interchangeable tactics.
Lineup—Union Berlin—Match 21 (3-5-2)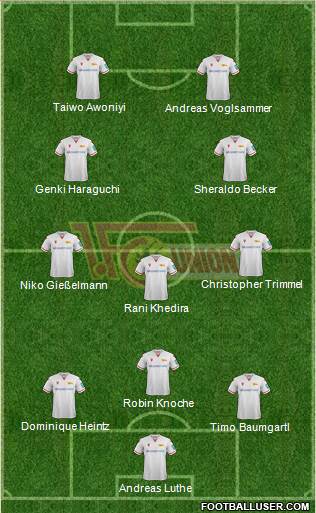 Basically what we've been looking at throughout Urs Fischer's top-flight reign. The component parts of those top two axes can be switched out, with the occasional hiccup and Malfunction. First half play was a little too reliant on getting things going up Gießelmann's side. The idea remained to reach Taiwo Awoniyi, still a bit off following his heartbreaking AFCON exit.
Sheraldo Becker turned in an overall helpful performance. He had his difficulties getting on the same page as the recently returned Nigerian as well. Genki Haraguchi, and later fellow countryman Keita Endo, both managed to break through and get their chances. Kruse's emergency replacement Sven Michel also made an (albeit minor) impact statement off the bench.
One doesn't wish to give the impression that the lost of a pivotal player who led the team with 11 scorer points won't have consequences. It most certainly will. A top-six finish–something of a stretch in the first place–likely stands out of reach now. Rani Khedira's yellow accumulator suspension next week renders matters more difficult still. No matter how bad Dortmund looked this week, the BVB will probably take the points next week.
We could nevertheless see this team back and retreading in a few rounds. More excitement shall emanate from the capital city's Köpenick quarter before the season is out. An implosion can surely be obviated in any event. The core of this team remains solid and the weaknesses of the rest of the Bundesliga field remain legion.
How did Wolfsburg fare with Kruse?
Time too check in with the other side of the coin from the January transfer window's sensational blockbuster deal. Wolfsburg quite literally doubled down toward the end of this transfer period, making their flurry of moves and flash of cash in the offseason look like packing peanuts. All club administrators go for broke as Germany's green company team attempts to spend its way out of this relegation race.
If it doesn't work, neither will Jörg Schmadtke, or Marcel Schäfer for several years to come. Here's the set-up from Sunday's 4-1 win over Wolfsburg.
Lineup—VfL Wolfsburg—Match 21 (3-4-3)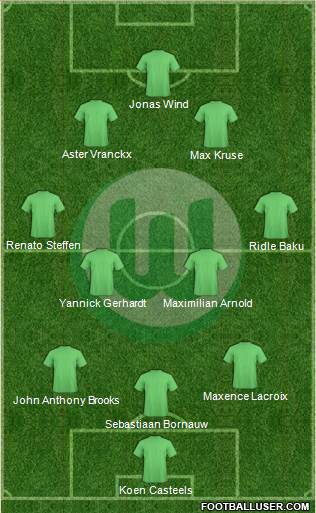 "New look Wolfsburg" isn't exactly "new look" yet. In point of fact, Aster Vranckx's opening 7th minute goal owed much to a propitious bounce off the post from a Renato Steffen effort. The ball ricocheted right back to his feet. After that, this squad proceeded to look much like the old one throughout the duration of the first half. Tons of midfield miscues and really flaccid attacks. Fürth's 44th minute equalizer was well deserved.
Kruse finally woke up shortly after the restart and the VfL offensive engine ran optically better. Vranckx capitalized on an error from soon-to-be re-benched Fürth keeper Sascha Burchert to restore the lead in the 49th. Again, however, die Wölfe fell into a noticeably timid attacking pattern after regaining the lead. SpVgg captain Branimir Hrgota was unlucky not to have equalized shortly after the hour mark.
Add to this a couple of flukish goals near the end and one gets a misleading 4-1 scoreline. Kruse did okay. No more. No less. It's inconceivable that this expanded assemblage of talent won't turn it around eventually. Know that merely because something is inconceivable doesn't make it impossible. An epic meltdown could still happen.
---
Weekly Tactical Focus: The Perils of long-term risk
---
Tons of pre-embedded storylines in this weekend's "Rhein-Main" meeting between Frankfurt and Stuttgart. Oliver Glasner's Eintracht sought their first win of the new calendar year. Pellegrino Matarazzo's VfB sought their first goal since round 15 in early December. Something definitely had to give on a sunny (if not brutally cold) day in Swabia. The sound intuition that these two teams wouldn't simply play for a safe 0-0 made this fixture the one to circle heading into the weekend.
As it so happened, we got five goals in a match that proved absolutely riveting from start to finish. We've been talking quite a bit about the "Suttgarter Process" in recent weeks. Team news in the lead-up this week signaled to anyone paying attention that the time had finally come to test out the Matarazzo-Mislintat plan. "Silas" was deemed fit enough to start. Borna Sosa too. After three starts without a tally, lead striker Sasa Kalajdzic had the test shaken off and the service outlets ready.
If the Württembergers held out hope of making some sort of long overdue statement, visiting Eintracht accorded them perhaps their best opportunity. The visiting Hesseners rolled into town with several key players unavailable. No Filip Kostic. No Daichi Kamada. A Rafael Santos Borré surely too jet lagged to be at his best even if he did start. Oliver Glasner would have to make precisely the right tweaks to his preferred set of tactics in order to get his squad off to a solid start.
One can fairly say that he did.
Lineup—Eintracht Frankfurt—Match 21 (3-5-2)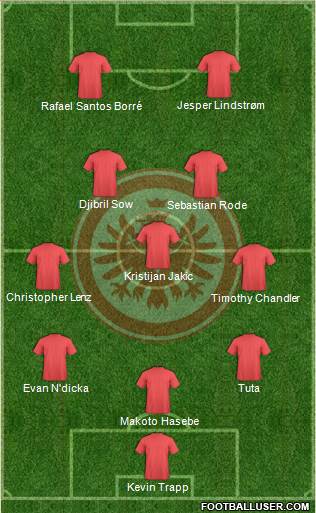 Actually quite brilliant. Borré received precisely the support he needed in the form of Jesper Lindstrøm serving on a vertical axis pairing. With Christopher Lenz in for Kostic, the SGE trainer dropped the entire second axis back to wingback pockets. Stationing Makoto Hasebe on an inverted pivot gave Lenz and Timothy Chandler enough rearward buttressing for them to make runs of their own.
Djibril Sow and Sebastian Rode that far forward led to some awkwardness, but it ultimately paid off in the end once Glasner inserted an actor (Ajdin Hrustic) with more ranged skill on the second attacking line. Kristijan Jakic retained enough proximate structure to give him options on the builds. Those looking for a lot from the strikers in this match surely ended up disappointed. The fact remains that this constellation wasn't constructed for them.
A couple finer points to discuss.
Lenz as the set-piece taker
We'll be discussing this choice in considerable depth below. It may have very well worked out far better than Glasner initially intended. The SGE gaffer still deserves credit for entrusting a cold actor with such a large responsibility. Lenz took perhaps three quarters of the corners and it was clear that the former Union man had worked out a few sophisticated designs with Lindstrøm on the training pitch.
Overall, Eintracht's solid execution off dead-ball situations conveyed an effective use of time over the international break. Glasner and staff drilled the squad well in order to make certain that they retained this crucial advantage. Matarazzo took his team to a vacation locale, which contextually wasn't a bad decision either. The German Eagles still showcased by far the more refined prep packet.
Closing the gap
Something that might jump out to readers when interpreting the above graphic concerns the large amount of space left between the Borré/Lindstrøm axis and the Rode/Sow one. This was indeed quite surprising. Most of us had Lindstrøm down as a service/link-up striker when the team sheet was initially released. Operating with such a blatant gap behind the front line ordinarily counts as a big "no-no" tactically speaking.
How did Frankfurt manage to succeed in spite of this inherent issue? The short answer is that they didn't really. A team in better form that Stuttgart might have duly punished them for it. The Eagles racked up far more distance coverage than their Swabian opponents. This carried with it the risk wearing them out and leaving them vulnerable.
Risks taken often turn into "risks forgotten" when a positive outcome carries the day. In this space, we'd like to ensure that this doesn't prove the case. It could have all gone haywire. Note that Glasner's move here did fall into the category of a "calculated risk". He wagered (correctly) that Stuttgart didn't possess the confidence to covert their fresher legs into goals.
A promo-process exit
An initial look at Matarazzo's tactics may elicit a "Meh". True, they are not as well formulated as Glasner's. They are nevertheless a worthy attempt at fashioning a smooth reintegration into the squad for some players, as well as a laudable enough attempt to roll with some "calculated risks" of the American trainer's own.
See if you can't spot what looks slightly out of place.
Lineup—VfB Stuttgart—Match 21 (4-2-3-1)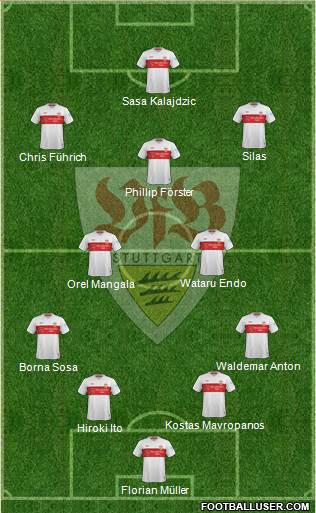 No "split-stagger" for Silas/Sosa or captain Wataru Endo and his designated midfield partner here. Too risky. What does count as a risk entails moving Waldemar Anton out the wide right fullback position. As we shall see, this led to wildly mixed results. Despite the fact that the veteran defender scored his first goal in Stuttgart colors, Lenz outclassed him and rendered the link ups with Silas too difficult.
Sometimes even a "calculated risk" can blow up in one's face with all the destructive power of something poorly planned. There's obviously much more to this game then the activities on the VfB right/SGE left, however. With that in mind, it's probably about time we jump in. A great match on what was (shockingly) a well kept February pitch at the Mercedes Benz Arena.
Match Flow: 1st to 7th minute
The story of this fixture's first few minutes quickly devolved into one of multiple Eintracht corners. Before that, there was some visible intent on the part of hosts. A hard Stuttgart press forced Evan N'dicka into a bad giveaway at the back in the 1st. Keeper Trapp cleaned up. Endo hit Silas with a sharp long ball in the 2nd. The Congolese attacker, returning to the starting XI for the first time in 322 days, didn't look rusty at all spinning away from three Lenz challenges.
He ultimately couldn't get a cross in, however. The VfB press inflicted another giveaway in the 3rd. This time Rode had to clean up after Jakic spilled. The visiting Hesseners kept their feet wrapped around the ball during their first mistake-free charge in the same minute. The result was our first Frankfurt corner. Lenz played it short to Lindstrøm, then struck a solid whip-in on the return ball. Konstaninos Mavropanos turned the service away for another corner.
Lenz served directly on the next one and Tuta didn't miss by much. The Swabians tried to penetrate left with Chris Führich on the ensuing goal kick. The SGE ate the ball up quickly and unleashed a quick corner. This led to the third corner inside of five minutes. Lenz again hit a fine service. Jakic's shoulder hit from close range shaved the far post in the 5th. After some possession changes, Eintracht pounced on an elaborate triangulation involving Endo in the 6th.
The Eagles swarmed into the box whilst the totally disorganized Swabian defensive ranks scrambled after them. For some reason, no one in red was available to meet Lindstrøm's pullback in the 7th. Frankfurt would get another chance when Silas botched the clearance and more penalty-box-pinball gave the SGE their fourth corner of the match. Lindstrøm serviced from the left. Chandler redirected toward N'dicka with a clever and subtle touch. The Frenchman did well to track the ball and supply his own neat finish.
1-0 to the guests.
Match Flow: 7th to 26th minute
The Swabians could only hope for a gradual recovery from this disastrous start. Anyone watching felt genuinely embarrassed for Matarazzo's men. They conceded so many chances. The fate stood fully deserved. Mavropanos tried an ambitious carry out of the back in the 8th, but Lenz saw him all the way and had no trouble stopping him. Eintracht slowed matters down with a bow-arc build in the 9th and we got a brief injury timeout when Borré required treatment.
Sow's vertical for the overlapping Lenz proved a bit too strong in the 10th. The Hesseners found themselves able to take advantage of the suddenly slackened Stuttgart press and took their time with the next two builds. A VfB counter attempt in the 11th furnished more embarrassment when Kalajdzic couldn't hold the ball up. The next upfield ball from the hosts went directly to Silas. N'dicka had real problems keeping up with the determined African.
Silas ended up leaving his feet in the 12th, yet still managed to keep after the ball in the box. Lenz had to step in to tackle away as N'dicka appeared legitimately stunned that Silas was still going. N'dicka eventually recovered to take care of Philipp Förster when the ball squirted out to Stuttgart's last goal-scorer. To their immense credit, the next Stuttgart rush, in the 13th, proved far more creative.
Mavropanos executed a nice carry out of the back. Anton got involved and Kalajdzic held up well this time and sent a wonderful switch out to Chris Führich wide right. Führich read the play well whilst keeping position via a few deft no-look touches. He then spotted Orel Mangala on an excellent trailing run. The low-driven finish from the Belgian international didn't end up troubling Trapp much, but it was about as impressive a sequence as we've seen from Stuttgart in a long-time.
This signal of intent regrettably wouldn't be converted into momentum for some time. Frankfurt recaptured the pattern via more slow builds in which the SGE back-three danced around the unsure-of-itself Stuttgart press. Tuta, Hasebe, and N'dicka mostly worked rearward cycles in the 14th and 15th. There were a couple of breakthroughs near the end of the uninterrupted Eintracht possession spell.
Endo beat Lindstrøm to a give-and-go return in the 15th. Sosa intervened to stop Chandler in the 16th. The Hesseners got their fifth corner of the match in the 16th. This one too proved dangerous. N'dicka narrowly missed out on an early brace when he headed another top-notch Lenz service over. The next VfB charge (17th) went straight to Silas again. N'dicka once more had trouble handling the slick winger. Lots of sharp stuff from Silas on this day.
Thankfully for him, Lenz again converged to cancel on a much-needed double team. Hasebe was able to catch up to the play and block the eventual cross. Anton then tried to switch for Führich. The makeshift right-back made one cringe with out-of-position read on the hit that sent the ball well out of bounds. Hiroki Ito had to haul down Lindstrøm on subsequent Frankfurt counter in the 18th.
A interesting free-kick design ended with Sow–following some interplay with Lindstrøm and Borré–shooting over in the 19th. The next VfB build took mere seconds to turn the ball over. A few more SGE attacking waves between the 19th and 21st might have produced more. Spacing understanding and marking assignments continued to all out of whack for Matarazzo's men. Somehow, moments of individual brilliance kept the scoreline.
One such case in the 20th was rather humorous. Borré broke through on the left before being upended by a pinpoint Mavropanos slide tackle. The Colombian striker immediately got up and congratulated his opponent on the challenge. Nice bit of sportsmanship. Silas did an okay job on a Jakic breakthrough one minute later, but in was really Anton who saved the day with a sweep away for yet another Frankfurt corner.
Lenz began to look mortal on the corner kicks. As well drilled as the German wingback was, even he had exhausted most of his training ground work following a totally unexpected sizeable sum of set-pieces. It was Stuttgart ball again in the 22nd after two failed connects in the box. Eintracht got the ball back quickly, yet appeared more disjointed on their next two rushes.
Glasner's men were at least still attentive defensively, with Chandler shepherding out a ball intended for Sosa in the 23rd. Lenz halted an unimaginative VfB charge in the 24th. Endo got the ball out to Sosa in the 25th and the Croatian's cross proved slightly inviting. Kalajdzic was nevertheless too late to meet it. A VfB bow-bow arc in the same minute went nowhere. Chandler and Rode couldn't come up with anything back the other way in the 26th.
We settled into a lull.
Match Flow: 26th to 42nd minute
Nothing much doing between the 26th and 28th. Lots of midfield ball losses during a very sloppy passage. Sosa, Kalajdzic, Endo, and Ito couldn't keep the VfB break alive. Finally, Führich managed to keep after an Anton switch in the 28th. Hustling toward the touchline, the former SC Paderborn attacker then cut back sweetly for Kalajdzic. N'dicka had to clear away for a corner. Führich took it and aimed straight for Kalajdzic. The Austrian giant's shouldered effort got deflected just over the crossbar.
Stuttgart kept after it on the subsequent corner. This one was played short. After some nice passing notions, the ball went back to Anton for a ranged shot. Anton's try sailed just wide of the post. The Swabians displayed some signs of life. Regrettably, another sloppy passage ensued between the 29th and 31st. No one from either side could really connect. Sosa tried to launch one for Silas in the 31st, but the ball went out for a goal-kick. Hasebe gifted the hosts another chance with a turnover one minute later. Förster produced a stinging shot off a Führich reverse. Trapp had it covered.
More mediocrity over the next few minutes. The air seemed to be coming out of this one after the pacey start. Chandler did okay with a punch-through in the 33rd. It still wasn't much trouble for Ito to scramble away. Chandler completed a nice little turn in the box in the 34th. Anton had enough time to catch up and lear. Out of nowhere, proceedings suddenly sprung back to life in the 36th. Silas crossed well for Führich. A quick-think tap-back enabled Förster to let fly with a drive. Trapp parried. Mangala sent the rebound wide.
Endo and Sosa tried to keep the impulse alive with a give-and-go in the 37th. Chandler cleared after a far-too-easy obvious read. Tuta headed an equally obvious Sosa diagonal back to Trapp in the 38th. The SGE supplied their own little spark on the next counter. Chandler set up Lindstrøm marvelously in the very same minute. The Dane thundered a first-time hit directly at VfB keeper Florian Müller. Stuttgart's netminder found himself knocked back from seven meters out, but did ward off the ball.
Lenz really couldn't do much with the consequent 39th minute corner. The poor guy already went through all the pages in his prep notebook. Stuttgart still had to survive another scare in the 40th when shaky play out of the back resulted in another Lindstrøm chance. This time it was Anton with the poor giveaway. The Dane spared the VfB defender's blushes by shooting over. The Swabians got the ball forward for Silas again in the 41st. Lenz couldn't handle Silas all by himself and match official Sascha Stegemann elected to intervene.
Match Flow: 42nd minute to half-time
We've talked a bit about how spry Silas looked in his first start in nearly a full calendar year. This bears repeating. The Congolese wonder often forced clumsy defending out of his markers. Stegemann could have justifiably intervened much sooner. In any event, the foul call here was very much fair. In most respects Stuttgart didn't have much business finding their way back into this match.
That notwithstanding, Eintracht didn't really have much business conceding a free-kick in such a dangerous position either. Führich whipped in capably. Anton actually whiffed on his intended touch with his right foot. The ball bounced into the back of the net off his left thigh anyway. Stuttgart had their equalizer. Anton had his first ever goal for the team he joined in the Autumn of 2019.
Naturally, this constituted one of the worst times for Frankfurt to concede. It was all VfB thereafter. After the celebrations died down, Förster screwed up the perfect opportunity for the 2-1 by missing a wide-open Führich on a counter in the 44th. Silas applied some more nice moves against Lenz in the 45th. The newly inserted wingback recovered just in time. Nothing happened in Stegemann's lone designated minute of first-half stoppage time.
Match Flow: 46th to 49th minute
Surprisingly, the half-time xG stats were just about even. Both teams hovered just above the 1.0 mark. That one statistic served as just about the only thing in the affair on an even keel. The SGE lorded over upwards of 65 percent possession. Oliver Glasner's men retained almost a 60-40 advantage in terms of the direct duels. The amount of set-piece opportunities, as anyone can infer, ridiculously skewed toward the Hesseners.
Eintracht captain Rode was substituted off at the half for reasons that didn't appear to pertain to a fresh injury. The 31-year-old's return from serious knee surgery has been slow and cautious. It thus came as no surprise to see Glasner limit his minutes. Moreover, Ajdin Hrustic working as the replacement made sense. The Australian certainly demonstrated form flashes in both a recent relief appearance and a solid start.
Signs that Glasner's move could potentially count as a golden touch were apparent early. Before the first minute of the second half was out, the former FC Groningen man had a shot on target following some nicely knitted together passes from Sow and Borré. Müller's save, naturally, led to another corner. A defection out would lead to the second corner of two minutes of second-half play. Unbelievable. The exact same pattern from the first half repeated.
Hrustic ended up scoring on the second corner. What had taken four such dead-ball plays and seven minutes over the first half took just two such plays and two minutes in the second. This wasn't merely a repeat, but a well-polished upgrade. Lenz, refreshed a bit by the break, swung out to the far right corner of the penalty area. Hrustic met the service with a first-timer tricycle from 16 meters out. Astonishingly good.
2-1 to the guests.
The insanity didn't stop. Frankfurt earned another corner from the very next piece of open play. Chandler headed over in the 48th. With a clearly gassed looking Führich totally unable to chase down a horrible switch in the 49th, it looked as if this encounter had an emblematic scene to sum up where it was headed. A "lid" could have been declared right then and there.
Match Flow: 49th to 59th minute
Matarazzo began to ready subs. This in itself didn't inspire much confidence that the flow might be reversed. The Stuttgart trainer already had his best XI on the pitch, even if they weren't at the top of their game yet. Borré ended up plucking two balls in the 50th. A rightward cycle involving Hrustic and Lindstrøm met its end against Anton. The VfB defender then promptly fouled up his touch, allowing Borré to pick his pocket clean and race away with the ball.
Stegemann whistled down for an offside that this observer absolutely did not see. After a brief injury timeout for Förster (incidental high boot to the forehead from Sow) in the 51st, Ito hit a very nice diagonal in Silas' direction in the 52nd. The Congolese winger couldn't slow down in time to avoid taking SGE keeper Trapp out with a hip check. Another injury timeout, along with words from Stegemann to calm tempers down on both sides.
Some clever play from Lindstrøm in the 53rd led to still another Eintracht corner. The Dane took it himself, robbed of a chance at an assist by a brace rise from gloveman Müller. A quick start counter back the other way found its way to Silas once more. "Herr Katompa Mvumpa" gave us all another sensational look at his skills with a dribble around N'dicka in the 54th. Man, is the Kinshasa native a once-in-a-generation kind of talent!
There will be much more razzle-dazzle when the 23-year-old gets back to full strength. For now, we had to settle for a cross from an acute angle that Trapp dealt with rather easily. N'dicka definitely got his lunch eaten, but managed to slow the attacker down just enough that the crucial few inches of space were taken away. In any event, the play did imbue the Swabians with some life.
Endo got a decent vertical charge going in the 55th. Mangala won a solid midfield ball in the 56th. The Belgian straight link-shot to Führich, who held the ball up well. Ito, Endo, and Mavropanos gained some confidence with a series of successful passes. Between the 56th and 58th, Stuttgart held virtually uninterrupted possession. The slow builds weren't the prettiest or most creative. Plenty of cycling back when flank bow-arcs didn't work. It was still something.
Matarazzo held off on the subs whilst his team gradually tried to incubate something possession-wise. Ito couldn't find a way through on either wing, but at least was trying. The Swabians located Silas once again out wide in the 58th. This time N'dicka blatantly upended him. We at least had a stoppage. Alexis Tibidi and Naouirou Ahamada checked in for Förster and Mangala.
Typical Stuttgart at this juncture in time.
"Sending in the cavalry" = "Sending in the kids"
Match Flow: 59th to 70th minute
We've mentioned (in passing) that Tibidi happens to be a rather interesting prospect before in this column. Of the many options Matarazzo has used to plug the left flank, the 18-year-old has at least shown consistent effort. Ahamada–after some rather embarrassing issues late last season–is at long last just getting his second shot now.
The 4-3-3 that quickly crystallized instilled some sense of hope for a comeback in the minds of those watching, or at least it did for this observer. With one half hour to go, Matarazzo put forward his level best attempt to spin straw into gold. Führich back. Tibidi up. Endo into an advanced pocket sweeper role.
Lineup—VfB Stuttgart—60th minute (4-3-3)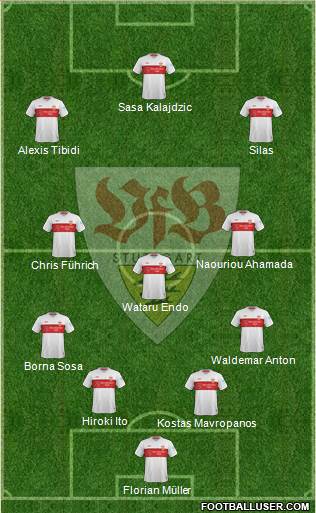 After a couple of injury timeouts involving Sow and Sosa, Hasebe (very substandard match from him) turned the ball over directly to Führich in midfield. A quick punt from Führich unleashed Kalajdzic in all of the time and space the Austrian striker needed for his maiden Bundesliga goal of the 2021/22 campaign.
Unfortunately, the scorer of 16 league goals last year did everything wrong. Kalajdzic opted to forgo passes to either Tibidi or Silas and take the shot himself. He made a complete hash of it, fluffing a weak ground shot well past the post in a head-scratching 62nd minute moment. The bad miss weighed the entire team down over the next three minutes.
An over-the-top ball from Mavropanos to Silas in the 63rd was completely overcooked. Erratic and mistake-prone back builds in the 64th and 65th illustrated just how rattled the Swabians were. Borré, Sow, and Lindstrøm kept picking the ball off before the back-four could advance. Endo and Sosa managed to track back to prevent further damage.
Whilst Borré and other SGE players argued over a corner they should have been rightfully awarded in the 65th, Stuttgart discharged Silas again. Once again, Silas skirted past the totally overmatched N'dicka. Somehow N'dicka recovered to muscle away. Mavropanos then played an extremely dangerous back pass to his keeper in the 66th. Müller only avoided the own-goal by clearing with a diving header.
Another tense corner defense back at the other end in the 67th. Tibidi did an admirable job taking down a switch on the ensuing counter. The young Frenchmean shuffled back for Führich, who in turn dropped for Sosa. The Croatian saw a sterling cross cut out. Führich trailed back to give the rebound a lash and Stuttgart had a corner.
An exemplary corner take from Führich bobbled around a crowded box for a bit before squibbing loose. Ito, Sosa, and Ahamada kept the play alive throughout the 69th with a sharp set of triangles. Then came the earth-shattering play. After nearly a year, Sosa finally got the cross he wanted off for Kalajdzic.
The duo that linked up so many times last season belatedly combined to send us all into 2020/21 season flashbacks. Kalajdzic barely had to move to finish the service off. It was that inch-perfect. We had parity once more courtesy of something many of us almost given up hope that we would ever see again.
2-2 in the 70th minute.
Match Flow: 70th to 78th minute
Frankfurt were right back trying to restore the lead. Stuttgart, still sloppy on the ball despite their fight back on the scoreboard, lost the ball again in the 71st and were only spared by the fact that Chandler was offside. Sosa charged back the other way in the 72nd. Referee Stegemann–who overall didn't have a very good match–didn't award a free kick when Sow hauled him down.
There was barely enough time for Sosa to protest as Glasner had flashed Sow's number on the substitute board anyway. The Swiss international made way for Norwegian attacker Jens Petter Hauge. Interesting. An extra attacker The SGE trainer had been preparing this change before Kalajdzic scored. Glasner wanted more than just a one-goal victory.
A couple cycle-backs from Hrustic in the 73rd made clear what this was.
Lineup—Eintracht Frankfurt—74th minute (5-3-2)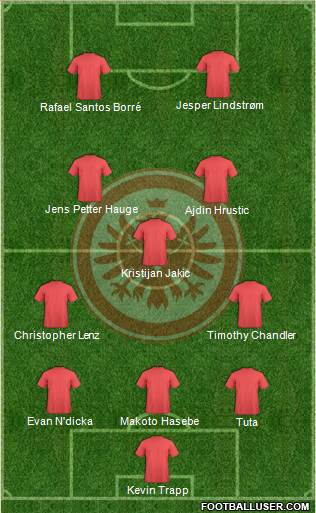 Definitely more of a 5-3-2. Subtle enough, but noticeably flatter and tighter. Whereas Hrustic's introduction had been a straight-swap insofar as the shape was concerned, this one pulled back and in to centralize the point of attack in a slightly conical fashion. A back-five reformat of this nature does not translate to a more defensive posture. Quite the contrary. The presence of Hauge and Hrustic together signaled higher pressure.
Hauge quickly got his chance to affect the match. Almost on cue, the Norwegian was running a counter after a stray cross from Silas in the 74th. The AC Milan loanee missed Lenz with a poor pass in the 75th. One minute later, Hrustic popped another corker off a cutback from Chandler. The shot had some sting, but Müller held after the initial burst.
Kalajdzic couldn't hold the ball up on the 76th minute counter. Tuta, Jakic, Lenz, and Hauge then worked the ball around before eventually setting up another Hrustic effort in the 77th. With a wicked deflection off Mavropanos, the ball landed in the back of the net. Hrustic had his brace. A bit unlucky. Definitely unfair. Oh well. It still felt like a deserved second goal for the Australian.
Match Flow: 78th minute to full-time
Some desperation football from Stuttgart over the next three minutes didn't yield much. Tuta had to be on his toes to cut out a long switch for Tibidi in the 81st. By that time, Matarazzo had pulled the trigger on another double substitution in the 80th. The newly acquired Portuguese attacker Tiago Tomas entered alongside Mateo Klimowicz for Silas and Führich.
Lineup—VfB Stuttgart—82nd minute (4-2-3-1)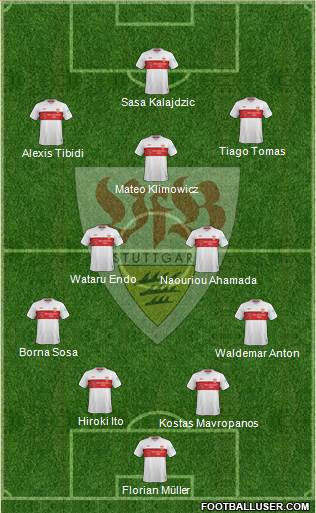 The VfB trainer simply couldn't afford to chance it any further with Silas. On long past the 60 minutes Matarazzo wanted to give him, it was time for the Congolese marvel to exit the stage. A snap back into a 4-2-3-1 was the only option. We got a chance to see Tomas charge up the right flank once on a sequence in the 83rd. N'dicka didn't have anywhere near the sort of problems handling him as he did Silas.
Shortly after that, Trapp accidentally kneed Hasebe in the chest when coming out to collect a Sosa diagonal. What at the time did smack slightly of time-wasting actually proved to be a rather serious injury for the Japanese veteran. As it turned out, the stoppage ended up breaking the flow of the match for good. More substitutes from both sides began to pour on during the treatment break. Neither side could gain any significant rhythm thereafter.
Stegemann correctly awarded six minutes of injury time. Forward along with everyone else, Ito shot over twice at 90+2 and 90+3. Tibidi broke too soon ahead of Chandler at 90+5 on the last VfB rush. Stegemann let it run until 90+7, but Stuttgart were almost happy to let the SGE kill off the rest of the clock with more corners.
xG stats anyone?
xG Stuttgart–2.3, xG Frankfurt–1.7
That may catch a few readers by surprise. Ideally, this analysis demonstrated that Sosa, Kalajdzic, and Silas generated their fair share of chances. Eintracht did get a bit of a lucky goal to seal the victory and weren't anywhere near as dominant in the second-half as they were in the first. Something for Stuttgart to build upon perhaps?
Unfortunately, no. There's been quite enough talk of that already. For all the positives witnessed by the reunification of this team's three key actors, we've serious problems at the back now. The departure of Marc Oliver Kempf heralds the end of Matarazzo's usual back-three. Something new must be built after the disaster that was this back four. Anton scored, but otherwise played a very poor match at right-back.
Matarazzo took a chance here and it didn't work out. It's very difficult to see something gelling against opponents Leverkusen, Bochum, and Hoffenheim in the next three rounds. This team could remain winless through the end of February. With ten rounds to go, they could find themselves twelve or more points from safety.
The "Stuttgarter Process" gambled it all on riding out injuries. Oliver Glasner just provided a case study in how to manage short-term personnel issues almost perfectly. As always, there was some risk involved. The problem with the VfB concerns the fact that Matarazzo and Mislintat risked September through February. Playing with that much time is tantamount to playing with fire.
Thanks so much for reading! You can occasionally catch Peter goofing off while watching the lower German football divisions on twitter, @ViceytheSS.
Twitter DMs are open for football conversations, corrections, and (if you truly insist) general abuse. 
All columns debut on Bulinews before appearing on Peter's website later in the week.