From a snow-flurried opener to a snow-cancelled capper, we've got all the relevant action from the 20th round of the 2020/21 German Bundesliga covered. It may be frigid in the Bundesrepublik, but the storylines of this campaign remain red-hot. Here's the re-post for all those needing to catch up on Sunday's column.
---
League-Wide Talking Points: Round 20
---
Bayern's "Arbeitssieg"
The English have a saying. True championship football teams, it is said, must be able to prove their mettle "on a windy night in Stoke". This round, Germany's record champions eked out a grinding victory during a "blinding snowstorm in Berlin". For anyone who might have missed the 1-0 victory of Hertha, it's a small miracle that the whole affair wasn't postponed. The ball skipped off the frozen-solid pitch like a smooth stone sidearmed at a pond all night long. Visibility was practically non-existent.
Keeping track of the tactics proved exceedingly difficult when the only consistent thought one could keep in one's head concerned the dire need for a bright orange or yellow ball. Players and spectators alike could barely make out the white Bundesliga Derby-star amid the constant flurries. Passing turned out to be a lottery. Neither team could keep themselves onside for the very good reason that they couldn't make out shapes twenty meters in front of them.
Taking all of this into consideration, one could cut Krzysztof Piatek and Matheus Cunha some slack for their horrible respective misses in the 42nd and 89th. Piatek may not have been able to see that Cunha and Dodi Lukebakio were wide open when he opted to take his own horrible effort in the first half. Cunha's delicate touch one minute from the end of normal time skidded millimeters wide after the Brazilian's immaculate delicate touch.
That's how close the capital city club came on a crazy winter's eve. On balance, however, Hansi Flick's side put in the better work. As much random uncertainty as the conditions inserted into the Friday night fixture, Pal Dardai's second selection still resembled decapitated chickens in terms of their overall organization.
Wolfsburg dispense with excuses
No amount of wintry inclement weather can stop the Bundesliga's hottest team. Neither, apparently, can a tightly condensed schedule or some overly-nitpicky VAR officiating. Despite having just contested a midweek Pokal fixture less than 72 hours prior, VfL head-coach Oliver Glasner rolled out the exact same XI he's used in the squad's previous three encounters. Why make changes to such a hot hand? Wolfsburg dispatched Augsburg 2-0 to earn their fifth straight victory. Incredibly, all five wins have come via shutout.
Germany's green company team thoroughly dismantled Heiko Herrlich's Fuggerstädter. The hosting Bavarians were a complete bust. Herrlich's new back-four, which featured Robert Gumny and Mads Pedersen got completely shredded. This chain proved even worse than his atrocious back-three. New transfer Laszlo Benes held up well for about a half hour before completing tanking along with the defenders behind him. Daniel Caligiuri produced the FCA's lone scoring chance over the course of 90 squalid minutes.
The match could have easily been a 4-0 shellacking were it not for some ultra fastidious refereeing from the VAR booth. The sparkling Ridle Baku found himself robbed of a hat-trick by the review room. A 55th minute tally was ruled off after the rising German star was adjudged slightly offside. Baku then saw another goal cancelled fourteen minutes later. In-between those rulings, he actually scored a goal that counted. The Bundesliga's unquestionably best transfer of the summer window keeps getting better. A monster game from the Mainzer, even if the scoresheet doesn't reflect it.
Frankfurt dispense with everyone
If Wolfsburg can be considered the Bundesliga's hottest team, the soaring Eagles of Germany's commerce capital must be considered a close second. No one should look forward to meeting die Adler after they extended their league unbeaten run to nine matches with a 3-1 win over Hoffenheim. Adi Hütter also has no reason to alter a winning formula. Eric Durm returned to take over for Aymen Barkok on the right flank. Otherwise, the rest of the crew lined up in the eminently successful 4-2-3-1.
Filip Kostic's renaissance continues whether or not his compatriot Luka Jovic plays alongside him on the pitch. The SGE's regular Serb sent all observers into convulsions with the blazing run that preceded his 15th minute opening goal. Kostic then went on to assist on the team's second and third goals. The top-notch services came inside of two minutes between the 64th and 66th. The Bundesliga's one-time "crossing king" is back in a big way.
Somewhat worryingly for Hütter's Hesseners, the team repeatedly looked shaky on the defensive side of the ball. Martin Hinteregger and new midfield convert Makoto Hasebe made some grave errors. Djibril Sow was also far below his best. Lucas Silva "Tuta" Melo continues to try his best to fill David Abraham's shoes, but obviously still has a long way to go. For all the legitimate excitement surrounding this team, exploitable vulnerabilities exist at the back. Wolfsburg, by contrast, are more of a complete side.
---
The "Spiegel Specials": Round 20
---
Mainz-Union Berlin (0:4, 1:0)
Bo Svensson's Rheinhessen picked up a huge victory this weekend, blanking Union in a nice and neat flip of the indignity they suffered in Köpenick during the reverse fixture. When it comes to the Nullfünfter, much of the current talk centers around the need for a "club man" like Svensson to restore this squad's "Mainzer DNA".
Such a notion isn't by any means a concrete concept. It merely fits the historical narrative of an organization that, under the aegis of returning chairman Christian Heidel, seeks to return to the glory days of Jürgen Klopp and Thomas Tuchel. Strictly speaking, there is no "Mainzer DNA". What does exist is a coach given full free reign to impart an custom system.
Lineup—FSV Mainz—Match 20 (3-4-3)
The team lined up in the exact same formation as last week. Leandro Barreiro returns from injury whilst Robin Quaison takes a seat. Filling in for Quaison, Svensson allowed the revolt-inciting controversial Adam Szalai to earn his first start of the season. Regrettably, their mind-blowing awesome new carnival kits can't be conveyed on the illustration.
As noted last week, this unique "double-false-nine" system flies in the face of a lot of conventional football logic. The Danish trainer's use of a flat back-three also invites teams to attack centrally through the gaping hole in the middle of the pitch. For better or worse, it was nice to see Svensson continue to develop it for the second consecutive week.
Even as the approach led to an uninterrupted stalemate, Svensson stood by it until very deep in the match. He didn't employ his first substitution until ten minutes remained. The on-field personnel steadily improved. Both Szalai and Karim Onisiwo manufactured quality chances as the match wore on. Only after introducing his prize acquisition in the 80th did the Mainzer gaffer try out a 4-3-3.
Prognosis: Two more rounds
We're all anxious to see if the newly obtained striker Robert Glatzel can cut it in Germany's top footballing flight. One still doesn't see Svensson chancing it with a true center forward against upcoming opponents Leverkusen and Gladbach. If anything, we should see adjustments tend toward the more defensive. Latza, Barreiro, and the two fullbacks might even move back a tad in their starting positions while the 4-3-3 remains the default back-up plan.
If the Pfälzer can take two points from their next two fixtures, a string of winnable matches await. Regarding this team, it's also important to note that Svensson should enjoy complete autonomy to build his own system. His appointment isn't a rescue mission. If the new trainer wishes to stay, he will continue to lead this team in the second division next year. "Mainzer DNA" may be whatever Svensson wishes it to be, irrespective of if it succeeds quickly.
Köln-Gladbach (1:3, 2:1)
Another relegation-threatened team attained monumentally important three points in this round's action. Carnival may be cancelled this year, but the southwest German tradition-rich clubs feel like celebrating anyway. Köln's most unexpected 2-1 victory over Gladbach in the famous Rheinderby owed much to luck.
Elvis Rexhbecaj's first goal deflected in off Stefan Lainer's calf. The German Kosovar's deserved full credit for the second effort. It remains quite rare that a defender of Lainer's caliber would make such a terrible misjudgment as he did prior to the steal. This was unquestionably a massive win for the club. Tactically speaking, however, die Geisböcke are still as unsound as they were in the reverse fixture.
Lineup—FC Köln—Match 20 (5-1-2-2)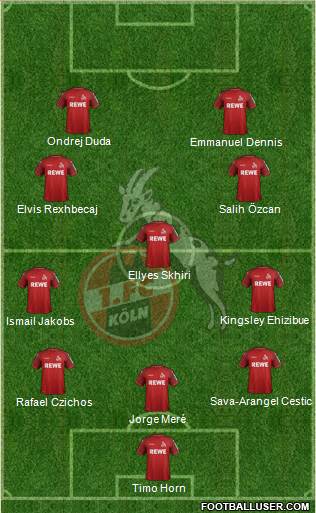 This is about as weird as it gets in football. To understand why something like this exists, the most important thing to keep in mind is that Markus Gisdol basically hasn't had a true striker all season. Ondrej Duda has quite literally played all over the place. It's likely that he's even encouraged to do so. Additionally, he's not alone in receiving this directive.
The likes of Rexhbecaj, Marius Wolf, Ismail Jakobs, and even Dominik Drexler join Duda in the nebulous realm of players who have no practically fixed position. These regulars often seem to have license to roam about wherever they please. Gisdol's influence on the apparatus waned right around the time the infamous scoreless streak started around the 11th round.
Prognosis: Downturn ahead
The cathedral city club sits four points clear of the relegation playoff place. That's hardly out of danger at this stage of the season. Furthermore, one conjectures that there must be some sort of rift developing between management and the coaching staff. Gisdol has barely attempted to use the transfer class Horst Heldt procured for him this summer.
The pattern appears to repeat. The two attackers Heldt took great pains to acquire aren't being used. Emmanuel Dennis has spent precious few minutes in a true striker's role. Max Meyer hasn't been used at all. Frankfurt and Bayern are among the opponents awaiting this month. One cannot face these teams without organization.
---
The Burning Questions: Round 20
---
Is there much hope for Schalke?
We're going to go with a hard "no" in this instance. Victories for Mainz and Köln this weekend mean that the poor forlorn Königsblauen have taken what Germans refer to as a "kalte Dusche" ("cold shower") both on and off the pitch. This writer found it most curious how so many in German footballing circles sought to play up the team's performance against Wolfsburg in the Pokal when there clearly wasn't much quality football on display until the end. All of these sentimental veteran signings leave everyone in the mood for some sensational story lines. Regrettably, lovely stories rarely produce lovely results.
World-cup-winner Shkodran Mustafi finally made his Bundesliga debut on Saturday. Hurrah. The 28-year-old also happened to totally mismanage his marking of Leipzig's Nordi Mukiele on a late-first-half corner. As a result, his team entered the tunnel down 0-1 after a totally deflating header on the last play of the initial 45. Mustafi's former Arsenal teammate Sead Kolasinac got badly sidestepped by Leipzig attackers Christopher Nkunku and Alexander Sørloth. The man who Kolasinac took the captain's armband from, Omar Mascarell, played a horrible match.
Christian Groß's S04 remain a serious mess. They even lost their only consistently solid player, Mark Uth, to injury this weekend. One might be tempted to think that they can nick a few points off of the three slumping teams they face next: Union Berlin, Borussia Dortmund, and VfB Stuttgart. The more likely scenario sees the once-proud Ruhrpotters serving as a docile doormat on which this trio of underachievers wipe their feet upon to get their campaigns back on track. Three more defeats will make relegation a certainty.
What's going on with Stuttgart?
Not much good. The sordid "Datenaffäre" keeps getting uglier. Thomas Hitzlsperger recently withdrew his candidacy for the club presidency, but this has mostly had the effect of exacerbating the negative news surrounding the club. On the pitch, Pellegrino Matarazzo's Schwaben have now lost five of their last eight fixtures on the bounce. The latest humiliation at the hands of Leverkusen was about all this club needed. Hitzlsperger and Matarazzo lash out at the officiating. A more truthful assessment of their woes addresses the fact that the depth of the squad appears to be evaporating.
It's unclear whether lee-flank talisman Borna Sosa missed out on the weekend encounter because of his nagging injury issues. In any event, the team looks totally lost without the Croatian. Sosa's may be the league's best current crosser. His general form over the course of the season reminds one of Frankfurt's Filip Kostic on his best days. Matarazzo moved Silas Wamangituka over to Sosa's place on the left flank. Though the Congolese star has found some success on that side this season, he looked an uncomfortable plug-in during the recent defeat.
The Badeners disintegrate into a one-man-show. Too much revolves around Wamangituka. Peter Bosz's rejuvenated 4-1-4-1 supplied some pretty spectacular play in the 5-2 victory this weekend, but they were nevertheless gifted the initial 2-0 lead thanks to Stuttgart's sputtering, turnover-prone offensive. Interestingly, the VfB trainer dusted off Erik Thommy to serve on the left and moved Wamangituka back right in the second half. His team, still giving the ball away far too often, managed to play much better. The tactic could conceivably work well against an upcoming fixture list of three weak opponents.
---
Weekly Tactical Focus: Streich gets his day
---
Deep in Germany's idyllic Black Forrest lies one of the Bundesrepublik's most charming towns. Anyone purporting to have been dissatisfied with a visit to Freiburg im Breisgau is either an incorrigible rube or an outright liar. No human being possessing a heart made of normal material can resist the allure of the city's renaissance architecture, historic university, and unrivaled Baroque chamber music. Freiburg is home to all of this, along with one of the Bundesliga's most beloved football clubs.
To be sure, there are those (like this writer) who's deep affection for this club stems from regional proclivities. SC Freiburg nevertheless enjoys the sympathies of neutrals all across the country. The truly fantastic tale of a historic small-market club that hangs with the big boys despite a traditional business model and a limited budget delights in the era of marketing clubs like RB Leipzig and billionaire vanity projects like TSG 1899 Hoffenheim.
Freiburg spawned some of Europes deepest thinkers. Erasmus. Max Weber. Martin Heidegger. The town also produced its fair share of footballing philosophers. Volker Finke. Christian Streich. For whatever it's worth, Joachim Löw. Streich and Finke are, at least until Heidenheim's Frank Schmidt gets his team to the top division, the virtuous paragons of Bundesliga coaching stability.
Finke was the longest serving coach in German football history with 16 years at the Freiburg helm. Streich, a part of the organization since 1995, has been the head coach for just under a decade. The club stuck with Finke through three relegations and left Streich in charge through the latest one. Both personalities engender a great deal of respect as highly knowledgeable sages who have guided a likable club through the doldrums of adversity and back into the light.
Two significant milestones were reached on Saturday. First, the beloved Schawarzwaldverein commemorated their 700th top-flight Bundesliga fixture. To mark this occasion in style, the Breisguaer handed Streich his first-ever victory against Dortmund. The league's most patient and prudent club ensured the league's reckless and foolhardy stumbling giant would ensure another embarrassing defeat.
Dortmund claimed they needed to shed Lucien Favre in order to preserve their goal of qualifying for next year's Champions League. Now the BVB sit in 6th place and, thanks to this result, have yet another team nipping at their heels. After skirting the issue for weeks, it is at long last time to give Freiburg their first draw-up since round six. There was no luck involved in the latest win. Streich simply outclassed his coaching counterpart.
Lineup—SC Freiburg—Match 20 (4-2-4)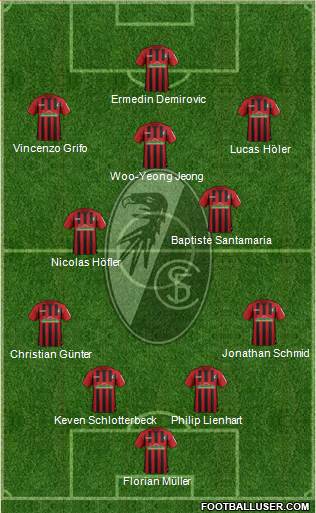 The story of another overachieving season at Freiburg begins, as it so often does, with how Streich brilliantly rebuilt a team the previous pillars left for greener pastures in the summer. Robin Koch, Luca Waldschmidt, and Alexander Schwolow all departed. Accordingly, it took the trainer time to sort out how he best wished to organize what was actually a very stellar transfer class into a quasi-effective system.
Something genuinely remarkable about Streich's latest work concerns the fact that, deep into the season, the team sheets invariably keep one guessing. One certainly did not anticipate this constellation based on the deployed personnel. That naturally rendered the act of figuring it out that much more enjoyable.
Subtle rotations in the attack 
Seeing Lucas Höler and Ermedin Demirovic on the squad sheet immediately led one to foresee a 4-4-2. Such a strategy would in itself constitute a bold move against Dortmund. Before a ball was even kicked, one could surmise that Streich intrepidly went went for the jugular. Sensing that his opponent possessed little confidence in the middle third, he threw two strikers directly at them.
As the match unfolded, one began to see that Streich's plans were even more audacious. Höler settled in on the right wing whilst Woo-Yeong Jeong alternated between serving as a ten and a feeding short striker. Vincenzo Grifo often remained a step behind a revolving trio of attackers to oversee the development of play. This was an elegant circumvolving four-pronged assault!
A definite midfield stagger 
Baptiste Santamaria remains more than just a dark horse to overtake Pellegrino Matarazzo and Jeremiah St. Juste in this year's "Bundesliga's coolest name contest". The Frenchmen has quietly matured in precisely the sort of flexible midfielder the club hoped he would be when they spent a record sum purchasing him from Angers this summer. Even a recent sever injury couldn't stifle his blossoming form.
Santamaria can play either side of the six equation, working either the more forward or defensive role with ease. He also knows how to execute a deliberate tactical six-stagger perfectly. This day's matchplan called for him to stick tight behind Jeong on the rushes while Nicolas Höfler sometimes drifted into the libero position. The arrangement repeatedly pulled Dortmund's Thomas Delaney out of position and left Julian Brandt regularly stymied.
Stacking the flanks properly. 
When Höler ambled right, it became apparent that Streich structured his right-flank for the counter. The vertical pairing of Jonathan Schmid with Höler accorded that side the threat of speed while also ensuring that two quality defensive actors kept an eye on the roving Rapahaël Guerreiro and could quickly close ranks on Jadon Sancho.
Streich correctly anticipated that Sancho and Guerreiro would run most of the traffic from the left. More importantly, he also deduced that Edin Terzic would resort to something novel in order to shake up his weaker right. The rather uninventive attempt by the BVB coach to get that flank moving leads us to the next illustration.
Lineup—Borussia Dortmund—Match 20 (4-1-4-1)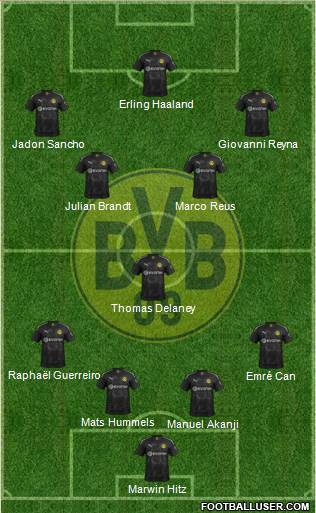 Even the most casual tactician could guess that this was coming. As we discussed last week, the 4-1-4-1 serves as the hard border of Terzic's tactical tinkering for the time being. Brought in by the club bosses to see if he could oversee a Bayern-like self-coached 4-2-3-1, this is about as much as the rookie coach can dare to shift the constellation without incurring the wrath of his already moody band of veteran professionals. Anything too radical risks them quitting on him.
Sadly, the poorly-disguised Bayern copycat strategies don't end with the unobtrusive tactical hand. Does Emré Can's deployment at right-back strike everyone as familiar? Eight rounds after Hans Dieter Flick began shifting Niklas Süle over to the fullback role, Dortmund try their own hand with their own big man. The move smacks of something cooked up in the offices of Watzke and Zorc. As we shall see, it did actually produce some interesting results. One nevertheless doesn't behold an original idea here. The BVB remain flagrant Bayern imitators.
Match Flow: 1st to 13th minute
Right out of the gate this wasn't looking like an especially bright Dortmund day. The best the BVB offense could manage inside the first six minutes was a quite tame Brandt creep up on the left side of the box in the 3rd and a badly mis-controlled Marco Reus possession bungle in the 4th. Mats Hummels brought the ball forward with one of his trademark quarterbacking carries in the 5th. Can joined him and unleashed a tomahawk missile of a ranged effort that rattled off the crossbar. A bad portend of things to come.
Grifo marked Can much more tightly after his initial penetration and the Schwarzgelben could find no more incursions on the right. A couple of slow builds and cycles on the left led to nowhere between the 6th and 8th. Jeong pressed up perfectly on a Freiburg charge in the 9th and knuckled in his own quality range effort in the 9th. Keeper Marwin Hitz spilled the rebound. Manuel Akanji scuttled the ball away before a lurking Demirovic could pounce.
Grifo whipped in a curling free-kick in the 12th, that Keven Schlotterbeck then proceeded to kick out to an inward crashing Höfler on an apparent designed play. The Freiburg midfielder was a mere whisker away from finding the right finish. The Westphalians managed a decent counter less than a minute later. Giovanni Reyna took control on the overlap and Erling Haaland did extremely well to adjust his feet to the American's deflected switch. Breisgauer keeper Florian Müller, however, did even better to scrape Haaland's effort of the line in what may be the best save of the season.
Match Flow: 13th to 31st minute
Freiburg's shape began to solidify and a match characterized by some initial chances settled into a midfield lull. Dortmund were basically static ahead a back-three suddenly pushed into flat submission. Can proved easy enough to pressure. Santamaria and Höfler capably took away all his forward options. When Terzic's team were able to move the ball beyond their final third, they usually did so via Reyna's agency.
Unfortunately, the American still showed noticeable signs of rust. Höfler forced him into a bad turnover in the 17th and Günter beat him back easily on an aerial challenge in the 19th. Overall, BVB possession looked to be played by passive doubts. Brandt and Sancho punched through on a pair of runs, but could summon up no ideas once clear. Otherwise, the Breisgauer kept their guests passing rearward in a never-ending reset cycles.
Reyna again squandered a rare chance in space by taking one touch too many in the 22nd. Jeong nearly caught Delaney on a dangerous handle deep in his own territory in the 24th. Sancho and Brandt got easily cut out on the ensuing build one minute later. The Dortmund back-builds remained an unequivocal failure. Streich's men came close to catching their flustered guests on the counter in the 21st and 27th.
Match Flow: 31st minute to half-time
Reus shoved Philipp Lienhart with a spiteful frustration foul at the half-hour mark. The BVB captain encountered further frustration when Keven Schlotterbeck calmly dispossessed him on a subsequent play. Freiburg essentially had the mighty Schwarzgelben exactly where they wanted them; cramped, craggy, and error-prone. Terzic's XI's best coordinated attack came on a promising spell between the 32nd 34th, yet a wide left distance effort from Manuel Akanji was all that would come of it.
One witnessed a bit more adventurous enterprising spirit from the Westphalians. Though the optics of the team's passing saw a slight upgrade of the half's last 15 minutes, no genuine goal-scoring opportunities were produced. Brandt tested Müller with a deflected effort in the 39th. That was all from Dortmund. At the other end, Schmid latched on to a lovely diagonal from Jeong in the 44th, ultimately taking too long to square back.
Match Flow: 46th to 53rd minute
Terzic addressed his team's needs by pulling the trigger on the most pressing swap at the half. Brandt clearly had little left in the tank. Jude Bellingham came on to replace the depleted German national team midfielder. One expected that the young Englishman might pair with Delaney in midfield or, at the very least move into the ten-spot while Reus stepped back. As it turned out, the change constituted nothing more than a like-for-like substitution.
Streich's Breisgauer confronted the unaltered matchplan without much difficulty. Reyna and Can were able to execute a deft give-and-go on the right in the 47th, but Freiburg had enough players in the box to clear the eventual cross. Jeong's high-pressing, in a scene reminiscent of his hassling of Delaney in the first half, nearly forced Can to turn the ball over right in front of his own goal in the 48th. Can would give it away to Grifo one minute later and the Freiburg mainstay laid off wonderfully for the pressuring South Korean.
Jeong's 49th minute strike gave Freiburg what felt like a much deserved lead. Less than 120 seconds later, the brave Streich pressing scheme would produce a second goal. A Grifo shot bounced back to the onrushing Schmid. In an exceedingly clever read, the SC fullback noticed that keeper Hitz strayed off his line in anticipation of a cross. The Frenchmen booted an effort towards the near post and Hitz couldn't recover in time to close the gap. The tally was initially, and rather harshly, recorded as a Hitz own-goal. Well after the match, the DFB made the correct decision to credit Schmid with Freiburg's first long-range goal of the season.
Match Flow: 53rd to 70th minute
Terzic's BVB played with no renewed urgency despite falling behind 0-2. Passing remained lackadaisical and largely rearward on most of the builds. A supremely confident Jeong came close to picking off yet another goal in the 57th before Bellingham interceded at the last moment to tackle away. Höler's forward progress was halted only via a bad foul from Reyna in the 58th. Terzic pulled both his captain and midfield flight-director on a double substitution at the hour mark.
Lineup—Borussia Dortmund—61st minute (4-4-2)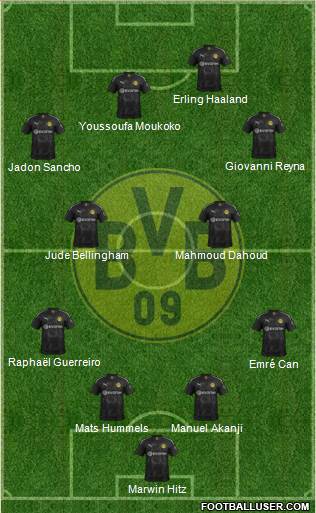 Mahmoud Dahoud and Youssoufa Moukoko replaced Reus and Delaney. With two young strikers now on the field, one didn't have to exert much mental energy in figuring out what the tactical shift would be. The 16-year-old phenom slid behind Haaland to serve as a centralized short-striker. One witnessed how this was supposed to work immediately. A smothered Sancho shuffled off quickly to Moukoko and the teenager snapped a quick shot off the outside of the post in the 62nd.
The set sixes enabled Dortmund to do a significantly better job winning second balls in the midfield. Resultantly, the trailing side put together a barrage of solid incursions between the 63rd and 69th. Reyna and Sancho generated the best one of these in the 64th, the latter player just running out of space on the return space. Terzic might have done better to give the personnel in this constellation more time. Instead, he readied another substitution.
Match Flow: 70th to 80th minute
Brazilian Reiner Jesus Carvalho came on for Reyna in the 70th. One the one hand, one can fully understand the need to sub off the flailing American after another incomplete and imprecise performance. On the other hand, the on-loan Real Madrid talent has played only 90 minutes this season. Having had virtually no chance to establish himself, the youngster seemed an odd choice to throw into the fray in which the squad desperately needed to score two goals.
Reiner's inexperience proved critical when he and Sancho couldn't coordinate a 73rd minute service. While Reyna may not have been at his best, there existed no chance that the 19-year-old could bring the type of innate understanding with his opposite winger that the team required in this situation. Unfamiliars Sancho and Reiner made a hash of a few more switches before the match concluded.
Dortmund's new 4-4-2 nevertheless supplied the side with a pull-back goal in the 76th. Haaland collected a ball just outside the 18 and, with those often bionic-looking long legs of his, strode past two markers with breathtaking skill. The Norwegian set-up his fellow prodigy fabulously. Moukoko's slick first touch and pinpoint-perfect finish were equally astounding. Hopes of a true comeback still appeared remote based on the shifts Streich was in the middle of.
Lineup—SC Freiburg—79th minute (5-3-2)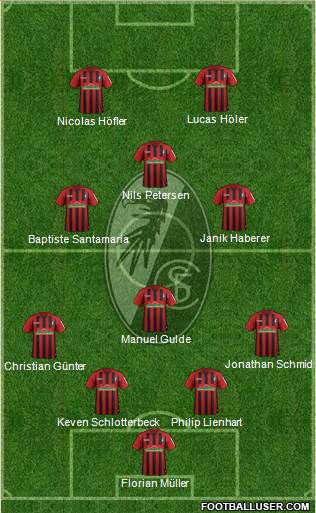 Nils Petersen and Janik Haberer had already come on for Jeong and Demirovic in the 70th. Thus began the process of reorganizing the players into a bolted-down midfield clogging schematic. The final implementation, introducing additional defender Manuel Gulde for Grifo in the 78th, gave Streich the requisite sweeper to complete the transition. Santamaria shifted over to the left during the initial phase of the change.
Streich deserves serious credit for concocting this brilliant defensive plan. Moreover, one has to love the manner in which he delayed its full implementation until the final ten minutes counts as most wise. German football's all-time greatest "Super-sub", Nils Petersen, shouldered the bulk of the defensive responsibilities in the arrangement. Fresh-legged and full of motivation, the veteran striker crushed his assignment.
Match Flow: 80th minute to full-time
The midfield diamond held Dortmund down through the late search for an equalizer. Emré Can's fierce determination proved insufficient in one-on-ones with Gulde. Bellingham did his utmost on a few nice box-to-box runs, but Lienhart and Petersen were ultimately able to clear away. Höler, Santamaria, and Haberer swarmed Haaland every time the BVB striker saw the ball come near to his feet.
Guerrerio's trademark runs to the offensive touchline were rendered immaterial by the coverage. This was best exemplified by two plays in the 87th and 89th. The buccaneering left-back literally had no open options to cut back too. Streich's "Breisgauer Box-Camp" limited Dortmund to two tame efforts from Dahoud and Moukoko in the final minutes. Set-piece defending, as evidenced by the fine triple-team on Haaland on a free-kick at 90+1, was also first rate.
We'll put a bow on this specific fixture by stressing that Freiburg are, candidly, a much better coached team. We'll even lay some extra emphasis on the point by saying that Streich outperforms Terzic by a factor of four or five. How does something like this happen? It's simple. A smaller town club not subject to the scorching scorn of the media magnifying glass maintains the luxury of sticking with its coach through the hard times.
As the introductory paragraph of this section seeks to highlight, there will be major disappointments; possibly even relegations.
Permitting a coaching regime to traverse major adversity not only brings with it the benefit of a mentally stronger and sounder set of trainers. It's also assures that a club's general blueprint and sense of identity endures. Every year one sees organizations get themselves into serious trouble by pulling the plug on an imperfect, though still functional, plan. It does not take long for matters to descend into chaos when a team specifically built for one person's vision must change course without changing personnel.
That's what currently transpires in Dortmund, where it increasingly looks as it there will be no Champions League football next season.
---
Concluding Thoughts: Revival of the RKI Stabilizer
---
The Bundesrepublik's COVID thicket remains a heinously thick piece of shrubbery indeed. Relief will not come rapidly; not with the country still averaging around 8,000 new infections per day. Despite nearly thirty consecutive days of declining incident rates per 100,000 inhabitants, the descent from the crest pandemic's second wave looks to be a gradual soft landing. It will require much more patience.
That notwithstanding, the long-forgotten RKI stabilizer looks to be within reach once again. According to data published by Germany's Süddeutsche Zeitung, thirty-two German districts have now fallen below the rolling seven-day-average of 35 infections per 100,000 inhabitants. Considering the fact that zero districts were anywhere near this number at the turn of the calendar year, this is immensely good news.
It's so difficult to fathom that, only four months ago, this stabilizer was used to safely welcome back limited number of fans into Bundesliga stadiums. Though it definitely feels more like four years ago, we here at bulinews published a weekly update on which regions with lower infection rates could permit supporters through the turnstiles. It's very likely that, when the governing regime once again gives clearance to allow fans in, the RKI metric will serve as the determinative factor for local authorities.
How close is the country to taking this next step? Statistically speaking, another month of data trending in same direction should be sufficient. Whether or not the political will exists is, of course, another incredibly complicated story. At the very least, there should be some hope that the coming spring will not be a silent one.