The final full-color re-post of the day gets us all caught up on the profile website ahead of the 2021/22 German Bundesliga's 21st matchday. The round 20 tactics bulletin posted over on Bulinews contained quite a bit of good news for those hoping for a title race revival.
We're back on! That's the opinion of the column after giving Dortmund-Hoffenheim the closest possible look in the "focus" section. Should any reader still harbor lingering doubts, do read on. Close examination of the evidence available should curb that skepticism.
---
Bundesliga Tactical Banter: Round 20
---
No more excuses for Stuttgart
Anyone recall who scored the last goal for VfB Stuttgart? Take a moment to think it over. Anyone engaging in this bit of trivial pursuit must travel back aways in time. Way back. Further back. All the way back to the 2-0 win over Wolfsburg at the Volkswagen Arena in round 15. Philipp Förster netted in the 63rd minute. Since the Mercedes Benzers bested Volkwagen's company team in the "Battle of the Autostädter" on December 11th, Stuttgart have failed to score a goal in meetings with Bayern (okay), Köln, Fürth (what?), Leipzig, and now Freiburg.
There was some controversy in the VfB's 0-2 defeat to the Breisguaer this weekend. Alexis Tibidi–the lone Stuttgart actor who appeared to be trying–thought he had a penalty in the 35th. Referee Tobias Stieler initially awarded a spot kick. That would have probably needed the goal-scoring drought. Stieler then changed his mind after the Kölner Keller compelled him to take another look at the monitor. Speaking to the Sky mircophones afterward, club sporting director Sven Mislintat called the take-back "totally insane."
In the opinion of the column, a match official using his discretion to rethink what was a borderline 50-50 call hardly counts as "insane". Having to keep close tabs on Stuttgart every week is nevertheless driving this writer insane. No one wants to hear excuses anymore. No more Mislintat talk of "snapshots". One more Pellegrino Matarazzo discussion about positive takeaways and some of us will snap. Score a goal! This team could (like Leverkusen last week) rack up an xG total of 7.0 and still find no sympathy if they don't find the back of the net. Score a goal!
Drawing Gracefully
From team leadership that irritates beyond belief to everyone's favorite Bundesliga gaffer, Geißböcke trainer Steffen Baumgart had the right attitude when reflecting upon his side's 2-2 draw with Bochum in the Saturday night Top-Spiel. The always animated flat-cap-captain certainly wasn't best pleased to watch his team blow a 2-1 lead late on. In point of fact, he flung a water bottle onto the pitch in frustration when he felt his instructions to the team went unheeded. It happens. Baumgart actually went and collected the bottle himself.
Speaking afterwards, the cathedral city trainer even declared himself fully satisfied with the point. He confirmed a conversation with opposite member Thomas Reis about "sharing the points amicably" and conceded that his lads were completely exhausted after the draining cup tie. In light of what he called "a total sense of weariness in their bones", Baumgart noted that a point was a good haul from his "totally exhausted crew".
How nice. Who doesn't love Steffen Baumgart? His players surely do after he accorded them that respect. The 50-year-old likely has the entire dressing room behind him….with the possible exception of Timo Horn. Wow. Some story that is. A decade-long reign between the sticks comes comes to an end. It's a later career dream come true for "marvelous" Marvin Schwäbe. The former Brøndby netminder was once again fabulous.
---
The "Spiegel Specials": Round 20
---
Fürth-Mainz (0:3, 2:1)
Guess who's doing the flip? It's none other than the team vying to be one of the worst top flight sides ever! The Bavarian Franks are up. Bo Svensson–very much in need of a "Hygge Recharge"–is down. Let's talk a little Kleeblatt and see what's up in Middle Franconia.
Lineup—Greuther Fürth—Match 20 (4-4-2)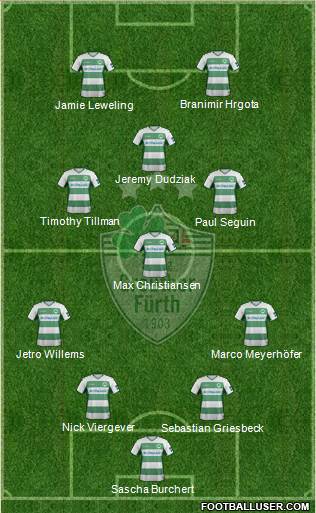 An impressive enough improvement over what we saw last week. The strikers flip and a "loose diamond" we were just discussing in our last tactical review of this team tightens up nicely. Timothy Tillman and Paul Seguin can locate more space and service their forward colleagues better with Max Christiansen joining the attack. Jeremy Dudziak was the early beneficiary of this.
There remain plenty of flaws. Head-coach Stefan Leitl still has a serious problem at left-back, where neither Jetro Willems nor Luca Itter can solidify their hold on the positions. Errors in this one on Willems part should have led to extra goals from Jonathan Burkhardt and Karim Onisiwo. Never a great sign when two players competing for a position can't step it up.
Some good news emerges from the competition for the #1 keeper spot. The previously benched Sascha Burchert feels the heat underneath him from the newly acquired Andreas Linde. The Fürth backstop has been very strong in recent weeks and was spectacular in this one. That's how competition for spots is supposed to work.
Prognosis: Mirage and Sabotage
The contention of this column remains that the Middle Franconians won't be able to really extricate themselves from the relegation proceedings. Ten points three fixtures into the "Rück-runde" simply isn't good enough. What we can say about this anomalous Bundesliga side that has a surplus of attackers and some (absent that mentioned fullback position) stabilizing defense is that they'll come close to making things interesting in the next round.
Wolfsburg and Hertha await the Kleeblätter after the break. The clovers could take four points there and give everyone the sense that the highly improbable might somehow be possible. One can probably count on them to implode after that. Mistakes aplenty await to; ones that will have a knock-on effect. As the Beastie Boys would put it, "Oh my God, it's a mirage….but I'm telling y'all it's sabotage."
Leipzig-Wolfsburg (0:1, 2:0)
Alright. Hands up. Who saw this one coming miles away? It isn't a complete "Tactics Talk" column without the compulsory Florian Kohfeldt bashing. Say what one will about the former SV Werder Bremen trainer, he's at least trying to things differently than he did with the Hanseaten. Instead of radically different tactics each week, he sticks with small deviations from the previous set-up.
Lineup—VfL Wolfsburg—Match 20 (3-4-3)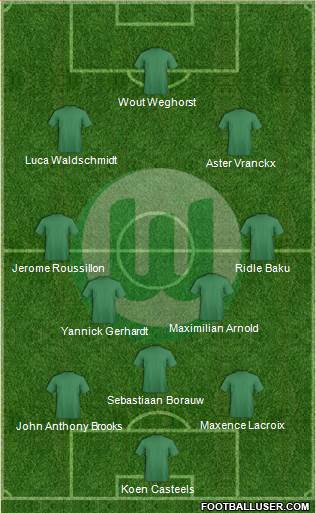 Guffaw. This is almost comical. Aster Vranckx replaced the suspended Renato Steffen. That's the only personnel change. Ridle Baku and Jerome Roussillon scoot back. Maximimilan Arnold and Yannick Gerhardt switch their slants. For the "nth" time, Kohfeldt flips the Sebastiaan Bornauw pivot.
And the results?
No results. The German Wolves were at least more practically set up for the counter. No such counter came until well after the half-hour-mark. There was a brief offensive spurt in the final few minutes before halftime. Sigh. With regret one must say that Vranckx squandered the best chance at a tally by trying to get too artistic from what (for him) is an unfamiliar position.
No real flow to the attack. Had RB trainer Domenico Tedesco not opted to rest Dominik Szoboszlai, Yussuf Poulsen, Tyler Adams, and even Lukas Klostermann against an opponent he had no reason to fear, the Saxons might have put this game out of reach much sooner. Attempts to press higher after Leipzig finally took the lead in the 76th only led to another RB goal off the counter eight minutes later.
Prognosis: Four matches left
The countdown initiated last week continues. Jörg Schmadtke apparently isn't ready to cut ties just yet, even if the coming international break would serve as a fine opportunity to do so. This is all if Marel Schäfer's post-match comments are to be believed. They should be. Schmadtke will look like a crazed mad man if he opts to drop them both.
All the same, the end is coming. This Bundesliga observer has scarcely seen a side so unresponsive to their trainer. Even Schalke seemed to be on something of a wavelength with Christian Groß during play last season, and the old forgetful man was facing an internal mutiny. Who will speak up for the VfL locker room? Someone, eventually. One can count on that.
Gladbach-Union (1:2, 1:2)
Mic check, one-two one-two. The very expensive Adi Hütter falls twice to the Bundesliga's "shoestring budget team in one season. Talk about a coach disconnected from his team. Facing another four-game losing streak, the foals took to the pitch with all of their troubles in tow. Many members of the starting XI moved like injured captain Lars Stindl during the opening twenty minutes.
Union–clearly exhausted from their midweek cup tie–looked fairly limp themselves. Urs Fischer's men were clearly holding back and would not have gone ahead were it not for the handball from an understandably distracted Denis Zakaria. The 18th minute 1-0 enabled Union to get their desired rest on their laurels. The returning Jonas Hofmann seemed the only one unaffected by the team's recent double slump.
It was the German national team midfielder who set up Manu Kouadio Koné's maiden Bundesliga goal shortly before halftime. Some confidence from Koné and a little impetus from Hofmann nevertheless proved nowhere near good enough. Patrick Herrmann, perhaps now rethinking that contract extension totally lost sight of Max Kruse on the game-winning goal.
Prognosis: Revenge of the Max
There isn't much the writer can say to cheer up Fohlenelf enthusiasts. Poor Gladbach are totally falling apart. Sporting director Max Eberl remains a competent administrator with a demonstrated knack for always striking a big deal whenever everyone supporting the club's spirits are at their lowest. Such was actually the case when he landed Hütter shortly after Marco Rose broke the enthusiasm of the fanbase with his move to Dortmund last year.
Well. The "big fish" turned out to be a bit of a heel. Hütter is nevertheless here to stay. One can't ask Eberl to walk away from a €7.5 million commitment just like that. It wouldn't make sense. Better to stick with the Austrian trainer through what will definitely prove a disappointing campaign and see if Hütter can engineer a turnaround next year with a group of players more committed to the club.
Indeed not much good news. The foals probably won't get dragged into the relegation race. There's always that. Otherwise, it's pretty dark. The BMG even got showed up by a brace from ex-player Max Kruse. The writer honestly can't remember if it was during his stay at Gladbach that Kruse got chided for eating too much Nutella. It might have been Wolfsburg or Bremen where that happened.
In any event, one can tell from Kruse's build (he remains one of the widest girth strikers you're ever likely to see in the modern game) that the 1. FC Union Berlin striker is eating as much Nutella as he likes….and still scoring plenty off goals. Maybe that joke won't cheer up Gladbach fans either, but it's at least a good riff.
Leverkusen-Augsburg (4:1, 5:1)
A double beatdown from die Werkself on the Fuggerstädter, who certainly don't look like anywhere near a big-money Cadillac club backed by American investors set to contend for the Champions' League. Hmmmm…dumping a bunch of funds into a Bundesliga club to raise it up to a world class level. If only there was some sort of parallel from recent history in German football. Hmmm….it's on the tip of the writer's tongue. Large investor. Wasted money. Can't quite summon it, though it might rhyme with "SARS No-win-course".
Obviously, we don't want to compare Augsburg to Hertha (or with COVID for that matter) just yet, but club did just play a very poor match. FCA trainer Marcus Weinzierl's tactics were barely comprehensible. So too was Stefan Reuther's decision to sign injury-prone striker Florian Niederlechner to a contract extension this week. Sure, Leverkusen are a good team. This was still a pretty humiliating result when one takes how dominant die Werkself were into account. 
Prognosis: A Pattern that cannot repeat
It's far too early to assess whether the Bavarian Swabians might once again qualify for Europe, which they actually did back in 2015/16 under their current head-coach. Bringing Weinzierl back late last season was a move that many of us Bundesliga watchers applauded. Reuter had fired trainers (Manuel Baum, Martin Schmidt, and Heiko Herrlich) for three consecutive springs between 2019 and 2021.
At long last came something resembling stability. Some five years after departing for greener pastures (on which he failed) Weinzierl returned to his roots to rejoin the club that launched his ill-fated career. It seemed the right match to build something. If, however, the FCA gets dragged back into the relegation race and Reuter fires the coach again…..who could possibly want this job knowing that they're likely in for a spring-time axe?
Maybe it's time to turn the heat back up on Reuter himself.
---
The Burning Questions: Round 20
---
Should we be worried about Frankfurt?
Not especially. The scoreline notwithstanding, there were plenty of bright spots in the Friday night fixture. How does one defend against a "rabona assist"? One doesn't. We'll obviously want to give another big shout-out to Austrian youth international Patrick Wimmer; something we've done time and again in this column. The 20-year-old truly is some player. As it so happens, he's garnered five additional "non-rabona" assists in league play this year. Not exactly Thomas Müller numbers, but still impressive.
Take out the "X-factor" and Oliver Glasner's Adler basically turned in a performance worthy of a win. Jesper Lindstrøm, Daichi Kamada, and Rafael Santos Borré all got their looks in. That critical top axis attacking trio exhibit no real signs of a form dip. Some unpolished finishing in one solitary fixture doesn't constitute cause for concern. One eagerly awaits the soon-to-be test driven upgrade on the flanks, Ansgar Knauff.
After the brief respite, it's Stuttgart, Wolfsburg, and Köln. Not a bad fixture list at all for the SGE. One expects them to potentially pick up seven to nine points there. We'll then all find ourselves having a very different conversations. The stumble out of the 2022 gate has led to dropped points, but the basic schematics for a UCL challenge are in place.
Are there any cracks in Bayern?
Before we get to Dortmund (lots of good news there for BVB enthusiasts) we must naturally address the state of the league leaders. Unfortunately, Hertha BSC don't exactly make for much of a measuring stick. The Charlottenburg capital city side barely qualified as a football team at all in this Sunday's 1-4 drubbing. Unless the columnist's mind is playing some serious tricks on him, it looked as if Tayfun Korkut deployed…er….was that an 8-0-0-2 formation?
Perhaps we can call that "Birthday Cake" tactics. Ishak Belfodil and Myziane Malolida worked like long-stemmed candles above an octet of other players smashed into a flattened sad mess that came out of your niece's first failed attempt to pull something out of the easy-bake oven. Small wonder that the German giants literally generated a chance per minute until Corentin Tolisso finally opened the scoring in the 25th.
With Lucas Hernandez, Leroy Sané, and Kingsley Coman back, Julian Nagelsmann can run his preferred 3-4-2-1. Nuff said, really. The power-players return. The FCB probably would have won anyway. We all saw what a good job placeholders Jamal Musiala, Marc Roca, and even Marcel Sabitzer did last week. Congratulations to Hertha keeper Alexander Schwolow for ensuring that the score wasn't 12-0 at the half. No cracks. No weaknesses. Not against Hertha at least. The late Berliner consolation was of no consequence whatsoever.
---
Weekly Tactical Focus: The Tide turns
---
Man, do we ever have a match for our readers this week! After round and after round of non-comital at best and dire at worst news concerning the 2021/22 German Bundesliga title-race, Marco Rose and Rene Maric delivered us a splendid tactical masterclass that delivered legitimate hope for the final stretch of the season. Beautiful stuff from the Schwarzgelben on Saturday. Not even some of the fresh injury news concerning Erling Haaland dampers it. Never fear. We shall explain why.
First, one needs to purge the memory of the midweek Pokal defeat from one's head. Forget about it. That loss is totally irrelevant. Leave it behind along with any and all recollection of those hideous neon-yellow construction worker jerseys. We won't be seeing the team donning that cheap crap anymore this year. If the intuition of this column proves correct, we shouldn't be watching the team furnish us with cheap crap on the pitch this season either.
With that exercise out of the way, it's time to delve into the talking points from Dortmund-Hoffenheim. Two of them from the fixture that featured by far more in-game tactical adjustments that any other match covered in the "focus" section this season happen to be massive developments that feed upon one another. What transpired just outside the lines of the pitch remains as monumentally important as what happened on it.
As referenced above, the coaching staff made all the correct tactical moves. Organization of the XI was top notch throughout. We finally witnessed the genius of the Rose/Maric mindset that we've been expecting since the duo arrived from Gladbach. This would count for next two nothing if the players hadn't responded so marvelously. Two BVB "team goals" of the highest order went in through centralized play; the most difficult line-of-attack.
Being eager to get into the details means that we must move forward immediately without any further rhetorics. Okay. One exception. A quintessential example of a "match that had it all" was still missing the fans. We must make mention of that. No matter how uplifting and entertaining German football manages to be at the moment, our beloved Bundesliga can only hope to exist as a mere shadow of its true self in these blasted empty stadiums.
Hang in there, everyone.
One last cold and colorless winter to get through.
Lineup—Borussia Dortmund—Match 20 (4-1-4-1)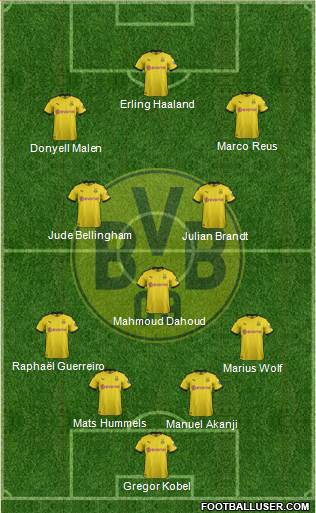 We're still essentially tactically unchanged from the team that kicked off the "Rück-runde". Minor adjustments here and there see Donyell Malen and Marco Reus flip slants whilst Julian Brandt and Jude Bellingham play slightly more advanced roles. The basic scaffolding ideally yields solid possession play, with it very much up to the players if they can summon enough creativity to make the most of the half-spaces just ahead of their respective lanes.
The fatal flaw
An systemic problem rears its ugly head when one takes the three players on the two midfield axes into account. No one should question the talents of Bellingham, Brandt. and Mahmoud Dahoud. The fact remains that the members of this trio are more technical than they are physical. These three supply elegant box-to-box play on the ball, yet aren't reliable forces off it.
Whenever it comes time to dust off the "Dortmund Apologist's Handbook", most of us league watchers dance around the real issue by citing factors such as "poor squad balance" and "youthful inexperience". It's probably about time that most of admit that such thinly-coded phrases do take aim at a surfeit of skinny kids not well poised to win enough balls in the midfield trench battles.
One can even take age out of the equation. Brandt and Dahoud aren't exactly spring chickens. They have nevertheless decided what sort of players they'd prefer to be. Such a statement is intended to be without judgement. Though footballers can always opt to bulk up in order to be a more intimidating presence (the case of Leon Goretzka circa spring 2020 comes to mind) it is by no means required of them.
Hoeneß and the "soft underbelly"
We've seen some pretty intricate (if not slightly nuts) tactical constellations from TSG trainer Sebastian Hoeneß as of late. A great deal of curiosity accompanied the release of the team-sheet in this particular instance. Ihlas Bebou was included along with Andrej Kramaric and Munus Dabbur. While this ordinarily might have connoted Dabbur's use as a false-nine, Christop Baumgartner's deployment left one scratching out a lot of different placement options on the notepad.
There was also the matter of Angelo Stiller. Hoeneß' usually slides his former FCB II player in behind the top axis specifically to cherry pick balls for conversion into quick goals. The personnel choices smacked of something similar to Urs Fischer's 3-5-2 "double stack" over at Eisern Union. This would make perfect sense against the "soft underbelly" of Dortmund's midfield. We got confirmation of it shortly after kickoff.
Lineup—TSG Hoffenheim—Match 20 (3-5-2)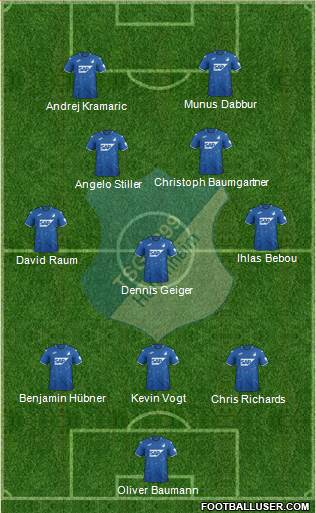 Even if an early injury to Baumgartner meant that this didn't last for long, the writer believes there was sufficient evidence to suggest that this constituted the original matchplan. The intended shape would later be affirmed by Hoeneß switching back to it later in the match, a reformat which we shall get to below. Whether or not the Kraichgauer gaffer wished for surprise winger Bebou to work a "split stagger" with wingback David Raum is something for which the columnist has insufficient evidence.
Overall, we should credit Hoeneß for drawing up his own set of well-constructed tactics in this match. The long-awaited return of captain Benjamin Hübner was accommodated by shifting American international Chris Richards to the right. Having the Alabama native work a skewed vertical axis with Bebou (and a little later Georginio Rutter) counted as an inspired idea. Just like in the reverse fixture, German football lovers knew they could expect goals in this one.
We got another five in this firecracker.
Off we go!
Match Flow: 1st to 9th minute
It took all of six minutes for us to get our first tally. The visiting Westphalians certainly retained the upper hand in the opening exchanges. Whereas Hübner immediately demonstrated rust with an imprecise long ball for Kramaric in the 1st, Reus, Dahoud, Malen, and Brandt were already combining brilliantly through the center in the 2nd. Stiller stepped in to stop the first BVB build. Defensive pressure from both sides then precluded Richards (2nd) and Dahoud (3rd) from carrying out of their own respective halves.
Dahoud got the ball cycled out despite the pressure in the 4th. Richards ended up making the first of what would be many mistakes on the ball once the link up play reached Malen. the American then cancelled the chance with what would be the first of many absolutely vital recovery tackles. Possession changed hands a few times toward the end of the 4th and the beginning of the 5th. Then came the extraordinary gorgeous first Dortmund "team goal".
Words can barely hope to do it justice, but we shall try. It all began with Marius Wolf hitting Haaland with a ground diagonal just ahead of the halfway line. The Norwegian super-striker took a couple of touches to hold the ball up expertly before dishing off to Reus on the right. Captain Reus touched right back to Haaland, who took a few steps forward before shuffling out to Brandt left with the outside of his boot. Brandt touched forward to Bellingham, who immediately touched back for him.
With another first-time hit, Brandt located Raphäel Guerreiro trailing in on the left flank. Guerreiro promptly forward for Malen, then circled around on the overlap to receive the return ball from the Dutchman. Guerreiro back to Malen inside the left-hand corner of the 18. Malen horizontal to Bellingham just to his right. Bellingham one-touch straight back to Malen a few strides ahead. Malen with a ground square right over to the wide-open Haaland. Easy tap-in for the man who effectively began the whole sequence.
Wow. Good gracious, what an incredible build up! Blink and you might have missed perhaps the most beautiful team goal of the season! Immensely intelligent one-touch football, all driven by split-second clever intuitive reactions. The BVB needed something like this as badly as they needed to ditch those "yellow best" tricots. All involved actors simply knew. Not a word passed from the lips of anyone as the ball shifted from boot to boot. Not a word needed to. They merely sensed where the others were.
Hungry for more, the BVB nearly got a second before anyone watching could process the first. Haaland found himself in behind Richards in the 7th. The American somehow kept his wits about him and managed another improbable recovery tackle. Shortly thereafter, we had awn injury timeout. Baumgartner, having taken a shot to the head in the Pokal midweek, required treatment after another skull rattle on an aerial duel. He looked pretty dazed.
Match Flow: 9th to 31st minute
Rather than take a chance, Hoeneß immediately ordered Rutter off the bench to replace the Austrian. Seeing as how it wasn't Sargis Adamyan or Sebastian Rudy coming in, one foresaw a tactical shift as well. An early scratch of the matchplan remains exceedingly rare. Just about the only time one sees it occurs when a trainer feels comfortable switching to his late match-plan early.
Having fallen behind on a sumptuously slick team goal, Hoeneß had the perfect excuse to do so. Dabbur and Stiller quickly maneuvered to new positions as soon as one got sight of open play on the tactical cam. Here we clearly saw something Hoeneß drilled the lads for in the event that they needed to make a late push.
Lineup—TSG Hoffenheim—10th minute (3-4-3)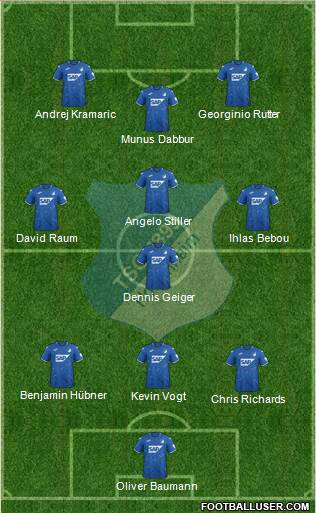 Something like this possesses scary good potential for a variety of reasons. Dabbur can prove wildly effective as a false-nine. Additionally, Bebou can slice through three or four markers on that right flank at the drop of a hat. Such a danger frees up David Raum–easily as deadly a crosser as Filip Kostic at this point–for launch after launch into the box. Stiller typically fares very well with a solo patch of grass within which he can exert operational dominance.
Last but most assuredly not least, the dual threat of Richards and Rutter crashing in leaves the opponent entirely uncertain from whence a very serious threat can emanate. That's actually true in a rather literal sense. The pair not only have similar styles in possession work, they also look like long lost brothers. It's no wonder at all that play-by-play broadcasters routinely get them mixed up. As expected, that happened in this encounter as well.
The match phase we presently find ourselves discussing featured an open exchange of blows. Both sides maintained a very high-tempo throughout. The slow drop down to a collective breather was slow and subtle. TSG keeper Oliver Baumann rushed out to grab a Reus free-kick in the 10th and quickly got a counter rolling. After a quick throw-in further upfield, Hoffenheim charged ahead to win a corner off Dahoud.
An 11th minute service by Dennis Geiger was met by Rutter with a strong header that caromed off the crossbar. BVB gloveman Gregor Kobel miraculously tracked the recoil and grabbed the rebound before any of the three lurking blue shirts could think about pouncing. A quick counter from each side on a totally stretched pitch in the 12th.
Dahoud slowed the roll down just a hair with a delayed build near the end of the 12th. Bellingham, Guerreiro, and Malen executed some lovely combo play on the approach. A frustrated Stiller could only stop with a jersey tug. More liveliness from the Schwarzgelben after the ensuing free-kick. Wolf and Guerreiro completed a nice lateral switch in the 13th.
The Sinsheimers nevertheless got the ball back with a Stiller win. Brandt ensured that there would be no TSG drive with an excellent strip. A nice carry from Brandt was only halted by a desperate tackle away from Vogt. Wolf then dispossessed Vogt to leave most observers crosseyed trying to follow the action. Eventually, we got a whistle in the 14th when a Bebou-Richards-Vogt cycle out ended with a switch for the offside Raum.
Wolf, Reus, and Brandt themselves cycled out in the very same minute. The sequence resulted in Wolf getting fouled. A marvelous 15th-minute delivery from Brandt was very nearly latched onto by Haaland. Richards, beaten once again, scrambled to make a recovery tackle that straddled the border of legal. Haaland came down awkwardly and twisted his knee on the landing. We had another injury timeout lasting two minutes.
Play resumed with the corner awarded prior to Haaland's treatment break. Rutter cleared with a solid header, but only as far as Guerreiro. After a quick touch to Brandt, Baumann had to rush out again to collect a treacherous cross. The Kraichgauer first countered rapidly (Hummels on the stop), then built more methodically in the 18th. Richards, Stiller, and Rutter cycled well before Hübner hit a distance effort miles off target.
Another more careful and deliberate TSG build in the 19th ultimately resulted in Raum receiving another long switch from Bebou. The German national team fullback screwed his cross wide. Kobel lined up the goal-kick without delay and Malen was already surging forward in the 20th. The BVB, admirably, tried for the quick free-kick take. Match official Deniz Aytekin, like the rest of us, said "no way".
The match was flying by so fast that fair-play threatened to fall by the wayside. The experienced Aytekin made sure to keep his talking-tos brief so as not to impede the overall pace of the match. Malen and Haaland got off a good attack in the 21st. The TSG charged back the other way before 60 sixty seconds could elapse. Manuel Akanji, who turned in a five-star-performance, cleared.
Richards took the cross-field clearance, yet made another horrible possession error pressured by Malen and Haaland. The American was very lucky to get away with a conceded corner, which came to nothing. The Kraichgauer got back up the pitch once again without delay. Dabbur and Raum were both free on a 2-vs-1 breakaway in the 22nd.
Akanji–without whom this team simply cannot cope defensively–saved a sure goal with one of the most brilliant away tackles you're likely too see. On the ensuing 23rd minute corner, it was Chris Richards' turn to hit a header off the frame of the goal. Kramaric serviced the American brilliantly off a short corner. The English-language announcer, along with several minute-by-minute writers, falsely identified Richards as Rutter.
We all knew its was bound to happen.
A few foul stoppages and broken plays between the 23rd and 26th gave us the first hints that the air was coming out of this distended balloon. After intercepting a Richards vertical in the 26th, the BVB crew went for three consecutive retreat/recycles as the collective will forward flailed. Dahoud, Wolf, Brandt, and Guerreiro engaged in bow-arcs through the 28th. Reus got stuck on the most promising charge in the 27th.
Geiger, Vogt, and Richards cycled out of the right in the 28th and another switch ended up with Raum. This time both Reus and Akanji were available to tidy up. The gears ground to a halt for Hoffenheim on a pair of attempted cycle-outs in the 29th. The TSG then couldn't capitalize on a bad Hummels giveaway in the same minute. Rutter's hit forward struck Aytekin and we had a drop ball.
Neither side could find a way through between the 29th and 31st. The flow had unquestionably descended into a legitimate lull. A series of broken passes led to nothing beyond midfield stalemate; the type of which was likely to become endemic for a few more minutes.
Match Flow: 31st minute to half-time
We would not be shaken from this nap easily. Vogt sent an effort off a corner well over in the 32nd. Both teams struggled mightily with ideas on respective rushes in the 33rd. Rutter tried to do much on his own in possession off a free-kick one minute later. Though passing quality remained strong, the ideas were really growing stale. Richards and Vogt couldn't figure out much beyond another switch to Raum in the 35th.
After trying to hit Haaland with a long over-the-top ball, Malen couldn't manage much other than a weak carbon-copy square for his lead striker in the 36th. Dahoud and Malen faltered on a combo in the 37th before Hoffenheim–courtesy of some space to paint around the box–supplied some light menace. It unfortunately concluded with nothing other than an out swinger for an offside Raum.
More "paint-by-numbers" possession from the hosts in the 38th and midfield misconnects in the 39th. Then, suddenly, there was a chance in the 40th. Malen gave the ball away in a tight space. Geiger put Rutter through with a ravishing deep direct pass. Akanji made his second sensational stop of the afternoon. We absolutely wouldn't be discussing a Dortmund revival here were it not for the Swiss defender.
Rose's men were thankfully smart enough to double mark both Richards and Rutter on the subsequent corner. Richards saw an effort blocked on the second corner, both taking place in the 41st, and Rutter could only shoot wide under pressure. More TSG attacking waves in the next two minutes led to still another corner in the 43rd.
This time things got wild in the BVB penalty area. Both Bebou and Kramaric had opportunities to finish on the turn when Dortmund failed to clear the ball thrice. Bebou still pulled off two snapshots, both of which were blocked. The Westphalian guests were abruptly under the cosh. Traffic flowed exclusively in on direction. An equalizer appeared to be imminent.
The two injury timeouts meant we would have four minutes of first-half injury time. The 1-1 came in the simplest of fashions at 45+1. Bebou held onto the ball well following a quick throw-in. The Togolese attacker spotted Marius Wolf off his marker and hit Kramaric with a lofted cross. The finish was easy enough. The Croat had his third league goal of the season.
Aytekin let the match run all the way up to 45+5, but both sides appeared content to trade long verticals and head into the tunnel deadlocked at 1-1. The xG stats actually reflected the scoreline perfectly. A riveting contest. A fair contest. What more could one possibly want?
Fans.
Yes, that's worth mentioning again.
Match Flow: 46th to 56th minute
Without changes we continued. The Sinsheimers got the first sortie going on the left seconds after kickoff. Hummels had no problem cutting out a predictable Raum cross. The BaWü hosts lorded over virtually all the possession in the opening two minutes. Rutter had a splendid opportunity to take the lead off a Brandt giveaway in the 47th. He regrettably saw his angle taken away from him and could only finish into the side-netting.
More uninterrupted TSG possession. Kramaric's final ball for Raum proved too far behind his fullback in the 48th. Hummels incurred the first booking of the fixture after stabbing Bebou's foot just outside the 18 in the 49th. The free-kick from a very dangerous area nevertheless went un-utilized. Raum pulled his hit wide of the two-man-wall.
Rose had substitutes warming up on sideline, as well he should have. The momentum continued to go against the BVB. Rutter kept breathing down the neck of any yellow-clad player with the ball. The French TSG attacker pressured Bellingham into a dangerous back-pass in the 51st. Luckily for Dortmund, Hummels was on hand to save a sure goal.
After some possessional stutter-steps, the Sinsheimers were through once more in the 52nd. Geiger saw a ranged-effort blocked. The Dortmund actors then swarmed on Bebou effectively near the touchline. The Togolese forward still managed a nice pullback, Kobel read Rutter's subsequent cross well. one minute later, it was Bebou again with a nice cross service. The magnificent Akanji stepped in to stop and clear.
Raum was offside again on the next rush. Rose was truly living precariously at this point. As the cameras panned to the BVB gaffer on the sidelines, his body language conveyed stark signs of stress. We saw that Dan-Axel Zagadou and Thorgan Hazard were the two players preparing to check in. Before they could do so, however, there was a controversial play in the 54th.
Malen slipped past Richards and into the danger area. As the American stumbled to catch up, he took a tug on the Dutchman's jersey. Malen went down in the area. Aytekin allowed play to continue, but did radio up the Kölner Keller as soon as the ball went out into touch. Replays confirmed that Richards had a hold of Malen's tricot. It still looked as if the action was unrelated to Malen's fall. No penalty. Correct decision.
Match Flow: 56th to 62nd minute
Brandt and Wolf were revealed as the players coming off. The introduction of Zagadou and Hazard heralded either a straight back-five or a back-three with wingbacks. We got precious little time to analyze the re-format and some of the writer's count as mere conjecture. Irrespective of how it how the set-up worked in every last detail, one must credit Rose and Maric with a stroke of genius.
Lineup—Borussia Dortmund—57th minute (5-4-1)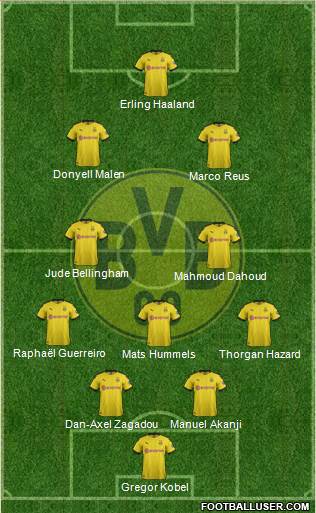 Brilliant! This is the type of stuff we've been waiting an eternity for Rose's tactical guru Rene Maric to come up with. Note that it proved next to impossible to sort out the placements of Hummels, Zagadou, and Akanji. That trio was bunched so closely together that it was surely meant to be a tight, interchangeable lock. Moreover, one only got a few minutes to scout it on the overhead.
In any event, one could clearly tell that Hazard and Guerreiro were meant to function as wingbacks. Nice little semi-unexpected call from the tactical team. It was also pretty gutsy. Hazard's use as a left fullback/wingback has yielded serious problems earlier this season. This deployment worked well, as evidenced by the next spectacular team we're about to discuss.
Hummels stepped up to deliver one of those incisive "quarterback" forward passes some of us have been wondering if we'd ever see again. The veteran spotted his opening straight up the middle, the most difficult lane through which to direct an attack. Malen redirected the vertical with the most elegant of slight touches. Haaland then quick-time tapped it back to Malen.
Everyone was rushing down their lanes perfectly. Malen spotted Reus charging just one step ahead of Richards. "Captain Fantastic" touch two smart touches before burying the finish. Another splendid team goal involving some unselfish play from Haaland. Another assist for Donyell Malen, his second on the day. A restored lead for a talented team taking advantage of their creative possession.
The rattled Sinsheimers saw their next plodding cycle on the right thoroughly deconstructed in the 59th. Haaland wanted more on the ensuing breakaway, but the beaten Richards dug deep to dig out what felt like his 300th recovery tackle of the day. Bebou and Kramaric tried to execute a combo inside the box in the 61st. Ultimate target Dabbur was nevertheless no match for Zagadou and offside anyway.
On the next play, we saw Haaland pull up with what looked like a groin injury. There would be no argument, no discussion, and not even a prolonged injury time. Axel Witsel almost instantly entered for Haaland in the 62nd without so much as a warm-up.
Match Flow: 62nd to 67th minute
Witsel for Haaland? Perhaps a defensive change that Rose and company had been plotting to make some ten minutes later in order to protect the slender 2-1 lead. Circumstances necessitated that it be done earlier. Those of us with eyes on the tactical overhead witnessed the second major tactical reshuffle inside of ten minutes.
Lineup—Borussia Dortmund—63rd minute (3-3-2-2)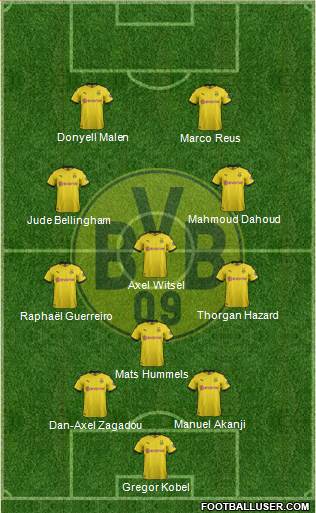 Doubly brilliant. This is bloody well even more ingenious. The delicate way in which Rose and Maric can re-order their chess pieces is really clever. Pulling Guerreiro and Hazard in to close down Hoffenheim's half-spaces compensates for the manner in which some of these actors aren't the strongest on direct duels.
One could just see them drawing this up on the white board over the course of the week on a couple of cold and dark mornings ahead of training. Of course, Hoeneß had his own intricately devised and cunning set of tactics prepared for this match. It was at this point that we saw the TSG trainer fall back to his original plan.
Sebastian Rudy and Havard Nordtveit came on for recently returned captain Hübner and midfield linchpin Geiger. This was also almost certainly a premeditated move as Hübner will not have been expected to go the full 90. One witnessed the following reformat:
Lineup—TSG Hoffenheim—64th minute (3-4-3)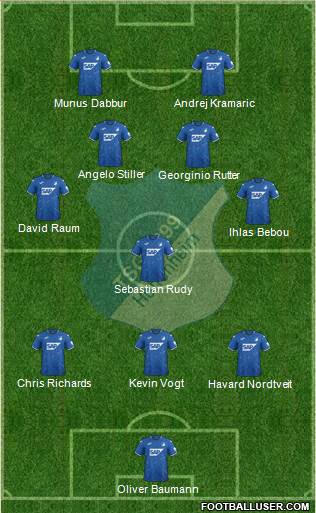 Richards moved over to the left and the originally planned 3-5-2 "double-stack" reemerged. Quite the chess match this one. There might have been a bit more intrigue had the next five minutes not unfolded as they did. Rudy earned a quick booking in the 66th after some intentional long clearances launched by two sides trying to re-organized and a bit of midfield head tennis.
Within mere seconds of the match restarted, the Westphalian guests had a 3-1 lead. Malen, part of a nice rotating top axis with Reus, broke through on the left and then squared for two breaking target men. David Raum, having a spot of difficulty on a double-mark assignment, turned the ball into his own net. The columnist isn't entirely sure if a player can be credited with an assist on an own-goal officially.
We'll go ahead and do so here.
"Donyell Malen with a hat trick of assists!"
Match Flow: 67th to 77th minute
No "lid" on this enthralling match just yet. The Sinsheimers would fight back with every ounce of strength they had left. Hoeneß' tactical reformat actually proved rather advantageous to the TSG cause. Bebou took advantage of the new coverage draws to cut inside in the 68th. Zagadou stood tall. The aggressively pressing Kraichgauer would then pin the BVB defensive ranks in their defensive right corner for two minutes with a series of wins and throw ins.
Witsel needed a quick treatment break after falling at the end of the series of tough touchline battles between the 68th and 70th. Dortmund then unleashed the next wave of attacks after two turnovers from Richards in the 71st and 72nd. More touchline battles on the forward BVB right in the 73rd. Richards lost the ball again at the end of the minute, sparing himself blushes for what seemed like the 400th time with a recovery tackle on the confident Malen.
Witsel opted to go forward on the next Dortmund charge in the 74th. Serviced delectably by a slick back-heel from Bellingham, the Belgian nevertheless saw a worthy effort blocked. Baumann collected Hummels' second effort and initiated a quick counter. Rutter and Bebou tore up the right flank well before the Dortmund back-five closed ranks on them.
Nordtveit had to intervene strongly to stop a nice recoil counter response involving Dahoud, Bellingham, and (of course) Malen in the 76th. Then Hoffenheim opted to prove that they too could play through the center with class. Richards hit Stiller with a vertical. Stiller, in turn, lofted a very nice ball into the box for Dabbur. The Israeli spotted Rutter on a smartly-timed run down his lane.
Rutrter finished with aplomb. It was game on again with the hosts only trailing by a single goal. A fantastic finish awaited.
Match Flow: 77th minute to full-time
Right up until the final whistle it remained competitive. Dabbur hassled the ball away from the protective BVB ranks in the 78th and Bebou got a look in. Witsel steppers in to decisively clear a Bebou cross one minute later after a very nice Hoffenheim attack build. Witsel then ran up to join the rush and, via some nice work from him and Reus, Malen just missed Guerreiro striding into the penalty area in the 80th.
Guerreiro and Hazard both saw efforts blocked on the 81st. The Sinsheimers were back the other way in the same minute, but Dabbur unfortunately handled Bebou's cross with his outstretched arm. Akanji plopped down on the pitch after the play, pointing to his calf. Bellingham hobbled a bit too. It didn't seem as if either player was trying to deliberately waste time.
Intentional or not, a couple of minutes ran off while Marin Pongracic and Youssoufa Moukoko checked in for Akanji and Malen. Hoeneß took the opportunity to replace Raum with Jacob Bruun Larsen as well. The next two attacks after the brief break belonged to Dortmund. Witsel pulled a shot over on the second charge in the 86th.
It looked to be Dortmund's day, bot least because even Pongracic and Moukoko were (to the shock of everyone watching) really playing well. That counts as something of a significant point too. Moukoko won two challenges in the 87th. Pongracic would later clear twice (90+1, 90+2) and throw a vital block on a Bruun Larsen effort (90+4).
Before the injury time heroics, Kobel did extremely well to collect a perilous looking Rutter cross in the 88th. One minute later, Rudy miffed up what would be his team's best last chance to equalize. The "club man" hit a Rutter headed tap-back just wide in the 89th. Pongracic delivered a final crucial stop at 90+5.
Everyone, including keeper Baumann, came forward for one last free-kick at 90+6 after a Bellingham foul and booking. Dabbur, generally off on this day, just couldn't find the touch. Aytekin whistled before there could be an attack on Hoffenheim's empty goal. Two straight emotionally charged league wins for die Schwarzgelben. Mats Hummels is probably about ready to pass out.
As the columnist noted in the introductory paragraphs to this section, one must put the Pokal defeat out of sight and out of mind. That doesn't matter. What we saw here (unlike) in previous fixtures was the very best of then Rose/Maric tactical engine at work. Granted, the Rose staff hasn't responded well to some of the injuries this squad incurred early. They're making smart decisions now. That's all that matters.
The columnist finds himself prepared to label this result a profound turning point. After showing noticeable restraint after both rounds 18 and 19, declaring the title race back on has a more comfortable feel to it now. The reason why? Apart from the tactical excellence on display and the two immaculately executed team goals, we now have Donyell Malen looking good and settled. That's huge.
The squad in its current form could potentially even ride out some injuries to Haaland and Akanji. That's based on (no joke) some of the late spark we saw  from Pongracic and Moukoko. Yes, yes. The chronicler acknowledges that might sound like a joke. In all seriousness, wait and see how far-fetched it seems in the coming weeks.
Thanks so much for reading! You can occasionally catch Peter goofing off while watching the lower German football divisions on twitter, @ViceytheSS.
There's also a celebration of AFCON going on all month long on Peter's irreverent fan blog. 
Twitter DMs are open for football conversations, corrections, and (if you truly insist) general abuse. 
All columns debut on Bulinews before appearing on Peter's website later in the week.